The router is the bridge that turns the one internet connection coming out of your modem into a fast, reliable network of connections for your whole house. And unless you want to hardline every computer you own, you need a wireless router. They vary greatly, from their strength to the type of wireless signal they produce. We'll go into all of these differences in the Buying Advice section below, but in an age when connectivity is everything, the ocean in which we all swim, getting a good, strong router is super important. It becomes even more important if you have a home audio system, or a wireless speaker, because there's nothing more annoying than constant dropouts when you have new tunes to listen to. So here we go: the top models for this year.

How We Choose
Before anything else, where interested in just how strong and reliable Ruta is. The ideal with these devices is that you turn them on, connect them, and then forget about them, so the more effectively they achieve this goal, the more marks they get from us. Value for money is also important, and although pricier models tend to move towards the top of the list, it's not the only factor we take into consideration. We also look at ease-of-use, how tricky a route it is to set up, and whether a model has had any problems in the past.

Our Router Picks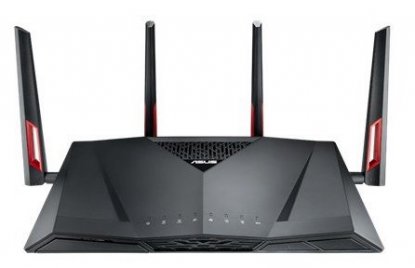 Max Speed: 3167 Mbps / 5Ghz
Dual Band: Yes
LAN Ports: 7
Standard: AC
What We Like: Massively powerful
What We Don't: Strange styling
Best For: When you need the best
Why yes, it does look like an alien spaceship about to destroy the planet. The Asus RT AC88U might not be for everyone, with its sculpted body and pylon-like antennae, but in our opinion, it's quite simply the best router on the market right now. It's massively fast, offering up to 3167 megabytes per second, and able to reach up to 5000 square feet in area. It also comes with plenty of clever features, like an ability to automatically pick the best band. If you have a small apartment with only a few devices in it, it's probably overkill, but for big systems it's a dream. And as we said: there is no other model that can beat it.
See the Asus RT AC88U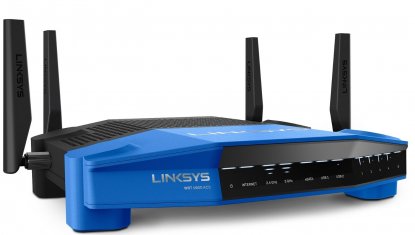 Max Speed: 1300 Mbps / 5Ghz
Dual Band: Yes
LAN Ports: 4
Standard: AC
What We Like: Great speed and display, Beamforming
What We Don't: Plasticky build
Best For: Single-device owners with cash to spend
The Linksys WRT1900ACS has one really neat trick in its arsenal: beamforming. This is the ability to strengthen the signal for a specific device, dedicating more resources to ensure maximum speed. Other devices have this tech, but the Linksys is probably the most effective one out there. If you live in a household with very few devices, or one main one that sees heavy use, this could be an absolute godsend. The model comes with most of the expected features in this price range, although you will have to put up with the hideous blue plastic on the front, which just looks nasty.
See the Linksys WRT1900ACS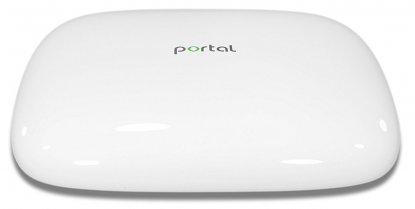 Max Speed: Unknown
Dual Band: Yes
LAN Ports: 4
Standard: AC
What We Like: Gorgeous design and feature set
What We Don't: Lack of software features
Best For: When you're tired of boring routers
Sometimes, connecting to the Internet can be boring. Routers look dull, or way too technical. Portal tries to solve that, with a gorgeous, sleek design that packs some innovative features, including some smart technology to help you get around signal blockages. It's once and rave reviews in the short time it's been out, and although it's not as fully featured as other models, it gives you access to all four DFS frequencies, which is something no other model can boast. If you're not willing to spend over $200, then this should be your first choice.
See the Portal WiFi Router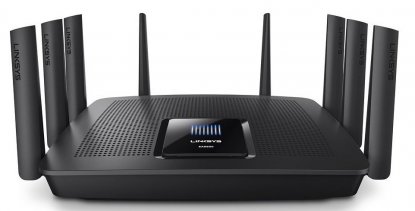 Max Speed: 2166 Mbps / 5Ghz
Dual Band: No (Tri)
LAN Ports: 8
Standard: AC
What We Like: Tri-band functionality
What We Don't: A little expensive?
Best For: Houses with lots of devices
Not a lot of models offer tri-band functionality, which is strange given how useful it can be. Essentially, it offers another channel for data to travel on, meaning you get fewer slowdowns with existing devices clog up the regular two channels that most routers have. If you live in a household with lots of devices, all sharing the same network, this could be just what you're looking for. We do think this model is a little expensive, but it's still a beauty, and it works really well.
See the Linksys AC5400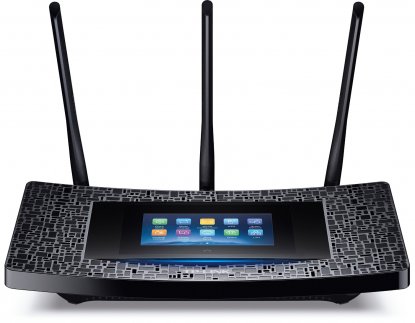 Max Speed: 1300 Mbps / 5Ghz
Dual Band: Yes
LAN Ports: 4
Standard: AC
What We Like: Touchscreen setup
What We Don't: Not as fast as other models
Best For: Ease-of-use
If you're looking for hassle-free operation and set up, the TP-Link AC900 is where you should go. Its touchscreen is sublime, with simple, easy-to-follow setup, and a design that you're actually want to put out on display, instead of hide away. We do wish this model was Tri-Band, as it doesn't feel quite as fast as others, but it still gets the job done, and offers more than enough functionality for most people.
See the TP-Link AC900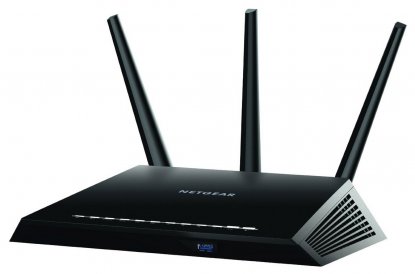 Max Speed: 1300 Mbps / 5Ghz
Dual Band: Yes
LAN Ports: 4
Standard: AC
What We Like: Solid, reliable pedigree
What We Don't: A little overrated
Best For: Easy installation
NETGEAR has long held the crown in this particular category, and although we think their Nighthawk is a little overrated (hence its low position on the list) it's still a reliable standby. For one thing, it has one of the easiest installation processes we've ever come across, virtually plug and play. It also offers great speed, great reliability, and is did easy-to-use. While it doesn't push the boundaries, it's still an excellent product.
See the NETGEAR Nighthawk AC1900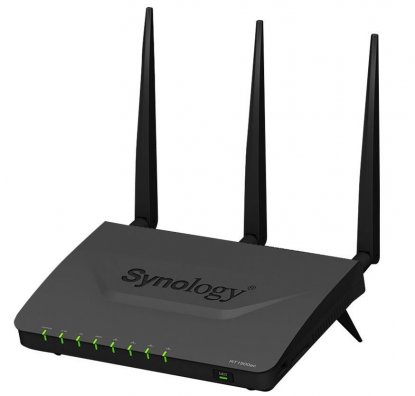 Max Speed: 1900 Mbps / 5Ghz
Dual Band: Yes
LAN Ports: 4
Standard: AC
What We Like: Straightforward functionality
What We Don't: A little boring
Best For: Just getting the job done
Occasionally, you need something to just do what it says on the box. No-frills, no fuss, just good functionality. The Synology RT1900 AC fulfils that job. Despite not having any particularly remarkable features other than the ability to rest in multiple positions, it's a good, fast model that provides easy connection and simple operation. We recommend this one if you come to this list out of protest, simply looking for something that you can install once and never think about again. See? We totally have your best interests at heart.
See the Synology RT1900 AC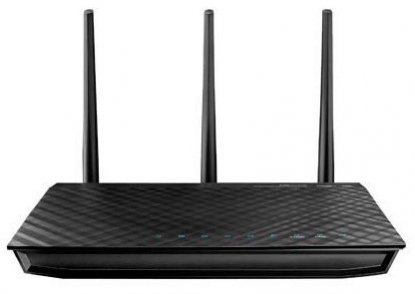 Max Speed: 900Mbps / 2.4Ghz
Dual Band: Yes
LAN Ports: 4
Standard: N
What We Like: Twin USB ports
What We Don't: Maybe a touch slower than it should be
Best For: When you need additional ports
Considering what a USB port on a router can be used for is actually quite a perplexing question. The answer, fortunately, is quite a few things. You can use it to connect to a printer, or allow someone with files to share to connect to your home network very easily. The Asus RT N66U not only offers two USB ports, but provides a capable, reasonably fast route for a good price. Nothing revolutionary to be sure, but still good, and worth a place on this list.
See the Asus RT N66U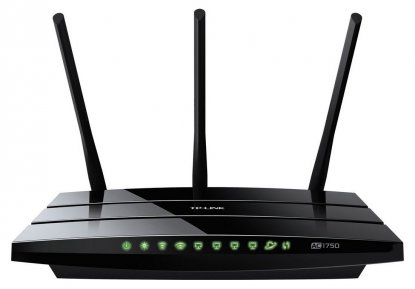 Max Speed: 1300 Mbps / 5Ghz
Dual Band: Yes
LAN Ports: 4
Standard: AC
What We Like: Good speed at a good price
What We Don't: Some quirks
Best For: Budget users
If you need the speed of the newest 802.11ac standard but you don't want to spend a lot, the Archer C7 is a great option. It has blazing-fast speed at both the 5GHz and 2.4GHz frequencies with enough power to support many users at once. With four Ethernet ports, users can hook up plenty of peripherals like gaming systems or desktop computers to take the load off the wireless network. Two USB ports also provide a way to make any printer or hard drive wireless, for cable-free printing and backups. Some users complain that the range isn't great on the 5GHz band, and others have had problems with firmware updates. As one Amazon reviewer put it, "I recommend this router if you want a 802.11 ac router on the cheap. But it has its quirks."
See the TP-LINK Archer C7 AC1750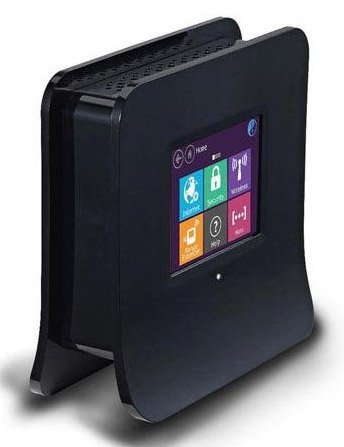 Max Speed: 300 Mbps / 2.4Ghz
Dual Band: No
LAN Ports: 2
Standard: N
What We Like: Super simple setup
What We Don't: Can be slow
Best For: Technophobes
If you're a little hesitant about setting up your own router, a touchscreen might make things easier. You might think that a touchscreen isn't necessary for a router, but the Securifi Almond aims to make setting up a new WiFi network a breeze. Securifi claims that most users can setup in 3 minutes via its color touchscreen. In addition to creating a new network, it can serve as a range extender or wireless bridge for many networks. The 802.11n 2.4GHz network can provide adequate speeds for a handful of users. However, some Amazon reviewers complained that using the Almond as an extender slowed the network significantly, meaning that if you want to extend your Wi-Fi to the basement smart TV from the second-floor router, the Almond might not be quite powerful enough.
See the Securifi Almond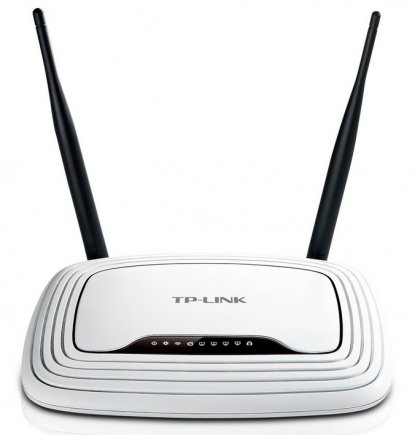 Max Speed: 300 Mbps / 2.4Ghz
Dual Band: No
LAN Ports: 4
Standard: N
What We Like: Fantastic value for money
What We Don't: Slows down with multiple devices
Best For: Balling on a budget
For those looking for a router on a really small budget, the TP-LINK TL-WR841N provides just that. You get up to 300 megabits-per-second of speed (likely faster than your internet provider actually sends) that can support multiple devices. So what are the shortcomings of the TL-WR841N? It isn't a dual-band router, which offers the upside of providing two independent signals. This means that the TL-WR841N will slow down with multiple devices in use or with external factors like microwaves or baby monitors. It also has a much smaller range than the higher-end routers above and the signal won't travel nearly as well through larger houses. However, if you live in studio or one bedroom apartment and don't depend on your router for heavy streaming media use or multiple devices.
See the TP-LINK TL-WR841N N300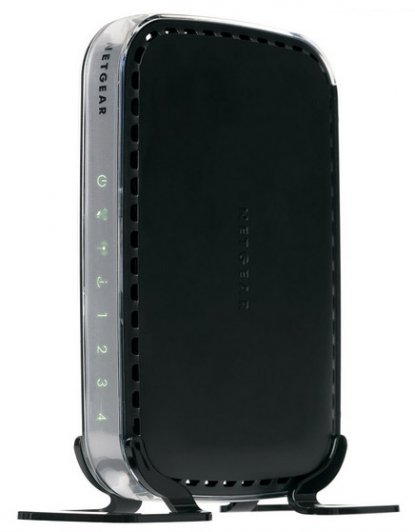 Max Speed: 150 Mbps / 2.4Ghz
Dual Band: No
LAN Ports: 4
Standard: N
What We Like: Great for small areas
What We Don't: Limited functionality
Best For: Tiny apartments
If you're looking for a budget router and have an apartment or a small house, the RangeMax WNR1000 is a nice option. While it's not using the latest W-Fi standard (the RangeMax uses 802.11n, not 802.11ac) and it only transmits at the 2.4GHz frequency, it should be fine for people with only a few wireless devices. If you only have a laptop, smartphone and maybe a smart TV, you should be fine with the limitations of the RangeMax WNR1000. But if you plan on wireless gaming or multiple people streaming videos at once, this router might struggle to keep up. However, four Ethernet ports means you can hook up more permanent systems (like game consoles, desktops and some smart TVs) straight to the router for faster performance and to clear up WiFi signals for mobile devices.
See the NETGEAR RangeMax WNR1000

Breaking Down The Specs: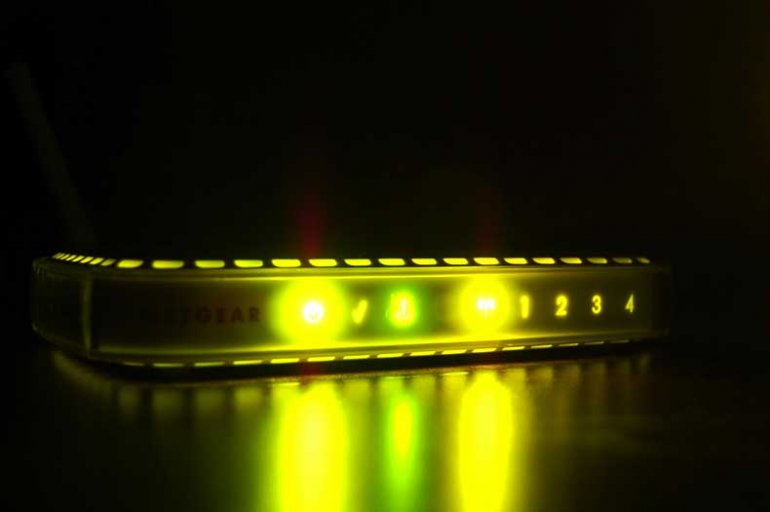 Buying Advice:
How Do Routers Work?
You used to get the Internet by running a cable from your computer into your phone line, usually via some sort of modem. Now, it's incredibly rare to have a wired connection. Chances are, you have WiFi, and a router is what enables that. Instead of connecting your computer to the phone line (or dedicated Internet line), you connect the router to it. The router then broadcasts a signal which your computer picks up, allowing you to send and receive data.

What Separates Cheap And Expensive Models?
The very obvious answer is speed. The higher it is, the faster your Internet is going to be. Our table above should give a good indication of max speed for each model. More expensive routers may also operate using dual bands, and you really want this: having a router that can kick it on 2.4GHz and 5GHz simultaneously (these terms are explained below) means you get far fewer interruptions, and is ideal for households with a lot of devices and users.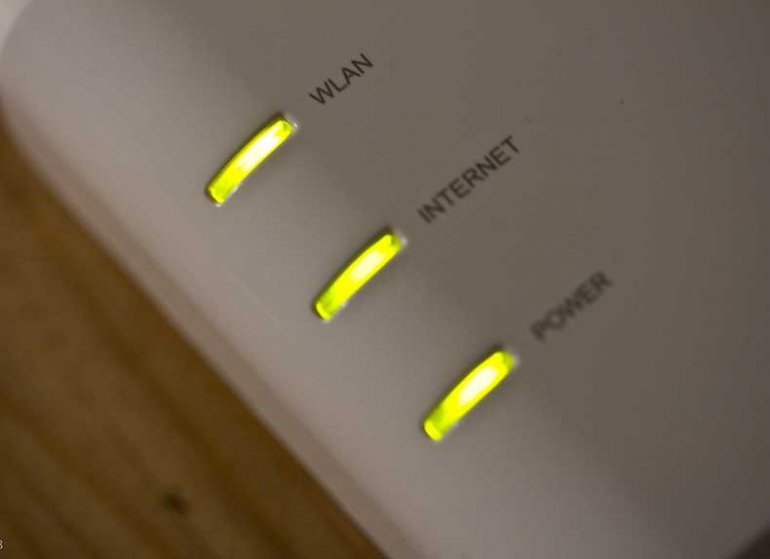 What Affects Wireless Signal?
One of the biggest factors of your router's performance is the environment it's operating in. Pushing a signal through surfaces like brick and concrete is a lot harder than plaster and wood. For starters, keep your router above ground (the higher the better actually) and away from the corner of the room (where most routers currently live). Moving your router to a more central location and away from other wireless signal-emitting devices like cordless phones, Bluetooth speakers, and even microwave ovens can improve your signal performance.
However, there are some places that your router just might not reach, no matter what you try. If you have a rec room above a garage or a basement converted to a media room, your wireless signal may not reach there, or may only do so sporadically, resulting in frustrating coverage. In these cases, you should consider a wireless range extender. Wireless range extenders repeat your router's signal and pump it into far corners of your home. And while your signal may lose some strength in the process, it's still a considerable solution.

What Is A Wireless Extender?
These work by receiving your router's signal, then retransmitting that signal. If it only has one antenna, it has to do both those by switching from receiving to transmitting mode, cutting your speeds by at least 50 percent and usually more. There are some, like the Netgear AC750 EX6100, that use two antennas to transmit the signal and get much better speeds. However, since it has one 5Ghz and one 2.4Ghz, that means you're either slowing down speeds in receiving or retransmitting the signal. To avoid this, run an inexpensive Ethernet cable between the two routers to extend your network and keep the speed up. Here's a good guide to setting up your old router as an extender.
Hopefully you only have to look at your router's interface once while you're setting it up. But if you have to venture into it, you want to know what you're looking for. If you're trying to get off your neighbor's channel, look under the wireless settings area of your browser's interface. You also can use the interface to set up passwords, name your wireless networks, and access advanced features like guest accounts and firewalls. Luckily, most manufactures have tech support lines that can help you set up all your devices and walk you through activating special features to get the most from your wireless router (good luck with that…)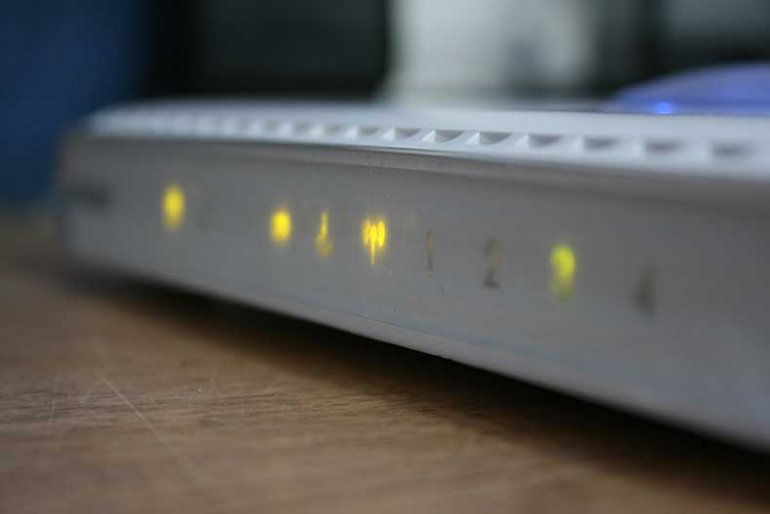 Dual Band Vs Tri Band
Wireless devices have to send data, and they do so by sending it at specific frequencies. That means they are subject to a whole lot of regulatory oversight, and can only use specific frequencies. In the early days of the Internet, and the early days of wireless routers, this was 2.4GHz.
The problem was, this got congested quickly, especially when we started using intensive applications like Netflix and YouTube. So, routers started using another assigned band, 5GHz. By doing this, they created an extra 'lane' they could use, much like adding another lane to a highway. It allowed increased levels of traffic, and higher speeds.
Several of the routers in our list are dual band, and at least one is tri-band, which means it is significantly faster.

Wireless Standards Explained (What AC, N and 802.11 Mean)
First off, some good news. You can ignore the numbers.
The 802.11 simply means that the network in question is a wireless network. Bluetooth networks are designated 802.15, and ethernet networks are 802.3. These numbers are set by the Institute of Electrical and Electronics Engineers Standards Association, and all you need to know is that if it says 802.11, it's WiFi.
What we are interested in other letters that come after 802.11.
When looking at wireless routers, you'll often see them listed as having "IEEE 802.11a/b/g/n/ac" wireless antennas. Each one of those slashes is a progressively faster iteration of the standard. There's a lot of technical detail in each update, like if it operates in the 2.4 or 5 GHz band and how quickly it can transfer data, but the more slashes after 802.11, the better. The latest standard, 802.11ac, was introduced in late 2013, so if you have newer devices, you'll definitely want to get a router that can output 802.11ac. But you'll be hard-pressed to find a new router that doesn't support satisfactory speeds—the limiting factor will more likely be your cable company. (There is a newer standard, ad, which is slowly being introduced, although it isn't widespread yet)
We'd love to tell you what n and ac stand for, but they don't really stand for anything.
The 802.11n standard, found on all models we recommend above, has a maximum speed of 450 Mbps and 802.11ac, the newest standard, is capable of a theoretical 7 Gbps. While actual speeds may be not be as high due to less-than-perfect setups and receiving equipment, your cable company isn't likely to provide speeds over 100 Mbps. In Seattle, for example, the largest cable provider offers speeds that max out at 105 Mbps.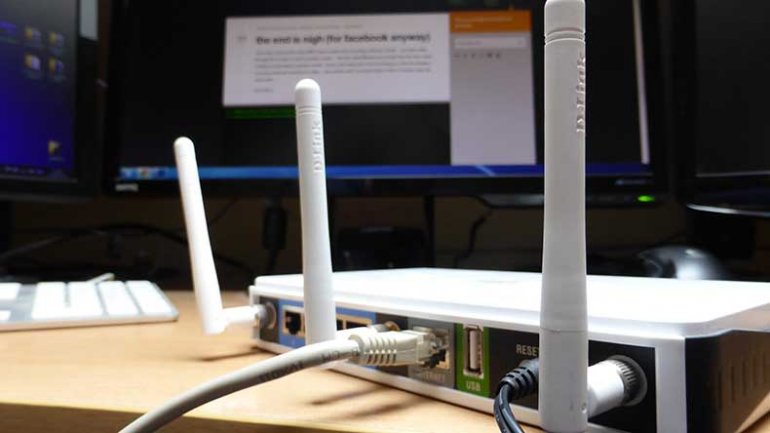 What Do Ethernet Ports Do?
A good wireless router will have Ethernet ports on the back to send direct signals to certain devices in your house. This is helpful for streaming to media players online gaming on gaming consoles, or desktop computers that don't need to move around a lot. You can also find routers with USB ports. These allow you to hook up printers for wireless printing and hard drives for streaming media. You'll want to look at each router's capabilities if you want to use those features, as most are specific to individual manufacturers. Also, these features involve dealing with your router's interface, which might be daunting.