Gaming mice improve your performance. There's no denying it. A far cry (or squeak, perhaps) from their roller ball ancestors, the gaming mice of today come with more buttons than a trench coat and lasers so sophisticated they'd make George Lucas blush. Following the recent rise in popularity of the professional gaming scene (known as E-sports) and the online streaming platform (Twitch), our desk dwelling friends are on the rise. From the time it takes for a button to register after you click it, to the ability to adjust the position of the buttons themselves, every feature is available for the right price. But how do you tell your PMW3366 optical sensors from your ADNS-A9500 Laser ones? And do you really need to break the bank to beat that game breaking boss battle? Read on to find out.


How We Choose:
With such a wide range of game genres available today, it's rare to find a one-size-fits-all gaming mouse. For instance, one that's brilliant for a MOBA (Multiplayer Online Battle Arena) may not be as beneficial when used in an FPS (First-Person Shooter) game. Equally, certain gaming mice are more suited to certain grip styles. Obviously this includes left and right handed users, although it also extends to the palm and claw grippers out there. Therefore, the list we've compiled takes into consideration the ergonomics of each mouse and its accessibility to potential users, as well as its suitably to the most popular gaming genres. Other features we've considered include the sensor technology, build quality, aesthetics, customization options, included software and of course, the price.

Our Gaming Mice Picks: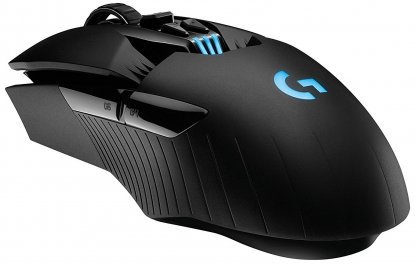 Size: 5.1" x 2.6" x 1.6"
Weight: 3.8oz
Orientation: Ambidextrous
Interface: USB/Wireless
Sensor: Optical (Pixart PMW3366)
What We Like: Unbeatable wireless tech, in-use wireless charging, best sensor money can buy.
What We Don't: Not affordable for everyone.
When Logitech released the G900, rival companies were baffled by their creation of a wireless mouse that stood head and shoulders above its wired brethren. Well if you thought that was a good mouse (which we REALLY did) then say hello to the G903. FPS gamers looking to hit more shots will be happy to see the return of the 1000 Hz polling rate as well as the LIGHTSPEED feature, which grants a 1 millisecond response time. MOBA gamers are catered for with eleven customizable buttons, while a DPI range of 200–12,000 provides overkill for even the most sensitive gamers. On top of that, it's fitted with one of the world's best sensors. So far, so good. But that's just the beginning
Battery life for wireless mice has been made obsolete with the 903's new tech - POWERPLAY. This tech is a world first that allows you to wirelessly charge your mouse whilst simultaneously playing with it. That's an absolute game-changer. You'll need to purchase the wireless charging system separately, but once you do its game on, and on, and on and… you get the picture. The 3.8oz weight is now customizable thanks to removable parts, whiles Logitech's mechanical pivot design (a la the G302), metal Hyper Scroll wheel, Spectrum lighting and interchangeable magnetic thumb buttons prevent the mouse from feeling cheap or flimsy whilst furthering its customizable features . Suitable for both left and right handed users, the G903's ergonomics and clever contour design accommodate both claw and palm grip persuasions. A truly unbeatable mouse.
See the Logitech G903 Chaos Spectrum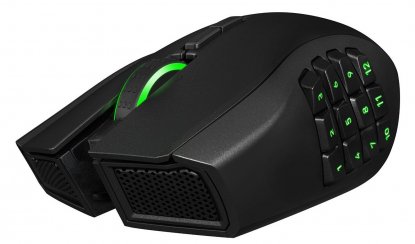 Size: 4.5" x 3" x 1.7"
Weight: 4.9oz
Orientation: Right-handed
Interface: USB/Wireless
Sensor: Laser (Razer 4G)
What We Like: Mechanical buttons, great sensor, intuitive software.
What We Don't: Wireless battery is non-replaceable.
This right-handed, palm grip only mouse has nineteen programmable buttons. Twelve of these are mechanical side buttons, accessible by a simple thumb movement. Combine this with limitless profile possibilities, all completely customizable through Razer's Synapse software, and the Naga is the perfect accompaniment for budding spellcasters.
For those worried about memorizing the function of twelve additional buttons, fear not, Razer's got you covered. Using an in-game Grid Assist overlay, the Naga presents its user with a visual reference that helps you tell your summons from your smites. Razer's 4G laser sensor has 1000 Hz polling and up to 8200 DPI, giving it amazing accuracy and more sensitivity than the average user requires. Although the wireless feature is great, the battery can't be replaced, which means the wireless functionality has a finite shelf life. Considering its price point, it's easy to see why this could put some users off. In our opinion though, with its build quality, sensor accuracy, mechanical buttons, Synapse software and 16.8 million Chroma colored lighting (all the kids are doing it), we'd say the price is justified.
See the Razer Naga Epic Chroma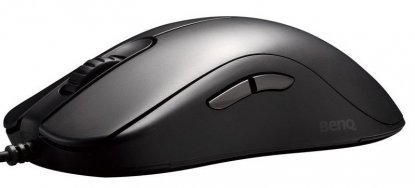 Size: 4.9" x 2.4" x 1.4"
Weight: 3oz
Orientation: Ambidextrous
Interface: USB
Sensor: Optical (Avago PMW-3310)
What We Like: Feels like an extension of your hand.
What We Don't: No supported software.
In first-person shooters, a single pixel can be the difference between getting that frag or rage quitting amidst a sea of salty microphone chatter. With a super-accurate sensor and streamlined design, the FK2 manages to find the perfect balance between lightweight and sturdy, making it an ideal companion for any gun slinger looking to come up big when the chips are low.
Its shape suits both claw and palm grip users, while the ambidextrous design accommodates both left and right handed users. This is without a doubt the most comfortable mouse we've tested, and felt more like an extension of our hand than a peripheral we were holding. We love the no-frills approach Zowie have employed, just focusing on doing the core fundamentals right – size, weight, responsiveness and accuracy. The only slight niggle is Zowie's lack of software provision. Although not essential, it's nice to have a visual reference on screen of your mouse settings for peace of mind as well as the option to personalize it towards your playstyle. That aside, it's easy to see why this mouse is a favorite among many professional gamers within the FPS scene.
See the Zowie FK2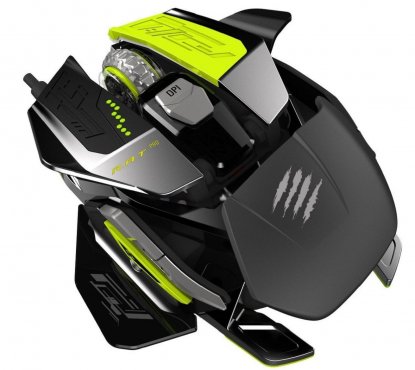 Size: Variable
Weight: 3.7oz
Orientation: Right-handed
Interface: USB
Sensor: Optical OR Laser (Philips PLN20137, Pixart ADNS 9800, Pixart PMW 3310)
What We Like: Extremely customizable.
What We Don't: Expensive for an all-rounder.
If you like to customize your set-up, then this modular mouse from Mad Catz is a hard one to beat. Every component is interchangeable. From the three sensor options (including both laser and optical) available at purchase, to the multiple palm, pinkie and thumb rests provided, this Frankenstein-esque creation has got it covered. Everything from swappable feet that can alter the friction between your mouse and chosen surface, to the choice between a rubber and metal mouse wheel dependent on your preference.
It's hard to criticize the Rat Pro in terms of ergonomics as there's usually an option that can manipulate the shape to suit your needs. Unless of course, you're left handed (sorry guys). The lack of 10+ buttons also render it fairly behind the curve at this price point for the hard-core MOBA gamers out there. That said, the customization software provided by Mad Catz is great, and although not as robust as Razers Synapse software, its nine customizable profiles should give the majority of its users plenty to work with.
See the Mad Catz Rat Pro X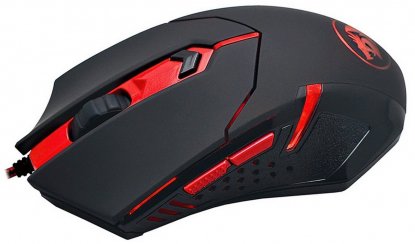 Size: 4.9" x 2.8" x 1.5"
Weight: 4.9oz
Orientation: Ambidextrous
Interface: USB
Sensor: Optical
What We Like: Bang for your buck.
What We Don't: Sensor can be temperamental.
More often than not, you get what you pay for. This is an adage Redragon looked to incinerate with the release of their affordable pro gaming mouse, the M601 Centrophorus. We weren't expecting much from this mouse for the price point, but, we were pleasantly surprised. With its six programmable buttons and five customizable profiles (accessible through Redragon's software) the M601 already competes with many of the $50+ gaming mice on the market.
In fact, following suit with Corsairs more expensive M65 PRO RGB, the M601 comes with weights that can be added to the mouse to suit the user's preference (do you even lift, bro?). The buttons felt crisp and the anti-skid scroll wheel felt well above our expectations. Although the M601 didn't feel cheap, it didn't feel overly comfortable either. Just average. For $13, we'd say so far, so good. The only real downfall of this mouse is its sensor. DPI ranges aside (as 2000 is adequate for most users) the tracking at times was temperamental. Our crosshair in-game did jitter once or twice and although the issue was rare, it could definitely be a nuisance.
See the Redragon M601 Centrophorus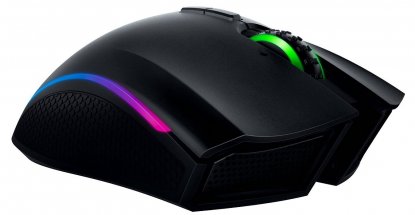 Size: 5" x 2.8" x 1.7"
Weight: 4.4oz
Orientation: Right-handed
Interface: USB/Wireless
Sensor: Laser (Razer 5G)
What We Like: Wireless, amazing sensor, adjustable button actuation.
What We Don't: High price point might put some off.
The Mamba Chroma is a brilliant addition from Razer. With top notch build quality, Razer's state-of-the-art 5G laser sensor and 1000 Hz polling this mouse feels absolutely amazing. It also features Razer's Click Force technology, allowing you to adjust the click actuation of the left and right mouse buttons, tailoring them to your preference. With our claw grip we preferred the stiffer end of the spectrum, but with fourteen options available, it really can match anyone's requirements.
Razer's Synapse software is obviously included and we just love the intuitiveness and range of customization it provides. The 5G laser sensor is one of the best available, giving industry leading tracking that really is noticeable over some of the cheaper options. The battery life lasts up to twenty hours before you need to connect it to your rig, which is impressive considering the technology in this thing. The Mamba is on the top end of the price spectrum, but we really can't fault it. Second only in our opinion to Logitech's G900, Razer's Mamba Chroma wireless mouse would be a worthy addition to any gamer's set-up.
See the Razer Mamba Chroma Wireless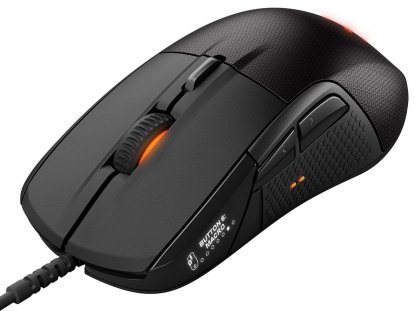 Size: 4.9" x 2.7" x 1.7"
Weight: 4.8oz
Orientation: Right-handed
Interface: USB
Sensor: Optical (PixArt PMW 3360)
What We Like: Motorized feedback, solid sensor, solid build quality.
What We Don't: Novel features have boosted the price point.
Steelseries have really thought outside the box for their 700 model. It still has all the features you'd associate with a top-brand gaming mouse (top build quality, accurate optical sensor and satisfying feedback on button clicks), but SteelSeries have gone a step further and made their 700 model modular in design, given it motorized tactile feedback and chucked an OLED screen on to the side.
The screen is able to display static images and play any GIFs at 10 frames per second. With pre-sets for a few popular games that display your in-game stats such as health, ammo remaining etc. this is a really cool idea. After a while though, we either found it distracting in intense moments or sometimes forgot it was even there. The modular design is a neat idea. The ability to swap out your cables, cover plate, and sensor will be appealing for some users, but we can't help feel these design decisions may have driven the mouse to a higher price point than everyone whose interest it peaks will be willing to pay.
See the Steelseries Rival 700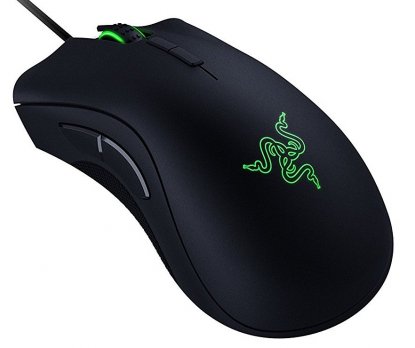 Size: 5" x 2.8" x 1.7"
Weight: 3.7oz
Orientation: Right-handed
Interface: USB
Sensor: Optical (PMW3389-T3QU)
What We Like: Top build quality, near-perfect sensor.
What We Don't: Can't change profiles on the fly.
The DeathAdder Elite comes with everything you'd expect from a high-end gaming mouse. It has 1000 Hz polling, a DPI that peaks at 16,000, a braided cable and an optical sensor with 99.4% reported resolution accuracy. The mechanical buttons feel great to click and this was one of the few mice we tested that avoided any unintentional button presses.
The only issue we found was for users with large hands. The proximity between the side button and left mouse button may make it awkward if you're a claw gripper. Aside from that, our only minor gripe was the inability to switch profiles on the fly. Although switching DPI on the fly is available, there is no onscreen indication to which DPI you're using, which can be confusing if your presets are close in range. These issues are minimal, however, and for the price point the DeathAdder Elite is an absolutely outstanding mouse.
See the Razer DeathAdder Elite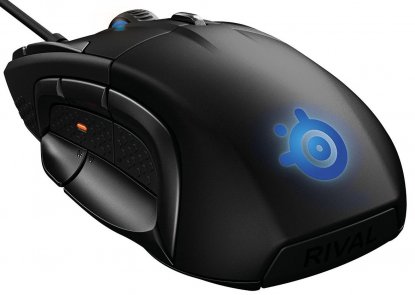 Size: 4.7" x 3" x 1.7"
Weight: 4.6oz
Orientation: Right-handed
Interface: USB
Sensor: Optical (PixArt PMW3360)
What We Like: Top sensor, good feature set.
What We Don't: A bit bulky for smaller hands. Right-handed only.
With its fifteen programmable buttons Steelseries have geared the Rival 500 more towards the MOBA players out there. It still has some of the brilliant features present in the Rival 700 such as its flawless optical sensor and motorized tactile feedback, but has ditched the OLED screen and modular design. These payoffs were no doubt to keep the price proportional in relation to the 700 and slightly cheaper 300 models, and if you ask us they kept the feature with the most longevity.
That said, the mouse feels top quality and very comfortable when used. However, those of you with smaller hands may need to be wary due to the 500's bulky design. Both palm and claw grips are welcome and with its matte top cover and textured side panels the Rival 500 felt very natural to hold. It's a shame that like many others, this mouse is tailored towards the righties of the world, but you can't please everyone.
See the Steelseries Rival 500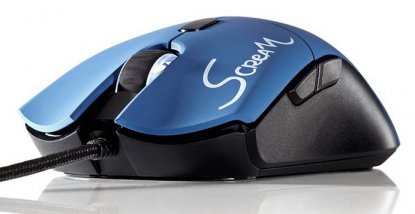 Size: 5" x 2.7" x 1.5"
Weight: 2.8oz
Orientation: Right handed
Interface: USB
Sensor: Optical (PixArt PMW3360)
What We Like: Lightweight, great sensor.
What We Don't: Aesthetics.
Scream is a professional Counter-Strike player known for his inhuman like reactions. Unsurprisingly then, Finalmouse have created an ambidextrous, streamlined, light-weight mouse with the world's best optical sensor. This mouse is so good, if it wasn't for a few release issues with the first edition, it would have taken a place higher up the list. One such issue we encountered was the inability to press multiple buttons simultaneously. For our set-up this meant things like fast switching weapons in CS:GO just weren't possible. Finalmouse have since released a second edition (after the first one sold out everywhere) that addressed this particular issue and have recently released a firmware update to rectify it for first edition users.
Another issue we had with the mouse was its aesthetic design. The mouse is blue, which isn't necessarily a bad thing (we like it), however we feel it could clash with the more color coordinated gamer's set-ups out there. Our main issue with the look of the mouse however, is Screams signature situated over the left mouse button. It seems unnecessary, looks a bit a bit juvenile and kind of put us off.
See the Finalmouse Scream One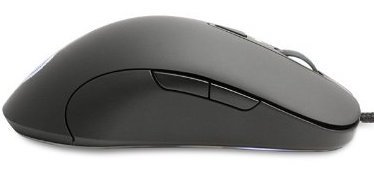 Size: 4.9" x 2.7" x 1.4"
Weight: 3.2oz
Orientation: Ambidextrous
Interface: USB
Sensor: Laser (ADNS9500)
What We Like: Ambidextrous design, rubberized coating.
What We Don't: Slight forced acceleration.
This entry from Steelseries deliver a lightweight, no frills, ambidextrous mouse with a super-fast 1ms response time. The Sensei Raw feels great for both palm and claw grippers and the side buttons are positioned fairly accessibly. The scroll wheel has a perfect balance between being firm enough to control and loose enough to move, while a DPI button allows you to swap settings on the fly. All these buttons can be reprogrammed to perform any function which is pretty standard for the Steelseries Engine 3 software.
The only issue here is a problem with the Sensei's laser sensor. This sensor is notorious for having minor acceleration built in which is a big no, no for first-person shooters as muscle memory struggles to develop correctly with inconsistencies. Not everyone will notice, but this could be a deal breaker for the serious FPS gamers out there. A real shame as this mouse has it all in our opinion. Beautiful design, streamlined, light weight performance with top software to boot. All in all, a fantastic mouse, especially for FPS gamers.
See the Steelseries Sensei Raw Rubberized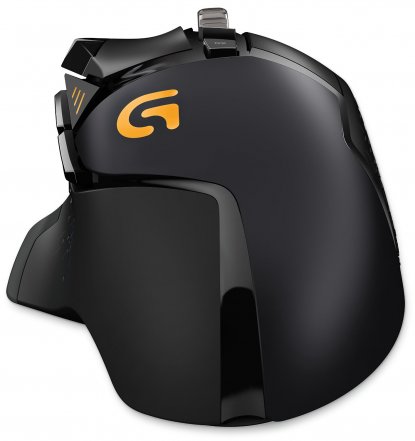 Size: 5.2" x 3" x 1.6"
Weight: 4.3oz
Orientation: Right-handed
Interface: USB
Sensor: Optical (PMW3366)
What We Like: Ability to store profiles on the mouse itself.
What We Don't: Awkward for palm grippers with bigger hands.
With eleven programmable buttons, a weight adjustment feature, and Logitech's top software suite, this mouse is an amazing all-rounder. Although not aimed at any specific genre the G502 covers all bases and is ideal for casual gamers and at the very least, should be a consideration for any serious FPS or MOBA gamer.
With the G502, Logitech have improved the scroll wheel over previous iterations allowing it to now click in three directions as well as the option to adjust its firmness when scrolling. With Logitech's inclusion of the PMW3366 Optical sensor and their intuitive design decisions it's hard to find any faults with the G502. The only thing we noticed is that due to the length of the left and right buttons, palm grippers with larger hands may have an issue with unintentional clicks. Other than that, a solid entry from the folks at Logitech.
See the Logitech G502 Proteus Spectrum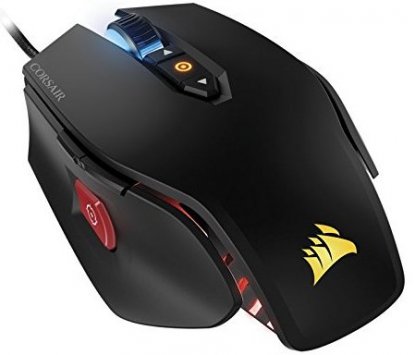 Size: 4.7" x 2.8" x 1.5"
Weight: 4 – 4.8 oz.
Orientation: Right-handed
Interface: USB
Sensor: Optical (Pixart PWM336x)
What We Like: Lots of features.
What We Don't: Slightly heavy, side buttons positioned awkwardly.
This mouse from Corsair features a brilliant optical sensor, nine programmable buttons (including a dedicated sniper button), customizable profiles, three-tier adjustable lighting and a weighting system. Although a nice idea in theory, the sniper button, which reduces the mouse's sensitivity when held, has very a specific usage and we found changing its functionality in Corsair's software, then binding it to a control of our choice to be the better option.
The mouse has a very high build quality and felt solid when we tested it. The weighting system, although not a new idea, is a welcome one. However, we found removing all the weights suited our preferences, so maybe an alternative model without this feature at a lower price point could be a viable option. Aimed at right handed users the mouse suits both claw and palm grippers, however during claw grip gaming we found our fourth finger rubbed against the corner of the side paneling, causing issues after extended play sessions. The shape of the mouse is very specific and we'd definitely recommend trying it before you buy.
See the Corsair M65 Pro RGB

Size: 5.5" x 3.3" x 1.7"
Weight: 5.4oz
Orientation: Right-handed
Interface: Wireless/USB
Sensor: Optical (ADNS-3090)
What We Like: Wireless, great tracking, battery life.
What We Don't: Better wireless options available.
Another wireless addition to add to the list is the G602 from Logitech. Unlike the G900 and Razer Mamba, the G602 comes in at a very accessible price point. This isn't to say the G602 is a cheap option. Far from it. With its eleven programmable buttons, Delta Zero optical sensor technology, wireless functionality and battery-saving modes the G602 certainly packs a punch - however, its 2ms response time due to its 500 Hz polling may put some users off.
The weight could also be an issue for FPS players, but for the price you'll struggle to find a better wireless alternative that's as comfortable with as high a build quality as the G602. Another benefit of going with Logitech is their SetPoint software suite, which is easily one of the most intuitive and customizable out there. For casual gamers looking for an affordable, reliable wireless mouse the G602 is definitely one to consider.
See the Logitech G602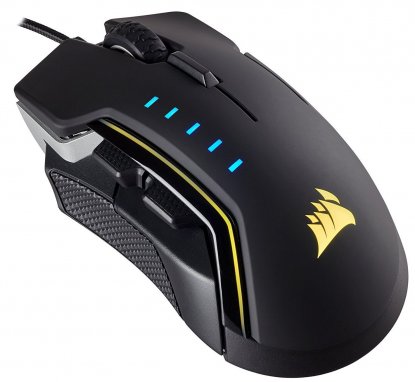 Size: 3.6" x 4.9" x 1.7"
Weight: 4.3oz
Orientation: Right-handed
Interface: USB
Sensor: Optical (Pixart PMW3367)
What We Like: Great tracking, tunable sensor, customizable, battery life.
What We Don't: Build quality for the price.
Corsairs' latest mouse, the Glaive RGB, is a real class act. Although slightly bigger than our average-sized hands were used to, the contours and design choices taken by Logitech meant the mouse never felt too big and was always comfortable. The removable thumb rest modules only aided this comfort, with three different magnetic modules provided out of the box. We also enjoyed the positioning of the side buttons and their differences in shape, allowing us to easily identify them without taking a second look. We just wish for the price point the mouse wasn't made of such lightweight plastic.
The sensor is where Corsair's entry really comes into its own though. Not only is this sensor renowned for being super-accurate and reliable, its custom design has been reworked to include surface calibration. This means even if you don't have a mousepad you can calibrate the mouse to work accurately on pretty much any surface. Very handy. The switches in the buttons have been designed to provide less resistance than normal which, although handy for MOBA players clicking lots of times in short periods, means intense FPS game players may accidently pull the trigger if they aren't careful. The Glaive comes with all the usual features too, including RGB backlighting and switchable DPI settings. All in all, a great mouse. Brilliant ergonomics, customizability and sensor. Its only let down is its build quality for the price point.
See the Corsair Glaive RGB

And For When You Want To Go Old School: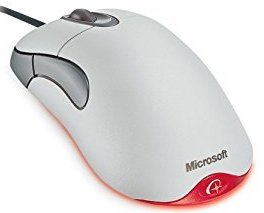 Size: 5" x 2.7" x 1.6"
Weight: 5.2oz
Orientation: Ambidextrous
Interface: PS/2, USB
Sensor: Optical
What We Like: Classic optical mouse.
What We Don't: Slightly heavy, sellers overpricing due to rarity.
One of the first optical mice to be released was the Microsoft Intellimouse Optical 1.1A back in 2001 and surprisingly it still holds strong in today's market. With just five programmable buttons and a 400 DPI limit, the uninitiated may be put off, but for games such as CS:GO, 400 DPI is fairly standard amongst professionals and five buttons is more than enough. Its ambidextrous design feels comfortable for both claw and palm grips
That being said, the mouse feels fairly cheap, which is strange considering it's higher than usual weight of 5.2oz. The scroll wheel however, feels solid and the left and right button actuations feel perfect. The side buttons feel slightly looser than we'd like, but for around $30 at its best price, this optical sensor mouse is hard to cast aside. The 1.1A can be difficult to source on Amazon for its RRP, but the 2.0 and 3.0s are there in abundance. So if you can fancy basking in some PC gaming nostalgia with a quality optical gaming mouse for around $30, then we highly recommend the IntelliMouse Optical
See the Microsoft IntelliMouse Optical 1.1A

Specs Table: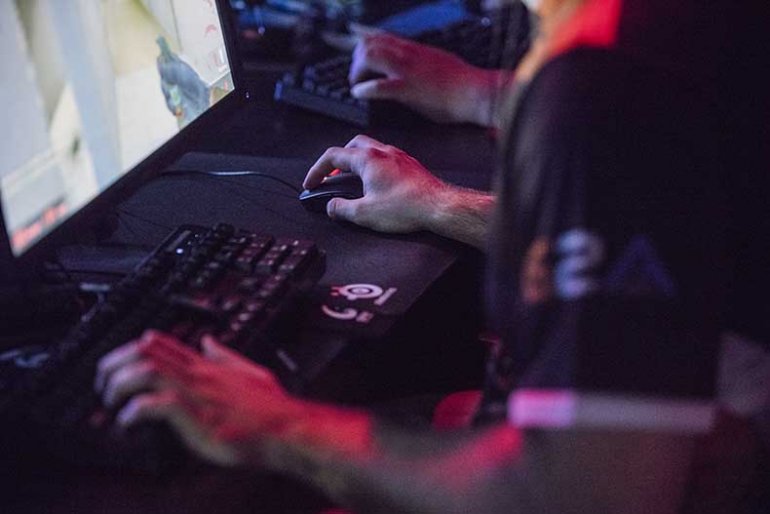 Buying Advice:
What Should I Look For When Buying A Gaming Mouse?
It can be difficult to find a gaming mouse that really suits your specific needs. There's a lot of options out there and it can feel like you're being bombarded with marketing jargon, blinded by 16.8 million shades of RGB backlighting, and having your brain stupefied by a DPI number higher than you can count. Don't worry if you're confused though, you're not alone - and we're here to help.
The most important factors to consider are the shape, buttons, sensor and weight. First off, if a mouse doesn't feel comfortable in your hand, you're going to have a hard time controlling it no matter how brilliant the sensor is or how responsive the buttons are. So make sure the size, shape and weight feel comfortable, accommodate your dominant hand and suit your preferred grip-style (more on this later).
Having enough buttons is important, but will vary depending on the games you play. For example, mice with a lot of buttons will suit MOBA players who need quick access to different spells and summons, whereas fewer buttons are more suited to FPS games, where less controls are required. Just as important as having the right amount of buttons is the positioning of the buttons themselves. It's useless having fifteen programmable buttons if fourteen are out of reach. So definitely bear that in mind.
The sensor is the heart of the mouse, so it's important to get one with good tracking. Accepted opinion is that optical sensors are better than laser sensors, but that's not strictly true, as we'll explain below.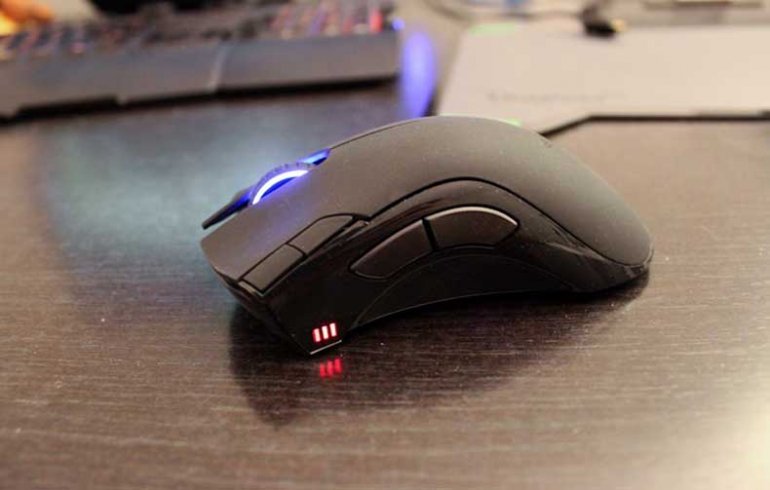 Optical Or Laser?
First it's worth explaining how a sensor actually works. Mice use the same sensors that are found in your phone or digital camera: CMOS sensors, or Complementary Metal-Oxide Semi-conductor image sensors, take thousands of images per second which the mice use as map to then calculate physical movement. The mouse then reports this movement to your computer (polling rate – see below), which tells the cursor or crosshair to move in that direction.
The difference between laser and optical mice is not specifically in the sensor (as they both use CMOS), but in the illumination the sensor uses to capture the image. Optical mice use infrared light, and laser mice use a surface emitting laser. So why does this matter? Well, the laser light is much more detailed than the infrared, which means on certain surface types (specifically soft ones) the laser can pick up unnecessary data from beneath the surface of the mouse mat through its fibres.
This additional and unnecessary data can create inconsistencies in its movement report. These inconsistencies are often referred to as 'jittering' or 'acceleration'. This is only true for a small number of laser mice and does applies to some optical mice too. All the big brands usually list the specific sensor they have used, so we recommend researching your specific sensor prior to purchase.

DPI Explained
Dots Per Inch (DPI) is the single most over-used marketing term in PC gaming, which realistically has very little bearing on the accurate performance of the mouse.
That's not to say DPI is unimportant - to the contrary, the DPI of the mouse determines its sensitivity, which is very important in controlling movement. But a lot of companies push the notion that the higher the DPI, the more accurate the mouse becomes. This is false. A higher DPI makes the mouse more sensitive, but not more accurate. For example, a mouse moved the same distance by your hand with a high DPI will feel faster and move further on your desktop than one with a low DPI. If anything, higher sensitivity makes mouse movements harder to keep accurate due to the increase in speed and the opportunity this creates for human error to occur.
The main use for increased DPI is for folks playing games that require a lot of fast movements, such as rocket jumps on Quake, or those gaming on resolutions of 1440p and above. These higher resolutions produce more onscreen pixels, which are an increased distance for the cursor to travel. Therefore, a higher DPI acts the same on a high resolution as low DPI would on a low resolution. This makes a mouse like the Razer Naga Epic Chroma ideal.
It's also worth noting that a lot of sensors aren't designed to handle high DPIs and this increase in sensitivity can cause inconsistencies in its movement.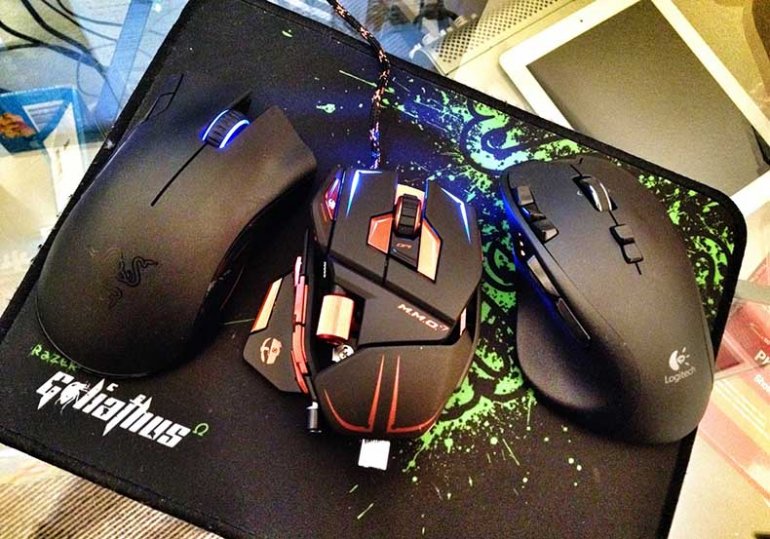 Polling Rates Explained
Polling rates are how often the mouse reports its movements back to the computer. This is more important than DPI in terms of accuracy, especially in fast twitch shooters, because if you're moving the mouse quickly across the pad, a higher polling rate will be able to process every movement you make and translate it to your in-game movements. This means your character will mimic your every mouse movement accurately. A lower polling rate could mean the mouse misses certain movements, meaning your character may fail to accurately mimic your hand movements.
Again it's a term often used by companies to hype their products and sell more units. A polling rate of 500 Hz (Hertz) is adequate for most gamers and means the mouse is reporting its position to the computer every 2 milliseconds (known as 2ms response time) and is pretty much the standard among gaming mice. Some gamers prefer 1000 Hz, although anything over that is simply marketing spiel.
If you're looking for a super high polling rate, try the Logitech G900 Chaos Spectrum - currently top of our list.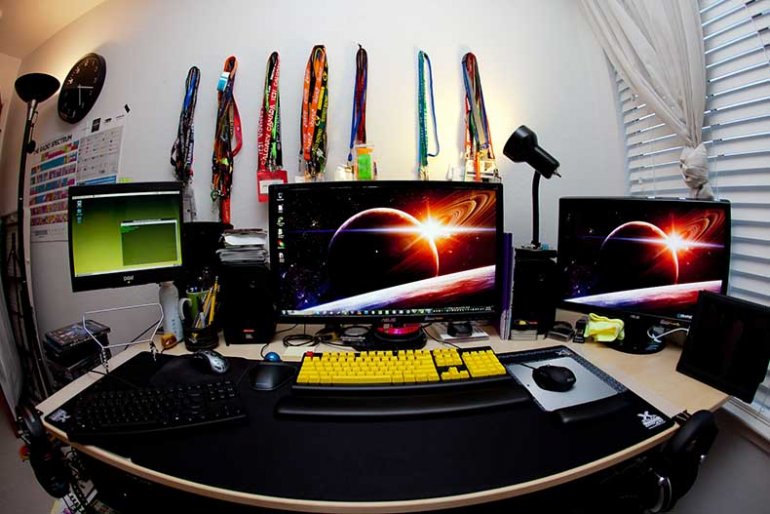 Jitter And Mouse Acceleration
So you've heard about inconsistencies in movement reports, but what does that actually mean?
The two most common inconsistencies are jittering and positive mouse acceleration. Jittering is usually caused when the sensor picks up on some dust or dirt on the mouse pad and causes the cursor to jiggle in a direction not informed by your hand movement. Simply cleaning the mouse surface or sensor will usually fix it. Some sensors however, can misread the surface texture (like laser mice interpreting unnecessary excess data) and cause the same effect.
Mouse acceleration is where the movement of the mouse and the movement of the cursor is not 1:1. So moving the mouse a distance of five inches on its mat doesn't always translate to the same distance moved on screen every time. The issue with this is gamers are reliant on the development of muscle memory in order to improve their aim. Inconsistencies in the on-screen movement prevent muscle memory from working. It's worth noting that mouse acceleration isn't inherently bad - if it's consistent, but inconsistent mouse acceleration is impossible to predict, which results in poor mouse control.

Claw Or Palm Grip?
As not all mice are suitable for all grip styles, it's important to know which style you prefer before searching for that perfect mouse.
The palm grip is when your hand lays flat on top of the mouse, with the base of your fingers laying on or around the arch and your thumb fully extended along the mouse's side panel. The claw grip is when the weight of your hand is supported by the grasp of your slightly bent thumb, fourth and pinkie finger on the mouse's side panels. This leaves your index and middle finger poised, half bent above the left and right mouse buttons. Neither grip is better than the other. It's completely down to personal preference and usually a decision we're not even conscious of.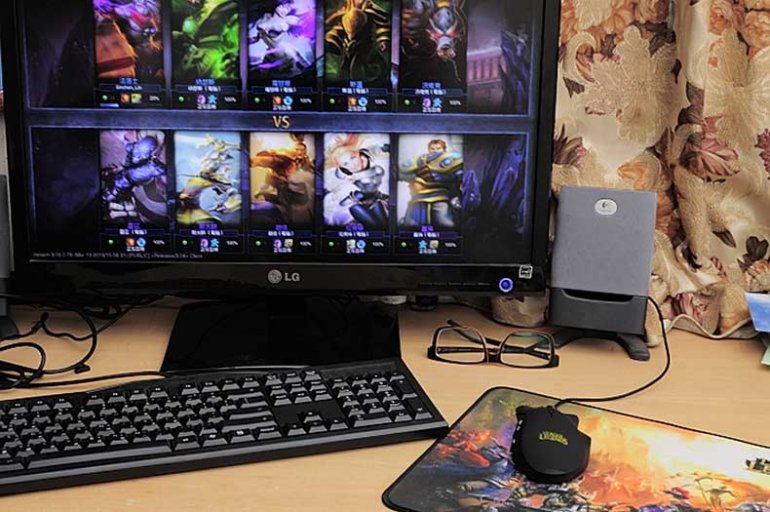 The Software Suite Spot
It's all very well having an all singing, all dancing, feature-laden mouse, but you need to be able to control that wild beast and tame it to your requirements. This is where the software suite comes in.
Each company has their own version. For example, SteelSeries has Engine 3, Corsair has its Utility Engine Software, Razer has Synapse and Zowie has, um…OK, well maybe not every company. On the whole these software suites all offer the same options. DPI and Polling rate adjustment, RGB customization (if applicable) and the ability to create custom configurations to cater for your different needs across your different games. Another cool feature all these software suites offer is the ability assign your mouse buttons to a specific key on your keyboard. For example, some games, especially early alpha or beta builds, are unable to identify additional mouse buttons (side buttons labelled 6 and up). In these cases you can use your software suite to reassign mouse button 6 and 7 to be recognized as F1 and F2 (or any keys you desire). This then allows the games to recognize your mouse buttons and allow full use of them.
Another cool feature is the ability to create macros. Macros are an automatic key stroke or combination of key strokes activated by a single push. For example, if you're playing a game that requires you to harvest resources by constantly left clicking, you can create a macro that will repeatedly left click for you just by pressing it once and will deactivate when you press it again. This is great for increasing the longevity of your buttons/mouse and also saves you the hassle of continuously tapping left click.

Some software suites are more intuitive than others, but don't be put off. Try and get familiar with your software suite as it really allows you to utilize the full capabilities of your mouse. If this sounds like too much then take a look at the Zowie FK2 as it's our best in class for those looking for a no fuss, top quality mouse.

Wired Or Wireless?
Wireless gaming mice used to be an unpopular choice due the slow response time created through transmitting the data wirelessly. But now, global megabrands such as Logitech and Razer have invested hundreds of thousands of dollars into developing wireless tech. With the release of the Logitech's G900 and Razer's Mamba Chroma, the difference between wireless and wired mice is no more.
With that in mind, there are many benefits to a wireless mouse. Obviously there's no wire to get caught on items on your desk, or indeed the desk itself, and if there's no wire that means one less thing to break. Also, if you ask us, wireless mice look a hell of a lot cooler too.
One consideration to make with wireless mice is battery life. Most gaming mice have batteries that last longer than an average session, but it can become an issue if you're forgetful and don't remember to charge each time you power down. Also, some mice have fixed battery units, meaning when the battery starts to hold less charge (which they all do eventually) you might need to buy a whole new mouse. Weight can also be an issue as batteries aren't light and if you chuck two AA's into your mouse you're going to notice it. In essence this choice is entirely subjective, but we're definitely in an era where both options are more than viable and that's just fine by us.