Most new gamers forget to consider their monitors when envisaging their dream set-ups. But if you just go with whatever you have lying around, you're wasting the potential of that sweet graphics card and awesome processor you have. Oh, and did we mention the disadvantage you're putting yourself at if you intend to play any online gaming – especially fast paced ones? Well, lucky for you, TMS has your back. Whether you're looking for a no-frills affordable monitor with crystal quality and blistering response times, or a cinema sized, 4K, curved screen, fear not, we've got it covered.
 
How We Choose:
Let's not be coy. Hands down, the most important factor is picture quality. We're talking colors, contrasts and clarity. We want our games to look good. Real good. Oh, and size is important too. That doesn't mean bigger is better, more that there's a sweet spot where Size and Resolution perfectly complement each other, and we've found it.
We also want images that are perfectly in-sync with our keyboard/mouse/controller movements, so refresh rates and input latencies are a definite consideration. There are three different types of screens (panels) used in monitors, each with their own pros and cons. Last, but not least - the price. Although as a rule in PC gaming, you generally get what you pay for, we've managed to find a few hidden gems that compete with the high end models without the high end price tag. If you know what you need, but don't know where to start, then check out our Buying Advice below.
 
Our Gaming Monitor Picks: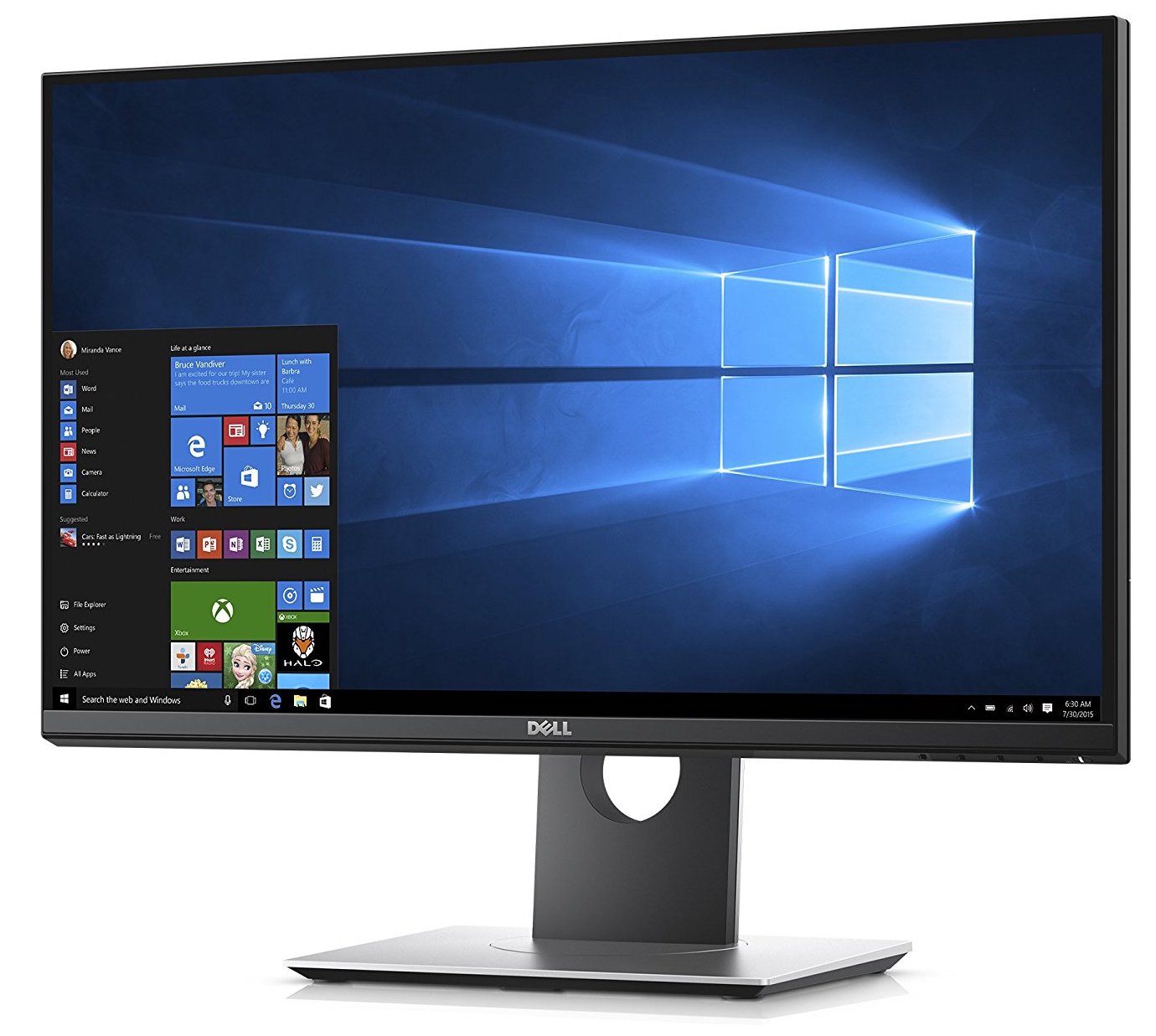 Size: 24"
Resolution: 2560 x 1440p
Panel: TN
Refresh Rate: 165Hz
What We Like: G-Sync, thin bezel, fast refresh, affordable.
What We Don't: G-Sync requires Nvidia card.
Dell's S2417DG is outstanding. Thanks to its average size and above-average 1440p resolution, the S24 has more pixels crammed in than the majority of 24" monitors, which means higher quality sharper images. The 165Hz refresh rates keeps things running buttery smooth, and the TN panel means that although colors aren't totally accurate out the box, response times and input lag are low. So low, that the S24 actually came top of its class here, beating out the ASUS VG24H and AOC G2460PF. Perfect for gaming, then.
G-Sync anybody? Nvidia's proprietary solution to reducing screen tear during fast moving sequences or low frame rates, keeps your graphics card and monitor in perfect harmony by matching each frame sent by your graphics card with each monitor refresh. The effect has to be experienced to be understood, but it's a pretty big deal. The only kicker is you need an Nvidia graphics card to access the feature. Those on the AMD train could consider the AOC VG24H with its FreeSync capabilities, but just remember it lacks the resolution of the S24. The ultra-low motion blur mode helps to reduce motion blur, although it dims the brightness more than we enjoyed, besides, G-Sync. The S24 is the King of 24" monitors producing an experience fit for royalty, without charging a king's ransom.
See the Dell S2417DG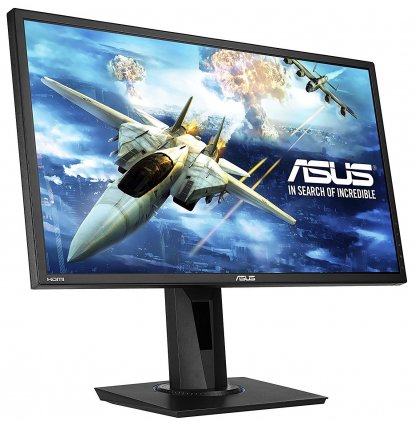 Size: 24"  
Resolution: 1920 x 1080p
Panel: TN
Refresh Rate: 75Hz
What We Like: Bang for your buck, FreeSync.
What We Don't: Refresh rate could be higher, dim.
We're starting to see a trend. TN panels everywhere. Not surprising thanks to their speed and price. The VG245H from ASUS is hard to beat in the former and impervious to attack in the latter. At the $180 this monitor is a serious gamer-on-a-budgets dream. The refresh rate might seem low, especially compared to ASUS PG278QR, but you need a good graphics card to take advantage of those high refresh rates. Something a buyer of affordable monitors might not be in possession of.
The fast response times, strong picture and unmistakable build of this ASUS product make this monitor a real diamond in the rough. Easily the smartest money choice on our list, outshining the AOC G240PF all areas an affordable monitor should be concerned with. The built-in speakers are a nice touch but wouldn't be any good for a long term audio solution. Check out our Best Headsets Roundup if you need help here. It also comes with presets for different types of games: Racing, shooters and the like, which calibrates the picture for faster- or slower-moving images. A nice care-free feature for those just wanting to get on with gaming. FreeSync functionality makes an appearance, and is simply AMD's alternative to G-sync at a much lower premium. (AMD Users: yay). Our only gripe is the brightness of the screen which in our opinion could be increased. If you're an AMD gamer who just wants a quality monitor without the fuss or high price tag and couldn't care less about refresh rates, then this is probably the one for you.  
See the ASUS VG245H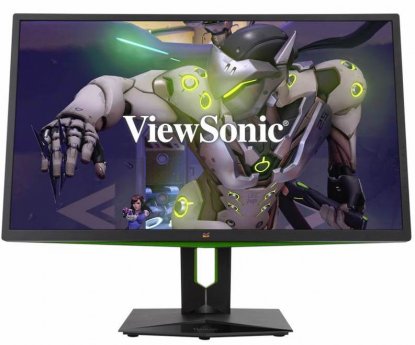 Size: 27"  
Resolution: 2560 x 1440p
Panel: IPS
Refresh Rate: 165Hz
What We Like: Affordable, fast, high-quality IPS panel.
What We Don't: GPU-intensive.
This IPS panel is a bit of a giant-killer. Not only is it $100 cheaper than the ASUS PG279Q panel, but our model had less light bleed and looked just as good, if not slightly sharper out the box. Not bad from the guys at ViewSonic. It might not look as aesthetically pleasing as the ASUS model, but that's completely subjective. And every task you perform on this monitor looks amazing. Vibrant, crisps images complimented with fluid movements no-matter-what, thanks to the on-board G-Sync technology. If you have a system that can keep up, the 165Hz refresh rate means you'll be treated to an experience not many other panels can offer, especially at this res, for this price across 27 inches. 
One area the ASUS PG279Q beats the ViewSonic offering in mind you, is actual view size. This is thanks to its slimmer bezels. This also means, if you were considering a multi-screen setup, that the ASUS panel could be a more suitable option - if you can stomach the price. The XG2703-GS has an abundance of ports including 5x USB, HDMI, DisplayPort and a 3.5mm audio out. This accessibility in tandem with its unmatched specs at this price point, mean it is one of the best 27" 1440p panels available for gamers right now. Its TN rival, the ASUS PG278QR, may have a lower input lag, but its weaker viewing angles and less accurate colors made more of a difference in our real world testing. The Viewsonic XG2703-GS is definitely flying the flag for the 27" 1440p category. 
See the ViewSonic XG2703-GS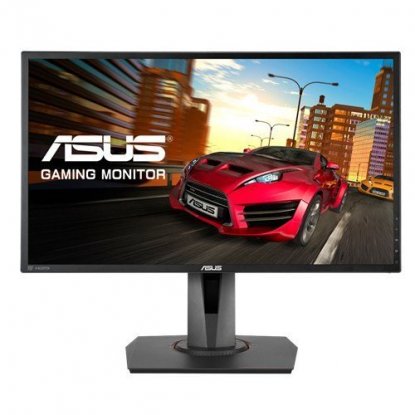 Size: 24"
Resolution: 1920 x 1080p
Panel: TN
Refresh Rate: 144Hz
What We Like: Great price, Adaptive sync.
What We Don't: No G-sync.
Not only does the MG248Q look like a mini ROG Swift, it also has the same 144Hz refresh rate and Adaptive sync technology -  making it one of the more exciting prospects in the 24" category. The 1080p resolution may not be the all singing, all dancing 4K ideal, but remember, in order to hit these crazy numbers, you need more than just a fancy monitor. Besides, 1080p at 24" looks fine and, if you can utilize the 144Hz frame rate, you're laughing. This panel in particular looks fantastic. Although a TN, it is the same TN used in the Swift, which means vibrant colors, fast response times and easier to produce refresh rates. And, as we know, monitors that can achieve refresh rates under less stress reduce artifacting. Take that, pixel snobs. Adaptive sync diverges from the Swift similarities, catering only for the AMD crowd. Which, while a bummer for us, is less so for others. Especially as AMD cards cost considerably less.
The OSD will be instantly recognisable for anyone who currently owns an ASUS monitor, as will the joystick used to navigate it. In our opinion, ASUS have the best design for OSD controllers. The monitor does all the usual tilt, swivel, and raise manoeuvres, but, unlike some, it can also rotate 90 degrees. This is especially handy for streamers engaging with their chat. Overall, the ASUS MG248Q is very impressive indeed, bringing the Swift tech to a more affordable panel and with better performance. While is doesn't quite have the same contrast as a VA or color range as an IPS, this TN is perfect for gaming. 
See the ASUS MG248Q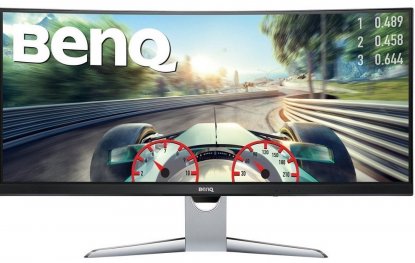 Size: 35"
Resolution: 3440 x 1440p
Panel: VA
Refresh Rate: 100Hz
What We Like: AMD freesync, immersive.
What We Don't: Awful menu, Nvidia users aren't catered to.
The BenQ EX3501R is a brilliant example of how to do ultra-wide well. With slick looks, awesome tech, and an almost affordable price tag, there's lots to get excited about. The first thing we noticed were the bezels. Just in case 35-inches of HDR (high dynamic range) beauty wasn't enough to keep your focus, BenQ has reduced the bezeling down to an impressive figure, so small it can't be measured. They really are thin - almost half the width of those found on the ROG Swift PG278QR. The stand is also well thought out, actually taking up less space than all of ASUS' miniscule 27" panels. You've got the obligatory cable management hole on the stand, and on the panel itself, you've got the not-so obligatory light sensor. This reads ambient room lighting and adjusts the screen brightness to suit. While not revolutionary, it's a definite plus for those using this panel for work over long periods. Speaking of work, the sheer size of this monitor means workflows will be greatly enhanced, and the in-game immersion…wowzers. We're not sure if the curvature in the screen is to thank, or if it's the 100 Hz (displayport only) refresh, or the fact this monitor is bigger than some TV's, but games have never felt better. This is only fuelled by AMD's FreeSync tech, which removes screen tearing, improving the smoothness of the images. Nvidia users will need to look for a G-Sync friendly unit like the Agon AG352UCG.
The VA panel is also HDR ready. While it could be argued it isn't true HDR, due to some scientific wizardry surrounding 'bits' and 'brightness', content that supports HDR - such as HDR Netflix movies via Microsoft's Edge browser - have never looked better. Our main issue is with the OSD, and more specifically, its controls. They're awkwardly placed and just feel counter-intuitive. Which is annoying, as tinkering is a definite with this panel. For $850, you're getting a whole lot of monitor. Seriously, you won't find many other monitors with these specs at this price. If you're looking for an ultra-wide solution, this could be it.
See the BenQ EX3501R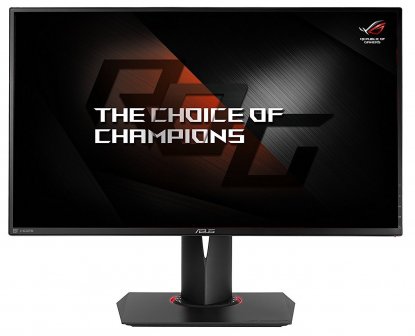 Size: 27"  
Resolution: 2560 x 1440p
Panel: TN
Refresh Rate: 165Hz
What We Like: Perfect mix of size and resolution, adjustable stand, G-Sync.
What We Don't: Very expensive.
If it wasn't for the high price point, the PG278QR would have nabbed a better spot for sure. It's an amazingly stylish monitor producing clear vibrant images with a 165Hz refresh rate, G-sync, low input lag and low response times. The colors will require some tweaking out of the box, however once done they are equally as impressive as the Dell S2417DG.
The 8QR has a higher price tag than the Dell, but also, an extra three inches. The sacrifice in pixel density, is offset with having more room to display what is still a great quality image, and captivates in a completely different way. Its G-sync functionality only adds to the experience and once you've used the 8QR you'll wish you could justify the extra dollars. The stand is completely adjustable and feels really solid. In fact the whole unit feels well-built and robust. If money is no object, and your preference is with real estate over image density, then ASUS's PG278QR could be your number one. It's not ours though. Sorry.
See the ASUS PG278QR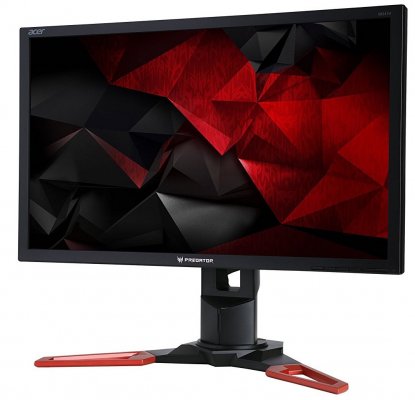 Size: 24"
Resolution: 1920 x 1080p
Panel: TN
Refresh Rate: 180Hz
What We Like: G-sync, high refresh, Eyeprotect.
What We Don't: Expensive, better for competitive games.
With its hyper-aggressive styling and name, the Predator has one clear target: gamers who are serious about performance. The 1080p TN panel produced the expected speedy refresh rate and input lag figures, and even exceeded our expectations for color accuracy looking better out of the box than the ASUS PG278QR. The 180Hz refresh rate crushes even our first place entrant, Dell's S2417DG, making fast paced action as smooth and fluid as the less demanding scenes – providing you can get frame rates high enough. It's not surprising this monitor has been used at some of E-sports largest tournaments.
And this leads us to our only issue with the monitor. It's much better for competitive game experiences than single player immersive ones. 1080p is starting to look very standard, and for the price, standard is not a look we're interested in. Especially true when for an extra $50 you can pick up the 28" 4K Acer B286HK. 24" is optimal for online competitive play, as you can see everything in front of you and high frame rates are easier to maintain at 1080p, but it doesn't lend itself to the immersive panoramic vistas we love exploring on our single player endeavors. For the price, we'd need it to cover more bases. That said, if you're serious about E-sports or competitive shooters and play little else, this monitor is a great investment.
See the Acer Predator XB241H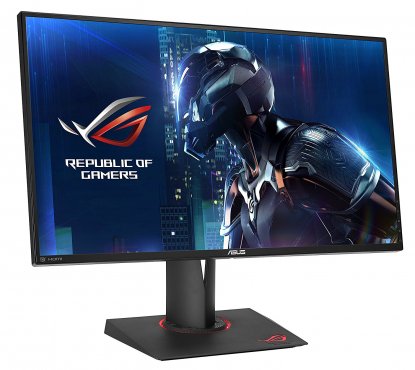 Size: 27"  
Resolution: 2560 x 1440p
Panel: IPS
Refresh Rate: 165Hz
What We Like: Amazing picture quality and colors, G-Sync.
What We Don't: Expensive.
The second IPS panel on our list is good, just not unbeatable. If you missed it the first time round, IPS means unprecedented color accuracy; combine that with a (surprisingly) low input latency, 1440p resolution and 27" screen size, the PG279Q is a real class above. It looks sleek without being overly aggressive and the build quality is second to none. That said, the ASUS PG278QR is equally as impressive, but slightly cheaper, although slightly less attractive as well. The screen is very heavy, but once attached to the included stand, it feels secure and robust. Adjustments on the stand feel tight and precise, but thanks to the great viewing angles you'll rarely need to mess with it. The price is the only real dampener especially when Viewsonic offer a similar experience for less. That said, the PG279Q does have smaller bezels, a higher dynamic contrast and just feels like a higher-end product.
The onscreen display for the menu is intuitive and easily-accessible from a clickable joystick on the back of the monitor. Navigating it is a dream.  G-sync again creates an unbelievable experience, however as always is limited to those who own an Nvidia card. Without a doubt one of the best 27" monitor for Nvidia users; it's just a shame not everyone can afford it.
See the ASUS ROG Swift PG279Q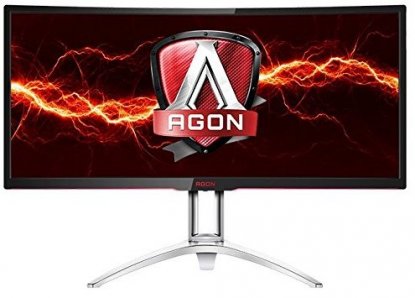 Size: 35"
Resolution: 3440 x 1440p
Panel: IPS
Refresh Rate: 100Hz
What We Like: Anti-glare screen, G-Sync.
What We Don't: Not the best picture quality.
The main roadblock for most people looking to go Ultra-Wide is the price. The AOC Agon is the cheapest 35", curved, Ultra-Wide monitor we've tested and we absolutely love it. Once you've attached the stand, you can tilt, swivel, and adjust the height to your heart's content - just don't stare directly at the bezels. Alienware AW3418DW's, they are not. The AOC also features underside lighting via two lighting strips, and can display solid colors of Red, Green, or Blue. What a surprise.
Connection wise, AOC are keeping it simple, using only a single HDMi, a Displayport, four USB ports, and audio out. Some people complain about the lack of connectivity on the Agon, but we aren't one of them. So long as you have your DisplayPort, you're set. Period. Awesome viewing angles, and an anti-glare screen, do well at eliminating any pesky, immersion-breaking, real life getting in the way, while Nvidia G-Sync compatibility means janky visuals are a thing of the past. The IPS panel we received needed a bit of calibration out of the box, and didn't look quite as deep and rich as the images produced by the Alienware AW3418DW, but they still turned out absolutely gorgeous. We noticed very minimal input lag, and our 1080Ti was able to keep 100fps pumping through our 100Hz refresh rate with no bother. A few games struggled to recognise out native res of 3440 x 1440p, but this is normal for all 21:9 monitors. If you're an Nvidia user looking at cheap ways into the high end world of ultra-wide, the AOC Agon could be just what you're looking for.  
See the AOC Agon AG352UCG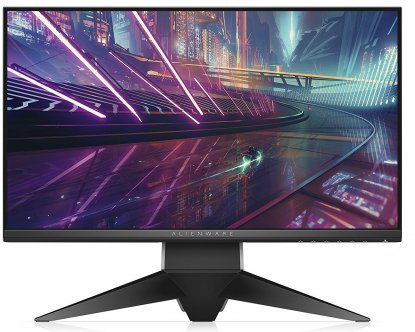 Size: 25"
Resolution: 1920 x 1080p
Panel: TN
Refresh Rate: 240Hz
What We Like: Super-fast refresh, Both G-sync and FreeSync available.
What We Don't: Tired resolution.
Alienware deserves praise for this one. Not only have they created an awesome looking, highly responsive gaming monitor, they've swerved the ball dropping act of picking team green (Nvidia) and team red (AMD). How, you ask? By creating both FreeSync and G-Sync versions - that's how. In typical Alienware fashion, this monitor is expensive. Let's face it, irrespective of the face melting 240Hz refresh rate and lighting fast 1ms response time, it's still a 1080p monitor and $375 is a lot of money. Or is it? The Acer Predator only has 180Hz refresh and costs $350, while the Viewsonic XG2530 has 240Hz but costs a whopping $400. And it's Viewsonic. Hmmm, maybe Alienware has changed their ways.
The Alienware 25 is a gorgeous looking panel, complete with practically non-existent bezels, a cool stand, and an overall well selected bunch of materials. We really love the understated design, and hope this is something Alienware pushes moving forwards, as it really works for us. But, of course, we were disappointed by the RGB lighting. While the OSD controls aren't as intuitive as any ASUS offering, they are damn better than those found on the BenQ EX3501R. While the picture quality is decent, it lacks the refinement of the ASUS Predator, but definitely trumps it for smoothness. While 1080p doesn't make for the most immersive experience, it works well for fast Twitch games, like CS: GO, and makes it easier for your average Joe to hit 240fps with middling software. Thus, taking advantage of that 240Hz refresh rate. The panel was extremely responsive and we noticed next to nil input lag. Personally, we prefer our panels slightly larger (27" 2560 x 1440p), but if you just want super-fast refreshes at 1080p on a 24" panel, the Alienware 25 is hard to beat in terms of both design and value.
See the Alienware 25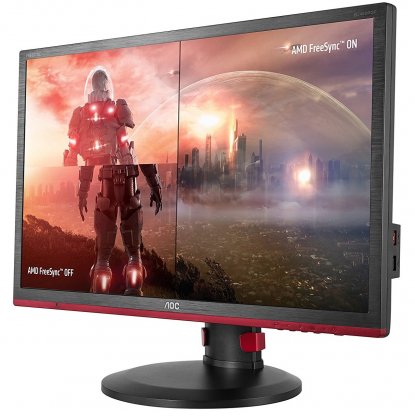 Size: 24"  
Resolution: 1920 x 1080p
Panel: TN
Refresh Rate: 144Hz
What We Like: Affordable, FreeSync, cable management feature.
What We Don't: Colors slightly off.
Another great addition for affordable gaming monitors. Although not quite as affordable or attractive as the ASUS VG245H, AOC's G24 is a solid, fast, responsive monitor with a high refresh rate and FreeSync technology. It may cost more than the entry from ASUS, but with that increase in price you're getting a refresh rate that's twice as high, and a completely adjustable monitor position - you can even turn the monitor from landscape to portrait. The design is pretty slick, and AOC have even included a cable management bracket on the back of the stand. The 1080p display means you're achieving the standard in high-definition resolution, and most hardware configurations will be able to take advantage of its potential without breaking the bank.  
Performance was impressive across games like Grand Theft Auto and Metro 2033, with the monitor's fluidity really shining with FreeSync enabled. G-Sync users may want to check out the slightly slicker Acer Predator XB241H, but be prepared to pay a premium for it. As with all TN panels the colors were slightly off out the box, however, even after tinkering we weren't completely happy with the results. That said, for the price the AOC is a brilliant solution for the 24" 1080p range coming second only to the VG245H from ASUS in terms of affordability.
See the AOC G2460PF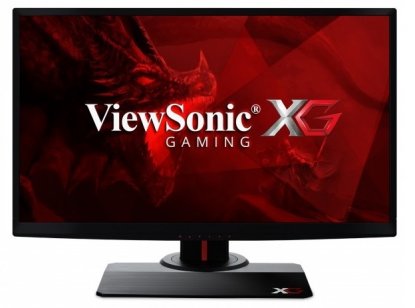 Size: 24.5"
Resolution: 1920 x 1080p
Panel: TN
Refresh Rate: 240Hz
What We Like: Obtainable high refresh rate
What We Don't: Lacks versatility for the price
This monitor is ideal for gamers who do just that: game. The 1080p resolution on the 24.5" panel not only gives gamers the current gold standard they expect, but also utilises the main feature of this monitor, the 240Hz refresh rate. 1080p is the best HD resolution for generating high frame rates, and without a frame rate the equals your refresh rate, it's kind of pointless. You really can feel the difference with a 240Hz refresh rate over the current 144Hz and 165Hz competition. Even the Acer Predator XB241H with its 180Hz wizardly couldn't quite match-up. Granted, the Predator (above) is cheaper, has better styling and build quality, but here, you're paying a premium for the highest refresh rate available on the market. The inclusion of FreeSync is nice, but as this monitor is targeting users who want high frames specifically in competitive scenarios, it seems slightly unnecessary, especially with the possibility of increased input lag.
Like other overtly gaming-centric monitors, the XG2530 comes with some cool features. The cable management clips and built-in handle are a nice touch, but it would have been cool to see a remote with preset image settings or the ability to download popular settings, a la the BenQ XL2430. We prefer the image quality of the ViewSonic, but for the price, some extras would have been appreciated. Due to its size and TN panel tech, there are more versatile monitors available, but none with such a high refresh rate (read: buttery). If you're a big Overwatch or CSGO gamer, and that's all you do, this monitor will deliver one of the best experiences possible. For more a more versatile panel, check out the Acer B286HK.
See the ViewSonic XG2530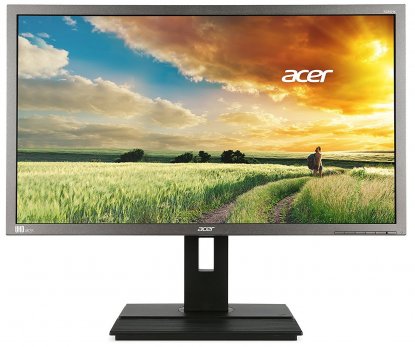 Size: 28"  
Resolution: 4K
Panel: TN
Refresh Rate: 60Hz
What We Like: Sharpest pictures we've seen, cheap 4K.
What We Don't: Needs a powerful graphics card to get the best out of.
The first 4K monitor in our list. Not ideal for competitive online gaming, due to having a larger size to "monitor" (get it?) and slow-ish response times, but this screen from Acer delivers a quality of picture which is hard to describe. The 4K resolution on such a big screen really adds an extra dimension to gaming, and once you've seen it, you instantly notice the difference coming back down, even if it's to the fractionally smaller 27" ASUS ROG Swift PG279Q at 1440p.
As with all the other TN panels, color accuracy is slightly compromised compared with IPS, however during our time in Fallout 4 we were too enchanted by the depth of detail to notice any discrepancy in color accuracy. The B28 makes up its colorful history with the level of adjustment it provides in terms of fine tuning the overall image quality including additional saturation and hue settings. The navigation of the menus is refined and made simple by clearly labelled buttons. A cue we wish the AOC G2460PF could take hints from. A bevy of ports are on stand-by including HDMI, Display Port, and DVI as well as 4 USB 3.0 connections. Oh and speakers. It has speakers. The refresh rate may seem low, but having hardware that can get 60 frames per second on a 4K resolution is tougher than it sounds, so seems a logical choice. Definitely the cheapest and most solid Midrange solution to 4K gaming right now.
See the Acer B286HK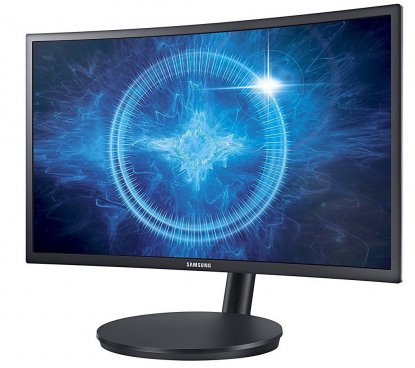 Size: 24"  
Resolution: 1920 x 1080p
Panel: VA
Refresh Rate: 144Hz
What We Like: Great color accuracy, low input and response times, FreeSync.
What We Don't: Curve doesn't work on 24".
OK, so this curved monitor from Samsung had us all curious. We wanted to see if the curve worked as well on a smaller screen as it does on larger ones. In short, it doesn't, and we feel for gaming a more conventional panel like the ASUS VG245H could be a better choice for less. That is, if you don't want the extra refresh rate, or mind that color accuracy is infinitely more impressive on a VA panel than a TN.
Easily beating out some of our higher priced TN panels. It's menu comes with three gamer presets, accessible using the joystick on the back of the unit, as well as individual adjustments for gamma, RGB, refresh rate and response time. AMD's FreeSync is supported with this card for tear-free gaming. Another thing we noticed with the monitor over the TN panels was its increased brightness - supremely beneficial, especially for those gaming in light areas. The monitor's performance was equally as impressive avoiding blurry images whilst maintaining fluid motion. With its current price drop and cleverly-engineered VA panel, Samsung have created a top contender for the 24" 1080p range. Although slightly more expensive than the similarly spec'd AOC G2460PF, Samsung's product delivers much better color accuracy and brightness so long as you're willing to pay for it.
See the Samsung C24FG70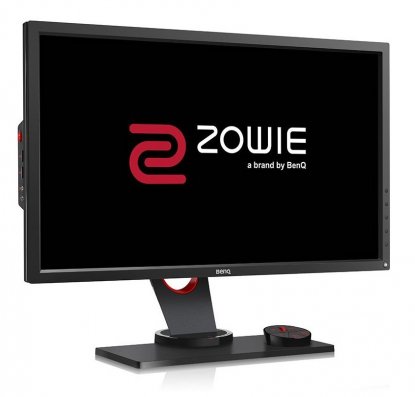 Size: 24"  
Resolution: 1920 x 1080p
Panel: TN
Refresh Rate: 144Hz
What We Like: High refresh rate, great color accuracy, gaming modes.
What We Don't: Expensive for its size.
Some readers may be surprised at the rank we've given the XL2430 considering its performance, styling and features. However, the 24" 1080p bracket is bustling at the moment and competition is tight. Don't get us wrong: the XL2430 is gorgeous, and we absolutely love the styling; it's equally as geared towards gamers as the Acer Predator, whilst avoiding its juvenile feel. The remote used to quick load gaming presets and navigate the menus is a brilliant idea and really aligns with the gaming accessibility ethos behind the brands XL range.
Color accuracy was brilliant for a TN, but again lacking that IPS vibrancy found on the Alienware AW3418DW and others like it. The 144Hz refresh rate makes gameplay deliciously smooth and the ability to download professional gamer's settings was a nice touch although slightly gimmicky. Build quality is top notch, putting the previously mentioned monitors in this range to shame and goes someway to justifying the slightly more expensive unit. Just not all the way. Although a brilliant monitor with amazing performance and ideal for gamers to use at tournaments or LAN parties, we feel you can get equal performance for less. For example, the AOC G2460PF gives very similar performance and even includes FreeSync for nearly half the price. If you're not fussed about gamer-centric features, then maybe check that out.
See the BenQ Zowie XL2430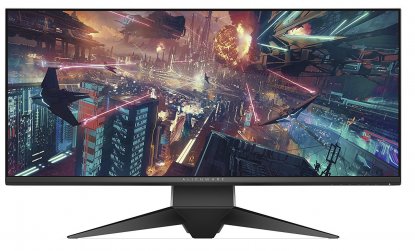 Size: 35"
Resolution: 3440 x 1440p
Panel: IPS
Refresh Rate: 120Hz
What We Like: High refresh, slick design.
What We Don't: Very expensive.
Someone needs to tell Alienware that their prices are out of this world. Seriously, $1,299 is absolutely wild. We're not saying it isn't worth it, just that we can't afford it, and we wish we could. This 35" curved IPS panel looks gorgeous in every sense. The picture quality is fantastic, thanks to its super high resolution, while the UFO-esque speed of the 120Hz refresh means your games will look buttery smooth. Mmm, buttery. The only downside is you'll need an equally beasty graphics card and frame rates necessary to take advantage. Our 1080Ti does the trick, but, obviously, not everyone is so fortunate. Another thing the 1080Ti can take advantage of is the G-sync tech, meaning, even if you can't hit the frames, you'll at least be spared any screen tearing.
The design is super nice, with thin bezels - just like the BenQ EX3501R - a curved screen, and space saving stand to boot. Customizable RGB lighting on the rear and underside will keep millennials (and space explorers) satisfied. The fun doesn't stop there though! If we look towards the connections, we'll see DisplayPort, HDMI, USB Upstream, two USB 3.0 ports, and even a 3.5mm audio-in. Other nifty features include on screen metric display, such as frames per second (fps), and an overdrive mode, which forces pixels to switch color faster to reduce ghosting. Push it too much, however, and you get overshoot, which basically looks like a halo around objects. But hey, if you're looking for the fastest 35-inch, 21:9, curved IPS panel, you've found it. We just hope you've got deep pockets. If not, check out the AOC Agon. To the moon! (By the way, we know the Amazon listing says it's a Dell monitor - they partnered with Alienware to make this).
See the Alienware AW3418DW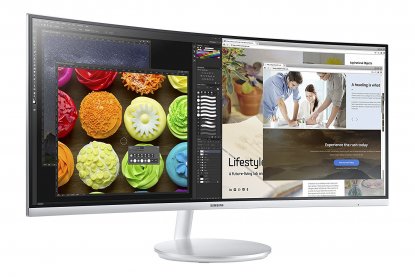 Size: 34"  
Resolution: 4K
Panel: VA
Refresh Rate: 100Hz
What We Like: Immersion is second to none.
What We Don't: Expensive, like so many curved sets.
If immersion is your only concern then look no further. This curved 34" 4k monitor from Samsung delivers an experience unlike any other for similar money. Movies and games instantly become more cinematic and the way the screen wraps around your desk is hard to convey into words. With a headset on, it's easy to forget you're not actually fighting demons and saving princesses. It might not be able to match the refresh rate of the equally oversized ASUS ROG Swift PG279Q, but that's only 1440p and costs $200 more.
The design of the monitor itself is impressive with the stand fully supporting the immense bulk of the monitor and looking classy doing it. A handy clickable joystick on the back, as seen on models like the ASUS PG279Q, allows you to swiftly navigate the menu screens, while a cable management design appeases the OCD'ers out there. The color accuracy is sublime and so good it can be used for professional level photo editing as well as kick ass gaming. Gameplay felt and looked amazing, and when we could hit those high refresh rates the C34 delivered something that really felt the next generation of gaming. It's just a shame it will take a generation to save up for it.
See the Samsung C34F791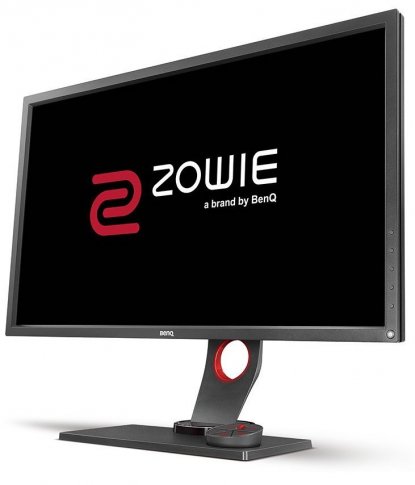 Size: 27"
Resolution: 2560 x 1440p
Panel: TN
Refresh Rate: 144Hz
What We Like: FreeSync, image quality, extensive feature set.
What We Don't: Expensive compared to other TN panels.
This monitor from BenQ delivers a crisp 1440p image across a 27" screen whilst packing more features than a hip-hop artist's comeback album. Sporting the same remote as the XL2430 was a welcome reminder of the direction BenQ take with their XL range aimed specifically at gamers. They want the gamer's needs centric to their design choices. We like.
Unlike the XL2430, the XL2730 comes with FreeSync capabilities which will be great news to AMD owners out there. On top of that a 144Hz refresh rate and super-fast response time combined with decent color accuracy really contribute to a gorgeous final image. It doesn't quite match the AOC Agon AG352UCG, but that's an IPS panel and costs quite a bit more. Features such as black equalization, which boosts gamma in darker areas on screen, as well as blur reduction are handy, but only for specific gamers at specific times. We also noticed that because of the size combined with the TN panel, viewing angles occasionally compromised image quality. For the price though, this 27" 1440p monitor is competing alongside some big players including the ASUS PG278QR, and for significantly less. It might not quite have it dead to rights, but it does have some features that gamers will find useful for a much more agreeable price. 
See the BenQ XL2730Z
 
Comparison Table:
Want Even More Master Switch? Sign Up For Our Weekly Newsletter!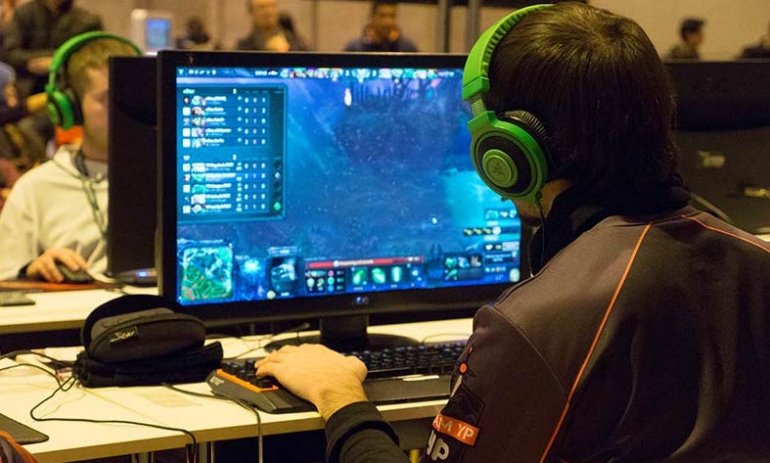 Buying Advice:
How To Buy A Gaming Monitor
Unless you really know what you're talking about, the gaming monitor market can be a confusing place. There are multiple screen sizes, panel technology, and even third party graphic vendor support. So, where do you start? There are three main questions you'll need to ask yourself.
The first question is: how big do you want to go? This is dependent on your desk space, primarily, and the types of games you'll be playing. If you play a lot of single player, or non-competitive/PVE multiplayer games, we suggest 27"and more for the immersion. Just make sure you've got a graphics card that can handle the resolution, as larger monitors tend to have larger native resolutions - more pixels need more power! For anything competitive or fast twitch, we recommend 24". You can manage your screen real estate more efficiently, and the typical lower resolutions will mean higher frame rates. Higher frame rates mean faster refresh rates, provided your monitor supports them. Faster refresh rates mean you will have clearer pictures and small change in pixels will be easier to notice and react to.
The second question is: what panel type do you want? There are three different styles, and all have their own pros and cons. We won't go into that now, but we will explain it in detail in the section below.  
And the final question to ask yourself is whether you want FreeSync, G-Sync, or nothing at all. This is a technology that matches your frames with your refreshes for an even smoother experience. FreeSync is AMD, while G-Sync is Nvidia. So, it really depends on your graphics card vendor.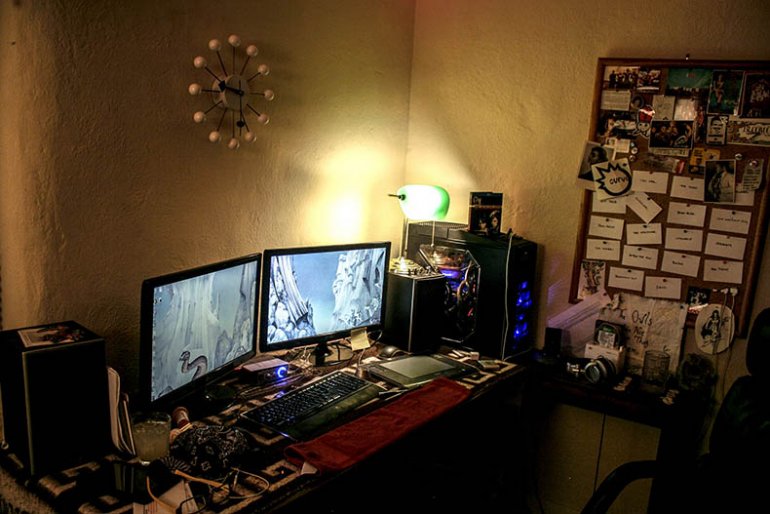 Gaming Monitor Panel Types Explained: TN vs. IPS vs. VA
There are three main types of panel used in monitors.
TN – which stands for Twisted Nematic. TN panels are the most common found in serious gaming monitors because they produce the fastest response times and refresh rates (see below). They are also significantly cheaper which is reflected in their pricing. The downside to them is they don't accurately represent color as well as IPS or VA panels, and they have narrower viewing angles. Not an issue if you're sat in front of it, though. And on that note, you may want to look into a good pair of computer speakers, too.
IPS – which stands for In-Plane Switching. IPS panels are the most expensive, but also the best at displaying accurate colors. No surprise that they're a favorite amongst graphic and web designers. They also have fantastic viewing angles when compared to TN and even some VA panels, so if you're looking at a 30"-plus monitor you may benefit from going with IPS. Just be prepared to pay through the nose. Unfortunately, the compromise they make is surrounding their speed. Significantly slower than TN panels, IPS aren't always the best choice due to their limited refresh rates and increased input lag. This means fast moving images can leave a trail behind them called motion blur and the input lag can result in a delay between your mouse movement and the character moving on your screen. So not ideal if you play any fast online actions games where your response times really matter. 
And finally, VA – which stands for Vertical Alignment. VA panels are the middle ground. Better color accuracy and viewing angles than TN but not as good as the more premium IPS panels. They do cost less, and also have faster response times and less input lag than IPS panels but can't beat the TN tech in this regard.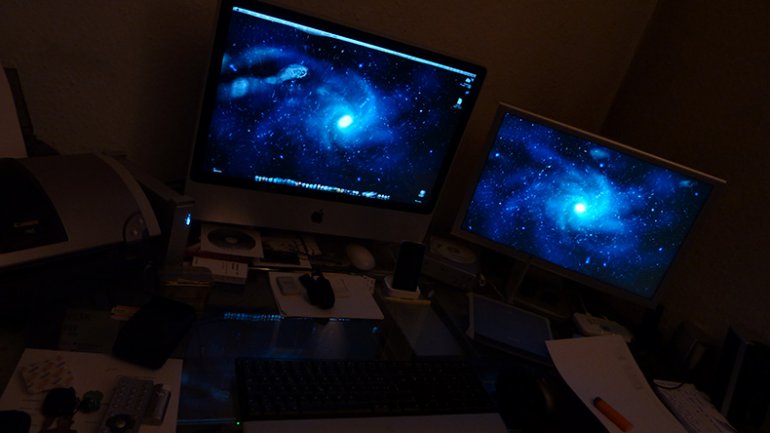 Resolution Explained
Resolution refers to the number of pixels on your screen at any one time.
Pixels are tiny individual dots on your monitor that alternate between colors to produce an image. More pixels equals more detail. So higher resolutions equal great visual fidelity. The current standard resolution amongst gamers is 1920 x 1080 or (1080p). This is called FHD or full high definition. The 1920 refers to the number of pixels wide your monitor is and the 1080 refers to the height. If we multiply the two together we get the total amount of pixels on screen. Other popular resolutions include 2560 x 1440 or (1440p) and 3840 x 2160 or (4K).  
4K is considered the next generation of gaming but in order to display images on your monitor at that resolution you will need a pretty powerful graphics card. It's also worth mentioning that some resolutions suit certain screen sizes better than others. For example a resolution of 1080p on a 30" monitor would look blurry and stretched compared to a 24" monitor. Equally a 4K resolution on a 22" monitor would be overkill, and a lot of the detail would be unnoticeable. In our opinion the sweetspot for maximum quality without spending mountains of cash is a 27" monitor sporting a 1440p just like the ASUS PG278QR.
 
Response Time And Input lag Explained
Response time refers to the time it takes for your monitor to change the color of its pixels. Measurements are either taken using the time it takes to change color from black to white or from one shade of grey to another. Many manufacturers will report the grey to grey times as they are always lower. This is because the change from black to white includes the transition from black to white the back to black again, which covers more of the color spectrum than simply changing between shades of grey. However as long as you compare like for like it doesn't really matter which value you choose.
So for example if we look at the BenQ Zowie XL2430 we can see it has a response time of 1ms grey-to-grey (GtG) whereas the ASUS ROG Swift PG279Q has a GtG response time of 4 ms. 
The benefit to a fast pixel response time is clearer images during fast moving sequences. A slow response time will create a motion blur or "ghosting" effect, which can be quite off putting if you play a lot of fast paced games.
 Input lag refers to the time it takes for your mouse movement or keystroke to be represented by the pixels on your monitor. Many fast-twitch gamers like extremely low input lag, as it gives them more precise information to make their decisions off of during fast paced exchanges. For casual gamers, it's not really such a big deal, and 99% of you won't even notice. Manufacturers rarely advertise input lag, but it's definitely worth researching before you make a purchase if you are serious about playing any fast paced online games.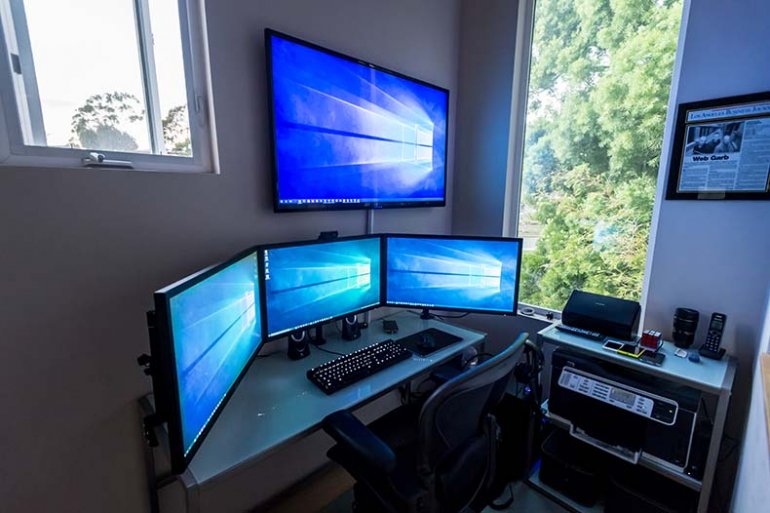 Refresh Rate vs. Frame rate
Monitor refresh rates refer to how often the image on screen updates, or refreshes. It's worth mentioning at this point that images on a monitor are never static: they are either on or off. They just switch between images so quickly that your eye is tricked into believing there is movement. Kind of like how if you draw static images on the corner of multiple pages in a book and then flick those pages really fast you can create little cartoons. Each page would represent an image being "on" and the gap between pages represent "off".
The standard for monitors used to be 60Hz (Hertz), or 60 refreshes per second. However, as gaming advanced and more emphasis was placed on graphical fidelity companies pushed their products to the current standard of 120Hz and 144Hz. Some companies have even gone as far as 240Hz but in our opinion the hardware requirements to take advantage of this feature aren't realistic for most users. 
The highest refresh rate we've included in our list is 180Hz on the Acer Predator XB241H. The benefit is an extreme smoothing effect where moving images seem to glide across the screen. There truly is no better feeling as a gamer than having a high refresh rate.
But there's a problem. Frame rates.
In order for a monitor to refresh it must have an image, or frame, being sent to it from a source. In this case the source is your graphics card. "No problem" you say, "I've got a graphics card". Yes, but can your graphics card meet the demands of your refresh rate?  
In order to supply a 144Hz refresh rate with enough images or frames to achieve the desired effect, the source must be sending – you guessed it – 144 frames per second. This is no easy task, with modern games especially if you're a fan of the higher graphics settings. If you have a high resolution on top of that it's even more difficult for you graphics card to keep up. That's why you'll find most 4K monitors with significantly lower refresh rates than 1080p or 1440p screens. It's just too expensive for your average person.  
So your frame rate and resh rate don't match exactly? What's the big deal? Well nothing if it's only 10-30 frames under, but the further you go the more jumpy the image will become – a situation called screen tear. This is where the "off" position is held too long (as a frame is not provided quick enough) and by the next "on", the images aren't exactly where the monitor (or your eyes) expected them. Now this wouldn't be such a huge issue if all games ran the same on your computer. You could just pick a monitor that matched your computer's performance. Unfortunately they don't. So you can't.
You might well be getting high frame rates on some games, but not others. So do you buy a monitor with a high refresh rate or not? Well luckily there's a solution.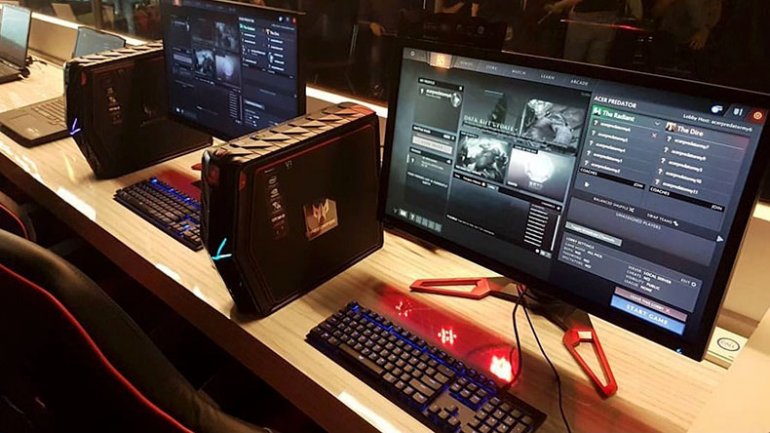 G-Sync vs. FreeSync
G-Sync and FreeSync are exactly the same thing. However they are exclusive to Nvidia and AMD graphics cards respectively. So G-Sync monitors such as Dell's S2417DG, only work with Nvidia graphics cards and FreeSync monitors like the ASUS VG245H, with AMD ones. That's not to say the monitors won't work at all, just the sync tech behind them.  
So what is it? Well, going back to our refresh rate/frame rate dilemma, if we have a monitor with a high refresh rate but our graphics cards can't supply the monitor with enough frames, we get a jittery image thanks to screen tear. What G-Sync and FreeSync do is allow your monitor to match or "sync" up the refresh rate with your graphics cards frame rate, replacing screen tear with that buttery smoothness we all desire. We'd advise definitely going for a monitor with one of these features if you can afford it, as the benefits are impressive.
 
Gaming Monitor Connections Explained
As you've no doubt noticed, the gaming monitor market is a hugely varied place. There are huge differences in screen size, resolution, refresh rate, adaptive refresh technology and even panel types among models and manufacturers. No surprise then that there's also differences in how you connect your monitor to your computer and other peripherals.
The main connection type you'll come across is HDMI. Those of you with TVs should be pretty familiar with HDMI (High-Definition Multimedia Interface), as it's the proprietary connection used. The reason it's the most popular with gaming monitors, is that is supports resolutions up to 4K, can carry both audio and video signals and is supported by most graphics cards. 
Sounds great, right? Well kind of. Although HDMI supports resolutions up to 3840 x 2160p (4K) it's only able to support refresh rates of 60Hz at 1440p and 2160p. No good if you've got a 144Hz+ refresh rate monitor. HDMI 2.0 has increased bandwidth over 1.4, allowing it to support 144Hz at 1440p, however 99% of gaming monitors don't support HDMI 2.0. So what next?
This is where DisplayPort comes in. The technology DisplayPort grants is a larger bandwidth to transfer data with. This extra bandwidth over HDMI means DisplayPort is able to support 144Hz+ at 1440p and 2160p resolutions. 
The only downside is older graphics cards don't always have the port present. Another advantage of using DisplayPort over HDMI is the ability to use G-Sync and FreeSync. Both Nvidia and AMD decided that DisplayPort was the future of video/audio connectivity between monitors, and designed their adaptive technologies to work on the platform. DisplayPort also has a cool feature called Multi-Stream Transport (MST), which allows multiple monitors to run from a single output by daisy chaining them with DisplayPort cables. Obviously, you are restricted by bandwidth, but DisplayPort is definitely first choice for Multi-Display setups.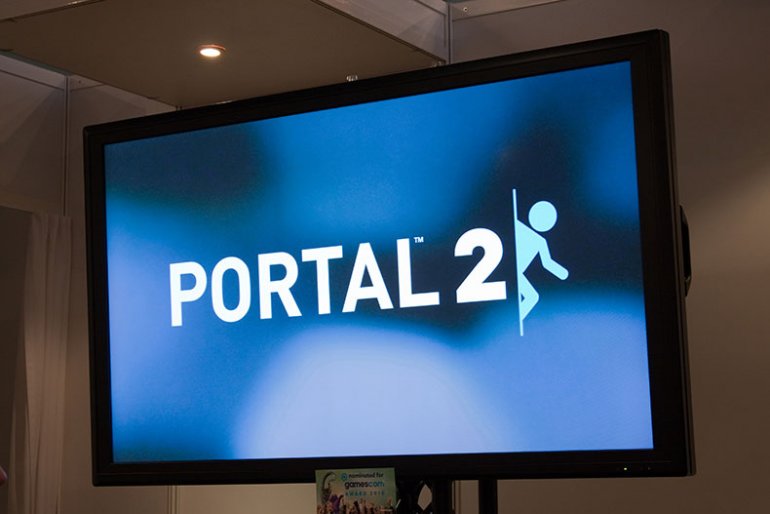 Multi-Display Setups Explained
One of the biggest criticisms of smaller monitors such as the ViewSonic XG2530 is their lack of versatility, especially surrounding productivity. Simply put, you really only have enough real estate to focus on one task/application at a time. 
On larger monitors, like the Samsung C34F791, you have plenty of screen space to have a web browser, word processor and graphic suite open and visible simultaneously. This allows you to complete multiple tasks at the same time, increasing your productivity. 
There are a couple potential issues though. First off, if you want to play a game and watch Twitch, you can only play the game in Windowed mode so it can be aligned next to Twitch. Not always ideal. The second issue is that the cost of the larger monitors is often more than most people are looking to spend. This is where Multi-Display setups come into their own. Imagine buying three ASUS VG245H monitors for a total cost of $540. This is still significantly cheaper than most 30"+ monitors and it alleviates the issues caused by having a single (albeit huge) monitor. It's commonplace nowadays for most set-ups to include at least two monitors, and provided you have a graphics card with multiple outputs or at least one DisplayPort output you're set.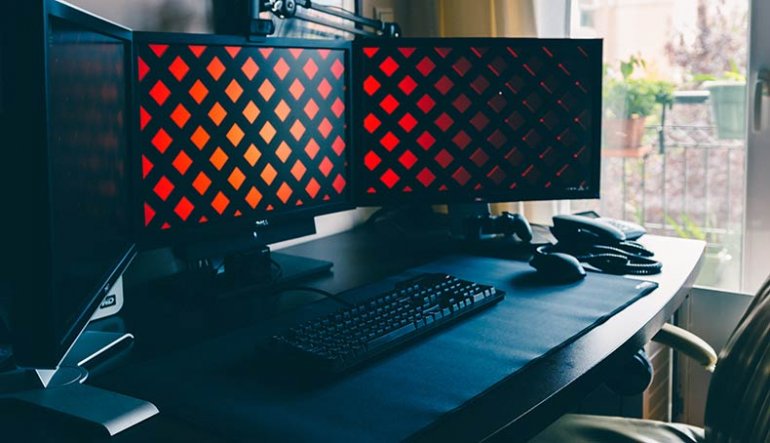 Low Blue Light And Flicker Free Explained
From a health perspective, sat in front of a computer staring at a screen all day probably isn't a combination that will promote 20/20 vision. But that doesn't necessarily mean it has to damage your sight either. In fact, several monitor companies have taken steps to make sure the time you spend in front of your screen is as harm-free as possible by implementing a feature called Low Blue Light.
Studies have shown that prolonged exposure to blue light from sunlight, monitors and fluorescent lights causes' eye degeneration, eye dryness, headaches and sleep disorders. So the clever engineers behind the monitors listed above have created a technology that reduces the emission of blue light, whilst still preserving the image quality and color accuracy we all love. This is done by implementing presets which alternate the amount of blue light created dependant on the task you're carrying out. These presets can reduce the blue light released anywhere from 20-70%. Thanks, guys.
As we explained in the Refresh Rate and Frame Rate section, although it looks like it, monitors don't display a constant image. Instead they alternate between hundreds of images per second. In between each image, there is a blank space. This continuous change in brightness causes a great amount of stress on the eyes pupils as they expand and contract. Monitors combat this potentially harmful scenario by implementing a dynamic backlighting feature that maintains a constant brightness, relieving your eyes of their constant expansion and contraction duties. This reduces eye fatigue, irritation and strain. 
A cool way to test your monitor for potentially damaging flickering is to grab your mobile phone, go on the camera, switch to video mode and point it at your monitor. If you can see the image on your screen flickering, it could be a wise investment to purchase a new monitor sooner rather than later. 
Learn More About Gaming Gear