When you're online nowadays, microphones are essential. Without the ability to speak, your virtual self is little more than a motionless avatar. So whether you're wanting to create content for YouTube, stream the latest games on Twitch, or even just talk to your Grandma on Skype, you're going to need a microphone to do it. But which microphone? What's a cardioid and a condenser? What do bit depth and sample rates mean? And what is a pick-up pattern (no, it's not what men do in bars)? Fear not: here at The Master Switch, we know the answers to all of these, and more. 
 
How We Choose:
Recording quality is obviously a major factor when deciding which microphone is the best. There's very little point investing in a microphone if it sounds awful. However, if you aren't going to be creating content with your mic, do you really need to invest in the best-sounding USB mic available? Probably not. Enter our next consideration - value. The point of USB mics is that they are supposed to be easy to set-up and use, while avoiding the additional costs of pre-amps and audio interfaces. Therefore, there comes a point when a USB mic is simply too expensive to be considered good value.
The next consideration for us is the mics features. Does the mic have a mute button? Does it have adjustable gain controls? Does it have a headphone jack for monitoring? All these things are beneficial to the user, especially  when they are all present for the right price. Here's our pick of the very best.
 
Our USB Microphone Picks:

Type: Condenser
Pickup Pattern: Cardioid, Bidirectional, Omnidirectional, Stereo
Bit Depth: 16 bit
Sample Rate: 48kHz
What We Like: High quality recording, versatile, great value-for-money.
What We Don't: Not the most portable microphone around.
The Yeti from Blue is the undisputed king of USB microphones. With its multiple pattern selector, latency free headphone monitoring, mute and gain controls there's little more it could offer…and yet it still does. The sound quality of the Yeti is fantastic, competing with the substantially higher-priced Blue Yeti Pro and Rode Podcaster. For YouTubers and Podcasters, it is able to deliver smooth, rich, and weighty recordings straight out of the box. And thanks to its pattern selector, the Yeti can be configured to pick up sound from any direction, making it much more versatile than the Rode NT-USB, below. This versatility earns the Blue Yeti the accolade of being one of the few USB mics in our list we'd recommend to record instruments with, the other two being the Blue Yeti Pro and Razer Seiren.
The Yeti feels solid, too. Every component, from its foam-bottomed adjustable stand to the tight, precise gain and volume controls, feel meticulously designed. The excellent build quality does mean the mic is heavier, however, and that may be an issue for the more portable podcasters out there. It'll still look good in a static studio setup, though: Blue have seven colorways available for the Yeti, meaning there's an option for everyone. So all this comes at a price, right? Wrong. Coming in at the same price as the AT2020USB+ and cheaper than the Rode NT-USB, the Yeti's value is unquestionable. Top marks for the boys in Blue.
See the Blue Yeti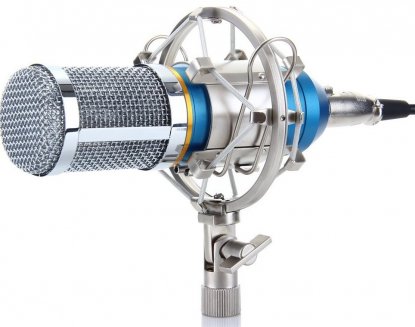 Type: Condenser
Pickup Pattern: Unidirectional
Bit Depth: 16 bit
Sample Rate: 48kHz
What We Like: Affordable, durable, decent sound.
What We Don't: Audible feedback when using 3.5mm.
The BM-800 is an absolute diamond in the rough. This XLR condenser mic currently costs $30 on Amazon, and comes with a popshield, shock mount, USB digital converter, XLR to 3.5mm connector, and even a desk mountable stand. Oh, and it doesn't sound too bad either!
Although we keep an open mind before testing all our products, we're only human, and we were pretty skeptical that this mic would sound good (based on its price). But it did. Sure, it had a couple of gain issues - where the mic would overload on plosives - and it lacks the clarity of the Apogee MIC 96k across the full range. But for $30, this mic is hard to beat. The USB digital converter coupled with the XLR to 3.5mm connector is a nice touch for those without a USB interface. But don't expect the cleanest results when using it - volume is reduced and there's a slight, yet audible, background hum that could ruin recordings. This hum is amplified massively if you plug the 3.5mm connection straight into your PC/Laptop. So, bear that in mind too. If you already have an interface, don't want to spend buckets of cash on a condenser, and want solid audio, the BM-800 is hard not to recommend.
See the Floureon BM-800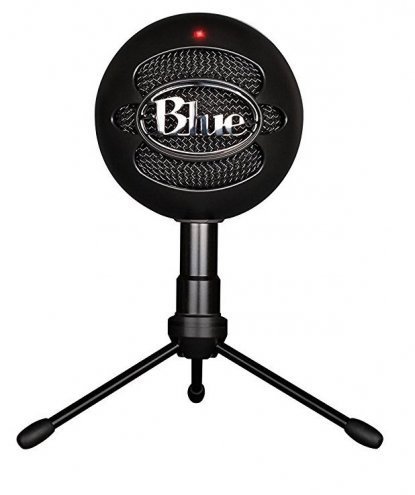 Type: Condenser
Pickup Pattern: Cardioid
Bit Depth: 16 bit
Sample Rate: 44.1kHz
What We Like: Bang for your buck, portable.
What We Don't: No direct monitoring.
Blue make it into our top five again, with their more budget-oriented Snowball ICE microphone. For the price, we were astounded at the quality of the recording. Don't get us wrong, it's definitely not on par with the Rode NT-USB (below) but recording quality isn't everything, and for $49 you are getting something that really will accommodate any aspiring YouTube or Twitch wannabes.
We aren't personally fans of the aesthetics of the Snowball (but we're old and hate change, so what do we know?) What we did like, however, was the built-in removable stand and lightweight design, making this mic a truly portable solution. It's disappointing there's no direct monitoring option or gain controls as found on the Audio-Technica AT2020, but all these things aren't essential and the payoff is an unbeatable price. If you're looking for something to get you started on your online route to influence but can't quite afford to dabble in the $100+ range then maybe the less than vanilla Snowball could be the one for you. Ice, Ice baby? No? Fine. Like we said, we're old. Leave us alone.
See the Blue Snowball ICE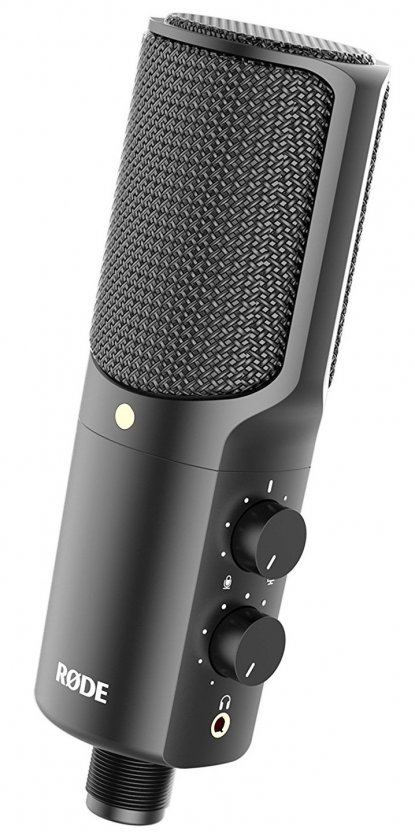 Type: Condenser
Pickup Pattern: Cardioid
Bit Depth: 16 bit
Sample Rate: 48kHz
What We Like: High quality recording, amazing looks and build quality.
What We Don't: Not enough features for price.
Let us start by saying the recording quality of the Rode NT-USB is pretty much identical to the Blue Yeti. Both are excellent. The only reason the Yeti pips the NT-USB is down to price and features. Just like the Yeti the NT-USB comes with a stand, however it also comes with a pop filter designed to smooth out your plosives (the 'p' sound, which can often distort the recording if you're unshielded), making it a true all-in-one solution, ready to use straight out of the box. Its cardioid pickup pattern is perfect for anyone looking to create gaming content, live stream or voice conference with their mates.
The NT-USB has a 3.5mm port for live monitoring, something missing from the CAD U37. It also has a gain control which allows you to boost the volume of the mic without the use of any software and a mix control which allows you to control the mics volume in the live monitor. We have to say out of all the mics on this list we love the aesthetics of the NT-USB. It's definitely our favorite looking mic, and its build quality is excellent too, feeling slightly more robust than the Yeti. However, due to its higher price, lack of features and versatility, it comes in at number two.
See the RODE NT-USB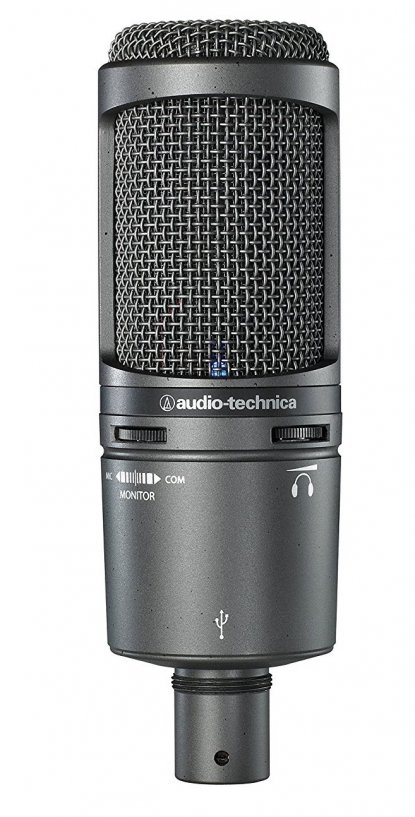 Type: Condenser
Pickup Pattern: Cardioid
Bit Depth: 16 bit
Sample Rate: 48kHz
What We Like: Great recording quality, nice accessories.
What We Don't: Controls are an awkward shape.
Another awesome-sounding mic, this time from Audio-Technica, who also make some terrific headphones. This large condenser cardioid mic sounds fantastic, definitely coming close to the Blue Yeti. Like the other two, it comes with a stand, however there's no pop filter. Not a huge deal, but one worth considering when looking at value. The AT 2020 has a 3.5mm input for live monitoring, however we did notice some slight latency here, something that is avoided on AT's ATR2500. The mix and gain controls were a nice touch, although it's worth mentioning that out of the three top picks, we found these controls to be slightly more awkward to adjust, due to their inset slim line design. We definitely prefer the more conventional knobs.
The sound quality of the AT2020 is brilliantk and any difference between the NT-USB and Yeti is negligible. One thing we did notice, however, is that the AT2020 picked up the least amount of ambient noise, which may help out those with less than ideal recording environments. The build quality is definitely up there, however, when mounted to the stand the AT2020 felt less sturdy than the others.
See the Audio-Technica AT2020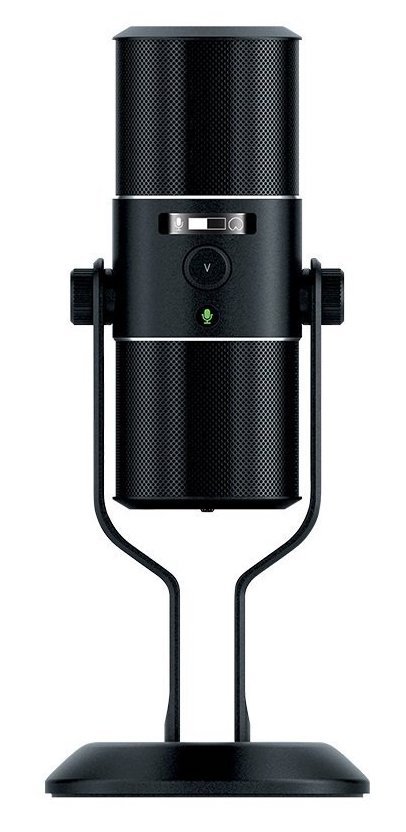 Type: Condenser
Pickup Pattern: Cardioid, Bidirectional, Omnidirectional, Stereo
Bit Depth: 24 bit
Sample Rate: 192kHz
What We Like: Features, OLED display, versatility.
What We Don't: Only a one-year warranty? Really?
We didn't want to like this mic, due to it's glaring obvious attempt at specifically targeting gamers (often a sign of a gimmicky product), but with its awesome design, features, build and recording quality it was hard not to. It has an OLED display, a trick missed by even the uber contemporary Blue Spark Digital. This awesome feature allows you to see the gain level of the mic as well as the current pick up pattern. This is great for on-the-fly use, as on the Yeti you have to be able to see the back of the mic to know this information – that usually means touching the mic, which can potentially create unwanted noise. There's a mic mute button which changes color depending on its state (green for active, red for muted). It has four different pickup patterns making it ideal for any recording situation you can conceive. This versatility however, is limited by its size - it's far from the most portable option here.
It sounds great, on par with the Blue Yeti, NT-USB and AT2020 for sure. So why is it rated so low? Well, the main turn off for us is the limited one-year warranty. For the price we'd expect at least three years, which is standard and present on all the aforementioned. It's also the largest and heaviest mic we've reviewed. Finally we feel Razer missed a trick with their software integration. It would have been nice to have EQ and compression options present and not just the ability to dial back sample and bit rates. Definitely a worthy entry into the top five, and with a few adjustments, it could be vying for that top spot.
See the Razer Seiren Elite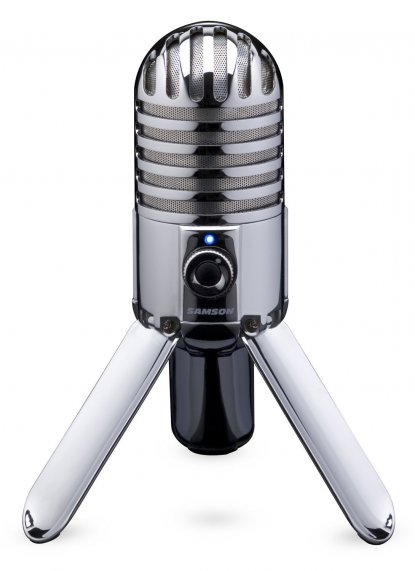 Type: Condenser
Pickup Pattern: Cardioid
Bit Depth: 16 bit
Sample Rate: 48kHz
What We Like: Portable, decent recording quality.
What We Don't: Ambient noise pickup.
Another decent entry here in the sub-$100 category. This time from Samson, in the form of its Meteor mic. This large diaphragm cardioid mic looks a little kooky, and wouldn't fit into the more subtle set-ups, but that's not always a bad thing. It comes with its own stand and can also be used with any third party boom arm or mic stand. It's one of the smaller mics in our roundup and that's kind of the point with it. This mic is perfect for using on the go. It's all metal construction means it's robust enough to chuck in your bag and record a vlog or podcast at your Gamescoms or E3s without worrying it's going to break.
The sound quality isn't quite on par with the Blue Snowball ICE, picking up a lot of ambient noise and clipping from plosives at times, but the payoff of portability might be more important to people looking at this mic. A nice touch worth mentioning is the 3.5mm monitoring output which not only lets you hear your voice (obviously) but also a built in sound card allows you to hear all other sounds coming from your computer: a feature found on the significantly more expensive Blue Yeti, Yeti Pro and Seiren. If you're looking for a main mic, in a home studio setup this isn't a bad shout, however the Meteor really shines when using on the move outside of your studio setup.
See the Samson Meteor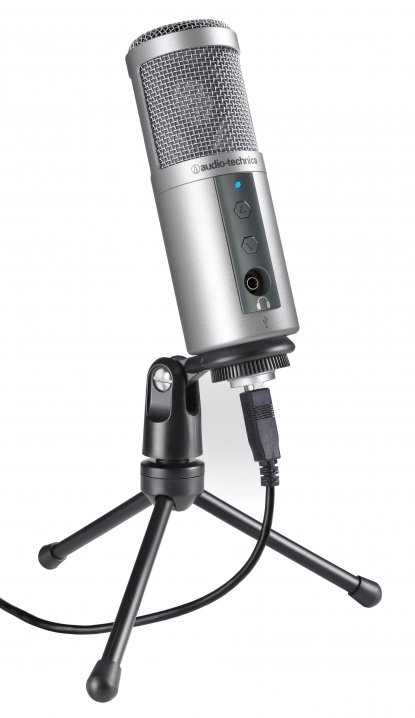 Type: Condenser
Pickup Pattern: Cardioid
Bit Depth: 16 bit
Sample Rate: 48kHz
What We Like: Zero latency recording, sound quality for price.
What We Don't: Cheap microphone mount/stand.
The ATR2500 isn't perfect, but it hits hard where it counts: sound quality. No matter what you're recording, this mic does it well. From vocals to acoustic and electric instruments, the ATR2500 takes it all in its stride – Provided you ditch the cheap plastic mount and stand that come in the box. If you use them, the slightest vibration from your desk (typing for example) will ruin any recording you were in the process of making. The latency-free live monitoring feature is a godsend, and something missing from the slightly more expensive Audio-Technica AT2020.
Design wise the ATR2500 is nothing special, its predominantly metal body slightly marred by a cheap looking and feeling plastic control panel, while a single use LED indicates whether the mic is on or off. The Audio-Technica 2100 might be more appealing to some users due to its cheaper price, however it lacks the sound quality of the 2500, which truly is the best sounding, most versatile mic on our list for around $100. If you can afford more, we definitely recommend the Blue Yeti, however you're already breaching the upper end of your budget, you won't be disappointed with the ATR2500. Just remember to account for a better stand and mic mount.
See the Audio-Technica ATR2500
 

Type: Condenser
Pickup Pattern: Cardioid
Bit Depth: 24 bit
Sample Rate: 96kHz
What We Like: Compact, great for use on the move.
What We Don't: Expensive for an iOS only mic.
Artists recording on the move, or podcasters travelling whilst interviewing, are always faced with the same compromise: portability over quality. Well, not anymore - thanks to the Apogee MiC 96k. This thing is crazy portable and sounds absolutely fantastic, and it's made well too. It feels bombproof, and has a certain weight to it, where you just know you've made a good purchase. You can tell the preamp in this thing is top notch. It processes vocals and sound so cleanly and precisely that you almost feel like you won't have to do anything in post. Almost.
The USB connectivity provides the link to your iPad or iMac - meaning, as long your devices have power, you're good to go. There's a handy gain control on the mic's body, which is cool, but we wish Apogee had included a headphone port for some latency free monitoring. In our opinion, this is pretty vital, especially if you're recording in new or untreated environments. Bummer. Also, considering the cost, and the fact models like Floureon's BM-800 come with a whole heap of accessories, it would have been nice to see a pop filter in the bundle. While the Apogee MiC 96k sounds, looks, and feels good, its restriction to iOS and lack of accessories make it not a particularly stellar value. No doubt, it produces the highest fidelity sound of any other portable solution, but that comes at a cost - which is great if you can afford it.
See the Apogee MiC 96k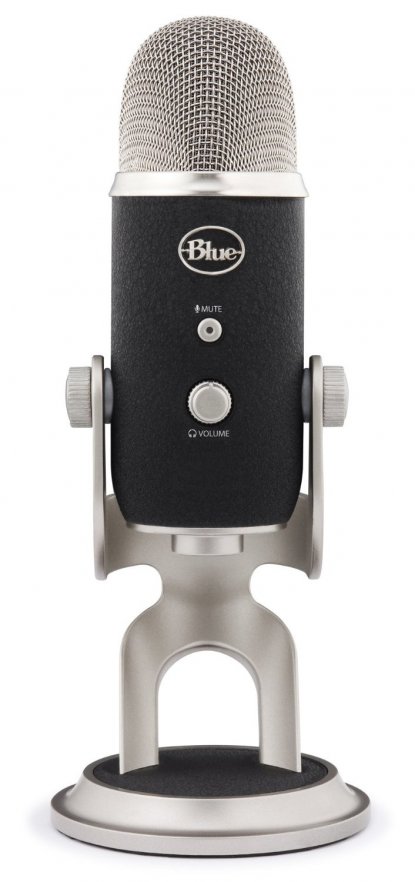 Type: Condenser
Pickup Pattern: Cardioid, Bidirectional, Omnidirectional, Stereo
Bit Depth: 24 bit
Sample Rate: 192kHz
What We Like: Versatile, recording quality, build quality.
What We Don't: Pricetag is quite excessive!
When Blue released their original Snowball mic in 2005 they changed the game and earned their brand a go-to status for anyone looking for a mic for their computer - hence why they're all over this list. When they dropped the original Yeti they changed it again. Providing studio-level quality through a USB mic at an affordable price - something that had never been done up until that point. This is their latest iteration - The Blue Yeti Pro. Undoubtedly one of the best-sounding mics in our round-up alongside the Rode Podcaster and Blue Yeti, it's well-built, nicely designed and extremely versatile.
So why is it so low? Well, at $249, we just can't justify the price for predominantly USB-based users. It's overkill, which puts it out of the range of most people. But like its less, er, professional sibling, the Yeti Pro is still a keeper. Classy design, supreme build quality and unrivalled versatility thanks to it multiple pickup patterns. The main difference between the Yeti and Yeti Pro, however, is the Pro's ability to record at much higher bit and sample rates. This allows for a much more nuanced, detailed sound to be captured, although at a much higher file size. The Yeti Pro also has an XLR output, allowing it to be integrated into a more advanced setup involving an audio interface. This could potentially tie in with our discussion on value as essentially if you purchased this mic you may never need to purchase a mic again, however with the USB only mics like the Rode NT-USB if you decided to take things to the next level you would. So considering all of that: let's talk price. At $249, you're getting multiple pickup patterns and a high bit depth and sample rate – but that's over $100 more than the Razer Seiren, and you don't even get the cool OLED display. The XLR output does give you the option to expand later down the line, but typically that's not what owners of USB mics are looking for. The Yeti Pro is fantastic in every way, just not in value which earns it a less than fantastic place in our roundup.
See the Blue Yeti Pro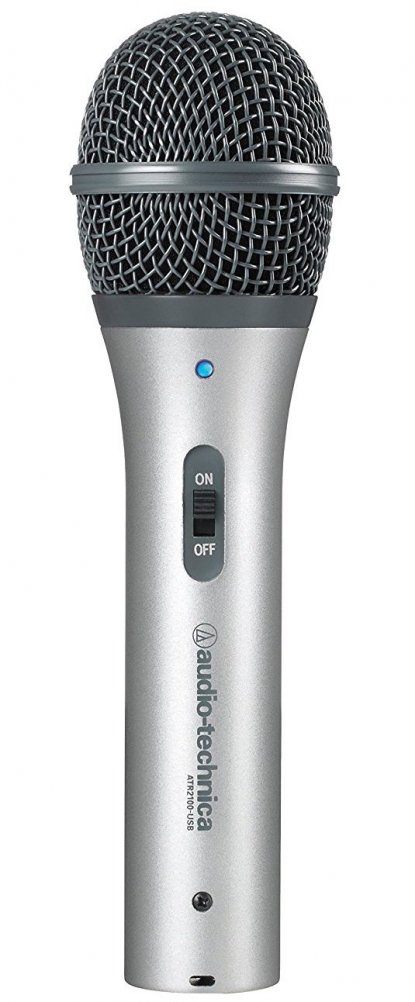 Type: Dynamic
Pickup Pattern: Cardioid
Bit Depth: 16 bit
Sample Rate: 48kHz
What We Like: Versatile, offers room to grow.
What We Don't: Design may put some off, loose on/off button.
We know what you're thinking. This is a dynamic mic; shouldn't it be used for live performances on a stage? Well yeah, usually you'd be right. But the 2100 from Audio-Technica is far from your usual dynamic microphone. Thanks to having both USB and XLR outputs like the Razer Seiren Elite, the 2100 is suitable for both home recordings where USB ports are in abundance, and live talks and performances where the setups usually favor XLR connectivity. This dual connectivity feature also gives you the option of adding an audio interface into your home studio later down the line, without having to upgrade your mic again. This versatility so far has only been found on only our most expensive mics, so it's great to see Audio-Technica including it here.
The build quality is pretty decent with its full metal casing. The only slight niggle we had was the looseness of the On/Off button. There was a lot of play in it, and we are slightly concerned over time the button could start to falter. The sound quality is much better than Behringer C-1U, and on par with the Samson C01U. In fact, it picks up the slack in terms of portability, which is an area the Samson fell short in, and at $8 cheaper at the time of writing, as well as more options in terms of upgradability and versatility, we'd have to say the 2100 is a smarter choice all round.
See the Audio-Technica 2100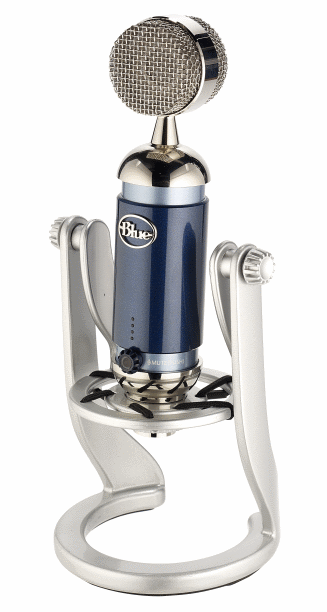 Type: Condenser
Pickup Pattern: Cardioid
Bit Depth: 16 bit
Sample Rate: 48kHz
What We Like: Great design, build quality, connectivity.
What We Don't: Expensive.
Blue really have nailed the build quality and design in all their recent iterations, and the Spark Digital is no exception. While the sound quality might not be  as good as the Blue Yeti Pro, it's pretty damn close. Combine that with the absence of an XLR output and inclusion of Apple connectivity (lightning connector sold separately), and you're left with a product actually ends up appealing more to the true plug and play consumers out there. During our tests, recordings came through clear and rich with zero tweaking, while the provided stand and shock mount did well at reducing any unwanted noise created from desk activity. The 'Focus' button boosts lows when it's off and highs when it's on, which adds to the versatility of this mic, albeit in a limited fashion. We were a bit disappointed Blue didn't include their custom pop filter (as found on the original Spark) especially considering the Rode NT-USB does for less, and the fact that a generic one will really detract from the Spark's aesthetics.
A single dial on the front acts as a multi-functioning control hub with a colored LED indicating whether you are controlling input gain, monitoring volume or simply muting the device. We found it difficult to get the exact volumes we wanted at times due to the nature of the dial. We were often too loud or too quiet, struggling to hit that sweet spot in between. The iPad/iPhone connectivity will be a godsend for those who use Garageband or other recording apps, but do note that it will drain your batteries faster than two kids and a mother-in-law at Christmas. While this mic lacks the versatility of the Blue Yeti Pro, it does well at catering for those who want awesome sound quality with minimal fuss and phone or tablet app connectivity.  
See the Blue Spark Digital

Type: Dynamic
Pickup Pattern: Cardioid
Bit Depth: 18 bit
Sample Rate: 48kHz
What We Like: Build quality, ten year warranty, zero latency monitoring.
What We Don't: Expensive for what you get.
The Rode Podcaster is one of the best-built mics in our list. The build quality is on par with the Blue Yeti Pro and even better than the Razer Seiren Elite. Looks wise, in our opinion, not so much. Especially if you opt for the cream version over the matte black. 
Rode have opted for a dynamic mic over a condenser, which may have some of you confused. Their reasoning for this is that it benefits users who don't have sound treated rooms, as dynamic mics tend to cancel background noise more effectively than condenser mics such as the Audio Technica AT2020 USB+. We found that not only does the Podcaster work really well in untreated rooms, it also record vocals better than any other mic in our round-up. The drop-off from the Cardioid pick-up pattern is surprisingly forgiving for a dynamic mic, handy for those without pop-shields forced to use off-angles, and the factory EQ is perfect for recording voice. It's versatile, too: recording instruments is off the cards as the dynamic technology in the Podcaster achieves its noise cancelling prowess by sacrificing pitch and tone. That means you're paying $200+ for a mic with only one use. The kicker is it performs this one task better than any other mic we've reviewed and as it's a dynamic mic you can chuck it in your bag and not worry about it getting damaged. Ideal for those on the go wanting top quality voice recordings no matter the environment.  
See the Rode Podcaster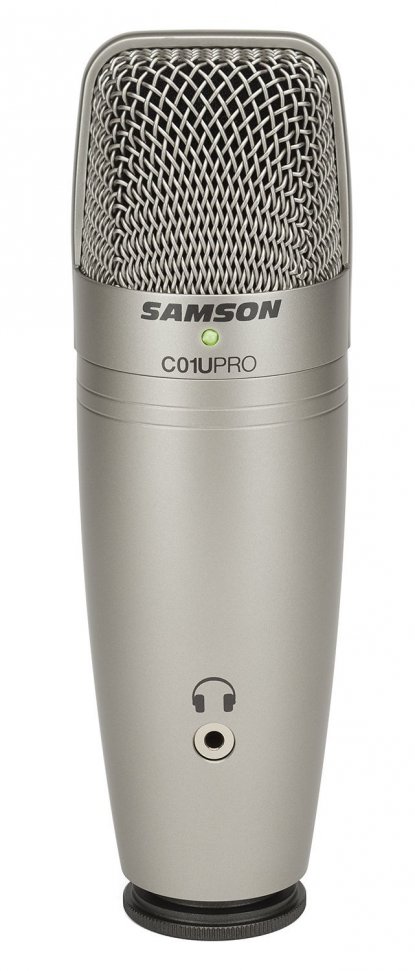 Type: Condenser
Pickup Pattern: Supercardioid
Bit Depth: 16 Bit
Sample Rate: 48kHz
What We Like: Great Value, direct monitoring.
What We Don't: Generates a lot of noise.
This cardioid mic from Samson has gone for a more conventional design than the Meteor. With its full metal body and solid weight, it really feels like a well-constructed, robust piece of equipment. It comes with a 3.5mm output for latency free monitoring, and has an LED that illuminates green when it's receiving power and flashes red when clipping. Extremely simple but also very handy. The clipping feature is something some of the higher priced mics could do with (ahem, Seiren).
The mic stand is a nice addition, and although it has a plastic mount still feels well-constructed and significantly better than the Audio-Technica ATR2500. The same goes for the shock mount too. In fact there's nothing in this bundle that feels cheap or poorly-constructed. It does a good job at noise cancelling and only really lets through what you want it too. A pop filter would have been a nice addition, as the mic really benefited from it in our tests, but for the sake of a few extra dollars, we can't grumble. We'd say it sound slightly better than the Meteor, but it doesn't feel as portable due to its slight excess in size and weight. If you're looking for a plug and play mic with decent sound and build quality for your home studio we definitely recommend checking out the C01U.
See the Samson C01U
 

Type: Condenser
Pickup Pattern: Cardioid
Bit Depth: Unknown
Sample Rate: Unknown
What We Like: Free software comes with the mic.
What We Don't: Very low recording level.
One of the cheapest mics available in our roundup comes in the form of the C-1U from Behringer. From a design point of view, it's hard to see why the C-1U is so cheap. Its full metal construction and understated design looks pretty good, and it feels weighty enough to not disintegrate after a week. Something you might not be willing to say for the Samson Meteor, at twice the price. Aside from the garish gold coloring, we can't fault the overall design. The only real criticism we have at this stage is the plastic shock mount. Like the one found on the ATR2500 It feels flimsy, and we don't like it. So there.
The next thing worth noting about this mic is the fact is has no monitoring output, which means you'll need a software solution. It doesn't come with a stand or pop filter either which means you'll need to spend a bit more to get started. Sound is OK - not good, not bad, just OK. However, before it sounds "just OK", you'll need to push the gain to 100% on your computer as the standard recording levels are extremely low. Once you've done this, you'll also notice how much ambient noise the microphone picks up. All these things can be fixed with a bit of post processing, but for those unfamiliar to those techniques this might not be possible - and even if you are, it's a bit of pain in the neck. A real shame as the C-1U had real potential to make mark in the budget range. Let's hope they can rectify this issue in a forthcoming product update.
See the Behringer C-1U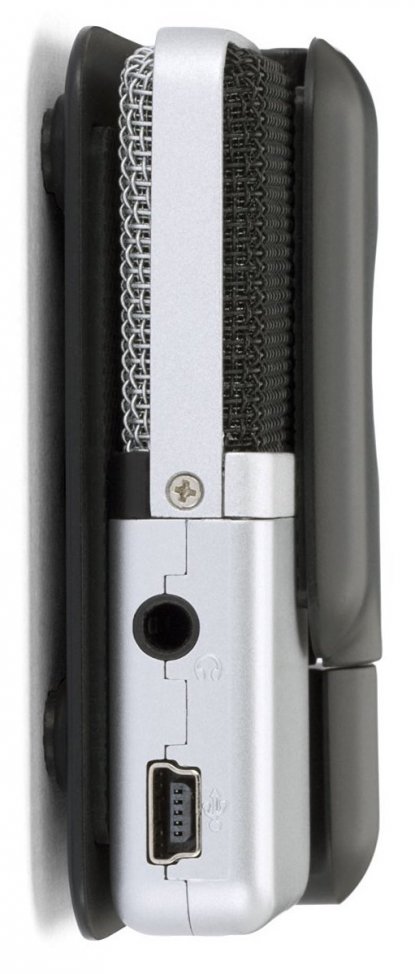 Type: Condenser
Pickup Pattern: Cardioid, Cardioid with -10dB pad, Omnidirectional
Bit Depth: 16 Bit
Sample Rate: 44.1kHz
What We Like: Great Versatility, super portable.
What We Don't: Sound quality suffers.
A mic at this price point, with such a large feature set and so much versatility can't be real. Can it? Work with us here.The build quality on this mic is surprisingly good. With a lightweight metal body construction, it feels sturdy, and can directly monitor your voice via the 3.5mm output. So far so good. You can also attach the microphone to an third party stand or boom, although to achieve this you'll need to buy a European adapter from Amazon.
With its three different pickup patterns, the Samson Go really excels in multiple situations, and although it never quite reaches the heights of the Meteor, it does better on average across a wider range of scenarios: for example, the omnidirectional pattern sounds better in a conference than the Meteor's cardioid, but cardioid to cardioid, the Meteor tops the Go. So really, it depends on the types of scenarios you'll be recording under. The Go is definitely one of the best portable mics available, but if you're not going to be using the different pickup patterns and can afford the Meteor we'd have to recommend that over this.
See the Samson Go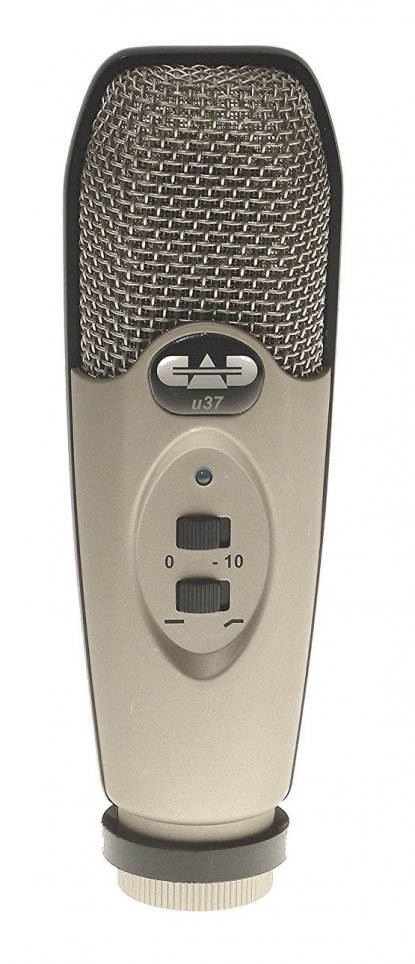 Type: Condenser
Pickup Pattern: Super Cardioid
Bit Depth: 16 Bit
Sample Rate: 48kHz
What We Like: Highly affordable.
What We Don't: No monitoring, overly sensitive in the top end
Another budget entry, this time from CAD in the form of the U37. On its standard settings, this mic doesn't sound great. Not bad for $35, but not the best, sounding tinny and really exaggerating the sibilance - that would be the S's. However, when you flip the two switches on the front of the mic, namely -10 dB gain and Bass Roll-Off, you get a much fuller, warmer sound with ambient noise greatly reduced. We are baffled as to why this isn't just the standard sound as it is infinitely better, but whatever, man.
The build quality is average, as although it feels fairly robust, it is made entirely from plastic, so the longevity of its construction if definitely a consideration to make before purchasing. The price cannot be overlooked. It's the most attractive feature of this unit and lines it up alongside the Blue Snowball ICE and Behringer C-1U, although there's no real competition for the Snowball, which truly is in a league of its own. The Behringer would be a fairer comparison, and to be honest there's not a lot in it. We'd say the Behringer has a better standard of build quality and noise-cancelation, however the U37 has gain and bass adjustments that Behringer users can only obtain through post-processing software. Neither one is ideal, but if they are all you can afford, we'd say the Behringer has the slight edge.
See the CAD U37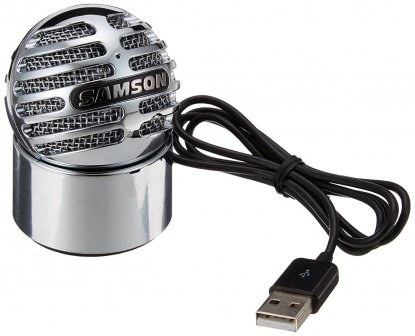 Type: Condenser
Pickup Pattern: Cardioid
Bit Depth: 16 Bit
Sample Rate: 44.1kHz
What We Like: Portability, price.
What We Don't: No monitoring, ambient hiss.
This portable mic from Samson is a great choice for those on the move, due to its lightweight build and magnetic base design which allow for easy repositioning, no matter where it is set-up. In terms of sound, the Meteorite won't be showering on the Blue Yeti's parade anytime soon, but it definitely gives the Samson GO a run for its money at a very similar cost. We absolutely loved the front facing LED, which not only lets you know when the mic is receiving power, but also indicates when your vocals are clipping - An essential feature for those with single monitor setups but intending to record or cast gameplay footage.
Another cool feature on this mic is the ability to use it with iPhones and tablets provided you have Apple's Lightning USB camera adapter. This is something that really adds value to a portable product, as you can do voice-overs on the move, during long flights or even train journeys - just don't sit in the quiet carriages! Moving on: build quality is what you'd expect at this price point, with its full plastic body, it probably wouldn't survive an apocalypse, but then again, neither will most of us, so what the hell. A good choice for portable users who want to create on the move.
See the Samson Meteorite
 
Comparison Table:
Want Even More Master Switch? Sign Up For Our Weekly Newsletter!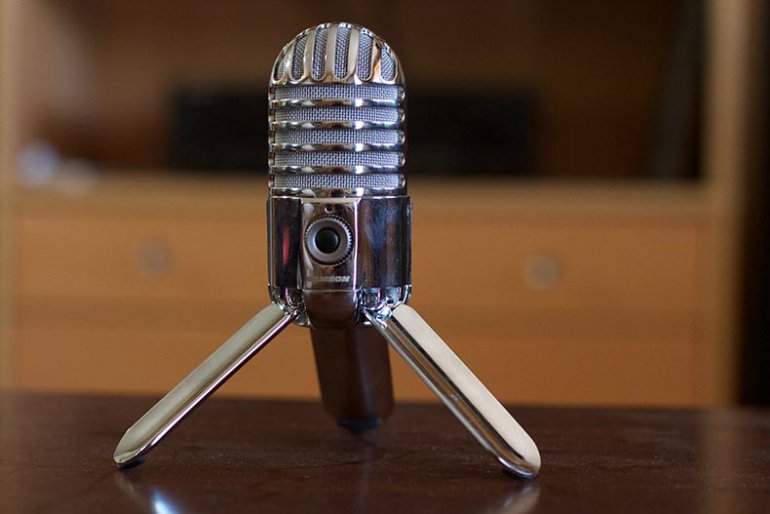 Buying Advice

What Should I Look For When Buying A USB Microphone?
So you know you want to record sound, but you're not sure where to start? Well the first thing to consider is exactly what will you be recording, and where you will be recording it.
For example, if you're going to be doing a travel vlog, constantly on the move recording episodes each night from a hotel room on specific location, then you're going to need a mic that was designed with portability in mind. However if you're looking to create high end content from a home studio you made need something a little bulkier and heavier like one of our professional-sounding cardioid condenser microphones.
The second thing to consider is; what can you afford? We'd all love to throw caution to the wind and spend our life savings, but that's not always possible. Sometimes compromises have to be made. The AT2020 from Audio-Technica may not have the feature-laden bells and whistles of the most expensive mics on our list, but we'd be surprised if most people could hear an audible difference between the two.
Aesthetics also play a role. Some of the mics in our roundup have pretty "out there" designs, so although they may suit your recording needs, they may not to be everyone's tastes. For the more conventional users out there we have your more standard looking studio mics like the Behringer C-1U and Samson C01U.
Whatever you're looking for we've got a mic in our roundup that fits. So familiarize yourself with the rest of our buying guide and hopefully hear the audible pin drop the way you want it to. You may also want to think about investing in other gear, like a decent gaming headset, to pair with your mic.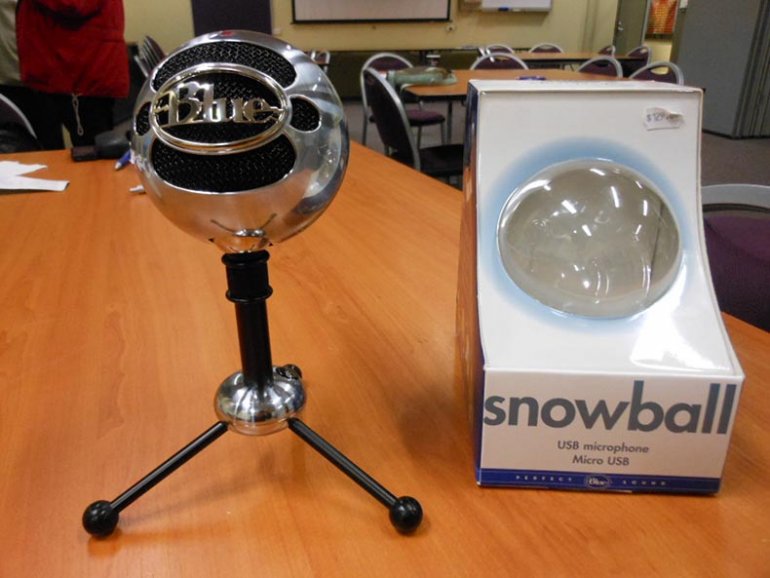 USB Microphone Types: Condenser vs. Dynamic
Condenser mics like the Razer Seiren Elite are super sensitive and often have a wider frequency range making them suitable for recording instruments and vocals in great detail. They work using a capacitor, a fixed back plate and a flexible front plate. sound Waves cause the the front plate to vibrate changing the distance between the front and back plate.
The capacitor registers this change, which is then converted into an electrical signal and sent to the pre-amp/mixing table/computer software. Although this allows condenser mics to capture higher fidelity sounds across a wider frequency range, the fragile nature of the components means they can be easily damaged. The internals also cost more than those of a dynamic mic, which means they are typically more expensive.
Dynamic mics like the Audio-Technica 2100 are a lot more rugged, often missing out on the more nuanced sounds surrounding pitch and tone. The payoff however is they are great at cancelling out background noise and tend to be a lot more robust – hence their usage for performers on stages.
The reason for this comes down to how they actually record sound. Unlike the super-sensitive electronic technology used in condensers, dynamic microphones work using a coil and a magnet. When sound enters the microphone the vibrations move the coil within the magnetic field which alters the current and turns the sound into an electrical signal. This method is known as electromagnetic induction and typically is a lot less accurate than the capacitance method used in condensers. That said it's much cheaper to produce and ideal for recording louder sounds and instruments especially in live environments as the low sensitivity cancels out background noises and distorts less frequently.
XLR Connections Explained
Although this is a USB mic roundup, a couple of our mics, namely the Audio-Technica 2100 and Blue Yeti Pro, have XLR outputs as well. So what is it and where does the funky jack go?
Traditionally, a 3-Pin XLR is the standard connection for microphones. All your favorite performers and artists will have used XLR microphones both in their studios and on stage whilst performing. So why is that? Well, a lot of people will tell you that USB mics produce inferior sound to XLR mics - Which isn't strictly true. It's not the USB connection itself that affects sound quality, but the interface into which the connection is seated.
XLR connections are found on all high end PA systems and audio interfaces, whereas USB connections on your computer are linked to your significantly less expensive onboard sound card. No prizes for guessing which interface produces higher fidelity sound (Hint; the more expensive ones). So in order to use an XLR mic you're going to need an audio interface, which although could produce better sound quality, also requires more money and more configuring. The beauty of USB is you just plug it in and away you go. Ideal for those just getting started or the less tech savvy amongt us.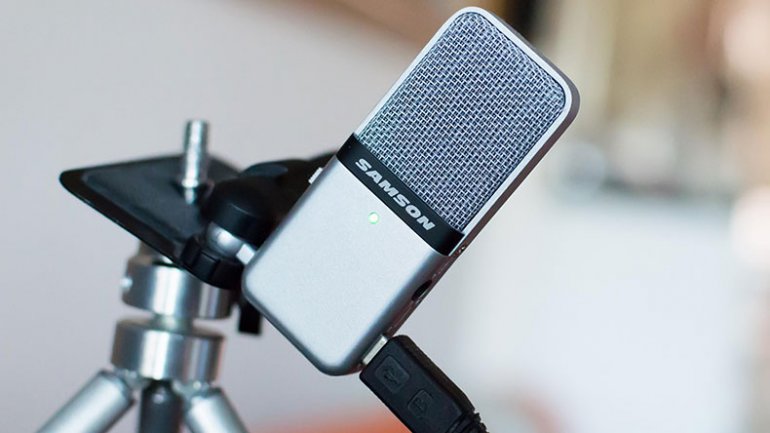 Pickup Patterns Explained
Pickup Patterns are the method in which the microphone allow or rejects sound from entering its capsule. The most common type in our roundup is the cardioid pickup pattern found on the Yeti Pro, Samson Go and pretty much every other mic in our list. Cardioid pickups basically allows sound to enter from the front whilst rejecting it from the sides and back. This is handy for gamers and live streamers as it picks up their voice from the front whilst rejecting they keystrokes from the back. The name, by the way, comes from the technical term for the shape of a kidney - if you look at the shape indicator for cardioid mic patterns, you'll find they resemble a kidney!
Supercardioids are similar to cardioid, except they have a much narrower pickup and reject a greater amount of background noise.
Omnidirectional mics such as the Samson Go allow sound through equally at all angles. This makes them particularly good for recording podcasts or interviews where the participants at situated at opposite angles. The only downside to this pickup pattern is the fact that unwanted sound sources can't be isolated and rejected.
Bidirectional pickup mics like the Blue Yeti pick up sound from the front and back of the microphone, again making them the ideal choice for interviews, content with two or more hosts and to a lesser extent conferences.
Bit Depth And Sample Rate Explained
Bit depth and sample rates refer to the quality of the digital recording. The higher the Bit and Sample rates the higher the quality of recording. But why?
For computers to record sound, the audio has to be converted from analog to digital. This requires a continuous source (analog) of sound to be split into a series of 0s and 1s (digital). So why don't we hear the gaps in the digital sound? Well, the easiest way to think of this is by comparing it to how movies are created. When a scene of a movie is filmed, that scene (analog) is captured on a camera frame by frame (digital). Those frames are then played in sequence at a specific speed that tricks our eyes into thinking the image is singular and moving. Computers do the same thing with sound, but instead of frames the digitized slices of sound are referred to as samples.   
Sample rate refers to the amount of digitized slices that occur per second for that particular sound. If six snapshots were taken per second then that recording would have a sample rate of 6 Hz. The higher the sample rate the more accurately sound is reproduced. The standard sample rates for microphones are 44.1 KHz and 48 KHz (as in, 44,100 Hertz and 48,000 Hertz), however some mics such as the Blue Yeti Pro and Razer Seiren have sample rates of 192 KHz.
Bit depth refers to the number of bits of information in each sample. The variance in bit depth primarily affects the signal-to-noise ratio (or how loud a sound is replicated) and the dynamic range (the difference between the softest and loudest sound). Standard bit depths are 16 and 24 bits per sample.
So: if a mic has a sample rate of 44.1KHz and a bit depth of 16, each one of those 44,100 samples contains 16 bits of information!
Technical jazz aside, the higher the sample and bit depth, the more accurately the sound is replicated on your computer. However, sometimes bigger isn't necessarily better, or any different at all. Most casual users will struggle to hear the difference between 44.1 and 48 KHz or even 16 and 24 bit sampling. There are more important factors to consider like the position of the microphone dependent on its pickup pattern or whether your room is echoes or not. A lot of it after a certain point is marketing, so bear that in mind before throwing all your money at the mic with the best sampling rate and bit depth.
If you want more detail, you can check out a full explainer of audio formats here, which includes a splendid analogy of an oil painting.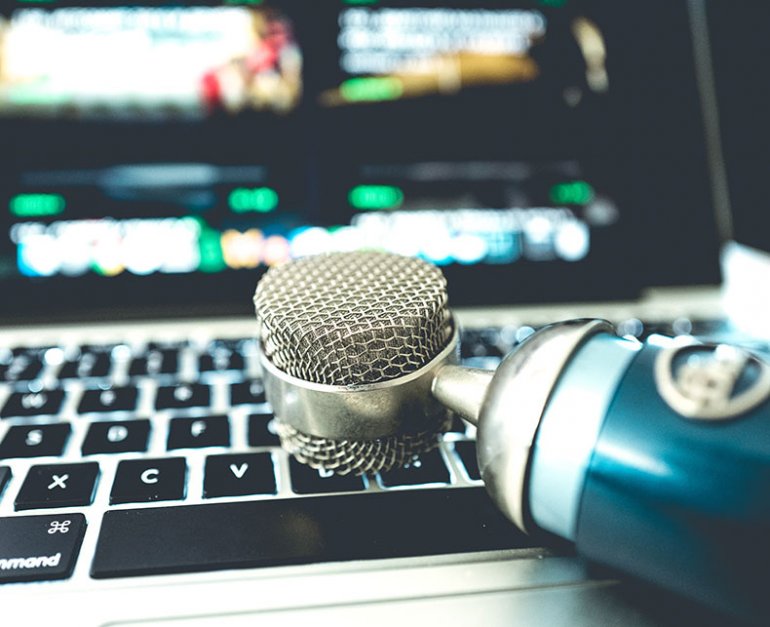 Powering Your USB Microphone
You may have heard the term Phantom Power when researching condenser mics, and you might be wondering how this affects your USB condenser.
Phantom power refers to an external power source, usually found on an audio interface, that provides the electrical charge required for you condenser mic to function. The beauty of USB mics is they don't need any of that. They draw all the power they require from your USB port. That means you don't have to worry about buying an audio interface (which can cost a fair amount) and you have less cables to manage on your desk.
It also means you can use mics like the Blue Spark Digital and connect them directly to you iPhone or iPad. It is worth noting though that the volume your microphone functions at while connected to Apple devices will be significantly reduced compared to your PC, as it simply cannot draw the same power from these devices as it can your USB ports. However, even with the gain reduction, the Blue Spark Digital is still night and day above the built-in mic found on your device or bundled in-ear headphones. So if you have a USB condenser mic, forget about phantom power as it doesn't apply to you. All you have to do to power your USB condenser is attach it to a USB port and off you go.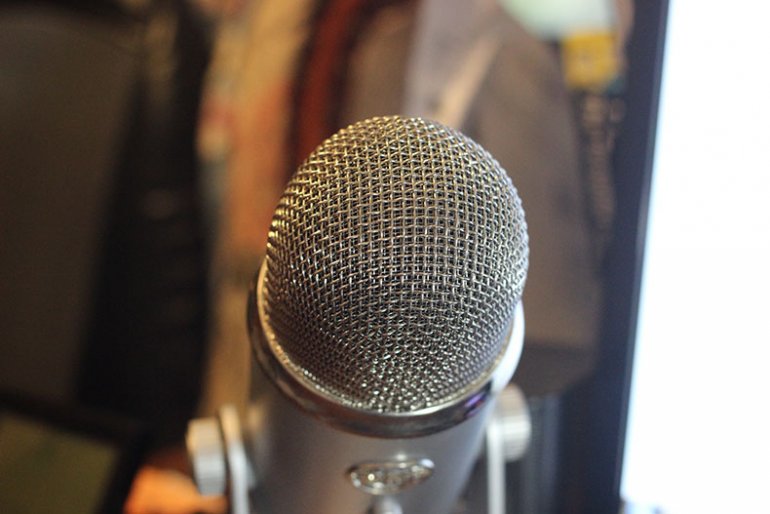 Latency-Free Monitoring Explained
Latency-free monitoring is having the ability to hear what your microphone is recording in real-time with no delay. This is useful for many different reasons, but particularly for those who are trying to rap to add voiceovers to their videos. It is essential for you to hear your voice or instrument exactly where you intend it to be in order to avoid mistiming and to optimise the quality of the general performance.
Some microphones such as the Blue Yeti Pro and Audio-Technica ATR2500 have latency-free monitoring. Microphones like the Audio-Technica AT2020 have live monitoring, just not latency-free, while others like the CAD U37, don't have it all. The delay, or latency, is determined by the time it takes your microphone to capture a signal, digitize it and then send it back to the output (your headphones).
Is it only important for musicians? Not at all. It helps podcasters and general voiceover artists make sure their levels are right and that there's no unwanted ambient noise coming through. Imagine recording a twenty-minute podcast only to realize your voice was muted, or adding voiceover to one of your videos for half an hour and then hearing the builders over the road drowning you out in the final recording. All these issues can be avoiding with live monitoring. And while latency-free monitoring isn't essential for getting levels and checking for ambient sounds, hearing your voice slightly out of sync while you are continuously speaking can be very off putting if you are trying to record. There are software solutions for correcting latency, but these reside in programs such as Cubase and Audacity, which will require some degree of knowledge and expertise. So our advice is, if you are looking to do a lot of voiceover work, or musical recordings, latency-free monitoring is essential. That said, if you're just using your mic to communicate in game, it's not a feature you should worry about too much.
 
Pop Filters Explained
Pop filters are one of the cheapest, most effective ways of cleaning up your recordings. You don't need to spend a lot of money on one to get great results. But what do they do and how do they work?
When we speak or make any noise at all from our mouths, we expel air. We expel more air when making plosive sounds. Plosive sounds are more forceful sounds, such as those which start with the letters 'B' or 'P'. This becomes a problem when using microphones, as the air expelled from these sounds hits the microphone's diaphragm with enough force to create a loud, unwanted signal that can overload the mic's preamp.
This problem is amplified (pun intended) due to the proximity effect of directional mics, whereby low-frequency or bassy sounds are enhanced considerably when the source (your mouth) is closer to the microphone. Condenser mics like the Blue Yeti are more susceptible due to their increased sensitivity.
When sound passes though the nylon fibres of a pop shield, plosive noises hit the mesh and disperse, as the amount of air simply cannot pass through collectively. There is a slight effect on the high-end frequencies, but it's negligible at best. However, some sound engineers recommend metal pop filters over nylon as the metal ones avoid the undesired effect of high-end disruption. You don't need to spend a lot of money on a pop filter, and people have even been known to make their own using tights and kitchen utensils, however for the sake of $5 we'd recommend buying one online.    
Learn More About Gaming Gear