The wireless router is the bridge that turns your internet connection into a fast, reliable network. And unless you want to tangle every computer you own in a nest of wires, you need one. Or two. Or possibly several. Because in an age when connectivity is everything, the ocean in which we all swim, getting a good, strong router is super important. Below, we'll break down the best routers currently available. No matter what your budget is, you'll find something to boost your signal here.
 
How We Choose:
Before anything else, we're interested in just how strong and reliable the router is. The ideal with these devices is that you turn them on, connect them, and then forget about them, so the more effectively they achieve this goal, the more marks they get from us.
Value-for-money is also important, and although pricier models tend to move towards the top of the list, it's not the only factor we take into consideration. We also look at ease-of-use, how tricky a route it is to set up, and whether a model has had any problems in the past. We also take a look at things like MU-MIMO, the number of bands, the various features included in each router, and what they're best used for.
 
Our Wireless Router Picks: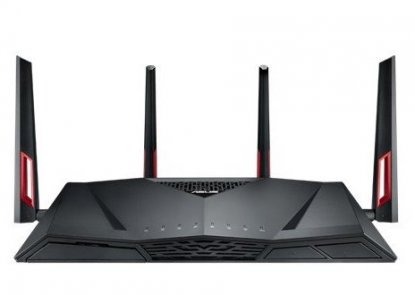 Max Speed: 2,167Mbps / 5GHz 
Bands: Dual (2.4GHz, 5GHz)
LAN Ports: 8
Standard: AC
What We Like: Lightning-fast, feature packed, an all-in-one solution.
What We Don't: Awkward positioning for one of the USB ports.
The AC88U is an absolute monster. Boasting lightning fast Wi-Fi speeds of up to 2,167Mbps across its 5GHz band, it's clear to see the imposing four detachable antennae are earning their keep, and then some. The eight high-speed LAN ports not only send and receive data at blistering speeds, but can also double-up to form an even faster throughput (2Gbps). You can even combine them as  additional WAN port, meaning those who need a constant internet connection for work/gaming/streaming need never worry again. Until the payments leave your account every month, at least.
The AC88U is MU-MIMO enabled, making it ideal for busy networks, ensuring every MU-MIMO enabled device is experiencing the same breathtaking speeds as their technologically equal brethren. The router has two USB ports, although we do wish they'd put the 3.0 port at the back and had the 2.0 in the concealed panel at the front. We prefer to use the 3.0, but having cables squirming out from the front of the router ruins the otherwise brilliant design. However, it's still number one for us, not least because ASUS provide a few unique features, like ASUS AI protection to protect you from cyber-attacks, and a GPN (Gamers Private Network) to give you the best possible connection to game servers. If your network is important to you, and you have time and money to invest, the AC88U is hard to beat.
See the Asus DSL-RT AC88U
Max Speed: 1,300Mbps / 5GHz
Bands: Dual (2.4 GHz, 5 GHz)
LAN Ports: 4
Standard: AC
What We Like: Brilliant range, faster than most in its price range and even some above.
What We Don't: Lacks MU-MIMO.
Although beamforming sounds like a process involved in building a house, it isn't. What it IS, is a process whereby the Wi-Fi signal sent out by your router is focused directly on your devices. Usually, a Wi-Fi signal widens the further it travels from the router, losing strength until the word "buffering" ruins your day. Beamforming saves it. It also propels the AC1900 way above the competition in terms of real world speeds, seeing transfer rates of around 500Mbps at 5 meters. This beats the more expensive and supposedly faster RTA2600 which only managed 369Mbps and the MU-MIMO enabled EA 8500 at 319Mbps. The range is fantastic too, hitting 150 feet.
For those interested in customizing their router configurations, everything from band broadcast (2.4GHz, 5GHz), band name, encryption type and access codes can be changed through your browser or the Linksys mobile app. For those who like to really get involved, the OpenWRT software allows you to customize the interface entirely and add new functionalities. The parental controls allow you to block certain sites and completely restrict access at certain times of day, while the built-in firewall and encryption software will keep the nasties out. The WRT AC1900 is without a doubt best in its class, and although the lack of MU-MIMO stops it being an efficient option for households with multiple users, at this price point it's an great buy for everyone else.
See the Linksys WRT AC1900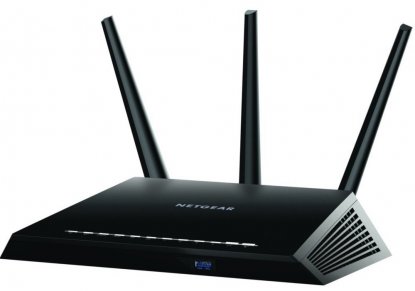 Max Speed: 1,625Mbps / 5GHz 
Bands: Dual (2.4GHz, 5GHz)
LAN Ports: 4
Standard: AC
What We Like: Impressive Wi-Fi, fast USB speeds, feature packed.
What We Don't: Range not the best.
This router from the wizards at NETGEAR is not to be underestimated. It's fast, full of features, and has the best USB performance out of any AC1900 router we've reviewed. It isn't the most consistent over range, and has a barebones approach to UI, but it still does enough to make its mark. To look at the R7000 is nothing special. Equally, it's nothing too wild either, which is a welcome change for Nighthawk. It's nice and subtle, and does well at incorporating its practical features (like venting) with its modern, straight-lined style. Very nice. Similar to the AC88U above, we're not too keen on the front facing USB 3.0 port, but it's an aesthetic grumble and not a technical one.
Speaking of technology, the R7000 has opted for beamforming over MU-MIMO, which, given the current adoption rate of MU-MIMO compatible devices, seems like a calculated decision. The max theoretical throughput of 1,900Mbps exceeds any other AC1900 router - including the Linksys AC1900's 1,300Mbps - and is made possible thanks to some processor and RAM upgrades. Theory turned into practice during our tests, where the R7000 came out on top of all the AC1900's we've reviewed under a fifty foot range. Past this, and with a couple walls chucked in the mix, we see that top spot lost - disappointing given its beam-forming preference. However, for anyone looking to use NAS (Network Attached Storage), the USB speeds are phenomenal. Clocking in at 28Mbps, it absolutely trounces the AC68-U. If you're looking for a fast, NAS centric router, and are positioned less than 15m from your router, get this. If not we recommend the AC68U.
See the NETGEAR R7000 Nighthawk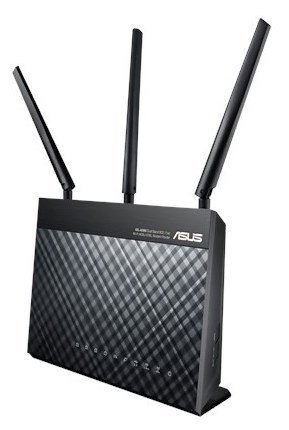 Max Speed: 1,300Mbps / 5GHz
Bands: Dual (2.4 GHz, 5 GHz)
LAN Ports: 4
Standard: AC
What We Like: Future proof, comprehensive user-friendly software.
What We Don't: Design issues.
Delivering blistering performance, and a competitive wireless showing, the AC68U from ASUS gets off to a strong start. If you have the right devices, the 68U will provide each with its own direct channel to the router, thanks to its 3x3 MU-MIMO functionality. While not as impressive as the ASUS RT AC88U's 4x4 MU-MIMO capabilities, this is still serious future-proofing for busy networks.  
In real-world testing, the 68U did its thing, only really floundering wirelessly after 65 feet, and while not quite as fast as the Linksys WRT AC1900, it still blows most of the competition out of the water. When you combine all these factors, you start to see why this router is worth its weight in Amazon gift cards. The potential longevity of this router adds massive value to the product. But it doesn't stop there. The 68U is extremely user-friendly, thanks to ASUS' WRT (their software solution for router interactivity). The reason it's so user-friendly is down to some clever design decisions that usher even the most uninitiated towards their destination. Advanced options are kept out of the way – unless you need them – and updates are easy to see and implement. The Download Master feature is also another winner for us. It acts like a NAS set-up when connected to external storage devices (like USB sticks), allowing you to download files without leaving your PC on all night. Trés cool. All in all, with this router, ASUS really have struck the perfect balance of functionality and intuitiveness. They've streamlined the UI (user interface) just enough to make it easy to navigate, but not so much you can't find, say, the parental controls. Pesky kids.
See the ASUS DSL-AC68U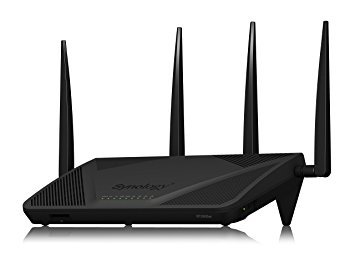 Max Speed: 1,300Mbps / 5GHz
Bands: Dual (2.4 GHz, 5 GHz)
LAN Ports: 4
Standard: AC
What We Like: Awesome functionality.
What We Don't: May be too complicated for casual users.
The RT2600ac from Synology is fast. Running-away-from-bears fast. Although that would never be fast enough, so perhaps a bad example. Especially considering the RT2600 is fast enough...whatever, we're getting ahead of ourselves. Thanks to its 4x4 MU-MIMO capability, even faster than the Linksys WRT AC1900 in heavy-usage homes. The design is understated (for a device with 4 antennae) incorporating soft touch plastic with a very functional vent system, creating a very sleek aesthetic. The RT2600 has 2x USB ports and 4 LAN ports. Here's where Synology start to show their hand. One of the LAN ports can actually double as a WAN connection (the connection that receives your internet connection from your provider). This means that if the internet is essential in your operations you can have a second connection in lieu as a fail-safe. Not something most domestic consumers will use but for professional gamers, streamers or online business traders, this could be a godsend.
The interface for the router is fairly user friendly, although resembles a diagnostic tool, which inherently screams technical know-how. The app functionality of the OS only compounds this, and while it does allow you to expand your router's capabilities, it may be off-putting for those looking for a more user focused experience of the ASUS DSL-AC68U. Another cool feature on the RT2600 is the ability to create a guest network. This means when you have friends or neighbours round, you don't have to give them full-time access to your connection. Once they leave, the temporary guest network can be removed, and Bob's your Uncle. He's just not upstairs leeching off your bandwidth. Take that Bob.
See the Synology RT2600ac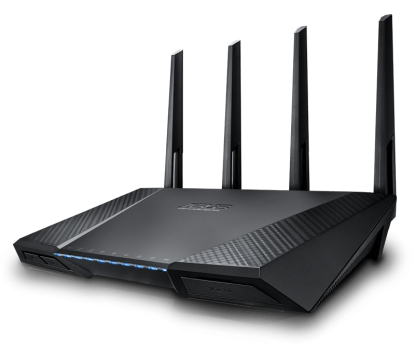 Max Speed: 1,300Mbps / 5GHz
Bands: Dual (2.4 GHz, 5 GHz)
LAN Ports: 4
Standard: AC
What We Like: Great speed, build and functionality for an affordable price.
What We Don't: Not enough devices support MU-MIMO
As the predecessor to the ASUS RT AC88U, it should come as no surprise that the 87U is well-built, well-designed and packing some serious functionality inside of its user-friendly software suite. Speed wise, it's a ripper. While not quite matching the insane speeds of the Synology RT2600ac at 5 GHz, it comes pretty close, and costs $20 less. MU-MIMO, whilst being fairly underrepresented in home right now, will definitely be the gold standard over the next couple of years, so seeing it here should be a welcome sign to those in the know.
We love the styling too. It's fairly understated, yet still has enough about it to suit its high-end status, with the blue LED really accenting the complete matte black body. AiProtection means you should be safe as can be from cyber nasties, while the AiCloud allows you to mass store and access your files from anywhere in the world. Thanks ASUS. This router is for those who want the best, but aren't prepared to pay to pay the $270 asking price of the 88U. While it's not as fast the Synology RT2600ac, we feel it evens the odds in build quality and software usability. Again if you're just looking for speed, then the Linksys WRT AC1900 will provide better bang for your buck, while the RT-AC87U give you a more comprehensive package.       
See the ASUS RT-AC87u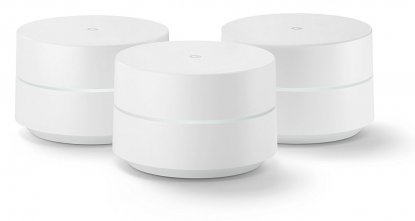 Max Speed: 1,200Mbps / 5GHz
Bands: Dual (2.4GHz, 5GHz)
LAN Ports: 2 per unit (6 total)
Standard: AC
What We Like: No hassle mesh system, awesome design, unbeatable value.
What We Don't: Not the fastest.
The main benefit of a mesh system over a traditional router is coverage. The three units provided in the Google WiFi package can cover up to 4500 square feet (no more Wi-Fi blackspots for us - and yes, the term is with a hyphen, but Google said, the hell with that). The design of these units is equally as impressive – small, unobtrusive and modern. Each unit has two Ethernet ports on the back allowing devices anywhere in the house to benefit from a wired connection. These units were devilishly simple to setup, taking literally two minutes to configure using the mobile app. The app also facilitates the wealth of other features offered, including; speed monitoring, bandwidth prioritization, smart home device control like the TP-Link AC3150, and the pausing of access to specific devices.
The beamforming tech, also found on the Synology RT1900ac, allows 4K streaming to happen anywhere in the house, and gaming is an absolute pleasure in tandem with the traffic prioritization feature. Mesh systems aren't focused on huge speeds, but as we've mentioned streaming in 4K and gaming are more than possible and we were able to download large files in no time at all. Just don't try doing it all at once. However, for smart homes looking for limitless range and functionality with no technical know-how required, mesh systems are the future. Unbeatable in terms of design, simplicity and price, Google WiFi is in a league of its own.
See the Google WiFi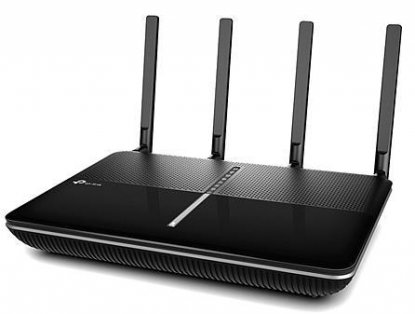 Max Speed: 2,167Mbps / 5GHz
Bands: Dual (2.4GHz, 5GHz)
LAN Ports: 4
Standard: AC
What We Like: Great speed, awesome functionality.
What We Don't: Faster routers available for the price.
The TP-Link AC3150 is aimed at users looking to stream 4k content, game lag-free, and connect with their SMART devices without the need for a dedicated SMART hub. Not only does the AC3150 feature MU-MIMO tech, enabling it to connect to multiple supported devices simultaneously, and beamforming, it's also the only router in our list to feature 4-Stream and NitroQAM. Translation: 4-Stream increases the amount of traffic each band can handle, while NitroQAM boosts the speed of each band by up to 25%. As with all router speeds, these numbers are theoretical and should be taken with a pinch of salt; however, during our wireless tests, we found that the AC3150, although slower, performed more consistently than the ASUS RT AC88U. You can find faster for cheaper in the form of the Synology RT1900ac, however busier networks will be losing the benefits of 4-Stream and NitroQAM.
The AC3150 is also one of the select routers that natively supports Alexa voice commands, so you can easily share Wi-Fi codes, create and control guest networks as well as power on/off and reset your device. We know some of this is possible for all routers using third party apps, but native support always works better. The AC3150 also supports the popular IFTTT (If This Then That) app, meaning you can get all your SMART devices working in unison. So if you accidently leave your guest network on, the app can ping a message to your phone letting you know, or if a new device connects to your network, IFTTT can tell your Philips HUE bulbs to flash temporarily, and so on. Although novel, we think there's substance in the 3150's feature set, and as IFTTT is completely configurable by your average Joe, the sky really is the limit. Or maybe your data cap is? Who knows.  
See the TP-Link AC3150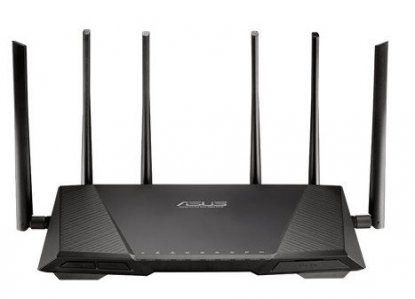 Max Speed: 3,200Mbps / 5GHz 
Bands: Tri (2.4GHz, 2x 5GHz)
LAN Ports: 4
Standard: AC
What We Like: Detailed interface, feature packed.
What We Don't: Average real world speeds, expensive.
This tri-band router from ASUS is huge. While not quite as big as D-Link's AC5300 Ultra, it's still massive - meaning, unless you truly need something this heavy duty, you probably shouldn't even consider it. That being said, if you have a lot of traffic on your network, the extra 5GHz band should come in very handy. The interface is extremely detailed and, while it isn't overly complicated, newer users might be put off by the sheer number of options. Plug and play, this is not.
Once set-up, the on screen display and feature set is awesome and responsive, fully supporting NAS and printer sharing functionalities. As we saw on the RT-AC87U, the 3200 come with AI share, allowing you to store and access files on the cloud. However, the apps used to do this are far from streamlined. And in terms of speed, while the primary 5GHz band hits respectable speeds across multiple ranges, it's still beat out by the Linksys AC1900. It's the same story for the 2.4GHz band, too. Interestingly, the secondary 5GHz band outperformed the first at times, even beating the mighty Linksys. File transfer speeds across the USB connection were unimpressive, coming bottom in all our tests. This router was designed for a busy environment, where multiple 5GHz bands are required. While the Linksys AC1900 has the AC3200 beat in single band testing, if you overload the network, the AC3200 will come out on top. For other aspects though, there are better options.
See the ASUS AC3200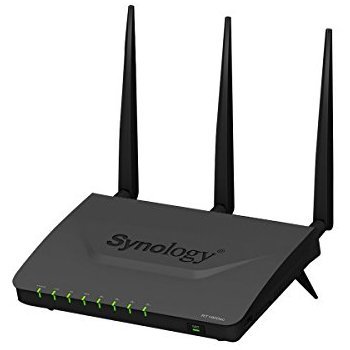 Max Speed: 1,300Mbps / 5GHz
Bands: Dual (2.4GHz, 5GHz)
LAN Ports: 4
Standard: AC
What We Like: Good wireless speeds, comprehensive management tools.
What We Don't: Slow data transfer to storage devices.
Just like the Synology RT2600ac, the SRM (or Synology Router Management) software provides a very detailed approach to managing your settings. Be warned though, the appearance of the software looks like you've stumbled across a part of windows you need qualifications to understand, which may put casual users off. That said however, those who dare to tinker could be admirably rewarded, thanks to features like intelligent web filtering, parental controls, VPN functionality, and the handy iOS/ android phone app.
The RT1900 performed valiantly in our speed tests across the 5 GHz band, but lost traction when tested over its 2.4 GHz channel. Just like the Linksys WRT AC1900, the RT1900 features beamforming, which maintains speeds over longer distances thanks to its more direct Wi-Fi signal direction. Obviously this is instead of MU-MIMO, however right now MU-MIMO is only beneficial if you have supported devices. Eventually all devices will lean to MU-MIMO which means there is a shelf life on the effectiveness of this router. Something to bear in mind when calculating value. As Synology are a company known to create NAS (network-attached storage) devices, we were also slightly disappointed by the slow data transfer speeds via the USB and SD card ports. They weren't slow, just could have been faster. All in all a solid router with strong management services and competitive speeds. We'd recommend the TP-Link Archer C9 or Linksys WRT AC1900 above it in this price point, but arguments could be made either way, depending on your intended usage.
See the Synology RT1900ac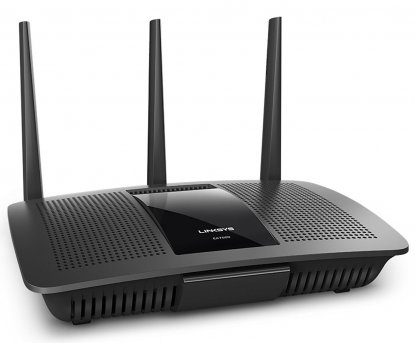 Max Speed: 1,300Mbps / 5GHz
Bands: Dual (2.4GHz, 5GHz)
LAN Ports: 4
Standard: AC
What We Like: Strong performer, good value.
What We Don't: Inconsistent file transfer speeds.
Don't be fooled by its subtle looks. The EA7500 is an absolute beast amongst midrange routers and with its recent price drop, the bang for buck is looking to take off heads. The MU-MIMO tech, something missing from the Linksys WRT AC1900, is ideal for multiple user households and the unit performs blisteringly fast across both bands, up to thirty feet and through multiple walls. There's an automatic setup feature which analyses your network, choosing the best settings and you're off. If you need to manually adjust anything, you can through the browser based tool. We would have liked the inclusion of a phone app, but hey!
The only real drawback on this unit is embedded in file transfers. Read speeds are decent but write speeds are underwhelming, so if you're looking to transfer a lot of files to a networked drive this could be an issue. Only just missing out on a top-five spot due to its slightly higher price than the Archer C9, the fact it doesn't accommodate beamforming and its file transfer inconsistencies. However there could be a case for it over the Archer dependent on your needs. Still a brilliant router.
See the Linksys EA7500 Max-Stream AC1900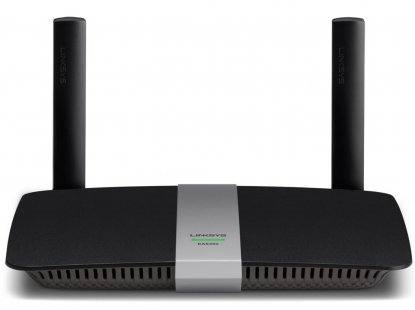 Max Speed: 8,67Mbps / 5GHz
Bands: Dual (2.4GHz, 5GHz)
LAN Ports: 4
Standard: AC
What We Like: Amazing value, Easy to install.
What We Don't: Non-removable antennas.
If you're looking for something a little more grounded in reality and you're on a budget, then the EA6350 from Linksys is probably for you. With a modest design that the D-Link AC5300 could take note from, and single USB 3.0 port this router is really aimed at the light network users - and that's a good thing. There aren't enough quality budget routers in the marketplace, but with one as solid and reliable as this, who cares?
Setup is as simple as it is on the Linksys EA7500, and the interface grants you all the usual goodies, such as diagnostic information, parental controls and traffic prioritization. Although not as fast as its role model, the EA7500, it's not far behind at close distances. As expected though add a few more feet and a couple walls and the gap starts to slowly widen. The antennas are fixed, so can't be replaced for more powerful ones, meaning future proofing is out the window, but this router is more than adequate for one or two users and is almost half the price. Read and write speeds really suffer when looking at more expensive models, but again if this isn't a priority on your list, then why pay extra for it? All in all, a brilliant little budget router aimed at the casual user. Top stuff.
See the Linksys EA6350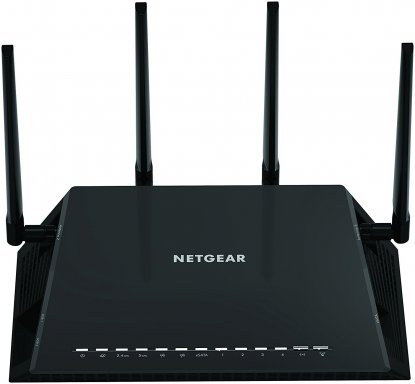 Max Speed: 1,733Mbps / 5GHz
Bands: Dual (2.4GHz, 5GHz)
LAN Ports: 4
Standard: AC
What We Like: USB 3.0 on both ports, decent performance.
What We Don't: The 2.4GHz band is slower than models half its price.
In a similar vein to the ASUS RT-AC88U, the X4S is looking to dominate the higher end of the router market. Although not as fast as the aforementioned, it definitely competes and is $70 cheaper. It even trumps the single USB 3.0 port of the AC88U and raises it by one. But that's where the competition ends. It has half the Ethernet connections and half the amount of features. Its max speed on the 5GHz band is theoretically lower and the real world performance of its 2.4GHz band is worse than some of the budget routers we've tested including the Linksys WRT AC1900. Not necessarily a deal-breaker, but it definitely overshadows the ray of hope the extra USB port and $70 reduction added.
Performance picks up again when multiple users try to access data simultaneously, so much so that we'd say it's one of the better options for households with multiple users. The USB 3.0 ports perform as expected delivered top draw read/write speeds. The only real issue with the router is its positioning. Priced in the lower region of the high-end routers it seems appealing, but it's lack of features, Ethernet ports and questionable 2.4GHz band performance make you question whether this is what you wanted from high end, making the more expensive midrange routers suddenly seem more appealing. The ReadySHARE feature is a nice touch, but it's just filesharing with a snazzy interface. Not a bad router by any means, but not quite good enough either.
See the Netgear Nighthawk X4S R7800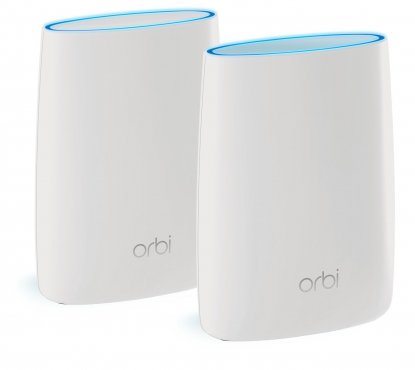 Max Speed: 1,733Mbps / 5GHz
Bands: Tri (2.4GHz, 2x 5GHz)
LAN Ports: 2
Standard: AC
What We Like: Faster than Google WiFi, easy to set up.
What We Don't: Expensive, bulky, terrible app.
The main benefit of this system over the Google WiFi option is the speed. It's faster, no doubt about it. Also, unlike Google WiFi, each terminal maintains that lightning pace and is able to deliver it via the Ethernet port. This is thanks to the additional band Netgear have implemented. Nice.
So why have we rated Google WiFi higher than Netgear's Orbi? Because the next feature of Orbi we're about to discuss is a double edged sword in our opinion and slightly contradicts the ethos behind Wi-Fi systems. The Orbi is far more configurable than Google's option. Sounds great right? Well only to the minority. The appeal of Wi-Fi systems is their ease of use. The less involvement the user has, the better. If you want to be able to control your system completely, Wi-Fi systems aren't quite there yet, and probably aren't for you. You'd be more at home dabbling with the Synology RT2600ac. The Orbi's mobile app is also dreadful, especially when compared to Google's version. Then there's the smart device integration that Google's installment has over the Orbi, the fact it costs $50 more, is far bulkier and only comes with two terminals, that one less Ethernet access point available. If you don't mind paying extra, however, and speed is a big concern for you for all devices in the house, then the Orbi may be a better option, but when considering the complete picture Google holds the crown. For now.
See the Netgear Orbi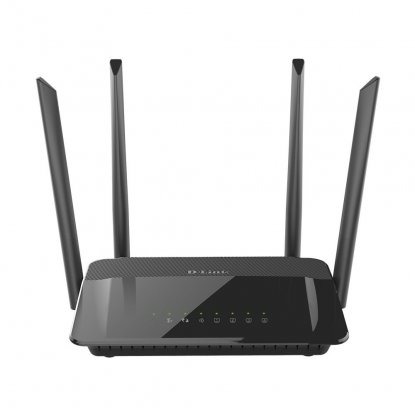 Max Speed: 8,67Mbps / 5GHz
Bands: Dual (2.4GHz, 5GHz)
LAN Ports: 4
Standard: AC
What We Like: No-nonsense router.
What We Don't: No USB ports.
Here we go then, people, the antithesis of router marketing. This dual band router from D-Link is pulling no punches…because it isn't throwing any…because it's too busy just being a basic, no-nonsense router. And how can we fault it for that? There are definitely users who just want a solid, reliable router for browsing, a bit of streaming and some online gaming without having to work overtime five weeks in a row to afford it, and they'll be happy with this one. If you want a bit more pizazz, then check out the TP-Link Archer C9, but it costs twice as much. You've been warned.
While the software isn't as accomplished as the ASUS RT-87U, it still has the usual accompaniments of management tools, Quality of Service prioritization and parental controls which are accessible as standard through your web browser of choice or the mobile app. Setup happens automatically as soon as you connect your computer and is done in under a minute. The lack of USB ports could bother some, but if you're looking at budget routers it's unlikely your search for an external hardware storage/sharing solution. So what about performance? Well unless you are benchmarking it you won't be able to tell the difference between this and a midrange model costing triple the price. That's across both bands too. If you just want a no-nonsense router for a no-nonsense price that delivers in every area it needs to, then this is the one for you.
See the D-Link AC1200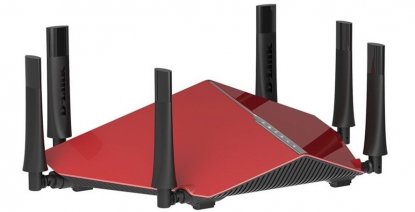 Max Speed: 1,300Mbps / 5GHz
Bands: Tri (2.4GHz, 2x 5GHz)
LAN Ports: 4
Standard: AC
What We Like: Great performance across all ranges, user friendly interface.
What We Don't: File transfer speeds are a letdown, we expected more from a tri band, getting a little old now.
Another solid addition from D-Link. The AC3200 maintains respectable speeds across it's bands, trading blows back and forth over ranges with the Linksys EA7500. Unfortunately, it costs $60 more, but it is faster overall across the 5GHz band. The EA7500 has MU-MIMO, which is a feature the AC3200 is missing, but it partially makes up for it with the additional band.
The read/write speeds (across the USB ports) are a different story altogether, though. The AC3200 is significantly slower than the EA7500 and the Linksys AC1900 – both costing $60 less. It's not all bad news: thanks to an intuitive interface and handy mobile app, managing your network never felt simpler, and the smart connect functionality diverts traffic automatically across the bands, speeding up your main devices when you need them most. The beamforming feature is also great for mobile devices on the edge of your Wi-Fi's range, ensuring the signal is always as strong as possible. A decent router from D-Link, although it's unfortunate that even with the price drop it still falls short in important areas to cheaper models.
See the D-Link AC3200 Ultra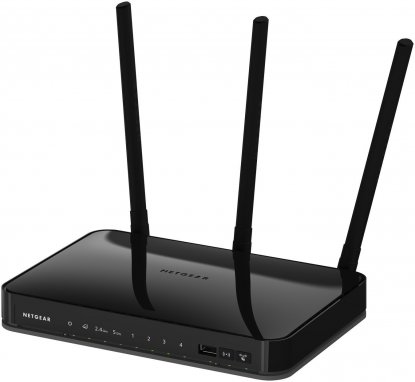 Max Speed: 433Mbps / 5GHz 
Bands: Dual (2.4GHz, 5GHz)
LAN Ports: 4
Standard: AC
What We Like: Value for price, easy to use.
What We Don't: Limited functionality.
The AC750 from NETGEAR is an unassuming little devil. It isn't trying to be the biggest, the baddest, or the fastest. The only goal here is to deliver decent speeds to the casual user, with as little complication as possible. Mission complete. Don't be put-off by the low theoretical speed in comparison to other routers- that's just its Wi-Fi capability. You plug this beauty into one of the four provided gigabit Ethernet ports, and your only limit will be your ISP. That said, Wi-Fi only users might be better suited towards the D-Link AC1200 or Linksys EA6350, which cost less and provide almost double the performance in terms of download speed. We were slightly disappointed by the performance of this router over range, noticing that anything over thirty-three feet drastically reduced speeds. This caused our favourite streaming apps to buffer more than play.
The AC750 has a single USB 2.0 port, meaning you can easily share files or a printer - just not simultaneously. Although, it is worth pointing out that the file transfer speeds were among the slowest of any router in our list. Not unbearable, just not the fastest. Fortunately, the NETGEAR Genie software continued the mantra of 'basic' - the initial setup being an absolute breeze, and any changes to be made are clearly posted and outlined with simple diagrams and notes. The most obvious amendment for gamers would be port forwarding. If you've ever had a strict or moderate NAT (Network Address Translation) type in Call of Duty, it can be a nightmare to connect to games. Well, a few changes to your port forwarding options, and bang! You're in. On most routers, this can be a daunting process. But here, it's simple. Advanced users may be put off, but novices, and those looking for something that just does enough, will find plenty to get excited about.
See the NETGEAR AC750
 
Comparison Table:
| Wireless Router | Price | Max Speed | Bands | Ports | Std. |
| --- | --- | --- | --- | --- | --- |
| ASUS DSL-RT AC88U | $379 | 2,167Mbps / 5GHz  | Dual (2.4GHz, 5GHz) | 8 | AC |
| Linksys WRT AC1900 | $208 | 1,300Mbps / 5GHz | Dual (2.4GHz, 5GHz) | 4 | AC |
| NETGEAR R7000 Nighthawk | $150 | 1,625Mbps / 5GHz  | Dual (2.4GHz, 5GHz) | 4 | AC |
| ASUS DSL-AC68U | $140 | 1,300Mbps / 5GHz | Dual (2.4GHz, 5GHz) | 4 | AC |
| Synology RT2600ac | $195 | 1,300Mbps / 5GHz | Dual (2.4GHz, 5GHz) | 4 | AC |
| ASUS RT-AC87u | $180 | 1,300Mbps / 5GHz | Dual (2.4GHz, 5GHz) | 4 | AC |
| Google WiFi | $259 | 1,200Mbps / 5GHz | Dual (2.4GHz, 5GHz) | 6 | AC |
| TP-Link AC3150 | $197 | 2,167Mbps / 5GHz  | Dual (2.4GHz, 5GHz) | 4 | AC |
| ASUS AC3200 | $200 | 3,200Mbps / 5GHz  | Tri (2.4GHz, 2x 5GHz) | 4 | AC |
| Synology RT1900ac | $120 | 1,300Mbps / 5GHz | Dual (2.4GHz, 5GHz) | 4 | AC |
| Linksys EA7500 Max-Stream AC1900 | $129 | 1,300Mbps / 5GHz | Dual (2.4GHz, 5GHz) | 4 | AC |
| Linksys EA6350 | $86 | 8,67Mbps / 5GHz | Dual (2.4GHz, 5GHz) | 4 | AC |
| Netgear Nighthawk X4S R7800 | $200 | 1,733Mbps / 5GHz | Dual (2.4GHz, 5GHz) | 4 | AC |
| Netgear Orbi | $320 | 1,733Mbps / 5GHz | Tri (2.4GHz, 2x 5GHz) | 2 | AC |
| D-Link AC1200 | $45 | 8,67Mbps / 5GHz | Dual (2.4GHz, 5GHz) | 4 | AC |
| D-Link AC3200 Ultra | $130 | 1,300Mbps / 5GHz | Tri (2.4GHz, 2x 5GHz) | 4 | AC |
| NETGEAR AC750 | $105 | 433Mbps / 5GHz  | Dual (2.4GHz, 5GHz) | 4 | AC |
Want Even More Master Switch? Sign Up For Our Weekly Newsletter!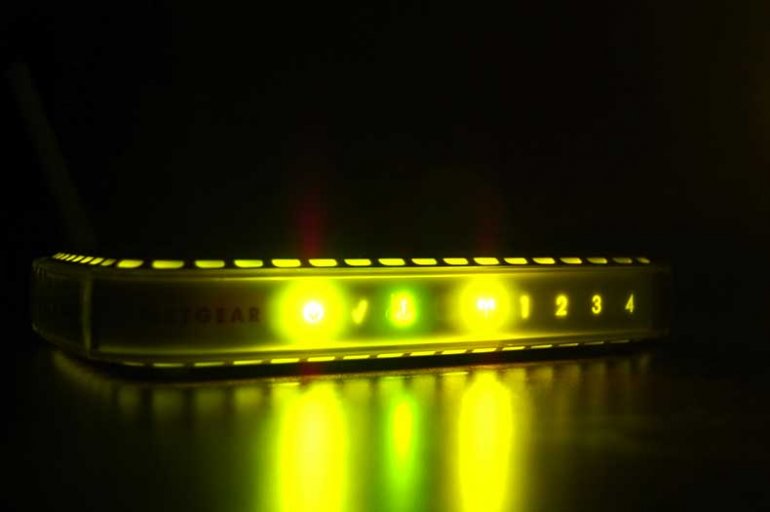 Buying Advice:
How Do Wireless Routers Work?
You used to get the Internet by running a cable from your computer into your phone line, usually via some sort of modem. Now, it's incredibly rare to have a wired connection. Chances are, you have Wi-Fi, and a router is what enables that. Instead of connecting your computer to the phone line (or dedicated Internet line), you connect the router to it. The router then broadcasts a signal, which your computer picks up, allowing you to send and receive data.
In an age where more devices in the home are connected to the internet than not, making sure you have a router that can handle the traffic is a must. Hell hath no fury like a gamer caught out by a choppy connection, thanks to their housemate's obsession with snapchatting whilst streaming Stranger Things in 4K, listening to Spotify, and arguing with complete strangers on Reddit. We've never experienced that. Honest. Point is, every household uses the internet to varying degrees, so it's important that you're just as up to speed as your router is. Talking about speed: it's a big consideration when buying, and a big factor in price. The higher it is, the faster your Internet is going to be. Our table above should give a good indication of max speed for each model. More expensive routers may also operate using dual bands, and you really want this: having a router that can kick it on 2.4GHz and 5GHz simultaneously (these terms are explained below) means you get far fewer interruptions, and is ideal for households with a lot of devices and users.
For example, a busy household, full of streaming, gaming, constant social media updates, and so on will need something like the ASUS DSL-RT AC88U. On the other hand, for networks with less demand, other routers from TP LINK and Synology may be more preferential (and significantly cheaper). Knowing what your typical usage will be is all well and good, however, unless you understand what a router can do, you're still at a loose end.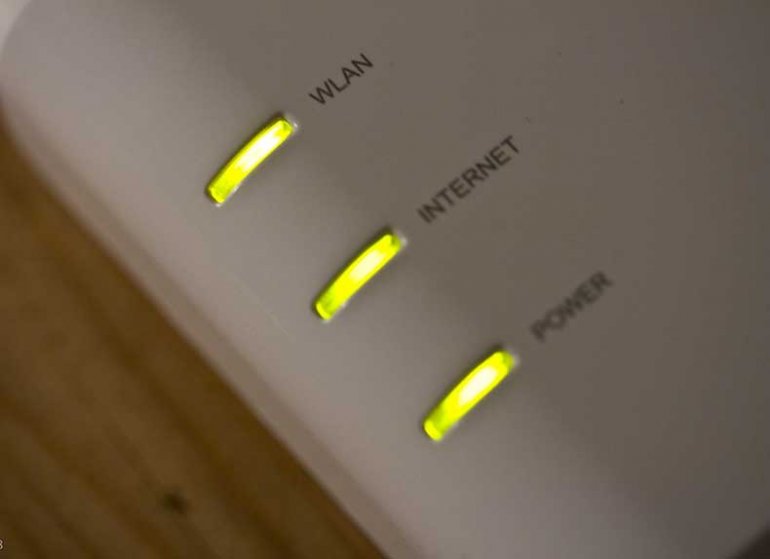 What Affects Wireless Signal?
One of the biggest factors of your router's performance is the environment it's operating in. Pushing a signal through surfaces like brick and concrete is a lot harder than plaster and wood. For starters, keep your router above ground (the higher the better actually) and away from the corner of the room (where most routers currently live). Moving your router to a more central location and away from other wireless signal-emitting devices like cordless phones, Bluetooth speakers, and even microwave ovens can improve your signal performance.
However, there are some places that your router just might not reach, no matter what you try. If you have a rec room above a garage or a basement converted to a media room, your wireless signal may not reach there, or may only do so sporadically, resulting in frustrating coverage. In these cases, you should consider a wireless range extender. Wireless range extenders repeat your router's signal and pump it into far corners of your home. And while your signal may lose some strength in the process, it's still a considerable solution.
 
What Is A Wireless Extender?
These work by receiving your router's signal, then re-transmitting that signal. If it only has one antenna, it has to do both those by switching from receiving to transmitting mode, cutting your speeds by at least 50 percent and usually more. There are some, like the Netgear AC750 EX6100, that use two antennas to transmit the signal and get much better speeds. However, since it has one 5Ghz and one 2.4Ghz, that means you're either slowing down speeds in receiving or re-transmitting the signal. To avoid this, run an inexpensive Ethernet cable between the two routers to extend your network and keep the speed up. Here's a good guide to setting up your old router as an extender.
Hopefully you only have to look at your router's interface once while you're setting it up. But if you have to venture into it, you want to know what you're looking for. If you're trying to get off your neighbor's channel, look under the wireless settings area of your browser's interface. You also can use the interface to set up passwords, name your wireless networks, and access advanced features like guest accounts and firewalls. Luckily, most manufactures have tech support lines that can help you set up all your devices and walk you through activating special features to get the most from your wireless router (good luck with that…)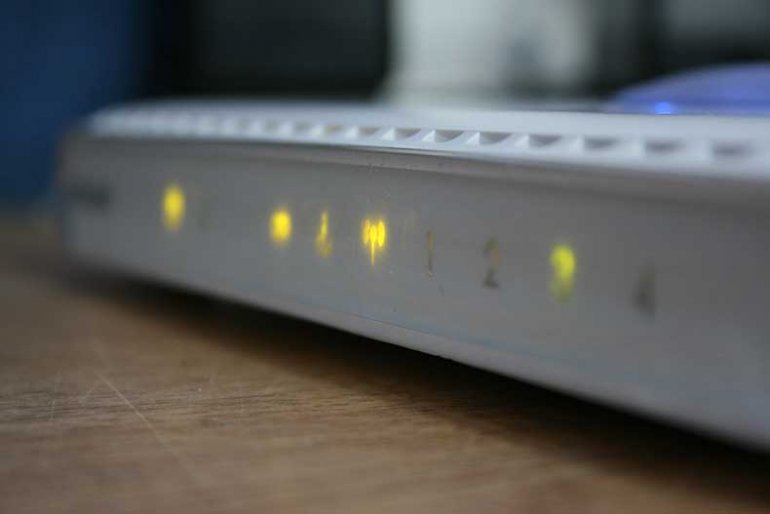 Dual Band vs. Tri Band
Wireless devices have to send data, and they do so by sending it at specific frequencies. That means they are subject to a whole lot of regulatory oversight, and can only use specific frequencies. In the early days of the Internet, and the early days of wireless routers, this was 2.4GHz.
The problem was, this got congested quickly, especially when we started using intensive applications like Netflix and YouTube. So, routers started using another assigned band, 5GHz. By doing this, they created an extra 'lane' they could use, much like adding another lane to a highway. It allowed increased levels of traffic, and higher speeds.
Most of the routers in our list are dual band, and at least three tri-band, which means they are significantly faster. The best tri-band router available right now is the ASUS AC3200, so check that out if you need a speed boost!
 
2.4GHz vs. 5GHz
These numbers, found on most of our routers, including the Google WiFi, are the frequency bands (or channels) in which your router sends and receives signals.
The main difference between the two is speed. The 5 GHz band can support speeds of up to 1300 Mbps, while the 2.4 GHz band only supports up to 600 Mbps. The 2.4 GHz band, however, has a longer frequency wave, meaning it can travel through objects like walls and ceilings easier than its 5 GHz associate. Handy for people using a shared router in an apartment complex then? Or maybe if you have an old house with thick walls?
Well, potentially. The only kicker is the 2.4 GHz frequency and is occupied by a lot of other devices. Things like Bluetooth earpieces, cordless phones, kids' walkie-talkies, and baby monitors, meaning you could be fighting for bandwidth before the thickness of your wall even becomes an issue. SO 5 GHz is faster and has less clutter, but also a shorter effective distance and poor penetration of objects. Personally, we'd go with the 5 GHz band and use a wireless extender, if distance was an issue. See above for an explanation of what that is.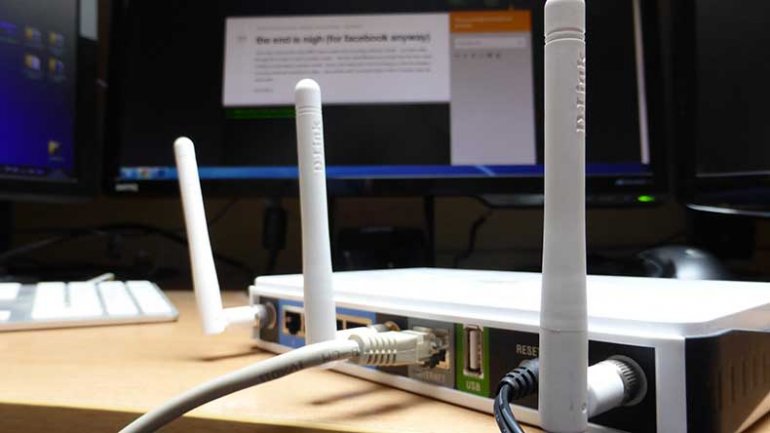 MU-MIMO Explained
You may have noticed that some routers, such as the Linksys EA7500 Max-Stream AC1900, boast MU-MIMO functionality. But what is it? How does it help? And do you really need it? 
MU-MIMO stands for Multi User, Multiple-Input and Multiple-Out, and relates to the traffic your router can handle wirelessly. MU-MIMO means your router can communicate with multiple devices, at exactly the same time. SU-MIMO, or Single User, Multiple-Input and Multiple-Out, can only send and receive data to one device at a time.
Now, this isn't an issue for most casual users, doing web-browsing or social media stints, but if you stream movies or play a lot of games, and there's mobiles, tablets and other smart devices trying to communicate with your router at the same time, you can see how this could cause issues. Using multiple antennae, MU-MIMO enabled routers are able to dedicate lanes of traffic to individual devices. The number of devices depends on the router, however presently the most is four. If you have more than four devices, don't worry, your router will prioritize the heaviest, giving them their own dedicated lanes, and everything beyond that will receive the SU-MIMO treatment.
So is it worth it? Well, that depends on how many people are using your connection, and to what extent. It's also worth mentioning that a device has to support MU-MIMO, not just the router. At the moment, that limits you to a handful of USB Network Adapters, mobile phones, and tablets. The evidence is there though. If you're a gamer, and can afford one of the MU-MIMO compatible USB adapters, you can enjoy up to 134% faster speeds, and an improvement in FPS (Frames Per Second) – Which, if you've read our roundup of this year's best gaming monitors, you'll know just how big of a deal, that is. The tech is new, but will no doubt be the standard for Wi-Fi, and its compatible devices, over the next year or two.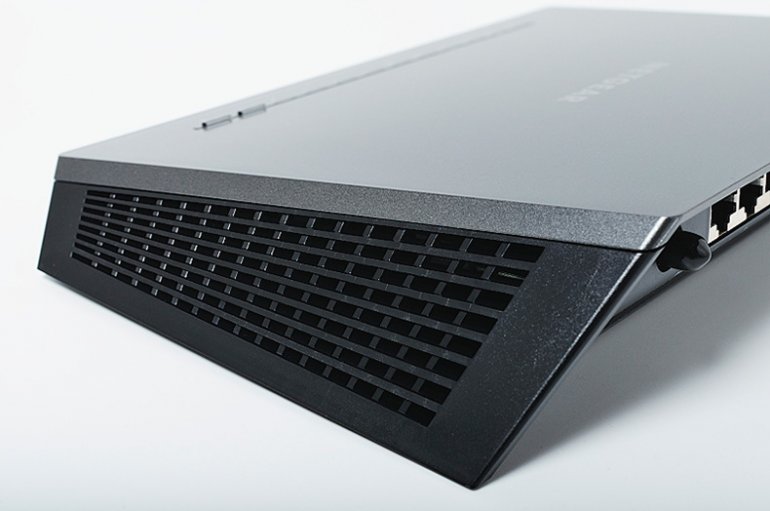 Wireless Standards Explained: AC vs. N vs. 802.11
First off, some good news. You can ignore the numbers.
The 802.11 simply means that the network in question is a wireless network. Bluetooth networks are designated 802.15, and ethernet networks are 802.3. These numbers are set by the Institute of Electrical and Electronics Engineers Standards Association, and all you need to know is that if it says 802.11, it's Wi-Fi. What we are interested in are the letters that come after 802.11.
When looking at wireless routers, you'll often see them listed as having "IEEE 802.11a/b/g/n/ac" wireless antennas. Each one of those slashes is a progressively faster iteration of the standard. There's a lot of technical detail in each update, like if it operates in the 2.4 or 5 GHz band and how quickly it can transfer data, but the more slashes after 802.11, the better. The latest standard, 802.11ac, was introduced in late 2013, so if you have newer devices, you'll definitely want to get a router that can output 802.11ac. But you'll be hard-pressed to find a new router that doesn't support satisfactory speeds—the limiting factor will more likely be your cable company. (There is a newer standard, ad, which is slowly being introduced, although it isn't widespread yet)
We'd love to tell you what n and ac stand for, but they don't really stand for anything. 
The 802.11n standard, found on all models we recommend above, has a maximum speed of 450 Mbps and 802.11ac, the newest standard, is capable of a theoretical 7 Gbps. While actual speeds may be not be as high due to less-than-perfect setups and receiving equipment, your cable company isn't likely to provide speeds over 100 Mbps. In Seattle, for example, the largest cable provider offers speeds that max out at 105 Mbps. 
 
Ethernet Ports Explained
A good wireless router will have Ethernet ports on the back to send direct signals to certain devices in your house. This is helpful for streaming to media players online gaming on gaming consoles, or desktop computers that don't need to move around a lot. You can also find routers with USB ports. These allow you to hook up printers for wireless printing and hard drives for streaming media. You'll want to look at each router's capabilities if you want to use those features, as most are specific to individual manufacturers. Also, these features involve dealing with your router's interface, which might be daunting.
Router Login Explained
There will undoubtedly come a time when you simply have no choice, but to attempt logging into your router. Whether it's; diagnosing an issue with your network; or activating the AiProtection on the ASUS DSL-RT AC88U, login you must. We know what half of you are thinking. You're thinking EXACTLY the same thing as the other half. You didn't even know that you could log into a router.
Fear not, we've got you covered. First of all, we need your router's IP address.
An IP (internet protocol) address, is simply a way of computers or devices recognising and connecting with each other. To get this, open the Windows Run feature (press your Windows key and the R key at the same time), type cmd, and press enter. You're now in the Command Prompt. Type ipconfig, and press return. Voila, here are the IP address' of your network connections. See where it says 'Default Gateway'? That's your router. The IP address is the number next to it, and will look something like '198.168.1.0'. Make a note of it, open up a web browser, type it into the address bar, and press return. User, meet Router. At this point you'll need the username and password for your router. This may be printed on your router, or listed in the manual, if not don't worry. All routers have standardized usernames and passwords, so a quick google search using your router's name and model should have you covered.
In OS X, you can find your router's IP address, by opening 'System Preferences', going to the 'Internet & Wireless' section, and clicking on 'Network Preferences'. Select either Wi-Fi, or TCP/IP (depending on how you are connected to your router), and you will see your router's IP address listed underneath. Make a note of it, open up your web browser, type it in, and press return. Simple.
Back To Our Wireless Router Picks Back To Our Comparison Table
Learn More About Gaming Gear