You wouldn't expect headphones to need any special equipment to work. They are just about as simple as audio equipment gets. You plug them in, turn your device on, and music comes through. But what if you don't just want to listen to your music? What if you truly want to hear it? You'll need something to increase the level of signal that reaches your ears: a good headphone amp. These little devices will drive the signal from your music player and increase both its volume and detail. The good news is that you don't have to spend big to get one; whatever you're looking for, we can help.

How We Choose
The world of headphone amps can get incredibly deep and technical, incredibly fast. We were just looking for the latest garage-built, Russian-tube-driven audiophile wonder that would delight the eggheads and alienate everyone else. We wanted models that were not only simple to use, but which acknowledged that there were people out there who might not know the difference between a NOS 12ATC7 tube and a 6NT3 one. We looked at sound quality, ease of use, value for money, and more, as well as doing extensive testing. We should say that many products on this list are relatively expensive, but that's just the nature of the beast. And as you'll see, we've included options for any budget, all of which will dramatically improve your sound.

Our Headphone Amp Picks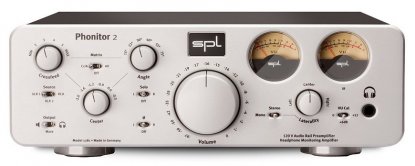 Weight: 9.5lbs
Dimensions: 21.1" x 15.2" x 7.1"
DAC: No
Impedance: 0.18Ω
Watts Per Channel: 2.7 / 32Ω
What We Like: Sound quality, level of control
What We Don't: Size is substantial
Best For: Semi-Pros
At the top range of headphones amps, you have companies like Sound Performance Lab. Their products are usually spotted in professional environments, but the Phonitor 2 is an attempt to make something for non-professionals who want awesome sound. And it is extraordinary. The noise level is extremely low, with crisp, precise bass and effortless performance in the upper frequencies. You get exactly what you pay for here, even at this high price point. Design-wise, this headphone amp is just awesome — you get a huge amount of control, including Crossfeed and Speaker Angle knobs, and the design is weighty and chunky (it looks like a classic mixing console). The general consensus was that it was a massive improvement over the already-pretty-great original Phonitor, and it won dozens of awards when it came out. Our take? Short of spending five figures on an amp, which is beyond the range of all but a few, this is the single best one you can buy, even some time after release.
See the SPL Phonitor 2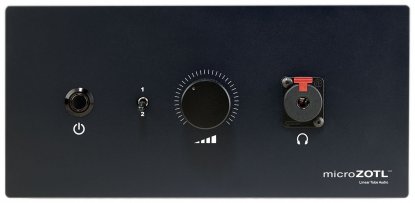 Weight: 8.94lbs
Dimensions: 9.5" x 4.75" x 7.8"
DAC: No
Impedance: 2Ω
Watts Per Channel: 1 / 4Ω
What We Like: Glorious sound
What We Don't: Power switch is annoying
Best For: Gear-heads
When Linear Tube Audio sent us an updated version of their already-well-reviewed MicroZOTL 2.0, we were very excited. As our review shows, it lived up to the hype. In a major way. Although it has its flaws, namely a power button that is somewhat annoying to use, the pros vastly outweigh the cons. The external power supply keeps the noise low, and the simple setup and four tubes keep things interesting. The sound is as rich, deep, and dark as a boeuf bourguinon, with a spacing and stereo field that you absolutely have to hear. At this price, it's a toy for those with deep pockets only, especially since you'll have to shell out for a separate DAC. But no amp more than this one has driven home the idea that sound can be glorious.
See the Linear Tube Audio MZ2-S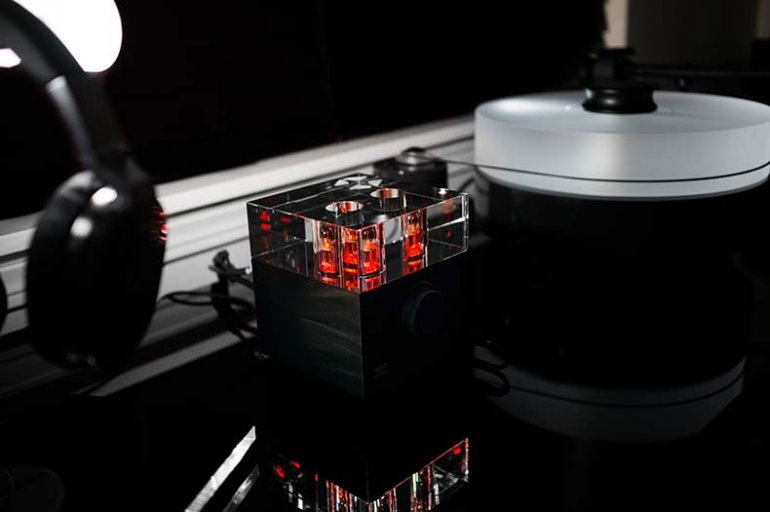 Weight: 8.1lbs
Dimensions: 5.1" x 4.8" x 4.8"
DAC: Yes
Impedance: 8Ω
Watts Per Channel: 1 / 32Ω
What We Like: Incredible looks, equally incredible sound
What We Don't: Maybe a touch a pricey
Best For: Treating yourself
If we based this roundup purely on looks alone, the second generation Woo Audio WA7 would win hands down. It's gorgeous. With its glass housing and glowing tubes, it's hardly surprising that this model is nicknamed 'Fireflies'. It packs a powerhouse of features, too, including a full DAC and very helpful USB input. The innards are based around a Class A system, which is known for minimising distortion and noise, a fact that is helped along by an external power supply. And the sound? Well, what do you think? It's big, deep, and powerful, lifting the sound without unduly coloring it. Simply spectacular, although it's a touch expensive for what you get.
See the Woo Audio WA7

Weight: 13lbs
Dimensions: 16" x 8.75" x 2.25"
DAC: No
Impedance: 1Ω
Watts Per Channel: 8 / 32Ω
What We Like: Raw power, highly customisable
What We Don't: Utilitarian looks
Best For: When you need an amp that will really get the job done
We love Schiit. Not just because they make some of the most incredible products in the entire audio world, but because they have such a fantastic brand. All of their products are named after Norse mythology, and although we could have picked the even more powerful Ragnarok, we felt like the Mjolnir was better suited to headphones. Unusually, it's a hybrid, meaning you can switch between using solid-state circuitry and tubes, and even get into the dark arts of tube rolling (read: switching out different tubes) if you want to go there. The sound is magnificent, with bass like rolling thunder. You simply cannot go wrong with one of these. As a bonus, the company provides some genuinely helpful guides on its website to getting started with all elements of amplifiers.
See the Schiit Mjolnir 2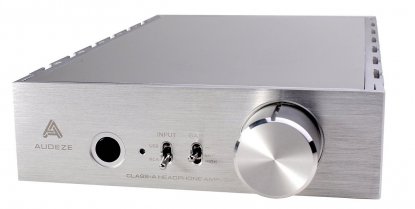 Weight: 4.3lbs
Dimensions: 16 x 8.75 x 2.25"
DAC: Yes
Impedance: 3Ω
Watts Per Channel: 4 / 20Ω
What We Like: Great looks, killer DAC, versatility
What We Don't: Not a lot!
Best For: When you need a preamp, or an all-in-one system
Audeze make some very stylish headphones, but what you might not know is that they dabble in amplifiers too. The Deckard (if you don't catch the reference, then let us Google that for you) is a slab of sleek brushed metal that combines a huge number of features. Not only can you use it as a regular amp, but you can also use it as a preamp, with a nifty switch on the front to help you do just that. Sound is solid, helped along by fantastic built-in DAC. It doesn't have the warmth of tubes, but that doesn't stop it being dead-on accurate, able to give any audio a major facelift. You should use it with Audeze cans for best results, obviously, but there are plenty others to choose from that will work just as well.
See the Audeze Deckard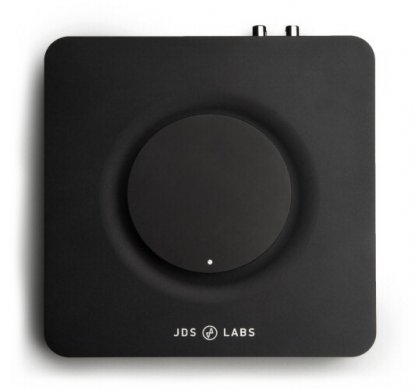 Weight: 1.13bs
Dimensions: 5.8" x 5.8" x 6.1"
DAC: Yes
Impedance: 0.1Ω
Watts Per Channel: 1.1 / 32Ω
What We Like: Small size, big power
What We Don't: Sound could be a tiny bit better?
Best For: Desktop users
JDS Labs impressed with their Objective model, and this is a major upgrade. It packs an amp and a DAC into a well-designed housing, with the big volume knob on top that recalls professional audio interfaces that recording musicians use, like the Native Instruments Komplete Audio 6 or the Apogee Duet. It's got a big, in-your-face, punchy sound, delivering not only volume but a fantastic clarity. Although it's not the most fully featured of the models on this list, it still manages to impress by delivering great sound and a decent price, and for its functionality which includes USB connectivity.
See JDS Labs The Element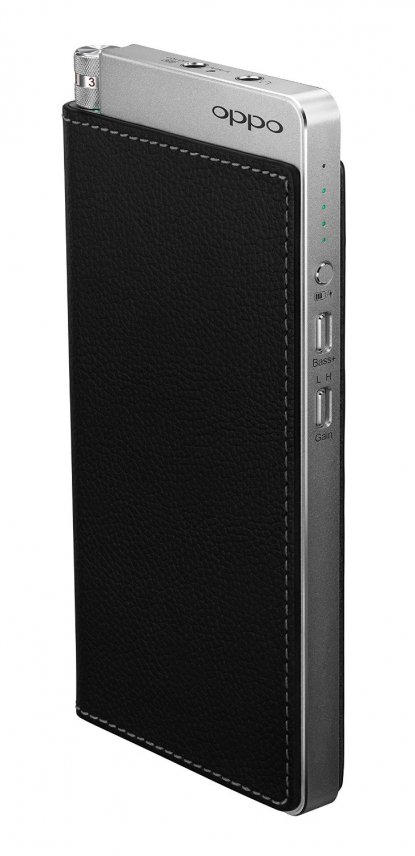 Weight: 6.2oz
Dimensions: 5.4" x 2.7" x 0.5"
DAC: Yes
Impedance: 0.5Ω
Watts Per Channel: 0.2/ 32Ω
What We Like: Portability, sound
What We Don't: Nasty leather cover
Best For: Desktop users
One more in the mid-range category, which has really filled up with models over the past couple of years. It's the OPPO HA-2, a slim, portable model with some puzzling design choices (the outside is wrapped in leather, like a cover you can't open, and if we're honest, it looks a bit cheap and nasty). With a Class AB amp and a Sabre DAC, it's got some phenomenal sound, which makes up for it. We loved the depth of the bass, and the detail when the music got particularly complex. If you aren't quite ready for the high-end stuff, but still want an excellent amp that remains portable, we strongly recommend the HA-2. It's also just received an update, the HA2-SE, which will be available soon (and presumably supplanting this model on the list)
See the OPPO HA-2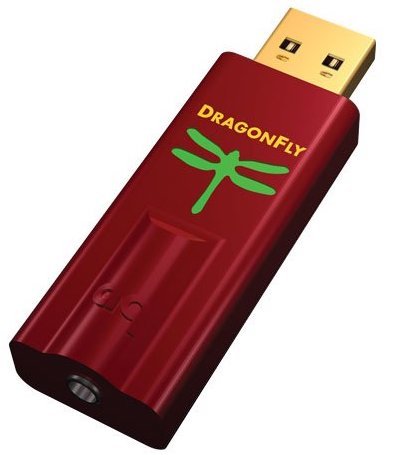 Weight: 2oz
Dimensions: 2.4" x 0.75" x 0.5"
DAC: Yes
Impedance: Unknown
Watts Per Channel: Unknown
What We Like: Tiny size, great sound
What We Don't: Not super powerful
Best For: Laptop users
Another great amp: The AudioQuest Dragonfly Red. The original Dragonly, from 2012, was a great little number, and the Red improves on it in every way. The design is virtually unchanged, but there are two major differences: the price, which clocks in at a still-very-reasonable $200, and the sound quality. For a tiny little USB amp, the Red is just epic. The audio is amazingly clean, with a level of detail that you'd expect from amps with a couple more zeroes whacked onto their pricetags. Like the D3 below, this is for computer listening, but it's still a dope amp.
See the AudioQuest Dragonfly Red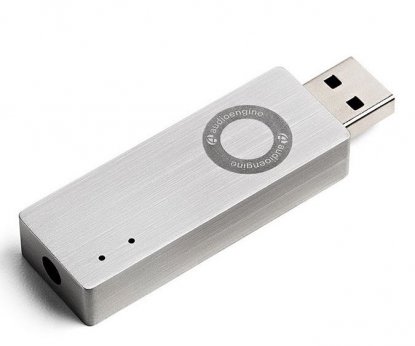 Weight: 2oz
Dimensions: 2.5" x 0.75" x 0.375"
DAC: Yes
Impedance: 2Ω
Watts Per Channel: Unknown
What We Like: Deep bass, portability
What We Don't: Gets hot
Best For: Laptop users
The D3 amp is ideal for listening to music on your computer: it takes the form of a USB stick, which tells your PC or Mac to channel all its audio through the USB port, and from there directly to your headphones. The bass is deeper, and the highs crisper and more defined - although the sound quality isn't quite as attractive as the others on this list, it's still pretty solid. Still, if you're sitting at a computer all day, then do your music a favor and pick up the D3. A warning: because the unit has no external power supply, it can get a little warm, making it potentially unsuitable for long use. All the same, it's a good, cheaper alternative to the Audioquest Dragonfly Red.
See the AudioEngine D3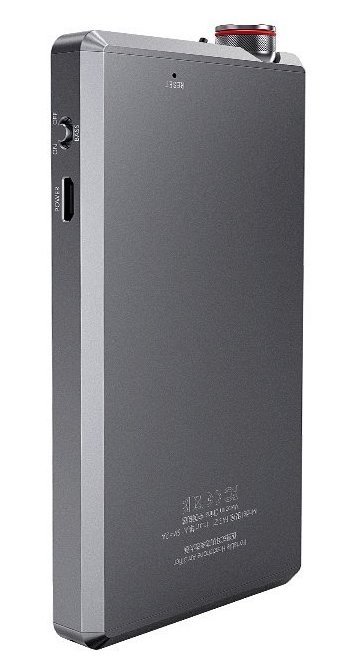 Weight: 6oz
Dimensions: 4.9" x 2.6" x 0.5"
DAC: No
Impedance: 16Ω
Watts Per Channel: 0.8W/32Ω
What We Like: Portability, powerful bass
What We Don't: A little fiddly
Best For: Laptop listening
Fiio continue to impress. This little beauty, which we reviewed in full here, replaces their E17K Alpen model on this list. It's a cell phone sized amp that is dead simple to use, and despite some slightly fiddly methods for actually connecting it to a DAC and a player, it's beautifully designed. The volume knob/power switch works well, the tiny switches for high and low gain and bass boost are easy-to-use, and the battery life is excellent. The sound is super solid. We particularly like the Bass, which is powerful without being overwhelming. It's not as portable as other models, but we still love it.
See the Fiio A5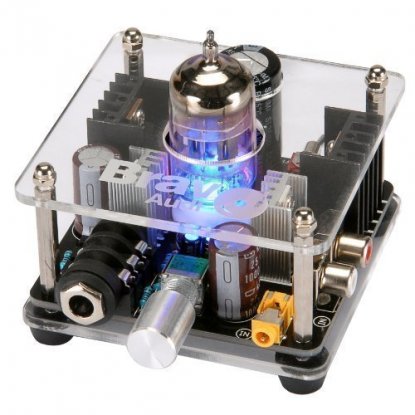 Weight: 1lbs
Dimensions: 3.1" x 3.1" x 1.7"
DAC: Yes
Impedance: 20Ω
Watts Per Channel: Unknown
What We Like: Looks, tube sound
What We Don't: Distortion
Best For: Tube beginners
We bloody love this model. It's the little amp that could, a tiny powerhouse which is the perfect introduction for anybody looking to experience tube sound. The eye-catching design is paired with some genuinely good circuitry, including an excellent Chinese tube that really puts out some stellar audio. The sound is warm and lush, and it will be an immediate upgrade to any audio you put through it. We should say that there is a little bit of distortion involved, which is understandable for this price, and that its construction can make it a little temperamental. But if you're just getting started with tubes, we can't think of a better way to get going.
See the Bravo Audio V2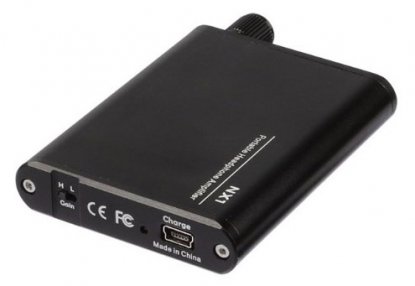 Weight: 3.3oz
Dimensions: 3.5" x 2.3" x 0.5"
DAC: Yes
Impedance: 16Ω
Watts Per Channel: 1W/32Ω
What We Like: Ridiculously small
What We Don't: Sound matches the price
Best For: Smartphones
Topping knows what they're about when it comes to headphone amps, and their NX1 is fantastic. Not only is it tiny, but the high-quality internal circuitry means that you don't get the distortion that is often prevalent among sub-$100 amps. The amp juices up not only the loudness of your music but its quality as well, with 100mw of power that really gives your tunes an extra push. You'll hear improvement in the highs, and a tightly defined stereo spread that can really make a difference to low-quality audio sources, like Pandora and Spotify. Perhaps its most attractive feature is its huge battery life – this thing can go for over twenty hours without needing a charge.
See the Topping NX1

And When You Win The Lottery: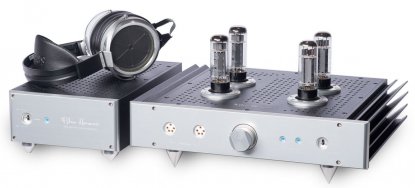 Weight: 36lbs
Dimensions: 20" x 17" x 13"
DAC: No
Impedance: Unknown
Watts Per Channel: Unknown
What We Like: Splendid sound
What We Don't: You really do need to win the lottery
Best For: Deep pockets
The top range in this category can get crazy expensive, but we got a real soft spot for the HeadAmp Blue Hawaii SE, a gorgeous vacuum tube amp with fins like a classic corvette. The sound is, as you can imagine, pretty spectacular, and if you are in the market for something this outlandish, we've actually got a full write-up right here. Prepare to leave your jaw on the floor.
See the HeadAmp Blue Hawaii SE

Breaking Down The Specs:
*WPC = Watts Per Channel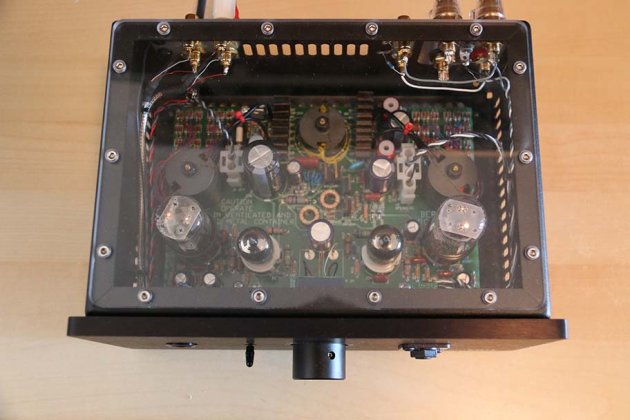 Buying Advice
Do I Need A Headphone Amp?
Here's the thing. All headphones need them. They're speakers, and because they are speakers, they require amplification in order to get the sound to a level you can actually hear. The reason that most cans aren't actually used with external amps, and are instead just plug straight into your iPhone/PC/Mac/iPad/whatever, is because these devices actually contain their own miniature amps. The reason you choose an external one is because these existing ones are a little bit underpowered. They'll get the job done, but you'll get a much better results if you hand the amplification duties over to something purpose-built for it.
Most of these take the form of a box, designed to fit between your music source and your headphones. You simply plug your headphones in, then plug the amp into your computer or music player or turntable or whatever. In this way, the signal gets pushed through the amp before it reaches your ears, and the result, in theory at least, is warmer, richer, more powerful sound. It's not just the sound is louder; is that the sound will be better at high volume levels, with minimal distortion. (Important note: we don't actually recommend you listen to music at super high volume levels on your headphones, as this can really mess up your hearing, but that's the general idea).
Getting into what goes on inside those boxes can make the discussion very technical indeed. There are dozens of ways of modifying what engineers call the signal path, some of them extremely esoteric. But to give you an idea, the components inside – which usually consist of some combination of valves, tubes and other analogue elements – help strengthen, or amplify, the signal to the miniature speakers on either side of your head. This strengthening colors the sound and emphasizes certain frequencies, which is why sound pushed through a headphone amp comes out sounding a hell of a lot better than it was before.
The more expensive the pair of headphones, the more likely you are to need one of these. This is for two reasons. First, expensive headphones with excellent sound quality have a way of exposing the deficiencies of the audio source (for example, that compressed MP3 on your iPhone) and second, it is actually better for the headphones.
(As a general rule, you won't need one of these if you have a pair of noise-canceling headphones, as the amplification in these is usually more than enough. Beyond that, we can't recommend buying one enough.)
And since we're talking about headphones, you're definitely going to need some - no point buying a great amp if you don't actually have cans to go with it, right? Try these high-end models.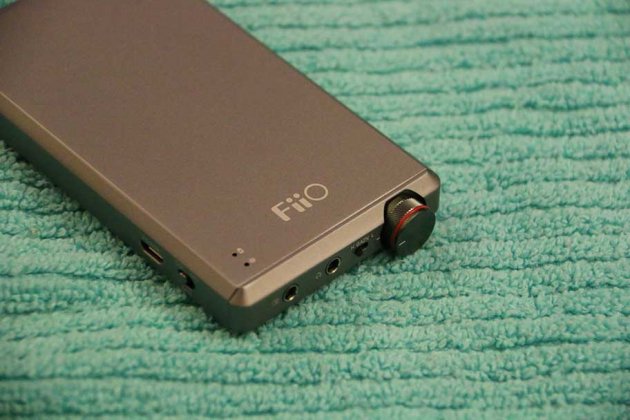 Solid State Vs Tube Vs Hybrid
This refers to the inner circuitry of your chosen model. It's actually quite a big decision that you need to make, although it's not as intimidating as you might think. It's all about the kind of sound you want.
Tubes, or vacuum tubes, or valves (as they are variously called) are those glowing glass cylinders you see on the Bravo Audio V2 or the Woo Audio WA7. They form part of the audio circuitry by letting electrons burn off in a vacuum chamber, and they are known for a few things. Firstly, any system with tubes is going to give your sound a rich, warm, analogue flavor that we guarantee you will find completely addictive. We know. We've been there. Secondly, any system with tubes is going to be temperamental. Tubes break, short-circuit, or just generally don't perform as advertised. They will inevitably need to be replaced. This isn't too common, but it's a foible that you need to be aware of. Thirdly, any system with tubes should allow you to perform the arcane practice of 'tube rolling', or quite literally replacing the tubes with different ones in order to alter the sound. You can spend hours, and a lot of money, doing this. We not going to go into the process of finding and choosing different tubes, mostly because that would entail us explaining the difference between Russian and Chinese tubes, and getting into the intricacies of the nomenclature, and neither you nor we have time for that. Bottom line: tubes rock.
Solid state models don't use tubes. Instead, they use more traditional circuitry to do the job. While they don't have the warmth and character of tubes, they are known for being reliable, and for transmitting sound that is accurate, sharp and detailed.
Hybrid systems use both, relying on tubes to provide the color and electronics to provide the power. We can't really advise you as to which of these three to pick, as it all comes down to personal choice. Don't be afraid to experiment.
One further point. We were kidding about the jargon here. Get anywhere into this particular product category, and you can be overwhelmed with it. Take for example the different classes of amplifiers. Class A? AB? D? G&H? Monoblock? Push-pull? Whuh? Fortunately, this is something you probably don't need to be too aware of, at least when you're just starting out. If you want to know more, there's a great guide here.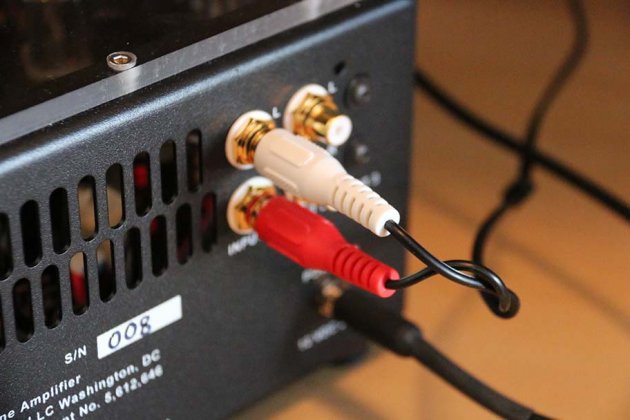 Impedance And Wattage Explained
Whoo boy. OK. These aren't too complicated to understand, but they do require a little bit of explanation. We've got a full explainer here, but if you don't want to wade through it, you only really need to know the following things. (And by the way, the explainer talks about speakers, but the content applies to headphones too).
1. Impedance refers to the amount of opposition an electrical current will meet, measured in ohms. Wattage is the amount of power on a given channel of sound (most amps will have two channels: left and right)
2. An amplifier's output wattage needs to be at least 50% more powerful than the wattage of the headphones.
We're not going to delve too deep into it here, so check the explainer. And if you really just want a quick way to match amps to headphones, without worrying about the details, someone built a truly fantastic tool to do just that.

What Is A DAC?
In short, a Digital-to-Analog Converter. Yes, you need one.
Before sound goes from your computer or smart phone to your ears, it has to be converted from digital ones and zeros to actual audio you can hear, in the form of sound waves in the air. To do this, you need a DAC. Most players will already have this built in, which is why you can listen to music out of your computer speakers, but the quality is very good. We highly recommend offloading the task to an external DAC.
Quite a few of the models in this list will have one installed already, so you shouldn't have to worry. Even if you do have to pick up a separate one, you can get some very good ones for not a lot of outlay. We recommend any of the Schiit DACs for now (we're putting together a full roundup of the best as we speak)