An amp should be the center of your hi-fi world. It should be the focus point for all your efforts, the piece of equipment that can make or break your sound. Everything flows into it, and everything flows out of it. There's a lot of mystique that has sprung up around amps, and a lot of related jargon that has been created over the years, but the good news is that you don't need to know all the ins and outs of amplifiers to pick a great one - you just need to follow our handy guide at the bottom of this page. Below, we've highlighted this year's top models, and no matter what budget you're on, there's a model here that'll supercharge your sound system.
How We Choose
Our amp experience runs deep, and we know what makes a good one. Sound quality is at the forefront, obviously, but so is usability. We spend a lot of time looking at how much bang you get for your buck, and whether a particular model is overpriced or underpriced.
We're confident that we've found the top picks, and although the highest spots are dominated by expensive models, there's one for everyone, no matter the budget.

Our Stereo Amp Picks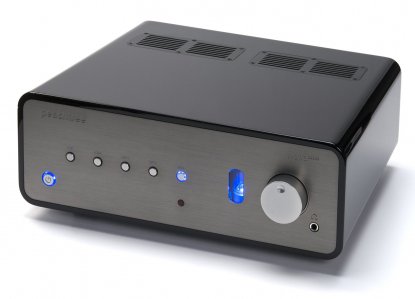 Weight: 19.8 lbs
Dimensions: 14.8" x 13.5" x 5.8"
Watts Per Channel: 220/2 Ch.
Impedance: 8Ω/220W
Bluetooth: No
What We Like: Huge sound
What We Don't: Getting a little old, although still the best
Best For: When your collection is digital
We have one word for the Peachtree Audio Nova220: thunderous. It boasts roaring bass, crisp highs and an outstanding richness that most amps can only hint at. An ESS Sabre digital-to-analog converter and a hybrid circuit (that is, a mix of tube and solid-state) create some fantastic sound, particularly when it comes to shaving down the edges on harsh digital recordings. This is a true audiophile amp, and it's spot-on for anyone wanting crisp fidelity at top volumes. It's worth noting that Peachtree Audio have just released a new version, the Nova300, but at the time of writing it's not widely available, and is currently shipping with a USB port disabled. Once it becomes more common, expect the 220 to be replaced!
See the Peachtree Audio Nova220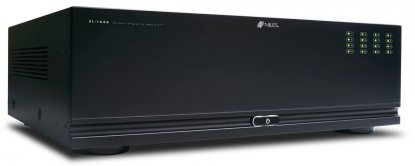 Weight: 30.8lbs
Dimensions: 18" x 16" x 10"
Watts Per Channel: 50/16Ch
Impedance: 8Ω/50W
Bluetooth: No
What We Like: Massive sound, lots of channels
What We Don't: Huge price tag
Best For: Big rooms
At the very top end of the budget, there's the Niles SI1650. It's a 16-channel amplifier, with 50 watts of power per channel. It's most useful for multi-room setups or home theatres: Niles even provides an annotated 'Application Sheet' to help you along. The amp packs massive heat sinks and high-quality resistors into it, meaning it can take any audio you throw at it. The sound is, predictably, amazing - Niles uses a web-based configuration to help you select the channels, and you can also use it to tweak the EQ and optimize the system acoustically. One for those with deep pockets, however.
See the Niles SI1650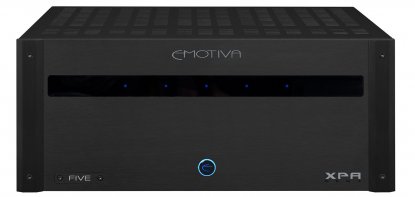 Weight: 70.4lbs
Dimensions: 19" x 17" x 7.75"
Watts Per Channel: 200/5Ch
Impedance: 8Ω/200W
Bluetooth: No
What We Like: Technically brilliant
What We Don't: Very heavy
Best For: Mid-range buyers
This big black block doesn't look like much, but it's one of the best choices on this list, especially in the $1000-$1500 range. It's a couple of years old now, but we still think it's one of the best value models on the market. We particularly like the terrific power supply and output stages, and we love the low noise floor and the crisp detail. While five channels is a slightly odd number, you still get a phenomenal piece of equipment, and one we think is going to be on this list for a while.
See the Emotiva XPA-5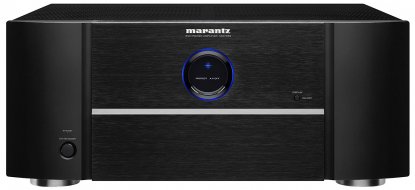 Weight: 37.8lbs
Dimensions: 17.3" x 15.2" x 7.3"
Watts Per Channel: 5/140W
Impedance: 8Ω/140W
Bluetooth: No
What We Like: Looks amazing
What We Don't: Not ideal for bookshelf speakers
Best For: Surround sound
If you're fashion-conscious, then the Marantz MM7055 should be your first stop. It's not often we single out looks, but the MM7055 is just gorgeous. It's a blend of brushed metal and soft blue light. Marantz also make a big deal out of the temperature-control features, which means that you can drive this one long and hard. The circuit components come from Marantz's reference series, and the sound is as crisp, clear and precise as you'd expect. This is the kind of amp that is right at home in a big 5.1 or 7.1 surround system.
See the Marantz MM7055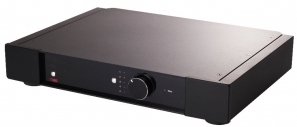 Weight: 28.7lbs
Dimensions: 17" x 13.4" x 3.2"
Watts Per Channel: 90/2Ch
Impedance: 6Ω/90W
Bluetooth: No
What We Like: Great sound
What We Don't: Iffy remote
Best For: Two-channel systems that need a major upgrade
Rega is overdue for inclusion on this list. The Elex-R is a hybrid of their Brio-R and Elicit-R models, and it's superb. The phono stage really sets it apart, eliciting some beautiful articulation, but as a general rule you can expect this one to perform brilliantly. We are less enthusiastic about the remote, which looks like something Bill Nye might use to control an oscilloscope, but it's a minor black mark on an almost faultless piece of equipment.
See the Rega Elex-R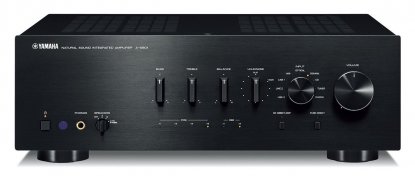 Weight: 26.7lbs
Dimensions: 17.1" x 15.2" x 6"
Watts Per Channel: 100/2Ch
Impedance: 8Ω/50W
Bluetooth: No
What We Like: High-power for the money
What We Don't: Not a lot!
Best For: Mid-size rooms
Yamaha make some fantastic mid-range gear, and while its A-S701BL (below) has done extremely well, it's the AS801BL that has proved to be more popular. For the price, it's a high-powered (100 watts per channel) unit with a fantastic digital-to-analog converter inside it that really helps maintain the quality at high volumes. This converter alone makes it more than worth the extra hundred bucks, up from the S701BL. Both the Yamaha units on this list also come with remotes, which is not always standard when it comes to stereo amplifiers.
See the Yamaha S801BL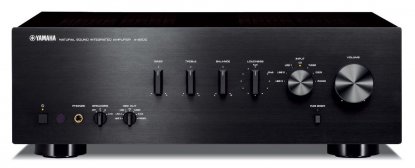 Weight: 22.7lbs
Dimensions: 17.1" x 15.2" x 6"
Watts Per Channel: 85/2Ch
Impedance: 8Ω/42.5W
Bluetooth: No
What We Like: Good audio even at low volumes
What We Don't: Maybe a little complex to use
Best For: Audiophiles on a budget
The Yahama A-S500BL is a big bruiser of an amp, with enough controls to satisfy even hardcore audiophiles. It puts out a lot of power (85 watts a channel), and it has the technology to deal with it. These include dual heat sinks, a center-bar to reduce vibration, and a short, symmetrical signal route to maximize the fidelity. Yamaha has included Continuously Variable Loudness Control, and this allows you to keep the fidelity, even at low volume levels.
See the Yamaha A-S500BL
Weight: 2.9lbs
Dimensions: 8" x 6" x 1.8"
Watts Per Channel: 50/2Ch
Impedance: 16Ω/50W
Bluetooth: Yes
What We Like: Wonderful looks
What We Don't: Underpowered
Best For: When you want something that looks as good as it sounds
Yamaha is the behemoth, but that doesn't mean there aren't any worthy competitors. Take PS Audio, for example, an American company producing some beautiful amps. Its Sprout model not only has a funky name, but also kicks the Yamahas to the curb in terms of look. Its walnut finish and machined front end mean it's not an amp you'll want to hide. While it's a little underpowered (50 watts per channel), it packs bluetooth streaming, a solid converter and a phono preamplifier designed specifically for vinyl. If you're tired of the utilitarian looks that many amps have, consider the Sprout.
See the PS Audio Sprout


Weight: 10lbs
Dimensions: 17.3" x 11.8" x 4.75"
Watts Per Channel: 75/5.1ch
Impedance: 8Ω/75W
Bluetooth: No
What We Like: Green power supply
What We Don't: You might not need the A/V capabilities
Best For: Home theater setups
No, it's not technically a stereo amp - more an A/V receiver - but we've seen it pull double duty before. We'd recommend this one (the upgraded version of the original 1510) for anyone who wants to integrate their music with their home theatre system. You get superb power (375 watts spread over five channels) as well as four 3D-ready HDMI inputs. Plus, there's network connectivity for streaming, as well as Internet radio. The sound has Dolby technology helping out, and it's superb. There's also a strange little marketing point about this unit that we really like: its environmental credentials. Harman Kardon's innovative power supply allows the chassis to be made of fewer materials, resulting in a lower carbon footprint. If that's something important to you, this could be a solid pick. It's not a massive update over the original - certainly not big enough to bump it higher in the list - but we've got a soft spot for this amp already, so yes indeed, let's keep it on here. Very much worth your time.
See the Harman Kardon AVR 1510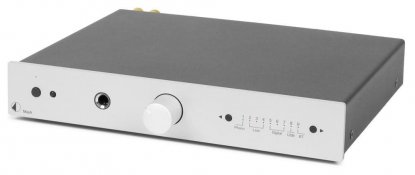 Weight: 4lbs
Dimensions: 13" x 9.2" x 4.3"
Watts Per Channel: 25/2Ch
Impedance: 8Ω/25W
Bluetooth: Yes
What We Like: Great sound
What We Don't: Slightly underpowered, Bluetooth is finicky
Best For: Wireless listening and small setups
This one surprised us. Slowly, Pro-Ject has proven that it can more than take on the big boys, and despite the fact that its low wattage per channel means it won't be able to take speakers over 12.5 watts (18.5 at 4Ω, although Pro-Ject does say it's 2Ω capable), it's still an excellent model. The sound is crisp and clear, with fantastic dynamics and great range. If you can get past the low-power and the slightly fiddly Bluetooth setup, you got a real winner with this one.
See the Pro-Ject MaiA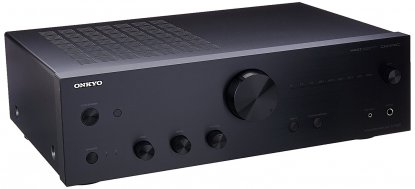 Weight: 23.15lbs
Dimensions: 17.1" x 13" x 5"
Watts Per Channel: 75/2Ch
Impedance: 8Ω/75W
Bluetooth: No
What We Like: Sound is excellent for the price
What We Don't: Boring looks
Best For: When looks don't matter
Onkyo is known for producing workmanlike, unshowy audio kit. And while the A-9050 is no looker, it's quite a shock to get such a musical, wonderfully-balanced amp at such a reasonable price. For just under $350, you get an amp that does some truly magical things to your music. The key is in the mid-range, which has enough oomph and power to leave other amps struggling to keep up. If you can forgive those trademark can't-be-bothered Onkyo looks, you'll find an amp packed with a wealth of features (great remote, excellent tone controls) that is absolutely ideal for music, whatever the genre.
See the Onkyo A-9050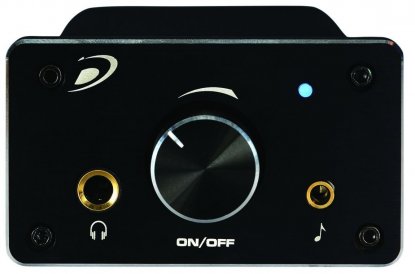 Weight: 1.7lbs
Dimensions: 4.6" x 3.1" x 1.8"
Watts Per Channel: 60/2Ch
Impedance: 8Ω/50W
Bluetooth: No
What We Like: Good circuitry
What We Don't: A little underpowered?
Best For: Small rooms
The Dayton Audio DTA-120 has 60 watts per channel, which means it's more than capable of filling small rooms, like those in an apartment. The low end is excellent, guaranteeing crisp, clean bass. This makes it a good buy for anybody who cares about sound, but isn't ready to make the jump to audiophile-grade gear. It's a simple, effective solution, and one we highly recommend, even if we with it had a tiny bit more power.
See the Dayton Audio DTA-120

Weight: 1lb
Dimensions: 4" x 4" x 1"
Watts Per Channel: 20/2Ch
Impedance: Unknown
Bluetooth: No
What We Like: Tiny footprint
What We Don't: Hiss at high volumes
Best For: Desktop setups
If space is an issue, and you're looking for an amp that is unobtrusive but still packs a punch, check out the Orb Audio Mini-T. While Orb is a relatively new company in a crowded marketplace, its little unit still packs a punch, and has won over plenty of fans. Partly this is due to its tiny footprint (just over 4" wide) but it's also because of its excellent engineering, which puts out enough power to happily handle a stereo speaker setup. There is a slight hiss at higher volumes, but it's still an excellent alternative to other budget amps - and there's nothing out there that can match it for size.
See the Orb Audio Mini-T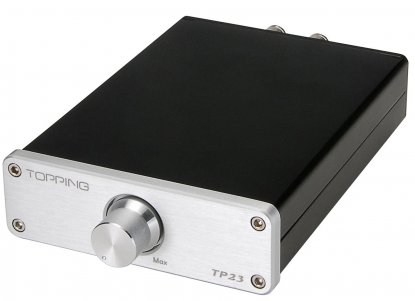 Weight: 0.9lbs
Dimensions: 6.5" x 4.1" x 1.5"
Watts Per Channel: 12/2Ch
Impedance: 8Ω/12W
Bluetooth: No
What We Like: Tiny footprint
What We Don't: Hiss at high volumes
Best For: Desktop setups
If you're just looking for a quick and simple piece of equipment to boost your sound, check out the Topping TP23. It's a tiny amp, with a big knob and a machined aluminum chassis - an upgrade on the already pretty good TP22 amp. There's also a Tripath-made Class T circuit inside it, which means that it's good at putting out very decent sound. There are no controls beyond the volume, and in this case, that's just fine. If you don't possess a high-end set of speakers, and simply want to increase your sound levels, this sub-$100 model could be the perfect buy.
See the Topping TP23

And For When You've Sold The Rights To Your Life Story: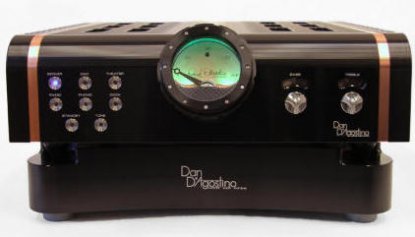 Weight: 95lbs
Dimensions: 21" x 12.5" x 5"
Watts Per Channel: 250/2Ch
Impedance: 8Ω/250W
Bluetooth: No
What We Like: Incredible sound
What We Don't: Incredible price
Best For: Millionaires
Legendary builder Dan D'Agostino outdid himself this time. The Momentum is an absolute monster, a steampunk behemoth with some serious circuitry. It's got an improved driver system, and individual transistors on the circuit path, and if that's gobbledygook, then all you need to know is that this is one of the best amplifiers on the planet, and one to buy when you strike the lotto.
See the D'Agostino Momentum

Breaking Down The Specs:
*WPC = Watts Per Channel, RMS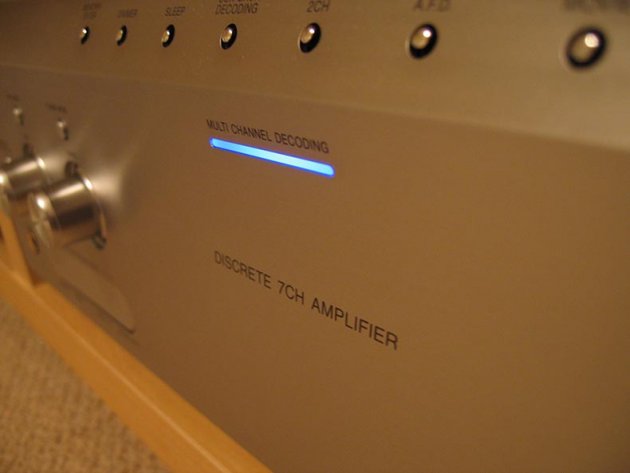 Buying Advice
Which One Of These Should I Get?
Good question! A lot of it is down to the size of your room, the power of your speakers, and the type of sound you want. We've got a whole separate guide to all this here. It goes into quite a lot of detail, but if you're OK with making your own decision, the info here should give you everything you need!

What Exactly Is A Stereo Amplifier?
The center of your audio setup. When audio signals come from their source, they aren't very strong at all. In fact, if you heard them straight… well, you'd barely be able to hear them at all. At its most basic level, the stereo amplifier takes this source sound and makes it louder, using the current from its power supply to increase the overall volume of the sound. Furthermore, it uses its internal circuits to convert the sound into a format that your speakers can make sense of.
You may also come across a puzzling little term: integrated amplifier. This refers to an amp with - and we wish there was a less complicated way of saying this - both a pre-amplifier and a power amplifier inside it. What that means is that integrated amplifiers not only preps the audio signal for further amplification but then provides that amplification in the form of a a high-voltage output signal. Honestly? This isn't something you need to worry about. Most modern stereo amps are integrated, so it's largely become a moot point. Still, it's good to know.
This is without talking about the ways in which a stereo amplifier can control where sound is sent, as each amp will have many channels that you can push the sound to. You can find out more about the technical details here.
And as is our wont with these things, we like to point you in the direction of other bits you may need, such as bookshelf speakers.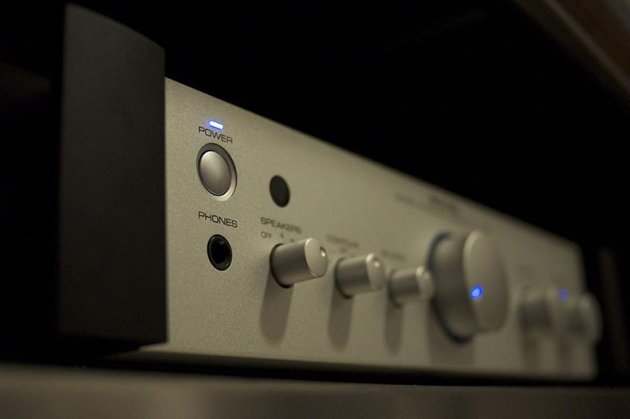 How Do I Match Speakers And Amps?
Excellent question! Glad you asked. It's not a difficult subject, but it does require a little bit of reading.
Don't worry, we've made it easy. There's a whole guide to doing it right here, which will answer every question you have. And please believe us when we say it's not complicated. It just takes a little while to explain!
It will also explain things like wattage and impedance, which we referenced in our stats table.

Class D, Class AB…What?
Don't get hung up on the different types of amps. While it's always handy to know the difference between Class T, Class AB, tube, monoblock and the like - and we've highlighted some of the differences in the models here - amp quality is high enough now that this is something you can comfortably leave out of your buying decisions if you want to. Your amp choice should be guided by the number of channels you need, your existing setup, your sources and the space you have available.
That being said, this sort of thing is always good to know. So, in short order, here is a sampling of some of the more common jargon.
Class A: A common type, where both output stages are always on. What this means in practice is that distortion is very low, although the amps aren't very efficient.
Class B: A type where only one output stage can be on at once, which improves power efficiency at the expense of sometimes adding distortion at the crossover points between frequencies.
Class A/B: As you might have guessed, this is a hybrid of the above two types that maximises the advantages while eliminating the disadvantages. Amps that have this circuit are reasonably efficient, and have limited distortion.
Class D: A type which uses active transistor switches. The electrical explanation is a bit complicated, what it comes down to is this: Class Ds are highly efficient, and are often smaller and lighter than other models. They also don't run nearly as hot. Note that if you see Class T anywhere, it's a variation of this type, made by Tripath.
Monoblock: something you'll often see in more expensive models. Usually, a single amp powers both channels, but in monoblock systems, each channel has a separate mono amplifier. More power, better sound.
Tube: Sometimes known as valves, these tiny glass cylinders are responsible for the soft, squidgy warmth that some amps are known for. Not a typical feature of stereo amps (they are usually found more commonly in headphone amps) but they do appear sometimes.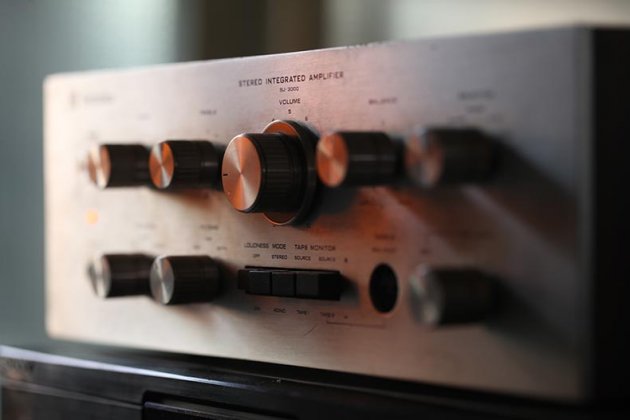 What's A DAC?
Digital to Analog Converters. Your audio exists as ones and zeros until it passes through one of these, whereupon it is converted into electrical signals that are used to power the speakers, which then give you sound. You need one of these.
The good news is, chances are your audio source has them already, especially if it's a laptop, tablet, phone, or CD player. The bad news? These might not always be very good, and it can be worth investing in a separate DAC.
Not every amp on our list has a DAC built in, either. Make sure you check before you buy.

Does Stereo Mean I Only Get Two Channels, No Matter What?
A channel is a single source of sound; your iPod, for example, would be one channel (yes, we know an iPod can play stereo, but work with us here). The actual circuitry needed to handle a single channel sound isn't that complex, and in cheap amps (which typically have fewer channels) you won't be paying as much for high-end components.
This is a roundup of stereo amps, and stereo, by definition, means two. You can, however, pick up models with more than two channels, which allow you to add multiple speakers as well as things like subwoofers. Obviously, we recommend doing this, as it will broaden and deepen your sound.
When start adding channels – which you will be doing very quickly if your audio setup is even a little bit complex – things change quickly. Suddenly you're looking at things like high-end digital to analog converters, specialized tubes and valves, and even heatsinks in the case of very large amps. All of these components color the sound, giving it a pleasing character, and pretty soon you'll find you're paying as much for the sound quality as you are for the actual hardware. That's without talking about the options are good amp will give you to control the sound; expect to find EQ sections and other filters to allow you to customize the sound to your particular environment.