Ever since the glory days, when hi-fi systems were integrated and even color-matched to the furniture, bookshelf speakers have been the beating heart of the party. They still offer the best balance between audio quality and size, and deliver huge bang-for-the-buck. Here are this year's best bookshelf speakers - they're suitable for just about any music setup, and any budget. Worth noting: the prices below are always quoted for a pair of speakers unless noted otherwise. For more background, see our bookshelf speaker comparison table and buying advice below the picks. And to complete your system, check out our list of the best stereo amps.
 
---
Our Bookshelf Speaker Pick
---
Best Overall Bookshelf Speakers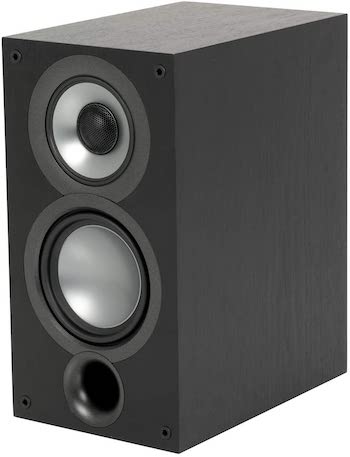 Suggested Amplifier Wattage: 40W-140W Per Channel
Impedance: 6Ω
Driver Sizes: 5.25" Woofer, 4" Midrange, 1" Tweeter
Sensitivity: 85dB
What We Like: Terrific in both hi-fi and home theater systems.
What We Don't: May be a little intimidating for beginners and they face stiff competition.
If you like the idea of owning a pair of Elac speakers (which are among the best around right now), but you want something a little more refined than the top-ranked Debut 2.0 B6.2s, then check out the new Uni-Fi 2.0. At $600, they are perhaps a little too pricey for most listeners, but that doesn't stop them being a solid pair of speakers. Whether we were listening in our oversized home theater testing room, or a small office, these speakers performed brilliantly. We were also particularly impressed with how easily they moved between hi-fi and home theater systems; they sound just as good with a stereo amp as they do with an AV receiver. Designer Andrew Jones completely redesigned these speakers from the original, and it really shows.
The biggest issue we had with the Elac Uni-Fi 2.0s is that they face a lot of competition in this particular price range. As good as they are, the Aperion Audio Novus below is a nice set of bookshelf speakers for slighly less, and the less expensive Q Acoustics 3020i speakers given a serious run for their money as well. That said, it's tough to beat the overall sound quality, design, and build quality of the Elca Uni-Fi 2.0, which is why they are our top pick for 2023. 
See the Elac Uni-Fi 2.0

Best Budget Bookshelf Speakers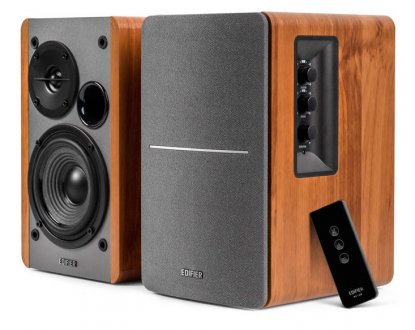 Suggested Amplifier Wattage: N/A
Impedance: N/A
Driver Sizes: 4" Woofer, 0.5" Tweeter
Sensitivity: 85dB
What We Like: Good if unspectacular Bluetooth audio at a highly affordable price.
What We Don't: Lacks volume and subtlety.
Edifier (which we've also seen written, confusingly, as Edifer, with no second 'i') aren't regarded as a particularly high-end manufacturer – something we don't mean as a criticism. They produce excellent, affordable speakers and headphones, and in our opinion, the R1280T is one of the best they put out. It combines affordability and value with decent sound, and for smaller spaces, it is absolutely ideal.
Unlike many of the speakers on this list, the R1280T are an active set of speakers, in that each one contains its own amplifier. That makes it easy to connect up to the playback source using a simple RCA cable with no separate amplifier, similar to the Fluance AI61s – although of course, these aren't wireless, and the audio quality of the AI61s is markedly superior. But you do get a hell of a lot for your money here, including a remote, and the ability to fine-tune the sound using built-in EQ knobs. Audio quality is good, if not mind blowing. While not super-loud – the speakers max out at 21 watts per channel – the definition and detail should be more than enough to satisfy most people.
See the Edifier R1280T
 
Best High-End Bookshelf Speakers for Audiophiles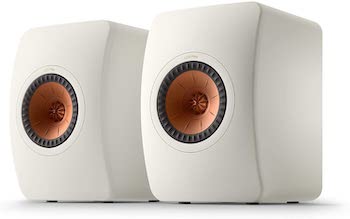 Suggested Amplifier Wattage: N/A
Impedance: N/A
Sensitivity: Unavailable.
What We Like: A genuine improvement on a classic.
What We Don't: Still massively pricey, outperformed in some areas by more affordable models.
The KEF LS50 Meta speakers are, almost without argument, the best-sounding active bookshelf speakers we've ever heard The original LS50s were terrific, but the new version takes things a step further by adding in Metamaterial Absorption Technology (MAT), a new type of technology which dramatically reduces distortion and resonance. The result? Silky, delicious sound quality. And in terms of functionality, there have been dramatic improvements too. KEF used to rely on not one but two apps for control; that's been simplified to just one. And with a range of wireless connectivity from Spotify Connect to Chromecast, Apple AirPlay 2 and Roon, you'll be playing music in moments no matter what your source is.
While we do applaud the KEF LS50 Metas for retailing at the same price as their predecessor, there's no denying that they are still massively pricey. That becomes even more of a problem when you consider that they are outperformed by less expensive speakers, like the Polk Audio Legend L200s, below. Those speakers smoke the LS50 Metas, particularly on the low end—although of course, they can't compete on the top-notch wireless functionality. While we do admire the new version of the LS50s, they definitely aren't for everyone.
See the KEF LS50 Meta
 
 

Best Bookshelf Speakers for Vinyl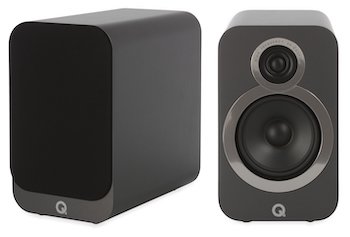 Suggested Amplifier Wattage: 25-75W Per Channel
Impedance: 6Ω
Driver Sizes: 5" Woofer, 0.9" Tweeter
Sensitivity: 88dB
What We Like: Great looks, excellent treble, compact build.
What We Don't: Sound quality can be fatiguing at high volumes.
The Q Acoustics 3020 speakers truly excel when paired with a good turntable. The sweet, natural sound and warm detail really lend themselves to good quality vinyl recordings. The sound is refined and clean, with crisp detail and improved bass – despite the small size of the speakers, you get some decent low-end here. Their warm audio makes them a compelling option for vinyl, better than similar models from the likes of Edifier and Fluance.
One of the biggest problems with the Q Acoustics 3020i speakers is that at high volumes, the sound becomes brittle and harsh. We wouldn't recommend listening to these on loud for long periods. They don't have the finesse or clarity of something like the Elac Debut 2.0 B6.2. Worth noting: there is a newer version of the speakers, the 3030i, but they shouldn't really be an option here. They are very good, but are designed to be mounted on stands, and we think they lock you into too controlled a setup. For another good vinyl option, albeit a more expensive one, try the Bowers & Wilkins 606 S2 speakers below. They're more expensive, but you do get a jump in sound quality.
See the Q Acoustics 3020i
 
Best of the Rest
Suggested Amplifier Wattage: 20W-150W Per Channel
Impedance: 8Ω
Driver Sizes: 6.5" Woofer, 1" Tweeter
Sensitivity: 87dB
What We Like: Deep bass anchors excellent sound.
What We Don't: Intimidating looks, size, and price.
The SVS Ultra bookshelf speakers are exquisitely-tuned and -built, and in terms of high-end options, we think they combine great sound with a price that won't make too many people spit coffee. Those who enjoy four or even five-figure speakers may scoff, but we'd put the Ultras up against speakers like MartinLogan Motion 35XTIs or the KEF LS50 Metas any day. The Bowers & Wilkins 606 S2 Anniversary Editions are a more assured and confident (as well as less expensive) option, but we still truly dig the Ultras.
If there's one strike against the SVS Ultra speakers, it's that they are not built for hiding. The glossy black cabinet and intimidating size means they tend to draw the eye, so if your hi-fi system isn't the focus of your room, these may not be the speakers for you. In many worth going for something like the Bowers & Wilkins 606 S2 below, which not only offers slightly better detail in the high-end, but is also slightly less expensive. That said, we know which speaker we'd bring into a foxhole with us. Well, we wouldn't actually bring a speaker into a foxhole, because that's mad, but you know we mean.
See the SVS Ultra Bookshelf Speaker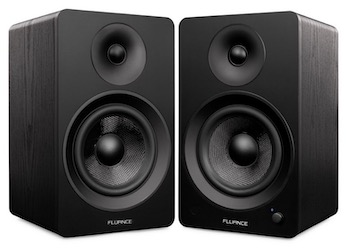 Suggested Amplifier Wattage: N/A
Impedance: N/A
Sensitivity: Unavailable
What We Like: Full and engaging sounds matched with a versatile set of inputs.
What We Don't: Irritating interface, narrow soundstage.
The Canadian company Fluance have been making active wireless speakers for years, and we think the new Ai61 is the best yet. They beat out competition from the likes of Audioengine and Kanto by not only being highly affordable, but offering suitably impressive sound quality. Our notes are full of words like 'full', 'engaging' and 'rich', and while these speakers are beaten in terms of audio quality by some of the monsters here, we think they are among the best options if you are looking for a pair of wireless speakers.
We also like the fact that the Fluance Ai61 has such a wide range of inputs, including RCA, Optical, USB and Bluetooth 5.0 for lag-free listening. That said, we found using the interface, which amounts to a single coloured light on the front, to be annoying. This was especially problematic when using the EQ, as it was often very difficult to get a sense on where we were with the sound. We also think that there are active speakers that offer a wider and more convincing soundstage, like the Audioengine HD4. That said, for $300, the Ai61 deliver an awful lot for the money.
See the Fluance Ai61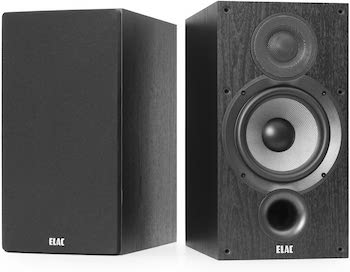 Suggested Amplifier Wattage: 20W-120W Per Channel
Impedance: 6Ω
Sensitivity: 87dB
What We Like: Almost everything you could want out of a bookshelf speaker.
What We Don't: The design and looks are a little dull compared to other models.
In our opinion, the ELAC Debut 2.0 B6.2s are almost perfect. We were knocked sideways by the sound quality, which was far better than the price tag would suggest. It's incredibly smooth and natural, whether you're listening to vinyl, or streaming. The speakers have enough power to satisfy bassheads, and are much much better sonically than other similarly priced speakers like the Q Acoustics 3020i, above. If that wasn't enough, they're also forgiving. The B6.2s aren't fussy about placement, meaning you'll get great sound no matter where you put them in the room, and they're happy playing everything from expensive vinyl to a simple Spotify stream. It'll still sound great.
If we had to nitpick, we'd say that the Debut 2.0 B6.2s' looks are pretty boring and boxy, as is the single color option. They're also not the newest speakers, and even Elac themselves have more recent models (the more expensive Uni-Fi 2.0). But truthfully, we'd rather save you money and recommend a slightly older product that is superior to just about everything else we tested for this article. These are not just the best speakers Elac has made, they are also the best option for…well, just about everybody. OK, yes, if you demand true high-end sound, you may want to check out other models from the likes of SVS and Bowers & Wilkins, but for everyone else, we think you'll be more than satisfied with this fantastic speaker.
See the Elac Debut 2.0 B6.2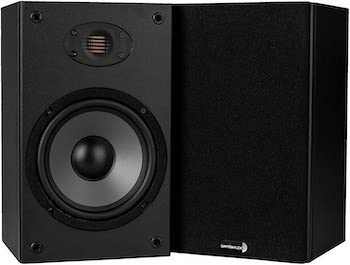 Suggested Amplifier Wattage: 40W-75W Per Channel
Impedance: 6Ω
Sensitivity: 87dB
What We Like: Excellent detail and clarity for a sub-$100 speaker.
What We Don't: Slightly weak bass, and the binding posts are irritating to use.
We don't think buying a budget speaker means you need to compromise on sound quality or build. The Dayton Audio B652-AIR prove that beautifully. The price may be tiny, but they sound solid. We don't think we've ever seen an Air-Motion Transformer Tweeter (the little grille at the top) in a speaker this inexpensive. This particular type of tweeter is renowned for its openness and detail, and that's definitely the case here. These are some of the cleanest and most realistic speakers we've heard in this price range, easily beating out models like the Fluance XL8S.
There are two main downsides to the Dayton Audio B652-AIR. The bass is a little underpowered; bass lovers may wish to check out the Fluance model mentioned above, which does a much better job, or the slightly more expensive Edifier R1280T above. In addition, the binding posts on the rear of the speaker will not allow the use of banana plugs, meaning you will need to use bare speaker wire. That's irritating, but it's not a deal breaker, especially given how good these sound. It's rare to find a set of speakers under $100 that work well for both newbies and audiophiles, and we think the B652-AIRs are going to surprise a lot of people.
See the Dayton Audio B652-AIR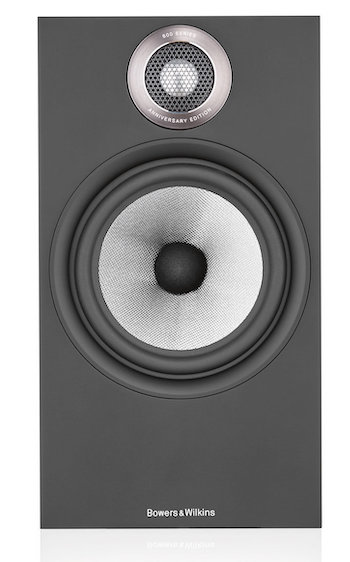 Suggested Amplifier Wattage: 30W-120W Per Channel
Impedance: 8Ω
Sensitivity: 88dB
What We Like: Elegant detail and soundstage, and the light and compact frame make these a joy to use.
What We Don't: Unforgiving nature, fussy with positioning.
We knew we had to test speakers from Bowers & Wilkins for this list, and we auditioned several, focusing on their new Anniversary range. We think the 606 S2 Anniversary Edition speakers are the ones you need to look at, especially if you value detail in your music. We got a breathtaking level of detail here, as well as an impeccable soundstage that really made it feel like the music was all around us. In terms of sound quality, there's a very strong argument that these represent the best in our top ten.
The Bowers & Wilkins 606 S2s are high-end speakers, and as such, demand a high-end approach. For one thing, they are unforgiving of poor sources, meaning you'll need a decent amp and DAC, which means a significant additional outlay. For another, they have a very narrow sweet spot, and are fussy with where you place them. Toeing them in helps, a little, but it's still tricky. The easy-going Elac Debut 2.0 B6.2s may be a better choice for those who just want great sound without the fuss. By the way, in our tests, we also loved the 706 S2s, which have bigger bass and a much bigger price tag. We think there are better options overall, but if you want a B&W upgrade, check them out.
See the Bowers & Wilkins 606 S2
 
Suggested Amplifier Wattage: N/A
Impedance: N/A
Sensitivity: Unavailable
What We Like: Excellent feature set with solid sound quality.
What We Don't: Pretty expensive for what you get, not suitable for larger rooms.
The new HD4 from Audioengine is a slimmer version of their powerful HD6 wireless speakers, with a slimmed down pricetag to match. These speakers are worth your time if you want a one-box solution for both hi-fi and headphones listening. There's a very capable headphone output here, and in terms of inputs, you get full aptX HD Bluetooth as well as USB and RCA, making these among the most convenient speakers we've tested: a one-stop shop for audio. Other wireless models like the Fluance AI61 can't really compete here.
Where they can compete is in sound and price. The Audioengine HD4s suffer because while the sound quality is solid, the bass leaves something to be desired. It feels a little undercooked, and it doesn't help that the speakers don't really have the power or volume to fill larger rooms. For this price, we expected slightly more, and that means the HD4s are a solid alternative to our top-ranked models, rather than the first choice.
See the Audioengine HD4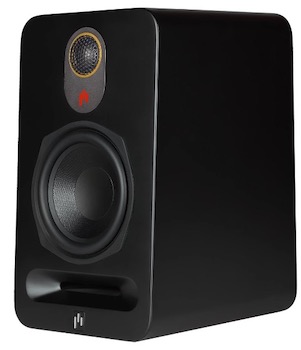 Suggested Amplifier Wattage: 20-100W Per Channel
Impedance: 4Ω
Driver Sizes: 5.25" Full Range, 1" Tweeter
Sensitivity: 85dB
What We Like: Crisp, clean sound that competes with better-known brands.
What We Don't: Design is a step back from previous models.
Aperion Audio have been making great gear for years. The Novus speakers are their latest creation: a pair of affordable bookshelf speakers that go toe-to-toe with other models in this price range. While they don't quite have the flair and capability of the identically priced Elac Debut 2.0 B6.2s, our top pick, they're an excellent alternative if the Elacs are sold out. The audio quality they provide is crisp and powerful, with excellent detail on the highs. They particularly excel as part of a home theater setup, and conveniently, Aperion offer them both as stand-alones and as part of a surround sound package.
However, we aren't wild about the design. Compare the Novus to a previous set of speakers from Aperion, the Verus III Grand Bookshelves. Those oozed class and style with their burnished wooden cabinets; the Novus look muddled by comparison. That aside, we think the Novus are a superior choice over more expensive speakers, and a worthy alternative to other models on this list.
See the Aperion Audio Novus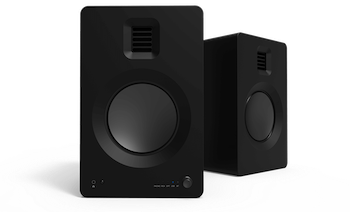 Suggested Amplifier Wattage: N/A
Impedance: Unavailable
Driver Sizes: 5" Full Range, 1" Tweeter
Sensitivity: Unavailable
What We Like: A genuine evolution for Bluetooth speakers.
What We Don't: Volume issues, Bluetooth 4.2 only.
We fully anticipate some grousing in the comments about how traditional passive speakers will always be better than active, wireless models, but our response to those folks is simple: you haven't heard the Kanto TUK. The Air Motion Transformer Tweeters result in absolutely extraordinary detail. We couldn't believe just how rich and sumptuous the sound quality was, and for once, a set of speakers more than lived up to the considerable hype. AMT Tweeters are becoming more common—they appear in our best budget pick, the Dayton Audio B652-AIRs, which cost under $100—but they still impress.
The Kanto TUKs aren't perfect. They offer a slightly dated Bluetooth version (the less-expensive Fluance AI61 offers Bluetooth 5.0, which is why we'd rank it over the TUKs) and we found it difficult to get a precise volume. But the sheer range of features, including a phono input for a turntable, makes up for it. The glorious design, along with the brilliant sound quality, make these even more of a winner. You could argue that they're expensive for the casual listener. If that's you, we recommend checking out something like the Elac Uni-Fi 2.0, which cost less. For the rest of us? We'll be rocking out with Canada's finest...Read our in-depth review
See the Kanto TUK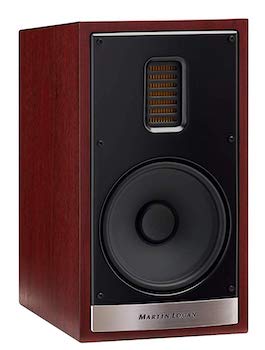 Suggested Amplifier Wattage: 20-250W Per Channel
Impedance: 8Ω
Driver Sizes: 6.5" Woofer, 4.5" Tweeter
Sensitivity: 92dB
What We Like: Elegant and unusual design, with a tweeter that produces stellar detail.
What We Don't: Slightly fatiguing midrange.
The MartinLogan Motion 35XTi is a significant improvement on the original 35XT. There's an AMT tweeter on each speaker, and the result is exquisite detail and realism. These are among the most elegant speakers we've tested, with distinctly more style than big bruisers like the Polk Legend L200s and SVS Ultras. The design is elegant, with the distinctive MartinLogan base plate and a sloped cabinet. High-end speakers need to look and sound the part, and these MartinLogans hit both.
We first heard the Motion 35XTi at an audio show and loved them instantly. Getting a pair into our testing room a few weeks later reinforced this, but it also showed us a few flaws. The midrange can be a little harsh at times, especially in the upper reaches. It doesn't have the power or punch of something like the Elac Uni-Fi 2.0 speakers, above. That's a shame, but it certainly doesn't remove these speakers from competing. If you like beautiful things, and appreciate detail and clarity, then the MartinLogan Motion 35XTi are a natural choice...Read our in-depth review
See the MartinLogan Motion 35XTi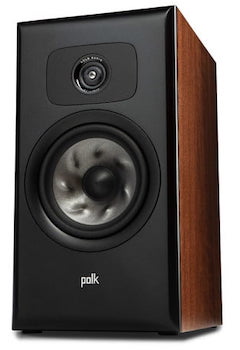 Suggested Amplifier Wattage: 20-200W Per Channel
Impedance: 4Ω
Driver Sizes: 6.5" Full Range, 1" Tweeter
Sensitivity: 85.5dB
What We Like: The best bass we've ever heard on a pair of bookshelf speakers.
What We Don't: High price, enormous size.
Were it not for their hefty price and even heftier size, the Polk Legend L200s would beat the Elac Debut 2.0 B6.2s to the number one spot. They are, in a word, incredible. We have never – not with any other bookshelf speakers – heard mid-bass as deep, dark, and powerful as what came out of the L200s. Polk have released some very middling gear over the years, but the new Legend series is jaw-dropping - a stunning return to form. The L200s provide significantly better sound than more expensive speakers, and if you have money to spend, they're an outstanding investment. Audiophiles will tell you that $1,799 is too little for a great pair of speakers. Those people just haven't heard the L200s.
One thing that may turn away potential buyers is their absolutely enormous size. The L200s are significantly larger than every other speaker on this list, making otherwise sizeable speakers, like the MartinLogan Motion 35XTi, look positively puny. The styling is also unique with a vibe of something you'd find in Darth Vader's private office. These are minor issues for some, but may be a bonus to others. The L200s may not be for everyone, but if you can afford them, they will provide one of the most incredible audio experiences money can buy.
See the Polk Audio Legend L200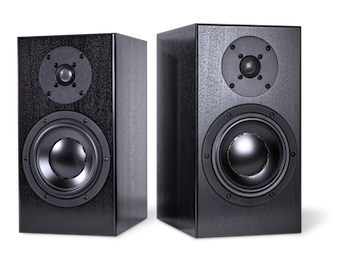 Suggested Amplifier Wattage: 50W-200W Per Channel
Impedance: 8Ω
Sensitivity: 87.5dB
What We Like: Sumptuous, warm sound that delivers vocals particularly well.
What We Don't: Sound suffers at low volumes, boring design, very expensive for what you get.
If sound were the only consideration, then the Totem Acoustic Signature Ones would probably take the top spot in this list. We'd describe the audio quality as sumptuous and rich, with powerful bass. Vocals in particular stand out; voices are warm and engaging, and we think that if you love music with prominent vocals, then the Signature Ones should be your first choice. We did find that the audio quality wasn't as good at low volumes, where it lost some definition and detail, but overall we were seriously impressed.
But the thing is, sound is never the only consideration. We have to take the speakers as a whole, and judged by other factors, the Totem Acoustic Signature Ones lose out to other models. The design is far more boring than we would like for a speaker this expensive, and on the topic of price, we think it's far too high here stop these speakers sound great, but do they sound significantly better than the Polk Legend L200s or the KEF LS50 Metas? Um. we want a significant sonic upgrade for the big jump in price, and these don't quite deliver. If they do undergo a price drop, they are worth picking up, but right now the value for money just isn't there.
See the Totem Acoustic Signature One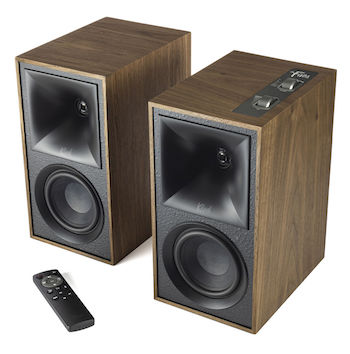 Suggested Amplifier Wattage: N/A
Impedance: N/A
Driver Sizes: 4.5" Full Range, 1" Tweeter
Sensitivity: Unavailable.
What We Like: One of the simplest ways to create a combined TV/hi-fi system.
What We Don't: Uncontrolled bass and hit-and-miss mids.
"The Fives are the most versatile speakers on Earth," Klipsch claim. We're not sure if that's true, but there's no question that the new Fives active bookshelf speakers pack a hell of a lot of technology into. The best part is the HDMI ARC input. That means you can connect these directly to your TV, completing a system that is both fantastic for home theater (there's a subwoofer output) and hi-fi. There are very few other bookshelf speakers with this feature; not even the super pricey KEF LS50 Metas have it. That makes The Fives pretty unique, and if you like the idea of a simple two speaker system for all your home audio and entertainment needs, you should take a close look at them. And by the way: the design is outstanding. These are a joy to control, and look at.
The most glaring downside with The Fives is the sound quality. It's...well, fine, for the most part, but there are issues with particular parts of it. We felt that the bass was uncontrolled and woolly, without the control we've come to expect from Klipsch. We also felt the same about the mids. We never got the sense that we were getting all the information and clarity we wanted. The sound quality issue is a shame, and it does mean that we can't recommend The Fives over other active speakers like the Kanto TUK. They are worth it for the HDMI port, but exercise caution.
See the Klipsch The Fives
 
Suggested Amplifier Wattage: 40W-80W Per Channel
Impedance: 8Ω
Sensitivity: 85dB
What We Like: Forgiving nature matched with powerful bass and surprising detail.
What We Don't: The XL8S have more flaws than most budget speakers.
If you have a small space, then it's worth looking at the Fluance XL8S. They excel at filling smaller rooms with powerful sound, and are forgiving in terms of positioning. These work just as well on bookshelves or wedged into a corner as they do on dedicated speaker stands, so if you are pushed for space, they will be ideal. We enjoyed the surprising level of detail in the highs, and speaking of surprises, the punchy bass was a welcome one.
But as budget speakers go, the Fluance XL8S have far more flaws that most, including models on this list like the cheaper Dayton Audio B652-AIRs. Despite the detail, the sound signature here is boxy, bright, and narrow, and can be fatiguing over long periods. We also despise the design. We aren't quite sure what the material that covers the front of the speakers is, but it's reflective and nasty, and looks cheap as hell. These speakers have their plus points, but there are better options available.
See the Fluance XL8S
 
Bookshelf Speaker Comparison Table
| Speaker | Price | SAW* | Imp.** | Drivers | Sens.*** | Weight |
| --- | --- | --- | --- | --- | --- | --- |
| Elac Uni-Fi 2.0 | $697 | 40-140W | 6Ω | 1 x 5.25", 1 x 1" | 85dB | 18.25lbs |
| Edifier R1280T | $120 | N/A | N/A | 1 x 5", 1 x 1" | 84dB | 10.4lbs |
| KEF LS50 Meta | $1,600 | N/A | N/A | 1 x 5.25", 1 x 1" | Unavailable | 17.2lbs |
| Q Acoustics 3020i | $449 | 5W-75W | 6Ω | 1 x 5", 1 x 0.9" | 88dB | 6lbs |
| SVS Ultra | $1,200 | 20W-150W | 8Ω | 1 x 6.5", 1 x 1" | 7dB | 9lbs |
| Fluance Ai61 | $300 | N/A | N/A | 1 x 6.5", 1 x 1" | Unavailable | 14lbs |
| Elac Debut 2.0 B6.2 | $280 | 20W-120W | 6Ω | 1 x 6.25", 1 x 1" | 87dB | 16.3lbs |
| Dayton Audio B652-AIR | $60 | 40W-75W | 6Ω | 1 x 6.5", 1 x 1" | 87dB | 11lbs |
| B&W 606 S2 | $799 | 30W-120W | 8Ω | 1 x 6.5", 1 x 1" | 88dB | 15.2lbs |
| Audioengine HD4 | $400 | N/A | N/A | 1 x 4", 1 x 0.75" | Unavailable | 7.2lbs |
| Wharfedale Diamond 12.1 | $449 | 20-100W | 8Ω | 1 x 5", 1 x 1" | 88dB | 15lbs |
| Aperion Audio Novus | $599 | 20W-100W | 4Ω | 1 x 5.25", 1 x 1" | 85dB | 10.1lbs |
| Kanto TUK | $549 | N/A | Unavailable | 1 x 5", 1 x 1" | Unavailable | 11lbs |
| MartinLogan Motion 35XTi | $450 | 20W-250W | 8Ω | 1 x 6.5", 1 x 4.5" | 92dB | 18.5lbs |
| Polk Audio Legend L200 | $1,499 | 20W-200W | 4Ω | 1 x 6.5", 1 x 1" | 85.5dB | 22lbs |
| Totem Acoustic Sig. One | $3,500 | 50W-200W | 8Ω | 1 x 6.5", 1 x 1" | 87.5dB | 23.1lbs |
| Klipsch The Fives | $470 | N/A | N/A | 1 x 4.5", 1 x 1"  | Unavailable | 11.5lbs |
| Fluance XL8S | $153 | 40W-80W | 8Ω | 1 x 5.25", 1 x 1" | 85dB | 11.35lbs |
*SAW = Suggested Amplifier Wattage
**Imp. = Impedance
***Sens. = Sensitivity
***Wt. = Weight (Each)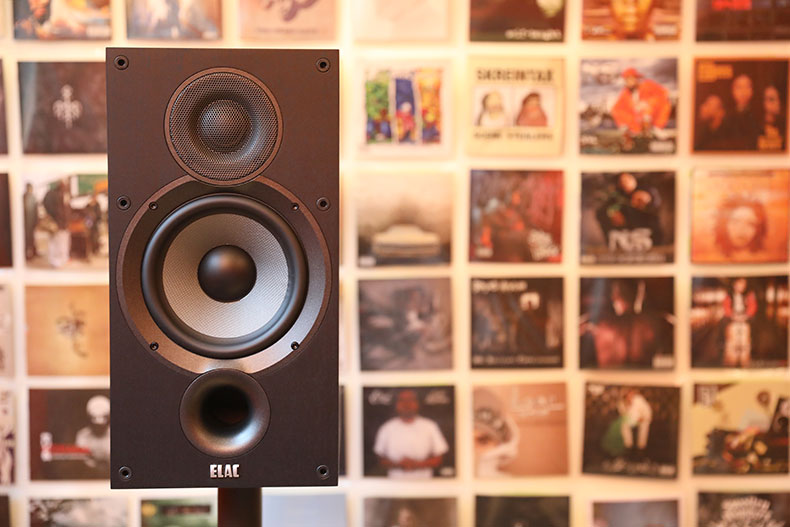 Bookshelf Speaker Buying Advice
Do Expensive Speakers Sound Better?
On the face of it, you would think this is true: expensive speakers are generally made of higher components, and more money is spent on tuning them to get exacting sound. And yes, if you put something like the pricey Polk Audio Legend L200 up against the budget Edifier R1280T, then the L200s are clearly going to come off the winner.
 But the point is, sound is completely subjective. Not only that, but everybody has different sized rooms to play with. If you have a small room, the Polk speakers are simply not the best choice. They are way too loud, way too powerful, and all that great sound quality will be bunched up and boxed in. The Edifiers, on the other hand, may not have the same clarity of sound and deep bass, but they will be much more effective in that scenario. In addition, speaker technology has advanced to such a point that even inexpensive speakers still sound terrific. Take, for example, the $55 Dayton Audio B652-AIR speakers. They may have a highly affordable price, but they also include some technology that until recently would only have been seen in much more expensive models: specifically, Air Motion Transformer (AMT) tweeters, a type of speaker driver that results in scintillating detail. Bottom line: whatever your budget, you can get a set of speakers that sound fantastic. If you can spend more, then by all means, do so, but you certainly don't have to.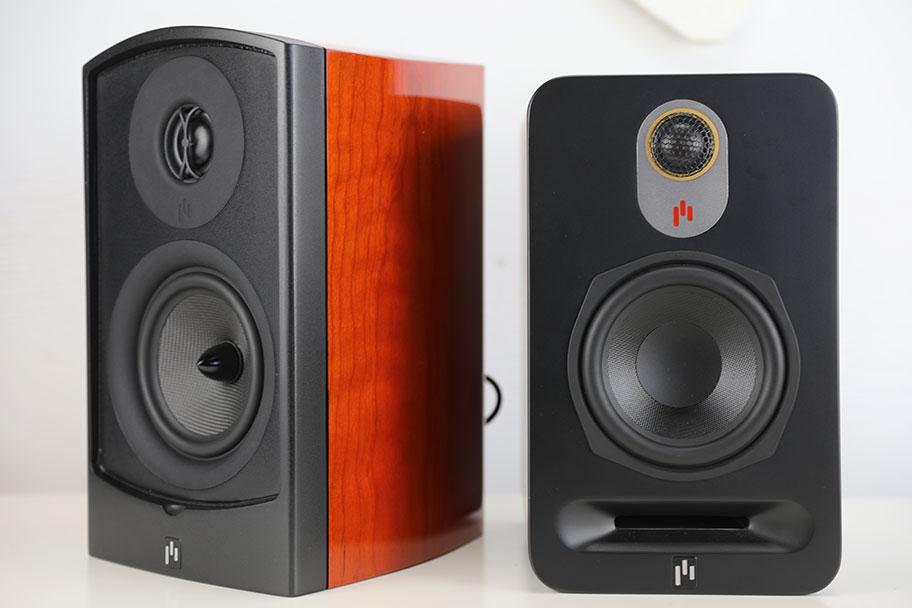 Speaker Size and Sound Quality
One of the most annoying adages in the world of bookshelf speakers is the bigger is better. The larger your cabinet, the thinking goes, the bigger your drivers, the more energy they will be able to put out, and the better your speakers will sound. Wrong, wrong, wrong. It is perfectly possible to get excellent sound quality out of very tiny speakers, like the $315 Q Acoustics 3020i, which are only about ten inches high. It's also possible to get very meh audio quality out of ginormous speakers; we've heard several monsters at audio shows that left us supremely unconvinced (they aren't on the list, for obvious reasons).
Sound quality comes down to tuning and cabinet design and materials. It's all about the technology present in each speaker, and although cabinet size does have an impact on certain aspects of the sound, like volume, this isn't universal by any means. Essentially, when you are buying a set of bookshelf speakers, you shouldn't make the mistake of thinking that only big speakers will give you good sound quality. That simply isn't true.
Wired vs. Wireless Speakers
With the ever-growing world of wireless technology, it's archaic to believe that a wireless speaker will never sound as good as its analog source. Some of the wireless speakers on this list - the $300 Fluance Ai61, for example - have a powerful sound that could have us convinced they were wired. Many wireless speakers are fully capable of producing a sound that you will love, and bookshelf speakers are no exception. Wired or not, you can get a great sound out of your bookshelf speakers, and shouldn't correlate wireless with lesser-quality.
The greatest advantage to having wireless speakers is lack of clutter. If you've ever tried to set up a 5.1 system, you certainly understand where we're coming from. While wireless bookshelf speakers aren't usually truly wireless - they often require a cable to connect the right and left channel - they seriously reduce the amount of cabling running across your desk, or below. Another serious advantage to wireless speakers is not having to plug into them via an analog input. Wireless speakers are equipped with Bluetooth or Wi-Fi (sometimes both), meaning you can pair to them via your smart phone or laptop. We found this very handy during our office testing, making switching between multiple sources effortless.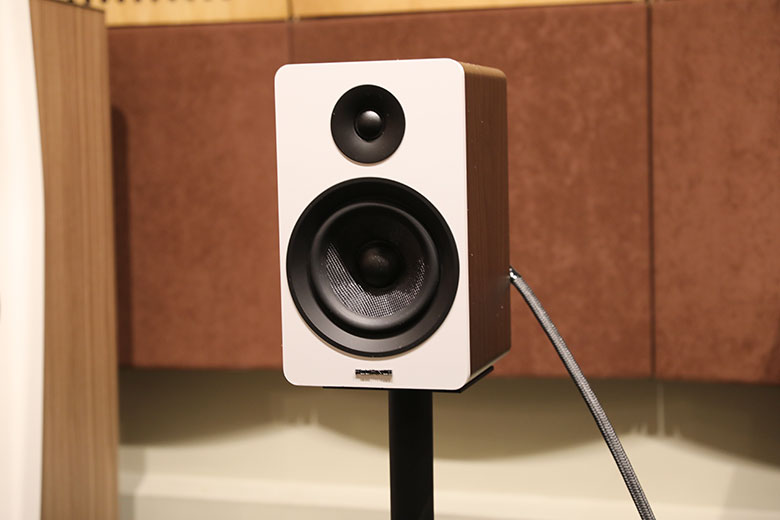 By the way, it's worth mentioning some jargon you're likely to encounter. You'll often see audiophiles talking about passive speakers or active speakers. But what on earth does this mean?
Bookshelf speakers that are passive need to be powered by an external amplifier. A classic hi-fi component system featuring bookshelf speakers would normally consist of your source media players (CD, MP3, DVD, BluRay, etc) connected to a receiver/power amp which itself feeds the speakers in stereo (one channel per speaker). If this is the case, instead of a full receiver, you might opt for a simple stereo amp (receiving audio directly from your PC, laptop, tablet or phone) to power your pair of bookshelf speakers. Most traditional wired bookshelf speakers are passive, including our number one pick, the $375 Elac Debut 2.0 B6.2.
Active (self-powered) bookshelf speakers are becoming increasingly popular too. All wireless bookshelf speakers are classed as active. In this case, each will have its own built-in amps (two actually, one for the woofer, one for the tweeter), and all they need is an audio feed - a mini-jack from your smartphone or a tablet, or if you are using an A/V receiver, the main Line Out  (normally RCA) connected directly to the powered speakers' input.

Impedance and Wattage: How to Match Amps and Speakers
You might be a little confused with the wattage/impedance/sensitivity figures in the table above - that's the suggested amplifier wattage thing. Not to worry - we've got an entire explainer on those specs here. Here's a shorter version, if you don't want to click through.
Wattage is important – and that's before you've even bought your bookshelf speakers. We'll ignore active pairs here – they are all internally matched, wattage-wise. Things may get a little less clear-cut when matching passive speakers to an external amp, as you'd ideally have to know whether they are compatible. Fortunately, the first part of that is easy. Let's take the Elac Uni-Fi 2.0 , which have a suggested amplifier wattage of between 40 and 140 watts per channel. That means that all you need to do is find an amplifier that puts out a wattage in that range, and you'll be good to go. A common problem when (mis)matching speakers to an amp is when the amp is too powerful for your speakers – when this is the case you will find your optimum volume level on the amp dial reduced. You will find that turning the volume higher than a certain level (say halfway) results in a flabby, tearing sound known as speaker distortion. Prolonged playback in such conditions may result in blown drivers. The other way round is equally problematic – when an amp is too under-powered for your speakers. This scenario normally involves the amp clipping and going into the 'red' as it struggles to deliver the wattage - if you keep pushing it, it would just go 'boom'.
Impedance is something you also need to pay attention to. You'd need to make sure that your amp or A/V receiver has an equal or lower impedance figure than that of the speakers. Here's a good place to note that amps utilize their full potential wattage at their lowest impedance. For instance, if an amp is rated at 100 watts at four ohms, the rule goes that when the amp is working at eight ohms (powering a pair of eight ohm speakers like the SVS Ultra), it can only deliver half the wattage of its four ohm potential – which in this case would be 50 watts. This might sound too much like a math lesson, but many people use this rule to their advantage – to get the amp's full power working, they simply would add another pair of eight ohm speakers, as the combined impedance of the four eight ohm speakers to four ohms, thus matching the amp's impedance figure!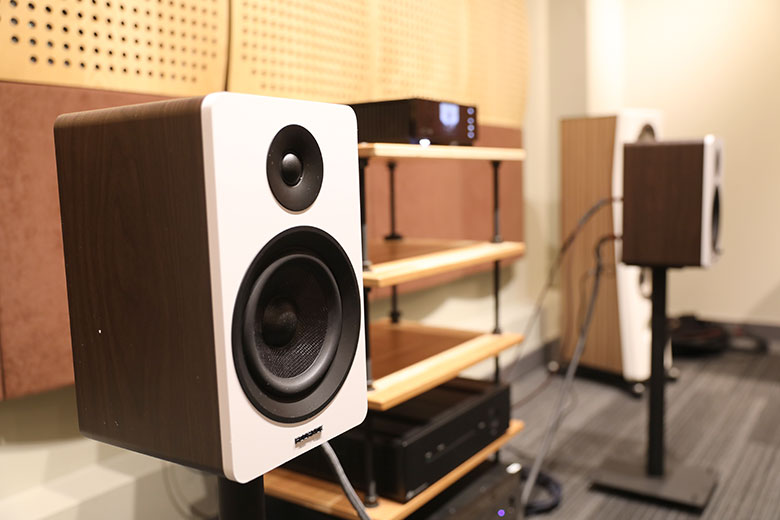 Sensitivity Explained
This is a measure, quite simply, of how loud a pair of speakers will go at a given volume. Really, that's all there is to it. Measured in decibels, sensitivity (sometimes referred to as efficiency) is a good way of working out the volume that a pair of speakers can deliver. It's measured in decibels, and as the amount of sound produced when a certain amount of power is put into the speakers – usually one milliwatt.
Using these, you can compare different speakers and see how they measure up in terms of loudness. A speaker with a lower sensitivity may struggle to fill anything beyond a small room, whereas one with a higher sensitivity – such as the 92dB MartinLogan Motion 35XTi – will put out significant volume for the same amount of power, making them ideal for large rooms.  However: be careful of putting too much emphasis on sensitivity. Although almost all manufacturers listed, what they don't do is list the amount of power they are applying. This is an standardised across the industry, so there are variances between manufacturers. If you're choosing a pair of speakers based on sensitivity, keep this in mind. The specs can be fudged.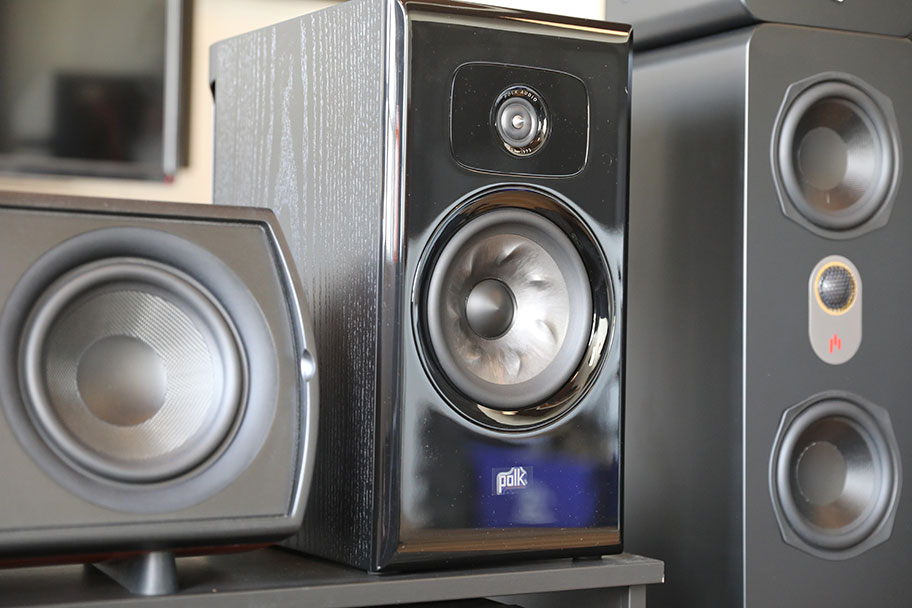 Bookshelf vs. Floorstanding Speakers
One of the most common questions we get asked is whether to go for a set of bookshelf speakers or a set of floorstanding (tower) speakers. If you aren't familiar, floorstanding speakers are essentially tall towers designed to sit directly on the floor, as opposed to on stands or on a shelf. They usually have more speaker drivers than bookshelf models.
If you read our advice on speaker size above, you already know that bigger size is no guarantee of better sound. There are bookshelf speakers on our list that could easily smoke floorstanding speakers from several major brands we can think of. What bookshelf speakers do offer, in terms of their increased size and driver complement, is two things. Firstly, they are able to present a wider range of the frequency spectrum, which means somewhat deeper bass than many bookshelf speakers. If you have a set of them, you may not need to add an additional subwoofer to your setup to get the advantage of good bass. We'd also note that this is a general rule, but there are several exceptions.
The second thing is that they frequently allow greater volume than bookshelf speakers, thanks to their larger size. This does not mean better sound quality, necessarily, but it does mean that if you have a larger space, or are looking to add speakers into a home theater setup, they may be better options. Ultimately, you should let your needs in terms of space and volume determine whether or not you go for bookshelf or floorstanding speakers.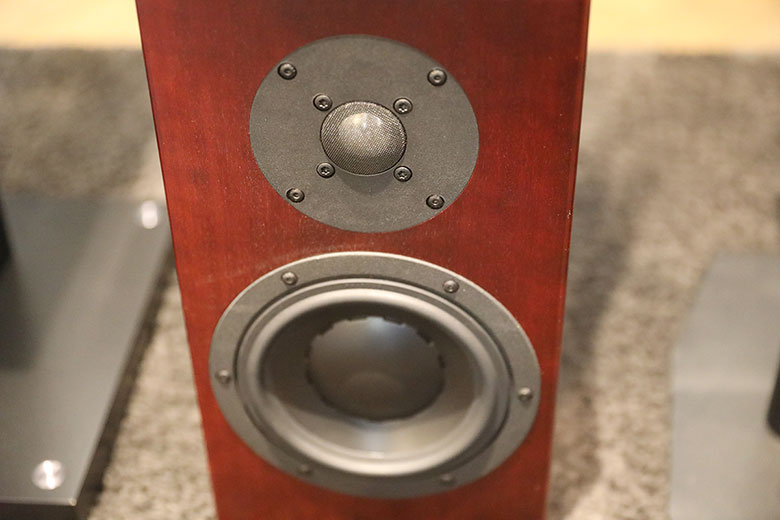 Speaker Connections Explained
We're assuming that you already have an amplifier - and of course, a media source such as a laptop or a wireless streamer. What you need to look for to get them connected to your amp are the binding posts on the rear of the speakers, which are normally red and black rotaries that can be screwed up and down. Occasionally, they'll take the form of little squares you can insert wires into, labelled plus/minus.
Next up, buy some speaker wire - this is relatively cheap. If you are wondering what to choose, you should normally go for a 16-gauge, which is perfect for regular bookshelf speaker impedance (the majority is rated at 8 ohms). If you're going to be positioning things over 50 feet away, you might be better off with a ticker wire at 12 or 14 gauge, which is also recommended for speakers of 4 or 6 ohms. Once you cut off a decent length of wire, use a boxcutter to strip the insulation off either end. You should be left with a short length of copper wire, which you should twist into a tight coil. You can then insert this into the binding posts on either end, separating speakers right and left, and being sure to screw red into red and black into black. Please take care doing this - and make sure the amplifier is unplugged. If you don't, things might not work right at best, or go bang at worst. This system works for the bookshelf speaker model type known as passive – they don't have amplifiers or internal power included, and so need to draw their power from an external amp.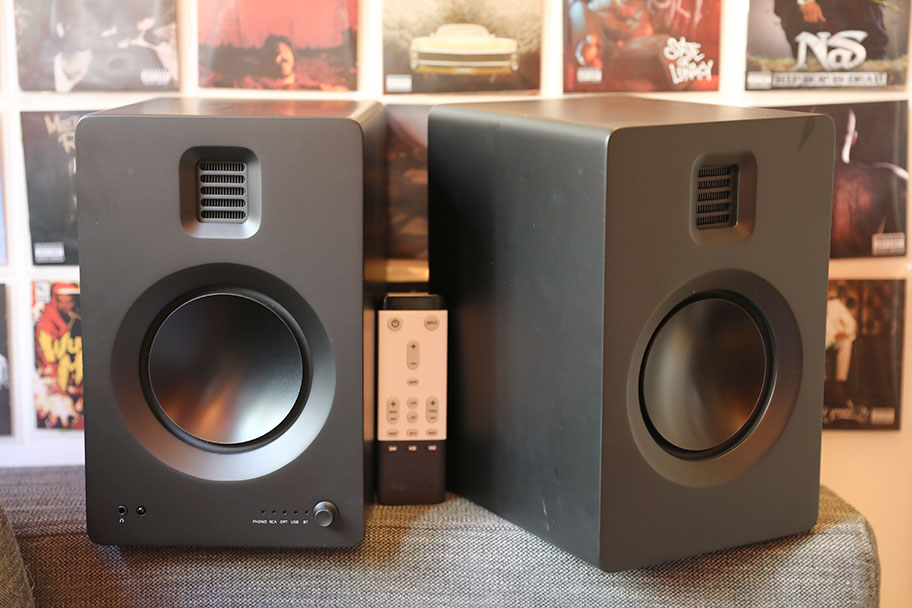 Bookshelf Speakers vs. 2.1
Bookshelf speakers are famed for their flat response – they are quite fair to the music content (as intended by the music producer), reproducing the recorded material 'as it is' and  not 'blanketing' the audio with their own specific character. That said, they are universally small- to medium-sized (with the exception of things like the Magico Q1, which are insane-to-ridiculous-sized, and cost $25,000 - small wonder they aren't on our list!). Their sealed design and internal woofers can only manage certain bass frequencies.
Adding a subwoofer makes a bookshelf speaker speaker into a 2.1 system and everything starts to sound seriously impressive, as the crucial mid and upper frequency detail is backed up by a fully extended low bass. How do you add a sub to a pair of bookshelf speakers? Let us start by saying that most subwoofers are self powered. You don't need separate amplification for them. Adding a subwoofer is therefore really straightforward if you are using a receiver, as most current models have a dedicated and clearly-labeled subwoofer audio output. Just connect to the sub, turn up the level (at the back of the sub) to your liking and you're set. Things may get a bit blurry if you aren't using a receiver. Say you're running just a stereo power amp. How would you patch that sub in this more spartan approach? Quite simple, really. Subs come with audio inputs and outputs, so the approach here is to plug your source into the subwoofer first and feed the audio outs from the sub into your amp's inputs (or powered bookshelf speakers audio ins).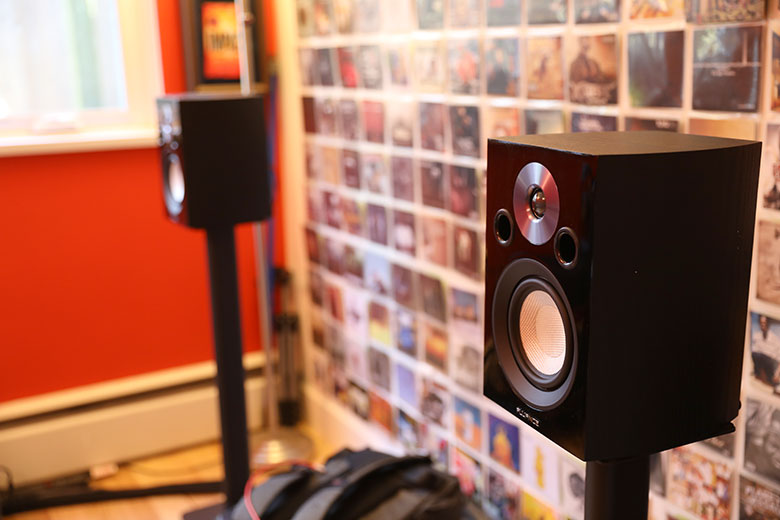 Bookshelf Speakers vs. Surround Sound
These two setups work well together. There's nothing to say you can't incorporate your bookshelf speakers into a multi-speaker 5.1 or 7.1 setup. You would, of course, need a capable surround A/V receiver with ideally enough power to match your speakers. As always, it's OK (and sometimes even recommended) if your amp/receiver has a little more wattage than your speakers. Each speaker needs to connect to its own power outlet (black to black, red to red, as explained above). The only catch is that most bookshelf speakers are sold in pairs – for a classic 5.1 setup, you might have to buy three pairs and a sub, and leave one speaker in storage. Or just make it a novelty coffee table ornament. We don't know. Whatever. If you decide to go this route, then we suggest you use the bookshelf speakers as your front left and front right speakers in the surround setup.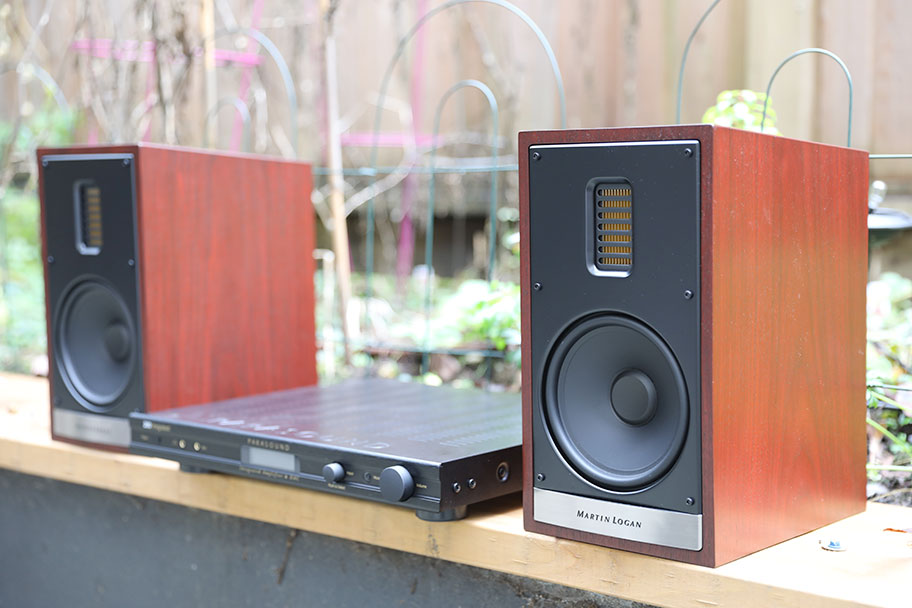 Speaker Placement Explained
More often than not, bookshelf models are aimed at a particular sweet spot – it may be your seat in front of your computer, or the sofa. Manufacturers strive to optimize this sweet spot, and some models are naturally better at this than others. What you could do to improve your listening experience, though, is to try and level your speakers so the tweeters are at the same level as your ears. The best listening spots are roughly where you form a triangle with the speakers, and they are at an equal distance from your left and right ear.
Speaking of 'tuning', as noted in our list, some cheaper models may have issues with frequency 'holes' or even worse: over-emphasized frequencies. Most receivers have very capable EQ processors built in, or even self-calibrating frequency modes. These can really do wonders and can 'cure' such little imperfections. Bookshelf speakers used in surround modes, ould have to be placed in the now established traditional way – front center, front left and right, rear left and right and so on, depending on the size of the format.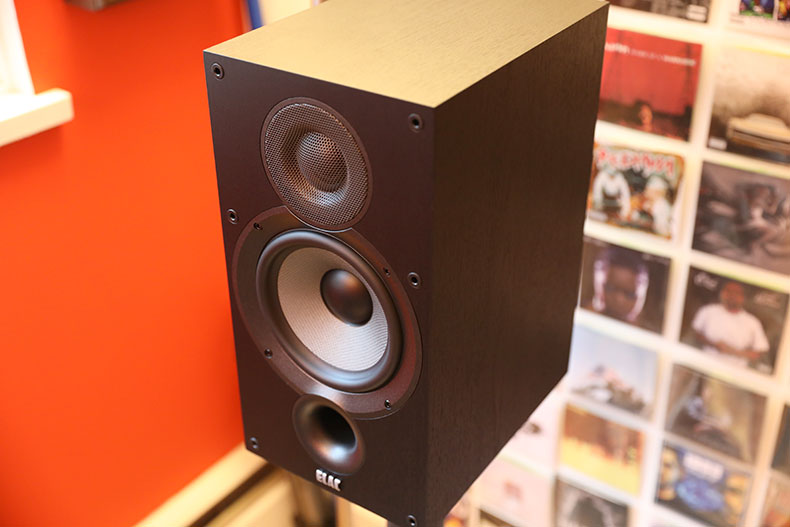 Bookshelf vs. Standmount Speakers
For a long time, bookshelf and standmount speakers were exactly the same thing, with the terms used interchangeably. You could either mount them on dedicated speaker stands (like the Sanus stands we use in our testing room) or position them on bookshelves or other furniture. But over time, the definitions have become a little clearer.
These days, standmount loudspeakers are used to specifically refer to speakers which were designed to be placed on dedicated stands. Sometimes, as with the Q Acoustic Active 200 (not on this list, as they are hellishly expensive), manufacturers will often custom-make their own stands, which are either shipped with the speakers or sold separately.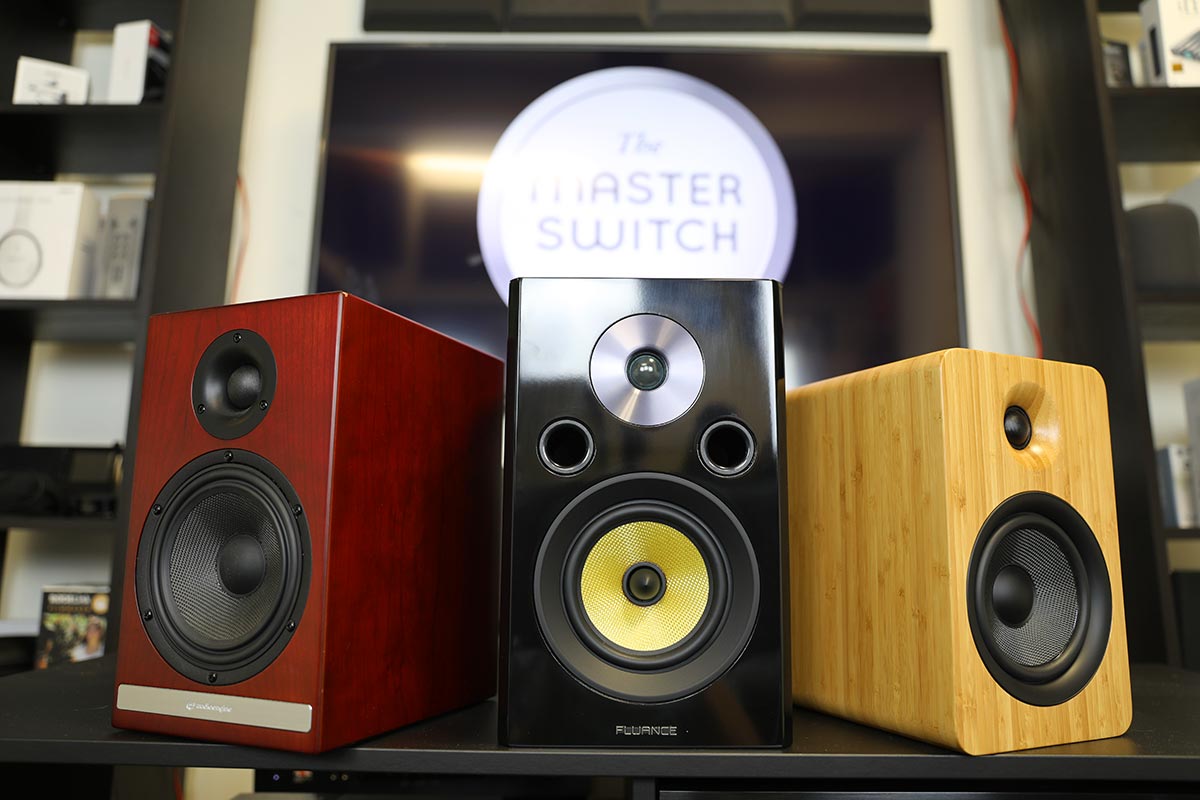 Here's what we think. We think the definition has gone a little bit too far. Unless your speakers are specifically designed to sit on custom stands, then you can place them on whatever surface you damn well please. You should always put them in the spot where you think the music sounds the best— don't be afraid to experiment to find this. If you have a small space or otherwise pressed for speaker locations, then simply put them wherever you can. We guarantee you'll still get pretty good sound quality.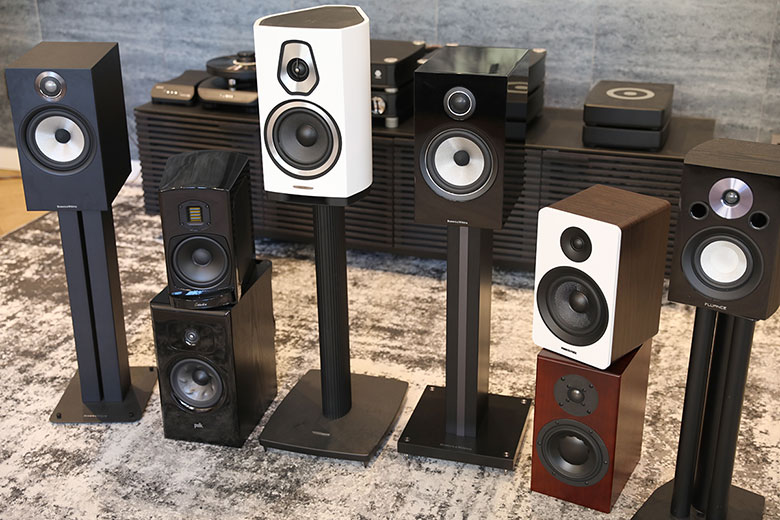 A Word on How We Test
We spent many hours with all of these speakers, and more besides, to create our list. While we have our own dedicated testing room, occasionally it has been tricky to track down certain brands that we like to cover. For help with this, we are indebted to the staff at Vancouver's Hi-Fi Centre, who not only provided us with access to their own excellent testing rooms, but also let us try out speakers that we otherwise wouldn't have had access to.
They are a fantastic store, and if you are ever in town (and you can make an appointment, because in current circumstances, you can't just wondering) you should definitely go and say hi to Igor, Earl, Yuri and the team. If you're in the market for good audio, they are the place to go.
Back To Our Bookshelf Speaker Picks Back To Our Comparison Table
Learn More About Hi-Fi Audio