Ever since the glory days when hi-fi systems were integrated and even color-matched to the furniture, bookshelf speakers have been the beating heart of the party, often tucked in between vinyl collections the size of complete walls. They still offer the best balance between audio quality and size, and are so well established that even now manufacturers' new models always seem to feature the near-obligatory bookshelf variety, usually sporting the letter B somewhere in the model title. Here are this year's best - and they're suitable for just about any music setup.
How We Choose:
Most models these days - certainly the ones most people will be looking at - are below $1000, which is great for the budget. We've included a selection of the best on the market here, plus at least one pick for those with serious money to burn! The prices are always quoted for a pair of speakers, and starting at the very top we make sure that the model in question represents the very best in quality and performance for each price tier. Our picks have already made a name for themselves - most of them you will know already, and if there are brands which sound unfamiliar, let us assure you that they are anything but generic. Dimensions and wattage are quite similar and consistent for this speaker format, but we do try to make a point about varying connectivity and specs such as driver and tweeter sizes. By the way, all the speakers on this list, with the exception of the absurdly expensive Magicos, come as a pair.

Our Bookshelf Speaker Picks:
Impedance: 8Ω
Driver Size: 6.5" woofer, 1" Tweeter
Sensitivity: 87dB
Suggested Amplifier Wattage: 20W-150W Per Channel
Weight (Each): 19lbs
What We Like: Superb clarity, classy looks.
What We Don't: Nothing not to like.
Our first pick goes to this pair made by SVS, a company possibly best known for their subwoofers. Already graced with several industry awards, the SVS Ultra range and this pair in particular seem to have immediately taken a place amongst the most highly-regarded models on the market. Paying a grand is hardly cheap, but here your hard-earned cash buys you an exquisitely-tuned pair of reference monitors.
SVS' approach to cabinet design and material choice has resulted in a super-transparent sound reproduction, especially in the critical mid-range spectrum. It has a wide soundstage, and an unbelievable low end (for the 6.5" driver size). Featuring a 1.7" acoustic port obviously aids the bass content, but it is impressive that the low frequencies don't sound over-cooked or wooly - instead there is a tremendous sense of definition. They would be happy connected to any decent hi-fi amp or receiver, but in all honesty, they deserve better than just decent. If you are looking further than just a stereo set up, you could do worse than checking out SVS' matching subwoofers and additional modular surrounds. It's also worth noting that the company make several other fantastic monitors, like the much-loved Primes, but we still prefer the Ultras.
See the SVS Ultra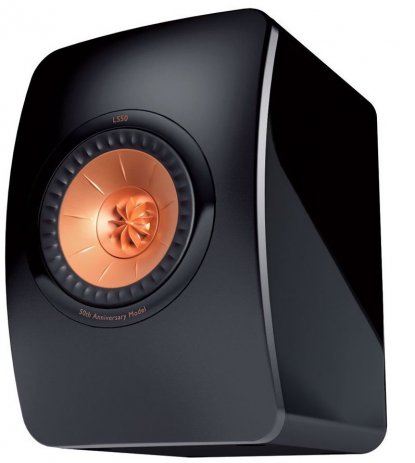 Impedance: 8Ω
Driver Size: 5", 1" Tweeter
Sensitivity: 85dB
Suggested Amplifier Wattage: 25W-100W Per Channel
Weight (Each): 15.8lbs
What We Like: A crowd favorite that always gets the job done.
What We Don't: Very pricey.
Were it not for the staggering pricetag, this pair would probably pip the SVS…just. The KEF LS50 speakers have won stacks of awards, and rightly so: they represent everything that we love about bookshelf speakers, from excellent design to superlative sound quality.
It's the latter that we want to talk about a little here. The LS50s have a richness in tone and a certain musicality that other speakers struggle to beat. They have an amazingly fast response, and despite offering breathtaking clarity, they provide just enough colour to generate excitement. The sound is by far and away the best reason to pick up a pair of these, but the design also makes it worthwhile. The iconic curved front, the central driver that resembles a hubcap, and a variety of colors means that this is a speaker that you won't want to just hide away on a bookshelf. Pair this with an amplifier like the NAD C326BEE, and you'll have a serious winner. If the price ever drops on these below the $1000 mark, expect some serious arguments in the TMS offices about whether KEF should topple SVS's crown.
See the KEF LS50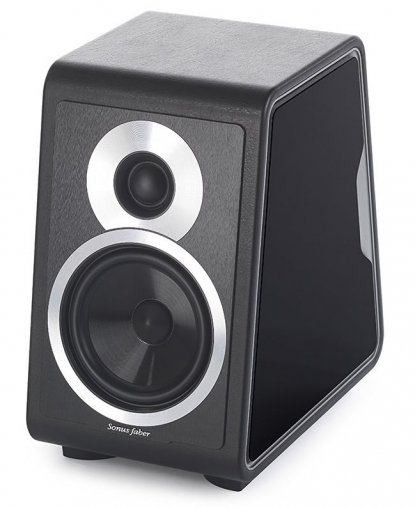 Impedance: 4Ω
Driver Size: 6", 1.15" Tweeter
Sensitivity: 87dB
Suggested Amplifier Wattage: 30W-150W Per Channel
Weight (Each): 5.5lbs
What We Like: The customizable looks and the audio quality.
What We Don't: An extra set of panels will cost you…an extra $150 (cough).
The Italian company Sonus Faber has already made a few waves in the speaker market with its innovative designs, audio quality. Luckily their price tags are very competitive for such personalized stylings, and the Sonus faber Chameleon Bs (the upgrade to the original Chameleons) are genuine hard hitters, quality-wise. The famed Italian approach to stylish interior design has clearly rubbed off in the design concept here. We prefer the look of the KEFs above, but these are nothing to sniff at. For some reason, they remind us a little of an Italian racing car - something about the angles!
The Sonus Fabers' entire cabinets are covered in leather, driver flanges embellished with aluminium trims, and the side walls have a structure that houses exchangeable side panels, for which you have a choice of six optional colors: hence the name. Let's be honest though, the sound quality is what you'd be spending your money on here, and this two-way system (one driver, one tweeter in each enclosure) means business, characterized by an even delivery across the frequency spectrum. Considering the slightly smaller drivers (6") it is a no brainer that despite the more-than-capable bass content, these will blossom so much more if combined with a worthy subwoofer.
See the Sonus Faber Chameleon B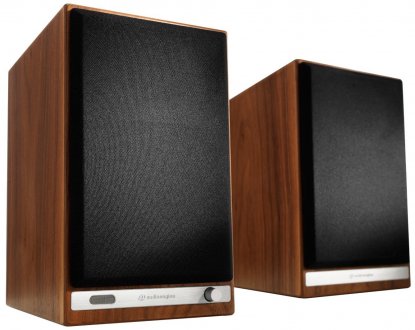 Impedance: N/A
Driver Size: 5.5", 1" Tweeter
Sensitivity: Unknown
Suggested Amplifier Wattage: N/A
Weight (Each): 37.9lbs
What We Like: Big sound, classic looks, wireless music streaming.
What We Don't: Top frequencies slightly subdued.
Audioengine are a company that we had to work very hard not to swamp the list with. They have a huge lineup of fantastic speakers, and although we still prefer the models above for clarity, you have to work quite hard to make speakers as fun as these, and the HD3s below. Audioengine describe their HD6 powered speakers as 'retro-forward' in design, and we can see that the retro element probably comes from the wood finishes. In terms of looks, you have the three bookshelf classic examples to choose from: Cherry, Walnut and Black. The 'forward' bit is clearly about the fact that this pair features built-in monoblock power amps (75W each), audio inputs (RCA, Minijack, Optical) and wireless Bluetooth streaming, which is great.
Not just any run-of-the mill Bluetooth audio either: the HD6s support the higher quality aptX audio formats, which sound more detailed. If you decide to use the HD6s with a receiver, remember that the speakers are already powered, so use the receiver's RCA outputs. Of course, the Audioengines can also be connected to your receiver via their digital connection for an even better audio quality.
See the Audioengine HD6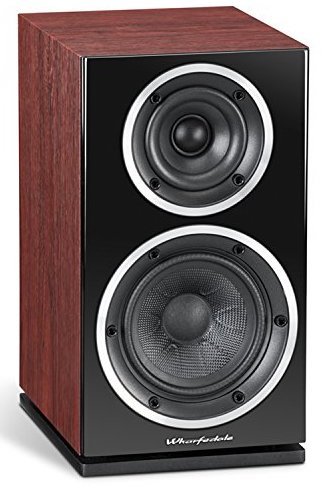 Impedance: 4Ω
Driver Size: 5.15", 1" Tweeter
Sensitivity: 86dB
Suggested Amplifier Wattage: 25W-100W Per Channel
Weight (Each): 11.7lbs
What We Like: Terrific dynamics.
What We Don't: Don't truly distinguish themselves from the ones above them.
If we had a choice, we probably wouldn't pick the Wharfedale Diamond 220 over the HD6s… But that doesn't mean they are bad, just not quite on that level. This British brand does make some truly magnificent products, and while the Diamond 220s aren't at the very top of this list, they are still an excellent alternative in this particular price range. At $349 for a pair (and with a price that occasionally fluctuates) you'd be crazy not to get them if they pop up as a bargain.
When we listen to them, we loved the dynamics and the tightness of the bass. The 220s possess an articulation and level of detail that was extremely impressive. Paired with a good amplifier, these will quickly become the heart and soul of any audiophile setup. It must be said that we aren't wild about the design, but that's down to personal preference more than anything else, and we can certainly see them fitting quite happily into most rooms. They're certainly an improvement on the clunky predecessor! Not the best… But when you have models this good, that's not necessarily a serious problem.
See the Wharfedale Diamond 220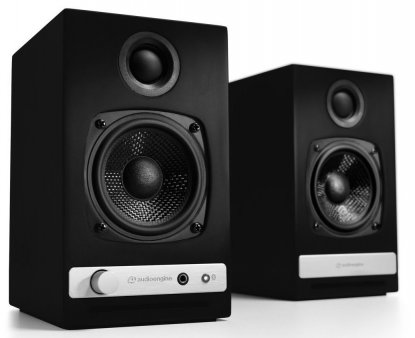 Impedance: N/A
Driver Size: 2.75", 0.75" Tweeter
Sensitivity: Unknown
Suggested Amplifier Wattage: N/A
Weight (Each): 11.7lbs
What We Like: Splendid ease-of-use, great Bluetooth sound, solid bass.
What We Don't: Not super loud.
Remember what we said about flooding the list with Audioengine? Well, we restrained ourselves, but we couldn't resist sneaking in the younger brother of the HD6s. The HD3s are a pair of Bluetooth powered desktop speakers, tiny and compact, and although we were sceptical of Bluetooth audio, they won us over.
In our full review, we said, "There's no denying that the HD3s are pricey. At $399 on Amazon for a pair, you've got to be pretty keen on getting an upgrade to your existing system to buy them. But it will be one hell of an upgrade, and given how well-designed they are, and how excellent the overall sound quality, we got no hesitation in giving these a big thumbs up." Their small size and subsequent volume limitations stop them from challenging the big dogs on this list, but if you simply want a pair of Bluetooth speakers to go on either side of your laptop, these are absolutely the ones you should go for. And by the way, set up and connection as a total breeze.
See the Audioengine HD3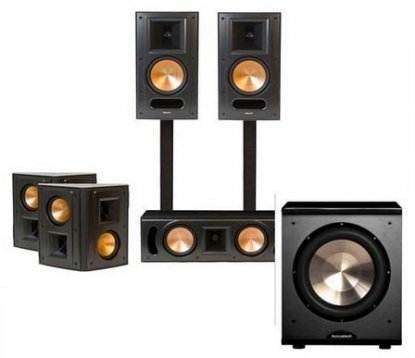 Impedance: 8Ω
Driver Size: 6.5", 1" Tweeter
Sensitivity: 95dB
Suggested Amplifier Wattage: 150W+ Per Channel
Weight (Each): 39.2lbs
What We Like: The big consistent Klipsch sound.
What We Don't: Although big, these are best suited to small/medium-sized rooms.
Known for their pure and consistent audio delivery, Klipsch products feature in pretty much every top list here at TMS. As such, it was reasonably inevitable that they'd make it onto this list. with the RB-61 IIs, they've got a real winner, for just under $330 at the time of writing.
Despite their enviable reputation, or perhaps because of it, Klipsch just don't stop tinkering and updating their product lines. The RB-61 II has become a classic of the reference bookshelf design, and for a long while now has been a best seller, too. What we have here is the fifth generation of the model, featuring re-engineered drivers, cerametallic woofers, a new crossover system, and improved cosmetics with black metallic finished baffles and new logos. If you haven't had the pleasure of checking these out, do, because for the price, the audio delivery of the RB-61s is close to stunning. They aren't the flashiest of speakers – certainly in terms of their design, which is workaday at best – but in audio terms, they offer phenomenal bang for the buck.
See the Klipsch RB-61 II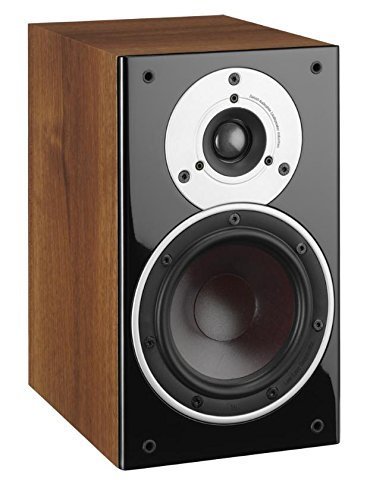 Impedance: 6Ω
Driver Size: 5.25", 1" Tweeter
Sensitivity: 86.5dB
Suggested Amplifier Wattage: 25W-100W Per Channel
Weight (Each): 8.8lbs
What We Like: Clarity
What We Don't: On the small side. The soft dome tweeter might be quite prone to accidents (especially in households with children).
The Dali Zensor 1s are perfectly formed, and if perhaps not the biggest or the loudest of the pack, they deliver exactly what you'd expect: honest clarity, and no hype or pretence. Featuring fairly small-sized (5.25") drivers, the Dalis are rated around 50W (peak) each, so make sure that they're a good match to your amp of choice.
When combined with a subwoofer they make for a beautiful 2.1 setup, and in all honesty this is when they will sound at their best, since their transparent audio character simply comes to life when there is a more pronounced bass extension to the material. The soft dome tweeter deserves a special mention, as it happens to be the secret to the Dali signature sound, characterized by its sweet top frequencies - always mellow, and yet never lacking. We don't think they sound quite as good as other models, and they lack a little volume, but Dali make some truly stellar stuff, and while this isn't quite up there, it's a good example of what the company can do, and an excellent alternative to the other models.
See the DALI ZENSOR 1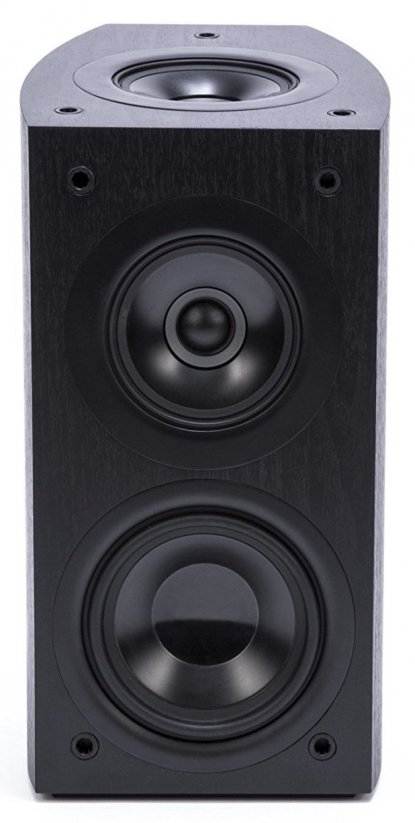 Impedance: 4Ω
Driver Size: 5.25" woofer, 4" midrange, 1" tweeter
Sensitivity: 85dB
Suggested Amplifier Wattage: 230W+ Per Channel
Weight (Each): 15.7lbs
What We Like: A modern classic, highly reliable.
What We Don't: Overpriced, needs a powerful amp.
Although they're a little bit old, and we think they still cost a bit too much, the Pioneers, with their innovative triple-driver up-firing design, are still the model of choice for many. This is because they deliver rounded, powerful sound with good depth and detail, and are absolutely dead simple to use.
The interesting part is the up firing Dolby Atmos driver, making these ideal for use in a home theater setup, perhaps as a pair of front or height speakers to reflect the audio off the ceiling. We wouldn't make them your first option for this – we think the treble is a little harsh and overcooked, and we thought (and still think) it was overhyped when it was released, but the 'Spebs' is still a very, very good speaker. Plus, in all the time we've known about these, we've never known one to break. Even after prolonged use. If reliability is what you want, then these are what you should go for. Oh, and they regularly undergo price cuts, so watch Amazon for bargains.
See the Pioneer Elite SP-EBS73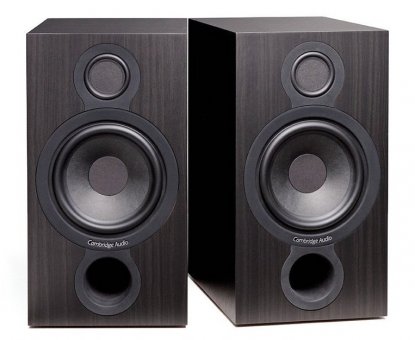 Impedance: 8Ω
Driver Size: 6.5", 2.25" Radiator (instead of a Tweeter)
Sensitivity: 90dB
Suggested Amplifier Wattage: 25W-120W Per Channel
Weight (Each): 15lbs
What We Like: Audiophile-grade sound for less.
What We Don't: Nothing. We're fans.
We are fans of Cambridge Audio here at the TMS. Mostly renowned for their smart wireless systems, the Aero 2 represents one of their more traditional designs. Or does it? Although very much your average bookshelf speakers in looks, the Aero 2s hide an innovation or two up their collective sleeves. The curiously-named Balanced Mode Radiator for instance. Handling far lower frequencies than just the sparkly tops normally reserved for tweeters, they are the key to the sound of this pair.
The reason for the use of the BMR is the all-important frequency cross-over point, which is like the border between two neighbouring nations (normally the main driver and the tweeter). The human ear easily picks up such frequency transitions if they are quite high in the spectrum (or crudely implemented). Since the BMR isn't a tweeter, but a mini speaker driver, covering the frequency range from a much lower point than a regular tweeter (250Hz to be precise, up to 22kHz), it allows the woofer to be entirely optimised for efficient bass response, effectively becoming a subwoofer. The result? A silky portrayal of mid and top frequencies, which are so crucial for recorded human voice, guitar, string instruments and so much more. For the price, these are stupendously good speakers and represent a brave engineering concept.
See the Cambridge Aero 2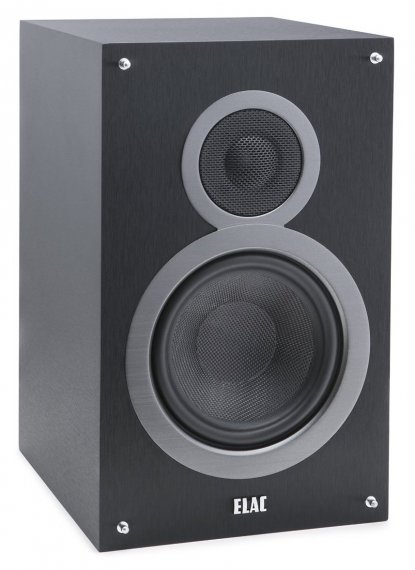 Impedance: 6Ω
Driver Size: 6.5" midrange, 1" tweeter
Sensitivity: 87dB
Suggested Amplifier Wattage: 30W-120W Per Channel
Weight (Each): 14.3lbs
What We Like: Solid sound for the price.
What We Don't: A touch overrated?
We can hear speaker fans gnashing their teeth already. Why isn't the B6 Debut higher on the list? Don't get us wrong – this is still an excellent speaker, and in the sub-$300, it really stands out. It's position this low on the list shouldn't be viewed as a bad thing – the very fact that it made it onto the list at all is a huge positive. Come to think of it, that sounds a little unfair; whatever your feelings about the ELAC, there's no denying that it always deserved to be here. Even if we (whisper it) prefer other models.
Although speaker designer Andrew Jones is more commonly associated with Pioneer (see below), he's designed products for other manufacturers, too, including ELAC. When these were released in 2015, they were absolutely raved about, and while we think a lot of it was hyperbole, they still offer very, very solid sound for the amount of money you pay, easily comparable to others on this list. We still prefer models from Audioengine and Cambridge over these, hence their low ranking on the list, but they are an excellent alternative if you can't find the others.
See the ELAC B6 Debut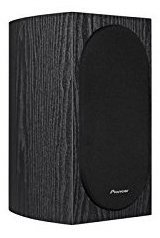 Impedance: 6Ω
Driver Size: 4", 1" tweeter
Sensitivity: 85dB
Suggested Amplifier Wattage: 30W-120W Per Channel
Weight (Each): 9.1lbs
What We Like: Good looks, crisp sound.
What We Don't: Not a lot!
Andrew Jones is a storied speaker designer, and when you see his name on something, you can bet that it's going to be high quality. In the range below $120, this model stands out. Not only for its looks, which are enhanced by its beloved gruel, but also for its sound. Jones and Pioneer worked hard on the design of the cabinet, stiffening it so that it would absorb more sound. What that means is that the audio quality is tighter, with less distortion and crisper highs.
Although these work perfectly well as a pair of bookshelf speakers, they are most commonly seen as part of a dedicated home theater package, like the Pioneer SP-PK22BS Andrew Jones 5.1 Home Theater Speaker Package (full review here). Their versatility and ruggedness makes them very attractive, particularly at this price point, which is often subject to fluctuations. Nothing to trouble the truly expensive models, but very high quality for this range. If you're on a budget, please do consider.
See the Pioneer SP-BS22-LR Andrew Jones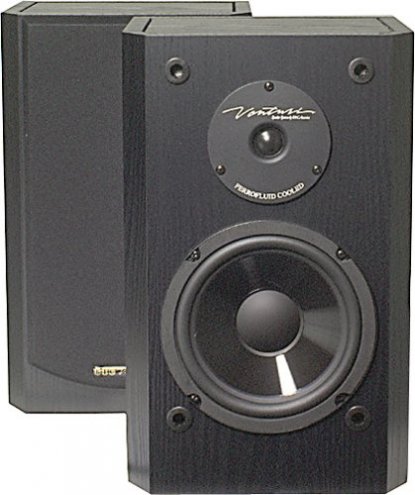 Impedance: 8Ω
Driver Size: 6", ¾" tweeter
Sensitivity: 90dB
Suggested Amplifier Wattage: 10W-175W Per Channel
Weight (Each): 15.5lbs
What We Like: Great performance for the price.
What We Don't: Very little.
The BIC America DV62si pair is a good example of how to make an affordable version of an well established format. With 6" drivers and ¾" soft dome tweeters, the pair would suit pretty much any receiver or a hi-fi amp, and the Venturi-tuned vented ports play a considerable part in the delivery of the low bass content, which is quite substantial. If the low frequencies are quite tight-sounding, the highs can be a little piercing. We know of audiophiles going as far as modding these speakers to 'sweeten' the top frequencies, but thankfully you don't need a soldering iron to get improved results.
Just like with any new set of speakers, allow them some mileage and you'll notice that within a week of use the character evens out quite a bit. Again, you can use an EQ preset from your receiver, or even better, a self-calibrating DSP algorithm (if your receiver has one). After such treatments, the BICs sound nothing short of stunning and even without such fairy dust treatments they are probably the best sounding pair for their $120 price tag. BIC often get a raw deal as being staid and boring, but we think they deserve a more charitable view.
See the BIC America DV62si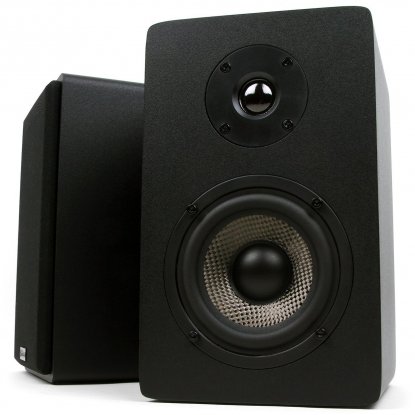 Impedance: 8Ω
Driver Size: 4", ¾" tweeter
Sensitivity: 85dB
Suggested Amplifier Wattage: 113W+ Per Channel
Weight (Each): 9.3lbs
What We Like: Nice looks, good crossover.
What We Don't: Nothing special.
Micca aren't a very well known company, but they've won plaudits for delivering a sub-$100 model that will more than fill small rooms with decent sound. The company hypes its crossover design, which refers to the point at which different frequency ranges segue into each other, better design of which guarantees sharper and more defined audio. I
t's certainly very good, although not quite as spectacular as they'd hoped, but while the unit doesn't always measure up in terms of audio quality, its sneaks through on looks, which are sleek and appealing. These are the sort of speakers you'd get when you have a very simple setup, such as a small home office or dorm room, with a basic amplifier. They aren't going to blow your mind, by any means, but if you're on a budget, and want the best from a sub-$100 pair of speakers, then we'd absolutely recommend these. In this price range, they are way ahead of the pack. Actually: who are we kidding? Forget the budget stuff. Remortgage the house, and go for the pick below. After all, you only live once…
See the Micca MB42X

And For When You Win The Lottery...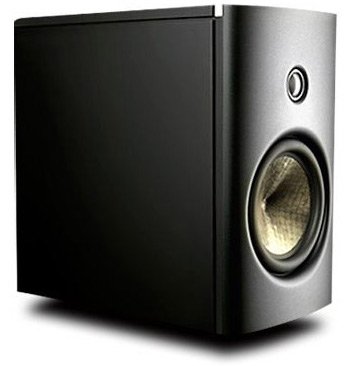 Impedance: 5Ω
Driver Size: 7", 1" tweeter
Sensitivity: 86dB
Suggested Amplifier Wattage: 50W+ Per Channel
Weight (Each): 60lbs
What We Like: Extraordinary sound.
What We Don't: Billionaires only.
Some things in life are just plain ridiculous. $25K for a pair of bookshelf speakers is right up there. Magico is an ultra-exclusive speaker brand, and you're not going to find these bumming around eBay, but if you ever strike it big, then you should check them out. And by the way, they don't go on bookshelves. They come with specially-modded, acoustically-dampening stands that make your sound extra-crispy...
As you'd imagine, the quality of these is just on another planet - reviewers have reported almost religious experiences while listening to them. We'd love to say we were among them… But, shockingly, Magico have yet to contact us to offer us a review model. In any case, Alan Sircom of HiFi+ reported that "Rival manufacturers will need a solution that challenges this speaker, fast." God knows what they plan to do. Short of sacrificing to the dread god Baphomet whenever you turn the power on, you're probably not going to get sound much better than this.
See the Magico Q1
Specs Table:
| Speaker | Price | Weight | Impedance | Drivers | Sensitivity | SAW* |
| --- | --- | --- | --- | --- | --- | --- |
| SVS Ultra | $999 | 19lbs | 8Ω | 1 x 6.5", 1 x 1" | 87dB | 20W-150W |
| KEF LS50 | $1200 | 15.8lbs | 8Ω | 5", 1" Tweeter | 85dB | 25W-100W |
| Sonus Faber Chameleon B | $899 | 5.5lbs | 4Ω | 1 x 6.5", 1 x 1.15" | 87dB | 30W-150W |
| Audioengine HD6 | $749 | 37.9lbs | N/A | 1 x 5.5", 1 x 1" | Unknown | N/A |
| Wharfedale Diamond 220 | $349 | 11.7lbs | 4Ω | 1 x 5.15", 1 x 1" | 86dB | 25W-100W |
| Audioengine HD3 | $399 | 11.7lbs | N/A | 1 x 2.75", 1 x 0.75" | Unknown | N/A |
| Klipsch RB-61 II | $329 | 39.2lbs | 8Ω | 1 x 6.5", 1 x 1" | 95dB | 150W+ |
| DALI ZENSOR 1 | $395 | 8.8lbs | 6Ω | 1 x 5.25", 1 x 1" | 86.5dB | 25W-100W |
| Pioneer Elite SP-EBS73 | $500 | 15.7lbs | 4Ω | 1 x 5.25", 1 x 4", 1 x 1" | 85dB | 230W+ |
| Cambridge - Aero 2 | $250 | 15lbs | 8Ω | 1 x 6.5", 1 x 2.25" | 90dB | 25W-120W |
| ELAC B6 Debut | $280 | 14.3lbs | 6Ω | 1 x 6.5", 1 x 1" | 87dB | 30W-120W |
| Pioneer SP-BS22-LR | $130 | 9.1lbs | 6Ω | 1 x 6", 1 x 1" | 85dB | 30W-120W |
| BIC America DV62si | $120 | 15.5lbs | 8Ω | 1 x 6", 1 x 3/4" | 90dB | 10W-175W |
| Micca MB42X | $90 | 9.3lbs | 8Ω | 1 x 6", 1 x 3/4" | 85dB | 113W+ |
| Magico Q1 | $25K | 60lbs | 5Ω | 1 x 7", 1 x 1" | 86dB | 50W+ |
*SAW = Suggested Amplifier Wattage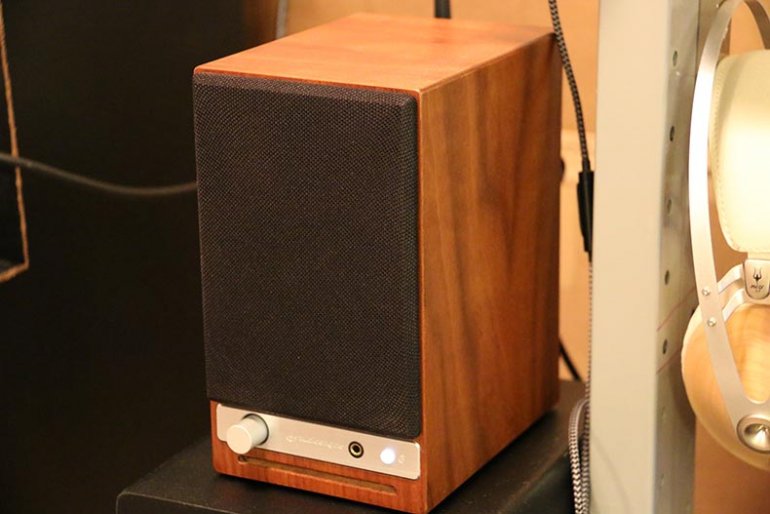 Buying Advice:
What's The Difference Between Bookshelf and Other Speakers?
Bookshelf speakers are designed to be used as part of a discrete audio system. You are not connecting them to your surround sound system (although you probably could, with a little tinkering). Instead, what you're doing is pairing them with an amplifier, or a dedicated player, in order to create a single, self-contained system. Hence the use of the word bookshop; they're meant to be off on their own, away from everything else. Typically, these are easy to spot. They're big, boxy, and usually have one small driver (the tweeter) and one big one (the woofer). You can usually cover these with a mesh grille, which makes them a little easier on the eye.
Passive vs Active
When speaking about most bookshelf speakers, the general rule is that they are passive, meaning that they are powered by an external amplifier. The classic hi-fi component system normally consists of media players (CD, MP3, DVD, BluRay, etc) connected to a receiver/power amp which itself feeds the speakers in stereo (one channel per speaker).
Increasingly, listeners run all their media off a PC or laptop. If this is the case, instead of a full receiver you might opt for a simple stereo amp which will power your pair speakers, receiving audio directly from your soundcard.
The other alternative - of going for an active (self-powered) pair of bookshelf speakers - is becoming increasingly popular too. In this case, each will have its own built-in power amps, and all they need is an audio feed - a mini-jack from your smartphone or a tablet, or if you are using a receiver, the main RCA audio outs connected directly to the powered speakers.
Note: you don't want to connect power amp outs (from a receiver) to active speakers! Things may get a little…smoky.

Matching Speakers To An Amp/Receiver
You might be a little confused with the wattage/impedance/sensitivity figures in the table above - that's the suggested amplifier wattage thing. Not to worry - we've got an entire explainer on those specs here. It's a little in-depth to go into in this roundup, but we've got you covered.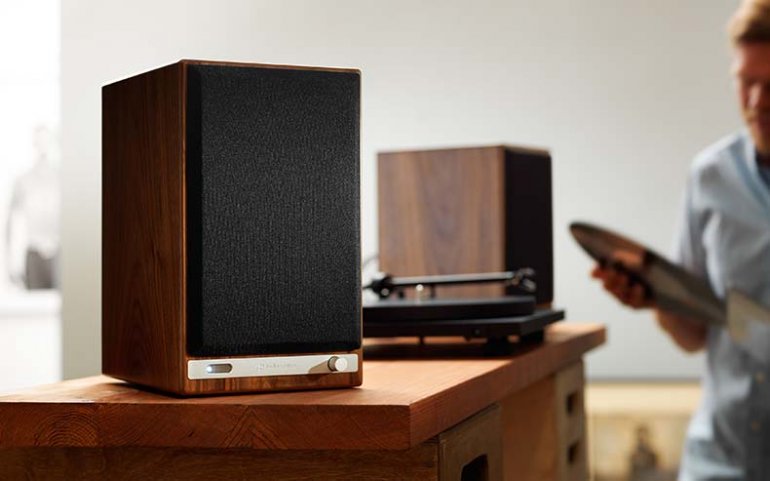 How Do I Connect Them?
You're going to need some wire.
Back up for a second. Let's assume that you have something to plug them into, like an amplifier, a CD player, or a wireless streamer. What you need to look for, and what will be on the rear of your speakers, are binding posts - red and black rotaries that can be screwed up and down. Occasionally, they'll take the form of little squares you can insert wires into, labelled plus/minus.
Next up, buy some wire. This is relatively cheap, and you should go for 16-gauge unless you're going to be positioning the things a very long way away, in which case, you need to go higher. Once you cut off a decent length of wire, use a boxcutter to strip the insulation off either end. You should be left with a short length of copper wire, which you should twist into a tight coil. You can then insert this into the binding posts on either end, separating speakers right and left, and being sure to screw red into red and black into black. Please, please, please get this right. If you don't, things might not work right at best, or go bang at worst. This system works because most models are what is known as passive. They don't have amplifiers or internal power included, and so need to draw their power from an external amp. The cable will take care of this.

Should I Add A Subwoofer?
Let us start by saying that most subwoofers are self powered. You don't need separate amplification for them. Adding a subwoofer is therefore really straightforward if you are using a receiver, as most current models have a dedicated and clearly-labeled subwoofer audio output. Just connect to the sub, turn up the level (at the back of the sub) to your liking and you're set. Things may get a bit blurry if you aren't using a receiver. Say you're running just a stereo power amp. How would you patch that sub in this more spartan approach? Quite simple, really. Subs come with audio inputs and outputs, so the approach here is to plug your source into the subwoofer first and feed the audio outs from the sub into your amp inputs (or powered bookshelf speakers audio ins).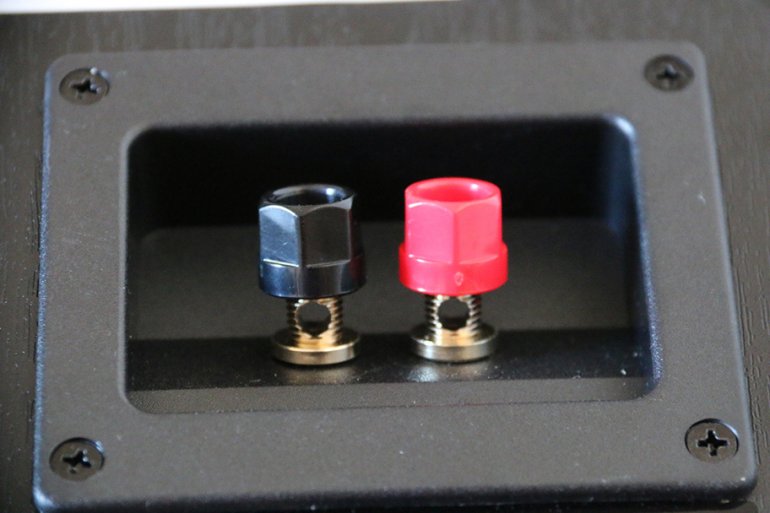 Where Do I Put Them?
Very often bookshelf models are aimed at a particular sweet spot - it may be your seat in front of your computer, or the sofa. Manufacturers strive to optimize this sweet spot, and some models are naturally better at this than others. What you could do to improve your listening experience, though, is to try and level your speakers so the tweeters are at the same level as your ears. The best listening spots are roughly where you form a triangle with the speakers, and they are at an equal distance from your left and right ear.
Speaking of 'tuning', as noted in our list, some cheaper models may have some issues with frequency 'holes' or even worse - over-emphasized frequencies. Most receivers have very capable EQ processors built in, or even self-calibrating frequency modes. These can really do wonders and can 'cure' any little imperfections.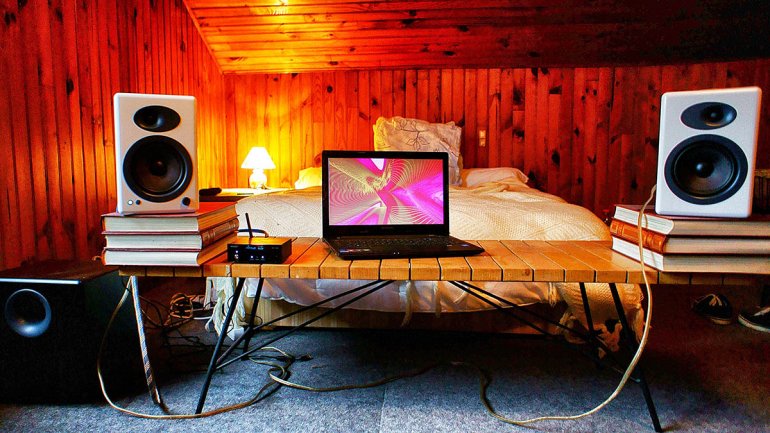 Do I Need Stands?
Not surprisingly many hi-fi stores demo their products from speaker stands. These really improve the stereo imaging and the frequency response. The opposite scenario would be one of placing your brand new pair on a large oak table, which would in turn vibrate with the music, enhancing certain frequencies, possibly making things boomier than they are…
So if stands won't spoil the vibe and the look of your music room, they might at least make the music a tiny bit better!