Ever since the glory days, when hi-fi systems were integrated and even color-matched to the furniture, bookshelf speakers have been the beating heart of the party. They still offer the best balance between audio quality and size, and deliver huge bang-for-the-buck. Here are this year's best bookshelf speakers - they're suitable for just about any music setup, and any budget. For more background information on bookshelf speakers, see our comparison table and buying advice below the picks.
 
How We Choose
We know you can spend huge amounts on speakers. Our list is meant to reflect the best speakers for most people. We've broken things up into categories - best overall, best budget and so on - to make it easier to pick the right speakers. We've tried to keep prices sane. If you're looking for $25,000 Magico speakers or $10,000 Revels, this may not be the list for you
The prices are always quoted for a pair of speakers, although the NHTs require that you add two of each to your basket to make that pair (don't ask us. Audio companies are weird). Our picks have already made a name for themselves - most of them you'll know already - and if there are brands which sound unfamiliar, let us assure you that thy're anything but generic. Dimensions and wattage are quite similar and consistent for this speaker format, but we do try to make a point about varying connectivity and specs, such as driver and tweeter sizes.
 
Best Overall Bookshelf Speakers
Suggested Amplifier Wattage: 20W-150W Per Channel
Impedance: 8Ω
Driver Sizes: 6.5" Woofer, 1" Tweeter
Sensitivity: 87dB
What We Like: Superb clarity, classy looks.
What We Don't: Nothing not to like.
The best overall bookshelf speakers are made by SVS, a company best known for their subwoofers. Already graced with several industry awards, the SVS Ultra range, and this pair in particular, have immediately taken a place amongst the most highly-regarded speakers around. Paying a grand for a pair is hardly cheap, but here your hard-earned cash buys you an exquisitely-tuned pair of reference monitors - better, we think, than more expensive models like the KEF R3s. Those are superb, but we prefer the SVS speakers.
The company's approach to cabinet design and material choice has resulted in a super-transparent sound reproduction - especially in the critical mid-range spectrum. They have a wide soundstage, and an unbelievable low end for the 6.5" driver size. Featuring a 1.7" acoustic port obviously aids the bass content, but it's impressive that the low frequencies don't sound over-cooked or wooly. Instead, there's a tremendous sense of definition - a good amp will make them sing. It's also worth noting that the company make several other fantastic monitors, like the much-loved Primes, but we still prefer the Ultras.
See the SVS Ultra

Best Budget Bookshelf Speakers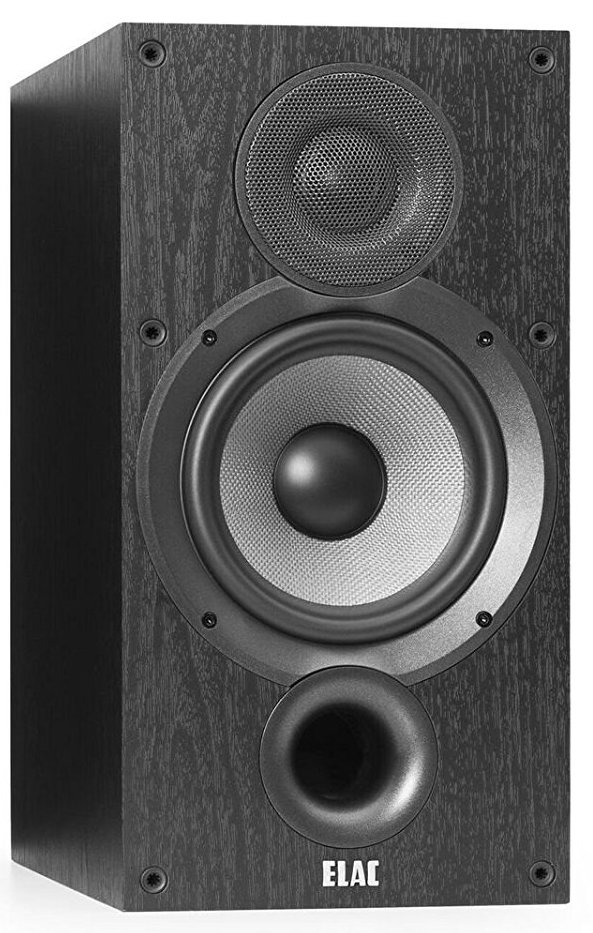 Suggested Amplifier Wattage: 30W-120W Per Channel
Impedance: 6Ω
Driver Sizes: 6.5" Midrange, 1" Tweeter
Sensitivity: 87dB
What We Like: A genuinely great update on what was already a very good speaker.
What We Don't: The sound isn't going to reach the heights of speakers like the SVS Ultras.
The original B6 Debut was an excellent speaker. Former Pioneer designer, Andrew Jones, knocked out the park, creating a bookshelf pair that delivered solid sound at a great price. It's absolutely our top choice for a sub-$500 pair - if you're on a budget, these $300 speakers will give you all you need, and more.
The sound is a touch more aggressive than the original B6, which is something we really like. There's a ton of power and punch in here, and we really did feel like we were getting a genuinely new product, rather than just a simple update. The design has been freshened up, too, in contrast to the slightly old school stylings of the original - although, the new model is a couple of pounds heavier. This was always a speaker line that could stand against its competitors, and this definitely remains one of our favorites. Compared to other speakers from folks like Edifier and Q Acoustics, the ELAC is, by far, the winner.
See the ELAC Debut 2.0 B6.2

Best High-End Bookshelf Speakers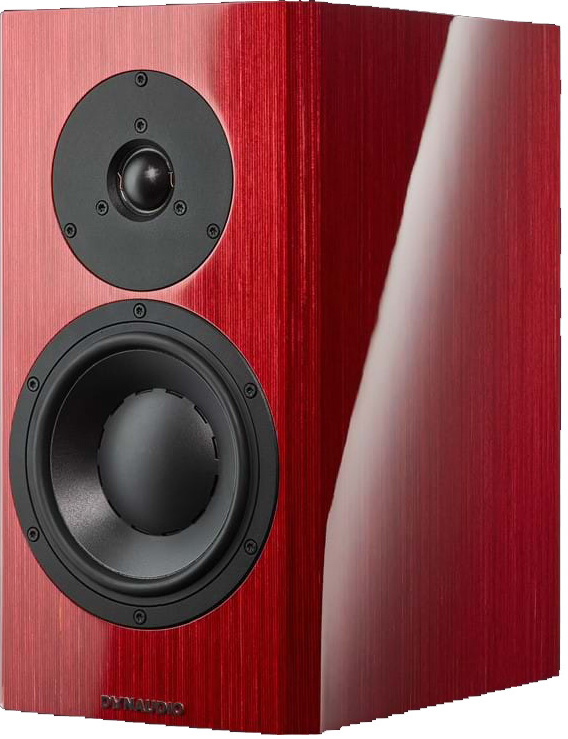 Suggested Amplifier Wattage: Up to 200W Per Channel
Impedance: 6Ω
Driver Sizes: 6.7" Full Range, 1" Tweeter
Sensitivity: 86dB
What We Like: They look gorgeous, and sound even better.
What We Don't: The same issue as the B&Ws above - these are just too pricey for most.
Special is right. Dynaudio's 40th anniversary saw the legendary speaker-maker launch these - a beautiful pair of speakers with a red, fine-grained, wooden finish. At $2,999 per pair, they run into the same problem that the Bowers & Wilkins speakers, below, face - most people just aren't going to have the cash, or be prepared to spend that much if they do. However, while that does mean other speakers beat them for value, very few beat them for sound, or looks.
The audio quality is magnificent. At up to 200 watts per channel, the 40s can definitely handle a bit of power - far more than the Bowers & Wilkins 705 S2, which max out at 120 watts. And they translate that power into weighty, confident sound that really fills a room. There's been a lot of R&D done on airflow behind the tweeter, which means less movement - it also means a ton of detail and precision. Bottom line? The 40s are a gorgeous pair of speakers that will leave both your wallet and your head feeling a little light.
See the Dynaudio Special 40

Best Small Bookshelf Speakers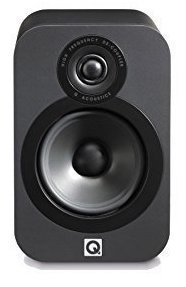 Suggested Amplifier Wattage: 25-75W Per Channel
Impedance: 6Ω
Driver Sizes: 5" Woofer, 1" Tweeter
Sensitivity: 88dB
What We Like: Solid performance at a good price.
What We Don't: Drastically overhyped.
The 3020s have had quite a bit of hype in their release life. We don't think all of it is justified – for all their charms, these aren't going to dethrone the ELACs. Instead, what you have here is a good, solid, basic bookshelf speaker system that delivers quality sound at an affordable price, and which is superb for a small setup, or for small spaces.
We do like the low end, which is helped along by a driver that incorporates some interesting materials, like "paper and aramid fibres". Overall, the sound is rich and clear, with a sense of heft and weight that we've come to expect from Q Acoustics. These are far from the best speakers on this list, but they offer lovely detail, and the build quality is excellent. All in all: a solid entry for Q Acoustics, and we can't wait to see what they do next. Be warned: their availability fluctuates on Amazon; at least they're selling well! Be prepared to go direct if this is the case.
See the Q Acoustics 3020
 
Best Wireless Bookshelf Speaker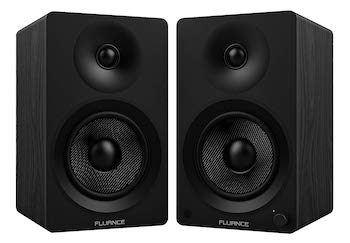 Suggested Amplifier Wattage: N/A
Impedance: N/A
Driver Sizes: 5" Woofer 1" Tweeter
Sensitivity: Unknown
What We Like: Thunderous bass for such a little pair of speakers.
What We Don't: Dull design.
The Fluance Ai40s seriously surprised us. We get a lot of speakers passing through our offices, but we were stunned at just how much we ended up using the Ai40s, even outside of official testing. The reason? Superbly exciting sound, with bouncy, lively bass and wonderful tones in the mid-range. We directly compared these to several other wireless speakers, including the Kanto YU6, below, and these quickly became firm favorites.
The downsides are that they feel distinctly old-school, with ho-hum design and wired connections between the speakers. Given that other companies, like KEF, have made strides in this area, we'd like to see the tech trickling down to budget wireless speakers at some point. All the same, the Ai40s are excellent. If you're considering buying a pair of wireless bookshelf speakers, these are absolutely the ones to go for. If you want something that looks a little fresher, try the aformentioned Kanto YU6 - they're a little more expensive, but they look great, and have plenty to recommend them.
See the Fluance Ai40
 
Best of the Rest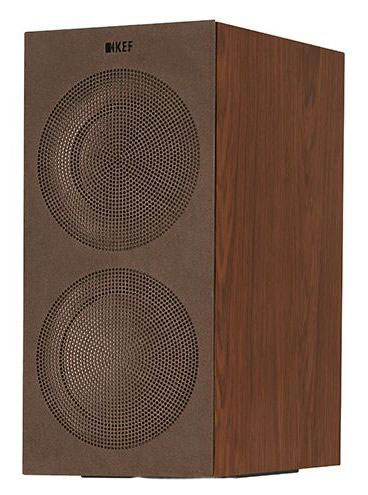 Suggested Amplifier Wattage: 15W-180W Per Channel
Impedance: 8Ω
Driver Sizes: 6.5" Woofer, 5" Midrange 1" Tweeter
Sensitivity: 87dB
What We Like: Mindblowing audio quality.
What We Don't: Require careful positioning.
We recently snuck a listen to KEF's brand-new R3 bookshelf speaker, which replaces the old LS50 on this list. We loved the latter, and it's contributed its DNA here, with an internal bracing system. The company has also reworked its legendary Uni-Q driver, and what that means is bass. Big, smooth waves of it. It's usually a good idea to add a subwoofer to a pair of bookshelf speakers to create a 2.1 setup, but we genuinely don't think you need to do that here. These sound fantastic. It must be said that we still prefer the Dynaudio Special 40, but it's a very close-run thing.
You will need to take a little bit of time to position these carefully, as we think they have a slightly smaller sweet spot than other speakers. Either way, they remain one of the best pairs available, and are testament to just how good KEF can be when they are firing on all cylinders. Definitely consider these if you have some cash to burn.
See the KEF R3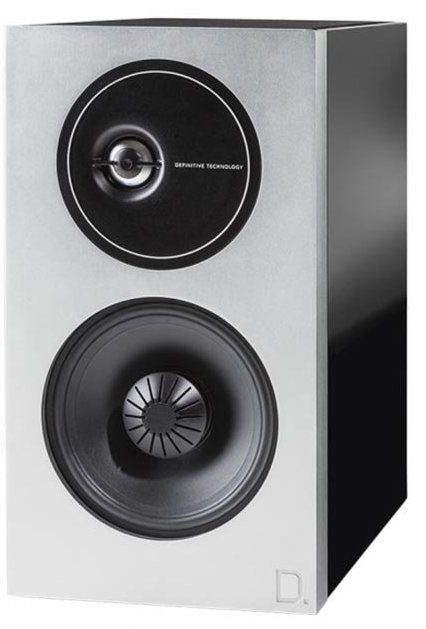 Suggested Amplifier Wattage: 20W-150W Per Channel
Impedance: 8Ω
Driver Sizes: 5.25" Full Range, 1" Tweeter
Sensitivity: 88dB
What We Like: Unbelievable imaging and detail for the price.
What We Don't: The midrange didn't wow us as much as we expected.
With their offset tweeter and sleek design, Def Tech's D9 speakers definitely manage to catch the eye. We previously had the D11 on this list, but after diving a little bit deeper into their product line, we think the D9 does an equally good job as a slightly more wallet-friendly price.
While you do get a slightly recessed midrange, with vocals that can sound a touch muffled at times, the D9s more than make up for it by delivering stellar detail. The stereo sound stage and imaging they put out is just incredible – easily the equal of the SVS Ultras, above. That makes them the perfect option if you can't quite stretch to those speakers' $1,000 price. It would be great to see Def Tech have its own Andrew Jones moment, releasing something that really and truly makes jaws hit the floor, but this is absolutely a top five pair of speakers, and ones we were very happy to get to listen to. If you listen to music that doesn't involve tons of vocals, these could be the speakers for you.
See the Definitive Technology Demand Series D9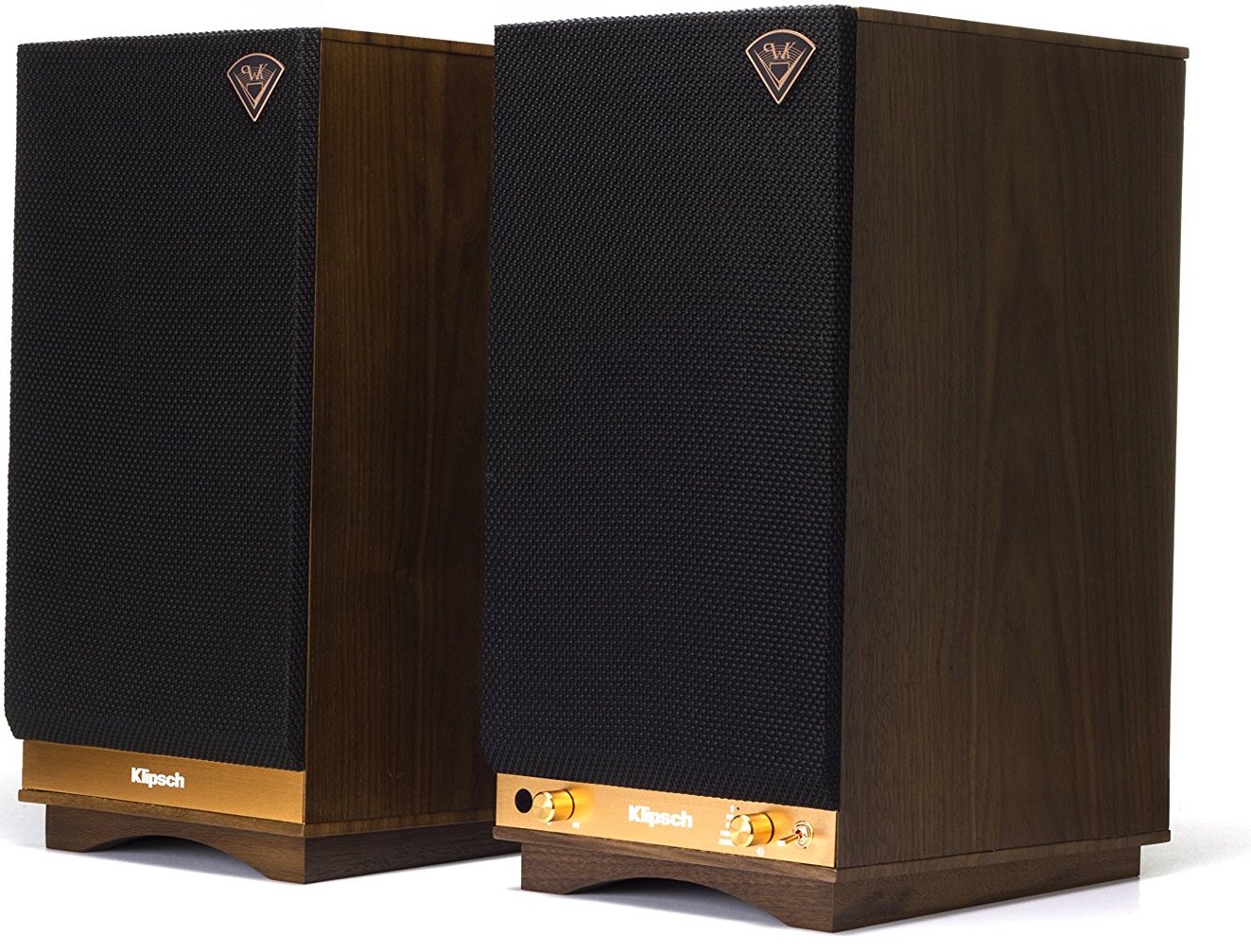 Suggested Amplifier Wattage: N/A
Impedance: N/A
Driver Sizes: 6.5" Woofer, 1" Tweeter
Sensitivity: 106dB
What We Like: Great bass, with real detail.
What We Don't: Very small sweet spot, meaning they need careful positioning.
At some point, someone in the marketing department at Klipsch must have sent a plaintive email asking the engineers not to call the speakers things like R278JHI-X V2. In our opinion, that was a good move. It means we get things like the wonderful wireless speaker The Three, and these, a powered pair of speakers known as The Sixes.
Powered bookshelf speakers are becoming more common - the Kanto, above, and Audioengine, below, work the same way. You don't need an amplifier to power these - they're quite capable of producing a decent volume, with a sensitivity of 106dB. Compare that to the similarly-priced Definitive Technology Demand Series D9, which sounds slightly better, but don't get nearly as loud, at 88dB. And while we do love elements of the sound here – the bass in particular is fantastic, delivering real detail – there are some slightly finicky elements that we didn't like. For starters, we found that the sweet spot - the listening area in which you get the best sound possible - is quite small. Stepping back to the side, even by a couple of feet, meant a noticeable reduction in sound. It was surprising to hear, and an issue we haven't encountered much before. We still like The Sixes, but because of this, they can't be our first choice.
See the Klipsch The Sixes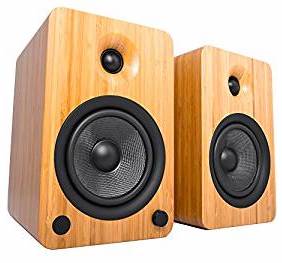 Suggested Amplifier Wattage: N/A
Impedance: N/A
Driver Sizes: 5.25" Woofer, 1" Tweeter
Sensitivity: Unknown
What We Like: Wireless performance is simple and effective, fantastic looks.
What We Don't: Sound isn't super-exciting.
A good pair of wireless bookshelf speakers is a beautiful thing – if done well. There are plenty of models out there that fail dismally, but fortunately, the Kanto YU6 are not one of them. They aren't quite as good as the amazing Fluance Ai40s, but they still rock. They are charming, easy-to-use, highly affordable, and deliver excellent sound. It feels crisp and precise, and although it perhaps doesn't have the low-end weight we would like, it still manages to impress.
You get a wide range of features, including optical inputs, a phono input for a turntable, and a subwoofer output (which definitely helps with the low-end somewhat). It also helps that the speakers are gorgeous, with a rich wooden texture and nifty design highlights. The aforementioned HD6s are a little bit more powerful, and deliver a lot more weight, but we just kept coming back to these. They are superb.
See the Kanto YU6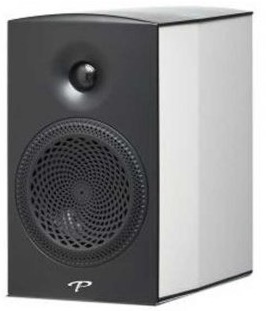 Suggested Amplifier Wattage: 15W-130W Per Channel
Impedance: 8Ω
Driver Sizes: 6.5" Woofer, 1" Tweeter
Sensitivity: 90dB
What We Like: Crazy-low distortion, even at high volumes.
What We Don't: Overall audio performance beaten out by cheaper speakers.
There's no doubt that the 200B speakers from Paradigm look fantastic. If we had an award for Best-Looking Bookshelf Speakers, it would probably be split between these and the Fluance speakers, below. With their mandala-like grille and tapering cabinet design, they catch the eye from across the room. The design helps eliminate distortion – even at high volumes, we didn't detect any crunchiness.
However – and this isn't going to please Paradigm fans – we just couldn't help but feel like we preferred other, cheaper speakers. The ELAC Debut 2.0 B6.2, for example, which cost half the price, but which we enjoyed more. Yes, there was a light touch of distortion at high volumes, but the sound felt quite a bit more energetic and dynamic. Every so often, the sound from the Paradigm speakers felt just a touch lifeless. Then again, they are easy competitors for the Klipsch and Def Tech speakers, and they definitely deserve to be on this list.
See the Paradigm Premier 200B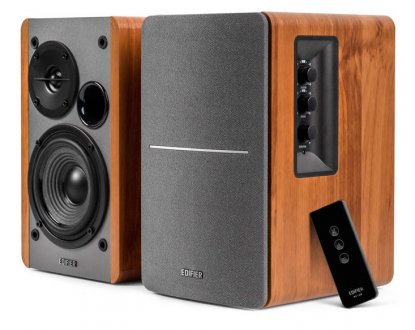 Suggested Amplifier Wattage: N/A
Impedance: N/A
Driver Sizes: 4" Woofer, 0.5" Tweeter
Sensitivity: 85dB
What We Like: One of the best powered speakers around.
What We Don't: Lacks volume and sublety.
Edifier (which we've also seen written, confusingly, as Edifer, with no second 'i') aren't regarded as a particularly high-end manufacturer – something we don't mean as a criticism. They produce excellent, affordable speakers and headphones, and in our opinion, the R1280T is one of the best they put out. It combines affordability and value with decent sound, and for smaller spaces, it is absolutely ideal.
Unlike many of the speakers on this list, the R1280T are powered set of speakers, in that each one contains its own amplifier. That makes it easy to connect up to the playback source using a simple RCA cable with no separate amplifier, similar to the Audioengine HD6 – although of course, these aren't wireless, and the audio quality of the HD6s is markedly superior. But you do get a hell of a lot for your money here, including remote, and the ability to fine-tune the sound using built-in EQ knobs. Audio quality is good, if not mind blowing. While not super-loud – the speakers max out at 21 watts per channel – the definition and detail should be more than enough to satisfy most people. If you're looking for a passive speaker set at around the same price point, try the Dayton Audio B652 Air, below. If you want the best wireless speakers, the Kanto YU6, above, will fit the bill - although they are more expensive, at $340.
See the Edifier R1280T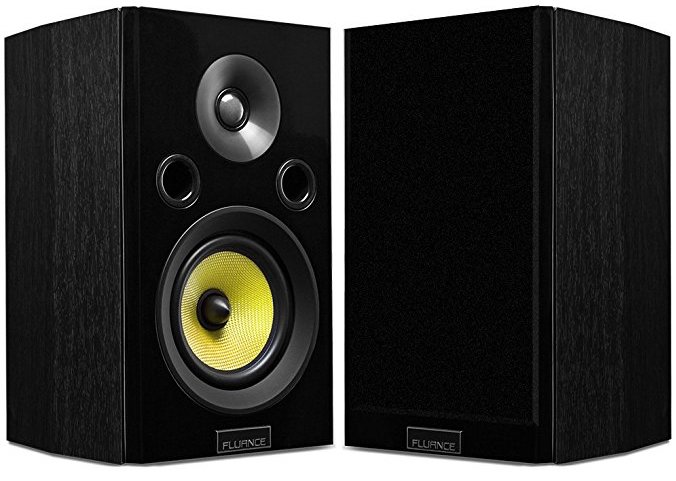 Suggested Amplifier Wattage: 30-120W Per Channel
Impedance: 8Ω
Driver Sizes: 5" Woofer 1" Tweeter
Sensitivity: 85dB
What We Like: Great looks, wide sweet spot.
What We Don't: Perhaps a little too bright.
Very few bookshelf speakers look as good as those offered by Canadian manufacturer Fluance. They also don't usually cost $200 a pair, which these do. With their black-and-yellow colorway and robust cabinets, these speakers are eye-catching and fun.
When we tested them, we did sometimes feel like the sound was overly bright – not to the point of harshness, just with a little bit too much emphasis in the high-end. It meant that they were slightly fatiguing after a few hours. In our opinion, they aren't quite as good as the Q Acoustics 3020, which retail for only a little more. That being said, they are still an excellent alternative, and if you can't find any of the speakers at the top of this list, these are absolutely worth your time. It's also worth mentioning that they have what feels like a very wide sweet spot, meaning you can position them just about anywhere in the room, and still get good sound. This makes them perfect if you are pressed for space...Read our in-depth review
See the Fluance Signature Series HiFi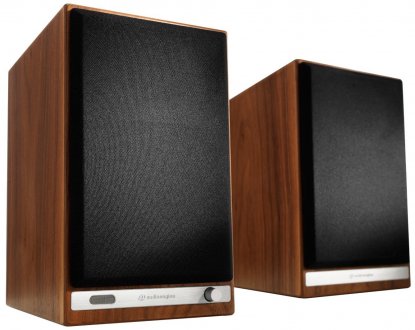 Suggested Amplifier Wattage: N/A 
Impedance: N/A
Driver Sizes: 5.5" Full Range, 1" Tweeter
Sensitivity: Unknown
What We Like: Big sound, classic looks, wireless music streaming.
What We Don't: Top frequencies slightly subdued.
Audioengine have a huge lineup of fantastic speakers, and although we still prefer the models above for clarity, you have to work quite hard to make speakers as fun as these. Audioengine describe their HD6 powered speakers as 'retro-forward' in design, and we can see that the retro element probably comes from the wood finishes. The 'forward' bit is clearly about the fact that this pair features built-in monoblock power amps (75 watts each), audio inputs (RCA, Minijack, Optical) and wireless Bluetooth streaming, which is great. In our opinion, these aren't as much fun as the Kanto YU6s, above, but they definitely offer more power, and an improved bass response.
The HD6s support the higher quality aptX audio formats, which sound more detailed. If you decide to use the HD6s with a receiver, remember that the speakers are already powered, so use the receiver's RCA outputs. Of course, the Audioengines can also be connected to your receiver via their digital connection for an even better audio quality.
See the Audioengine HD6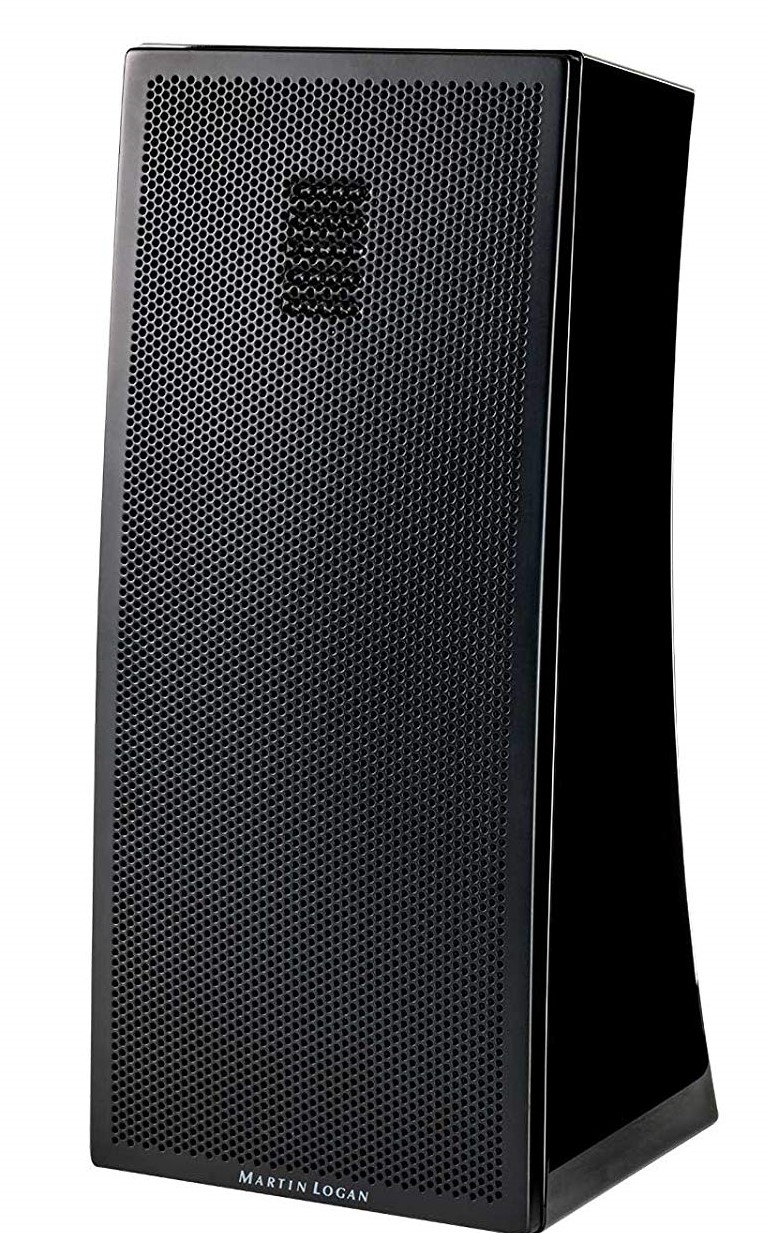 Suggested Amplifier Wattage: 20W-150W Per Channel
Impedance: 4Ω
Driver Sizes: 4" Full Range, 1" x 1.4" Tweeter
Sensitivity: 90dB
What We Like: Sleek design, unique tech.
What We Don't: Only one connection option, doesn't offer the same value as others.
We previously had the MartinLogan Motion 35s on this list, for their stellar quality, superb design, but couldn't shake the feeling that they were much too expensive. For less than half the price, and twice the value, we've brought you the MartinLogan Motion 4i speakers. These speakers not only look sleek, but sound great, making a name for themselves by replicating the ultra-high-end electrostatic drivers found in more expensive models. MartinLogan has done this by creating something called a Folded Motion Transducer... We won't get into the detail on how exactly these drivers work - it's a lot of math and engineering gibberish - but what we can say is that these bookshelf speakers will give life to your tracks, adding a level of brightness and color that you wouldn't get from a regular dynamic driver. The sweet spot is also expanded, allowing your sound to fill any space.
While these speakers are quite impressive, they still won't be able to beat the value of something like the Kanto YU6 wireless speakers above. For $100 less, you get a gorgeous bamboo wood design, wireless capabilities, and a range of inputs that leaves options limitless. In comparison to the Kanto YU6, the Motion 4i speakers are quite daunting, only offering wired banana plug connections to their source. If you're looking for a great sounding pair of bookshelf speakers to mount to your wall or give life to your theater setup, these are a great and affordable option. But if you're looking for something with a little more versatility and ease-of-use, go for a wireless option on this list.
See the MartinLogan Motion 4i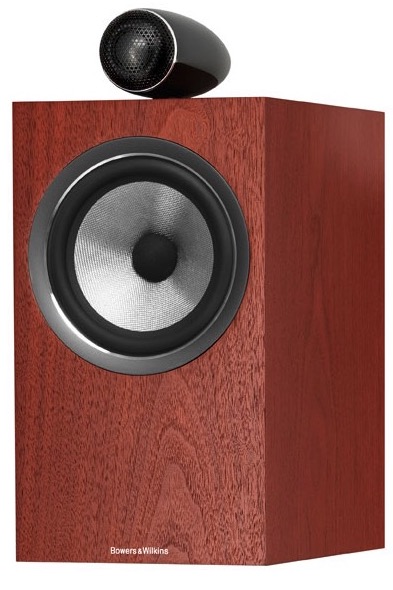 Suggested Amplifier Wattage: 30W-120W Per Channel
Impedance: 8Ω
Driver Sizes: 6.5" Full Range, 1" Tweeter
Sensitivity: 88dB
What We Like: Magnificent audio quality, impeccable design.
What We Don't: Simply too expensive for most people.
Here's the issue we have with speakers from Bowers & Wilkins. They make some of the best in the world – that's absolutely beyond dispute. But for most people, they are simply too expensive. And, given that you require one mother of an amplifier to get the best out of them, it's hard for us to rank them highly. They just don't offer the value-for-money that KEF and SVS do.But oh, boy: if you can afford these, you'll be in for one of the best audio experiences around. The main reason the sound is so good is actually quite surprising. For the first time - as far as we know - B&W aren't using Kevlar drivers. Instead, they're using a metallic weave with a core made of foam, that they say is lighter and translates to better sound. They're definitely correct there, because the overall audio quality here is magnificent. Spines will tingle, jaws will drop - bank balances, too. Then again, wouldn't you want a pair of speakers as good-looking as these in your living room? Thought so.
See the Bowers & Wilkins 705 S2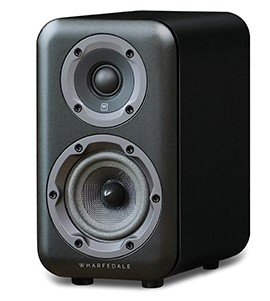 Suggested Amplifier Wattage: 25W-100W
Impedance: 4Ω
Driver Sizes: 1" Tweeter, 5" Full Range
Sensitivity: 87dB
What We Like: Built well, affordable, wood color option if available.
What We Don't: Average performance, less connection options than others.
If we had a choice, we probably wouldn't pick the Wharfedale D230 over the more sonically-accurate ELACs - even at $50 less cost. But that doesn't mean they're bad, just not quite on the same level - which is a similar conclusion we had for the previously listed Diamond 220s. This British brand does make some truly magnificent products, and while the models we've listed haven't made the top ten, they are still an excellent alternative in this particular price range. At $250 for a pair (dependent on availability) you'd be crazy not to get them if they pop up. We currently can't find them on Amazon, but you can search for other retailers through the site we've linked.
When we listened to them, we appreciated the dynamics and the tightness of the sound overall. The D320s possess a level of detail that was impressive, but there's nothing overly exciting about the sound. Within the price-range, we see a decent amount of competition, which leaves these sitting somewhere near the end of our list. They are still a great buy, but they can't seem to push past other models on this list. If they could offer better connection options, like Bluetooth or Wi-Fi, we might me more inclined to give them a better spot. If you're looking for a decent pair of budget speakers and don't need the versatility of models like the Kanto YU6, then these could be a great option for you.
See the Wharfedale D230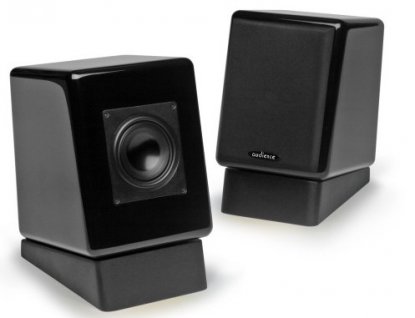 Suggested Amplifier Wattage: 50W Per Channel
Impedance: 8Ω
Driver Sizes: 3" Full-Range, 3.5" Radiator
Sensitivity: 84dB
What We Like: An unusual and effective choice.
What We Don't: Not enough of an upgrade to justify the cost.
This is the connoisseur's choice. Audience are an indie company that produce fun and thought-provoking speakers. The One V3 may have a slightly idiosyncratic name and design, but it's definitely a viable choice if you're tired of the bigger names in audio, and want to try something different.
The newer V3 possesses an upgraded voice coil, giving it even better sound than its predecessors. They offer a slightly unusual driver design, with a 3" full-range driver on the front and a 3.5" rear radiator, meaning you need careful positioning to get the best out of them. You'll also definitely need a subwoofer to fill out the lower frequencies. But if you manage to leap these particular hurdles, you'll be rewarded with some absolutely exquisite sound, easily comparable to them KEF R3s. However, we do have an issue with the price. It's a little bit too much for what you get. While we do like the fact that Audience offer an upgrade programme if you own the V2 or V2+, which is only $300, it just doesn't feel worth it.
See the Audience The One V3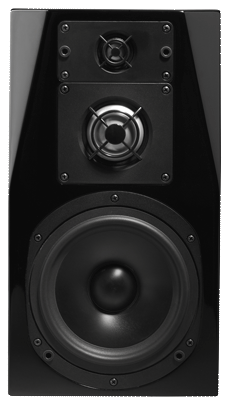 Suggested Amplifier Wattage: 50-150W Per Channel
Impedance: 6Ω
Driver Sizes: 6.5" Woofer, 2" Midrange, 1" Tweeter
Sensitivity: 87dB
What We Like: Great sound, still popular after 10 years.
What We Don't: Quite old now, boring design.
Why are we including a speaker on the list that is over a decade old? Because the C3 is still among the best speakers available, and one of the best sellers. NHT make a whole range of speakers, both floorstanding and bookshelf, and this is by far and away still their best design, one that has hardly changed since its inception, and one which still competes quite happily with the SVSs of the world. In that way, it's a bit like the Sennheiser HD600 headphones: variations may be released over the years, but you are never going to touch the original.
That being said, it certainly looks like it came from 2005. The speaker design is angular and boxy, with only slightly concave upper edges to indicate any sort of flair. The sound, however, is pure magic. Paired with a good amplifier – one that delivers over 50 watts of power at 6 ohms – it can create genuine jaw-drop moments as your music unfolds itself. It's one of the better-sounding models on this list, and we'd argue that it's definitely worth a place here. Be warned: they don't sell pairs on Amazon, so you'll need to buy two of them.
See the NHT C3
 
New Bookshelf Speakers Coming Soon
JBL recently announced a new line of speakers, the Stage range, which include the A120 and 130 bookshelf variants. At between $200 and $300 a pair, depending on which one you pick, we think these speakers will handily compete with ELAC and Q Acoustics for the budget crown. On the other hand, we've had some issues with JBL audio gear in the past - we've always found the sound quality to be as subtle as an axe to the face. Here's hoping that changes!
A product we'd like to see on this side of the pond? The excellent Fyne Audio F300 bookshelf speakers. We've heard them already, and they sound phenomenal, with pinpoint detail and outstanding dynamics. They retail for around $250 - or will, if they ever make it across the Atlantic from the UK. Here's hoping that the next few months bring good news...
 
Bookshelf Speaker Comparison Table
| Speaker | Price | SAW* | Imp.** | Driver Sizes | Sensitivity | Weight*** |
| --- | --- | --- | --- | --- | --- | --- |
| SVS Ultra | $999 | 20W-150W | 8Ω | 1 x 6.5", 1 x 1"  | 87dB | 19lbs |
| ELAC Debut 2.0 B6.2 | $300 | 30W-120W | 6Ω | 1 x 6.5", 1 x 1" | 87dB | 16.3lbs |
| Dynaudio Special 40 | $2,999 | Up to 200W | 6Ω | 6.7" x 1, 1" x 1 | 86dB | 17.9lbs |
| Q Acoustics 3020 | $250 | 25-75W | 6Ω | 1 x 5", 1 x 1" | 88dB | 10.1lbs |
| Fluance Ai40 | $200 | N/A | N/A | 1 x 5", 1 x 1" | Unknown | 15.1lbs |
| KEF R3 | $2,000 | 15-180W | 8Ω | 1 x 6.5", 1 x 5", 1x 1" | 87dB | 13lbs |
| Def. Tech. D9 | $750 | 20W-150W | 8Ω | 5.25" x 1, 1" x 1 | 88dB | 15lbs |
| Klipsch The Sixes | $799 | N/A | N/A | 6.5" x 1, 1" x 1 | 106dB | 17.7lbs |
| Kanto YU6 | $400 | N/A | N/A | 1 x 5.25", 1 x 1" | Unknown | 9.4lbs |
| Paradigm Premier 200B | $900 | 15-130W | 8Ω | 1 x 6.5", 1 x 1" | 90dB | 18lbs |
| Edifier R1280T | $130 | N/A | N/A | 1 x 4", 1 x 0.5" | 85dB | 10.8lbs |
| Fluance Signature Series | $200 | 30-120W | 8Ω | 1 x 5", 1 x 1" | 85dB | 9.7lbs |
| Audioengine HD6 | $699 | N/A | N/A | 1 x 5.5", 1 x 1"  | Unknown | 37.9lbs |
| MartinLogan Motion 4i | $424 | 20W-150W | 4Ω | 4", 1" x 1.4" | 90dB | 10lbs |
| Bowers & Wilkins 705 S2 | $2,500 | 30W-120W | 8Ω | 6.5" x 1, 1" x 1 | 88dB | 20.5lbs |
| Wharfedale D230 | $250 | 25W-100W | 4Ω | 5", 1" | 87dB | 13.23lbs |
| Audience The One V3 | $1,695 | 50W | 8Ω | 1 x 3", 1 x 3.5" | 84dB | 10.8lbs |
| NHT C3 | $634 | 50W-150W | 6Ω | 1 x 6.5", 1 x 2", 1 x 1" | 87dB | 16lbs |
*SAW = Suggested Amplifier Wattage
**Imp. = Impedance
*** Each
Want Even More Master Switch? Sign Up For Our Weekly Newsletter!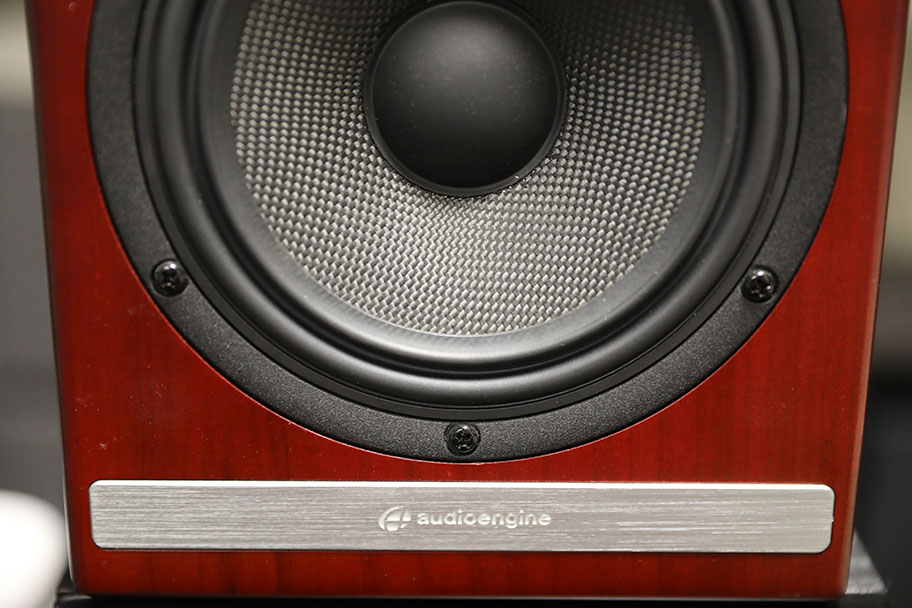 Bookshelf Speaker Buying Advice

What Are Bookshelf Speakers?
Prior to the 1960's, home audio entertainment was mostly in the shape of integrated radio or record player units sporting built-in amps and speakers. Standalone 'high fidelity' speakers were, at the time, pretty much floorstanding models – huge, bulky and very expensive. Bookshelf speakers are different. They are designed to be used as part of a discrete audio system. You shouldn't be connecting them to your surround sound system - although, you probably could with a little tinkering. Instead, what you're doing is pairing them with an amplifier, or a dedicated player, in order to create a single, self-contained system. Hence the use of the word bookshelf; they're meant to be off on their own, away from everything else. Typically, they are easy to spot. They're big, boxy, and usually have one small driver (the tweeter) and one big driver (the woofer). You can usually cover these with a mesh grille, which makes them a little easier on the eye.
This was until bookshelf speakers were invented and popularized by Edgar Villchur at Acoustic Research, and their name came about from the speaker enclosures' size – they were big enough to live on a bookshelf and yet reproduce a full range of frequencies, often matching the frequency response of larger floorstanding units. It's easier said than than done to manage such a trick – up to that point in time, smaller speakers were famed for their thin and brittle sound that couldn't match the sonic oomph of ported - also known as bass-reflex - floorstanding speaker designs.
The invention of air suspension - also known as acoustic suspension - speaker enclosures was the real game changer. Instead of using ported design, the boffins at Acoustic Research came up with a sealed cabinet design. Those being nearly airtight, helped the air inside the cabinet act as a sort of a cushion, or even a spring behind the woofer, aiding its retraction. This significantly reduced excursion of the bass woofer and delivered a tighter, richer and more controlled sounding bass, and in turn that gave bookshelf speakers the much flatter frequency response they are famed for. They certainly sounded awesome. So, the name bookshelf speakers stuck around and countless music lovers living in small apartments created a huge demand for this compact speaker format – a trend continuing until today. The key thing to remember is there's a subtle difference between bookshelf speakers and computer speakers. Bookshelf speakers are more geared towards hi-fi sound - in other words, with separate amps and subwoofers. Computer speakers, or desktop speakers, are more likely to be made for use with computers and laptops, despite the similar size and design.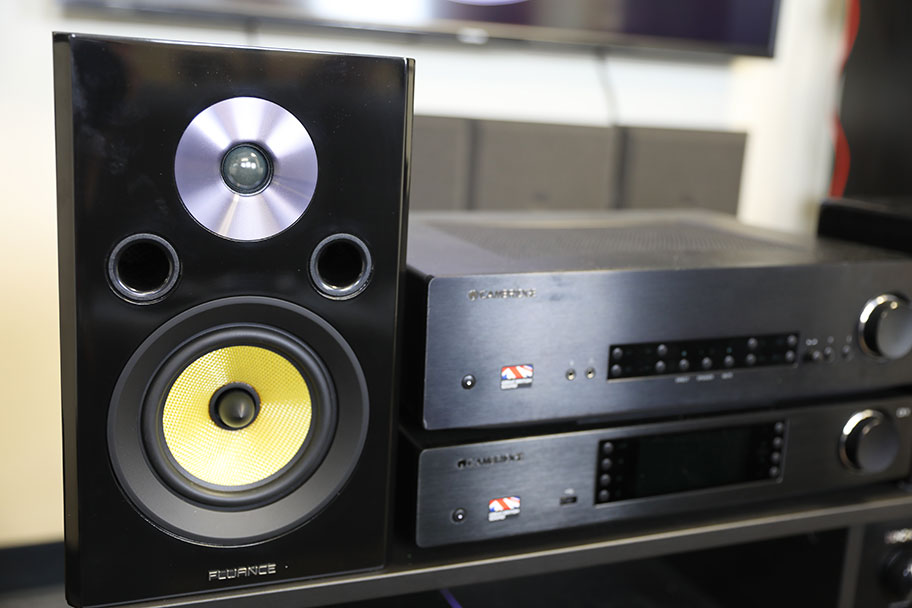 Wired vs. Wireless Speakers
If you haven't read our in-depth explainer on wired vs. wireless speakers, here are the Cole's Notes:
With the ever-growing world of wireless technology, it's archaic to believe that a wireless speaker will never sound as good as its analog source. Some of the wireless speakers on this list - the Audioengine HD6, for example - have a powerful sound that could have us convinced they were wired. We even have many examples of high-end wireless speakers, complete with aptX Bluetooth - the leading Bluetooth technology at the moment - which cost thousands of dollars and could knock any of these out of the park. Many wireless speakers are fully capable of producing a sound that you will love, and bookshelf speakers are no exception. Wired or not, you can get a great sound out of your bookshelf speakers, and shouldn't correlate wireless with lesser-quality.
The greatest advantage to having wireless speakers is lack of clutter. If you've ever tried to set up a 5.1 system, you certainly understand where we're coming from. While wireless bookshelf speakers aren't usually truly wireless - they often require a cable to connect the right and left channel - they seriously reduce the amount of cabling running across your desk, or below. Another serious advantage to wireless speakers is not having to plug into them via an analog input. Wireless speakers are equipped with Bluetooth or Wi-Fi (sometimes both), meaning you can pair to them via your smart phone or laptop. We found this very handy during our office testing, making switching between multiple sources effortless. In cases like the Fluance Ai40, they were perfect for boosting our laptop sound, and creating a wide soundstage that could have seriously had us fooled. Now, those speakers are worth their value!
 
Passive vs. Active Speakers
Bookshelf speakers are traditionally Passive, meaning that they need to be powered by an external amplifier. A classic hi-fi component system featuring bookshelf speakers would normally consist of your source media players (CD, MP3, DVD, BluRay, etc) connected to a receiver/power amp which itself feeds the speakers in stereo (one channel per speaker). Increasingly, you might run all their media off a PC or laptop. If this is the case, instead of a full receiver, you might opt for a simple stereo amp (receiving audio directly from your computer's soundcard) to power your pair of bookshelf speakers.
Active (self-powered) bookshelf speakers are becoming increasingly popular too. In this case, each will have its own built-in power amps (two actually, one for the woofer, one for the tweeter), and all they need is an audio feed - a mini-jack from your smartphone or a tablet, or if you are using an A/V receiver, the main Line Out  (normally RCA) connected directly to the powered speakers' input. Perfect example: the Audioengine HD6, one of the few active speakers on this list. No amp matching needed here. Note: you really don't want to connect power amp outs (from a receiver) to active speakers! Things may get a little…smoky.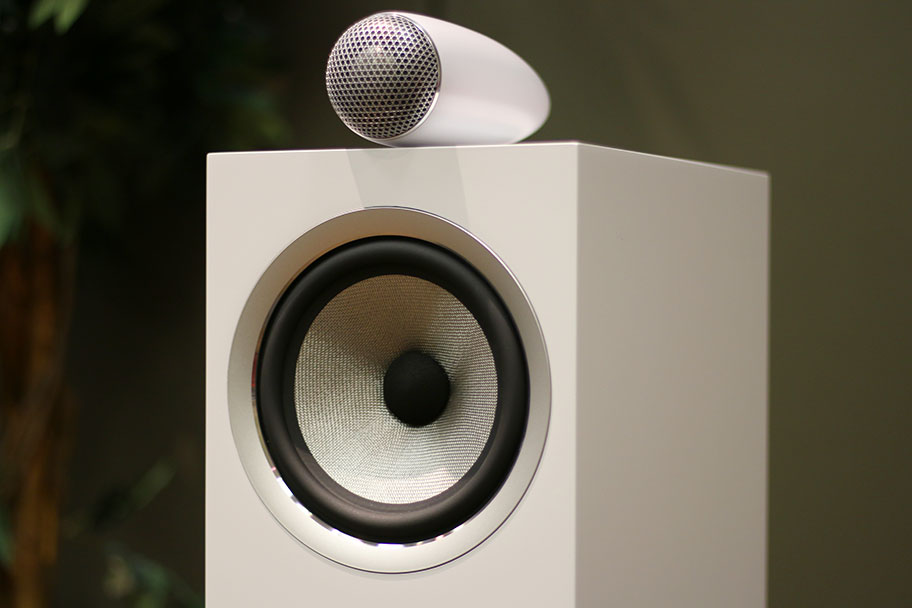 Impedance and Wattage: How to Match Amps and Speakers
You might be a little confused with the wattage/impedance/sensitivity figures in the table above - that's the suggested amplifier wattage thing. Not to worry - we've got an entire explainer on those specs here. Here's a shorter version, if you don't want to click through.
Wattage is important – and that's before you've even bought your bookshelf speakers. We'll ignore active pairs here – they are all internally matched, wattage-wise. Things may get a little less clear-cut when matching passive speakers to an external amp, as you'd ideally have to know whether they are compatible. Fortunately, the first part of that is easy. Let's take the ELAC Debut 2.0 B6.2, which have a suggested amplifier wattage of between 30 and 120 watts per channel. That means that all you need to do is find an amplifier that puts out a wattage in that range, and you'll be good to go.
A common problem when (mis)matching speakers to an amp is when the amp is too powerful for your speakers – when this is the case you will find your optimum volume level on the amp dial reduced. You will find that turning the volume higher than a certain level (say halfway) results in a flabby, tearing sound known as speaker distortion. Prolonged playback in such conditions may result in blown drivers. The other way round is equally problematic – when an amp is too under-powered for your speakers. This scenario normally involves the amp clipping and going into the 'red' as it struggles to deliver the wattage - if you keep pushing it, it would just go 'boom'.
Impedance is something you also need to pay attention to. You'd need to make sure that your amp or A/V receiver has an equal or lower impedance figure than that of the speakers. Here's a good place to note that amps utilize their full potential wattage at their lowest impedance. For instance, if an amp is rated at 100 watts at four ohms, the rule goes that when the amp is working at eight ohms (powering a pair of eight ohm speakers like the Bowers & Wilkins 705 S2), it can only deliver half the wattage of its four ohm potential – which in this case would be 50 watts. This might sound too much like a math lesson, but many people use this rule to their advantage – to get the amp's full power working, they simply would add another pair of eight ohm speakers, as the combined impedance of the four eight ohm speakers to four ohms, thus matching the amp's impedance figure!
 
Sensitivity Explained
This is a measure, quite simply, of how loud a pair of speakers will go at a given volume. Really, that's all there is to it. Measured in decibels, sensitivity (sometimes referred to as efficiency) is a good way of working out the volume that a pair of speakers can deliver. It's measured in decibels, and as the amount of sound produced when a certain amount of power is put into the speakers – usually one milliwatt.
Using these, you can compare different speakers and see how they measure up in terms of loudness. A speaker with a lower sensitivity may struggle to fill anything beyond a small room, whereas one with a higher sensitivity – such as the 96dB MartinLogan Motion 35 – Will put out significant volume for the same amount of power, making them ideal for large rooms.  However: be careful of putting too much emphasis on sensitivity. Although almost all manufacturers listed, what they don't do is list the amount of power they are applying. This is an standardised across the industry, so there are variances between manufacturers. If you're choosing a pair of speakers based on sensitivity, keep this in mind. The specs can be fudged.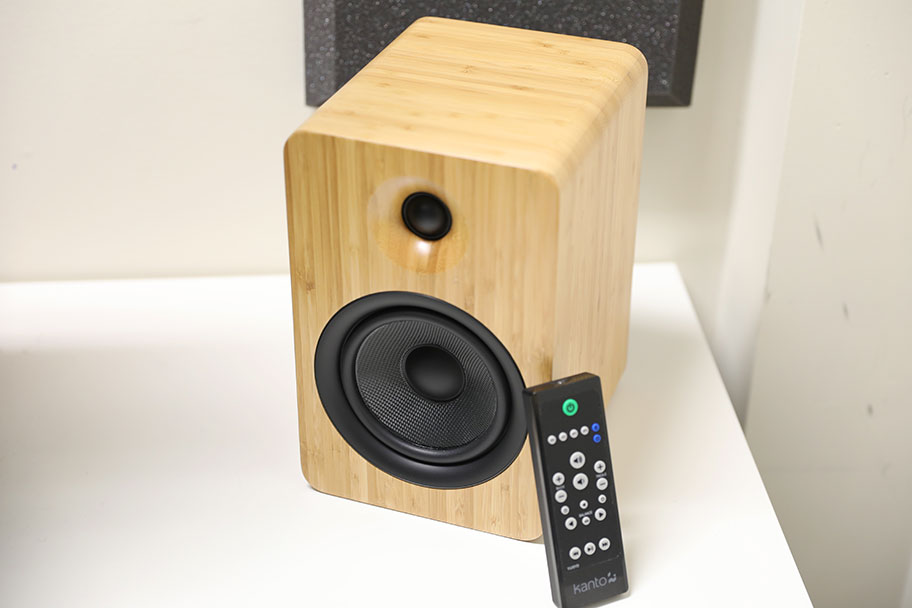 Speaker Connections Explained
We're assuming that you already have an amplifier - and of course, a media source such as a laptop or a wireless streamer. What you need to look for to get them connected to your amp are the binding posts on the rear of the speakers, which are normally red and black rotaries that can be screwed up and down. Occasionally, they'll take the form of little squares you can insert wires into, labelled plus/minus.
Next up, buy some speaker wire - this is relatively cheap. If you are wondering what to choose, you should normally go for a 16-gauge, which is perfect for regular bookshelf speaker impedance (the majority is rated at 8 ohms). If you're going to be positioning things over 50 feet away, you might be better off with a ticker wire at 12 or 14 gauge, which is also recommended for speakers of 4 or 6 ohms. Once you cut off a decent length of wire, use a boxcutter to strip the insulation off either end. You should be left with a short length of copper wire, which you should twist into a tight coil. You can then insert this into the binding posts on either end, separating speakers right and left, and being sure to screw red into red and black into black. Please take care doing this - and make sure the amplifier is unplugged. If you don't, things might not work right at best, or go bang at worst. This system works for the bookshelf speaker model type known as passive – they don't have amplifiers or internal power included, and so need to draw their power from an external amp.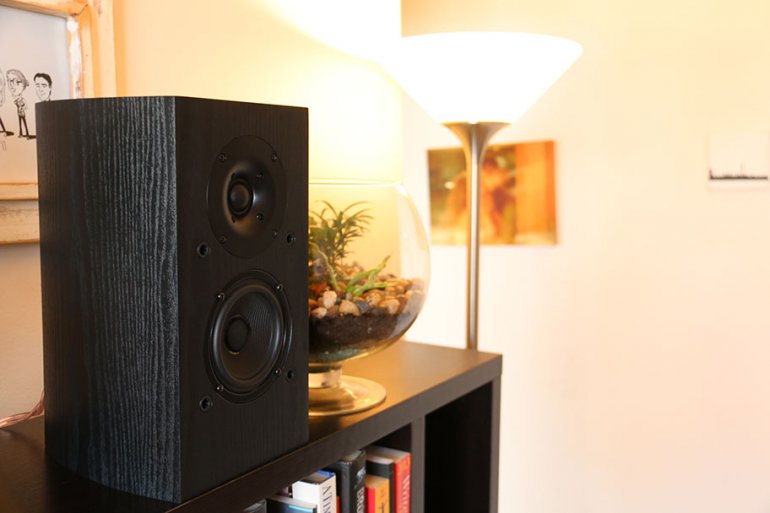 Bookshelf Speakers vs. 2.1
Bookshelf speakers are famed for their flat response – they are quite fair to the music content (as intended by the music producer), reproducing the recorded material 'as it is' and  not 'blanketing' the audio with their own specific character. That said, they are universally small- to medium-sized (with the exception of things like the Magico Q1, which are insane-to-ridiculous-sized, and cost $25,000 - small wonder they aren't on our list!). Their sealed design and internal woofers can only manage certain bass frequencies.
Adding a subwoofer makes a bookshelf speaker speaker into a 2.1 system and everything starts to sound seriously impressive, as the crucial mid and upper frequency detail is backed up by a fully extended low bass. How do you add a sub to a pair of bookshelf speakers? Let us start by saying that most subwoofers are self powered. You don't need separate amplification for them. Adding a subwoofer is therefore really straightforward if you are using a receiver, as most current models have a dedicated and clearly-labeled subwoofer audio output. Just connect to the sub, turn up the level (at the back of the sub) to your liking and you're set. Things may get a bit blurry if you aren't using a receiver. Say you're running just a stereo power amp. How would you patch that sub in this more spartan approach? Quite simple, really. Subs come with audio inputs and outputs, so the approach here is to plug your source into the subwoofer first and feed the audio outs from the sub into your amp's inputs (or powered bookshelf speakers audio ins). 
 
Bookshelf Speakers vs. Surround Sound
These two setups work well together. There's nothing to say you can't incorporate your bookshelf speakers into a multi-speaker 5.1 or 7.1 setup. You would, of course, need a capable surround A/V receiver with ideally enough power to match your speakers. As always, it's OK (and sometimes even recommended) if your amp/receiver has a little more wattage than your speakers. Each speaker needs to connect to its own power outlet (black to black, red to red, as explained above). The only catch is that most bookshelf speakers are sold in pairs – for a classic 5.1 setup, you might have to buy three pairs and a sub, and leave one speaker in storage. Or just make it a novelty coffee table ornament. We don't know. Whatever. If you decide to go this route, then we suggest you use the bookshelf speakers as your front left and front right speakers in the surround setup.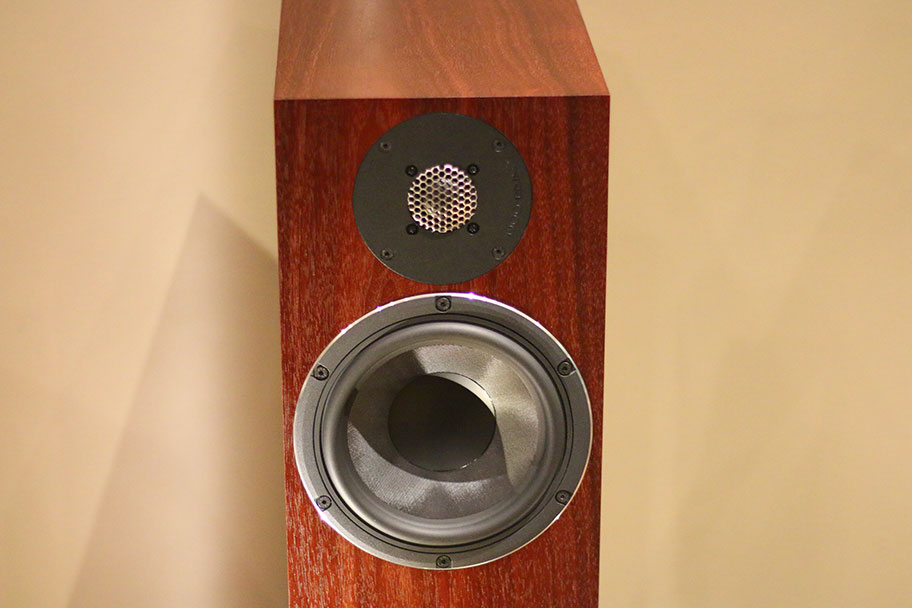 Bookshelf Speaker Placement Explained
More often than not, bookshelf models are aimed at a particular sweet spot – it may be your seat in front of your computer, or the sofa. Manufacturers strive to optimize this sweet spot, and some models are naturally better at this than others. What you could do to improve your listening experience, though, is to try and level your speakers so the tweeters are at the same level as your ears. The best listening spots are roughly where you form a triangle with the speakers, and they are at an equal distance from your left and right ear. You may need to experiment; some speakers, like the Klipsch The Sixes, need a little bit more fine tuning to get the best out of them.
Speaking of 'tuning', as noted in our list, some cheaper models may have issues with frequency 'holes' or even worse: over-emphasized frequencies. Most receivers have very capable EQ processors built in, or even self-calibrating frequency modes. These can really do wonders and can 'cure' such little imperfections. Bookshelf speakers used in surround modes, would have to be placed in the now established traditional way – front center, front left and right, rear left and right and so on, depending on the size of the format – 5.1, 7.1 etc.
 
Speaker Stands Explained
Not surprisingly, many hi-fi stores demo their products on speaker stands. These improve the stereo imaging and the frequency response. At The Master Switch, we use Sanus stands to mount our speakers; they are both practical and affordable, and isolate well.
The opposite scenario - of placing your brand new pair on a large oak table, for instance - might make things sounding quite boomy, as furniture tends to vibrate with the music, enhancing certain frequencies. Speaker wall brackets are another good option – they can be a little more discreet, though not invisible. If these choices spoil the vibe and the look of your music room, they'll at least make the music sound a tiny bit better!
Back To Our Bookshelf Speaker Picks Back To Our Comparison Table
Learn More About Hi-Fi Audio