5.1-channel surround audio has been around for two decades now, and it's become the benchmark for home theater sound, offering a far more immersive audio perception than regular two-channel stereo. The format's popularity has gotten bigger and bigger, and kitting out your home entertainment with a 5.1 setup nowadays is dead-easy. If you're planning to jump on the 5.1 o'clock train, check this out - we've rounded up the most exciting home theater systems for this year. 
 
How We Choose:
This isn't about just shoving the most expensive speakers and receivers into a list. It's about pairing - about finding the combos that work well together. Obviously, price is an indicator of quality, but we also take into account sound quality, value, build quality and easy-of-use. The brands featured in our quest for pointing you to the best 5.1 surround systems are all well-known, with decades of experience in the field of home theater. 
We've gone for complete 5.1 speaker systems (as opposed to individual components), and in most cases, we've suggested a great receiver to pair. Our picks start with the top of the premium range where you can expect the very best quality and features. Our mid-level favorites are particularly tasty, with lots of savvy features, modern specs and audio performance rivalling that of many top-dollar systems. We've also picked a few cool ready-in-the-box systems at around $400 and all the way down to $89, as they are a hassle-free way to get into surround sound. If the products at the bottom of our list may not be the loudest or smartest kids on the block, they still do the job with aplomb. 
 
Our 5.1 Home Theater Picks: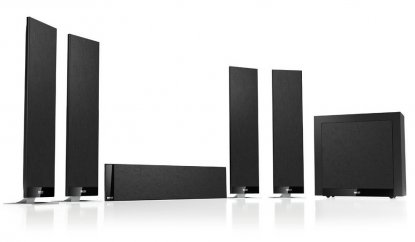 Recommended Amp Power: 10-150W/8Ω
Low Freq: 30Hz
High Freq: 30kHz
What We Like: Superlative pairing, excellent sound quality and design.
What We Don't: The receiver pairs really well with the speakers, but isn't the best available.
It's not the most expensive pairing on this list…but if you're looking for an ideal combination will give you near-perfect 5.1 sound. KEF have a serious presence in the home theater product roundups on the site, and with good reason: their speakers are absolutely superb. The 305 is their flagship 5.1 system, and offers a mix of T301 and T101 satellites (which are much taller than traditional satellite speakers) as well as a phenomenal T-2 sub .
You could argue that the RX-A870 receiver isn't the best receiver currently available - a model from Denon called the AVR-S730H probably takes that crown. But as we said, it's about pairing, and the RX-A870 works very, very well with the KEF T305. The receiver is a monster, with great design and functionality, and sound that you absolutely have to hear. To our mind, this combination is one of the most attractive home theater systems around, and easily tops a list filled with good picks.
See the KEF T305  
See the Yamaha RX-A870 Aventage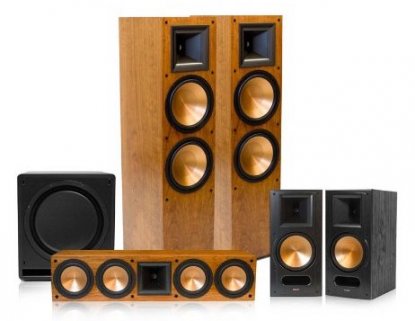 Recommended Amp Power: 250W/8Ω
Low Freq: 20Hz
High Freq: 24kHz
What We Like: A killer combo, with legendary speakers.
What We Don't: Very expensive. And don't push it super-loud!
Usually, matching a set of speakers with a recommended amplifier power of 250 watts into 8Ω with a slightly underpowered receiver is a bad idea. Fortunately, the RF-7II have an exceptionally high sensitivity (101 dB from 1 miliwatt), which means you don't need a ton of power to drive them. As long as you're not pushing them to the max (which would cause significant hearing damage anyway) you'll enjoy some of the best audio out there. Kilpsch's 5.1 package comes with two RF-7 II floorstanding speakers, an RC-64 II center channel, two RB-81 II bookshelf speakers, and a very decent Klipsch sub. The company may be on the verge of replacing the floorstanding speakers with a newer model, but at time of writing, it's not out yet – and even if it was, this 5.1 system would still be a fantastic buy.
We also like the sound quality you get from pairing it with the Onkyo TX-RZ1100, a very capable receiver that offers a wealth of great features, including multiple surround sound codecs that include various Dolby and DTS versions. The TX-RZ1100 is also future-proof, being able to run up to 9.2 surround - all you need to do is purchase additional speakers. 
See the Klipsch RF-7 II Reference Series 5.1
See the Onkyo TX-RZ1100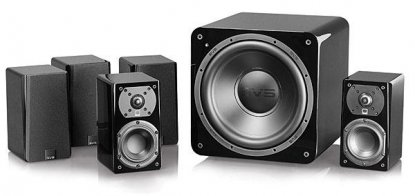 Recommended Amp Power: 20-150W/8Ω
Low Freq: 20Hz
High Freq: 25kHz
What We Like: Reference grade performance, great clarity, lots of features.
What We Don't: Not as stylish as other speakers.
SVS speakers come in all shapes and sizes and without exception, all of their models sound impressive, whether they are used for music appreciation, or movie marathons. The SVS Prime 5.1 speaker package is a great example of the traditional bookshelf reference speaker format, using the Prime Satellites (times five) and the super-clean sounding SB–1000 Subwoofer. Having these in your front room will be like an announcement that you like your audio. They don't blend that well in stylish, futuristic interiors and instead will stand like small soldiers waiting eagerly to do their duty - in three words: killer audio playback. The operative word here is clean audio - even the fat bass coming out of the subwoofer has bags of clarity. Incredible detail throughout the frequency bands and overall, because of it, the channel separation is one of the best we've heard for the money.
These are powered by a great A/V receiver - the Sony STR-ZA3100ES. As often is the case, our 5.1 system recommendations feature a slightly over-specced receiver on account of possible future upgrades or setting up multi-zone setups (like a 5.1 system in your hall and a 2.1 in your kitchen, all powered by the same receiver - yes, that is a thing, and it's killer). The Sony STR is a 7.2 channel monster allowing for precisely that. Apart from the usual appointments expected from a flagship A/V receiver - 4K capability, Dolby Atmos, DTS-X codecs and numerous wireless features - this receiver really stands out with its audiophile-grade audio performance on account of its exemplary digital to analog conversion quality. We could really hear deep within the mixes, and of course the SVS speakers are the perfect speaker platform to portray that.
See the SVS Prime 5.1 Speaker System
See the Sony STR-ZA3100ES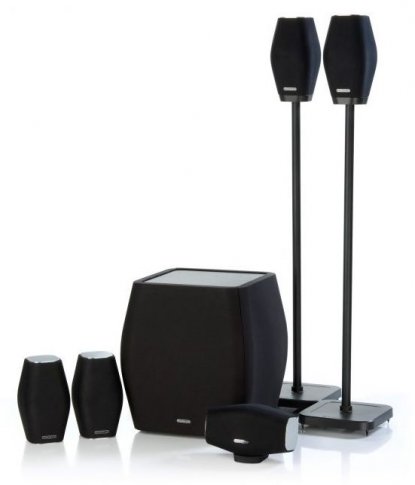 Recommended Amp Power: Unknown
Low Freq: 30Hz
High Freq: 30kHz
What We Like: Excellent, affordable sound with huge value-for-money.
What We Don't: Won't satisfy serious audiophiles.
We think this combination offers some of the best value for money on the market. While we don't think that the audio quality is going to absolutely blow the minds of hard-core audiophiles, and you could argue that a 7.2-channel receiver is overkill, we think the sound of these two together is worth it. It's rich, deep and complex, and we believe it's one of the best combos around - even if it's not quite as refined as the KEF/Cambridge combo at the top of the list, which is a clear winner
The Mass is a 5.1 system (there are 5.0 versions available for a little less on Amazon if you already own a subwoofer) that can quite happily be expanded with satellite speakers later on, and this version of Integra's DRX series is the perfect receiver to pair with it. Not just in terms of audio quality, but in terms of the sheer number of bells and whistles it comes with. Put simply, if you want to connect something to the receiver, the chances are excellent that you will be able to. It doesn't quite have the oomph of the Cambridge Audio model, above, but it's a monster nonetheless.
See the Monitor Audio Mass
See the Integra DRX-4
Recommended Amp Power: Unknown
Low Freq: 16Hz
High Freq: 40kHz
What We Like: Fantastic alternative to the more expensive models above.
What We Don't: Receiver feels a little dated, you'll need to buy a subwoofer.
We are always puzzled at those who sneer at so-called HTIBs (Home-Theater-In-A-Box). Sure, you don't get the pleasure – and bills – of selecting individual components, but what you do get is a perfectly-matched collection of speakers and amplifier that will offer terrific sound with minimal effort, and is absolutely ideal for those looking to get started in surround sound
This particular combination matches a great (if slightly older) Onkyo receiver with a wealth of features, including Dolby Atmos and DTS:X if you wish to upgrade at a later date, with a magnificent set of speakers from the always-solid Definitive Technology. The BP9080X set delivers not only pinpoint sound, but also some superlative design. In addition: this is technically a 5.0 system, rather than a 5.1, so you could argue the belongs on a different list. We say: our list, our rules, and this combination is too good to ignore. Besides, adding an extra subwoofer is no hardship.
See the Definitive Technology BP9080X / Onkyo TX-RZ1100 Package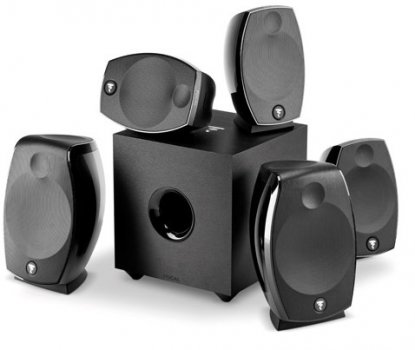 Recommended Amp Power: 25-200/6Ω
Low Freq: 30Hz
High Freq: 20kHz
What We Like: Industry-standard surround performance, stylish looks.
What We Don't: Won't entirely satisfy true Dolby obsessives.
The original Focal Sib Evo speakers immediately elevated themselves at the forefront of home theater audio with their launch back in 2002. The Sib EVO Atmos are the updated version, and Focal have really managed to improve the spread and the bass response. As the name suggests, the new Sib Evos have been designed with Dolby Atmos specs in mind and for those unfamiliar with the Atmos codec, the concept involves around a conventional speaker design having an additional top-shooting driver aiding vertical sound movement. This perhaps is not strictly speaking a 5.1 setup, as the additional two top-shooting channels up the channel count. Dolby aficionados may want to invest in dedicated height speakers, but for the rest of us, these will do just fine.
Setup is really simple. Both front speakers have an extra pair of speaker wire terminals, and those link to the receiver speaker outs designated for Atmos duties (where applicable). The receiver in question is the very capable Denon AVRX3400H which among its numerous talents includes the Dolby Atmos codec. Allowing for full automatic color calibration, multi-room wireless capabilities (thanks to Denon's HEOS app), high-res audio support and Apple iOS Airplay compatibility, the AVRX4300H is a perfect match for the formidable Focal speaker system. You'd be in for a treat having this system in your home, especially if you've never tried the near-3D Atmos audio experience. Read our in-depth review.
See the Focal SIB EVO ATMOS 5.1.2
See the Denon AVR-X4300H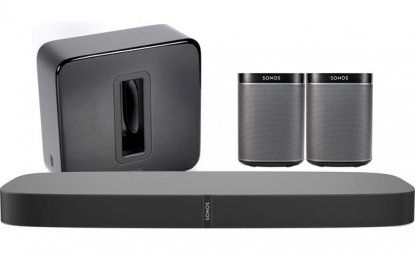 Recommended Amp Power: N/A
Low Freq: 30Hz
High Freq: 30kHz
What We Like: Wireless setup, easy to configure, incredible sonics for the size.
What We Don't: You need WiFi to make this work.
This great modular package by SONOS takes surround setup one step further into the future, with the company's speakers available as a package for the first time. We have featured the individual speakers in our reviews already and in this package you get the PLAYBASE, two pairs each of PLAY:1 and PLAY:3 speakers and the SUB, which we've consistently rated highly on the subwoofer version of this roundup. SONOS have really managed to make things easy for you - not only you don't need wires but setting up this surround package is a breeze. Integrating within an existing WiFi network, all you need is their app which recognises each individual SONOS wireless speaker, assigning the desired surround role and position for the surround setup of your choice (you can add more for 7.1 and so on).
Although the size of the speakers is fairly diminutive compared to other picks on this list, these things are loud. The spread and the frequencies delivered are really impressive for the price. We like the fact that the modular approach works well in surround modes or can be flipped into a stereo (2.1) or even into a multi-zone setup at a touch of a phone or tablet screen. Planning a party which spills into the back garden? Easy, just put a couple of Play 3's outside and they will do the job with aplomb. For sheer ease, and value, this is a real winner.
See the SONOS Playbase 5.1 System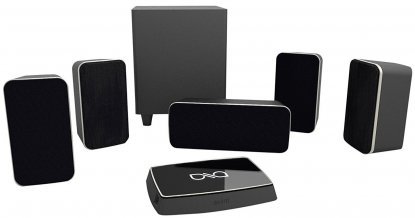 Recommended Amp Power: N/A
Low Freq: 20Hz
High Freq: 20kHz
What We Like: No wires!
What We Don't: A little expensive for a HTIB system.
A wireless home theater system? With five speakers? What wizardry is this? Admittedly, there's no magic here, just really clever electronics. And although we think axiim (no capital letter) have a little way to go before they perfect the concept, the Q HD 5.1 system is a lot of fun to mess around with. And it comes with its own dedicated media center/receiver, too! Ultimately, said receiver isn't going to provide you with the versatility of, say, the Integra DRX-4, but it's still a phenomenal system.
It sounds terrific, and you really can't grasp what a pleasure it is to not have to fiddle around with speaker wire after you've been mixing and matching receivers and floorstanders for a while. The downside, of course, is that you'll have to plug each speaker in separately – they all need to get their power from somewhere, after all. This can also be quite a difficult system to find. At the time of writing, it's no longer available on Amazon, which means you have to go direct to the manufacturer. Still, that's a minor point, and we look forward to the day when this list is comprised of nothing but superb wireless systems. On that note: right now, the SONOS beats this for ease of use, but that may change!
See the axiim Q HD 5.1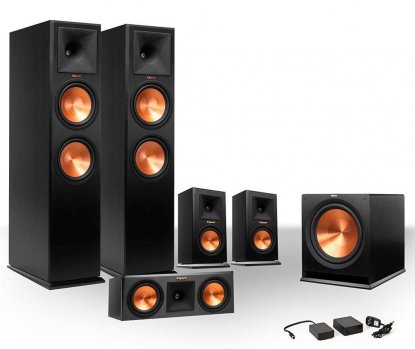 Recommended Amp Power: 100W/8Ω
Low Freq: 24Hz
High Freq: 24kHz
What We Like: A superb, blockbuster combination.
What We Don't: Nothing worth mentioning.
OK, yes, you can spend even more on a 5.1 surround kit, and get better results (*ahem* Definitive Technology) but this Marantz-Klipsch combo just sounds stupendously good, and Marantz have really ticked every box in terms of features, connectivity, control and sheer power with this receiver. The SR8012 is so well-endowed with modern tech that is guaranteed that it would move you ever so slightly forward into the future. It will connect to every audio-visual gizmo in your house, including iOS devices with Apple AirPlay, PCs or Macs via your home network with DLNA compatibility.  It supports all major third party codecs such as Dolby Atmos, DTS:X and even Auro-3D, if you plan to upgrade later on.
Of course, the SR8012 is expensive - maybe too expensive. Regardless, it sounds great with the Klipsch speakers, which are not only loud but incredibly detailed as well. We've featured this speaker package on TMS before, due to its clean and natural sound reproduction. Not keen on wires? This speaker package comes with a wireless speaker kit, and at this point, you're already running out of reasons not to pick it up.
See the Denon AVR-X7200WA
See the Marantz SR8012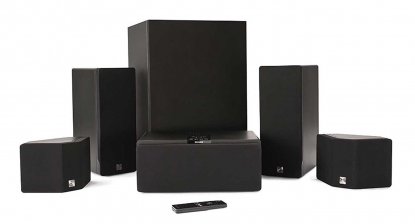 Recommended Amp Power: N/A
Low Freq: 20Hz
High Freq: 20kHz
What We Like: A great sub-$1,000 wireless system.
What We Don't: Not nearly as good as the axiim. 
We talk about wireless speaker systems, we are most often referring to Bluetooth and WiFi-enabled gear. The Enclave Audio Cinehome HD 5.1 is a little bit different. It creates its own network, staying off the WiFi network in your home by relying on the channels in the 5.2 and 5.8 Gigahertz range, which are normally used by military and weather organisation, but which are open to civilians so long as they are constantly monitoring (and prepared to get out of the way for) radar use. It's a clever system, and the good news is that the Enclave's included receiver does the monitoring for you. You don't have to camp out in your living room.
That being said: we do think that the axiim system does a much better job in terms of sound quality, and while we are entirely in favor of more and more wireless systems making onto the market, this is very much a budget option, and second fiddle to the ones above it. It's still very good – it wouldn't be on this list otherwise – but it's not quite as good as it could be. All the same, it's a very decent budget home theater system.
See the Enclave Audio CineHome HD 5.1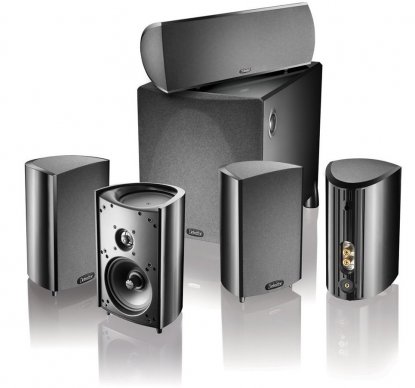 Recommended Amp Power: Unknown
Low Freq: 20Hz
High Freq: 30kHz
What We Like: Lovely sound for under two grand.
What We Don't: Perhaps not as loud as it could be.
Onkyo can often seem like the third wheel in the A/V receiver world, with Klipsch and Marantz getting most of the love – not to mention Yamaha. We think this is a little unfair, and we do believe that the company's receivers pair incredibly well with certain systems. Definitive Technology is one of them, and this is the second Onkyo/Def Tech combination on this list, and for good reason.
The Pro Cinema 800 offers 5.1 through its dinky little satellite speakers, as well as thundering bass through the ProSub800. It's one of the better speaker systems available, and it's brought to its absolute best by the TX-NR838 – currently taking up space on our list of the best receivers of this year. You get full Dolby Atmos, 4K compatibility, Bluetooth and Wi-Fi streaming, as well as a host of other features that will also allow you to upgrade to more speakers at a later date. Although the Pro Cinema 800 isn't quite as loud as we'd like, with a sensitivity hovering around 89dB, we still recommend it. Not nearly as convenient as the Enclave Cinehome though!
See the Definitive Technology Pro Cinema 800 
See the Onkyo TX-NR838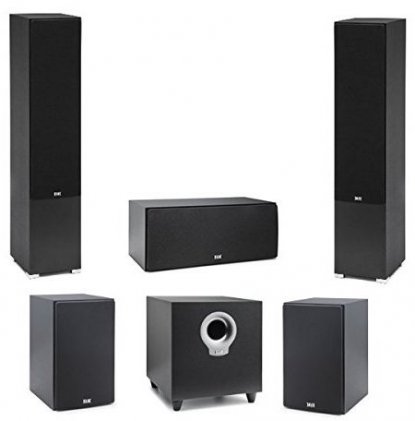 Recommended Amp Power: 20-120W/8Ω
Low Freq: 35Hz
High Freq: 20kHz
7.1 Upgrade Available: Yes
What We Like: ELAC's speakers are ace.
What We Don't: Good pairing, but the receiver isn't particularly special.
As with all things on this list, we look for particularly good pairings – cheese and wine, Starsky and Hutch, pick an analogy like. And while the AVR-S930H isn't a particularly amazing receiver, it pairs beautifully with ELAC's speaker system. And in any case, it's not as if it does a bad job – you get full wireless connectivity, a huge selection of HDMI ports, decent power, and the ability to add on more speakers at a later date.
Let's talk about the ELACs though. What a glorious set of components. You get two of the extraordinary B5 bookshelf speakers, two F5 tower speakers, an S10 subwoofer, and a C5 center speaker, all of which combine to deliver detailed, intricate sound that makes short work of both dialogue and heavy hitting elements like explosions. It's not quite the best available, but it's still an excellent set of speakers, and we think it's very much worth your time – especially with this particular Denon.
See the ELAC Debut 5.1
See the Denon AVR-S930H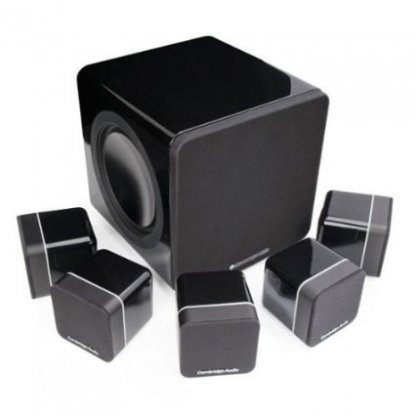 Recommended Amp Power: Unknown
Low Freq: 31Hz
High Freq: 20kHz
What We Like: Superb value for the money you pay.
What We Don't: Doesn't have huge power.
This particular setup, a combination of two packages we love, is bursting with features. The Pioneer is a terrific little receiver, with a great range of features. It's not the most powerful, at only 100 watts into two channels, but it offers superlative value - a starter receiver that could easily handle a bigger system. 
This receiver's perfect partner in crime is the third generation of the renowned Cambridge Audio Minx S215 speaker system - a worthy choice for any home theater. The included five Minx 12 speakers are smallish in size (3.15 square inches), but thanks to the company's BMR drivers, which handle speaker and tweeter duties simultaneously, they produce power defying their size. The 200  watt X201 subwoofer deserves a special mention, featuring forward-firing drivers as well as additional passive woofers, which Cambridge Audio call Auxiliary Bass Radiators (ABRs). The result is a punchy low end efficiency, despite the fairly compact design. With more than enough power to handle a medium-sized home theater, this combo system sounds larger than life. 
See the Denon AVR-S510BT
See the Pioneer VSX-1131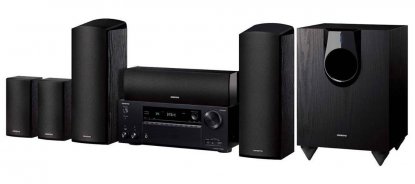 Recommended Amp Power: Unknown
Low Freq: 20Hz
High Freq: 20kHz
What We Like: Stupendous value-for-money, probably the best in-the-box system around.
What We Don't: Very little.
On a previous list, we featured one of the smaller versions of this Onkyo package, the HT-S3700. This is a much improved version, we can't quite believe it costs less than a grand. Although it doesn't have the ability to push things to 7.1 without adding in an additional zone, it does offer 5.1.2 connectivity, allowing you to add height speakers… Yes, we know that's technically a 7.1 system, but you know what we're talking about.
The included receiver puts out a decent level of power, and has all the requisite mod cons, including a very respectable number of HDMI ports. As you can imagine, it's matched very well with the speaker system, and delivers audio quality that belies its three figure price tag. Keep an eye on this one – we suspect but there are going to be even bigger systems coming out from Onkyo soon, and this may undergo a price drop, which makes its value even more staggering. Compared to other systems, it doesn't really push the boundaries - the Cambridge Audio / Pioneer combo, for example, offers much better sound and funcitonality - but it remains an excellent HTIB.
See the Onkyo HT-S7800 5.1.2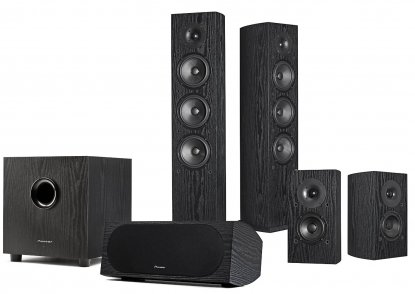 Recommended Amp Power: 90-130W/6Ω
Low Freq: 38Hz
High Freq: 20kHz
What We Like: Value-for-money.
What We Don't: Sound is OK, rather than fantastic.
The speakers in this combination are the Pioneer SP-PK52BS Andrew Jones 5.1 Speaker Package, which is a good one. Designed by Pioneer's former long-term head honcho Andrew Jones, all of these can be also sold as separates. When put together in a package, though, they form an impressive yet still affordable 5.1 system, consisting of two floor-standing speakers, two bookshelf loudspeakers, a center-channel speaker, and the SW-8MK2 powered subwoofer. Note that availability on Amazon fluctuates, and you may wish to buy direct.
The Pioneer VSX-1131 receiver, mentioned above as a partner to the Cambridge Audio Minx S215 v3, completes this home theater package. Yeah, we're featuring it twice, but it really is a versatile system. This is one of the most advanced receivers in its class, with UltraHD 4k visual support, Dolby TrueHD, DTS-HD Master Audio, built-in Bluetooth Wireless Technology with aptX support, plus a very cool app for complete WiFii integration. The energy-saving ECO Mode in its amplifier is another smart technology and the amp itself has more than enough power to push the system. The sound doesn't quite measure up to the titans, but for under $1,000, we think this offers some of the best value around.
See the Pioneer SP-PK52BS Andrew Jones 5.1
See the Pioneer VSX-1131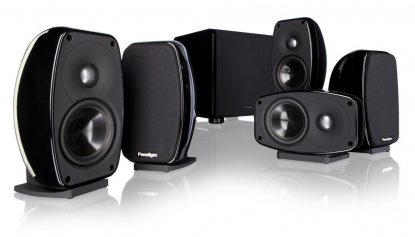 Recommended Amp Power: 15-100W/8Ω
Low Freq: 32Hz
High Freq: 20kHz
What We Like: Paradigm and Denon were made for each other.
What We Don't: Bass suffers - just a little bit.
In comparison to the big dogs at the top of this piece, the combination of the Paradigm Cinema 100 CT 5.1 setup, and the Denon AVR-S930H receiver isn't going to shake the walls. But we think they work exceptionally well together - hence why we're mentioning the S930H a second time, the previous pairing being with the ELAC Debut 5.1. Like other models on this list, the receiver checks all the boxes – 4K, additional channels, for wireless connectivity and a decent level of power – and really gets the job done. But it's the speakers we've truly fallen in love with. Maybe it's the fact that their Amazon product photo makes them look like a gang of flocking cybernetic pigeons.
Paradigm are a legendary speaker maker, and they've got a gem here. The technology includes domes made of anodized aluminum, as well as highly tuned crossovers that really make an impact on audio quality. We are not wild about the subwoofer, but it's far from bad – just not out of this world in comparison to other models. All the same, you'll be extremely happy with this selection of kit, which will set you back less than $1,500 – always a win in our book. And don't forget: just because we recommend a particular pairing doesn't mean you shouldn't feel free to mix-and-match. If you see a receiver you like the look of, and think it will go nicely with a set of speakers, fire away! These days, most components will play nicely together. Full review of this system in the works now.
See the Paradigm Cinema 100 CT
See the Denon AVR-S930H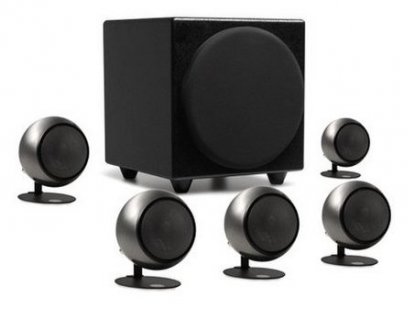 Recommended Amp Power: Unknown
Low Freq: Unknown
High Freq: Unknown
What We Like: Orb Audio has some great design, pairs well with the Onkyo, highly customisable.
What We Don't: A little too pricey for what you get. 
Orb Audio offer quite an unusual system here. To go with their Sub200 subwoofer, you get five of what they call their Orb speakers. These can be mixed and matched in any configuration, and placed just about anywhere. In addition, it's very easy to upgrade by adding additional Orbs into the mix, although it must be said that we do think the basic system is a little bit too pricey for what you get.
We played around a little with receiver choice here, and we think we can go for an old standby: the Onkyo TX-NR838, previously featured on this list above, where it was paired with the Definitive Technology Pro Cinema 800 system. It doesn't equally good job here, and offers the ability to upgrade with more speakers, which is no doubt what Orb Audio had in mind. If this undergoes a price drop, it could be essential, but as it is, it's just a very good system that we wish cost slightly less.
See the Orb Audio Mod 1
See the Onkyo TX-NR838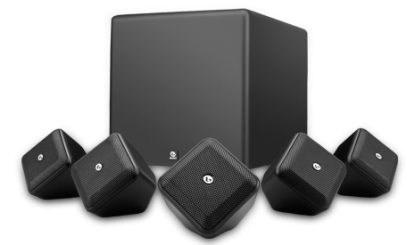 Recommended Amp Power: 10-100W/8Ω
Low Freq: 40Hz
High Freq: 20kHz
What We Like: Compact, offers superb value-for-money.
What We Don't: Sound is nothing special.
If you have a very small listening space, as we know some of our readers do, then this could be the ideal combination. The Soundware XS 5.1 as an incredibly compact system that, while not offering anything to pique the interest of audiophiles, manages to put out decent sound from a very tiny package. The audio quality is crisp and clear, and while we do think the design of the speakers could be a bit better (particularly the binding posts) it's a very commendable system for half a grand.
To pair with it, we're going for a workhorse Onkyo system that will get the job done without setting you back too much. The TX-NR575 has both Dolby Atmos and DTS:X, should you wish to upgrade later, as well as 7.2 channels to make things easier. Together, these two soundd very good indeed, especially if you don't have a lot of space to fill. Don't expect huge things from this combo, but it gets the job done.
See the Boston Acoustics Soundware XS 5.1 
See the Onkyo TX-NR575

And For When You're Really On A Budget...
Recommended Amp Power: Unknown
Low Freq: Unknown
High Freq: Unknown
What We Like: Very solid Yamaha package.
What We Don't: Doesn't offer anything remarkable
If you absolutely must have 5.1 sound immediately, and you aren't too demanding, then this package has a surprising amount to offer. Yamaha are experts at pairing receivers and speakers, and with their 4930UBL package, they've pulled off a surprising combo that really delivers.
Arguably, you aren't going to be upgrading to advanced codecs like Dolby Atmos and DTS:X, but you do get Dolby True HD and DTS-HD, as well as 80 watts of power to play with. The sound is good, if unremarkable, and the chief attraction of this package is that it is easy to set up, easy-to-use, and offers a very affordable way to get started with surround sound. We would say that if you want something a little bit more classy and less Best Buy, you should go for the Soundware XS 5.1 / TXNR575 combo above, but this is a viable alternative.
See the Yamaha YHT-4930UBL

Comparison Tables:
Usually, we'd just have one table, but in this case, we've got one for speakers and one for receivers. 
Speakers are up first:
| System | Price | Rec. Amp Power | Lowest Freq. | Highest Freq. |
| --- | --- | --- | --- | --- |
| KEF T305 | $2,200 | 10-150W/8Ω | 30Hz | 30kHz |
| Klipsch RF-7 II Ref. Series | $4,314 | 250W/8Ω | 20Hz | 24kHz |
| SVS Prime 5.1 | $999 | 20-150W/8Ω | 20Hz | 25kHz |
| Monitor Audio Mass | $1,246 | Unknown | 30Hz | 30kHz |
| Def. Tech. BP9080X | $5,675 | Unknown | 16Hz | 40kHz |
| Focal SIB EVO ATMOS 5.1.2 | $1,299 | 25-200/6Ω | 30Hz | 20kHz |
| SONOS Playbase 5.1 System | $2,194 | N/A | 30Hz | 30kHz |
| axiim Q HD 5.1 | $2,499 | N/A | 20Hz | 20kHz |
| Klipsch 5.1 RP-250 | $1.975 | 100W/8Ω | 24Hz | 24kHz |
| Enclave Audio CineHome | $1,000 | N/A | 20Hz | 20kHz |
| Def. Tech. Pro Cinema 800 | $1,199 | Unknown | 20Hz | 30kHz |
| ELAC Debut 5.1 | $1,219 | 20-120W/8Ω | 35Hz | 20kHz |
| Cambridge Audio Minx S215 | $500 | Unknown | 31Hz | 20kHz |
| Onkyo HT-S7800 5.1.2 | $899 | Unknown | 20Hz | 20kHz |
| Pioneer SP-PK52BS | $475 | 90-130W/6Ω | 38Hz | 20kHz |
| Paradigm Cinema 100 CT | $699 | 15-100W/8Ω | 32Hz | 20kHz |
| Orb Audio Mod 1 | $798 | Unknown | Unknown | Unknown |
| Boston Ac. Soundware XS | $500 | 10-100W/8Ω | 40Hz | 20kHz |
| Yamaha YHT-4930UBL | $460 | Unknown | Unknown | Unknown |
And then the receivers. Inc. means it's included in the speaker package. Note that some receivers appear on our list above more than once, so we've only given them one entry here, in the order in which they appear.
| Receiver | Price | Wattage | Surround Tech. | HDMI I/O |
| --- | --- | --- | --- | --- |
| Yamaha RX-A870 Aventage | $899 | 150/8Ω, 2Ch Driven | Dolby (Various), DTS (Various) | 8/2 |
| Onkyo TX-RZ1100 | $1,775 | 140/8Ω, 2Ch Driven | Dolby Atmos, DTS (Various) | 8/2 |
| Sony STR-ZA3100ES | $1,698 | 110/8Ω, 2Ch Driven | Dolby Atmos, DTS:X | 6/2 |
| Integra DRX-4 | $1,000 | 110/8Ω, 2Ch Driven | Dolby Atmos, DTS:X | 8/2 |
| Denon AVR-X4300H | $1,000 | 150/8Ω, 2Ch Driven | Dolby V*, DTS V*, Auro3D | 8/3 |
| axiim Q HD 5.1 | Inc. | N/A | Dolby (Various) DTS (Various) | 6/1 |
| Marantz SR8012 | $2,999 | 140/8Ω, 2Ch Driven | Dolby (Var.), DTS (Var.), Auro-3D | 8/3 |
| Enclave Audio CineHome | Inc. | N/A | Dolby (Various), DTS 5.1 | 3/1 |
| Onkyo TX-NR838 | $599 | 130/8Ω, 2Ch Driven | Dolby Atmos, DTS:X | 7/2 |
| Denon AVR-S930H | $500 | 90/8Ω, 2Ch Driven | Dolby Atmos, DTS:X | 8/2 |
| Pioneer VSX-1131 | $350 | 100/8Ω, 2Ch Driven | Dolby Atmos, DTS:X | 7/2 |
| Onkyo HT-S7800 5.1.2 | Inc. | 100/8Ω, 2Ch Driven | Dolby (Various) DTS (Various) | 8/2 |
| Onkyo TX-NR575 | $377 | 80/8Ω, 2Ch Driven | Dolby Atmos, DTS:X | 6/1 |
Want Even More Master Switch? Sign Up For Our Weekly Newsletter!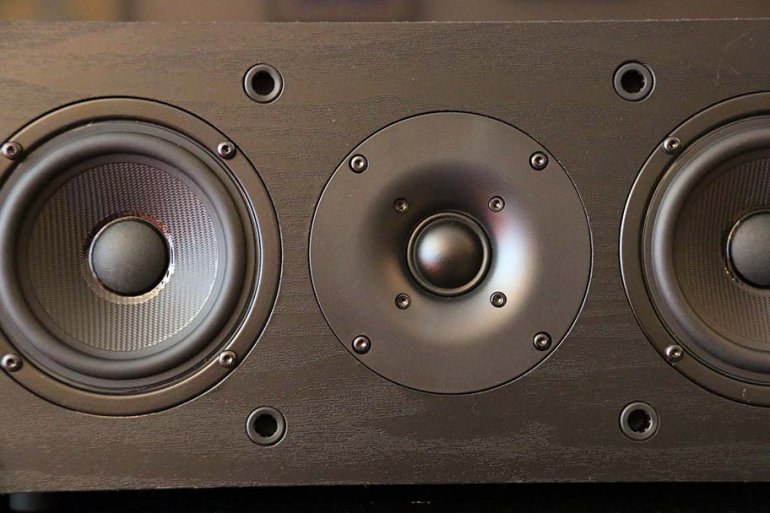 Buying Advice:
What Is A 5.1 Home Theater System?
Welcome to the wonderful world of surround sound. Your audio is about to stop coming at you head-on, and come at you from all directions.
This type of system consists of five speakers (often called satellite speakers) and a subwoofer, all connected to an A/V receiver. The speaker arrangement includes a center channel speaker, left and right front channel speakers, a subwoofer and left and right rear surround speakers. The term 5.1 comes from the fact that there are five speakers, and one subwoofer. This naming convention is standard in home theater, so if we were to tell you about an 11.4 system, you would correctly assume that it consisted of eleven speakers and four subwoofers.
The A/V Receiver is linked to a TV (one or more, depending on the receiver's specs) and converts all audio-visual data received from your sources - Blu-Ray/DVD/CD players, Bluetooth, Wifi etc. into surround sound playback, where sounds can freely "hover" between the surround speakers. 
In this guide, we are not going to go into what makes a 7.1 or 9.2 system. Those are huge topics in their own right! If you do want to find out more, here's a good breakdown of the differences.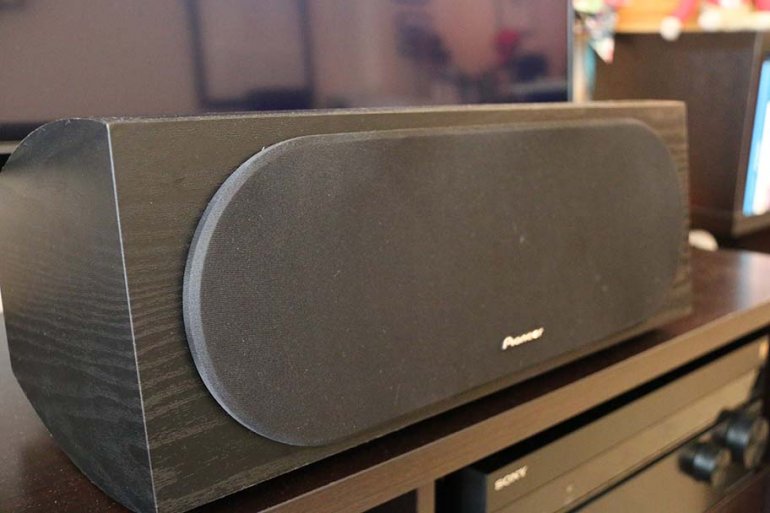 Home-Theater-In-A-Box Explained 
Serious home theater enthusiasts often created their systems from individual components, matching an A/V receiver with a pair of floorstanding speakers, individual satellite speakers, and a carefully chosen subwoofer. The problem is, in the 5.1 range – which is generally considered to be the minimum number of speakers needed for surround sound – there's very little point in doing this. Yes, you will get better sound, but it's often not worth the hassle – not when there are so many excellent packages out there.
Hence the rise of something known as Home-Theater-In-A-Box (HTIB): a complete surround sound package, including receiver, that you can buy in one transaction, and which will set you up. We already mentioned that these have an unfairly maligned reputation, but we think that for many people, they are an ideal solution – and a perfect gateway drug into the joys of surround sound. While not every system on our list is technically an HITB system, in that you will need to buy an additional receiver, we still have a few. Probably the best on the list is the Definitive Technology BP9080X / Onkyo TX-RZ1100 combo, which offers superlative sound from a single purchase.
You might reasonably ask what you actually get for your money. You can find 5.1 home theater systems from as little as a hundred bucks these days. Cheaper setups have become surprisingly good, but many of them still have very limited connectivity. Entry level sound quality is mainly dependant on inferior quality speakers and subs, which can be described as 'honky' and 'boomy'.
At the mid-price tier, which for home music systems is generally between $200 and $1,000, you will find a noticeable jump in quality and arguably the best value deals. Systems in this price range proudly show off their increased power capacity, proper speakers and up-to-date connectivity, as well as various cool surround mode technology under their bonnets. 
Top dollar systems are just magic - the quality is immediately evident. Here you can expect the latest connectivity - all the current-spec digital and analog wired connections. Wireless connectivity such as WiFi and Bluetooth are also present here, almost universally. There are more surround modes, also known as codecs, made by Dolby and DTX among others, enhancing the surround experience. Last but not least, top systems are graced with the best speaker designs, top-notch components, punchy amps…the works.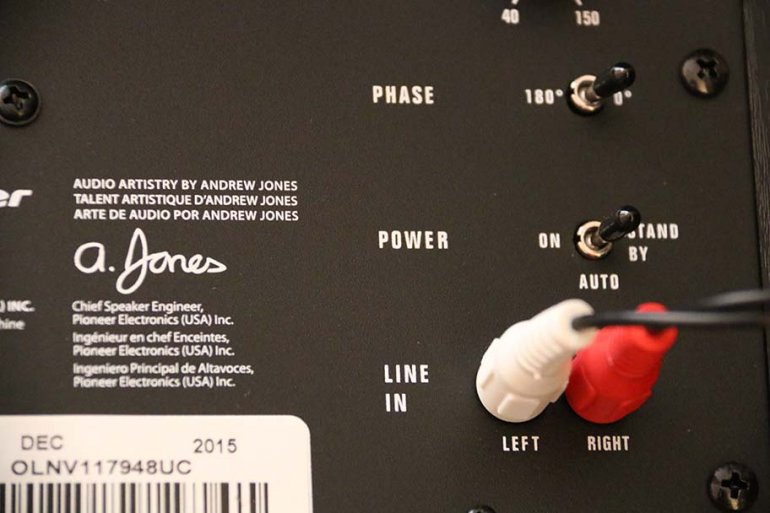 5.1 Speaker Placement Explained 
Generally speaking, this is pretty simple. A lot less complicated than bigger systems!
Your centre speaker goes directly below and in front of your TV. Your front left and front right speakers (which are sometimes floorstanding speakers) go on either side of it. The remaining two satellite speakers go on either side of your listening position, usually bolted to the wall, or on separate speaker stands.
The subwoofer takes a little bit more work. You need to connected up, and place it in your listening position – in other words, on the couch. Then, playing some bass-heavy content, like music, you need to crawl around on the floor, and see where you like the sound of the bass best. That's when you place your subwoofer. Yes, it sounds strange, but this particular manoeuver is known as the subwoofer crawl, and it works.
To experience your system at its best, you might need to fine-tune your setup after some initial listening. Here are a few extra tips. 
Create a clear path between you and your speakers - if you can't see the speaker, sound is most likely being blocked and the resulting audio performance might be far from its best, due to external acoustic factors and not to the system itself. You can also achieve a far more balanced sound by minimizing bare walls and floors.
Having said that, many A/V receivers have flexible settings and presets, allowing you to adjust levels - not only between speakers, but also between the volume of movie dialogue or background music and special effects. This can make a huge difference to your viewing experience. If and when available we recommend using the built-in room calibration which normally involves the use of a measurement microphone (supplied with the receiver). You don't need to be an acoustician or a sound engineer - just leaving the mic in the recommended position and pressing a button is all that's needed. The internal acoustic DSP processing measures frequencies and levels from the subwoofer and each satellite speaker and optimizes them to suit your room!
By the way, if you're worried about how to connect your receiver, don't be. We've got you covered. Oh, and one more link, which you'll need if you hit any issues: our handy guide to the ten most common home theater problems, and how to solve them. You're welcome.
 
Matching Amps With Speakers: Wattage Explained
Any home theater system is going to have, at minimum, two things: a receiver or amplifier, and a set of speakers. Right?
(Please say yes. Thank you.)
Now obviously, it's the receiver that sends the power to the speakers, and to get the best out of your system, you need to be sending approximately correct levels of power out to the speaker drivers. To do that, we rely on a statistic called RMS wattage.
RMS stands for Root Mean Square. Please don't run screaming. You absolutely do not need to know the mathematics of how this works to understand what it means put simply, RMS wattage. It how much power an amplifier or receiver can put out over an extended period of time. Sometimes, you'll see it referred to as continuous wattage.
It's a little bit different from dynamic, or peak wattage. This is the absolute loudest an amp can go, over a short period of time. Think of the differences between RMS and dynamic as being the differences between a marathon and a sprint.
Why is this important? Well, every set of speakers has certain power requirements – usually listed as a certain amplifier range (for example, some of the speakers in the ELAC Debut 5.1 system have a recommended amplifier power of 40-80 watts per channel. That means that, ideally, you need an amplifier where the RMS and dynamic power are both in that range.
We say ideally because in most cases, you actually don't have to think too hard about matching speakers and amps. Unless you're going to be playing things at ultrahigh volumes for extended periods of time, you'll probably only be delivering a fraction of the amount of power required to damage a speaker. As long as you don't hook up an amp with less RMS power than the minimum required by a speaker (which would be really bad) you'll be fine.
One further point. See that weird symbol (Ω) after our wattage stats in the table above? That's an ohm symbol, and it tells you the amount of power put out at a particular level of electrical resistance. Ideally, you should match these to the speakers. So: if a set of speakers has a recommended amplifier power of 50 watts RMS at an impedance of 8Ω (which you'll sometimes see referred to as nominal impedance), then you need to make sure that your receiver puts out at least that amount of power at 8Ω.
Still confused? Don't worry – even we get this wrong sometimes. One of our writers has put together what we consider to be one of the best guides out there to this very topic, which you should really check out. Once you're done, you'll have absolutely no problem matching two systems.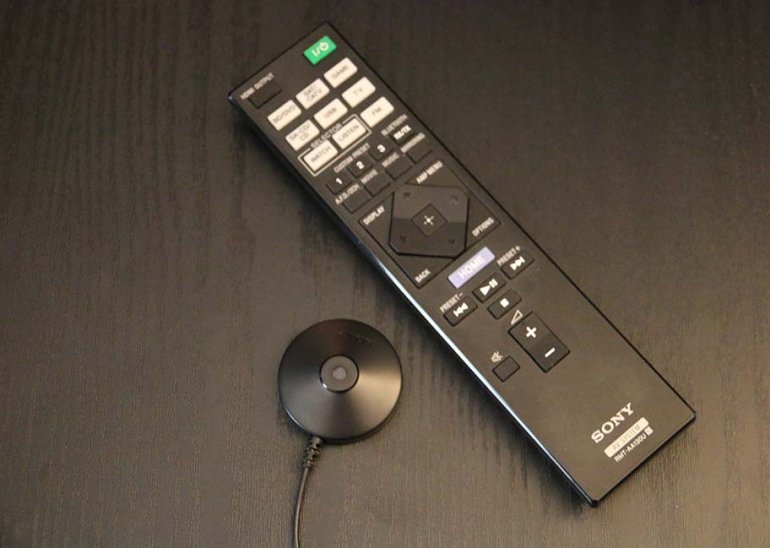 Dolby vs. DTS
You'll often see these terms thrown around, and we've mentioned them in our receiver specs. They are what are known as surround sound codecs: software programs containing algorithms that mix the incoming sound and distributed evenly between your speakers, creating a certain type of effect.
There are two main names in this particular area: Dolby, and DTS. There are significant differences when more speakers are added into the mix – Dolby uses something called object-based surround sound, and relies on height speakers for its industry-standard Atmos codec, while DTS (and its DTS:X codec) is a more user-friendly system that doesn't need height speakers to work. But the key thing to remember is that in the 5.1 arena, there are very few differences between them.
Oh, there may be slight differences depending on the speakers and the receiver in question, but overall, you shouldn't stress too much about this particular element. It's always a plus when you're able to get Dolby or DTS codecs in 5.1, but you are unlikely to be able to take advantage of the latest versions – not unless you upgrade the number of speakers you use! Don't let this deter you, however, from getting started with this particular branch of home theater. You'll have a lot of fun, even if you don't get the latest codec.
And by the way, simply because you start with 5.1 doesn't mean you can't upgrade later, and take advantage of things like Dolby Atmos and DTS: X. For example, the Sony STR-ZA3100ES receiver is capable of utilising both of these.
Another savvy approach, especially for larger home theater rooms is using additional subs - the so called 5.2 or 7.2 setups, where the number after the dot represents the system subwoofer(s).
You might think that a regular 5.1 receiver might prevent you using a second subwoofer (due to all outs being already used up), but check at the back of the subwoofer speaker itself, as many of them have a line-level audio output, allowing for direct link to a second woofer. 
Larger format A/V receivers, such as 7.1, 7.2, 9.2 or 11.2 obviously make such extended setups simpler, and despite their higher speaker capacity, 7.2 (or higher) receivers are widely used in regular 5.1 surround setups, where the 'additional' speaker outputs used for separate zones - such as a 2.1 setup in another room for instance.
 
Frequency Ratings Explained
OK, you see the speaker table above? You see how we've listed the lowest and highest frequencies a particular system can put out?
This is important for a couple of reasons. The first is that it gives you an idea of just how wide the range of of sound your speakers can deliver. Humans can't really hear anything above 17kHz (kilohertz) so don't be swayed by a system that can go up to 50kHz, but it's good to know nonetheless.
One of the things you may have to do at some point is set the subwoofer crossover. Simply put, this is the point in the bass playback at which the subwoofer takes over, meaning that the additional surround speakers don't have to put out low bass notes. That means more power for the things they are good at.
Setting this is absolutely simple. Usually, it's done via your receiver's on-screen menu. All you need to do is look at your subwoofer specs, and see the highest frequency it can go. If it's at, for example, 250Hz, that's where you set the crossover point. You'll be amazed at just how much of a difference this can make to your system.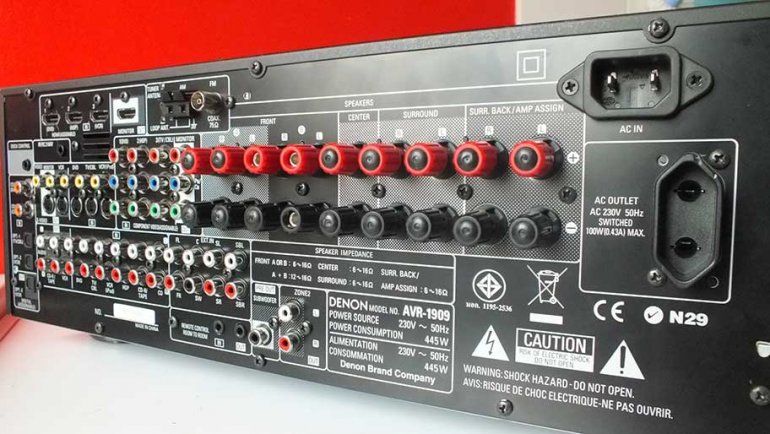 HDMI I/O Explained 
Thank God for HDMI. It's simple, easy-to-use, high quality, and does pretty much everything you ask of it.
HDMI cables carry audio and video signal between different points – such as from your games console to your A/V receiver, or from your receiver to your TV. You almost certainly use them before, but if you haven't, they are the thin connectors with multiple pins shielded by a metal frame. They are robust, and straightforward to use.
They are also the industry standard, and every receiver worth its salt will have at least a few inputs and outputs available to use. Generally, there are far more inputs, as you usually only need to output to your TV, and it's up to you to figure out just how many you actually need. For the record, the receiver in this list with the greatest choice is the Marantz SR8012, which offers eight HDMI inputs and a staggering three outputs. We're not even sure what you'd use those for, unless you're going for an absolutely enormous multiscreen TV system! Still, they are nice to have.
And by the way, if you are looking on the back of any of these receivers, and think we've got the HDMI input count wrong, check around the front. There is almost certainly an HDMI input on the front panel, and we've counted that one as well!
 
4K Explained
Welcome to one of the more contentious issues in home theater.
4K is a picture standard that is supposed to provide an absolutely stellar viewing experience. While we don't really deal with visuals here at TMS, it's worth noting that almost all receivers advertise themselves with their 4K capability, and so we think it's worth mentioning, even if it's not something we're going to spend a great deal of time on.
Essentially, 4K offers a picture resolution of 4,000 pixels, which is absolutely huge. The problem is, while there are plenty of TVs and receivers that take advantage of it, there is not always a lot of content that does the same. 4K movies and series are actually quite rare! It's likely to become more common over the next few years, but for now, consider this an extra little bit of information to have, and possibly something that you can use to future proof your system. Don't let it affect the one you buy.
Bluetooth And WiFi: Streaming With 5.1
Streaming wirelessly from a smartphone or a tablet to your 5.1 surround sound A/V receiver will naturally require you to 'pair' your device with the system exactly as you would with a stereo speaker system. With WiFi capable receivers, you really need to treat those as how you would when integrating a WiFi printer within your home network - any suitable media player can stream via WiFi to your receiver, as long as they are all 'tapped' into your Internet router.
As far as audio quality is concerned, Bluetooth is a lossy platform, which means the audio is compressed to save space at the expense of quality, but look out if your system has the aptX-capable Bluetooth streaming. AptX has really grown in popularity in the last year or so, but to coax out its full CD-rivalling audio potential, it is important to make sure that both the source (your smartphone or tablet) and the receiver are compatible with the aptX mode. 
You'll notice the presence of a couple of wireless home theater systems on our list: the axiim Q HD 5.1 and the Enclave Cinehome 5.1. While these do have disadvantages – chiefly, that you need to plug each speaker into a mains socket to provide power for it, and that their audio quality isn't going to be nearly as good as wired systems – they have significant advantages as well, which you will realise the second you stop having to mess around with speaker cable. They even offer innovations of their own: the Enclave system relies on its own network in a discrete frequency range, taking it off your home WiFi network. Sweet!
Back To Our 5.1 Home Theater Picks Back To Our Comparison Tables
Learn More About Home Theater