Andrew Jones has had the kind of career that all but demands one place the word 'legendary' in front of his job title. That job title is speaker designer. He initially worked for Pioneer, before going onto ELAC. The SP-PK22BS is one of his landmark designs, and is an excellent entry-level system. In this review, we break down the SP-PK22BS's sound, design, packaging and accessories, specs and more. For alternatives, see our list of the best 5.1 home theater systems.
 
Sound:
Surround Sound
This system has a pretty intimidating full name: the Pioneer SP-PK22BS Andrew Jones 5.1 Home Theater Speaker Package (and, breathe!) For under $500, you're unlikely to find a set of speakers this good. That's an absolute. The value for money here is just staggering. You get the SP-C22 Center Channel Speaker, a behemoth of a unit with a gently curved back and cute little rubber feet to stop it rocking. Second, you get the SW-8MK2 Powered Subwoofer, which is driven by a 100W amplifier and can handle frequencies up to 150Hz. Finally, the system is rounded out with four bookshelf speakers: the SP-BS22s, each containing a main 4" driver and a 1" tweeter, as well as a rear port.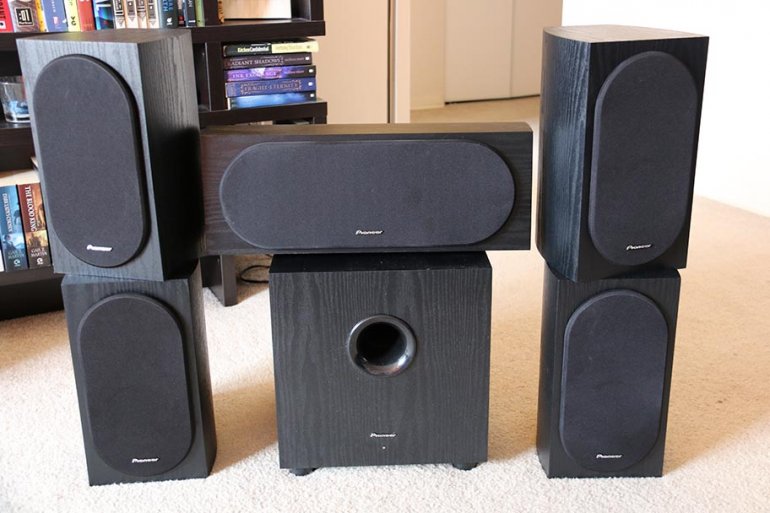 For reference, the system is designed for amplifiers and receivers that put out around 80 watts of RMS power, at 8 ohms – for a full explanation of what that means, read this. It would be an exaggeration to say that you could tack another zero onto the price for the sound you get, but it really is extraordinary. The noise that comes out of the bookshelf speakers is beautifully detailed, with real heft and body, and it's buttressed and given depth by the center channel. The immediate impression is of the sheer level of bass that comes out of the bookshelf units. Seriously: you could run a pair of these on their own, and you have an extremely satisfactory hi-fi system, more than capable of rattling the windows. It's this extra low-end that gives the system its biggest asset. You can never quite place where a particular noise is coming from, but you're aware that it's all around you. With a little clever positioning, this system truly excels at delivering a surround experience. For lack of a better description, you genuinely feel like you're in the middle of the action. It's also reasonably upgradable, and you can even use pioneers own speakers here.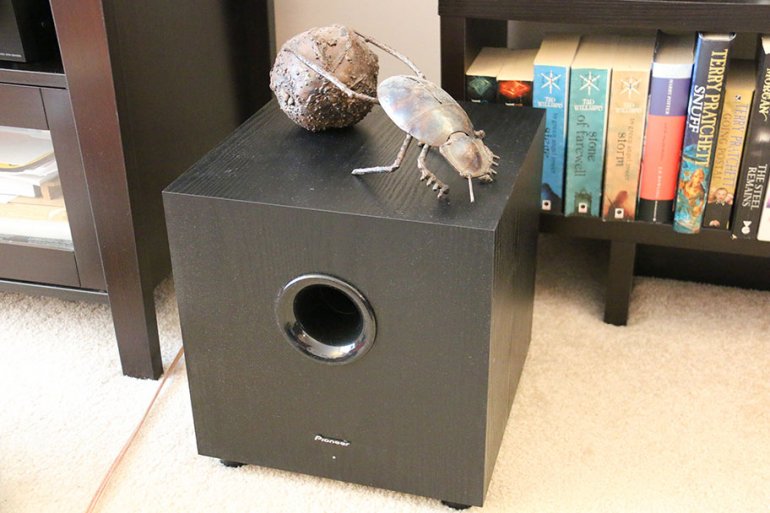 Low-End (Bass) Problems
That's not to say there aren't any weak links. This is a budget system, after all, and social cuts have to be taken somewhere. That somewhere is the subwoofer. Oh, it's perfectly competent. It will do the job. But for its size and specs, we expect a little bit more. The bass had weight, but never seemed quite loud enough. It's a minor scratch against the setup, and is proof that just because something is a classic does not mean it's flawless. It's even more of a problem when you consider that comparable systems, like the Cambridge Audio Minx S215 (which cost only slightly more than the $479 Pioneer, at $500) have much better subwoofers. If that's super-important to you, you should definitely choose that over this.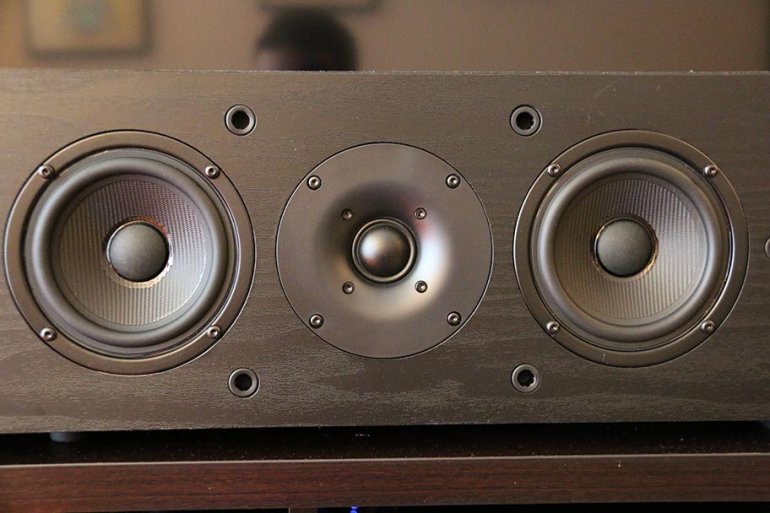 Design:
Looks and Build Quality
We really like the aesthetic. Although the fake woodgrain finish won't stand up to even half a second running your finger along it, it looks good from a distance, and the speakers are pleasingly heavy. The ovular black grilles give a good uniformity, and it's clear that some thought went into the design of the speakers. Even if they are as ugly as sin when you pop the hood, because no-one has ever figured out how to make a speaker driver look pretty. The overall design compares very favourably with more expensive systems. In a matchup between this and something like the Focal Sib Evo 5.1 (full review here), we actually prefer the Pioneer. The Focal's curves might be sexy, but we like the brutalist styling of the Pioneer setup just a little bit more. That's despite the fact that it's less than half the price of the $999 Sib Evo.
This attention to detail and design becomes more evident when you look at the back. The speaker wire connectors are not only all metal, but unlike so many other units, are easy to get your fingers around. They spin to a good height in under a second, exposing a good sized hole for the bare speaker wire. It's such a simple thing – making accessible connectors – but we much prefer them to the spring clips that are standard on other speakers. They just work. And by the way, there's nothing to stop you swapping out speakers at a later date. That's the beauty of a modular system like this. If you decide you want something with a little more power, or want to try out a different subwoofer, you can. Adding a pair of Pioneer Elite SP-EBS73 speakers will give you access to Dolby Atmos, and fit in nicely with the overall system.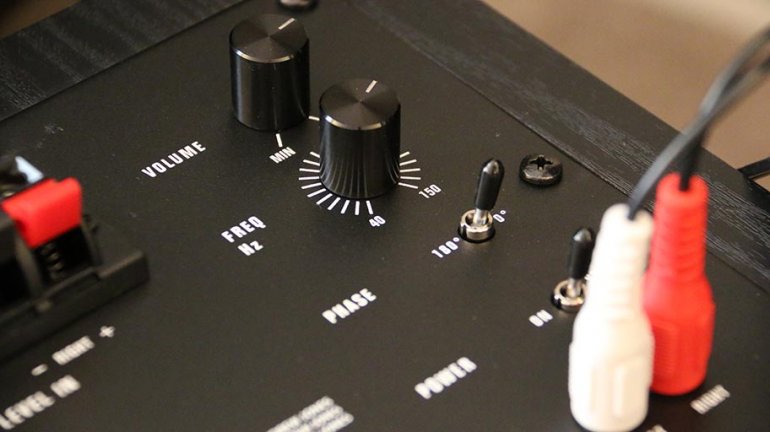 Subwoofer Design
And as much as we malign the subwoofer for its sound, we have to appreciate the design. It's down-firing, with a neat set of controls on the rear. These include separate power and phase switches (yes, switches, which are a pleasure to use), a volume knob, and a crossover knob. While we didn't feel that the crossover made an enormous amount of difference in the overall texture of the systems sound, we still appreciated the fact that it was so simple and so well put-together. You also get for spring clips, and a separate connection for a subwoofer line. Unlike the other speakers, which are passive, you'll need to plug the subwoofer in to power the internal amp. If you do decide to go with another subwoofer, we recommend something budget friendly but effective, like the excellent BIC America F12.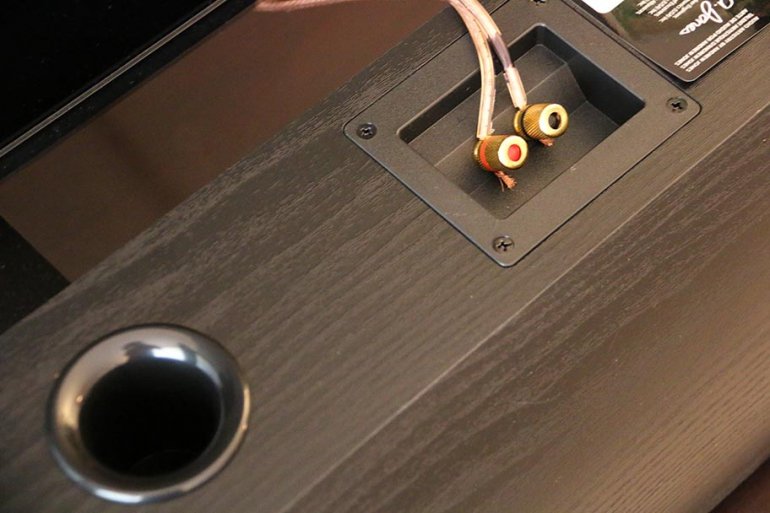 Accessories & Packaging:
We hope you weren't expecting any flare or amazing features on the packaging of this particular speaker setup. You are going to get it. When it comes to the bigger speaker manufacturers – Pioneer, Yamaha, ELAC, Klipsch – almost zero thought is given to the packaging the speakers come in separate cardboard boxes, and once you pull them out, there's no reason to keep them – the boxes, that is, not the speakers. You don't even get any accessories, which includes a manual. Although having said that, this kind of system is so simple to set up – provided you have a compatible receiver – that you shouldn't need any manuals to get the job done.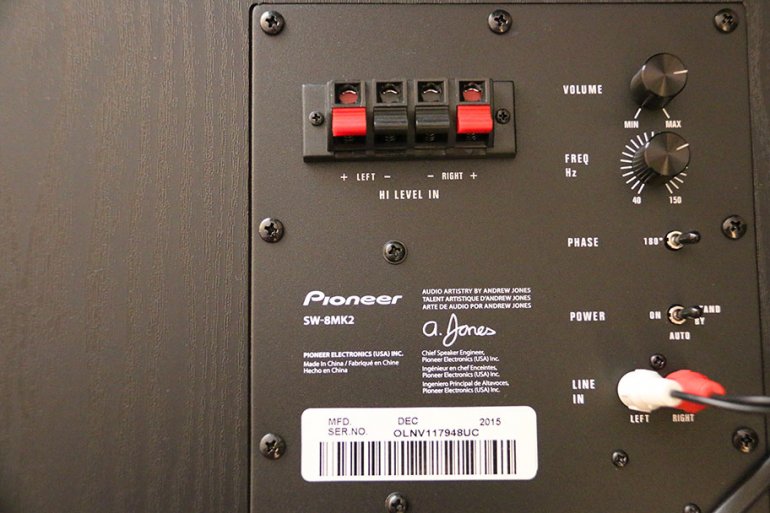 What We Like:
The surround sound of the Pioneer SP-PK22BS Andrew Jones 5.1 is unsurprisingly excellent.
The twin bookshelf speaker units are particularly good, and can be used as part of a hi-fi setup with a stereo amp.
​We really like the design of the speaker system, which we think is smooth and elegant, even four years after its release.
 
What We Don't
The sub woofer that comes with the SP-PK22BS feels lazy and underpowered.
The packaging is dull as ditch water.
​There are arguably better 5.1 systems available, although we still think this system offers excellent value-for-money.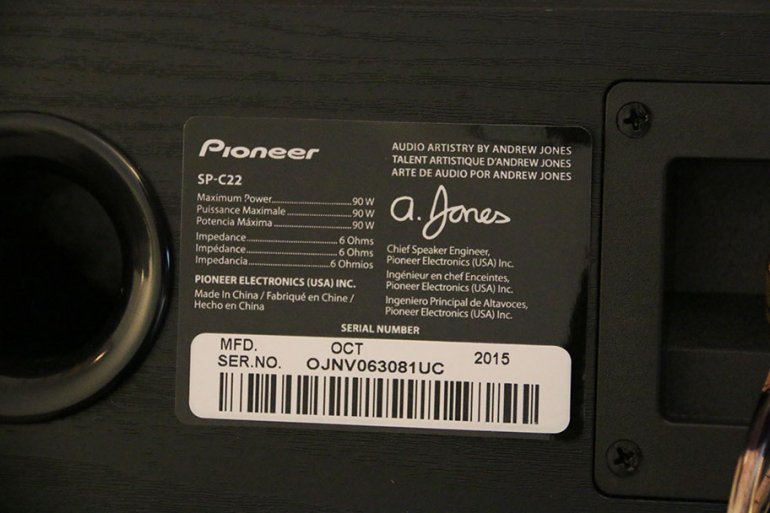 Comparison Table:
Confused about these stats? Read this!
Want Even More Master Switch? Sign Up For Our Weekly Newsletter!

The Competition:
If design is less important than sound, if you want to spend even less than the system above, and if you don't want the bother of tracking down a separate receiver, then the Yamaha YHT-4930UBL is for you. While it costs only slightly less than the Pioneer ($477 to $460), and so is almost directly comparable, it manages to be a viable alternative that offers slightly better bass. You also get an included receiver, which really jacks the value for money. We still prefer the Pioneer, but this is a good look.
We've already mentioned the Cambridge Audio Minx S215. The company isn't widely known for its home theater packages, but this is one of the better ones, and manages to match up well with the excellent Pioneer system. For one thing, it has an absolutely fantastic subwoofer that we think offer some of the best bass in this price range, and its dinky little satellite speakers are easy to set up and move around. It's not better or worse than the Pioneer – they both have their respective merits – but it offers different advantages, like the boosted bass quality. It is slightly more expensive, at $500.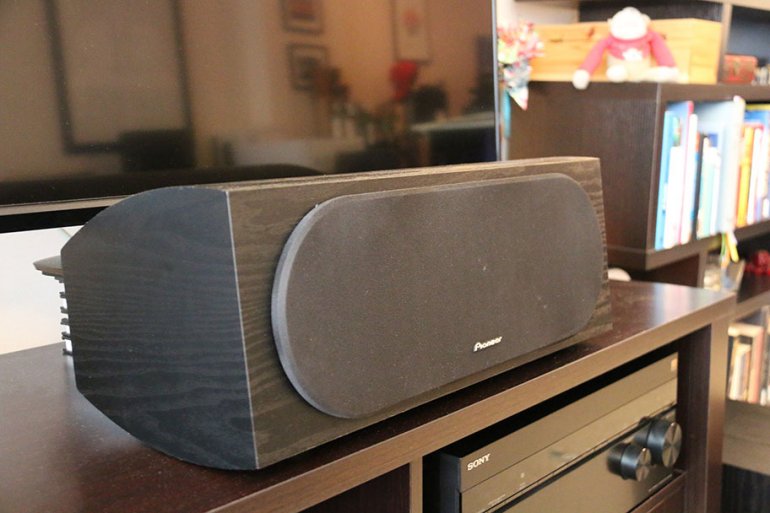 And speaking of expensive, if you do have a little bit more money to spend, try the ELAC Debut 5.1. Yes, it costs more – $1,219 to the Pioneer's $477 – but boy, do you get more for your money. This includes twin floorstanding speakers, and an excellent subwoofer. You get a real bump in sound quality, too, and this is ideal for medium-to-large size rooms. Given Andrew Jones's move to ELAC, you also get to benefit from his design input here. We've seen the availability on Amazon fluctuate lately. So, be sure to check back often, and grab it while it's on sale!
Since Jones left, it's actually been quite difficult to find complete Pioneer speaker systems – they offer plenty of individual speakers for sale, but very few complete 5.1 systems. So let's end this by comparing the SP-PK22BS (perhaps somewhat unfairly) with what we consider to be the best 5.1 system available: the KEF T305. Then again, at $2,200 for the set, it had better be. The speakers offer world beating sound, fantastic design, and surprising versatility. If you want a serious upgrade, go for these.
Learn More About Home Theater