It doesn't matter how large your TV screen is, or how impressive the resolution. If you don't have great sound, then you're only getting half the experience. Some TVs have built-in speakers that can pack a decent punch, but anybody serious about their entertainment should be looking at a home theater system. The market has a good range of options, ranging from 5.1's to 7.1 monsters with a serious presence in your room of choice. No matter what your budget, below you'll find a great home theater system to fit your price range. For more background information on home theater systems, see our comparison tables and buying advice below the picks.
 
How We Choose
These, as far as we are concerned, are the best overall home theater systems on the market – by which we mean, the best sets of speakers you can buy (as opposed to individual components), and their best receiver pairings. To keep things manageable, we haven't mixed and matched different surround speakers, front speakers, and subwoofers: only 5.1 and 7.1 sets that are offered as complete packages actually apply here. Very obviously, that means there's a mix of 5.1 and 7.1 here; while the top of the list is weighted towards a 7.1 systems, there are a few 5.1 versions in there too, and we focused on sound quality and value more than speaker numbers here.
Many of these are drawn from our dedicated lists of the best 5.1 and 7.1 systems available, which we link to below. Before we get started, one caveat. We know you can get vastly expensive individual home theater components, and we know that individual gear worth four or five figures is often excellent. But when doing a list of the best available, we tried to see which systems would be the best for most people - and would offer the best value for money. Don't forget to check our Buying Advice section below, which gives all kinds of handy tips - from choosing the right system, to setting it up and demystifying the most common technical terms and jargon. Also, please bear in mind that prices can change, and all prices were correct at the time of writing.

Best Overall Home Theater System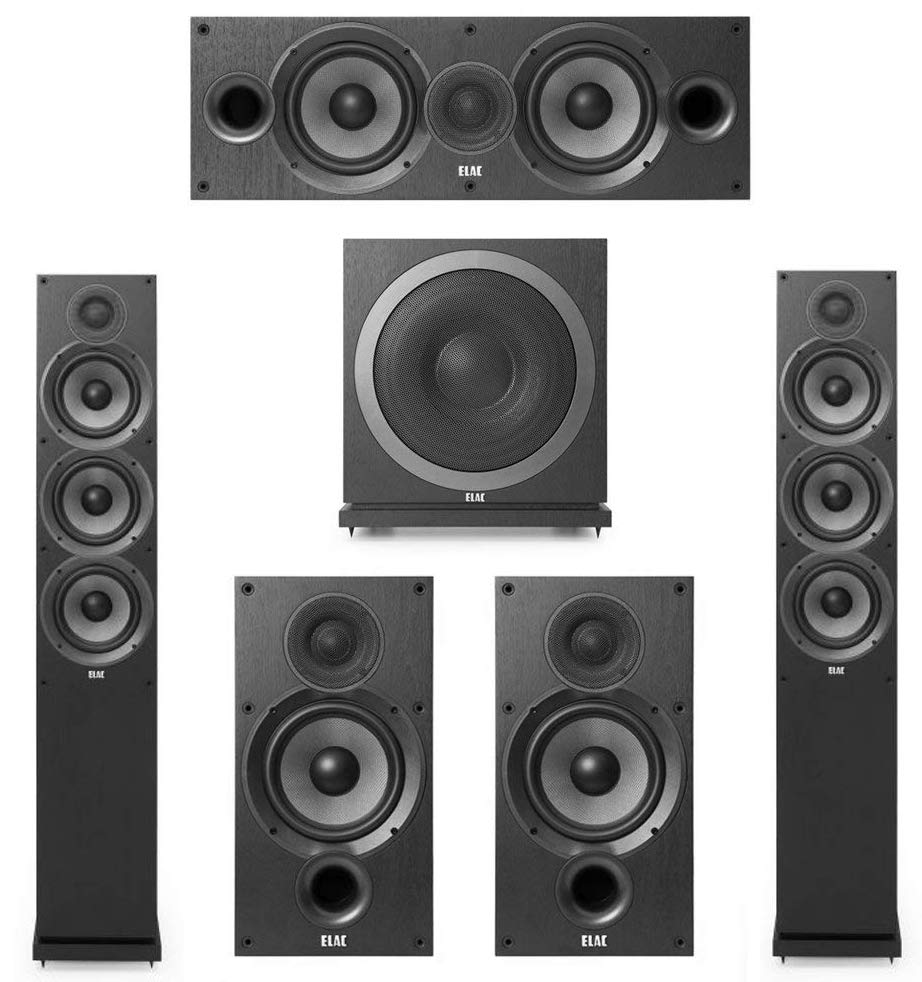 Surround: 5.1
Recommended Amp Power: 10-160W/6Ω
Low Freq: 35Hz
High Freq: 30kHz
What We Like: A stunning upgrade from ELAC, pairs really well with the Denon, offers excellent value.
What We Don't: Not a huge amount for the money.
ELAC continue to impress. You'd think the truly big dogs of home theater - KEF, Klipsch, Paradigm - would be in this top spot. But no: we've decided to award it to ELAC, and that's because for sheer value-for-money, the new Debut 2.0 5.1 system can't be beaten. The unbelievable sound quality you get from the included F6.2 floorstanding speakers and 3010 subwoofer have to be heard to be believed. It's a $4,000 system, with a price tag of less than half that. Compare that to the Monitor Audio Mass, below - at $1,200, it's a great system, but it also sounds like a $1,200 one. Not a problem with the ELAC.
And if you need a receiver, we strongly suggest the Denon AVR-S740H. It's a top-five contender, and although it offers a few more channels than you need for the ELAC system, at 7.2, that's no bad thing; it means easy upgrading later. And they pair spectacularly well, with the Denon's grunt bringing out the very best in the ELAC speakers. It takes something truly special for a 5.1 combo to make it to the top, but this particular system does it. For most people, it's the best home theater system you can get.
See the ELAC Debut 2.0 5.1 See the Denon AVR-S740H

A Close Second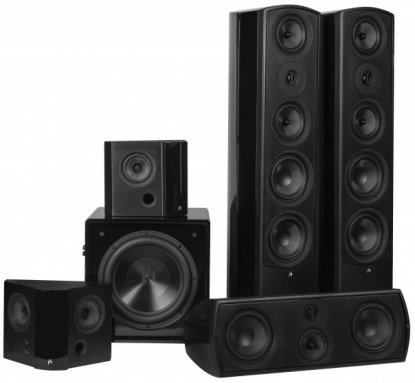 Surround: 7.1
Recommended Amp Power: Unknown
Low Freq: Unknown
High Freq: Unknown
What We Like: An excellent combination, with some of the best speakers around.
What We Don't: Very light on stats, making customization tricky.
Aperion make some incredible gear. Their new Verus III Grand Tower Surround 10D is the newest generation of the Verus series, and it's a bruiser - albeit an expensive one. The speakers you get from the American company are just out of this world, with hefty cabinets and beefy, rich audio quality that will satisfy all but the most hard-core of audiophiles. While we don't really approve of the lack of specifications available on the company's website, which can make swapping out receivers a little bit tricky, we do love the speaker set – and the company offers several cheaper ones, if you want to experiment.
It was hard to find a receiver to pair with this, but we decided to go with the NAD T 777 V3. It's a grunting beast of a receiver that really kicks the Verus speakers up the backside, and we think it's a superb match. It also delivers modular design, an unusual idea whereby you can swap cards in and out to increase the number of channels, and to add new surround sound codecs when they become available.
See the Aperion Verus III Grand Tower Surround 10D See the NAD T 777

Best Budget Home Theater System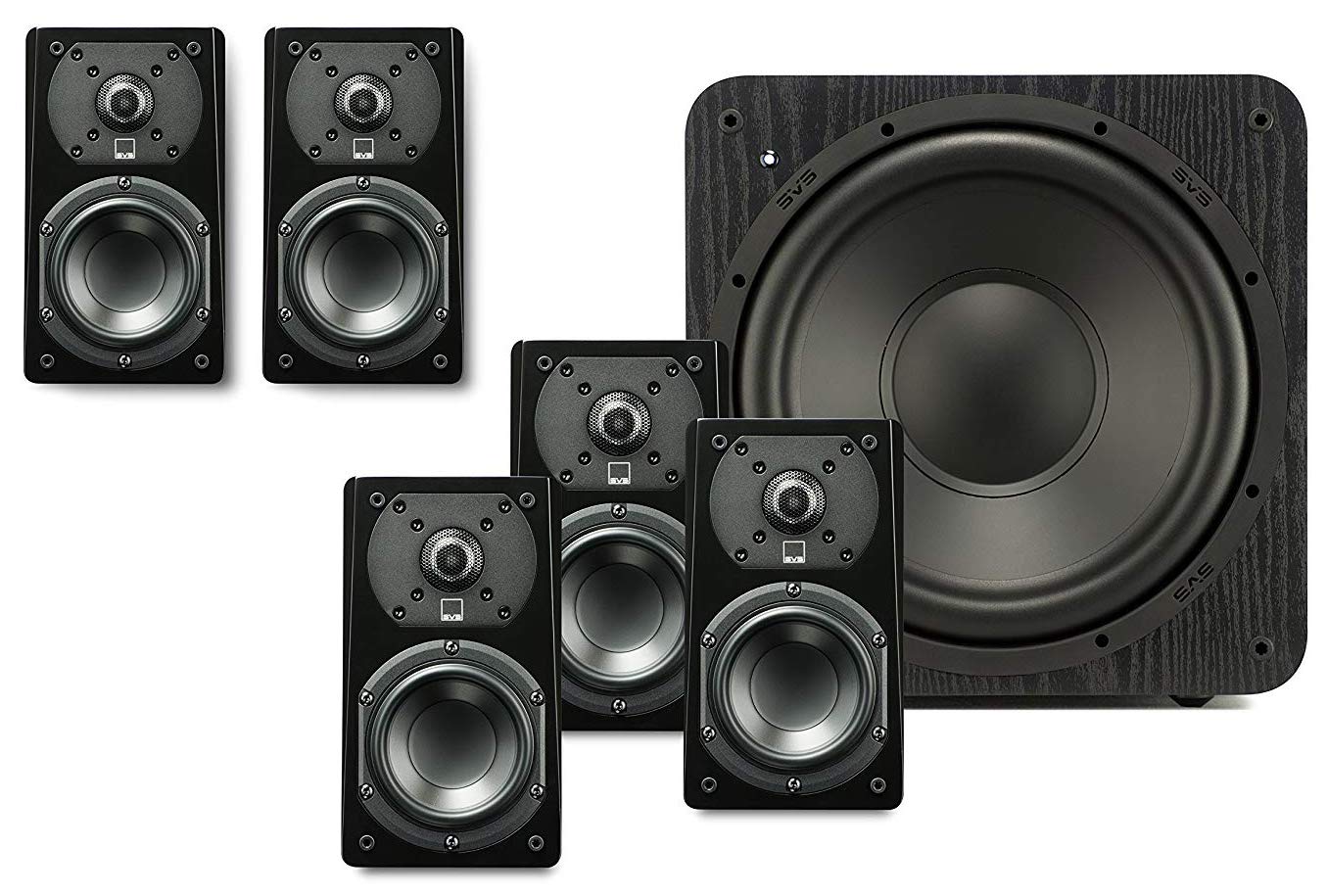 Surround: 5.1
Recommended Amp Power: 20-150W/8Ω
Low Freq: 24Hz
High Freq: 25kHz
What We Like: One of the best-value systems on the market.
What We Don't: Won't impress those looking for raw power.
Want to know what testing system we use in The Master Switch offices? This one. While we wish we had an unlimited budget, we don't, and when it came to which system we'd choose to test our gear, it was this one. For quality sound, manageability, and experience, the SVS Satellite 5.1 was the top choice. You could argue that SVS's other systems, like their Prime Tower 5.1, offer more energy. But the pint-size nature of the Satellite system, coupled with its great sound, made it a winner.
The Denon is an easy choice to pair, too. It offers great value, with solid sound and decent functionality. Testing the system revealed a cohesion that others lacked, and it's a setup we're proud to endorse. It's not just for us, either: this is the perfect system for smaller rooms and smaller budgets, and is an excellent choice if you're looking for an upgrade. The ELAC system, above, is better in terms of sound quality, but it's also more expensive, and this is an excellent alternative.
See the SVS Prime Satellite 5.1 See the Denon AVR-S740H

Best High-End Home Theater System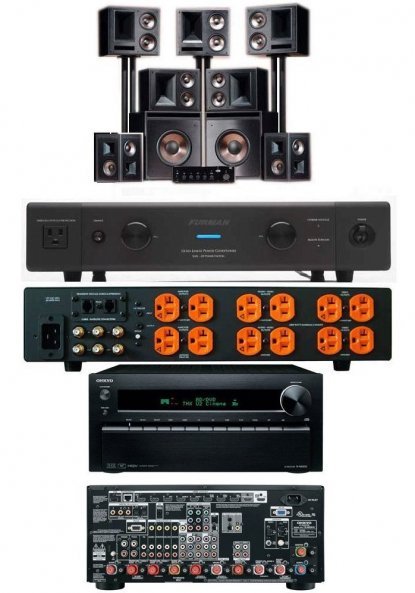 Surround: 7.1
Recommended Amp Power: Unknown
Low Freq: 20Hz
High Freq: 20kHz
What We Like: Amazing for big rooms.
What We Don't: Way overpriced, especially if you don't need the Furman power supply.
A little warning on this: although the Ultra2 speakers and TX-NR3010 receiver make an absolutely mind-blowing pairing, they are commonly offered in a package with a Furman power supply, which bumps the price up considerably. While a good supply of clean power is certainly nice to have, you may be able to find these individual components for a slightly cheaper price if you don't require it.
All the same: what a pairing. Klipsch's speaker systems have always been magnificent, and have always dominated home theater roundups across the Internet. The trademark black and gold color scheme still looks fantastic after all these years, and the meaty Onkyo receiver brings out the best in them. If you have a larger room, and are prepared to spend a little bit to get some truly epic sound, then we strongly recommend this package. As the next step beyond this is diving into individual components – a topic for another product roundup, perhaps – then this is a very good package option.
See the Klipsch THX Ultra2 / Onkyo TX-NR3010

Best Wireless Home Theater System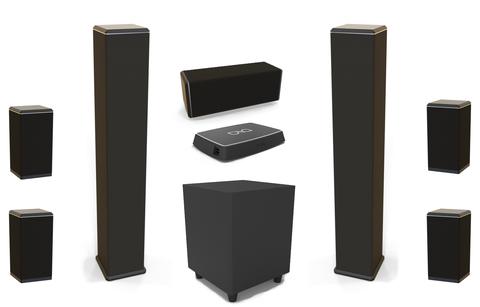 Surround: 7.1
Recommended Amp Power: N/A
Low Freq: 20Hz
High Freq: 20kHz
What We Like: Great wireless sound, super convenient.
What We Don't: Like other wireless systems, the sound quality doesn't touch wired - yet.
Wireless systems are becoming more common - and while other wired systems have it beat, offering better sound for a fractionally-more-expensive pricetag, this 7.1 system from Axiim still manages to be among the market leaders. It's their current flagship system, a huge leap from the Q HD 5.1 (previously on this list).
It's probably a little too expensive for what it is now, but it still offers unbelievable wireless audio, quite happy competing with more expensive systems, as well as offering full 4K functionality, and an absolutely gorgeous receiver/central unit that kicks some of the bigger names into the dirt. While you will need to plug each individual speaker into the mains (we are still holding out for a system that takes the whole wireless thing literally) there's no better way, right now, to introduce cable free home theater into your life. Do check this out: it's spectacular. Be aware, wired systems – like the ELAC/Denon combo above it – can be cheaper, while offering sound that is a little bit better, and there are no options for upgrading beyond the stock 7.1
See the Axiim 7.1 WM Series

Best of the Rest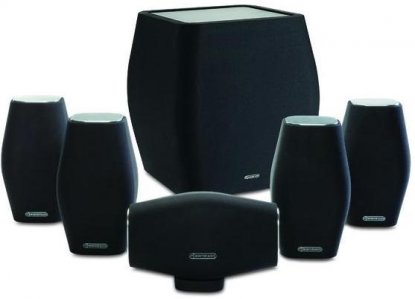 Surround: 5.1
Recommended Amp Power: Unknown
Low Freq: 30Hz
High Freq: 30kHz
What We Like: Mindblowing value, punches way above its weight class.
What We Don't: Lacks some clarity in the top end.
What? You think we've gone crazy? Putting a sub-$5,000 combo in with the big KEF/Rotel/ELAC combos above, all of which require the sale of the kidney? Not a bit, old chum. For while the Monitor Audio Mass 5.1 speaker set and the Integra DRX-4 receiver may not satisfy a very demanding audiophile, what they offer is absolutely staggering value. The Rotel/KEF combo may beat it on sound, but we know which one we'd buy if we valued our relationship with our accountant.
For less than the price of what some individual receivers cost, you get huge power, terrific dynamics, and an overall sound quality that will leave you with your jaw on the floor. The clarity in the top end is a little bit of a problem, but the emphasis is on little. We also think the pairing with this Onkyo receiver is easily one of the best available – definitely one of the most engaging we've heard, and definitely at this price range. Plus, it's fully expandable to 7.2, meaning you can easily add in more channels if you feel the need. The sheer value-for-money sets this one apart, and we think it's going to be in the upper reaches of this list for a long time.
See the Monitor Audio Mass See the Onkyo TX-RZ830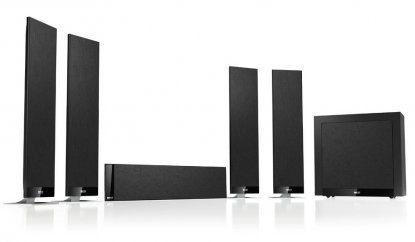 Surround: 5.1
Recommended Amp Power: 10-110W/8Ω
Low Freq: 30Hz
High Freq: 30kHz
What We Like: Great 5.1 sound, absolutely stunning value for money.
What We Don't: Not a huge amount for the money.
This was previously at number one on this list, but it's become tricky to find - a shame, for it's fantastic. KEF and Yamaha make a great combination, and for most people, this is all the home theater you'll ever need - unless you have a massive room! And: it's proof that you don't always need a four-figure receiver to make speakers sing.
While the Monitor Audio Mass / Onkyo combo, above, arguably offers even more value for money, this is a stunning deal which gives you some of the best audio quality around for a very good price. The audio quality is excellent, and while it would have been nice to get the option to expand upwards natively, it's not a dealbreaker. KEF's speakers and Yamaha's circuitry make for great partners. The A880 Aventage is one of Yamaha's flagships, and a moderate improvement on the old A870. By the way, it's worth mentioning that another receiver, now discontinued, previously held this spot: the Cambridge Audio CXR200. If you can find one, it too makes a great pairing with the T305.
See the KEF T305 See the Yamaha RX-A880 Aventage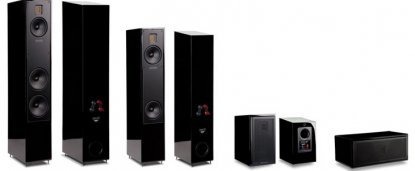 Surround: 7.1
Recommended Amp Power: 20-440W/4Ω
Low Freq: 20Hz
High Freq: 25kHz
What We Like: Splendid pairing.
What We Don't: We prefer the KEF and Klipsch setups.
MartinLogan and Anthem a part of the same group of companies, so it's no surprise they pair well together. We adore the Anthem MRX 1120 receiver, which recently placed highly on our list of the best A/V receivers available, and paired with a dedicated mix of MartinLogan speakers, it results in one of the best sound signatures in home theater: deep, rich, with a thundering low-end that will reach right into your stomach and give it a good old shake.
It must be said that we do prefer other models over this pairing, including the Aperion / NAD combo, which costs quite a bit more but is also definably superior. However, if you have a little less to spend but still desire elite quality, this is unquestionably a top pairing, with just about every possible option you could want, able to equip rooms up to 9.2 surround sound. Expect this tag team to dominate for years to come.
See the MartinLogan Motion 7.1 Ultimate See the Anthem MRX 1120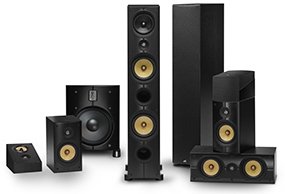 Surround: 7.1.2
Recommended Amp Power: 20-200W/8Ω
Low Freq: 30Hz
High Freq: 23kHz
What We Like: Silky, rich sound.
What We Don't: Beaten out by other combos in this price range.
If we had to pick between these and the speaker setup like the Aperion collection above, we'd go with the Aperion – it's just a better all-round system, although it will cost you more, if you go for the full 7.1 option. However, that's not to say that the Imagine XA Dolby Atmos is a time waster; far from it. It offers deep, rich, silky sound quality perfectly suited to cinema audio, and we think it will make a more than worthy addition to any listening room. Or living room. Whatever you choose to call it.
We've already talked about our love for the Rotel RAP-1580, and in compiling this roundup, we quickly realised just how versatile it can be, pairing happily with different combinations of speakers. We do enjoy this particular combo, which we think is suited to the Rotel's class and elegance. However, you shouldn't be worried about experimenting, both with receiver and speaker system, as they are both highly adaptable. There are also plenty of upgrade options if you'd like to add more speakers at a later date.
See the PSB Imagine XA Dolby Atmos See the Rotel RAP-1580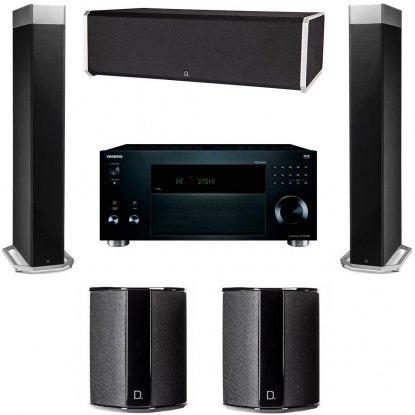 Surround: 5.0
Recommended Amp Power: Unknown
Low Freq: 16Hz
High Freq: 40kHz
What We Like: One of the better packages available.
What We Don't: Only 5.0 - you'll need a sub!
It's actually quite rare to get 5.0 packages, as opposed to 5.1 or 7.1. That means, for this Definitive Technology package, you'll need to add a separate subwoofer. We have plenty on this site, and the company also makes a few of their own, so it's not as if you don't have options. And once you hear the pairing with the Onkyo TX-RZ1100, you'll be in love with this package as we are.
For a little under $6,000, you get an absolutely extraordinary level of sound quality, that reaches far into your ears and turns them inside out. The speaker maker is known for quality, and although we don't think it reaches the heights of manufacturers like MartinLogan and KEF, it certainly holds its own – and has some of the best design around. The Onkyo receiver may be a little workmanlike, but it gets the job done, and it presents these speakers beautifully. Try out this pairing: you won't regret it.
See the Definitive Technology BP9080X / Onkyo TX-RZ1100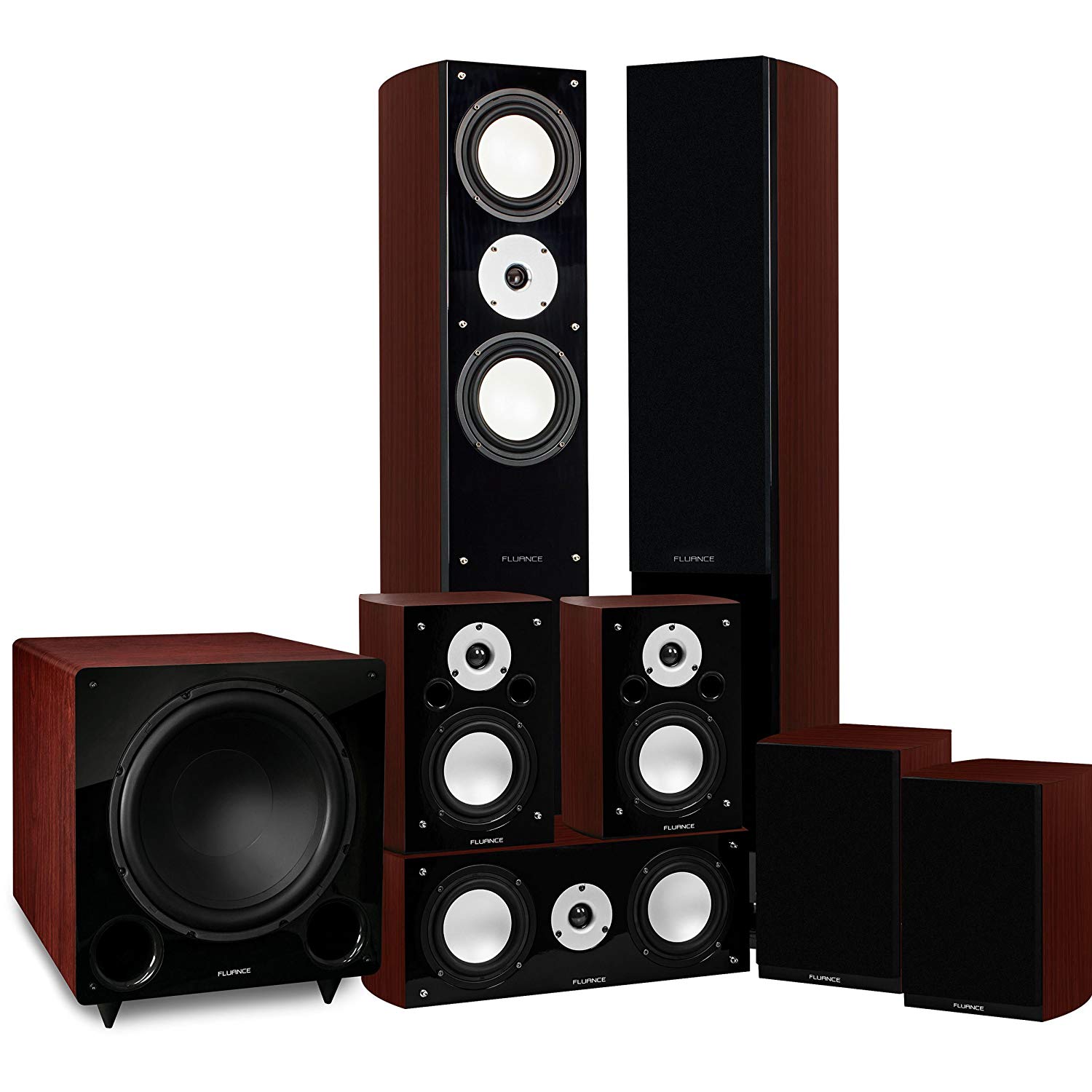 Surround: 7.1
Recommended Amp Power: 25-200W/8Ω
Low Freq: 40Hz
High Freq: 20kHz
What We Like: Looks great, sounds terrific.
What We Don't: Included subwoofer isn't as impressive as it should be.
This isn't one for bassheads. Sure, it'll do very well - the DB12 subwoofer sounds decent enough. But it never feels like the bass extends far enough. Compared to packages from SVS and ELAC, above, the Reference Series feels a little lacking in the low-end. Explosions don't punch quite as hard as they should, and it's less meaty than it ought to be. To qualify: this is an excellent package, and Fluance know their stuff. It's just not quite as good as the others.
It definitely helps if you pair the Reference Series with a good receiver, and the Denon AVR-X4400H is that receiver. They work really well together, bringing out the best in one another - there's a good reason why the receiver is, at the time of writing, top of our list of this year's best receivers. The sound has dynamism and weight, and pinpoint timing to help with moments in the movie where there's a lot going on. For under $3,000, this is a great combination. One word of caution: Fluance recently released a new line of speakers, the Signature Series, although there's no word of a 7.1 or 5.1 package there just yet. There is a Signature Series 5.0 package, but for now, the Reference Series 7.1 is still the top choice.
See the Fluance Reference Series 7.1 See the Denon AVR-X4400H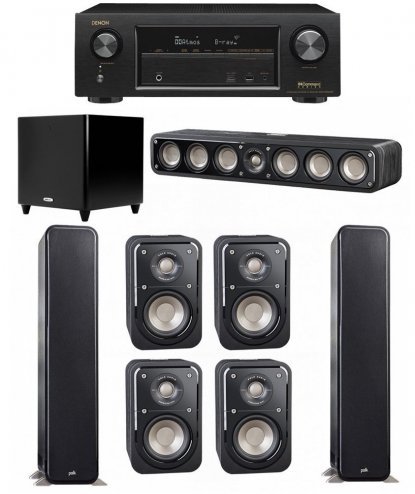 Surround: 7.1
Recommended Amp Power: 20-200W/8Ω
Low Freq: 30Hz
High Freq: 40kHz
What We Like: Terrific package at a knockdown price.
What We Don't: Low-end could be a lot better.
Polk Audio often gets short shrift in the home theater world. We don't think that's fair, especially when the Signature 7.1 system performs so well. This speaker system not only offers good construction and build quality, but also offers some very decent sound. While we would have liked a little bit more of a low end, which can be slightly underwhelming at times, there's no question that this does what it sets out to do.
The Denon AVR-X1300W is a bit of a middle-of-the-range receiver – it certainly doesn't offer the value of the smaller AVR-S920W – but it will satisfy most setups, with a good level of power and some decent oomph to the audio. You're probably not going to go above 7.2 with this, but if that was your goal, we'd suggest you go for one of the more expensive systems anyway, as it will serve you better. All same, we like this combo, and for under $2,000, it's a total steal.
See the Polk Audio Signature 7.1 System / Denon AVR-X1300W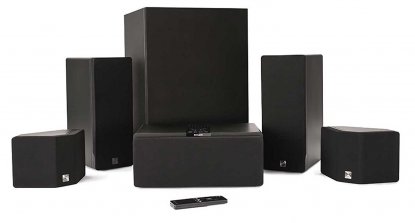 Surround: 5.1
Recommended Amp Power: N/A
Low Freq: 20Hz
High Freq: 20kHz
What We Like: Great budget wireless system.
What We Don't: The Axiim system, above, does a much better job.
You shouldn't mistake the fact that the Axiim 7.1 system, at the top end of this list, is better because it includes two more speakers. It comes in a 5.1 variant, not mentioned here, and even that easily beats out the Enclave Audio Cinehome HD.
That's not to say the Enclave system is bad. It costs significantly less, for one, and offers superb value for money. The sound quality may not reach the heights of other models on this list, but there's plenty to recommend this one, including the fact that it generates its own wireless network, staying off the existing one in your home, and preventing clogging and dropouts. It's a clever system, although it must be said that we'll be more excited for whatever Enclave do next. If you can afford it, get the Axiim. If not, or you're looking to get a little bit more bang for your buck, try this one.
See the Enclave Audio CineHome HD 5.1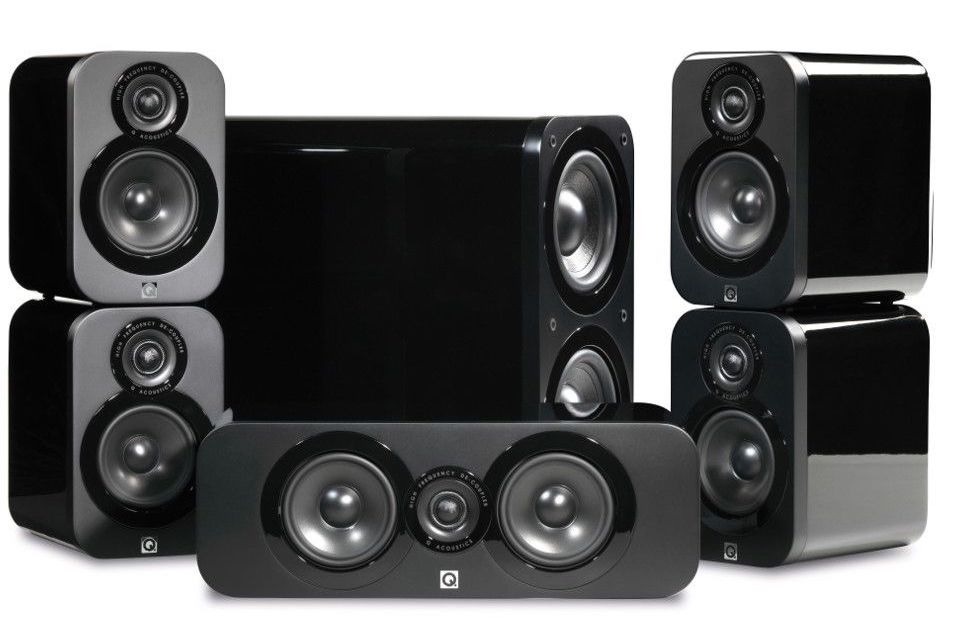 Surround: 5.1
Recommended Amp Power: 15-75W/6Ω
Low Freq: 50Hz
High Freq: 22kHz
What We Like: One of the best systems for details.
What We Don't: We'd suggest a different subwoofer.
Like the Fluance system mentioned above, this has an issue with the subwoofer. Unlike the Fluance, we'd actually recommend replacing this one. Q Acoustics make terrific speakers, but even a cheap subwoofer - an ELAC Debut 2.0 SUB3030 or a BIC America F-12 - will make a big difference. Those aren't hugely expensive subs, so we don't think it's a huge issue if you have to pick one of them up to complement the Q Acoustics system.
The system does deserve to be on here, however, and that's chiefly because of the detail the speakers offer. You'll be able to hear everything - every gunshot, every bit of dialogue, every note - with the utmost clarity. The speakers may not deliver a ton of power, but they more than hold their own. And Sony's STR-DN1080 receiver is more than enough to really make them sing, offering everything you could possibly need to create a killer home theater setup.
See the Q Acoustics 3000 Series 5.1 See the Sony STR-DN1080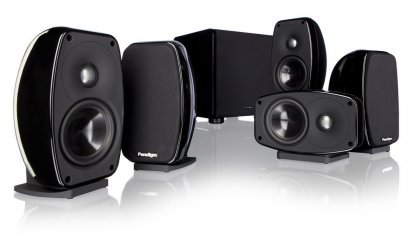 Surround: 5.1
Recommended Amp Power: 15-100W/8Ω
Low Freq: 32Hz
High Freq: 20kHz
What We Like: Solid sound.
What We Don't: Paradigm don't offer huge bang-for-buck, in terms of HTIBs.
You might reasonably wonder why Paradigm don't feature higher on this list. After all, they are among the most storied speaker makers ever, with some fantastic models. What they don't do, in most cases, is offer complete speaker packages. If we were putting together a system from individual components, we would absolutely consider them. But in terms of this list, we have to take into account their existing package options, and while the Cinema 100 CT is good, other packages on this list offer more value for money.
We think the best pairing for this – one of the best – is the Onkyo TX-NR787. It's a workmanlike machine, in terms of features, but it does give you good sound when paired with this particular speaker system, and absolutely gets the job done. We really can't stress just how much respect we have for Paradigm, but in terms of single packages, this wouldn't be our first choice over something like the Polk/Denon combo, above.
See the Paradigm Cinema 100 CT See the Onkyo TX-NR787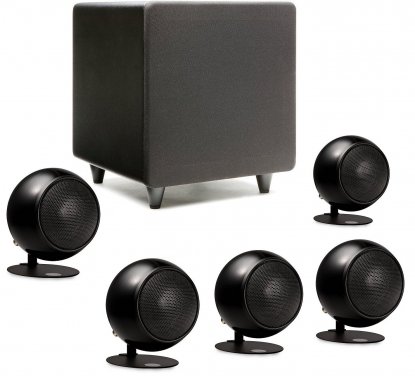 Surround: 5.1
Recommended Amp Power: Unknown
Low Freq: Unknown
High Freq: Unknown
What We Like: A nifty idea.
What We Don't: Expensive for what you get.
Orb Audio, an independent manufacturer, have taken a slightly different approach to home theater, in comparison with the bigger names on this list. They've gone for an entirely modular system, with a subwoofer and several small satellite speakers – shaped like orbs, natch – which you can dot around the room as you please. Several marks for forward thinking, as it allows you to upgrade as you see fit, adding more and more speakers. For this reason, we paired it with a receiver that allows for such capability: the Onkyo TX-NR585 is more than happy here, and offers decent sound when paired with the speakers. It's an upgraded model from Onkyo, with an excellent range of features that will more than be at home in...well, your home. We'd compare it favorably with the Onkyo TX-NR787, above.
However: we do think that the existing system is a little bit too expensive at the time of writing. It doesn't feel like you get huge value, especially compared to other options on this list. As it is, we think this is a very good system that could stand to lose a little bit on the price side; if it does, we'll definitely re-evaluate its place on this list.
See the Orb Audio Mini 5.1 See the Onkyo TX-NR585
 
And For When You're Really On A Budget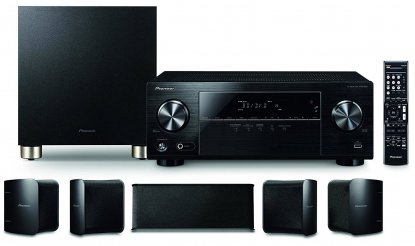 Surround: 5.1 
Recommended Amp Power: 30-150W/8Ω
Low Freq: Unknown
High Freq: Unknown
What We Like: Value-for-money.
What We Don't: Sounds like it costs.
This basic 5.1 system from the folks at Yamaha is still a very solid budget buy, offering a complete system in the box, and allowing you to spec up your home theater just how you like it. It doesn't offer anything hugely special - certainly when compared to something even a little bit more expensive, like the Orb Audio Mini, but it does bring quite a bit to the table.
The sound is decent, if unspectacular, and is perfect for small rooms. You get Bluetooth, an Eco mode, full 4K HDMI pass-through, and decent usability. As home theater systems go, it's fairly anonymous, unfortunately, with off-the-shelf components - but there's nothing to say it won't make the perfect entry-level system. There are plenty of options if you want to for separates, by the way: try the Yamaha NS-SP1800 5.1 system, or the Sony TRDH550 receiver. Get those two together, and you're still well under $500.
See the Pioneer HTP-074 5.1
 
New Home Theater Systems Coming Soon
While there might not be any new full home theater setups on our radar, our interest has certainly been piqued by the latest home theater tech: surround sound headphones. Our readers know that we are avid headphone enthusiasts here at TMS, and the opportunity to add Dolby certified surround sound headphones to our arsenal is a dream come true. Last year, Dolby released a pair of headphones that supposedly recreate the feeling of being in a movie theater, using their specialized surround sound technology. They're called the Dolby Dimension Wireless Headphones, and they look undeniably cool. Granted, there are many surround sound headphones available for purchase, and this isn't a new invention, but these are the first wireless surround sound headphones Dolby has created. Along with surround sound, the Dolby Dimensions feature smart assistant technology, compatible with both Google Assistant and Siri, and unique touch controls. These headphones might set you back a pretty penny - $600, to be exact - but oh boy, are we looking forward to testing them out. These are the perfect option for someone who loves the cinematic experience, but doesn't want to share it with anyone else. You can finally binge watch Game of Thrones at max volume without any complaints from the neighbors!
 
Home Theater Comparison Tables
First we'll do the specs for the complete speaker systems. The Lowest Freq. and Highest Freq. stats indicate how low and how high the complete system can go. RAP stands for - you guessed it - Recommended Amp Power. We explain that in more detail in the Buying Advice below.
| Speakers | Price | Surround | RAP | Low  | High |
| --- | --- | --- | --- | --- | --- |
| ELAC Debut 2.0 5.1 | $1,829 | 5.1 | 10-160W/6Ω | 35Hz | 30kHz |
| Aperion Verus III Grand Tower | $5,744 | 7.1 | Unknown | Unknown | Unknown |
| SVS Prime Satellite 5.1 | $1,000 | 5.1 | 20-150W/8Ω | 24Hz | 25kHz |
| Klipsch THX Ultra2 | $12,974 | 7.1 | Unknown | 20Hz | 20kHz |
| Axiim 7.1 WM Series | $3,999 | 7.1 | N/A | 20Hz | 20kHz |
| Monitor Audio Mass | $1,246 | 5.1 | Unknown | 30Hz | 30kHz |
| KEF T305 | $2,200 | 5.1 | 10-150W/8Ω | 30Hz | 30kHz |
| MartinLogan Motion 7.1 Ultimate | $7,095 | 7.1 | 20-440W/8Ω | 20Hz | 25kHz |
| PSB Imagine XA Dolby Atmos | $3,500 | 7.1 | 20-200W/8Ω | 30Hz | 23kHz |
| Definitive Technology BP9080X | $5,835 | 5.0 | Unknown | 16Hz | 40kHz |
| Fluance Reference Series 7.1 | $1,225 | 7.1 | 25-200W/8Ω | 40Hz | 20kHz |
| Polk Audio Signature 7.1 | $1,954 | 7.1 | 20-200W/8Ω | 30Hz | 40kHz |
| Enclave Audio CineHome HD 5.1 | $999 | 5.1 | Unknown | 20Hz | 20kHz |
| Q Acoustics 3000 Series 5.1 | $900 | 5.1 | 15-75W/6Ω | 50Hz | 22kHz |
| Paradigm Cinema 100 CT | $999 | 5.1 | 15-100W/8Ω | 32Hz | 20kHz |
| Orb Audio Mini 5.1 | $889 | 5.1 | Unknown | Unknown | Unknown |
| Pioneer HTP-074 5.1 | $400 | 5.1 | 30-150W/8Ω | Unknown | Unknown |

And now for the recommended receivers. Watt. refers to Wattage, or power output, and Conn. refers to connectivity - Bluetooth and Wi-Fi. A 'V' next to an entry in the Surround column means Various - as in, various iterations of Dolby, or DTS:X surround sound. Finally, if the receiver is included in the package, you'll see an Inc. in the Price column.
| Receiver | Price | Channels | Surround | Watt. | Conn. |
| --- | --- | --- | --- | --- | --- |
| Denon AVR-S740H | $429 | 7.2 | Dolby Atmos, DTS:X | 75/8Ω | Blue./WiFi |
| NAD T 777 V3 | $2,499 | 9.2/11.2 | Dolby Atmos | 160/8Ω | Blue./WiFi |
| Onkyo TX-NR3010 | Inc. | 9.2 | Dolby V, DTS V | 200/6Ω | Blue./WiFi |
| Onkyo TX-RZ830 | $1,299 | 5.2.4 | Dolby Atmos, DTS:X | 180/6Ω | Blue./WiFi |
| Yamaha RX-A880 Aventage | $980 | 7.2 | Dolby Atmos, DTS:X | 100/6Ω | Blue./WiFi |
| Anthem MRX 1120 | $3,599 | 11.2 | Dolby Atmos, DTS:X | 140/8Ω | WiFi |
| Rotel RAP-1580 | $3,850 | 7.1.4 | Dolby Atmos, DTS:X | 150/8Ω | Bluetooth |
| Onkyo TX-RZ1100 | Inc. | 9.2 | Dolby Atmos, DTS:X | 200/6Ω | Blue./WiFi |
| Denon AVR-X4400H | $1,614 | 9.2/11.2 | Dolby Atmos, DTS X | 130/8Ω | Blue./WiFi |
| Denon AVR-X1300W | Inc.** | 7.2 | Dolby Atmos, DTS:X | 80/8Ω | Blue./WiFi |
| Sony STR-DN1080 | $598 | 7.2 | Dolby Atmos, DTS:X | Unknown | Blue./WiFi |
| Onkyo TX-NR787 | $599 | 9.2/11.2 | Dolby Atmos, DTS:X | 100/8Ω | Blue./WiFi |
| Onkyo TX-NR585 | $399 | 7.2 | Dolby Atmos, DTS:X | 80/6Ω | Blue./WiFi |
| Pioneer VSX-325 | Inc. | 5.1 | Dolby V | 100/6Ω | Bluetooth |
Want Even More Master Switch? Sign Up For Our Weekly Newsletter!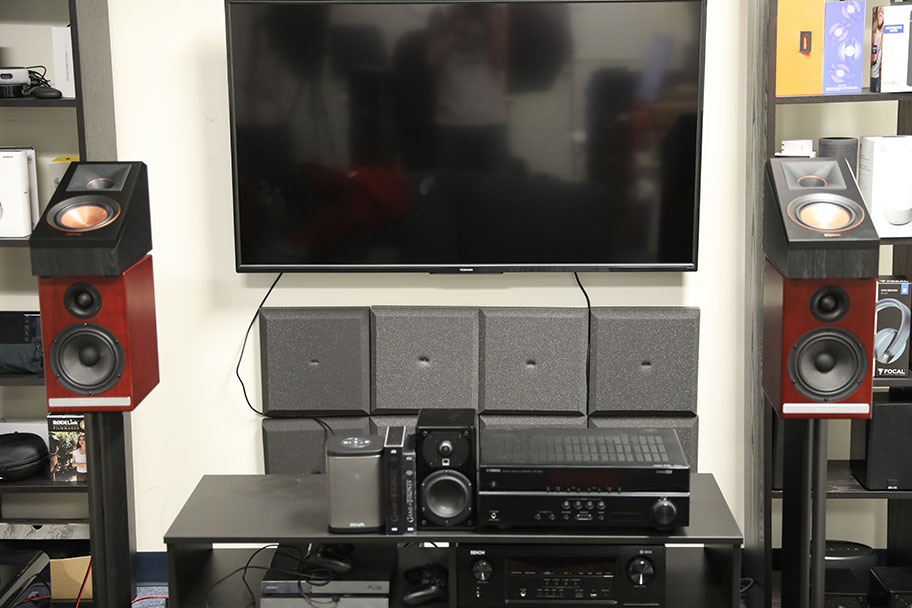 Home Theater Buying Advice
Which Home Theater System Is Best For Me?
A home theater system combines speakers, amplifiers, subwoofers and A/V receivers into one complete package. All you'll need is a TV, and you'll be good to go. You'll also need a video source, such as a Blu-ray player or gaming console. When we talk about the 'kind' of home theater system you want to buy, it's largely a question of how many speakers you have, and how many features you require. While there is some correlation with price, in the sense that more money will give you more options, this isn't always the case. We are going to lay out the individual elements of a home theater system in the sections below, but it's worth talking about the big, guiding questions you should have in mind when making your choice. This is, after all, quite a substantial purchase, and it's worth having a look at the big picture first.
Let's assume for the moment that you're not going to expend a huge amount of effort and energy picking out individual speakers for each part of the room - fun, but total overkill for most people. You want to buy a complete speaker system, sometimes known as a HTIB (Home Theater In a Box). Any of the models on this list should give you absolutely everything you need to produce high-quality sound. No question of that. But you need to think about what you're going to use it for. Choosing the right system is a decision you'll have to make based not only on the price or even the size of your room. It's worth bearing in mind the question of what you are going to be using the system to listen to. Are you going to be blasting dance music through it? Orchestral stuff? Or perhaps you're hooking up specifically so you can binge on The Crown or Agents Of S.H.I.E.L.D? Maybe even an enormous, explosive action movie? A bigger system will lend itself more to movie watching, and if that's what you're going to be using it for, it's worth spending a little bit extra. If you plan to use it as a music system in addition to this, then it may be worth considering slightly fewer speakers, as you're simply not going to be getting a musical advantage out of more than about five speakers.
In addition, take a look at the receiver. This is the box that not only routes your individual video and audio signals to the right places, but also generates the power for your speakers. Even cheap receivers will have a staggering number of features, including the ability to play 4K video, as well as multiple inputs and outputs. Make sure you aren't paying for features you aren't going to use! If you know you are unlikely to expand beyond, say, 5.1 – which we will explain a little more detail below – then there's no point paying more for a receiver that offers the ability to expand up to 11.2 and beyond. You're better off spending more money on your speakers!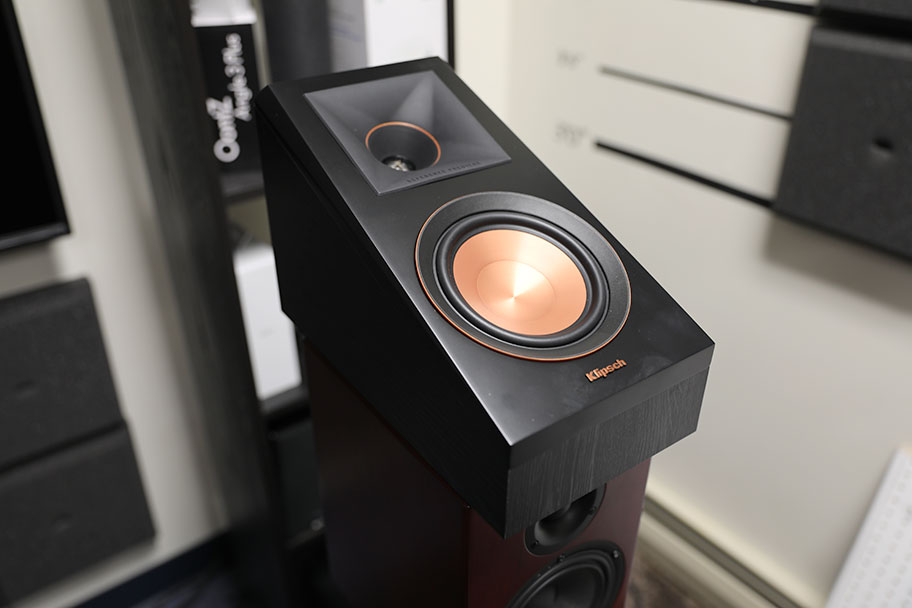 5.1 vs. 7.1 vs. 9.2
These terms refer to different types of surround sound technology, and the number of speakers in a given system. More importantly, they refer to channels. They could have two, five or seven (sometimes even nine or eleven) channels, which means two, five, or seven speakers. The .1 (or .2, or .4!) refers to a subwoofer present in the system. Such a setup will have a dedicated speaker designed to push out bass frequencies. It's usually squat and boxy, and is designed to be placed at floor level, where the effect will be the strongest. This article, by the way, is a list of the best overall home theater systems available right now – regardless of the number of speaker channels included in them. If you'd like, you can check out our individual lists of the best 5.1 systems, and the best 7.1 systems, of this year. They all have options that weren't quite special enough to make this list, but are still fantastic in their own right.
Like Tetris, channels are simple to grasp, but tricky to master. Which do you go for? Do you leave yourself the ability to expand later? Obviously, the more speakers you have, the more likely you are to get deeper and more accurate surround sound, but you also have to be aware but adding more speakers to a system increases the amount of effort you will need to spend, as well as the amount of time you'll spend installing speakers and connecting speaker wire! As a guideline, the smaller the room, the fewer speakers you will need to fill it. Got a basic apartment living room? A 5 .1 system – three front speakers, two side speakers, and a subwoofer – will be more than enough to do the job. Given that space is limited, it may be worth considering a good wireless system.
If you have a slightly larger living space, such as one in a house, you could quite comfortably move to 7.1 or beyond, placing additional speakers behind and above your listening position. Once you start putting speakers above your head – moving things into 9.1 or 11.1 territory – you need to start considering whether you can actually drill into the walls, or how much effort you're prepared to put in to mount things. Something like the Aperion / NAD is ideal for this, not only because you get world changing sound, but because it gives you the ability to expand later on. You may also see terminology like 7.2.4, which is functionally the same as 11.2 – in other words, seven floor speakers, four height speakers, and two subwoofers. That's one mother of a system!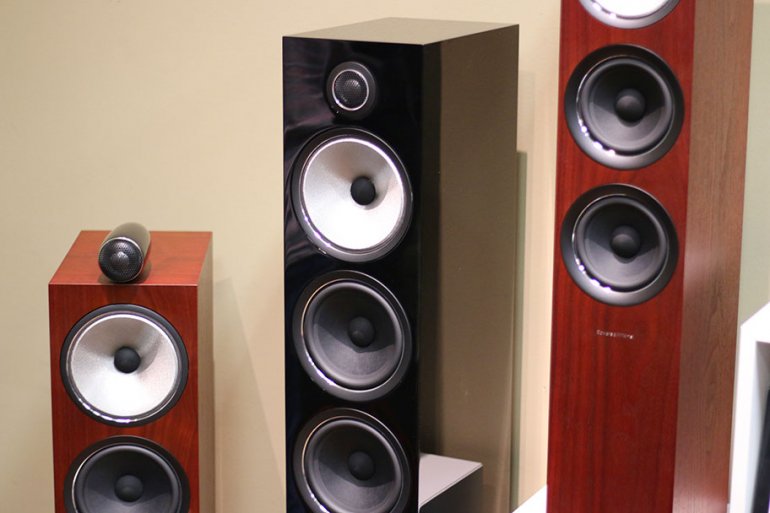 Dolby, DTS:X and Auro-3D: Surround Formats Explained 
Surround sound can be crazy confusing. It can be a world of bizarre acronyms an obscure jargon, and if you're not hip to the lingo, dealing with it can be frustrating. Fortunately, we are here to save the day. Like Superman. Only if Superman was an audio geek writing this in a darkened office while stuffing his face with Doritos. Anyway…surround sound is made possible not just by the number of speakers in a particular setup. You still need to tell the individual speakers which parts of the audio to play, and that's where the surround sound codec comes in. This is a piece of software that acts as air traffic control, separating the signal into discrete parts, sending it to the right places, and producing an effect which will blow your mind. There are three main ones you need to know about, although they all have their individual variations and flavors – way too many to go into here!
Dolby Digital is a name that pops up again and again. One of Dolby's most exciting recent technologies is the Dolby Atmos codec, which moves the surround sound in all directions, including up or down - just like real life objects do. That's why it is often called 'object-based surround sound'. There's a catch of course - to make it work you need additional receiver channels and additional up-firing or ceiling speakers. One of the more bizarre emails we've gotten was from a reader who said that he didn't believe that he needed additional height speakers to make Dolby Atmos work. As we said to him, you definitely do.
Another equally famous company - DTS - produces a very similar surround mode. They call it DTS:X and this is another hugely important type often found in latest generation A/V receivers' spec sheets. DTS do not use the term 'object based' but call it "multi-dimensional audio' surround. Unlike Dolby Atmos, the immediate advantage of DTS:X is that it does not require additional speakers. You can use it with a simple 7.1 system, making it far more versatile then Dolby Atmos – although, of course, it doesn't have that additional realism that comes from height speakers.
It's also worth mentioning Auro-3D. This is quite a rare codec, and is best suited to enormous rooms with space for multiple speakers, including several in the ceiling. It's not really too widespread yet, and although several receivers offer this functionality, you will almost always need to pay for an upgrade. An example of a receiver with Auro-3D built-in is the Denon AVR-X4400H. Of course, if you have the space to go for Auro-3D, chances are this is pocket change to you!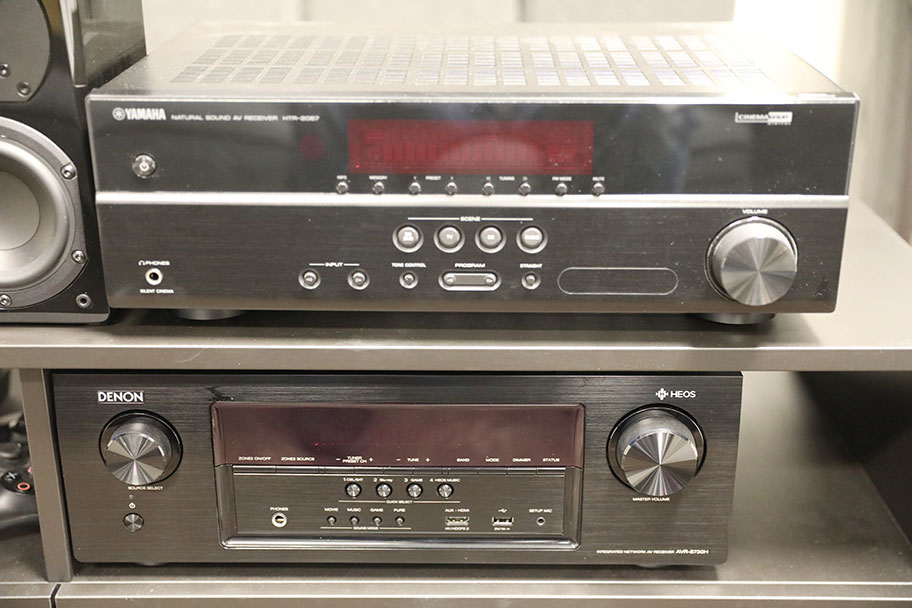 Other Surround Sound Formats Explained: Dolby TrueHD vs. Dolby Digital Plus vs. DTS: Neural X
It can often be a real challenge to navigate through the thicket of Dolbys and DTSs and True HDs and Neural Xs and whatever other surround sound programs a particular receiver offers. Often, there is no explanation given on manufacturer webpages, so it's up to you to figure out what they all mean, and which ones you can use. Fortunately, we're here to help. We've already dealt with the three main surround sound programs in the section above - Dolby Atmos, DTS:X, and Auro-3D. What we're going to do now is give a very brief explanation of some of the other types you'll encounter. As there are quite literally dozens of them, we won't break down some of the more obscure ones. But there are a few but you'll see cropping up over and over, and we think we can demystify what they mean.
Let's say you have an Atmos or DTS:X-capable source, like a really good Blu-ray disc…but your A/V receiver isn't equipped to handle either Dolby Atmos or DTS:X. In that case, you'll find that you can use DTS-HD Master Audio or Dolby TrueHD. These essentially do the same thing either a DTS or Dolby source, taking the material and outputting an eight-channel mix. It's not quite as good as Atmos or DTS:X, but it's very close, and as long as you don't have a 9.2-speaker setup or more, you'll be able to get very good sound. What is slightly strange is that you'll sometimes see these two programs in receivers that are capable of Atmos or DTS:X output; the Denon AVR-S740H is a perfect example. Yes, we know, we find it strange too.
Another one you'll often see: DTS Neural:X. This is a fascinating bit of digital wizardry from DTS, and essentially, it allows you to take a source that doesn't have any height information – say, a DVD with a 5.1 audio mix - and extrapolate height data that you can then use to impersonate a full 7.1 mix. It takes a little bit of thinking to wrap your head around, but it's still super-useful to have. There are many, many other types of surround sound software, and if you want more details on them, as well as the ones mentioned above, we explore them a little more in our list of the best A/V receivers of this year.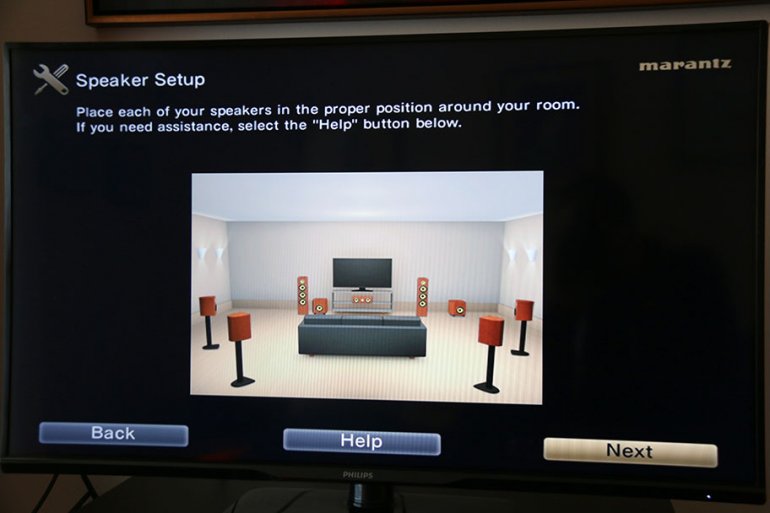 Connecting Your Home Theater System 
Now this is a topic! We could spend a lot of time talking through the individual connections, elements, and multitude of cables you might encounter while connecting your home theater system up. It's not that it's difficult. It's just that there are a staggering number of individual components available – even the ones on this list, which at least are in the same product categories, vary wildly – and it's impossible for us to Go through every single scenario. However, we can do a quick rundown of the basics, talking about the most common cables you will need.
You are almost certainly going to need a couple of HDMI cables, which you will use to connect your receiver to your TV, and your video source – like your console – to your receiver. If your signal comes from something like a Google Chromecast, or your TV's own wireless streaming capabilities, then one HDMI cable will be perfectly acceptable; the TV can handle the video signal itself, and all you need to worry about is the audio signal. If this is the case, make sure your HDMI cable is connected to the ARC (Audio Return Channel) slot on your TV.
The other one to worry about is speaker wire. Very obviously, this connects your receiver to your speakers. For each speaker, you need to connections: positive (red) and negative (black). You will usually have two binding posts on the back of each speaker, and once you strip the wire from your cables, all you have to do is insert the exposed metal strands, and screw the binding posts down, doing the same on the back of your receiver – and making sure that the positive terminal on the speaker connects to the positive terminal on the receiver, and ditto for the negative terminals. This may take a little work, but you'll get there in the end! And if you want to know what each of those weird and wonderful connections on the back of your receiver does, you should check out our full guide.
 
Frequency and Crossover Explained 
Frequency is a measure of how low and how high a sound is. The lower in pitch it is – if it's the rumble of an explosion, for example – the lower frequency it will have. A sound with a higher pitch, like a violin, will have a higher frequency. Easy, yes? Humans can hear a limited range of frequencies – from around 20 hertz (or Hz) to 20 kilohertz (20,000 Hz). Despite this, many manufacturers actually create speakers that can produce sounds outside of this frequency spectrum. No, we don't know why. The accepted wisdom is that a speaker with a wider frequency range will be able to produce more effective sound, and while we don't doubt that the speaker can technically produce audio at 40kHz, we're not sure it makes much of a difference. Do feel free to fight us in the comments if you disagree! Regardless, we've listed the individual frequency ratings for each speaker system in the roundup, where available, indicating how low and how high they can go. If you're interested, the speaker system with the widest frequency range is the Definitive Technology BP9080X, which runs from 16Hz all the way up to 40kHz. For some reason.
Frequency can be useful, however, when tuning your system – particularly in getting the best sound out of your subwoofer. When setting up your system, using the on-screen menu of your receiver, you will need to set up the crossover – the point at which your speakers roll off, and the subwoofer takes over the bass. Using the above example, you could quite comfortably set the crossover of the Def Tech subwoofer at 16Hz, although most systems are likely to be from around 20-40Hz. Setting the crossover is important in getting the best bass, so take some time to fine-tune it.
Wattage and Speaker Matching
Good news! If you go for any of the packages in the list above, you won't need to worry about this. They are all matched really well, and you shouldn't have to do any squinting at spec sheets to see if you're going to blow your speakers through the roof. We are kidding – it's actually quite hard to do that. And it's always good to know how to pair speakers and amplifiers, so here's a very short summary. If you'd like something with a little bit more detail, you should check out our full explainer.
Essentially, every set of speakers will come with the recommended range of amplifier power. The ELAC Debut 2.0 5.1 for example, recommends you have an amplifier that generates power of between 10 and 160 watts. A perfectly matched amplifier will have a power range that neatly slots into this bracket. You don't necessarily need to worry about having an overpowered amplifier. Even if you have an amp that generated 300 watts, you will almost certainly never be delivering this amount of power to your speakers unless you really, really crank it. It's far more important to make sure that you have enough power, rather than too much – in the above example, that means more than 20 watts. If you can't deliver enough power to your speakers, things can go very wrong indeed. Fortunately, with modern systems, this is quite hard to do.
In our comparison table, you will also see the symbol Ω. This refers to ohms, or electrical resistance, and it's the second part of the equation. Every recommended amp rating will be at a certain level of electrical resistance – in the case of the ELAC Debut, it's at 6Ω, which is a standard rating for most modern speakers. If you'd like more details, check out the explainer above, but as long as the amplifier output is equal to or less than the impedance rating of the speakers, you should be okay.
 
3D and 4K Explained
3D is a term that probably doesn't need a lot of explaining. You'll see it in every overpriced movie you watch at your local theater, and you'll also see it in a lot of home content, too. To take advantage of 3D films and series, you will need a receiver that allows you to encode for it. Obviously, you'll also need a film that was actually made in 3D, but that's a separate matter entirely. The good news is, most modern receivers are setup for this, and as long as your TV can handle it too, you shouldn't need to do much to actually get it going.
4K is a trickier beast. It refers to a type of visual protocol which is ultra-high detail, with an absolutely staggering number of pixels on the screen. It used to be that this was very uncommon, with only a few TVs and receivers set up to handle it. While almost all current models can do it now, the problem is that there just isn't enough content to take advantage of it. This is something that is likely to change in the future, but the good news is you don't need to worry about future proofing too much right now, as most receivers and TVs can handle it.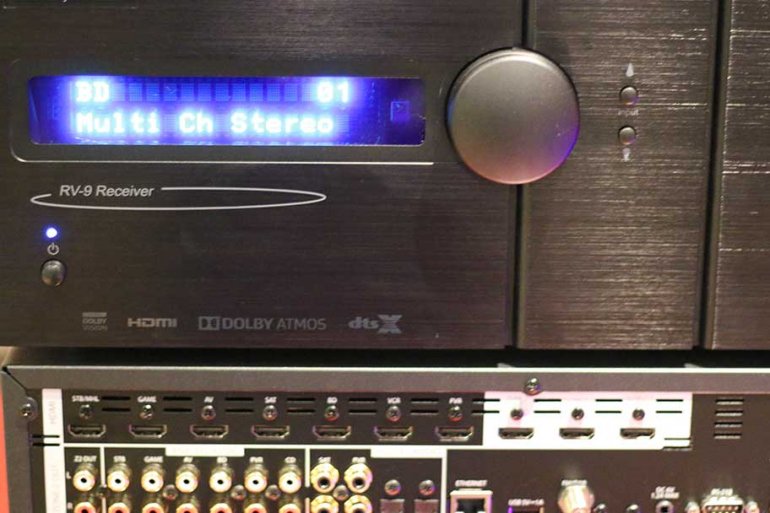 Additional Home Theater System Equipment to Buy
It's not just about speakers and receivers. If you have the money to spend, there are a few things you can buy to further improve your home theater experience. One of these is power supply. Home theater nerds absolutely swear by what they call clean power, which is essentially electricity without any voltage spikes or voltage drops, which can sometimes impact the sound. There is a debate about how much of an impact this is likely to have – it's only useful in very high-end components, and in almost all cases, an effect that ranges from subtle to inaudible. If you are interested in trying this, you should check out power supplies from names like Furman. The Klipsch THX Ultra2 / Onkyo TX-NR3010 package on our list, at number four, comes with a Furman Elite-20 power supply that can smooth out your electrical signal.
Then there's room calibration. Usually, you shouldn't need to buy this separately – it often comes with the receiver, in the form of a microphone that you place in your listening position. Your receiver plays varying tones through your speakers, which are picked up by the microphone after being bounced around the room, and the receiver adjusts the sound accordingly. The Marantz SR7012, mentioned earlier, has some excellent room calibration.
The final element to take into account, which is especially useful if you're really serious about your home theater, is acoustic proofing. Essentially, this takes the form of soft foam panels that you place at key positions around your room. These have the effect of absorbing sound waves, instead of reflecting them back, which means less muddying of the sound, and a clearer picture of what is happening. The actual science of acoustic proofing is a little bit waiting to get into here, but if you are thinking of trying it out, you might want to look at a product like this ATS panel set.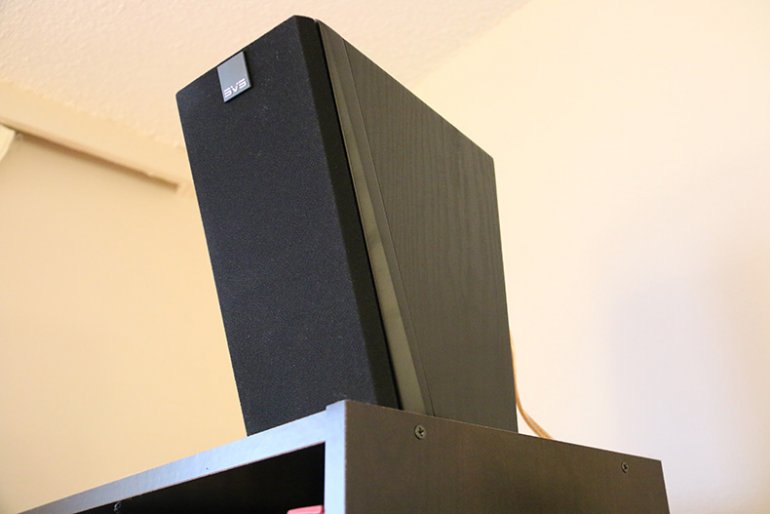 Building A Home Theater System From Individual Components
Let's have some fun. One of the things we couldn't do on this list is actually build each individual entry from multiple components. It would simply make things too long, and too unwieldy. Reluctantly, we had to go for complete systems, but you can still have a huge amount of fun – and spend a ton of money – building your ideal home theater system from individual components. That's what we're going to do here. It's not only a fun exercise, but is a useful primer in how to get started if you really do want to go down this route. For the sake of argument, let's give ourselves a budget: $20,000. We'll use this imaginary money to complete an 11.2 system, consisting of a receiver, two front speakers, a centre speaker, four surround speakers, four height speakers, and a subwoofer.
Let's start with the receiver. We could, technically, buy individual pre and power amps – both of which are needed, and both of which are always contained in an individual receiver – but that would almost certainly torpedo our budget, as these components can be expensive. We're putting together separate roundups of the best available on the market right now, but until we finish those, we're going to stick to a simple A/V receiver. We need something that can handle at least 11.2 channels, with the ability to deliver Dolby Atmos (we do have height speakers, after all!) Let's go for the Anthem MRX 1120 ($3,599), which we have a real soft spot for.
Now: the two front speakers, which really do need to be floorstanding/tower models. It's a tough call, but we are going to go for a pair of KEF R500s ($1,900 for the pair). As an alternative, we might look at speakers from MartinLogan, SVS or Paradigm, all of which are excellent.
In fact, you know what? Paradigm make such terrific individual components that there's no reason we shouldn't invest in a few of them. Let's make a center channel out of the Prestige 55C ($1,480), and buy four Prestige 25S speakers ($880 each) as side and rear surrounds. These offer multiple drivers on each speaker, delivering a huge amount of bang for buck, and the fact that they come from the same manufacturer means they'll compliment each other nicely.
Height speakers? No question in our mind. We'll go for the SVS Prime Elevations - four please, at $400 a pair. These terrific height speakers are hugely versatile. We actually did a full review on them a while back, which you can read here. And finally, the subwoofer - or rather, two of them. We'll stick with SVS, and go for the absolutely monstrous 1,500 watt PB16-Ultra ($2,500 each). That'll shake your damn tree.
So that's eleven speakers, and two subs. They are all individually fantastic, and they all complement each other, delivering unbelievable audio quality. They fulfill our requirements exactly. Divide the seven, carry the three…our total is $19,799. Boom! And it's perfectly possible to mix-and-match individual components at a fraction of the cost, so definitely don't let that stop you!
Back To Our Home Theater Picks Back To Our Comparison Tables
Learn More About Home Theater