It doesn't matter how large your television screen is, or how impressive the resolution. If you don't have great sound, then you're only getting half the experience. Some TVs have built-in speakers that can pack a decent punch, but anybody serious about their entertainment should be looking at a home theater system. The market has a good range of options, ranging from 5.1's to 7.1 monsters with a serious presence in your room of choice. No matter what your budget, below you'll find a great home theater system to fit your price range.

How We Choose:
Before we get started, one caveat. We know you can get vastly expensive individual home theater components, and we know that individual gear worth four or five figures is often excellent. But when doing a list of the best available, we tried to see which systems would be the best for most people - and would offer the best value for money. So while this list won't please hardcore home theater folk, or the custom install crowd, or those who mix and match hugely pricey speakers with massive receivers, it's ideal for when you just want a pairing that will give you exactly what you came for. Don't forget to check our Buying Advice section below, which gives all kinds of handy tips - from choosing the right system, to setting it up and demystifying the most common technical terms and jargon. While we consider these the overall best picks for home theater currently available today, bear in mind that we have more specific pics for 7.1 and 5.1 systems in their respective roundups. Also, please bear in mind that prices can change, and all prices were correct at the time of writing.

Our Home Theater Picks: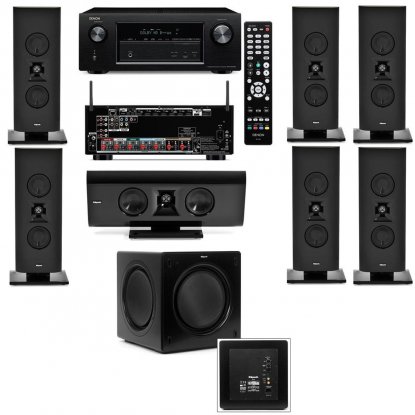 Surround: 7.1
Connectivity: WiFi/Bluetooth
HDMI I/O: 8/2
3D Ready: Yes
Receiver Output Power: 95W/8Ω
What We Like: It has all the digital bells and whistles, and sounds incredible.
What We Don't: May not be best for newbies.
The G-16 is arguably one of the best systems money can buy, improving on the already fantastic Klipsch flagship, the RF-42. The speaker package comes from Klipsch's truly magnificent G range, which is known for its lifelike representation of audio, as well as its depth. The company is an unquestioned market leader, and although this particular package uses a Denon receiver, it's still a great representation of just how good this 7.1 setup can be - good enough to sneak past the other contenders into our top spot. The sound is phenomenal; at this price range, you'd expect it to be, and Klipsch offers a 7.1 channel format to experience its full glory.
As with many 7.1 speaker packages, the receiver thrown in here is actually a 7.2 channel affair, allowing for expansion later on (a second subwoofer? You know you want to). Plus, there is almost no home theater system feature not included in the Denon AVR-X2400 receiver: WiFi, Bluetooth, 3D, HEOS multi-room wireless tech are all present and correct. This leads us to our lone caveat here, which is that the system can be daunting for newbies. It's a minor point, though: if you're prepared to spend a bit of time getting to know the system, though, you'll be laughing. And for our money, the way these two systems play together easily guarantees their place. You have to hear them to believe it.
See the Klipsch G-16
See the Denon AVRX2400H

Surround: 5.1
Connectivity: WiFi/Bluetooth
HDMI I/O: 4/1
3D Ready: Yes
Receiver Output Power: 90W/8Ω
What We Like: Killer sound and looks.
What We Don't: Apart from the price tag, nothing.
It's getting a little long in the tooth now, but few pure-speaker systems can beat the Dali Zensors. This is a company that has gone from strength to strength over the years, and we've got no hesitation in putting it in the top five, especially given just how much fun it can be to actually run this particular system in your lounge – even if we still think it's slightly overpriced. Despite that, this 5.1 system packs a huge amount in, with some unique and powerful speaker that delivers some jaw-dropping sound. The speakers are complemented by the spectacular Dali Fazon sub, which does an excellent job of filling out the low-end - and, crucially, is tuned to work with the speakers, meaning great sound out of the box.
You'll need to pair your own receiver, and we recommend the Yamaha RX-V681 to match. The channel numbers might seem to move in the direction of overkill, but we think that in terms of sound, the match is made in heaven. The package might not be the first choice, thanks to the price, but it remains one of the better ones, even now.
See the Dali Zensor 5.1
See the Yamaha RX-V681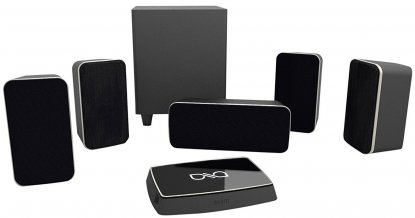 Surround: 5.1
Connectivity: WiFi/Bluetooth
HDMI I/O: 6/1
3D Ready: No
Receiver Output Power: Unknown
What We Like: Genuinely brilliant wireless system.
What We Don't: Maybe a touch pricey, availability fluctuates.
It can be easy to be put off by the substantial price of the axiim Q HD 5.1. After all, why would you pay this much for a home-theater-in-a-box? Answer: you pay that much because it's absolutely amazing. It's a wireless system that throws out all the conventions of what surround sound should be, and we love it.
For starters, forget the bulky receiver. axiim's hub is small, simple, beautiful and easy-to-use, and an example of where we'd like to see receiver tech go in the future. The wireless speakers don't have the raw power of other manufacturers, but they still pack a serious punch, channeling 24bit/96kHz surround sound. A mobile app provides easy control, and the setup of the system couldn't be simpler. It's easily upgradeable to 7.1, too, and in a new development at the time of writing, all axiim units feature 4K passthrough, thanks to a major firmware update. Couple of pointers: prices can vary on Amazon, and new units are rare, so you may need to go direct. And if you've been perusing our roundup of the best 5.1 systems, and are wondering where this beauty is - don't worry, we're in the process of updating!
See the axiim Q HD 5.1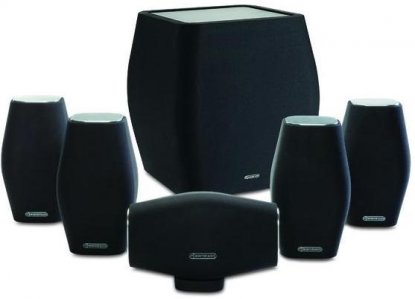 Surround: 5.1
Connectivity: WiFi/Bluetooth
HDMI I/O: 6/2
3D Ready: Yes
Receiver Output Power: 100/8Ω
What We Like: Superb audio detail, looks...and volume!
What We Don't: This system makes a visual statement - but it might not suit every room's decor.
These speakers may come from a slightly less well-known brand, but that doesn't stop us from feeling it's worth including here - and in the top five, no less. Being less of a household name than Klipsch or Onkyo doesn't stop us from loving what Monitor Audio's 5.1 Mass setup can do, and with good reason. Although this system doesn't come with a dedicated receiver (something we love to see the company have a crack at one day) we can unhesitatingly recommend a good Pioneer receiver, such as the VSX-1131, which is known for working well with this particular marque.
The biggest attraction of the system, beyond its good sound quality, is its size. The MASS 10 satellite speakers are compact – we go so far as to call cute, and will easily blend into the background of a room while still offering great audio quality. Special bonus points are reserved for the Bronze series W10 subwoofer, which really impressed us, especially considering its (only) 10" driver size. Although they got a way to go before they truly crack the top spot, and they may be a little bit difficult to find inside the continental US, the Mass setup is still a real winner, and one which we enjoyed immensely.
See the Monitor Audio Mass
See the Pioneer VSX-1131

Surround: 7.1
Connectivity: WiFi/Bluetooth
HDMI I/O: 5/2
3D Ready: Yes
Receiver Output Power: 110W/8Ω
What We Like: Great specs and performance.
What We Don't: No real issues.
The quality you get for the money with these two systems is superb, easily justifying their top position. The receiver packs a real punch, not only in terms of power but in features - its built-in WiFi capability taps into your household Internet router, not only allowing you to stream music directly from your smartphone or tablet, but also to control your receiver using the Yamaha AV Controller App. It can also sort your room acoustics calibration, and boost lower-res video to super high definition resolutions.
As for the speakers: this version is one of the best packages on offer by Onkyo. There's plenty of headroom on tap here - each one is rated at 130W, plus an earth-shaking subwoofer for rumbling impact. If you wanted better than this, you'd be hard-pushed to find around this budget. It packs a tremendous amount of value for money, coupled with excellent ease-of-use and some smart features.
See the Onkyo SKS HT870
See the Yamaha RX-V781
Surround: 7.1
Connectivity: WiFi/Bluetooth
HDMI I/O: 7/3
3D Ready: Yes
Receiver Output Power: 140W/8Ω
What We Like: Great audio detail due thanks some fantastic converstion tech.
What We Don't: HDMI switching could be faster.
The next system in line is based around the very capable Onkyo SKS-HT540 setup, which we're big fans of here at TMS. The company's significant research and development as well as dedication to delivering superior sound are very evident when auditioning this system - and as much as we sometimes feel like they dominate these types of roundups on our site, they sit with companies like Klipsch as market leaders. This particular system is smooth and revealing, with sweet high-frequencies, dynamic midrange and a controlled yet dominant bass.
All that goodness is powered and controlled by the Pioneer SC87 receiver, which is another example of the current crop of A/V receivers offering incredible digital-to-analog conversion (thanks, in this case, to some great Sabre chips), advanced connectivity, acoustic room calibration, UltraHD capability, and wireless streaming. Where it differs from others is in its use of Class D3 amplification. Energy efficiency has bugged many a receiver from past generations, but Class D amps run cooler than conventional designs, using less energy while pumping power efficiently. In addition, the audio clarity of this package is one of the best we've heard within this price bracket, and it is the very thing that truly separates this beast of a system from cheaper ones.
See the Onkyo SKS-HT540
See the Pioneer Elite SC-87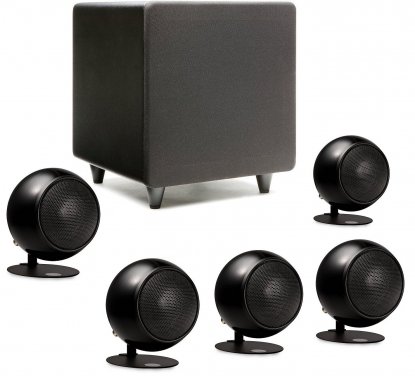 Surround: 5.1
Connectivity: WiFi/Bluetooth
HDMI I/O: 8/2
3D Ready: Yes
Receiver Output Power: 90W/8Ω
What We Like: Compact, tight sound, fully upgradeable.
What We Don't: Not as loud or as powerful as other models.
Orb Audio make some fun stuff - and while their Mini 5.1 system feels a little stripped down, thanks to its lack of a traditional center-channel speaker, it's still worth inclusion on this list. With five award-winning Mod1X satellite speakers, each just a bit larger than a tea cup, and a subwoofer called subMINI, this system can easily go unnoticed in your room. And that's the idea of course, but only until you play a track or a movie. Your guests will be asking you where's that sound coming from!
The Orb 5.1 is punchy and clear sounding, with audio that's worth every penny. Of course, a suitable receiver will be needed, and you can even go large (pardon the pun) - 7.1 or larger formats are all doable, since the satellite speakers can be topped up (although they must be purchased separately). Ultimately, that's an excellent reason to invest in this particular system: it's fully upgradable, and if you've got a receiver like the Denon AVR-S920W, you'll be well on your way to having a kick-ass system you can be well and truly proud of.
See the Orb Audio Mini 5.1
See the Denon AVR-S920W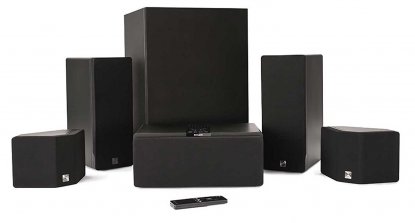 Surround: 5.1
Connectivity: WiSA/Bluetooth
HDMI I/O: 3/1
3D Ready: No
Receiver Output Power: Unknown
What We Like: Good entry-level wireless system.
What We Don't: Not a patch on the Axiim, subwoofer controls are dubious.
You might not be familiar with WiSA. Wireless Speaker and Audio is a method of having speaker systems communicate wirelessly (obviously), and allows it to transmit high resolution sound with more efficacy than Bluetooth. While it's not in widespread operation yet, it's becoming more common, and this affordable Enclave 5.1 system is a good early example.
First, the negatives. It's not a looker, by any means, and certain functions – like controlling the volume of the subwoofer – are needlessly complicated. Its sound also doesn't quite measure up to some of the models above it on this list. However, it is still on this list, so that means it must be worth a second look. And it is. For starters, it's incredibly easy to set up and use, and it offers compatibility with many home theater standards, including Dolby Digital Plus. And while its audio quality isn't nearly as good as something with wires, it still manages to impress, particularly in the mids, which feel warm and robust. It's not our first choice of wireless system, but it's an excellent alternative to the axiim - and bodes well for the future of wireless home theater.
See the Enclave Audio Cinehome HD 5.1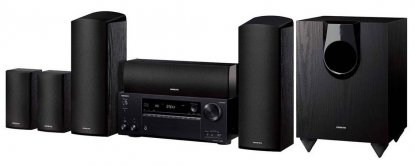 Surround: 5.1.2
Connectivity: WiFi/Bluetooth
HDMI I/O: 8/2
3D Ready: Yes
Receiver Output Power: 100/8Ω
What We Like: The incredible digital spec, power, and attention to detail!
What We Don't: No Blu-ray, sadly.
Onkyo is - as mentioned previously - a prolific manufacturer of A/V receivers, and deservedly known as one of the market leaders. This system-in-a-box shows you why - it's loaded with an incredible set of specs including all latest digital trends such as 3D support, Dolby Atmos, TrueHD, DTS:X, built-in Wi-Fi, Bluetooth and instant access to app-based streaming.
If you are wondering about the quoted 5.1.2 format, that is correct, and not a misprint. Taking advantage of the cool Dolby Atmos surround codec (a mode that we explain in detail here), the system's front main speakers have up-firing speaker modules built, which add vertical motion to the surround movements. These additional two speaker channels represent the .2 after the 5.1. Truly, a killer sounding package, for a killer price. By the way, the HT-S range has several other models it, including the slightly smaller and cheaper HT-S3800 (which we go into in more detail below) and the larger HT-S9700, which is an absolute beast of a 7.1 system. So feel free to shop around! You might find that one of these systems fits your needs better, although the HT-S7800 is still our pick of the bunch for most people.
See the Onkyo HT-S7800

Surround: 5.1
Connectivity: WiFi/Bluetooth
HDMI I/O: 1/1
3D Ready: Yes
Receiver Output Power: Unknown
What We Like: The wireless options, full web browsing and streaming.
What We Don't: More HDMI ports would have been nice.
The Samsung HT-J7500W is the upgraded version of the company's HT-J5500W. Samsung filter their audio twice using their Crystal Amp technology, and combined with the vacuum tube power amp nesting in the receiver, the result is pretty spectacular, even for a budget system. There's WiFi capability, too, which is an underrated and often absent part of home theater packages. All in all, there are several variants of this excellent system, but if you're interested in the best possible bang for your buck in the budget range, then this is the one to go for. Samsung regularly update it too, often adding in additional bits and bobs.
One of the downsides here is that you're unlikely to be able to mix and match - it's possible, but a system-in-the-box like this is specially-tuned, and we'd advise against adding in non-Samsung speakers. That being said, the sheer range of features you get for the amount of money you pay makes this a very worthwhile investment, so long as you're not expecting audiophile sound quality. An ideal setup for those who don't want the hassle of setting up a complex system.
See the Samsung HT-J7500W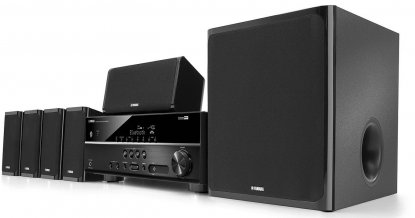 Surround: 5.1
Connectivity: Bluetooth
HDMI I/O: 4/1
3D Ready: Yes
Receiver Output Power: 100W/8Ω
What We Like: Great starter system for when you want to get serious.
What We Don't: No WiFi, limited HDMI.
Let's say you've got a moderately-sized apartment, and you want to expand your sound system. You don't need an enormous, wall-splitting beast, but you'd like something that has a little oomph to it. The Yamaha YHT 4920 UBL is worth checking out. The reason? It offers a good balance of features for when you're starting out, including a solid level of power, great sound, four HDMI inputs and Bluetooth streaming.
While it's not really appropriate for advanced users, thanks to its lack of WiFi streaming and the small number of HDMI slots, it will happily take a games console, a Blu-ray player and a couple of other items, and output it all with ease. Setup is dead simple, and you can count on Yamaha to provide some excellent sound quality. It also comes with something extremely helpful: Yamaha's YPAO room analysis system, which uses a separate (included) mic to analyse your room and calibrate your system. We also really like what Yamaha have done with the subwoofer, allowing you to easily control the bass levels and get precisely the sound you want. Cheap, cheerful, and well-built.
See the Yamaha YHT 4920 UBL
Surround: 5.1
Connectivity: Bluetooth
HDMI I/O: 6/1
3D Ready: Yes
Receiver Output Power: 60W/8Ω
What We Like: Really good specs for the price.
What We Don't: Might be a tad underpowered for some.
Onkyo may often seem a workman-like brand, but you'd never know from the HT-S3800. This 5.1 option is a solid home theater system for an incredibly attractive price, making it one of the best values on this list. We mentioned this particular system earlier, when we were extolling the virtues of the HT-S7800, and it's an excellent example of how Onkyo have scaled quality throughout the HT-S range.
You're not going to get the depth and richness of sound that you would for some of the pricier options above, there's very little to dislike here. As an alternative, the SKS-HT540 is a 7.1 option with similar specs and price, and is worth looking at if you need a couple more small speakers to place around your room. The included receiver makes it an even better value for money. With that in mind, we still consider this an excellent system, one which allows you to mix-and-match as well as upgrade – even if we do prefer the Samsung HT-J7500W, as we think it gives you better value for money.
See the Onkyo HT-S3800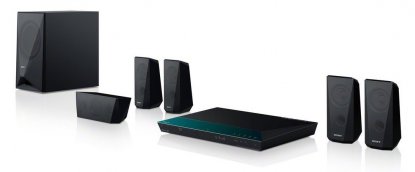 Surround: 5.1
Connectivity: WiFi/Bluetooth
HDMI I/O: No
3D Ready: No
Receiver Output Power: 90W/6Ω
What We Like: Simplicity and wireless features.
What We Don't: No Blu-ray or HDMI.
If you're on a real budget, or just looking for basic 5.1 functionality for a small room, then you may also want to look at a Sony model: the BDV-E3100. It's the least-expensive 'complete system' in our list, and this is where we start to get into the truly budget arena – while there are excellent options for under $300, you should expect to see some loss of functionality, as well as a noticeable dip in sound quality.
Still, it has 1000 watts of total power across its channels, meaning that what you sacrifice in sound quality, you make up in volume and punch. There's no specific receiver, but it comes with a Blu-ray player, which is nice. If you're looking for a dedicated receiver, we'd recommend another Sony model: the STRDH550. There's also a wireless streaming function for music, and an included subwoofer. We should also say, by the way, that we have fallen in love with the BDV-E3100's looks – for a budget system, it looks pretty fly.
See the Sony BDV-E3100
See the Sony TRDH550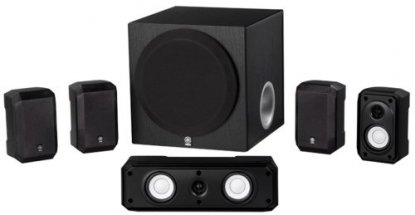 Surround: 5.1
Connectivity: WiFi/Bluetooth
HDMI I/O: No
3D Ready: No
Receiver Output Power: 90W/6Ω​
What We Like: Value-for-money.
What We Don't: Sounds like it costs.
For anyone after a home theater speaker system that happens to be on a shoestring budget, rest assured that quality can still be kept high even below $150. Yamaha clearly know what they are doing, since even at this low price, this speaker-only NS-SP1800 5.1 system impresses with its audio clarity and punchy low end.
With only 30 watts of continuous power, don't expect a super loud performance. This is the kind of system that forms while in particularly small spaces, such as a bedroom or dorm room (or undersized living room). Of course, the performance cannot compete with the audio detail of really expensive sets, but these Yamaha speakers hold their own. If you have the A/V receiver already, that's it - you are sorted. If not, check out this Sony TRDH550 for good measure - it's the same as the one above, but only a little more expensive, . We wouldn't suggest going below about $150 when it comes to home theatre, although there are a few models available that might fit the bill at or slightly above that price.
See the Yamaha NS-SP1800 5.1
See the Sony TRDH550

Specs Table:
First we'll do the specs for the complete systems. The Lowest Freq. and Highest Freq. stats indicate how low and how high the complete system can go.

And now for the recommended receivers. Inc. means it's included with the speaker package in the table above.
* Receiver Output Power. We've indicated each receiver's RMS power here, two channels driven. Don't understand what that means? Check this out.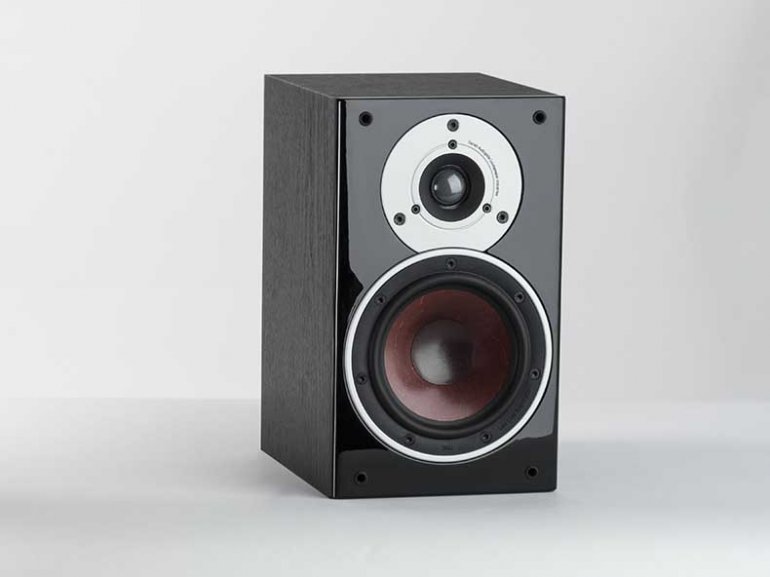 Buying Advice
Which Kind Of Home Theater System Is Best For Me?
Of course, the more channels a system has, the pricier it will be - keep that in mind when buying.
Ultimately though, choosing the right system is a decision you'll have to make based not only on the price or even the size of your room. It's worth bearing in mind the question of what you are going to be using the system to listen to. Are you going to be blasting dance music through it? Orchestral stuff? Or perhaps you're hooking up specifically so you can binge on The Crown or Agents Of S.H.I.E.L.D? Maybe even an enormous, explosive action movie? Here's the thing. Movies and music don't sound the same. They have different requirements. The dynamics of movie sound – how loud and soft things are – is vastly different to music, which these days is often engineered to be as loud as possible. In addition, movies often use more channels, making use of surround sound systems, where music doesn't. So you need to pull a little bit of thought into what kind of system you want to get: one that is geared towards music, one that is geared towards movies, or something in between.
If you buy a home theater system - or HTIBs (Home Theater In a Box) as they're sometimes known - you should have absolutely everything you need to produce high-quality sound. A home theater system combines speakers, amplifiers, subwoofers and AVR receivers into one complete package. All you'll need is a TV, and you'll be good to go. You'll also need a video source, such as a Blu-ray player or gaming console. A good example of these would be the wireless Axiim Q HD 5.1 and Enclave Cinehome systems, or the Onkyo HT-S7800.
Most systems, but not all, come with an AVR - Audio Visual Receiver, sometimes referred to as an A/V Receiver, depending on which manufacturer you're using. The A/V stands for Audio/Video, and this particular box will act as the hub for your entire system. Its circuitry will allow you to split audio and video signals, and send them to the correct places, such as your TV and your speakers. We have a comprehensive guide to buying individual receivers worth consulting. All of the above in our table are good, but we particularly like the Denon AVR-X2100, which has done us proud before.
And although there's a little more to it with home theater, you could do worse than read our dedicated guide to matching speakers and amps. And by the way, we also have a guide to getting started in home theater, expanding on the items touched on here.

What Separates Cheap And Expensive Models?
Hoo boy. Now this is something we could talk about for a while. We'll try and keep it simple.
Because there are so many variables here, the question of what separates cheap components from expensive components in a home theater system is quite a complex one. But if we're talking bundles – which this buying guide is about – then you should start looking for additional technology, such as 4K, 3D compatibility, or Dolby-ready audio. The speakers will be of higher quality, and far more specialized.
One question we often get asked is whether it's a good idea to mix and match from different brands, creating a home theater system from multiple components. There's nothing wrong with that on the surface, but we don't particularly like doing it. Reason being, speakers from the same manufacturer will all have been tested together in a single environment, and fine-tuned so that they complement one another. With different brands, this obviously won't happen. Again, it's not that big a deal, but in general we recommend sticking with a single package as opposed to pulling from multiple sources.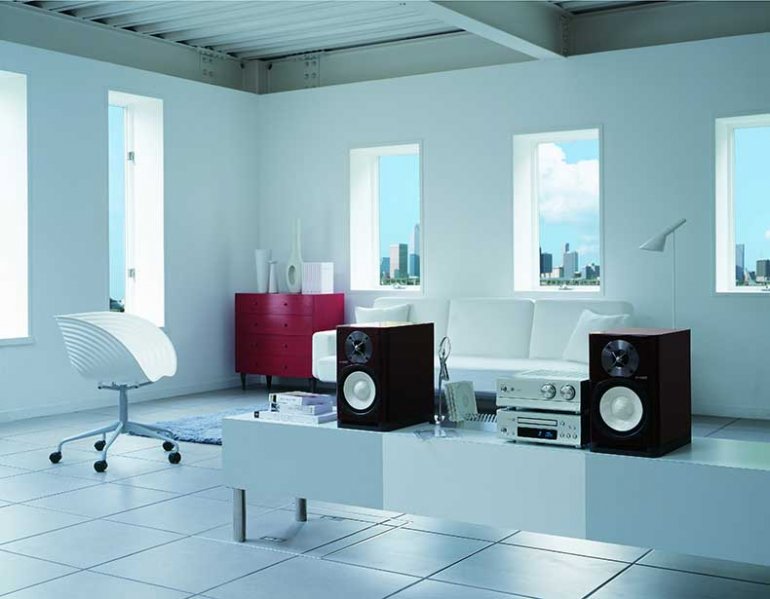 Setting Up
Home theater systems are complex products, and you should be prepared to put a little time into setting them up, even for budget models. You shouldn't feel daunted by this - most of the setting up is pretty straightforward - but it's something to be aware of.
A home theater system is a really big purchase, and one you're not going to want to make twice (seriously these things come in huge boxes that can be a giant pain to unpack and dispose of). So little research before you start can go really long way. And on that note: the phrase you hear most often when you buy a home is location, location, location, but when it comes to home theatre, its return, return, return. You are never going to get a full picture of what the system sounds like until it's set up in your home, and you're on the couch with a beer and popcorn watching Tom Cruise murder aliens, or whatever. If you don't like what you've bought, and you can't return it, then you're done.
One more link, which may be helpful: a full guide to the back of your A/V receiver, so that all those different connections makes sense. Good luck!

5.1, 2.1 And 7.1 Explained
These terms refer to different types of surround sound technology, and the number of speakers in a given system. They could have two, five or seven (sometimes even nine or eleven) speakers.
The .1 refers to a subwoofer present in the system. Such a setup will have a dedicated speaker designed to push out bass frequencies. It's usually squat and boxy, and is designed to be placed at floor level, where the effect will be the strongest.
A system with seven speakers isn't guaranteed to sound better than a system with five speakers; it all depends on the quality of the speakers and the room itself. A small room will only need five speakers to get full surround sound, whereas a large room may need those extra two speakers. The number one spot on our list, the immense Klipsch Gallery G-16 system, is a 7.1 surround.
If you need more: read this. It's a full, in-depth guide to 5.1 vs 7.1, and which one you should pick.

Dolby Atmos And DTS: X
A/V receivers nowadays proudly display their numerous features. Their spec sheets often seem like rolling film credits, and Dolby Digital is a name that pops up again and again. One of Dolby's most exciting recent technologies is the Dolby Atmos codec, which moves the surround sound in all directions, including up or down - just like real life objects do. That's why it is often called 'object-based surround sound'. There's a catch of course - to make it work you need additional receiver channels and additional (up-firing or ceiling) speakers.
Another equally famous company - DTS - produced a very similar surround mode, almost at the same time (as the release of Dolby Atmos). DTS called it DTS:X and this is another hugely important type often found in latest generation A/V receivers' spec sheets. DTS do not use the term 'object based' but call it "multi-dimensional audio' surround.
DTS:X indeed manages to elevate sounds in a similar way to Atmos, but its immediate advantage is that it does not require additional speakers. DTS say that "any speaker configuration within a hemispherical layout" will do just fine. And indeed it does. Of course it comes down to film producers to choose which way to encode their surround sound. So there's still a bit of a rivalry going on. That's without talking about dark horses like Auro 3D.
Read more about these exciting surround technologies here.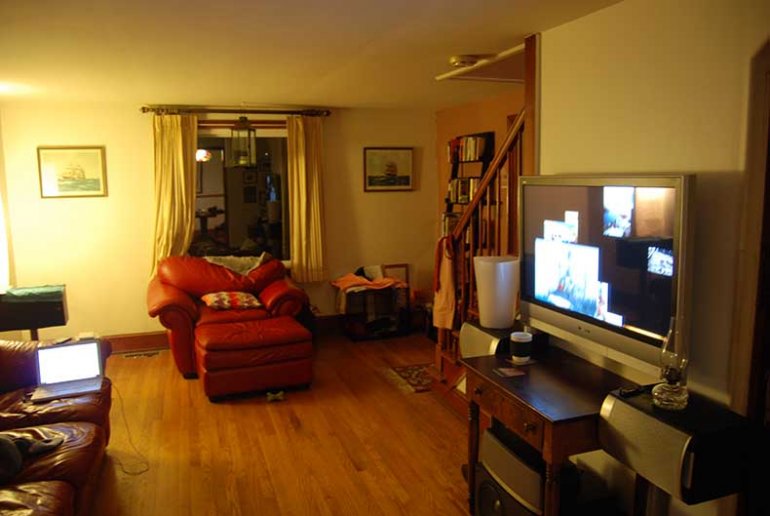 Jargon Explained
Tweeter: A type of speaker that puts out high-frequency sounds - think hi-hats, human voices, things like that. Manufacturers often put a lot of work into the systems driving the tweeters. They are also usually paired with a woofer, which puts out low-frequency sounds.
Subwoofer: That subsonic bass rumble you feel in your gut? Meet the subwoofer (sub, for short), a speaker designed to produce very low-frequency sounds, and deliver them with a huge amount of power. You want one of these in your system.
Satellite speakers: The main speakers (excluding the subwoofer) of a surround system
3D capability: Certain Blu Ray discs and players support 3D (three dimensional) imaging. This can only be streamed through a A/V receiver capable of such format. It's all down to having a HDMI 2.0 connection which can 'carry' the 3D format
4K capability: This is a reference to ultra high definition imaging and 4K stand for 4,000 pixel capable TV sets. An A/V receiver supporting such 4K displays again needs an HDMI 2.0 connection. 4K can come in variety of options - 4K/60hz will mean that the video can stream up to 60 frames per second. Latest standards can go up to 4K/120hz which means a staggering 120 frames per second. Just as a reference, analog film snaps reality at mere 24 frames per second..!
Dolby Digital: A company specialising in audio compression technology. They frequently license their tech out to audio manufacturers, and it's not uncommon to see their logo on the box. While this is a general indicator that the sound is going to be good, don't base a sale purely on that: a lot of their tech is only really noticeable in more powerful systems, as it needs quality components to do its job well.

A Warning About Cables
Cables aren't sexy. They are cumbersome and boring and ugly. But they also absolutely essential to the operation of your system, and it's worth pointing out that you may at some point need to invest in extra cabling. Even the most expensive systems, like the Klipsch RF-42 II 5.1 Reference Series, don't always come with the cables you might need. The reason for this is the different components require different cables, and because not every package will include the same components, they won't always include the necessary cables. Make sure to study your home theater system before you finish shopping. You may need to invest in some extra HDMI cables, or some spare digital or coaxial cables, which handle audio and video.
And if you're having with problems with cables, like crackling or hum, we can help!