It doesn't matter how large your TV screen is. If you're lacking great sound, then you're only getting half the experience. Tust us: your TV speakers aren't doing you any favors. Fortunately, upgrading to a home theater system is possible regardless of budget - just check out our list of the best below from premium to budget. For more background information, see our home theater system comparison table and buying advice below the picks. And to complete your system, see our list of the best AV receivers.
 
---
Our Home Theater System Picks
---

Best Overall Home Theater System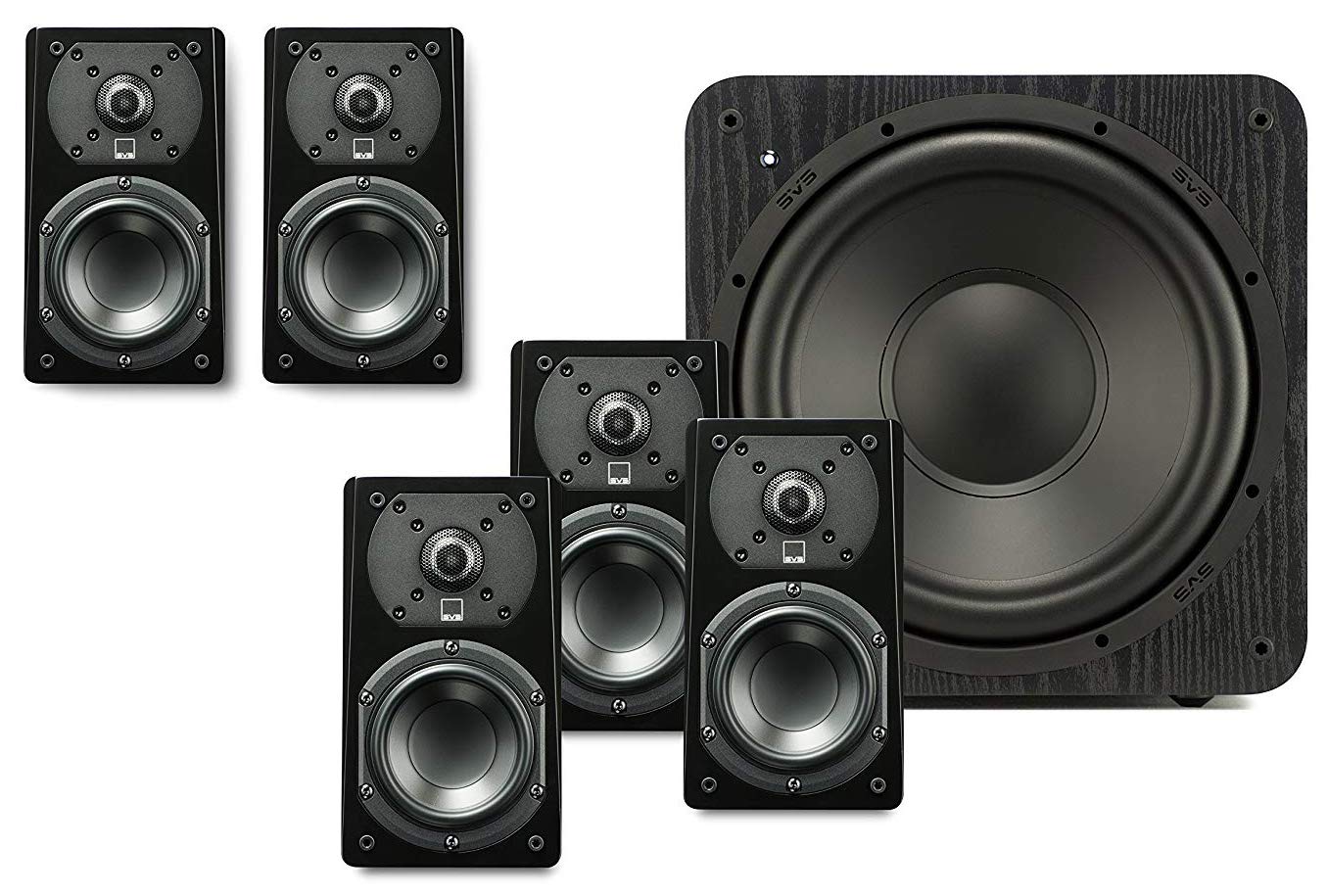 Surround: 5.1
Dolby Atmos: No
Wireless Speakers: No
What We Like: Compact speakers and genuinely great sound quality.
What We Don't: The system won't impress those looking for raw power.
SVS understands what most people are looking for in the world of home theater: compact, good-looking speakers that are easy-to-use and offer excellent surround sound. The Prime Satellite 5.1 home theater system is one of their best sellers, and for very good reason. It offers five of the company's brilliant Prime Satellite speakers, which you can use to provide sound from either the side or the rear, and also includes the landmark SB-1000 subwoofer to round out the bass. In our opinion, the system easily undercuts similarly-priced competitors below, with its great sound and looks. We like it so much that we've made it our office test system—literally the standard by which we measure other gear.
However, as good as the sound quality is, the SVS Prime Satelitte 5.1 lacks power and doesn't deliver quite as much volume as some of the pricier options below. And although the individual speakers are solid, the system does not have a dedicated center speaker. If you value ultra-clear dialogue, the Q Acoustics 3010i is a better choice, although of course the SVS is much more affordable. Bottom line, we think the SVS Prime Satellite 5.1 puts it all together more than any other home theater system with tested, and it's an easy choice for our top spot.
See the SVS Prime Satellite 5.1
 
Best Budget Home Theater System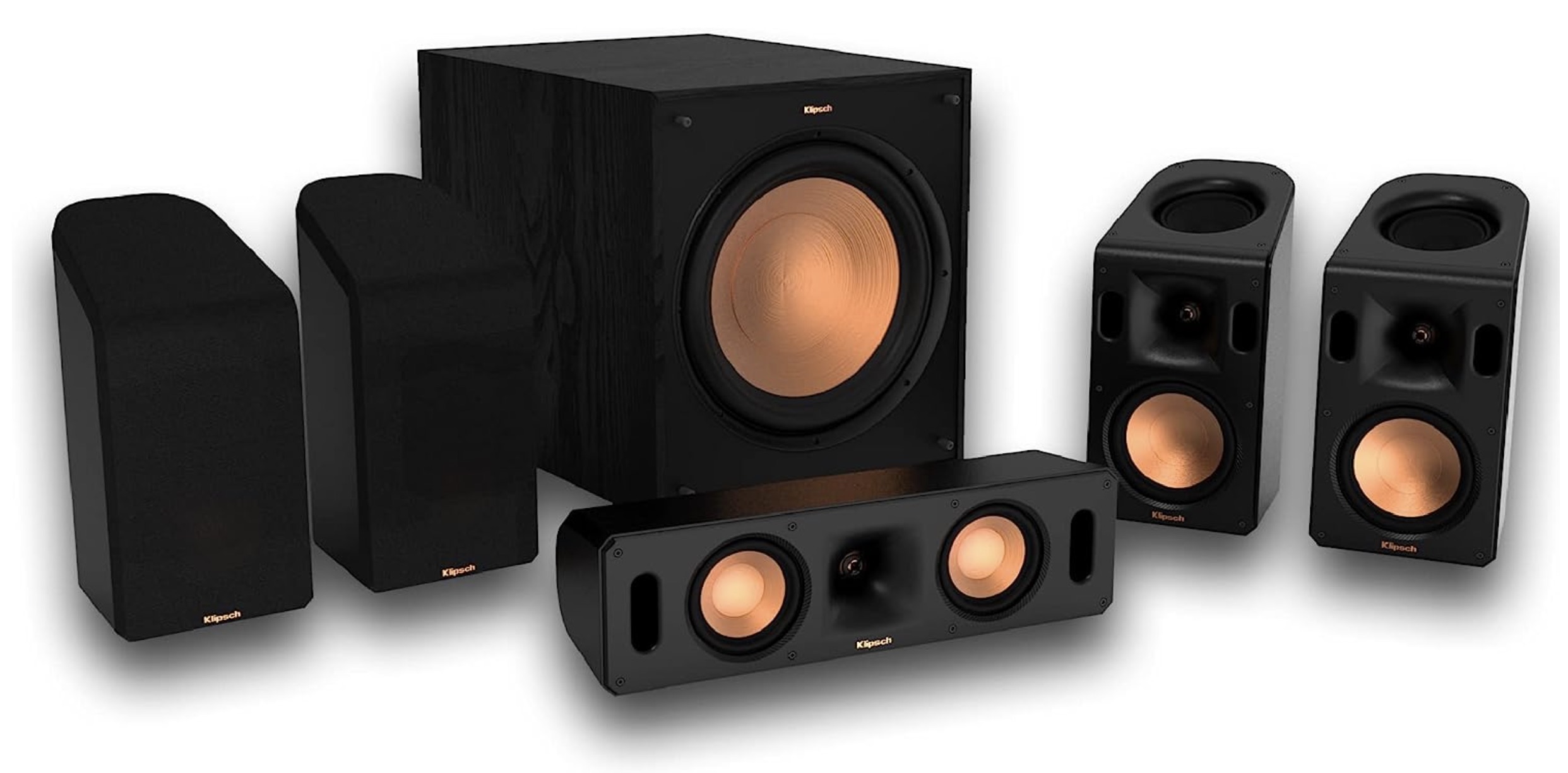 Surround: 5.1.4
Dolby Atmos: Yes
Wireless Speakers: No
What We Like: Excellent sound quality for under $500.
What We Don't: Plastic housing. 
Klipsch makes a massive array of home theater speakers and speaker packages. At the budget end of the price range, the Reference 5.14 Dolby Atmos system is an excellent choice. This top seller is a nice alternative to other similarly priced home theater packages on this list. You get five sleek speakers that put out powerful, room-filling sound, as well as a muscular subwoofer. It is the sound, in fact, that puts this home theater package so high on the list. Simply put, speakers this small should not sound this good.
One thing to note is that the Klipsch Black Reference Theater Pack is a bit old-school in its approach. There's no wireless audio-—check the Enclave system below for a wireless home theater option below $1,000. In addition, the speakers come in standard plastic housing that doesn't offer the high-end feel of other options on this list. That said, we love the ease-of-use, sound quality, and value of the Klipsch Reference 5.14 system, which is why it's our top value pick for 2023. 
See the Klipsch Reference Dolby Atmos System
 
 

Best Wireless Home Theater System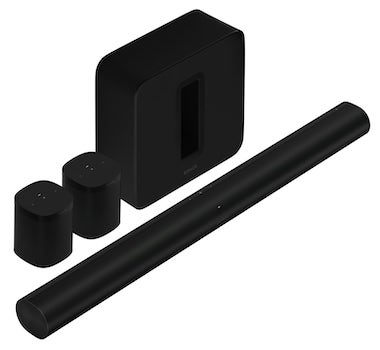 Surround: 5.1
Dolby Atmos: No
Wireless Speakers: Yes
What We Like: Simple to setup and use, great wireless audio.
What We Don't: The price has just gone up and up and up.
There is, quite simply, nobody doing wireless home theater better than Sonos. It's actually quite remarkable how good their 5.1 Surround Set is. This powerhouse wireless system, which consists of twin surround speakers, a subwoofer, and the new Arc soundbar, is super simple to set up and use, and the only wires you'll see here are those connecting the components to wall plugs. One of the biggest complaints we had about the old Sonos systems was the lack of Dolby Atmos, but that's no longer a problem—the Arc handles it just fine. Were it not for the huge price tag, it might have unseated the VIZIO SB46514-F6 as the best home theater system for Dolby Atmos as well as the best wireless system. That's how good it is.
We do need to take into account the price tag, we feels a bit high. The 5.1 Surround Set is great, and unquestionably one of the best wireless systems in the world. But in our opinion, it's not worth the near-$2,500 price. If you're looking for a more affordable option, the VIZIO system is worth a look (although it's not fully wireless), as is the even less-expensive Enclave Audio CineHome HD 5.1. But despite the high price tag, we still think the 5.1 Surround Set offers exceptional wireless home theater sound. One thing to note: this system contains the older Sonos Sub, instead of the newer Sub Mini. If you want the newer and smaller subwoofer, you'll need to buy it separately—although expect that to change within the next few months.
See the Sonos 5.1 Surround Set
 
An Interesting Sonos Wireless Alternative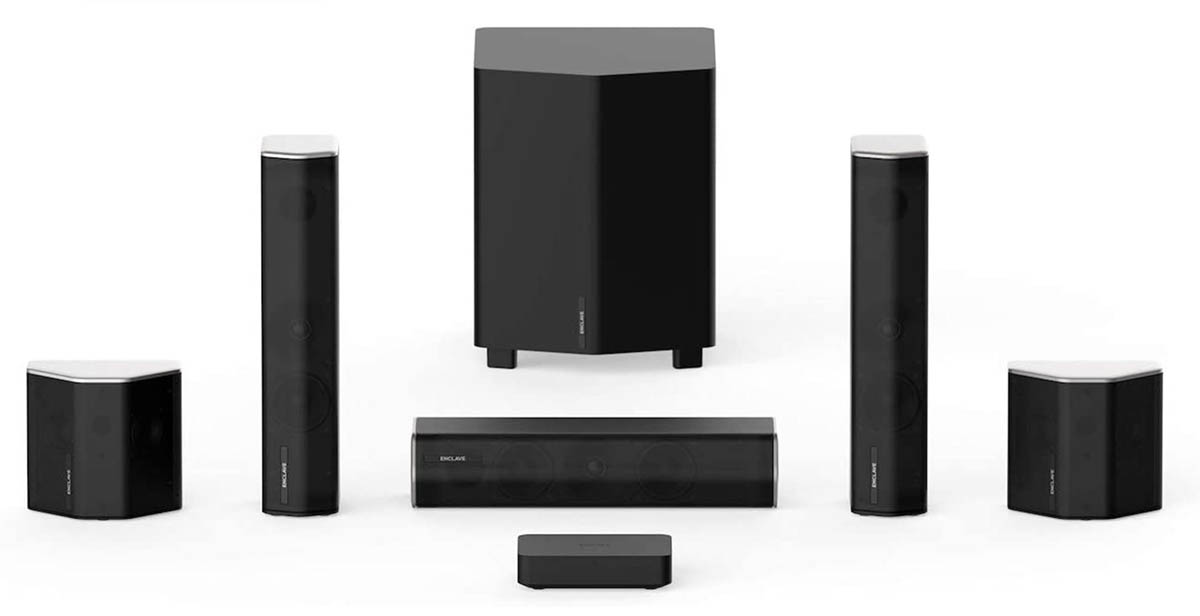 Surround: 5.1
Dolby Atmos: No
Wireless Speakers: Yes
What We Like: The smartest wireless speaker system we've seen.
What We Don't: Sound quality isn't quite there.
Wireless home theater speakers are slowly becoming more common, and right now, we think the Enclave Audio CineHome HD 5.1 is the one you should get. It's a good alternative to the Sonos 5.1 Surround Set , above—and at around half the price. It has a particularly clever piece of technology that creates its own Wi-Fi network, so you don't have to sign it up to the one already in your home. That's different to what the Sonos system does, which connects to your existing network. If you have issues with dropout on your network already, or think you might in the future, then the CineHome HD 5.1 is a particularly smart solution. The Sonos is a better system overall, but it definitely has its issues.
The downside is that, as good as the technology is, the sound quality isn't quite up there. The audio isn't nearly as rich or powerful as something like the VIZIO M-Series, which is significantly less expensive. That's a bit of a black mark against the Enclave, and you may want to think carefully before buying. However, it still delivers good, if not quite great, sound and is very much in contention if you're looking for a convenient system. The Enclave Audio CineHome HD 5.1 is an unusual and effective home theater option.
See the Enclave Audio CineHome HD 5.1
 
Best High-End 7.1 Home Theater System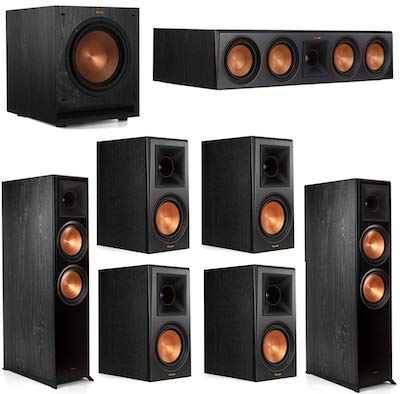 Surround: 7.1
Dolby Atmos: No
Wireless Speakers: No
What We Like: Superb, world-beating sound quality.
What We Don't: Klipsch frequently cycle their packages, leading to availability issues.
If you want the absolute best in 7.1 surround sound, then there is only one name you need to be looking at, and that's Klipsch. They make the best surround home theatre packages we've ever heard, and this one—a 7.1 system anchored by the gigantic RP-8000F floorstanding speakers— is out of this world. The audio quality is rich and sumptuous, with enough power behind it to rattle the walls of your cave. Compared to other systems from the likes of Aperion and Martin Logan, there's simply no contest. The 7.1 system on offer here is certainly expensive, but it's absolutely worth the money.
The biggest downside is that we cannot say how long this package will be available for. Klipsch have a singularly irritating habit of regularly cycling their packages, and their unfriendly product names make it very hard to nail down exactly which one you want. While there will almost always be a comparable system from the company available, it won't be this exact system, which really is outstanding. We've paired it with the pulse pounding Denon AVR-X3700H receiver, which will extract the best out of the Dolby Atmos modules embedded in those massive speakers. It's a highly recommended combination.
See the Klipsch 7.1 System
 
Best of the Rest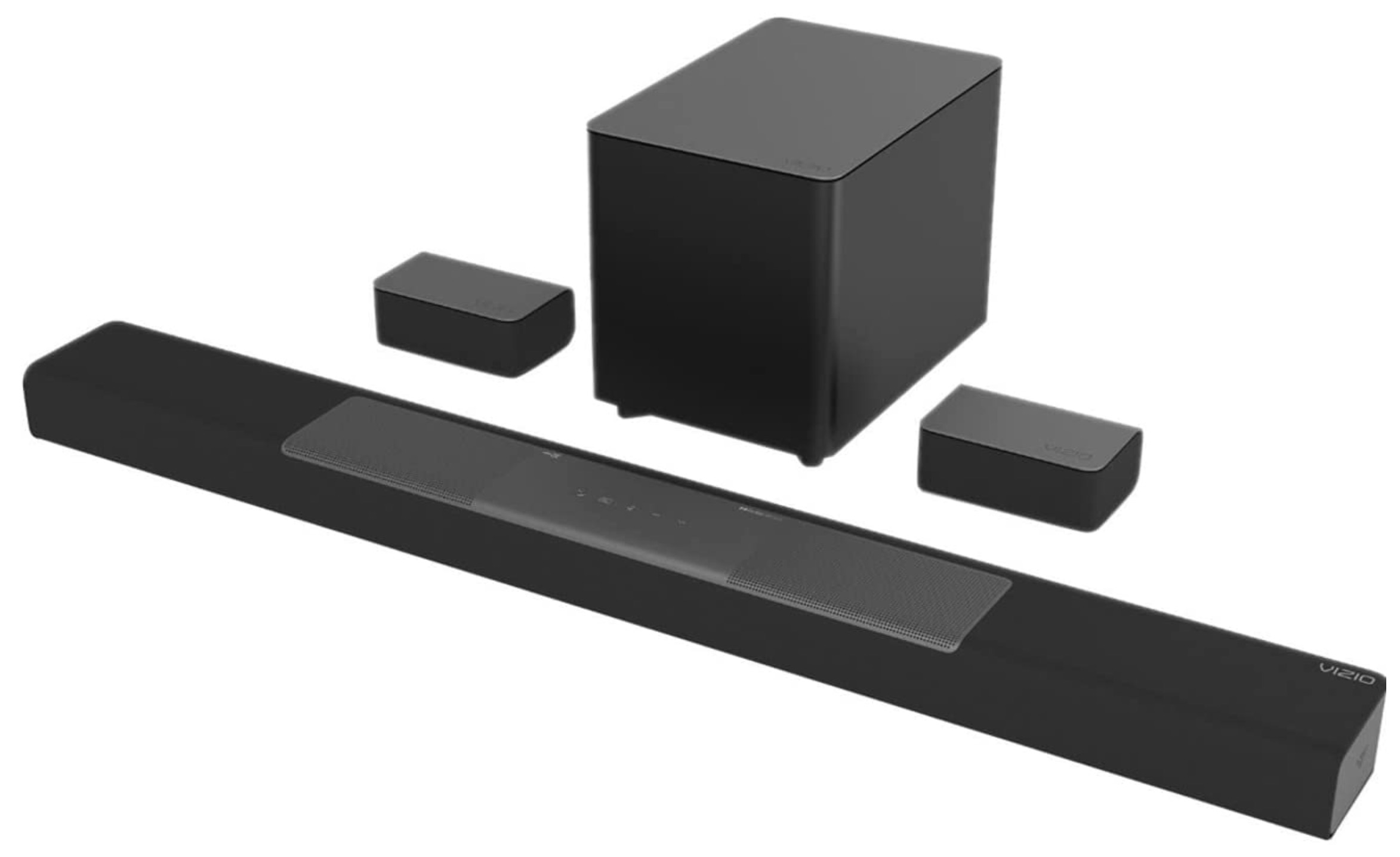 Category: 5.1.2
Dolby Atmos: Yes
Wireless Speakers: No
What We Like: Super-simple setup, great sound for a sub-$500 system.
What We Don't: Larger rooms should steer clear.
You'd think the best Dolby Atmos system would be a big, four-figure beast of a system. Not so. In our opinion, the best Dolby Atmos home theater package should offer great Atmos to those of us who don't have huge rooms or huge budgets. Enter the VIZIO M-Series 5.1.2, a simple soundbar-based package that we think offers stunning Dolby Atmos. Its small footprint, exceptionally simple setup, and killer sound elevate it above the competition. By our reckoning, there are very, very few systems under $1,000 that offer full Atmos, and we think the M-Series is the only one that belongs on this list. In terms of audio detail, other soundbar-based systems like the Sonos 5.1 Surround Set offer more—but that package has no Atmos, and if that's what you're after, the VIZIO option is the best one.
If, however, you do have a room over two hundred and fifty square feet—a large room, in other words—the VIZIO M-Series 5.1.2 won't do the job. It just doesn't have the raw power to fill the space. You'll need a bigger and more expensive Atmos system, like the Aperion Audio Novus 5.0.2. But for most people, the VIZIO soundbar package will be more than capable, able to create very decent height imaging to enhance your movie-watching experience. VIZIO regularly update their product line and discontinue old models—if that's happened before we have a chance to update this article, take heart! Chances are they have a similar package on offer, with similar functionality and price.
See the VIZIO M-Series 5.1.2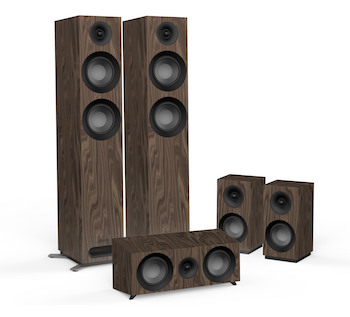 Surround: 5.1
Dolby Atmos: No
Wireless Speakers: No
What We Like: Great 5.1 sound, absolutely stunning value for money.
What We Don't: 'Atmos Ready'? No it isn't.
Jamo makes some of the best affordable home theater packages around. The S 805 HCS, based on their 805 line of speakers, certainly doesn't break their winning streak. It's anchored on the S 805 floorstanders, which are solid and powerful, and great at articulating elements like dialogue. While we think SVS has them beaten, Jamo are certainly a contender if you don't like the Prime's all-black color scheme. Going deeper, we'd consider these a solid alternative to the Klipsch Black Reference Theater Pack, although you trade the Klipsch's sound quality for slightly sleeker looks and better design.
One thing to note with the Jamo S 805 HCS is that it certainly isn't 'Atmos Ready'. Dolby Atmos requires up-firing speaker drivers pointed at your ceiling (or wall-mounted speakers pointing at your couch). The S 805 floorstanders allow the attachment of these...but you'll need to buy them separately. Don't be fooled: taken as is, this basic 5.1 system is not capable of playing Dolby Atmos audio. That's a frustrating choice, as it means anyone buying these sight unseen may not get what they pay for. Check our buying advice below for more on Dolby Atmos, and how it works. Dubious marketing copy aside, the S 805 HCS is a capable and powerful set of home theater speakers.
See the Jamo S 805 HCS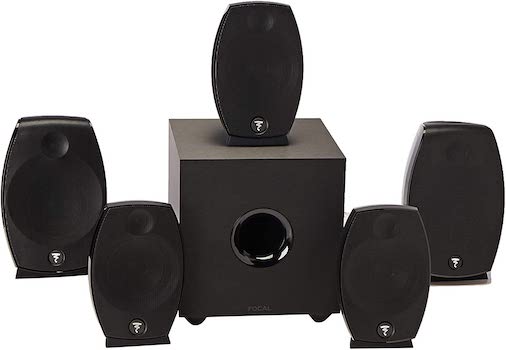 Surround: 5.1
Dolby Atmos: Yes
Wireless Speakers: No
What We Like: Well-designed speakers give you Dolby Atmos without extra components.
What We Don't: Fiddly binding posts can be annoying to use.
More and more manufacturers are incorporating up-firing Dolby Atmos modules directly into their speakers. France's Focal are one of them, and their Sib Evo 5.1.2 system users curved speaker design that is among the most elegant we've seen. The Dolby Atmos here is solid, even if, in our opinion, the slightly more expensive Sonos Surround 5.1 Set does a better job. The Sib Evo system uses individual speakers, however, meaning it may be a better option for those who want to position the speakers themselves, as opposed to relying on a sound bar such as the one found in the Sonos system.
However, the Sib Evo 5.1.2 system does have one particularly annoying element. Unlike other speakers which offer external binding posts for the speaker wire, the Sib Evo's speakers use tiny ports which can only take bare wire, and which are deeply annoying to use. That makes set up a challenge, although in our opinion, the result is worth it…Read our in-depth review
See the Focal Sib Evo 5.1.2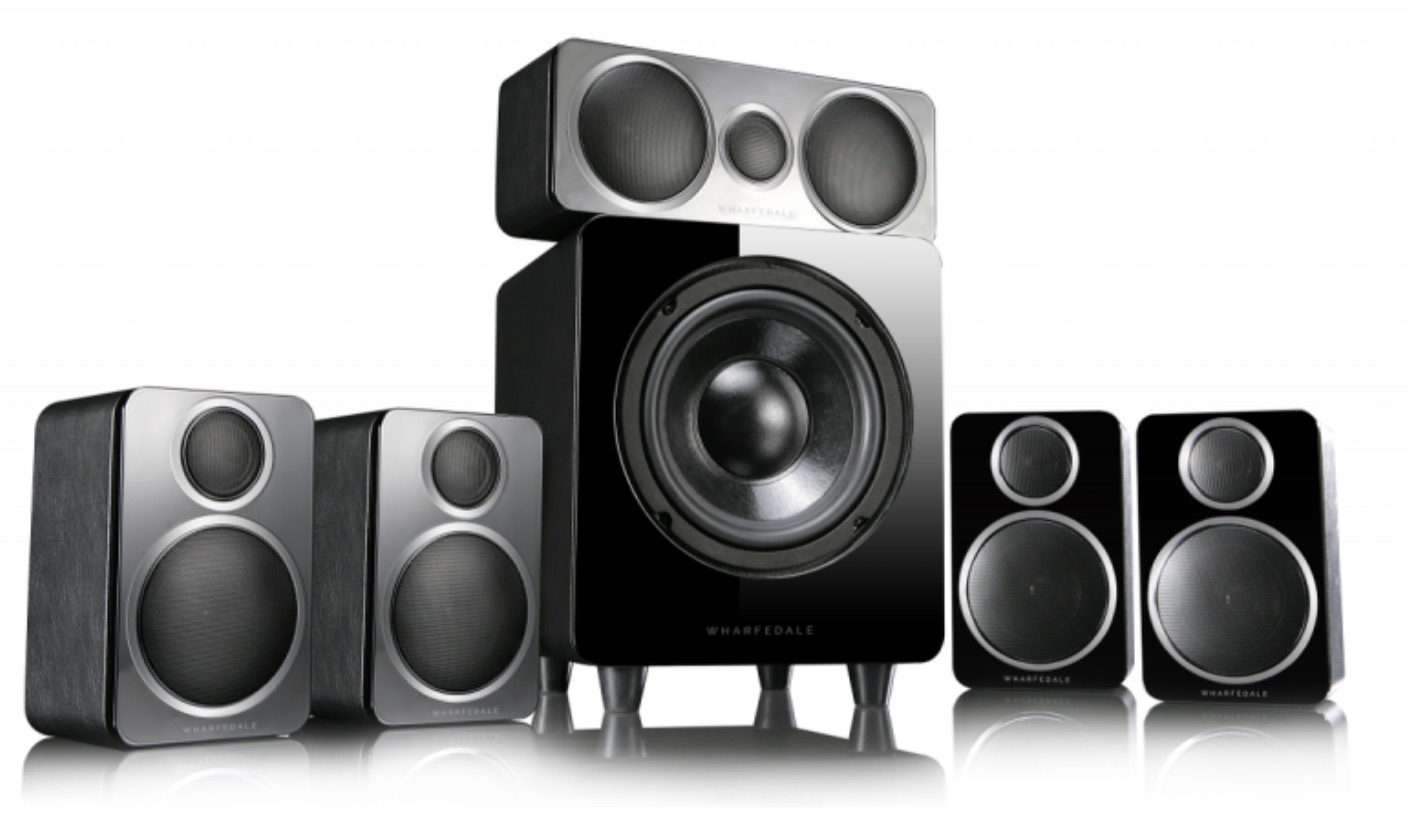 Surround: 5.1
AV Receiver Included: No
Wireless Speakers: No
What We Like: Tiny speakers make this system ideal for smaller rooms.
What We Don't: The DX-2 system has some availability issues stateside.
Wharfedale have been making steady inroads into the home theater world, and we think anyone shopping for a system needs to look hard at them. The DX-2 package, a 5.1 system which is an upgrade on their old DX-1HCP package, has one killer selling point. Its five satellite speakers are tiny—around the size of the speakers on the far more expensive Sonos system, above. That makes the DX-2 ideal for small rooms, and those looking to save space. Crucially, Wharfedale have reduced the size without compromising on sound quality. While other systems that cost only slightly more deliver crisper audio, like the VIZIO M-Series, above, the Wharfedale are also significantly less expensive. We don't think they do quite enough to dethrone our top budget pick, the Monoprice 133832 system, but they are an excellent alternative.
There is one frustrating thing about the Wharfedale DX-2 system, and that's its availability. Wharfedale are a UK company, and while we have seen this system on Amazon from time to time, and at dealers sporadically, it has become increasingly hard to come by. Even Wharfedale's US portal only offer their older, more expensive packages—all of which are currently out of stock. These issues mean that we can't really rank this system higher, decent though it may be. That situation may change in the future though!
See the Wharfedale DX-2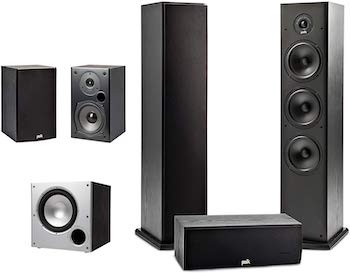 Surround: 5.1
Dolby Atmos: No
Wireless Speakers: No
What We Like: Hugely customizable package.
What We Don't: Sound can be a little hit-and-miss.
Most of the packages on this list are standard 5.1 – as in, five surround speakers and a subwoofer. But what if you need fewer speakers than that, or you already have a subwoofer? In that case, we'd recommend checking out the Polk Audio 5.1 Bundle. The advantage of this package is it lets you pick exactly the number of speakers and components you need. Three speakers and a receiver? Not a problem. Five speakers and no subwoofer? You got it. It helps that the construction and design is solid, and that the price is attractive. The package listed here is the 5.1 version, and it's easier to spend more or less depending on your needs. This kind of flexibility is something that other packages in this price range, like the Yamaha YHT-4950U, don't offer.
One of the downsides to the Polk Audio 5.1 Bundle is that as good as the flexibility is, the sound quality doesn't always match up to other packages on this list. Dialogue, in particular, can often sound a little bit thin. We also aren't huge fans of the Polk subwoofer, as we think there are better options available. However, a package that lets you customize to your heart's content deserves to be on this list, as it opens up options that other packages don't. One thing to note: we've seen this package's name fluctuate (it was previously known as the T Series Bundle) so be aware that they may change the name faster than we can update!
See the Polk Audio 5.1 Bundle
 
Surround: 5.1
Dolby Atmos: No
Wireless Speakers: No
What We Like: Great bass from one of the best subwoofers around.
What We Don't: There are more capable home theater speakers at this price.
RSL (RogerSound Labs) make one of the best subwoofers we've ever heard, the Speedwoofer. We were delighted to find out they'd made an entire home theater speaker package to go with it, the CG3 5.1. Having heard it, we can say that it was (mostly) worth the wait. This is a system where bass shines, and it easily outpaces more expensive packages like the Enclave CineHome HD 5.1. If you like thundering explosions and gunshots that feel like they're being delivered right into your chest, give this package go.
The problem with the RSL CG3 5.1, in our opinion, is that as good as the bass is, the rest of the speakers leave a little to be desired. Put up against the only slightly more expensive SVS Prime Satellite 5.1 system, our top ranked package, the CG3's surround speakers definitely come off second best. RSL might want you to "place [the] CG3s on top of your old speaker towers and watch the reactions when you tell your friends it's not the towers they're listening to," but we can tell you the reaction will be "Yes, you have some new speakers, so what?"
See the RSL CG3 5.1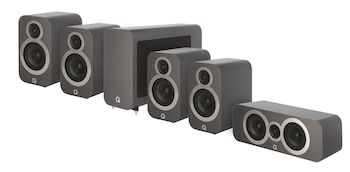 Surround: 5.1
Dolby Atmos: No
Wireless Speakers: No
What We Like: One of the best systems for audio detail.
What We Don't: We'd suggest using a different subwoofer than the one provided.
The Q Acoustics 3010i Cinema Pack is an upgrade to the original 3000i system, and not only is it significantly less expensive, it also offers rebooted internal electronics and a crisper sound quality. The detail in particular here is solid, with excellent depth, especially on dialogue. Q Acoustics are among the manufacturers who straddle the world of hi-fi and home theater without falling over, and we think of the system as an excellent alternative to the slightly more expensive SVS Prime Satellite 5.1.
There is one element where the SVS system has the edge on the Q Acoustics 3010i Cinema Pack: the bass. The included Q 3060S may have a slim profile and eye-catching design, but it sounds awkward. Not only is the bass fluffy and uncontrolled, but the side firing drivers make positioning trickier than it needs to be. It's quite puzzling, considering that Q Acoustics make excellent subwoofers like the Q B12. That may be worth substituting here. If you can deal with that, however, you'll find this a competent, high performing home theater package.
See the Q Acoustics 3010i Cinema Pack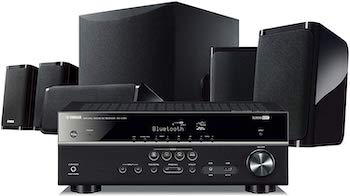 Surround: 5.1
Dolby Atmos: No
Wireless Speakers: No
What We Like: Good features and sound quality at a very affordable price.
What We Don't: Sound can distort at high volumes.
Let's be real: many people just need a home theater system that will get them good surround sound, and they prefer not to pay the earth for it. If that's you, then we strongly recommend the Yamaha YHT-4950U. It's a sub- $500 system that has sold by the truckload, and for very good reason. The compact speakers deliver crisp and impressive sound, and particularly excel with movie audio. We also think the additional features push the YHT-4950 over the top. There's Bluetooth connectivity for music streaming, and Yamaha's YPAO room calibration to help you get the best quality sound no matter what size or shape your living room is. There's an AV receiver included too, which means this package contains absolutely everything you need to get started.
What do you lose out on? At high volumes, the YHT-4950U tended to distort a little. If you're the kind of person who likes blasting sound at top volume, you may want to look elsewhere. The Onkyo HT-S5800 may be a good place to start. And as a general rule, the sound here is good, rather than spectacular. It's also true that the YHT-4950U is a couple of years old now, but a home theater system this good doesn't go out of style. We'd much rather recommend something affordable than try to push the newest and most expensive gear on you. Great home theater shouldn't come at a high price, and we think the YHT-4950U delivers.
See the Yamaha YHT-4950U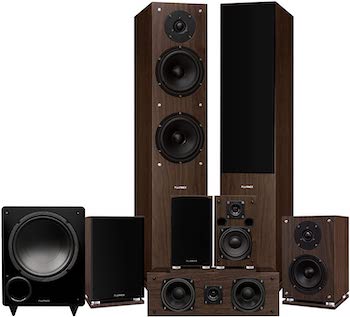 Surround: 7.1
Dolby Atmos: Yes
Wireless Speakers: No
What We Like: Crisp, realistic sound quality for under $1,000.
What We Don't: Speaker design is very old-school.
Fluance are one of the few manufacturers who still devote time to dedicated 7.1 speaker systems, so it's hardly surprising that they have an entry on this list. The Elite Series isn't quite as good as the top-ranked Signature Series, but it's also significantly cheaper, and doesn't compromise on sound quality. The audio is crisp and realistic, and excels at delivering great detail. You'll have to deal with the fact that the speakers look like they come straight out of the 1970s, but if you can excuse that, you'll find that the Elite Series is among the best speaker systems you can buy for under $1,000.
We always been of the opinion that Pioneer and Integra receivers work particularly well with Fluance systems, and we are happy to add those from Yamaha to that list. Our particular pick in this case is the excellent RX-V685, a simple and relatively affordable receiver that gets the job done, without costing the earth. While it does have some downsides, including only four HDMI ports, we think it's one of the best affordable options available the Fluance speaker system.
See the Fluance Elite Series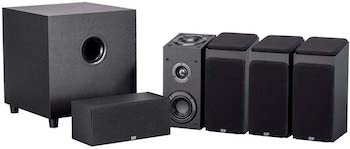 Category: 5.1.4
Dolby Atmos: Yes
Wireless Speakers: No
What We Like: One of the most affordable 5.1.4 systems we've ever seen.
What We Don't: Low-end isn't nearly as good as other systems on this list.
Monoprice are simultaneously one of the most impressive and most infuriating companies with ever come across. On the one hand, they make excellent home theater gear at ridiculous price points, like the Monoprice 133832, a 5.1.4 system that incorporates height speakers for Dolby Atmos and costs under $300. On the other, their availability fluctuates, and the convention of using strings of numbers for package names can often make them frustrating to track down. That being said: if you want a basic system that over delivers for the price you pay, we strongly recommend the 133832 package.
The sound is solid, if unspectacular. It's the height audio that is the main draw here, and while you shouldn't expect miracles, it's probably the only system in this price range that offers it. And although the low end of the Monoprice 133832 is easily bested by packages from Yamaha, we think that the amount you get here more than justifies the purchase. Ultimately, this is a good, basic system that will suit most living rooms, even if the sound quality doesn't quite measure up. If you can find it, we also recommend the Monoprice 33309 system, which is even less expensive at around $250. At the time of writing, that system is no longer available new.
See the Monoprice 133832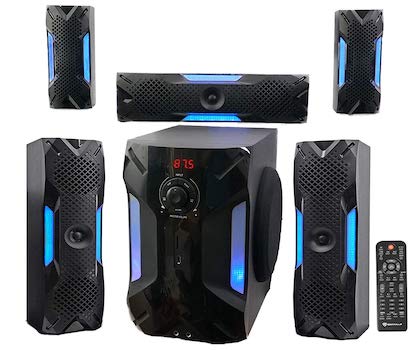 Surround: 5.1
Dolby Atmos: No
Wireless Speakers: No
What We Like: Big volume, light-up looks.
What We Don't: Dubious claims about sound quality.
If volume and power are what you're after, then we recommend the Rockville HTS56. The included five speakers and subwoofer put out huge wattage, with more than enough energy to rattle the windows. You'll particularly feel this with elements like explosions and gunshots, and if you have a larger than average living room, this could make the Rockville HTS56 ideal for gaming. Rockville aren't known for their subtlety, either in terms of audio quality or in looks, and that's definitely the case here. We rather like the styling, and the four-color light system, while a little silly, is actually quite fun.
However, we're less convinced about the sound quality. "The sound on this system is better than anything that costs twice the price!" Rockville boasts. Unfortunately, that's not even remotely true. The sound here may be loud, but if you want detail, nuance, or clear dialogue, you can forget it. We strongly recommend buying the Logitech Z506 over this.
See the Rockville HTS56
 
And One Home Theater System to Avoid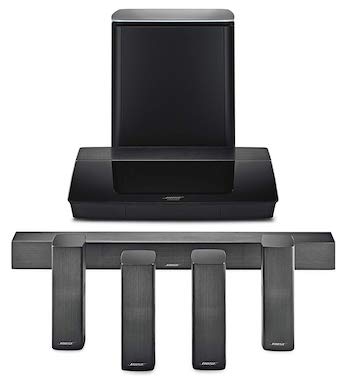 Surround: 5.1
Dolby Atmos: No
Wireless Speakers: Yes
What We Like: Bose ADAPTiQ room calibration is pretty good.
What We Don't: Everything else is pretty bad.
Bose make some of the best noise-canceling headphones and wireless speakers around, but when it comes to home theater, they drop the ball. Sadly, the Lifestyle 650 is no exception. If you have any thoughts about buying a Bose system, we suggest you take another look at our list. In our opinion, they're smoked by just about every other four-figure system here. Elac and KEF, in particular, are much better options.
Let's look at the Lifestyle 650 objectively. It's Bose's flagship system, but there's no Dolby Atmos or DTS:X compatibility. It's also impossible to upgrade beyond 5.1 channels, and only the rear speakers and subwoofer are wireless. Don't even get us started on the price; the Lifestyle 650 system costs a staggering $4,000. For less money, you could buy the Aperion Audio Novus with a $1,500 receiver and get virtually all the features you could ever need. Essentially, there's absolutely no reason to spend money on Bose home theater of any sort - especially not when there are so many less expensive products that do a much better job. Many other sites will try to sell you on the Lifestyle 650, but fortunately, we're not other sites.
See the Bose Lifestyle 650
 
Home Theater Comparison Table
**RAP = Recommended Receiver Power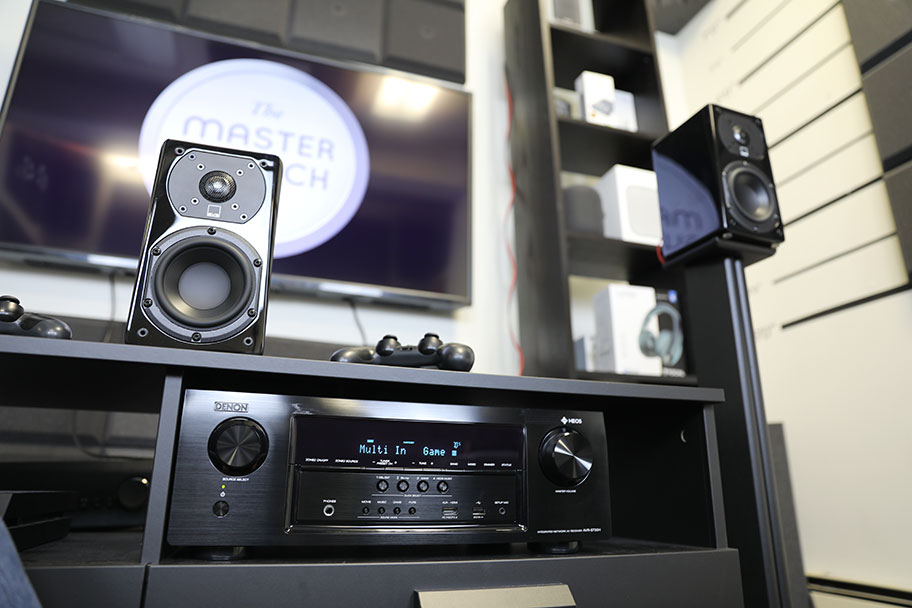 Home Theater Buying Advice
5.1 vs. 7.1 Home Theater
The terms 5.1 and 7.1 refer to the number of speakers in a given home theater system. A system could have two, five or seven (sometimes even nine or eleven) speakers. The .1 (or .2, or even .4) refers to a subwoofer present in the system. Such a setup will have a dedicated speaker designed to push out the bass notes, and that's done with the subwoofer. It's usually squat and boxy, and is designed to be placed at floor level, where the effect will be the strongest.
Speakers are also referred to as channels. So, for example, a five-speaker system can also be said to have five channels. You might reasonably ask where these speakers actually go and what they do, which is a relevant question. In a five channel system, you will have two front speakers – one left, and one right – as well as a dedicated center channel speaker, which will handle dialogue. You will also have two satellite speakers, which will be placed either to the sides of your listening position, or behind you. These will ensure you get surround sound. A 7.1 system, on the other hand, will have both side and rear speakers in addition to the three front ones. You can also replace either your side or your rear speakers for upward-firing ones - speakers which literally bounce sound off your ceiling - which will produce height audio as well. This article, by the way, is a list of the best overall home theater systems available right now – regardless of the number of speaker channels included in them. If you'd like, you can check out our individual lists of the best 5.1 systems, and the best 7.1 systems of this year. They all have options that weren't quite special enough to make this list, but are still fantastic in their own right.
As a guideline, the smaller the room, the fewer speakers you will need to fill it. Got a basic apartment living room? A 5 .1 system – three front speakers, two side speakers, and a subwoofer – will be more than enough to do the job. Given that space is limited, it may be worth considering a good wireless system. If you have a slightly larger living space, such as one in a house, you could quite comfortably move to 7.1 or beyond, placing additional speakers behind and above your listening position. Regardless, the key takeaway is here is that the size of your room dictates the number of speakers you should aim for, and that if you have a bigger room, you can always upgrade your system later by adding additional speakers.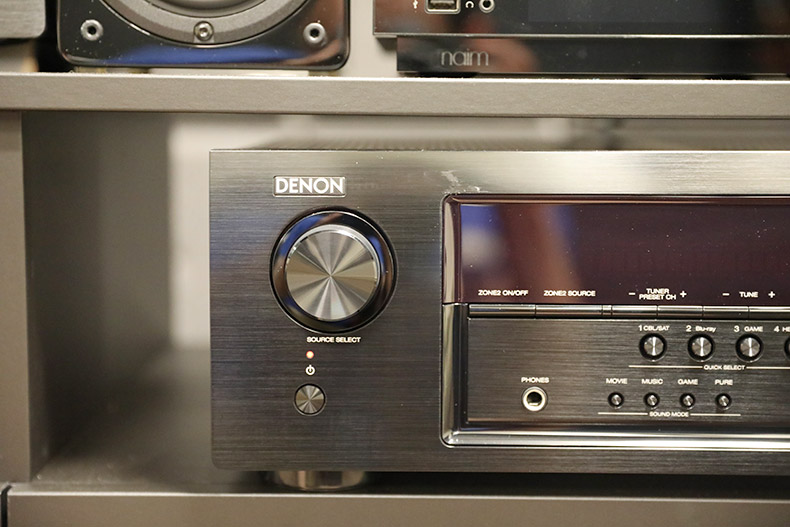 AV Receivers Explained
Here's the thing about speakers: they only work if they have power. In the case of a home theater setup with multiple speaker channels, that power has to come from a specialised amplifier. That amplifier is known as an AV receiver - the AV stands for audio/video. An AV receiver is a big box that not only provides spaces to connect all of your speakers, but will also allow you to connect your gaming console, Blu-ray player, or TV, handling the visual side as well as the audio.
The easiest way to understand an AV receiver is to envision it like the quarterback on a football team. It handles the play, deciding who goes where, and at what time. It controls the offense. It not only provides power to the speakers, but is also responsible for syncing up the audio you hear with the picture you see. At this point, you may be wondering if you have to buy this piece of equipment separately from your speaker system. The answer, in most cases, is yes, but there are two pieces of good news here. The first is the good receivers don't necessarily have to cost the earth – perhaps no more than a couple of hundred dollars. The second is that many speaker packages – including several on the list above – actually come with a receiver bundled in. This is the single easiest way to enjoy a home theater system, and these packages are known, somewhat predictably, as Home-Theater-In-a-Box (HTIB). They aren't expensive, either. The Yamaha YHT-4950U, comes bundled with a very capable receiver. At $430 for the package at the time of writing, it's relatively affordable, but check the list above for several other cheaper options, if you can't stretch to that.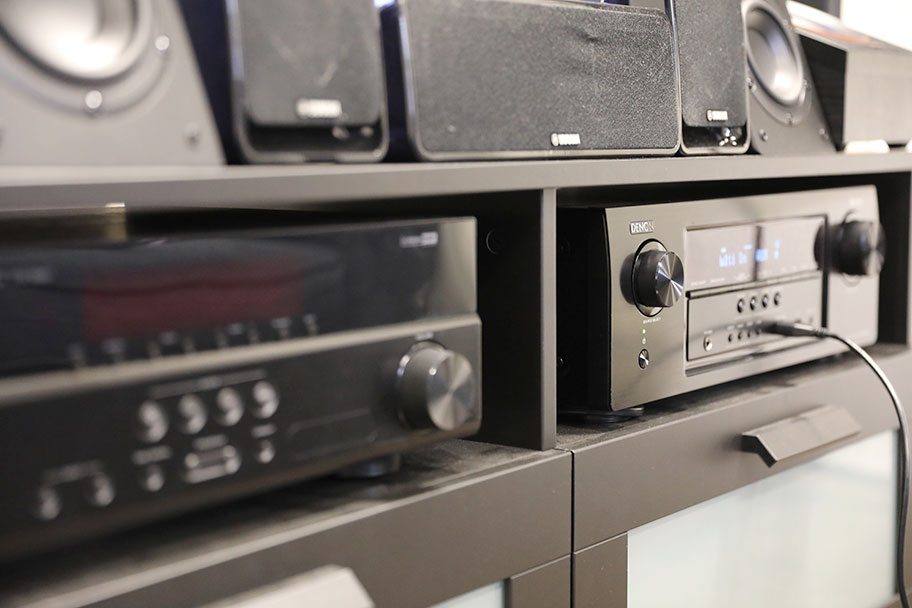 If you're wondering what receiver to buy, you should look at the recommended amp power spec in the table above. Essentially, this lists the level of power the speakers are comfortable receiving. These days, you are very unlikely to blow your speakers, but getting a good power 'match' means that you'll need a level of synergy between your receiver and your speakers that results in better sound. Let's say, for example, that you bought the KEF T305 system, which has a recommended amplifier power of 10-150 watts at 8 ohms. Ignoring the 8 ohms part for the moment, all this means is that you need to match them with a receiver that puts out a continuous (sometimes called RMS) wattage of between 10-150. The 8 ohms is known as impedance, and for the most part, you can ignore it. It's entirely possible to get technical when matching speakers and amplifiers, but for most people, all you need to do is match the recommended wattage. If you do want to get deeper into matching speakers and amps, we have a full guide here.
By the way, you might reasonably be wondering if the requirement for an AV receiver extends to wireless systems as well. Those speakers, after all, don't require a separate amplifier – they are powered by internal amplifiers that draw power from a wall plug connection. If they don't need an AV receiver for power, then do they need one at all? The answer is, in most cases, yes, but it will be a special receiver bundled with the wireless speaker package. This will enable you to link your picture and your sound. They are usually very easy to set up, too. Some of these systems are actually quite clever. The Sonos 5.1 Surround Set, a wireless home theater system costing $2,356 at the time of writing, bundles the front right and left speakers, center channel, and the receiver into a single soundbar, which you then connect directly to your TV.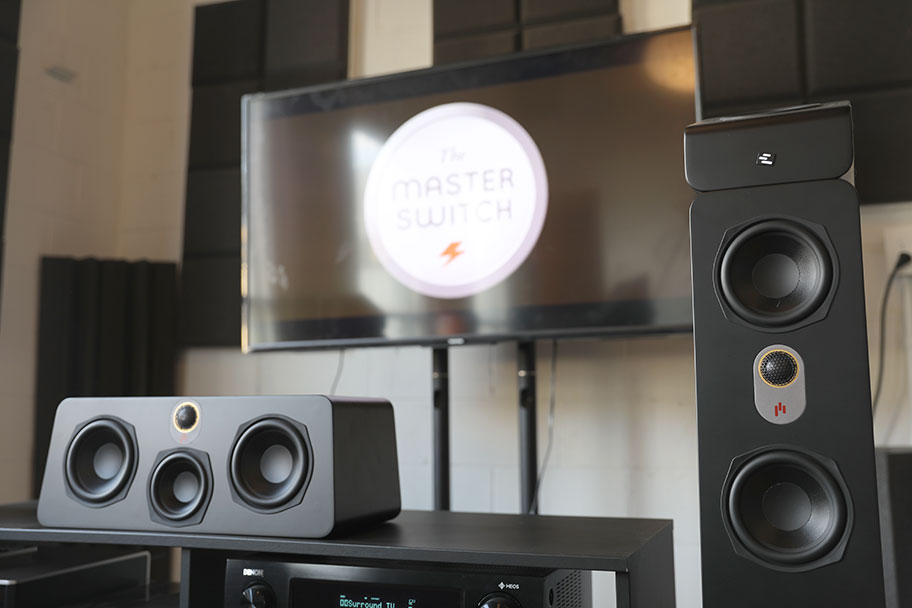 Common Surround Sound Formats
Getting surround sound is not quite as simple as plugging the speakers in and then watching Netflix. You'll be using a special little program called a codec. A codec lives inside your source material – encoded onto a Blu-ray disc, or inside a digital stream. Once you've fed it into something that can read it – like your AV receiver – it will be able to send different parts of the audio soundtrack to different speakers, creating a more immersive and effective surround sound experience.
If this sounds complicated, we assure you it isn't. Codecs largely take place automatically, with little or no intervention from human beings. What you might have to do is select the one that is most relevant to what you want, which is usually accomplished in the on-screen menu your receiver will prompt on-screen. Here are the main types; don't worry, we'll keep this brief.
 
Dolby Atmos
The name Dolby has become so synonymous with surround sound that it's virtually an adjective at this point, along with Google and Xerox. If you've ever been to a really good movie theater, chances are high that it was Dolby sound you were hearing. One of Dolby's most exciting recent technologies is the Dolby Atmos codec, which moves the surround sound in all directions, including up or down - just like real life objects. That's why it's often called 'object-based surround sound'. However, there is one slight catch. In order to make it work, you need additional receiver channels and additional up-firing or ceiling speakers. One of the more bizarre emails we've gotten was from a reader who said that he didn't believe that he needed additional height speakers to make Dolby Atmos work. As we said to him, you definitely do. Be warned: if you want Dolby Atmos sound, it's worth checking that your particular system can provide it. Not all systems do, including the expensive ones - as anybody who's had the misfortune to buy the pricey Bose Lifestyle 650 can attest to.
Another thing worth noting is that all your components, not just your speakers, also need to be Dolby Atmos compatible. That means, if you have a Blu-ray player, you need to make sure that a) the player itself can handle Atmos discs, b) the disc itself has an Atmos soundtrack, and c) that your receiver supports Atmos. If you want a simpler surround sound codec, try DTS:X, below.
DTS:X
Another equally famous company, by the name of DTS, produces a very similar surround mode. They call it DTS:X and this is another hugely important codec type, often found in latest generation AV receivers' spec sheets. DTS do not use the term 'object based' but call it 'multi-dimensional audio' surround.
Unlike Dolby Atmos, the immediate advantage of DTS:X is that it does not require additional speakers. You can use it with a simple 7.1 system - in other words, one with no height speakers - making it far more versatile than Dolby Atmos. Of course, it doesn't have that additional realism from height speakers, but it means you can buy a relatively affordable system, like the SVS Prime Satellite 5.1, and still enjoy the result.
 
Dolby TrueHD
Let's say you have an Atmos or DTS:X-capable source, like a really good Blu-ray disc, but your AV receiver isn't equipped to handle either Dolby Atmos or DTS:X. In that case, you'll find that you can use Dolby TrueHD. It essentially takes the material and outputs an eight-channel mix. It's not quite as good as Atmos or DTS:X, but it's very close, and as long as you don't have a 9.2-speaker setup or more, you'll be able to get a good sound. What 's slightly strange is that you'll sometimes see these two programs in receivers that are capable of Atmos or DTS:X output; the Denon AVR-S740H is a perfect example. Yes, we know, we find it strange too.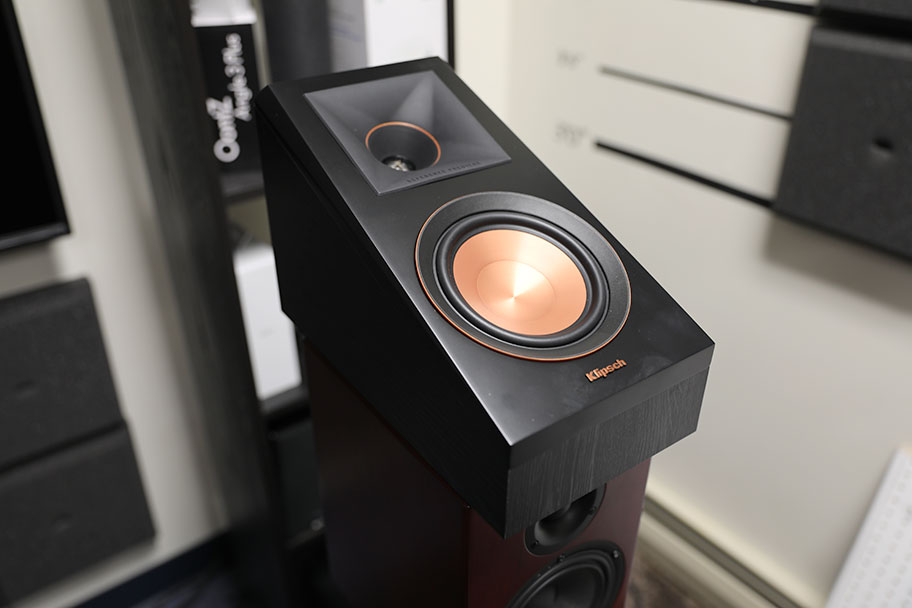 Dolby Digital Plus
Dolby Digital Plus is a little different to Dolby TrueHD, in that it's meant to be used in systems without height speakers. It's essentially a replacement for DTS:X and allows you to listen to a Dolby audio mix without having height speakers. Put simply, it's the standard non-Atmos Dolby software, and will give you surround sound without the height elements.
 
DTS: Neural X
Another one you'll often see is DTS Neural:X. This is a fascinating bit of digital wizardry from DTS. Essentially, it allows you to take a source that doesn't have any height information – a DVD with a 5.1 audio mix - and extrapolate height data that you can then use to impersonate a full 7.1 mix. It takes some thinking to wrap your head around, but it's still super-useful to have. There are many other types of surround sound software, and if you want more details on them, as well as the ones mentioned above, we explore them a little more in our list of the best AV receivers of this year.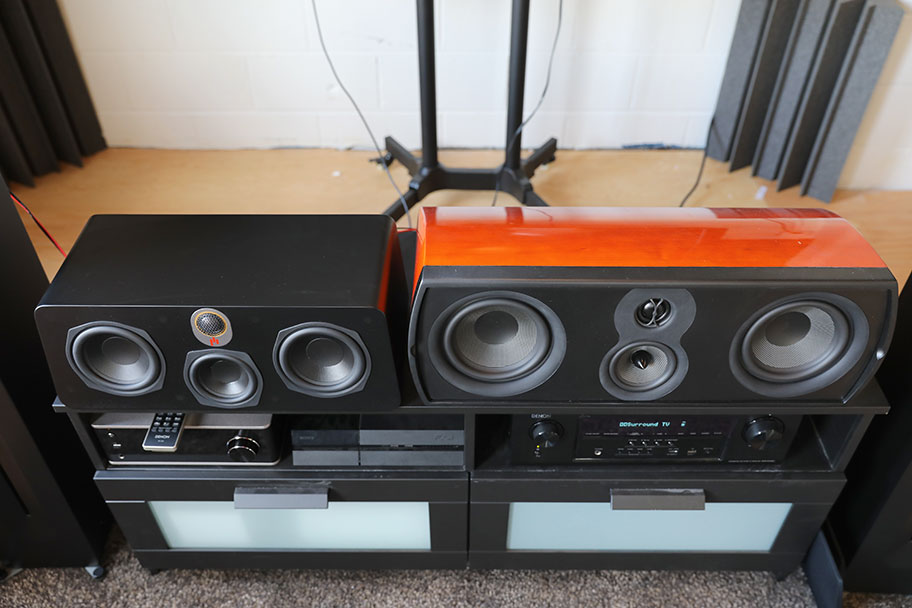 Wireless vs. Wired Speakers
The big disadvantage with traditional home theater systems – as in, multiple speakers connected to a single receiver with miles of speaker wire – is just that: the miles of speaker wire. It's not just the fact that you have to buy this separately. But it's that you have to strip the wire, connect it to a banana plug, and then do that at least ten more times. Fun fun fun! We will cover this a little more in the section below, where we detail how to set up your home theater system. But for now, we want to talk about wireless home theater.
A wireless home theater system has speakers that are, very obviously, connected wirelessly to your TV or receiver. Although they each have to be connected to a wall socket, those are the only wires you'll have to deal with. They will communicate through your Wi-Fi network, and give you surround sound without the mess of speaker cables. As you can imagine, that's a huge advantage. We've got several wireless systems on our list, and we think the best one is the Sonos 5.1 Surround Set. Sonos are known for their wireless wizardry and their home theater system is a revelation.
The downside of wireless systems is that they are expensive. The Sonos system mentioned above costs $1,399. No matter how you slice it, traditional wired systems are far cheaper than even the cheapest wireless system. Sound quality doesn't really enter into it – a wireless system can sound just as good as a wired one these days. It's a question of convenience, and how much you are willing to pay for it. We think that most people will be okay with traditional wired systems – setting up speaker wire and connecting your speakers really isn't that complex, as we shall see - but it's good to have an option.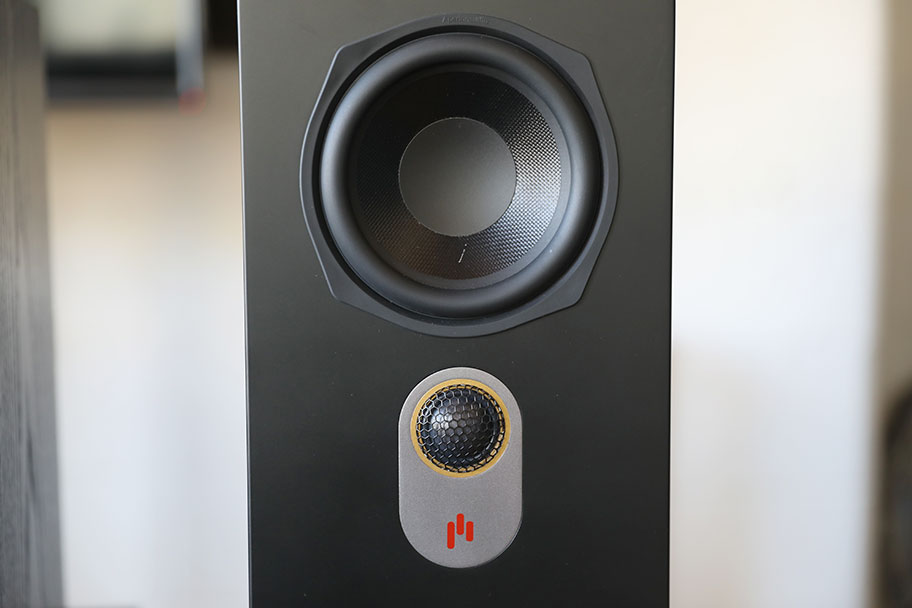 Movies vs. Music vs. Games
The key thing to understand is that home theater systems are set up for movies, TV, and gaming. They are designed to provide the best experience to accompany a visual medium, which means that all the systems on our list are predominantly designed to be used with a TV. The other key thing to understand is that all the systems on our list will be able to handle anything you throw at them. They will do just as good a job with an Xbox session as they would with a Netflix night. This is down to the audio mixing for games, series, and movies, which all share the same principles. All of them are mixed for surround sound, and as long as you have a system capable of translating that surround sound, you're good. You don't need to worry about buying a system that specializes in gaming or movies.
The one thing we would caution against is buying a home theater system if what you do is listen to music. Most music is mixed for two channels – left and right, to create a stereo image. Using a full five or seven speaker system to listen to a two channel audio mix is a bit like taking the motor out of a Ferrari and using it in a lawnmower. Fun, but pointless. All these systems are perfectly capable of playing music – several even have Bluetooth, to allow for Spotify streaming. You can even select a surround mix, and listen to the channels duplicated and played at you from multiple directions. It's a fun exercise, rather than something worth paying money for. If you're looking for a good system to play music, we recommend starting with something like a stereo amp.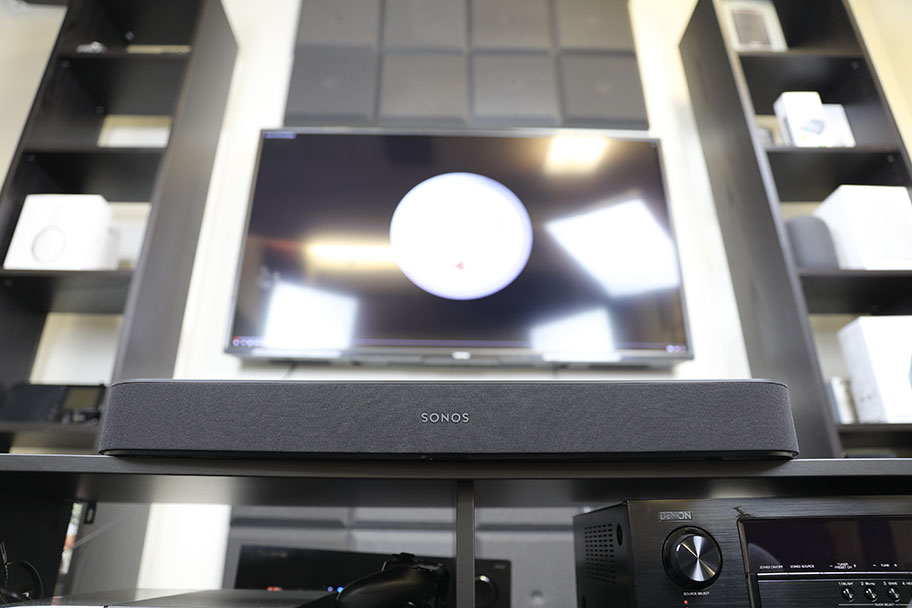 Soundbars for Home Theater
By now, you've probably come across something rather obvious. If part of a surround sound system is the front speaker channels, then what's to stop you from using a soundbar to provide these? Why even bother with multiple speakers, when you can package several of them in a single convenient box – with perhaps a couple of satellite speakers to provide rear or side audio? The answer is nothing. It's an excellent idea, a convenient and clever solution to the complexity of home theater, and there are several options on our list already. Models like the Vizio M-Series Elevate not only provide this convenience, but do it while delivering extraordinary sound, including Dolby Atmos.
We have to admit, there aren't any real downsides to doing it this way. The one negative we can see is that it restricts you from swapping out speakers later on. If you decide you'd like to try a pair of floorstanding speakers with your existing home theater system, but you rely on a soundbar for the front channels, then you simply won't be able to add them in. To that end, we'd advise going for the soundbar option only if you don't have any interest in customizing your system later.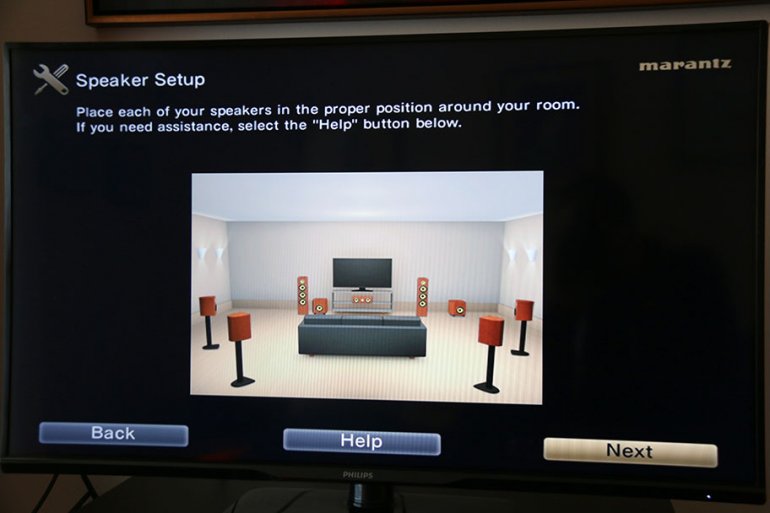 Setting Up Your Home Theater System
So you've ordered your home theater system, you've pulled the speakers out of the box, and now they are sitting in your living room, looking pretty but also complicated. What on earth are you supposed to do with them?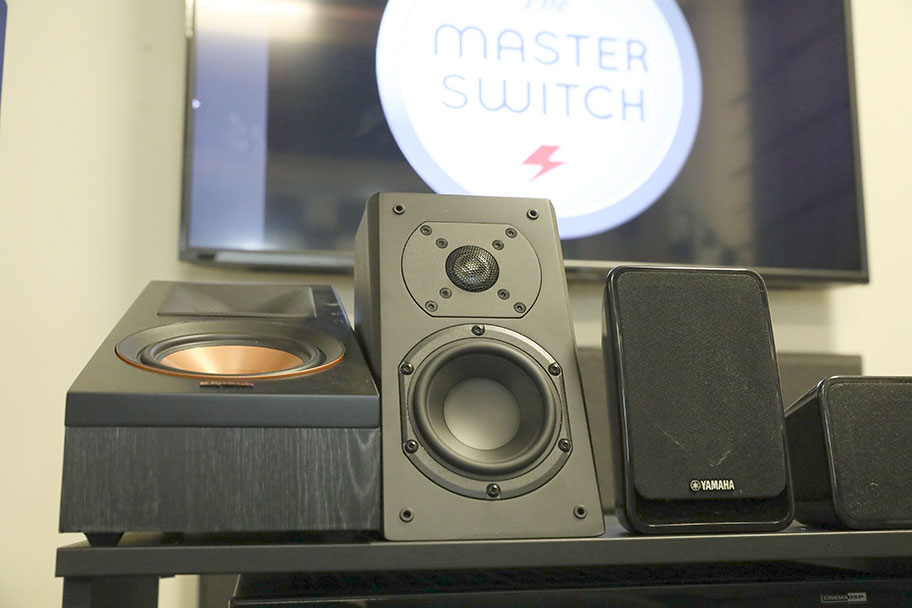 Speakers
The first thing to do is to put the speakers in the right positions. The front right and front left speakers should go on either side of your TV. If possible, try to form an equilateral triangle between you on the couch, and the speakers, as this will result in the best sound. However, don't be stressed if this is not possible – you'll still get good sound regardless. The center channel speaker should go between the two front speakers, directly under your TV. The easiest way to do this is to place it directly on a cabinet or shelf. However, it is possible to wall mount some speakers.
The rear speakers should be placed directly behind you and the side speakers to the left and right of your listening position. Note that some systems may only come with rear or front speakers. You may need to buy speaker stands to position these on. The good news is that these are generally cheap – we use Sanus stands in our testing room, at around $30 each.
 
Subwoofer
Once your speakers are in place, you'll need to position your subwoofer. This is one of the more complicated parts of the process. Bass moves through the air more slowly, and is prone to sounding muddy and unfocused if the subwoofer is in the wrong place. However, there are some general principles you can stick to. A sub placed in the corner of the room, a foot away from the walls, usually sounds pretty good. Failing which, directly to one side of your front left or front right speaker, or around the side of the couch. Experiment to figure out which method sounds best.
If all else fails, you can use the method commonly known in home theater circles as the subwoofer crawl. Connect up your system – more on this below – and place the subwoofer in your listening position. Yes, that's right, put it on the couch. Then play something bassy, and crawl around the room. The spot where the bass sounds most full almost pleasing is where you should put your subwoofer. Low-tech, but it works. We have more info on how to set up a subwoofer here.

Cables
Speaker wire connects your receiver to your speakers. You will need to buy a roll of speaker wire – we recommend color-coded 16 gauge. Then, you'll need to measure the distance between each speaker and your receiver, and cut a length of wire. Always make sure you have a couple of feet left over.
Once that's done, you'll need to separate the strands at each end and strip them – cut off the insulating sheath. This is time-consuming, but relatively simple, and can be accomplished using a pair of wire cutters or, in a pinch, a set of kitchen scissors. What you will be left with is bare wire, and you need to twist this into a loose braid with a quick twist of your fingers. From here, you have two options. You can either leave the wires bare, to be connected directly to the speaker binding posts, or you can connect the wire to banana plugs. We strongly recommend the latter, as they make connecting and disconnecting speakers a total breeze. Banana plugs are very cheap, and a worthy investment. Then, with your receiver unplugged from the direct power, connect each speaker to the relevant port on the back. These should be clearly labelled beforehand.
For each speaker, there will be two connections: positive (red) and negative (black). Make sure that the positive terminal on the speaker connects to the positive terminal on the receiver, and ditto for the negative terminals. This may take a little work, but you'll get there in the end - especially if you were smart and invested in color-coded wire! And if you want to know what each of those weird and wonderful connections on the back of your receiver does, you should check out our full guide.
You are almost certainly going to need a couple of HDMI cables, which you will use to connect your receiver to your TV, and your video source – like your console – to your receiver. If your signal comes from something like a Google Chromecast, or your TV's own wireless streaming capabilities, then one HDMI cable will be perfectly acceptable; the TV can handle the video signal itself, and all you need to worry about is the audio signal. If this is the case, make sure your HDMI cable is connected to the ARC (Audio Return Channel) slot on your TV.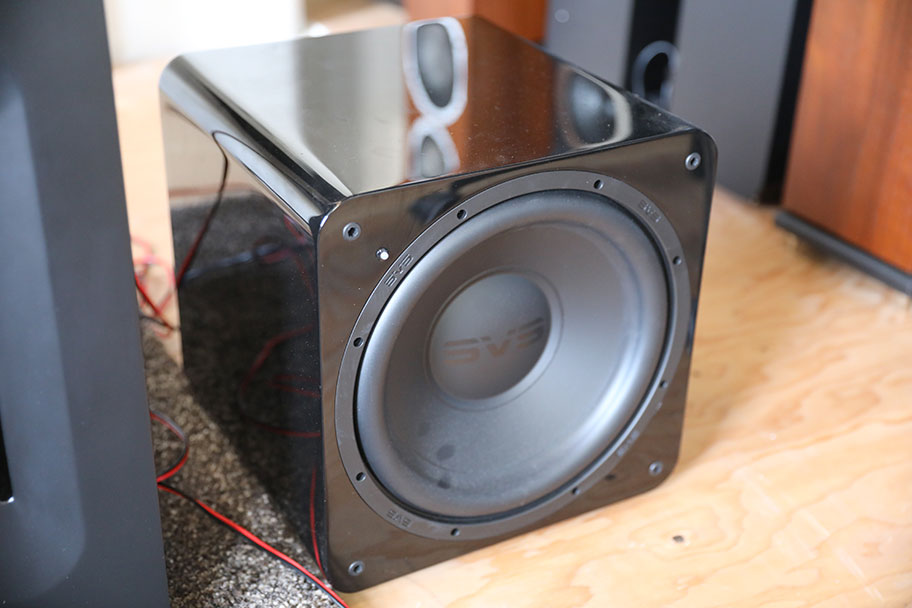 Subwoofers and Crossover Explained
A subwoofer delivers the bass. It will make your system infinitely better, delivering low-end impact and making every explosion, punch and kick feel like it's hitting you. Trust us, this is fun. You can tell if a system comes with a subwoofer by noting the number after the decimal point in the number of channels - a 5.1 or 7.1 system will have one sub, a 7.2 system, will have two, etcetera. And of course, we note in our list above whether or not a given system comes with a subwoofer (most do). But to get the best out of a sub, you need to know how to set it. To do that, you need to understand frequency.
Frequency is a measure of how low and how high a sound is. The lower in pitch it is – if it's the rumble of an explosion, for example – the lower frequency it will have. A sound with a higher pitch, like a violin, will have a higher frequency. Easy, yes? Humans can hear a limited range of frequencies – from around 20 hertz (or Hz) to 20 kilohertz (20,000 Hz). Despite this, many manufacturers actually create speakers that can produce sounds outside of this frequency spectrum. No, we don't know why. The accepted wisdom is that a speaker with a wider frequency range will be able to produce more effective sound, and while we don't doubt that the speaker can technically produce audio at 40kHz, we're not sure it makes much of a difference. Do feel free to fight us in the comments if you disagree! Regardless, we've listed the individual frequency ratings for each speaker system in the roundup, where available, indicating how low and how high they can go.
Frequency can be useful, however, when tuning your system – particularly in getting the best sound out of your subwoofer. When setting up your system, using the on-screen menu of your receiver, you will need to set up the crossover – the point at which your speakers roll off, and the subwoofer takes over the bass. The good news here is that if you are buying a Home-Theater-In-a-Box (HTIB), the crossover will be set automatically. You won't need to adjust it at all!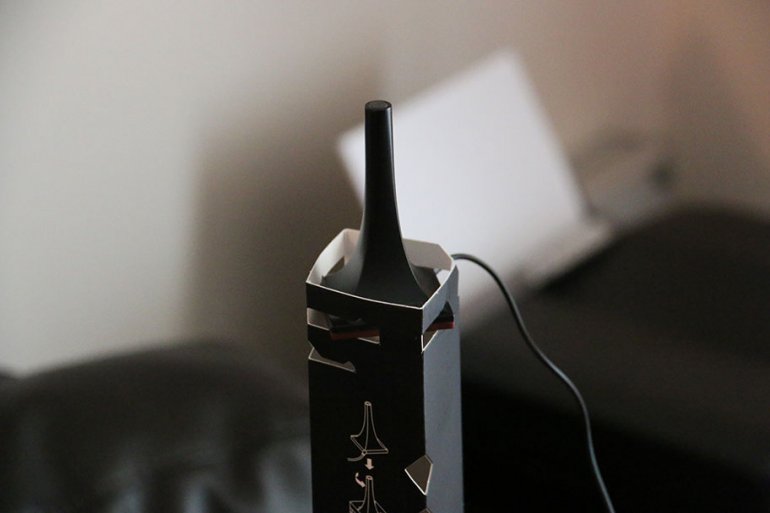 Room Calibration
Home theater manufacturers are smart. They understand that the ideal home theater room actually doesn't exist. Outside of a custom build, there will probably never be a perfect room that will showcase their products in their best light. So, they got smart. They worked on software that could adjust the sound depending on the room the speakers are in. This is known as room calibration, and it's becoming more common in the world of home theater. It will ensure that the sound takes your room into account, meaning you don't have to worry too much about having the perfect space.
You'll almost certainly come across room calibration when shopping for a dedicated AV receiver – it is likely to come bundled with the one you buy. Let's use the Denon AVR-S960H receiver as an example, which comes bundled with a room correction microphone. Essentially, once this microphone is connected, all you have to do is place it around the room in various positions while the speakers and receiver play a series of tones. The microphone captures how the sound bounces around the room, and makes adjustments accordingly. As you can imagine, our testing room sounds fabulous.
You're unlikely to get room correction if you buy a speaker system or receiver under about $300. But if you are looking for it, you could do worse than buy a product that features Anthem Room Correction (ARC) software, which is currently the best of the best.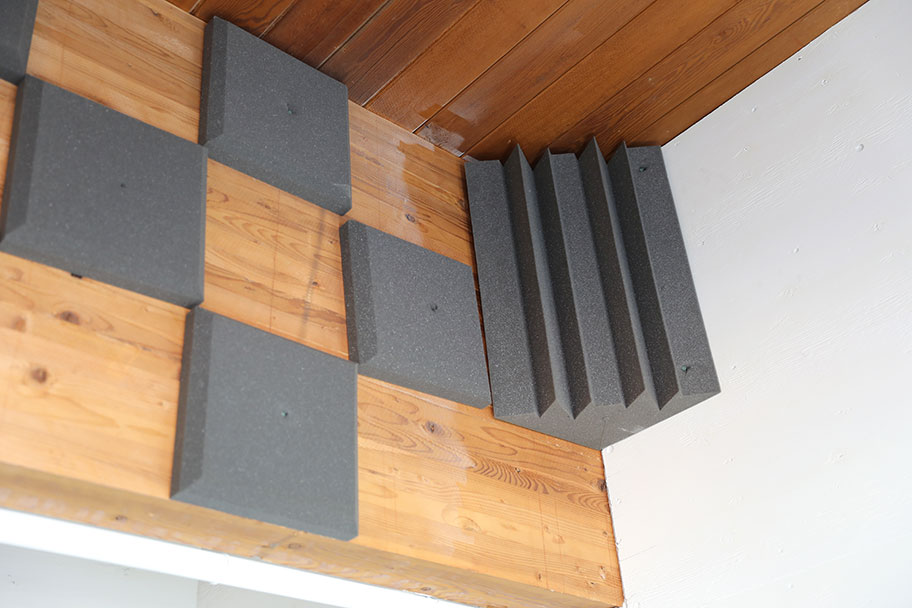 Acoustic Proofing for Better Sound
Let's say the speaker system you buy doesn't actually come with room correction. In that case, if you're after better sound, you may need to do what is known as acoustic proofing. To understand this concept, you need to know a little bit about how sound works. Sound waves travel through the air, and in doing so, they interact with everything around them: you, your bookshelves, your windows, your dog, your mother-in-law. All of these things change the end result that enters our ears. The harder and flatter a surface, the more sound it will reflect. In the world of home theater, reflections are bad. The sound that is reflected back at you off a flat wall is not going to be nearly as good as the sound that comes directly from the speaker, yes? Acoustic proofing is the process of minimizing these reflections. And if you're thinking you need to get rid of every flat surface in your living room, you can relax. What we are going to suggest is a little bit simpler.
Let's imagine a standard, rectangular living room. Let's imagine there is nothing in it – just the walls, windows, and doors. Obviously, this isn't an ideal room to place a home theater system in. Play audio here, and you will be bombarded with nasty reflections. The solution? Start filling it with things that absorb the sound waves, instead of reflecting. This means soft furnishings: curtains, the couch, bookshelves, cushions. Given that we've just described the average living room, you can see how you are already well on your way to having an acoustically-proofed space that sounds good. The more soft stuff you have in your living room, the cleaner and more accurate your sound will be.
However, spaces aren't perfect. You may have a room that is an odd shape, which has certain architectural features that you can't control. Big windows, in particular, can play hell with soundwaves. If this is the case, you may want to invest in some acoustic solutions. These can take the form of panels which hang on the wall, and fortunately, many – like this ATS Acoustics panel – looks sleek and modern, and come in multiple colors. They should help tame any wayward reflections.
If you find you're having a problem with your bass, and are getting muddy, unfocused, thin sound, then you may need to invest in a bass trap or two. Low frequency sound waves tend to collect in corners, so your goal should be to put something absorbent in those corners. We recommend the UA Acoustics Trap, which looks great and works well.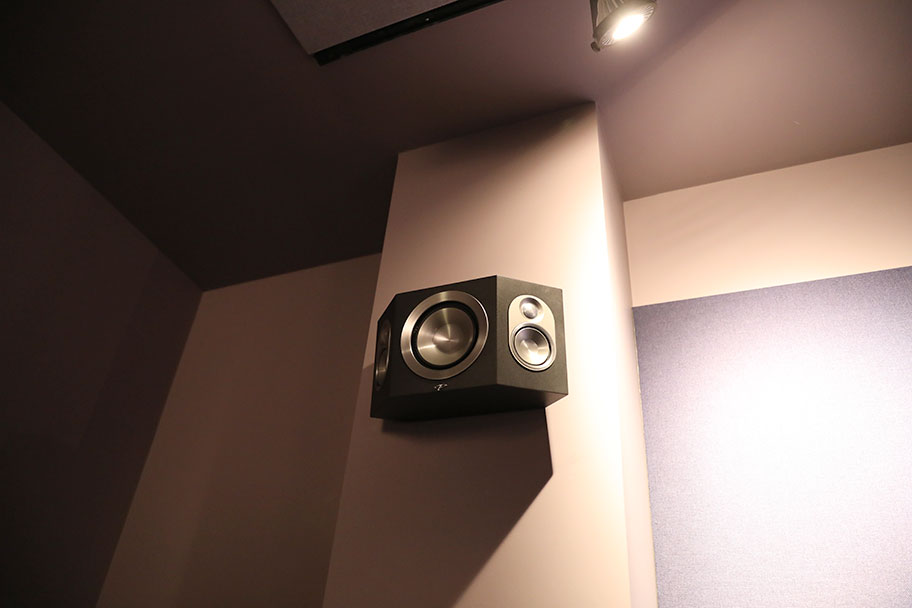 Stepping up to a Bigger System
The time will come when you decide to expand your surround sound. Perhaps you moved into a bigger home, or you want to add things like height speakers and rear speakers into the mix. The good news is, as long as you have a separate AV receiver (as opposed to a soundbar, or wireless receiver) you can go as big as you like. Most receivers these days go up to at least 7.2, and several go even further than that. This means you've got more than enough room to expand.
Adding height speakers is a cinch – there are several models designed specifically for this purpose. Adding height speakers means you can start playing around with surround sound programs like Dolby Atmos, which can really boost your sound. Our current favorite height speaker is the Klipsch RP-500SA (full review here). Two of those in a set up will give you phenomenal, realistic height audio.
If you want to start from scratch, and buy a dedicated 7.1 system, then we've got an entire roundup devoted to tracking down the very best. Consider it an excellent starting point for your dream home theater system.
Learn More About Home Theater