Sennheiser GSP 370 ($200)
Wireless: Yes
Connection: 2.4GHz
Weight: 10oz
What We Like: Comfortable, durance, nuanced audio quality.
What We Don't: Weak software, poor surround sound, cold-sounding mic quality.
See the Sennheiser GSP 370
The Sennheiser GSP 370 has a reputation as a beast. We've never tested a pair of Sennheiser headphones we didn't like; however, we wanted to put these through the nine circles of headset Hell to see how they come out on the other side, and let you know if they meet our high expectations. In this review, we break down the Sennheiser GSP 370's sound, design, comfort and fit, packaging and accessories, specs, and more. To see how it stacks up, check out our list of the best gaming headsets.
 
Sound
Low-End (Bass)
Like Aubrey, let's start from the bottom of what we hear. The sound of the Sennheiser GSP 370 impressed us right out of the box. The first thing we noticed was the bass. We've been spending too much time listening to our content via wireless earbuds, and the bass response of the over-ear GSP 370 headset felt supremely nice. The leatherette-sided earcups keep the bass from escaping, giving it a smooth resonance that didn't muddy up the mids or lows. Overall, the sound was extremely airy and smooth.
The bass was great for gaming, providing immersive sound, without distracting us from the key sound details we need to play at a high level. This felt like the low-end we craved from the Turtle Beach Elite Atlas, which didn't have quite the same presence. Besting the Turtle Beach's bass, it's no surprise that the GSP's bass was also up to the task of providing a great audible and visual experience. We thought the atmosphere and soundstage the GSP 370s provided was up to the task of tackling any genre, but the long battery life encouraged us to test these beasts by watching The Irishman. After a long test, we decided to quote what Ricky Gervais said when he hosted the 2019 Golden Globes, and take his comments regarding The Irishman and apply them to the battery life: "amazing…long, but amazing… but long." Three-and-a-half hours later, we were satisfied by not only the sound and battery, but the headset's comfort. Wrapping up our thoughts on the low-end, we just want to congratulate the GSP 370s for passing our low-end sound tests and meeting our high expectations.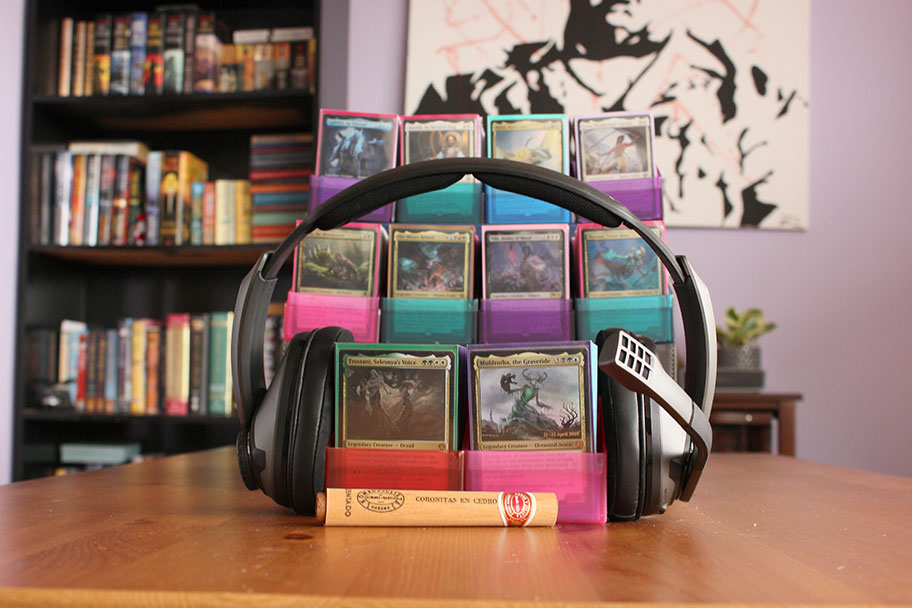 High-End (Treble)
The highs weren't quite as crystalline as the Audeze Mobius (full review here) - the best headset we've ever tested in the gaming genre - but they were still nice. This laidback approach to the high-end made the overall experience airy and pleasant. What it didn't quite provide was the in-game detail that we'd typically get from wired headsets. The sound wasn't cloudy or muffled, but the lack of pinpoint detail is something you sacrifice to some degree with wireless headsets, as they lose a bit of detail when compared to their wired counterparts. That said, the detail in the GSP 370's highs were good enough for anything short of tournament gaming, and we were happy with the experience. The highs handled music with poise - synth heavy sounds were handled particularly well - getting a nice feel while avoiding any sharpness. The entire soundstage reminded me of a more-open Logitech G933 Artemis Spectrum. Comparing the two, we do have to admit the Logitechs provided more overall detail, but the Sennheisers gave us a more pleasant and lush experience. If you prefer a bit more nuance and atmosphere over raw detail, we'd still recommend the GSP 370 over the G933's more detailed sound.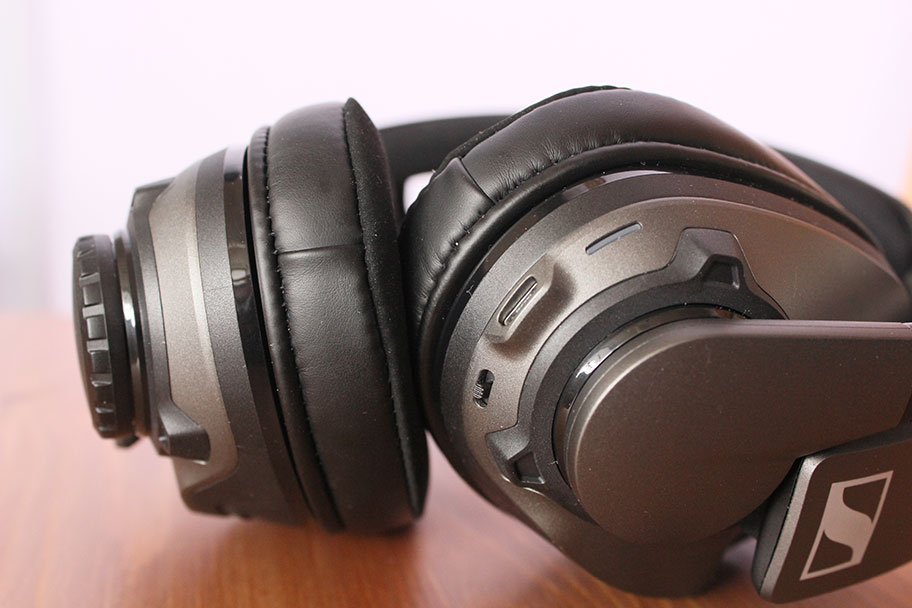 Midrange
After our warm reviews of both the highs and lows, it's probably unsurprising that the GSP 370's mids handled business and won our hearts. Avoiding any muddling, the GSP 370's mids were natural and mellow. With the bumping lows and clean highs, the mids complemented the entire experience, making for sweet and smooth gaming audio. If we went on audio alone—ignoring everything else about the headset—the GSP 370s would claim a top spot on our list; however, there are a few things, which we'll go over in later sections, that detract from the GSP 370's audio brilliance. But at the end of the day, audio is king, and the GSP 370 delivers sound fit for a prince.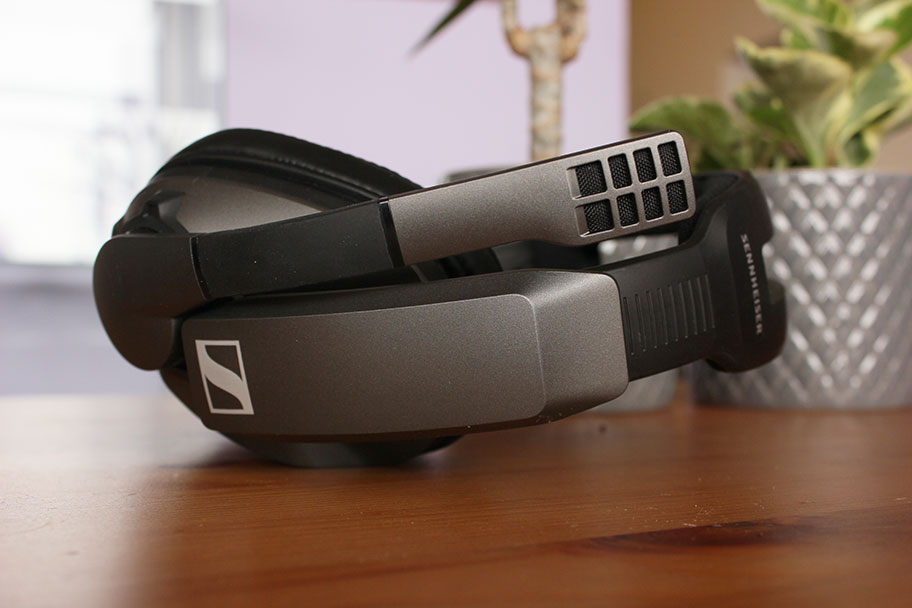 Mic Quality
The first major flaw of the GSP 370s is the microphone audio. While the mic is well-built and looks impressive, its actual audio is a bit disappointing. If you just want basic gaming audio for communicating with teammates in-game, the mic will work fine. However, we're confident that this mic's going to annoy anyone watching your stream or any friends you party-up with for multi-hour sessions on Apex Legends or COD.
The GSP 370's microphone audio is extremely compressed and robotic, to the point of sounding muffled and dead. Seriously, this mic can take the most exciting call-out of your amateur gaming career and make it sound like Google Assistant is warning your team of an enemy flank maneuver. The software settings do almost nothing to help this issue, and while we're on the subject, our mic just straight-up stopped delivering audio during testing. We were playing Overwatch at the time, which is known for having sometimes-buggy team chat audio, so we were able to blame it on a buggy patch. But after trying every in-game setting to correct the issue, and even turning the actual headset on and off again enough times to satisfy Moss from IT Crowd, the headset still wasn't outputting audio.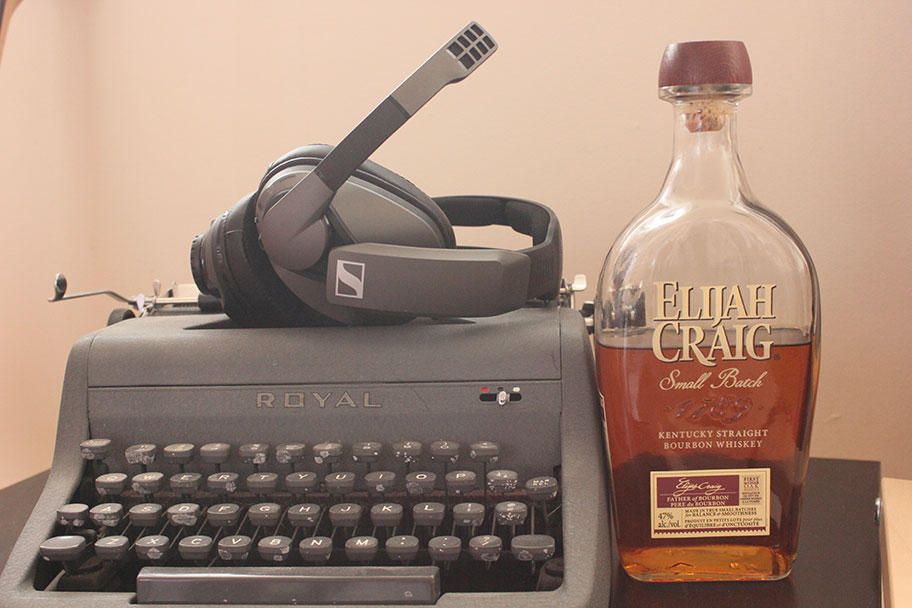 It turned out we had to actually unplug the USB wireless adapter from our testing machine and plug it back in. All in all, the mic was a bit of a disappointment - especially when compared to how incredible the GSP 370's build and audio is. Before we sign-off on this section, we want to reiterate that, despite our disappointment, we don't think the mic audio is a dealbreaker. If you're trying to join a pro team, maybe avoid it, but for everyone else, the GSP 370 is going to do a fine job. While robotic, the audio is very clear with little room noise, and the overall experience is still on-par with the HyperX Cloud Revolver S - which remain one of our favorite gaming headsets of all time.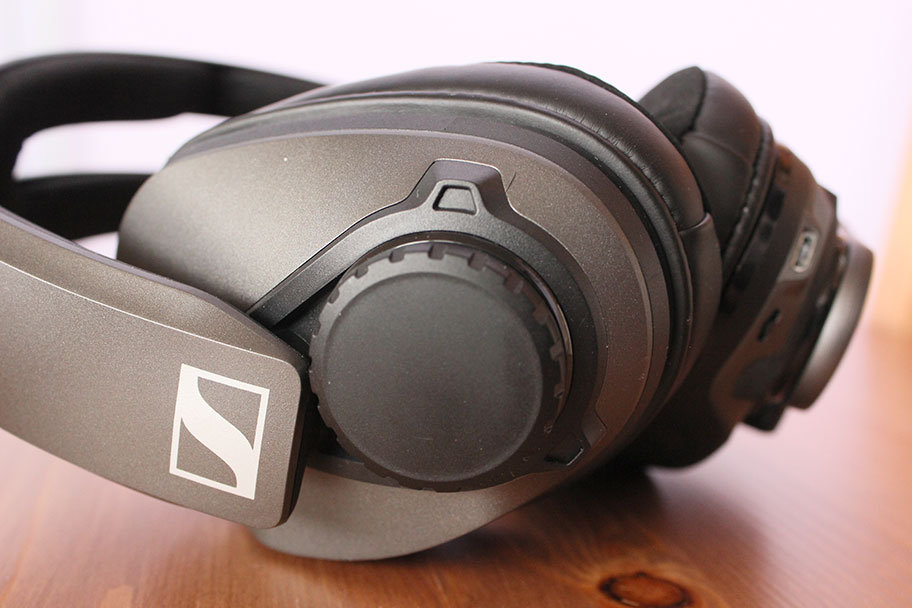 Surround Sound and Software
We mentioned the lackluster software options in the microphone section, but there are other quirks with the software we should address. First off is the digital 7.1 surround sound. While these types of optional inclusions are a neat benefit, sometimes more isn't all it's cracked up to be. The 7.1 feature of this headset sounds slightly cramped and unexciting. The gorgeous natural tones that the GSP 370 delivers as default become condensed and take on a robotic quality that detracts from the headset's sound quality. There's something to be said about simplicity, and we wouldn't recommend factoring the surround sound into your comparisons, for the simple fact that we wouldn't recommend using the surround sound at all.
While the GSP 370's default audio bests most headsets in our roundup, its surround sound pales in comparison. Almost every headset in the top half of our roundup handles surround sound better than the GSP 370s, even the much older and cheaper HyperX Cloud Revolver S provides a more pleasant and transformative surround sound experience. But as a major point in its favor, those same headsets lose to the GSP 370 when you compare default stereo audio, and we never recommend a headset just based on it's surround sound. We've said it 100 times, and we're sure to say it 100 more times, but digital surround sound is a bit of a gimmick and unless you are specifically buying a headset for that experience, you shouldn't let 7.1 sound tests influence your opinion of a headset too much.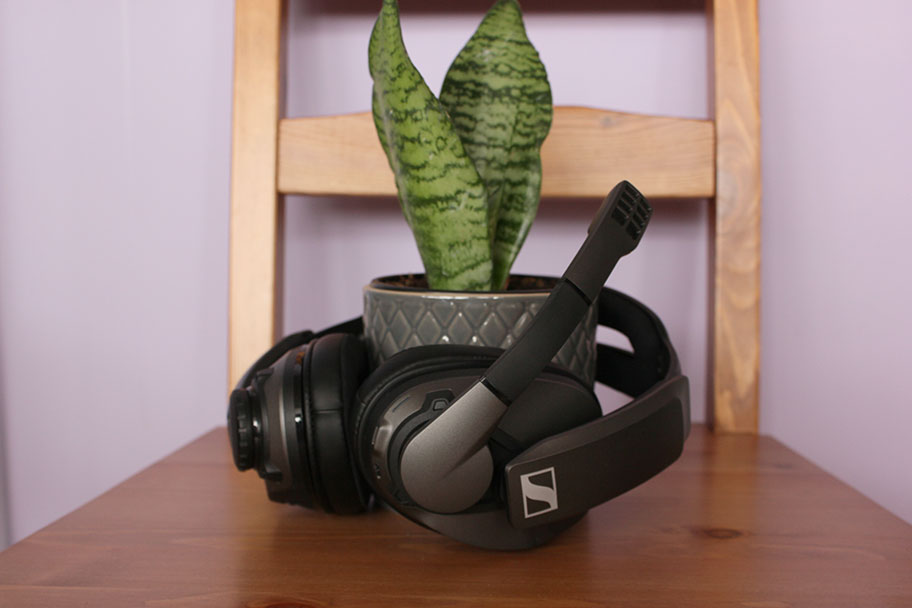 Design
Looks and Build Quality
This headset is a sensuous blend of matte plastic and premium plush materials. With curves that would make an ancient Greek sculptor blush, the GSP 370s are uncommonly attractive. Sennheiser has elevated their normal blocky styling and created an intriguing headset. The GSP 370 is a marvel. Its filleted plastic headband slides into strong and flexible arms that attach to angled, almost-ovoid earcups. Everything is coated in a rippled charcoal shell and draped with plush black padding that adds a simplistic, but importantly comfortable, finish. The subtle and elegant design is complemented by a monolithic mic that, in any position, just trumpets "gamer". This headset is a perfect blend of premium materials and intriguing design, achieving the gamer's style with the audiophile's nuance. Both you and your headset are going to look damn good on any stream or video call. We'd say these are just an absolute visual upgrade to the Turtle Beach Elite Atlas, which has a similar styling without the expert execution.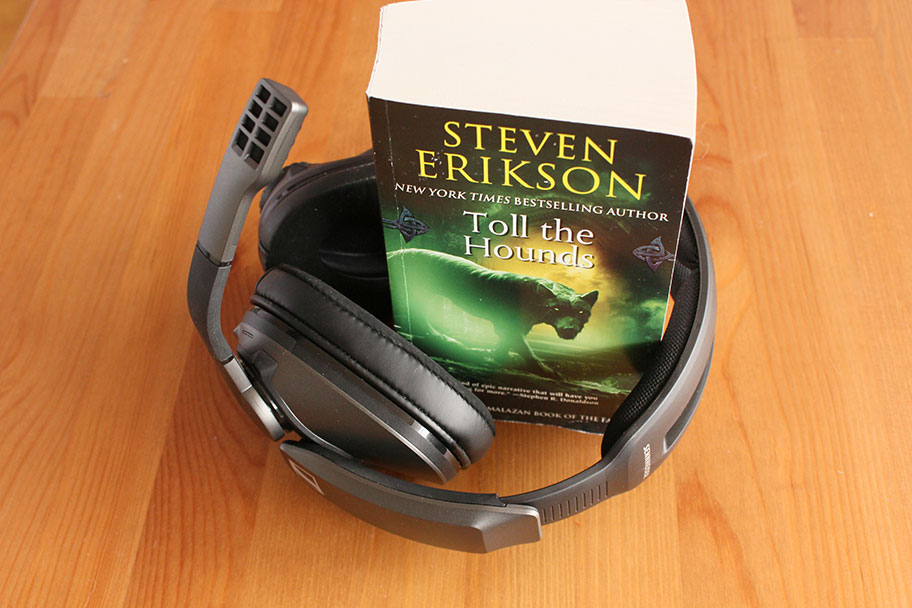 The headset comes from good stock, and is comprised of excellent materials. It feels solid and durable without being chunky or heavy. On first touch, we were worried the GSP 370 would have some decent heft, but it ended up feeling quite light on our heads during extended testing. This in and of itself is usually a good sign of a quality build. The headset's rigidity is balanced well; it has excellent flex, without feeling like it's going to fall apart. There's an acceptable level of swivel in the earcups, and the extending arms give you extra length to make getting the perfect fit easy. The strength on something this light continues to amaze us. While we don't do drop tests, we're confident that these would survive a decent fall. The only part we felt was a touch vulnerable was the awful power button. We are appalled by this disgusting little switch that felt like it was going to snap off on first contact. We've never been more nervous about any button on any headset, and it honestly feels like it will be the first thing to go. Which is astounding considering it's kind of important for your headset to, you know, turn on...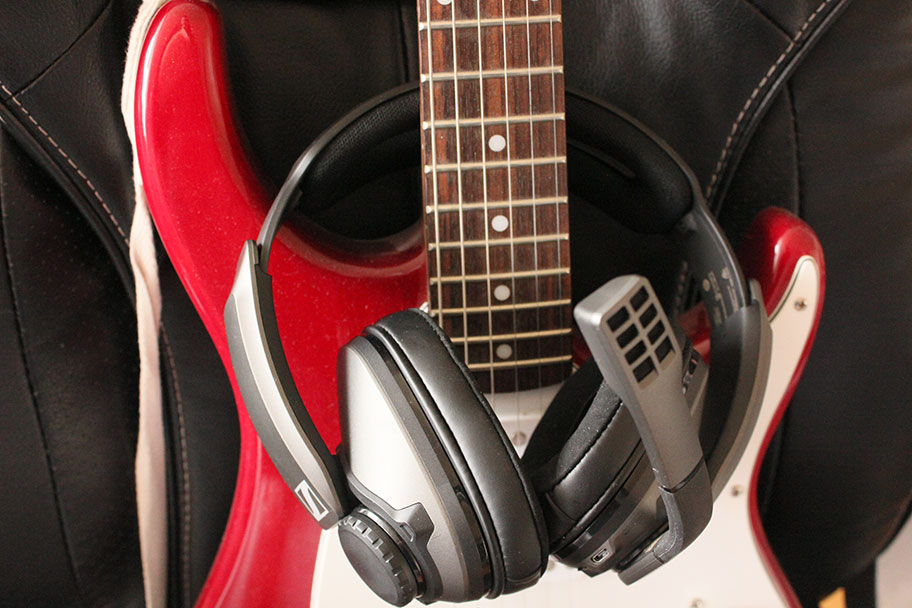 Controls
Moving on to the controls we did like. We have to give Sennheiser a cyber standing ovation for the infinite scroll volume knob. This has been tried and failed so many times. Our favorite gaming headset, the SteelSeries' Arctis Pro Wireless, also employs this type of volume control wheel. Before we tried the GSP 370s, we thought that SteelSeries had done it best, but Sennheiser showed them up on this one. Not only does the GSP 370's wheel look better, it also works better and is less prone to accidental volume changes. It goes up by reasonable increments, even if you treat it like you're on the Price is Right, which saves your ears from getting blasted by quick in-game changes.
While we already put the GSP 370's mic on blast for its audio quality, we do want to express that its design is quite well executed. We don't personally like non-detachable or retractable gaming mics, but Sennheiser has done this one really well. While it's in the fully upright position, the headset mic is muted and when pulled down to your mouth, it unmutes. There's a little clicking sensation that tells you when it turns from on to off to give you a bit more confidence of knowing when you're live, which helps prevent you from accidentally broadcasting your partner when they're grilling you for yelling too loud.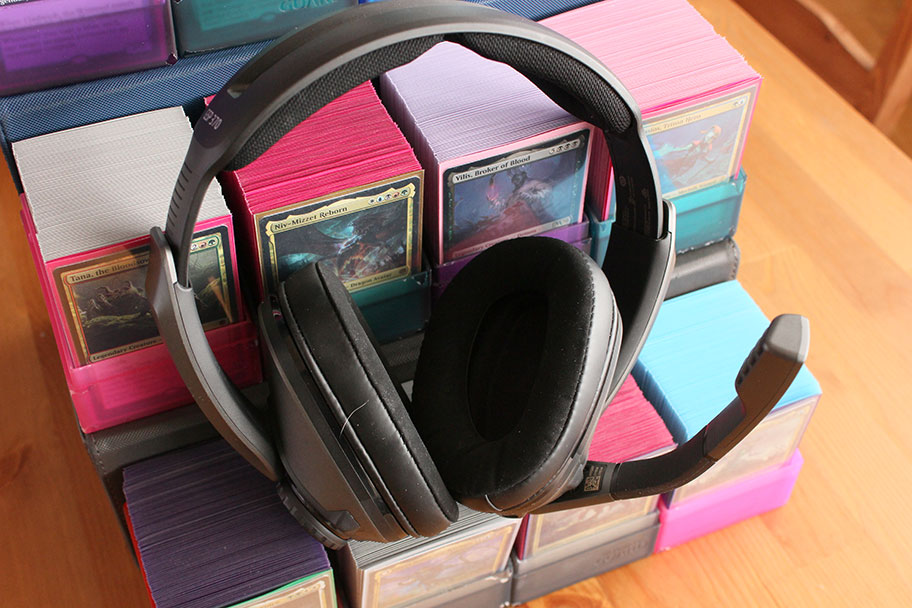 Comfort & Fit
This headset is one of the most comfortable wireless headsets on the market. We liked it even more than the SteelSeries Arctis 7 and thought it was on par with the lightest and most comfortable HyperX Cloud MIX. With it's light and adjustable frame, you can position it to rest easy on your noggin. The oval earcups fit our ears well, with a nice comfortable seal, but we recognize that this ovoid design makes them a bit smaller than some might be comfortable with. If you have larger ears, you should definitely try these before you buy them, but for most of the gamers reading this, we assure you that you won't be disappointed with the fit.
While the earcups look small, they don't feel or sound small. They're surprisingly airy, both in terms of sound and actual temperature. There was very little heat buildup, even over long test periods. What surprised us most about the headset was how comfortable the headband was during extended tests. It appears a bit stiff at first, as we've grown very used to the floating headband design that most headsets are using these days, and were worried the stiff headband would add a bit more pressure than we would like. Luckily, that fear was far from reality and the Sennheisers get top marks in comfort. After a very brief break-in session, you're going to be very happy wearing these.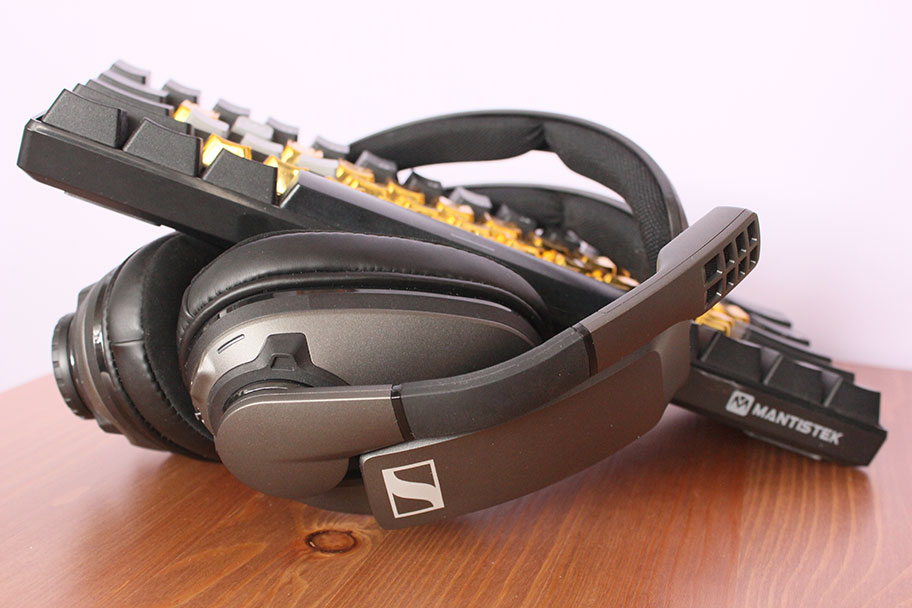 Packaging & Accessories
We begin our judgement right from the unboxing. Packaging can tell you a lot about a product—cheap packaging is usually associated with cheap parts—so even if the words on the box advertise a high-end headset, the packing might tell a different story. For example, the difference between the packaging on the Turtle Beach Elite Atlas and the Turtle Beach Recon is staggering. The Recon's packaging is all cheap plastic and thin cardboard, while the Elite Atlas's form-fitting foam and hard-shell cardboard sleeve was what you would more often see for a headset that costs over $100. In fact, the Turtle Beach Elite Atlas' packaging blew the Sennheiser GSP 370s out of the water.
The GSP 370 comes cloaked in a thin cardboard box that's sealed in plastic wrap. Once we removed that plastic wrap, the oily smell of cheap plastic permeated the office. When we opened the box, the smell only got worse. In the box, was a hard-plastic shell form-fitted to house the headset, an adapter, and a micro-USB charging cable (no USB-C…really?). The gross oil-tanker odour was all over the headset after we extricated it - we legitimately had to leave the headset on a window ledge to air out. While that's admittedly a bit of a dramatic response, we didn't want the headset on our head while that nasty smell still clung to it. Luckily, the smell dissipated quickly and completely. And to be clear, the cheap plastic stopped at the shell that held the headset, as the actual headset's plastic was top notch. Adding one more point in the GSP 370's favor, the plastic shell was quite robust and served its role well. It even passed one of our main packaging tests: where we test if the contents we pull out can go back in the box easily. Typically, cheap headsets often have horrendous packaging that's so lame it can't be reassembled without the plastic cracking, or the cardboard bloating. Luckily the Sennheisers avoided this.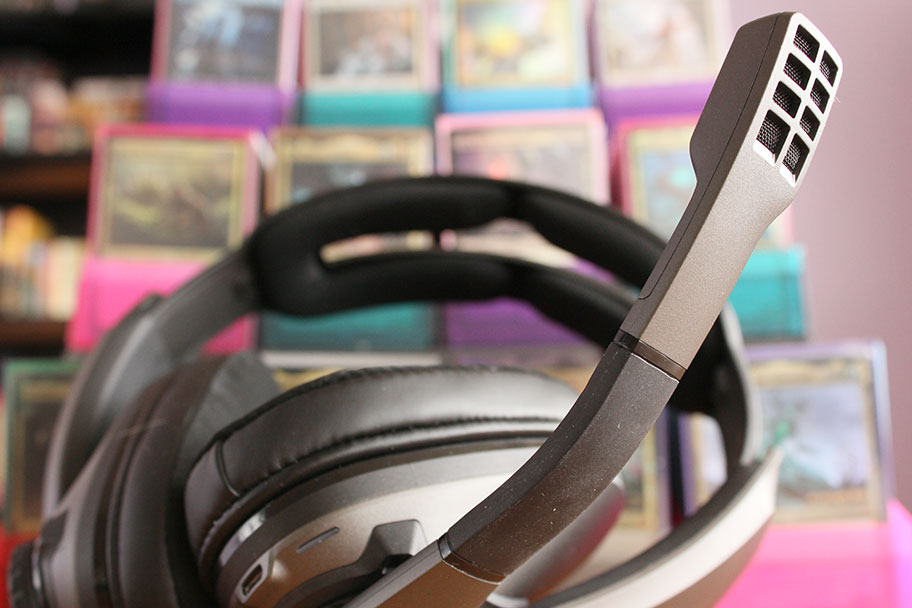 What We Like
The GSP 370's amazing default stereo audio is nuanced and rich.
The headset is supremely comfortable and easy to adjust for any fit.
They are durable, attractive, and compact with a style that should appeal to both gamers and casual listeners.
 
What We Don't
The software on the Sennheiser GSP 370 headset was a bit weak and didn't provide the transformational option we wanted.
The surround sound was implemented poorly and worse than the default audio.
The microphone audio was cold and over-compressed.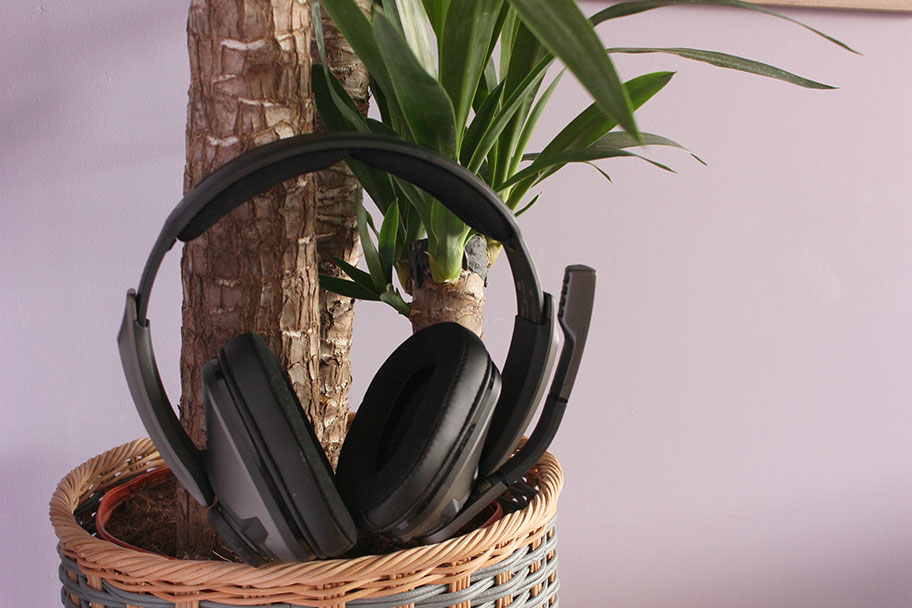 Comparison Table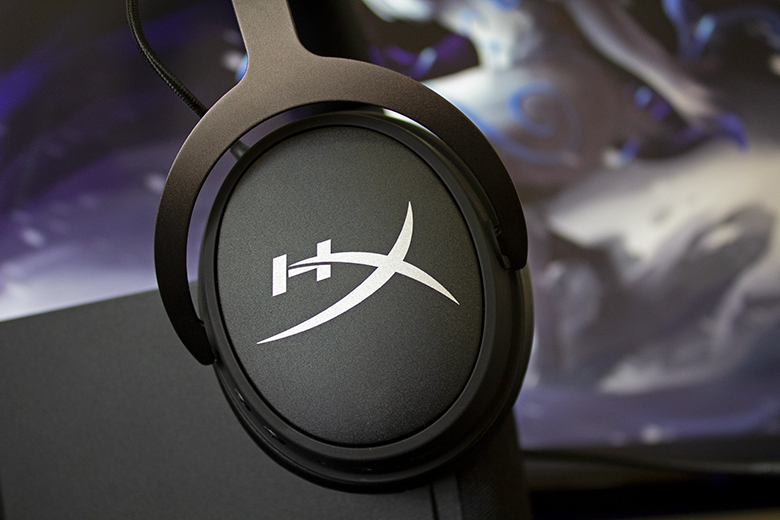 The Competition
The battle for the ages: the Logitech G933 Artemis Spectrum versus the Sennheiser GSP 370. These wireless headsets are similar in price and functionality, but which one should you buy? Starting from the outside in, we have to give our preference to the GSP 370. While the G933 is a much flashier gamer-centric design, the subtle build of the GSP 370, along with the more premium plastic and flexible shell, give it a major bump. Another category the GSP 370 takes is default audio. We said this earlier and meant it: these Sennheisers are probably the best-in-class audio out of the box. Where the Logitechs get their advantage is software. While they might not sound as good out of the box, the G933's sound is more customizable and provides a better 7.1 experience. Obviously, the Logitechs can't compete when it comes to battery life - no other gaming headset we've tested can. At the end of it all, if you're a software person that likes to tinker, the G933 might be more your style. But if you just want great audio out of the box, we'd definitely recommend the comfier, better-sounding GSP 370.
The GSP 370's only rival in comfort at this price range: the HyperX Cloud MIX. This headset puts up a decent fight against the GSP 370. We love the MIX and so our preference in design and build is going to go to HyperX's contestant. The MIX headset is incredibly light while remaining strong and flexible. Additionally, the styling is more public-friendly. On that note, we'd like to bring up another category where the MIX takes the trophy: mobility. With Bluetooth connectivity and a detachable mic, the MIX is better when you're on-the-go listening to music or mobile gaming. However, as expected, the GSP 370 conquers the sound category and that counts for something. Both headsets' mics are comparable (neither is exceptional), so it all comes down to what you're using the headset for. For the best "sit at your desk for 14 hours and game" experience, go for the Sennheisers. If you want more flexibility and a headset that can go with you wherever you end up, go for the HyperX.
SteelSeries' Arctis 7 dominates many top headset lists, and for good reason. We've always claimed that SteelSeries gives gamers what they need at the prices they want. They don't go overboard on frills, but just do the simple things well. That's the sort of the approach Sennheiser takes with their models. Less centered around simplicity, Sennheiser tries to go for high-end and adds a bit of oomf. If we compare looks, the oomf works to their advantage, as we think the GSP 370s look better than the SteelSeries Arctis 7s. Comfort is pretty even, as is build quality, so there's no clear winner there. We liked the mic much better on the SteelSeries, both in build and sound. Completely split, it comes down to sound. Both of these headsets sound exceptional, but we have to give an edge to Sennheiser for the better low-end. The GSP 370s also come out on top for battery life. That said, money balances all, and for a cheaper price, the Arctis 7s win on value alone. So, if deciding between the two, let your wallet talk. If you're cool spending up, go for the GSP 370s, but if you want to maximize value, hit up the SteelSeries Arctis 7s.
Let's end the comparisons with a real Oedipal kill-your-progenitor vibe, and compare the GSP 370 to the 670. If you know numbers, you'll know that six is greater than three. But if you know headsets, you'll understand that things aren't that simple. The GSP 670 provides almost the same audio for a lot more money. There are some strict advantages that come with that price tag, and our favorite is the Bluetooth option. We frequently use Bluetooth to connect our gaming headsets to our phones, and when wireless headsets don't have this option, we notice immediately. That said, it is a luxury rather than a necessity, so let's move on to other differences. The GSP 370 is more comfortable and lighter, which is a huge advantage from a cheaper option, and while the 670 has a better mic, the difference in audio isn't large enough to give it much preference. All in all, if you have to choose between the two, and Bluetooth connectivity isn't your main concern, go low with the GSP 370. It's a much better value with similar audio quality and higher comfort.
Learn More About Gaming Audio