An Audio/Video (A/V) Receiver is, if you'll forgive a slightly clunky analogy, the quarterback of your home theater. It's not just because it tells everything where to go, routing signals to different speakers and screens. It's because it has a profound effect on the quality of the system. If it isn't up to the task of handling the vast amount of data that get's thrown it at, then you could have the best speakers on earth and still get bad results. The market is a crowded one, so we've picked out some of the best A/V receivers for this year, ranging from sub-$300 budget options to monster units that will cost you a couple of grand.


How We Choose:
A/V receivers don't get major game-changing updates that often - home theater companies are more than likely to bring out a new bigger (or smaller/entry-level) variation of their existing models. Receiver tech is tried and tested these days, so there are plenty of familiar faces here. We compare receivers from dozens of different manufacturers, taking into account everything: whether they have 4K capability, how many HDMI ports they have, what their connectivity is like, price and more. Our experience in home audio lets us pick out the best receivers - there are dozens available, and these are the absolute best around. We also take care to point out what each receiver is best for. Agree? Disagree? Be sure to let us in know in the comments, or on Facebook or Twitter.

Our A/V Receiver Picks: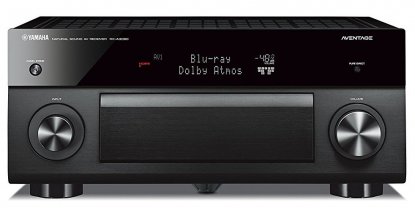 Dimensions: 19" x 17" x 7"
Channels: 9.2/11.2 Expandable
4K: Yes
HDMI I/O: 8/2
Wattage: 165/8Ω, 2Ch Driven
Connectivity: Bluetooth/WiFi
What We Like: Huge power, full 11.2 functionality.
What We Don't: Overkill for small systems, no Auro3D.
This is the big one. The Flagship. The Standard-Bearer. Yamaha's RX-A3060 is probably the single best receiver on the planet right now, and offers absolutely staggering functionality. First off, you get 9.2 channels standard, with up to 11.2 channels if you connect an external amp, making this ideal for bigger systems with height speakers in multiple sub woofers. Secondly, at 165 watts per channel continuous (230 max), the system offers utterly enormous sound, guaranteed to make the walls shake.
it's fully equipped for almost all current standards, including Dolby Atmos and DTS:X. While it doesn't have the ability to upgrade to Auro3D, which is surprising, that's only going to affect a few people. And if you're worried about calibrating your room, don't be. Yamaha includes its YPAO room EQ, allowing you to get the ideal sound. We still prefer Marantz's partnership with Audyssey for room correction, but the YPAO is an excellent alternative. Plus, the MusicCast system allows you to send audio to multiple devices wirelessly, meaning you could theoretically control your entire home. We could go all day with this, but the point is, if you have the budget to get it: get it. It's a monster.
See the Yamaha Aventage RX-A3060

Dimensions: 17.3" x 17.3" x 7.3"
Channels: 9.2/11.2 Expandable
4K: Yes
HDMI I/O: 8/3
Wattage: 125/8Ω, 2Ch Driven
Connectivity: Bluetooth/WiFi
What We Like: Terrific sound, dead easy setup.
What We Don't: May not be for everyone.
The SR7011 is probably the most forward-thinking all these models, as it not only comes with support for Dolby Atmos and DTS:X in a 9.2 setup (which can be pushed to 11.2 if you want), but also for a brand-new entry into the sound technology marketplace: Auro-3D, which is attempting to go beyond surround sound into full 3D immersive audio. Jury is still out on this one, but if you've heard it and want more, then this Marantz is the one to go for. We hardly need mention that the sound is superlative, and the feature set packs in just about everything we mentioned so far, and if you pair it with the right set of speakers, it'll go really far. The setup is just wonderful, an automated process that uses an extraordinary EQ to finetune the sound - plus it comes with HEOS streaming tech built in.
We've recently done a more in-depth review of this model, where we said: "This is a flagship receiver. It's one of the best on the market, if not one of the best ever. If you want the newest model, you should absolutely buy it, because it's almost faultless. Just remember that there is a much cheaper, almost as good option available. Here's hoping that for the 7012, Marantz kicks things into the stratosphere. We have no idea how they're going to do that, but we wish them well." (The cheaper model referred to is the 7010, which doesn't have as rich a feature set but is still excellent.)
See the Marantz SR7011

Dimensions: 16.9" x 16.5" x 6.9"
Channels: 7.2
4K: Yes
HDMI I/O: 6/2
Wattage: 120/6Ω, 2Ch Driven
Connectivity: WiFi
What We Like: Superb audio quality.
What We Don't: Lack of Bluetooth .
Cambridge Audio are known for making very high quality gear. In past years, we've raved about their receivers like the Azur 551R, but their most recent model knocks them all out the park. The CXR120 is a truly terrific receiver, with superlative style and performance. We still prefer the Marantz and the Yamaha, but you could easily make an argument that this deserves to be higher on the list. It's very subjective at this point!
And yet at first glance, you might wonder why the CXR120 is rated so highly - or whether our argument holds water. Well, it does have it faults. It has no Bluetooth (although you can add it with a separate adaptor), no Dolby Atmos or DTS:X support, and a minimalist front end. So what are you paying so much for, exactly? If you been paying attention, you'll know we value one thing over all else: sound. We don't know what's going on inside the big silver box to produce such unbelievable audio quality, but we're pretty sure it doesn't involve electronics. Witchcraft and wizardry maybe, but not electronics. This is one for the audio purists.
See the Cambridge Audio CXR120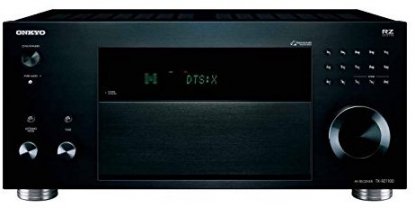 Dimensions: 17.8" x 17.1" x 7.9"
Channels: 9.2/11.2 Expandable
4K: Yes
HDMI I/O: 8/2
Wattage: 140/8Ω, 2Ch Driven
Connectivity: Bluetooth/WiFi
What We Like: Huge sound and feature set.
What We Don't: Not quite as good as the Marantz, despite the native 11.2 .
It might not be quite as good as the Marantz SR7011, but if you're hankering for a 9.2 system with some serious thump on the trunk, then Onkyo have you covered. The TX – RZ1100 is festooned with logos representing just about every high-end home theatre innovation in the past twenty years, and there's very little in terms of audio or video that you won't be able to pump through it, given enough time and enough speaker cables. The sound doesn't have the finesse of other models on this list, but we still love it's sheer, ballsy competence.
It's worth noting that, like many high-profile models, you can expand the channels to 11.2 by connecting an external amplifier to the pre-out ports, and even indulge in setups like 7.2.4, if you've got a real hankering for height speakers. Receivers in this price range all tend to be similarly versatile, so we'd have been surprised if this functionality wasn't included. All-in-all, this is a very solid top-five player.
See the Onkyo TX-RZ1100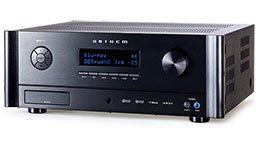 Dimensions: 17.25" x 14.75" x 6.5"
Channels: 5.1
4K: Yes
HDMI I/O: 7/2
Wattage: 100/8Ω, 2Ch Driven
Connectivity: Bluetooth/WiFi
What We Like: Huge range of features.
What We Don't: A bit pricey for a 5.1 system.
Annoyingly, the MRX-520 is not yet available on Amazon, although its predecessor, the 510, is. The latter will do you fine, but we strongly recommend the former, as it's a genuine world beater.
Anthem make phenomenal products, and with this one, they've packed a huge amount in. You get 4K, a stellar room correction system, the ability to save speaker profiles, and more. Plus, you get a huge number of HDMI inputs (as you would expect to for this price) and a front end that we think is among the best in the business. It also allows you to save speaker profiles, for when you want to switch your numbers around. And because Anthem have a very good calibration division, you get to use their absolutely phenomenal room correction software, too. Just be warned: it's only available on PCs and iPhones, so if you have a Mac or an Android, you might find yourself in a tricky situation. All the same, this is a genuinely great unit, highly recommended - even if you might have to hustle to find one.
See the Anthem MRX-520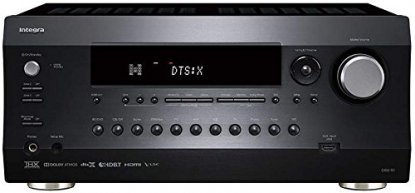 Dimensions: 17" x 7" x 15"
Channels: 7.2
4K: Yes
HDMI I/O: 8/2
Wattage: 110/8Ω, 1Ch Driven
Connectivity: Bluetooth/WiFi
What We Like: Custom install friendly.
What We Don't: Not for newbies.
You'd pick the Integra DRX-4 if you're a total cable geek. If you get off on customising every aspect of your home theatre system, if you want to include things like PCs and custom lighting and projection screens, then this is the model you need to go for. It has HDBaseT connectivity for setups over distance (ideal for big rooms), as well as bidirectional control ports that let you easily add in other devices.
We had debates about this one. Custom installs are a separate beast entirely, a little beyond the remit of this site, which doesn't get involved in such shenanigans. Frankly, people like the ones who build their own subwoofers at home scare us a little. In the end, we decided it's too good not to put on here. It fulfils a very specific niche, but even if you don't know what a CAT5/e cable is, you'll still find a use for it. It's a reasonably accomplished receiver with a good sound at a good price, and we think it deserves a place here.
See the Integra DRX-4

Dimensions: 17.1" x 13.3" x 6.6"
Channels: 7.2
4K: Yes
HDMI I/O: 8/2
Wattage: 125/6Ω, 2Ch Driven
Connectivity: Bluetooth/WiFi
What We Like: Great set of features, solid sound.
What We Don't: Maybe a little underpowered? And the front end is fugly.
This is far from the loudest or most powerful receiver we've tried, but there's no question that offers a tremendous amount for the money you pay. We'll get to that in a sec, but generally speaking, this is a receiver you'd go for if you don't demand huge volumes, making it ideal for slightly smaller rooms populated by those who appreciate solid sound.
As for features: not only do you have full 4K passthrough, but you also get Dolby Atmos and DTS:X functionality as well as room calibration through the Audyssey MultEQ XT. There is an excellent range of HDMI inputs and outputs, and with 7.2 channels, it should be more than enough for most systems. It's definitely not the best model on this list, but Denon our established brand with an excellent track record, and you should feel absolutely no qualms in parting with your money for this particular model. Although it's definitely no looker.
See the Denon AVRX2300W

Dimensions: 19.6" x 15.7" x 9.5"
Channels: 7.2
4K: Yes
HDMI I/O: 6/1
Wattage: 100/6Ω, 2Ch Driven
Connectivity: Bluetooth/WiFi
What We Like: Great for movies, Bluetooth features.
What We Don't: Not a lot.
The Sony STRDN1060 is perfect if you don't want to pay money for extraneous features and are more interested in pure sound quality, which it delivers in spades. This is a model that is geared purely towards movies, and it really shows, with a depth and warmth to its audio the demonstrates just how high quality its circuits really are. It's worth mentioning its one very unusual feature: the ability to send Bluetooth audio out, to a compatible pair of headphones, for example. If you have neighbours who complain regularly, or a partner asleep in the next room, then this feature may swing you towards this one. Whether we use and will not, it's still a killer unit.
In our full, in-depth review, we said: "Home theater obsessives will probably demand a little bit more from their systems. They may balk at the lack of Dolby Atmos, and scoff at the excellent but still non-audiophile sound quality. Nuts to them. For 90% of us, this is a killer receiver. It does absolutely everything it says it can do, and does it extremely well. It looks great, sounds great, and is dead simple to operate. A few minor quibbles aside, we've got no hesitation recommending this one. It's genuinely special."
See the Sony STRDN1060

Dimensions: 17.1" x 16" x 8"
Channels: 7.2
4K: Yes
HDMI I/O: 8/2
Wattage: 130/8Ω, 2ch Driven
Connectivity: Bluetooth/WiFi
What We Like: Dolby Atmos sound.
What We Don't: Very little.
$600 and up is where you start seeing stuff that's more suitable for bigger home theater setups. Perfect example: the Onkyo TX-NR838. It has a whopping eight HDMI inputs, including one on the front, and it comes absolutely rammed with features.
It has most of the streaming capacity of the Marantz above, as well as Dolby Atmos sound that turns an already very good receiver into an essential one. It is also available to use Atmos' competitor, DTS:X, although there aren't too many sources that take advantage of this yet. Even if you couldn't care less about the different sound technologies, you'll be getting a big black box with some mind blowing sound. Careful: the price fluctuates, as does its availability. If you're in the market for something now, and don't see this at around the price listed above, it may be worth your while to wait a bit! If you do decide to buy, however, you'll snag yourself a very, very good system.
See the Onkyo TX-NR838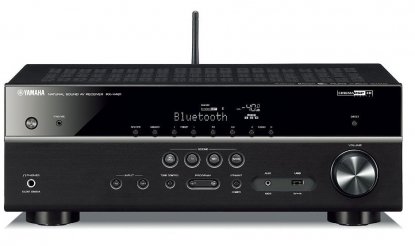 Dimensions: 17" x 13" x 6.75"
Channels: 5.1
4K: Yes
HDMI I/O: 4/1
Wattage: 80/8Ω, 2Ch Driven
Connectivity: Bluetooth/WiFi
What We Like: Killer sound for a killer price.
What We Don't: Lots of buttons, not enough HDMI ports .
This updated version of the RX-V479, which was on our list previously, does a really good job of building on what made its predecessor so good. Although it's only got four HDMI ports, which could prove a problem if you have multiple devices, it still offers some magnificent sound as well as a smorgasbord of features, including 4K and WiFi streaming, as well as Apple's Airplay. The discrete amp circuitry means you get some amazingly clean audio.
The front might have a few too many buttons for our liking - we're always in favor of simplicity, as over-complication can be a real pain point for anybody looking to buy a receiver. but we still think the audio performance and the feature set makes it worthy of inclusion. It even comes with room calibration, which is a surprise at this price range; Yamaha's Parametric room Acoustic Optimizer (YPAO, an acronym nobody is ever going to remember) does a great job of adjusting your speakers to suit your listening environment.
See the Yamaha RX-V481 BL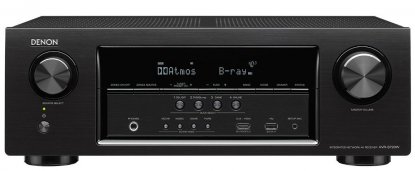 Dimensions: 20.6" x 17.1" x 9.1"
Channels: 7.2
4K: Yes
HDMI I/O: 7/3
Wattage: 90/8Ω, 2Ch Driven
Connectivity: Bluetooth/WiFi
What We Like: Easy setup, great sound.
What We Don't: Very little .
The story of receivers is often one of small, incremental updates, not to mention immensely boring names and feature lists that make your head spin - does anyone outside of the custom crowd actually use 12V trigger outputs? But this one – an update on the S720W, which adds 15W extra per channel and more HDMI ports - is truly special.
In this price range, it can often be very difficult to tell the difference between models, as they share many similar components. Nevertheless, we really feel that the S720W is one of the best available right now, hence its inclusion on this list. It offers truly magnificent sound for a sub-$500, and the setup is as basic as can be. We'd go so far as to say that the primary selling point: if you want zero hassle when you're getting started, go for this one. It's not Denon's only entry here, and there's a very good reason for that.
See the Denon AVR-S920W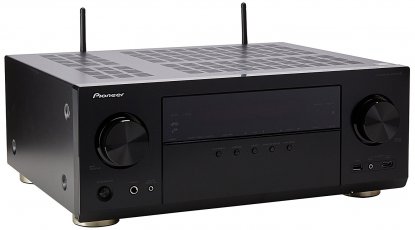 Dimensions: 17.1" x 14.6" x 6.8"
Channels: 7.2
4K: Yes
HDMI I/O: 7/2
Wattage: 100/8Ω, 2Ch Driven
Connectivity: Bluetooth/WiFi
What We Like: Increased HDMI ports, room correction.
What We Don't: Doesn't do anything special.
This is a good, solid all-round system; although it doesn't do anything particularly special, it's one of the more reliable units out there. It's a slightly cheaper alternative to the Denon S920W, and offers much the same features, albeit for slightly diminished sound quality. It's a 7.2 system that works equally as well as a 5.2.2 or 5.1.2 channel system, making it pretty versatile.
We do like the increased HDMI ports, and we really enjoyed the room correction system, which calibrated the system nicely. It's called the Multi-Channel Acoustic Calibration System (MCACC), and it works rather well. Outside of that, you do get a good range of features, including connections to all your favorite streaming services. We also like the emphasis that Pioneer have placed on the DAC, which helps convert those digital ones and zeros into analogue audio that you can actually hear. While it's not a patch on some of the other models on this list, the conversion is clean and clear.
See the Pioneer VSX-1131

Dimensions: 21.4" x 15.6" x 8.9"
Channels: 5.1
4K: Yes
HDMI I/O: 4/1
Wattage: 70/8Ω, 2Ch Driven
Connectivity: Bluetooth
What We Like: Room calibration system.
What We Don't: Sound could be a little better?
By now, the Yamaha RX-V379BL is almost ubiquitous. We're being unfair; it's ubiquitous for a reason, and that reason is, it's bloody good. Like the smaller Denon below, it has Bluetooth and 4K passthrough (although bear in mind that no receiver at this price range will properly upscale content, meaning that even if you have a 4K set, you probably won't be able to watch non-4k content at that resolution). It also includes a very decent room calibration system which, once run, means you will almost never have to adjust your sound again. You get this one if you aren't super-demanding about your home theatre needs, but still want a unit that will deliver good sound and a wide range of features.
At this point in the list, you're probably wondering if we've left out some companies, given the preponderance of names like Yamaha, Pioneer and Denon. The fact is, A/V receivers are tricky to make, and so you will find relatively few companies attempting it, with far more making things like floorstanding speakers. Of course, we are always looking for new challenges, so if there are indie companies putting out their own spin on receivers, please do get in touch! We know a lot, but we don't know everything, and we are always happy to hear from new manufacturers.
See the Yamaha RX-V379BL

Dimensions: 17.1" x 12.6" x 5.9"
Channels: 5.2
4K: Yes
HDMI I/O: 5/1
Wattage: 75/8Ω, 2Ch Driven
Connectivity: Bluetooth
What We Like: Clever design features.
What We Don't: Sound is what you'd expect.
For something that is the cheapest model on our list by quite some margin, the Denon AVR-S510BT really does pack in a huge amount of features. You get full 4K passthrough, Bluetooth capability (which is almost unheard of in a unit this cheap) and some genuinely smart ideas, like a button on the front of the unit that lets you change the source without going into TV-screen menus or digging around the back. Sound, probably unsurprisingly, is going to compete with pricier models, but it's still very solid for the price, particularly if you've got a small room. The Denon does economising places, such as the fiddly speaker clips on the back panel, but really, this is the best budget unit available until Cambridge Audio decides to stop selling $3000 monsters and starts making receivers for the rest of us.
We decided against expanding the list beyond the ones here at the moment – as we said at the very beginning, other models tend to be variations on the standard flagships, with either more features, or less. Whichever model you choose, however, you're almost certainly going to get something worthwhile.
See the Denon AVR-S510BT

Specs Table:

* 2Ch Driven Unless Stated
** 1Ch Driven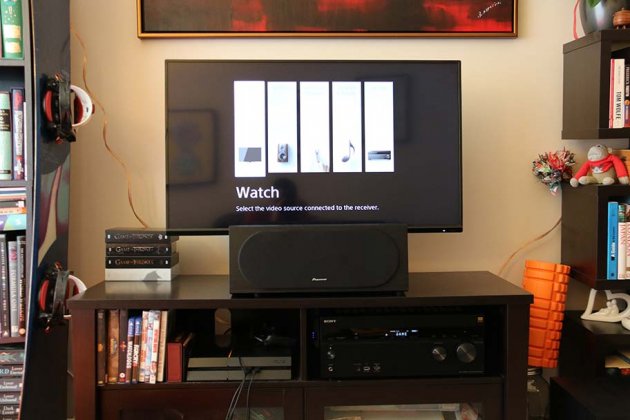 Buying Advice:
Do I Really Need One Of These Receivers?
Got multiple speakers? Planning on a surround system? Then, yeah, you do.
A lot of the picks on this list don't actually look like much. They are fairly dull, bland boxes with a bunch of controls on them, and a bewildering array of inputs and outputs around the back. But without this box, your home theater setup is going nowhere.
There are a few key components inside each box. There's a preamplifier, for handling audio signals, a set of video inputs to work out where to send the visuals, and a decoder to separate the two. In addition, there may be a separate surround sound decoder, which splices the audio into its different channels and makes sure they get to the correct speaker. Actually, if we can revise our earlier analogy, the role of the A/V receiver is air traffic control: figuring out what goes to when, and when.
And by the way, it's only functional if you have speakers to plug into it, or if you've got a full home theater system where the central component needs an upgrade. Good hunting!

How Important Is HDMI?
There are a huge number of connections on the back of any given unit, both analogue and digital, and we could spend quite a while going into all of them, and which ones you will need. There is an excellent guide available here which breaks down the common types of inputs and outputs, but by far the most important ones are the HDMI inputs. You'll want at least a few of these, as it's by far the most-common and most-utilised type of port. When we say HDMI I/O, we mean HDMI Inputs/Outputs. Usually, there are more of the former than the latter, and depending on how many HDMI-capable gadgets you have, they could be super important.
But do you actually need those seven HDMI ports? For most of us, three or four will be more than enough. So why are you going for a unit that has more than double what you need? You think those things come for free? No way. You pay for extra ports, so think carefully about how many pieces of equipment you're going to be using before you shell out your hard-earned.
But on the other hand: these things last for quite a while. You will probably own yours for years. And over those years, you will collect new electronics, new gizmos, new devices...all of which will need a discrete HDMI port. Really, what you're going here is a balance: the number of ports you'll use now, plus one or two left over for the future.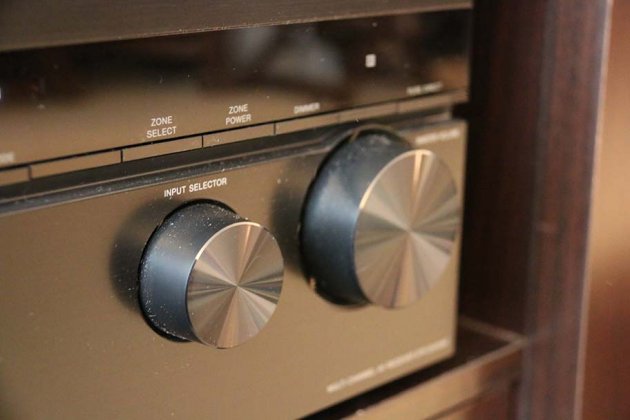 How Do I Connect All These Up?
Excellent question! Glad you asked.

Dolby Atmos vs DTS:X
This is a big topic. So big that we've devoted a full explainer to it. Head over there if you're interested.
TL;DR: These are programs for surround sound. When talking about this topic, you'll normally see terms like 5.1 and 7.1 being thrown around. This number refers to the amount and type of speakers in the setup: the first (7 or 5) refers to the number of high end and mid range speakers, while the second one (the .1, sometimes .2) refers to the subwoofer, or low-end speaker. Simply put, the more quality speakers there are, the more rich and dynamic your sound is likely to be. At the same time, you're likely to pay more the higher those numbers get.

What About Room Calibration? What Is That Anyway?
You don't play your music or movies in a vacuum. Your sound comes out in a room filled with things: couches, tables, bookshelves, children, the dog, glass windows, pictures on the walls. All of these things affect the sound. Calibrating your room - which your system will do by playing a test tone and then recapturing it through a special microphone before adjusting the sound accordingly - is a crucial part of the whole home theater experience, and will help you get the best out of your receiver, and indeed your whole system. Not every unit has this type of thing, but it can work really, really well when you use it.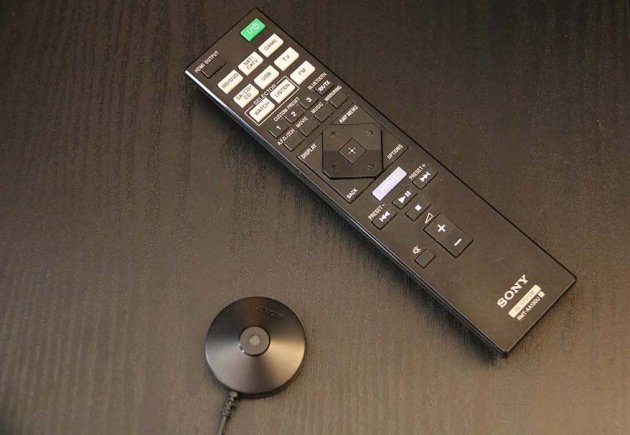 Should I Care About 4K?
Maybe?
It's a tricky one. 4K, if you don't know, is a new standard of content with ridiculous visual fidelity and color sharpness. There are plenty of 4K-ready TVs, and so many bits of A/V gear exist these days that you might fool yourself into thinking it's something you need to have. But: the problem is that not enough content is 4K yet, meaning most of what you'll see has been 'upscaled': translated to a 4K setting without actually being 4K. Sometimes it works, sometimes it doesn't. The good news is that all the picks on our list are 4K-ready, so even if you couldn't care, you're getting it anyway. Congratulations!
If you want more info, there's a great video explainer here.

What About Wattage And Impedance?
This is the amount of power that the amp will push through to your speakers, and it can be as low as 30 watts (W) and as high as 200 watts. You'll need to make sure your speakers can actually take this level of power, and again, there's no point paying for power that is going to be overkill in the room (or which isn't going to fill it up enough of it). Manufacturers often talk about Total Wattage.
You need to look at the wattage, which will give you an idea of how powerful your sound is going to be. We spent some time thinking about which stat to list here, and in the end, you'll see that for most of our amps, we list wattage for two channels driven - two channels being the minimum (we think) that a receiver takes. For more detailed per-channel stats, check the manufacturer websites, or Amazon.
Need help matching speakers to amps?
Things Aren't Working Properly!
Speakers crackling? Getting hum? Things sounding a little off? We can help, with our handy guide to the ten most common home theater problems.