Peachtree Audio nova300 ($2,299)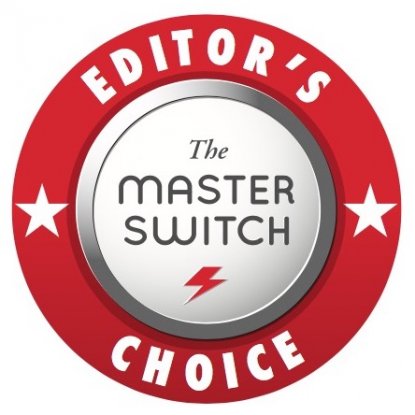 Weight: 17lbs
Dimensions: 14.8" x 13.25" x 4.4"
RMS Power: 300W/8Ω
What We Like: Unbelievable sound quality, huge power, great looks and features.
What We Don't: Loose buttons on the front.
See the Peachtree Audio nova300
You want to know the reason Apple was so successful? It's easy to talk about Steve Jobs and Jony Ive and smartphone innovations and iPods, but really, it comes down to one thing: keeping it simple, no matter how complicated a piece of technology was. If you could make it easy to operate, you'd have them. While we're not directly comparing Peachtree Audio to Apple (we're fans, but we're not stupid), the Bellevue, Washington company shares that guiding principle with the Jobs juggernaut. And with the nova300, their landmark update to the outstanding nova150 and 220 amps, they show that it still works. In this review, we break down the nova300's sound, design, packaging and accessories, specs and more. To see how it stacks up, see our list of the best stereo amps.
 
Sound
Power and Volume
One thing you need to know about the Peachtree Audio nova300: it is loud. We know that raw wattage is a poor analogue for measuring volume. But it gets you at least some of the way there, and in these terms, the nova300 is a goddamn monster. It's continuous power is – you will be stunned to hear – 300 watts per channel, with a peak of 450. That is powerful. Really, really powerful. Matching speakers to something like this was always going to be tricky – speaker and amplifier matching is a bit of a dark art, and while we weren't worried about blowing our speakers, it was actually a little tricky to find a pair that would let us get the best out of the sound.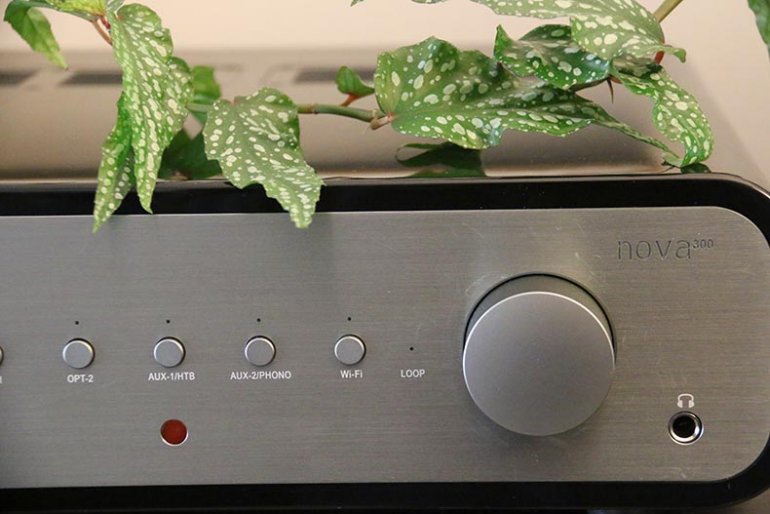 Fortunately, our guys at SVS had offered to send us a pair of their Ultra Towers (full review here), which not only sound excellent and look like something you'd see in the Batcave, but which are quite capable of taking 300 watts of power. Not that we restricted ourselves. Over the course of the month, we tested the nova300 in as many setups as we could. We hooked it up to our home theater. We tried it with budget speakers. We ran every conceivable sound source we could into and out of it. Had holding it upside down and giving it a good shake actually yielded something we could use in the review, we would have done it. Fortunately, we didn't need to, because no matter what was going into the amplifier, or what we were using to listen to it, it never gave anything but a brilliant performance.
 
Detail and Clarity
It's not just that it could go loud when we asked it to. That was a given. It's that the sound was absolutely extraordinary. It had such fullness to it, such weight and heft, that we almost expected the air to turn solid. Even at low volumes, it delivered a performance that imbued the music with life. Basslines growled and snarled, kick drums reverberated deep in the stomach, mids and vocals felt like they'd be warm to the touch. Snares were as crisp and sharp as champagne. And we should point out that this wasn't the case because we had it hooked up to a really, really good pair of floorstanding speakers.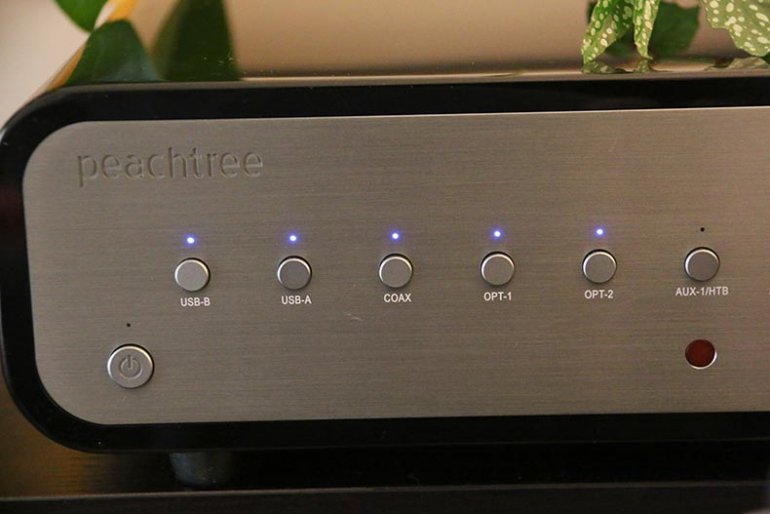 It gobbled up absolutely everything we threw at it, spat it back out, and begged for more. Even with incredibly dense material, whether low frequencies could have so easily gotten muddy or muddled, it never faltered. With a pair of budget bookshelf units - the Audioengine HDP6s (full review here), for reference – it was quieter but no less splendid.
It draws comparisons to another excellent amp, the Parasound New Classic 200 Integrated (which goes for $1,195), but the nova300 is truly in a league of its own. Even the headphone output - always a sticking point for amps designed to power speakers - managed to impress us. It sounded fantastic, with genuinely lively audio quality. We listen to a lot of gear at TMS. Plenty of it has good, even great, sound. Very few pieces of kit deliver sound as extraordinary as this one. You have to hear it.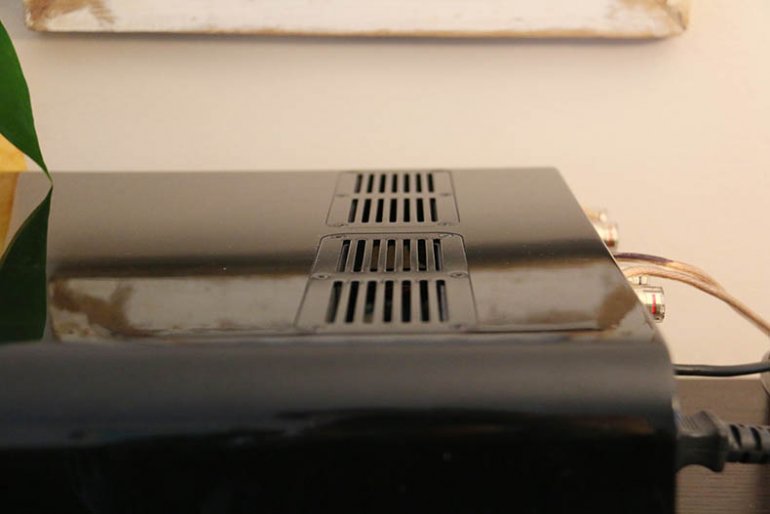 Design
Build Quality and Functionality
One of the things that companies who build A/V receivers get wrong is that they make them way too complex. All most people want to do is connect up some speakers, maybe fine-tune the sound a little, and then settle down to watch Game Of Thrones. And yet receiver companies festoon their models with buttons and logos and weird features that maybe one in two thousand people will ever use. Fortunately, the nova300 is a stereo amp, not a home theater receiver, and its dedication to simplicity is absolutely joyous.
It's a big beast: a giant, rectangular construction with smooth housing, an all-metal front end, and two enormous vent sections on top. It's big enough to be imposing if you want it to, but the design of the front end and its slim vertical profile is such that you can tuck it away out of sight - as long as you give it adequate ventilation, of course. While it's not unexpected, or even necessarily a bad thing, the top of the amp does get reasonably hot during extended operation. The reason why we rave about its simplicity is that, despite the fact that it packs huge amounts of technology inside it (which we'll talk about in more detail shortly) it is amazingly easy-to-use. Connect your sound source to the extensive input and output section round the back, turn it on, select your input from the line of eight buttons round the front, and start listening. That's it. Lights along the top of the buttons not only indicate the input source, but also the volume, and the volume pot itself turns smooth and sweet. It feels so easy. Even someone who's never used a stereo amp before in their entire life will be able to figure it out. And really, when you've got an amplifier that allows you to take full advantage of all its technology with a couple of simple button presses, that's something to celebrate.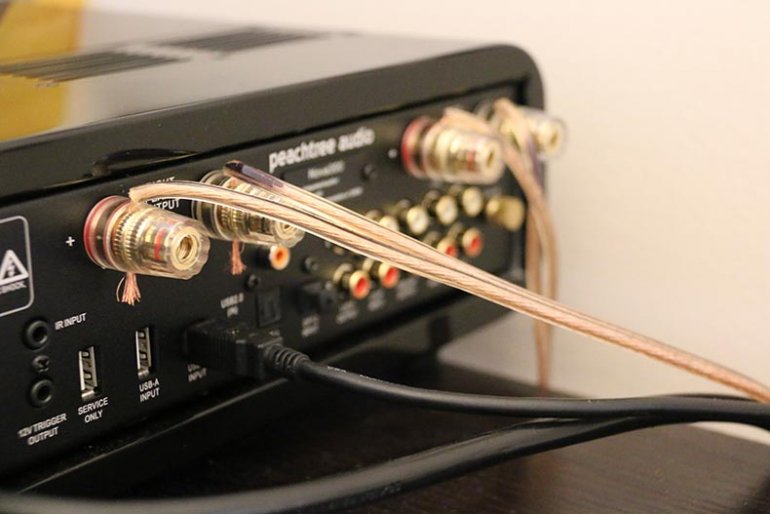 As well-designed as the amp is, however, we do have a couple of criticisms. Firstly, the buttons on the front feel a little wobbly and loose, undermining the four figure price tag somewhat. It's a problem other, cheaper amps - like the Rotel RA-1572 (full review here) don't have. That amp is around $600 less than the nova300, for comparison purposes, at $1,699. And secondly, the binding posts for the speakers, while certainly sturdy, are a little too chunky to use smoothly – and are at risk of spinning right off if you're not careful. When so much care has been taken to get the user experience right, it's disappointing that the build standards don't quite live up to it. But these are minor things. The sheer amount of functionality that Peachtree pack into the nova300 – and the ease with which you can access it – means that it gets top marks from us on design.
 
Pre and Power Amps
A little about what's going on under the hood. The nova300 is an integrated amplifier, meaning that it packs both pre- and power amps inside it. It doesn't have the tube that was used in the 220SE and displayed prominently upfront, which is something we miss a little more than we thought we would (Interestingly, Peachtree told us that including the tube was the source of a lot of internal debate, and that they ultimately decided against it, opting instead to focus on clarity and detail in their circuitry. Fine, and it's obviously worked, but we still miss it. A little.) The new amplifier circuitry is phenomenal, and if the integrated functionality wasn't enough, you also get a headphone amp and a very, very good ES9018K2M SABRE32 Reference DAC (Digital-to-Analog Converter). The DAC runs everything from 32bit/384kHz audio up to 5.6DSD, which is solid. We would have forgiven Peachtree for not including something like the DAC and focusing just on the amplifier circuits, but they made us really happy when they included it. This is a single-box system, one which can handle just about all your audio needs. According to Peachtree, this is the first digital amp that samples the power supply at 440k, which is substantially more than other amps.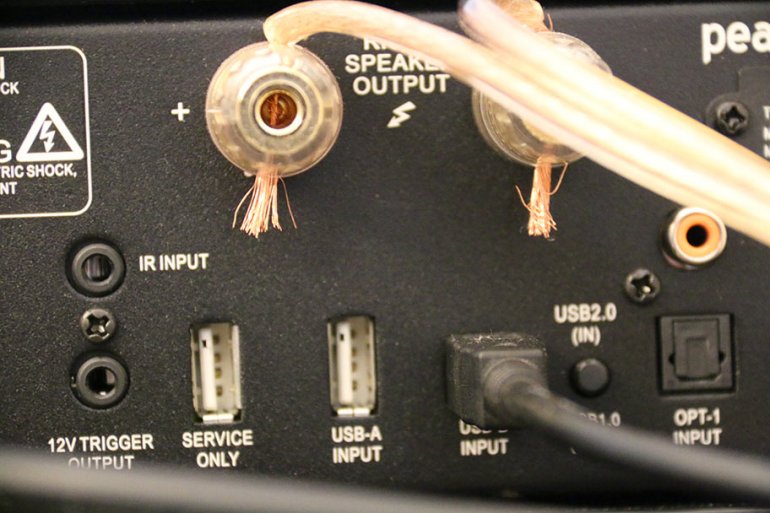 Inputs and Outputs
You get a huge range of inputs and outputs, as well. You get two USB inputs – one for dealing specifically with Apple products like iPhones and iPads (you think it's an accident that we mentioned the company earlier?). You can toggle the computer friendly USB input between 2.0 and 1.0 using a dedicated switch. There is a Coax input, two Optical inputs, an Aux input, a Phono input, and a ground connection for turntables. There are two speaker binding posts, a 6.3mm headphone output on the front end, and an input and output for the loop feature, which we'll go into below, and a preamp output for an external subwoofer or power amp. Although our model didn't have one, it's also possible to install a Wi-Fi module, allowing you to control your music wirelessly. This is an embarrassment of riches, and we'd have to think very hard to find an audio input that the nova300 doesn't accept.
While we were more than happy to just use the amp as the centre of our hi-fi setup, it also has a couple of nifty features for integration. Firstly, holding the Aux1 button down will put the amp into Home Theater Bypass, letting it power the front speakers in a surround sound setup. While it takes a little work, in practice, to get this ticking over, Peachtree provide detailed and thorough instructions, and it worked well. There's also a Volume Control Bypass mode, for when you want to use the volume control on your source, and a Loop feature, for adding in a separate audio processing device like an EQ. Not everybody will use these features, but it's a mark of just how well thought out this amp is that it not only includes them, but makes accessing them and operating them dead simple. Another model that offers this is the equally excellent Parasound Halo Integrated, so check that out too if you'd like something a little different. The Halo is a touch more expensive though - $2,495 to the nova300's $2,299.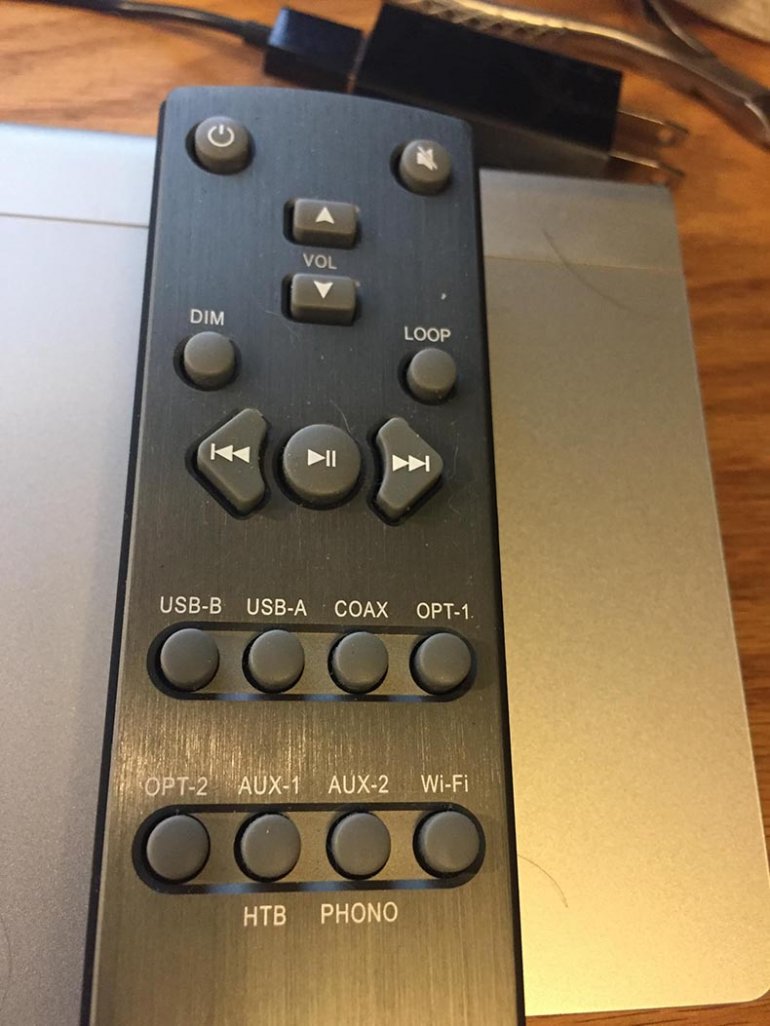 Accessories & Packaging
Outside of the power cord, a lengthy USB cable, and a comprehensive manual, the main accessory the nova300 comes with is the remote. Our remote was mostly unlabelled - which we thought was standard until Peachtree told us otherwise, having sent an unlabelled one to us by mistake. They took the photo above as proof. We can report that the remote, labels or not, works very well indeed, with squashy, responsive buttons and a good heft in the hand. We were able to control iTunes and Spotify on our MacBook Pro, no problem.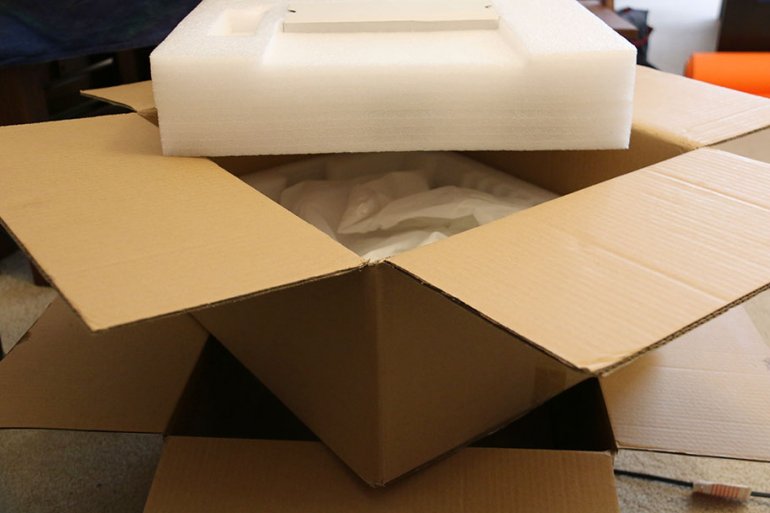 What We Like
The nova300 offers jaw-dropping, weighty sound that we think is the best available right now, short of amps that cost $5,000.
It's incredibly simple to use, even for those who've never touched an amplifier before.
The design and overall look of the nova300 is excellent.
​The amp offers a terrific range of features, including a surprisingly fun Home Theater Bypass mode.

What We Don't
We had some issues with loose buttons on the front of the amp.
The packaging is nothing special, although that's a very minor point.
​You'll need to ventilate the nova300 well, as it gets hot - although we really are nitpicking now…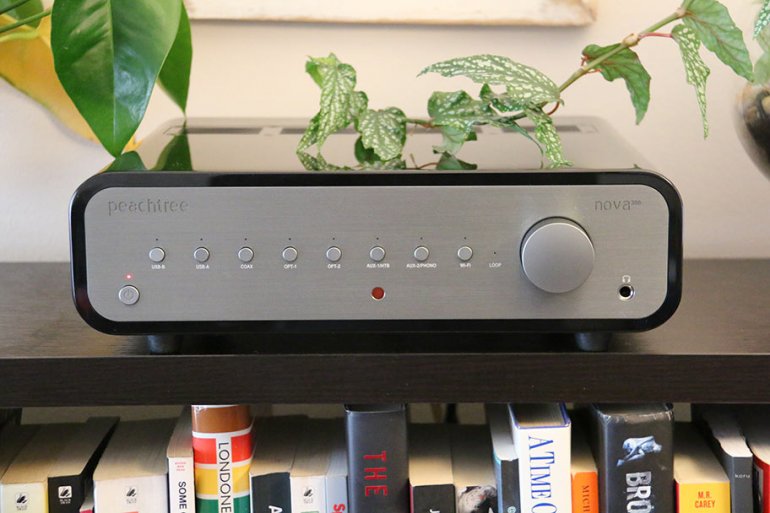 Comparison Table
*RMS = RMS/Continuous Power
**Peak = Peak/Dynamic Power

The Competition
Here's a measure of the nova300's staying power. It's been a couple of years since its release – and we still think it's just about the best stereo amp currently available. That being said, there are certainly a lot of competitors, and there are several that are in the conversation. One of these is the Naim NAIT XS3. Unlike the nova300, it lacks a DAC, but it makes up for it with a crisp, precise, and surprisingly weighty sound profile. It goes for $2,999, making it slightly more expensive. Because of this, we think it's a better choice for those who prefer to have separates in their hi-fi setup – as in, a separate amplifier and DAC, or even a separate preamp, DAC, and power amp or monoblocks. If you're looking for a complete package in a single cabinet, get the less expensive nova300.
If you'd like to spend a little less money, but still enjoy weighty and powerful sound, we strongly recommend the Cambridge Audio CXA61. At the time of writing, it's currently ranked second2nd to the nova300 in our big stereo amps list elsewhere on this site. There's a good reason for that. It's an exceptional amplifier, delivering not only brilliant sound quality, but also clever touches – like the fact that the labelling on the rear connections is both right way up and upside down, meaning you can read it if you lean over the back. The CXA61 goes for around $900, making it a far more affordable option for those who can't stretch to the nova300.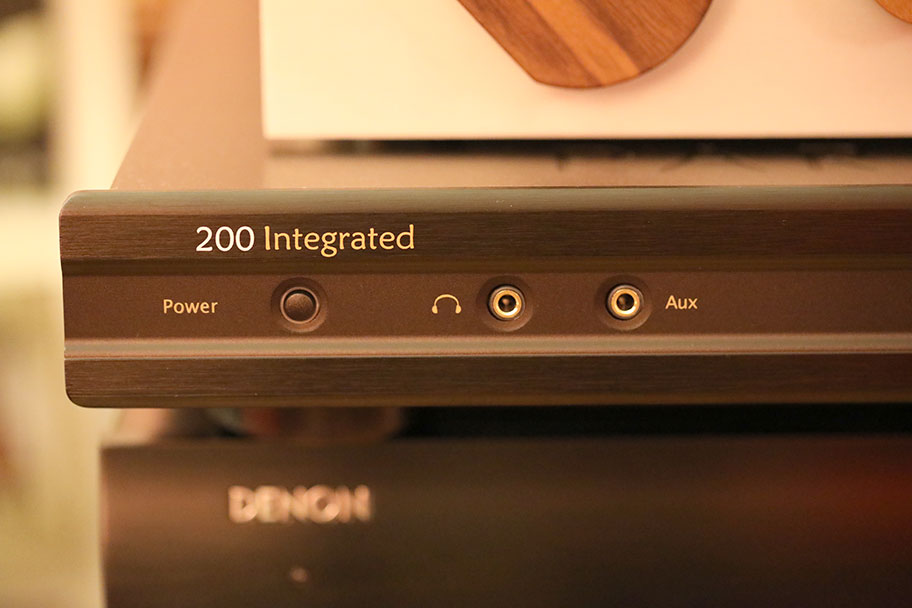 One more to consider, especially if you like your sound a little more analytical. The Parasound New Classic 200 Integrated is the nova300's geeky cousin. It's a technical amplifier with impressive specs and a crisp, resolving sound quality. It's not as powerful – or, to be frank, as much fun – but it still manages to be a worthy competitor. It goes for $1,195, and we recommended for those who either don't want to spend the two grand for the nova300, or want something that isn't going to get in the way of the music.
Since the nova300 was released, Peachtree has come out with an even more powerful model, the nova500. If you've been paying attention, then you'll know that this has 500 watts of RMS power - and a staggering 800 peak. That's the kind of power that will fry any regular bookshelf speaker to a cinder. We'd recommend it only for the most power-hungry of speakers - the kind that occupy entire rooms. For reference, it costs $3,339, and comes in very black. Go on. Scare your neighbours.
However: while we love these alternatives, our heart is with the nova300. It offers phenomenal value for money. It's a complete integrated amp, and despite a couple of design hitches, the functionality and feature set it offers is just staggering. Even if it didn't sound as good as it did, that would still make it worthwhile in our books. As far as we're concerned, this is the best stereo amp currently available right now. If you have the money to spend, you should buy it. End of discussion. An easy Editor's Choice award.
Learn More About Personal Audio