At a time when audio equipment is geared towards the future, when wireless speakers, phone docks and surround sound are ubiquitous, you might think that the humble tabletop radio is extinct. Not even close. It's just evolved, and gotten a lot smarter over time. As terrestrial radio has had to make room for online stations and streaming audio, the tabletop radio makers have adapted. Their flagship lines bear little resemblance to the dinky little clock radios from the past twenty years. And as a bonus, they're not all that expensive - not compared to other examples of audio equipment, which can cost thousands of dollars. Even the most expensive tabletop radio will cost you well under a grand. It's worth noting that it's actually quite rare for manufacturers to release new models; although while some of these units are a few years old, there's a reason we still think they're the best available.
 

How We Choose:
Like many examples of audio equipment, the answer to this question comes down to sound quality and feature sets. Starting at the very top around $500, our picks cover all budgets - all the way down to $60. This year's top sets feature household brands like Bose, which naturally offer the most advanced features, from liquid crystal displays and equaliser controls, to multiple drivers, high-quality analog circuitry and the latest digital audio mode capabilities. 
You may not recognize all the brands in the lower price brackets right away, but all the radios we've included exhibit great sound and build quality and are great value for the price. Our lower-priced picks are perfect for anyone who wants a hassle-free, plug-and-play sound. As is the case with most budget audio equipment, cheaper models may sacrifice advanced features like equalisers, digital audio and streaming music services (such as Spotify or Pandora). If you don't need all those fancy additions, no need to pay for them. 
 
Our Tabletop Radio Picks: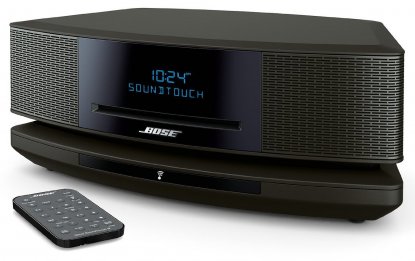 Digital: Yes
HD: No
WiFi: Yes
AM/FM: Both
What We Like: Superb spec with all the bells and whistles.
What We Don't: Upgrade probably a little expensive from the original Wave IV.
At the very top of our selection is the Wave Soundtouch Music System IV - the upgraded version of the original Wave IV which, while a little pricey, is a lighter version of the original. Everything is supercharged here, but it's the sound you'll notice first. Frankly, it's a little disconcerting that something this size can make a sound that should come from something ten times larger. Bose doesn't supply speaker data, so we don't have wattage figures for you, but this can hit some substantial volumes.
It's a bigger, badder and in many ways more complicated than something like the Cue Radio Model R1, but it also offers superb value for what you pay for it. You can send audio from any signal source into this radio: AM, FM, streaming (with services from Spotify to Deezer), MP3 player and even a CD player, if you still have some lying around. The Waveguide technology is present and correct here, with twin 3" and 4" drivers partnering up to provide that absolutely epic sound. The Soundtouch app provides excellent control, too. This is still one of the most superb systems money can buy - perfect for audiophiles, or those who simply want superb sound. It's probably not ideal for anyone who wants just a simple AM/FM radio - for one of those, look further down the list - but we still consider it the business.
See the Bose Wave Music System IV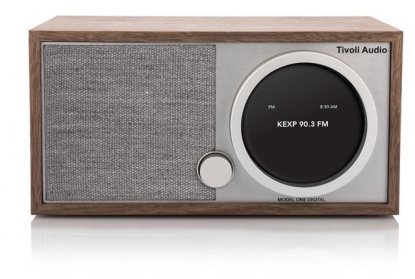 Digital: Yes 
HD: No 
WiFi: No 
AM/FM: FM Only
What We Like: A terrific update on a classic.
What We Don't: Fabric-based design may not appeal.
Different pieces of art aren't going to appeal to everyone. Everybody has their own taste. With that in mind, if you can handle the fabric covered speaker driver, you are absolutely going to love the new Model One Digital from Tivoli Audio.
We do. We adore its wooden housing, it is clear, simple display, and its range of functionality, which runs from FM streaming all the way to Spotify. The wide dial around the digital display allows you to change the station. There is no remote, but you can control it using the companion app. The sound is nothing to write home about, hence its low-ish position on the list (the REVO, for one, has it beat) but what you can do is pair it with one or more of the company's stand-alone speakers. You can choose from either the circular Art speaker or the cuboidal (obviously) CUBE. You get fair warning: expanding the system this way is expensive, and it may be worth your while to look at a separate wireless system, or at least a cheaper one. For the rest of us, this is an excellent tabletop radio. And if you do want the original, and can deal without the extra features, then check out the original and brilliant Model One.
See the Tivoli Audio Model One Digital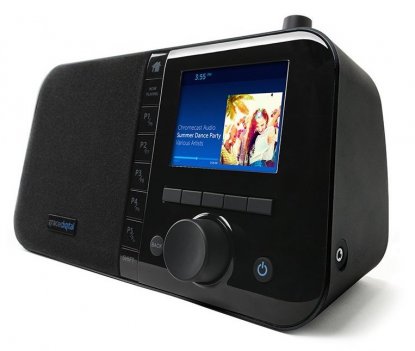 Digital: Yes
HD: Yes
WiFi: Yes
AM/FM: None
What We Like: Great features and useability, value-for-money.
What We Don't: Control scheme could be better.
Welcome to one of the most surprising entries around. The updated version of the original Mondo is a phenomenal bargain, offering a wealth of features is a very good price. You get access to just about any radio station or music service that has seen fit to go digital, and that includes things like Sirius and NPR. While you won't get direct AM/FM functionality, you are able to listen to any of those stations that broadcast online. All you need is a wireless router.
The sound quality is definitely not going to touch the two models above it – both the Bose and the Cue models have it beaten there. And the control scheme, which involves a remote, two knobs (one for volume, one as a selector) and no less than sixteen different buttons on the face, makes this a little bit more complicated than it needs to be. All the same, it's a very welcome update to the original Mondo, which was already pretty good. And as a bonus, you get a clear full-color display. Read our full, in-depth review.
See the Grace Digital Mondo+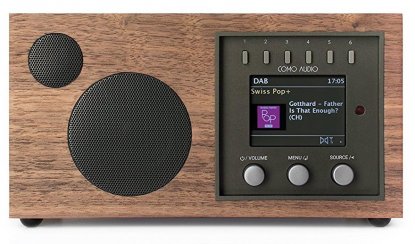 Digital: Yes
HD: No
WiFi: Yes
AM/FM: FM Only
What We Like: One of the most advanced radios around.
What We Don't: Doesn't sound as good as the Bose or Tivoli models.
Como Audio is a relatively new manufacturer, but they know what they're doing. Although this model has a bigger brother, the Duetto (and a smaller one, the Ambiente) this is our pick. It strikes the perfect balance of price and features, offering excellent value for money as well as a huge range of capabilities - not to mention fantastic design and useability. It's probably better for digital audio than FM, although it does offer that. And while we think it doesn't sound as good as other models - once again, the Bose and Cue models come out on top for that particular aspect - but it's still a great start for Como Audio.
The sound quality may keep it off the top spot, but there's no question that it's one of the better looking models in this list, with a gorgeous finish and build that matches analogue design with modern sensibilities. It also comes with a good range of features, including some nice, clicky preset buttons, and a USB input for when you want to playback music from a flash drive. There's some smart technology at hand as well – we particularly like the internal power supply, which switches depending on the voltage it detects. Bottom line: we expect big things from Como in the future.
See the Como Audio Solo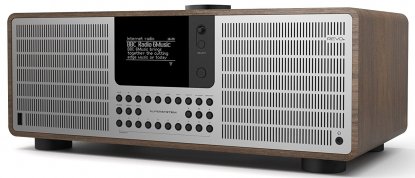 Digital: Yes 
HD: No 
WiFi: Yes 
AM/FM: FM Only
What We Like: Splendid functionality and sound.
What We Don't: Very, very pricey, middling looks.
First, the downside. Or maybe, downsides plural. The Supersystem, the bigger brother to the much acclaimed SuperSignal, has an intimidating look that not everyone is going to enjoy. It's also quite overpriced, we think - much more so than the others on this list. Compared to the Grace Digital Mondo+, its value is much lower for what it offers. While you do get exceptional functionality and sound, which we'll go into a little more detail below, there's no doubt that $750 is a hell of a lot to pay for a tabletop radio.
Admittedly, REVO are selling this as a complete music system, and it probably qualifies. It offers DAB and DAB+ as well as FM, streaming functionality, USB connectivity and a whole lot more. It offers access to the UNDOK app which lets you create a wireless, multiroom music system (although we think it's far from the best wireless speaker available). By far the biggest draw, however, is the excellent and weighty sound quality, thanks to a Class D amplifier pushing out 80 watts of power audio per channel. The quality is smooth and rich – although at this price, we'd certainly expected to be. An excellent, if overpriced, choice.
See the REVO SuperSystem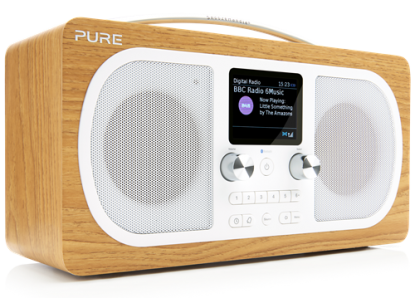 Digital: Yes
HD: No
WiFi: No
AM/FM: Both
What We Like: A sweet upgrade that works well.
What We Don't: Hard to find.
We thought long and hard about this. The Pure Evoke F3, the predecessor to the H6 on this list, was good… But did it warrant placement, given how dated the design was looking? After much thought, we decided to replace it with the slightly pricier H6, which we think is better, if only by a little bit.
For one thing, we think the design is a lot more attractive, with oak housing and a sleek white control panel with a full color display. While it isn't quite as beautiful as the Como Audio Solo, it's nothing to sniff at, and it helps that the sound quality and functionality are both very good. Like the F3, this model has yet to get wider distribution stateside, so you will need to order internationally, which is a little bit annoying. All the same, it's definitely worth picking up if you find it, and we maintain that it's superior to its slightly clunkier sister model.
See the Pure Evoke H6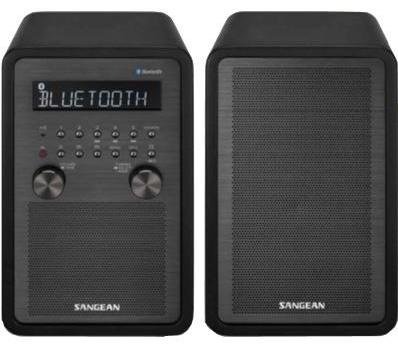 Digital: No
HD: No
WiFi: No
AM/FM: Both
What We Like: Much better than the old WR-11, good stereo functionality.
What We Don't: Doesn't quite do enough to separate itself from the crowd.
We've got a lot of love for stereo tabletop radios, with one master speaker and one slave speaker. They offer a convenient and fun way to get stereo sound, and Sangean's WR-50P offers an excellent way to do this. It's not the most exciting radio on the list, by a long shot – you get AM/FM, and Bluetooth, and that's about your lot – but it's definitely a better buy than something like the  SPARC SHD-BT1, which is definitely a downgrade in terms of features and audio quality.
We love the usability and functionality here, as well as the crisp sound, thanks to well-made digital signal processing circuitry. You get a decent remote, a good range of features, and generally, nothing you wouldn't expect to see in this particular price range – although, for the record, we think this is a touch overpriced right now. Having said that, you can always opt for the mono option, which sacrifices the slave speaker (God, that sounds ominous; sorry) and offers just the one speaker at a cheaper price. It's good to know there are options.
See the Sangean WR-50P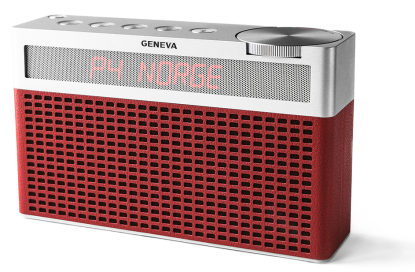 Digital: Yes
HD: No
WiFi: No
AM/FM: Both
What We Like: Great design, tons of fun to use.
What We Don't: Only available to ship from Europe.
The Touring/S is one hell of a radio: a beautifully designed piece of kit that not only works as a portable radio, but as a Bluetooth speaker, as well. The control setup and display, which is recessed slightly behind the grille, is a lot of fun to use, and in general, the sound is excellent – easily comparable to something like the Como Audio Solo.
So why is it so low on the list? Because it is frustratingly difficult to get hold of. Even clicking on the company's International Website link will take you to their generic European homepage, which is of no use to anybody. What is it with tabletop radios that some of the best models are so difficult to find outside the United States? With that in mind, we can't place it too high on the list, as we do prefer that our very best radios be widely available. However, if you do see one, snap it up. You definitely won't regret it.
See the Geneva Touring/S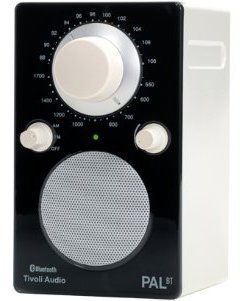 Digital: No
HD: No
WiFi: No
AM/FM: Both
What We Like: A terrific portable radio.
What We Don't: Not a huge range of features.
Don't get us wrong: we do enjoy good portable radio. It can be kind of fun to just chill in the park and listen to our favorite station. But they've largely been superseded by smartphones, and good ones can be kind of thin on the ground these days.
Enter the Tivoli Audio Pal BT: a simple, well-designed radio with both AM/FM and Bluetooth functionality. While it does lack in a lot of features that are present on other models on this list, such as HD Radio, you do get quite a bit for your money. Not only does it offer some very decent sound, but also some splendid control features, including an analogue dial that is just a joy to use. It's the kind of radio that can be set up and running in seconds, and is easy just to throw in a bag for when you need it. And even if you aren't interested in the portable aspect, it's more than happy functioning as a standard tabletop radio, meaning it deserves a place on this list. For another portable radio that can also function as a tabletop, check out the Insignia HD NS-HDRAD2. Also: we've seen its availability on Amazon fluctuate, so beware!
See the Tivoli Audio Pal BT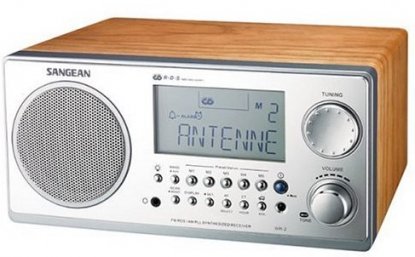 Digital: No
HD: No
WiFi: No
AM/FM: Both
What We Like: Sound quality and ease of use.
What We Don't: Analog radio only.
It's unusual to see a model in this range without digital audio, but the Sangean WR-2 more than makes up for it. The answer is the sound. Sangean have produced a crystal-clear tabletop radio, with effortless, warm bass and crisp highs, even at high volumes. We'd pick this one for those who want audiophile sound quality but aren't on an audiophile budget.
There are plenty of opportunity, unlike cheaper models, to adjust the sound, with bass and treble controls readily available. It's wood-finished, with a digital tuning set-up, the ability to store preset stations (five AM and five FM), and a clock and timer system. We also really like the looks. The wooden housing sets off well against the metal front end, and although the control layout is a little bit more confusing than we would have liked, with a few too many buttons, they have a pleasing feel when you press them. Admittedly, Sangean aren't the most exciting company on this list, but the WR-2 gets the job done – and as you'll see, it's one of two models that we featured from them here, and with good reason. That being said: for digital goodness, get the Pure ONE Flow instead.
See the Sangean WR-2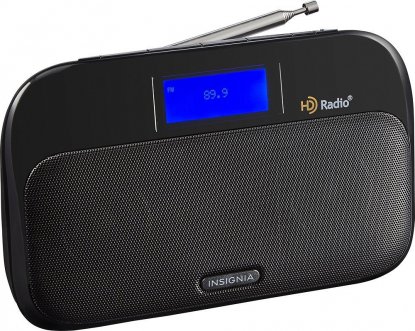 Digital: No
HD: Yes
WiFi: No
AM/FM: FM Only
What We Like: Artist Experience (the display of song/artist details).
What We Don't: No Bluetooth/MP3 connectivity.
The original NS was a real crowd pleaser, and although Insignisa aren't the most high-profile company, the HDRAD2 is a gem. HD Radio is a fairly new technology, allowing listeners to hear stations at a higher sound quality with less noise. One of the few budget models to offer this feature is the Insignia HD NS-HDRAD. It's strictly a radio device, and doesn't offer MP3 connectivity. But you'll get an excellent radio experience here, as there are station presets, and a digital display which displays artist and track names, which makes it a little more fully-featured than something like the Crosley Solo.
We should point out that as radios go, it doesn't raise the heart rate, outside of the HD inclusion. Sound can be a little flimsy – Insignia don't give details about the wattage or driver size, but we doubt it's very high. If you're expecting audiophile sound quality, you should look elsewhere. It's acceptable, however, and as tabletop radios go, this does offer some good functionality. Get it if you want a basic, budget model that offers a little more than just a standard plug and play.
See the Insignia HD NS-HDRAD2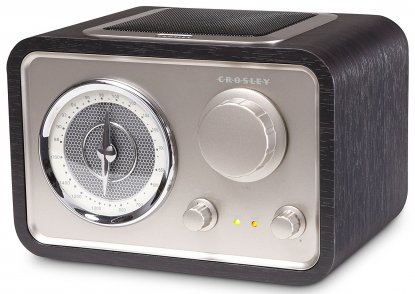 Digital: No
HD: No 
WiFi: No 
AM/FM: Both
What We Like: Great looks.
What We Don't: Basic functionality, middling sound.
We originally had the fantastically 1970s Ranchero on this list, but after careful thought, we've decided to swap it out for the Solo, which we think is the superior model. It's not to be confused with the much better (and more expensive) Como Audio Solo, which you'll find at the top of this list. This is a budget model, but a very attractive one - although it's got nothing on the Sangean WR-11, for functionality at least. Still, it belongs on this list.
You only get a very basic feature set – AM/FM radio, a headphone jack, auxiliary input and output. But what you lose in features you gain in aesthetics. The Solo looks bloody amazing, continuing Crosley's dedication to classic Americana designs. It resembles something from an alternative history 1960s, and we can't get enough of it. We are a little more dubious about the company's claim of "audiophile sound" – with a basic 3" driver, that simply isn't going to happen, and it never has whenever we've listened to one. But the sound is solid, if unspectacular, and this is a product that just brightens whatever room it's in. Check it out.
See the Crosley Solo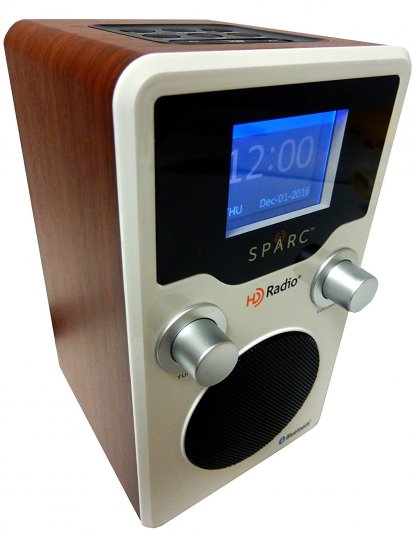 Digital: No
HD: Yes
WiFi: No
AM/FM: FM Only
What We Like: Bluetooth, great design, good sound.
What We Don't: A little underpowered.
SPARC make some surprisingly good products, and the SHD-BT1 is currently at the top of their range. Its small stature and friendly design make it an ideal bedroom model, and the control scheme is easy to get to grips with. Plus, it does have at least one very nifty trick: if HD is available when you're looking for an FM station, it'll automatically tune to that channel. Sweet! 
It's a tad underpowered, but perfect if you're not pumping the volume too high. SPARC don't give out information on their audio specs, sadly, but any attempt to turn this thing to high volume will not give you pleasing results. Trust us, we've tried - and it's something the Crosley Solo and the Sangeans had much less trouble with, so avoid if you want to go loud. On the other hand, it's perfectly acceptable at medium volumes, if not exactly audiophile-grade, and we think its feature set and that HD trick make it worth an investment. The $75-$100 range is crowded here, and this isn't the best of the bunch, but does make for a good alternative.
See the SPARC SHD-BT1 HD Radio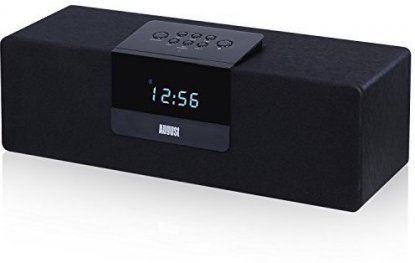 Digital: No
HD: No
WiFi: No
AM/FM: FM Only
What We Like: Bluetooth speakers, decent sound.
What We Don't: Loses the EQ of the now-discontinued SE55.
Not only does the August SE550 shine as a regular tabletop set, it can also be used with your smartphone and tablet, since it features built-in Bluetooth speakers. Audio quality is fine, but not spectacular, especially compared to other models like the WR2 or WR 11. In the overcrowded $50-$100 range, this is outshone by the higher-quality drivers of other models, although it's far from bad. It's worth noting that if you dip below about $40, you see major sacrifices in audio quality - there are plenty of models available at that range, but we haven't included them here.
It does, however, lose the EQ of its predeccessor, the discontinued SE55. Shame really - that wasn't bad. On the other hand, it has a NFC chip, meaning that pairing your phone is a cinch. If you must dip below $50, this radio is a good look, so give it a whirl if you're on a budget.
See the August SE50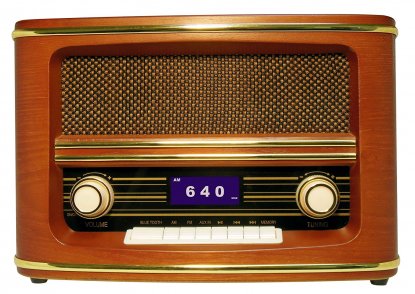 Digital: No
HD: No
WiFi: No
AM/FM: Both
What We Like: Simple features at a good price, lovely design.
What We Don't: Very underpowered.
When we say the word 'Wolverine' to you, we bet your mind thinks of one of three things: the Marvel comics character, a small rodent with very sharp teeth, or the occasionally-hapless University of Michigan football team. It probably doesn't bring to mind a brand of radio, although perhaps it should. For while this isn't going to trouble more serious models like the Crosley Solo or the Sangeans in terms of sound quality, it does have quite a bit to offer.
For starters, it offers a slightly different design experience to something like the August model above, with a different flavor of retro feel. The cabinet is genuine wood, which we really like, and the sound quality is good if not spectacular. We also really dig the clicky buttons on the bottom, which offer a nice way to control the thing. With a mono output of 10 watts, you're not going to be blowing the doors off, but this will do perfectly well as a kitchen or bedroom radio, and will be ideal for those who don't want to spend the earth, and who aren't particularly fussed about advanced functionality.
See the Wolverine RS/100

And For When You Feel Like Some Detective Work:
Here are a couple of radios that are, shall we say, a little harder to track down - but will well-reward the effort!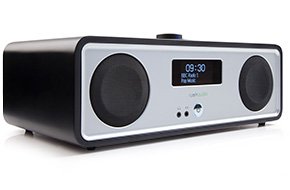 Digital: Yes
HD: No
WiFi: Yes
AM/FM: FM Only
What We Like: Great audio and design.
What We Don't: Only available in the UK.
It is magnificently annoying that the Ruark R2 MKIII is only available, right now, in the UK. One of the best radios around, with impeccable design credentials and stellar sound, and North Americans can't get hold of it. Right now, you can only buy it from the Ruark website (UK delivery only) and Amazon UK, along with assorted British retailers. Not very cricket. 
Still, if you find yourself in London, and have a bit of extra cash to spend, this is an excellent buy. You get all the usual suspects: DAB, DAB+ and FM tuner, along with Bluetooth, Spotify Connect, and WiFi capability. It comes in a variety of colour finishes, and it sounds truly spectacular. Too bad you'll need the cost of a plane ticket to go with that $540 purchase price. And no, the company only offers UK shipping. Sorry.
See the Ruark R2 MK3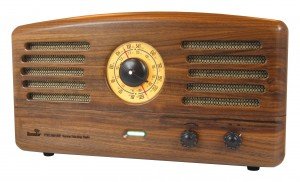 Digital: No
HD: No 
WiFi: No 
AM/FM: Both
What We Like: Just beautiful - and killer sound.
What We Don't: Very hard to find, AM/FM only - although it has Bluetooth.
We would dearly love to put this model in our main list. It was before, but since our last update, Tesslor's website has gone down, and there's no news if the company is selling these anymore. Pity. They're bloody gorgeous.
It's quite difficult to get hold of the somewhat expensive R601SW, and the lack of functionality and price holds it off the top reaches of this list, but this is about one of the most beautiful radios we've ever come across. Both on the outside – the stellar, 1940s-style, which is now also available in very limited quantities with walnut housing - and on the inside, which houses tube circuitry that gives the audio a rich, warm quality. Tube radios are rare enough these days for this to be worth celebrating, especially on a website like this one where we love tubes. You're not going to get DAB or WiFi connectivity here (although it does have Bluetooth). But if all you need is some FM/AM accessibility, then we'd say this is a surefire win – if you can afford it, and if you can find one!
See the Tesslor R601SW

Comparison Table:
*WPC = Wattage Per Channel
Want Even More Master Switch? Sign Up For Our Weekly Newsletter!
Buying Advice: 
Tabletop Radios vs. Speaker Systems
At its most simple, a tabletop radio is a small model music station designed to fit unobtrusively on a desk, bookshelf, or bedside table. It is distinct from other radios, which may be part of a larger sound system. 
It's also definitely distinct from larger speaker systems, which usually have separate amplifiers, receivers and speakers – and which almost always require a separate sound source, like a smartphone or turntable. A tabletop radio will be a fully self-contained unit, with speakers, receiver and power source all packed into one box. Unlike portable radios, it's actually quite rare to have a tabletop radio that runs off a battery. They almost always require mains power, so factor that in when you buy.
It might be a little surprising to see us doing a breakdown of radios in this day and age. Maybe even a little bit old-fashioned. The fact is, radio is stronger than ever, particularly digital radio, and with the growth of things like podcasts, more and more people are looking to get a self-contained unit specifically designed, or at least predominantly designed, for radio. All these models still sell incredibly well, and plenty of new companies and trying to get in on the market. What was saying is, if you're looking for a radio, you have a huge amount of choice.
And of course, these are often way more than simple radios. Several models come with the ability to tune into Internet stations, play music wirelessly and connect with larger systems. What is excellent about them is that they offer good sound quality and good feature sets for a very reasonable price. It's also worth noting that you do occasionally see CD players on these models, although none of our picks above have this feature. It's getting much less common these days, when so much music is listened to on a streaming media rather than a physical one. Kind of a shame, but not a deal breaker for the majority of people.
It's also worth mentioning that tabletop radios are occasionally known by different names. We've seen them called bedside radios, and even clock radios, which is a term we thought had died out in the mid-90s. What we're saying is, these aren't different products; they are one and the same, and you shouldn't let names distract you when you're shopping for one.
Don't forget: sometimes just because you want to listen to the radio doesn't mean everybody else does. You might also want to check out a pair of headphones, too.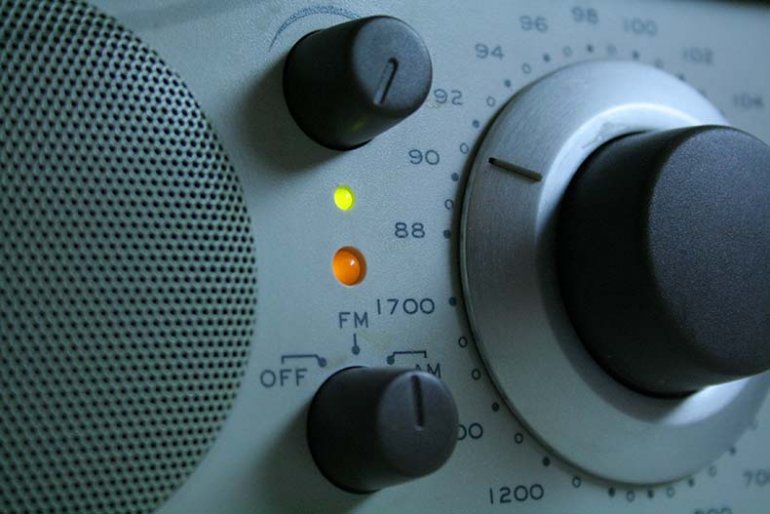 Tabletop Radio Sound Quality 
The sound quality question is a good one. It's quite a subjective one, too, but not one without an answer. 
Sound quality in any set of speakers, or any amplifier, comes down so many factors: driver size, driver construction, the type of amp circuitry, how it handles power. The environment you put it in. But generally speaking: tabletop radios don't match separate speakers for sound quality.
We know that probably isn't what you want to hear, and it's probably being a little bit unfair to some of the radios on our list, particularly at the top end. But it's also the truth. A dedicated system with discrete speakers and an amp is always going to outdo a single, in-the-box system (at an equal price). Too many compromises have to be made. So generally speaking, you shouldn't expect audiophile grade sound from your radio. That isn't always a clear rule – models like the Bose Wave Soundtouch Music System IV very much hold their own against bigger systems – but it's a good rule of thumb.
Should you let that stop you? Of course not. Not everybody needs audiophile grade sound, and the quality of the radios we mentioned is always adequate, frequently good, and occasionally spectacular. If you can, try before you buy to get a feel what kind of radio you should go for, and if you do want something a little bit more hefty, and with better sound, you should check out our lists of the best bookshelf speakers and stereo amps.
 
Broadcast Range Explained
One of the most frequent questions we get here at TMS is whether a particular radio will pick up a certain local station. It's one of the most common, but also one of the hardest to answer.
Although different radios have different reception strengths, it is, for the most part, much of a muchness. Reception and signal quality is far more likely to be affected by the radios surroundings, rather than the radio itself. And as for whether your particular radio will be able to the tact a station in your area… That's entirely down to the station!
But as a general primer, radio is split up into two types: the more common FM, and the slowly-dying AM. We'll go into these in more detail below, but FM signals, which are what most terrestrial stations use these days, have a slightly limited reception range – often no more than the horizon – while AM signals can travel for huge distances, thanks to being able to bounce off the ionosphere. This is a roundabout way of saying that there is no way of us being able to tell whether a radio can pickup your local station. The easiest way to figure that one out is to ask!
Obviously this doesn't apply to stations that stream over WiFi. All those need are a router.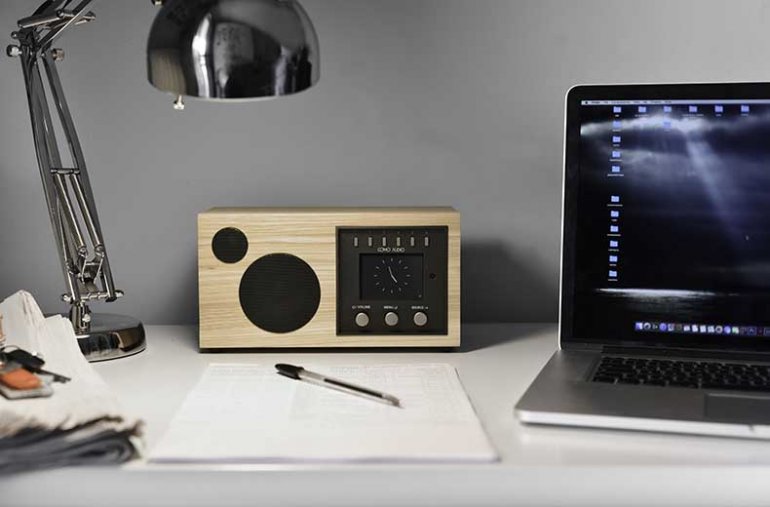 Digital Radio Explained
Digital radio is a method of transmitting the audio by digital means, as opposed to analog FM or AM signals. It can be transmitted on cable channels, as a podcast, or by satellite. Any streaming station you find online can also be called internet radio. Tabletop radios that offer this require a WiFi connection.
Tabletop radios can feature different chipsets, allowing the decoding of several types of digital audio. What that means is that it's become something of a blanket term, slightly amorphous, generally used to refer to anything that isn't FM or AM. Above around $200, almost all tabletop radios will feature digital audio, and in general, we think it's a very pleasing development. 
Obviously it's up to the manufacturers to decide how much emphasis they put on this, but if you take a look at things like the Tivoli Audio Model One Digital, you'll find that digital radio is very much front and center.
 
HD Radio Explained
This is a little more complicated. Don't worry: we got you.
In effect, HD Radio broadcasts analog and digital material simultaneously, but the name "HD Radio" stands neither for "High Definition" nor for "Hybrid Digital". It is in fact a trademarked term for an in-band on-channel (IBOC) - a digital radio technology that can be used both by AM and FM radio stations to transmit audio and data simultaneously. 
By using a digital signal embedded "on-frequency" immediately above and below a station's standard analog signal, the same program can be broadcast in either HD (digitized audio and with less noise, as the FM HD mode uses a high quality codec called MPEG-4 HE-AAC standard), or as a standard broadcast analog radio with standard sound quality). 
Not only are the two (analog and digital) beamed at the same time, the HD format allows a single radio station to simultaneously broadcast one or more different programs in addition to the program being transmitted on the radio station's analog channel. 
We are not only talking about audio transmission, when it comes to the above-mentioned additional embedded digital material, as this could be data as well. For instance, HD Radio offers a service called Artist Experience. This allows playbacks to include the transmission of artist and track name, album art, logos and other artwork, which can be displayed on (the optional) radio screen. Perfect example of this: the Insignia HD NS-HDRAD2, an affordable tabletop radio the displays a huge range of information, and offers full HD capability. We rather like it.
DRB vs. DRM
Don't be put off if you see DAB offered, without any mention of digital radio. This is because they're the same thing. In Europe or Asia, digital radio is called DAB, and it refers to Digital Audio Broadcasting. It's functionally the same as digital radio, with a bunch of preset channels you can switch to without having to tune. 
Often when speaking of DAB, this is a reference to digital radio's original or first generation. The typical digital quality, or bitrate to be precise, for DAB programs is somewhat lower than your average Amazon or iTunes download, at around 128 kilobits per second, and as a result, most radio stations on first-generation DAB have a lower sound quality then even what FM. Not only that: due to this severe quality compression, digital broadcasts may further 'downgrade' the original audio's stereophonic sound to mono, which is far from cool for audio material designed to be listened to in stereo.
Such audio quality issues have lead to a DAB update, called DAB+, which uses a different way of digitizing analog audio which uses a higher resolution (with the AAC+ codec).
You may also see DRM (also known as Digital Radio Mondiale or DRM 30). It's similar to AM HD Radio, and is designed primarily for digital shortwave radio programs for compatible radios already available for sale. 
Just like HD Radio, DRM also allows for the transmission of analog signals combined with digital data (also known as hybrid digital-analog broadcasts) or of course, of pure digital broadcasts.
DRM+ (confused yet?) is another digital radio system, but closely based on the DRM30. Instead of operating in HF digital shortwave though, it uses the VHF band. Although reception can be problematic, DRM+ allows for fairly high quality digital broadcasts as it has a high streaming capacity (up to 700 kilobits per second data rate).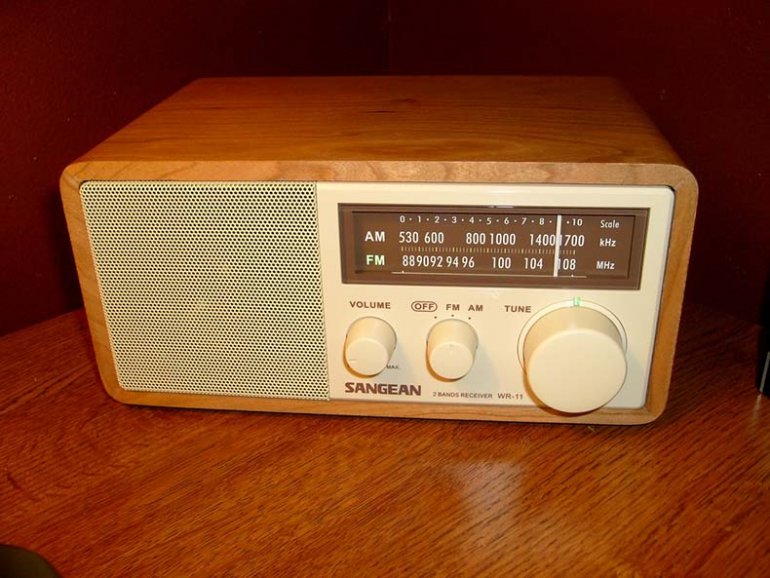 FM vs. AM
This is the bedrock of radio. You may not need it…but if the radio you choose offers it, you'll be very glad to have it.
FM refers to an analog method of broadcasting audio on a particular band of the frequency spectrum. What that means, in practice, is that you have to be in the transmission area to hear it, with a receiver tuned to the correct FM signal. Until Digital Radio became a reality, FM was your best bet for a quality radio playback, not only because of the more powerful and clearer signal, but also because its transmission were universally in stereo - something we'll talk about in more detail below.
Plenty of radios on this list offer FM functionality, to go with their regular streaming options. In addition, you should (in theory) be able to listen to any FM station but also broadcasts its audio online. For example, the Como Audio Solo allows you to snag FM stations, along with regular digital functionality. Even if you lose your wireless signal, you'll still be able to get audio through the FM band.
Yes, some radios still carry the option for you to listen to analog AM stations. Are there even AM stations? Do they exist any more? Anyway, it stands for Amplitude Modulation, and is used to refer to signals in the broadcast range of 535-1605 kHz. These stations are usually crackly, sometimes inaudible, and almost exclusively local programming, as any station can afford it will be on the more powerful FM band.
 
Vacuum Tubes Explained
One of the best things about radios from the 40s, 50s and 60s, and even up to the 1970s, was the presence of vacuum tubes in their interiors.
Whenever you hear someone reminiscing about how good old school radios used to sound, chances are they're talking about these vacuum tubes. These are literal enclosed glass cylinders, which are still used in a variety of amps today, that burn off electrons, and in doing so, dramatically color the sound. Any piece of audio equipment that runs its audio through a series of vacuum tubes is guaranteed to have sound that is warm, rich, lush and full, with a characteristic squashiness to the low end. Although it's not to everyone's taste, especially these days, where a lot of music doesn't always respond well to it, it's absolutely fantastic when listening to things like old-school soul.
Now for the bad news. To a large extent, vacuum tubes have been phased out of modern radios. They are just too temperamental, too finicky for most people to deal with. Servicing them and swapping them out can be a real pain. As such, it's very rare to actually find radios that use them. One of the ones that we feature on this list is the Tesslor R601. Up until very recently, it was arguably the best tube radio in production, but at the time of writing, it no longer appears to be for sale anywhere – even on eBay!
That's a real shame, and we hope that a manufacturer (Como, perhaps?) gives vacuum tubes another go at some point in the future.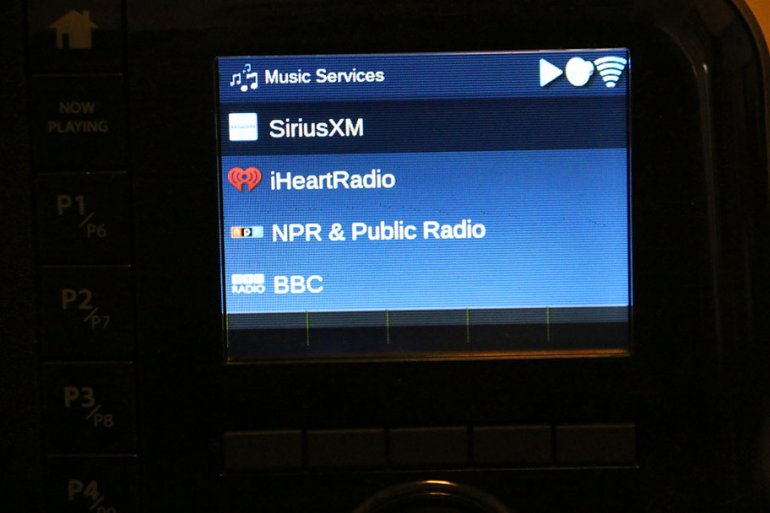 Podcasts, Public Radio And Sirius XM On Tabletop Radios
Another very common question that we get asked: can I pick up my favorite podcasts / public radio / satellite radio on my new purchase?
It's a little bit difficult to answer. Every model is different, and every model will give you access to a wide variety of audio sources. If we were to list every single thing that each radio on our list had access to, it would be a very long and very boring list! To save time, we've chosen to simply indicate if a radio has HD and/or Digital functionality.
But the good news is that if the radio you've chosen does, there's a very good chance you'll be able to get your preferred listening material onto it. Take, for example, the Grace Digital Mondo+. It offers just about any radio service you can think of, including direct access to things like NPR, Sirius XM, the BBC and iHeart Radio – as well as thousands upon thousands of searchable podcasts. The easiest way to find out if the radio you've got your eyes on actually connects to your favorite service is to check out its Amazon page. You can do that by clicking on any of the product links in this roundup.
 
Mono vs. Stereo
Think of this in terms of channels. An audio system that has two channels – a left one, and the right one – is considered to be a stereo system. As almost all music these days comes in stereo format, a stereo system can showcase slight differences between the two channels, meaning that you'll get a wider spread of instruments, and a more lifelike experience. This is true of stereo radios as well, and several of the models on our list offer this, particularly at the top end.
But there are plenty of mono radios available, too. These combine both the left and right channels into a single one – whether for reasons of keeping the price down, or for electronic simplicity, or simply for mimicking the effect of old-school audio. While we at TMS greatly prefer stereo sound, we know there are plenty of people who like mono audio as well. If you'd like an example of a mono radio, check out the SPARC SHD-BT1.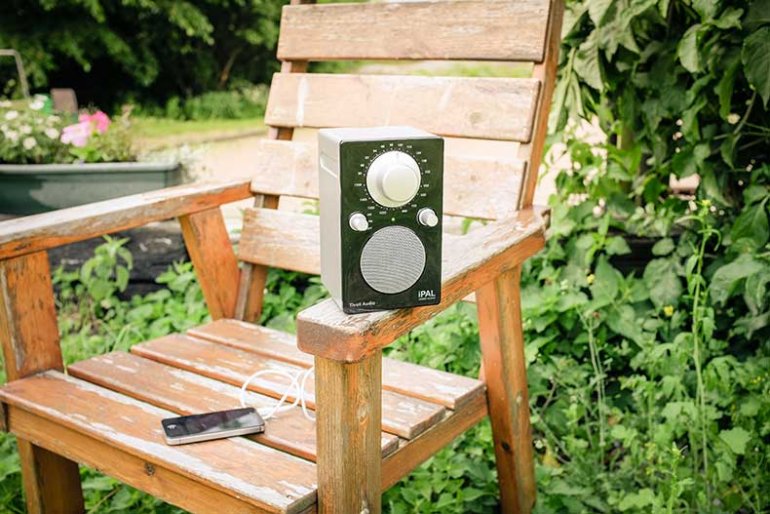 Wattage Explained
You'll notice in our table above that we have a listing for wattage.
Let's keep it simple. Wattage is the amount of power the speaker or radio will put out. It's not quite the same thing as loudness, which you can, after all, change by tweaking the volume knob, but it's a rough analogue. If one speaker has 10 watts of output power per channel, and another has 20, and they are both at roughly the same volume level, then the one with 20 will make a louder noise. When we have wattage stats for the radios, they're measured in RMS, which is how much power the radio can put out over a long period - as opposed to peak or dynamic wattage, which is the absolute max it can put out in one short burst before it goes bang!
You'll notice that we can't give many wattage figures for the radios on our list. That, sadly, is deliberate - in most cases, manufacturers just don't give them. It's annoying as hell, and happens for many reasons, the most common being that they don't believe they can compete with dedicated, more powerful hifi systems. Our take? Wattage is useful, but not essential to know. Other features will give you a better idea of which radio is for you.
Back To Our Tabletop Radio Picks Back To Our Comparison Table
Learn More About Hi-Fi Audio