If you're reading this, you are at the very least intrigued about great-sounding vinyl playback. That's not an easy thing to get right: record players are very much like fine musical instruments, and to get them sounding at their best, your vinyl rig really needs an audiophile-grade phono stage preamp. To disperse the mystery surrounding these highly-specialized pieces of audio gear, we decided to pick the top current examples on the market and go in-depth into what makes a great phono stage, along with what to look for when buying one (in our Buying Advice section below our picks). Phono stages can be tricky - but they're also essential, and after reading our guide, you'll know everything there is to know.

How We Choose:
When choosing our picks, we've looked at phono preamplifiers capable of pairing with a wide variety of cartridges. We also namecheck circuit components and features affecting the all-important signal load, dynamic range and even the voltage currents used by the units' power supplies - all of these are crucial factors for a great signal-to-noise ratio and correct frequency response. What may come as a shock to you are some of the price tags - we do start at the top of market where prices are eye-wateringly high, but we descend through all price tiers, and we've got so say that even the cheapest examples on this list (around $60) deliver a real and noticeable improvement to vinyl playback.

Our Phono Preamp Picks: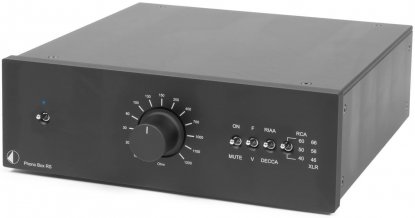 MM / MC Cartridge Inputs: Yes - switchable
Cartridge Capacitance Range: 100, 200, 300, 420, or 520 pF.
Input Gain Range: Fixed or Variable (40 - 66 dB)
Impedance Range: Infinite/Variable (10 - 1200 Ohm)
Amp/Buffer Circuit: Analog Devices SSM2019 amp / Linear Technology LT1010 buffer
What We Like: Infinitely adjustable impedance, XLRs, looks and sound.
What We Don't: The price tag.
As we mentioned, if you're new to the vinyl niche of the A/V market, you might find the Phono Box RS' $1K price tag as ridiculous. Then again, this is the crème de la crème example of phono stage preamplification. Pro-Ject is a brand well known for their products among vinyl connoisseurs, and their Phono Box RS is exactly that. Starting with the front, at first glance you might easily mistake that big rotary knob as the volume; it is in fact an 'infinite' gradual impedance pot, which allows you to fine-tune the input stage impedance during playback - a tremendously useful feature allowing you to use any cartridge (please check our Buying Advice section for more on this, which has extensive explainers on impedance matching).
Pretty much every other important signal parameter is featured in the clever set of mini switches located on the front right hand side - from selecting balanced/unbalanced outputs to applying classic EQ curves to the frequency response. When used with moving coil cartridges, matching the capacitance (another big feature, again explained in Buying Advice) to a particular cartridge model is easily done with a further set of mini switches at the back. The unit features a built-in audiophile rumble filter, and all of the audiophile-grade components inside are powered by an external, high capacity power supply. Can you hear a thousand dollar difference? Yes you will - the Phono Box RS has bags of clarity with ultra low distortion figures and superb signal-to-noise ratio.
See the Pro-Ject Phono Box RS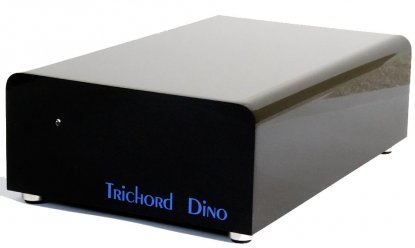 MM / MC Cartridge Inputs: Yes - switchable
Cartridge Capacitance Range: 100 - 1000 mF
Input Gain Range: 47 - 78 dB
Impedance Range: 33 Ohms - 47 kOhms
Amp/Buffer Circuit: Input - N/A, Output - JFET op amps.
What We Like: Complete control over signal gain, impedance and capacitance, power supply and power cable options.
What We Don't: Barebone looks, not that easy to get hold of in the U.S.
Make a note of the UK's Trichord Research if you are a budding vinyl connoisseur - they do make some magnificent products, although admittedly at present they do not have an official US distributor, meaning you'll need to hunt to find their products. The Trichord Dino is in its third generation, and as it stands it easily ticks all the high-end vinyl audiophile specs - impedance and capacitance matching for any cartridge, gain optimisation and so on - all controlled via mini dip switches found at the bottom of the unit. Trichord also offer an extensive guide on how to set them up here.
A special mention is reserved for the three available optional power supplies available for this unit. Trichord's proprietary power supplies are indeed a marvel among audiophiles: their top option is the 'Never Connected" Power Supply designed specifically for audiophile equipment, which is as quiet as a passive circuit - hence the name. We talk about the importance of PSUs and the effect they have on sonics in our Buying Advice below the picks, so don't worry if this doesn't make sense. Speaking of sonic performance, let's just quote one of their customers: "It could be the first and last phono stage you'll ever need."
Try the Trichord Dino Mk3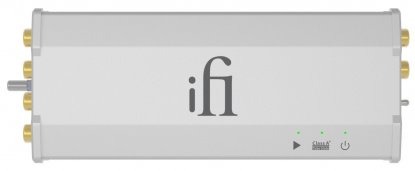 MM / MC Cartridge Inputs: Yes - separate.
Cartridge Capacitance Range: 100 - 500 pF
Input Gain Range: 36 - 72 dB
Impedance Range: 22 Ohm - 47 kOhm
Amp/Buffer Circuit: Class A Tube State (tube emulation)
What We Like: Incredible versatility and features.
What We Don't: Very little.
We've crossed paths with iFi's products on numerous occasions and they all seem to have something in common - a highly technological vibe, packed to the brim with features, incredible attention to detail and flexibility - even if seemingly small in size...
The vinyl boffins at iFi really know their stuff, and the Phono2 can be tweaked for any occasion - it can work with any ultra-low output 'vintage spec' moving coil cartridge all the way up to modern high-output moving magnet examples. The mini dip switches at the bottom of the unit take care of every possible scenario: capacitance, impedance, gain, and one of six classic frequency response curves, all related to releases by Decca, RIAA, Columbia, eRIAA, IEC and the like. We have a full explainer on passive EQ modes further below - a frequently requested feature, but normally preamps feature a couple of options, if that. iFi have taken this further than anyone to our knowledge, and the iFi Micro iPhono2 preamp is very special indeed. It may not have the vintage boutique looks of the first top picks, but its diminutive circuit is one of the most versatile among the picks gracing this list - we simply love it.
See the iFi Micro iPhono2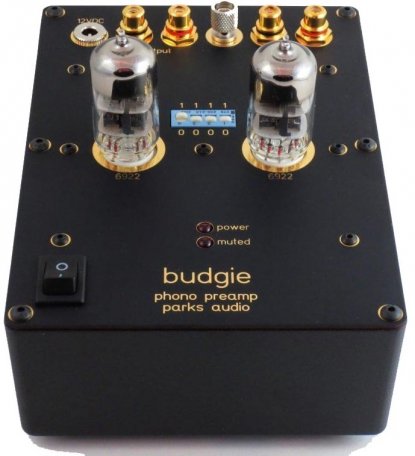 MM / MC Cartridge Inputs: MM only
Cartridge Capacitance Range: Unknown
Input Gain Range: 38 dB (nominal)
Impedance Range: 6.4 - 81.2 kOhm
Amp/Buffer Circuit: Class A
What We Like: Hand wired Class A phono stage, incredible sound (and looks!)
What We Don't: MC cartridge users have to buy a Budgie step-up transformer.
The Budgie phono stage preamp features a hand-wired (yep, someone ia actually making this by hand), open ended Class A tube circuit. Which for the times we live in seems like quite a deal for $399, doesn't it? And for an all-tube circuit (not just a cheap, 'look at me I have tubes' tube buffer) the Budgie is completely noise-free (hum or hiss). This is a very easy unit to fit into a setup and it does contribute to the overall sonic character of a vinyl system, making everything somewhat larger and yet tighter.
The tube circuit seems to be especially beneficial for the bass content which is almost magically less boomy. MM cartridge users are covered but if prefer to go with moving coil carts, the Budgie won't manage the super low impedance figures and will need a hand - enter the Budgie SUT (Step Up Transformer) which deals with those super low moving coil signal with ease...but for an extra 400 bucks. Looking at this from a positive side, Parks Audio are very fair, saving you that amount if you don't use coils. If you do, believe us, buying the two Budgies is still a great deal if you are serious about your vinyl.
See the Parks Audio Budgie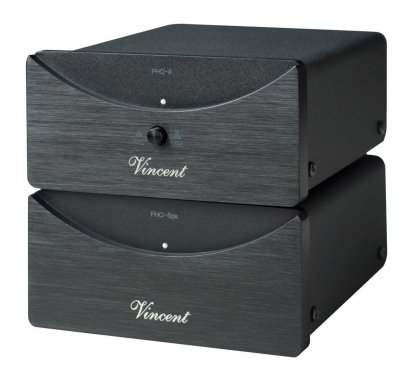 MM / MC Cartridge Inputs: Both
Cartridge Capacitance Range: Unknown
Input Gain Range: 40 dB (MM) / 60 dB ( MC)
Impedance Range: 100 Ohm - 47 kOhm
Amp/Buffer Circuit: Unknown
What We Like: External PSU, looks, great value for money.
What We Don't: Less tweakable than some higher end preamps.
Vincent have come up with an interesting solution to powering their PHO-8 preamp, by stacking the unit and the PSU in separate chassis - all for the benefit of hum destroying (please check our Buying Advice explainer on PSUs below). It is a commendable approach, and it looks great too.
In terms of installation, aside from linking the unit to its power source (with the included 5-pin DIN connection), everything else works as expected. The Vincent is less user-adjustable than the other preamps at the top of this list, but it does include two fixed settings via a switch for MM/MC cartridges. These work really well for most but the most demanding low output carts, and for such instances would have been nice to have some options for capacitance adjustment. Still, at $300, the PHO-8 represents a serious value with its highly musical, broad and substantial audio character. The perfect middle ground between gold-standard sonics and affordability.
See the Vincent PHO-8


MM / MC Cartridge Inputs: Yes - switchable
Cartridge Capacitance Range: Unknown
Input Gain Range: Unknown
Impedance Range: 100 Ohm - 47 kOhm
Amp/Buffer Circuit: Unknown
What We Like: It works with old carts, has two line ins (for your old tape machine) and a USB interface, smart design, good sound.
What We Don't: Not much.
The Parasound Zphono preamp is a bit more suited to contemporary vinyl setups than the purist's examples at the top of our lis - it is a bit of a hybrid between a conventional hi-fi preamp, ADC (analog to digital converter) and a pure phono stage. Parasound have managed to include some substantial features, as the Zphono can certainly handle signals from most MC phono cartridges (as well as MM of course), but a lot of potential buyers would be also attracted by the quite capable USB interface (allowing digital transfers of up to 24bit / 48kHz), two pairs of line inputs and built in headphone amp.
It may seem a bit odd, but this certainly would be a heaven-sent to record collectors with a wide-ranging record (and tape, or other analog carrier) collection that is due for digitizing onto a computer hard drive. You'll also find a very well-thought-out set of controls: source selection, mono summing, rumble filtering, cartridge type selection as well as a USB gain output. If you are planning to digitize your records with a more advanced audio editing software, Parasound have also included an on/off switch for the pre-assigned classic RIAA EQ mode feature in this phono stage. The Zphono is certainly an unique crossover between the old and the new school of vinyl playback, but it works well.
See the Parasound Zphono


MM / MC Cartridge Inputs: Both
Cartridge Capacitance Range: Set at 220 pF
Input Gain Range: 39 dB (MM) / 55 dB ( MC)
Impedance Range: 100 Ohm - 47 kOhm
Amp/Buffer Circuit: Class A gain stages with 'discrete transistors'
What We Like: Great value for money.
What We Don't: A bit of a barebones approach.
Cambridge Audio hardly need any introduction; their stellar reputation covers all corners of the A/V product market. The Azur 651P is a revised and improved version of the 'legendary' 640P and although fairly simple in terms of user-definable settings (compared to pricier phono stages), its circuit delivers noticeable performance improvements for this price bracket.
The Azur 651P caters for both MC and MM cartridges, and features a MM/MC switch at the back as well as separate inputs for the two cartridge types. Again, the preset impedance and capacitance values are optimised for the vast majority of carts (especially MC ones) and we should add that Cambridge Audio's expertise is evident in the way this phono preamp has been conceived and calibrated, as can be seen in their choice of Class A input gain stages, multi-parallel capacitor circuit and exceptional accuracy of the classic RIAA frequency response. As always, if none of this makes any sense, check out our Buying Advice below.
See the Cambridge Azur 651P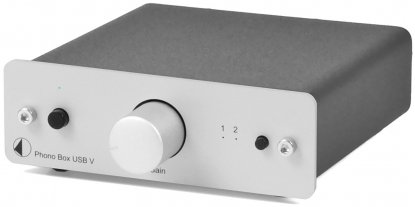 MM / MC Cartridge Inputs: Yes - switchable
Cartridge Capacitance Range: Set at 120 pF
Input Gain Range: 40 dB (MM) / 60 dB ( MC)
Impedance Range: 100 Ohm - 47 kOhm
Amp/Buffer Circuit: SMD circuit
What We Like: Great value, well designed, line in option, Burr Brown AD conversion.
What We Don't: Archaic USB (1.1).
This Phono Box USB V, by the well known Austrian vinyl specialist company Pro-Ject, is tiny in size. Using established figures for calibration of cartridge signal impedance and capacitance, the designers have made sure that this preamp can accept most MC carts, and it is of course switchable for MM cartridge input signals as well.
The design serves a similar purpose to the Parasound Zphono, combining Pro-Ject's vinyl hardware credibilities with an up-to-date USB A/D (analog to digital) conversion for vinyl transfer and other sources - it can, in fact, also take line level input signals via a 3.5mm mini-jack at the back. Although the A/D interface uses quite an old USB protocol spec (1.1 - for comparison, many other systems are on version 3.0 now!), this little box has a more than decent Burr Brown converter chip capable of up to 24bit / 48 kHz analog-to-digital audio conversion (Windows and MacOS) and the Gain control knob on the front is reserved purely for the level of the digitized signal reaching your computer. We like the high-voltage (18V) external power supply - a make-or break component as far as phono preamps go. In general, this phono stage is bursting with great spec and sonics, and is pretty much unbeatable for this price.
See the Pro-Ject Phono Box USB V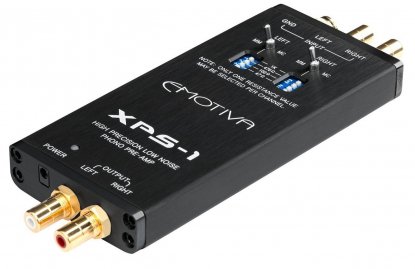 MM / MC Cartridge Inputs: Both
Cartridge Capacitance Range: n/a
Input Gain Range: 40 dB (MM) / 60 dB ( MC)
Impedance Range: MM: 47k Ohms / MC: user selectable between 47, 100, 470, 1k Ohms
Amp/Buffer Circuit: n/a
What We Like: Size, features, price.
What We Don't: It would be nice for listeners to know a bit more about the XPS-1's load capacitance values.
For vinyl enthusiasts after a 'purist grade' phono stage box but on a budget, the Emotiva Audio XPS-1 might be just the thing. Close in size to the brilliant iFi Micro Iphono 2, Emotiva Audio have gone for quite a similar, albeit more stripped-down approach (only on account of the much lower price).
The great news about this preamp is the user-definable impedance setting control for moving coil carts (even ones with low impedances), as well as the fact that Emotiva have managed to stick super close (within -0.25 dB) to the classic RIAA EQ frequency response. The XSP-1 is powered by a highly regulated external AC power supply, and internal switching level converter, operating at frequencies outside the audio band and is indeed very capable of 'ignoring' any RF interference and delivering signals with a very low noise floor. The sound is really bold, and full of character with excellent sense of punch and weight. Tops and mids are full of detail, and stereo imaging is wide. It's the bass that some may find a bit hyped, although not in a bad way. To sum up: this Emotiva will make your rig sing - and delivers a serious punch for this price bracket.
See the Emotiva Audio XPS-1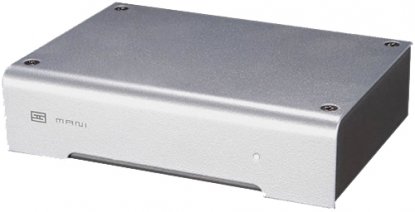 MM / MC Cartridge Inputs: Both
Cartridge Capacitance Range: n/a
Input Gain Range: 4 switchable gain modes (30, 42, 47, and 59dB)
Impedance Range: 47 Ohm (MC) / 47 kOhm (MM)
Amp/Buffer Circuit: ADA4897 and AD8066 gain stages
What We Like: Famed Schiit build quality and sonic performance.
What We Don't: No complaints for the price.
Schiit's reputation is pretty much second to none - we've reviewed many of their highly desirable audio toys, from headphone amps to DACs, and if you're unfamiliar with their line of products (all made in the U.S.) just check their current catalog.
The Mani is their take on a specialised phono stage preamp, and it is equally at home with classic moving coils or with high output magnets as far as cartridge signals go. The input impedance that Mani can take is automatically adjusted from 47 Ohm (typical for MC carts) to 47 kOhms (MM carts) and the Mani also allows four user definable input gain settings for boosting those ultra-low moving coil signals. Just like many phono stages, Schiit have deployed the RIAA classic curve tonality and all that of course is achieved with passive equalisation. High voltage PSU keeps mains pollution noise at bay, and the sonic precision of this preamp belies its fairly modest price.
See the Schiit Mani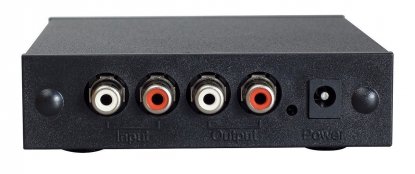 MM / MC Cartridge Inputs: MM only
Cartridge Capacitance Range: 100 pF
Input Gain Range: n/a
Impedance Range: 47 kOhm
Amp/Buffer Circuit: n/a
What We Like: Simple to set up, very good sound, USB A/D audio transfer.
What We Don't: Looks cheaper than it sounds.
Rega Fono Mini A2D is a very simple standalone version based on the phono stage of the company's very popular (and now discontinued) Mira integrated amplifier. This phono stage is only suited for moving magnet (MM) record cartridges and also includes a USB A/D converter for vinyl transfer. Despite its rugged looks, the Mini A2D is a great first upgrade into more serious sonic territory especially for both playback and analog to digital transfer.
Although there are no user-definable settings (apart from USB audio output level), the rich and precise audio character will be immediately noted over any existing regular built-in phono stage. If you are looking for something similar but capable of handling moving coil cartridge signals, you could also try the company's higher caliber offering Fono MC (for double the price, unfortunately). We do recommend the Mini A2D though - it is the perfect stepping stone between ordinary and audiophile vinyl preamplification.
See the Rega Fono Mini A2D MM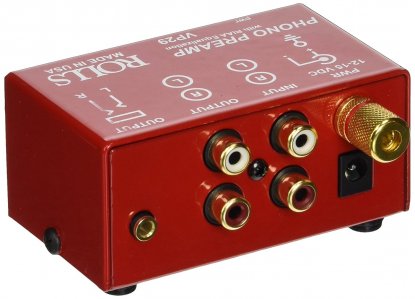 MM / MC Cartridge Inputs: MM only
Cartridge Capacitance Range: n/a
Input Gain Range: n/a
Impedance Range: 47 kOhm
Amp/Buffer Circuit: n/a
What We Like: Simple and sturdy, 1/8" line out.
What We Don't: If you're looking for a phono stage that makes a big difference to your sound, you might want to spend more.
Rolls is a well known brand and this is a super-popular phono stage - even if that's mostly the case with a customer base of vinyl beginners, or people looking for simple setups. If you happen to own a pair of active speakers and need a good but inexpensive phono preamp, the VP29 will surely sound tons better than those built into budget hi-fi systems or even the throngs of $20 job examples out there.
It's extremely well built (and in the US, too) and can be characterised as broad and warm sounding, while still providing plenty of detail. No moving coil cartridges with this one we're afraid, just MMs, and there's no user adjustment whatsoever, just plug and play. We do like the inclusion of a parallel line out output (one as a RCA pair and a second as a 1/8" mini-jack out). Although this feature could easily go unnoticed, we can think of at least a dozen cool applications for it, such as multiple active speakers and/or hi-fi systems. If that's the spec you want (or simply can afford), just go for it - a Rolls Royce it ain't, but it will surely get you moving in the right direction.
See the Rolls VP 29.TTL

Specs Table:
* Cartridge Capacitance Range
** = Input Gain Range
*** = Impedance Range
**** = Amp/Buffer Circuit

Buying Advice:
What Is A Phono Preamp?
Phono stage preamplifiers are standalone analog devices which boost the electromagnetic signals received by the record player's cartridge to a line level output signal, as necessary for reaching a power amplifier's input stage.
As we'll talk about below, many amps already have built-in phono amps. But you'll do a lot better with a separate box.
Phono stage preamps require their circuitry to be highly versatile, as they are often tasked with amplifying ultra-low signal levels delivered by cartridges of different design type (MM/MC, which we'll explained below). These cartridges in turn deliver vastly varying signal gain and impedance results.
High-end phono stage units offer extensive control over parameters such as capacitance, impedance and gain, which can prove especially beneficial in setups dealing with large music catalogs covering different eras, vinyl specifications and requiring different cartridges. The more control you have, the better things will sound!
It is important to remember not to connect the output of a turntable with a built-in phono preamp (i.e. newer generation record players featuring line outs) to the input of an external phono stage. Similarly the output of a phono stage preamp is raised to a line level, so when connecting it to the next device in your system chain (i.e. A/V receiver, hi-fi preamp or amplification) the type of input it's connected to must be line level as well - normally labelled either as Aux or Line In just don't connect it to the Phono In of your A/V receiver!

Why Do You Need One?
Once a vinyl 'rig' is fine-tuned, simply no CD or any other digital media playback can even come close, on account of audio depth, width, warmth, punch, transient detail and just the sheer musicality emanating from vinyl records.
Vinyl enthusiasts trying to improve their audio first reach out for a real good cartridge - the easiest 'mod' which delivers an immediate and often tremendous difference in sound quality.
In order to get the silent-as-a-whisper signal of the cartridge optimised to a healthy level needed by an amp's input stage, is one of the biggest challenges for achieving that coveted sublime vinyl playback and this is why you need a great phono stage.
As with any A/V related technology, there's always something else out there that does it better. It is a fact that your regular A/V receiver or hifi preamp probably has a phono input, which means that there is an integrated phono stage present already. It is super rare that these are any good though - they surely will do the job in most cases, but they will sound generic.
This of course won't be evident until you've compared them to something really good (out of this list). As explained already, in the instances of putting together a proper vinyl setup, getting a dedicated phono stage with control over the cartridge signal impedance, capacitance and gain is as vital to record playback quality as the choice of your cartridge.
To deal with the challenge of boosting ultra-low signals, phono preamps often feature advanced features, such as isolated dual-mono inputs (meaning each side of the stereo feed has its own dedicated discreet circuit), input stages with variable impedance and capacitance (via pots or switches), balanced connections and even switchable passive EQ modes (explained below).
Many high-end models feature truly esoteric circuit components (precision film capacitors and resistors, and low-noise Class A gain stages) which translate into staggeringly high price-tags, but the sonic results can be often astonishing - with super-low noise/distortion floor, increased resolution and transient response with super natural, life-like portrayal of any frequency spectrum.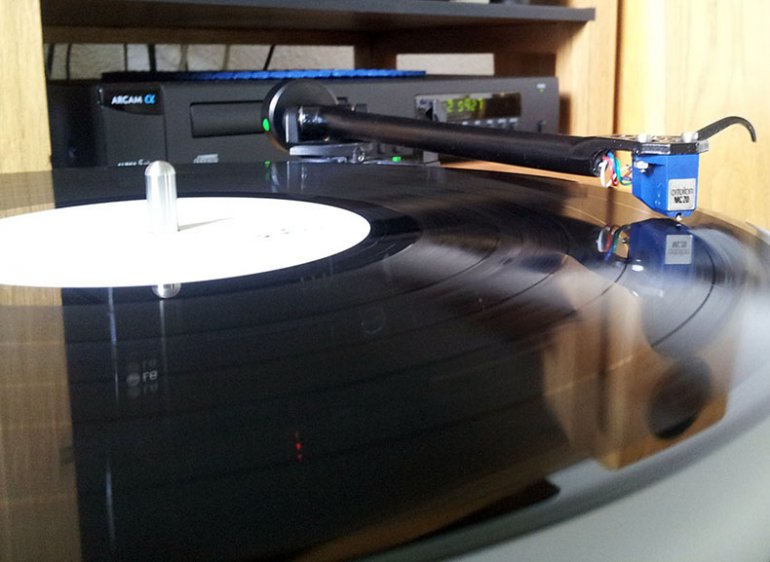 Cartridge Types Explained
We've already mentioned that record cartridges are broadly divided by two types - moving magnet (MM) and moving coil (MC). Choosing one over the other often depends on your taste and record collection, as each type has its own sound (as well as its pros and cons) and each is arguably suited for specific purposes.
To outline their differences, let's start with the stylus (needle) first. When tracking the record groove, the stylus moves vertically as well as horizontally, and these movements are picked and converted to electromagnetic signals and sent through the wire in the tone arm directly to the phono stage preamp. This audio signal has an ultra-low level and is generated by a magnet and/or a coil - not unlike a very primitive microphone. Every phono cartridge features both a magnet and a coil, but they can have a different placement and function in regards to the stylus and this is where cartridge types differ.
Moving magnet (MM) cartridges are the most common type and are hugely popular with 'ordinary' vinyl setups - their high output is well suited to the phono stage preamps found in traditional hi-fi preamps and AV processors. They feature two magnets (one for each stereo channel) at the end of the stylus. If their high output is the big plus, the weight of the magnets is the disadvantage, as it reduces the 'agility' of the stylus - tracking is therefore a bit less precise, which of course affects transient detail.
Moving coil cartridges (MC) are pretty much the reverse of MM carts - instead of two magnets they feature two coils. These smaller and lighter components result in a much more accurate tracking and greater punch detail (transient attack).
Unfortunately, moving coils generate a smaller electromagnetic current than magnets, and that's a huge disadvantage when compared to MM cartridges. Despite their great sonic detail, the output delivered by MC type carts is so low that they are often unusable with generic hifi phono preamps.
This is where a dedicated phono stage preamp well-equipped for MC signals is most needed and this combo (MC cartridge and phono stage) is arguably the first serious step towards an audiophile-grade vinyl setup.
Unlike MM cartridges which generally feature replaceable styli, MC carts feature integrated needles, which cannot be replaced - when damaged or worn out you'd need to purchase a new one.
You may also come across MI cartridge, which stands for moving iron, this is a variation of the moving magnet type at present, although some vinyl specialist insist that it deserves it own category. Speaking of variations, another one exists - HOMC, which stands for high output moving coil - self explanatory, really. But honestly: MM and MC are the ones you will more likely than not have to worry about.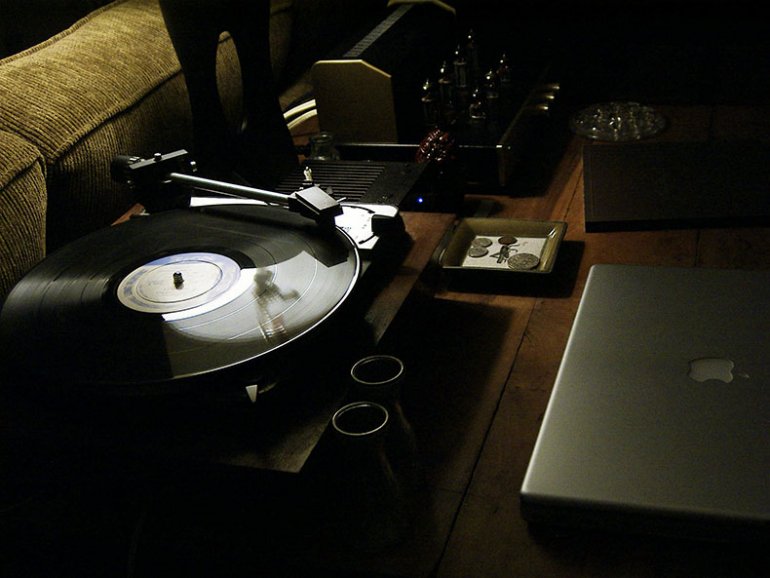 How Cartridges And Impedance Work Together
Cartridge impedances vary from model to model, and to get the best possible audio quality, these values also need to be matched in a specific way at the phono preamp inputs. The vinyl gospel for impedance matching of MC cartridges (the most problematic, due to their extremely low output) is that the impedance value setting of the preamp needs to be roughly 2.5 times higher than the cartridge impedance value.
If, for example, you happen to be using a classic Denon DL103 MC cartridge which has an impedance value of 40 Ohms, the close-to-ideal preamp impedance setting would have to be 100 Ohms. In order to dial in such minute but important settings, audiophiles of the past decades have had to use additional 'step up' impedance transformers - just so that the phono stage preamp can receive the correct load, before in turn boosting it to line level. SUPs (step up transformers) are still around, like the Budgie SAT, but many of the finest current phono stages now take care of any impedance matching - either with a 'continuous' impedance dial or via switches.

Capacitance Explained
Capacitance is a term describing and measuring electromagnetic signal behaviour characteristics like load and resistance, which occur as the signal travels through cable wire, switches and so on. It is measured in picofarads (pF) and…
OK, let's stop right here with the lab jargon and explain why is this so important for cartridges (MC in particular) and phono preamps.
You will have seen by now that when talking of phono stage specs, we mention their ability (or not) to adjust capacitance values, in addition to signal impedance and gain (and all of that when going from the cartridge into the phono preamp).
This feature (capacitance adjustment) is most needed with MC cartridges, which produce very low output signals. To deliver the correct frequencies to the phono stage preamp, different MC cartridges have specifically recommended pF values that the preamp needs to match.
This is where we need to note that poor quality (or simply too long) phono cables running between the record player and the phono preamp (as well as pots, switches, and so on) that the signal happens to pass through can increase the pF value of a MC cartridge.
This increased pF value (or excessive capacitance) affects the cartridge's inductance. Even if we're starting to get big jargon-y again, what you need to know is that this is something you can hear. Excessive capacitance makes an audible difference. Simply put, in such instances the sonic character of the record player changes because Incorrect loads act as unwanted filters or equalisers, introducing resonant peaks (a bit like those heard when scrolling through stations on an old fashioned AM radio) and these can 'rob' your audio of serious amounts of frequencies - mostly slashing the bell-like clear top end, and making the material sound 'muffled', 'honky' or 'hollow'.
The general rule is that high capacitance values reaching the inputs of phono stage preamps result in a darker and duller audio signature. Lower values (than recommended for the cartridge) would result in an overbright and distorted signal.
The ability to adjust the pF value directly from the phono preamp effectively cures the problem. An example of the process of fine-tuning the cartridge vs preamp capacitance would again start with taking the cartridge's pF value. Look, stick with us on this. It's complex, but it's important, and we think the following example should clear things up.
For instance, a contemporary star performer like the Soundsmith Zephyr cartridge has something like 100 - 200 pF value. A dedicated vinyl enthusiast would also have to take the capacitance specs of their tone arm (and its internal signal cable) - a worthy model such as the SME 309 Tonearm has capacitance values of 15.0 pF per channel. The sum of all of these pF figures needs to be matched at the preamp's input capacitance settings (where available of course).
This article's top pick - the Pro-Ject Phono Box RS preamp - has several switchable settings - 100, 200, 300, 420, or 520 pF and assuming that the cart+tonearm+earth wire (and the thumb screw of the latter - yep every little thing ups the pF values) come to around 200 pF total. This should be the starting point for setting the Pro-Ject. One might have to flip between that and, say, 300 pF or even 420 pF (in case of a longer wire), and the sonic difference would in most cases be quite noticeable - again, mainly in the resonant character of the high frequencies. The most natural-sounding setting wins!
What it comes down to is this: yes, there are some numbers involved, but don't freak out. A little experimentation, and you'll have this down pat.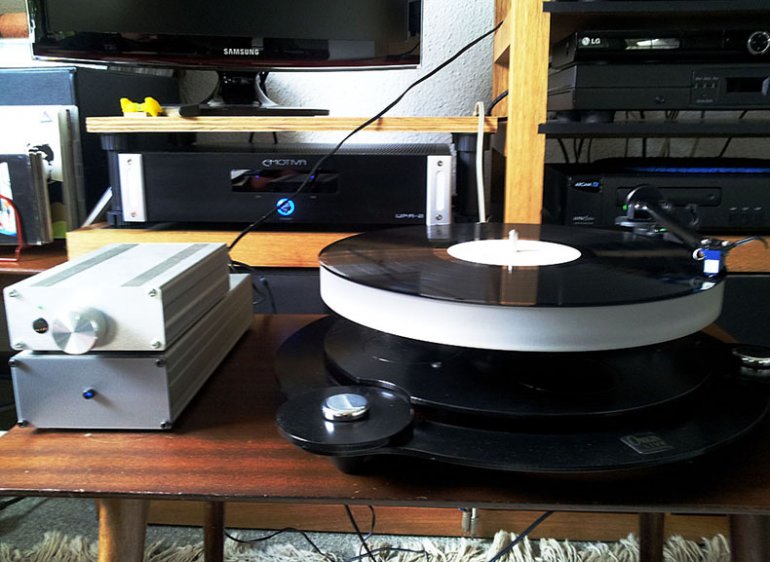 Passive Equalization Explained
Since vinyl records and cartridges from different eras of vinyl manufacturing may require a specific frequency response curve to portray the correct nuance and detail of the release, many of the phono stage preamps on this list deploy one of several built-in switchable 'classic equalisation' modes, but let us immediately note that their function is quite unlike regular EQs, as found in A/V receivers and/or integrated hi-fi preamps.
In a sense, these modes are very subtle - they simply 'correct' the cartridge signal's frequency response (and to an extent its signal-to-noise ratio) to match and mimic that of certain LP releases and specific decades from the historic vinyl manufacturing. Think of them as a filter that mimics the sound of a certain era
This is why you'll often see EQ curves associated with Decca, RIAA, Columbia, eRIAA, IEC, and eRIAA/IEC. If you happen to be using a cartridge with a vintage Decca spec (output, capacitance, impedance), just flip the switch/dial on your phono preamp accordingly - this will be as close as it gets to hearing the music 'as it was intended', certainly giving that old spinner an unexpected 'remastered' vibe.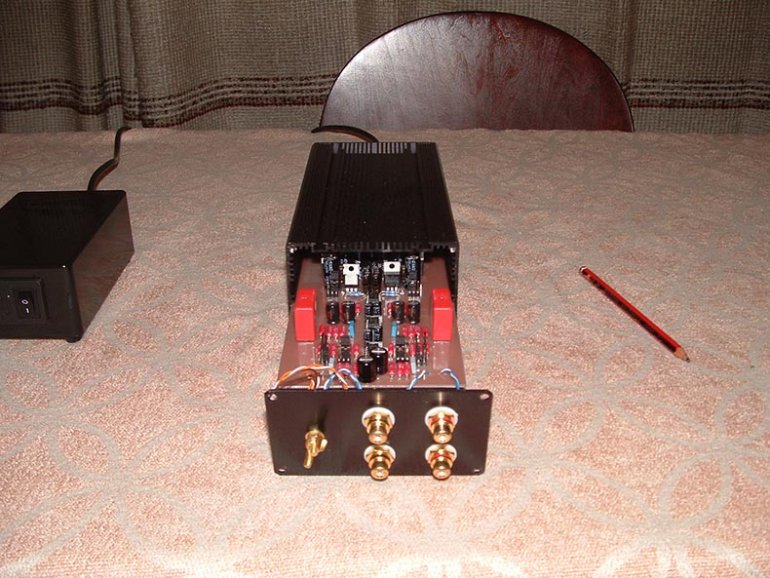 The Importance Of Power Supplies
If you've ever had the time or inclination to trail the vinyl audiophile forums on the ne, you may have encountered posts of people trying to build their own phono stage preamps. Sure, many designs are simple, if you have a knack for that kind of thing and all the schematics can be found online, you could easily buy any boutique component - from op amps to precious metal film caps.
You'll often see the same statement popping up again and again - a simple phono stage is easy to build, but however 'audiophile' the circuit components are, the phono preamplifier won't do its job unless it has a top-notch power supply. The reason for that is referred to as 'mains pollution' which percolates through the circuit, limiting the sonic benefits of high-end components.
To minimise these mains pollution effects, manufacturers opt for external high-voltage PSUs (Power Supply Units) which minimise interference and guarantee plenty of signal headroom. Vinyl connoisseurs can and do spend fortunes on power supplies and specialised power cables.

Balanced And Unbalanced Connections
Balanced and unbalanced connections are often referred to as pro and semi-pro respectively, and can at times have a dramatic effect to audio performance.
Generally speaking, balanced connections on phono preamps are rare and are normally found in the high end market examples (mostly as a three-pin XLR outputs). Are they important? Very much so. To avoid another massive tech jargon tangent let's just say that balanced outputs offer an impedance balancing between the individual wires within the connected signal cable, resulting in a better transference of the audio signal - better in terms of signal to noise ratio. Balanced circuits may be indicated by a sign: +4dB, unbalanced ones, by: -10dB.
In the real world, spaces with lots of wiring and/or light dimmers (commercial buildings, offices and the like) are notorious for causing ground loops and hums to audio equipment. These are the cases where balanced outputs can come handy and act as effective hum-destroyers.