There are some things in life you can't say no to. Threesomes. A ride on a private jet. A chance to meet Samuel L. Jackson. While it's entirely possible to turn these down, you'll spend many sleepless nights staring at the ceiling, wondering if you should've said yes. So when SVS offered us the chance to spend a month with the PB16-Ultra, a subwoofer capable of putting out 5,000 watts at full power, we said yes. Automatically.
 
What We Like
The SVS PB16-Ultra has absolutely titanic volume and power, and delivers clear, rich, sumptuous bass.
The app for the PB-16 Ultra is phenomenal, with excellent design.
SVS make it easy to connect and integrate the subwoofer.
 
What We Don't
The SVS PB16-Ultra is very, very heavy - so not for everyone! It's also a little too expensive for most people.
The remote control is fiddly, and feels unnecessary, especially with the app.
The PB16-Ultra's black gloss finish attracts dust and fingerprints.

SVS PB16-Ultra Specs
| Price | Watts | Driver | Direction | Freq. Range | Dimensions |
| --- | --- | --- | --- | --- | --- |
| $2,499 | 1,500 | 16" | Front-Firing | 15-280Hz | 28.3" x 25" x 21.7" |

Table of Contents

Design and Features
SVS PB16-Ultra Looks and Build Quality
The traditional way of finding the best placement for a subwoofer is to put it in your listening position, turn it on, then crawl around and listen for where the bass is most pleasing. That…is not going to happen here. You are never, and we mean never, going to get this thing into your listening position. Not unless you're prepared to throw your back out.
The SVS PB16-Ultra is heavy. Monstrously heavy. 174.5 pounds, to be precise. It's 25" high, and 28.3" deep: a big, black beast of a thing that is impossible to look away from - and bigger than almost any sub in this price range. Corner placement is best, but you can also slot it next to your front speakers, or at the side of your room. Wherever you decide to put it, it's best to have an idea of the placement beforehand. You are not going to want to move this thing once it's out. This isn't just because it's heavy: the smooth sides and frictionless texture make getting a proper grip quite difficult. The glossy black finish attracts fingerprints, too, as well as dust. These are very minor issues, to be sure, but would it have killed SVS to add handles? Fortunately, outside of a few niggles, the design is top notch. The front end of the subwoofer is dominated by a gigantic 16" driver, fiberglass resin, hard as rock, with a subtle SVS logo in the center. Beneath it are three ports, designed to either be left open, or sealed off with the included foam inserts (more on these below). This is an option SVS have used before, in their Ultra Tower speakers (full review here).
There are also six slots for an included metal grille, which you can use to hide away the driver and ports. We much preferred having them exposed, just because we really enjoyed how they looked, but we can absolutely see that some people will prefer to use the grille. It's well built and substantial, and easy to remove and replace.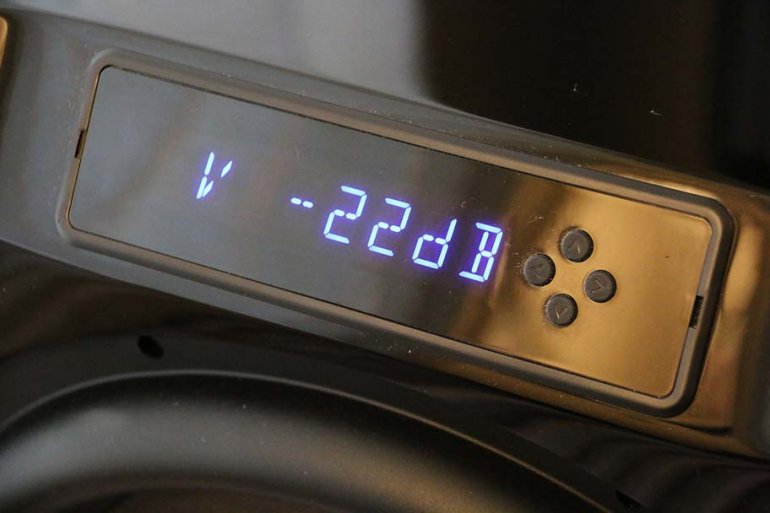 Controls and App
At the top edge, recessed in a smooth, sculpted hollow, is a digital control pad. Next to it is a simple four-way button controller, which allows easy and intuitive use to any of the functions found in the SVS mobile app. We didn't use this very much, other than adjusting the volume – we preferred to rely on the app itself – but when we did, it worked extremely well.
Round the back is a very straightforward set of connections. For most people, a single line level input to a receiver will be all that is needed, but you get plenty of options for connecting things up. There are both line level inputs and outputs, a 3V-12V trigger input (for turning the subwoofer on when you activate another piece of equipment) and a pair of balanced XLR line level inputs and outputs. For such a beast, it's surprisingly straightforward to connect up. There's also the option to connect multiple PB16s – what SVS referred to as "Going Dual". You get a discount of $200 if you buy both together. We can't even imagine what it must be like to have two of these things vibrating away. The very fabric of reality would turn to dust.
It's not often that we dedicate a special section to a mobile app, but the one SVS have developed deserves a closer look. It's one of the best, most intuitive examples we can think of. It's available for both iOS and Android, and connects in seconds to the subwoofer via Bluetooth. It packs an absolutely tremendous amount into its drop-down menu. You can adjust the lowpass filter, switch the phase and polarity, apply a bespoke parametric equaliser, adjust room gain compensation. You can create presets, and dialling back to them is the work of moments. The individual sections are well designed, each available on a single screen, with no scrolling. Using the app was a pleasure, and although tuning the system to our liking took a little trial and error, it wasn't because of a failure in technology.
That said, we would like to have slightly more comprehensive tutorials in the app. It's less of a problem in this price range, where anybody who buys this subwoofer is likely to know what, for example, room modes are. But this app, which SVS use for all of its subwoofers down to the $500 SB-1000 Pro (full review here), badly needs an enhanced tutorial section.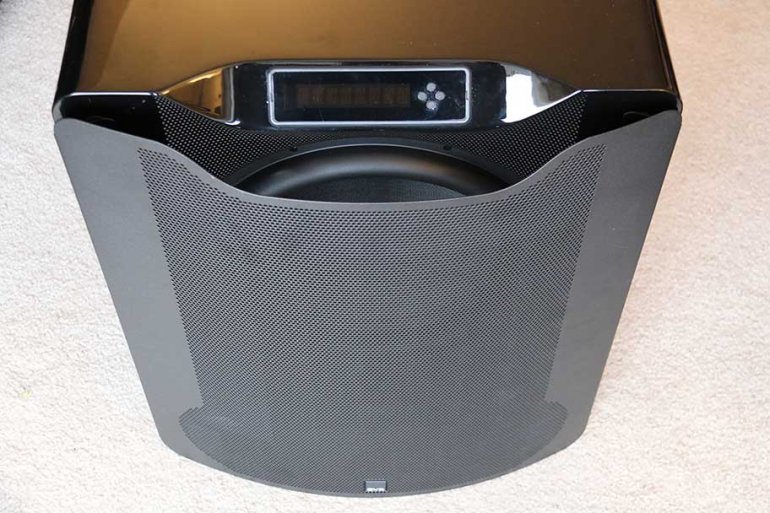 Accessories
Outside of a grille, the thick acoustic foam inserts and the power cable, the main accessory for the PB16-Ultra is the remote. It's one of the few things about the subwoofer that we didn't like. It works perfectly fine – it has volume buttons, controls for the digital display, a switch to turn the display on and off, and preset buttons. But it has a couple of design issues that frustrated us. For one thing, it's extremely small and light – small enough for us to regularly misplace, or to drop in between couch cushions. We also found a strange problem in using it, in that we kept trying to control the subwoofer while pointing the wrong end of the remote at it. We're not entirely sure why we did this so often; there's a prominent SVS logo at the front of the remote, and it's not as if the buttons are hard to interpret, or not marked clearly. But it kept happening – something we think is down to the symmetrical nature of the remote. It's a very minor problem, but a perplexing one.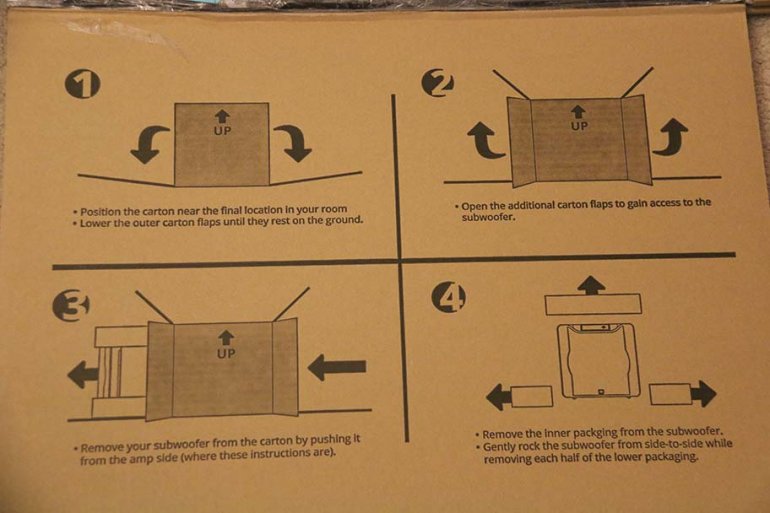 Packaging
We've never had something arrive in a box that takes two people just to get it into the building, and which takes whole minutes to get through the front door. We've also never had something arrive in a box that actually comes with un-boxing instructions, and very seriously recommends the help of a friend to get the contents out. SVS are, it seems, aware of just how ridiculous this subwoofer is, and have planned ahead to minimize the pain. Flipping up the back lid reveals a clear set of un-boxing guidelines, and the subwoofer itself, packed in huge, rigid foam inserts. Actually sliding it out the box takes more than a few minutes of grunting, swearing, and sweat. Never in the history of this website have we had to recommend having a bottle of water and possibly a chiropractor nearby when removing a product from its packaging, but you could certainly do worse than have those available here. It makes for an interesting afternoon.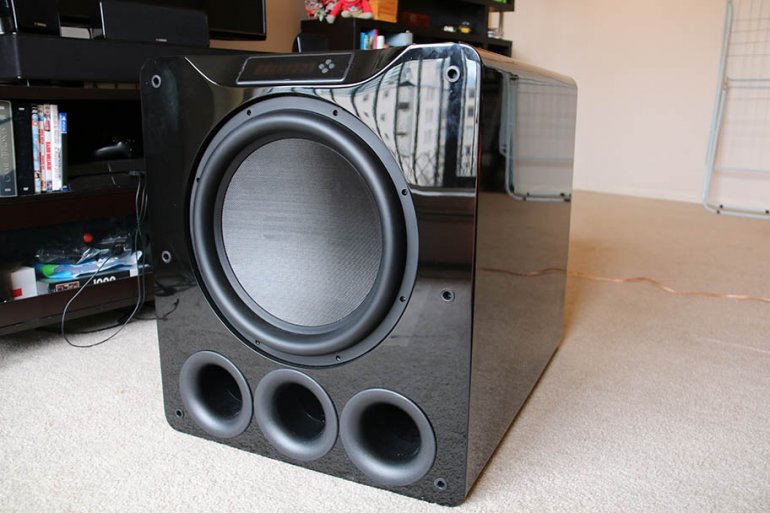 Sound Quality and Performance
SVS PB16-Ultra Power and Volume
In the comprehensive manual accompanying the PB16-Ultra, SVS include a section on volume, noting that the subwoofer "should not draw attention to itself, but should simply make the system's low end seem more extended and accurate." Haha. Ohahahaha. Ooooohahahaaaa. The first thing we did – the very first thing, even before we'd done any tuning – was to find the gnarliest, bassiest track we could think of, and pump the volume as high as it would go.
You really cannot comprehend what it is like to sit in front of an SVS PB16-Ultra turned to maximum levels. At 1,500 watts continuous power and 5,000 watts peak, it does not mess around. Even at lower levels, you can put your ear close to the speaker and hear a menacing, subsonic thrum, as if the subwoofer is only sleeping. And this isn't like being in front of a big speaker stack at a club, or a big set of floorstanding speakers. This is more personal. The damn thing is looking right at you, and it wants to eat your brain. At top volume, it all but vaporizes it. At -15dB, we could feel the sound waves vibrating through the couch. At -10db, the windows were starting to shake, and glasses on the shelves were beginning to rattle in a way that suggested they were deeply unhappy. At -5dB, we swear we could see the walls start to bend backwards. At -3dB, our eardrums began to bleed. At 0dB…well, the fabric of reality turned to dust. We woke up two hours later with a head that felt like a car crash and a new, superstitious awe for the giant, Biblical beast sitting in our lounge.
 
Technology
It's worth talking a little bit about the inside of this subwoofer, even if you're almost certainly never going to see it. When something is this intimidating, this intense, it's kind of fun to dig into the insides. That 16" driver is only able to do what it does because of an equally massive 8" voice coil, slotted into a high-density aluminum basket. The whole lot is wired to a very precise machined motor, designed to generate huge amounts of energy. The amplifier inside is a Sledge STA-1500D, a 64-amp 200-volt MOSFET behemoth (if you want to get slightly technical, here's an explanation of what that means). The audio passes through an Analog Devices Audio DSP with 56-bit filtering before it comes out the front. The cabinet is acoustically-inert MDF. The subwoofer might shudder at high levels, but it doesn't affect the sound, even a little bit.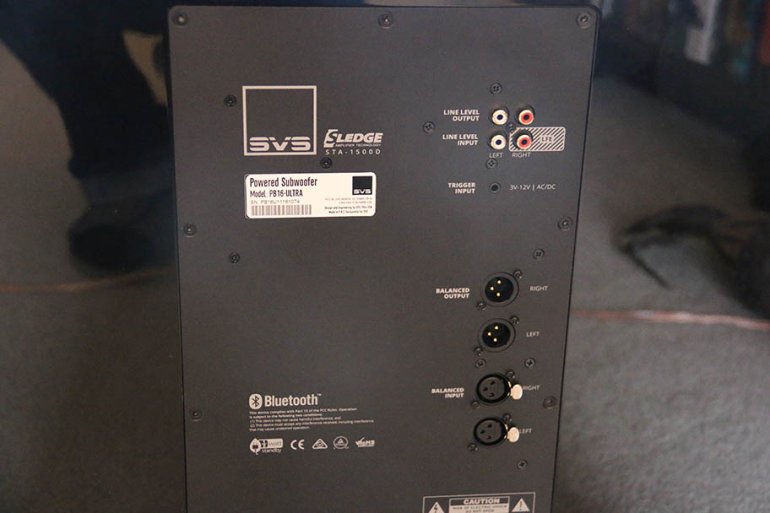 Performance with Movies
The PB16-Ultra was, as we've said, completely and totally inappropriate for our testing room, which is not the biggest in the world. We didn't care. Within minutes of testing it for the first time, we loved it unconditionally. Our comfortable operating level was at a relatively sedate -22dB, a range which satisfied SVS's goal of making the low-end feel more extended. It's at this level, where you're aware of the bass but not overwhelmed by it, that you can truly appreciate how good it really is.
Watching a movie through a 5.1 system with this sub is revelatory. The sound floats on a giant, dark ocean of bass: never overpowering, crystal-clear, with lightning sharp definition. Explosions and punches have serious weight, but never startle. The PB16-Ultra might be complete overkill in the subwoofer category for most people, but there's no denying that it puts out some genuinely stunning low-end. We tested this in our dedicated home theater room, which has a full Dolby Atmos set up, and we were deeply impressed, if a little dazed.
We watched a selection of movies and series, ranging from action thrillers like Taken to series like Vikings, and we came away impressed. Feeling the thud of an axe being buried in a skull in the latter really was quite something, almost enough to make us flinch. In terms of comparison, we'd say the closest we could think of would be the $1,395 Seaton Sound JS12, Which delivers similarly excellent audio. It's not quite as powerful, at only 700 watts RMS, but possesses the same level of clarity for significantly less outlay.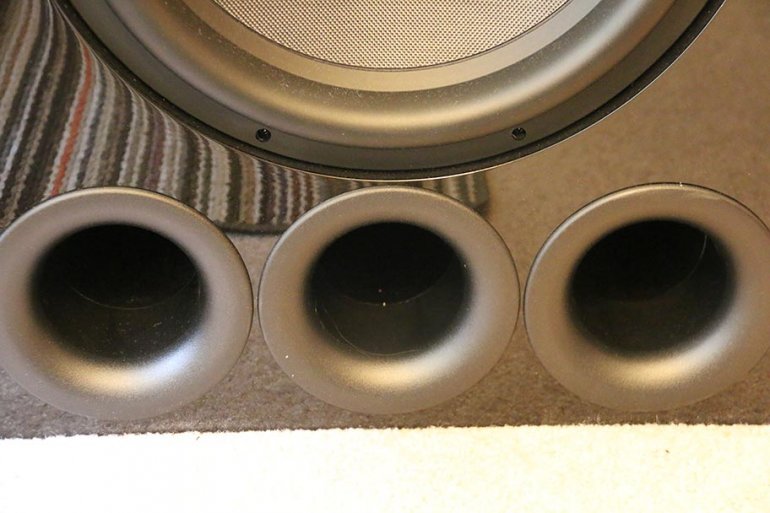 Performance with Music
Basslines and kick drums sound smooth, tight, and controlled. Even that first time, when we jacked the sound and melted existence, there was almost zero distortion. For genres like EDM, hip-hop, and house, the PB16-Ultra is next level. Even in genres like metal, with its notoriously muddy low end, the overwhelming power here never quite got in the way of the detail.
The subwoofer really showed its ability to pick out the different elements of the bass, and put them precisely where they needed to be. That said, unless you demand the most ridiculous bass known to man, there's a chance that this subwoofer may just be a little too much. If, for example, you rely on turntables for your listening, you may find the sheer power here making the needle skip, unless you possess the kind of turntable that is utterly isolated from any external vibrations. Even then, we wouldn't recommend it. There are better options available for music, which sacrifice power while retaining the same level of clarity and control. Start yourself out with the Aperion Bravus II 12D, which we think dozen excellent job with music.
On the other hand, the PB16-Ultra is big enough that you could theoretically use it as a coffee table centrepiece. Hell, we doubt even a spilled beer would stop this brute. Anybody who does this, please send us a photo.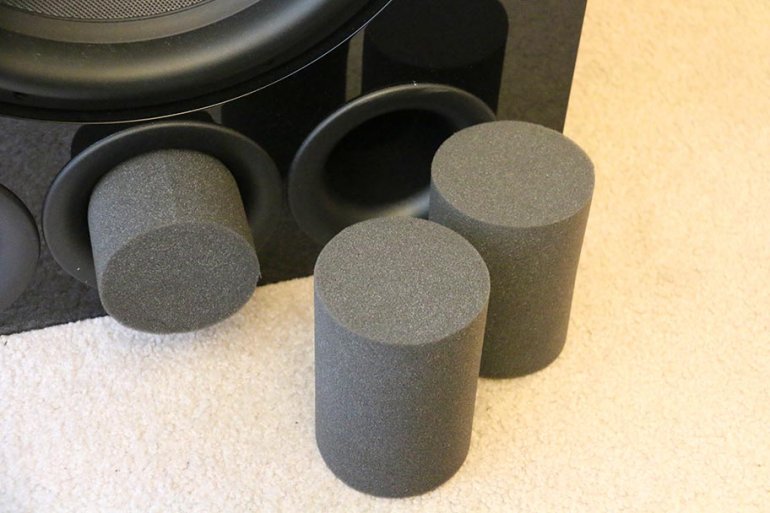 Ported vs. Sealed Mode
This is definitely not a product that works to its full potential directly out of the box. If you want the good stuff, you have to put the work in. This includes playing with the three vented ports at the bottom of the unit. You've got the option to plug these ports with foam inserts: plugging all three ports lowers the overall volume, but enhances clarity, while leaving them open does the opposite. We found that leaving all but one of them open gave us a good balance. It's a strangely analogue system in such a digitally complex machine, but it works extremely well. It was impossible not to experiment, to see how the subwoofer would treat a certain song or movie scene, to see where its limits were. It was impossible not to revel in just how rich and full things sounded.
 
Why You Should Buy the SVS PB16-Ultra
There's no question that the SVS PB16-Ultra is vastly overpowered for most peoples' setups. For small apartments, or basic 5.1 systems, 5,000 watts is serious overkill, and the sheer space needed for the subwoofer and the effort it takes to get it into place will likely make it impractical for many people - not to mention expensive, at $2,500 (although you can buy two at once, for $200 off. If you're insane). The thing is: you don't get a subwoofer like this because it's practical. You get it because you want to have some of the best fun it is possible to have with a piece of audio equipment. If you have the budget, the space, the sheer cojones to pull the trigger on this purchase, you'll get to experience something truly special. Because make no mistake: short of spending $20,000 on a subwoofer, the SVS PB16-Ultra is the single best home subwoofer available today. It's the dinner with Samuel L. Jackson, the private plane ride, the threesome-with-twins of subwoofers. Buy one, and you get courtside seats to the greatest show on Earth.

Why You Should Not Buy the SVS PB16-Ultra
You need a big room for this one. It's as simple as that. And by big, we mean over 250 square feet-at least. For almost everyone, it's too big, too powerful, the kind of thing that is better imagined than actually installed. It is an incredible piece of equipment, but it is horrifically impractical. There are smaller and more realistic options available, some of them made by SVS themselves (see below). This is an incredible product, but you have to be prepared for it. And you should warn your friendly FedEx driver what to expect here.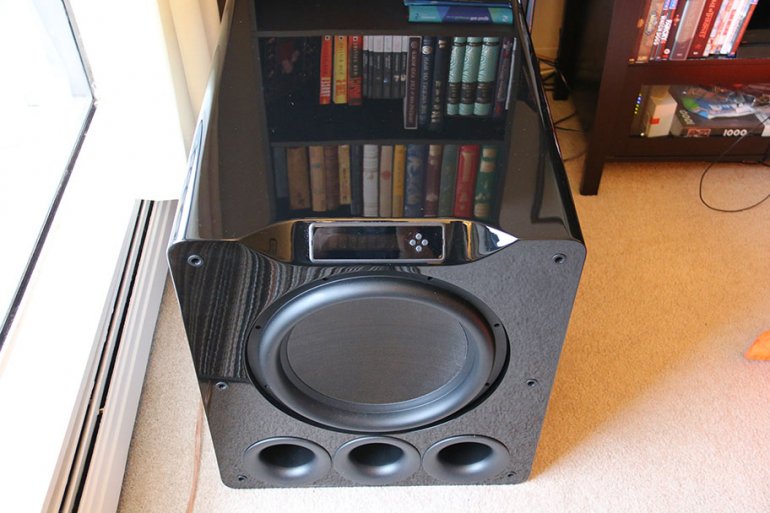 The Competition
SVS PB16-Ultra vs. SVS PB-4000
If you take one thing away from this review, it's that the SVS PB16-Ultra produces some of the best bass you'll ever hear. Well, OK, that's not the only thing we want you to take away from this review – the second thing is that the PB16 is vastly inappropriate for smaller spaces. If you do have a smaller living room, or slightly less cash to spend, then it may be worth looking at a PB-4000. It has less wattage (1,200 RMS, versus 1,500 for the PB16) but it also incorporates the SVS app, and has a fantastic DSP. And it's a hell of a lot cheaper, at $1,599, which means you'll save nearly $1,000.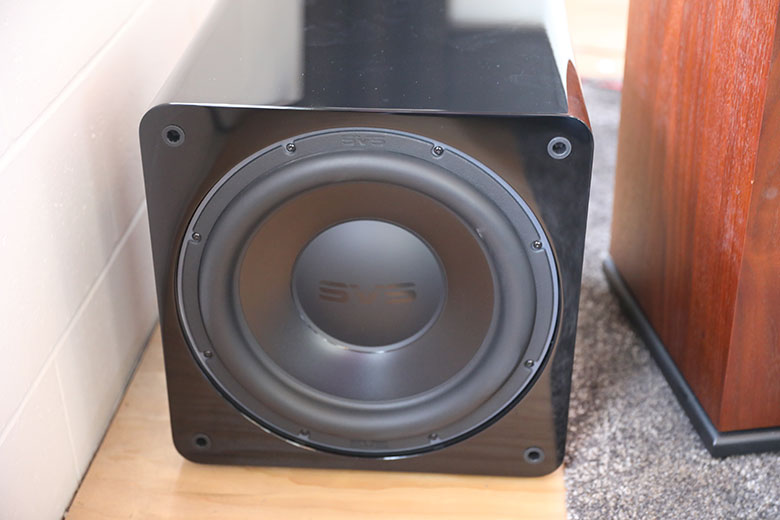 SVS PB16-Ultra vs. SVS SB-3000
For those of us who wish to live with one foot in the real world, it's worth checking out the SVS SB-3000. It's a compact, powerful piece of equipment that manages to retain some of the clarity found in the PB16-Ultra, without that gravity defying bass power. It's a sealed subwoofer, rather than ported, although there is a ported option available. It's less than half the price ($1,100) and offers significantly less wattage (800). But it is friendlier to more situations and more rooms than its larger cousin, and as such, we think that it may be a better option for most people. Ultimately, we have yet to test a poor product from SVS, so you should make your pick based on your own situation.
 
SVS PB16-Ultra vs. SVS SB16-Ultra
Hands up: we have not tested the sealed version of the subwoofer in question here, the SB-16 Ultra. We simply didn't have the review space, and frankly, our neighbours were getting a bit fed up. However, we can say that it is much the same subwoofer, albeit in a slightly more stripped down package. Without the three open ports at the bottom, the bass is less raw and aggressive, but comes with more fine tuned control and finesse. Other than that, it's exactly the same product, with the same wattage and specs. It is, however, a touch cheaper, at $2,000. Again, choosing this one over the PB16-Ultra is highly dependent on your situation. They are both good.
 
SVS PB16-Ultra vs. Klipsch R115SW
We get asked about this comparison surprisingly often, given how different these subwoofers are. It's worth breaking it down here. The Klipsch R115SW is a smaller and more affordable subwoofer in every way, and far more traditional. There's no digital control setup, or app, just a line of regular knobs on the rear. At 400 watts RMS, it's significantly less powerful than the PB16-Ultra. It also costs less, at around $699 at the time of writing. It's a perfectly good subwoofer, to be frank, it's a little old now, and there are better options out there.
 
SVS PB16-Ultra vs. JL Audio Fathom f110 V2
The JL Audio Fathom f110 V2 Is probably one of the only subwoofers that can beat the PB16-Ultra for digital smarts. It has a rollcall of innovative DSP technology, the flagship of which is DARO: Digital Automatic Room Optimization. Attach the included calibration microphone, and the subwoofer will tune itself to your room. That's a real boon, especially when you consider how difficult it can be to place a subwoofer sometimes. It's a little more powerful than the SVS sub, at 1,100 watts RMS, and is significantly more expensive. The latest price we've seen is around $3,500 pockets. This one is only for the most demanding listeners. Ironically, it's actually smaller than the PB16-Ultra!
 
SVS PB16-Ultra vs. Monolith by Monoprice 15in THX Ultra
Monoprice are such an unassuming and understated brand that they often fly under the radar. We think the Monolith by Monoprice 15in THX Ultra subwoofer is worth looking at, however. Like the PB16-Ultra, it's fully ported, with three ports beneath the driver. And at $1,340, it stands as a budget version of the SVS subwoofer, sacrificing the finesse and digital control for raw power. You get 1,000 watts RMS to play with, and a set of very basic controls. If you like the idea of a big, ported beast of a subwoofer, but don't want to pay SVS prices, then the Monolith (and what an appropriate name) is very much worth checking out.
 
Comparison Table
| Subwoofer | Price | RMS* | Driver | Direction | Freq.** | Dimensions |
| --- | --- | --- | --- | --- | --- | --- |
| SVS PB16-Ultra | $2,499 | 1,500 | 16" | Front-Firing | 15-280Hz | 28.3" x 25" x 21.7" |
| SVS PB-4000 | $1,599 | 1,200 | 13.5" | Front-Firing | 16-200Hz | 23.4" x 20.5" x 30" |
| SVS SB-3000 | $1,100 | 800 | 13" | Front-Firing | 18-270Hz | 15.7" x 15.6" x 15.2" |
| SVS SB-16 Ultra | $2,000 | 1,500 | 16" | Front-Firing | 16-460Hz | 20" x 19.5" x 20.1" |
| Klipsch R115SW | $699 | 400 | 15" | Front-Firing | 18-125Hz | 21.5" x 19.5" x 22.3" |
| JL Audio Fathom f110 V2 | $3,500 | 1,100 | 10" | Front-Firing | 27-111Hz | 12.9" x 15.6" x 17.2" |
| Monolith 15in THX Ultra | $1,340 | 1,000 | 15" | Front-Firing | 15-200Hz | 26.8" x 17.7" x 27.6" |
*RMS = RMS Wattage
**Freq. = Frequency Range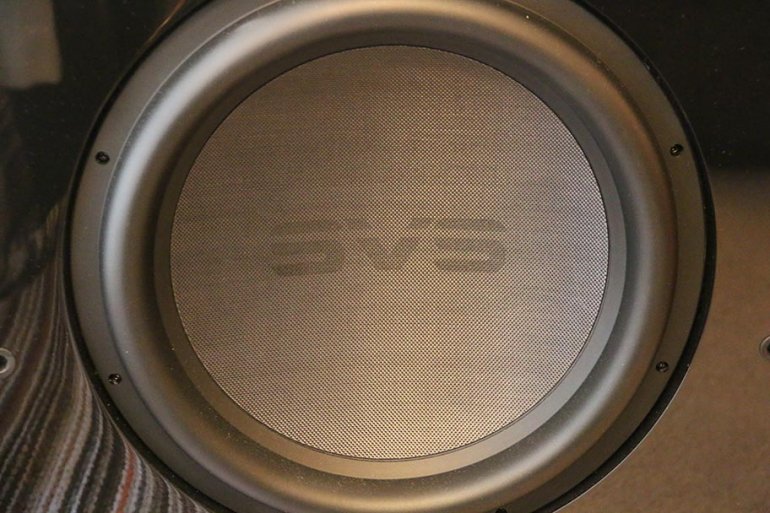 Test Equipment for This Review
Learn More About Home Theater