These days, a simple smartphone is more advanced than anything NASA could have even dreamed of when shooting their first shuttles up in space only a few decades ago. It would be a funny thing to travel back forty years and try to explain to a NASA scientist about the near-unlimited power of ones and zeros. And in this article, we'll explain the best way to harness these ones and zeros in order to help a regular music lover drastically improve the quality of their audio playback. You do it by upgrading the device's DAC (Digital-to-Analog Converter), which takes the digital signal and turns it into sound you can actually hear. And to complete your system, check out our lists of the best headphone amps and stereo amps.
 
---
Our DAC Picks
---

Best Overall DAC

Headphone Amplifier: Yes
DAC Chip:  AKM AK4490EQ
Max Sampling Rate: 32-bit/768kHz
What We Like: Outstanding sound quality and interface.
What We Don't: Horrendously complex menu system, no Bluetooth.
With their ADI-2 DAC FS, Germany's RME cements their place as the best DAC-maker on the planet. The ADI-2 is an absolutely gorgeous machine, with a terrific display that gives you full control over your sound. The audio quality is intricate and detailed, relying on RME's SteadyClock system to reduce unwanted noise. Honestly, for this price, we don't think you'll find a better DAC - definitely not one as enjoyable as this. The ADI-2 may not have Bluetooth, like the Chord Electronics Hugo 2, but this German-made wonder is a fantastic wired solution. While we still found ourselves turning to the Hugo 2 for most listening, the ADI-2 has a huge amount of charm to it. The only thing we didn't like was the fiendishly complicated menu system, which relies on a multitude of unintuitive controls to navigate.
Regardless, this is a minor set-back in comparison to all the pros of the ADI-2. Although RME aren't a household name in audio yet, they've released some solid products that come highly recommended. But if you want fine-grained control, with a near-professional piece of equipment, check out the Benchmark DAC3 HGC, below. It really is a giant-slayer...Read our in-depth review
See the RME ADI-2 DAC
 
Best High-End DAC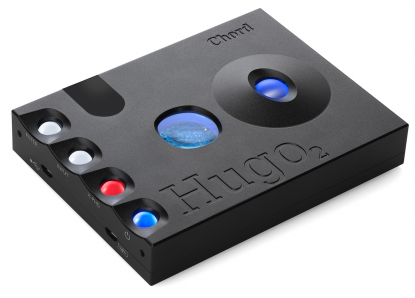 Headphone Amplifier: Yes
DAC Chip: Xilinx Artix 7
Max Sampling Rate: 32-bit/768kHz
What We Like: Amazing design and features.
What We Don't: Doesn't sound quite as good as the less-expensive DACs.
The Chord Hugo 2 is outstanding. It's a high-end, portable DAC with aptX Bluetooth and a seven hour battery life that delivers magnificent sound. It can handle huge sample rates and bit depth (up to 32-bit/768kHz) as well as full DSD functionality, up to DSD512. Oh, and the built-in amp can generate enough power to handle all but the most demanding headphones. While there is an argument that the company's slightly cheaper Mojo, below, offers better value, there's a reason why this has become a firm favorite among audiophiles. We love this DAC, and it's an easy pick for our top high-end option.
It isn't the best-sounding DAC on this list - that would be the RME ADI-2 DAC, above. It's not the best portable DAC, like the AudioQuest DragonFly Cobalt. But it does so many things so well that we'd be insane to put anything else at the top. Chord make several excellent DACs - including the Dave, and the brand-new Qutest - but for sheer range of features, design, sound quality, and value, the Hugo 2 just crushes it.Chord make other terrific high-end DACs, including the $7,000 Hugo TT 2, but the Hugo 2 is the top choice for our money. And there's more: as we prepared to publish our latest update, Chord announced the release of a streaming accessory, the 2Go (of course), that turns the Chord into a full music streamer with Wi-Fi connectivity...Read our in-depth review
See the Chord Electronics Hugo 2
 
Best Budget DAC Under $200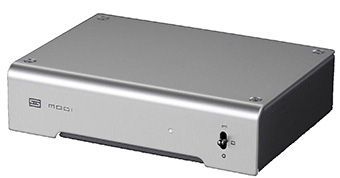 Amplifier: No
Chip: AKM AK4490
Max Sampling Rate: 24-bit/192kHz
What We Like: Super-clean operation for under $150.
What We Don't: Not a particularly exciting DAC.
Schiit's Modi line remains a DAC classic - especially when paired with the amazing Magni amp. This latest update, the 3+, distills all the wizardry of the previous Modi variations into a single sub-$100 DAC. This model is the third version of the Modi, and should theoretically be called the Modi 3 (Schiit rebooted the branding, so now it's just the Modi). It's not a huge update on the Modi 2, but it doesn't need to be - it already does what it's supposed to extremely well. The audio it delivers is crisp and clean, and operation is beautifully straightforward. It's not one of the most exciting DACs, but it is an incredible DAC for the price, and if you're on a budget, it's a great choice.
The Modi does have an upgraded version available, the Modi Multibit, which adds additional inputs and a fantastic digital filter. It's more expensive, though, at $249, so be aware of that before you buy. Regarding the vanilla Modi, we think it's a good-if-unspectacular DAC that can form the unassuming backbone of any decent hi-fi or headphone system. It replaces the old Fulla on this list - that model is still available, but we think the Modi does a slightly better job as a DAC.
See the Schiit Modi 3+
 
The Perfect Portable DAC
Amplifier: Yes
Chip: ESS ES9038Q2M
Max Sampling Rate: 24-bit/96kHz
What We Like: Superb sound, convenience, and appealing looks.
What We Don't: Quite expensive, owners of the AudioQuest DragonFly Red need not apply.
If you're looking for a portable DAC, the AudioQuest DragonFly Cobalt should be your first choice. It's nothing more than a simple USB stick with a 3.5 mm headphone output, but what it does is nothing short of extraordinary. The DragonFly Cobalt delivers lively, exciting sound, and its internal DAC can handle a variety of file formats, including MQA from Tidal. It remains the single most convenient headphone amp we've ever tested, and has the added benefit of looking really cool.
The DragonFly Cobalt is an upgrade of the AudioQuest DragonFly Red, and it must be said that if you own the original, you don't need to upgrade. The Red costs $200, which is $130 less expensive than the Cobalt, making it much more budget-friendly. However, price aside, we think the DragonFly Cobalt is an absolutely superb update that offers genuine benefits. If you want a portable headphone amp, this will easily beat models from Audiolab mentioned below. The DragonFly Cobalt is light, powerful, and delivers killer sound. Bear in mind that it only delivers file sizes up to 96kHz, which is a deliberate choice on AudioQuest's part. This isn't necessarily a dealbreaker, but worth bearing in mind before you purchase…Read our in-depth review
See the AudioQuest DragonFly Cobalt
Best DAC/Amp Combo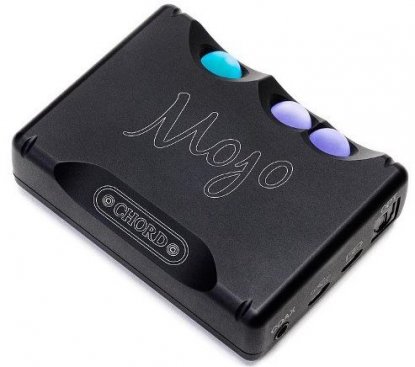 Amplifier: Yes
Chip: Xilinx Artix-7
Max Sampling Rate: 32-bit/768kHz (!)
What We Like: Stupendous specs, audio quality, clever ergonomics, quick charge, dual outs.
What We Don't: A bit spartan in looks, outside the spherical lights!
This is a superb DAC. The looks may seem gimmicky, until you note the price, which might give you an idea of the Mojo's hidden talents. It's perhaps the best melding of amp circuitry and DAC circuitry that we've ever tested, with breathtaking synergy in the sound. It also happens to be portable, which is an added bonus, although it is equally at home when connected to a Mac or PC. In spite of its tiny size, the Mojo can take digital audio streams through several ports - a mini USB, S/PDIF and Optical 1/8" mini-jack. The analog outputs are 1/8" (3.5mm) mini-jacks and you have two paired outs, just in case you want to wow your date with your hi-res audio library. It doesn't quite have the oomph of its bigger brother, the Hugo 2, but it's a terrific budget option.
We do think that the Chord Mojo could do with an update at some point. While Chord have released a capable app, which has resolved the issues with controlling the Mojo that we had in the past, it is still outclassed as a portable device by just about every digital audio player with a screen. Compared to other portable ducks, however, like the Audiolab M-DAC Nano, it's in a class of its own. By the way: there's now even an add-on, called the Poly, which functions as a portable music player with SD card slot. Seriously, just buy this thing already ...Read our in-depth review
See the Chord Electronics Mojo
 
Best of the Rest

Headphone Amplifier: No
DAC Chip: ESS ES9038Q2M
Max Sampling Rate: 32-bit/384kHz
What We Like: S/PDIF conversion, helpful display.
What We Don't: Sound is bettered by other DACs.
The Chinese company Topping have slowly started to dominate the DAC conversation, particularly in the world of budget models. Their D10S, which we think is one of the best DACs they make, has two particular features that make it a worthwhile purchase. Firstly, there is a very handy digital display on the front of the DAC which gives you sample rate and audio format details. Secondly, there's an S/PDIF output on the rear, meaning the D10S can function as an S/PDIF converter. That means you can quite happily pair it with another DAC further down the line, and get an even keener signal. No other budget DAC on this list offers these features, including our top budget pick, the Schiit Modi.
The problem is that the Topping D10S just can't compete on sound. It gets the job done, but it lacks body and drive, which is not a problem the identically priced Schiit Modi has. While we do think the D10S is worthy of consideration thanks to its unique features, we wouldn't recommend it for pure conversion quality.
See the Topping D10S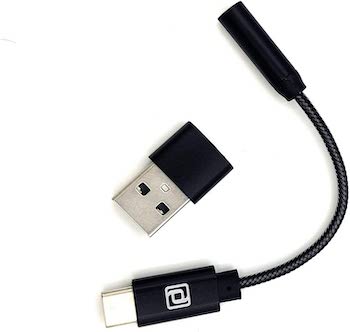 Headphone Amplifier: Yes
DAC Chip: Unavailable
Max Sampling Rate: 32-bit/384kHz
What We Like: One of the easiest and least expensive ways to upgrade your audio game.
What We Don't: May require additional adapters if you use high-end headphones.
Everybody and their mother is producing compact dongle DACs these days—DACs which are designed to connect to phones without headphones sockets. We think the best you can buy right now is the Periodic Audio Rhodium. It's as simple as they come: a tiny dongle that can handle files up to 32-bit/384kHz, and which can plug directly into your phone's charging socket (and to your laptop with the included USB adapter). We can't think of an easier or cheaper way to jack your sound quality, and although there is no MQA or DSD support, the audio here is splendid. Sure, it's not going to compete with something like the $300 AudioQuest DragonFly Cobalt, which is the best portable DAC you can buy. But it still manages to impress, and is ideal for those who want to use wired headphones with newer smartphones.
One word of warning on the Periodic Audio Rhodium. The headphone output is 3.5 mm only, and if you use headphones that have a 6.3mm jack, you'll need to invest in a separate adapter. These adapters aren't costly, but it's still an additional thing to worry about. For this price, we aren't complaining too much, but it's worth bearing in mind if you do plan to buy.
See the Periodic Audio Rhodium
 

Headphone Amplifier: No
DAC Chip: ESS ES9038PRO
Max Sampling Rate: 32-bit/768kHz
What We Like: MQA conversion on a budget, with a terrific screen.
What We Don't: Wobbly frame.
Let's say you want a DAC that can handle MQA files from the Tidal streaming service, but you don't want to spend thousands of dollars. In that case, you need the S.M.S.L SU-9, a highly competent DAC that unfolds MQA files cleanly. It costs less than $500, and performs exceptionally well. We'd compare it favourably to something like the Chord Electronics Mojo, which is one of the best DACs you can buy. We have our reservations about MQA, which you can read about in the Buying Advice below, but this is a good place for it.
There's one major downside to the S.M.S.L SU-9, and it has nothing to do with the sound quality. It's an almost unforgivable design flaw: the fact that it has only three rubber feet on the bottom. That means it will wobble when placed on a desk, which is a lot more annoying than it sounds. It's a great DAC, especially for MQA listeners, but you need to be aware of what you're getting before you buy.
See the S.M.S.L SU-9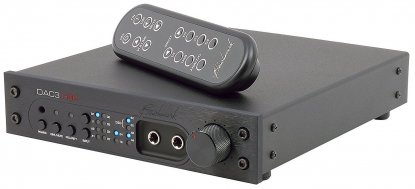 Headphone Amplifier: Yes
DAC Chip: ESS 9028PRO
Max Sampling Rate: 32-bit/192kHz
What We Like: Superlative sound and functionality.
What We Don't: Can be very complicated.
Benchmark's DAC1 and DAC2 have been the industry standard for DAC performance since they were released. The DAC3 was eagerly awaited by anyone familiar with the company's incredible audio conversion performance, and this surely must have piled the pressure onto the design team to deliver. I's not quite as fun to use as the Hugo 2 or the RME ADI-2 DAC, and doesn't offer features like Bluetooth. However, it's far more affordable, and the sound is just unbelievable.
The DAC3 features advanced harmonic filtering, which is especially evident in its silky-sweet top-end audio performance. The Hybrid Gain Control (HGC) truly helps focus the sound. For anyone unfamiliar with Benchmark, it should be noted that DAC3 is optimised for a direct connection with power amps, or powered speakers. This should not be taken for granted - a lot of effort has been poured into the gain stage optimisation of the balanced outputs and the state-of-the art volume attenuation. We could go on about this DAC's merits, but perhaps it's enough to say that it really stands on the shoulders of giants - the extraordinary DAC1 and DAC2 - and deserves to be the beating heart of any setup...Read our in-depth review
See the Benchmark DAC3 HGC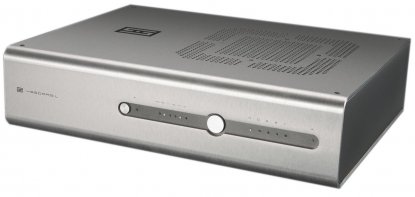 Amplifier: No
Chip: Analog Devices AD5791BRUZ
Max Sampling Rate: 24-bit/192kHz
What We Like: Incredible multibit ladder technology, completely modular, stunning design and audio performance.
What We Don't: No headphone amp, no DSD.
Straight out of Valencia, California: a proudly all-American made DAC by Schiit Audio. Just like Yggdrasil (meaning World Tree), most other Schiit devices derive their names from the Norse mythology, and they all have a slightly weapon-like looks, albeit of a very 21st-century kind. The audio quality is stunning, but such goodness comes at a price, and there's hardly a better guarantee for quality than the fact that Yggdrasil is regularly sold out. New orders are shipped regularly, though, so we'd say go for it and wait for the moment when 'Schiit happens'.
What separates this DAC from any other brand on this list is the choice of its DAC chipset technology. The vast majority of audio conversion hardware uses the so called delta-sigma DAC architecture. The Yggdrasil uses Analog Devices AD5791BRUZ chipsets using multibit ladder conversion, which in simple words does not distort the digital DNA of the digital audio, preserving detail accuracy down to a sample. As Schiit put it, they've taken the guesswork out. Connectivity is generous and very pro-level - you'll find a high-end AES digital XLR, balanced XLR outputs, as well as all other common digital and analog connections, and the device's internal components are fully upgradeable (the USB board, the analog output section, etc). One important feature - a headphone amplifier - is missing, which is to keep the DAC technology as discreet as possible. Ditto for the DSD, which we think is a bit of an issue. Other DACs like the Hugo and the DAC3 HGC offer more for the money, we think, but this is still a terrific piece of gear.
See the Schiit Yggdrasil
 

Headphone Amplifier: Yes
DAC Chip: Unavailable
Max Sampling Rate: 32-bit/384kHz
What We Like: A huge range of features, including full wireless streaming.
What We Don't: This DAC is in need of an update.
There's a lot of crossover between DACs, amps, and music streamers, and that's especially true when considering the Auralic Altair G1. While it is first and foremost a DAC— and a very good one— it's also headphone amp, as well as a dedicated wireless streamer and Roon endpoint. That makes it ideal for those who are looking for more all-in-one solution. However, even if you intend to only use it for its DAC capabilities, you'll be in good hands. It has comprehensive file handling, with both MQA and DSD capabilities, and the ability to take files up to 32-bit/384kHz.
The problem is, the Altair G1 is just not quite as good as the competition. We wouldn't choose it over, for example, the Chord Electronics Hugo 2, especially since there are now accessory products that allow that DAC to stream. And we think the RME ADI-2 DAC has it beaten on sound quality. It also seems as if the Altair has been somewhat left behind by Auralic; the company is now focusing largely on wireless streaming transport like the Aries G2.1, or massively-expensive streaming DACs like the Vega G2.1. The Altair is a solid product, but there are better options available.
See the Auralic Altair G1

Headphone Amplifier: Yes
DAC Chip: Burr-Brown PCM1798
Max Sampling Rate: 24-bit/192kHz
What We Like: Smooth and engaging sound with super-clean background.
What We Don't: No DSD playback functionality, slightly older conversion chip.
We were already familiar with Parasound's excellent stereo amps, so it was a pleasant surprise to hear their DACs, too. The NewClassic 200 lacks a couple of key features, like DSD playback – something that cheaper DACs, like the $599 Chord Mojo, manage just fine - but it definitely deserves to be on this list. While it might not accept super-high resolution audio, it has several nifty features. Chief among these is the fact that it can act as a dedicated preamplifier with full subwoofer control. That's relatively rare among DACs and helps the NewClassic 200 earn its place.
Ultimately, the sound quality isn't going to beat models like the RME ADI-2 DAC or the NAD Electronics M-51, and the lack of DSD could be a real sticking point. We also aren't wild about how the incorporated Burr Brown PCM1978 chip is simply ripped from old the Halo P5 preamp - we feel like there should be an upgraded version here. However, it was a genuine pleasure to hear this, and we think it's going to be on the list for quite a while. Well played, Parasound.
See the Parasound NewClassic 200
 

Headphone Amplifier: Yes
DAC Chip: ESS ES9028Q2M
Max Sampling Rate: 32-bit/768kHz
What We Like: Natural and clean sound quality, easy to use.
What We Don't: The design is functional and quite boring, and the filters are pointless.
While Cambridge Audio are better known for their stereo amps, they make some excellent DACs too. The new DacMagic 200M is ideal if you're looking for high-end sound, but don't want to spend high-end prices. The audio quality on offer is terrific: clean and natural, with zero noise and precision timing. We think it matches up well with much more expensive DACs like the RME ADI-2 DAC FS, above. There are handy indicators for sample rates, and the 200M is unbelievably simple to use. In terms of desktop DACs, it's one of the least complicated here. You'll be up and running in minutes. That makes it a good choice for those who want great sound without the complexity.
There are two black marks against the Cambridge Audio DacMagic 200M. Neither are deal breakers, but they are worth bearing in mind. Firstly, as easy as the DAC is to use, it relies on quite boring design, with little finesse or flair. The iFi Audio Zen DAC, below, is much less expensive but looks much more interesting. Secondly, the three filters on offer make almost zero audible difference to the sound— at least, none that we could hear. There is also no explanation the company about what they do; the manual doesn't even mention them. We would have liked to have seen them left off, with perhaps a reduction in the price. All in all, the DacMagic 200M has much to recommend it, but it's not the best we've tested.
See the Cambridge Audio DacMagic 200M
 

Headphone Amplifier: Yes
DAC Chip: Burr-Brown (Unspecified)
Max Sampling Rate: 32-bit/768kHz
What We Like: Clever features matched with solid sound quality.
What We Don't: Suspect build quality, doesn't do quite enough to rise above the competition.
The UK's iFi Audio are constantly reinventing themselves, and the DAC entry in their new Zen line makes a compelling case. We particularly like the clever features found on the Zen DAC, including the ability to match power to your headphones, as well as a smooth and nifty bass boost filter that is entirely analog. Of course, both of these elements apply only to the headphone amplifier section, but we are pleased to report that the pure DAC output performs well. The Zen DAC is also stackable with other iFi products, like the Zen CAN headphone amp.
The biggest downside with the Zen DAC is simply that other models outperform it. The $99 Schiit Modi sounds better. The $99 Topping D10S has more useful features in the digital domain. Those are class leading models, and the Zen DAC doesn't quite do enough to compete. The unspecified Burr-Brown chipset inside just can't compete with more exacting ones from AKM and ESS. We also didn't like the fact that the buttons on the front of our unit were wobbly, and didn't feel seated. Given the high levels of build quality in the budget DAC space, that's a real shame. To be clear: this is a perfectly good DAC, it just isn't the first option.
See the iFi Audio Zen DAC
 
Headphone Amplifier: No
DAC Chip: ESS ES9068AS
Max Sampling Rate: 32-bit/768kHz
What We Like: Lovely display, good sound quality.
What We Don't: Awful remote, doesn't quite do enough to escape the competition.
Gustard are among the wave of Chinese companies producing quality audio products, and if you're looking for a desktop DAC, the X16 is worth considering. It's one of the few desktop models in this price range to offer a screen, and although the menu text can be pretty tiny, the resolution is clean and crisp. The same could be said of the sound. The twin ESS ES9068AS DAC chips make short work of any incoming audio, and this includes MQA and DSD. You can dive deep into the digital processing here, making this DAC fantastic for those who like to tinker.
Unfortunately, there are some real downsides to the Gustard X16. We hate, hate, hate the remote, which feels cheap, and was frequently unresponsive. But the biggest problem the DAC faces is that it just doesn't do enough to differentiate itself from the competition. Identically priced DACs like the Cambridge Audio DacMagic 200M just do a better job, with a more intuitive interface. The 200M may lack a screen or remote, but it's far more pleasurable to use. And are we going to recommend this over the more competent and capable S.M.S.L SU-9, above? No way. Ultimately, while the X16 is a solid DAC, its flaws mean it doesn't quite rise above the competition. It's a good alternative, and belongs on this list, but it isn't perfect.
See the Gustard X16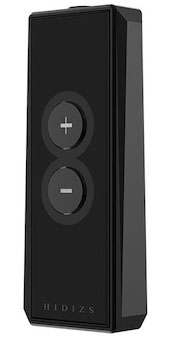 Headphone Amplifier: Yes
DAC Chip: CS43131
Max Sampling Rate: 32-bit/384 kHz
What We Like: Superb design, affordable price.
What We Don't: Sound is good, but not great.
Hidizs are mostly known for making digital audio players, but the S8 is an excellent side venture for them. This DAC is designed to be used with a smartphone, making it a great option for anyone looking to boost their audio quality on the go. We adore the design, which beats competitors from Audiolab into the ground. It's sleek, with silver housing and prominent volume buttons, and looks terrific. We also think the price is attractive for all budgets.
That being said, the S8's sound occasionally fell short for us. It was fine, but when pushed with complicated metal or dance tracks, it struggled under the weight of the music. The CS43131 DAC chip can't quite keep up. It's not a dealbreaker, but it does mean that the S8 isn't the first choice for those looking for a portable DAC. However, its affordability and slick design earns it a spot on this list.
See the Hidizs S8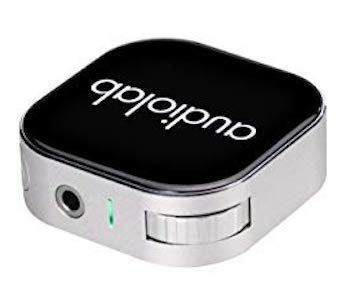 Amplifier: Yes
Chip: Unavailable
Max Sampling Rate: 32-bit/384kHz
What We Like: A great portable DAC with solid sound.
What We Don't: No DSD functionality, minimal specs available.
Audiolab's M-DAC Nano is a combo headphone amp-DAC that weighs just under an ounce, and delivers an impressive 32-bit/384kHz bit depth and sample rate. That means great sound in a setup that's ideal for mobile listening. It's one of the smallest DACs we've ever encountered, and definitely the smallest on this list.
That being said: it would have been nice to see DSD functionality. It's not a dealbreaker, but at this price, it's something we've come to expect. It's strange to see it missing here. We're also a little confused as to why Audiolab don't give any info on the DAC chip - again, not a dealbreaker, but puzzling. Still, there's no question that this DAC deserves to be on this list. It's the smallest DAC here, and while a touch expensive, offers a hell of a lot for the price.
See the Audiolab M-DAC Nano

 
DACs Comparison Table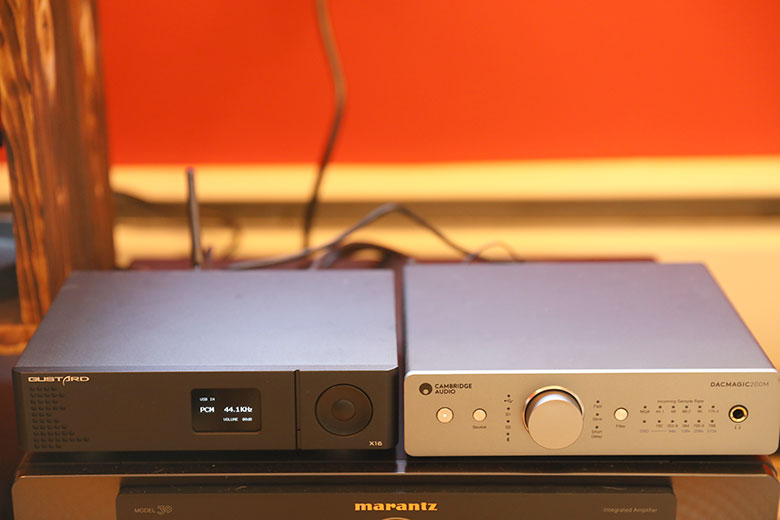 DACs Buying Advice
What Is a DAC?
Until very recently, standalone external Digital-to-Analog-Converters were, if not a thing of rarity, at least rather boutique hardware peripherals reserved for recording studios and die-hard audio enthusiasts. Increasingly though, with audio-visual content being released in HD formats, upgrades to conversion hardware have become a necessary step for those unsatisfied with the often lackluster audio playback quality of generic computer and handheld devices. 
Every digital device capable of audio playback (through headphones or speakers, for example) has a converter already. This is the chip on the computer (or phone) motherboard, placed internally next to the device's audio output. In most cases, the original DACs are hardwired to a specific model's motherboard and as such their quality is predetermined by the spec and price of the motherboard itself. Its job - and the job of any DAC - is to take the digital ones and zeros that make up your music, and turn them into analog sound. Most of them are just about OK, but the difference in audio quality when compared to pro-level, external DACs like the ones mentioned here is much like the difference between a local school's basketball team versus any NBA championship finalist. By connecting an external DAC, you are entirely bypassing a mediocre quality computer audio chip with a champion-grade audio playback hardware.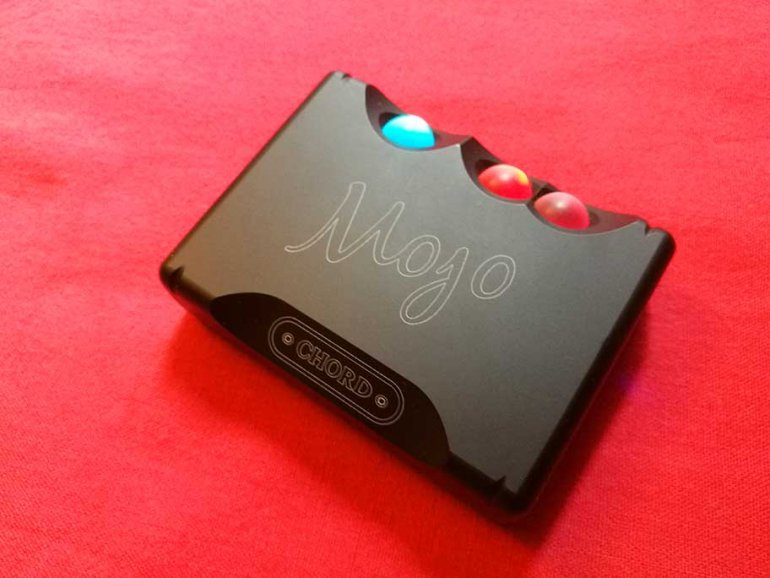 But how do they actually work? Most sounds we hear in music or movie audio began as sounds in the analog domain - people speaking or clapping hands for instance. Such sounds are captured by recording techniques and digitized - the first point of entering the digital domain through analog-to-digital conversion. Digitizing audio is bit like 'freezing' the audio picture - like ancient insects or leaves being perfectly preserved within a piece of amber. Characteristics such as bass, treble, loudness, stereo movement or any other parameter, which were present at the point of digitizing, are captured and preserved forever in the amber - the digital domain. The quality of any conversion is measured as bitrate, and this represents the amount of data (or the detail of the recording) sampled or 'captured' per unit of time. The higher the bitrate, the denser the detail, which results in an improved perceived audio quality. A good analog-to-digital conversion would be like a very high count megapixel camera, capturing an image with utmost detail. 
Digital-to-analog conversion on the other hand, would be a bit like printing this high res image. If you have a great DAC, this would deliver a pro-grade print, with all the colors and fine details of the source preserved. A poor DAC, on the hand, would be like a cheap pixelated print job of an otherwise beautiful digital image. The quality of conversion depends almost entirely on the quality of the DAC chipset. Higher resolution files do sound better than lower ones (and much better than compressed ones), and the processing power of the DAC chip determines such audio characteristics as transient clarity, harmonics, depth, stereo width and more. The difference between, say, a $50 converter and a $500 will be as clear as night and day - even to untrained ears. The great thing about great DA converters is that your amazing speakers and headphones will sound even more amazing…bottom line: get a good DAC.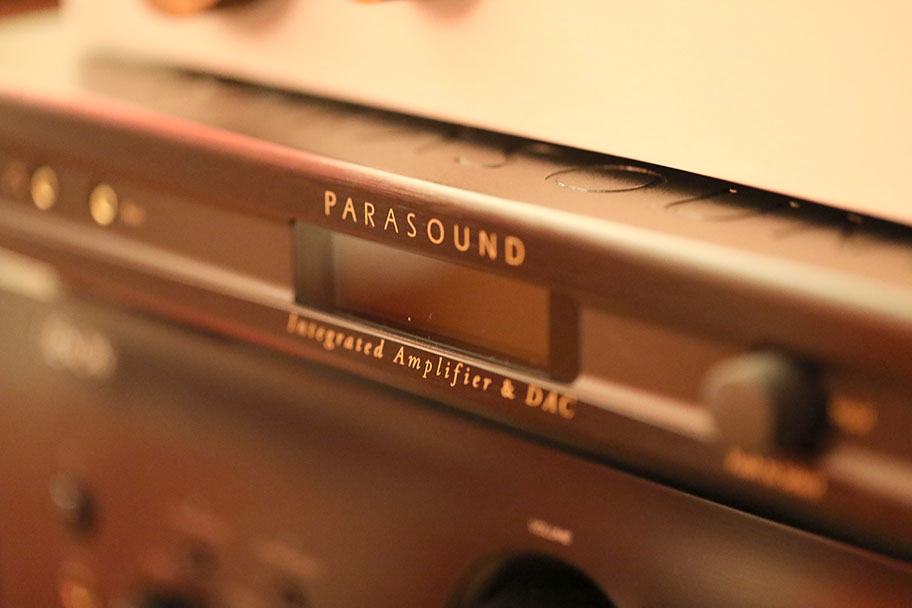 DAC Types Explained
Standalone DACs can be USB-enabled boxes with a simple pair of analog outs, the USB connection streaming not only data, but also the voltage needed for the DAC circuit to function. There are also DACs needing mains power, so be aware of that. A good example of this: the Schiit Yggdrasil, which needs a separate amplifier to work.
DAC/Headphone amplifiers provide analog outputs for your speakers, as well as (mostly) separate output for your headphones. They often include a hardware volume control for the preamp, which can also be software controlled, allowing you to reduce or boost the nominal output fed to your cans. Most of the DACs on this list actually sport headphone amps, and we've indicated where this is in fact the case.
Portable DACs connect to smartphones or tablets, normally through mini USB-C ports, and almost certainly include a headphone preamp. They can also double as a computer DAC. For a good portable DAC, try the Chord Electronics Mojo - it's amazing. By the way, DACs only featuring Optical or SPDIF digital inputs are used for digital to analog audio conversion of say A/V Receivers, TV sets, Digi-boxes and similar.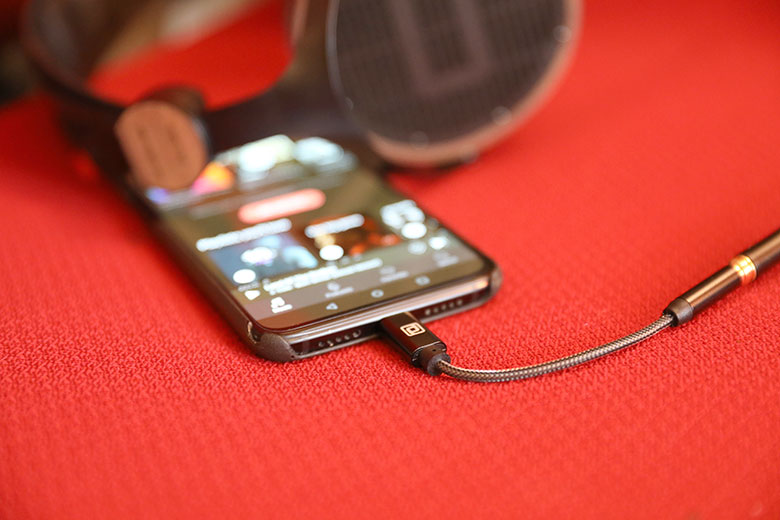 DAC Setup Explained
DACs are mostly USB-equipped boxes which, when connected, substitute for the existent internal headphone/line out. They are usually plug 'n' play-type devices, meaning that the operating system of your computer will immediately know that they are present, what they are (down to the brand/model) and what they do. You may find that you need to install drivers (audio settings control menu app) for some DACs. Once connected, the DAC shows up in your playback options of your Settings/Preferences sound menu, and you would need to select it from the scroll-down menu to make it your prefered hardware output for playback.  You'd need to unplug the physical connections from your existent output (e.g. headphones, powered speakers or an amp with passive speakers) and reconnect the leads to the outputs of the external DAC. 
DACs featuring a headphone amplifier with headphone control (a volume knob), offer extra flexibility. Some DACs require volume adjustments to be done from the playback device itself (via software control). More advanced DACs will offer selectable digital input sources, allowing you to switch between a laptop (USB), a Blu-ray (or similar) player, connected through additional Optical or S/PDIF connections. In such cases, the DAC routes several digital only sources to one analog pair of outputs (the DAC's outs) which feed the analog audio signal to your speakers.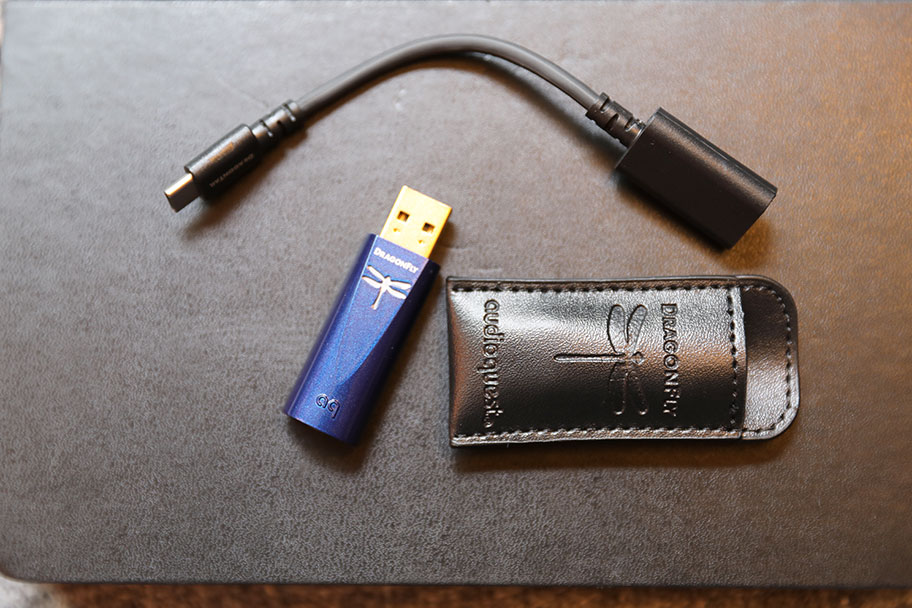 Sample Rate vs. Bit Depth 
While perusing our list of DACs above, you've probably wondered about the two sets of numbers – the ones reading 32-bit/192kHz or 24-bit/96kHz. Those numbers indicate bit depth and sample rate, and they are a numerical measure of how much information the DAC can transmit. Let's break this down. 
We've actually got a full explainer of how this all works, going into serious detail. However, we can summarize a few of the basics here – enough for you to understand what you're looking at. Sample rate is the number of times per second a recording (a song, for example) records something from the incoming audio. Recording software and hardware doesn't actually record a continuous stream of information, but rather, 'looks at' or 'samples' the incoming signal. The more times it does this, the better the quality will be. In addition, each one of those samples has a certain amount of information – the bit depth. The higher the bit depth, the more information in each sample, and the higher the… Well, you get the idea. Every song recorded will have a bit depth and sample rate, and the numbers given for each DAC above is actually the highest bit depth and sample rate  it can handle. Very obviously, you want it to be as high as possible. For reference, the Chord Hugo 2 is the DAC with the highest combined bit depth / sample rate, at 32-bit/768kHz.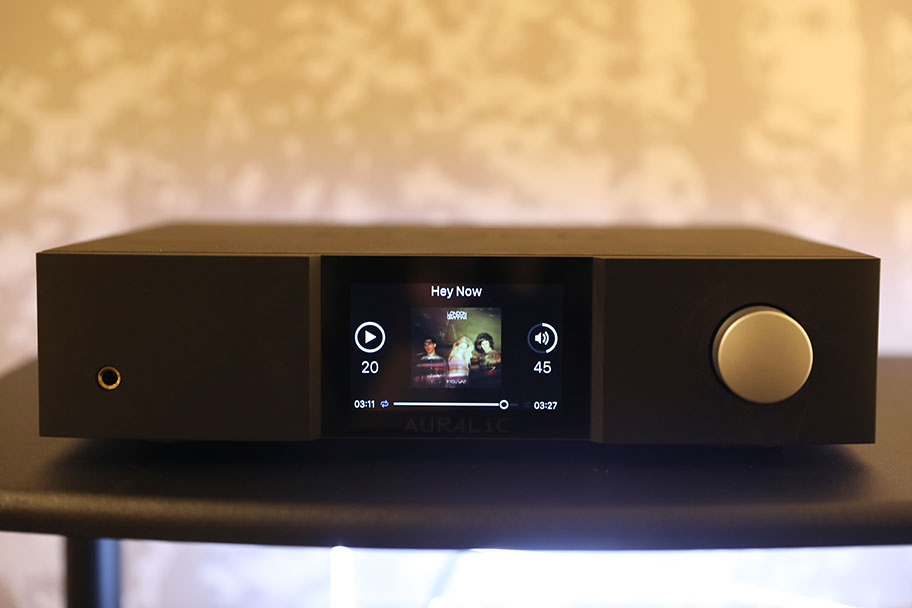 MQA Explained
Spend any length of time in the world of good audio and you'll come across the term MQA. It stands for Master Quality Authenticated, a file type that's unique to the Tidal streaming service. Essentially, it allows you to stream a high-resolution file over the Internet, without using huge bandwidth or sacrificing quality. The mathematics behind how Tidal accomplishes this are quite technical and a bit beyond our scope. What you need to understand is that the source file (which is obviously quite large) is 'folded' by various pieces of software, packing it down into a small enough file to be transmitted over a regular Wi-Fi connection. The idea is that an MQA file on Tidal will sound a lot better than other, similar high resolution files on services like Spotify.
But there's a problem, and it's a big one. Recently, YouTuber GoldenSound decided to run a test on this format. He uploaded a bunch of his own tracks to Tidal, and analysed the results once they were converted to MQA (The video is below if you'd rather not click this link and be taken off-site). The results were, to put it mildly, not good. The video and the analysis are quite long and detailed, but the upshot was this: GoldenSound concluded that not only was MQA not a lossless format, but that it actually added in noise and artifacts.
(To be clear, Tidal use the MQA file format, but MQA is itself a separate company that licenses this format to them. This is an important distinction.)
To make matters worse, Tidal took down all of GoldenSound's tracks without warning. Then, MQA sent him a long explanation addressing his test results that in our opinion had some fairly major holes. For one thing, they insisted that some of the test files he'd uploaded, which included standardised noise and sine sweeps, could not be processed by MQA. They contended that the file format was designed to only deal with "natural" sound, rather than the ones he uploaded.
Honestly? That's nonsense. And it's one of only several problems with MQA's response, which you can find in full on the video. The nail in the coffin, for us, is that MQA does not provide any way to test the format. All conversions have to happen inside Tidal's software, and the process is frustratingly opaque. That's in contrast to PCM and DSD, both of which are open source, and both of which have been thoroughly tested. We think that if a new audio format wants to sell itself as being better than any other, it should be subject to testing, and should be able to back up its claims with data. We acknowledge that we aren't the right venue to perform those tests— measuring audio and generating relevant data requires a lot of specialist knowledge, not to mention expensive equipment. But others should be free to do so.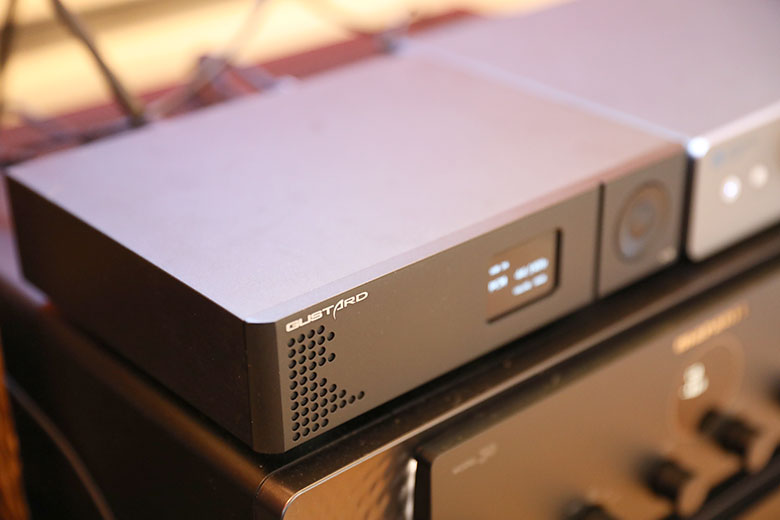 Long story short: when using objective measurements, MQA simply does not stand up. We have promoted it here in the past, as we genuinely did think it sounded better… but we can't argue with hard evidence, and we can no longer continue to recommend you seek it out. The Tidal service is excellent, and we recommend it for how it pays artists and for the depth of its catalogue. But if you aren't planning to buy a DAC that specifically deals with MQA, like the $499 Cambridge Audio DacMagic 200M, you might want to look elsewhere.
For now, we will no longer be evaluating DACs based on whether or not they play MQA files. There are plenty that do make a big deal out of this, but we want to give you great audio above all else, and that means we are going to steer you in the direction of formats that have proved demonstrably flawed. If a DAC's only selling point is that it can unfold MQA files, and it doesn't have anything else to put it over the top, it's off the list.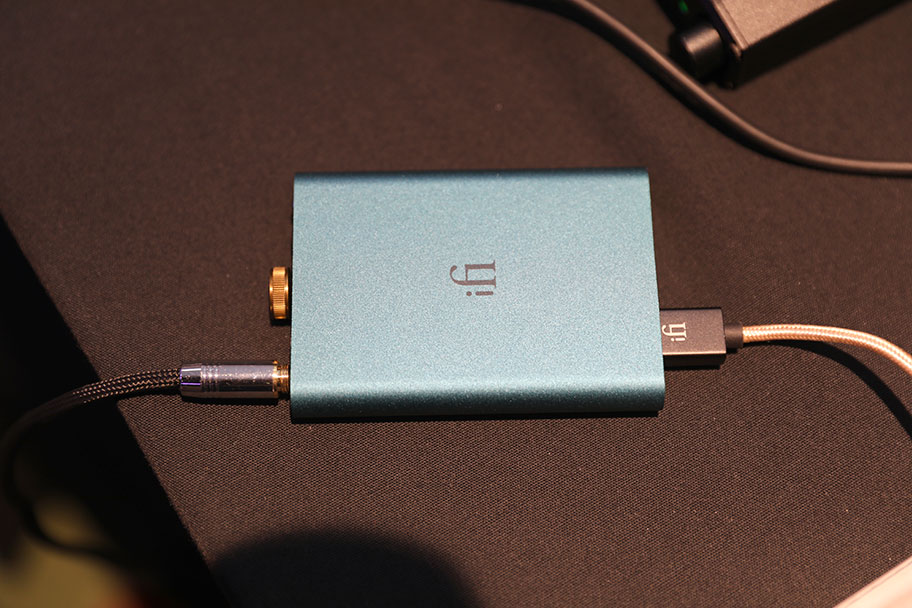 DSD Explained
DSD file playability has become a criteria for a DAC's quality - mainly for audiophiles with extremely high-resolution libraries. It's definitely not something you have to use if you buy a DAC, but it sure is nice to have. DSD stands for Direct Stream Digital, and is an audio protocol also known as 1-bit SACD bitstream - a file associated with Super Audio CDs. DSD files come in several 'resolution densities' and the highest resolution currently used commercially is the DSD256 (Quad-DSD), which samples audio of rates up to 11.2 MHz, which is four times the SACD rate. If this leaves you scratching your head, let's say that the 256 number stands for hm...256 times the audio quality of a regular CD. Yeah, we all need time to even imagine that. You need a specialized player to even get DSD working - iTunes ain't gonna cut it. Try Audirvana Plus. If you do get it working, you're in for a wild ride. You'll find a much more detailed explainer of this particular file format here.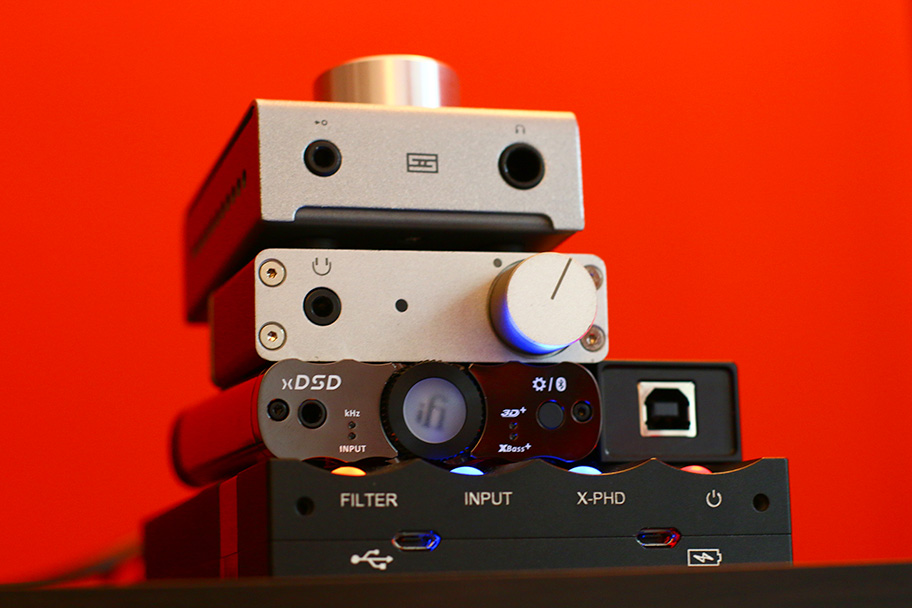 Digital Signal Integrity vs. Over-Conversion 
When putting together more elaborate audio setups, note that every time an audio stream gets converted from digital to analog and back to digital, the signal deteriorates a little. For instance, let's follow the signal path of a laptop sending an audio out from its minijack (that is, digital-to-analog conversion) to the analog input of a A/V Receiver (analog-to-digital conversion), which in turn goes to the A/V Receiver outs (digital-to-analog conversion again) feeding the speakers. As you can see, the signal has undergone AD/DA conversion several times before reaching the speakers. In such cases of multiple conversion points, each converter may have drastically differing quality, resulting in a scenario quite like the classic "Chinese Whispers" game, in which a message is distorted by being passed around in a whisper. By the time it gets to you, the words "Quick brown fox" have become "Monocle pilchard ice cream Donald Trump." Well, not that drastic, but same idea.
In such setups involving multiple sources, we recommend that wherever (and as long as) possible to keep the signal in the digital domain by means of using digital ports/cables, until the point of reaching Digital to Analog conversion. Thus, you'd not only avoid signal deterioration by over-converting, but would also take full advantage of your new super-converter's talents, converting the pure DNA of the digital audio - as it was originally intended/digitized by the producers of the audio-visual content.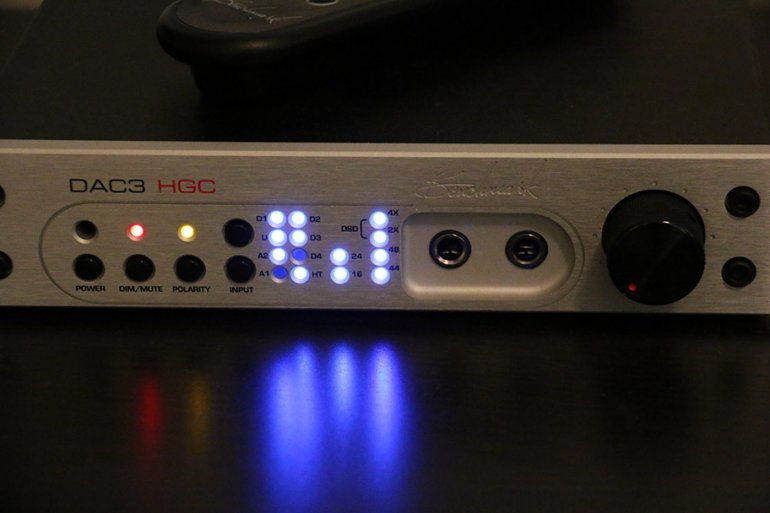 Digital Jitter Explained
Jitter is an often used term describing digital audio errors manifesting themselves as noise. A digital audio flow may see ones and zeros swap places by mistake - such as in, instead of 1010, a jitter may cause the number to be 1001. The result? Glitchy audio. Low jitter levels result in a truer conversion, and DACs may often use a separate filter chipset for keeping the digital jitter count low. Now, the key thing to remember here is: don't let jitter freak you out. It's actually irrelevant in almost all scenarios. You can usually ignore it completely, even if it is good knowledge to have. Just in case.
 
DAC Architecture: R-2R vs. Sigma-Delta
We are about to do a deep dive on how DAC chips actually work, and it's going to get crazy technical. Sorry about that. You're free to skip this if you aren't interested; you certainly don't need to know this info to pick a good DAC. And while we are on the subject of apologies, we should probably say one in advance in case we get the technical details wrong. You have no idea how difficult it is to understand the complexities of DAC architecture if you aren't an electrical engineer, which definitely applies to all of us on this site. Nevertheless, we've given it a shot, so here goes.
There are two main types of digital-to-audio conversion technology: R-2R, and Sigma Delta. Let's talk about R-2R first, as it is by far the easiest and most accurate way of converting digital ones and zeros to analogue sound. It uses a chain of resistors, some of which have a value R, and others have a value 2R— it doesn't matter what R is, in this case, just that some of the resistors have double the particular value. When arranged in a particular way — sometimes called a ladder arrangement, with the 2R resistors forming the rungs and the R ones forming a single side rail— the resistors can work together to very accurately translate voltages, and create analogue sound out of a digital signal. This particular method is highly accurate, reducing any noise and digital artifacts to an absolute minimum.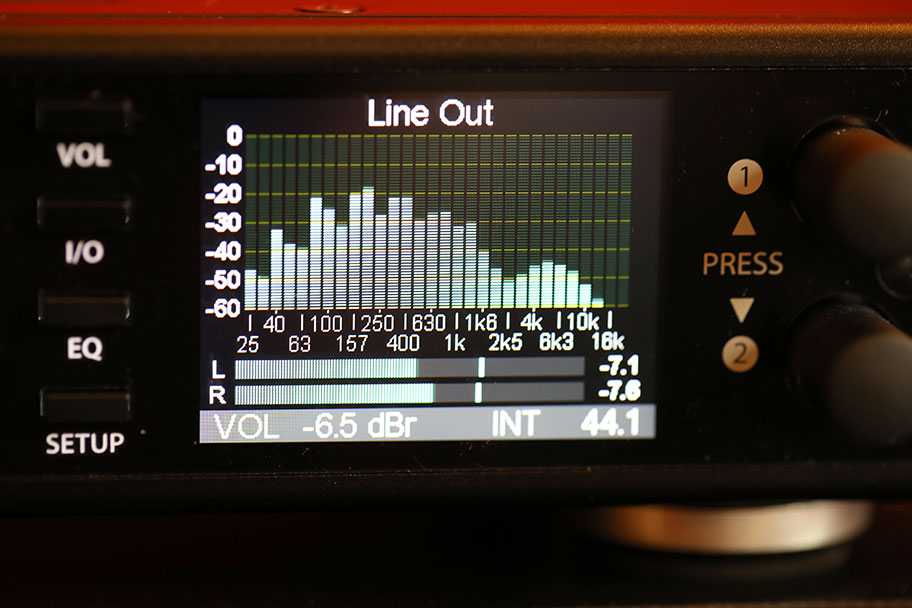 And yet, very few DACs actually use it. Why? Because as simple and effective as it is, an R-2R circuit is hellishly expensive and difficult to produce. The resistors have to be identical in every way, and even a tiny deviation in the values will cause massive problems. To get that accuracy, you need to mount the resistors in a special lab with a constant temperature. Very few DAC manufacturers, even the big ones, have the wherewithal or motivation to get this done. That's why R-2R circuits frequently appear in ultra high-end DACs, ones that we think are out of the reach of most people. Think products like the dCS Vivaldi, which retail for a cool $36,000. Yikes. Manufacturers like Denafrips, out of China, are bringing the price down, but availability fluctuates and it's going to be a while before other companies follow suit.
On a more affordable end of the spectrum, there is sigma-delta. You'll sometimes see this type of DAC referred to as delta-sigma, or simply ΔΣ. The name comes from the mathematical process used for the conversion— please don't make us explain exactly what it is, as will be here all day. All you need to know is this: instead of a neat line of resistors, sigma-delta DACs use a variety of discrete component stages to get the job done. First, an over sampling stage takes the digital data, and dramatically increases the sample size. This helps spread the noise around, and make it less audible. After that, the signal is sent to a sigma-delta modulator, which is where the DAC gets its name. The modulator changes the over sampled audio into a different type of bitstream, but one with a high sample rate. That further reduces the noise, and from there, the signal is passed through a lowpass filter and a digital decimator, which do further finicky things with the sample rate to reduce noise and increase accuracy, and allows the conversion of the digital data to analogue noise. Every single DAC on our list above uses sigma-delta architecture, even the less expensive ones.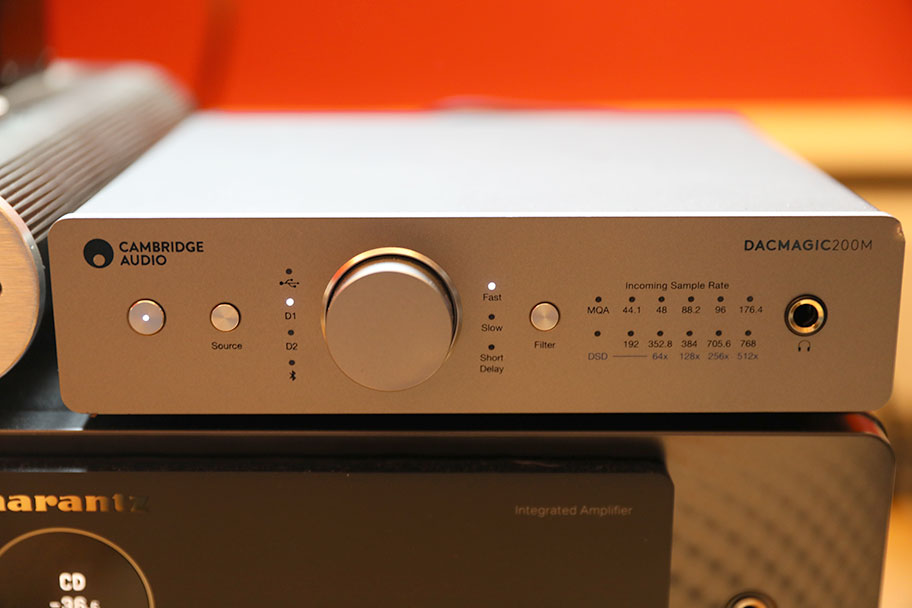 We would be the first to admit that our explanation above is barebones. Believe us: we went through multiple versions of that paragraph to try and find a way to explain what was happening to the signal, without resorting to engineering jargon. All you really need to know at this point are the differences between the two main types of DAC, and why it's no big issue to have a regular sigma-delta DAC at your disposal. Trust us: when you hear something like the mighty RME ADI-2 DAC FS (full review here), you'll forget all that noise-so to speak-about sigma-delta chips not doing a good job. They're great.
There are further variations on DAC chip architecture, such as multibit, which is discussed below, as well as FPGA (Field-Programmable Gate Array). But as long as you have a good general knowledge of the differences between sigma-delta and R-2R DACs, you'll be good to go.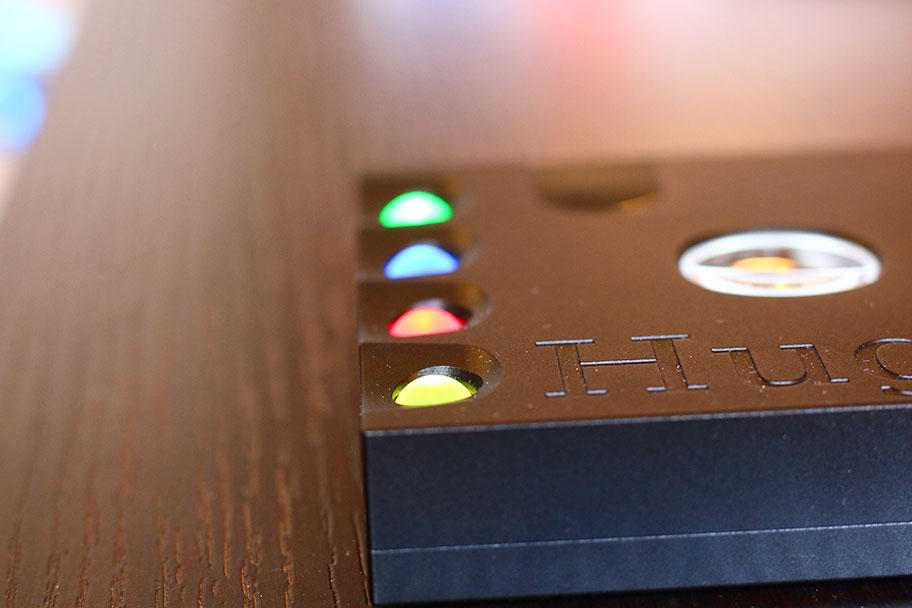 Multibit DACs Explained
Most Digital to Analog Converters use a specific design architecture called Sigma-Delta. This DAC technology is recently being 'upgraded' by a new generation of DACs - the so called Multibit converters, popularized by Schiit Audio. A good example is Schiit Modi, which has a $249 multibit variant available (we've named the $99 basic version as our favorite on the list).
Already widely used in cutting edge space, military and medical program digital technology, these types of hardware chipsets use bit-perfect precision that vastly outperforms the capabilities of a sigma-delta type converters (we know - that sounds technical, but all you need to be aware of is that they sound incredible). Schiit are one of the companies using the technology, combined with another - 'Closed Form' digital filters, which manage to retain all original samples of the audio, minimizing or completely eliminating digital jitter.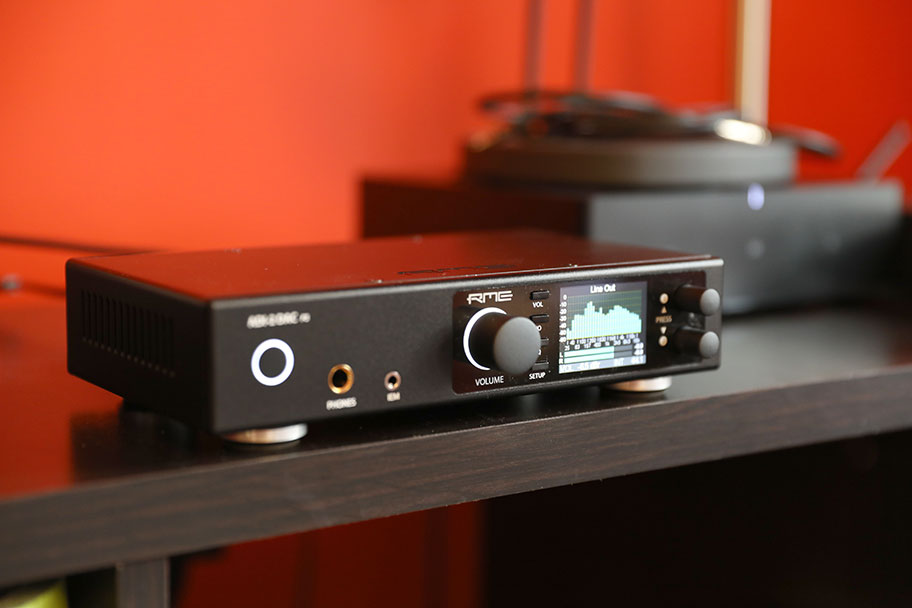 DAC Connections Explained
Before we mark off the most common types of inputs and outputs found in commercial DACs, let's mention balanced vs unbalanced connections. Balanced and unbalanced connections are often referred to as pro and semi-pro respectively, and can at times have a dramatic effect to audio performance. This effect happens to take place after the sound has already been converted from digital to analog. To avoid a massively theory-heavy tangent, we could say that balanced outputs offer an impedance balancing (between the individual wires) of the connected cable, resulting in a better transference of the audio signal - in terms of signal to noise ratio. The Benchmark DAC3 HGC is a good example of this. At over $2,000, we would hope it would be balanced.
In the real world, spaces with lots of wiring and/or light dimmers (commercial buildings, offices etc) are notorious for causing ground loops and hums to audio equipment. These are the cases where balanced outputs can come handy and act as effective hum-destroyers. The only types of connections qualifying as balanced are XLR outputs - which are the three-pin microphone type of cable connections. The third pin, by the way, is a grounding pin, similar to grounded wall outlets in your house.
Another balanced output would be a 1/4" TRS jack - same as the larger type headphone jacks, and TRS standing for the type of jack tip ending - tip, ring, sleeve. 1/4" TRS jack audio outputs are mainly used in studio-grade audio converters. Some DACs may feature a switch called Ground Loop lift. What is it for? This is an option which helps kill ground loop hum caused in audio (and USB) cables affected by other electrical sources.
Most other DAC connections are quite self-explanatory. If they aren't, here's a little breakdown:
| Connection | Details |
| --- | --- |
| RCA Outs - Analog (unbalanced) | The most common type of hifi outputs - normally resembling a pair of white/red phono plugs. |
| Mini-jack (1/8" / 3.5mm) out - Analog  | The most common mini-jack connection as found on smartphones, laptops etc. |
| 1/4" Jack (Balanced or Unbalanced) - Analog  | 1/4" jack connections are uncommon in hifi products. They can be found in PA amps and recording studio equipment. Since they are smaller than XLR, 1/4" jacks can be used for balanced outputs on some devices. |
| XLR Out - Analog  | XLRs look like a three pin - within a circle - they use regular mic lead (cannon) connection plugs. You'll find them mostly when balanced output circuit is present - in larger high end type DACs. |
| S/PDIF - Digital  | This stands for 'Sony/Philips Digital InterFace', and these digital connections have a slightly squarish look. Often called a 'lightpipe' connection, S/PDIF cables let out a bright red light at their end. Good for linking DVD/Blu-Ray players or similar. |
| Optical (TOSLINK) - Digital  | These look like a single RCA plug, but carry stereo digital audio. |
| Optical (3.5mm) - Digital  | Same as above but with an ending of the same size as a minijack (3.5mm) but carrying a stereo digital audio (as found on some Mac computers).  |
| AES / EBU (XLR) - Digital | AES/EBU is Audio Engineering Society's digital protocol lead, transferring a stereo digital audio feed over a single XLR to XLR digital cable. |
| Wordclock / Clock Sync (BNC/Coaxial) | These connections use the so called BNC type plugs, also used for some aerial / antenna-type attachments. Wordclock keeps the ticking of digital ones-and-zeros between digital devices in sync. The first device is normally set as a master, syncing connected digital devices (set as slave devices) and keeping them jitter-free (no dropouts of digital data).  |
| USB (A, B, mini, C-type) | USB connections are the most common way of linking an external DAC to a computer. Depending on the size of the interface, different types of USB plugs may be present. |
| Thunderbolt (Rare) | Thunderbolt is the way to go (into the future). DACs featuring this connection are extremely rare at present, but the protocol has slowly began replacing USB or Firewire in recording studio-grade converters due to Thunderbolt's increased bandwidth. |
| Firewire  | Firewire is now pretty much a legacy connection, quickly fading away. An extremely rare digital connections for standalone DACs. |

ADCs Explained
Alright, we've kind of covered DA conversion and outputs, but would ever a DAC need an analog input? 
Nope. If they do, they'd be called AD/DA converters and these are an altogether different kettle of fish. Analog to Digital conversion is mostly needed in recording studios really. But perhaps not always. Just think of the (quite common) scenario of trying to digitize an old vinyl record or a tape cassette. You may say that some turntables come with a USB connection, and you'd be right - the AD conversion would take place exactly there. Very often though, these ADCs are of poorer quality than even those found in regular PC soundcards. So if you're trying to digitize an old precious analog recording, you could do worse than find yourself a nice AD/DA conversion box which would allow you to digitize analog sound in a high-res digital audio and store it forever - a bit like an insect in an amber stone.
Learn More About Hi-Fi Audio