AudioQuest DragonFly Cobalt ($299)
Amp: Yes
Max Sample Rate: 24-bit/96kHz
MQA Handling: Yes
What We Like: Superb sound and convenience, great design and build.
What We Don't: Expensive, no need to upgrade if you own the DragonFly Red.
See the AudioQuest Dragonfly Cobalt
It's impossible to overstate the impact of AudioQuest's DragonFly range on the audio world. The technology remains revolutionary: a tiny USB stick that matches the quality of much larger headphone amp/DAC combinations. The DragonFly Cobalt is the latest version, which is an upgrade on the previous Red model. But for $100 more, does it still manage to stand above the models before it? In this review, we break down the DragonFly Cobalt's sound, design, packaging and accessories, specs and more. To see how it stacks up, check out our list of the best DACs.
 
Sound
Balance and Neutrality
The AudioQuest DragonFly Cobalt is arguably one of the best ways to boost the sound quality of your phone, tablet, or laptop. It's a single USB stick solution that will make a dramatic difference to your audio. If you can afford the substantial price tag ($299), it's a worthy investment. And this is doubly true if you're interested in hearing as much detail as possible. If you're looking for clarity and neutrality in your music, with pinpoint-precise timing and regimented dynamics, then the Cobalt is an excellent choice.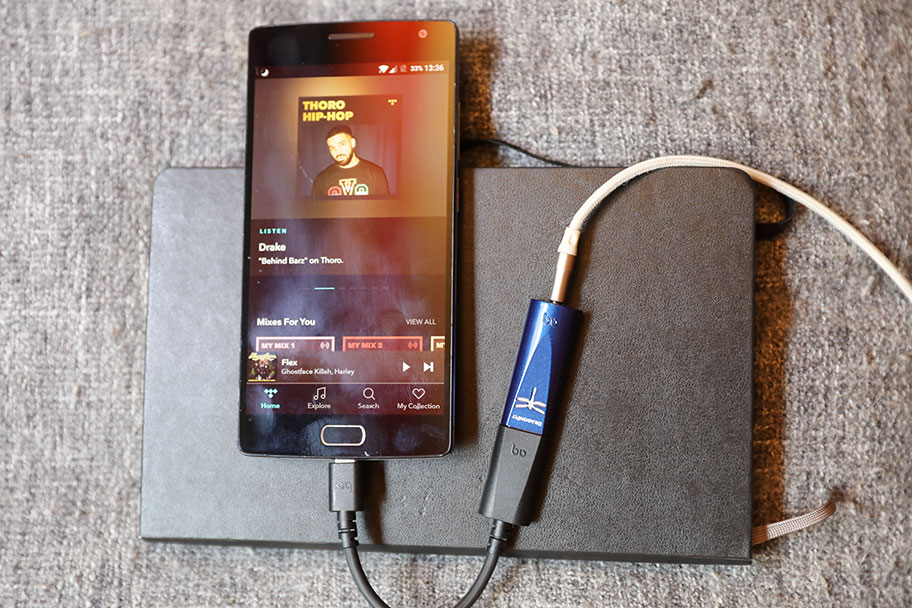 The Cobalt boasts a new Digital-to-Analog Converter chip (an ESS ES9038Q2M, for those of you who are taking notes at home). If there's one thing we can say about it, it's that the resulting sound is ridiculously precise. No matter what file type we put through the Cobalt, it rendered it in exquisite detail. It reminded us of the audio quality we got from the significantly more expensive iFi Audio xDSD (full review here). The sound of the Cobalt is neutral without being demanding, and clean without being boring. With genres that demand precision, like heavy metal, it works like a charm.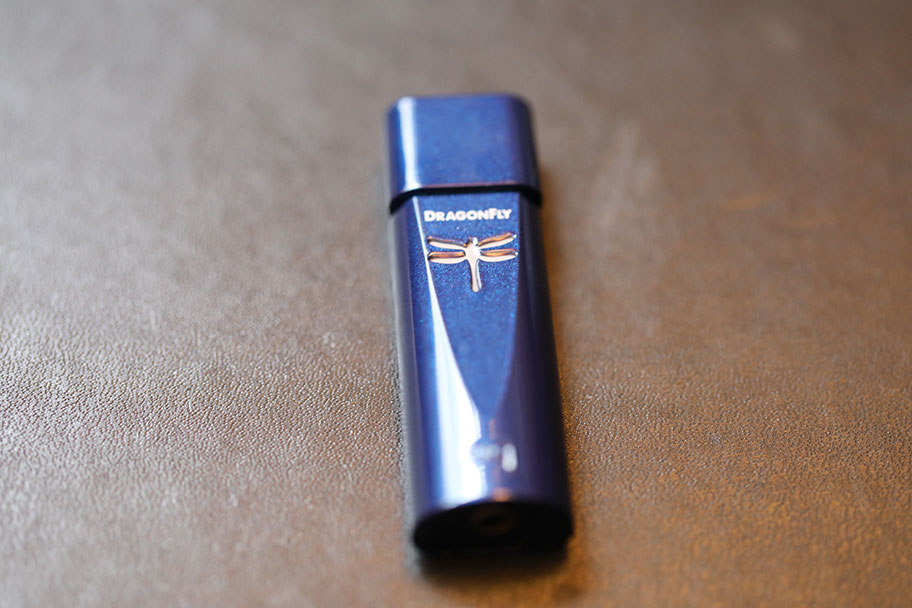 Noise Reduction
Part of this precision is due to noise reduction. AudioQuest claim they've tweaked the internal circuitry to reduce interference from things like Wi-Fi and Bluetooth, as well as electrical noise. You'd have to perform specific tests to measure the noise levels - not something we have the budget or expertise for - but we believe we could hear the difference. We tested the DragonFly Cobalt both against our laptop's headphone output and a Bluetooth-based DAC, the Bluewave GET (full review here). The Cobalt's sound felt significantly cleaner and more realistic than both, and in the case of the headphone output, that goes double.
We keep coming back to the word clean, and with good reason. AudioQuest have polished the Cobalt to a mirror shine, and in terms of pure sound quality, they retain their crown. Nothing else this small sounds this good. We are also surprised by how much functionality it offers and how subtle the audio can be. For a simple USB stick, with no controls whatsoever, it's astounding just how many options you get. The Cobalt is versatile, agile, and fun. As portable DACs go, it's not just one of the best out there, it's one of the best ever made.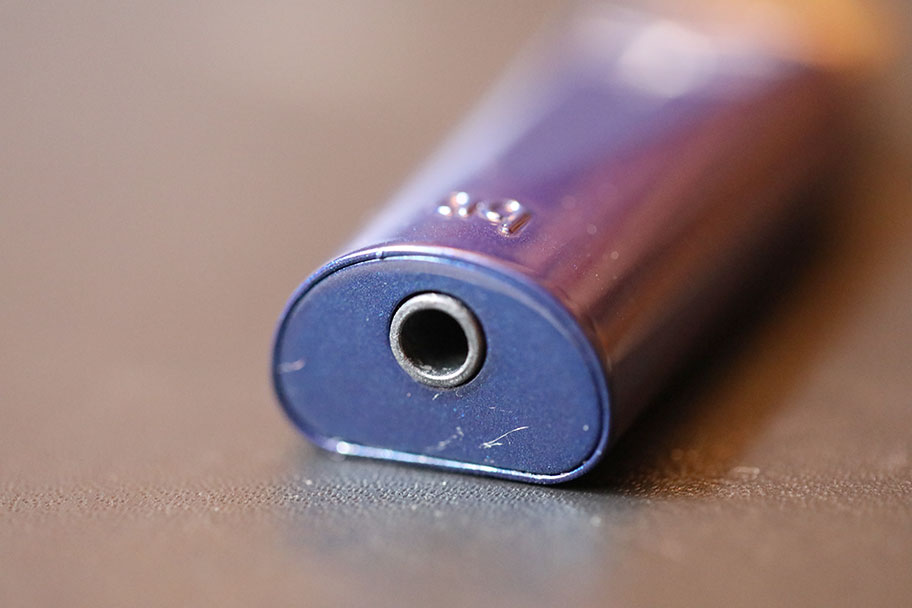 File Handling
We have to get into some numbers now, which we apologize for. The sweet little DragonFly logo on the top of the Cobalt lights up a different color depending on what file type you're playing - and AudioQuest have designed it to take just about anything up to 96 kHz. While we do wish it could take sample rates of a higher magnitude, the upside is that the ceiling makes it compatible with any system, without the need for additional drivers. (Update: AudioQuest's Stephen Mejias told us, "All models are inherently and intentionally limited to resolutions of 24-bit/96kHz. This is not something that can be revised via a firmware upgrade, but would require a revision in hardware. The challenge is to identify and implement the hardware that maintains all of DragonFly's functionality and outstanding performance, while still drawing less than the 100ma limit of mobile devices.)
The Cobalt, according to AudioQuest, actually produces the best results with a 44.1 kHz output. If you want to play anything above 96 kHz, you have to do a little math, which is something everybody wants to hear. "Files should be played at a rate mathematically related to their native resolution," lectures the manual. "For instance, a 192 kHz file should be played at 96 kHz (i.e. 2 x 96,000.0 = 192,000.0)." Which was the point our eyes glazed over. Who knew such a simple plug-and-play device could get this complex? Our take: just play files at 44.1 kHz.
One thing we really like about the DragonFly Cobalt is that it has an internal MQA renderer. MQA, if you didn't know, is a file type used on Tidal, which you can read more about here. It promises high-res sound in a manageable streaming package, but the downside is that it requires special hardware to actually listen to. The DragonFly Cobalt can happily handle it. The little DragonFly light turns purple when you're listening to and MQA file, and it sounds terrific.
One word of caution: AudioQuest make a USB filter called the Jitterbug, which is designed to remove a type of digital noise known as jitter (and as a result, has quite a cool name). The Cobalt actually uses a lot of the circuitry found in the Jitterbug, and as a result, it's not recommended to use the two in sequence. You can use them plugged into two separate USB ports, but we didn't notice a major difference in the sound when we did. If you have the Cobalt, you can forget about the Jitterbug.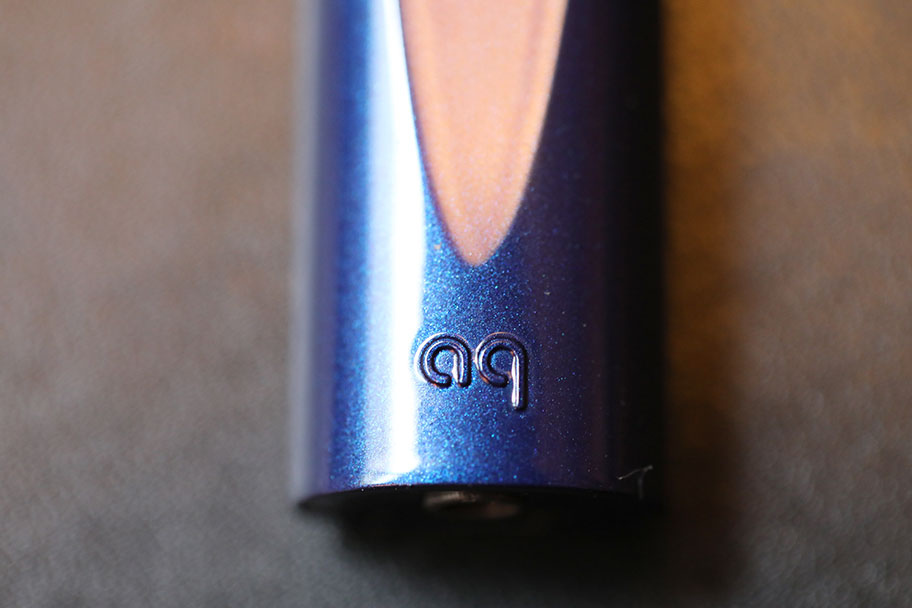 DragonFly Cobalt as a Preamp
Although the main function of the Cobalt is as a standalone DAC/headphone amp, it works just as well as a speaker preamp. Using a 3.5mm-to-RCA cable, you can connect it to either a set of powered bookshelf speakers, or a stereo amp. You get much the same sound signature, and in our tests, it really helped our music sound sharper and more dynamic.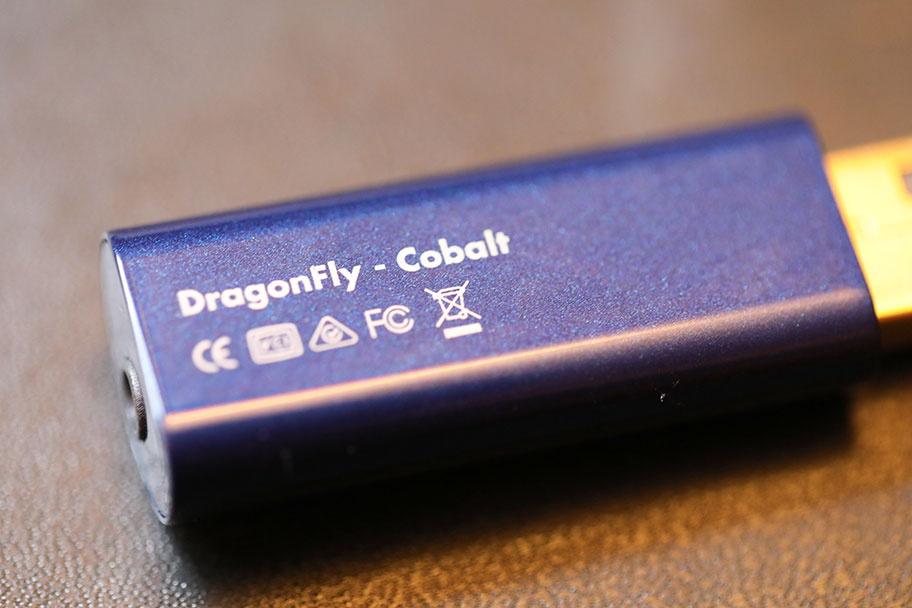 DragonFly Cobalt vs. DragonFly Red
The main question many will be asking is: should you go for the DragonFly Red ($199) or DragonFly Cobalt ($299)? It's a relevant query, as there are some major differences between them. Not just externally - the Cobalt is slightly smaller - but also in terms of circuitry. Their DACs are different - the Cobalt uses an ESS ES9038Q2M and the Red relies on an ESS 9016 - and so is their sound. The Red is looser and slightly more musical, with a bit more character, while the Cobalt is decidedly more clinical and precise. They both handle the same file sizes, including MQA and DSD.
AudioQuest would obviously prefer you to go for the upgraded Cobalt, but we believe that, as good as the Cobalt is, it's not an automatic choice over the Red. It's simply a different experience in terms of sound quality. If you already own the Red, there's probably no need to upgrade. And if you own neither, it largely depends on how you prefer to experience your music. Given that the Cobalt is a third more expensive than the Red, this isn't as cut-and-dried a decision as you'd expect. Regardless, we think that both the Cobalt and the Red are the best portable headphone amps/DACs available.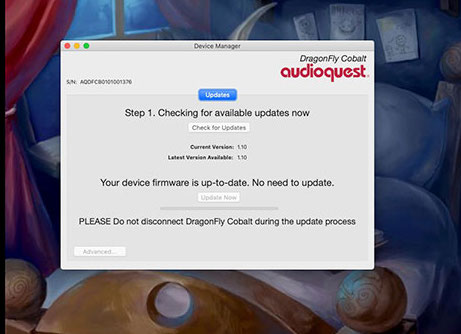 A big change worth noting in the Cobalt is that it includes a PICMX274 microprocessor. While that doesn't sound too important, it makes the Cobalt much quicker when it comes to decoding audio, and also allows you to upgrade the firmware. If AudioQuest ever decide to make the Cobalt DSD-compatible, it could do so via a simple firmware upgrade. You'll inevitably need to do so via the competent desktop device manager application, which is simple and effective.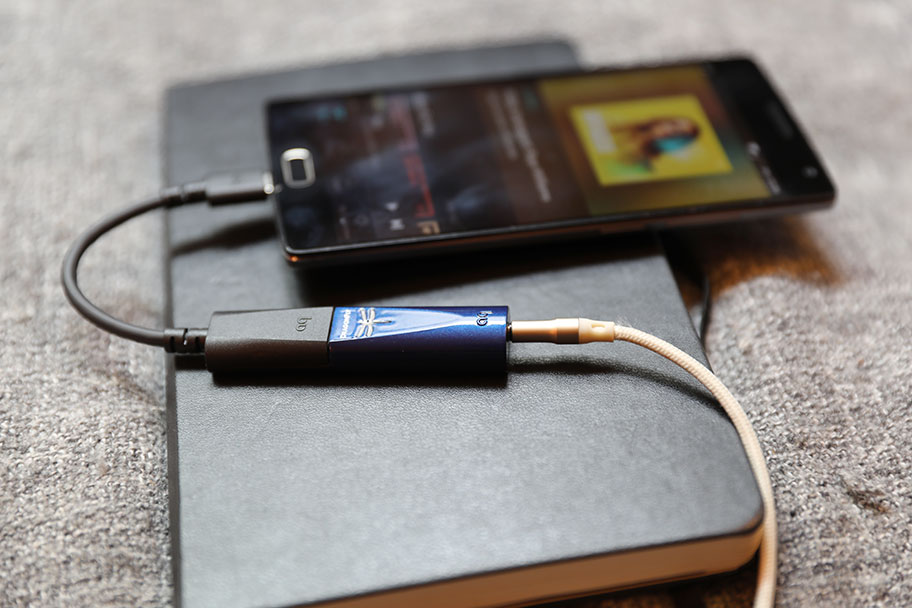 Design
Looks and Build Quality
There isn't much to the looks of Cobalt. It's a USB stick, with a 3.5mm headphone port on one end. It comes in a very fetching shade of cobalt blue, obviously, and is dominated by a dragonfly logo that changes color depending on the size and type of file you're playing. There's no need for external controls, as all volume is handled by your source device. It's a light, clean design and build, and we have zero complaints about it. We also like how streamlined it is in comparison to the Dragonfly Red, or even the first-generation DragonFly Black. The Cobalt comes with a small cap for the USB jack, but it's small enough to easily get lost. So, be careful.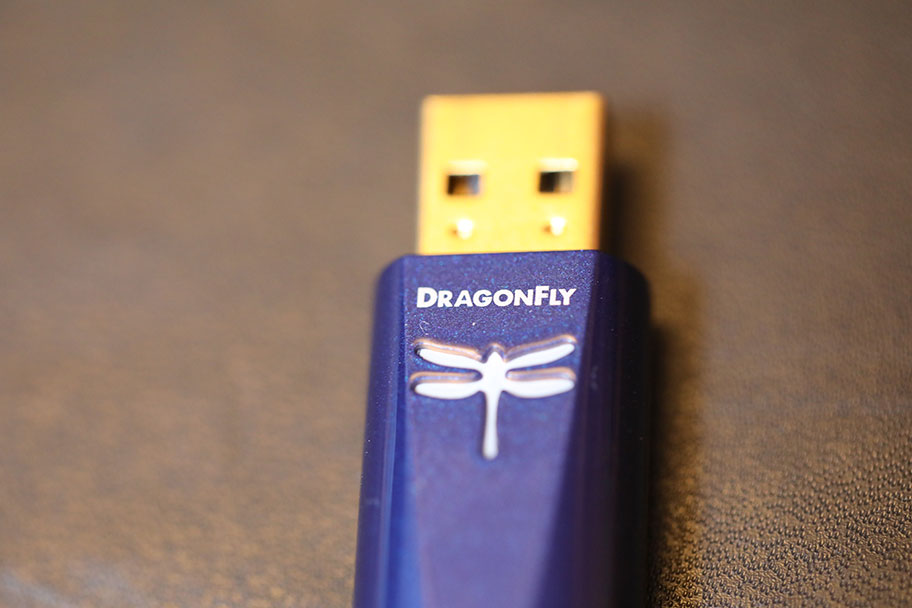 Device Compatibility
As a USB stick, you'd assume the Cobalt is mainly used for laptop or PC listening. Wrong. It's very comfortable being inserted in any digital source - be it phone, tablet, or computer, depending on the adapters you have handy. It will easily connect to any USB port, and regardless of whether you're using a Mac or Windows machine (it works on Windows 7-10, and OS X 10.6.8), you won't need to rely on drivers. The computer should pick up the Cobalt in seconds, and if it doesn't, AudioQuest provide handy instructions.
The Cobalt ships with a DragonTail USB-C to USB-A adaptor, which allows connection to just about any Android phone or newer laptops. On some older models, you may need to fiddle around with the settings to get it to output audio from the USB port instead of the headphone jack, but it works fine. For iPhones, however, you'll need to use a Lightning-to-USB adaptor. AudioQuest specifically note that the Lightning-to-USB-3 camera adaptor sounds better. We didn't test that particular element, but the Cobalt sounded great with an iPhone regardless.

Accessories & Packaging
You get two main accessories with the Cobalt, besides the tiny USB cap. The first is the aforementioned DragonTail adapter. It's short and unobtrusive, but we did find that it often slipped out of our phone's lightning or USB-C connectors, dragged away by the movement of the cable inside our pocket. This wasn't a huge problem, but a small black mark nonetheless. You also get a well-made leather pouch for your Cobalt, with the AudioQuest logo embossed on it. We can't see this getting much use - the Cobalt is robust enough not to need it - but it's nice to have.
You also get a manual - excuse us, Flight Manual. You probably won't need it, given how simple the Cobalt is, but it's well laid-out for when you do need to reference something. We'd strongly suggest keeping it around, although there is a digital version available.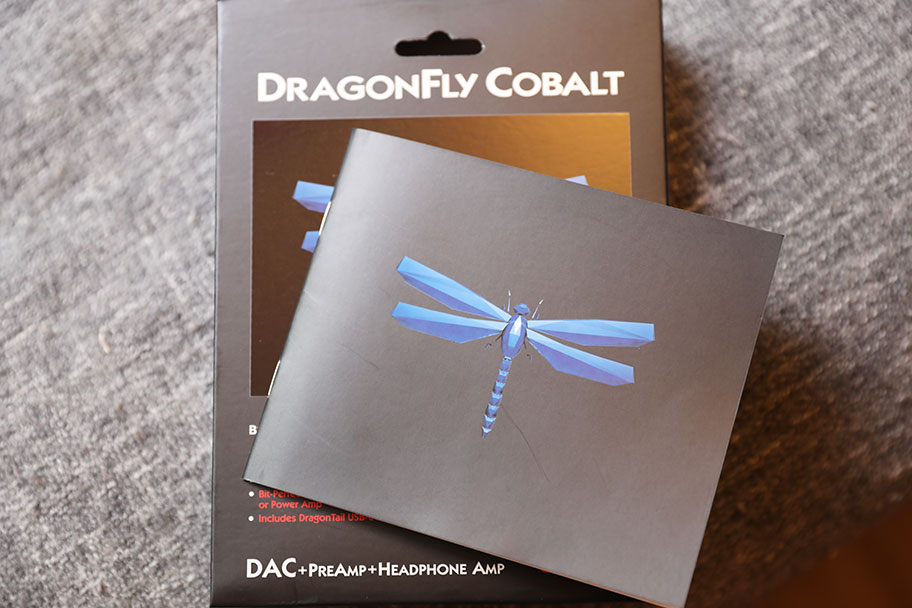 What We Like
The AudioQuest DragonFly Cobalt sounds superb, with relentlessly crisp and clean audio. It's especially good if you listen to MQA on the Tidal streaming service.
The DragonFly Cobalt is convenient and ranks as the best portable amp/DAC currently available.
The design and build are worth the money, and the Cobalt has great looks.
 
What We Don't
The AudioQuest DragonFly Cobalt is expensive - at just under $300, it's no impulse buy.
Those who own the AudioQuest DragonFly Red almost certainly won't need to upgrade.
The included DragonTail adaptor easily slips out of a mobile device.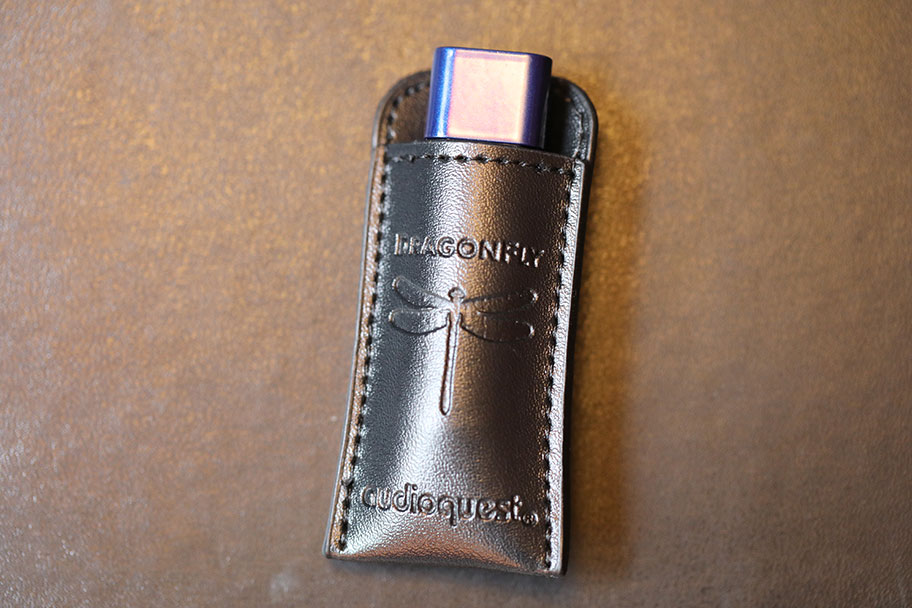 Comparison Table

The Competition
The portable amp/DAC market is pretty packed, and there are some definite contenders for the throne the Cobalt sits on. A big one is the Chord Electronics Mojo. It's more expensive, to the tune of $300, but what you get is exceptional power and much better file handling - up to 768kHz, versus 96kHz for the AudioQuest DAC. We previously awarded it an Editor's Choice badge and with good reason: it sounds superb. You can also turn it into a streaming DAC with the optional Poly attachment. We do believe, however, that it's getting a bit older now. If all you want is simple portability, it's an expensive and comparatively bulky option. For now, the newer Cobalt is probably a better choice, unless you demand wireless streaming.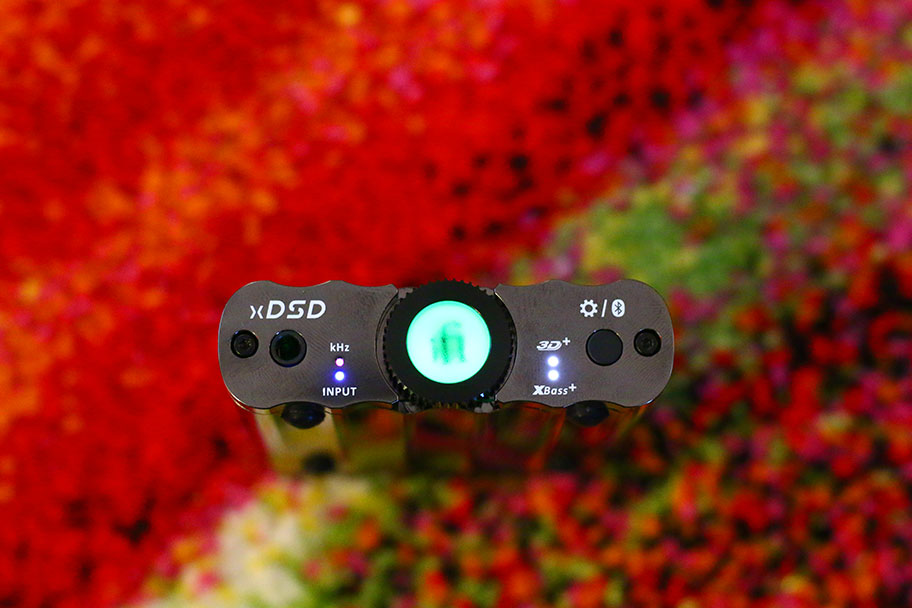 Another great pick is the iFi Audio xDSD. It's $100 more expensive than the Cobalt, but offers increased file handling and more filter options. We love the design, despite the easily-sullied metal housing, and it remains one of the best portable DACs we've ever tested. However, it's quite bulky, and the clunky controls make it a chore to use. No matter how we look at it, the Cobalt sounds better, works better, and offers arguably better sound. We'd go for AudioQuest over iFi here, unless you explicitly want Bluetooth or DSD playback.
We've already talked at length about the AudioQuest DragonFly Red. Here's your TL;DR: the Red is cheaper than the Cobalt, at $199. It has a slightly bulkier design, with sound that's less analytical and more lively. It's an alternative, rather than a step back, from the Cobalt. Additionally, it helps that you can save some money, and its price is sure to drop soon. But if you want the gorgeously clean, clear sound that the Cobalt delivers, you'll choose to spring the extra cash.
Of course, you could always take a deep breath and buy the AudioQuest DragonFly Black. It's only $99, which is a good $200 less than the Cobalt. It's a fairly rudimentary DAC, with a heavier frame and much less functionality, but it's the model that got AudioQuest on the DAC map. We think it's still worth a look. If you want to save some money and still get a superb portable DAC, then we think the Black could be the answer.
Learn More About Portable Audio