Bluetooth speakers are the bomb, and easily the most convenient way to listen to your music, wherever you are. We've put together a list of the best Bluetooth and wireless speakers of this year. We've also created some super-helpful buying advice for picking the best speaker. And if you want to take your wireless audio on the road, check out our list of the Best Headphones.
 
---
Table of Contents
---
Best Overall Wireless Speaker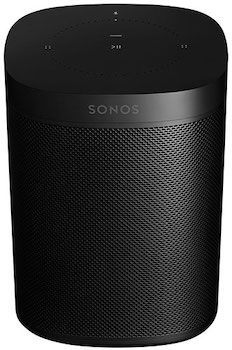 Portable: No
Bluetooth/Wi-Fi: Wi-Fi
Dimensions: 6.34" x 4.72" x 4.72"
What We Like: Super simple to set up and use, excellent sound quality, great design.
What We Don't: No Bluetooth, and switching between voice assistants can be tricky.
Sonos make some of the best wireless speakers available. The second generation of the One is no exception. It's an absolute breeze to set up, thanks to a fast and responsive app. Setup is easy, and rewards you with powerful, punchy sound quality. The audio easily beats competing models from brands like Bose and Ultimate Ears. The One also allows streaming from just about every music provider you can think of. It works with Apple Airplay 2, and has Amazon Alexa and Google Assistant built-in. For impressive sound quality, versatility, and ease-of-use, the One ranks very high indeed.
One thing to be aware of, though: the Sonos One doesn't have Bluetooth. It operates on Wi-Fi only and has no battery, meaning you'll need a signal and a power connection. If you're looking for a speaker to take outdoors, we'd recommend the more rugged JBL Flip 4 below. That speaker also happens to be much less expensive, although it doesn't sound as good. Sonos does make a portable Bluetooth speaker called the Move, but it's double the price of the One and much larger. Worth noting: Sonos do offer the One SL speaker. It costs $20 less, and doesn't have the microphone and voice assistants...Read our in-depth review
See the Sonos One (Gen 2)
 
Best Outdoor/Portable Bluetooth Speaker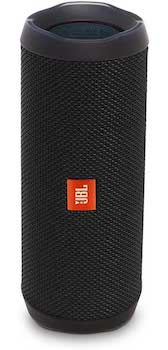 Portable: Yes - 10 Hours Battery, IPX7 Waterproof
Bluetooth/Wi-Fi: Bluetooth
Dimensions: 2.67" x 6.88" x 2.75"
What We Like: Almost fully waterproof, with housing that can take a real beating.
What We Don't: App issues and slightly distorted bass at high volumes.
Portability is a highly sought-after feature in a Bluetooth speaker. And if you're looking for a model to take outside rain or shine, then we recommend the JBL Flip 4. This speaker is waterproof with a rating of IPX7, comparable to more expensive models like the Ultimate Ears MEGABLAST below. It comes in a rugged, lightweight housing designed to take a beating. We also think the Flip 4 sounds better than other portable/outdoor speakers in its price range. The speaker is loud enough for a crowded backyard or beach, although there is a slight distortion in the bass at high volumes.
We encountered a few issues with the JBL Connect+ app, such as dropouts and lag. And it's worth noting that JBL has released the newer Flip 5, which currently retails for around $100. Both speakers offer a listed 12 hours of playtime, have the same waterproof rating, and the same sound quality overall. But the Flip 5 doesn't even get you the latest Bluetooth 5.0 standard (it's still operating on 4.2. Charge time on the Flip 5 is slightly less, which is nice, but it's not enough to merit the increased price in our book…Read our in-depth review
See the JBL Flip 4
 
Best Budget Bluetooth Speaker Under $50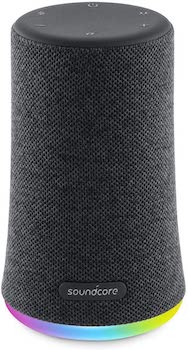 Portable: Yes - 11.5 Hours Battery, IPX7 Waterproof
Bluetooth/Wi-Fi: Bluetooth
Dimensions: 5.5" x 3.4" x 2.8"
What We Like: Small size, sleek design, great waterproofing.
What We Don't: No app support and the lights on the bottom can be annoying.
You don't have to sell a kidney to buy a great Bluetooth speaker. There are good options in the sub-$50 price range, and the Anker Flare Mini leads the pack. For just $40, you get good sound quality with crisp treble and punchy bass, even at higher volumes. The Flare Mini has the same IPX7 waterproof rating as the JBL Flip 4 above, although that model is more rugged and durable. We're also rather enamored with the slick and modern design. All in all, a great budget Bluetooth speaker should be fun and offer solid bang-for-buck. The Flare Mini does both.
Right now, the Anker Soundcore Flare Mini is not supported by the company's excellent Soundcore app. It's a little tougher to control than other models, relying on physical controls. And despite the fun design, the light-up bar along the bottom isn't for everyone. If you like your Bluetooth speakers to be heard and not seen, steer clear. A competing model like the JBL Clip 3 below is $10 more expensive and has a lot going for it too.

See the Anker Soundcore Flare Mini
 
Best High-End Bluetooth Speaker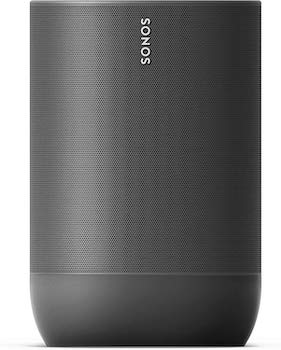 Portable: Yes - 10 Hours Battery, IP56 Waterproof
Bluetooth/Wi-Fi: Both
Dimensions: 9.44" x 6.29" x 4.96"
What We Like: Sounds terrific and is incredible easy to use.
What We Don't: The speaker requires a sizeable charging dock and struggles in the wet.
The Sonos Move is a weird, wild, wonderful monster. It takes everything Sonos is good at—easy set-up, simple app, solid sound—and packages it in a portable speaker. Unlike the smaller Sonos One, the Move can swap between Bluetooth and Wi-Fi. It's simple to operate, and the rich, powerful sound quality is out of this world. It costs almost double the One, which makes it a true high-ender and puts it out of reach for some. But it's hugely rewarding and offers things the One and other speakers simply can't. We adore ours and use it constantly.
That said, the Sonos Move is not perfect. It has no USB charging, as you will find on every other Bluetooth speaker. Instead, you have to slide it into the large charging dock. That's much less convenient than a simple USB connection. You can't, after all, take the charging dock with you when you leave the house. And while the Move has a decent waterproof rating, the touch controls struggled when wet. Those issues aside, the Sonos Move is an outstanding Bluetooth speaker. It delivers some of the best sound we've ever heard, which is why we have it ranked here...Read our in-depth review
See the Sonos Move
 
Best Bluetooth/Wireless Speaker For Home Theater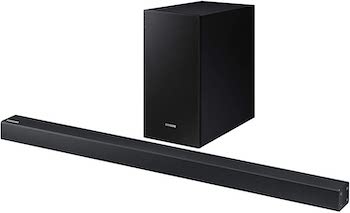 Portable: No
Bluetooth/Wi-Fi: Bluetooth
Dimensions: 35.73" x 2.11" x 2.78"
What We Like: Easy to set-up and use, and it sounds terrific.
What We Don't: We think the bass could be a little better.
When it comes to wireless home theater, you have two options. You can spend thousands on a wireless multi-speaker system, or you can go for a soundbar. The excellent Samsung HW-R450 has Bluetooth and can connect to both your TV or phone (if you want to listen to music). It's also simple to setup and use. While not quite as easy as the Sonos speakers above, but still very straightforward. And if you're looking for audio detail and a wide soundstage, you've come to the right place.
The Samsung HW-R450 comes with a fully wireless subwoofer for bass. That's convenient, but we do wish it was better quality. The bass can be a little flabby and underpowered, especially with explosions. But for the most part, the Samsung HW-R450 delivers excellent audio quality. It's possible to use Bluetooth speakers like the JBL Flip 4, as TV speakers, but they can be tricky to set up. They also often struggle with surround sound. In our opinion, the HW-R450 is a much better option.
See the Samsung HW-R450
 
Best Bluetooth Speaker for Bass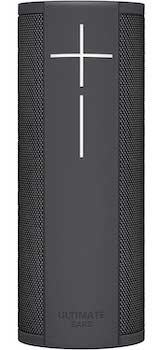 Portable: Yes - 15 Hours Battery, IPX7 Waterproof
Bluetooth/Wi-Fi: Both
Dimensions: 9.41" x 3.5" (Cylinder)
What We Like: If you want huge volume and great bass, the MEGABLAST leads the pack.
What We Don't: We did encounter a few Wi-Fi dropouts.
Bass can be very tricky to get right. It has to sound controlled, punchy, and heavy at all volumes. Most speakers distort when you push them too hard—their tiny drivers can't handle it. But the Ultimate Ears MEGABLAST is in a league of its own. It delivers some of the most ridiculous bass we've heard from a Bluetooth speaker. And not just big, but also clear and distinct. While the $250 MEGABLAST is more expensive than most other speakers on this list, there are benefits. You get excellent voice control features, IPX7 waterproofing, and rugged design.
Like the Sonos Move above, the Ultimate Ears MEGABLAST can connect to both Bluetooth and Wi-Fi. Unfortunately, we experienced regular Wi-Fi dropouts, which was frustrating. The Bluetooth worked fine, but we found ourselves steering clear of Wi-Fi. If you feel the same way, you can get the smaller Ultimate Ears MEGABOOM 3 for under $150. That speaker doesn't have quite the same bass kick, but delivers good sound and longer battery life for less money.
See the Ultimate Ears MEGABLAST
 
Best of the Rest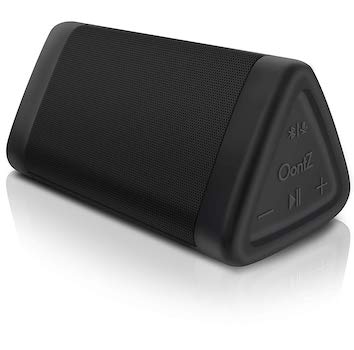 Portable: Yes - 12 Hours Battery, IPX5 Waterproof
Bluetooth/Wi-Fi: Bluetooth
Dimensions: 5.3" x 2.8" x 2.6"
What We Like: Huge volume despite small size, good sound quality.
What We Don't: Flimsy build.
The Cambridge Soundworks Oontz Angle 3 (3rd Gen.) is one of the most surprising success stories in the world of wireless speakers. It came out of nowhere to become a fan favorite, and with good reason. It's a tiny speaker (weighing less than nine ounces) that still manages to sound great. It does this even at high volumes, with crisp treble and punchy bass. That's quite a trick to pull off, especially for under $40. We also love the other features. The Oontz has an IPX5 for waterproofing, which is more than enough to handle a little rain. Its 100 foot Bluetooth range makes it ideal for taking it out and about. It's a remarkable little speaker, and an easy choice if you're on a budget.
Having said that, there are a few things you'll need to sacrifice for your low price tag. The Oontz Angle 3 (3rd Gen.) isn't built especially well. The USB connector, in particular, feels flimsy, and we're not sure we'd want to drop this speaker from a height. It also lacks smart assistant functionality - check out the JBL Flip 4, above, if that's something you need. The Flip 4 is better, but it can't match the sheer value of the Oontz.
See the Cambridge Soundworks Oontz Angle 3 (3rd Gen.)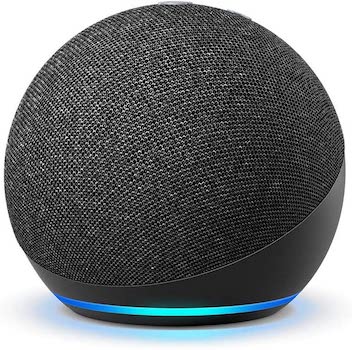 Portable: No
Bluetooth/Wi-Fi: Wi-Fi
Dimensions: 3.9" x 3.5" (Sphere)
What We Like: Super-fast voice assistant response time.
What We Don't: Poor sound quality which left us unimpressed.
Google Assistant may be the best voice assistant available right now, but there's no question in our mind that Amazon make some of the best dedicated smart speakers. The fourth generation of the Echo Dot line ditches the hockey puck design in favor of a sphere, which we think looks incredibly cool. The internal chipset has been changed out, resulting in very fast responses from the Alexa voice assistant, far faster than those from the more expensive Sonos One speaker (which also houses Alexa). If you use voice assistant regularly, we strongly recommend checking out the new Echo Dot.
We would not, however, recommend doing so if you enjoy great audio. The Amazon Echo Dot (4th Gen) does not sound great by itself, with thin and unconvincing sound quality that will make you wince when music plays. We strongly recommend connecting it to another speaker if possible, which you can do via the 3.5 mm lineout. If you want a more capable smart speaker, in terms of sound quality, check out the Google Nest Audio below. While it is more expensive, it's a more complete solution.
See the Amazon Echo Dot (4th Gen)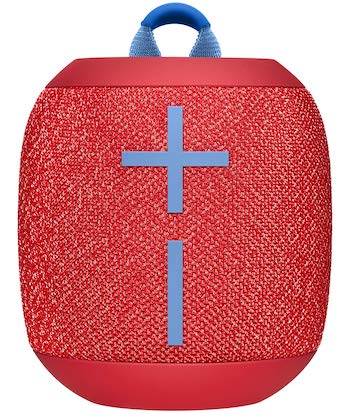 Portable: Yes - 13 Hours Battery, IP67 Waterproof
Bluetooth/Wi-Fi: Bluetooth
Dimensions: 4" x 3.66" (Cylinder)
What We Like: Good battery life, punchy and engaging sound.
What We Don't: Can't take calls, micro-USB charging only.
The second version of the best-selling Ultimate Ears WONDERBOOM speaker makes some significant changes. Foremost among these is the battery life, increased from 10 hours to 13. It also comes with an Outdoor Boost feature, designed to pour more power into the bass, so that the speaker can be heard in crowded environments like barbecues and pool parties. And speaking of pool parties, the WONDERBOOM 2 is now IP67 rated, making it perfect for taking a quick dunk in the pool. Its hefty battery life and fun, exciting sound quality means it's the perfect companion for hanging out with friends.
While we do wish that UE had included USB-C charging instead of the current micro-USB (an older standard, and far less efficient) it's a minor black mark. What may be trickier is the speaker's inability to take phone calls, but that depends on how much you value that feature. If you do want to take calls on your speaker, we recommend the Bose SoundLink Color II. That offers slightly better sound quality, too.
See the Ultimate Ears WONDERBOOM 2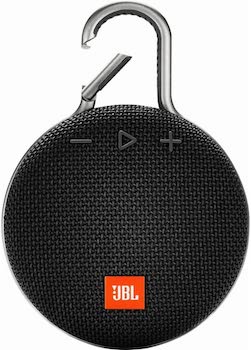 Portable: Yes - 9 Hours Battery, IPX7 Waterproof
Bluetooth/Wi-Fi: Bluetooth
Dimensions: 5.4" x 3.8" x 1.8"
What We Like: An amazingly convenient little speaker which sounds great for podcasts.
What We Don't: Music can sound a little tinny.
No other Bluetooth or wireless speaker on this list is as light as the eight-ounce JBL Clip 3, and none has a handy carabiner that lets you clip it to a backpack or a belt. This means you never have to remember it—all you need to do is pick up your backpack and it's right there with you. The Clip 3 offers decent performance too, with a comfortable nine hours of battery life and IPX7 waterproofing (identical to the JBL Flip 4 as well as many other more expensive speakers like the Ultimate Ears MEGABLAST). While it doesn't have the rugged design of something like the JBL Flip 4, which is only slightly more expensive, it's way more convenient.
However, the tiny size of the Clip 3 has some disadvantage—sonic ones. Podcasts and vocals sound clear but music can come through tinny and indistinct. That's a real shame and means that listening to music on the Clip 3 is far less satisfying than on a speaker like the JBL Flip 4. The Clip 3, however, still has plenty going for it. If all you want is a tiny Bluetooth speaker to take with you when you head outdoors—and one that you don't have to think about—the convenience is unparalleled.

See the JBL Clip 3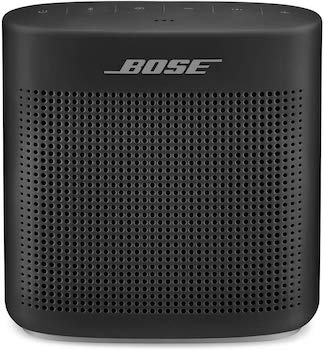 Portable: Yes - 7 Hours Battery, Waterproof Rating Unknown
Bluetooth/Wi-Fi: Bluetooth
Dimensions: 5.2" x 5" x 2.2"
What We Like: Good sound for the price, solid speakerphone to make and receive calls.
What We Don't: The finish picks up dust like you wouldn't believe.
Bose would prefer you spend hundreds of dollars on their newest wireless speakers, but we believe you don't have to. The Bose SoundLink Color II may be a little old now, but it is easily among the best wireless speakers the company has ever produced. It's a compact, portable speaker that is small enough to slip into a bag, and which puts out decent sound quality. Unlike the Sonos One, above, the SoundLink Color II has the ability to make and receive calls, and it's a feature that works exceptionally well. Although that doesn't make it a more essential purchase than the Sonos, it does earn it a spot in our top five. And if you find yourself taking calls on the go, the SoundLink Color II is a great option.
There are downsides to this speaker, however. Despite the speaker being waterproof, there's no IP rating (check out our buying advice below for more details on what this is). This makes it difficult to compare to other speakers in terms of durability, and although it is quite capable of withstanding a little rain, we aren't sure we'd dunk it in the pool. In addition, despite the wonderful colors available, the finish does tend to attract dust. There's also no smart assistant functionality, but given the speaker's age, this is unsurprising. If you want a rugged, portable speaker with added Amazon Alexa or Google Assistant, the JBL Flip 4 is the speaker to go for. Bose have newer speakers, like the imaginatively-named Portable Home Speaker, which has both Wi-Fi and Bluetooth, but that costs $350. The $129 SoundLink is more than adequate for most people.
See the Bose SoundLink Color Bluetooth Speaker II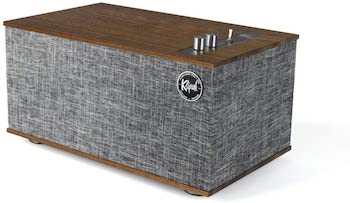 Portable: No
Bluetooth/Wi-Fi: Bluetooth
Dimensions: 13.7" x 7" x 8"
What We Like: Outstanding audio quality, genuinely beautiful looks.

What We Don't: Low maximum volume compared to other speakers in its price range.
Klipsch is as old-school as they come, so it's surprising how good The Three II really is. This high-end Bluetooth speaker isn't portable and doesn't offer the versatility of the Sonos Move above, but it sounds significantly better, delivering clear and beautiful audio quality. It also looks fantastic, managing to combine traditional aesthetics with modern touches like the clean line of physical controls. It's lack of portability means that it's one of the few Bluetooth-only speakers designed specifically for home use rather than outdoors, but you'd be hard-pressed to beat the sound quality for the price.
The Klipsch Three II does have its shortcomings, however. During testing, we found that its maximum volume wasn't huge. While it's more than sufficient for most rooms, it can't compete in terms of sheer audio power with speakers like the Sonos Move or Ultimate Ears MEGABLAST, both of which are less expensive. This shouldn't be a problem if you don't plan to blast music super loud, but it's definitely something to bear in mind. And one other concern we have is cost—the Three II is the second most expensive speaker on this list after the monster Naim number below.
See the Klipsch The Three II
 

Portable: No
Bluetooth/Wi-Fi: Bluetooth
Dimensions: 29" x 3" x 3"
What We Like: This compact soundbar offers ridiculous value.
What We Don't: We didn't like the finicky controls, and there's no subwoofer.
Making your TV audio wireless can be tricky and expensive, and that's why we recommend soundbars as your first option. That's especially true for the VIZIO SB2920-C6. For under $200, you get a simple, compact soundbar and Bluetooth speaker that sounds great. While it doesn't compare to the pricier Samsung HW-R450 above, which is our top pick for wireless home theater, the VIZIO's friendly price tag and solid sound quality make it worth considering for those on a budget.
Be aware that unlike the Samsung HW-R450, the VIZIO SB2920-C6 has no subwoofer and won't satisfy those who are looking for heavy bass. In addition, we aren't wild about the controls, which can be a little finicky to use. However, in terms of making it cheap and easy to get a wireless speaker connected to your TV, the Bluetooth-equipped SB2920-C6 is a nice choice.
See the VIZIO SB2920-C6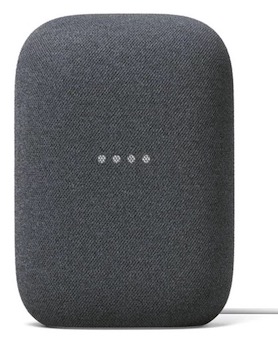 Portable: No
Bluetooth/Wi-Fi: Wi-Fi
Dimensions: 6.9" x 4.9" x 3"
What We Like: Powerful sound quality matched with a great voice assistant.
What We Don't: Playing music with voice commands doesn't work as well as it should, and neither does the multiroom feature.
Google recently refreshed their smart speaker line, and we think that the Nest Audio has a lot going for it. It helps, of course, that Google Assistant is far and away the best voice assistant there is, easily beating out Amazon Alexa. And here, it's incorporated into a relatively small speaker but nevertheless puts out powerful sound quality. We would rank this over the Amazon Echo Dot (4th Gen) in terms of sound, and it measures up well to more expensive speakers like the Sonos One.
Nevertheless, we don't think that the Google Nest Audio as a top ten speaker. We had significant problems getting it to recognise our commands to play certain songs and artists, which was frustrating. We also found the multiroom feature glitchy; Sonos is by far and away a better option here. Google clearly have the voice assistant game on lock, they need to go a little further before their smart speaker offerings can compete.
See the Google Nest Audio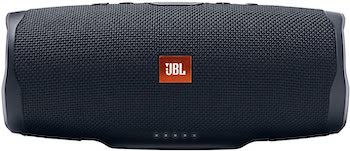 Portable: Yes - 20 Hours Battery, IPX7 Waterproof
Bluetooth/Wi-Fi: Bluetooth
Dimensions: 8.66" x 3.74" x 3.66"
What We Like: Fantastic battery life - and it can also charge your other devices.
What We Don't: No USB charging cable included.
The JBL Charge 4 Has one killer selling point that we haven't seen on other Bluetooth speakers: you can use it as a battery pack to charge other devices like your phone. And given that it has a listed 20 hours of battery life, you can juice your phone and still have plenty of power left for your music. We do think that the rugged and portable JBL Flip 4 above is the superior speaker overall, plus it's less than half the price of the Charge 4. But the latter still a solid speaker with powerful sound quality and a nice range of features.
As good as it is, we do think there are better options than the Charge 4, such as the Bose SoundLink Color II. The sound quality is good, but the Bose is much better in that area, even if it doesn't have that cool charging feature. And although more expensive, the Ultimate Ears MEGABLAST delivers heavier, more exciting bass. That said, consider the Charge 4 an interesting alternative to the other speakers on this list, and one that can do something they can't...
See the JBL Charge 4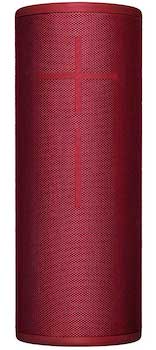 Portable: Yes - 19.5 Hours Battery, IP67 Waterproof
Bluetooth/Wi-Fi: Bluetooth
Dimensions: 8.9" x 3.4" (Cylinder)
What We Like: Excellent battery life, good features, attractive price.
What We Don't: The audio quality isn't as good as it could be.
We believe that you shouldn't have to pay for features you don't need, and that's what makes the Ultimate Ears MEGABOOM 3 so appealing. It's around $100 cheaper than its bigger brother, the bass-heavy MEGABLAST above. The two speakers are similar, but the MEGABOOM 3 has no Wi-Fi and no voice assistant. That makes it a simpler option for those who don't plan on using those features. It also has 19.5 hours of battery life, which is among the best on this list, along with excellent waterproofing and rugged housing that makes it a good match for dedicated outdoor speakers like the JBL Flip 4.
We do wish that the sound quality on the Ultimate Ears Megaboom was a little bit better. We weren't expecting the same volume and power that you get from the pricier MEGABLAST or the more expensive Sonos Move, but we also weren't expecting it to sound the way it did, which was ever so slightly thin and muddled. It's a solid speaker overall, but we give the nod to models like the JBL Charge 4, which is only slightly more expensive but does a better job overall.

See the Ultimate Ears MEGABOOM 3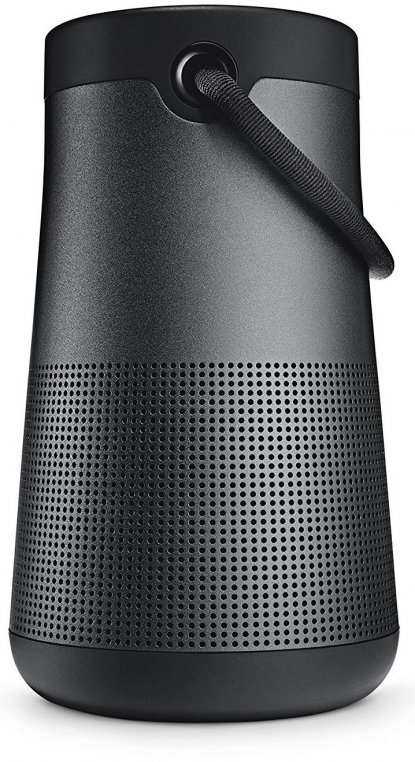 Portable: Yes - 15 Hours Battery, Waterproof Rating Unknown
Bluetooth/Wi-Fi: Bluetooth
Dimensions: 6" x 3.25" (Cylinder)
What We Like: Excellent sound, fantastic handle makes speaker easily portable.
What We Don't: Quite pricey for a speaker with no Wi-Fi.
The Bose SoundLink Revolve+ is a good, if expensive, wireless speaker with plenty of solid features. Chief among these is sound quality, which is terrific. Bose know how to ring stupendous sound out of a small speaker, and they definitely manage that here. It's comparable in loudness to the MEGABLAST, and is splash-resistant. As long as you're happy just using Bluetooth, it makes for an excellent alternative. We also adore the handle, which makes transporting the speaker a breeze.
However, the UE MEGABLAST, above, is clearly superior to the Bose SoundLink Revolve+. It not only costs less, but offers full Wi-Fi capability and a smart assistant. Regardless, the SoundLink Revolve+ is still a great speaker, and while it can't compete with the MEGABLAST, there's plenty to recommend about it. We also recommend buying this model over the original SoundLink Revolve. That speaker loses the handle, has lower battery life, and isn't nearly as powerful. Bose also recently released a new smart wireless speaker, the Home Speaker 500. It's a perfectly capable speaker, but we think it's too pricey right now. For the time being, this one is better.
See the Bose SoundLink Revolve+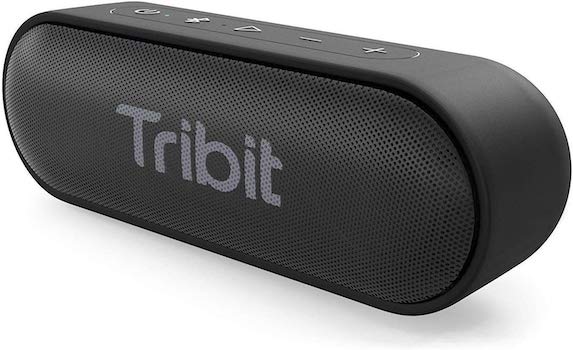 Portable: Yes - 22 Hours Battery, IPX7 Waterproof
Bluetooth/Wi-Fi: Bluetooth
Dimensions: 6.69" x 2.32" x 2.2"
What We Like: Superb sound for the price.
What We Don't: Takes too long to charge, relatively heavy.
One of the biggest misconceptions about inexpensive wireless speakers is that they don't sound good. They absolutely can, and the Tribit XSound Go proves it. The XSound Go is a compact, portable wireless speaker that offers genuinely surprising sound. If you're interested in great audio quality, but you don't want to pay the earth for it, then we strongly recommend this particular speaker. It's got a great feature set, too, with high-level waterproofing and 22 hours of battery – comparable to the excellent Anker SoundCore, at 24 hours.
However, there is so much competition at this price range, like the Anker SoundCore Flare Mini, that the XSound Go's flaws really stand out. It's heavier than a lot of its competitors, and it takes around seven to eight hours to reach a full charge. That's outrageous, frankly. These issues mean that the XSound Go shouldn't be your first option, but if you value sound quality above everything, then it's definitely worth looking at.
See the Tribit XSound Go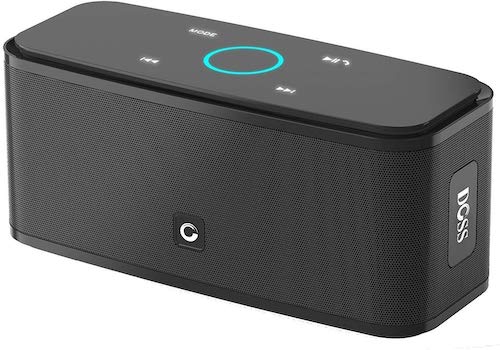 Portable: Yes - 10 Hours Battery, Waterproof Rating Unknown
Bluetooth/Wi-Fi: Bluetooth
Dimensions: 6.6" x 2.9" x 2.7"
What We Like: Comes with a travel case, and an option for microSD card.
What We Don't: Struggles to compete with other models, lack of waterproofing
We'll admit that the DOSS SoundBox Touch isn't going to be a first choice for anyone. In a world where the less expensive Anker SoundCore Flare Mini speaker exists, it's a good alternative, rather than a number one pick. It delivers decent overall value, with 10 hours of battery life, but we are concerned about the lack of waterproofing. The sound quality is middling, unlikely to bother the big boys, and it's quite heavy at 1.65lbs.
However, the DOSS SoundBox Touch does do a couple of things that other speakers don't – and those things earn it a place on this list. The one thing we loved about this model is that it has a microSD card slot. This is great if you have audio files on hand – it sounds old-fashioned, but it's not as rare as you might think. We also really like the fact that it comes with a travel case, which may go some way to mitigating the lack of waterproofing. We consider the SoundBox Touch a solid performer with a couple of key features, but that doesn't quite do enough to make it into the big leagues.
See the DOSS SoundBox Touch
 
And For When You Win the Lottery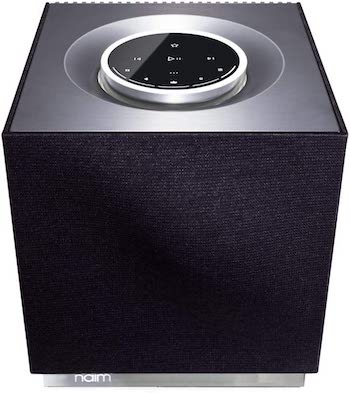 Portable: Very much no.
Bluetooth/Wi-Fi: Both
Dimensions: 8.27" x 8.58" x 8.35"
What We Like: This speaker matches luxurious design with insane sound quality.
What We Don't: It's way too expensive for most people.
Simply put, the Naim Mu-so Qb 2nd Generation easily is the best-sounding wireless speaker we've ever heard. It's hard to believe just how crisp, clean, and deep the audio quality is. It helps that the Mu-so Qb not only sounds great, but looks great, too. The subtle curves on the speaker grills and giant volume knob on top (which doubles as a touchscreen) make it an eye-catching statement piece. And the Mu-so Qb is as fully featured as you'd expect, so no matter what the music source, chances are the Mu-so Qb will be able to play it.
For those who don't know, Naim is a British brand who makes some incredibly high-end audio products, and the Mu-so Qb actually is on the more affordable end of their spectrum. Unfortunately, the price tag still is steep and will put it out of reach for most people. If you want a premium Bluetooth speaker but don't want to break to bank, we recommend the $399 Sonos Move above. It still sounds good, although not quite as precise as the Naim. If you have the money to spend, however, then you'll find yourself with one of the best speakers ever made. The Mu-so Qb really is extraordinary.
See the Naim Mu-so Qb 2nd Generation
 
Bluetooth and Wireless Speaker Comparison Table
*WP = Waterproof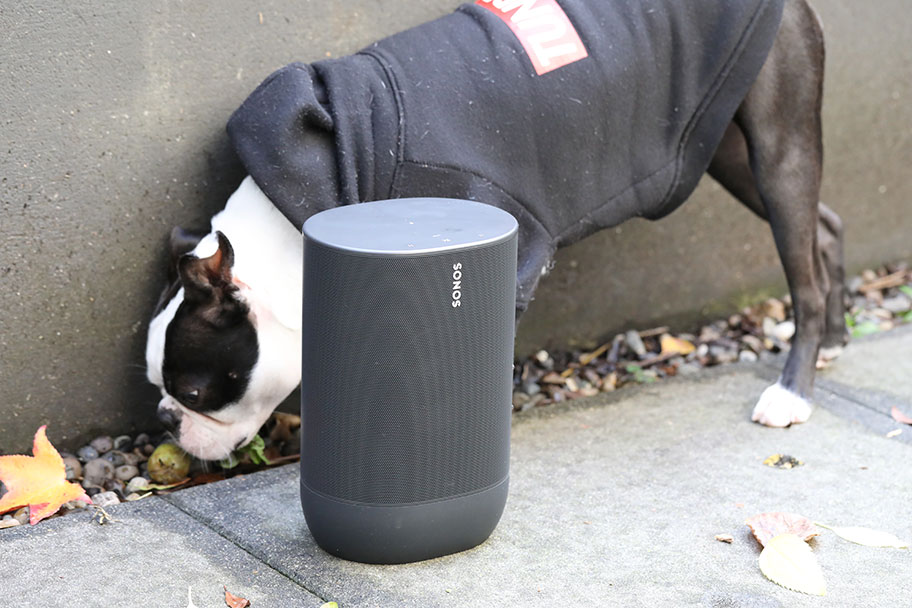 Bluetooth and Wireless Speaker Buying Advice

Sound Quality
Here's the first thing to understand: price and sound quality are only loosely related. Sure, more expensive speakers generally will have higher quality components, but that doesn't necessarily mean they sound better. For example, take two Bluetooth speakers: the $83 JBL Flip 4 (full review here) and the $129 Bose SoundLink Color II. If you were picking a speaker solely based on price, then you'd assume that the Bose sounds better, but that certainly isn't true. If you ask us, the Flip 4 is a much more fun and versatile speaker sound-wise, plus it's way more rugged than the somewhat staid Bose.
In fact, we are going to say something controversial here. Sound quality is important, but when it comes to a Bluetooth speaker, it's far less impactful than you might think. You also should take a close look at the various features a speaker offers. Does it have a smart assistant? Can it make and receive calls? If you're going to be taking your speaker out of the house, is it weather resistant? How heavy is it? What's the range of its Bluetooth connection? How big is it or is it an awkward shape? We aren't saying that you should disregard sound entirely, and in all our choices in the list above, we've been careful to explain whether or not we think the sound of a particular speaker is good or not. But for many people, it shouldn't be the primary consideration when there's so much else to explore.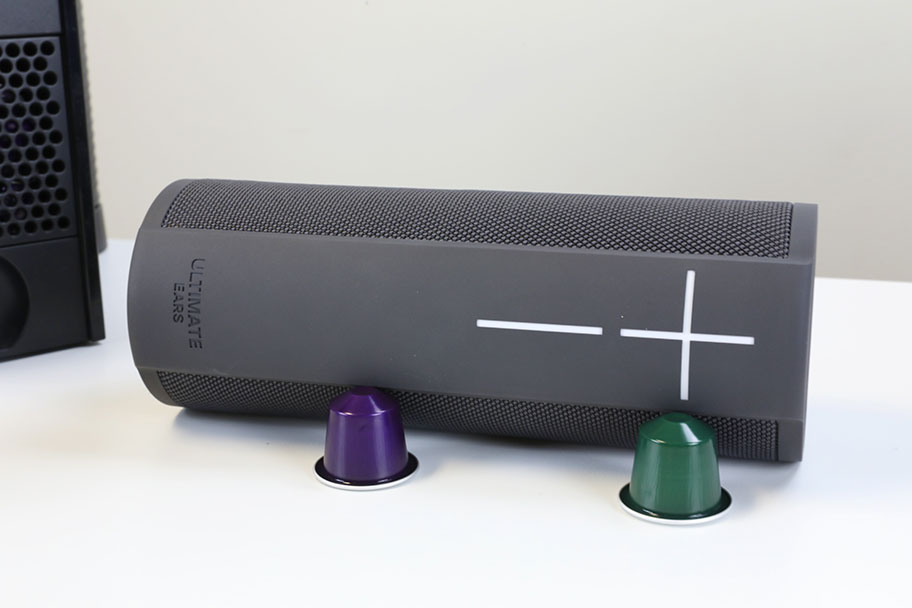 Connectivity: Bluetooth vs. Wireless
Wireless speakers can get their music in two ways. They can either receive it over Wi-Fi networks, like the one that powers your home Internet, or they can receive it over a direct Bluetooth connection. Let's start by talking about Bluetooth, which is a connection directly between devices, like your phone and your speaker. Bluetooth doesn't rely on networks that already exist, like your home Wi-Fi. Bluetooth has very much become the gold standard for wireless music, in the sense that it is easy-to-use and almost ubiquitous. It's found even in the least expensive speakers you can buy, including the cheapest model on our list, the $33 Tribit XSound Go.
The more data that gets sent over a Bluetooth signal, the better the sound quality will be. While new standards mean higher data and faster transmission, with fewer dropouts, there still are caps on how much data can be sent. This is where Wi-Fi enabled speakers come in. These speakers connect directly to an existing wireless network. This means they can receive more data, and more data equals more detail, which equals better sound. We've encountered this with several speakers, most notably the Ultimate Ears MEGABLAST. This speaker has both Bluetooth and Wi-Fi, and the sound quality on the latter is crisper.
The problem is, if you have a lot of devices on your home network, adding in one or more wireless speakers can bring things to a grinding halt. It doesn't matter how data-rich the audio stream is—if it's having to share space with web browing, Netflix, and gaming, then it's going to slow down. It's also a problem if you plan on taking your speaker out of the house. If you are planning on doing so, then you want to make sure that your speaker has Bluetooth and not just Wi-Fi. We love the $199 Sonos One (Gen 2) (full review here), but it's not portable.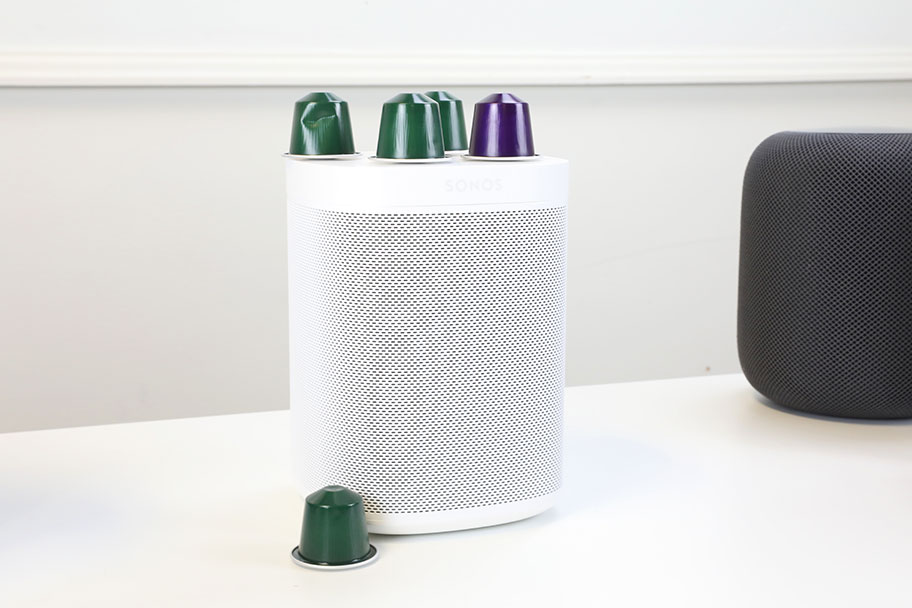 Bluetooth 4.2 vs. 5.0
Bluetooth works so well that it often seems like magic. It actually works by using a specific software package called a codec. A codec helps two devices speak to each other, which is how your phone can transmit audio wirelessly to your speaker. Bluetooth codecs always are being redeveloped by industry professionals, and new versions constantly make their way into the wider world. These versions are often simply noted with a number, and right now, there are two main industry standards: Bluetooth 4.2, and Bluetooth 5.0.
Bluetooth 4.2 arguably is the most widespread codec, and virtually every speaker on our list uses it. It allows transfer speeds of up to one megabyte per second (1Mbps) and a range of up to 200 feet. That's more than enough for most people and will give you excellent sound quality, but Bluetooth 5.0 is a massive leap forward. It not only increases transfer speeds to 2MBps, but also quadruples the range up to 800 feet (providing there are no walls or other major obstacles in the way, of course). In addition, it uses less power through a standard known as Bluetooth Low Energy, and allows you to play audio on two wireless speakers at a time. By the way, if you're interested, you'll find a much more in-depth breakdown on the actual Bluetooth website – believe it or not, Bluetooth is an actual company, not just a thing you use to play music.
Here's the kicker: Bluetooth 5.0 isn't widespread yet. It's expensive to implement and it's actually quite tricky to find a wireless speaker that uses it. Right now, every single speaker on our list uses Bluetooth 4.2, and manufacturers have often found clever workarounds to avoid losing out on the cool features of 5.0. For example: the $83 JBL Flip 4, our top outdoor/portable speaker pick, allows you to send audio from your phone to more than one JBL speaker at a time through its JBL Connect+ feature. The feature allows you, in fact, to stream to up to 100 speakers, which is the best kind of overkill. Also, if anyone reading this has actually streamed audio to 100 speakers at a time, please get in touch and tell us what it was like. We test thoroughly, but not that thoroughly.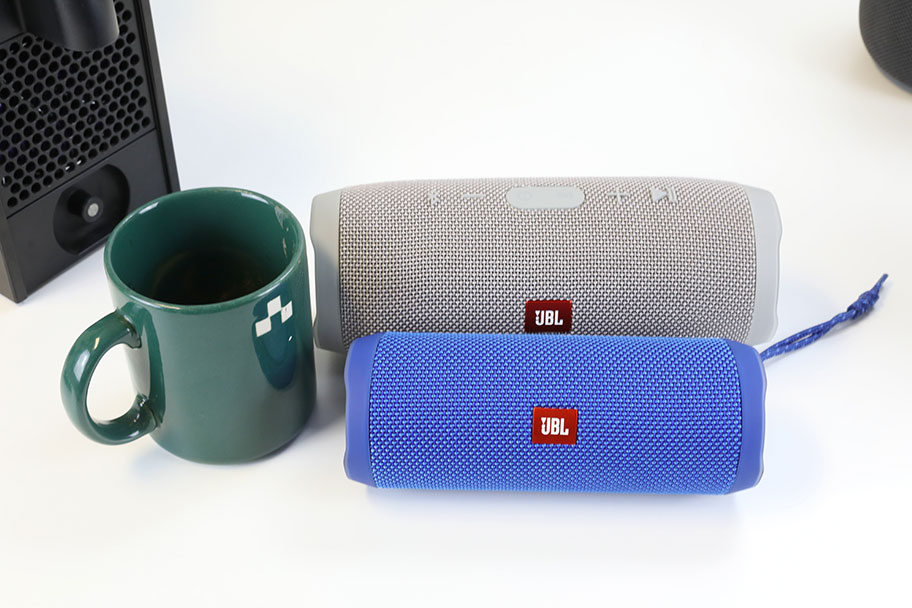 Portability
When it comes to portability, weight is key. You are, after all, going to be the one hefting the speaker around, so generally speaking, lighter is better. But there's a trade-off here that you need to be aware of. Lighter speakers tend to sacrifice sound quality. That's because speaker drivers—the part of the speaker that actually makes sound—and other internal components tend to produce better audio quality when they are made of denser, stiffer material. Denser material means extra weight, and so when manufacturers are trying to keep speakers light, sound quality can take a hit.
As such, it's worth thinking about how much weight you're prepared to carry around with you. For example, the $43 Anker Soundcore Flare Mini, our top budget pick, weighs just over a pound, which is light enough for most people to put in a backpack or jacket pocket. You wouldn't be able to slip the $399 Sonos Move (full review here) into your jacket, not when it weighs a hefty 6.6 pounds. However, while we love the Anker, there's no question that the Sonos Move is significantly better. Ultimately, when you are looking to buy a portable Bluetooth speaker, you need to think about how much weight you're prepared to carry around with you.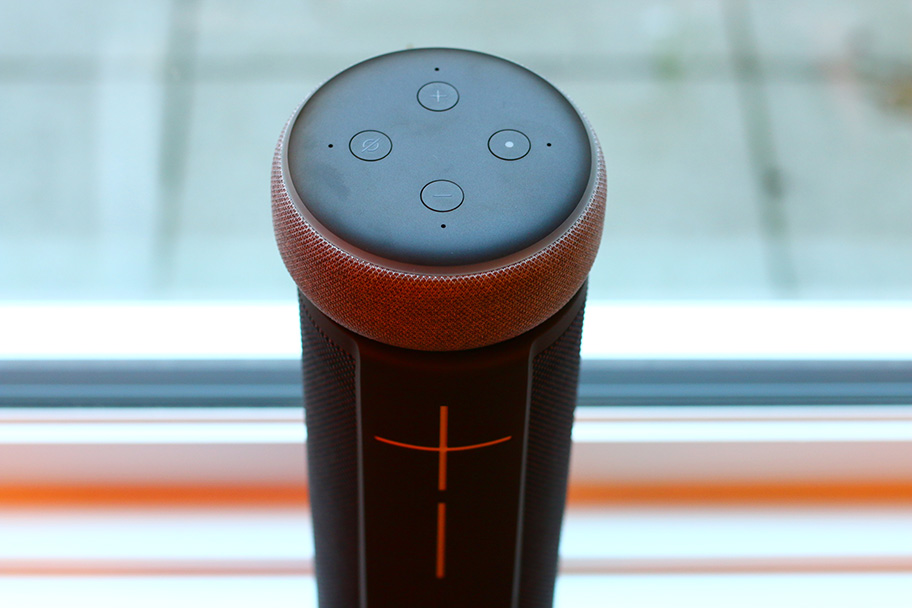 Durability and Water Resistance
For those who plan on taking their Bluetooth speakers outdoors, it's worth talking about how water resistant they are. There's an easy way to objectively measure just how much punishment a speaker can take. It's called the IP Rating, which stands for Ingress Protection. With each IP rating, there are two numbers you need to worry about. The first indicates the speaker's protection from dust and dirt, and the second number indicates the protection from water. The higher the number, the more protection is available (you can see an easy breakdown of the level of protection each number provides here). We've indicated the IP rating for each of our speaker picks, where applicable, in the table above. By the way, you'll sometimes see IP ratings listed with an X in place of the first number – as in, IPX7. All this means is that the speaker in question is not rated for dust protection. As long as you don't bury it in sand, you should be fine.
Let's take the $100 Ultimate Ears WONDERBOOM 2, for example, which has an IP67 rating. This means that it is completely resistant to dust, and can withstand being dunked in three feet of water for thirty minutes. That's darn good, and while we don't think the WONDERBOOM 2 is the best speaker out there, it compares favorably to our top outdoor/portable speaker, the $83 JBL Flip 4, which is IPX7 rated. That means it has an identical waterproof rating, and has no rating for dust protection.
So why is the JBL higher on our list than the WONDERBOOM 2? Funny you should ask, and it comes down to its durability and rugged housing. There is no industry metric to measure durability as there is for waterproofing (try as we might, we couldn't convince our bosses to buy us a sledgehammer and an impact measurement kit). But the Flip 4 is the perfect example of the concept that if you're going for a good portable outdoor speaker, it's best to get one with the casing that can withstand drops and being knocked around. In our opinion, the Flip 4's rugged casing is best-in-class for this. Picking a speaker for durability isn't just about how much water or dust it can resist; it's also about whether or not the speaker will perform if you knock it off the table onto the floor, or if it gets jostled in your backpack.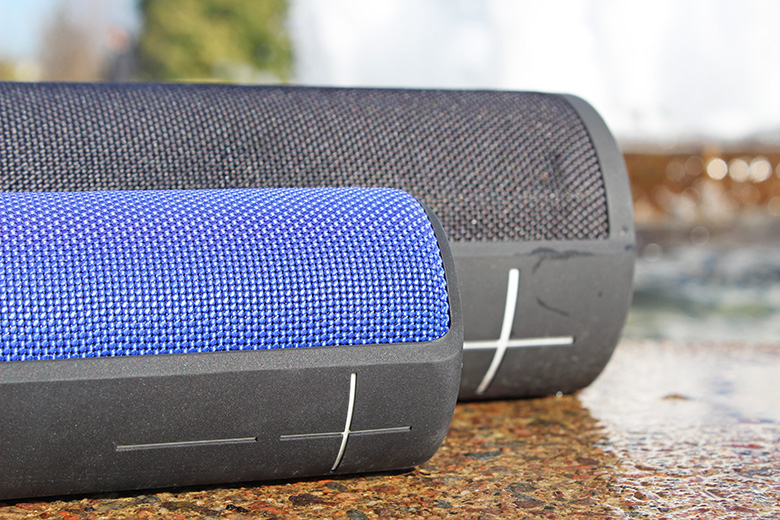 Battery Life
Several of the speakers on our list are fully portable, meaning that they run off a battery and don't require you to connect them to a power outlet except to charge. Very obviously, this is super convenient and allows you to get great sound in just about any situation.
Please take these listed battery ratings with a grain of salt, and never trust what the manufacturer tells you about battery life. The louder you play a speaker, the more power it uses, which drains the battery faster. Manufacturers obviously want to present the best possible numbers for their speakers, so they don't usually reveal the volume levels at which their stated battery hours were achieved. Usually it's quite low, which means the battery lasts longer. While we certainly aren't accusing any specific manufacturer of fudging the numbers, we also want you to approach battery numbers with a healthy dose of skepticism. In real life, they almost never measure up to what the manufacturer claims.
Let's take our top budget speaker for bass, the $250 Ultimate Ears MEGABLAST. The Ultimate Ears website states that you'll get up 16 hours of battery life, but they further state in a footnote that "Actual battery life will vary with use, settings, and environmental conditions." When we tested it, we found it to be less than that. This doesn't mean that Ultimate Ears was lying—we may have played it at a slightly higher volume than they did, or the battery in our test model had degraded slightly, or any number of things—but it's always good to take estimates with a grain of salt. Forcing the speaker to perform at a high level—which includes things like playing music at high volumes, making or receiving phone calls, and connecting to more than one Bluetooth device at once—will drain the battery faster. The battery also will drain in extreme cold or extreme heat.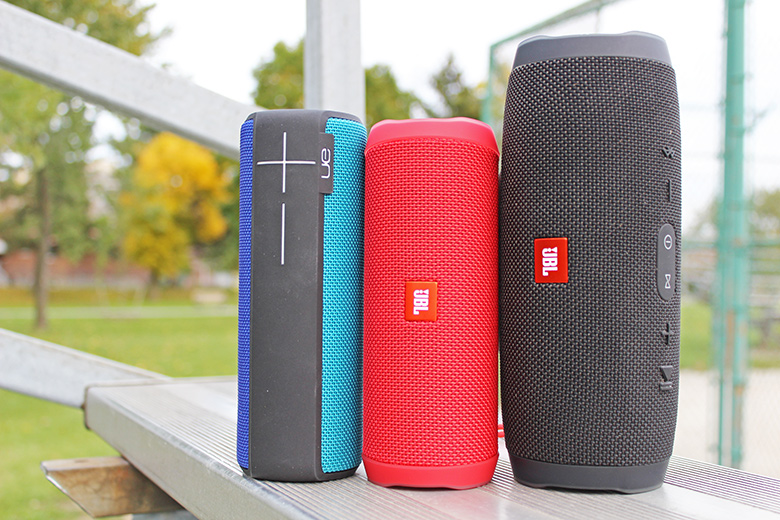 Charge Time
One of the things that can be frustrating about portable Bluetooth speakers is how long they take to charge. As a general rule, Bluetooth speakers take between two and five hours to charge fully when connected to mains power. Even the fastest, the $399 Sonos Move (full review here), takes around two hours. You obviously don't have to charge a Bluetooth speaker all the way to use it—it's entirely possible to plug it in for a few minutes and still get some power for a couple of hours of use. But this varies depending on speaker, and in general, we always recommend charging for the full length of time if possible. It's better for the battery, and you'll have an accurate idea of just how much life your speaker will have. Below, you'll find a list of charge times for all the Bluetooth speakers on our list.
Loudness and Volume
One of the most common questions we get about wireless speakers is: How loud can a particular speaker get? It's not always easy to answer, because 'volume' is something that is very subjective. It not only depends on who is listening, but the environment they are listening in. However, there is a fairly useful way of seeing which speakers can get louder than others. It's called wattage.
Think about loudness in terms of power: the more powerful the speaker, the louder it will get at a given level of power. Power is measured in watts. The more a speaker has, the louder it will be. The ratings for each of the speakers in our specs table above probably aren't as accurate as they should be (the wattage figures manufacturers give are often subject to wildly varying testing standards) but they work as a guideline. If you were to apply the same amount of power to the DOSS SoundBox Touch and the Naim Mu-so Qb 2nd Generation, the former would put out 12 watts, and the latter 300 watts. The Naim definitely is the louder, more powerful speaker, but given that it costs nearly $1,000, that's hardly surprising. As you'd imagine, more money often nets you more volume.
One thing to watch out for is that, at higher volume levels, less expensive speakers often will distort the sound. That's obviously something you don't want. We always push speakers to the limit when testing, and if we notice distortion, we'll mention it in our picks above.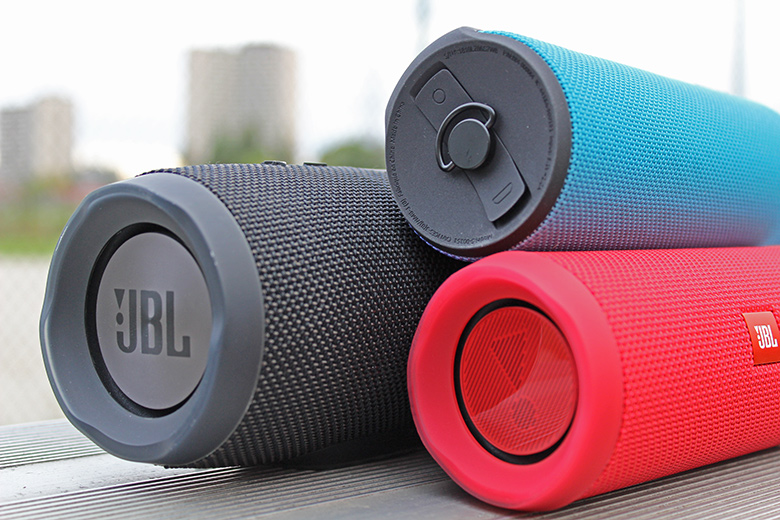 Bass
If you were to compare music to food—and why the hell not?—then bass would be the salt. We, as humans, crave it. We seek it out. When listening to music, it's the bass frequencies that give it its rhythm, its kick, its punch. It's what gets our heads nodding. It's the easiest element of the music to zero in on, and it's the one that cuts the most clearly across a crowded room, park or beach. If you're going to buy a Bluetooth speaker, then you will almost certainly be wanting one with good bass, and especially if you plan on using yours in crowded environments.
The thing is, good bass actually is very difficult to do. Bass waves take a lot of energy to produce, and small speakers often aren't capable of doing it well—especially at higher volumes, where it tends to distort. This means that for many small speakers, you'll be settling for bass that sounds passable at moderate volumes and downright nasty at higher ones. While we believe that all the speakers on our list do an acceptable job of pushing out bass, at the very least, there definitely are some models that treat bass better than others. Our top pick for bass is the $250 Ultimate Ears MEGABLAST, which offers controlled, powerful, heavy bass at all volumes.
As you may have gathered, the MEGABLAST is a reasonably expensive speaker, and from that you can probably guess that really good bass does cost a little bit extra. That's an unavoidable fact. To produce good bass, you need high quality components and a lot of tuning, and unfortunately that's something you'll be paying for. If you're looking for a speaker that treats bass well but doesn't cost quite as much, we'd suggest another UE product, the $100 WONDERBOOM 2. It's not quite as loud or as powerful as the MEGABLAST but does a solid job overall.
 
Voice Assistants: Amazon Alexa and Google Assistant
Many Bluetooth and wireless speakers contain a voice-activated assistant. They allow you to do a staggering number of things with voice commands, from playing music to setting timers, to controlling the lighting in your house. Voice assistants—sometimes called smart assistants—are activated with a specific wake word, which varies depending on the assistant. They are tremendously versatile, and all have their own positives and negatives. There are two main ones we are going to talk about here: Amazon Alexa and Google Assistant. While there are others, like Apple's Siri, Samsung Bixby, and Microsoft Cortana, they are not as widely available and definitely not as good. For the time being, the following assistants are the ones you should be looking at.
Amazon Alexa
Amazon's virtual assistant is by far the most common, appearing on 4 of the 20 speakers on our list. In our opinion, it's definitely not the smartest one available. We have several Alexa devices, both at home and in our office, and while the assistant does a good job for the most part, we found ourselves continually running into problems. The biggest issue we had was with smart home integration, where Amazon Echo devices repeatedly refused to recognize our SmartThings switches and bulbs, even though the Alexa app (iOS/Android) worked just fine. We also found it easy to trip Alexa up and it had real problems with follow-up questions.
Alexa does have several advantages over other assistants, however. It has the ability to recognize different voices, and you can use voice commands to play third-party music services like Spotify and Amazon Music. You can, for example, say "Alexa, play Tupac on Spotify." Assuming your speaker is compatible, you can also make calls, but you can only receive calls from other Echo speakers and someone using the Echo app on a smartphone. You can also add third-party 'skills' to Alexa via the app, which means that the assistant is continually evolving and getting more useful. And unlike Apple, Amazon is quite happy playing nice with other manufacturers. They not only make several speakers of their own, but also let companies like Bose use their assistant. The best Alexa speaker, in our opinion, is the Amazon Echo Dot (4th Gen). It also happens to be easy on the wallet, costing only $50.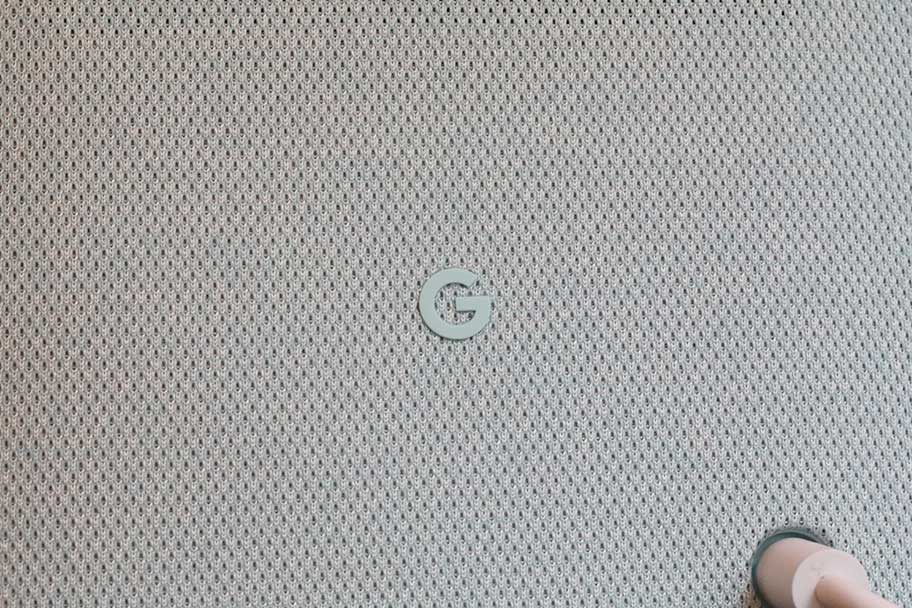 Google Assistant
Google offer several smart speakers of their own, some of which, including the $130 Google Nest Audio, appear on our list. The company has what we consider to be the superior voice assistant, in terms of intelligence. Google Assistant may not have a catchy name, and is simply activated by saying "Hey, Google", but it works. In our tests, it dealt capably with follow-up questions, very rarely tripped up, and almost always gave us accurate information.
Like Amazon Alexa, Google Assistant has voice training, allowing it to separate your voice from others, and you can control music streaming services like Spotify with voice commands. You also can make calls, although as of yet, you cannot receive them, something which Alexa can do given the right circumstances. Alexa is more versatile, with its growing library of skills, but hasn't managed to catch up to Google Assistant in terms of smarts. If the AI revolution ever happens, Google Assistant will be leading the charge.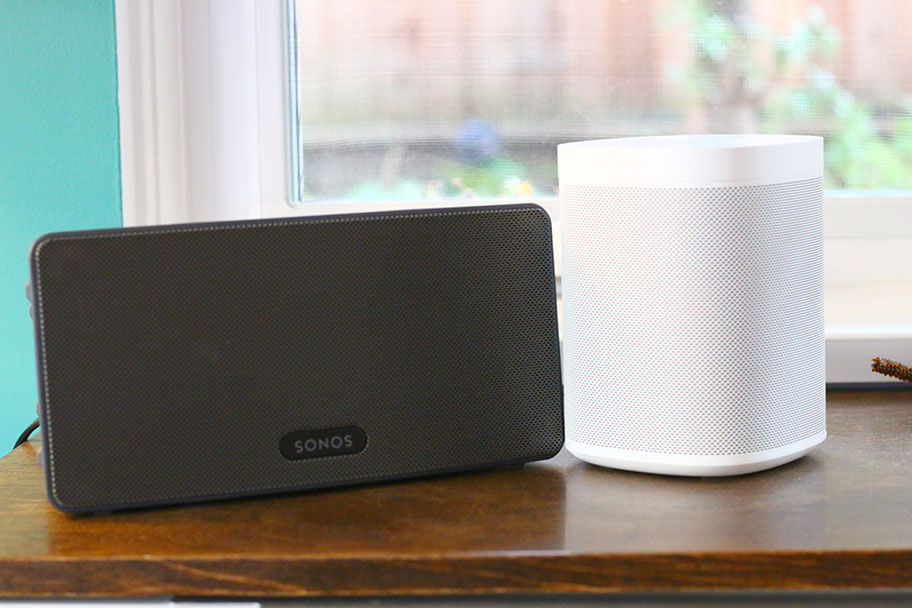 Multiroom Wireless Speakers
Ready to step up and do something really interesting with your wireless speakers? How about dotting a few of them throughout your home so that you can listen to music everywhere? It's entirely possible, and given that many of the speakers on this list are inexpensive, it often doesn't have to cost very much money. There are plenty of advantages to multiroom audio: your partner could be listening to one playlist in the living room, while you shower to another. You can have the same music playing in every room for a party. And usually, you can control everything, including what is playing where, with a single app.
The easiest way to do this is to pick up a Sonos speaker, like the top-ranked Sonos One (Gen 2). Sonos are known for delivering great, simple multiroom audio that is a total breeze to set up. The app walks you through every step, including automatically calibrating the speakers for each room. However, given that a Sonos One costs $199, this can get expensive quickly. If you'd like a significantly cheaper option—like half the price—the $83 JBL Flip 4, our top-ranked outdoor/portable speaker, has a feature called JBL Connect that let's you link up to 100 JBL speakers. You may not want to buy quite that many, but it's a great and affordable way to get multiroom audio.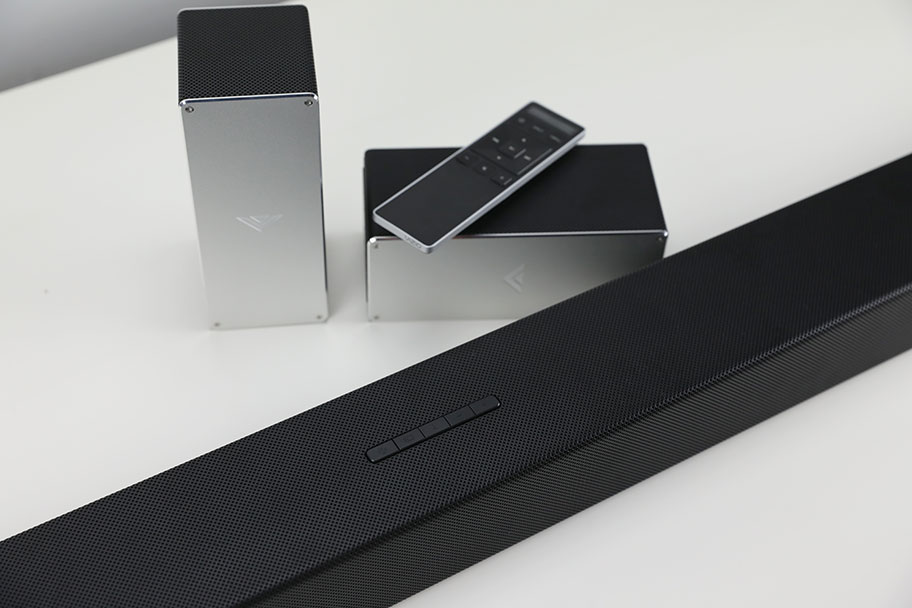 Using Bluetooth/Wireless Speakers with your TV
Most external TV speakers need to be connected directly to your screen, or to existing home theater equipment. But as we know, wires are a pain in the backside, so it's worth investigating whether or not you can use wireless audio with your TV.
The easiest way to do this is simply to connect to your speakers via Bluetooth. Many leading TVs allow you to send Bluetooth audio out, and as long as you've got some speakers that can accept it—which just about every wireless speaker on the market should be able to—you're in business. You could buy a pair of Anker Soundcore Flare Mini speakers ($80 total) and use them to create stereo audio for your TV. However, Bluetooth transmission has a couple of disadvantages that are worth taking into account. The first is that you will need to regularly charge the speakers or keep them connected to mains power. The second is that Bluetooth audio can sometimes suffer from a bit of lag. That's not a problem if you're listening to music, but if you're trying to sync a soundtrack with a TV picture, even a small delay can cause problems.
You can buy dedicated wireless home theater speakers, like the Klipsch Reference Wireless system. On the one hand, this will give you full surround sound with wireless transmission. On the other, it's hellishly expensive—wireless systems frequently cost upwards of $2,000—and you still need to connect each speaker to mains power. For most people, a full wireless surround sound system is overkill.
Let's propose a slightly more workable option, as mentioned above. That option is a soundbar. While you will still need to connect them to your TV with a single cable, almost all of them are equipped with Bluetooth, meaning you can stream music wirelessly, and if the lag doesn't bother you, TV audio as well. While the soundbar isn't technically a wireless speaker in the traditional sense, the boundaries are thin enough that we feel comfortable offering them as a solution. For the record, our top wireless home theater speaker right now is the Samsung HW-R450 sound bar, which costs a little under $180.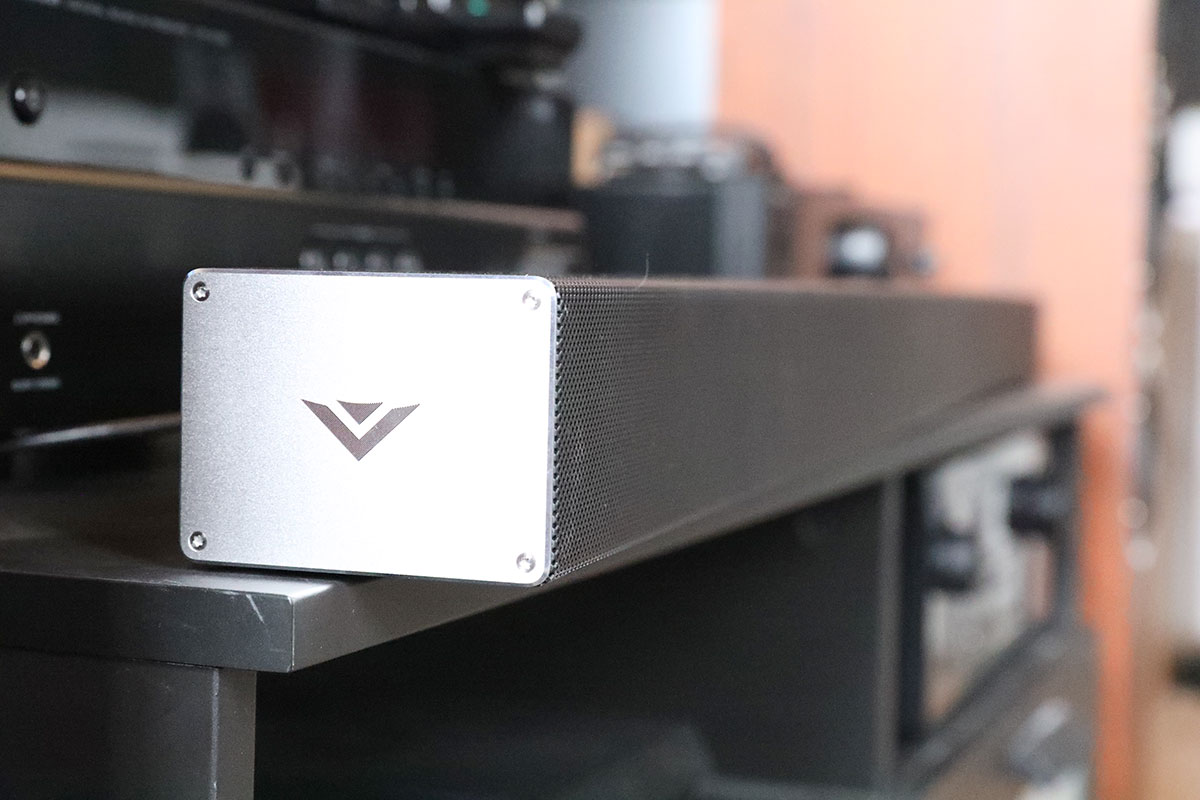 Connecting Wireless Speakers to your A/V Receiver
If you have an existing home theater setup for your TV, you'll probably also have an AV receiver—the big, black box which is the hub for all the audio and video in your system. But what if you want to go wireless? What if you want to connect your existing wireless speakers to your receiver?
This is, unfortunately, easier said than done. While almost all current receivers have Bluetooth, none of them—so far as we know—actually transmit Bluetooth. They can only receive it, which means they cannot send audio wirelessly to your existing speakers. There is a workaround for this, which is to buy a wireless transmitter, like this Rocketfish Universal Wireless Rear Speaker Kit. It's a somewhat pricey solution (that particular product costs $100) but it does work. It allows you to connect the wireless transmitter directly to the rear speaker outputs of your receiver, and then simply have it transmit Bluetooth to your wireless speakers.
We'll be honest: there are better options: either through buying a soundbar, like the $173 VIZIO SB2920-C6, or by buying a dedicated wireless home theater package. The latter can be quite expensive, however, so proceed with care.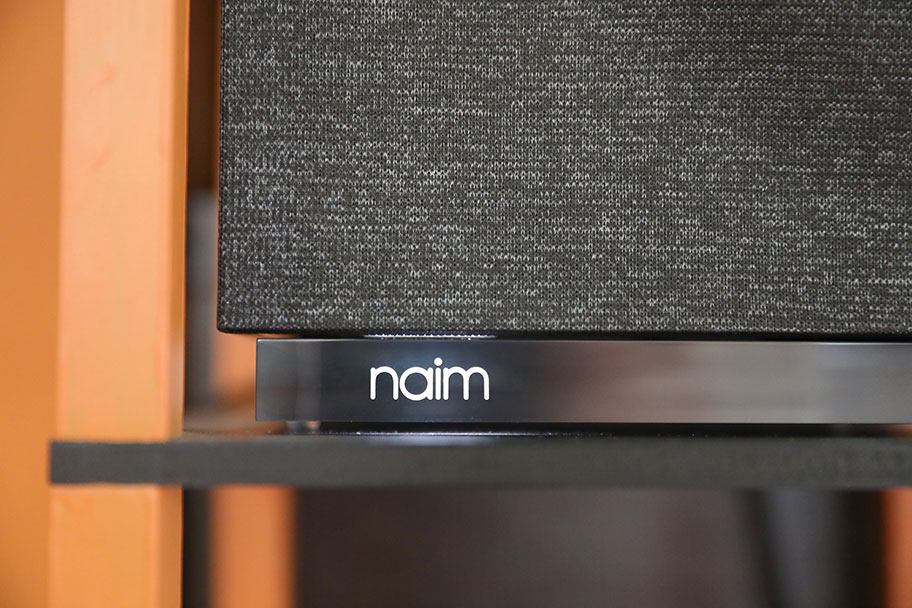 Clarifying Key Terms
Bluetooth
Bluetooth is brilliant. It's a way of sending data wirelessly from one device to another, through direct connection. It relies on an advanced form of radio waves and has become the go-to standard for wireless music. Every smartphone has the ability to transmit Bluetooth, and almost all wireless speakers will have the ability to receive it. Bluetooth is limited by the amount of data it can transmit in a signal, and it's also limited by distance—anything over about 30 feet between source and playback device, and the signal will start to drop out. But for the most part, Bluetooth is simple to use, available everywhere, and sounds great.

Wi-Fi
Wi-Fi refers to the network in your home that allows you to access the Internet. A speaker that is Wi-Fi enabled will connect directly to this network, and be able to take advantage of the faster speeds and higher data than you'd find on a typical Bluetooth network. Be warned: unlike Bluetooth, which is a direct connection between two devices, a Wi-Fi network can serve several devices at once. This means that if there are too many devices on the network, it can become overloaded, which can mean dropouts and laggy audio. Despite that little problem, Wi-Fi audio remains a terrific way to listen to music at home. Our top wireless speaker, the Sonos One, is Wi-Fi enabled.

Multiroom
Multiroom audio refers to a set of speakers in different rooms of your house, all connected to a single network, such as your Wi-Fi network. You can either have the speakers play the same music at the same time, or you can arrange things so that different songs are playing in different rooms. Companies like Sonos make doing this extremely easy by offering simple smartphone apps. Multiroom music used to be incredibly difficult to do, and required lots of speaker wire and fiddling with stereo receivers. But with wireless and Bluetooth speakers, it's a breeze. One thing to note: it's very difficult to set up a multiroom system with Bluetooth. You could theoretically do it using something like the JBL Flip 4's Connect+ app, which allows you to change speakers, but it's a clunky workaround. A far better option would be to use a Wi-Fi-enabled speaker.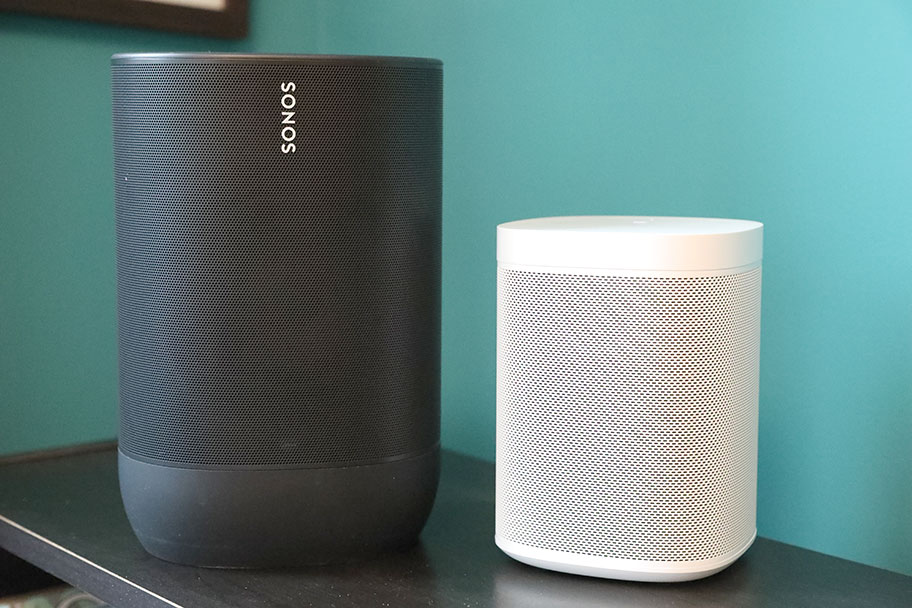 Voice Control
It's entirely possible nowadays to control your speaker by, well, speaking to it. Virtual assistants like Amazon Alexa and Google Assistant come preloaded on many of the speakers on our list (check the table above for full details). These assistants allow you to play and pause music, and find playlists, artists and albums on your preferred music service. They can also perform basic Internet searches, check the weather, set alarms, and more.
Typically, you'll activate them by using a 'wake word,' which a preset voice command that tells them to start listening. And while there are significant privacy concerns—you are, after all, inviting an Internet connected microphone into your life—you always can manually deactivate this microphone. For the most part, we think voice control is a useful feature but it's not essential, especially if you plan on using your portable Bluetooth speaker in a public place.

DNLA
Take a look at your home Wi-Fi network. Chances are, all the devices on it are made by different people. Your TV might be made by Samsung, your wireless speaker by JBL, your phone by Apple, and so on. All of these pieces of hardware use different software programs, and getting them to talk to each other can be tricky. That's where DLNA comes in. It is the name of both an organization (the Digital Living Network Alliance) and the product that organization makes, a wireless protocol that allows different devices to talk to each other.
Here's the thing: we are going to recommend you don't use DLNA on your wireless speakers. You will often see it advertised, to be sure, sometimes as a prominent feature. But there are, quite simply, better ways for speakers to talk to source devices. Technology has advanced to the point where most speakers will be able to communicate over a Wi-Fi or Bluetooth network without a third-party protocol like DLNA. DLNA also happens to be a pain to use and we've experienced frequent dropouts in the past. If you want one more nail in the coffin, iPhones don't use it. Apple does not participate in DLNA certification, which means that common iPhone features like AirPlay are a no-go.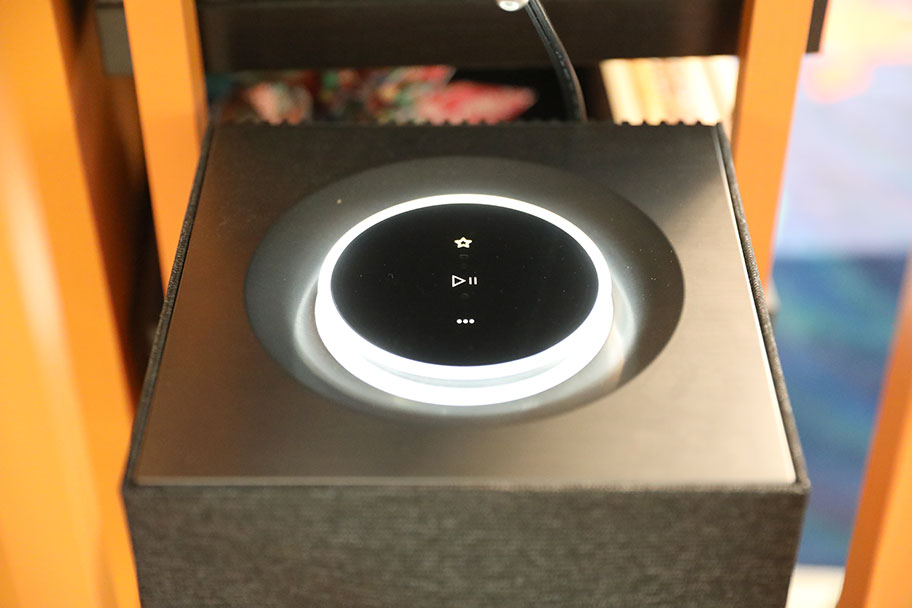 NFC
NFC is something you may run across occasionally while shopping for Bluetooth speakers. It refers to Near-Field Communication and essentially lets you connect to devices over Bluetooth by quite literally holding them next to each other. The problem is, in the world of wireless speakers, it's not very common. Some speakers, like the $129 Bose SoundLink Color II, do use it, and it certainly does simplify things, but it's not worth hunting it down as a feature. In addition, it won't work with iPhones or any other Apple devices. Somewhat inevitably, Apple has its own version that allows its devices to talk to each other.

AirPlay
Apple famously does not play nice with others (see above). You can get an idea of this by understanding how they get their phones and tablets to transmit music. While these devices are capable of Bluetooth, the easiest way to send audio from them is to use AirPlay 2, a proprietary tech that sends high quality audio over a Wi-Fi network. To be fair, many Bluetooth speakers accept AirPlay streams, so if you own an iPhone, this can be an effective and straightforward way to start playing music. Be warned though: it does make speakers more expensive, as Apple charges manufacturers quite a bit to use it.

aptX
Bluetooth audio is great, but it has a limitation: namely, the amount of data it can transmit at a time. Those data limitations mean that sound quality sometimes suffers. aptX It essentially is a way of supercharging your Bluetooth string: a method of packaging more data into the stream, and sending it fast. If you're into high resolution sound quality, and you want to listen to things over Bluetooth, then we strongly recommend investigating aptX and its cousin, aptX HD. It's relatively simple to use, although you will need to make sure that both your source device (like your phone) and your wireless speaker are capable of using it. As you'd expect, it's most commonly found on more expensive speakers, and by more expensive, we often mean upwards of $500. If you were to buy the $990 Naim Mu-so Qb 2nd Generation, you'd have access to it, but if you were to go for either of the Sonos speakers on our list, you wouldn't.
Back To Our Bluetooth and Wireless Speaker Picks Back To Our Comparison Table
Learn More About Speakers