Sonos Move ($299)
Portable: Yes - 10 Hours Battery, IP56 Waterproof
Bluetooth/Wi-Fi: Both
Smart Assistant: Amazon Alexa, Google Assistant
What We Like: Great sound quality, easy setup, huge volume.
What We Don't: Very heavy for a portable speaker. 
See the Sonos Move
Sonos rules the world of home audio. They make the best-sounding smart speakers you can buy, even despite challengers from the likes of Bose and Apple. But the one thing they've never done is create a portable Bluetooth speaker you can take outside. All of that changes with the release of the Sonos Move. In this review we'll break down the Move's sound, design, packaging and accessories, specs, and more. If you want to see how it stacks up, see our list of the best wireless speakers.

Sound
Overall Audio Quality
There's a lot to tackle with the Sonos Move. It's an ambitious, daring speaker, and a remarkably expensive one. At $299, it's pricier than most of the competition. Price aside, the first thing we want to talk about is the sound quality, because that's one thing Sonos always does really well. It's a genuine pleasure that they continue to do so, even in a more adventurous model. Other companies of their size, like Bose or Apple, have failed to uphold sound quality standards, even as prices increase.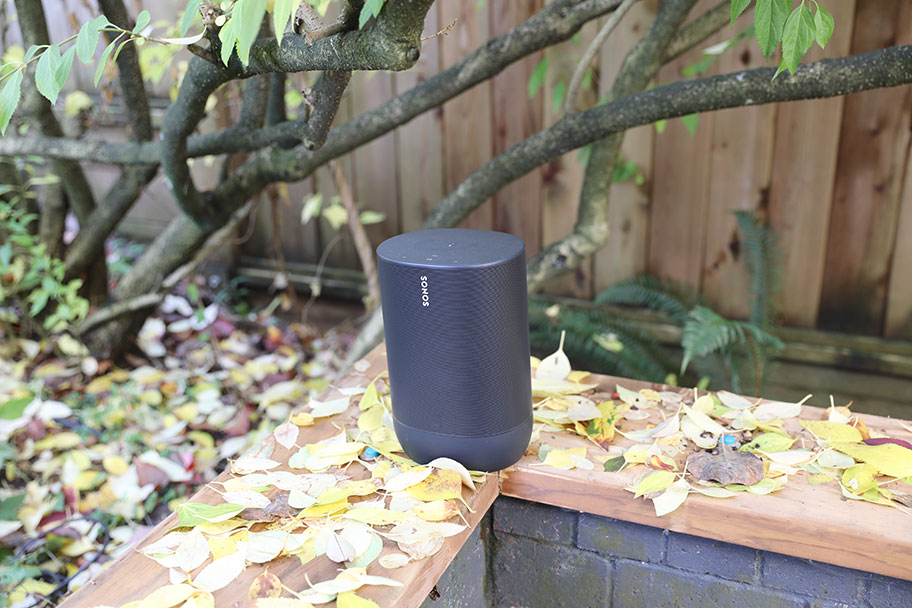 The audio quality that the Move delivers is exceptional. Like all Sonos speakers, it offers a rich, warm, rounded sound quality that we found highly addictive. There's a satisfying power and agility to the bass, rounded out by capable, detailed highs. We put our Move through its paces, playing everything from hip-hop and heavy metal, to classical and podcasts. Despite our best efforts, we couldn't make the Sonos Move trip up. It simply leaves several other competitors in the dust. For example, the Bose Portable Home Speaker costs $100 more the Move, but sounds significantly thinner and less exciting. If you're looking for a wireless speaker that delivers on sound quality, the Sonos Move is a top contender.  
Part of the Move's success is owed to a piece of technology called TruePlay. It allows the Move to continually adjust to its environment, capturing audio reflections using a set of microphones to deliver the best sound possible. Sonos has had this technology for a while, but it takes a quantum leap in the Move. This feature is now completely automatic – in the past, you had to calibrate it yourself - and adjusts on-the-fly, meaning the sound will always be optimized to the speaker's surroundings. There's even a built-in accelerometer so that the Move can detect when it's being...well, moved. We tested this extensively, including trials like putting the speaker in a cupboard. We could actually hear the sound adjusting in real time, and although we didn't climb into the cupboard ourselves, we can confirm that this feature works well. It even works when you take the speaker outdoors. This technology is a useful, super-simple feature, and it seriously impressed us.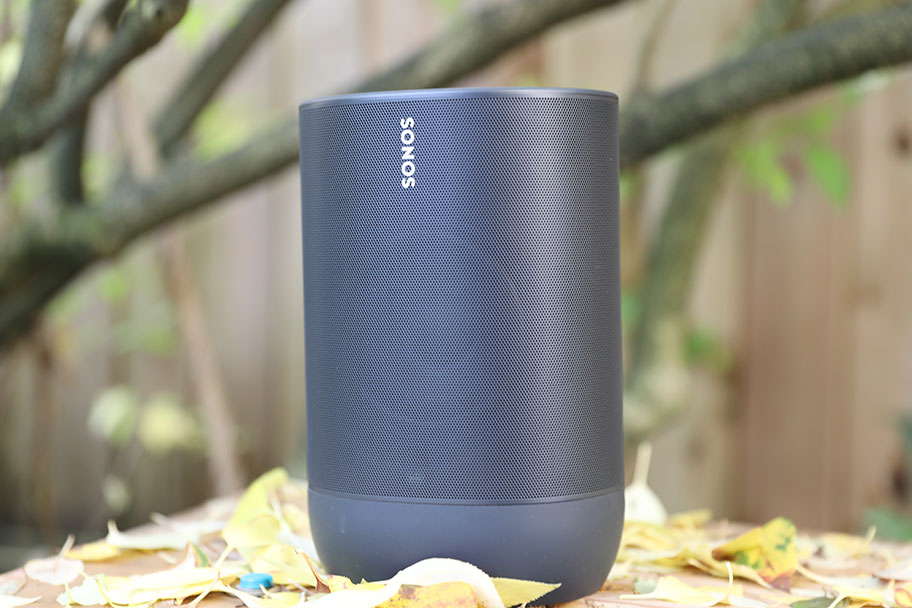 Volume
Another pleasant surprise was how loud the Sonos Move could get. Sonos does not publish wattage figures, which would allow us to get a rough idea of the actual level, but we can say that this speaker has a lot of power. It has two built-in Class D amplifiers – here's an explainer what those are – powering multiple speaker drivers. At top volume, it can seriously rattle the windows. It's very important for a portable speaker to be able to generate decent volume, as it needs to be used in places that are often noisy. In this area, the Sonos Move truly excels.
We put it up against another The Master Switch favorite, the Ultimate Ears MEGABOOM 3. That speaker is also known for its exceptional volume, but the Sonos Move easily beats it. Admittedly, the MEGABOOM is significantly cheaper at $157, but even against other higher-end speakers, the Move still wins.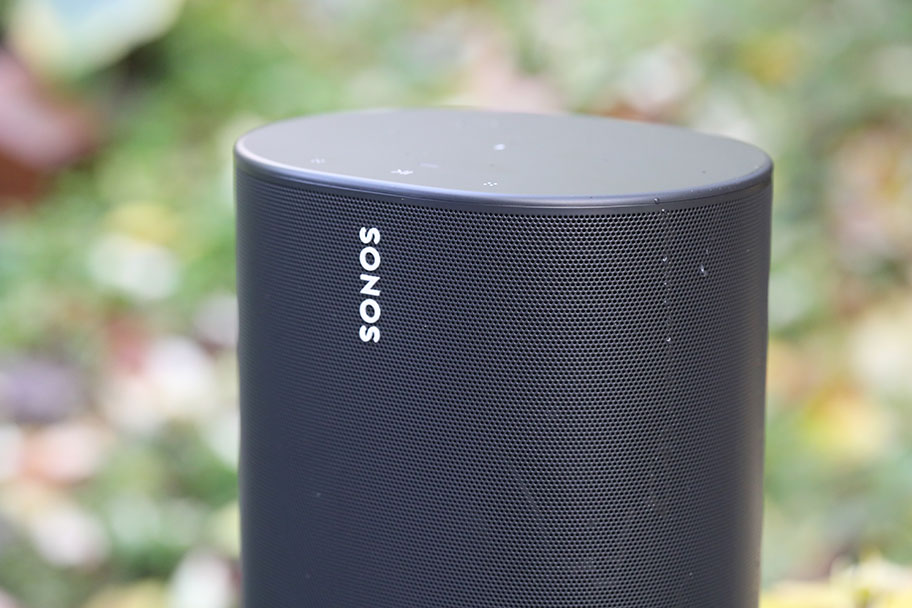 Bluetooth vs. Wi-Fi Audio
When the Move is sitting on its charging ring, it connects to your home Wi-Fi network. Lift it off the ring, toggle the Bluetooth button on the rear, and you can switch streaming to a 4.2 Bluetooth connection. It's not the most advanced Bluetooth streaming connection – that would be 5.0 – but it performs well. We found minimal differences between Wi-Fi and Bluetooth sound quality; Wi-Fi was slightly better, but only by a little. For the most part, switching between the two connections is simple, and as long as your source device can transmit Bluetooth, you'll be fine.
The controls for the Move are primarily handled through the Sonos app when using Wi-Fi. Once you switch to a Bluetooth connection, you'll need to use your music streaming app, like Spotify, to control things. You can also use Apple AirPlay 2, if you have an iPhone or iPad. In terms of seamlessly switching between Bluetooth and Wi-Fi, the Sonos Move knocks it out of the park. It offers a much better, more versatile experience than the Sonos One. While we still really enjoy our Sonos One, the Move is simply a much better speaker.
One thing we'd like to note is that you can't incorporate the Move into a Sonos home theater system like you can with other models. Fortunately, the company sells complete surround sound setups, like the Sonos 5.1 Surround Set. We don't actually count this as a negative – for the Move to perform double duty as a home theater system and portable speaker, it would wreak havoc with the TruePlay tuning. In this case, Sonos have made a speaker for a specific purpose, and we think it fulfills that purpose well.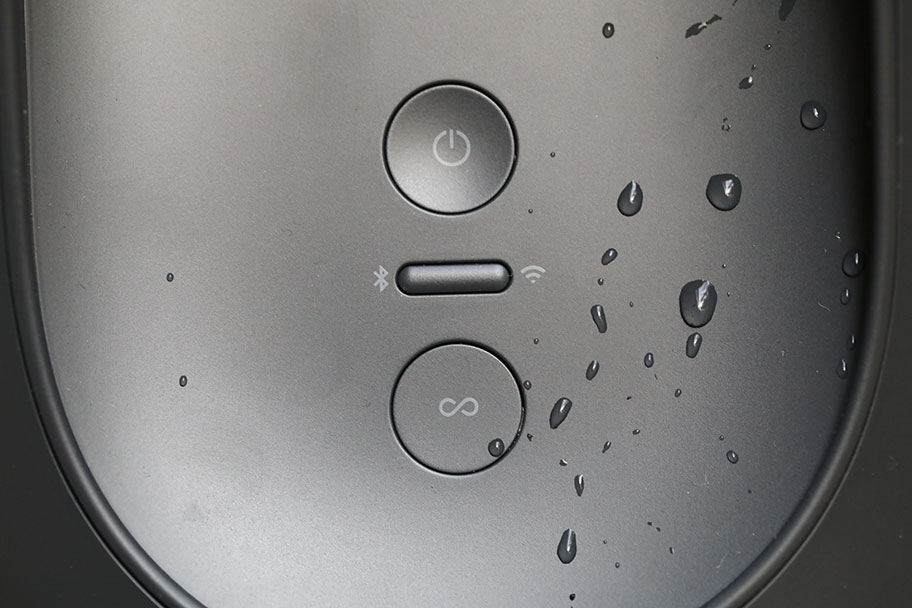 Amazon Alexa and Google Assistant
Like the Sonos One, the Sonos Move comes loaded with two virtual assistants: Amazon Alexa and Google Assistant. Although you'll need to set these up on your phone to take advantage of them, once you've connected properly, you'll be able to control the Move using your voice. The microphone can be toggled using the touch controls on top of the speaker. For the most part, we found that the Move's complement of microphones picked up our voice just fine, even in noisy situations. We'll be honest: we aren't huge fans of virtual assistants here at TMS, as we think they are far less intelligent than they should be, especially when it comes to controlling music. However, there's no denying that they are great for basic tasks, like setting timers or looking up information on Google. It's terrific that Sonos has both Google and Alexa functionality built in.
The Sonos Move sounds fantastic, and performs exceptionally well. Unfortunately, it has one major issue that's going to make anyone think twice…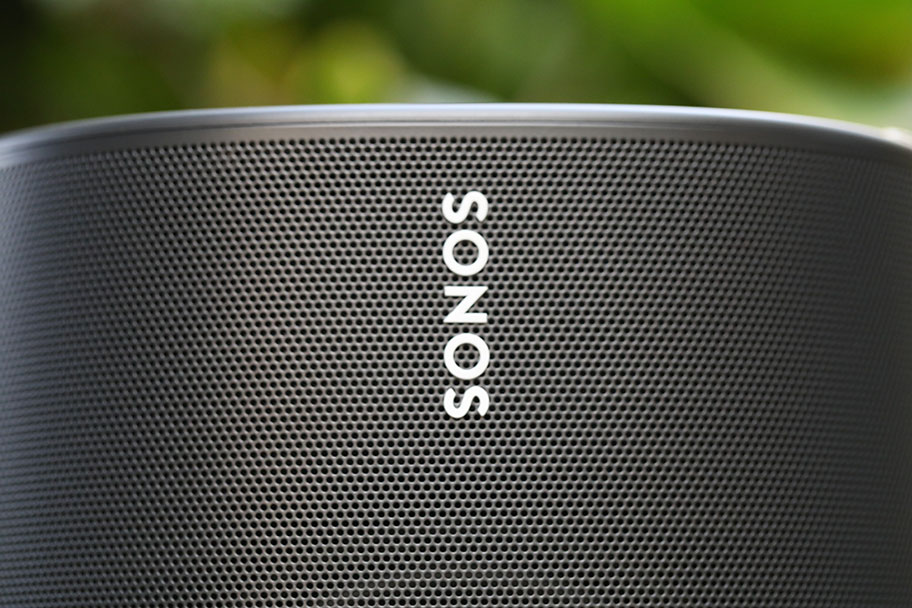 Design
Portability
The biggest problem the Sonos Move has is with portability. To illustrate this, we're going to tell you about another speaker we reviewed a few years ago: the Bryston BryFi. It remains one of the most ridiculous and clumsy speakers we've ever reviewed. Not in terms of sound quality – Bryston are a Canadian high-end powerhouse, and they know their sound. The BryFi was ridiculous because it was the least portable portable speaker we've ever come across. The damn thing weighed 16lbs, and yet someone at Bryston decided that what it really needed was a handle on the back, so that you could take it outside with you. It was an exercise in optimism, and predictably, the speaker bombed. Then again, portable wireless speakers probably shouldn't cost upwards of $1,000…
The Sonos Move has exactly the same problem - in terms of weight, rather than price. It weighs significantly less than the BryFi at 6.6 pounds, but that is still way too heavy for a portable speaker. Compared to something like the Bose SoundLink Revolve+ II, a $329 speaker that weighs a mere 2 pounds, and the Move is a brick. The SoundLink Revolve+ may not sound nearly as good as the Move, but it's a hell of a lot easier to take with you. To be honest, every other Bluetooth speaker in the world is easier to move than the Move.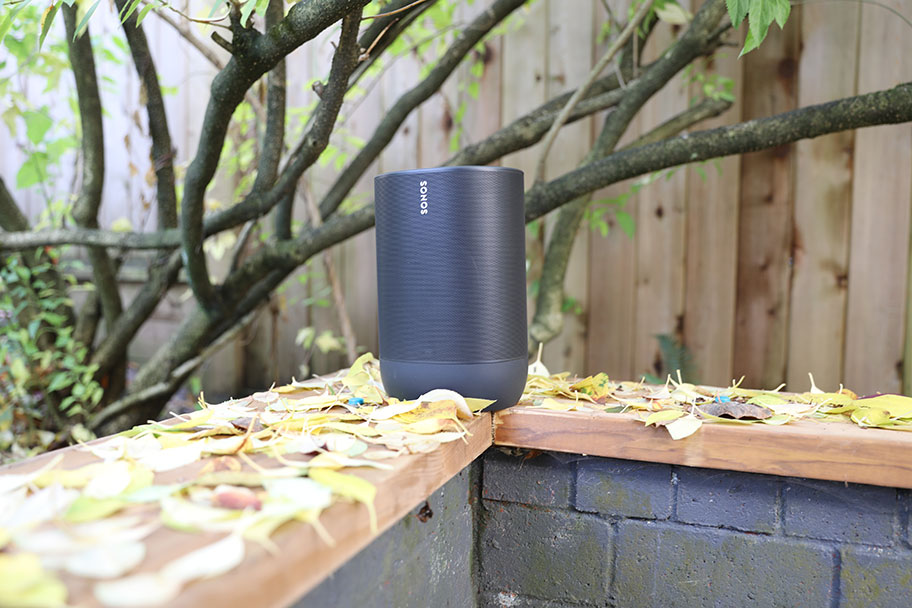 Like the lamentable BryFi, the Move has a built-in handle around the back, but the hefty weight and considerable size mean you're going to need a backpack (at the very least) to take it out and about. This isn't a huge problem if you just plan to move it onto the balcony or into the garden, but you could argue that there's no need for a Bluetooth connection in the first place. Which begs the question: what on earth is the Move for? It's pretty clear from their marketing that Sonos want you to take the speaker on the go, but doing so is such a giant pain in the backside that we honestly can't figure out what happened here. How did this thing get made?
It's a serious problem. The Move is a fantastic speaker, but in terms of convenience, it fails utterly and completely. If you're looking for a fantastic wireless speaker for your home, and are prepared to part with a little money, then it's the clear choice. But if you want a speaker to take with you when you leave the house, the Move should not be your first option.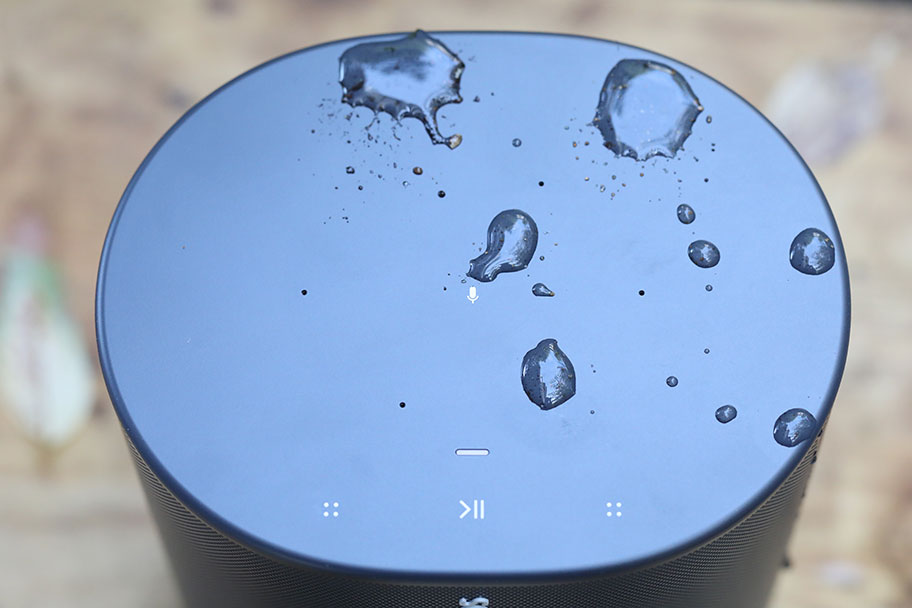 Looks and Controls
The good news is that the Move looks fantastic, ensuring that it won't look out of place as a desktop speaker. Sonos Have always been good at speaker design, and they continue that streak here. Our model came in sleek black, with the majority of the housing taken up by the company's signature dotted speaker grille. We love how the Move tapers towards the bottom, right where it sits on the charging ring, and the touch controls on top of the speaker remain as smooth and effective as always. As we already mentioned, it's significantly larger than the pint-sized Sonos One, so you'll need to plan for that.
One thing we noticed about the controls was that they they don't function well when wet. The Sonos Move has a reasonable level of waterproofing, which we will talk about in more detail, but it's definitely worth mentioning that any drops of water will force you to fight with the controls. That's not a huge problem, but it's still something worth considering if you're crazy enough to take this outside.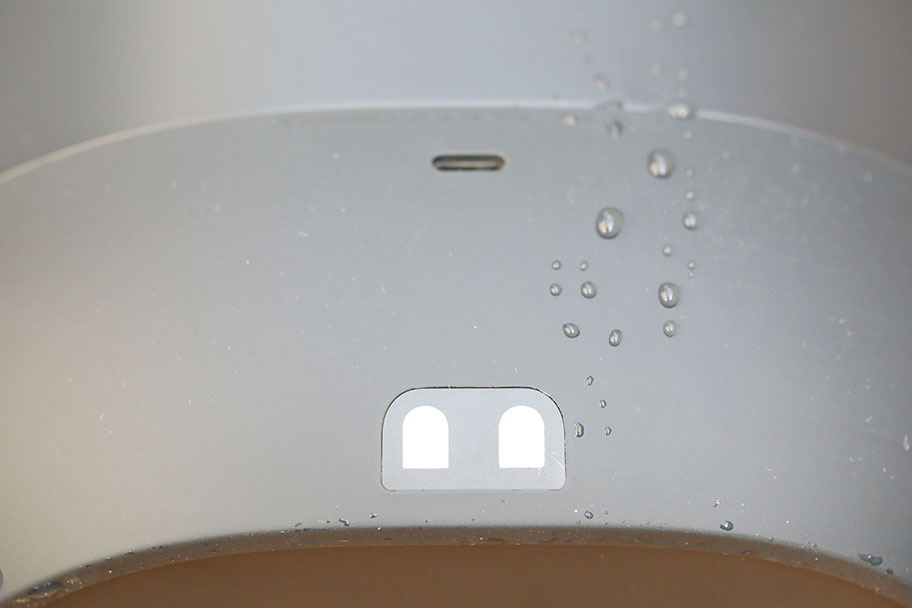 App and Setup
The Sonos app remains one of the sleekest, most effective examples of its kind. We have never – and we mean this as an absolute – come across a wireless speaker app that works as well or as seamlessly. As long as your phone is connected to your home Wi-Fi network, setting up your Sonos speaker becomes a total breeze. The whole process will probably take you less than 30 seconds. More importantly, controlling the speaker and playing music through it is just as straightforward. The app also makes it incredibly easy to create groups for multiple speakers, and to control the volume of all of them. There's simply no other wireless speaker brand that offers an app of this quality. If you like things to be easy and straightforward, then the Move – or any other Sonos product – should be your first choice.
 
Battery Life
When disconnected from its charger, the Sonos Move boasts an acceptable nine hours of battery life, which we reached by playing music at around 70% volume. Admittedly, nine hours isn't exactly impressive in the world of wireless speakers – if there's one thing we know for sure, it's that higher price tag does not necessarily equate to better battery life. The JBL Flip 4 (full review here), for example, runs at about a quarter of the price of a Move and has almost exactly the same battery life. Regardless, nine hours is going to be more than enough for most people. Just remember to charge it fully before a camping trip.
When you do need to charge the Move, you can do so in two ways. You can connect to any USB-C connection using the port on the rear, or you can drop it into the supplied charging ring that's connected to your power outlet. We mean drop it in literally – there are no magnets and you won't need them. The ring is designed in a way that all you have to do is plop the Move on top, and it will not only seat itself comfortably, but will start charging instantly. It's one of the best charging docks we've ever come across. The Move can be fully charged in under three hours. It would have been nice to see a faster charging feature here, but we never felt like we were losing out in its absence.

Waterproofing
If you still don't believe that Sonos wants you to take this monstrously-heavy speaker out into the world with you, just take a look at the waterproofing. The Move has an IP56 waterproof rating, which means it can handle both dust and high-pressure jets of water. Even the heaviest rain storm is unlikely to trouble it. The waterproof rating is comparable to other portable wireless speakers – the aforementioned Ultimate Ears MEGABOOM has an IPX7 rating, meaning it has no protection against dust but is capable of being immersed in water for up to half an hour. We wouldn't suggest trying this with the Move, but we did find that a few splashes of water caused no problems.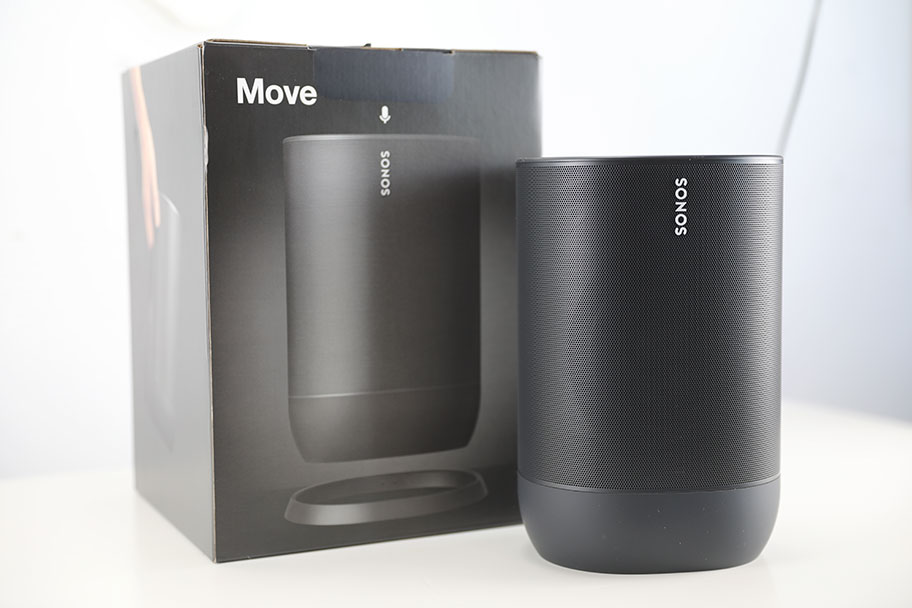 Accessories & Packaging
There's very little to mention regarding the accessories and packaging of the Move. The packaging is unsurprisingly solid, as it would be with a Sonos speaker, and there are no accessories other than the charging dock. Then again, you don't exactly need anything else. One could argue that an included USB-C cable might have been a nice addition, but we didn't find ourselves needing it.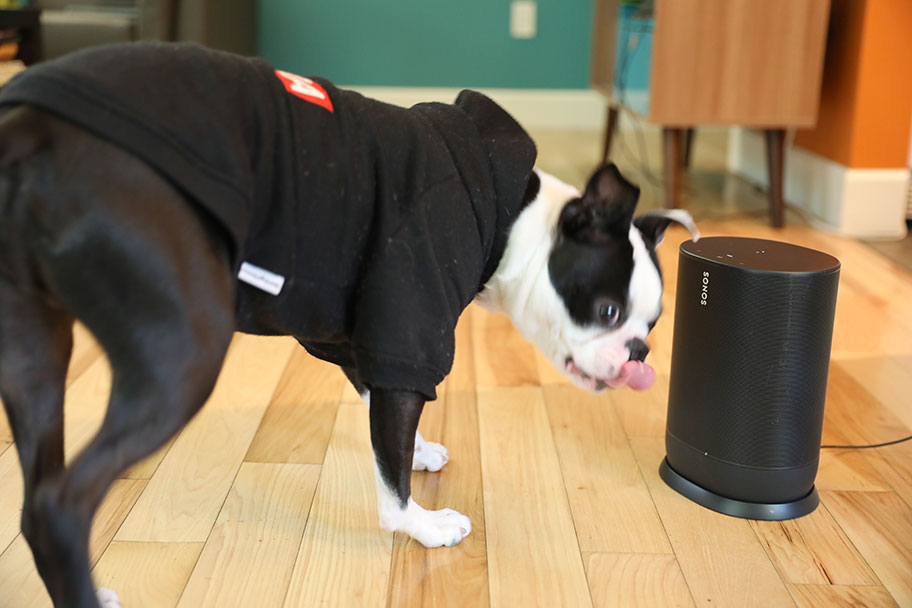 What We Like
The Sonos Move Delivers outstanding sound quality, with rich detail and dynamic bass.
The Move is loud and will happily hold its own in a noisy park or beach environment.
Setting up and using the Move is simplicity itself, thanks to an excellent companion app.
 
What We Don't
The Sonos Move is far too heavy to function as a capable portable wireless speaker.
The Move is significantly more expensive than just about every other portable wireless speaker around.
While the Move is waterproof, the touch controls don't work very well when wet.
 
Comparison Table
*WP = Waterproof

The Competition
The most similar speaker to the Move, we think, is the Apple HomePod. It delivers excellent sound quality, with a ridiculously good soundstage. If you're into audio, and want to extract the best from your wireless speaker, then the HomePod an easy choice. Unlike the Move, the HomePod has no Bluetooth, and needs to be connected to a main power supply. You also won't be able to use it without an iPhone or iPad, making it a pointless purchase for Android or Windows users. The price, however, has been attractively lowered to $299, making it the same price as the Move. We like the HomePod, but it's clear that the Move is a better speaker.
Another option is the Bose Portable Home Speaker. Like the Move, it offers both Bluetooth and Wi-Fi compatibility. It also has a significant advantage over the Move, in that it has a longer battery life at 12 hours, and only weighs about two pounds. However, the Bose Portable Home Speaker sounds significantly worse than the Move. The sound isn't exactly bad, but it's thin and weedy in comparison. Our take is that, if you can, you should buy the Move. It's a superior option despite being a much heftier one.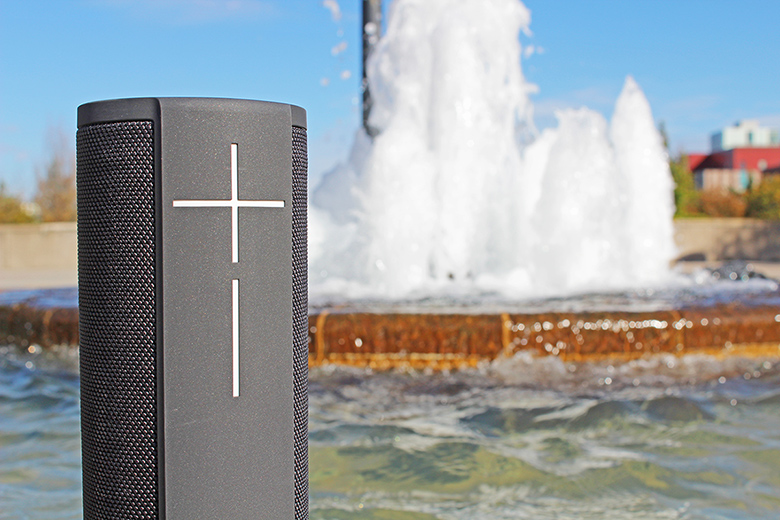 If you want a great sounding portable wireless speaker, but don't want to throw your back out carrying it around, we recommend the Ultimate Ears MEGABOOM 3. It's a light, powerful, punchy wireless speaker with a fun aesthetic, and it sounds terrific. You get 15 hours of battery, IPX7 waterproofing, and access to Amazon Alexa. It also features both Wi-Fi and Bluetooth connections, like the Move. While it doesn't sound quite as good, and definitely doesn't go quite as loud, we think the sound quality is exciting and energetic enough to hold up in noisy environments. As a home speaker, the Move is clearly superior, but if you want something portable, the $157 MEGABOOM is the speaker to buy.
And finally, let's compare the Move with another speaker from the same lineup: the Sonos One. The One isn't designed to be portable. It's a simple Wi-Fi enabled speaker with smart assistant capability. This makes it a much better choice if all you want is a simple wireless speaker for home use. It shares many of the features of the Move, including the companion app, the control scheme, and even the same internal driver design. This means that the sound quality is just as good, if not quite as loud. It also costs less and doesn't pretend to be something it struggles with. 
Learn More About Portable Audio