There are, quite literally, tens of thousands of earbud models available to buy. Sifting through the ocean can be tricky, but fortunately, we've done the hard work for you. We've picked out 10 of the very best earbuds, at all budget levels. Whether you want a simple pair of wired buds to listen off your laptop, or a terrific true wireless pair with audiophile sound quality, we've got you covered. And if you'd like something a little more powerful, you can check out our list of the best full-size headphones.
 
---
Jump To...
---
Battery Life: 24 Hours (4 Hours on Earbuds, Additional 20 Hours in Charging Case)
Waterproof: No
What We Like: Intelligent features matched with stellar all-round performance.
What We Don't: Irritating cable, and there are better options for those with Android phones.
It would be very easy to dump on the Apple AirPods Pro. They feel like a safe choice. But here's the thing: as earbuds, they are genuinely brilliant. They do so many things well, and have so many useful Hey-I-didn't-know-I-needed-that features, that I genuinely don't think there's a better or more rewarding pair of earbuds out there.
For starters, the AirPods Pro are the only earbuds I can think of that will actually intelligently adjust the fit. The first time you use them, you can run a short test on your phone, which will tell you if you need to increase or decrease the size of the included detachable tips. It's a game changing feature, because getting a good seal in your ear canal means you get better sound, better call quality, and better noise-canceling. Compare these directly with the Sony WF-1000XM3s, which are only slightly less expensive. I adore my Sony buds, but they aren't as smart as the AirPods.
They offer stunning performance overall, and while the sound quality isn't quite as good as that found in other models from the likes of Sony and Sennheiser, it's more than acceptable for day-to-day listening. You can switch between noise-canceling and transparency mode (letting in the sounds of the outside world) through a simple touch on the responsive control stalks. The AirPods Pro are IPX4 water resistant, which is more than enough for a quick gym session (although I think there are better options for working out, like the less expensive Jabra Elite Active 75T, below, which are rated IP57). To cap it all off, they have decent battery life of any earbuds we've tested. With the additional charges in the case, you'll get close to 24 hours before you need a recharge. It's not the longest on this list—the Jabras offer 28—but it's highly respectable.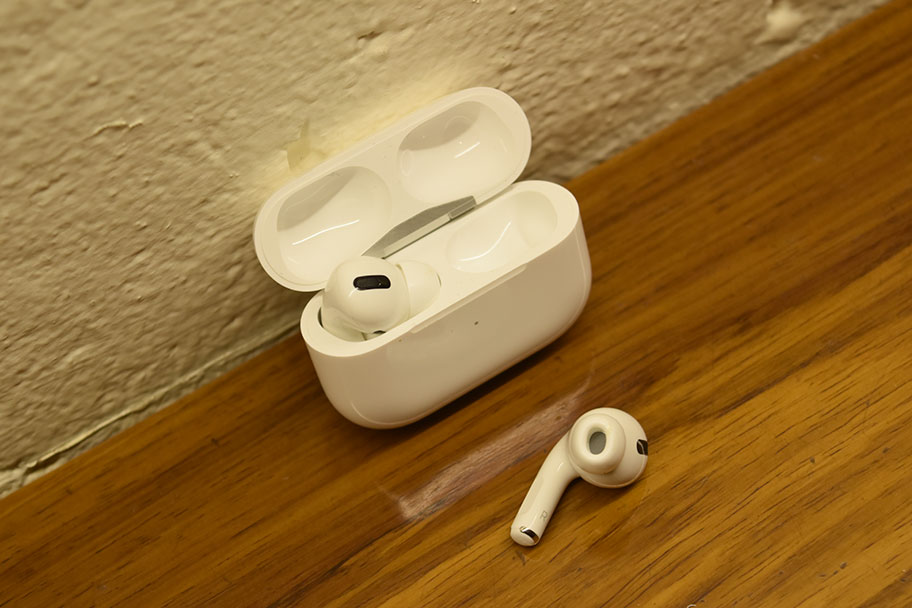 OK: if you're an Android user, there are better options available. You'll still be able to connect via Bluetooth, but you won't be able to enjoy the immediate pairing, or some of the app features. If you do own an Android phone, I recommend the Sony WF-1000XM3s.
It's also worth noting that the AirPods have one deeply irritating feature: the charging cable. One end is USB-C, and the other is Lightning, a proprietary Apple termination. This means you'll need to carry the charging cable with you if you are planning to charge on the go, which is annoying (although the AirPods are compatible with Qi wireless charging pads). But then again, that's how Apple do. It doesn't stop the AirPods Pro from being one of the most sensible audio purchases you can make.
See the Apple AirPods Pro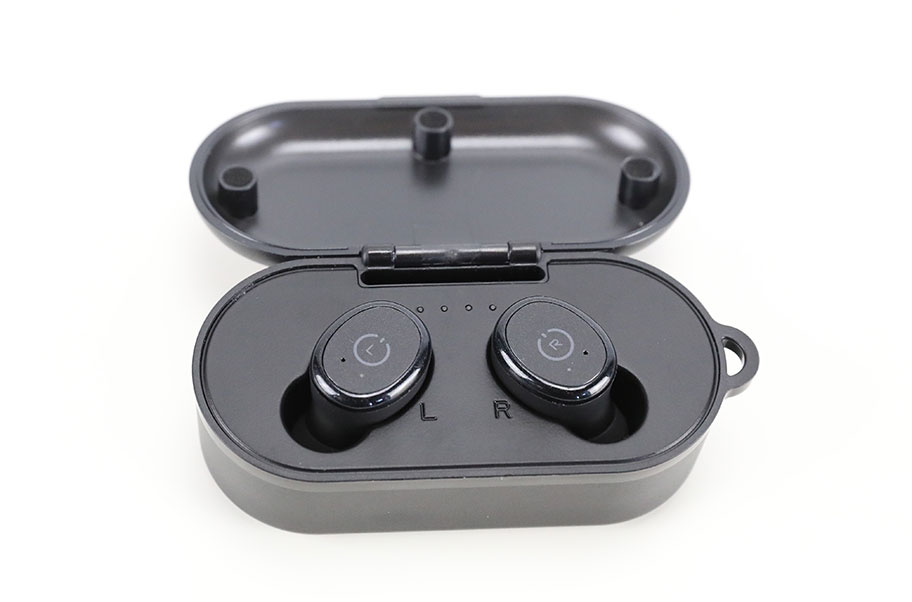 Battery Life: 11 Hours (3 Hours on Earbuds, Additional 8 Hours in Charging Case)
Waterproof: Yes - IPX8
What We Like: Solid sound quality, fully waterproof, comfortable for long periods.
What We Don't: Huge charging case.
If you want a vision of hell, scroll through the sub-$50 earbud offerings on Amazon. Because earbuds are so ridiculously cheap to make, everybody and their mother has gotten in on the act, meaning there are thousands and thousands of models selling for hundreds of times what they are actually worth, and which I wouldn't use even if every other pair of earbuds I had was broken. Fortunately, there are some gems out there. One of the best true wireless models I've tested so far (and I've tested lots) is the TOZO T10
If you're looking for a pair of earbuds that offer supreme convenience, great sound, and enough battery to last you through a long work day, then I strongly recommend the T10. I'm often asked about less expensive alternatives to the Apple AirPods Pro, and I think the TOZO T10 really fit the bill. They even have some significant advantages over the AirPods Pro, aside from the price. The TOZO T10 have a waterproof rating of IPX8, making them adventure-proof and gym-ready (compare that to IPX4 for the AirPods). I dunked mine in a glass of water to test this, and they worked fine. They're comfortable to wear for long periods of time, with multiple tip sizes included to make sure you get a good fit. I also happen to think the sound quality is much better than the price would suggest. It's big, bassy, fun, and addictive - perfect for a hard workout or making a noisy commute much more enjoyable.
The main downside to this model is the charging case. Compared to cases from other true wireless earbuds, like the AirPods Pro and the Jabra Elite Active 75T, it's huge, making it difficult to slip into a pocket. But honestly, if that's the one sacrifice you have to make while still getting a great pair of earbuds for around thirty bucks, it's a minor one. By the way, it is in fact possible to go cheaper and still get a great result: just check out the $10 (!) Venture Electronics VE Monk Plus, below.
See the TOZO T10
Battery Life: 28 Hours (7 Hours on Earbuds, Additional 21 Hours in Charging Case)
Waterproof: Yes - IP57
What We Like: Terrific sound, intuitive, great for both workouts and day-to-day use.
What We Don't: Controls can be a little fiddly.
I work out a few times a week, and one of the perks of the job is getting to test a different pair of earbuds almost every time. I can say without a shadow of a doubt that the best experience came from the Jabra Elite Active 75T earbuds. They beat the pants off the Apple AirPods Pro and the Sony WF-1000XM3, both of which are significantly more expensive.
The biggest reason for this is down to the build. The Elite Active 75Ts have a unique, grippy coating, which is not only comfortable to wear but which ensures that the buds stay put. Whether I was running, lifting weights, or cycling, the 75Ts didn't move. Their slim profile also makes them look good, which is a nice bonus. I think that one of the most important things for any pair of workout earbuds is the ability to not distract you; you shouldn't have to be constantly adjusting them. Ideally, you should forget they are there. I think the 75Ts fulfil that better than any bud I've tested. It also helps that they have IP57 waterproofing, meaning they cannot only survive a dunk in the pool, but can also withstand dust. That's important if you rock climb, and there's chalk dust flying around. (If you want an explanation of what an IP rating is, check out our buying advice below.)
It also really helps but the sound quality and feature set are both so good. The audio is crisp and punchy, far better than more expensive buds like the Bose Quietcomfort Earbuds. And while the Bose certainly beat the Jabras on noise-canceling, the cancellation here is solid, as is the control app, and the battery life—28 hours, which is four hours longer than the Apple AirPod Pros.
If there's one criticism I have, it's that the controls can be a little fiddly. I found the buttons occasionally hard to press, although it is handy to be able to remap their function using the companion app. But honestly, that's a small downside. Workout buds are a dime a dozen, but I genuinely believe that these are the ones you need to be looking at. They are smart, well-built, and they sound great.
See the Jabra Elite Active 75T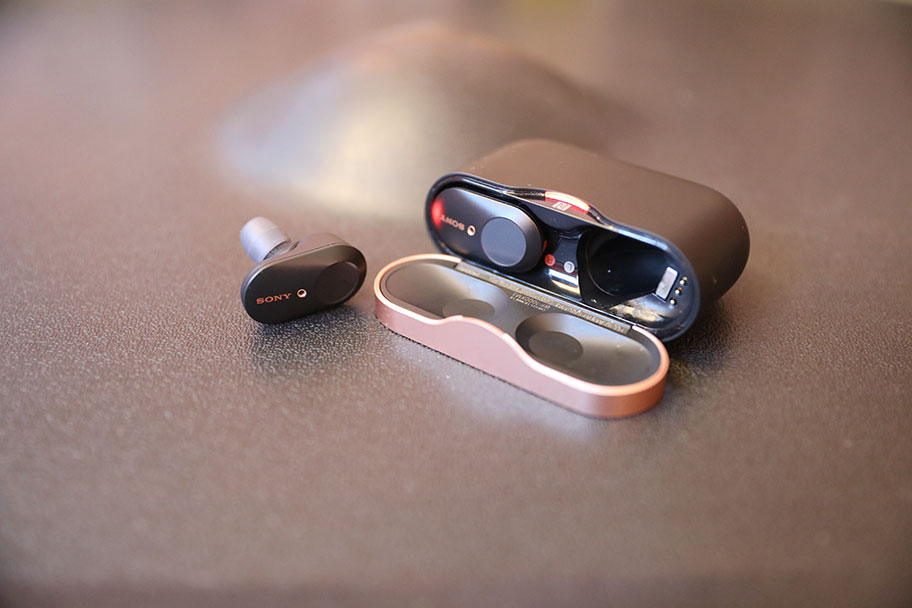 Battery Life: 16 Hours (4 Hours on Earbuds, Additional 12 Hours in Charging Case - Measured with Noise-Canceling On)
Waterproof: No
What We Like: Clean and crisp sound quality, with excellent design and one of the best cases ever.
What We Don't: No water resistance at all, relatively low battery life.
Just as Bose is the company to turn to for great noise-canceling, you go to Sony the sound. The WF-1000XM3s However audio quality that is just out of this world. They were my absolute favorite out of all the models I tested: Apple, Bose and Jabra couldn't touch them. Music felt gloriously clean and crisp, with a ton of detail. I loved how weighty the bass was, and the earbuds worked well with movie content over Bluetooth too stop ultimately, if audio quality is important to you, then these earbuds should be the first ones you go for.
For quite a while, I debated whether or not to put these in the place of the Apple AirPod Pros as the pick for Best Overall. In the end I went with the AirPods… But it was a very close run thing. The Sony buds may lack some of the intelligent features of the AirPod Pros, but that doesn't stop them from having an excellent all-around feature set. The companion app is outstanding, beautifully simple to use, and while the Bose QuietComfort Earbuds have better noise-canceling, the cancellation you'll find in the Sony buds is no slouch.
I also adore the case (with one caveat, which I will get to below). It's a USB-C-equipped case with the ability to snap the buds and magnetically, and a classy hinged lid. Out of all the buds I tested, the Sonys had the most pleasing case, something that was genuinely a pleasure to hold in hand and interact with. It's a small thing, but it really does make these buds feel classy. And it absolutely wipes the floor with the case used by the Bose buds.
The WF-1000XM3s certainly aren't flawless. For one thing, the charging case, good as it is, is enormous – much bigger than I would expect for a pair of true wireless earbuds at this price. And it has to be said that the battery life isn't great, beaten out by the Bose buds and absolutely smoked by the AirPod Pros. But I still found a lot to love about the WF-1000XM3s, which remain a remarkable high-end pick, and an ideal one for anybody wanting to spend some money on their audio. Although, for the record, that name has got to go...Read our in-depth review
See the Sony WF-1000XM3
Battery Life: 18 Hours (6 Hours on Earbuds, Additional 12 Hours in Charging Case)
Waterproof: No
What We Like: Outstanding cancellation that effectively blocks out the outside world.
What We Don't: Massive case, infuriating controls.
If superior noise-canceling is what you want, then we suggest looking no further than the Bose QuietComfort Earbuds. It's hardly surprising that Bose have beaten out the competition here, given their reputation for excellent cancellation. And the QuietComfort Earbuds are a wonder, easily beating out competition from the likes of Sony and Jabra. Once the cancellation is turned on, you'll hear very little from the outside world. If you travel or commute a lot, there's simply no reason to buy any other earbuds.
The cancellation isn't a simple on/off affair, either. You can toggle the level, from zero (complete transparency, allowing you to hear what's going on around you) to ten (full cancellation). You do this with the accompanying mobile app, and it works exceptionally well. You can save presets into the buds, which you can activate with a quick double-tap on the left earbud, meaning you don't need to pull out the app switch between modes. One of the best features, I think, is being able to have the cancellation on without music playing. If what you need is absolute quiet for a few moments, the QuietComfort earbuds are ideal.
I also want to mention the fit. After all, comfort is in the name, and these birds certainly do live up to it. Wearing them for hours proved easy, and I suffered no fatigue or irritation. That's more than I can say for the Jabra buds, above, which gave me a little pain after a few hours.
However, there are a couple of significant downsides to the Bose QuietComfort Earbuds. The case is terrible; it's massive, for one thing, and is annoying to open thanks to a latch you have to depress. You would think there wouldn't be any similarities between these earbuds and my top budget pick, the $30 TOZO T10s. Well, I can tell you that the cases for both are very similar in size. Not good. And while I'm on the subject of things I don't like: the sound quality. It's fine, but can occasionally be lifeless. The less expensive Sony WF-1000XM3, below, which offer solid noise-canceling too, are much better.
And one more thing— and I truly don't mean to rag on these earbuds too hard, they are generally pretty good, but some of these oversights are extraordinary. You can skip forward a track, but you cannot skip back. You also cannot reassign the controls. That is, in a word, dumb.
Look: I like the Bose buds. For noise-canceling, they are clearly the best choice. If you travel or commute, I strongly recommend them. But you need to be aware of the limitations, and there are many.
See the Bose QuietComfort Earbuds
 
The Competition
Of the approximately 10 squillion earbud models available, I'm convinced the five above the very best you can buy. But! That doesn't mean there aren't others worth checking out. I've got five more here that I think are worth looking at if the models above don't float your boat. You'll note that a couple of them are traditional wired earbuds. While most phones are phasing out the headphone jack, there are still plenty of devices (like laptops and tablets) that use them. I think they'll be worth your time.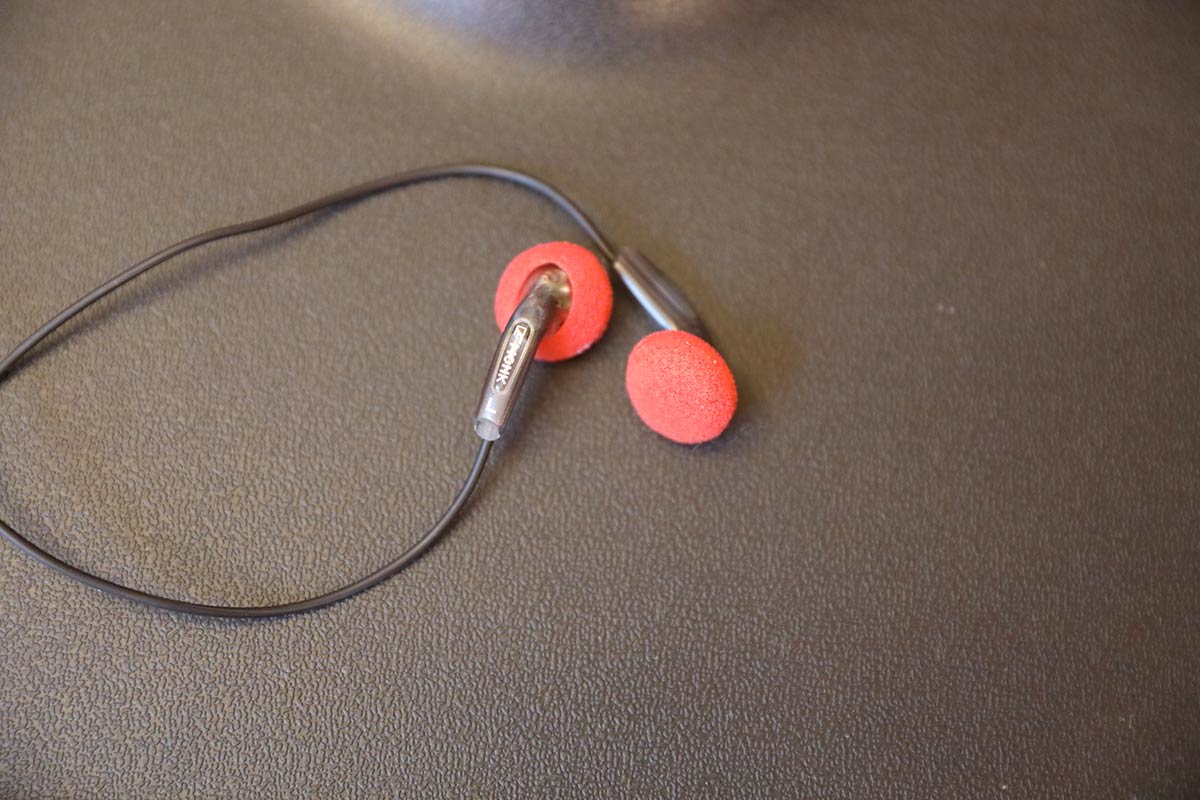 Ridiculously Affordable Earbuds With Great Sound Quality
Other sites won't tell you about the Venture Electronics VE Monk Plus ($10). They'd rather steer you towards pricier options. But here's the thing: the dirty little secret about the world of in-ear headphones is that the super-cheap ones can, on occasion, beat out models nearly twenty times the price. Take it from us when we say that no model has surprised us more than the VE Monk Plus. Even cheaper earbuds from big name manufacturers can't compete. The sound feels open and detailed, with a level of realism that other earbuds can't even hope to match. They don't have the true wireless convenience of the more expensive TOZO T10, above, but they are superb pair in their own right - a real gem that a lot of other buyers will pass by. If you're on a budget, and want to quickly and effectively improve your sound, then the Monk Plus are the way to go.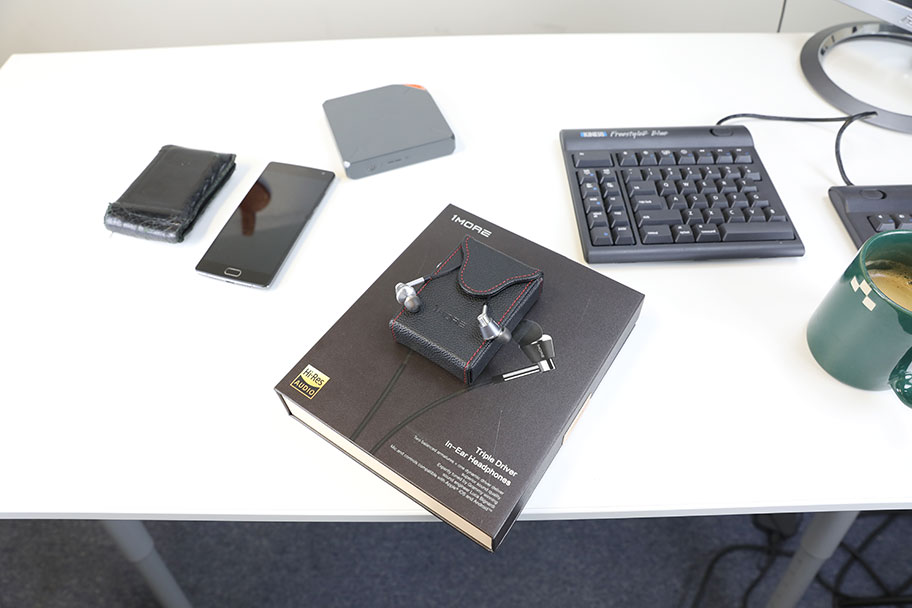 A Superior Wired Earbud Option Under $100
The 1More Triple Driver In-Ear ($68) sport a fairly minimal design, lacking modern features that most of the earbuds on this list offer. However, even though they may not have Bluetooth or offer access to Google Assistant or Amazon Alexa, they still rock. For under $70, the sound and build quality are simply unbelievable for the price. We're talking rich, crisp, dynamic audio that will flatter any song or artist, and for $120 less than the Jabra Elite Active 75t. Not to mention the fact that this gorgeous sound is wrapped up in what looks and feels like a premium package. The value here is absolutely astonishing, and these remain one of the most astounding pairs of earbuds we've ever tested. The only downside we found was that they suffer from very finicky controls, which can be a real pain to use. While that could be a deal breaker for some people, the TDIEs are an absolute joy and you owe it to yourself to hear them...Read our in-depth review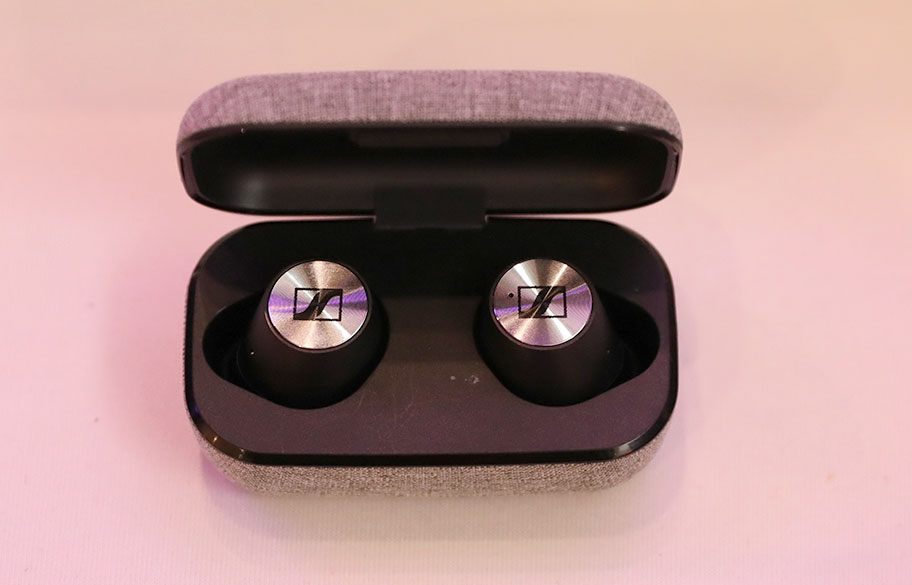 Incredible Sound Quality (At an Incredible Price)
If you demand the absolute best sound quality and a pair of earbuds, then I recommend you check out the Sennheiser Momentum True Wireless 2 ($300), which are phenomenal. They are even better than the Sony WF-1000XM3s mentioned above, although they are significantly more expensive. While that pricetag makes them a tough option for most people, they are worth looking at if you need the very best. The audio quality is rich and sumptuous, and the feature set impresses to, with good cancellation and decent battery life. For most people, the assured and confident (and less expensive) Sony buds will be more than enough. But if you feel like breaking the bank a little, I think you'll enjoy the Sennheisers.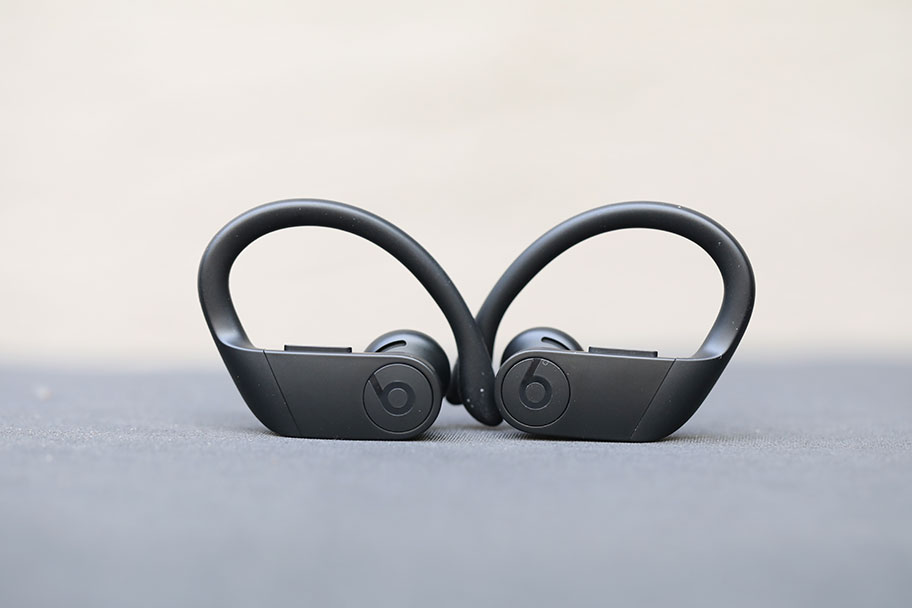 A Solid Jabra and Sony Alternative
We never in a million years thought that we'd put a Beats by Dre product here. Historically, their products have been awful. But the Beats by Dre Powerbeats Pro ($250) true wireless earbuds are genuinely an exception. Not only do they offer balanced and clean sound quality that's surprisingly nuanced, but the design is impeccable. The Powerbeats Pro are easy-to-use with clear controls, and offer a 24-hour battery life that competes with the other heavy headers on this list. However, they do have some significant downsides. Despite being water resistant, there's no official IP rating, which means it's hard to tell just how much water they can take. The charging case is also one of the largest we've seen. While that's not necessarily a huge problem, it could be a factor if you habitually slip your charging case into a pocket. And damn, they're expensive for what you get...Read our in-depth review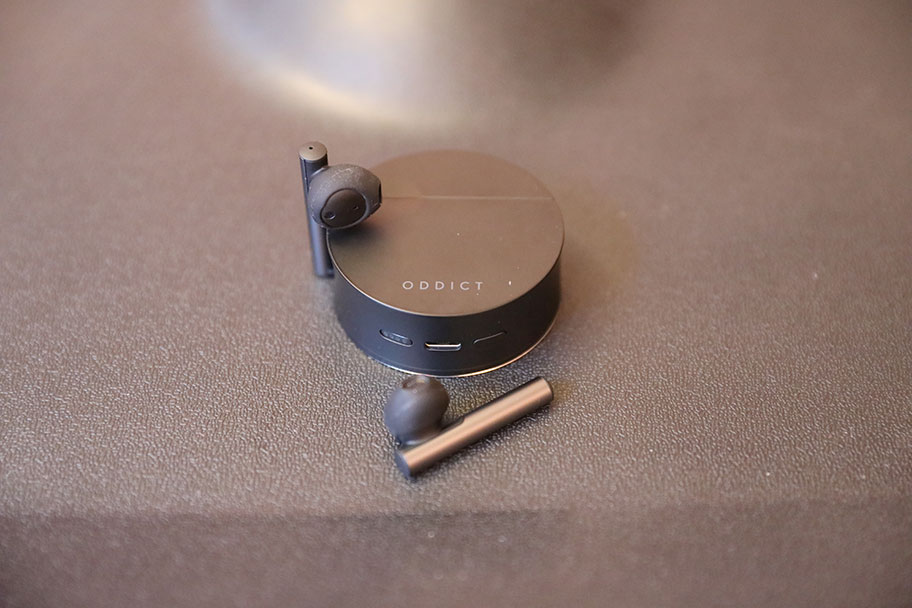 An Affordable Apple Alternative
Let's say you like the Apple AirPods Pro, but you aren't a fan of the $235 pricetag. You could go for one of the thousands of knockoffs out there… Or you can go for a pair that are actually worth your time. The Oddict TWIG ($149) have a very similar design to the AirPods, with the same little stalk on each bud. And while they strip away many of the AirPods' notable features, they are still an excellent pair of buds in their own right, with some real plus points. I adore the case, and the TWIGs come with one of the best mobile apps I've ever tested. The basic sound didn't impress me too much, but there's a very capable EQ system here that allows you to customize your listening. All in all, I think the Oddict TWIG may be the best Apple impersonators I've ever come across.
 
Earbuds Comparison Table
| Earbuds | Price | Category | Batt. | WP* | Smart Asst. | Imp.** | Sens*** |
| --- | --- | --- | --- | --- | --- | --- | --- |
| Apple AirPods Pro | $235 | True Wireless | 24Hrs | No | Siri | Unavailable | Unavailable |
| TOZO T10 | $50 | True Wireless | 11Hrs | IPX8 | None | Unavailable | Unavailable |
| Jabra Elite Active 75T | $150 | True Wireless | 24Hrs | IP57 | Siri, Google | Unavailable | Unavailable |
| Sony WF-1000XM3 | $228 | True Wireless | 16Hrs | No | Google, Alexa | Unavailable | Unavailable |
| Bose QC Earbuds | $279 | True Wireless | 18Hrs | No | Google, Alexa | Unavailable | Unavailable |
| VE Monk Plus | $9 | Wired | N/A | No | None | 64Ω | 113dB |
| 1More TDIE | $70 | Wired | N/A | No | None | Unavailable | Unavailable |
| Sennheiser MTW 2 | $300 | True Wireless | 28Hrs | No | Siri | Unavailable | Unavailable |
| Beats Powerbeats Pro | $250 | True Wireless | 24Hrs | No | Siri | Unavailable | Unavailable |
| Oddict TWIG | $149 | True Wireless | 30Hrs | IPX4 | None | 32Ω | 103dB |
*WP. = Waterproofing
**Imp. = Impedance
***Sens. = Sensitivity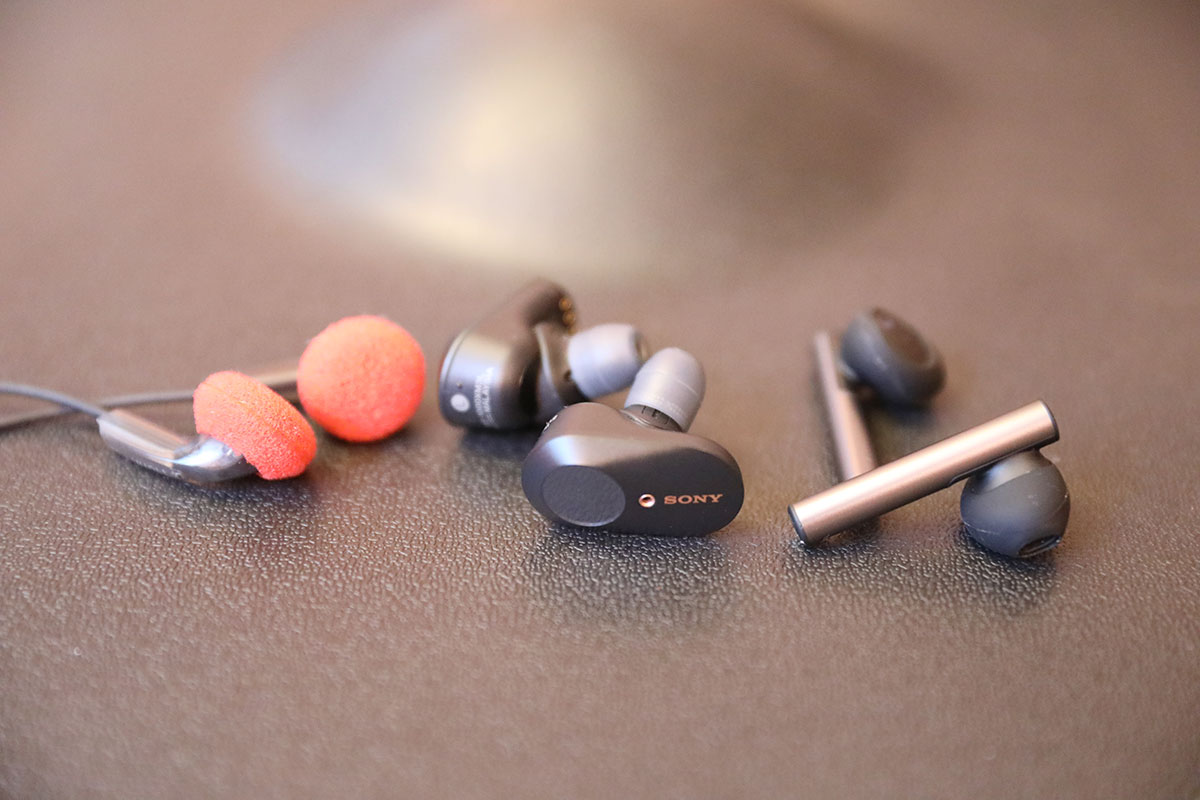 Earbuds Buying Advice

Comfort and Fit
It's absolutely essential to make sure that your earbuds fit snugly in your ear canals. After all, if they don't fit well, what's the point? You want a pair you can wear comfortably for hours at a time. You'll need to make sure that the fit isn't too tight, or you'll get some serious ear pain. The good news is, manufacturers often take this into account, and frequently supply different-size tips and wings designed to help you get an exact fit. Sometimes, you've got many different options: just take a look at the $70 1More Triple Driver In-Ear headphones, which come with eight different tip sizes. More commonly, you'll get at least three different tip options. We suggest experimenting to find what works, and remember, you can have a different size tip for each ear.
We also highly recommend taking a little bit of time to make sure you know the best way to insert your chosen earbuds into your ears – it's not as simple as just squashing them in. A pair of true wireless earbuds, like our top-ranked TOZO T10, will need to be inserted in the ear with a screwing motion to lock them in place.
In addition, a good fit will mean good isolation, a term that refers to the earbud's ability to block out the noises around you by sealing your ear canal. Good isolation also means that you don't need to pump the volume so high, and also improves bass. Sometimes, however, the tips supplied by the manufacturers won't cut it. In that case, we strongly recommend you invest in a pair of Comply ear tips. These are made from squashy memory foam, and we absolutely swear by them. They always provide an excellent fit and are dirt cheap. Buy multiple pairs, and you can thank us later.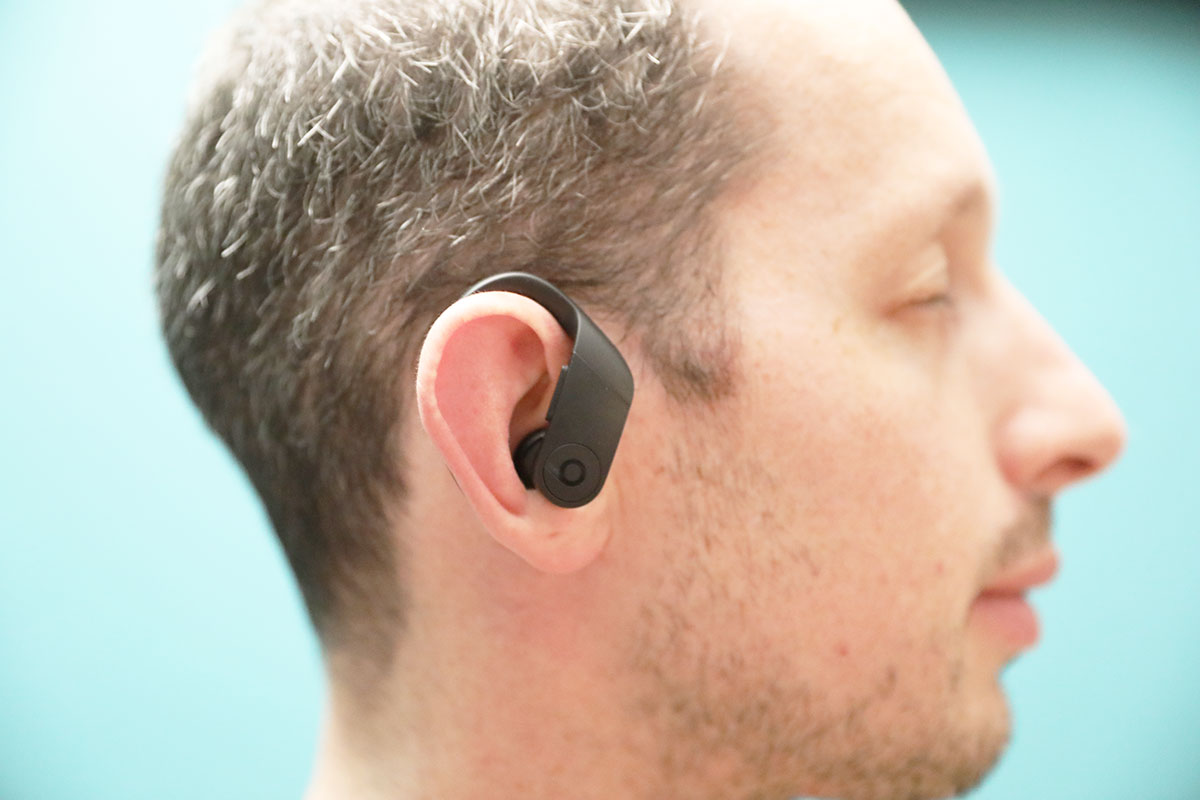 Sound Quality
You should know what sound quality to expect when you're buying a pair of earbuds, and the trade-offs you make when you opt for in-ear headphones over larger over-ear models. Firstly, the good news. Assuming you can get a good isolation – see the section above this one for useful tips on this – even smaller, less expensive earbuds can give you some truly superb sound quality. Getting a good seal with your ear canal means that no sound will be lost to the outside world, which will give you punchy bass and crisp treble.
It's worth being aware of what you'll get for your money, however. Very obviously, a pair of sub-$100 earbuds is not going to be able to compete with something like the $200-plus Sony WF-1000XM3 noise-canceling buds. The Sony's offer better sound quality. You get what you pay for, after all, and much of what you're paying for here is the quality of the components and the research that goes into tuning them. More expensive earbuds will often offer greater detail in the sound, whereas less-expensive models tend to sacrifice detail for energy, particularly in the bass. This isn't necessarily a bad thing – it just means that you need to be aware of what you're getting.
And the great part about the world of earbuds is that you can often get very expensive models that sound fantastic. Case in point: the Venture Electronics Monk Plus, our top budget pick, with a staggering price tag of $9. They sound far better than you'd expect them to, and even if Venture Electronics aren't super well-known, we think they are easily the best budget earbuds you can buy. Ultimately, what it comes down to is that price is often misleading – you can frequently get great sound from less expensive earbuds, if you're prepared to look. And by look, we mean check out our handy list above.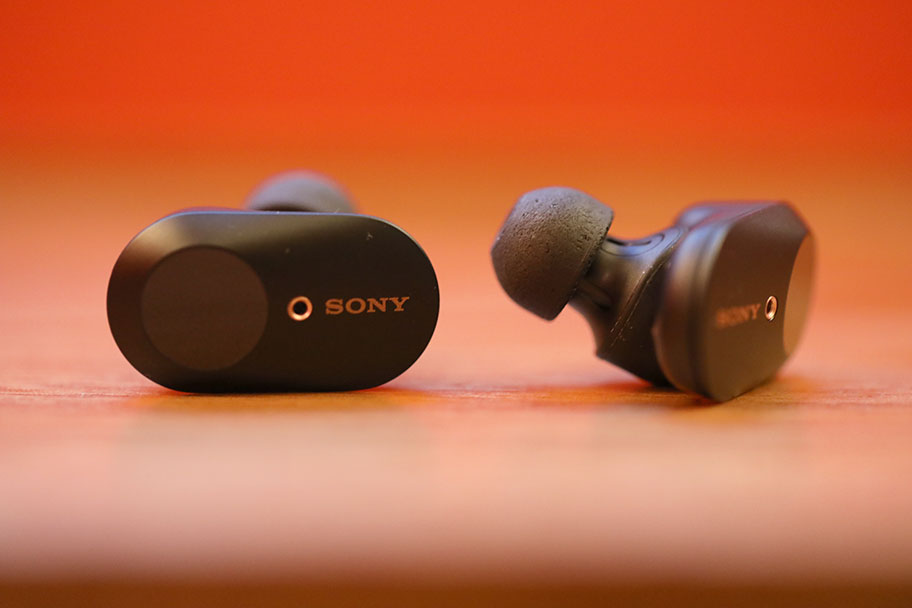 Earbud Types
There are three main types of earbuds available, and it's worth talking about the ones you're likely to encounter. We also break down the advantages and disadvantages of each, so if you're pondering whether to buy a pair of true wireless or go for a more traditional wired model, this is where you need to be.
 
True Wireless Earbuds
True wireless earbuds are what the future looks like. They are quickly becoming the most common type of earbuds available and with good reason. They're convenient, simple to use, and sound terrific. To qualify, earbuds need to be connected by absolutely nothing at all. They should be two separate pieces, one for each ear, which communicate with each other and with your phone via Bluetooth, or Apple AirPlay 2. Given that most smartphone manufacturers are ditching their headphone jacks, wireless earbuds – and true wireless earbuds in particular – are going to be the standard within a year or so.
They operate via tiny batteries, and to charge them, you insert them into a specially designed case, itself often small enough to slip into a pocket. The case can hold a good deal of power once it's charged – enough to not only fully charge the buds themselves, but to do so two or three times. Although they are getting cheaper, true wireless earbuds do tend to be a little more expensive – as anybody who has bought a pair of $235 Apple AirPods Pro can confirm.
There are downsides to true wireless earbuds, as well. It is much easier to lose them than traditional wired buds, and if you misplace one, you may be in trouble. Plus, they are expensive to replace - Apple charges about $79 per AirPod replacement. Controlling true wireless earbuds can often be tricky. Right now, the industry hasn't quite figured out how to approach this, with awkward solutions ranging from touch controls to sketchy voice activation. Having said that, some models – like the incredible Beats Powerbeats Pro (full review here) – have figured it out. The Powerbeats use a simple physical control system which is mirrored on each bud, and it works very well.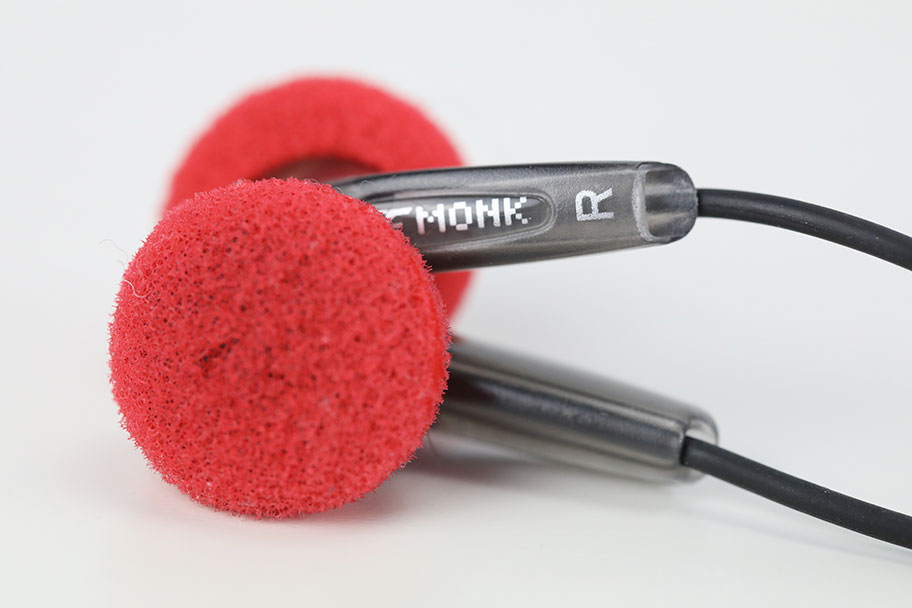 Wired Earbuds
It is so tempting to just kiss wires goodbye and grab yourself a pair of wireless or true wireless earbuds. There are plenty of good reasons for doing so – you can read some of them above - but before you do that, it's worth considering why wired earbuds (and wired headphones in general) have been around for so long, as well as the advantages they have. The biggest advantage is sound quality. While Bluetooth is quite good, and improving every year, the most efficient way of sending sound from one place to another is still to use regular wire. It means you won't lose any audio quality on the way, or less than you would with wireless. You will never run out of battery life, or have any issues with laggy audio thanks to dodgy Bluetooth connections. You just have to plug them in, and go.
Of course, having wires means an extra thing to look out for, as well as the potential dangers of tangles. If you're prepared to put up with that and want the best sound possible, then we'd strongly suggest a wired pair of earbuds – perhaps the amazing 1More Triple Driver In-Ear, which cost less than $70 and do an incredible job.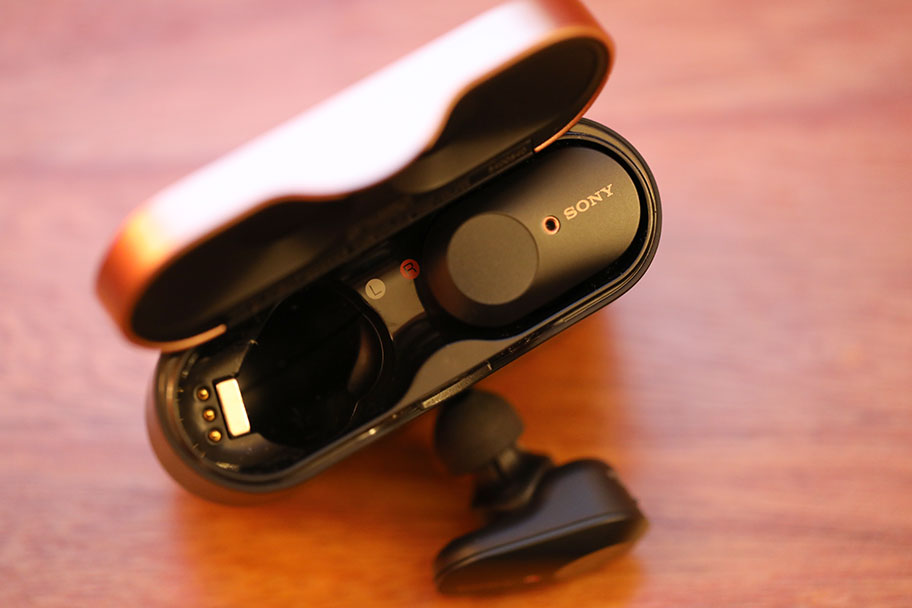 Battery Life
Manufacturers love to trumpet the battery life of their earbuds. It's one of the main deciding factors for anybody who chooses to pick up a wireless or true wireless pair. But the key thing to bear in mind is that you should be sceptical about what manufacturers tell you. While we certainly don't mean to suggest that you're being lied to, official battery specs are often drawn from testing that is favorable to the model the manufacturer is trying to sell, and which doesn't always equate to real-life usage. Battery life is dependent on volume, among other things, and testing is sometimes done at...shall we say, a slightly lower volume than many of us would like. To give you an example, the $235 Apple AirPods Pro can manage four hours of battery before they require a charge, whereas Apple claim that you will get four and a half. In our picks above, we've always done our best to give you an accurate picture of the battery life.
Note that things get a little more complicated when you take true wireless earbuds into account. While they may have less battery life than traditional wired models, they also come with carry cases that can also be charged. The cases store these charges, making it easy to carry them around and slot your earbuds into them for a quick boost, vastly extending your battery life. In many cases, this not only means that you get a lot more battery life, but also a quick recharge that will give you an hour or two of extra battery almost right away. The AirPods Pro only need 15 minutes in the case to give you up to two hours more listening time - although taking calls will drain this much faster, and we've had mixed results. In total, a fully-charged set of AirPods with a fully-charged case will give you 24 hours of battery, which is pretty damn good.
While it's obviously good to have a pair of wireless earbuds with a long battery life, you should be aware that you always pay more for the privilege. If all you plan on doing is using your earbuds on a commute, then you probably don't need to spend the money for a huge battery life – especially when you'll have a chance to recharge your buds regularly. But if you do a lot of travelling, and are on flights or in airports frequently, then you may want to invest in a pair that has an extended battery life.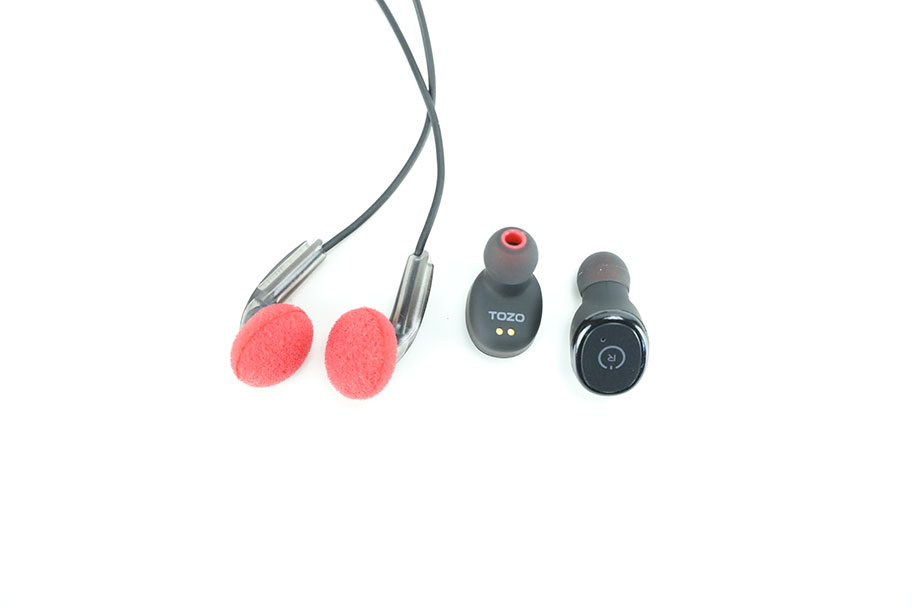 Waterproofing
Everybody is unlucky enough to get caught in a downpour sometimes, so it's worth knowing if your earbuds will stand up to a little bit of water. Fortunately, there's a very simple measurement for this: the IP rating. IP stands for Ingress Protection, and gives you an idea of just how resistant a pair of earbuds is to water and dust. You'll see it listed as the letters IP followed by two numbers. The first number refers to dust protection, and the second to water. The higher the numbers, the better the protection.
You'll often see earbuds with ratings that read something like IPX7. What that means is that the earbuds do not guarantee any dust protection, but have a high water resistance. For the most part, it's that last number you want to worry about – unless you bury your earbuds in sand, you're not likely to damage them with a little bit of dirt. Here's a full breakdown of what IP ratings mean, but we can summarise it all for you in a couple of sentences.
Generally speaking, we wouldn't recommend going below IPX4, which means that your earbuds will be protected from a couple of splashes of water. If you can, try and go for a pair of earbuds that rated at least IPX7. This means they can be submerged for up to 30 minutes, down to 3 feet. Although we probably wouldn't recommend going swimming with a pair of earbuds, this level of rating does mean that you won't suffer for getting them wet. The excellent Jabra Elite Active 75T have a rating of IP57, which is more than enough for most people – and definitely enough to take a little bit of sweat in the gym, or a sudden downpour.
However, there's no guarantee that any earbud manufacturer will actually list an IP rating. If you don't see one, you should assume that your earbuds are not waterproof, and keep them away from any moisture. Generally speaking, you can get by without an IP rating, especially if you don't plan on using your earbuds in the gym. The more waterproof a pair is, the more expensive it will be. Keep that in mind when buying.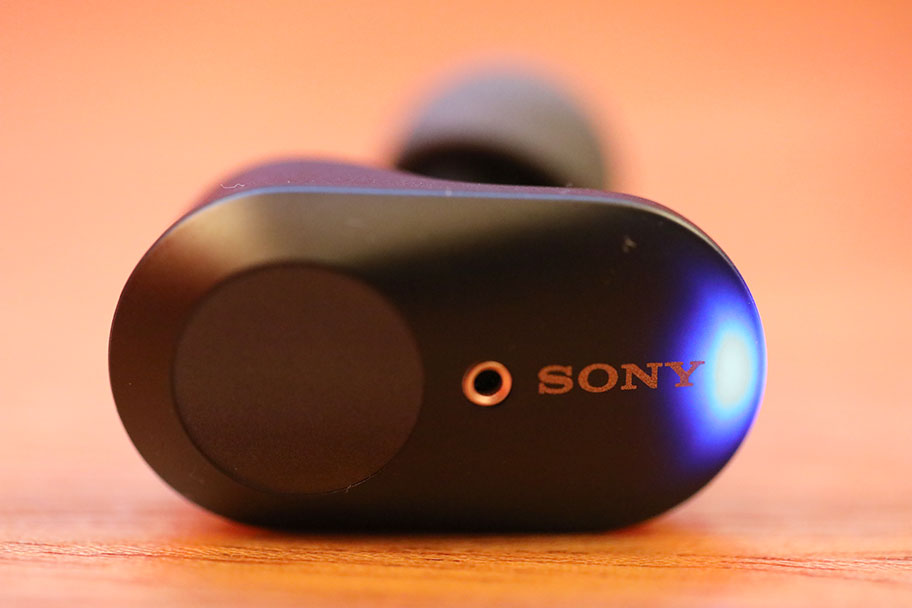 Call Quality
There's no denying how convenient earbuds are for taking phone calls. If you regularly find yourself on conference calls with work colleagues, especially ones that go on for quite a while, then comfort and call quality become paramount. A lot goes into determining the quality of the audio you'll get on a call, and only some of it is actually contained in your earbuds. The buds have to not only pick up your voice with the utmost clarity and transmit it, but they have to reject any ambient noises, like wind or your boss farting as he walks by.
Almost all the choices on our list above have a built-in microphone, so they should be able to take calls. This is an absolute guarantee if the buds in question are true wireless. Right now, the unquestioned, all-time champion of call quality are the Apple AirPods Pro. They've never let us down, and if crystal clear phone calls are something you value, you should seriously consider them. One word of warning, however: wireless and true wireless earbuds, including those AirPods, do depend on a Bluetooth connection to work.
 
Voice Control: Alexa, Siri, and Google Assistant
Several of the earbuds on our list allow you to access smart assistants. At the time of writing, there are three major ones that people use: Apple Siri, Amazon Alexa, and Google Assistant. Others exist, like Samsung Bixby and Microsoft Cortana, but the former can be considered the big three. It's very rare for wired earbuds to have access to smart assistants; it's far more common for wireless and true wireless earbuds. Generally, this happens in one of two ways: either there is a dedicated button or touch control to give you access to a particular smart assistant, or you're able to access the assistant by holding the play/pause button on the earbud controls. A good example? The Bose QuietComfort Earbuds, which allow you to access both Siri and Google Assistant at the touch of a button.
If you do rely on a smart assistant, and like bossing an artificial intelligence around, it's worth finding out which ones your earbuds are compatible with before you buy. We've given you a handy list in our comparison table, above. As a general rule, Google Assistant is the smartest, and best at answering follow-up questions. Amazon Alexa is close behind, and Siri a distant third. Bear in mind, however, that using any of these will mean speaking aloud - something you may want to avoid in a crowded place, unless you don't mind looking a little silly! Speaking quietly can work, but only if the surroundings aren't too loud.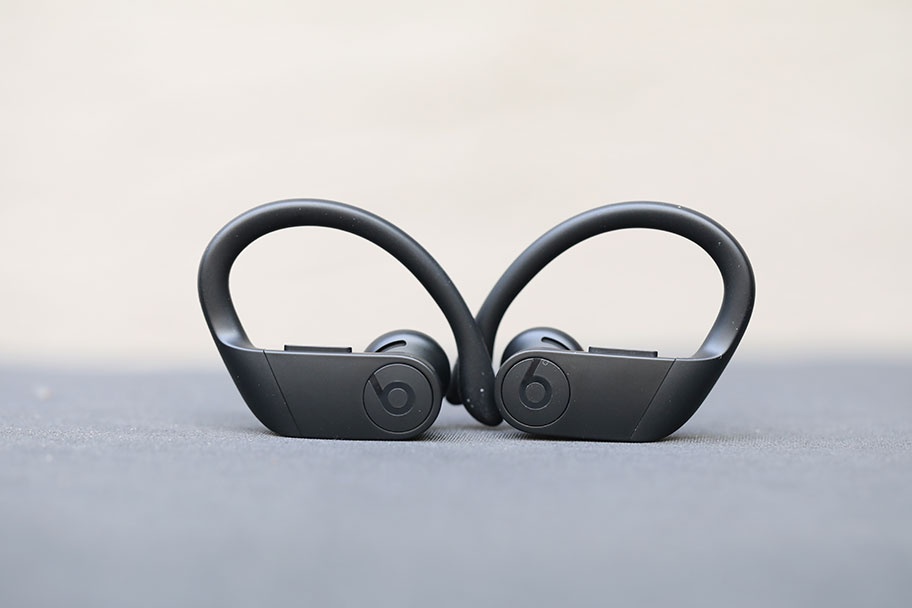 Working Out with Earbuds
There's a firm belief we used to have here at TMS: true wireless earbuds for the gym, traditional wireless for roadwork and trail running. This is because of a funny story where we were running with a pair of true wireless earbuds and one came loose and bounced into traffic and found itself under the wheel of a passing car. Here's a pro tip: replacing one side of a pair of true wireless earbuds is expensive.
But the thing is, true wireless earbuds have improved since our little traffic incident. As long as you select the right tip size – more on this here – you can get a sufficiently good fit that will take quite a lot for the earbuds to dislodge themselves. If you're investing in a pair of earbuds for working out – be it running, cycling, or in the gym – we strongly recommend a pair of true wireless earbuds. They are greatly convenient and eliminate the chance of being bothered by wires tickling the back of your neck.
The top workout buds on our list are probably the Jabra Elite Active 75T. While they are pricey, at $159, they also have a rock-solid fit, and offer excellent sound quality. They are also resistant to water, with an IPX4 waterproof rating, meaning they can withstand a little sweat and a few drops of rain (more on IP ratings and waterproofing here).
 
Music vs. Video vs. Gaming
The good news about buying a pair of earbuds is that all models on the market are incredibly versatile. In terms of audio quality, they're able to deliver the goods whether you're listening to music, watching a YouTube video, or gaming. But those activities do lend themselves to certain types of earbuds, and if one or more of those is particularly important to you, it's worth going in with a little more information.
The best way to think about this is in terms of the stress each activity puts on a pair of earbuds. Listening to music on Spotify, for example, isn't a particularly stressful activity for a pair of buds. All it is is a regular, steady stream of audio, transmitted either through wires or Bluetooth. It's not particularly demanding, and so it's suitable for just about any type of earbud. But if you are playing a PC game, for example, you need to make sure that any audio you hear arrives at the same time as the action on screen. You want to avoid latency or lag – essentially, a technical glitch whereby your audio arrives late, or drops out entirely. For this reason, we would advise buying a pair of wired earbuds if you plan to do any gaming. Something like the 1More Triple Driver In-Ear would be ideal. They are relatively inexpensive, at $78, and will give you excellent sound quality and a stable wired connection.
Video occupies the middle ground. Latency and lag are more of a problem here for music, but less so than they would be for gaming. You can probably get away with whichever type of earbuds you are most comfortable with, be they wireless, wired, or true wireless.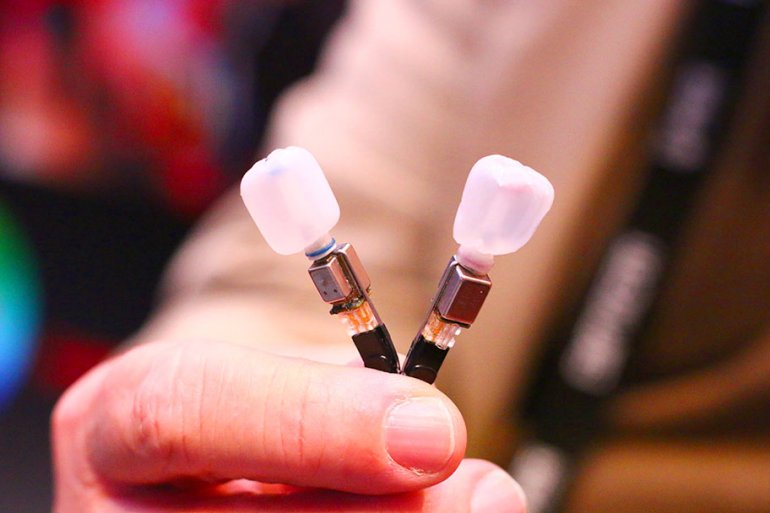 Are Earbuds Bad for Your Ears?
We used to think that this actually didn't matter. No pair of earbuds or headphones were inherently good or bad – it just depended on how loud they were. Pushed past a certain level, depending on the tolerance of the person, and you risked short or long-term hearing loss. As we recently found out, the answer is a little more complicated.
We were at CanJam NYC a while back, which is a big headphone meetup for headphone enthusiasts in New York City. One of the people we spoke with was Stephen Ambrose, the man who literally invented in-ear headphones. You read that right. What he told us was a little scary. Ambrose said that headphones, by their very design, compress air. They have to do this to make the sound waves move through it. With normal headphones, there's a little bit of space between the actual headphone driver and your eardrum, but with earbuds, there is far less space. That means there is a ton of pressure in the ear canal, and your eardrum is absorbing that pressure. There's also a phenomenon known as acoustic reflex, where your ear canals and eardrum swell up to prevent damaging sound waves from passing through. It helps you get used to louder volumes over time, but it is not good for your ears.
The result is that earbuds are far more likely to damage your hearing than regular headphones or speakers. Does this mean you should throw your earbuds out with the trash? No. Simply because they are more likely to do damage doesn't mean they are bad; it just means that you need to be a little more careful. Always listen at a lower volume than you normally would – a good tactic is to start at a comfortable listening level and then decrease the volume every five minutes. You'll be amazed at how quickly your ears get used to the reduced sound. If you can, try and limit the amount of time you listen for. A couple of hours is probably fine, but if you're listening to music for eight hours straight, your ears are going to hate you.
As a fun side note, Ambrose has developed a type of earbud with a little inflatable bag in place of the tip. The bag absorbs the pressure instead of your eardrum, meaning you are able to listen for much longer without any risk of hearing damage, and you don't need to pump the volume nearly as loud. We tried them and they worked very well. However, given that the model we tested came with a very unsexy-looking syringe, and the bags needed inflating every time you listen, we think there's a lot of work needed before the trend catches on.
By the way: Bluetooth earbuds won't give you cancer. This is a popular online conspiracy theory, buoyed by a series of reports about a year ago. The idea behind the theory was that Bluetooth is a type of radiation, and radiation is bad – especially so close to the brain. But the thing is, the amount of radiation Bluetooth devices such as wireless earbuds emit is far less than the amount you'd need to cause even mild damage. Don't believe us? Just check out the info in the link above.
 
Noise-Canceling Earbuds Explained
Noise-canceling earbuds used to be absolutely terrible, as anybody who has heard the old Audio-Technica ATH-ANC23 QuietPoint can attest to. Fortunately, we've advanced quite a bit since those were released, and excellent noise-canceling earbuds are now well within the grasp of most people.
That doesn't mean the technology is widespread or particularly cheap at the moment. The best pair with noise-canceling on our list is the high-end Bose QuietComfort Earbuds. Those cost over $200, and although they deliver genuinely excellent cancelation, you'll definitely pay for the privilege. Ultimately, what you should expect from any pair of earbuds that promises cancelation is a strong, even reduction in outside noise – especially with particularly low, steady sounds, like airplane engines. As time goes by, you'll almost certainly see more earbuds with noise-canceling appear on this list. At the moment, we know that Bose have a pair in the works.
In the meantime, however, if affordable noise-canceling is important to you, you may want to look at a pair of wireless over-ear headphones. It's much easier to incorporate good quality cancelation into larger headphones, so the technology is much more prevalent in that particular category. However, there's one saving grace about earbuds. If your isolation is good enough – as in, if the earbuds fit cleanly into the ear canal and seal well – you won't need any cancelation technology. The outside world will be very effectively blocked off.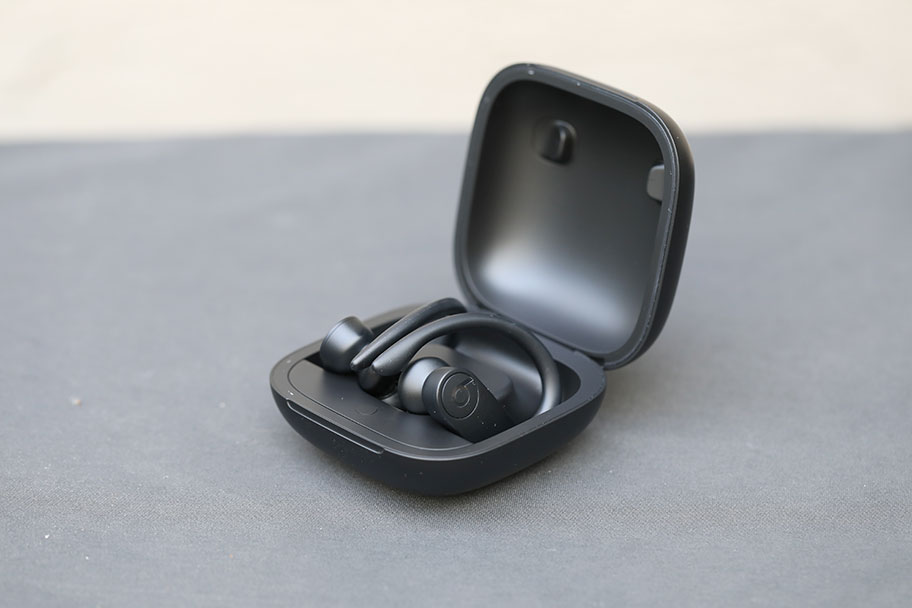 Impedance vs. Sensitivity
Most people can probably skip this section. It's good to know, and occasionally useful, but if all you want is a pair of convenient wireless or true wireless earbuds, there's no need to worry about it. It concerns two particular headphone specs, called impedance and sensitivity. While they do give you insight into the kind of earbuds you're looking at, you certainly don't need to concern yourself if you aren't particularly interested.
Now that that warning is out of the way, here's how it works. Impedance is a measure of how much power a pair of earbuds requires to actually function. It's measured in ohms (Ω). Very simply, the higher the number, the more power will be required. Anything over 100Ω, and you'll need a separate headphone amplifier to make things run smoothly. Fortunately, most earbuds on the market today require very little power to run. Even the earbuds with the highest impedance in our list, the Venture Electronics VE Monk Plus, only have a rating of 64Ω.
Sensitivity is a measure of how much power is needed at a given voltage (usually one milliwatt) to generate a listenable volume. It's measured in decibels (dB), and the higher the number, the more volume is generated at a given power output. This can be important to know, because less sensitive earbuds may require extra power to sound their best. But honestly? For almost all models on the market, you can pretty much ignore this. It's very rare to find a pair of earbuds that won't be driven to a respectable volume by a smartphone.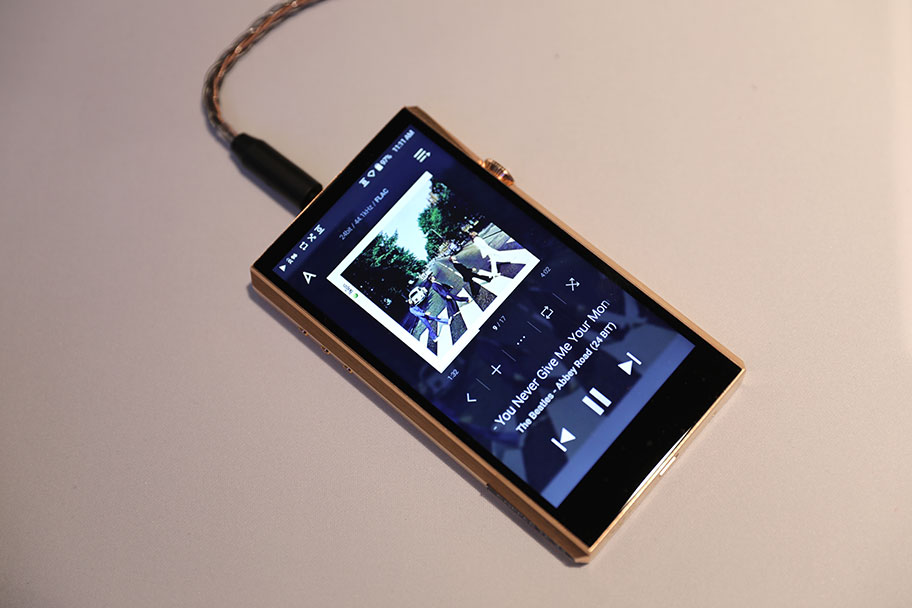 Stepping Up From Your Phone to a DAP
If you want to take the next step, there are plenty of ways to increase the level of audio quality you experience. Though most of the options on this list are highly affordable, we've included a couple with noticeably higher prices, which will give you much better audio quality. We are thinking of models like the Shure SE846-CL, which cost well under $1,000. You can also look at our list of the best high-end headphones to get a peak at some particularly brilliant earbuds.
You may ask: do you need to spend four figures to get seriously advanced sound quality? The answer is that you do not! You'll have to imagine our Morpheus voice here, but what if we told you that it was possible to dramatically boost your sound quality for a very small outlay? What if we told you that you could replace your phone with a Digital Audio Player (DAP) – a dedicated device for playing music, with significantly better audio quality than even the most advanced smartphones on the market? And what if we told you that it's possible to buy a great DAP for around $100?
A DAP is one of the fastest and most enjoyable ways to take your sound to the next level. There are so many good ones available these days, and at fantastic prices. If you've ever operated a smartphone, then you'll be up and running in moments, as some of them even use Android interfaces. For many people, this will be the most affordable and most accessible way of boosting your sound quality, and we think it's well worth looking at. Check out our list of the best DAPs of this year to get a sense of what's available.
Learn More About Personal Audio