We've never understood why more people don't use soundbases. They are an absolutely perfect bridge between a basic TV speaker system, and a full surround home theater setup. They solve every problem. And yet, hardly anybody seems to go for them, preferring to stick with things like soundbars. SONOS, makers of wireless speakers, have decided to change that – and with their PLAYBASE, they've rewritten the rulebook on soundbases. In this review, we break down the PLAYBASE's design, setup, sound, packaging and accessories and more, as well as how it compares to other models. You can also check out our video review.

Design:
Like all soundbases, the SONOS PLAYBASE has a fairly conservative body – at least from a distance. After all, if your sole modus operandi is to work as a speaker system that can hold the weight of the TV, being anything other than flat and rectangular is probably going to be a problem. But there's no denying that in the world of soundbases, which is populated by boring black boxes, the PLAYBASE is a looker.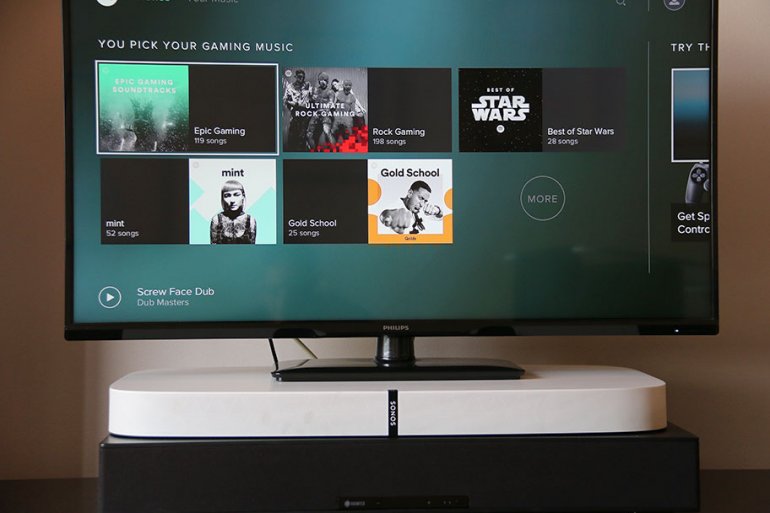 At just over two inches high, it sits comfortably underneath any TV you can throw at it (up to 77lbs - and on second thought, perhaps throwing TVs is a bad idea). There are no corners here: the edges on the sides are rounded, with a pleasing curve that draws the eye. The speaker drivers themselves – six midrange drivers, three tweeters, and one woofer – are all hidden behind an almost invisible grill, made up of thousands upon thousands of tiny pinholes.
It's these pinholes that give you an idea of just how much thought and care has gone into the creation of this soundbase. On the front, where the majority of the drivers sit, the pinholes are of a uniform size. But as you look around the sides, they get a little bit wider, which is designed to allow as much air as possible to move when the lower frequencies kick in. It not only works really well, in terms of the sound – which we'll talk about in a little more detail below – but it actually looks really cool, assuming you're close enough to notice it. Compare all this to something like the similarly-priced Atlantic Technology 3.1 HSB, Which, while performing very well in terms of audio quality, is just boring as hell to look at.
Although you'll do most of your control of this wireless speaker system via the app on your phone, there is the option of physical controls too. Above a slim logo band on the center of the speaker sits a play/pause button, and two volume controls, all of which respond to the lightest touch.
Round the back, things are predictably quite simple. Although it's disappointing not to see an HDMI port, which will open up the functionality a little bit, you do get an optical port for connecting to your TV or console or Blu-ray player, as well as a power port and an ethernet connection, for when your wireless goes wonky. All in all: we loved the design of the PLAYBASE. As is going to become something of a theme in this particular review, it feels like it was designed by human beings who wanted the people using it to have the best possible experience. That is something we can get behind.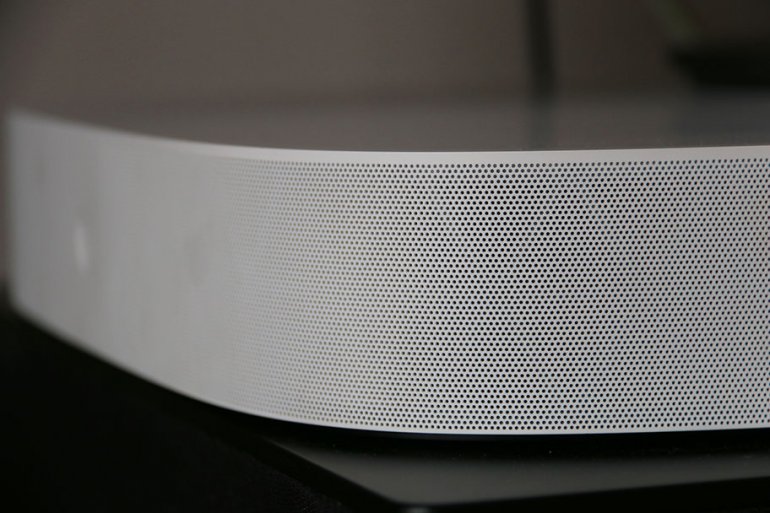 Setup:
You want to know why SONOS are doing so well in the home audio space?
It has absolutely nothing to do with how they sound (generally pretty good, but definitely not high-end). It has nothing to do with their design, which is excellent, but is only part of the picture. No, the biggest reason why they are absolutely crushing at the moment is because getting them set up is a total breeze.
In under five minutes – much of which was spent manoeuvring the admittedly quite heavy PLAYBASE into position – we had audio going. SONOS, very sensibly, uses their bespoke, free iOS/Android app to guide you through the setup process, and provided your WiFi is working OK, it simply could not be easier. The instructions are clear and easy to follow, and its dead simple to connect to other wireless speakers in the house, as well. We had our PLAY:3 wireless speaker (full review here) talking to the PLAYBASE without too much trouble.
This is a particular area that SONOS do better in than almost anyone else. In a world where just about every piece of audio equipment available comes with a clunky, jargon heavy instruction manual, the PLAYBASE – and other speakers from the company – are a revelation.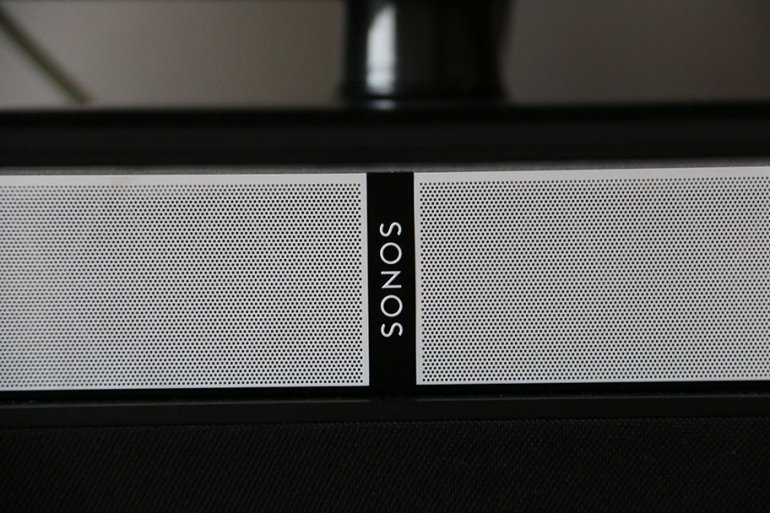 Perhaps sensing that pulling out your phone and navigating to an app to adjust the volume while you're watching a movie might get a little annoying, SONOS also make it easy for your TV remote to talk to the PLAYBASE, which was a delightful and unexpected surprise. However, while we love the idea, this was where we uncovered one of the few glitches in the system. Adjustments by the volume on the TV remote didn't reflect in the app, meaning that sometimes, we'd return to find that the volume was either too soft, or too loud. It's a minor problem, though, and hopefully it's something that the company can sort out in the next iteration. Knowing them, it probably won't take much more than a software update – which the PLAYBASE will happily download automatically.
You can use the system, by the way, to play music independently of whatever audio it's putting out from your movies or series or sports. When you switch back, the audio automatically pauses. Most of the major streaming services, including Spotify and Apple Music, are all set up on the app, and it works with barely a hiccup.
It's actually worth stating this again: if you're used to more traditional audio equipment, then the absolute ease with which you'll get the system up and running will come as a joy. But then, what you expect of a company that sneakily hides a Stranger Things easter egg in its app?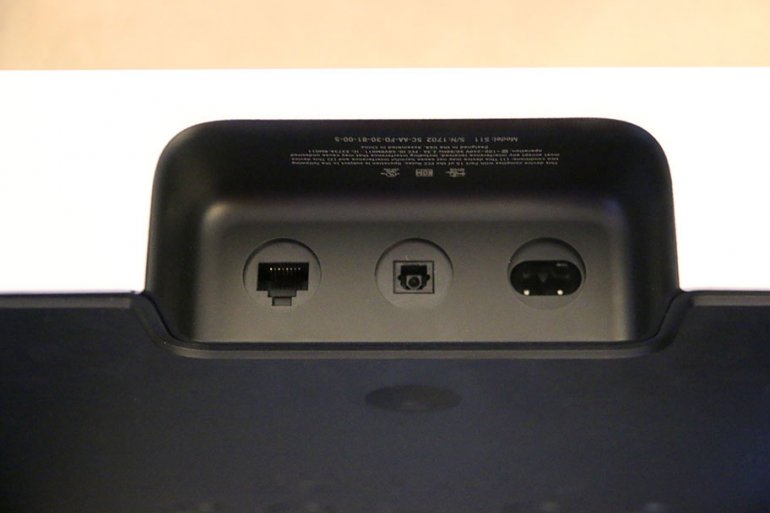 Sound:
None of this would mean a thing if the sound was dodgy. It isn't. It's glorious.
To be clear: this is never going to beat a high-end speaker system from the likes of MartinLogan or Paradigm. It is never going to please a dedicated audio file. But that doesn't stop it being very, very good – and far better than its three figure pricetag would suggest.
Let's get the negatives out of the way first. The low end, while enjoyable, could sometimes be a little bit overpowering. It often felt somewhat out of odds with the actual volume, the sub-bass of an explosion or sound effects hit rattling the windows when the overall volume was at a fairly normal level - something that didn't really feel like it was improved by the app's EQ. And very occasionally, it sometimes felt like the mids weren't quite as clear as they could be.
Yet overall, we thought this speaker system performed incredibly well – much better than the otherwise very good – and now discontinued - Raumfeld Sounddeck (full review here), which we happen to have in the office at the time, and which cost significantly more. The sense we got from the PLAYBASE, minor glitches with the bass and mids aside, was one of rounded warmth, with a sound signature that struck a nice balance between the different elements, and provide an absolutely spectacular soundstage. The ten speakers in the base each have their own Class D amps, which are light, highly efficient circuits that don't run too hot, and we thought the combination worked incredibly well and positioning things around the room. They are never going to compete with a dedicated 5.1 or 7.1 setup, but that doesn't stop them from delivering a magnificent experience it comes to movies, or Netflix series (like, for example, Stranger Things).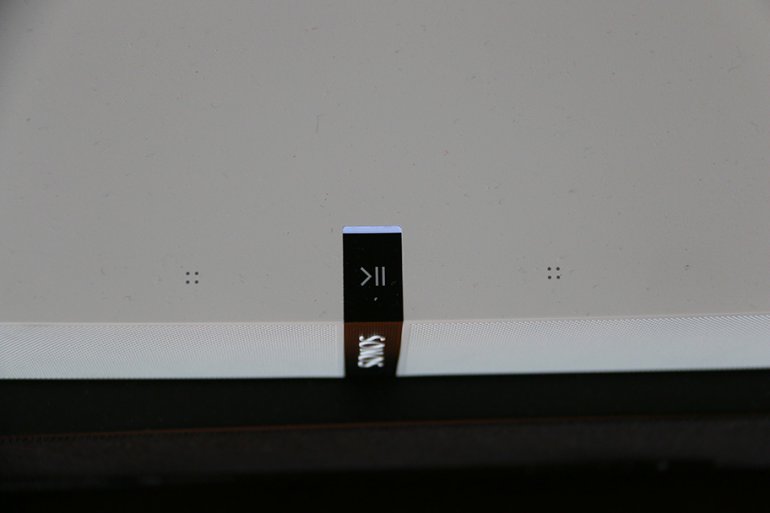 In terms of music, the PLAYBASE kept up this level of quality, presenting tunes with kicking (and surprisingly controlled) low-end and crisp detail in the highs. We ended up using it as an all-purpose speaker, listening to music while we worked on the site, and using it in the evenings to watch TV. It's ability to move seamlessly from one style to the other makes it a fantastic solution, and we think the sound quality could easily justify adding another figure to the price. The high-end lovers of the world may scoff, but the rest of us will be too busy enjoying the noise this thing puts out.
One thing worth noting. SONOS offers a terrific tuning function on the app, TruePlay, which we've used with great success before - but it's only available on iOS, thanks to the lack of standardization among mics on Android phones. Now that we only own an Android phone (our iPhone died) we couldn't test this on the PLAYBASE. We have no doubt that it would have worked well - most things from SONOS usually do - but it's frustrating that we couldn't use it. It'd be great if the geniuses at SONOS could figure this out.
Wow, that sounded awfully sarcastic. Not intended. Moving on…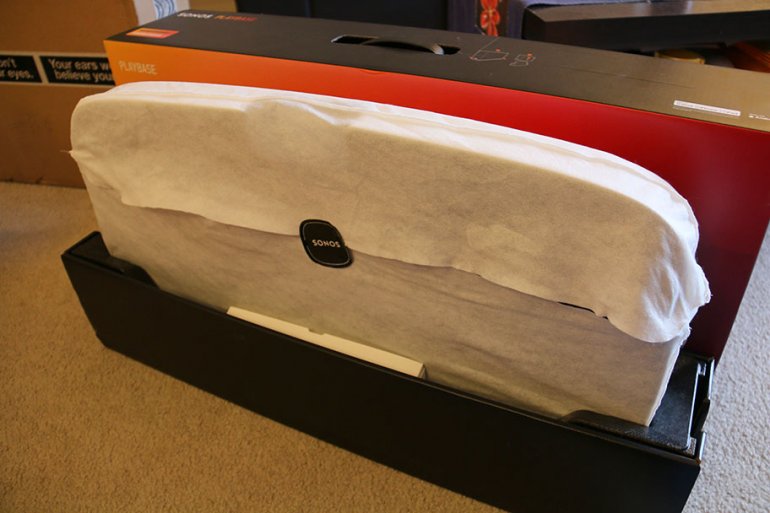 Accessories/Packaging:
If you needed yet more evidence that human beings designed this, you only need to look at the packaging, and the accessories that come with it.
An intelligent hand has gone into creating the box that the PLAYBASE comes in. It's a simple design with a lockable, lift-off lid, and a refreshing absence of the endless polystyrene and plastic that seem to shroud most speaker systems when they arrive at your apartment. The PLAYBASE itself nestles inside a cardboard insert, and lift out easily. However – and you're going to think we're crazy here – but we want to talk about the manual.
It's not so much an instruction book as it is a step-by-step guide to showing you what the system can do. Not only do SONOS recommend particular tracks, like Beyonce's Daddy Lessons, but they also tell you what to listen for, and what the system does to the individual elements of the track. It's above and beyond what we expect from something as mundane as an instruction manual, and once again, it shows that when it comes to user experience, SONOS are just about unbeatable.
You also get an Ethernet cable and an optical cable alongside the power lead, meaning you can get set up very quickly indeed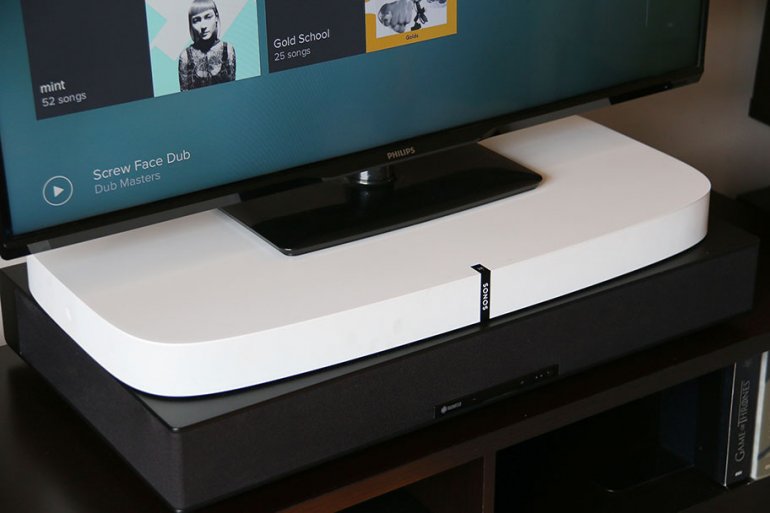 Verdict:
This isn't a perfect product. It does have one or two tiny design issues, and the sound could use a little bit of refining.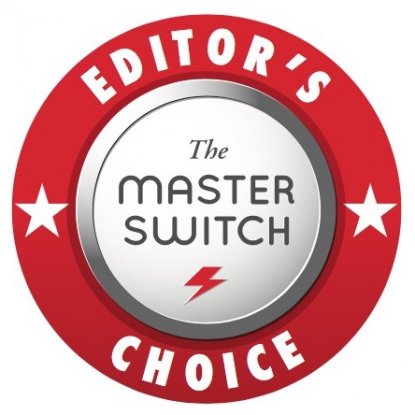 But you know what? We're going to give it the Editor's Choice award anyway, which puts it in some pretty rarefied company. When a speaker system is this easy-to-use, this welcoming, and offers design and overall sound quality vastly out of proportion to the money you actually pay for it, that deserves to be celebrated. As far as we are concerned, this is the ideal solution for anybody without the space or funds for a full home theater setup. It knocks just about any soundbar we've ever heard out of the park, and makes short work of its soundbase competition.
If you have a TV, and you really, really want to enjoy your sound in the easiest, most stress-free way possible, then come see what SONOS are doing. Because they are really, really good at it.

What We Like:
Superlative design and useability.
Uniquely human touches.
Solid sound quality.
App control is excellent.
What We Don't:
Bass could be reigned in a little.
Volume glitches.
See the SONOS PLAYBASE on Amazon

Alternatives:
One of the few soundbases available that can give the PLAYBASE run for its money – in sound terms at least. The 3.1 speaker setup provides some stunning positioning, as well as some magnificent low-end.
However, the design and usability is not nearly as good as the PLAYBASE, and overall, AT's baby can't touch the SONOS for experience. However, we can't get enough of that glorious sound. It is however more expensive, so watch for that.


A little tough to find inside the United States, but a great option if you can track it down. The German-made soundbase relies on aptX Bluetooth, unlike the WiFi-driven SONOS, and it's an excellent (and somewhat cheaper) alternative.
We think the highs can be a little bit too brittle, at times, but overall this speaker system acquits itself well, sonically. A good second option, if the PLAYBASE is sold out.


One of the things we hope will change in the aftermath of the PLAYBASE's release is the number of models available. There are still relatively few companies that dabble with this particular type of product. One of them is Cambridge Audio, and we got a real soft spot for their TV5-V2
It's a big improvement on the first version, particularly in the bass, which is pushed out via two huge woofers, and which makes for addictive listening. The design follows the Atlantic Technology aesthetic of Big Black Box, but it still works well, and we think it's one of the best cheaper alternatives to the PLAYBASE.

Comparison Table:
*WR = Weight Rating. Yes, we know it's in both pounds and inches. Sound companies are weird, man.
**Watt. = Total RMS Wattage

Video Review: