Soundbases don't often get a lot of respect in the audio world. This is a landscape dominated by huge tower speakers, feature-heavy home theater systems and sleek soundbars. Soundbases don't always look particularly sexy, and as a consequence, they don't sell as well as other audio equipment. This strikes us a shame: a good soundbase can be just as powerful and wonderful to listen to as any other piece of audio equipment, and is often more diverse thanks to its size. Here's our pick of the best available. And for an alternative, check out our list of the Best Soundbars.
 
---
Table of Contents
---
Best Overall Soundbase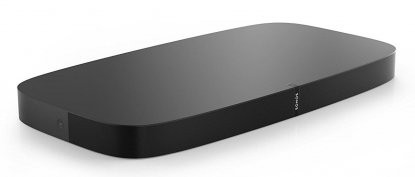 Weight Rating: 77lbs
Inputs: Wi-Fi, Optical
Wattage: Unavailable
Sub: Yes
What We Like: Superb sound and design.
What We Don't: No HDMI, which may be unfamiliar for some.
Sonos' trademark futuristic designs are always matched by audio quality, so it's no surprise that their Playbase has caused a bit of a stir. Spoiler: it's really good. A lot of that is to do with how Sonos make it easy to operate; physical controls are minimal, with almost everything controlled via the Sonos app. You can adjust every audio setting, and if you add additional Sonos speakers, the app can control individual speaker volumes and even stream different content to different speakers - perfect if you have a multi-room setup. 
The minimalist, sleek and very sturdily-built base comes in black and white, and can handle TVs with substantial weights - up to 77lbs. There's a simple optical-only connection to the TV (although the lack of HDMI may be off-putting for some) and the audio is really impressive, with have ten self-powered internal drives plus a sub, and the wireless magic goes further with the company's Trueplay speaker tuning algorithm. This guarantees sonics rivalling the performance of many conventional systems, with plenty of tight low end and high end detail. It easily beats competitors like the Atlantic Technology 3.1 HSB, and offers incredible value...Read our in-depth review
See the Sonos Playbase
 
Maximum Voice Clarity

Weight Rating: 40"
Inputs: RCA (x2), Optical, Coax
Wattage: 45 Watts
Sub: Yes
What We Like: Accuvoice really brings out the dialogue in movies and series.
What We Don't: No HDMI, no Bluetooth.
If you want crystal-clear vocals, the ZVOX Soundbase 440 has a feature that will make your day: Accuvoice. The feature lets you boost dialogue and human voice levels, separating them from loud soundtracks and the usual Hollywood barrage of movie follies, such as explosions, car chases, and so on. ZVOX have managed to develop six user-selectable AccuVoice modes, and the feature is a wonder. No soundbase, not even the pricy Sonos Playbase, can pull this off. You also get ZVOX's PhaseQue processing, which is essentially a digital surround simulation codec.
Physical connectivity is fairly standard here, but apart from the usual RCA and digital inputs, there's no HDMI or Bluetooth, which may be problematic. And when choosing various AccuVoice modes you might notice a 'hollowing' of the lower mids, an issue which may affect the bass content too. In our opinion, there are better soundbases at this price point for overall sound quality; the Denon DHT-T110 comes to mind. But for pure vocal clarity, our money is on the ZVOX.
See the ZVOX SoundBase 440

Best Budget Soundbase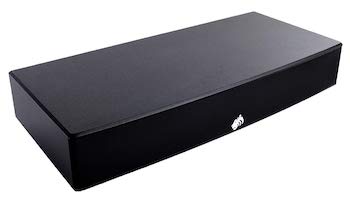 Weight Rating: Unavailable
Inputs: RCA, Optical, Coax, USB, Bluetooth
Wattage: 50 Watts
Sub: No
What We Like: Simple and intuitive to use, good price.
What We Don't: Volume issues, distortion at high volumes.
Soundbases under $100 can be quite hit or miss for quality, but the TimoLabs Amoy 1 is one of the best budget soundbases we've tested. It's an incredibly simple system to use, with sound that hits surprisingly hard for such a wallet friendly model. Compared to other budget options on this list, like the Magnasonic SB41 or the Pyle 3D, the Amoy 1 is easily the top pick here. If you want an excellent way to increase the punch and dynamism of your TV sound for a good price, then the Amoy 1 is worth looking at.
The downside mostly has to do with volume. It's very hard to get a precise adjustment – the dial tends to deliver volume in huge jumps – and we found that distortion was common at high levels. Dialogue in particular struck us as being muddy and incoherent. To some extent, these are forgivable sins, especially at this friendly price point, but you'll have to decide if you're ready to make the sacrifice. If you want something with a little more finesse in the sound, we recommend the Q Acoustics M2, above.
See the TimoLabs Amoy 1
 
A Great Soundbase for Music

Weight Rating: 60lbs
Inputs: Bluetooth, Optical, Coax, RCA
Wattage: Unavailable
Sub: No
What We Like: Good bass, good Bluetooth.
What We Don't: Not the classiest sound for movies.
The Denon DHT-T110 isn't all that different from many other models here. It has a similar weight rating, similar size, and even looks similar. So why would you go for this over other soundbases? Easy. You listen to music. Although the DHT-T110 can handle movies well, it comes alive with songs and albums, showing off its best. For under $300, we don't think you'll find a better soundbar to stream music on.
Part of this is down to its superb bass, and it's seriously good Bluetooth streaming capabilities. The codec, which is the software program that translates the 1s and 0s, really does a good job of making sure that wireless streaming (which can sometimes be a little iffy) sounds solid. While the DHT-T110 is far from the best soundbase available—it can't sniff the Sonos Playbase for overall sound quality—its musical chops make it a solid choice. We've also spotted it at far lower prices than the one indicated, so be sure to shop around!
See the Denon DHT-T110
 
Best High-End Soundbase

Weight Rating: 60lbs
Inputs: Bluetooth, Speaker Inputs (x3)
Wattage: 150 Watts
Sub: Sort of…
What We Like: Unusual passive design makes it ideal for those who own AV receivers and demand great surround audio.
What We Don't: Unusual approach to bass may not be for everyone.
If you're looking for the best example of a soundbase that delivers surround sound, we strongly suggest taking a look at the Atlantic Technology 3.1 HSB. While it's certainly not going to trouble the traditional 5.1 and 7.1 systems, it does have that number on it, 3.1, which means that it packs a left, center, and right speaker along with an included woofer, which has a genuine impact on the stereo spread of the sound. Note that we said woofer, not subwoofer. That's deliberate. A subwoofer is specifically designed to handle bass frequencies, while a straight woofer also dips a toe into the mids. Note that the 3.1 HSB is a passive base, unique among those here. It's designed for direct connection to an AV receiver, so keep that in mind before you buy.
So, why does Atlantic Technology not include one, and still managed to put .1 in their product name? It's all because of their H-PAS (Hybrid Pressure Acceleration System) technology, which turns a woofer into something that can really handle heavy bass frequencies. It's an interesting approach, and while we still think a traditional sub is the way to go, this unit still has some truly outstanding sound - although its price tag, despite occasionally fluctuating (we've seen it go as low as $550), makes it an acquired taste. We'd say, go for this one if you can't get hold of the Canton DM55.
See the Atlantic Technology 3.1 HSB
 
A Soundbase with HDMI ARC

Weight Rating: 55lbs
Inputs: Bluetooth, HDMI ARC, Optical, Aux In (x2)
Wattage: 80 Watts
Sub: Yes
What We Like: Impressive audio quality, great connectivity.
What We Don't: Dodgy EQ presets.
HDMI connections are surprisingly rare in the world of soundbases, and HDMI ARC is almost nonexistent. Fortunately, the Q Acoustics M2 not only offers it, but is relatively affordable for most people. The HDMI performs well, and allows you to send sound from your TV to the M2 itself, which is useful if you have a smart TV that allows direct streaming. And the M2 is a solid base in its own right. The 2.1 speaker setup is virtually a blueprint for most soundbases currently on the market, but the Q Acoustics M2 have managed to stand out from the crowd with the inclusion of their BMR (Balanced Mode Radiator) technology, capable of nearly 180 degree of dispersion.
Many listeners try to position their soundbase not only under a TV set, but within a cupboard shelf. For this reason, Q Acoustics have included equalisation modes optimising the unit for each of these scenarios. Let's not expect miracles - the presets might not suit your room at all, but the EQ can be easily accessed from M2's back, or from the included mini remote. As for source selection, this puppy is better equipped than most in this department. In addition to featuring two pairs of analog inputs (RCA and 3.5mm), you will also find a digital input (Optical), USB port (file playback only) and a wireless Bluetooth mode with aptX.
See the Q Acoustics M2
 
Best of the Rest

Weight Rating: 66lbs
Inputs: Bluetooth, HDMI, Optical, RCA
Wattage: Unavailable
Sub: Yes - x2
What We Like: Big improvement on version one.
What We Don't: EQ isn't as fully-featured as we'd like.
This is the second version of Cambridge Audio's TV5 soundbase, and although it doesn't move from the place on this list held by its predecessor, we still think it's a very good option. Because it does what it's this high on the list many of the more expensive bars do, at a much more agreeable price. Compare it to the Canton DM55, which is a great soundbase, but which doesn't offer nearly the bass response that this one does.
The base packs in some great features, including support for 24bit/192kHz audio, and aptX-enabled Bluetooth. There are two downward firing subwoofers which deliver excellent bass, and the company's patented BMR speaker tech ensures that there is good clarity in the mids and highs. While we could have done with a slightly more fully featured EQ (the one they supply only has four preset options) it's a minor point. The sound, build quality, intuitive remote and good pedigree means that this is a highly worthwhile purchase, even if you've never experienced the company before. This is a price range where features start to drop away, so it's heartening to see that that isn't really the case here. Our take? Go for it.
See the Cambridge Audio TV5-V2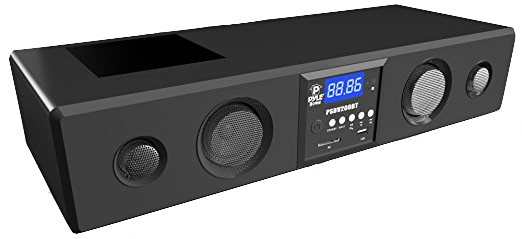 Weight Rating: Unavailable
Inputs: RCA (x2), Aux, USB, TF Card, FM
Wattage: 300 Watts
Sub: Yes
What We Like: A truly fab feature set, lots of power
What We Don't: Looks a bit cheap
For many audio enthusiasts, Pyle is synonymous with high quality speakers with equally high prices. In recent years, the brand has virtually swept the lower price tiers of the A/V industry with well put together, competitively-priced products. Such seems to be the case with their 3D soundbase, as it is not easy to guess its $100 price by looking at its spec sheet. This soundbase might not be the most elegant looking though - its plastic front with four front-facing speakers and tweeters give it a less discreet appearance, with a slight cheap vibe. Still, the main design emphasis has gone into audio and connectivity features, and the 3D is bursting with good stuff.
For starters, the overall wattage is estimated around 300W (total/peak) which is pretty serious for a soundbase. Much of that is reserved for the 5.25" woofer, positioned at the bottom. The power on tap is undeniable and, to help potential sympathetic vibrations, Pyle have included a digital equalizer. There's a wealth of inputs too - three pairs of analog ins should be enough for most, but you also get built-in FM radio, USB, a card reader, and last but not least, Bluetooth connectivity. Source selection is made easy by the included rather-well-thought-out wireless remote. If only Pyle had included a HDMI port, they would have broken the internet with this soundbase.
See the Pyle 3D
 

Weight Rating: 66lbs
Inputs: Bluetooth, HDMI, Optical, RCA
Wattage: 120 Watts
Sub: Yes
What We Like: A good solution for small rooms.
What We Don't: Due an update, middling sound.
You know, if there's one thing that would help this particular product category, it's naming consistency. Panasonic refer to their SC-HTE80 as a soundboard because…well, actually, we don't know why. It's just their thing.
It must be said: this is very much not the best model on the list. The sound quality suffers, we think, and despite putting out decent power and packing a built-in subwoofer, the audio is distinctly middle of the range. However, it certainly has its merits; it's not just the price, which we've seen dip below $200 in the past, but also the affinity has the small spaces. If you got a tiny living room, or want to fill a small bedroom, then this could be the ideal solution. It's quite old now, and is due an update, but is still worth looking at.
See the Panasonic SC-HTE80
 

Weight Rating: 88lbs
Inputs: RCA, Optical, Coax, Bluetooth
Wattage: 200 Watts
Sub: Yes
What We Like: Terrific sound quality, great design.
What We Don't: Seriously outdated Bluetooth tech.
The Canton DM76 has a lot to recommend about it. The sound quality is a big one – we would quite happily put this up against the more expensive Sonos Playbase in terms of audio. We also adore the design, which feels sleek and elegant. The DM76 will easily slide into any room without a problem, and with a weight rating of 88lbs, it can support even the largest TVs. Canton are one of the few manufacturers who consistently release new soundbases, and the DM76 continues their excellent legacy.
You might reasonably ask why we haven't placed this one higher, and that's because it has one glaring flaw. You can stream Bluetooth, but only up to the Bluetooth 3.0 standard. That is, to put it mildly, completely insane. Even the cheapest wireless earbuds these days are using Bluetooth 4.2 or even 5.0, so it makes no sense at all why the DM76 has such neutered Bluetooth capabilities. If you can live with that, it's a good buy, but a very puzzling one.
See the Canton DM76
 

Weight Rating: 88lbs
Inputs: Bluetooth, Coax, Optical
Wattage: 200 Watts
Sub: Yes
What We Like: Solid audio performance, huge power.
What We Don't: Expensive for what you get.
Canton's DM series Some of the most attractive soundbases available right now, and the DM 101 is a superb example. It's one of the most powerful soundbases on this list, with 200 watts output – a figure that is matched only by its cousin, the less expensive Canton DM76. The audio performance you get is solid, arguably better than the Sonos Playbase, at number one on this list.
So why have we placed it so low? Firstly, audio performance isn't everything, and secondly, there just aren't enough differences between the DM101 and DM76. Both deserve a spot on this list, but ultimately, the only thing the DM101 brings to the table is an extra pair of speaker drivers. That's...fine, but it's also one of the most expensive bases here. If you can't find the DM76, when you want to invest a little bit more in your audio quality, then it could be a good buy. And definitely pick it up as the price drops. We will try and update the price listed here regularly – check the top of this roundup for the most recent update date.
See the Canton DM101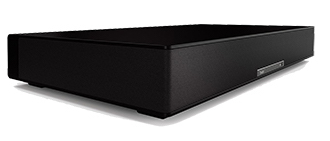 Weight Rating: Unavailable
Inputs: Wi-Fi, HDMI, Optical
Wattage: 100 Watts
Sub: Yes
What We Like: A terrific update on a classic soundbase.
What We Don't: Can be very tough to find.
We adored the original Raumfeld Sounddeck, and still use ours regularly. This update from Raumfeld's owner, Teufel, improves everything we loved about the Sounddeck while adding new features. The biggest addition is Wi-Fi. You can now stream music from both iOS, Android and Chromecast devices, and access your favorite streaming services with easily. There's still no Bluetooth - you'll have to buy a separate bundle for that - but it's less of an issue than you might think. More importantly, the Sounddeck has tremendous audio quality that feels punchy, powerful, and rich.
Were it not for one issue, the new and improved Sounddeck would challenge the top picks on our list. That issue is availability. We've seen the Sounddeck on Amazon before, but it's often unavailable, meaning it can be tough to track down in the US. As such, we don't think it deserves to be in the top ten - not when so many equally-excellent soundbases are available to buy for much less effort. However, if you do happen to find one, snap it up. You won't regret it. You can't have ours, though. We're still using it...Read our in-depth review of the original Sounddeck
See the Teufel Sounddeck Streaming
 

Weight Rating: 110lbs
Inputs: Aux In, Optical, Bluetooth
Wattage: 30 Watts
Sub: Yes
What We Like: Good connectivity.
What We Don't: Limited headroom.
What we have here is the newly updated Pyle PSBV600BT. Based on an already popular model, this version comes with a couple of added features - Bluetooth 3.0 streaming and an optical connection. This is added to the basic, and industry standard, 3.5mm aux and RCA inputs. For less than a hundred dollars, this might be everything you expect in terms of connectivity from a soundbase or any wireless speaker.
The weight rating is an impressive 110lbs, which means that even the heaviest TV sets can rest on top of the Pyle. Audio quality is fairly transparent despite the somewhat limited 30 watt power rating. The front of the unit contains four full range drivers, complemented by a 3.5" down-firing subwoofer. Like the majority of soundbases on the market, the ported design of this speaker aids bass frequencies in distribution. So, despite not being the loudest unit on this list, the PSBV600BT is capable of fairly full-sounding audio playback. However, it's not particularly suited for Hollywood action movies and other similarly dynamic visual content - if you like your audio loud and impactful, you should check some of our slightly more capable recommendations on this list.
See the Pyle PSBV600BT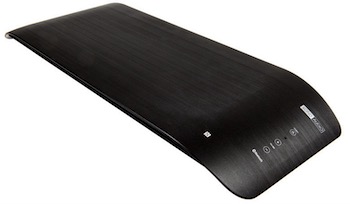 Weight Rating: 110lbs
Inputs: Aux, Bluetooth
Wattage: 15 Watts
Sub: No
What We Like: Intriguing design and price.
What We Don't: Tricky to track down.
If you can find the Sond Audio ETBT201Y – which is tricky to track down the states – then you may score yourself a great sound base for a significant bargain. For under $100, you get a sound base that looks significantly more interesting than many of the big black blocks on this list. The curved design looks fresh and creative, and we can easily see it sitting under a TV in a stylish living room. It helps that it has a very high weight rating of 110lbs, meaning you can place just about any TV on top of it.
Don't expect advanced features though – not for $85. You get a Bluetooth connection, which is good, as well as an auxiliary input, but that's it. The ETBT201Y is a one channel soundbase with a built-in subwoofer, which is significantly less than even the other budget models on this list (the Pyle PSBV600BT, for example, boasts both a subwoofer and two full channels). You should also expect sound quality to match the pricetag. However, if you're looking for a simple TV solution that looks great, then this budget soundbase could be a good shout.
See the Sond Audio ETBT201Y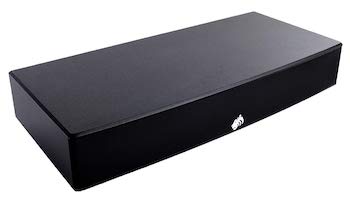 Weight Rating: 110lbs
Inputs: RCA, HDMI, USB, Bluetooth
Wattage: 30 Watts
Sub: No
What We Like: Good sound at a good price, great weight rating.
What We Don't: Bass response is very poor.
If all you want to do is provide a basic boost to your TV sound, then the Magnasonic SB41 is the most affordable way to do so. For $50, the sound is much better than we would have thought, with surprisingly good detail. Dialogue in particular stands out. We are also impressed with the weight rating. It's almost double that of more expensive bases, like the Sonos Playbase That makes it more than worth a second look if you're on a budget.
There are some definite negatives to the SB41. The bass is atrocious – muddy, indistinct, and occasionally downright unpleasant. What makes matters worse is that the SB41 lacks a subwoofer output, which means you're stuck with the muddy bass. This makes it a poorer choice than the aforementioned Seiki soundbase, and significantly poorer than the TimoLabs Amoy 1, which is only $20 more. Still, if you have a heavy TV and want to boost its sound quality for a small outlay, the SB41 could be a good budget option.
See the Magnasonic SB41
 
Soundbase Comparison Table
| Soundbase | Price | WR* | Inputs | Watt.** | Sub. |
| --- | --- | --- | --- | --- | --- |
| Sonos Playbase | $799 | 77lbs | Wi-Fi, Optical | Unavailable | Yes |
| ZVOX SoundBase 440 | $230 | 40" | RCA (x2), Optical, Coax | 45 Watts | Yes |
| TimoLabs Amoy 1 | $59 | Unavailable | RCA, Optical, Coax,  Bluetooth | 50 Watts | No |
| Denon DHT-T110 | $299 | 60lbs | Bluetooth, Optical, Coax, RCA | Unavailable | No |
| Atlantic Tech. 3.1 HSB | $799 | 60lbs | Bluetooth, Speaker Inputs (x3) | 150 Watts | Sort Of... |
| Q Acoustics M2 | $370 | 55" | Bluetooth, HDMI ARC, Opt, Aux (x2) | 80 Watts | Yes |
| Cambridge Audio TV5-V2 | $199 | 66lbs | Bluetooth, HDMI, Optical, RCA | Unavailable | Yes |
| Pyle 3D | $93 | Unavailable | RCA (x2), Aux, USB, TF Card, FM | 300 Watts | Yes |
| Panasonic SC-HTE80 | $242 | 66lbs | Bluetooth, HDMI, Optical, RCA | 120 Watts | Yes |
| Canton DM76 | $570 | 88lbs | RCA, Optical, Coax, Bluetooth | 200 Watts | Yes |
| Canton DM101 | $700 | 88lbs | Bluetooth, Coax, Optical | 200 Watts | Yes |
| Teufel Sounddeck Streaming | $930 | Unavailable | Wi-Fi, HDMI, Optical, Bluetooth | 100 Watts | Yes |
| Pyle PSBV600BT | $97 | 110lbs | Aux In, Optical, Bluetooth | 30 Watts | Yes |
| Sond Audio ETBT201Y | $85 | 110lbs | Aux, Bluetooth | 15 Watts | No |
| Magnasonic SB41 | $70 | 110lbs | RCA, HDMI, USB, Bluetooth | 30 Watts | No |
*WR = Weight Rating. Yes, we know it's in both pounds and inches. We explain below.
**Watt. = Total RMS Wattage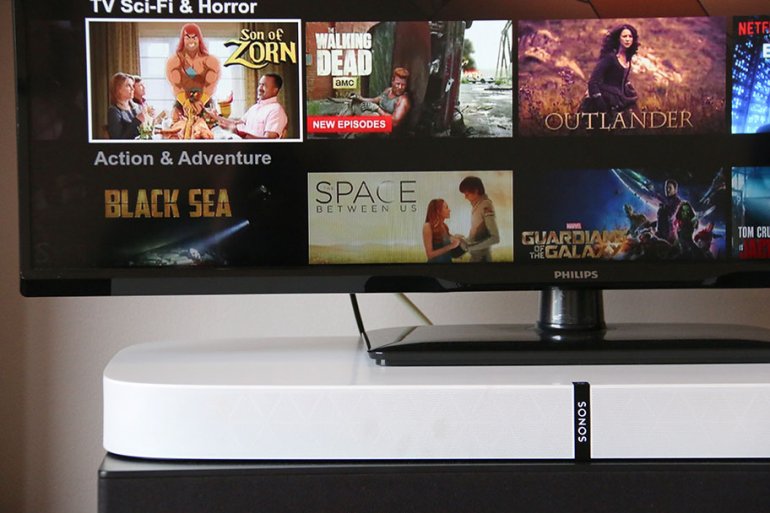 Soundbase Buying Advice
What is a Soundbase?
A soundbar is a thin bar, designed to sit in front of your TV. A soundbase, however, is a large, flat boxes designed to function as both a speaker and as a stand for your TV. They pull double duty as both music streamers (via Bluetooth) and as home theater speakers. What they really do well is bridge the gap between soundbars and more traditional speakers. They are larger and deeper than a soundbar, and so are able to pack more and better speaker drivers inside them, but they don't always have the raw power or detail that the larger speakers do. What they are, in essence, is an excellent mid range option, and one that is criminally overlooked.
An unfairly maligned and underrated member of the audio equipment family. Over the years, soundbases have fallen down the pecking order, eclipsed by soundbars and floorstanding speakers and full surround systems. They also haven't been helped along by manufacturers refusing to agree on terminology, meaning they are marketed under such esoteric terms as soundplate, soundslab, and soundboard. They are all one and the same thing. Because they're so underrated, it's actually quite rare to get new sound base entries into the market, and there are comparatively fewer numbers of them out there then, say, soundbars. But if you have a medium-size room, and you're looking to fill it with sound with a smaller soundbar might not be able to pull off, then they are worth a second look.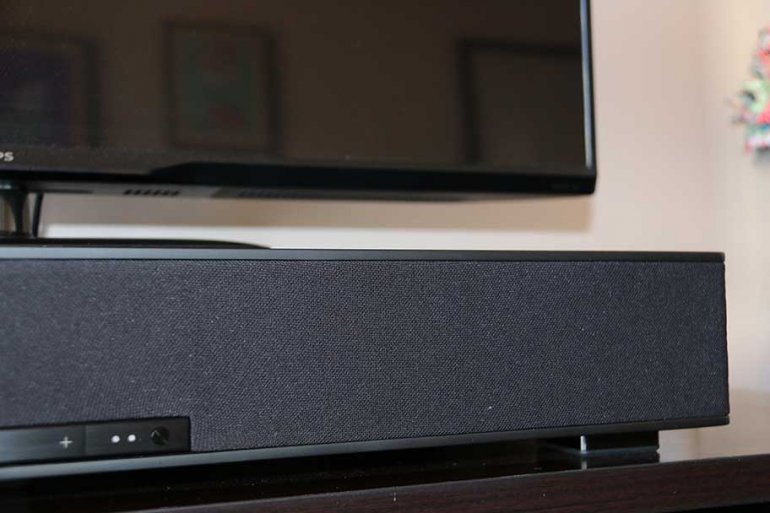 Soundbases vs. Soundbars
We reckon the concept of soundbases probably started with home theater setups operating with limited space, and soundbases certainly offer a discreet look - almost always blending in seamlessly with your TV set. 
One of the big sonic advantages that soundbases have is that they pack more speakers inside them. This means that they often integrate subwoofers, and can have larger overall drivers. Larger drivers don't guarantee better sound quality, but they do guarantee more powerful sound. Obviously, the more you pay, the more this will come into play. They're also a viable alternative to full surround systems. If you're looking to upgrade from a soundbar, but aren't ready to shell out for a full 5.1 or 7.1 system, then a base could be the way to go. We'll go into this in a little more detail below.
The disadvantages: they are considerably heavier than almost all other pieces of sound equipment. Hardly surprising, given that they pack in so many drivers and amplifiers. It's also very difficult to power them, usually, with your own equipment – you aren't, for example, going to be hooking them up to a power amplifier or preamplifier. That means that if you don't like the sound of your soundbase, you're kind of stuck with it! They are also, we are sad to say, far less common than soundbars. Despite being amazing, they can often be hard to track down, and it's actually quite rare to find new models being released. A perfect example: we absolutely adored the Raumfeld Sounddeck, but we had to move it to its own special section on the list, as it is no longer widely available. Despite being a fantastic product, it's clear but the company wasn't really interested in supporting it any more.
A soundbar, on the other hand, dials down the weight and size factor in favor of a more svelte design. Instead of packing all the speakers into one single box, it spreads them throughout the room – usually by including a wireless subwoofer, and even, in some cases, a pair of satellite speakers (this is so you can emulate 5.1 surround sound). They are far more popular than soundbases, and consequently, easier to find. They also tend to be a little bit cheaper. But as a general rule, their bass isn't very good. The included subwoofers don't always have enough power, whereas the bass drivers in a soundbase are usually quite good, meaning you get much more impactful low end. This isn't hard and fast rule, and there are definitely exceptions, but it's worth bearing in mind if you're trying to choose between the two. If you'd like more info on the differences between them, we've got a full explainer that goes into this topic in much more detail.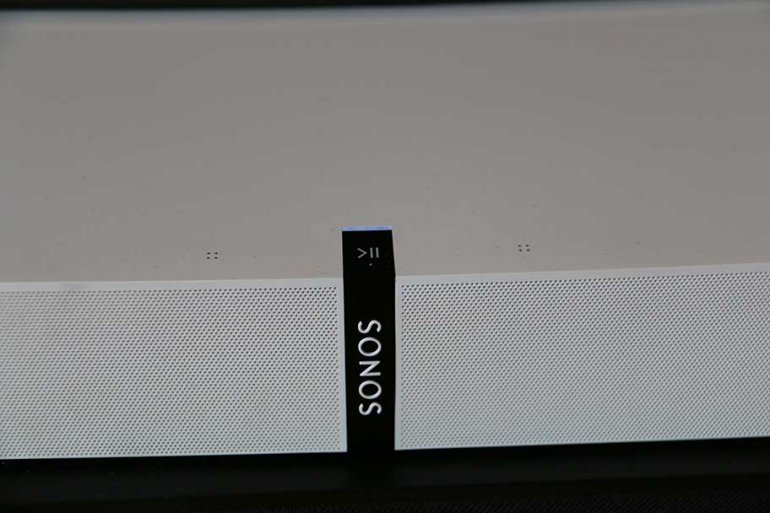 Soundbase vs. Home Theater
One of the things that traditional home theater systems can do that sound bases definitely cannot is surround sound. Try as you might, and no matter how amazing the drivers are in your new base, they are not going to be able to convince you that things are happening above and around you, as it would be with 5.1 and 7.1 surround sound. Then again: that's not really their purpose. A sound base is there to offer a step up from a traditional soundbar: a convenient, one box solution that will often offer stellar sound. And while it doesn't have as many speaker options in its arsenal, in terms of spacing, the quality of the drivers and the algorithms behind them can often do a passing imitation of what surround sound might be like, even if it's nothing like the real thing.
They can also offer distinct advantages for smaller rooms that don't have the space from multiple speakers, or when you don't want to bother with wires. Ultimately, as with many things in home audio, everything is a trade-off. Do you want full surround sound? Or do you want a slightly smaller audio stage, in exchange for crazy convenience? That being said, there are certain sound bases that allow you to add additional speakers into the mix. Perfect example: the Sonos Playbase, which is one of the many reasons why it's at number one. It lets you connect additional, smaller speakers – as long as they are from the same manufacturer, of course - and in addition, to do it wirelessly. Huzzah!
 
Weight Rating Explained
This is, quite simply, the weight given soundbase can take from a TV on top of it. As you might have gathered if you looked at our table above, sometimes extracting this from manufacturers can be a giant pain. Some, like Sony, Denon, and Cambridge Audio, will happily give you a weight rating in pounds. Others, like ZVOX, specify only a maximum TV size for what you can place on top. This is extremely annoying. The TV market is huge and varied, different TVs have different weights, and puzzles us why manufacturers don't have a standard rating system. The easiest way to do this, quite honestly, is just to weigh your TV using a kitchen scale (or look online for the weight of your chosen) and double-check its size before you buy. Remember: it's diagonal corner-to-corner, not straight across.
It's not as if your soundbase is immediately going to crack and splinter down the middle if you put a TV that is slightly too heavily on top of it, but it may bend, and it's not going to be good over time. Know how much your TV weighs what size it is, do your research, and buy a base that can actually take the weight. For reference, the sturdiest base on our list – in other words, the one that can take the most weight – is the Pyle PSBV600BT, able to handle a whopping 110lbs of pressure. That's one mighty big flatscreen…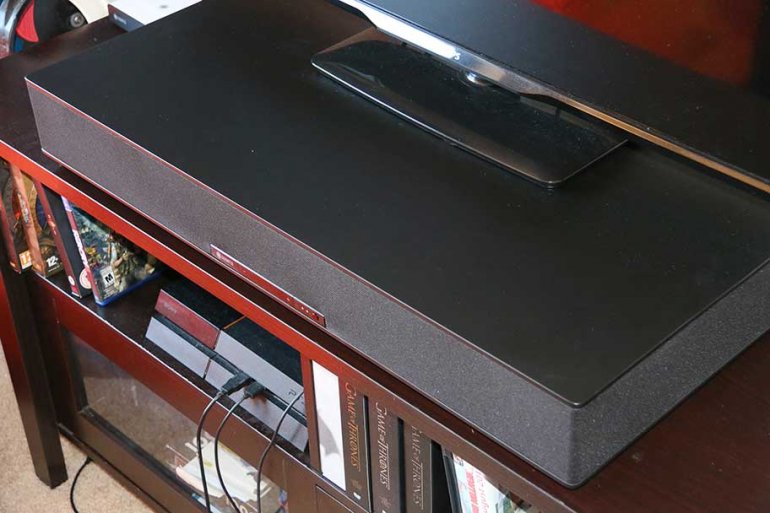 Placement Explained
On the face of it, this is obvious - under the TV, right? But: we should mention a very common 'alternative' scenario - the temptation of placing your soundbase within a closed-off shelf or cupboard. This may work fine in some cases, but generally speaking, soundbases require an open space to emit all the audio frequencies as intended and therefore sound their best.
What we mean by that is that cupboards or shelves can often introduce unwanted sympathetic vibrations - think sound that is 'boomy' or muffled. Careful positioning is especially important for soundbases featuring subs (which are mostly down-firing). The legs of your TV, and their spacing and weight, might also require creative workarounds in regards to positioning. Either way, you shouldn't find this too challenging!
 
Soundbase Subwoofers Explained
You may have come across the term woofer, which is used to refer to a speaker designed to put out low end frequencies. A subwoofer, on the other hand, is only designed to handle the extreme low end. When you hear a bass that rattles your stomach, chances are it's a subwoofer that doing it. 
A base may or may not be able to do this, but for safety, many manufacturers include a subwoofer in the casing itself. This is in contrast to sound bars, which are far too slim to offer included subwoofers, although there are some manufacturers that give it a bash.
It may be worth thinking about whether you need a subwoofer - if not, you could save some cash by not ordering a base with one. Either way, we would always argue in favor of additional low end, which we feel anchors the sound. Top of the list for this particular aspect is arguably the Q Acoustics M2. Either way, the manufacturer is known for thumping low-end, and that's the model you should be looking at if this is important to you.
 
Soundbase Connections Explained
Broadly speaking, the inputs and outputs of soundbases are nearly identical to those of soundbars. You will find the usual suspects such as HDMI, Optical In, Aux In (1/8" minijack), Line In (RCA) and some units may even feature a USB port (for media storage playback). In terms of outputs, don't be surprised if you don't find any, but when present, they are the ubiquitous pair of Line Outs (normally as RCA) and/or a separate subwoofer output.
Wireless connectivity is slowly but surely taking over the world of home entertainment, and we have already spoken in detail about Bluetooth streaming (including high-res aptX audio). WiFi integration has become an equally common feature with soundbases, as it supports high-resolution formats and works beautifully with both simple 'one TV - one soundbase' setups, as well as surround, multi-room and multi-device setups. The configurations of such wireless features are all usually done by a simple app - just connect the Ethernet port found on your soundbase to your home network's broadband router, and follow the instructions. Dead easy.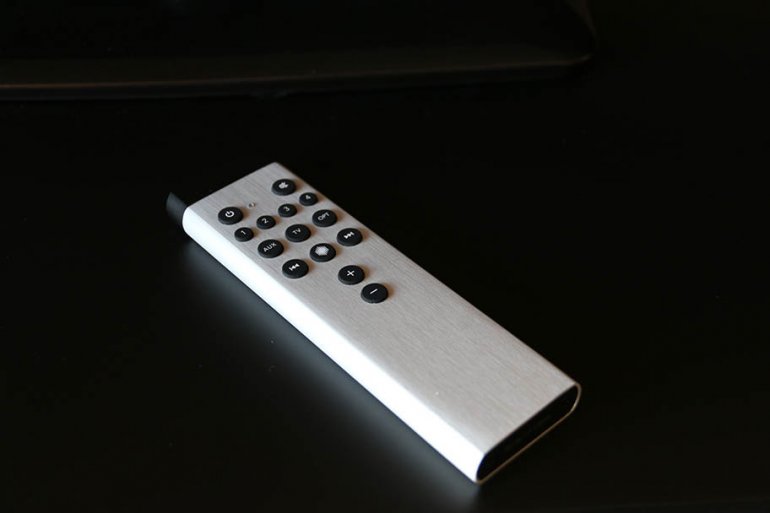 Wattage Explained
Wattage – which is a measure of how much power a speaker puts out – is a good way to get a general sense of how loud a particular base can go, it shouldn't be taken as a direct analogue for loudness. You can, after all, turn the volume down, which makes things a little bit tricky. Imagine, if you like, a group of soundbases lined up in a row, all receiving the same amount of electrical power. Their wattage rating is how much amplifier power comes out the other end! For reference, the most powerful base on the list is the Pyle 3D at 300 watts - comparable to many separate speaker systems!
Wattage is actually less important with soundbases than it is with other pieces of audio equipment, like, for example, floorstanding speakers. That's because every sound based on the market – and we do mean every single one – includes its own amplifier/s, meaning that you never need to worry about matching speakers and amps. If you are interested in that – and you should be, because it's pretty good knowledge to have – you can check out our full guide to the practice.
HDMI ARC Explained
You probably know what HDMI is - the ubiquitous cable connection used to hook up TVs and monitors. You've almost certainly used one before. But what about HDMI ARC? What does it mean and how do you use it?
ARC stands for Audio Return Channel. Usually, when you connect a standard HDMI cable, you'll be sending video data to a TV or monitor screen. In this case, if you connect a soundbase to the TV using a port labelled HDMI ARC, it allows the TV to send audio data to the soundbase. This is really useful if you have plenty of devices connected to your TV, like consoles and Blu-ray players. This also allows you to turn on both soundbase and TV with one remote push, if your HDMI ARC channel is connected. The downside is that more often than not, the sound coming down an HDMI ARC cable is restricted to 2.1 channels - if you enjoy 5.1 or 7.1 surround sound, you won't be able to use it in this way. Not all soundbases have HDMI ARC connections - the one we'd recommend, if you're looking to use this feature, is the $370 Q Acoustics M2.
Streaming Music to a Soundbase 
One of the other things a sound base can do is act as a very decent hub for the music in your life. While it's unlikely that it will be able to include music on any on-board memory, which isn't a feature we've seen, you could always connect a USB stick if there's a port on offer…or better, stream via Bluetooth or Wi-Fi! Bluetooth streaming, while still not quite at the level of music down wires, is getting better and better these days. Top-of-the-line is something called aptX, which allows you to stream more data at a higher rate, leading to higher fidelity and fewer dropouts. Several bases on our list have this particular tech – top-of-the-line, we think, is the Cambridge Audio TV5-V2. Wireless streaming over Wi-Fi networks is less common, but it's something that the number-one pick on our list, the Sonos Playbase, really sets its reputation by.
Any app that can send a signal via either Wi-Fi or Bluetooth Will almost certainly be able to connect to your sound base, and allow you to play music. You'll be surprised at just how musical the audio quality of some of these products can be, so when you buy one, definitely check this out.
Learn More About Home Theater Speakers