Soundbases don't often get a lot of respect in the audio world. This is a landscape dominated by huge tower speakers, feature-heavy home theater systems and sleek soundbars. Soundbases don't always look particularly sexy, and as a consequence, they don't sell as well as other audio equipment. This strikes us a shame: a good soundbase can be just as powerful and wonderful to listen to as any other piece of audio equipment, and is often more diverse thanks to its size. Here's our pick of the best available from this year.

How We Choose:
Soundbases require more careful testing than other types of speakers, not just to evaluate the audio quality but also to figure out their load-bearing capabilities. We've looked at all the bases available on the market to come up with the list below, taking value for money into account as well, and we think these are the absolute best available.
This is a market that doesn't seem new additions all that often, so a few of these picks are a couple of years old, but that doesn't stop them being amazing. And a further word of warning: For some reason, this is a product category where prices tend to fluctuate dramatically. For that reason, do keep an eye on Amazon and other retailers, to see if you can score a bargain.
Our Soundbase Picks: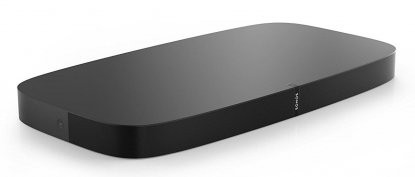 Weight Rating: 77lbs
Connectivity: WiFi
Wattage: Unknown
Sub: Yes
What We Like: Superb sound and design.
What We Don't: No HDMI, which may be unfamiliar for some.
SONOS' trademark futuristic designs are always matched by audio quality, so it's no surprise that their recently released (and long-awaited) PLAYBASE has caused a bit of a stir in the world of soundbases - enough to unseat those that came before it, and claim its place at the top of our roundup. The minimalistic, sleek and very sturdily-built base comes in black and white. We've had a chance to live with the unit, and a full, in-depth review is coming soon. It beats more expensive units like the Atlantic Technology 3.1 HSB hands down!
The PLAYBASE can handle TVs with substantial weights - up to 77lbs. Physical controls are minimal - power and volume are certainly there, but what SONOS have aimed for (and largely succeeded in doing) is to hand over complete control over every function of your audio, media selection and so on to the SONOS app. This unifies all of your media library, hifi hardware, streaming services (Apple Music, Spotify, etc.), internet radio, audio books and packs it in the app for direct control. You can adjust every audio setting, and if you add additional SONOS speakers, the app can control individual speaker volumes and even stream different content to different speakers - perfect if you have a multi-room setup. There's a simple optical-only connection to the TV (although the lack of HDMI may be of-fputting for some) and the audio is really impressive, with have ten self-powered internal drives plus a sub, and the wireless magic goes further with the company's Trueplay speaker tuning algorithm. This guarantees sonics rivalling the performance of many conventional systems, with plenty of tight low end and high end detail. We are impressed. Read our in-depth review.
See the SONOS PLAYBASE
Weight Rating: 88lbs
Connectivity: Bluetooth
Wattage: 200
Sub: Yes
What We Like: Great bass, great features.
What We Don't: Sound can't compete with the PLAYBASE.
Our second pick is the Canton DM55: a big, beautiful slab is a full 2.1 system with a massive 200 watts of audio output. Soundbases are often noted for their ability to provide more power and oomph to their audio, thanks to the increased size, and the DM55 really capitalises on that. The down-firing subwoofer does some phenomenal things to the low end, and the rest of the sound is equally good. The highs are crisp and fresh, and the mids are a lot warmer than we would have expected. The PLAYBASE does a better job overall, but this is still a terrific option.
At this price range, each soundbase comes with a very decent feature set, and the DM55 is no exception: Bluetooth streaming, remote, it's all here. Interestingly, the soundbase is housed in glass, which makes it one of the best looking models here; despite this, it somehow manages to be only 2.7 inches tall, making it the second-flattest soundbase in our roundup. Quite an achievement. Be warned that while it will certainly support whatever TV you put on top of it, it is one of the few bases without a weight rating. It's also worth noting that similar models, like the bigger DM 75 and the DM 100 below, are available, although we think this is a lock on the list for now.
See the Canton DM55
Weight Rating: 66lbs
Connectivity: Bluetooth
Wattage: Unknown
Sub: Yes - x2
What We Like: Big improvement on version one.
What We Don't: EQ isn't as fully-featured as we'd like.
This is the second version of Cambridge Audio's TV5 soundbase, and although it doesn't move from the place on this list held widespread assessor, we still think it's a very good option. Because it does what it's this high on the list many of the more expensive bars do, at a much more agreeable price. Compare it to the Canton DM100, which is a great bar, but which doesn't offer nearly the bass response that this one does.
The base packs in some great features, including support for 24bit/192kHz audio, and aptX-enabled Bluetooth. There are two downward firing subwoofers which deliver excellent bass, and the company's patented BMR speaker tech ensures that there is good clarity in the mids and highs. While we could have done with a slightly more fully featured EQ (the one they supply only has four preset options) it's a minor point. The sound, build quality, intuitive remote and good pedigree means that this is a highly worthwhile purchase, even if you've never experienced the company before. This is a price range where features start to drop away, so it's heartening to see that that isn't really the case here. Our take? Go for it.
See the Cambridge Audio TV5-V2

Weight Rating: 60"
Connectivity: Bluetooth
Wattage: 150
Sub: Sort of…
What We Like: Surround features.
What We Don't: Unusual approach to bass may not be for everyone.
If you're looking for the best example of a soundbase that delivers surround sound, we strongly suggest taking a look at the Atlantic Technology 3.1 HSB. While it's certainly not going to trouble the traditional 5.1 and 7.1 systems, it does have that number on it, 3.1, which means that it packs a left, center, and right speaker along with an included woofer, which has a genuine impact on the stereo spread of the sound. Note that we said woofer, not subwoofer. That's deliberate. A subwoofer is specifically designed to handle bass frequencies, while a straight woofer also dips a toe into the mids.
So why does Atlantic Technology not include one, and still managed to put .1 in their product name? It's all because of their H-PAS (Hybrid Pressure Acceleration System) technology, which turns a woofer into something that can really handle heavy bass frequencies. It's an interesting approach, and while we still think a traditional sub is the way to go, this unit still has some truly outstanding sound - although its pricetag, despite occasionally fluctuating (we've seen it go as low as $550), makes it an acquired taste. We'd say, go for this one if you can't get hold of the Canton DM55.
See the Atlantic Technology 3.1 HSB

Weight Rating: 88lbs
Connectivity: Bluetooth
Wattage: 200
Sub: No
What We Like: Great bass, intuitive remote, aptX Bluetooth.
What We Don't: Highs can be a bit sharp, perhaps a little expensive?
You might think it strange to see the bigger version of the DM55 this low on the list. While it's still a good system, we much prefer the charms of its smaller brother, which is why we gave at the top spot. The DM100 is good, and very loud, but it's not enough of a leap forward to recommend picking it up over its sibling. And at this price, you may as well go for a SONOS PLAYBASE, which is superior in almost every way.
That being said, it's still an excellent model, and will stand toe to toe with any on this list. It's got an excellent, intuitive remote, as well as features like aptX-enabled Bluetooth to smooth things along. Plus, the bass is nasty - tight, snarling, and powerful, not quite up to the level of a high-end subwoofer, but very close indeed. With four down-firing subs built in, that's hardly surprising - although we do think the highs can get a touch too harsh sometimes, which was a little bit of a surprise. All in all, though, this is a good alternative to the models above it, and a fine soundbase.
See the Canton DM100


Weight Rating: 55"
Connectivity: WiFi/Bluetooth
Wattage: 140
Sub: Yes - x2
What We Like: Terrific sound for a bargain price.
What We Don't: Not a massive leap forward from the SRT-1000.
We previously featured the Yamaha SRT-1000 on this list, but after consideration, we are replacing it with the more powerful SRT-1500. You get an absolutely tremendous amount for a genuinely bargain price (although, as with almost all the products in this particular category, we've seen it fluctuate a little bit). Firstly, you get Yamaha's terrific MusicCast control app, and secondly, you get some genuinely wonderful sound.
While we're not quite convinced of the company's claims of true 5.1 surround, the effect is still dramatic, helped along by ten drivers and two subwoofers with bass reflex ports. Alongside this, you're also able to stream music wirelessly, not just through WiFi and Bluetooth, but through AirPlay and Spotify Connect, too. We love the feature set, but we don't think it does anything dramatically different to other models on this list, hence its slightly low placement – as an example, the Cambridge Audio TV5-V2 is very much the superior model. All the same, it's heartening to see that a company like Yamaha is investing in sound bar technology, and hopefully with the SRT-2000 (or whatever their next model is) they'll be able to innovate a little more.
See the Yamaha SRT-1500

Weight Rating: 55lbs
Connectivity: Bluetooth
Wattage: 80
Sub: Yes
What We Like: Good value from a respected brand.
What We Don't: Dodgy EQ options that muddy the sound.
Q Acoustics are very well known stateside, but they do make some very good kit. Although the M3 sound bar is probably the most popular item for in-the-box audio, this capable base is also a firm favorite, delivering good if unspectacular sound for a very reasonable price.
It's easy-to-use, a complete breeze to set up, and with 80 watts of power behind it, is capable of filling the room with powerful, detailed sound. It may lack WiFi, but it offers a strong aptX Bluetooth connection, as well as a built-in subwoofer. The biggest complaint we had about it was that the included EQ options sounded pretty terrible, with vocals in particular suffering when they were activated. All the same, this compares favorably with models like the Bose Solo 15 Series, and hopefully the issues can be rectified in an update. If you're looking for something different, check this one out.
See the Q Acoustics M2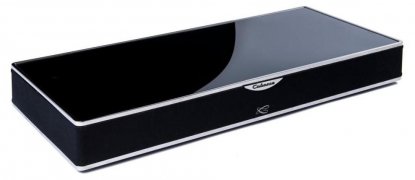 Weight Rating: Unknown
Connectivity: Bluetooth/WiFi
Wattage: 120
Sub: No
What We Like: Warm, rich, full sound.
What We Don't: Doesn't do enough to set itself apart from the competition.
Cabasse are a French company that make some seriously high end audio gear. This isn't one of those products. Oh, it's good – it wouldn't be on this list otherwise – but compared to other models, it doesn't quite do enough to push it into the upper echelons. It can also be quite hard to track down outside of the US.
That being said: the company is known for producing great gear, and they have kept the standard up here. The sound is warm and textured, addictive even, with a musical sound signature but is a joy to listen to. For the price, we don't think it beats out, say, the Canton DM100, which offers a much better low end and remote, but it certainly doesn't disgrace itself. We'd say this one is worth buying if you ever spot it – at the time of writing, it's not available on Amazon, and is unlikely to be so in the future.
See the Cabasse Stream Base

Weight Rating: 55"
Connectivity: Bluetooth
Wattage: Unknown
Sub: Yes
What We Like: Great feature set, superb dialogue reproduction.
What We Don't: Very little.
One of the most reliable names in soundbases is ZVOX. Their Soundbase 570 is the entry-level model in their product range, and it does itself proud. This is a soundbase that really goes out of its way to offer you as many features as possible: you get Bluetooth, a built in subwoofer, something called the PhaseCue virtual surround sound system which does a passable if not 100% convincing impersonation of a 5.1 setup, and five speakers. One of the biggest draws for this system is its accurate voice reproduction, making it ideal for people who enjoy series and movies.
It also has a feature that we think should come as standard on every home theater product ever made, a button on the remote and allows you to automatically level volume, meaning no more super loud commercials. Go ZVOX. If you need an alternative, try the company's larger models like the 670 - it offers much the same features, albeit with slightly more powerful sound. We still think the 570 is the one to go for, but there's nothing wrong with picking a bigger model if that's what you're looking for. Although, for the record, we prefer other models to this one, as we don't think it's all that exciting.
See the ZVOX Soundbase 570


Weight Rating: 150lbs
Connectivity: Bluetooth
Wattage: Unknown
Sub: No
What We Like: Killer sound, especially the bass.
What We Don't: Odd control placement. No HDMI.
Fluance already make some terrific speakers, and we suppose it was only a matter of time before they got involved in the soundbase game. The AB40 is an excellent entry, with some mind blowing sound for the price – not quite full surround, but certainly a passable impression of it. And despite not having a dedicated subwoofer, it manages to go all the way down to 30Hz for the bass, which is satisfyingly low. Not quite as weighty as the Atlantic Technology base, higher in this list, but still
It helps that the drivers themselves are angled precisely, which means you get excellent sound coverage, and you don't have to sit directly in front of the unit to get the full effect. Plus, you can stream music over aptX-enabled Bluetooth, which is always something we like to see. It does have one puzzling design feature, however, which is that the controls on the top of the unit are placed a little bit too far back, limiting the places you can put your TV. Not a dealbreaker, but definitely worth bearing in mind, especially if you have a large TV base. Oh, and it lacks an HDMI connection, which is a puzzling omission.
See the Fluance AB40


Weight Rating: 75lbs
Connectivity: Bluetooth
Wattage: Unknown
Sub: No
What We Like: Universal remote, good sound.
What We Don't: Nothing special.
This is the soundbase you go for if you're looking for a trusted name in home theater. While the Solo 15 Series 2 doesn't do anything groundbreaking, or offer any features that models above it offer, there's still a lot to recommend it. If you want something a little more fully featured, and are prepared to pay a bit more, you should be looking at something like the ZVOX or the Yamaha.
Chief among its qualities are its precise, refined sound, which treats things like a dialogue particularly well, thanks to a dedicated mode. It also allows you to connect two devices to it via Bluetooth, and we do love the universal remote that comes included in the package, which means you can banish just about every other remote you own to a drawer somewhere. Even if the remote could be accused of being a little bit complicated, it's still usable, and the actual setup of the soundbase is simplicity itself. While this is far from the best, and probably a little too expensive right now for what you get, it's a good alternative if you can't find the others.
See the Bose Solo 15 Series II

Weight Rating: 60 lbs
Connectivity: Bluetooth
Wattage: Unknown
Sub: No
What We Like: Good bass, good Bluetooth.
What We Don't: Not the classiest sound for movies.
The Denon DHT-T110 isn't all that different from the Sony model below, in terms of what's on the outside, or even in the price. It has a similar weight rating, similar size, and even looks similar. So why would you go for this over the model above? The sound. Not because it's better (both models have very solid audio for their price) but because it's far more suited to music than movies.
Don't get us wrong, explosions and dialogue still sound crisp, but this sound bar really does seem to respond well to your favourite albums - something that is unusual enough that it warrants talking about here. Part of this is down to its superb bass, and it's seriously good Bluetooth streaming capabilities. The codec, which is the software program that translates the 1s and 0s, really does a good job of making sure that wireless streaming (which can sometimes be a little iffy) sounds solid. While the DHT-T110 is far from the best soundbase available, it's good enough that we think it deserves a spot here. We've also spotted it at far lower prices than the one indicated, so be sure to shop around!
See the Denon DHT-T110

Weight Rating: 55"
Connectivity: WiFi/Bluetooth
Wattage: 170
Sub: Yes
What We Like: Punchy sound.
What We Don't: A bit basic, not a massive upgrade on the XT1.
This is an upgrade to the original HT-XT1, and although it can be quite difficult to find and doesn't improve dramatically on the original model, it's still worth inclusion on this list. It's got 2.1 channels, including an integrated subwoofer measuring out at 100 watts, which is reasonably powerful, and the combined drivers do a decent job of presenting clear, direct sound. There's a range of presets, as well as a somewhat uninspiring surround sound feature.
Beyond that, you get very little that isn't virtually standard on modern sound basis. HDMI connectivity, optical inputs, Bluetooth (with NFC) and WiFi connectivity are all present and correct. Plus, you get access to Google Cast, as well as Sony's intuitive and straightforward SongPal app. Ultimately, this is an effective, if somewhat dull, budget option. While we think there are better models available, this is a viable alternative if you have a small room or are simply looking for a basic option.
See the Sony HT-XT2


Weight Rating: 110lbs
Connectivity: Bluetooth/WiFi
Wattage: Unknown
Sub: No
What We Like: Decent audio quality for the price, high weight rating.
What We Don't: Very hard to find, tough to set up.
Another British manufacturer – and why is it that the Brits seem to produce more soundbases than anyone else? Something in the national character, perhaps. Anyway: the Unity, while increasingly hard to find, is still a viable option for when it occasionally appears on Amazon. It's definitely not going to beat a lot of the other contenders here, but it's a solid budget pick.
While we didn't enjoy setting it up, which was fiddly as hell, we found that once it was humming away, it offered good sound quality for the price. We were also happy with the weight rating which, to our knowledge, uses the base's tempered glass to take weights of up to 110lbs. Plus, you get both Bluetooth and Wi-Fi, meaning its connectivity options beat out other, more expensive models on the list, like the Q Acoustics M2. Far from the best, but still a decent choice if you ever see one.
See the Kitsound Unity


Weight Rating: 66lbs
Connectivity: Bluetooth
Wattage: 120
Sub: Yes
What We Like: A good solution for small rooms.
What We Don't: Due an update, middling sound.
You know, if there's one thing that would help this particular product category, it's naming consistency. Panasonic refer to their SC-HTE80 as a soundboard because…well, actually, we don't know why. It's just their thing.
It must be said: this is very much not the best model on the list. The sound quality suffers, we think, and despite putting out decent power and packing a built-in subwoofer, the audio is distinctly middle of the range. Compared to the Sony HT-XT2, it just can't compete. However, it certainly has its merits; it's not just the price, which we've seen dip below $200 in the past, but also the affinity has the small spaces. If you got a tiny living room, or want to fill a small bedroom, then this could be the ideal solution. It's quite old now, and is due an update, but is still worth looking at.
See the Panasonic SC-HTE80

Discontinued, But Still Worth Buying: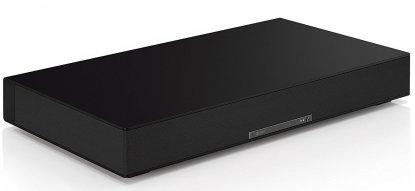 Weight Rating: Unknown
Connectivity: Bluetooth
Wattage: 100
Sub: Yes - x2
What We Like: Massive sound, superb design, excellent remote.
What We Don't: Massive pricetag.
To the best of our knowledge, Raumfeld are no longer operational. The company has gone very, very quiet since we first did a full review of this base, the model is no longer available on Amazon. A real shame, as it was in the top five of this list in its lifespan, and it hasn't been replaced.
In terms of sound quality and sheer, raw power, the Raumfeld model is head and shoulders above its competition. It has a fantastic remote, simple setup, and despite being much more suited to movies and games the music, is quite comfortable in the Raumfeld ecosystem, allowing you to pair it with speakers like the Raumfeld One-S. A terrific base. If you can afford it, you'll be in for an experience that, in our opinion, competes with some full 5.1 surround systems we've tried. While you don't get the same all-encompassing sound field, you get a very passable imitation, with some truly fantastic bass thrown in for good measure. Open the chequebook - do people even have chequebooks these days? - and you'll be rewarded with a truly stellar soundbase system that is a joy to listen to. Read our in-depth review.
See the Raumfeld Sounddeck

Weight Rating: 55"
Connectivity: WiFi/Bluetooth
Wattage: 320
Sub: No
What We Like: Blu-ray player built in, huge sound.
What We Don't: Audio not super-detailed. And obviously, can be hard to find!
LG recently discontinued their Soundplate products - we're not entirely sure why, as they were very good. The LAB540 is the best of the bunch, in our opinion, and it's still very much available - and worth looking it, if none of the others float your boat. It might not be the best-sounding base out there - reviewers have noted its sometimes brittle treble - but it sneaks in because it corners a very specific niche. It comes with a built-in Blu-ray player. This alone makes it worth the price of admission for anybody looking to cut costs on their home theater setup - it's rare enough that, at the time of writing, it's the only soundbase we've seen with such a feature. It's still not going to match the heights of the Blu-ray players on this list, but it's a terrific feature nonetheless.
The Soundplate it easy to install, and while it doesn't have the feature set of dedicated players or TVs, it's still a blast to use. Its sound might not be as refined as other models, but its 4.1 channels and 320W of power make it a worthwhile pick - even it supplies yet another name for a soundbase. We wish manufacturers would make up their minds.
See the LG LAB540 Soundplate

Comparison Table:

*WR = Weight Rating. Yes, we know it's in both pounds and inches. We explain below.
**Watt. = Total RMS Wattage
Want Even More Master Switch? Sign Up For Our Weekly Newsletter!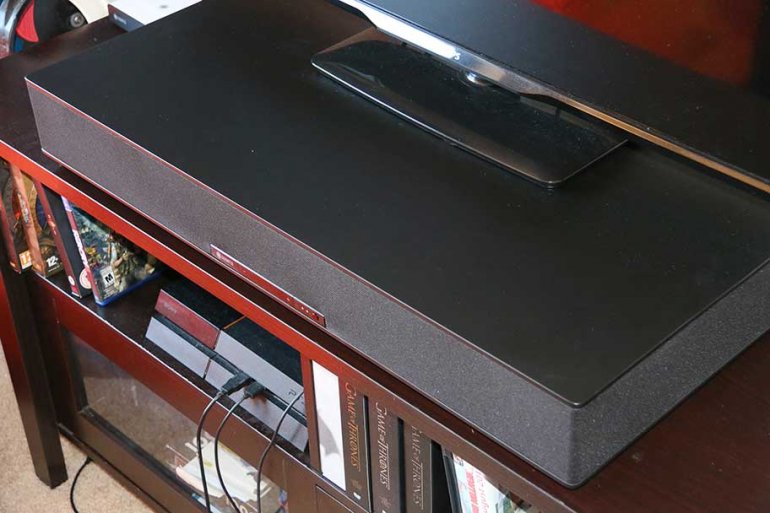 Buying Advice:
Soundbase vs. Soundbar
A soundbar is a thin bar, designed to sit in front of your TV. A soundbase, however, is a large, flat boxes designed to function as both a speaker and as a stand for your TV.
They pull double duty as both music streamers (via Bluetooth) and as home theater speakers. What they really do well is bridge the gap between soundbars and more traditional speakers. They are larger and deeper than a soundbar, and so are able to pack more and better speaker drivers inside them, but they don't always have the raw power or detail that the larger speakers do. What they are, in essence, is an excellent mid range option, and one that is criminally overlooked.
An unfairly maligned and underrated member of the audio equipment family. Over the years, soundbases have fallen down the pecking order, eclipsed by soundbars and floorstanding speakers and full surround systems. They also haven't been helped along by manufacturers refusing to agree on terminology, meaning they are marketed under such esoteric terms as soundplate, soundslab, and soundboard. They are all one and the same thing.
Because they're so underrated, it's actually quite rare to get new sound base entries into the market, and there are comparatively fewer numbers of them out there then, say, soundbars. But if you have a medium-size room, and you're looking to fill it with sound with a smaller soundbar might not be able to pull off, then they are worth a second look.
If you'd like more info on the differences between them, we've got a full explainer that goes into this topic in much more detail.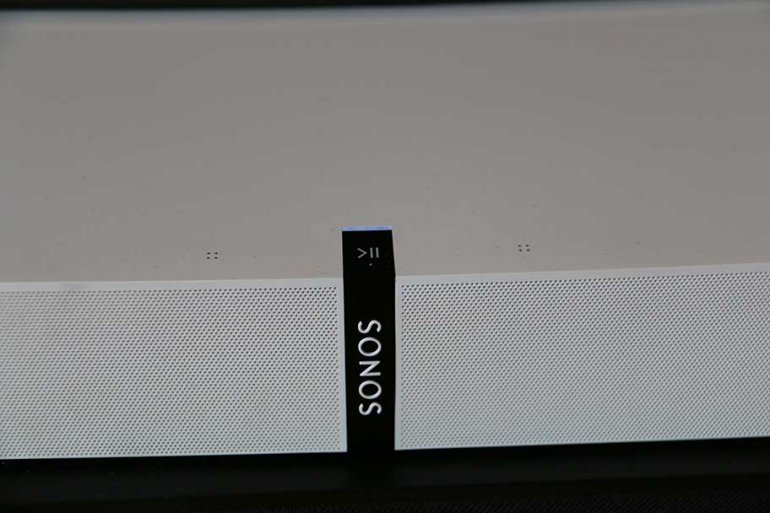 Soundbases: Pros And Cons
We reckon the concept of soundbases probably started with home theater setups operating with limited space, and soundbases certainly offer a discreet look - almost always blending in seamlessly with your TV set.
One of the big sonic advantages that soundbases have is that they pack more speakers inside them. This means that they often integrate subwoofers, and can have larger overall drivers. Larger drivers don't guarantee better sound quality, but they do guarantee more powerful sound. Obviously, the more you pay, the more this will come into play.
They're also a viable alternative to full surround systems. If you're looking to upgrade from a soundbar, but aren't ready to shell out for a full 5.1 or 7.1 system, then a base could be the way to go. We'll go into this in a little more detail below.
The disadvantages: they are considerably heavier than almost all other pieces of sound equipment. Hardly surprising, given that they pack in so many drivers and amplifiers. It's also very difficult to power them, usually, with your own equipment – you aren't, for example, going to be hooking them up to a power amplifier or preamplifier. That means that if you don't like the sound of your soundbase, you're kind of stuck with it!
They are also, we are sad to say, far less common than soundbars. Despite being amazing, they can often be hard to track down, and it's actually quite rare to find new models being released. A perfect example: we absolutely adored the Raumfeld Sounddeck, but we had to move it to its own special section on the list, as it is no longer widely available. Despite being a fantastic product, it's clear but the company wasn't really interested in supporting it any more. Still, the first choice on our list, the PLAYBASE, is relatively new, and hopefully its success will spur challengers.

Soundbase vs. Home Theater
One of the things that traditional home theater systems can do that sound bases definitely cannot is surround sound. Try as you might, and no matter how amazing the drivers are in your new base, they are not going to be able to convince you that things are happening above and around you, as it would be with 5.1 and 7.1 surround sound.
Then again: that's not really their purpose. A sound base is there to offer a step up from a traditional soundbar: a convenient, one box solution that will often offer stellar sound. And while it doesn't have as many speaker options in its arsenal, in terms of spacing, the quality of the drivers and the algorithms behind them can often do a passing imitation of what surround sound might be like, even if it's nothing like the real thing.
They can also offer distinct advantages for smaller rooms that don't have the space from multiple speakers, or when you don't want to bother with wires. Ultimately, as with many things in home audio, everything is a trade-off. Do you want full surround sound? Or do you want a slightly smaller audio stage, in exchange for crazy convenience?
That being said, there are certain sound bases that allow you to add additional speakers into the mix. Perfect example: the SONOS PLAYBASE, which is one of the many reasons why it's at number one. It lets you connect additional, smaller speakers – as long as they are from the same manufacturer, of course - and in addition, to do it wirelessly. Huzzah!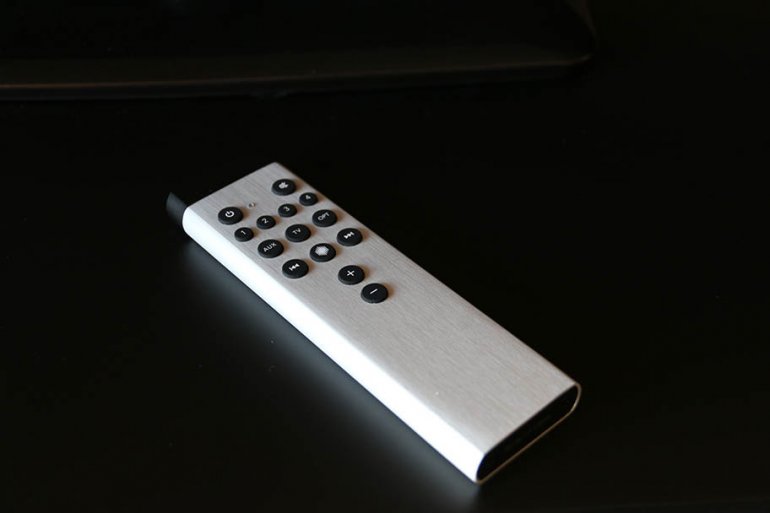 Weight Rating Explained
This is, quite simply, the weight given soundbase can take from a TV on top of it. As you might have gathered if you looked at our table above, sometimes extracting this from manufacturers can be a giant pain. Some, like Sony, Denon, and Cambridge Audio, will happily give you a weight rating in pounds. Others, like ZVOX and Yamaha, specify only a maximum TV size for what you can place on top.
This is extremely annoying. The TV market is huge and varied, different TVs have different weights, and puzzles us why manufacturers don't have a standard rating system. The easiest way to do this, quite honestly, is just to weigh your TV using a kitchen scale (or look online for the weight of your chosen) and double-check its size before you buy. Remember: it's diagonal corner-to-corner, not straight across.
It's not as if your soundbase is immediately going to crack and splinter down the middle if you put a TV that is slightly too heavily on top of it, but it may bend, and it's not going to be good over time. Know how much your TV weighs what size it is, do your research, and buy a base that can actually take the weight. For reference, the sturdiest base on our list – in other words, the one that can take the most weight – is the Fluance AB40, able to handle a whopping 150lbs of pressure. That's one mighty big flatscreen…

Placement Explained
On the face of it, this is obvious - under the TV, right? But: we should mention a very common 'alternative' scenario - the temptation of placing your soundbase within a closed-off shelf or cupboard. This may work fine in some cases, but generally speaking, soundbases require an open space to emit all the audio frequencies as intended and therefore sound their best.
What we mean by that is that cupboards or shelves can often introduce unwanted sympathetic vibrations - think sound that is 'boomy' or muffled. Careful positioning is especially important for soundbases featuring subs (which are mostly down-firing).
The legs of your TV, and their spacing and weight, might also require creative workarounds in regards to positioning. Either way, you shouldn't find this too challenging!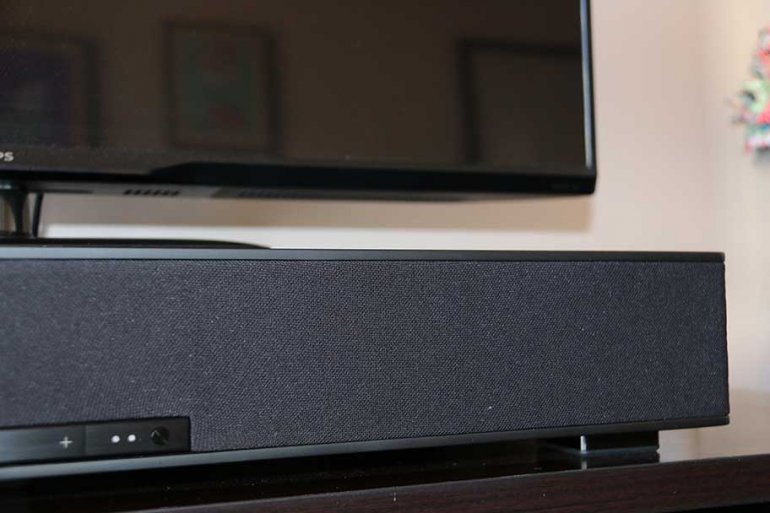 Soundbase Subwoofers Explained
You may have come across the term woofer, which is used to refer to a speaker designed to put out low end frequencies. A subwoofer, on the other hand, is only designed to handle the extreme low end. When you hear a bass that rattles your stomach, chances are it's a subwoofer that doing it.
A base may or may not be able to do this, but for safety, many manufacturers include a subwoofer in the casing itself. This is in contrast to sound bars, which are far too slim to offer included subwoofers, although there are some manufacturers that give it a bash.
It may be worth thinking about whether you need a subwoofer - if not, you could save some cash by not ordering a base with one. Either way, we would always argue in favour of additional low end, which we feel anchors the sound. Top of the list for this particular aspect is arguably the Canton DM55, although you might convince us that its bigger sibling, the DM100, does this even better. Either way, the manufacturer is known for thumping low-end, and that's the model you should be looking at if this is important to you.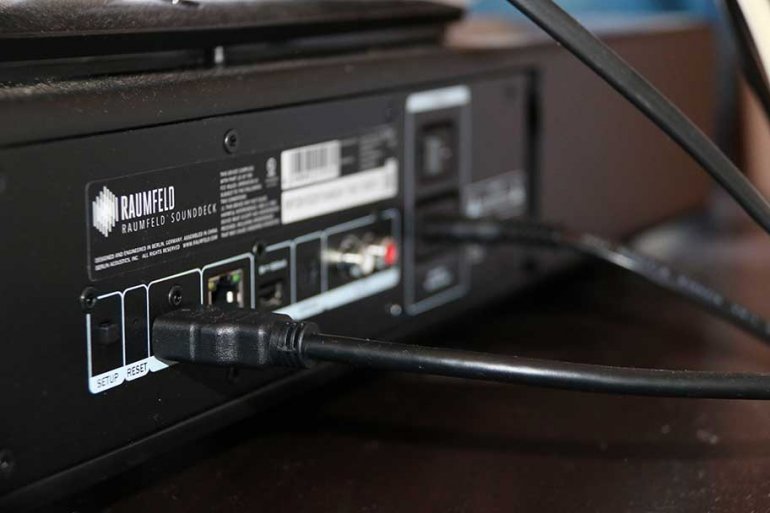 Soundbase Connections Explained
Broadly speaking, the inputs and outputs of soundbases are nearly identical to those of soundbars.
You will find the usual suspects such as HDMI, Optical In, Aux In (1/8" minijack), Line In (RCA) and some units may even feature a USB port (for media storage playback). In terms of outputs, don't be surprised if you don't find any, but when present, they are the ubiquitous pair of Line Outs (normally as RCA) and/or a separate subwoofer output.
Wireless connectivity is slowly but surely taking over the world of home entertainment, and we have already spoken in detail about Bluetooth streaming (including high-res aptX audio). WiFi integration has become an equally common feature with soundbases, as it supports high-resolution formats and works beautifully with both simple 'one TV - one soundbase' setups, as well as surround, multi-room and multi-device setups. The configurations of such wireless features are all usually done by a simple app - just connect the Ethernet port found on your soundbase to your home network's broadband router, and follow the instructions.
Dead easy.

Wattage Explained
Wattage – which is a measure of how much power a speaker puts out – is a good way to get a general sense of how loud a particular base can go, it shouldn't be taken as a direct analogue for loudness. You can, after all, turn the volume down, which makes things a little bit tricky. Imagine, if you like, a group of soundbases lined up in a row, all receiving the same amount of electrical power. Their wattage rating is how much amplifier power comes out the other end! For reference, the most powerful base on the list is the (now sadly discontinued) LG LAB540 Soundplate, at 320 watts - comparable to many separate speaker systems!
Wattage is actually less important with soundbases than it is with other pieces of audio equipment, like, for example, floorstanding speakers. That's because every sound based on the market – and we do mean every single one – includes its own amplifier/s, meaning that you never need to worry about matching speakers and amps. If you are interested in that – and you should be, because it's pretty good knowledge to have – you can check out our full guide to the practice.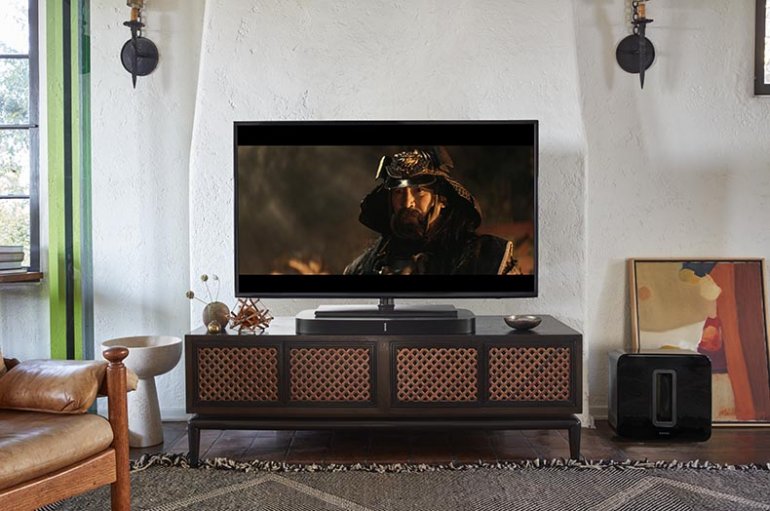 Streaming Music To A Soundbase
One of the other things a sound base can do is act as a very decent hub for the music in your life. While it's unlikely that it will be able to include music on any on-board memory, which isn't a feature we've seen, you could always connect a USB stick if there's a port on offer…or better, stream via Bluetooth or WiFi!
Bluetooth streaming, while still not quite at the level of music down wires, is getting better and better these days. Top-of-the-line is something called aptX, which allows you to stream more data at a higher rate, leading to higher fidelity and fewer dropouts. Several bases on our list have this particular tech – top-of-the-line, we think, is the Cambridge Audio TV5-V2. Wireless streaming over WiFi networks is less common, but it's something that the number-one pick on our list, the SONOS PLAYBASE, really sets its reputation by.
Any app that can send a signal via either WiFi or Bluetooth Will almost certainly be able to connect to your sound base, and allow you to play music. You'll be surprised at just how musical the audio quality of some of these products can be, so when you buy one, definitely check this out.

Soundbase Pricing Explained
It's actually quite rare to find a soundbase for under $150. Because of their size and nature, they lend themselves to slightly more expensive construction. If you're on a budget, that's a downside, but if you have a little bit of cash to spend it means you could score yourself a very, very good system for a fraction of the price of a home theater set.
It should be noted that the size and the internal space limitations of a soundbase introduce a unique set of challenges from a design perspective, as even with their small-sized drivers, soundbases need to compete with conventional speaker setups. A soundbase roughly the size of a regular A/V receiver has to accommodate multiple drivers, tweeters (and subs), power amp modules and a ton of heat-generating components. It all sounds a bit like the challenges found on some early manned Apollo space missions, which needed to be solved by having to plug a round tube into a square hole.
Some brands proudly release videos of the design, assembly and tuning process of their products and these are very informative on why soundbases cannot be produced cheaply.
Essentially, you're paying as much for what you don't get in a soundbase, as what you do. What you don't get is a unit roughly the size of a planet, that would take up a lot of space and require a lot of effort to setup. Instead, your money goes towards the design and engineering skills necessary to pack all of this gear into such a tiny space - and still have it be able to support a giant TV on top of it.