Our Take
In a massively competitive space, Cambridge Audio's Melomania Touch rise above the challengers. They are among the best true wireless earbuds ever made.
Price: $150
See the Cambridge Audio Melomania Touch
What We Like
The Cambridge Audio Melomania Touch deliver crisp and detailed sound quality, particularly with vocals.
The Melomania Touch can go for a full two days without needing a recharge.
The Melomania app is one of the best we've ever seen.
The earbuds' design is impeccable, suggesting a luxurious product without a luxury pricetag.
 
What We Don't
The controls on the Cambridge Audio Melomania Touch buds can sometimes be a little hit and miss.
The Bluetooth pairing method, with its accompanying voice notifications, is a little annoying.
The lack of noise cancellation may be a dealbreaker for some
 
---
Cambridge Audio Melomania Touch Specs
| Price | Battery  (Buds) | Battery (Case) | Bluetooth | Noise-Canceling | Driver |
| --- | --- | --- | --- | --- | --- |
| $150 | 9 Hours | 48 Hours | 5.0 | No | 7mm |
---

Table of Contents
---

Up until now, if we were to advise someone about the best true wireless earbuds (as in, earbuds that have no wires at all) we would have talked about Sony, Bose, Apple, maybe even Samsung. Now, we think we can add Cambridge Audio to that rarefied list. The British manufacturer may not be a household name outside of audiophile circles, but that hasn't stopped them developing what we think is one of the best true wireless earbuds we've ever tested. And at $150, it's one of the most affordable models out there, too. Say hello to the Cambridge Audio Melomania Touch.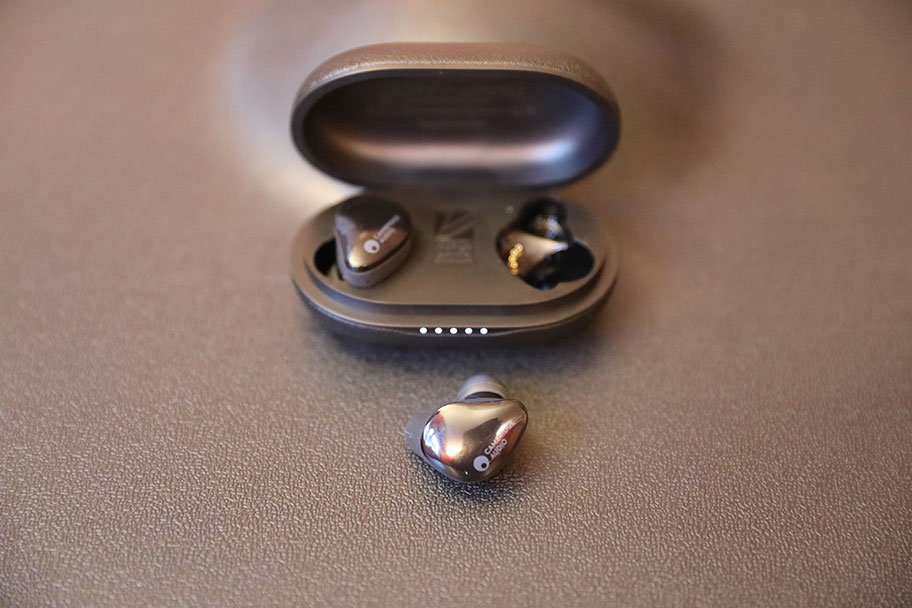 Design and Features
Looks and Build Quality
It would be wrong to claim that the Melomania Touch are a brand-new concept. They are not. They look and act like true wireless earbuds, with a design that, while undeniably sleek, clearly borrows from some established ideas. The case recalls Sennheiser; the magnetic slots and companion app recall Sony, and the overall design and glossy build are clearly taken from the world of high-end audiophile in-ears. But instead of being derivative, or feeling like a bad copy, the Melomania Touch buds still manage to feel different. It's as if Cambridge Audio decided to create earbuds that showcased the very best design elements in the field, while getting rid of everything they didn't like.
Let's start with the case. It's relatively large, around the same size and weight (1.94 ounces) as the $300 Sennheiser Momentum True Wireless 2. But despite being priced at around half of what the Sennheiser buds cost, the case still feels suitably premium, with a leather covering and an embossed logo. There's an intuitive set of battery lights around the front, and when you flip the case open, you'll find the two earbuds slotted into magnetic holes. The earbuds themselves have a glossy finish that looks superb, and despite inviting touch, somehow manage to avoid displaying greasy fingerprints. And in general, the looks and build quality of the earbuds is excellent, with a distinctive shape and tough casing, and some nicely subtle branding. Ours were black, but there is a white color option as well.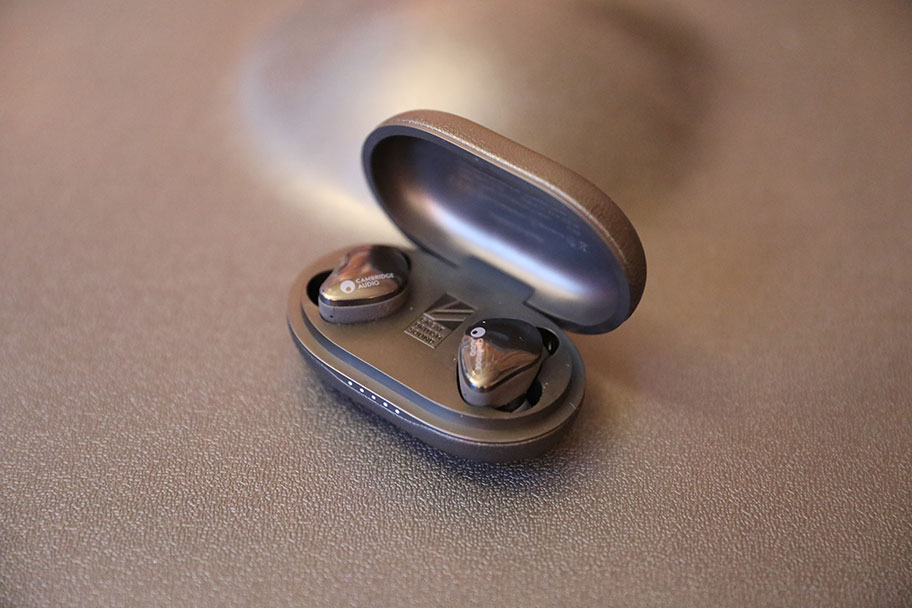 While we wouldn't necessarily recommend using these earbuds on a run during a workout, they hold up just fine. The IPX4 waterproofing means the earbuds can sustain a little bit of light rain quite happily, although they pale in comparison to more dedicated waterproof buds like the $150 Jabra Elite Active 75T, which offer IP57 protection (meaning they can deal with a little dust as well as significantly more water pressure). Either way, you can probably walk through rainstorm on your commute just fine with these earbuds.
There's clearly been a ton of effort and thought put into the design here. The Melomania Touch are Cambridge's second set of true wireless earbuds; the first, the $90 Melomania 1, sounded great but had a distinctly odd design—not to mention a color scheme that reminded us of medical equipment. The Melomania Touch could not be more different. Where the original were clearly an example of a company feeling its way, the sequel shows a confidence and skill that is just a delight.

Comfort and Fit
It's always struck us as deeply ironic that the most advanced true wireless earbuds in the world can fail completely because of a few bits of squashy grey silicone that sit on the outside. Earbud fit depends on tip size and composition, and if the manufacturer gets it wrong, no amount of newfangled audio tech will save them. Fortunately, the Melomania Touch don't have a problem here.
The earbuds use quite an unusual design, one we don't think we've seen before. There's a standard silicon tip, with a range of sizes to choose from. But there's also a strange kind of 'fin' that slides around the body of the earbud, and which helps it slot into the ear and stay there (there are multiple sizes of this fin, too). It's a little strange to look at, but it works superbly well. Up until now, we thought the best fit of any earbuds we've ever tried were the $229 Sony WF-1000XM3 (full review here), but the Melomania Touch are even better. Once you've selected the right tip size for your ears, you'll have no problem comfortably listening for hours. Again, we we're impressed with the amount of thought and R&D that has clearly been applied here. For a $150 pair of earbuds to look and feel this good is nothing short of extraordinary.

Battery Life
Normally, we'd jump straight into telling you how much combined battery life the case and buds offer, but with the Melomania Touch, things are a little bit different. Using the companion app (more on which below) you can select two different listening modes. High Performance mode supercharges the sound quality, but at the expense of battery life. If you need to extend the lifespan, then you can switch to Low Power Mode. High Performance gives the buds around seven hours of life, with an additional four charges in the case (totalling 30 hours or so). Low Power Boosts this to nine hours with an additional four charges, maxing out at around 48 hours in our tests. Changing back-and-forth takes a couple of minutes, so sadly, you can't switch between modes on-the-fly.
We'll go into the differences that High Performance makes when we talk about sound quality, below, but even with the reduced battery life, the performance is still very good. It isn't quite the best battery life we've ever come across, which would be the 60 hours offered by the $99 Lypertek Tevi buds. But it still means that you can go almost two whole days before needing to connect the case to power.
However, the solid battery life does highlight a certain aspect of the Melomania Touch buds which is worth bearing in mind. These earbuds do not have any form of noise-canceling. Earbuds that do, such as the excellent Bose QuietComfort Earbuds, have significantly reduced battery life…but of course, you then get to take advantage of the next level technology they contain. We don't think this is necessarily a black mark against the Cambridge buds, as the designers have clearly made a choice not to include cancellation. It's probably a sensible choice, too, given how dominant Sony, Bose, and Apple are in this particular area; try as Cambridge's engineers might, they ain't gonna beat the eggheads in the Bose labs on this. But if you are looking for cancellation, we'd advise going for a pair of earbuds from one of those companies, rather than the Melomania Touch. That said, if you want excellent battery life, look no further.

Touch Controls
As you'd expect from a pair of earbuds named the Melomania Touch, the Cambridge audio buds have touch controls. For the most part, they worked well. What we particularly liked was that they didn't require pinpoint precision to work; often, we simply tapped them with a palm, instead of a finger. However, we did find that the wide control area on the surface of the buds meant that we frequently triggered the controls while adjusting them in our ears. That wasn't a serious problem, as usually, it just resulted in pausing whatever we were listening to. But it did get a little irritating sometimes.
You can customise the controls in the companion app (more on that app below), allowing you to turn off controls that you don't want or need to use. That was hugely useful, because in our case, we found that we didn't want to use the volume controls any more. By default, you can raise the volume by holding a finger (or a palm) against the right ear bud, and lower it by holding it against the left. It's a nifty feature— even pricier buds like the $235 Apple AirPods Pro don't offer touch volume control. But because the controls were so responsive, we frequently found ourselves lowering or raising the volume by accident, which could sometimes be a bit startling. It's almost as if, in their chase to build the most responsive earbuds ever, Cambridge Audio went a little too far.

Companion App
Outside of the physical design of the earbuds, Cambridge audio have one other seriously good trick up their sleeve. It's the Melomania control app, available on both iOS and Android, and it's brilliant. The design is clean, elegant, surprisingly colorful, and beautifully simple to use. Every aspect of the earbuds, and control customisation to EQ and transparency mode (more on these below) is available right up front. While the earbuds do come with a full manual, you don't need it; a moderately interested chimpanzee could get the hang of this app. In all our time using it, we never once suffered a crash or drop out, and the operation was smooth as butter.
It's especially impressive given the competition. Earbuds like the Sony WF-1000XM3, for example, have companion apps that work really well, and up until this point, we didn't think they'd be bettered. The Cambridge Audio buds cost significantly less, but still manage to measure up. Again, we keep coming back to the fact that the amount of stuff these earbuds offer you for the price is just phenomenal. We genuinely can't think of a pair of earbuds that cost $150 that deliver quite as much.

Accessories
The accessories in the elegant packaging get the job done, without offering anything particularly special. You get a wide selection of silicon ear tips, along with two different sizes of fin to choose from. There is also a short USB-A to USB-C charging cable. In general, once you found a size you like, you can probably recycle these or stash them in a drawer somewhere. That includes the cable; because it's USB-C, your phone charging cable probably works just as well.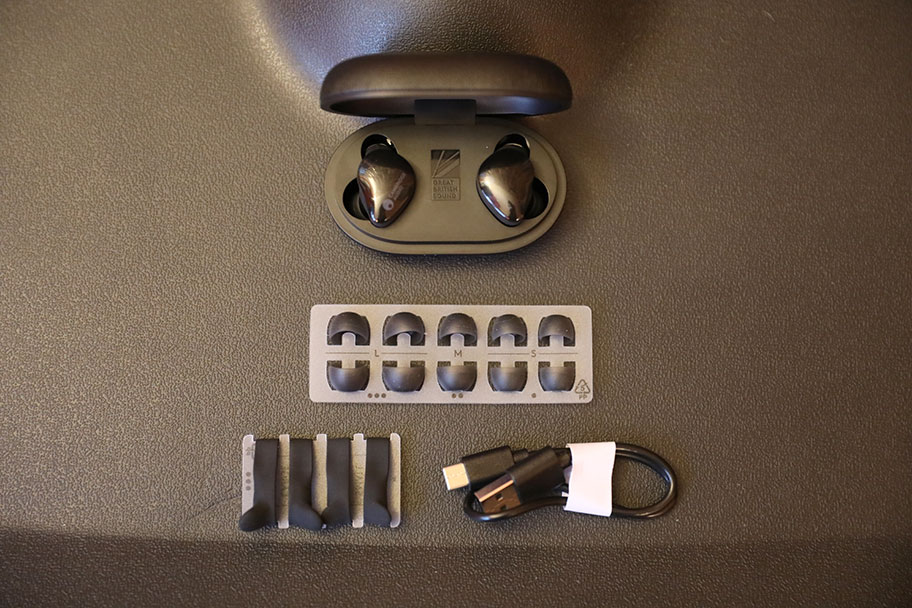 Sound Quality and Performance
Overall Impressions
These days, it's not uncommon to have great sound quality in affordable earbuds. Cambridge Audio proved that themselves, with their solid Melomania 1 buds— a pair that cost less than a hundred dollars. But even taking that into account, the Melomania Touch offer seriously good sound quality. The overall impression is one of openness and clean detail, with a relaxed, easy-going sound signature that means music never gets fatiguing, even after hours of listening.
The levels of detail in the mids and highs really impressed us. In particular, vocals were a real standout. They sounded lifelike and warm, giving us a clear picture of what was going on at all times. This was helped along by an excellent soundstage that really helped us pick out the details in the track, and where they were positioned. True wireless earbuds sometimes suffer from feeling a little boxed in, with the sound appearing to come from the centre of your head, rather than all around you. While we don't think the Melomania Touch buck this trend completely, there's definitely a spaciousness here that works really well. We can confidently say that in terms of sound quality, they absolutely wipe the floor with earbuds like the $235 Apple AirPods Pro.
This was true no matter what type of music we listened to. Whether the genre was punchy hip-hop, busy heavy metal, or dynamic and soaring movie scores, we really felt like we were getting a good experience. You will too.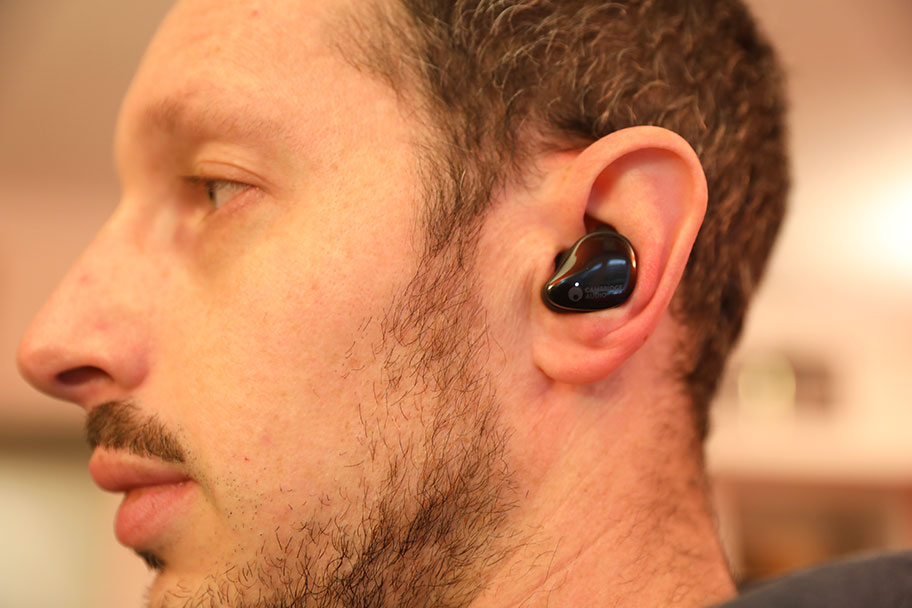 Bass
There is one aspect of the sound that we wish was a little tighter, and that's the bass. There was plenty of punch and character, but we did sometimes feel like the low end was a little uncontrolled. Occasionally, bass notes blurred into one another, and we always felt like the sound was fraying a little bit at the edges.
We don't want to overstate this; in most cases, the bass performed well. But we do think that if there is a Melomania Touch 2 at any point, then the low end is an area that Cambridge Audio could probably improve on. If you are looking for a pair of buds that offer excellent bass at a similar price, we recommend the Sony WF-1000XM3 (full review here).
EQ and Transparency Mode
In the companion app, you'll find a reasonably capable EQ with several presets— rock, bass and the like. You can either select one of these, or dial in your own settings and save them to one of three presets. The EQ worked well, but we enjoyed the standard sound of the earbuds enough that we didn't feel the need to use it all that much. Chances are, you'll feel the same, although having an option to alter the sound is always going to be a good thing. And it really does help that the EQ is simple to use, with five draggable nodes that give clear visual feedback as to what you're doing.
The app also offers a transparency mode, which allows you to dial in as much or as little of the outside world as you want, via the microphones on the buds. This is obviously quite useful if you want to listen to music in an environment where you also need to pay attention to your surroundings, such as a bike ride. The transparency mode is something that is becoming de rigeur among earbuds these days, and it functions well. Weirdly, unlike all the other controls, there is no option to map this mode to a physical touch on the buds themselves; you have to go into the app to turn it on. That's a bizarre omission, and one we hope can be rectified with a firmware update.

High Performance vs. Low Power Mode
We've already mentioned how you can adjust the level of sound quality you get in order to preserve and extend the battery life, but we haven't actually talked about the audible difference between the High Performance and Low Power Mode. The answer is: not much. There's definitely a difference—High Performance Mode feels more open and clean, with more detail in the highs and a stronger sense of realism. But it's not a dramatic difference. If you prioritise battery life, then you can comfortably listen in Low Power Mode without losing out on sound quality all that much.
Having said that, we think that the inclusion of this feature is a very good thing. It's not hard to see how it could be extended; as Bluetooth performance becomes more advanced, there really could be a quantum leap in sound quality at the expense of 10 or 20 hours of battery life. With earbuds, it's always good to have options, and you definitely get those with the Melomania Touch.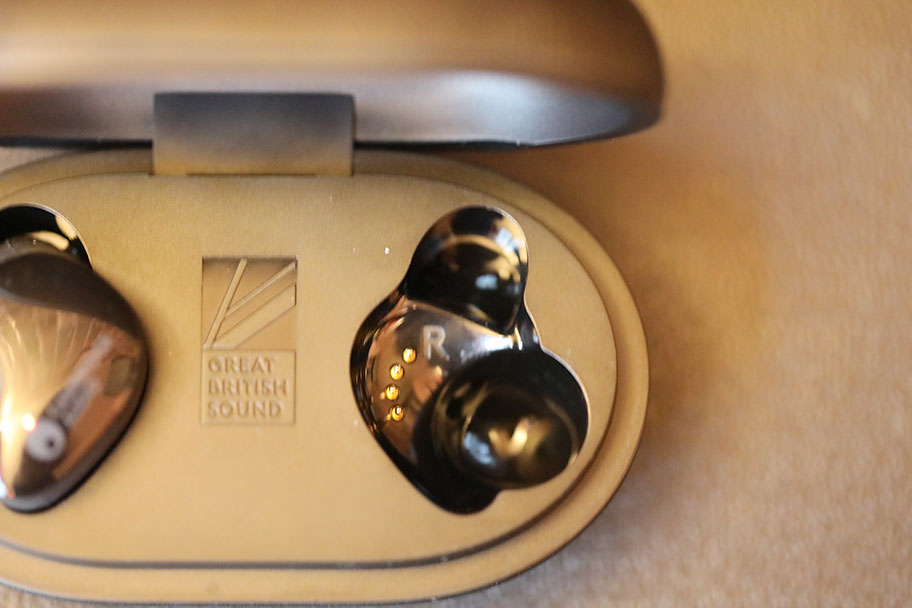 Bluetooth Performance
The Melomania Touch certainly doesn't stint on high-performance wireless. You not only get Bluetooth 5.0, the latest version of the software which allows for virtually lag free listening and a large amount of data transmission (more on this here), but you also get the option to listen with both aptX and AAC Bluetooth. Both of these allow for high resolution audio, and if your phone is capable of transmitting them— and it's hard to imagine any modern phone not being able to do this— then you'll get even better sound quality. You can also turn these on and off within the app, although we can't imagine a need to ever turn them off, given that selection is automatic.
Unfortunately, while there is some great Bluetooth technology here, pairing the Melomania Touch was repeatedly annoying. One earbud often failed to connect, which meant we needed to restart the whole damn process. Secondly, and to make things worse, a plummy English voice within the earbuds confidently announces things like "Power On" and "Melomania Connected". That's useful information… Unless it's being conveyed by each earbud individually, with half a second gap between the voices. Then it becomes stupendously and wondrously irritating.
Cambridge Audio's slogan is "Great British Sound", but somehow, we don't think this is quite what they meant. The fact that it happens every time, and that there is no option to turn it off, is perhaps one of our biggest gripes about the earbuds. We still think they are among the best you can buy, but they are not perfect by any means.

Call Quality
As with just about every pair of true wireless earbuds these days, call quality on the Melomania Touch was solid. Both we and the person we were speaking to could hear everything just fine. We didn't get the advanced noise reduction and wind modulation features that you find on the Apple AirPods Pro, for instance, but this was a minor quibble. For the most part, call quality was good, with low distortion and high levels of clarity. We don't think you'll have any problems if you use these for regular phone calls.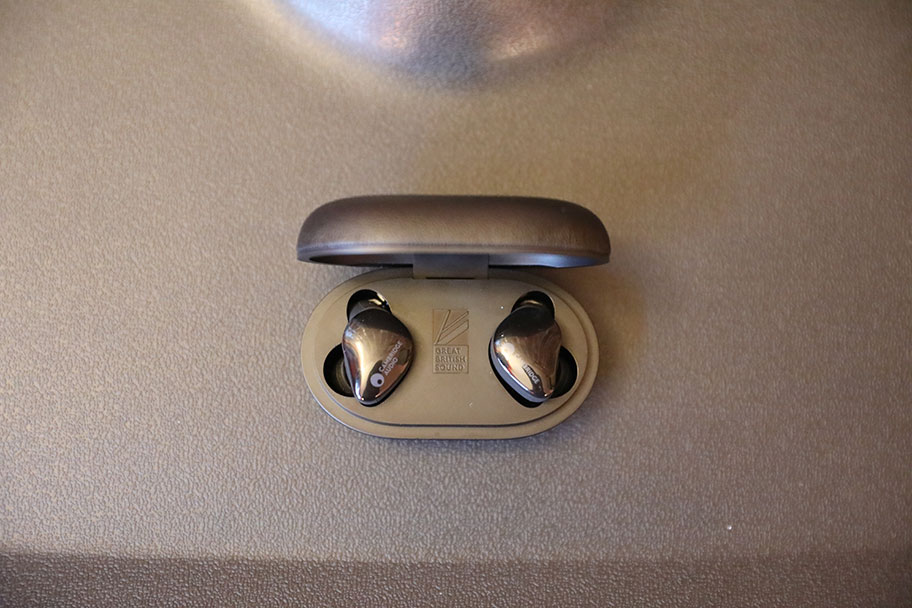 Why You Should Buy the Cambridge Audio Melomania Touch
Because you want to use one of the best true wireless earbuds in existence. No, really: these are genuinely top five for us. They offer so much, at such high quality, at such an acceptable price, that we genuinely can't think of any real competitors in the sub-$200 space. Sure, earbuds from Bose and Sony may offer more advanced technology, but they also cost more, and frequently don't sound as good. If you're after earbuds that deliver stellar sound quality with a solid range of features, then we strongly recommend the Melomania Touch.

Why You Should Not Buy the Cambridge Audio Melomania Touch
If you're after earbuds that deliver noise-canceling, then you can skip the Melomania Touch. In our opinion, that really is the only black mark against them. And even then, it's clearly been a conscious choice to leave this technology out. But it does mean that if you want to block out the outside world, you're better off going for something like the Bose Quietcomfort Earbuds. They aren't quite as cool, and definitely don't sound as good, but they do have the best noise-canceling in the business.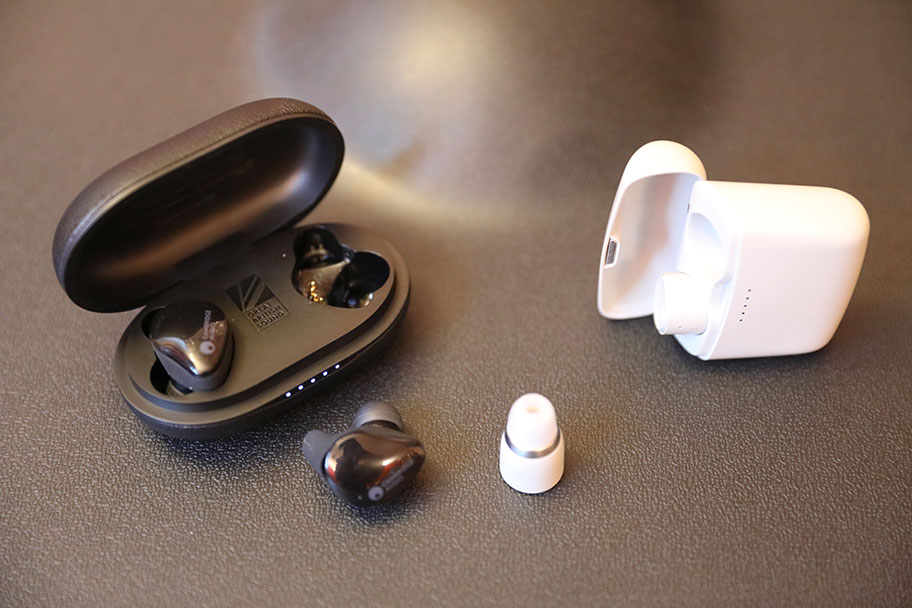 The Competition
Cambridge Audio Melomania Touch vs. Cambridge Audio Melomania 1
The Melomania 1 earbuds are the precursors to the Melomania Touch. Putting the two side-by-side is a vivid demonstration of just how much work Cambridge Audio have put into building the Touch. The two models couldn't be more different. Where the Touch is sleek and elegant, its older brother is hard-edged and functional. It's a tailored suit versus overalls, and really, there's no contest. In every way, the Touch is better.
Having said that: if you want to spend less than $100, and still get a pair of earbuds that really deliver on sound quality, then we strongly recommend the Melomania 1. Before the Touch came along and stole the spotlight, we had huge fun with them. They were easily our top pick for best budget in-ears under $100 in our big earbuds roundup, and although they've been surpassed, they remain a solid choice. That said, you'll have to live with the weird beige color choice...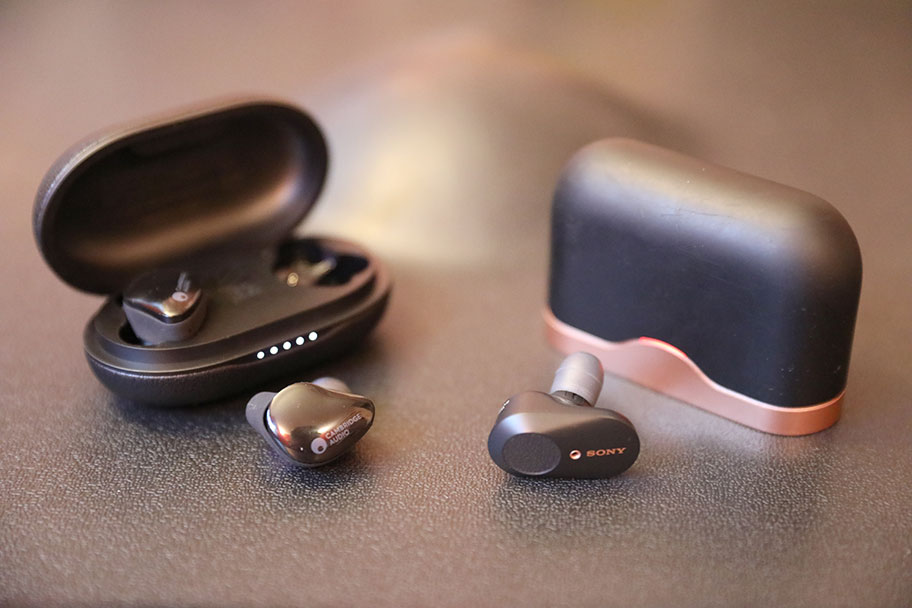 Cambridge Audio Melomania Touch vs. Sony WF-1000XM3
Sony's WF-1000XM3 arguably a better option than the Melomania Touch, although you will pay for the privilege. They not only deliver sound quality that is just as good, if perhaps a little more neutral and sterile, but they also deliver some of the best noise-canceling we've ever come across. The companion app is also brilliant. And while the design doesn't have the sleek nature of the Melomania Touch, it's still solid, with one of the best cases around.
Unfortunately, that comes at a cost. At the time of writing, the WF-1000XM3s are $229, over $75 more than the Melomania Touch. That's quite a jump, and although they are worth it, it's not as easy a choice as you might think. Our pick? We think the Sonys win…but only just. Either way, the Japanese behemoth has a new challenger.
 
Cambridge Audio Melomania Touch vs. Bose QuietComfort Earbuds
Do you want the best noise-canceling in the world? Then buy Bose. It really is as simple as that. There's just no contest. The QuietComfort Earbuds completely block out the outside world, which is something that the Melomania Touch buds, for all their charms, do not offer.
But here's the thing: in just about every other way, the Cambridge Audio buds are superior. They offer better sound quality, better battery life, better design, better comfort and fit, a better app…better everything. And given that the $280 QuietComfort Earbuds are over a hundred dollars more expensive, you have to really think hard as to whether that extra isolation is worth it. If you travel a lot, or commute, then perhaps it is. But we know where we spend our money.
 
Cambridge Audio Melomania Touch vs. Apple AirPods Pro
If you demand the very latest technology in your buds, then you should turn to the Apple AirPods Pro. Cambridge Audio Remain one of the most competent and forwardthinking audio companies around, but they simply can't compete with the Cupertino giant. The AirPods Pro will measure your ear canals to get the best fit. They will pair instantly with any Apple device. And they offer some of the most intelligent and precise touch controls around.
OK: they simply can't compete with the Melomania Touch on sound quality, or personality. There's no question there. But they remain a viable alternative, and it's definitely worth considering just how much advanced technology you want in your earbuds. At the time of writing, they go for $235. That's $85 more than the Cambridge buds.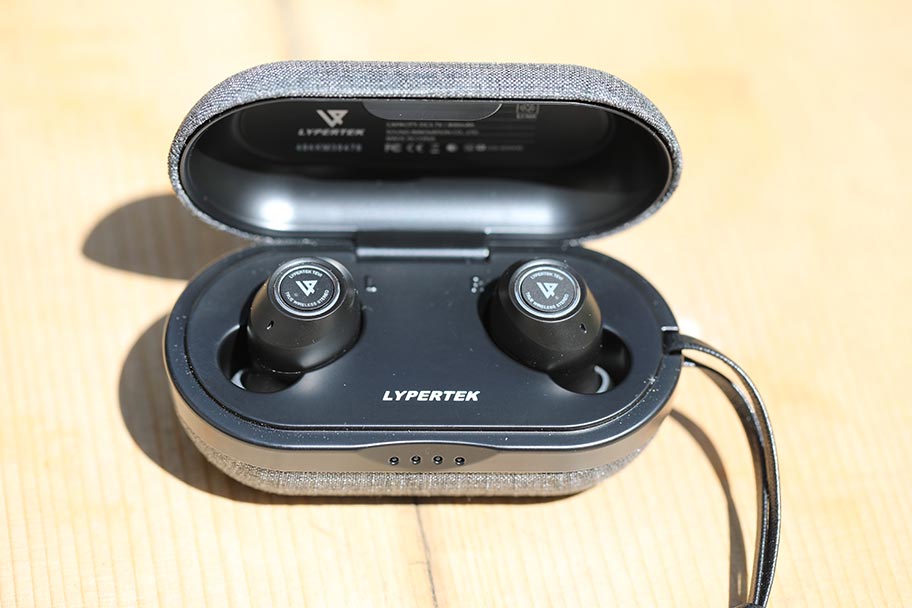 Cambridge Audio Melomania Touch vs. Lypertek Tevi
In the sub-$150 range, There are very few earbuds that can compete with the Melomania Touch. But there's one pair we think you should check out: the $99 Lypertek Tevi. They are among the most astonishing earbuds we've ever come across, with 60 hours of battery life (that's over double what the Sony WF1000XM3s offer) and superlative design, including a fabric-covered case. It also helps that they sound great.
They don't have the technological innovation or personality of the Melomania Touch, but at $50 less, that's not a big deal. If you want to spend less, and still get a terrific pair of true wireless earbuds, we strongly recommend them. They genuinely surprised us. Worth noting: the Lypertek Tevi are due an update soon, and we can confirm that the new version is great…but they are not out yet, and we have no information on when that will be. Watch this space.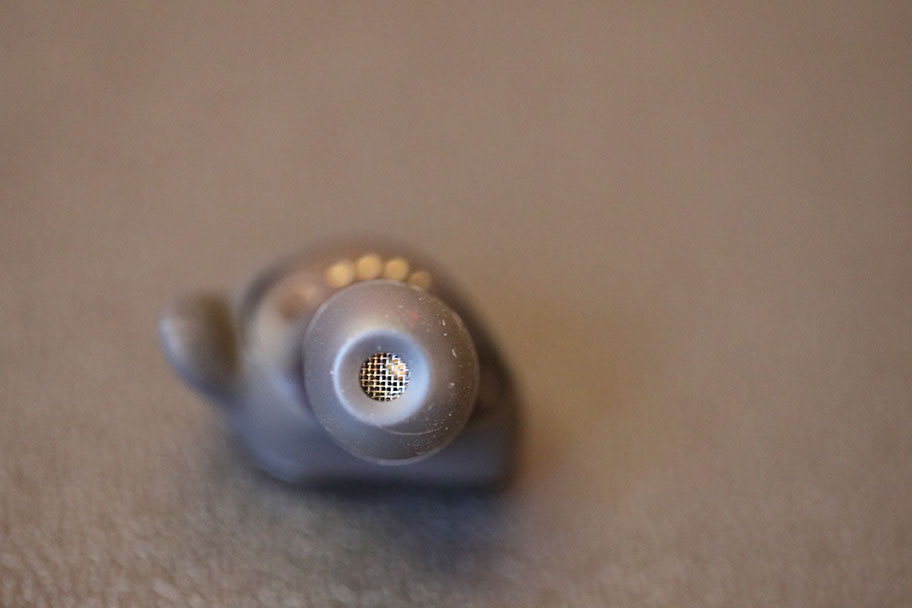 Comparison Table
See the Cambridge Audio Melomania Touch See the Best In-Ear Monitors
Learn More About Headphone Audio