Soundbars are the easiest and most affordable way to improve the sound of your TV. They give you everything you need in a single box and produce stunning audio - whether you're into music, movies, or gaming. In this article, we'll rank the best soundbars of this year and tell you why they're the best, giving you everything you before you buy. And for an alternative to soundbars, check out our list of the Best Soundbases.
 
---
Table of Contents
---
Best Overall Soundbar
Length: 33.9"
Wi-Fi / Bluetooth: Bluetooth
What We Like: The HW-T450 offers great sound quality with excellent dialogue.
What We Don't: There's no HDMI connection, making it awkward for some TVs.
We can't think of a simpler and more effective way to improve your TV sound than the Samsung HW-T450. It's super-simple to setup, and doesn't insist you pay for features that you're unlikely to use. And in our opinion, the sound is killer. Movie dialogue, in particular, is crisp and clean, while explosions and bullet impacts have real punch thanks to the included wireless subwoofer. The slim design works equally well sitting on your TV cabinet, or mounted to the wall. All in all, a soundbar should fit your needs, not the other way around, and the HW-T450 nails it.
There are a couple of things worth bearing in mind with the HW-T450. The big one is that it has no HDMI connection – HDMI being the standard wired connection for most TVs and audio equipment. That's not a dealbreaker, but it does mean that connecting this to some TVs can be awkward, although most people will still be able to connect it just fine with the included optical cable, or with Bluetooth. And while we think the overall sound is excellent, there are better options if you're specifically looking for exceptional dialogue (like the ZVOX AccuVoice AV200, below) or bass (like the Yamaha YAS-109, ditto). That said, out of all the soundbars we've heard, none have impressed us quite as much as the ridiculously good HW-T450.
See the Samsung HW-T450
 
Best Budget Soundbar Under $100

Length: 32"
Wi-Fi / Bluetooth: Bluetooth
What We Like: A compact, affordable soundbar that will suit any setup.
What We Don't: There's distortion at high volumes, and no HDMI.
The primary goal of any soundbar is to dramatically improve the sound of your TV, and the Taotronics 32" Soundbar is one of the most cost-effective ways to do just that. While it is a relatively basic soundbar and tends to distort at higher volume levels, we're impressed with the sound quality it produces for the price. It beats out similarly-priced models like the TCL Alto 5, below. We are also rather taken with the design, which we think is better than some of the models above it. The lack of HDMI support may mean that you won't be able to control the volume with your TV remote, but the included remote is excellent.
If you're looking for a soundbar with additional features, it may be worth checking out the VIZIO V-Series 2.1. Unlike the Taotronics bar, it has an external subwoofer, which means better bass, and it has support for HDMI connections. But if you're looking to spend under $100, then in our opinion there's no better place to drop your money than on the Taotronics 32" Soundbar.
See the Taotronics 32" Soundbar
 
Excellent Voice Clarity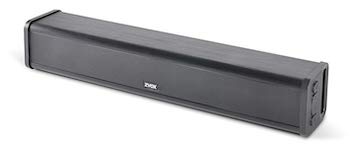 Length: 17"
Wi-Fi / Bluetooth: None
What We Like: Excellent dialogue enhancement options.
What We Don't: No Wi-Fi or Bluetooth, no HDMI.
Many soundbars claim to improve movie dialogue, but none of them do it quite as well as the ZVOX AccuVoice AV200. This bar has a dedicated feature – unsurprisingly named AccuVoice – that makes it easy to hear when someone is speaking, enhancing the clarity. If you have trouble picking out dialogue, then the AccuVoice AV200 is the model to go for. While the top-ranked Samsung HW-T450 is better overall, the AccuVoice AV200 is simply light years ahead of it in terms of dialogue clarity. It's also one of the smallest soundbars on this list, at 17", making it ideal for just about any situation.
The ZVOX bar has no wireless connectivity, and in terms of overall sound quality (aside from vocals) it doesn't quite have the finesse of the Samsung bar, or even the cheaper Yamaha YAS-109, below. And like so many bars in this price range, there's no HDMI, which can make connection frustrating. That said, we would recommend the ZVOX bar if you have a particular issue with movie and TV series dialogue, and want the absolute best clarity possible.
See the ZVOX AccuVoice AV200
 
Best Soundbar for Music

Length: 25.6"
Wi-Fi / Bluetooth: Wi-Fi
What We Like: Powerful sound quality, super-easy setup, Wi-Fi connectivity.
What We Don't: It would be even better with a separate subwoofer.
Using a soundbar for music can cut down on the number of speakers you need in your house, but we think it's only worth doing if the bar itself can actually do a good job. The Sonos Beam certainly can. The overall sound quality is just out of this world, and with elements like music, the Beam performs better than most soundbars we've heard. While we think the bass could be a little better (adding a separate Sonos Sub certainly helps here), the Beam still offers clear, fun, and punchy sound quality that excels with music. Matched up with other pricey soundbars, like the Polk Audio React and the far more expensive Bose Soundbar 300, the Sonos Beam is the clear winner in both music presentation, and features.
Sonos's app makes setup a breeze, and you can use that app to stream music through the Beam via Wi-Fi. There's even Apple Airplay 2 connectivity for iPhone users. The inclusion of Amazon Alexa and Google Assistant means you can issue voice commands to your Beam. All these features do mean that the Beam is expensive—$399 is nothing to be sniffed at. For a less expensive bar that still handles music well, check out the top-ranked Samsung HW-T450. It's more of an all-rounder, but it still gets the job done.…Read our in-depth review
See the Sonos Beam
 
The Smartest Soundbar

Length: 14"
Wi-Fi / Bluetooth: Wi-Fi
What We Like: There is simply no better way to stream content.
What We Don't: The small size means there's an unfortunate lack of bass.
When asked about the best soundbar to stream content, we have a one-word answer: Roku. The Streambar is their latest, and it's a wonder: a compact, powerful little soundbar that not only delivers crystal clear dialogue, but allows full streaming of Netflix, Disney+, Amazon Prime, Hulu, Spotify and more. If you have a smart TV already, then you obviously won't need this functionality, but for those who don't, this is by far and away the simplest and most effective way of boosting both your visuals and your audio.
The Roku Streambar is the newer version of the larger Smart Soundbar, which does much the same thing but with more power and a larger size. We think the former is the way to go, as it really is the smoothest way to set up streaming. One big downside to bear in mind is that the tiny size of the Streambar means there is a lack of bass, and unfortunately, there's no subwoofer output. If huge bass is important to you, we recommend checking out the Samsung HW-T450, our top-ranked bar, which costs roughly the same and comes with an included subwoofer (although of course, you won't get those brilliant streaming options).
See the Roku Streambar
 
A Soundbar With Amazing Value

Length: 35"
Wi-Fi / Bluetooth: Bluetooth
What We Like: Great sound for the price, solid range of features.
What We Don't: Definitely not for bass lovers.
TV maker TCL genuinely surprised us with the Alto 5 soundbar. It's a basic bar, but it manages to pack in a good range of features, including Bluetooth streaming. In terms of value-for-money, where a soundbar delivers features far above the price tag, we don't think there's a better option here. The sound is surprisingly decent, competing with the more well-known TaoTronics bar, above, on audio quality. We really felt that dialogue improved with the Alto 5, and although the sound doesn't have the crispness of the Taotronics, it's still an excellent second option.
However, we'd steer clear of the TCL Alto 5 if you enjoy heavy bass or appreciate action movies that have a lot of explosions and bullet impacts. The only way to add a subwoofer onto the Alto 5 is to get what's known as the Alto 5+ option, which comes with a dedicated wireless subwoofer – you can't add a third-party sub into the mix. And unfortunately, the subwoofer in the Alto 5+ package is pretty poor. The basic Alto 5 soundbar is solid, and delivers way more than the price would suggest, but the lack of subwoofer options is a major downside.
See the TCL Alto 5
 
Best Soundbar with a Built-In Subwoofer

Length: 35"
Wi-Fi / Bluetooth: Both
What We Like: Powerful bass matched with solid features.
What We Don't: Virtual surround sound doesn't impress.
If you want great bass in a soundbar, you have two options. Spring for a 2.1 system with a separate subwoofer, or pick a soundbar that has a high-quality internal sub. If that second one sounds good, then your first and only choice should be the Yamaha YAS-109. It has some of the best bass of any soundbar, without the need for a separate sub. The bass is clean and powerful, making bullet impacts and explosions a joy. We like the feature set, too, which includes not one but two HDMI ports. One offers HDMI ARC, and the other regular HDMI, which means you can do things like connect a gaming console or Blu-ray player directly to the soundbar. Overall, we think the Samsung HW-T450 offers better value, which is why it's in our top spot, but if you need the best bass around, the newer YAS-109 is the way to go.
The most glaring downside is the included virtual surround sound settings, which are easily beaten out by less expensive bars like the VIZIO V-Series 2.1. The various settings just don't convince us, even though there's no question that the bass is superior to just about every 2.0 model here. We'd even put the YAS-109 up against the much more expensive Sonos Beam ($399)—it's that good.
See the Yamaha YAS-109
 
Most Impressive Soundbar for Dolby Atmos
Length: 45"
Wi-Fi / Bluetooth: Wi-Fi
What We Like: A mix of great features and unreal Atmos sound quality.
What We Don't: Some compatibility issues, and that ginormous price tag.
Dolby Atmos is very much the industry standard for surround sound. It uses height audio in addition to sound that comes from the sides and rear, and in the absence of a full home theatre system, the Sonos Arc is the absolute best way to experience it. The Arc is a remarkable soundbar, Combining not only the company's breezy setup and app control, but also outstanding sound quality that makes it easy to believe you're surrounded by a multitude of speakers. If you want the ultimate in home cinema audio, then we think the Arc, with its multitude of speaker drivers and friendly setup process, is the way to go.
Atmos can be tricky, and as good as the Sonos Arc, it does have a few downsides. If you watch movies on 4K Blu-ray discs— still the best source for Atmos soundtracks— you need to make sure you have a TV released in the past year. This will ensure you have an eARC port available, which is the only way to get the Arc to decode Atmos soundtracks. And of course, you have to be OK with the pricetag of the Arc, which is huge.
See the Sonos Arc
 
Best of the Rest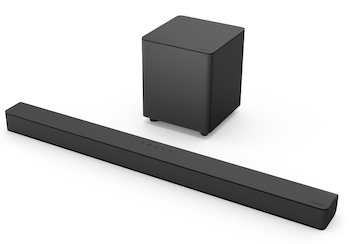 Length: 36"
Wi-Fi / Bluetooth: Bluetooth
What We Like: Good sound and a simple interface makes this soundbar a dream to use.
What We Don't: There's a lot of competition, and the V-Series doesn't quite beat the rest.
It would be an understatement to say that VIZIO's soundbar offerings were confusing. With model names like the SB36512-F6, it was often hard to figure out which of their excellent bars to buy. They recently revamped their entire range, and although the high end soundbars are still a few months away, we recently heard the V-Series 2.1. We appreciated how it sounded, but what we appreciated even more was the redesigned interface. We would put it up against Sonos in terms of setup and use, and given that the cheapest Sonos soundbar is $399, that's quite something.
The problem is that the VIZIO V-Series 2.1 face is a lot of competition. It may be easy-to-use, but it's hard to recommend it over the Yamaha YAS-109 or the Samsung HW-T450. Both of those bars do a better job in terms of audio quality. The V-Series 2.1 is still a great bar, and is ideal if you get frustrated with setting up equipment, but it has a little way to go before it becomes a first choice.
See the VIZIO V-Series 2.1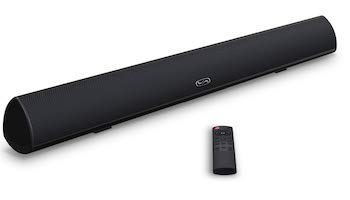 Length: 28"
Wi-Fi / Bluetooth: Bluetooth
What We Like: Powerful sound that is great for larger rooms
What We Don't: Bluetooth audio is poor, not ideal for music streaming.
The Bestisan TV soundbar is a genuine surprise. Even in its smaller 28" version - there's a 40" model available for $100 - it manages to impress with some truly powerful sound. Despite not having the ability to add a subwoofer, the Bestisan excels with deep bass and a decent soundstage, which is far more than we'd expect for the budget price. If you have a slightly larger room that you need to fill, but don't want to spend the earth on a soundbar, then the Bestisan TV Soundbar could be a great option.
That being said, it has some serious downsides. Our main issue is with the Bluetooth audio, which makes music streaming via Spotify sound dull and lifeless. The audio from a wired connection is fine, but if you're aiming for wireless streaming functionality, we'd suggest looking elsewhere - including the very capable, TCL Alto 5 which we think offers better value and is only slightly more expensive. Regardless of this issue, the Bestisan TV soundbar shows that you can get good quality soundbar audio on a budget.
See the Bestisan TV Soundbar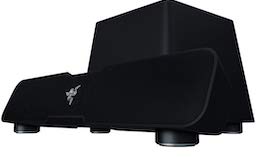 Length: 20"
Wi-Fi / Bluetooth: Bluetooth
What We Like: Easily the best soundbar for PC gaming.
What We Don't: Sound can sometimes lack detail.
Soundbars aren't just for improving your TV sound. They can also be used for PC gaming, as a convenient and affordable way of boosting the sound of your gaming rig. We think that the Razer Leviathan is one of the best ways of doing this. It offers impactful and muscular sound quality, particularly through its brilliant wireless subwoofer. While this subwoofer isn't as good as the one found on the less-expensive Samsung HW-T450, it's far better for close range listening. And if you want to feel every explosion and gunshot, the Razer Leviathan satisfies. At 20" long, it's one of the shortest bars here, which makes it easy to manoeuvre into any setup.
It must be said that, against the other soundbars on this list, like the aforementioned Samsung, the Razer Leviathan doesn't have quite as much audio detail. This is particularly noticeable with elements like dialogue. It's terrific for close range listening in front of your gaming rig, but if you're looking for a soundbar to fill a moderately sized room with TV sound, it may be worth looking elsewhere. There are certainly cheaper and more effective options available. The fact that the Leviathan only has optical and auxiliary connections (no HDMI here) adds to that impression as well.
See the Razer Leviathan
 
Length: 35.4"
Wi-Fi / Bluetooth: Both
What We Like: Powerful, punchy, and packed with features.
What We Don't: Better at music than movies.
If you need a wide range of features but don't want to spend the earth on a soundbar, then we strongly recommend checking out the Polk Audio Signa S3. It's actually quite staggering just how much you get here. There's Chromecast, Google Assistant, Bluetooth, and options to increase the dialogue fidelity, making the S3 sound so good that it actually challenges the ZVOX bar, higher up. That's without even talking about the powerful, punchy sound quality. Polk have always made solid soundbars, and the third version of the Signa series is no exception.
The biggest downside with the Polk Audio Signa S3 is that it's not actually very good with movies. It gets the job done, but compared to less expensive soundbars like the Samsung HW-T450, it lacks finesse and style. With music, it rocks, but we just didn't feel like we were getting the full picture with movies and series. As you can imagine, that's a pretty major failing with a soundbar, and it's enough to knock the Signa S3 out of the top 10. It's excellent value in terms of the features, and is a good all-rounder, but it has significant problems.
See the Polk Audio Signa S3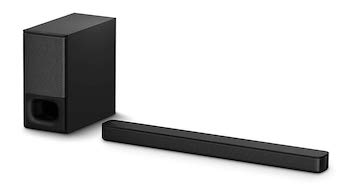 Length: 35.4"
Wi-Fi / Bluetooth: Bluetooth
What We Like: Simple setup, and there's some very decent bass here.
What We Don't: Overall sound quality - particularly dialogue - can be hit-or-miss.
The Sony HT-S350 is an attractive soundbar that could be considered if you don't want to pay nearly $400 for the Sonos Beam. It has a lot to recommend about it, including an excellent subwoofer that provides very good bass, giving movie and TV audio a real kick. We also appreciate how loud the soundbar gets; with 320 watts of power, it far surpasses just about every other bar on this list. That makes the HT-S350 ideal if you want to crank your music.
The downside is that the sound quality can sometimes be a touch hit-or-miss. This is particularly noticeable with movie dialogue, which can be a little indistinct. That makes the Sony HT-S350 a poor choice if you have trouble hearing dialogue, or if you value crisp and clean sound. We think this soundbar is a good option for those who like volume and bass, but it may not be the best choice.
See the Sony HT-S350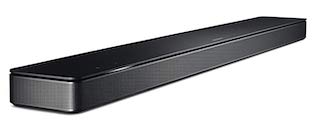 Length: 27.3"
Wi-Fi / Bluetooth: Both
What We Like: Amazing sound (especially dialogue), excellent app control.
What We Don't: Very expensive, getting the best audio quality means investing some time in the settings.
Were it not for the giant price tag on the Bose Soundbar 300, it would be much higher on our list. It's an excellent soundbar, with arguably better sound quality than a top high-end pick like the Sonos Beam, but $399 is a lot of money to spend on a soundbar. We honestly think the price puts it out of reach for most people. That's especially true if you consider the fact that you can get slightly older soundbars that are just as good for significantly less – including the Yamaha YAS-109 and VIZIO models in this list.
That's not to say that the Bose Soundbar 300 isn't good. If you're prepared to spend the money, you'll find yourself owning a soundbar that's hugely rewarding. We adore the sound, especially movie dialogue, which comes through crisp and sharp. While you will need to spend a little time fine-tuning the audio settings to get the best out of the Soundbar 300, it's time well spent and the included app makes it a breeze. If the price drops on this model, you can expect it to climb a lot higher on this list. Bose do make a Soundbar 700, which is larger and offers a more powerful sound, but there are currently significant issues with the firmware, causing trouble for many buyers. As such, we can't recommend the 700 right now, especially since the issues don't seem to be affecting the smaller 300.
See the Bose Soundbar 300
 

Length: 42.2"
Wi-Fi / Bluetooth: Both
What We Like: Probably the best audio of any soundbar ever made.
What We Don't: Only for those with seriously deep pockets, and lots of space.
Bluesound is a brand known for their audiophile offerings, and over the past year, they decided that what they really wanted to do was make the best soundbar in the world. The Pulse Soundbar+ is a powerhouse, delivering exceptional lifelike sound that betters just about every other bar here. It's also packed with features, including full streaming from just about any music service you can imagine, as well as Dolby Atmos functionality. While it's definitely one of the bigger soundbars available, that size packs in a serious amount of tech.
The biggest downside to the Bluesound Pulse Soundbar+ is that it's expensive, with only models from Sonos and Sennheiser proving more pricey. And if you want to take full advantage of the Dolby Atmos, you'll need to buy additional speakers, and they can only be from Bluesound. While it's no hardship— as we said, this is a brand renowned for great audio— is a little limiting. This is an excellent soundbar, but it's not going to be the best option for most people.
See the Bluesound Pulse Soundbar+
 

Length: 34"
Wi-Fi / Bluetooth: Bluetooth
What We Like: Simple and elegant setup with good sound quality.
What We Don't: Lacks important connections.
While Sonos maybe the first brand to turn to for ease-of-use, they aren't always affordable. If you want a soundbar that is simple to set up and operate, then we strongly recommend the new Polk React. You can have it up and running within minutes, and at no stage during the process did we ever feel confused or irritated. It helps the sound as good, if unspectacular, with a punchy energy that is addictive. While we think the Signa S3, above, is better overall, the React is a fine entry. And it's ideal for those who don't want to spend hours setting up their soundbar.
Unfortunately, the Polk React does have some downsides worth bearing in mind. The first is the lack of connections available on the rear. If you want to add a subwoofer, you're out of luck. There's no HDMI eARC, just plain ARC, and no auxiliary input either. We were also a little underwhelmed by the surround sound options, felt quite narrow and boxed in. These issues mean that the React isn't the best option, but it still has plenty to recommend it.
See the Polk React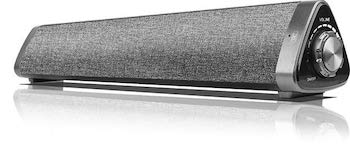 Length: 15.75"
Wi-Fi / Bluetooth: Bluetooth
What We Like: Surprisingly good sound for the price, decent remote.
What We Don't: Lacks volume.
The Sanwo Bluetooth Soundbar is arguably the most basic bar on this list. It has minimal connections and a tiny set of speaker drivers. However, basic does not mean bad. For under $50, we don't think you'll get a better soundbar, and we mean that in the most positive way. The Sanwo Bluetooth Soundbar may not have a huge range of features, but it performs exceptionally well for what it is. The sound quality is decent – much better than we'd expect for this price – and the remote is a pleasure to use.
The one thing to be aware of is that the Sanwo Bluetooth Soundbar does not get very loud. Despite having two speaker drivers and two subwoofers, its volume level is quite low, even when turned up to max. This makes it a better solution for smaller rooms or for placing under a computer screen. However, if all you want to do is boost your TV sound without spending a huge amount, then the Sanwo Bluetooth Soundbar is well worth considering.
See the Sanwo Bluetooth Soundbar
 

Length: 16.1"
Wi-Fi / Bluetooth: Bluetooth
What We Like: Compact, lightweight, affordable.
What We Don't: Unimpressive sound quality, limited connections.
Creative make some of the best computer speakers and gaming gear on earth. It's hardly surprising that their Stage Air soundbar is worth talking about. You get a surprising amount of value for under $40, including Bluetooth functionality. And although it isn't the shortest soundbar on this list – that would be the equally affordable Sanwo Bluetooth Soundbar – it is the lightest. If you game on a laptop, and want to boost your sound either at home or on-the-go, then the Creative Stage Air is the perfect solution.
However, you shouldn't go into this expecting great sound quality. While the audio that comes out of the Creative Stage Air is OK, it's about as basic as it gets, with thin bass and slightly lifeless treble. You also get very limited connectivity options – there's only auxiliary, USB, and Bluetooth here. If you can deal with these limitations, however, you'll find that the Creative Stage Air deserves your time - especially if you game while travelling. By the way, you can spend a little more ($87 total) to buy the soundbar with a competent wireless subwoofer, which is an excellent deal.
See the Creative Stage Air
 
An Ultra-High-End Pick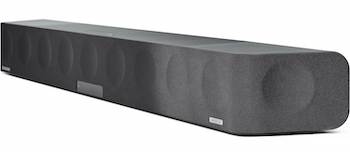 Length: 49.8"
Wi-Fi / Bluetooth: Both
What We Like: Probably the best audio of any soundbar ever made.
What We Don't: Only for those with seriously deep pockets, and lots of space.
The Sennheiser Ambeo Redefines everything soundbars are capable of. It has, without exaggeration, the best audio quality of any soundbar on this list— possibly the best audio quality of any soundbar ever. Sennheiser are known for their exacting audio standards, and the sound quality here is dynamic and natural, responding well to both music and movies. This soundbar will happily compete with a multi-speaker home theater setup, and if you demand the very best from your audio, this should be your only port of call.
The Sennheiser Ambeo does have a few downsides, which will be immediately obvious to anyone who looks at the specs above. It's ridiculously expensive, even more than something like the pricey Bluesound Pulse Soundbar+. It's also easily the biggest soundbar here, at almost 50". You will need a very large TV and a very big living room to get the most out of it. Although frankly, if you're prepared to buy it at this price, that may not be a problem.
See the Sennheiser Ambeo
 
Soundbars Comparison Table
| Soundbar | Price | Length | Conn.* | Connections | Chan.** | Assistant |
| --- | --- | --- | --- | --- | --- | --- |
| Samsung HW-T450 | $168 | 33.9" | BT | Optical, USB | 2.1 | None |
| Taotronics 32" | $70 | 32" | BT | Optical, Aux | 2.0 | None |
| ZVOX AccuVoice AV200 | $100 | 17" | None | Optical, Aux | 2.0 | None |
| Sonos Beam | $399 | 25.6" | Wi-Fi | HDMI Arc, Optical, AirPlay 2 | 2.0 | Alexa, Google |
| Roku Streambar | $190 | 14" | Wi-Fi | HDMI Arc, Optical, USB | 2.0 | Alexa, Google |
| TCL Alto 5 | $80 | 35" | BT | Aux, Optical, USB | 2.0 | None |
| Yamaha YAS-109 | $220 | 35" | Both | HDMI Arc, Optical, Subwoofer | 2.0 | Alexa |
| Sonos Arc | $799 | 45" | Wi-Fi | HDMI Arc, Optical, AirPlay 2 | 7.0 | Alexa, Google |
| VIZIO V-Series 2.1 | $180 | 36" | BT | Optical, 3.5mm, USB | 2.1 | None |
| Bestisan TV Soundbar | $69 | 28" | BT | Optical, RCA, Aux, USB | 2.0 | None |
| Razer Leviathan | $199 | 20" | BT | Aux, Optical | 2.1 | None |
| Polk Audio Signa S3 | $249 | 35.4" | Both | HDMI Arc, Optical, Aux, Subwoofer | 2.1 | Google |
| Sony HT-S350 | $280 | 35.4" | BT | HDMI ARC | 2.1 | None |
| Bose Soundbar 300 | $399 | 27.3" | Both | HDMI ARC, Opt. Sub., AirPlay 2 | 2.0 | Alexa, Google |
| B.S. Pulse Soundbar+ | $608 | 42.2" | Both | HDMI Arc, Optical, Aux, Subwoofer | 7.1 | Alexa, Google |
| Polk React | $249 | 34" | BT | HDMI, Optical | 2.0 | Alexa |
| Sanwo B'tooth | $39 | 15.75" | BT | RCA, Aux | 2.0 | None |
| Creative Stage Air | $40 | 16.1" | BT | Aux, USB | 2.0 | None |
| Sennheiser Ambeo | $2,437 | 49.8" | Both | Optical, HDMI, Aux, USB | 5.1.4 | None |
*Conn. = Connectivity, as in Wi-Fi or Bluetooth (BT)
**Chan. = Number of speaker channels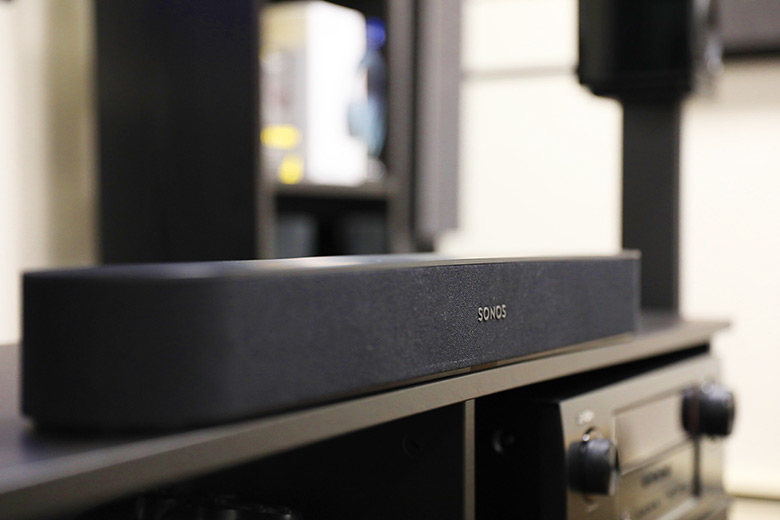 Soundbars Buying Advice
Why Should You Buy A Soundbar?
The simple fact is that a soundbar will dramatically improve the sound of your TV. Television speakers are generally pretty terrible – some TVs and computer monitors may not even have speakers at all. Investing in a soundbar, even an inexpensive one, will give you a much more pleasurable experience in whatever you watch or play. Dialogue will be clearer, gunshots and explosions will have more weight, and music will be much richer. The prime reason to invest in a soundbar is to improve your basic sound and we're confident that every pick on our list will do just that. Soundbars are also easy; they're a single-box solution that take minutes to set up. There is no easier or more straightforward way to get better TV sound.
However, it's worth being realistic about what to expect. While you'll certainly get an improvement in your audio quality regardless of what you spend, you will get much more of an improvement if you spend a little more cash. We consider the $198 Samsung HW-T450 the best overall soundbar right now, as it delivers excellent sound quality. But if you were to match it up with something like the $399 Bose Soundbar 300, then it would clearly come off second best. The Soundbar 300 sounds much deeper and cleaner; in general, more expensive soundbars will have better speaker drivers, providing a louder and crisper sound. But sound quality is only one aspect of a soundbar, and to get our picks, we also looked at aesthetics, usability, connections, value, and more. If you value sound quality above everything else, then something like the Bose Soundbar 300 is the way to go. But if you just want to boost your existing TV sound, then you can absolutely get away with spending less. We guarantee that all the soundbars on our list will be sonically pleasing, even those that cost less than $100.

Soundbar Length
You'll often read advice online about how it's a good idea to make sure that your TV and your soundbar are the same length. That's good advice in theory, as they will look neat when placed together, but it falls apart when you actually start looking at soundbars and their lengths. Most soundbars are under 40" in length, even high-end ones like the Sonos Beam (full review here). That means matching up soundbar length to TV length can be quite difficult and expensive.
We'll prove it to you. Let's say you have a 50" TV in your living room. That 50" is measured diagonally, remember, which means the bottom of the TV from end to end will be more like 44". A 44" soundbar will cost a lot more than the 25.6" Sonos Beam, which is already $399, and won't necessarily sound better. Hell, even our top soundbar - the $198 Samsung HW-T450 - measures only 33.9" long.
Here's our take: don't stress about matching the size of your soundbar to your TV or computer monitor. You'll run yourself ragged trying to match up the measurements with the soundbars that are actually on the market and it's just not worth your time. Generally speaking, a shorter soundbar under a larger TV will look just fine. As long as the bottom of your TV is longer than the length of your chosen soundbar (check the table above for lengths), you're good. It's only when you get a bar that is longer than the TV that things start looking weird. And if you're worried about sound quality, there's no need. A soundbar's length has very little relation to its sound quality; short soundbars do not necessarily sound worse than long soundbars. Audio quality has more to do with the type of drivers and internal circuitry of a given bar, which is something we'll talk about in the next section.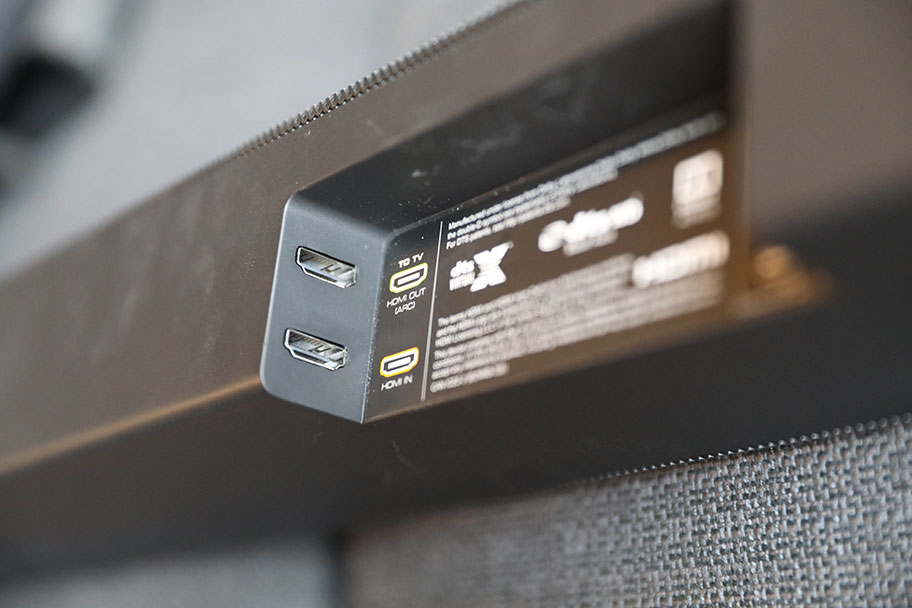 Soundbar Connectivity
Soundbar manufacturers do love their jargon. This is especially true when they talk about the type of connections on their models. It can be difficult to figure out which ones you'll actually end up using. So, in the spirit of making things clear – and because we despise jargon – let's break down three of the most common wired connections you'll find on the back of your soundbar: HDMI, HDMI ARC/eARC, and Optical.
Note that you'll also encounter connections like RCA and Auxiliary (commonly referred to as Aux). Although they are common, they're now largely outdated; unless you have no other option, HDMI and Optical connections will always provide better sound. For reference, an Aux connection is a basic 3.5mm socket (like you might see on a phone's headphone output), and an RCA connection relies on two separate male plugs to deliver an audio signal. For most soundbars, you won't need to use them.
 
HDMI and HDMI ARC
HDMI (High-Definition Multimedia Interface) is a slim, multi-pin connector with a distinctive shape. Chances are, you probably use it already to connect your Blu-ray player or gaming console to your TV. HDMI has become the standard way of getting audio and video data from a source to a screen. You'll find it on both TV screens and PC monitors. It's simple and effective, but it's also a bit old and has limitations. It's ideal for connecting a video source like a Blu-ray player to TV, but you'll need to run an optical cable from the TV or player to the soundbar – otherwise, you simply won't get any audio. Sounds clunky, right? Fortunately, HDMI has evolved over the past few years into something called HDMI ARC.
HDMI ARC is far more common nowadays, and it's a little different from regular HDMI. ARC stands for Audio Return Channel, and it allows the TV to send audio to the soundbar, rather than an external source like a disc player. So, if you're streaming Netflix on your smart TV, an HDMI ARC connection will play sound through your soundbar. It also allows you to control the volume of your soundbar using a standard TV remote (more on this below). A soundbar that has both a regular HDMI port and an HDMI ARC port means that you can connect your console or Blu-ray player directly to your soundbar, and the soundbar directly to the TV, minimizing cable clutter. Keep in mind that, while almost all HDMI-enabled soundbars use HDMI ARC, there are some soundbars that don't use HDMI at all, like the $85 Taotronics 32". That model uses optical connections.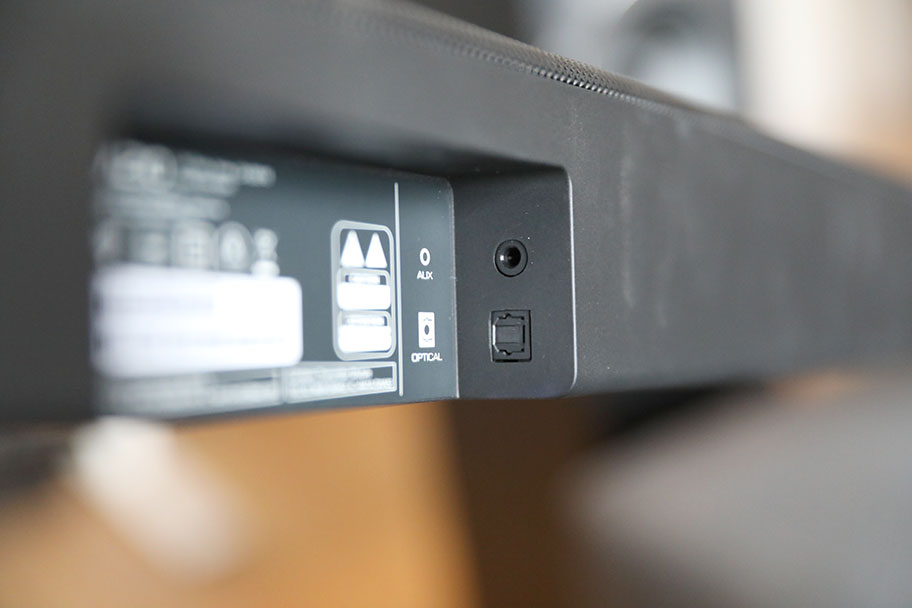 Optical
Optical connections actually use light to transfer audio, and consist of thin, bendy little wires with a distinctive connector at the end, making it look like a little transparent blob. While it sounds futuristic, an optical connection is actually less powerful than an HDMI or HDMI ARC connection. This is because it lacks the ability to send advanced sound, like Dolby surround audio. In terms of base sound quality, the difference between optical and HDMI is very minimal, and both are incredibly simple to use. But if you have the choice, you should always go with HDMI. We've highlighted which soundbars on our list have which connection in the table above, and you should also check your TV to make sure that it's compatible.
 
HDMI eArc
HDMI eARC is a little less common than the standard HDMI ARC connection. Only one of the bars on our list has it - the Bose Soundbar 300, which costs $399. eARC (enhanced Audio Return Channel) is HDMI on steroids. It's a connection which allows the exchange of much more data. That means you can get true 5.1 and 7.1 surround audio, and increase the detail of the audio overall. It also has a feature called Lip Sync Correction, which virtually eliminates any audio lag, ensuring that your sound and picture are always in sync. eARC isn't widespread at the moment, and for most people, regular HDMI ARC will be just fine. For now, it's nice to have, but not an essential. Note that it uses the same type of physical connection - the thin, rectangular, multi-pinned one - that you'd find on a standard HDMI.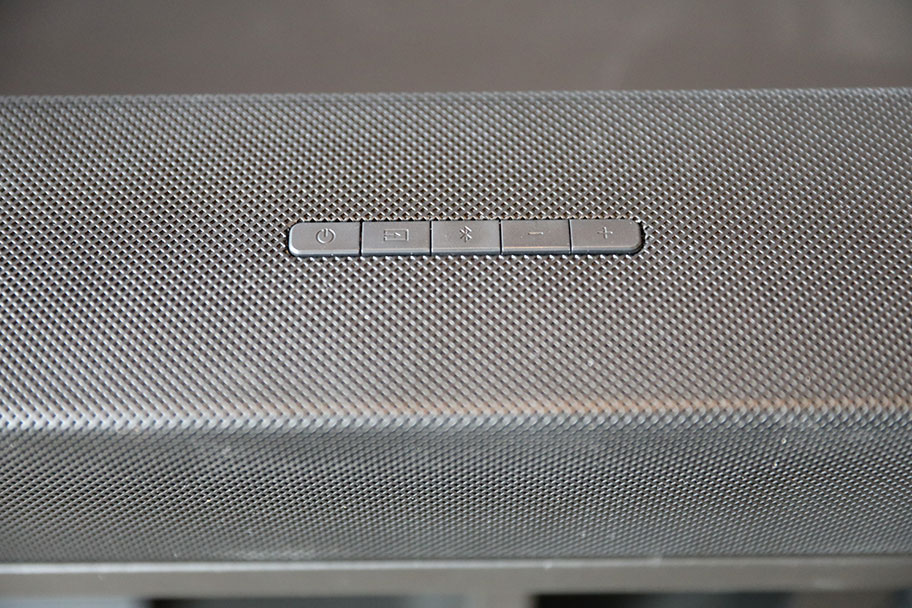 Wi-Fi and Bluetooth
Virtually all the soundbars on our list above have some kind of wireless connection – either Bluetooth, or Bluetooth and Wi-Fi. This is a very good thing. Beyond just boosting the sound of your TV, soundbars can be incredibly handy for playing music in your living room. It's the work of moments to begin streaming music through services like Spotify with your soundbar, and they excel as a single box solution for both music and movies. There are even some that we think are better for music than they are for TV sound, like the Sonos Beam (full review here).
In almost all cases, the easiest way to get streaming music to play through your soundbar is simply to connect via Bluetooth. Just put your soundbar into pairing mode using the manufacturer's instructions, find it on your smartphone or tablet, and connect. From there, you should easily be able to start playing music from your prefered streaming service. Some soundbars also have a Wi-Fi connection. This means your music will sound even better, and the connection will be significantly more stable. It also means that you can connect directly from your music streaming app on your phone, as long as it's on the same Wi-Fi network. Sometimes these soundbars will even have their own apps to help with connectivity and control.
One word of warning: soundbars with Wi-Fi connectivity are often significantly more expensive than those without. Given that the sound quality difference between Bluetooth and Wi-Fi isn't that dramatic, you may want to think hard about whether you're prepared to pay the extra money. Our take is that, for most people, Bluetooth music streaming will be just fine. The quality is good enough these days that we think you can get great sound, regardless of your connection.
 
Voice Control: Alexa, Siri, and Google Assistant
In our specs table, we've listed whether or not a given soundbar has a virtual assistant included. Having Amazon Alexa, Google Assistant, or Apple's Siri can be a real selling point for some bars. Whether it's controlling volume, changing sound presets, or even navigating your smart TV, speaking commands at your bar from the couch is an intuitive, and easy way to control it. But it's worth considering a couple of things before you purchase a soundbar with a smart assistant.
Firstly, all virtual assistants have their limitations. Amazon, Apple, and Google like to trumpet how smart their virtual assistants are, but you only need to play around with one for a few minutes to understand that they're not going to take over the world anytime soon. With simple queries, like setting a timer or asking what the weather is, they perform just fine, but for anything more complex – including navigating music streaming services – they typically fall apart. In most cases, it's much faster and easier to simply use the touchscreen on your smartphone. The good news is, we have a much wider choice of assistants than we used to. While Siri is still pretty rare to find in a soundbar – none of the bars on our list have it – many soundbars will now include both Amazon Alexa and Google Assistant.
Secondly, just like included Wi-Fi, you'll be paying a premium to get a virtual assistant in your soundbar. Anything under around $200 is unlikely to have this functionality. Fortunately, it's easy to add a virtual assistant to your chosen soundbar for a very small outlay. You can buy a tiny smart speaker, like the $50 Amazon Echo Dot (4th Gen), and connect it directly to your soundbar.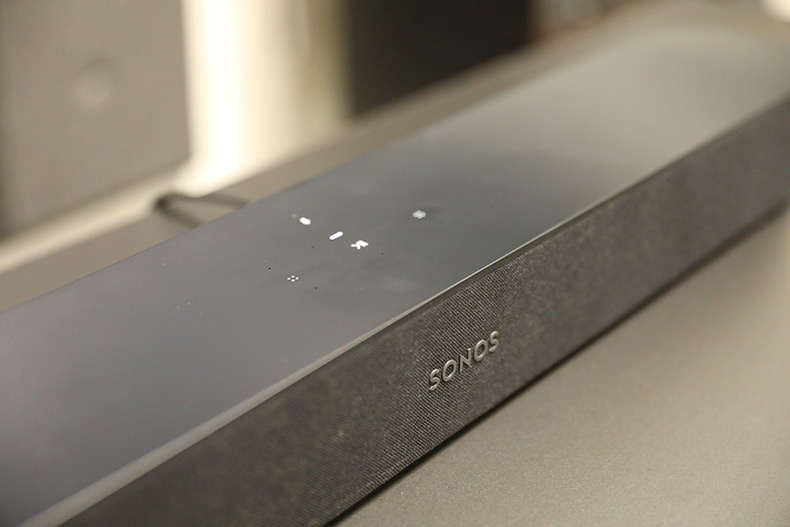 TV and Movies vs. Music vs. Gaming
There's a prevailing belief that soundbars are built purely for TV and movie audio, but that just isn't true. While it's correct that the sound of any soundbar has been tuned and designed by the company that makes it, it's extremely rare to find a soundbar that can only be used for one thing. Most transition quite happily from playing Netflix or Xbox to playing Spotify.
Think about it like this: any music system has at least two channels (left and right) for stereo sound. Well, every single soundbar on our list has at least two channels. That makes them just as suited to play music as a set of speakers and an amp - in some cases, even more so. With a soundbar, there's no fumbling around trying to position separate speakers to get the best sound. In many cases, soundbars are actually superior to traditional wireless speakers, as they offer a wider stereo spread. That makes them ideal for switching between streaming music from Spotify and watching a new series on Netflix.
Switching between the two isn't difficult, either - at least, it shouldn't be. Let's say you have our top budget pick, the $85 Taotronics 32" connected to your TV. Let's also say you're watching Netflix and you have some friends over for beers. Simply pause Netflix, connect via Bluetooth to the bar and start streaming music. In this way, a soundbar can easily become a decent stereo system without any complicated speaker wire.
It's also worth noting that you can use any soundbar for PC gaming. Soundbars can be connected to a computer tower, usually via HDMI or Aux, as most PCs include at least one HDMI ARC port. This type of setup favors soundbars that are slightly smaller, as you'll probably be sitting closer to it, and won't need to turn up the volume quite as high. We recommend something like the Razer Leviathan, which not only costs under $200, but also comes with a wireless subwoofer to really crank up your bass. There are several cheaper options, as well, and you certainly don't need to spend a ton of money to get a good result. By the way, it's very easy to stream music to a soundbar gaming setup, too, as long as you have Bluetooth connectivity between devices.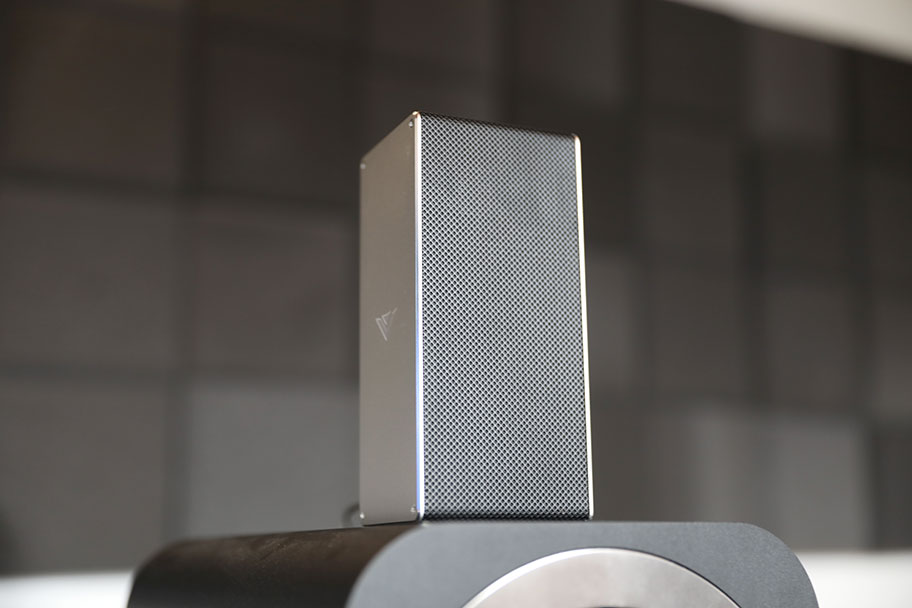 2.1 vs. 5.1 Soundbars
You'll often see soundbar systems referred to with numbers, like 2.1 or 5.1. These numbers refer to the bar's surround sound capabilities. Because while a soundbar may not be able to place speakers behind your sides, it can use some clever processing to make it appear as if the sound is coming from both directions. That being said, we could do without the numbered jargon here, so let's break it down. The number to the left of the period refers to the number of speaker channels in the system, and the number to the right of the period refers to the number of subwoofers. The most common configurations in the world of soundbars are 2.1, which has two front speaker channels and a subwoofer channel, and 5.1, which has five separate channels and a single subwoofer. Note that not all of these speaker channels have to be in the bar itself.
The point of the numbers is as a kind of shorthand to make sure that you pick the right soundbar for your setup. If you know you don't have room for a subwoofer, for example, then a 2.0 (two channel, no sub) setup is the one to go for. If you want surround sound, but don't want any additional speakers outside of the sub, then go for a 5.1 setup. We've indicated the number of channels for each soundbar in the list above. And if you want to find out more about how satellite speakers and subwoofers work, check out the section below.
 
Soundbar Kits
Soundbars can be used as so much more than soundbars. If you have the cash and the space, you can quite easily add additional speakers that will enhance your TV experience. There are a few things you need to know if you decide to go this route, and we'll cover them below.
 
Surround Speakers
Very obviously, any sound coming out of a soundbar will come straight at you from the front. That means that, if you want true surround sound – as in, sound that originates from your sides, to the rear, or above you – you are going to have to invest in additional speakers. This sounds daunting, but the good news is that many soundbar manufacturers have anticipated this. For example, if you click on the Amazon link to the amazing Sonos Beam soundbar, you'll find that you have several surround sound options. You can buy the basic bar for $399, or you can spend an additional $300 to buy the bar plus five smaller surround speakers.
You can set those speakers up around your room and connect them directly to the soundbar, which is made very easy through the Sonos app. All at once, you'll have full surround sound. In this case, it's even wireless – although you will obviously have to connect each surround speaker to a power outlet. This approach, where you can add additional speakers into the mix, can be a very convenient and fun way to experience surround sound without having to worry about a full home theater setup. We'll talk about expanding to full home theater in more detail below, if that's something you want to explore.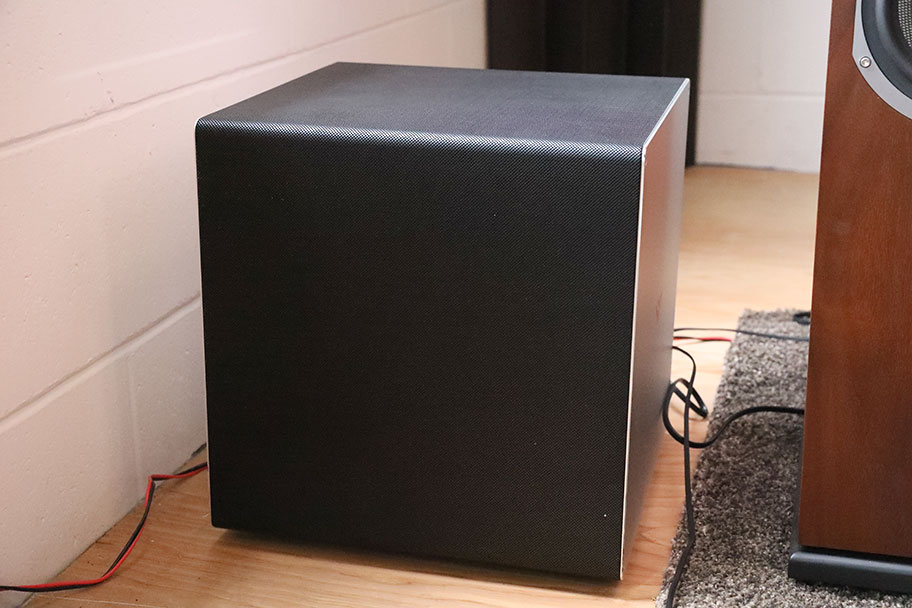 Subwoofers
Frankly speaking, many soundbars – especially affordable ones – struggle with bass. This is because you need a decently-sized speaker driver to pump out the low-end, and speakers inside soundbars tend to be quite small. Bass relies on low-frequency sound waves, which take a lot more energy to push through the air. You need a speaker of around 8" in diameter to get it done properly, and that's simply too big for most soundbars. In that case, it's worth investigating a soundbar that comes with its own separate, wireless subwoofer.
This is a much easier task than you'd think. Many of the soundbars on our list already come with a wireless subwoofer as standard. The Razer Leviathan ($196), for example, includes a very capable subwoofer for the price. Investing in one means that you'll get far more satisfying bass – of course, you can also combine this setup with additional wireless speakers, as discussed above. The easiest way to place your subwoofer is simply to test it out, moving it around while audio is playing. Since most wireless subwoofers are quite light, this is relatively easy to pull off. By the way, we should point out that it's not absolutely essential to have a subwoofer. The bass from your soundbar won't be massive, but it will still be more than enough to satisfy in most cases.
A note to keep in mind: you often see surround soundbar systems referred to with numbers, like 3.0 or 5.1. The number to the left of the period refers to the number of speakers in the system, and the number to the right of the period refers to the number of subwoofers. So, a 3.0 system has three speakers, including the soundbar, and no subwoofer. A 5.1 system has five separate wireless speakers and a single subwoofer.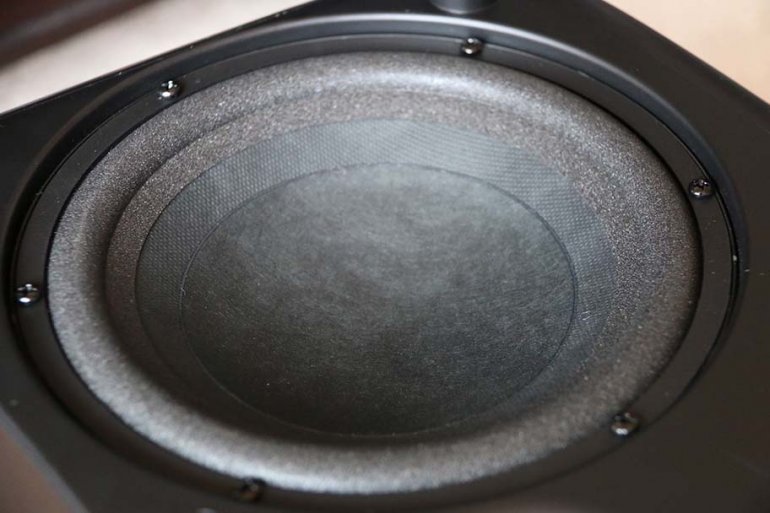 Setup and Soundbar Positioning
Broadly speaking, there are two main ways of positioning your soundbar. The most common way, and the way most bars are designed to function, is simply to place them below and slightly in front of your TV, on top of your TV cabinet, or on a shelf. This will angle the sound in the right direction – towards your ears, in other words – and give you full access to any controls, which are usually on top of the bar.
But, you may very well be asking, what happens if your TV is mounted directly on the wall? What if you don't have a handy cabinet to place your soundbar? The good news is that you can wall-mount your bar, either above or below the TV. We recommend below - it means the bar will be at ear level - but there's nothing to stop you from mounting the bar above the TV either. It's actually quite rare for affordable soundbars to have mounting brackets attached, but you can achieve this positioning by buying a dedicated set of soundbar mounts. These are relatively inexpensive. We recommend the Mounting Dream Soundbar Mount, which costs $25.
And in case you're wondering, we do not recommend mounting the soundbar vertically. While it may be tempting to buy two soundbars and have both mounted on either side of your TV, it can do awkward things to the sound quality. Keep your soundbar horizontal, as the manufacturer intended.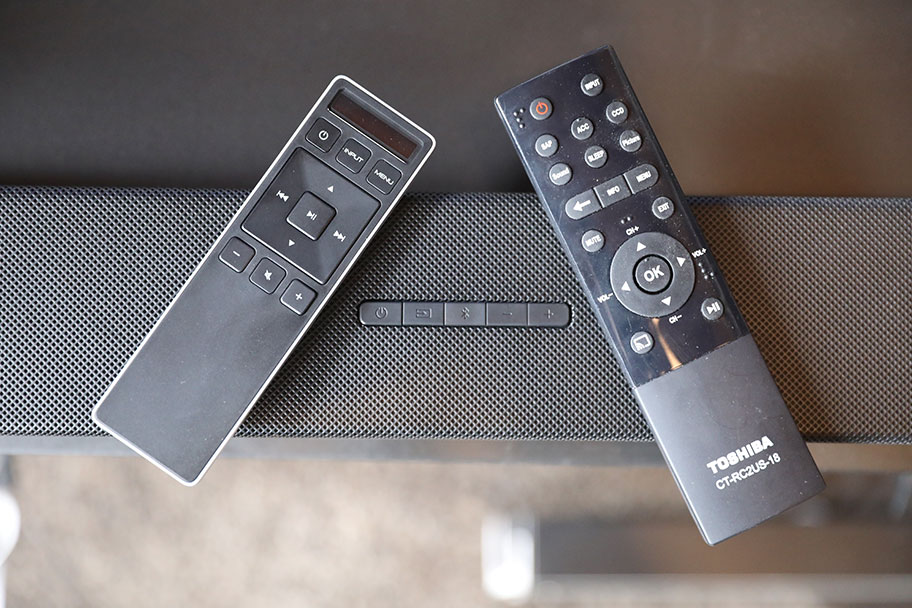 Controlling Volume: Included Remote vs. TV Remote
Most soundbars over $50 should come with a remote control. While that makes it easy to control the volume and activate features like Bluetooth pairing, it does mean that you'll have an additional remote that you will inevitably lose, or step on, or knock off the table. Or does it?
Because here's the great part. As long as your soundbar is connected to your TV via HDMI ARC (which we discussed here), you can easily control the volume with your existing TV remote. You may need to do a bit of simple programming – and you'll be able to find the steps for this in the remote's manufacturer instructions – but you can easily set it up so that one remote controls the volume. Other connections, like optical, won't allow this. If you want to use your TV remote to control the sound, make sure you're connecting via HDMI ARC.
In addition, many soundbars often use smartphone apps, which take the place of remotes. The Sonos Beam is a great example. Even so, we wouldn't suggest tossing your soundbar's remote, as it may come in handy one day. Just put it in whichever drawer in your house holds spare batteries, random cables, and assorted warranty documents - you know the drawer we're talking about…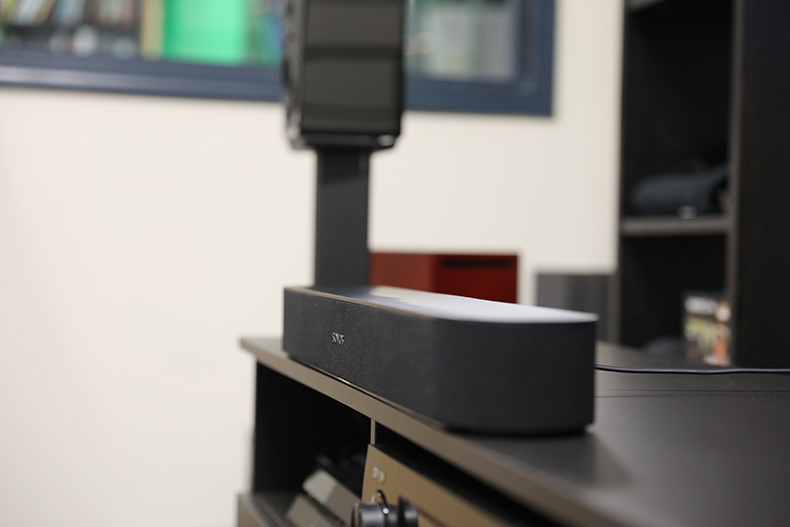 Soundbar Channels and Dolby Atmos
When it comes down to it, a soundbar is simply a set of speakers in one shell, and you can't talk about speakers without talking about channels. If you want to buy a soundbar, and are interested in expanding the audio quality of whatever you're listening to or watching, then it pays to understand how speaker channels work. It will help you buy the right soundbar for your room.
Think of the speaker channel as a single sound source. A stereo recording, like you'd get out of a hi-fi system, would have two channels: a left and right, which combine to form a stereo image. Every bar on our list has at least two channels, but some have even more. A bar with three channels will have a left, a right, and a center speaker - the center handles dialogue, while the left and right handle everything else. A five-channel bar, like the Sennheiser Ambeo, has a left, right, and center channel, plus two upward-firing speakers used for Dolby Atmos (a sophisticated type of surround sound). The more channels in a soundbar, the more expensive it will be – although it will also sound significantly better. Channels are referred to using a numbered format: a 3.0 system has three channels and no subwoofer, and a 5.1 system has five channels and one subwoofer.
Speaking of Dolby Atmos: more soundbar manufacturers are starting to look at incorporating this tech into their bars. The models that offer it tend to be very expensive - the VIZIO system mentioned above costs over $800, and it's at the cheaper end of the spectrum - but they do exist. In fact, VIZIO are leading this charge with a forthcoming bar, called the Elevate, that has ten channels and speakers that rotate to face upwards when they detect Dolby Atmos content. What this means is that you'll soon be able to get a full surround sound home theater experience for much less than a traditional home theater setup.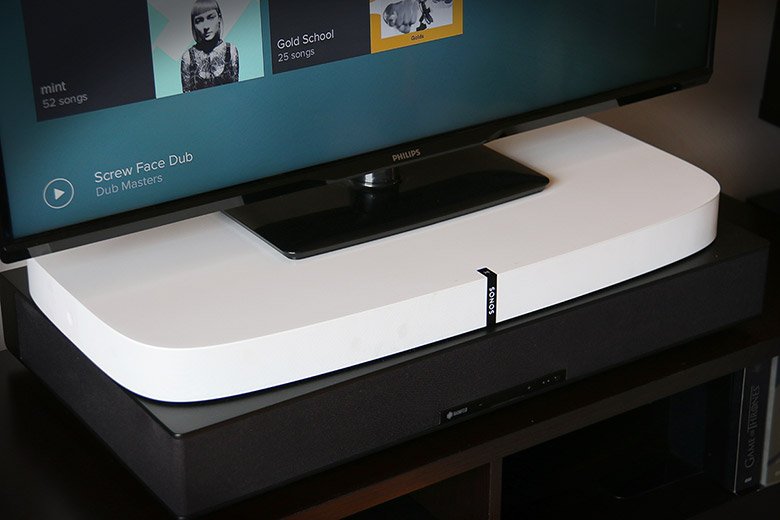 Soundbars vs. Soundbases
A common question we get asked is whether one should go for a soundbar or a soundbase. The latter, if you didn't know, is a rectangular box that sits directly underneath your TV. It packs in all the speaker channels, including a subwoofer, into one convenient package that doubles as a TV stand, and it's much bigger than a regular soundbar. The latter often separates the speaker systems, putting midrange and treble drivers into a slim bar, and usually requires a separate subwoofer. If you do want a list with just soundbases on it, here's our take on the best available.
As a rule, soundbases cost a bit more than soundbars, but in contrast, there aren't nearly as many options available. In fact, it's much harder to get a solid soundbase than a good soundbar. While soundbases do tend to sound better - a result of their larger size, which equals more speaker drivers and more powerful circuitry - this isn't always the case. They're also almost always heavier and larger. Soundbars have the advantage of being more affordable, as well as being lighter and more versatile. To be honest, you could go for either, purely based on how much space you have under or around your TV setup. We think the best soundbase currently available is the Sonos Playbase (full review here). It's expensive, at $699, but it's also an amazing piece of gear. Arguably, it sounds even better than the highly-ranked Sonos Beam, but we don't think you lose anything by going for the bar over the base.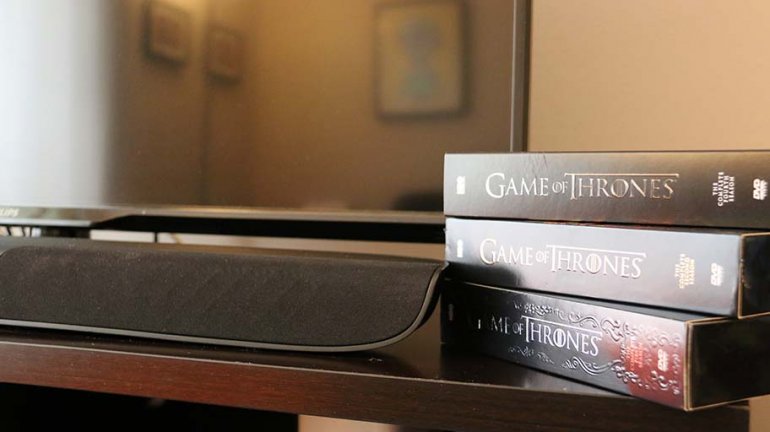 Soundbars and Smart Home Devices
This is a bit of a grey area. In theory, any soundbar with an included virtual assistant – like Google Assistant or Amazon Alexa – can be used to control your smart home. As long as you've connected everything to your Alexa or Google Home smart phone app, you can tell your soundbar to dim the lights, turn on your oven, or control the thermostat. In practice, however, this can be tricky to set up. We've had mixed results with this, as it's often quite difficult to get products from different manufacturers to recognize one another.
However, there's no denying that more people are adopting smart devices in their homes, ranging from fridges and lights to Nest thermostats – we have a Nest and we swear by it. At a recent audio show, we were told about an upcoming soundbar – we aren't yet at liberty to say who makes it - that will have full integration with Samsung SmartThings, which is one of the most effective apps for controlling a smart-connected home. This means that you'll be able to easily connect your soundbar to your home with no more than a few taps on your phone, and without having to go through the complicated, multi-step route presented by most virtual assistant apps. The bottom line is that it's entirely possible to connect your soundbar to your smart home, but you may want to wait a few months for an easier option! We will update this section as more tech becomes available.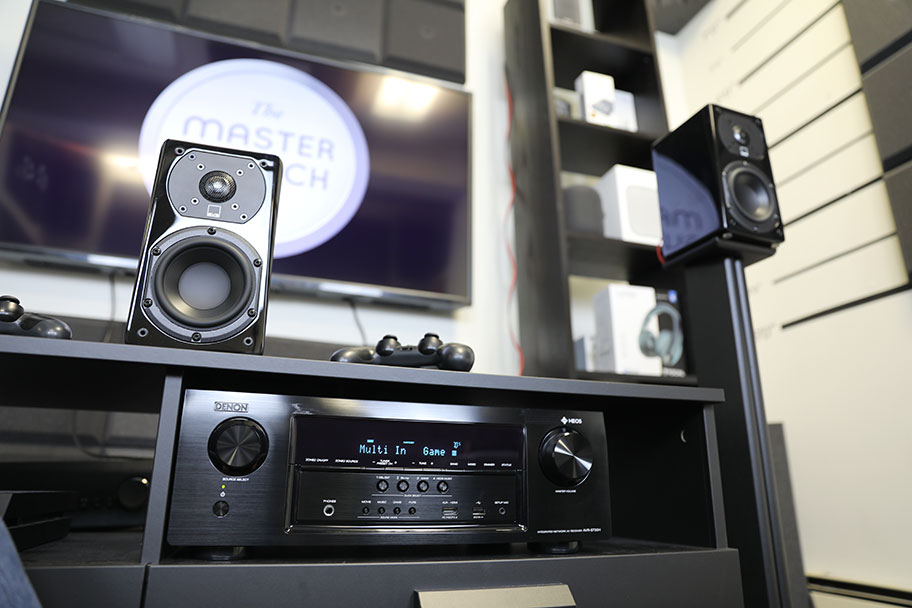 Stepping Up to a Home Theater System
Soundbars are terrific, convenient, great-sounding, and affordable. But if you want a little more from your sound, then you may want to look into the world of home theater. By home theater, we mean full surround sound with speakers that have the size and power to really push your audio quality, matched with a dedicated A/V receiver to amplify them.
Clearly, this kind of setup will be significantly more expensive than a soundbar – often $500-$1,000 or more – and will require more work to set up. However, it's the ideal next step for you to take if you want more from your system. One of the most underrated advantages of home theater is that it doesn't have to be complex. A very simple setup with five speakers, a subwoofer, and inexpensive A/V receiver will give you incredible sound. You'll sacrifice the convenience of a single-box soundbar system, but you'll also take your audio quality to a level that can be truly unbelievable. One word of warning: home theater is a bit of a rabbit hole, and it's entirely possible to spend thousands of dollars building a system. We know because we've been there. Regardless, if you're prepared to spend some time and money speccing out your living room, you're going to have a lot of fun.
If you're ready to take this step, start with our best home theater speakers list. You'll be able to get a good idea of the range of receivers and home theater speaker systems available by eyeballing those models. We also give you all the advice you need to both buy and set up your dream system!
Learn More About Home Audio