If you live in an apartment, especially one with a small living room, then a full surround sound system is most likely a no-go. A soundbar is a much better option, and will pack everything you could possibly need into one convenient, slim box. It'll also supercharge your sound, taking it light years beyond what your TV speakers can do. Here, we've covered this year's best soundbars, with options for everyone - no matter what your budget is.
 

How We Choose:
You can, if you're so inclined, pay thousands of dollars for high-end soundbars. We could easily populate our list with huge, wallet-busting, audiophile options, but we've chosen not to. Our reasoning: the people looking to buy models that cost over $1,300 will almost certainly be better-served by a home theater system, and won't be truly satisfied with the audio quality soundbars produce, which is better suited for smaller rooms. That means no Martin Logan, no Paradigm, no Goldenear. As good as those bars are, they are also far too expensive for most people. If you do want an ultra-high-end bar, those are the companies you should be looking at. 
We make our picks based not only on price, but on overall quality and unique features, too. Sound quality and the ability to fill a room was a must, balanced against range of features. Disagree? Think we got it wrong? Fight us in the comments. And please remember that, at the time of writing, all prices were correct - we try to update regularly, but sometimes prices fluctuate faster than we can write!
 
Our Soundbar Picks: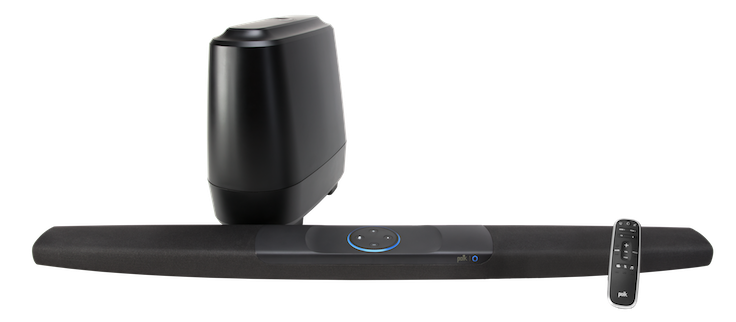 Smart Assistant: Amazon Alexa
Subwoofer Included: Yes
Connectivity: Bluetooth / Wi-Fi
What We Like: The new standard for smart soundbars, excellent sound, great functionality.
What We Don't: Wonky integration, especially with products like Amazon's Fire stick.
For most people, this is all the soundbar you will ever need. Polk know a huge amount about building a good soundbar – their MagniFi Mini, also in our top five, is excellent. This feels like the culmination of everything they've learned: a smart speaker system at a terrific price, that offers a ton of functionality. The 43" soundbar and included subwoofer deliver excellent sound, too, easily comparable to more expensive models on this list, like the SONOS BEAM and Bose Soundtouch 300.
Although the inclusion of Amazon Alexa isn't as unique as it once was – the aforementioned BEAM includes it, as do several others – it's still a very useful and effective way of controlling the system. If you've ever owned an Amazon Echo, you'll recognise the distinctive ring set into the Command Bar's surface. While we would like to see better integration with things like Amazon's Fire stick, which feels a little shoehorned-in, the smart feature set makes this a real winner. You also get full 4K HDR passthrough, and a very clever little remote. In terms of value-for-money, this simply isn't a better soundbar available right now, and no company is doing better than Polk.
See the Polk Command Bar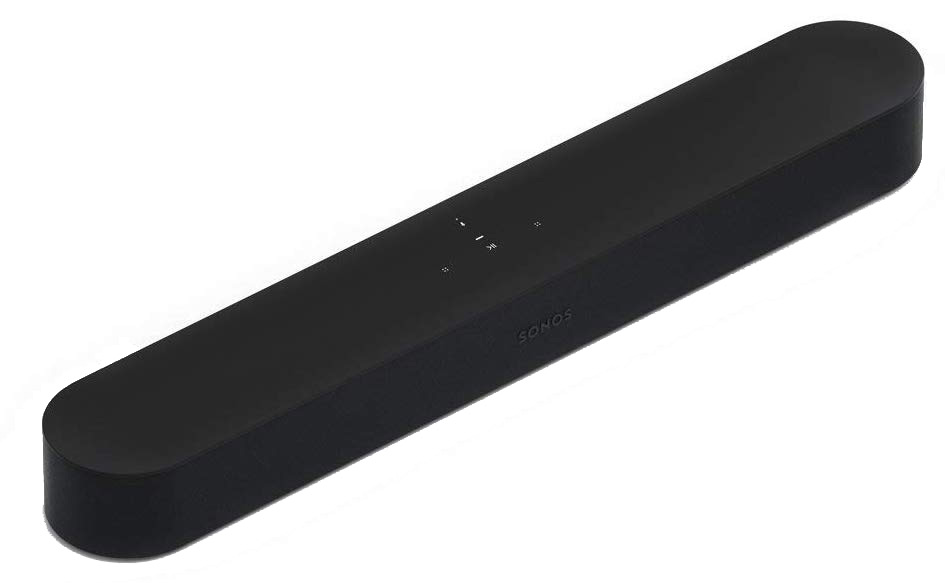 Smart Assistant: Amazon Alexa, Siri
Subwoofer Included: No
Connectivity: Bluetooth / Wi-Fi
What We Like: A future-proof soundbar that offers some of the best value around.
What We Don't: No included subwoofer, doesn't quite beat Polk.
It was a real struggle to choose between this and the Polk Command Bar for the number one spot, but Polk just edged it. That's because we think it's better value, as it includes a subwoofer and has much of the same functionality. Admittedly, we do prefer SONOS's setup and app, and the forthcoming addition of Siri via an update makes it easier to control for more people. But is that worth the extra $99? We don't think so. So, while it's very good, we think the Polk is better.
That being said: if you own SONOS speakers already, then this is absolutely the bar you should go for. It's the next step up from the old PLAYBAR; while that bar is still available, and ideal for bigger spaces, this definitely counts as an improvement. It not only delivers terrific sound quality, but has a good range of features, including compatibility with Apple Airplay 2 – something that bars like the Polk and the more expensive Samsung HW-K950 don't have. It also significantly shorter than the 43" Command Bar, making it a much better pick for small spaces.
See the SONOS BEAM
 

Smart Assistant: None
Subwoofer Included: Yes
Connectivity: Bluetooth / Wi-Fi
What We Like: Still one of the best soundbars ever made.
What We Don't: Quite old now - and doesn't match others for value.
Why are we including a soundbar that was released in 2016 in our top five? Because it's like The Godfather. You can't have a Best-Of list without it. And despite the lack of features – there's no smart assistant, for one thing – the sound quality and unbelievable imaging makes this a very competent competitor. It's definitely the bar to go for if you have a little bit more money to spend, and want something a bit beefier than Polk and SONOS can provide with their soundbars.
The HW-K950 features an insane 15 built-in speakers, including four up-firing drivers, two rear wireless speakers, and an exterior subwoofer. And if you love the movie theater experience, the HW-K950 will impress you with its immersive, 5.1 Dolby Atmos soundstage. However, while this soundbar is remarkable, we would only recommend investing your hard-earned dollars if you're already using newer Samsung devices. Many of the extras included with the HW-K950 are solely Samsung-friendly - like the Multi-Room Link app (which allows you to connect multiple wireless Samsung speakers throughout your home at the same time), remote functions, and some streaming services. These, frankly, are a waste of money for those who don't own Samsung gear already.
See the Samsung HW-K950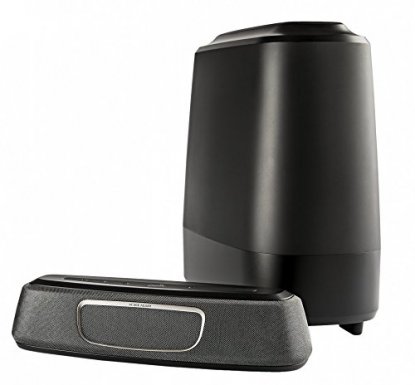 Smart Assistant: None
Subwoofer Included: Yes
Connectivity: Bluetooth / Wi-Fi
What We Like: An ideal solution for smaller rooms, hugely popular.
What We Don't: Muddy upper-mid range, sounds more like 3.1 than the advertised 5.1.
Its compact design makes Polk Audio's MagniFi Mini look more like a portable Bluetooth speaker than a surround sound system. However, with 5.1 capabilities and an external 6.5" down-firing subwoofer, the Mini is a fully loaded, robust soundbar, both compact and user friendly. It also has a full range of features: Bluetooth, Wi-Fi, Google Chromecast, and Spotify all stream directly through the unit. For a model not much longer than a Subway sandwich, we're impressed.
 
Considering its size, the Mini has a wide soundstage and decent bass playback, though not nearly as profound as others on our list - like the Yamaha YAS-207. The only real complaint we have for the Mini is the muddy upper midrange. This becomes an obvious problem while watching movies with a great deal of dialogue. However, this isn't a soundbar without merit: for one thing, it can also be employed as a hub to support multiple systems. This means you can plug everything into your TV, and use the Mini as your main output. The Mini also offers options like Night Effect Mode and Voice Adjust, which use compression to subdue any boosts in sound while enhancing the dialogue. This makes it easier to enjoy your favorite action films, even late at night. We would recommend these settings for any midnight movie watchers.
See the Polk MagniFi Mini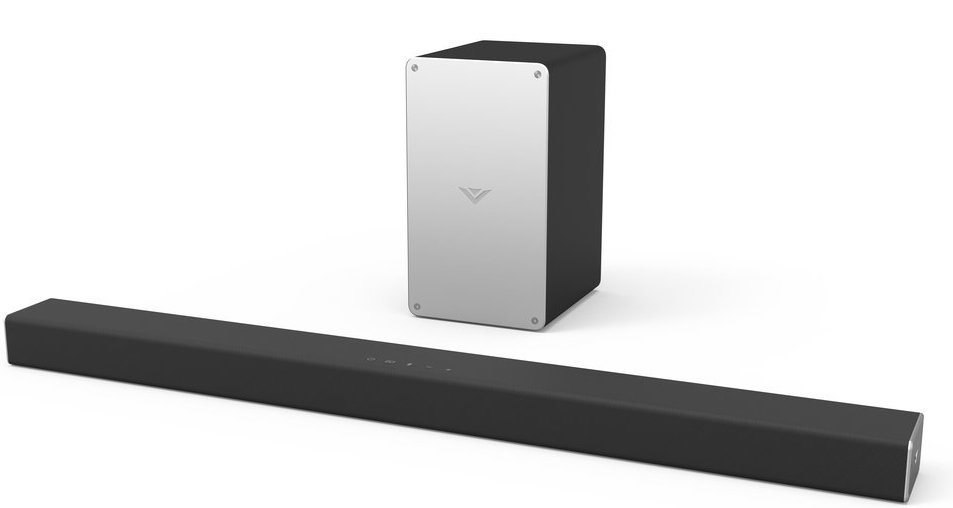 Smart Assistant: None
Subwoofer Included: Yes
Connectivity: Bluetooth
What We Like: Cheaper than the MagniFi Mini, and just as good.
What We Don't: Likely to be replaced soon.
At the time of writing, VIZIO are gearing up to release a new range of soundbars, including several with Dolby Atmos surround sound. We had a chance to hear them in a private demo recently, and they are excellent. But for now, we think that this model - 36" long, 2.1 channels, hence the name – is among the best they offer. No, it doesn't have the power of their other models, and it's never going to match something like the Samsung HW-K950's audio quality. But it's one of the most acclaimed bars, and we absolutely love it.
The sound quality is decent - it's on par with the more expensive Polk MagniFi Mini - and has a better upper midrange. While you do lose features like Wi-Fi, and there's no smart assistant like you'd find in the Polk Command Bar or SONOS BEAM, there's still plenty to sink your teeth into. It has a good range of inputs and outputs, and if you're shopping for a bar to fill a small space with a very passable sound, this should be your first port of call. At under $200 at the time of writing, it's practically an impulse buy.
See the VIZIO SB3621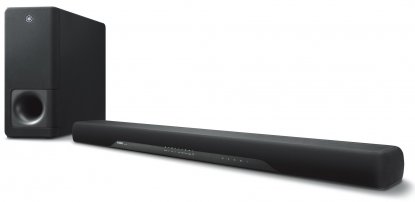 Smart Assistant: None
Subwoofer Included: Yes
Connectivity: Bluetooth
What We Like: Amazing sound for the price.
What We Don't: Detail isn't where it should be, doesn't really compete with Polk and SONOS.
Got a small space? Want to noticeably improve your TV's sound quality? Don't want to spend huge amounts to do it? Then this is the model you should consider. The YAS-207 replaces an earlier Yamaha on this list, the pricier and older YSP-4300; that model delivered plenty of power, but lacked basic elements like Bluetooth, and simply didn't measure up to many other bars. We think this is more of a total package.
For your money, you get an additional subwoofer, and 300 watts of power - more powerful than the Polk Command Bar, which only has 260. There's DTS:X virtual surround sound - nothing on the real thing, but damn good nonetheless - an excellent control app, smooth design, and decent sound. While the audio detail could do with a little bit of extra work, there's still little to be disappointed in for the amount you pay. In terms of real value, this smokes most of the competition, bar the ones above it on this list. Yamaha regularly iterate their soundbars too, often faster than we can update these piece. Definitely check if there are newer versions before you buy. Chances are, there'll be Alexa or Siri functionality in the next one…
See the Yamaha YAS207
 

Smart Assistant: Amazon Alexa (With additional speaker)
Subwoofer Included: No
Connectivity: Bluetooth / Wi-Fi
What We Like: Superlative detail and soundstage that easily competes with the big boys.
What We Don't: Smart assistant functionality needs an additional Echo speaker, lacks a subwoofer.
Bose have a slightly iffy record in the home theater space, with build quality and sound that we've criticized in the past. The Soundtouch 300 soundbar is, fortunately, a step in the right direction: a relatively new model that manages to take everything the company is good at and add in some additional flavor. You even get Amazon Alexa functionality – although, you will need a separate Echo speaker to use this. It can be enabled with the Bose skill on the Alexa app. That puts it behind things like the Polk Command Bar, which have Alexa built in. By now, Bose really should have changed this - hence its slightly lower ranking.
There's still plenty to recommend here, though. The soundstage is huge - you can sit just about anywhere in the room and get the full picture. It's worth noting that you'll need additional speakers,  including a subwoofer (unlike many bars, this one is absent a low-frequency driver). You may need to spend more money on this than you think. However, if you can live without the additional speakers, you'll still get a solid sound system here.
See the Bose Soundtouch 300
 

Smart Assistant: None
Subwoofer Included: No
Connectivity: Bluetooth / Wi-Fi
What We Like: Ease of use, killer sound, great setup.
What We Don't: Requires that you're locked into the SONOS ecosystem, lacks smart functionality.
It's not often that we describe soundbars as sexy, but the Sonos Playbar is dead sexy. With its curved edges, end grills, and metallic highlights, this is a model you'll want to show off. And there's a lot to recommend inside the casing, too. There are nine speakers – six midrange and three tweeters – as well as nine amplifiers. Although you really do need to add a sub to get the full cinema experience, this model will charm you straightaway. That applies not only to its silky sound and exterior but it's dead easy setup, which relies on two cables. The value is good, too, if slightly less than the Bose Soundtouch 300, above.
The entire SONOS ecosystem works fantastically well. Because you can pair speakers, this system is ideal to hook up with something like the SONOS PLAY:5. Be warned that there are no HDMI connections round the back - this is a system that relies solely on optical - and you'll need to be OK with being locked into the SONOS ecosystem of speakers. No playing nice with any existing ones you own! It also lacks the native smart system functionality of the newer BEAM. So, take a look at that if you want to use voice commands.
See the SONOS Playbar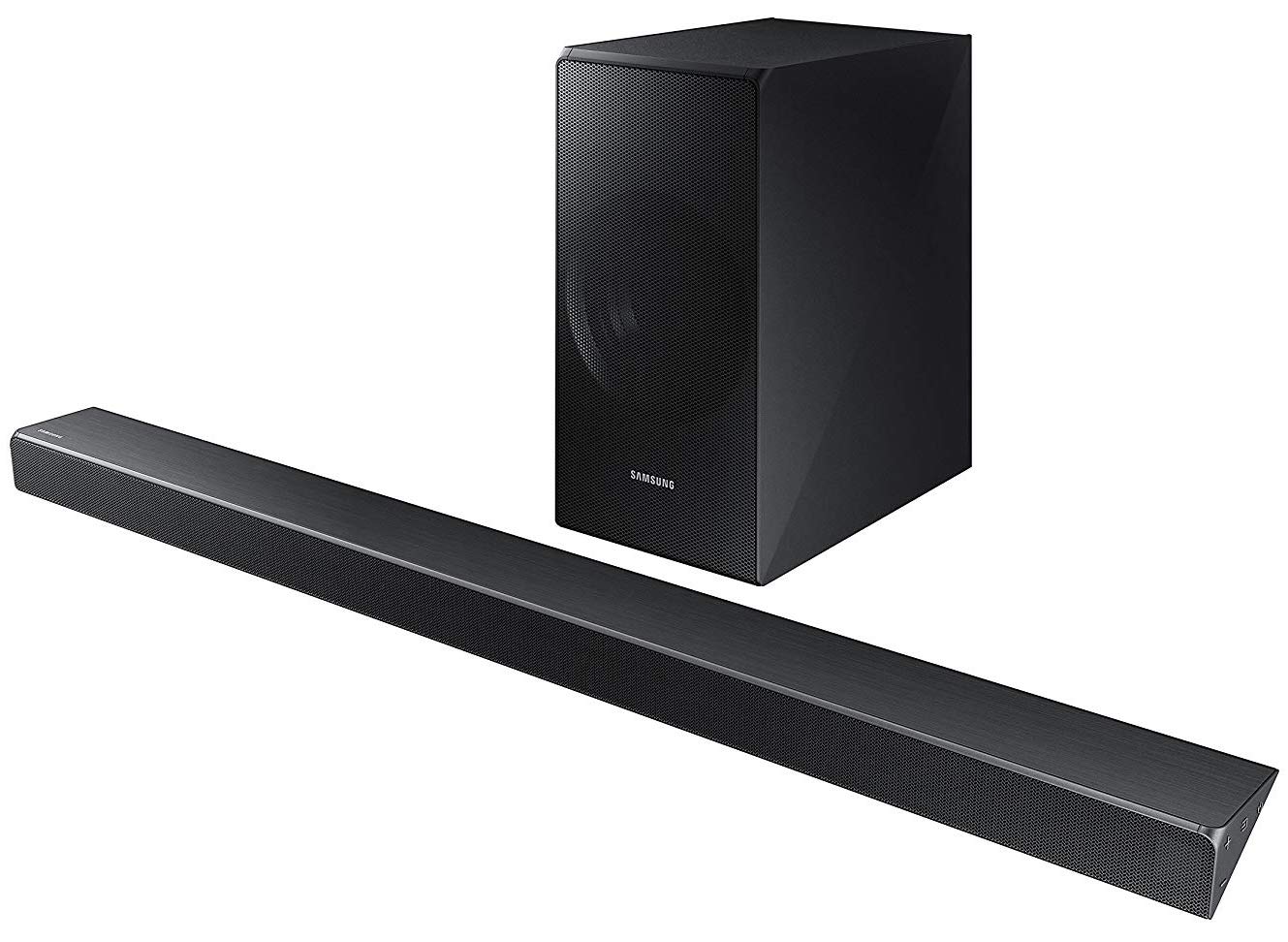 Smart Assistant: None
Subwoofer Included: Yes
Connectivity: Bluetooth
What We Like: Decent features, price, and sound quality.
What We Don't: Lacks Wi-Fi, design is lackluster.
This newer bar from Samsung is nowhere near as good as the similarly-priced Polk Command Bar and SONOS BEAM. It lacks any wireless functionality, which rules out the addition of smart assistance at a later date, and means you won't be able to use things like Google Chromecast. The design is also, frankly, a bit meh. If you have to choose between the Polk or SONOS and this, it's no contest.
However, as a no-frills soundbar that offers solid sound quality, this is a decent pick. In particular, we want to single out the soundstage, which delivers precise imaging – perfect for movies. There was some debate about whether to put this bar ahead of the Yamaha YAS-207, but in the end, this is a more expensive model doesn't offer quite as much. It's still a worthwhile alternative, but we'd like to see Samsung pushing the bar a little bit more in future releases – so to speak.
See the Samsung HW-N550

Smart Assistant: Amazon Alexa (With additional speaker)
Subwoofer Included: No
Connectivity: Bluetooth/Wi-Fi
What We Like: Incredible surround sound - far better than just about every bar on this list.
What We Don't: The YSP-5600 is enormous, and expensive.
For most people, the Yamaha YSP-5600 is simply going to be way over-budget. It's the most expensive soundbar on this list, and while it is very good – for reasons we will come to shortly – it definitely can't compete with even slightly-less-expensive models. The Samsung HW-K950, for example, delivers a much more rounded experience. Unfortunately, this is a bar with a very specific use, and it's one that most people won't need.
However, if you do, you're in for a wild ride. This seven-channel soundbar (7.1.2, if you spring for a sub) delivers some of the most convincing surround sound we've heard outside of a full home theater setup. You'll experience rich dynamics, thumping bass, exciting imaging, and a truly staggering amount of detail. Yamaha's IntelliBeam tech allows the inclusion of Dolby Atmos - meaning you get incredible surround functionality without having multiple speakers dotted around your room. Yes, you will pay through the nose for it, but it's the kind of soundbar that has to be heard to be believed. Note that, like the Bose Soundtouch 300, you'll need an additional Echo speaker to take advantage of the Amazon Alexa function.
See the Yamaha YSP-5600
 

Smart Assistant: None
Subwoofer Included: Yes
Connectivity: Bluetooth
What We Like: Excellent audio quality, terrific wireless subwoofer.
What We Don't: Useless remote, no front display.
Old it may be, but Pioneer's SP-SB23W is still a beast. If you can't be bothered with all this newfangled smart assistant nonsense, and you want a bar with a subwoofer that's among the best we've ever heard, then this is the one to go for.
No, seriously: the subwoofer is excellent. It beat the snot out of the identically-priced Polk Command Bar, in terms of low-end, and is fully wireless. This makes it easy to position, and you'll find that you're able to get terrific low end no matter where you put it. The soundbar may have its faults – a rubbish remote among them, as well as no external display. It's also old, and definitely due an upgrade. But you've got to admire its staying power. With over four-hundred reviews on Amazon (only the SONOS PLAYBAR has more) it's definitely a firm favorite.
See the Pioneer SP-SB23W

Smart Assistant: None
Subwoofer Included: Internal
Connectivity: Bluetooth
What We Like: Disappearing display, sturdy build.
What We Don't: Very large, can't connect external subs, not great for music.
 
At first glance, the ZVOX SB500 might look like a gigantic version of Skullcandy's Barricade - sorry, ZVOX - but we can assure you it sounds at least slightly better. Maybe not $300 better, but better. The SB500 consists of three 2" main drivers, and dual built-in subwoofers - not only is there no external subwoofer, but you can't plug one in even if you wanted to. This is, perhaps, the SB500's greatest downfall. And despite having ample internal bass, it doesn't give you a ton of options.
The soundbar's optimal setup is wall-mounted, though it doesn't actually come with the wall mount - just hanger slots built into the back panel. Efficient, but slightly daunting if you live in an earthquake zone. There's also no HDMI, which eliminates your ability to include other devices in your setup. But on the plus side, the SB500 features a disappearing digital display, which is a refreshing improvement from the constant, flashing blue lights of devices like your wireless router - a luxury you didn't know you needed until now. This soundbar also includes several sound options, like AccuVoice, which use hearing-aid technology to enhance dialogue. The sound has been described as three dimensional, using ZVOX's unique PhaseCue Virtual Surround Sound. Realistically, this is a 3.1 setup that aims to achieve the full surround sound meal deal. It's not exactly the home theater experience you'd expect from something like the Samsung HW-K950, but definitely add it to your wishlist if you're looking for a user-friendly, all-in-one soundbar.
See the ZVOX SB500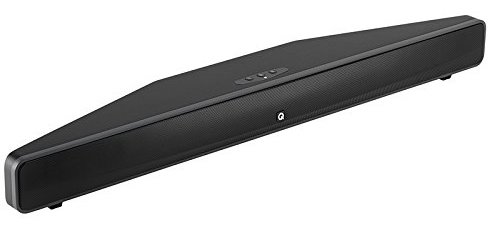 Smart Assistant: None
Subwoofer Included: Internal
Connectivity: Bluetooth
What We Like: Great remote, easy setup.
What We Don't: The internal subwoofer isn't very good.
Although it's far from the best soundbar on the list, the Q Acoustics Media 4 makes a good account of itself, and it definitely belongs on here. Its sound quality has nothing on the cheaper Pioneer SP-SB23W, which has far better definition and bass. This bar only has an subwoofer, and in addition, lacks HDMI outputs. Those can be serious black marks against a bar, and it's something we want Q Acoustics to fix for the inevitable Media 5.
That being said, it definitely has its pluses. It's super-easy to set up and run, with an excellent, simple remote. And while the sound isn't audiophile quality, it definitely delivers, creating a reasonable impression of home theater sound. This is despite the lack of extra channels. Ultimately, you go for this one if you wanted a very simple improvement on your TV sound, or you're trying to fill a small room. Otherwise, you may want to go for something with an included subwoofer.
See the Q Acoustics Media 4
 

Smart Assistant: None
Subwoofer Included: Internal
Connectivity: Bluetooth
What We Like: Excellent surround sound, recently undergone a major price drop.
What We Don't: Design isn't amazing.
An under-the radar-pick that, despite being massively overpriced when it first came out, has dropped to a far more budget friendly $399. We'd still pick the ZVOX SB500 soundbar over this one, but if you find you don't need full 7.1 surround, then give it a shot.
The Focal Dimension delivers an excellent imitation of 5.1, and even manages to get the bass right with its built-in subwoofers - although you can add in one of their external models. The aluminum chassis and set of five speakers do a stellar job with the audio, particularly excelling in delivering a very passable impression of surround sound. It must be said that we're not hugely enamored with the design, which looks a little too blocky and angular, but that's a minor point, and we can't see it mattering all that much. If you have money to burn, don't care about the design, and you don't want to upgrade to a full surround system just yet, take a look at the Focal Dimension.
See the Focal Dimension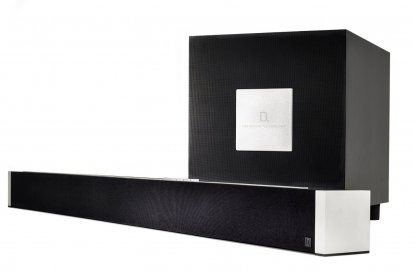 Smart Assistant: None
Subwoofer Included: Yes
Connectivity: Bluetooth/Wi-Fi
What We Like: One of the best external sub combos out there.
What We Don't: Doesn't beat the big boys.
Def Tech, as we all but inevitably call them in our offices, make some excellent soundbars. We criminally left them off the list last time, so let's fix that. We prefer the W Studio from their lineup, although they make some superb other models, including the Mythos range. It's an excellent alternative to the Bose, if you want even more bass and raw power.
This is a fully Wi-Fi-capable soundbar with a superb external subwoofer that deserves its place on this list. The Sound is both effortless and elegant. The latter adjective could easily describe the design of the sub and bar themselves, which look absolutely gorgeous. While we thought the detail in the audio was a little bit lacking at times, it certainly didn't lack for bass, or midrange warmth. It also did a decent impression of a full surround system, which is something we value. Control is done via Def Tech's excellent smartphone app, making setup a breeze. In general, this is a fantastic all-around soundbar - although of course, its price puts it into an exclusive bracket.
See the Definitive Technology W Studio
 

Channels: 2.0
HDMI: 0/0
Subwoofer: No
What We Like: Big improvement on earlier models.
What We Don't: No subwoofer included, although there's an output for one.
Monitor Audio have always been a hugely impressive brand, and with this update to their soundbar line, they've done it again. We included the ASB-2 on this list last year, and the 10 further improves the sound and functionality. The 100 watts of power this thing puts out is driven by four impressive amplifiers, all of which have been expertly paired with the existing driver setup. We don't think it offers quite as good value as the Klipsch above, but still: decent bar.
While the bass isn't underpowered, it's worth bearing in mind that there is no subwoofer included in this model, although there is the option available to add one. Outside of that, there's very little to dislike here. You even get some highly efficient Bluetooth, running on the excellent aptX codec. Monitor have a little way to go if they want to break into the upper echelons of this list, but for now, we can easily recommend the ASB-10, and we can't wait to see what the company does next.
See the Monitor Audio ASB-10
 
Smart Assistant: None
Subwoofer Included: Yes
Connectivity: Bluetooth
What We Like: 200 watt wireless subwoofer, expansion options.
What We Don't: Lack of subtlety, dubious remote, not good for music.
Like most JBL speakers, the SB 450 is powerful and loud - perhaps even obnoxiously so. The overall, room-filling sound is enticing, but not recommended for musical playback, and probably shouldn't be used at max volume after hours. We blame the massive, 8" wireless subwoofer, which is overkill for everyday use. It handles explosions like a champ, though, and if you're an action movie fan and don't care what your neighbors think, this is the soundbar for you.
The SB 450 features three HDMI inputs, unlike the more expensive ZVOX SB500, which means you can connect multiple devices at once. This turns the SB 450 into a major audio hub in your home. By downloading the JBL Connect app, you can also use it in unison with other wireless JBL speakers - the easiest way to make a true 5.1 setup. One further thought: the SB 450 does come with its own remote, but it's not great. Our suggestion is that you just don't use it - leave it in the box, and connect the remote you already have. Worth noting: JBL also offers multiple versions of the SB 450, including 2.1, 3.1, and 5.1.
See the JBL Cinema SB 450
 
And For When You Win The Lottery: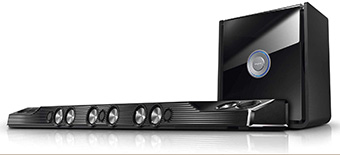 Smart Assistant: None
Subwoofer Included: Yes
Connectivity: Bluetooth/Wi-Fi
What We Like: The Creative X-Fi will destroy your house.
What We Don't: You'll be paying $4,000 for the privilege.
Do you require the maddest soundbar in existence? Are you absolutely jammed with cash? Do you have no sense of style or subtlety? In that case, the Creative X-Fi Sonic Carrier is for you. It is, by some margin, the most insane soundbar ever created: an 11.2.4-channel beastie, with its speakers driven by seventeen amplifiers. It won't deliver surround sound that the cheaper Yamaha YSP-5600 does, but you'll simply never find a more powerful or impactful soundbar. At 1,000 watts of RMS power, and 2,000 peak, it rivals most major high-end subwoofers for sheer energy.
You also get things like room calibration, SD card slots, a serious wireless subwoofer, and more. Having said that, there are some puzzling options, like the lack of Amazon Alexa functionality. Powerful it may be, but it feels a little like it's stuck in the past. However: if you want something that's not only going to impress the neighbours but send them scurrying for the hills, this is an excellent place to start.
See the Creative X-Fi Sonic Carrier

Comparison Table:
*Sub = Subwoofer Included?
**Conn. = Connectivity
Want Even More Master Switch? Sign Up For Our Weekly Newsletter!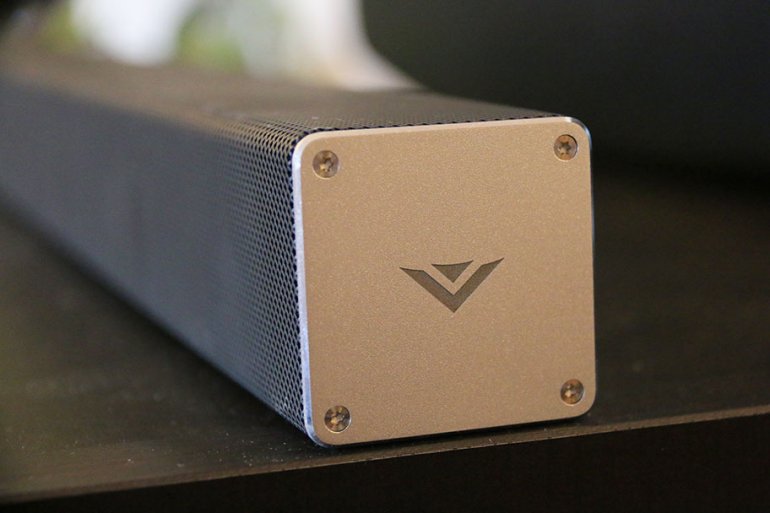 Buying Advice:

What Is A Soundbar?
Before we actually start giving general buying advice, it might be useful to break down exactly what constitutes a soundbar. It used to be that, if you wanted to improve the sound in your living room, your only option was a separate amplifier or receiver, and discreet speakers and a subwoofer. You had to connect these up to your TV, fighting with speaker wires all the way. That's changed. Now, you can get all of this included in a simple solution that can be positioned right in front of your TV, or on the wall above it.
That is a soundbar. It's a long, thin set of speakers, designed to encompass the full sound spectrum in one handy package. Usually, but not always, it will come with separate subwoofer – this is because soundbars don't have the power to generate really good bass, which means this particular task has to be outsourced to another box. We talk about this a little more below. This isn't always the case, however, and even if you don't have a subwoofer, you'll still be able to get excellent sound. It also helps that soundbars are generally a lot cheaper than separate home theater systems, making them much more appealing proposition for those who live in apartments, for example.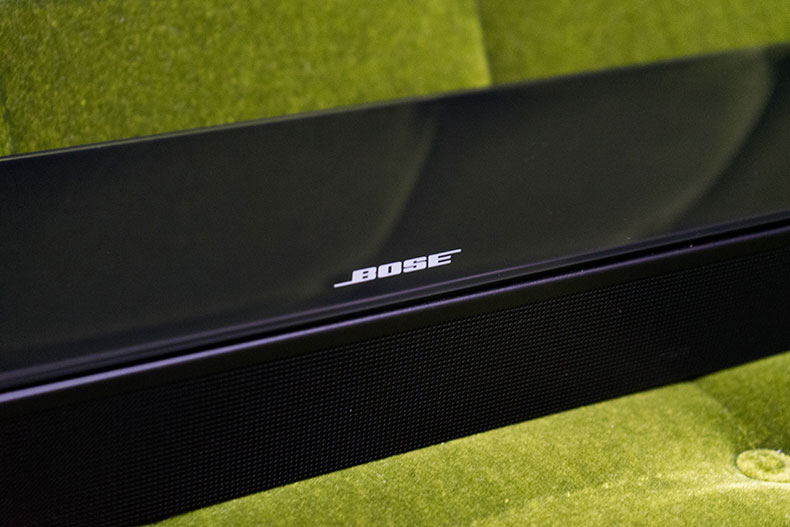 Soundbars and Virtual Assistants: Amazon Alexa vs. Apple Siri vs. Google Assistant
You'll notice the one thing we've paid close attention to in our list is whether or not a given soundbar has a virtual assistant included. Several do, including the two soundbars that top our list. The Polk Command Bar is at the number one spot for a reason, and part of that reason is its seamless integration of Amazon Alexa. But is it worth bothering with smart assistance for your soundbar? And if you do, which one should you pick?
Smart assistants certainly aren't going to be taking over the world at this point – just ask Alexa to navigate Spotify – but they can be very handy for things like soundbars. Whether it's controlling volume, changing sound presets or even navigating your smart TV, yelling commands at your bar from the couch is an intuitive way to control it. But it's worth bearing a couple of things in mind. Firstly, it's very rare to find anything other than Amazon Alexa and Apple's Siri right now. Even then, the latter is only likely to be added in the coming months – just check out the amazing SONOS BEAM, which is ready to go with Alexa but doesn't have Siri integration yet. You're also no likely to find Google Assistant on any current bars - although, several manufacturers say they plan to added at a later date.
It's also worth paying attention to whether your chosen virtual assistant is integrated within the bar itself, or if you require a separate smart speaker. Perfect example: the Bose Soundtouch 300, which works just fine with Alexa but asks you to have a separate Amazon Echo speaker to make it work. And as for which one you should choose? At this point, most virtual assistants are very close in functionality. This is especially true for controlling music, which isn't all that complicated for virtual assistants to figure out. Our take? You should pick the one that you feel most comfortable with. If you have a choice, go for Amazon Alexa, which is a little bit easier to use than Siri. Google Assistant is arguably better than both of them, but it isn't widely available yet.
 
Soundbars vs. Home Theater: Dolby Atmos and DTS Explained
One of the most common things we encounter here at The Master Switch is the idea that soundbars just aren't worth anyone's time. The consensus seems to be that it's best to skip them and upgrade straight to a home theater system. We have a real problem with this, and we strongly disagree. It's true that soundbars are not going to compete with a full 5.1 or 7.1 surround sound system, but then again, they aren't designed to. You choose a soundbar if you want convenience – which is something that even the most diehard home theater fan would admit a regular surround setup doesn't have – or if you have a smaller space that doesn't require or can't fit multiple speakers.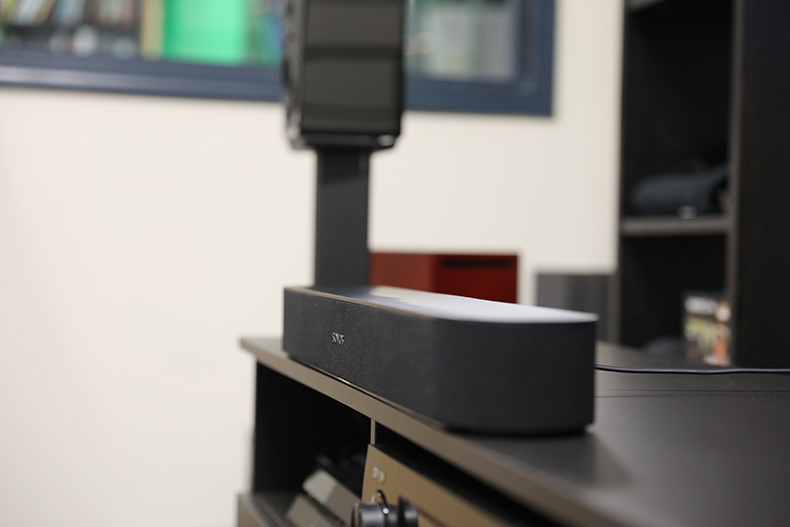 You may notice that several of the bars on this list have a channel rating of 5.1 or 7.1 - or even, in the case of the absurd Creative X-Fi Sonic Carrier, 11.2.4 – yet they are still distinct from pure surround sound home theater systems. What gives? In this case, the number refers to the number of individual speaker channels in the bar (and included subwoofer). It is not necessarily meant to indicate surround sound, whatever the manufacturers might say. Truth be told, it's actually a little difficult to get genuine surround sound when the sound source is a single bar below your TV. Don't get us wrong, plenty of the soundbars do an excellent job with positioning and spreading the audio around, but it's not going to be as good as having multiple speakers. But! As always, there's an exception to the rule.
Some of the bars in the list come with separate satellite speakers, as well as a subwoofer. That allows you get at least 5.1 sound - three channels in front, two satellite ones on the side, and a subwoofer. All the same, you shouldn't expect the quality here to be as good as a dedicated 5.1 system, which will generally have a receiver capable of doing more intricate positioning than the circuits in your soundbar. In almost all cases, we'd say that, if you want surround sound - the real thing - you should get a home theater. But if you don't, then a soundbar is fine.
It's also worth knowing about Dolby Atmos and DTS. We have a much more fully-featured, in-depth explanation of what Dolby Atmos and DTS are here, but here's a quick primer. They are both surround sound software programs that translate audio coming from a source and direct bits of it where to go, in order to create the illusion that the sound is all around you. Dolby Atmos has a specific way of positioning sound that uses multiple speakers to create very precise imaging, while DTS (which comes in various flavors, like DTS:X) is less precise, but doesn't require things like height speakers. So, how do manufacturers pack these software programs into soundbars, which, of course, are all single boxes? The answer is, they don't – not really. What they do is include software that uses their speakers to create a decent impression of these surround sound programs - meaning that you can play a source that was mixed for Dolby Atmos out of your soundbar, and still have it sound damn good.
It's not going to be as good as a full home theater, of course, but it's crazy convenient. Really, that's the main reason to go for a soundbar. It pulls its weight in a major way here, and offers sound that is almost as good as a full speaker system. It's often said that this isn't the case, but we challenge anybody to sit down in front of something like the Yamaha YSP-5600 and not be absolutely awed. Bottom line: if you feel like multiple speakers would be too much hassle, or you don't have the space or inclination to get them, then a soundbar could be ideal for you.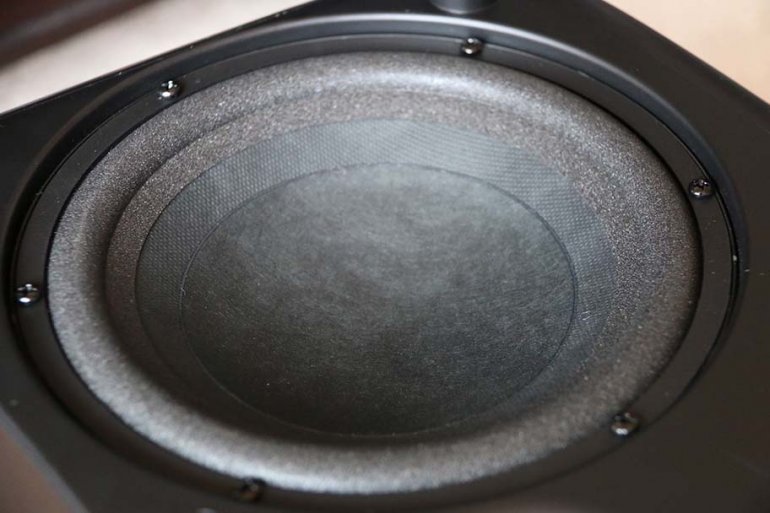 Soundbars vs. Soundbases 
Another common question we get: should one go for a soundbar, or a soundbase? The latter, if you didn't know, is a rectangular box that sits directly underneath your TV. It packs in all the different types of speakers, including a subwoofer, into a convenient package that doubles as a TV stand. In contrast, a soundbar often separates the speaker systems, putting midrange and treble drivers into a slim bar, and usually, but not always, having a separate subwoofer.
Each of them has several advantages and disadvantages. As a rule, soundbases cost a little bit more than soundbars, but in contrast, there aren't nearly as many options out there – it's much harder to get them then it is to get a good soundbar. While they do tend to sound better, this isn't always the case, and they are also almost always heavier, as well as taking up significant space. Soundbars have the advantage of being attached cheaper (sometimes), as well as lighter and more versatile. To be honest, however, you could go for either, purely based on how much space you have under and around your TV. Here at The Master Switch, we've tried both, and we like both! If you want more information, we've got a whole guide devoted to picking between the two (with a handy explainer video!)
 
Soundbar Subwoofers Explained
It's not uncommon to see soundbars being packaged with an included subwoofer. This is because a soundbar's enclosure isn't always ideal for handling the low notes, which subwoofers are built to do. So when you see one packaged with your soundbar, don't freak out about paying for equipment you don't need. Well, technically speaking, you don't need a subwoofer, but it's very handy to have one. Your bass-loving friends will thank you.
Of the soundbars in the above list, there is a roughly even split between those that come with an external subwoofer, and those that incorporated into the actual bar itself. In almost all cases, we greatly prefer having an external subwoofer, which tends to deliver better low end. Having said that, we fully acknowledge that our top pick, the Panorama 2, doesn't include an external subwoofer, while our number six pick, the Definitive Technology W Studio, does! Ultimately, this is probably a less important decision than deciding what kind of soundbar you want. We'd say definitely go for a sub woofer if you have the space, but don't put too much thought into it. Any bar on this list is going to give you decent low-end.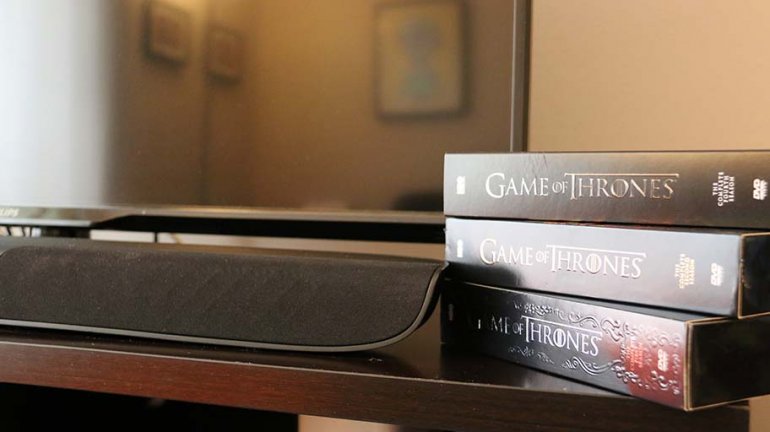 Integrating A Soundbar Into An Existing System
While we can't really recommend switching to a soundbar if you already have a full surround system, you can certainly use it with any existing speakers you might have. We'd love to give you precise instructions on how to do this, but there are so many different soundbar/speaker combinations available that it's impossible. Any soundbar worth a place under your TV will come with instructions on how to do this. Generally speaking, a good setup to start with is a pair of small bookshelf or surround speakers, a subwoofer, and the soundbar itself in the center.
Be warned: soundbars are great - we wouldn't feature them here if they weren't - but they're not home theater systems. They produce killer sound, but if you're expecting to blow your walls to pieces, you might want to look elsewhere. Essentially, soundbars were invented for convenience, and if you have a situation where home theater isn't appropriate, then you should get one. Like, right now.
A further thought on buying soundbars. There's a school of thought that it makes sense to buy a soundbar from the same people who made your TV, the logic being that the two products will be matched in some way. You could, for example, pair a VIZIO SB3621 with a VIZIO TV. We'd say this is a little exaggerated, as the audio and visual departments in the same company can often be quite separate. That being said, it's certainly not a bad idea. Although we haven't seen any concrete evidence that it makes a noticeable difference, it still perfectly legitimate buying strategy.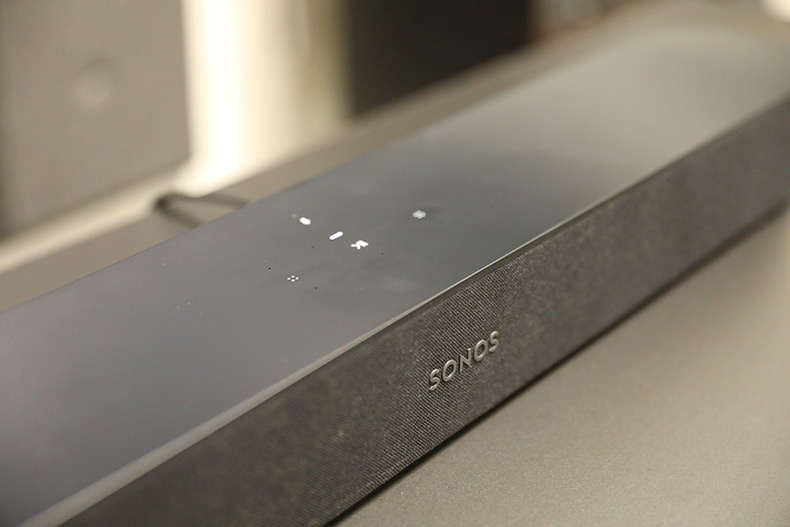 Soundbar Inputs: HDMI vs. Optical
These two terms refer to the type of connections on the back of the soundbar, and we have…shall, we say, strong opinions about them. The basics first. HDMI (High-Definition Multimedia Interface) is a slim multi-pin connector with a distinctive shape. Chances are you probably use them already to, for example, connect your games console to your TV. Optical connections actually use lights to transfer audio, and are thin, bendy little wires with a distinctive connector at the end.
To complicate matters, several of the big soundbar manufacturers are actually ditching HDMI entirely. It's less of an issue than you might think, especially with the advent of optical connections. It doesn't stop models like the ZVOX SB500 placing high on the list. That being said, HDMI is better. We are absolutely convinced about that. Not only does it allow you to use high resolution codecs like Dolby TrueHD or DTS HD Master Audio, which optical does not, but we think it offers slightly better sound quality. In addition, the cables are cheaper, and often a lot more robust. If you have the choice, go for HDMI. You may run into cases where you send audio out from your TV into the soundbar, and it doesn't pass along a surround signal, but these are few and far between.
 
Wireless Streaming Explained
One of the most popular uses of soundbars these days is as actual music systems, and almost all of them will have streaming capabilities in one form or another. In most cases, this takes the form of – you will be absolutely stunned to hear – Bluetooth and Wi-Fi. While neither are quite as good as regular wired connections, in terms of quality, and both definitely have their downsides, in terms of dropouts and crowding existing networks, they can be an amazingly convenient way of listening to music.
Surprisingly, not every soundbar will have Bluetooth included. We have mixed feelings about this. On the one hand, it's nice to have for convenience, but on the other, we wouldn't really advocate doing music listening at home via Bluetooth anyway, except in certain circumstances. There's just no need. While we've indicated whether a soundbar has this feature in our comparison table, it definitely shouldn't be the first port of call when you're buying. Far more important, and interesting, is a wireless connection. If you can get your soundbar connected to your home Wi-Fi, you open up a huge number of possibilities, including being able to control it with an app on your phone. Some bars, like the SONOS Playbar, actually rely on home wireless to function. Others, like the budget VIZIO bar at the bottom of our list, have nifty features like Google Smartcast. If this aspect is important to you, you'll find plenty of options in our picks.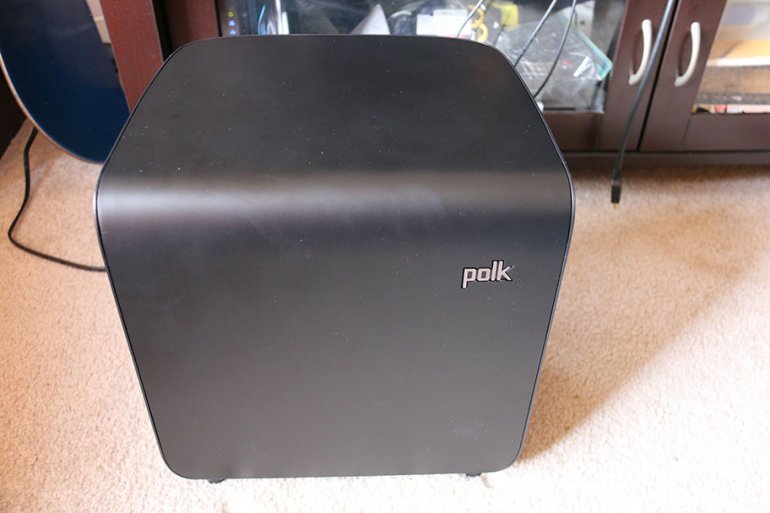 Soundbar Power and Wattage Explained
Power in soundbars is treated a little bit differently to power with other speaker systems. They are similar in that they are both given as wattage, which is a measure of power – roughly, how loud something will be at a given volume level. It's not a perfect comparison, but it works for our purposes here.
With those systems, you have to take into account matching the amount of power coming out of the amplifier to the amount of power the speakers can handle. A mismatch can result in sound that is a little bit less detailed or louder than one might like. At the very worst, you'll get a blown set of speakers. That's not the case with soundbars, because the amplifier and speakers are all contained in a single unit, and have been matched already. There's no need to do any matching yourself. That's why we give our wattage ratings here as total wattage, which is the output of all the speakers in a soundbar, firing simultaneously. One of the frustrating things, however, is that manufacturers often don't indicate whether the rating they give is RMS/continuous wattage, or peak/dynamic wattage. The former refers to the power level over a long period of time, while the latter is how much power the speakers can put out if turned to the absolute maximum. Obviously, we disregard that one, and only look at RMS/continuous power. Except, in almost all cases, manufacturers of soundbars don't say whether the wattage is one or the other. That means it's a little harder to trust these wattage specifications than we'd like. Take them with a very big grain of salt.
 
What Size Soundbar Should I Buy? Length Explained
The length of the soundbar has absolutely no effect on the sound. We've seen small 30" soundbars get louder than 45" monsters. It's all about the number of speakers contained in the bar, and how much power they have. Soundbars can be small and still have huge power, simply by including a huge external power brick. You still need to consider length when you buy, but it's got nothing to do with audio quality.
Here's what sometimes happens. You order yours off Amazon, have it delivered, unbox it… Only to find that it's far too long for your actual TV stand. The ends stick out comically, or worse, actually wedge themselves up against something. Also, a soundbar that is too long or too short for the actual TV just looks a bit weird. Fortunately, we've included individual lengths in our comparison table above, which means you should be able to get an idea of just how long each soundbar is, and how much space it's going to take up. To that end, we cannot stress enough that you need to actually measure just how much space you have before making a purchase. Again, you'd be surprised how easy is to forget this in the excitement of getting new audio gear. That being said, most soundbars do fall within a general range, from around 34" to 48". The shortest on our list is the Polk MagniFi Mini, at 13.4" long, while the longest is the Samsung HW-K950 at 47.6". There are plenty in between those, so you should be able to find a suitable length for your TV.
Learn More About Home Theater Speakers