Most home theater systems aren't designed for the surroundings that most of us live in. If you stay in an apartment, especially one with a small lounge, then a surround sound system is going to give you iffy results and annoy your neighbours. You may want to go for something a little more self-contained: a soundbar. Essentially, these units pack all the sound equipment you could possibly need into one convenient container. The best part about soundbars is that they are modular, meaning you can freely add other components, like a subwoofer or floorstanding speakers, as your needs grow. And if you've recently bought a super-skinny flatscreen TV, you're definitely missing out on the sound that picture deserves. The soundbar has been the answer for those looking for big sound in a sleek package, and below we've covered the best soundbars in the market for this year.

How We Choose:
As soundbars have exploded in popularity, so too have the numbers of models available. The ten here represent the absolute best available, and any will be an excellent addition to a home setup. We made our picks based not only on price, but on overall quality and unique features, too. Whatever your budget, you'll find something to love here. And please note that at the time of writing, all prices were correct - we try to update regularly, but sometimes prices fluctuate faster than we can write!

Our Soundbar Picks:

Weight: 31.1lbs
Dimensions: 44" x 7.2" x 5"
Wattage: 100
Channels: 5.1
HDMI: 3/1
Bluetooth: No
Subwoofer: Internal
What We Like: Mindblowing audio quality matched with dead-easy setup.
What We Don't: Works best in big spaces.
With the soundbar market as competitive as it is, it takes something pretty special to snag our number one spot. We believe the Bowers & Wilkins Panorama 2 is that special something. At this level, there's so much competition that you could genuinely make an argument for other bars at this position, but we firmly believe that in terms of bang for your buck, this is the best out there – although to get the best of it, you'll need a relatively big space.
What blew us away with the Panorama 2 was the effortless stereo imaging, no matter where we were in the room. It's got an enormously wide spread, thanks to careful placement and tuning of its nine assorted drivers. It doesn't come with an external subwoofer, but it does have an internal one – two, as a matter of fact – and it comes with a subwoofer pre-out if you feel the need to attach an external box. (B&W state in their documentation that it's technically a 5.1 channel unit, despite the lack of external sub). Chances are, though, you'll probably be quite happy with the thunderous noise that this thing puts out. If you disagree with us, and think another bar should be up top, feel free to duke it out in the comments below!
See the Bowers & Wilkins Panorama 2


Weight: 15.9lbs
Dimensions: 44.5" x 5.2" x 3.5"
Wattage: 800
Channels: 7.1
HDMI: 3/1
Bluetooth: Yes
Subwoofer: Yes
What We Like: Superlative sound, fully wireless subwoofer, huge power.
What We Don't: Still quite pricey.
Although Sony tends to improve their products by tiny changes rather than sweeping ones, the clumsily-named HTST9 (we don't want to tell you how many times we had to double-check to see if there was a hyphen in the name) is still by some margin the best soundbar currently available right now.
You've got seven channels, plus a wireless subwoofer, all outputting 800 watts of power – more than enough to do a very impressive imitation of a full surround system. The price may be a little too weighty for our tastes, but there's no denying that this is an absolutely superlative piece of equipment: a bedrock buy that will keep your ears happy for years to come. If we were to list the full range of features packed into this thing, we'd be here for quite a while – check the in-depth specs page on the Sony website for more. Everything is worth having, and we've got no hesitation in putting this one at the top of the list. It's magnificent – as long as you can afford it.
See the Sony HTST9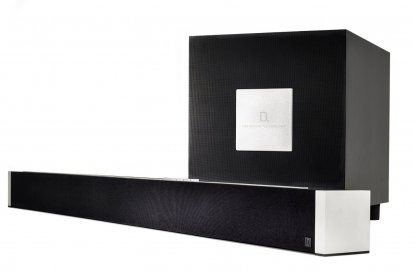 Weight: 45.19lbs
Dimensions: 43" x 3.3" x 3.3"
Wattage: 120
Channels: 5.1
HDMI: 1/2
Bluetooth: No
Subwoofer: Yes
What We Like: One of the best external-sub-combos out there.
What We Don't: Doesn't beat the big boys.
Def Tech (as we all but inevitably call them in our offices) make some excellent soundbars - and we criminally left them off the list last time, so let's fix that. We prefer the W Studio from their lineup, although they make some superb other models, including the Mythos range, which we feature below.
This is a fully WiFi capable soundbar with a superb external subwoofer that really deserves its place on this list. Sound is both effortless and elegant, and the latter adjective could easily describe the design of the sub and bar themselves, which look absolutely gorgeous. While we thought the detail in the audio was a little bit lacking at times, it certainly didn't lack for bass, or midrange warmth, and did a decent impression of a full surround system. Control is done via Def Tech's excellent smartphone app, making setup a breeze. This is a fantastic all-around sound bar, and one we highly recommend – especially for this price.
See the Definitive Technology W Studio


Weight: 12lbs
Dimensions: 45.25" x 4.5" x 4.5"
Wattage: 450
Channels: 5.1
HDMI: 2/1
Bluetooth: Yes
Subwoofer: Yes (Integrated)
What We Like: Excellent surround sound.
What We Don't: Still quite expensive.
An under-the radar-pick that, despite being massively overpriced when it first came out, has dropped to a far more budget friendly sub-$1000. We'd still pick the Sony over this one, but if the price drops further and you find you don't need a full 7.1 surround imitator, then give it a shot.
The Focal Dimension delivers an excellent imitation of 5.1, and even manages to get the bass right with its built-in subwoofers (although you can add in one of their external models). The aluminum chassis and set of five speakers do a stellar job with the audio, particularly excelling in delivering a very passable impression of surround sound. It must be said that we're not hugely enamored with the design, which looks a little too blocky and angular, but that's a minor point, and we can't see it mattering all that much. If you have money to burn, don't care about the design, and you don't want to upgrade to a full surround system just yet, take a look at the Focal Dimension.
See the Focal Dimension

Weight: 20.5lbs
Dimensions: 39.9" x 5.85" x 5"
Wattage: 100
Channels: 5
HDMI: 0/0
Bluetooth: No
Subwoofer: No
What We Like: Big sound with a lot of detail, looks terrific.
What We Don't: We think it's a little overpriced right now, lacks HDMI.
One of the better-looking and more intimidating units on this list, the Motion Vision X (which, despite being part of the Motion line, sounds to the uninitiated like MartinLogan's marketing department couldn't make up their minds) is stellar. It just misses out on the top spots, as it lacks an HDMI port, offering only optical, coaxial and analog inputs – and it isn't helped by the fact that the Motion Vision X is relatively expensive. But make no mistake: this is still one monstrous, king hell set of speakers.
It's a five-channel wonder that, despite lacking a subwoofer, is able to incorporate either a wired or wireless model. The sound offers a lot of detail and some good thump down low, and as a bonus, it's DTS PlayFi capable, meaning you can incorporate it with others because that use the same technology to create a full multiroom system – like, for example, the Paradigm PW 600 (full review here). That puts it among the more versatile of the models on this list, which is helped along by great remote and very simple setup. As we've said before, there's a lot of competition above the $1000 mark, and any soundbar in that range is going to be worth your time.
See the MartinLogan Motion Vision X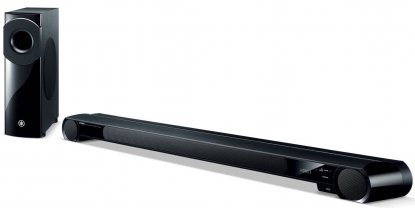 Weight: 15.2lbs
Dimensions: 43" x 6" x 3"
Wattage: 324
Channels: 7.1
HDMI: 4/1
Bluetooth: No
Subwoofer: Yes
What We Like: Massive sound.
What We Don't: No Bluetooth, huge price tag.
Weirdly, hugely expensive soundbars don't seem to exist. One of the priciest (and, it must be said, one of the best) examples available is the Yamaha YSP-4300. It's a shade under $2000 at present, and we think that's a staggering amount to pay for a bar, meaning it loses out on the top spot - especially given the wealth of features in the Sony model. But damn, this thing sounds good.Yamaha don't call this a soundbar: it's a Digital Sound Projector, with 7.1 capability and 22(!) speakers built into it, not including the wireless subwoofer. It's got Dolby TrueHD and DTS-HD capability, as well as a wealth of other features that will please any audiophile - even those who've never experimented with this particular product category before. At this point, you're probably best off upgrading to a decent home theater system, but if you love your soundbars, then this could be the one you're looking for. Just remember: there is at least one model which is just as good - maybe even a little better - and available for less.
See the Yamaha YSP-4300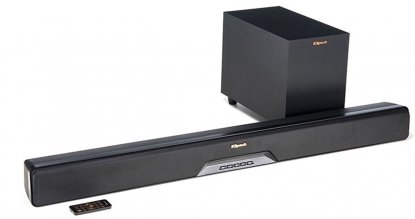 Weight: 6.5lbs
Dimensions: 40" x 3.75" x 3.75"
Wattage: 100
Channels: 2.1
HDMI: 1/1
Bluetooth: Yes
Subwoofer: Yes
What We Like: Good feature set for the price.
What We Don't: Nothing mindblowing.
In the past, a few readers accused us of having left Klipsch off this list. We decided to rectify that – although we weren't enamoured with the cries to consider the old R-20B (which we thought was vastly overrated) we do agree that the company deserves a place on this list. They make several models, and it took us a while to go through them, but we've gone with the RSB-8 – although you can easily make a case for the RSB-6 or RSB-11.
This is a surprisingly full featured sound bar, which not only incorporates things like Bluetooth, but also DTS PlayFi (assuming you can deal with their clunky app). There's a chunky external subwoofer that really does the business on the low end, and the overall sound quality is confident and assured. The looks are nothing to write home about, but then that's not something that Klipsch are typically known for. When it comes down to is that this is an excellent and slightly cheaper alternative to the SONOS Playbar, and as an added benefit, you are not locked into a particular product ecosystem. Good stuff.
See the Klipsch RSB-8
Weight: 11.9lbs
Dimensions: 35.4" x 3.3" x 5.5"
Wattage: Unknown
Channels: 3
HDMI: 0/0
Bluetooth: No
Subwoofer: No
What We Like: Ease of use, killer sound, great setup.
What We Don't: Requires that you're locked into the SONOS ecosystem.
You know, it's not often that we describe soundbars as sexy, but the Sonos Playbar is dead sexy. With its curved edges, end grills and metallic highlights, this is a model you'll want to show off. And there's a lot to recommend inside the casing, too. There are nine speakers in here – six midrange and three tweeters – as well as nine Class D amplifiers. Although you really do need to add a sub to get the full cinema experience, this model will charm you straightaway, not only with its silky sound and exterior but it's dead easy setup, which relies on two cables.
The entire SONOS ecosystem works fantastically well, especially as you can pair speakers, making this system ideal to hook up with something like the SONOS PLAY:5 (full review here). Be warned that there are no HDMI connections round the back - this is a system that relies solely on optical - and you'll need to be OK with being locked into the SONOS ecosystem of speakers. No playing nice with any existing ones you own!
See the SONOS Playbar

Weight: 11.9lbs
Dimensions: 35" x 3.9" x 3.7"
Wattage: 100
Channels: 2.0
HDMI: 0/0
Bluetooth: Yes
Subwoofer: No
What We Like: Big improvement on earlier models.
What We Don't: No subwoofer included, although there's an output for one.
Monitor Audio have always been a hugely impressive brand, and with this update to their soundbar line, they've done it again. We included the ASB-2 on this list last year, and the 10 further improves the sound and functionality. The 100 watts of power this thing puts out is driven by four impressive Class-D amplifiers, all of which have been expertly paired with the existing driver setup.
While the bass isn't underpowered, it's worth bearing in mind that there is no subwoofer included in this model, although there is the option available to add one. Outside of that, there's very little to dislike here. You even get some highly efficient Bluetooth, running on the excellent aptX codec. Monitor have a little way to go if they want to break into the upper echelons of this list, but for now, we can easily recommend the ASB-10, and we can't wait to see what the company does next.
See the Monitor Audio ASB-10

Weight: 3.6lbs
Dimensions: 14.3" x 10.9" x 7.1"
Wattage: Unknown
Channels: 2.1
HDMI: 3/1
Bluetooth: Yes
Subwoofer: Yes
What We Like: Amazing sound, great subwoofer.
What We Don't: Doesn't do anything super-special.
A relatively new model, the Cambridge Audio TVB2 is a doozy. In terms of pure tightness of sound, and how accurately audio is reproduced, this is a superb piece of equipment - although outside of that, it doesn't really do enough to justify placing it higher, and it's not as loud as some of the other models. It can also be a little tricky to track down, like much of Cambridge Audio's gear, if you live outside the UK. That's not enough to keep it off the list, however.
Cambridge Audio almost universally make good stuff, so it's no surprise that this soundbar is the way it is. Plus, you get Bluetooth streaming, an included subwoofer, and the ability to control it with your existing remote. It has the ability to actively disperse sound to approximate, if not quite replicate, a stereo field, and the tech behind this feature is called the Balanced Mode Radiator Driver. We say it's worth the price of admission, especially as an alternative to the other models: if you care about audio clarity, get this one.
See the Cambridge Audio TVB2

Weight: 10.4lbs
Dimensions: 38.5" x 4.25" x 2.2"
Wattage: Unknown
Channels: Unknown
HDMI: 1/1
Bluetooth: Yes
Subwoofer: No
What We Like: Good sound and functionality.
What We Don't: Asks for double the price to add the Bose subwoofer!
On the one hand, there's a fair amount to recommend this Bose soundbar. You get decent sound, Bluetooth and WiFi functionality, access to the excellent app, and good, solid design that will fit easily into your home.
Unfortunately, the Soundtouch 300 has a few black marks against it. First up is the price, which is huge for what you get, and doesn't even add a subwoofer unless you're willing to pay the same amount again (although it gets a plus for its ability to add in satellite speakers and function as a surround system). Second is the fact that the sound, while perfectly passable, just isn't good enough to compete with some of the other models on this list. As such, although we are happy putting it on the list, the company is going to need to make some major changes in order to make it any higher. If you like the Bose aesthetic in style, then by all means, go for it, but this isn't our first choice. It does, however, come with an extra help option if you need assisting setting it up (and have $80 to spare) which may be useful for some - although given that this is a soundbar, and therefore relatively easy to install, we can't see a huge takeup on that.
See the Bose Soundtouch 300
Weight: 10lbs
Dimensions: 43" x 5.25" x 1.6"
Wattage: Unknown
Channels: 3
HDMI: N/A
Bluetooth: No
Subwoofer: No
What We Like: The ultimate soundbar-speaker hybrid.
What We Don't: You'll need an external amplifier or receiver.
Now here's something interesting. Almost all soundbars have an internal amplifier, offering themselves as a single box solution. But Definitive Technology - Def Tech, as we call them –have done something different. They've created a three channel speaker in the shape of a soundbar, designed to be used with the traditional home theater setup where it takes the place of the front left, front right, and center speakers. That's clever thinking, and we think it's worth a place on this list, even though it's not technically a sound bar.
You'll need an external receiver to power it, as well as some speaker wire, but that's no big ask. And the sound will reward you with excellent dynamics and punch. Not everybody will be able to make use of the XTR-SSA3's functionality, or even want to, but in certain situations, it cuts down on the number of separate speaker units dramatically, and really simplifies things in a way that rewards demanding listeners. We like it, and we've got no hesitation in including it here.
See the Definitive Technology Mythos XTR-SSA3

Weight: 24.3lbs
Dimensions: 34.9" x 4.8" x 3.6"
Wattage: 200
Channels: 7.1
HDMI: 0/0
Bluetooth: Yes
Subwoofer: Yes
What We Like: A budget 7.1 soundbar? Sure!
What We Don't: Expensive for what you get.
The Yamaha YAS-203 may lack features like HDMI inputs, but it's still a superb piece of kit. It uses pseudo-surround components to project a reasonably convincing image of surround sound, and the actual audio quality is great, with real depth and punch to it. It also includes Yamaha's Clear Voice tech, which boosts dialogue, and we think it really does an excellent job of this. The sound quality is nowhere near its bigger brother, the YSP-4300, which is near the top of this list, but that's not surprising, and certainly doesn't count against it.
It's not the most showy or feature-heavy soundbar around, and if we're honest, the price tag is a little bit too large for what you're getting (which is why it isn't at our number one spot, or even close to it) but it's still good. Oh, and it comes with its own included subwoofer, like the Sony and Pioneer models. This is a great all-rounder, and as long as you're not looking for HDMI goodness, and don't mind the extra outlay, you're going to love it.
See the Yamaha YAS-203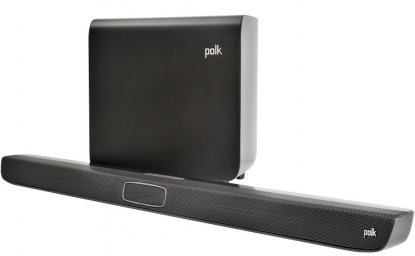 Weight: 4.75lbs
Dimensions: 38" x 3" x 2"
Wattage: 300
Channels: 2.1
HDMI: 0
Bluetooth: Yes
Subwoofer: Yes
What We Like: Superlative sound, great design, excellent value for the price.
What We Don't: Lacks subtlety.
It's big, it's loud, it has a fantastic remote, and it's one of our favourite systems. Although it's far from the most subtle bar on the market, in terms of sound, and won't be competing with the big boys for clarity and crispness, it's still one of the most pleasing to use, and certainly among the easiest. Polk really knocked it out the park with this one, and switching to it from your TV speakers is an immediate upgrade to your sound. In our opinion, this is one of the best mid-range soundbars around. The included sub is excellent, too.
This is the second Polk model on this list, and it's worth noting that the company has recently released a smaller version of this model, known as MagniFi Mini, a cute little bar less than fourteen inches long, excluding the accompanying subwoofer. We haven't had a chance to try this yet, and we are sceptical that it will compete with the models on this list, but if you've got a small space, it's definitely worth looking at. Weirdly, it's more expensive then the actual MagniFi at the time of writing, which is something we can't figure out.
See the Polk MagniFi

Weight:.6.75lbs
Dimensions: 38" x 3" x 3"
Wattage: Unknown
Channels: 5.1
HDMI: 1/0
Bluetooth: Yes
Subwoofer: Yes
What We Like: Satellite speakers included! Plus, it has a great remote.
What We Don't: Middling sound.
At this price range, anything above a basic bar and sub is relatively rare. So it's a nice surprise to see famed TV maker VIZIO offer a full 5.1 system – as in, two channel bar, two satellite speaker, sub woofer – for around $250. Plus, they throw in an excellent remote with a huge range of tuning options, and if that doesn't float your boat, there's a very good app available as well.
Unfortunately, in practice, we found that the sound was a bit of a letdown. While it had some nice detail, the bass felt woolly and unfocused, and it took an age to tune the sound to our specifications. In our full review, which you can read here, we said: "It offers a very passable imitation of full 5.1, all wrapped up in an attractive package that is intuitive to use and easy to set up. It's an immediate upgrade on your standard TV sound, at a very affordable price, and we would be churlish to suggest that you should pass it by simply because the sound isn't quite as good as it could be. Taken on its merits, it's a solid system with a couple of imperfections, and if you're looking to bridge the gap between your TV speakers and a full surround sound setup, then this is a very easy way to do it."
See the VIZIO SB3851

Specs Table:
(All measurements are for the soundbar, not the accompanying sub)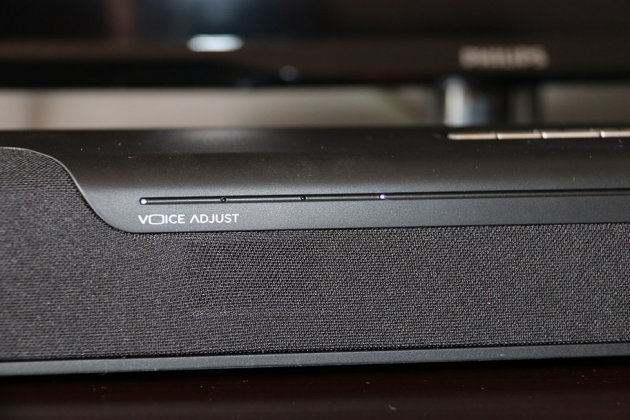 Buying Advice:

How many speakers does a soundbar have?
At the bare minimum, soundbars will include two sets of speakers: mid range ones, and high range ones (known as tweeters). There can be as few as three and as many as eight, and the more and larger speakers included, the more powerful sound will be. The more expensive a model is, the more speakers the manufacturer is likely to have shoehorned into the housing.
The speaker setup inside a soundbar is often expressed using terms like 2.1 or 5.1. The 5 or 2 or whatever refers to the number of mid range and high range speakers in the unit, and the number after the point (usually 1) indicates that there is a subwoofer packaged along with it. Do not mistake these numbers for surround sound - they're not.

Can I use it with an existing system?
Yes, absolutely. While we can't really recommend switching to a soundbar if you already have a full surround system, you can certainly use it with any existing speakers you might have.
We'd love to give you precise instructions as to how to do this, but there are so many different soundbar/speaker combinations available that it's impossible. Any soundbar worth a place under your TV will come with instructions on how to do this. Generally speaking, a good setup to start with is a pair of small bookshelf or surround speakers, a subwoofer, and the soundbar itself in the center.
Be warned: soundbars are great - we wouldn't feature them here if they weren't - but they're not home theater systems. They produce killer sound, but if you're expecting to blow your walls to pieces, you might want to look elsewhere. Essentially, soundbars were invented for convenience, and if you have a situation where home theater isn't appropriate, then you should get one. Like, right now.
A further thought on buying soundbars. There's a school of thought that it makes sense to buy a sound bar from the same people who made your TV, the logic being that the two products will be matched in some way. You could, for example, pair a Sony HTST5 with a Sony TV. We'd say this is a little exaggerated, as the audio and visual departments in the same company can often be quite separate. That being said, it's certainly not a bad idea, and although we haven't seen any concrete evidence but it makes a noticeable difference, it still perfectly legitimate buying strategy.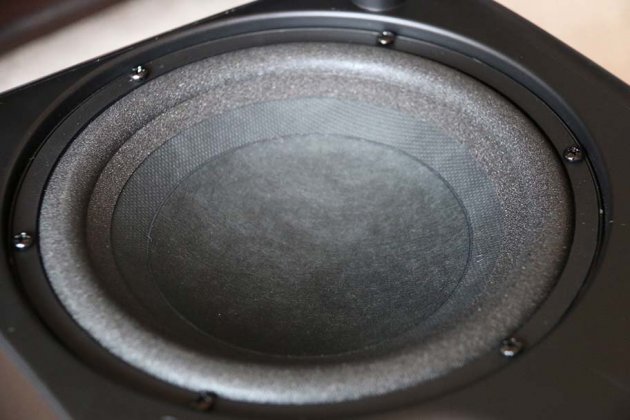 What about the subwoofer?
It's not uncommon to see soundbars being packaged with an included subwoofer. This is because a soundbar's enclosure isn't always ideal for handling the low notes, which subwoofers are built to do. So when you see one packaged with your soundbar, don't freak out about paying for equipment you don't need. Well, technically speaking, you don't need a subwoofer, but it's very handy to have one. Your bass-loving friends will thank you.
You may also want to consider replacing the subwoofer that comes included with your soundbar. Don't misunderstand us, the included model will still be workable, it just won't be the best. That would be these right here.

HDMI Explained
HDMI stands for High Definition Multimedia Interface. It's a way of getting uncompressed video and audio data from one device (like a TV) to another device (like a soundbar). All you need to know is, if your soundbar has a flat little plug in the back with multiple prongs, then you're in line for some genuinely great sound.
You don't need HDMI ports on a soundbar for it to work properly. You can quite happily contact it to your TV using a regular optical cable, and forget about it. But if you watch a lot of Blu-rays, especially ones that boast of lossless sound codecs (like Dolby or True:HD, then you'll need these ports to get the best sound out of them.
Again: these are nice to have, but not essential. Check our table above if you don't need them - there are plenty of soundbars without any HDMI ports at all.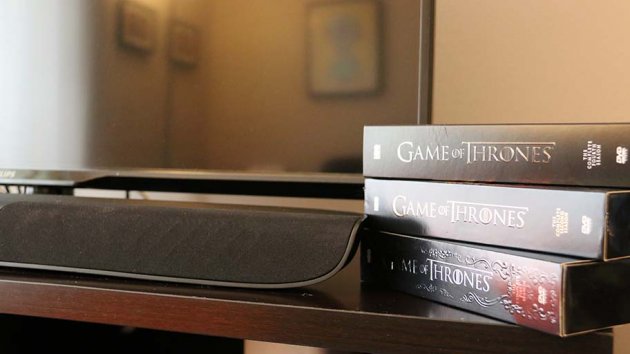 Soundbars vs Soundbases
Don't get confused. They are very different things. We actually have a full explanation of the difference here.
TL;DR: Instead of being long and thin, like soundbars, soundbases are flat blocks, designed to fit under a TV. The sound quality and design varies, as it does with soundbars, and the main difference is that soundbases don't usually come with included subwoofers. They've got enough heft and power to handle the low frequencies.
Some sites like to lump soundbases in with soundbars - not us. We think soundbases are their own category entirely, and we've got a roundup of the best right here. You may also want to consider alternative to soundbars: a full home theater system.

Are they wireless?
Sometimes! Typically with Bluetooth capability. This is great for when you want to stream some music through them, as a soundbar and included sub will be more than up to the challenge of handling some tunes.
It's usually the case for the subwoofer itself to be wireless, connecting either over Wi-Fi or Bluetooth. This can be a double-edged sword. On one hand: hooray! Fewer wires to take care of! On the other hand, sound quality can sometimes suffer over Bluetooth. This isn't too big a deal, as the subwoofer only has to deal with a small range of frequencies, but it's still worth bearing in mind.

Measurements!
It's kind of annoying to buy a soundbar ends up being too short or too long for your TV. It's even worse if your TV is in an actual TV cabinet. So before you buy, here's a tip that we really don't need to elaborate on: measure the space you've got, then by accordingly. If you need help, we've got full dimensions of each soundbar in our table above.