Naim Uniti Atom ($3,290)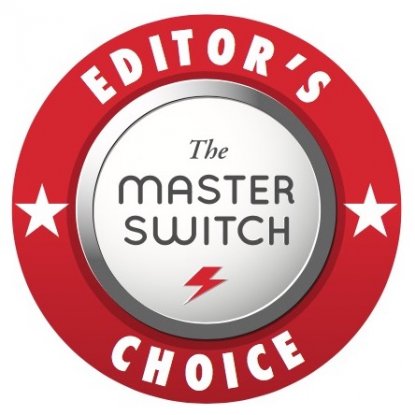 Amp: Yes
Power: 40W/8Ω, 2ch Driven
Storage: External USB
What We Like: Unreal sound, flawless design and operating system.
What We Don't: Lacks bass, remote picks up fingerprints.
See the Naim Uniti Atom
Audiophiles don't like listening to music wirelessly. Wires, they say, are the only way to guarantee pristine audio quality. Here's a tip: the next time you find one of these people, and get trapped in a conversation with them, ask them if they've heard the Naim Uniti Atom. In this review, we break down the sound, design, packaging and accessories, specs and more of the Uniti Atom. We'll be showcasing more alternatives in our roundup of the best music servers, coming soon.
 
Sound
Clarity and Detail
The Naim Uniti Atom is what is known as a music streamer, or music server. It's designed to be a hub for all your music, streaming it wirelessly over Wi-Fi, and sending it out to your amp, or direct to your speakers. The Uniti, like several other streamers, has an amp inside it. This means that all you need for a killer system is the Uniti Atom, and a set of speakers. It's a conversation starter – not just with the amount of stuff it can do, but with its amazing looks, and its sizeable price tag ($4,613). We'll get to all those points in good time. For now, we want to talk about the sound. Specifically, we want to talk about the truly staggering clarity and detail that this little wonder box provides.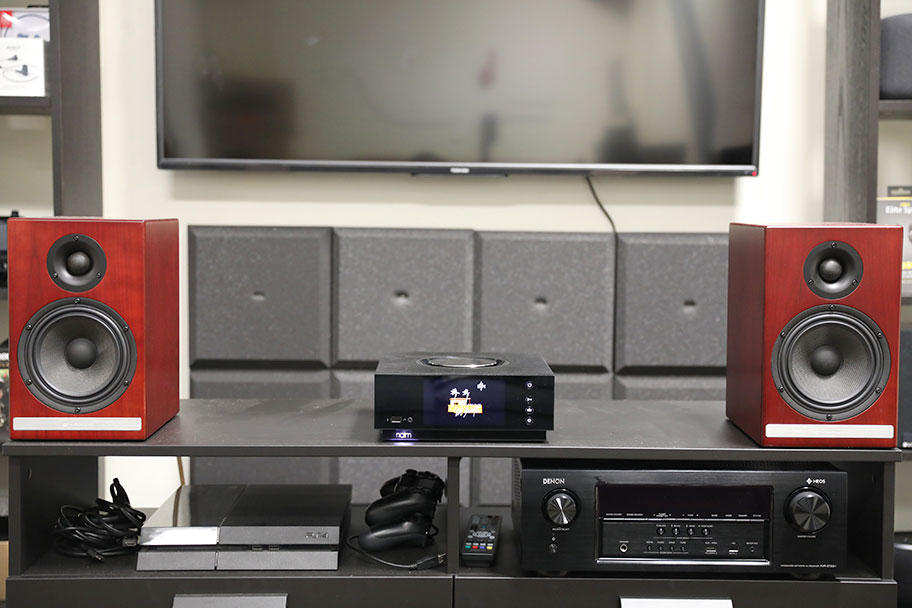 What we couldn't get over, no matter which test speakers we connected up to the Atom, was just how rich and crisp the sound was. Every song we put through it felt bright, lively, and exciting, with details spread out and easily discernible. We really picked this up in the mids and highs, where elements like vocals, strings, and snare claps just leapt out at us, bursting with energy. Genres like electronica and acoustic benefited the most from this, but the Atom was perfectly fine playing just about anything, injecting it with life. In this, it far surpasses music streamers that cost more than it does. The $6,825 Linn Selekt DSM is an excellent piece of equipment, one we'd be proud to own, but it doesn't quite match the dynamism and electricity of the Uniti Atom. It doesn't match the interface or luxury styling, either – but like we said, we'll get to that.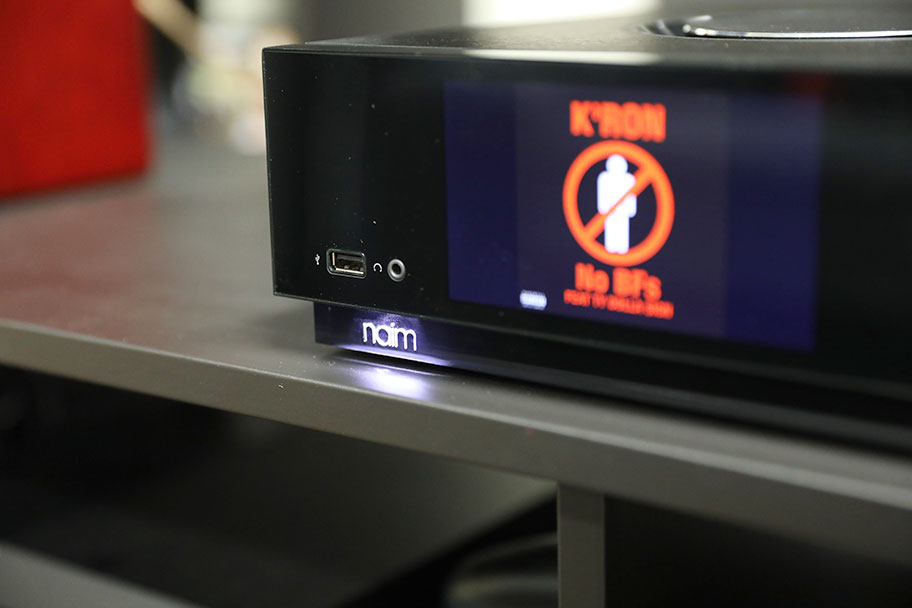 Dynamics and Bass (Low-End)
Clarity and detail aren't the only tricks the Uniti Atom has to show off. After all, there are plenty of great stereo amps that deliver clarity. No, the Atom excels because just about every aspect of the sound feels assured and confident. We particularly found this when testing movie soundtracks; these require a lot from speakers and amplifiers, because they have a ton of dynamic range. They present sounds that range from very quiet to very loud, often right next to each other. An amp has to be pretty well-made to jump between them quickly and make them shine. The Uniti Atom had no problems here. It took everything we threw at it, and kept on coming.
If we had to be critical of one element, it would be the bass. The low-end is perfectly fine, but there's no question that the Uniti Atom is considerably brighter, and gives much less emphasis to the bass than other streamers. For comparison, we had a Cambridge Audio CXN (V2) streamer – by itself, it needs a separate amp, but it's designed to be used with the Cambridge Audio CXA 80, and they are so perfectly matched that we don't have any objection to using them as a comparison. For reference, the CXN/CXA combo costs just under $2,000, versus the Uniti Atom's $3,000-plus, but we felt that the former dealt with the lows with a little more confidence. It had far more weight and punch, and although it lacked the detail of the Atom, it definitely held its own. We'll be reviewing both Cambridge amp and streamer soon, but for now, be aware that if you're a total bass head, you may find the Uniti Atom's otherwise amazing audio lacking.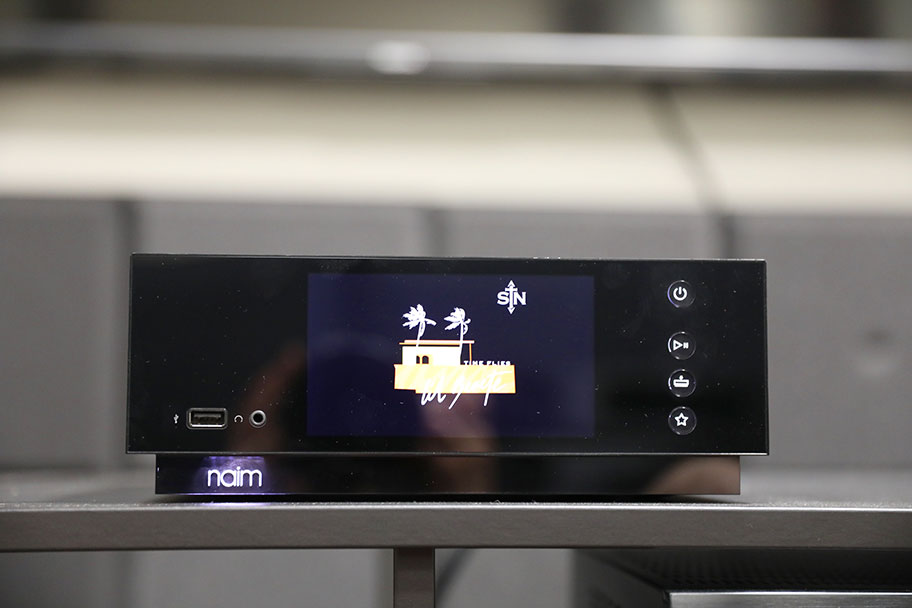 We were also generally impressed with the soundstage that the Uniti Atom offered. Very obviously, this depends quite a bit on what speakers you use, but even as we moved between the various speakers we had in for testing, we really felt like the Uniti Atom was expanding the music outwards, clearly and cleanly separating the individual elements of each track. In fairness, this is something that Naim are really good at, even with their cheaper gear. The $1,690 Mu-So V2 wireless speaker obviously doesn't deliver the detail or energy that the Uniti Atom does, but it definitely manages to convey a real sense of space. If you listen to orchestral music, or any other genre with a lot going on, you'll really appreciate just how much depth and precision there is here. By the way, the amp contained within the Uniti Atom puts out 40 watts per channel – not exactly the most we've ever seen, but more than enough to power most speakers on the market. We never ran into a problem with lack of power.
 
Wired vs. Wireless Performance
Of course, we haven't answered the big question yet. Can the Uniti Atom, a wireless streaming music system, measure up against wired sound? Can wireless audio ever deliver the richness that wired audio does? You know the answer already: of course. The audio quality of the Uniti Atom is amazing, whether we were streaming off Spotify, or connecting via the analog input. There were very, very slight differences – the analog inputs felt just a touch warmer – but neither was worse than the other. And although it's very difficult to do direct comparisons, we much preferred the Uniti Atom to the similarly-priced Peachtree Audio nova300 wired stereo amp (full review here). For the record, the nova300 is an incredible amp - at the top of our list of the best stereo amps of this year - and even if you take out the amazing functionality the Uniti Atom offers, we still prefer it for sound quality. That's how damn good the Uniti Atom is. And for what it's worth, it has an incredibly cool name, too.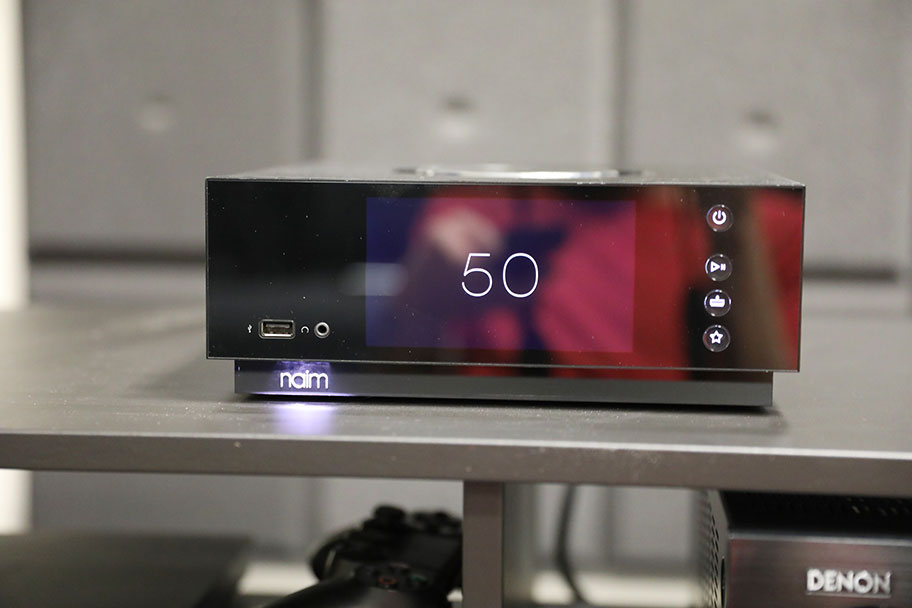 Design
Looks and Build Quality
The Uniti Atom delivers on sound, but a $4,613 product has to nail the design as well. We think the Uniti Atom absolutely knocks it out of the park. It is, by quite some margin, one of the best-looking pieces of equipment we've ever had in the office. Everything about it screams luxury, from the oversized, light-up volume knob on the top, to the thick steel vents on the sides, to the absolutely splendid full-color screen on the front. While the streamer is heavy - a solid 15lbs - the quality of the design more than justifies the weight.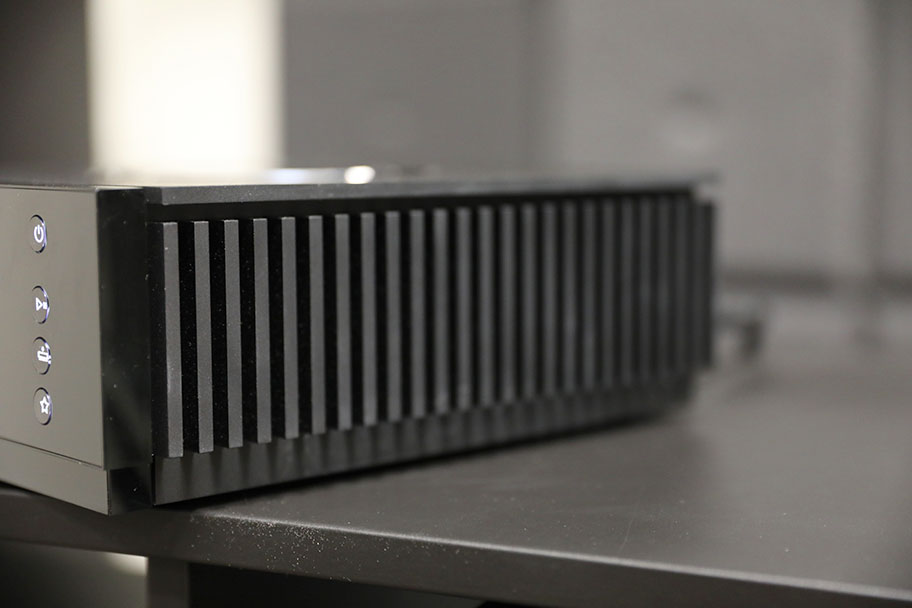 Plenty of amps and streamers are some variant of a big, black box, but rarely is it done with such panache. This is the kind of thing that you'll be very happy to display, rather than hide away in the corner, or in a cabinet. There's a huge volume knob on the top, big enough to re require a whole hand to turn it - and when you, it not only lights up with a visual indicator, but travels smoothly and feels fantastic. Of course, you'll almost never need to use it, thanks to an excellent remote control, but when you do, it's brilliant. The Uniti Atom was already ahead of the competition in terms of sound, but its looks smoke any challengers. Compare it, for example, to the Moon by SimAudio Neo Ace, a $2,900 streamer with visuals as clunky as the name. The Neo Ace does a great job, and we've heard it produce some phenomenal audio quality, but it just can't compete in terms of design. No way, no how. The Neo Ace was designed by sound engineers; the Uniti Atom was designed by heroes.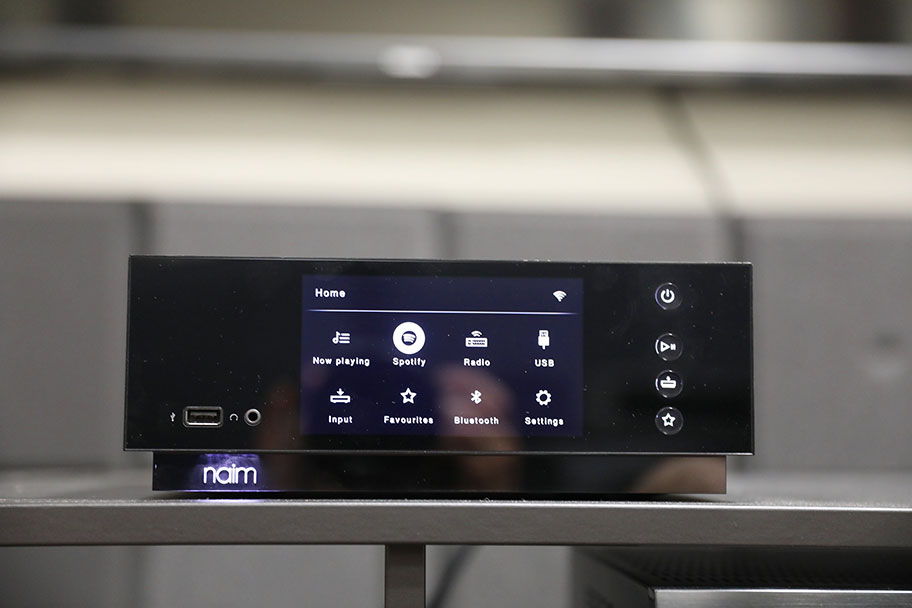 Interface and Controls
It really helps that the Uniti Atom is a joy to use, not just to look at. Everything is handled via the front display, and it's so simple and effective that we almost never needed to refer to the manual. We'll go into exactly what sources you can put through the Atom below – suffice to say, it's quite a few – but no matter what you are using, navigating through it is smooth as butter. Even complicated menus are a cinch to navigate, and the operating system is quick and responsive. Changing the volume displays a number that is big enough to read from across the room, and when music is playing, the screen displays the album art. In this, it has the aforementioned Cambridge Audio CXN (V2) beaten; while it will happily display any information you request, the Uniti Atom has the good sense to not do so until you want it. We really can't praise the operating system enough: it does exactly what we want it to, when we want it to, and then gets out of the way to let us enjoy the music.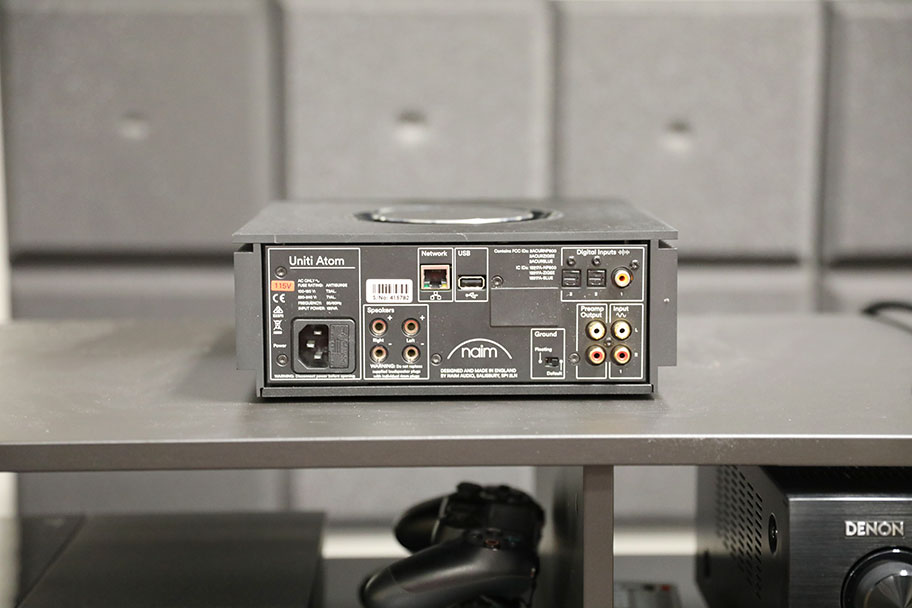 Inputs, Outputs, and App
As long as you have a music source, you can play it through the Uniti Atom. Spotify, Tidal, Apple AirPlay, Roon, Internet radio? Analog, Bluetooth, S/PDIF, uPnP? Yes to all (and we explain those last two in a little more detail below). It even has Chromecast. More importantly, the Uniti Atom connects in seconds. In a single afternoon in our office, we ended up playing via two separate Macbook Pros, an Apple Watch, an iPhone, an Android phone, and on Chromecast. It never took us more than a moment to get things working as they should. In comparison, virtually all other music servers and streamers feel clunky - even the otherwise-excellent CXN (V2) wasn't this slick. If you're wondering, by the way, uPnP stands for Universal Plug and Play, and it's a way of connecting up a hard drive containing music - an NAS (Network Audio Storage) to use the jargon. S/PDIF (Sony/Philips Digital Interface) is an optical connection commonly used for home theater.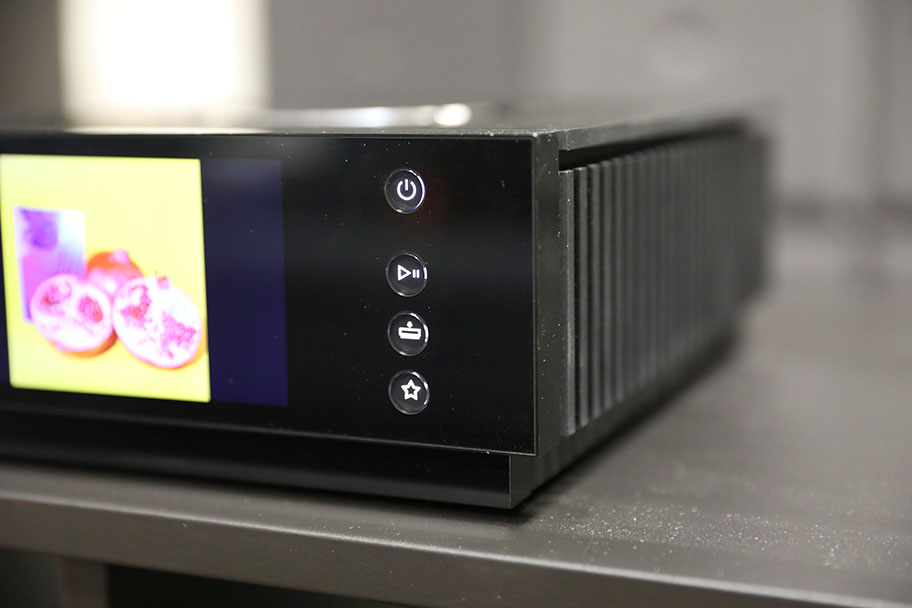 It's also worth talking about the app that Naim recommend listeners download. It must be said that we ended up using this quite a bit less than we thought we would, mostly because operation of the Uniti Atom was so seamless. But as a way to navigate through the system, it felt quick and effective, and was helpful when the remote had been left across the room. It also makes things like entering Wi-Fi passwords dead simple. Perhaps the highest compliment we can give is that the system doesn't even really need the app; it would get along fine without it. That the app is an option, and it works so well, is a credit to just how well-thought-out the Uniti Atom is.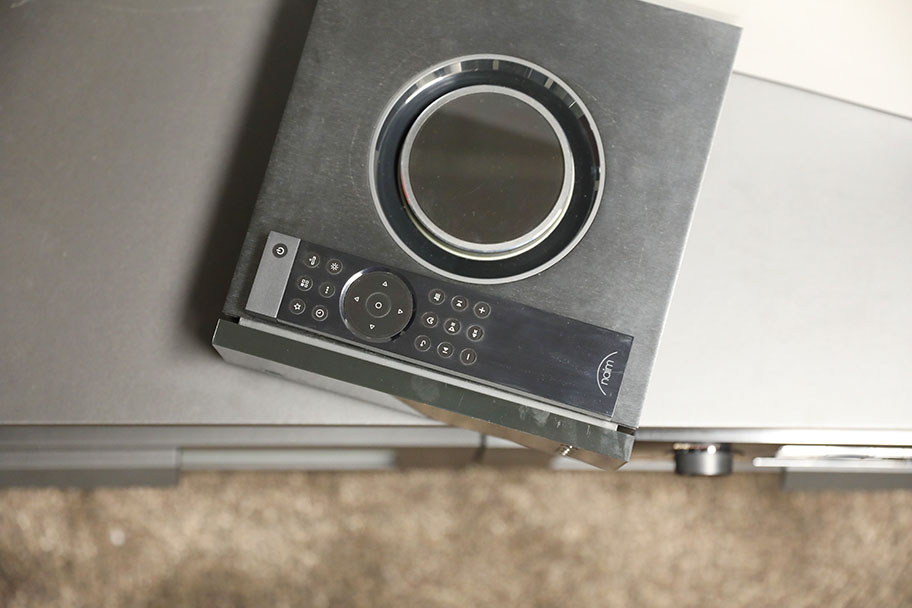 Uniti Variants
One of the things we found confusing, until we did a little bit of research into it, is how the Uniti Atom differs from others models that Naim makes. There are no less than four in the Uniti range, and it's not always clear what the differences between them are. While we didn't have other variants to test, they all use some variation of the Uniti Atom itself, and we've heard them enough times at audio shows to know that the quality is definitely there. You can read more about the variants on this link, but here's a quick primer. The Uniti Atom is a combination amp, DAC and music streamer; the Uniti Nova is a more powerful variant with a much bigger amp, delivering 80 watts per channel; the Uniti Core is a server, storage device and CD ripper; and the Uniti Star is a 70 watt amp and streamer with an added ripper. Got that? Good.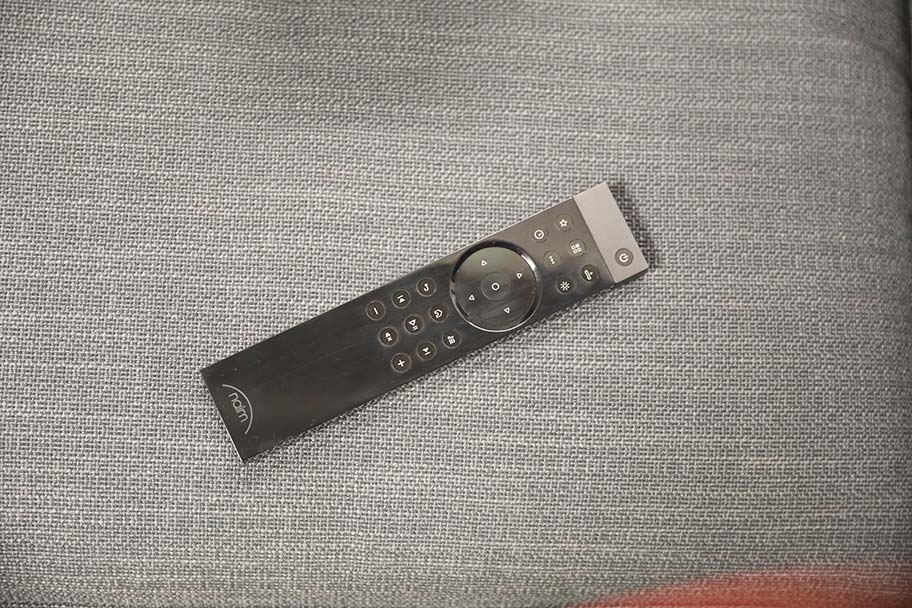 Accessories & Packaging
Remote
The remote that comes with the Uniti Atom has one really nifty design trick. When you spin the big volume knob on the top of the amp itself, it lights up in a thin, circular line to give you a visual aid for how much volume you've got, meaning you don't need to rely on the numbers displayed on the front of the unit. The remote does exactly the same thing, with a discrete light-up circle appearing whenever you change the volume. It really adds to the feeling that you bought a premium product. Be warned, though: the hefty black slab does pick up fingerprints, and we found it was occasionally resistant to wiping. But all in all, we really appreciated just how well-designed, the remote was. It's worlds apart from remotes that come with other high-end products, like the Benchmark DAC3 HGC (full review here). That costs a little over $2,000, and had a remote that put us in mind of DVD players from the early 2000s.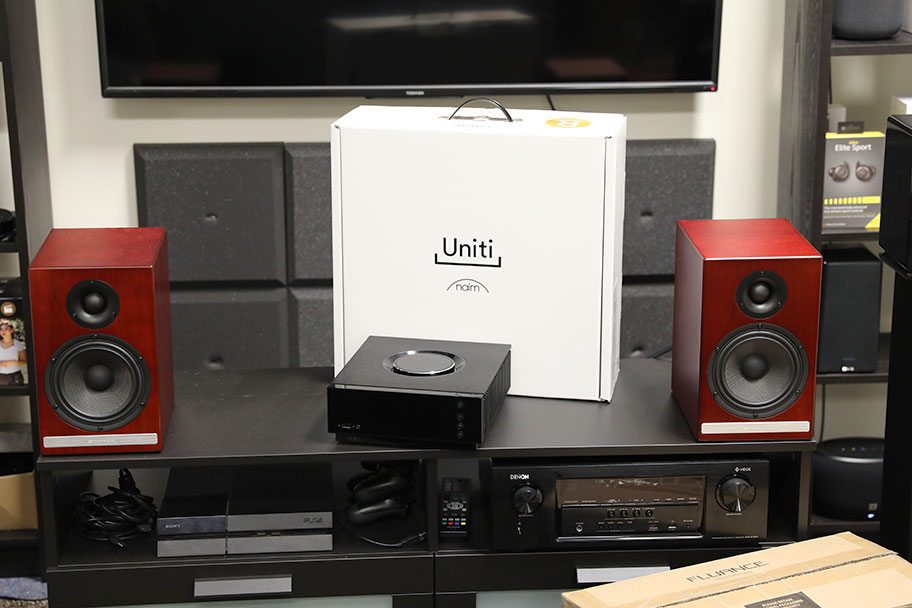 Cables and Packaging
The packaging is suitably sleek – as you'd expect for the price. The white box flips up to reveal the Uniti Atom inserted in thick, black foam, the streamer itself wrapped in protective white fabric. Outside of that, you get a power cable, a manual, and the aforementioned remote. There's not a lot else, but it's not exactly a criticism – there's nothing else that you need here. At a push, we might have asked for the inclusion of an RCA cable, for the analog connection. If iFi can do it, in their micro iCAN SE (full review here) surely Naim can - and the iCAN cost $300 at launch, roughly a tenth of the Uniti Atom. But frankly, if you can afford this streamer, you can afford a cable.
 
What We Like
The Naim Uniti Atom delivers breathtaking sound quality, with a real sense of space and detail.
The design is virtually flawless - it both looks and sounds fantastic.
The Uniti Atom is a breeze to setup and operate. It practically runs itself.
 
What We Don't
The bass of the Uniti Atom didn't feel as impactful as we'd like, lacking a bit of weight.
The remote is excellent, but picks up fingerprints.
The Uniti Atom is expensive: worth the money, we think, but definitely only something you buy if you're really serious about music streamers.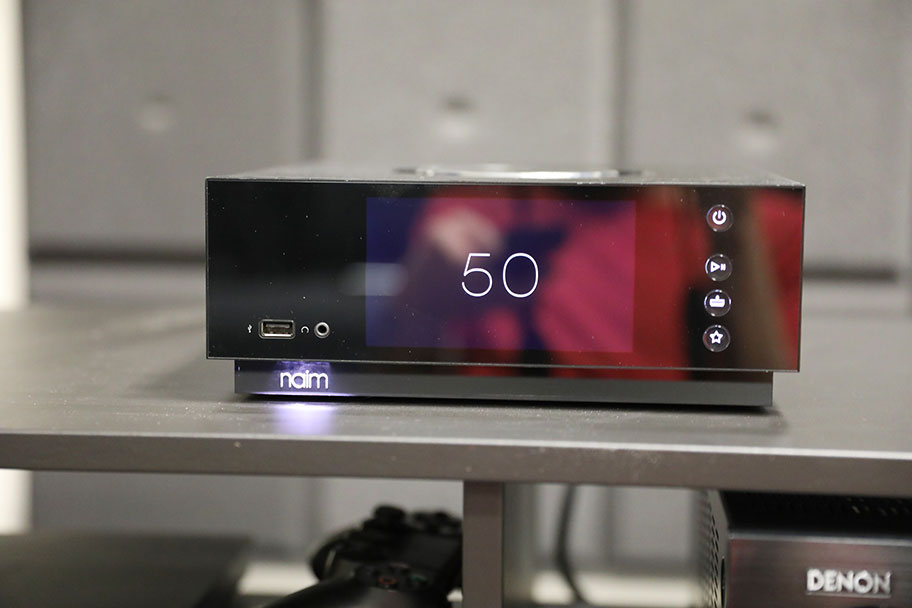 Comparison Table
Want Even More Master Switch? Sign Up For Our Weekly Newsletter!

The Competition
One particular brand of music streamers that has really impressed us recently is Innuos. They come from Portugal, and they make some gorgeous equipment. Their ZEN line doesn't quite have the tactility or friendliness of the Uniti Atom, but more than makes up for it with some stunning sound quality. We prefer the ZEN Mk3 model, which not only comes with a CD ripper to match up with the wireless functionality, but also has a 1TB hard drive. Unlike the Uniti Atom, it doesn't have the ability to power speakers, but it remains one of the most interesting stream options available. It's also cheaper than the Atom, at around $2,450.
Another brand worth looking at is Linn. We've had issues with their streamers in the past, mostly down to their incredibly dull looks. That all changed with the new Linn Selekt DSM streamer. It's gorgeous, and it delivers powerful sound quality to go with those looks. We still think the Uniti Atom is the top choice – it has a much better user interface, and offers much better value for money. A basic Selekt DSM will set you back at just under $7,000 – over double the price of a Uniti Atom! That means that while we do love the Linn streamer, it's definitely a second option, and one for those with deep pockets.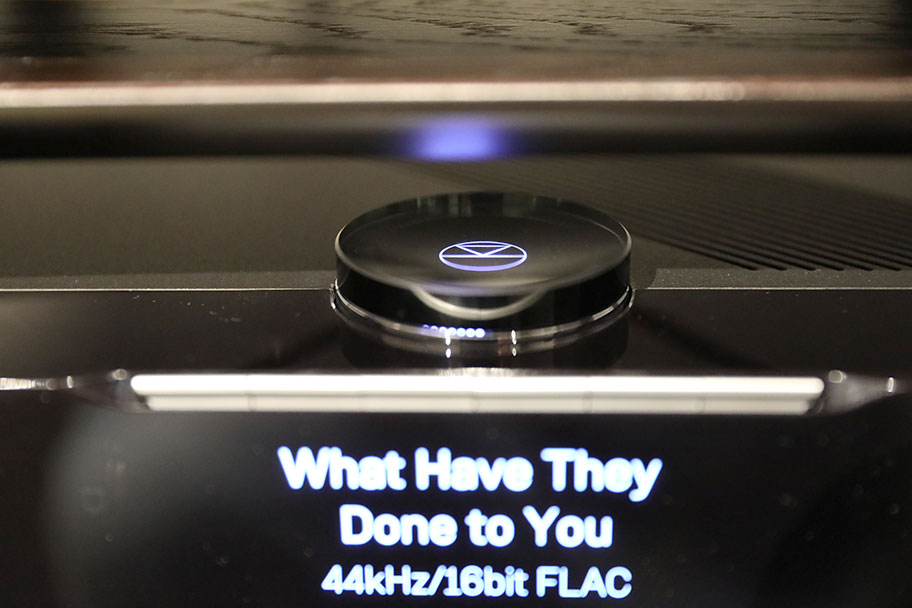 Another option worth looking at is the Moon by SimAudio Neo Ace, which has a name that only a mother could love. Fortunately, the streamer itself provides plenty of reasons for others to love it. Chiefly, its excellent sound quality, which matches up well when put against the Uniti Atom. This is unsurprising, given how well SimAudio build amps - we've heard their 888 Power Amp, which costs $168,000. Trust us when we say that we won't forget it in a hurry. The Neo Ace is cheaper, fortunately, at $2,900, although it sacrifices the looks and functionality of the Uniti Atom.
Naim makes plenty of streamers beyond its amazing Uniti line. The ND5 XS 2 costs $3,495, loses the amp and the screen of the Uniti Atom, and comes off as its dowdier, less-friendly cousin. But that doesn't mean it's a bad piece of equipment. You get all the inputs, outputs, and assorted features of the Uniti Atom - meaning it's an ideal purchase if you already have an amplifier you like, and just want something to handle your music streaming. We definitely prefer the Uniti Atom, as well as its variants, but there are definitely options if you don't want to pay extra for the bells and whistles.
But look: the Naim Uniti Atom is incredible. We are often very sceptical of products that cost as much as this - once you get past a certain point, the returns can diminish quite quickly. But at every step, we found ourselves wowed by just how good the Uniti Atom was. The sound quality was extraordinary, the design and usability were life-changing. We couldn't believe just how quickly it became the center of our daily music life – the first thing we turned on when we came into the office, and the last thing we turned off before we left. It's a landmark product, something that Naim Audio should be insanely proud of, and it's an easy decision to make it the newest winner of our Editor's Choice award. As you can imagine, that's a pretty exclusive club.
Learn More About Home Audio