The phrase 'surround sound' immediately makes people think of a number: 5.1. The 5.1-channel surround audio system has been around for two decades now, and has become the absolute standard for home theaters. But if you go up to the somewhat luckier-sounding 7.1 surround system, the cinematic audio experience is delivered through seven speakers and a subwoofer, adding two more surround speakers on top of a 5.1 system. What this bigger set does to the audio ambience is substantial, and the improvements to the directionality and continuity of the surround sound movements are immediately noticeable. The soundfield is a lot more immersive, especially in larger rooms, and the overall difference in audio-visual perception is especially notable when viewing 3D visuals. And so we've broken down the absolute best 7.1 systems available to buy, right now, as well as offering some solid buying advice.

How We Choose:
Despite a couple of systems with dizzying price tags of $20K+, which rival commercial cinema installations, our selection descends through all price and quality tiers, going down to below $200. While quality comparisons can get blurry when auditioning products from various price brackets, nearly all systems in our selection feature the very latest of digital technology and connectivity combined with some serious audiophile-grade components and speakers. Where a speaker set doesn't come with its own receiver (which is more common than you'd think) we've suggested a compatible model, just to make things even more flexible. Such 'modular' approach can be indeed useful if you need to tailor specs to your requirements, and more importantly to your budget.
In such cases you could take our examples of components as a starting reference and tweak further - why not upgrade the A/V Receiver or opt for a more powerful subwoofer for example? Do check out our Buying Advice section below the chosen picks. We offer tips on setting up, speaker positioning, surround formats and general jargon, including the new exotic (and often puzzling) modes of surround such as Atmos, DTS X and Auro 3D which involve ceiling or up-shooting speakers. In addition: setting up a 7.1 system may seem like a daunting task if you haven't done this sort of thing before, but we'll make it easy for you.

Our 7.1 Picks: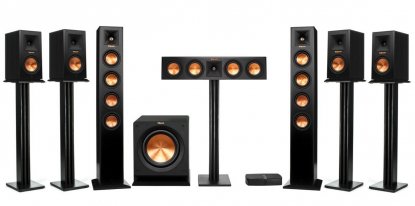 Max Wattage: 1650
HDMI I/O: 4/1
Wireless Connectivity: WiFi/Bluetooth
4K Capability: Yes
What We Like: Probably the best wireless system available
What We Don't: Only 4 HDMI ins?
Best For: Early adopters
Look. We get it. Klipsch feature a lot on this list. We swear we aren't biased towards them, but even a hostile observer would struggle to argue that they don't produce some of the best home theater kit on earth. This, a fully wireless 7.1 system, is one of the finest – if you can afford it. Not only do you get a mix of superlative Klipsch speakers, but you also get their HD control centre, which replaces the standard receiver. Cleverly, it also creates its own network, so as not to mess with your existing home WiFi - and a smart system on the back of each speaker lets you assign to a given channel in moments. We don't quite think that this is the last system you'll ever need, as Klipsch claim, but for now it's a world-beater.
See the Klipsch RP-HD Wireless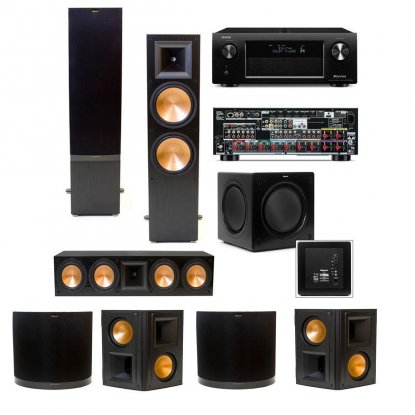 Max Wattage: 2200 Watts
HDMI I/O: 7/3
Wireless Connectivity: WiFi/Bluetooth
4K Capability: Yes
What We Like: Extremely well-specced system. Serious audio quality.
What We Don't: Not much
Best For: Flexible setups and multi-room enjoyment of home entertainment
The Denon AVR X4000 Klipsch Theater System SW 310 resides high in the 7.1 Stratosphere. The receiver is an absolute mothership, and even if you've owned or used an A/V unit before, it takes a little getting used to. It provides a wealth of features, and its multi-zone feature can route music or video entertainment to a separate room while you enjoy your own programs in the main room. You can configure the AVR-X4000 for a full 7.2 channel system (as in, two subwoofers), or you can choose to have a 5.1 channel speaker system in the main room and connect the remaining two amp outputs to a pair of speakers (plus a self powered Sub) located in another room. You can connect up to three displays...you get the idea. Where the main magic with this system occurs, though, is in the Klipsch RF-7II speaker system, one of the best overall speakers in this category and price range. Pound for pound, this speaker set is among the best. Movies and music really come alive with the powerful, deep bass response delivered out of the 200W powered subwoofer, and what you have here is superior vocal and dialogue intelligibility with even coverage across a wide listening area.
See the Denon AVR X4000
See the Klipsch Theater System SW 310

Max Wattage: 1850 Watts
HDMI I/O: N/A
Wireless Connectivity: Home network (through Ethernet port)
4K Capability: N/A
What We Like: Exceptionally rich but neutral sound
What We Don't: You will need an additional A/V processor for this system
Best For: Critical listening and ultimate viewing/listening experience
The Klipsch THX Ultra2 System-Krell CHORUS-7200-Foundation 4K Ultra is a snatch at $24,000 for just the speakers. We're not sure we should recommend a receiver to pair with this one - if you're willing to spend that much, chances are you'll have a good idea already! If you haven't though, check the following pick which combines the same speaker package but with a more conventional power component. In this case though, we open proceedings into serious audiophile territory with the system's Krell Class A amplifiers, considered to be the best-sounding operating state for amplifiers (since the days when Class A amps were the only amplification available). This monster can run at Class A mode to full power while minimizing heat generation, which is one of the inherent drawbacks of similar designs. Still, as with similar high end gear, make sure you leave plenty of airflow around the unit; don't do something stupid like lock it in a drawer, please. To complete things, we have the award-winning Klipsch THX Ultra2 custom home theater system, which uses the same professional-grade technology as Klipsch's renowned commercial systems. Yeah, the price is crazy for most, and that means it's not ultimately the best value for money, but if you can afford it, with this system you are getting the ultimate 7.1 surround home theater.
See the Klipsch THX Ultra2 System-Krell CHORUS-7200-Foundation 4K Ultra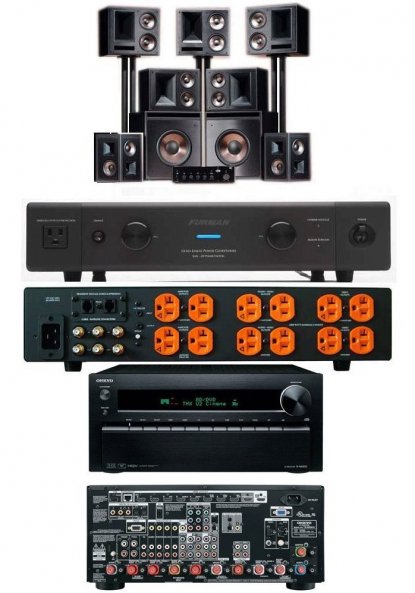 Max Wattage: 1600 Watts
HDMI I/O: 11/3
Wireless Connectivity: Wi-Fi and Bluetooth version 2.1 + EDR
4K Capability: Yes
What We Like: Tremendous spec sheet
What We Don't: Might seem complicated
Best For: Surround Audiophiles
Essentially, this is the same speaker system but powered in a more conventional way. The Onkyo TX-NR3010 is a perfect example of what the current crop of top shelf A/V Receivers are capable of. It can drive multi-zone audio in three rooms, output high-resolution video on two displays, and stream audio via DLNA - making the receiver a part of a home network, 'seeing' all your wireless devices through your wifi router. All audio routing options can to be controlled by your smart phone, and with a total of 11 HDMI ports, 11.4-channel pre-outs, and Dolby Atmos capability, this system is not only powerful and well connected but nicely future-proof.
See the Klipsch THX Ultra2 with Onkyo TX-NR3010 Receiver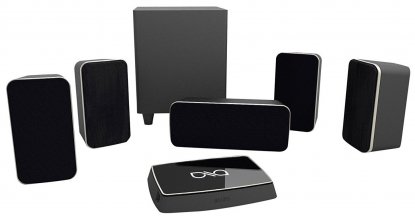 Max Wattage: Unknown
HDMI I/O: 6/1
Wireless Connectivity: WiFi/Bluetooth
4K Capability: Not Yet!
What We Like: Great wireless sound, gorgeous looks
What We Don't: No 4K yet
Best For: Wireless 7.1 on a budget
So this one is cheating - slightly. Although the standard unit comes as a 5.1 setup (the only type available on Amazon), it is possible to get full 7.1 capability by adding on speakers - which you can order direct from the axiim website. It comes with a very slick receiver/media centre (although you'll have to wait before you get a 4K upgrade, as it's not included just yet), full app control, and some gorgeous surround speakers, as well as a subwoofer. AXIIM are relatively new to the game, but as wireless setups go, this is superlative.
See the axiim Q HD

Max Wattage: 1700 Watts
HDMI I/O: 6/2
Wireless Connectivity: Home network (through Ethernet port)
4K Capability: Yes
What We Like: The focus on audio quality
What We Don't: Will be a bit too 'barebone' for some
Best For: Audiophiles and surround remix collectors
The next top dog is a 7.1 system based around the mysterious and minimal Sony STRZA3000ES 7.2 Channel Receiver. Despite retailing at nearly four times the cost of some of the previously mentioned receivers, this unit does not follow the current trend of let's-pack-it-to-the-brim with every wireless phone app-controlled feature and codec. Instead, what you get are some of the best digital audio converters around. These are in effect super-grade hardware DSP chips which convert the digital data that streams into the A/V receiver into actual audio on the way out. They are hardware components, that make a real difference, not unlike how visual screens of varying pixel quality can make a drastic difference to a visual image. When pumped through the Infinity Reference 7.1 Home Theater Speaker Package, you have a very formidable surround system. The ultra-smooth sound playback delivered by these Infinity speakers is in no small part due to the brand's take on how high frequencies are reproduced. Their 1" (25mm) high-frequency drivers deliver a wider range of frequencies, providing a seamless integration with their midrange drivers.
See the Infinity Reference 7.1 Home Theater Speaker Package
See the Sony STRZA3000ES 7.2 Channel Receiver

Max Wattage: 940 Watts
HDMI I/O: 6/1
Wireless Connectivity: WiFi/Bluetooth
4K Capability: Yes
What We Like: Great set of features, looks and sound
What We Don't: To take full advantage of the A/V Receiver's features you may need additional speakers
Best For: High-tech home setups
Now let's see what happenswhen you combine yet another excellent receiver - the Denon-AVR-S710W - with a superb speaker set in the JBL-7.1-Channel-Theater-Speaker-Package. Both the receiver and the speaker set on display here have that striking, ominous "I mean business" look, but let's admit it, neither of these bonafide household names have built their rep on looks alone. With the Denon receiver, it's apparent that tech like Dolby Atmos, DTS:X, Wi-Fi, Bluetooth, UltraHD capability, access to online streaming services and built-in room acoustics calibration are all features expected from a unit around the $500 mark (for the receiver alone), and the Denon delivers. But once again, if planning to take advantage of the bad boy Dolby Atmos surround mode, it would mean that a different (Atmos enabled) speaker setup would be required! The speaker package unsurprisingly reminds us of the signature sound of JBL's HI-FI class of speakers, energetic, with enhanced tops, mid presence at the forefront, and a rich bass character. Having the Odyssey Mule automatic room calibration built into the receiver makes dialling in the optimal sound an easy task. This system is very versatile and can sound clear, punchy and dominant even in a large home theater room.
See the JBL 7.1 Channel Theater Speaker Package
See the Denon-AVR-S710W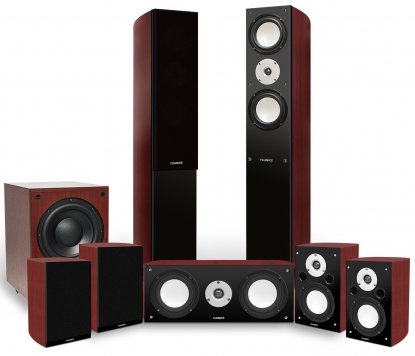 Max Wattage: 910 Watts
HDMI I/O: 7/2
Wireless Connectivity: None
4K Capability: Yes
What We Like: Great audio detail
What We Don't: HDMI switching a bit on the slow side
Best For: A great upgrade from 5.1 surround
The next system in line is based around the Pioneer-SC-82-7-2-Channel-Network-Receiver. This is another example of the current crop of A/V receivers offering advanced connectivity, acoustic room calibration, UltraHD capability, and wireless streaming. Where it differs from others is in its use of Class D3 amplification. Energy efficiency has bugged many a receiver from past generations but Class D amps run cooler than conventional designs, using less energy while pumping power efficiently. And all that efficient amp power is transformed into sound by very capable Fluance speakers. The company's significant research and development as well as dedication to bringing you superior sound are very evident when auditioning this system. It is smooth and revealing, with sweet high-frequencies, dynamic midrange and a controlled yet dominant bass. The audio clarity is one of the best we've heard within this price bracket, and it is the very thing that truly separates this beast of a system from cheaper ones.
See the Fluance Reference Series High Definition 7.1
See the Pioneer Elite SC-82 7.2 Receiver

Max Wattage: 940 Watts
HDMI I/O: 7/2
Wireless Connectivity: WiFi/Bluetooth
4K Capability: Yes
What We Like: Features and audio perforrmance
What We Don't: Again, this can 'talk' Dolby Atmos, but you need additional gear for that talk to happen
Best For: 7.1 installation which is easy to setup
Next, we have the Onkyo HT-S9700THX 7.1-Channel Network A/V Receiver/Speaker Package, and there are clear parallels between this and other (cheaper) Onkyo packages. This one comes with a THX certificate for quality, so rest assured that this is a really well calibrated and perfectly matched system. THX are an independent quality advisor certifying that products meet the highest standards for quality and compatibility right out of the box - good news, then! Loaded with the latest Atmos technology, the Onkyo set is fully capable of taking any audio-visual source, from online music streaming services to 4K/Full HD video. Worth noting: if you plan to use the Atmos mode you will need the optional Atmos-enabled speakers (which would make the system into a 5.1.2 - all explained here).
See the Onkyo HT-S9700THX 7.1-Channel Network A/V Receiver/Speaker Package

Max Wattage: 515 Watts
HDMI I/O: 7/2
Wireless Connectivity: WiFi/Bluetooth
4K Capability: Yes
What We Like: Great value for money
What We Don't: Speakers could be better
Best For: Medium budgets
At the heart of our next 7.1 surround choice is the little wonder that is the Onkyo TX NR646 7.2 Receiver. This comes equipped with more features and connectivity than you could shake a very large stick at. It is one of the first in its class to come with the new DTS:X and Dolby Atmos multi-dimensional audio formats, UltraHD video capability, built-in Wi-Fi, Bluetooth, Airplay (including the likes of Spotify and Pandora). You can even connect a turntable. Moving onto the speakers, you'll note that they look not dissimilar to other cheaper Onkyo models - that being said, this set is a worthy proponent of clarity and detail when compared to its other siblings. The system is powerful enough to handle a small-to-medium-sized home theater rooms without even trying.
See the Onkyo 7.1 Channel Theater Speaker System
See the Onkyo TX NR646 7.2 Receiver

Max Wattage: 810 Watts
HDMI I/O: 5/1
Wireless Connectivity: Bluetooth
4K Capability: Yes
What We Like: Great specs and performance
What We Don't: Good for films, not so good for music
Best For: Movie marathons
Another Onkyo SKS HT540 Speaker System follows, this time though powered by the Yamaha RX-V679 7.2 A/V Receiver. What you get here for just over $800 is so good, you'd swear it's worth twice that. The receiver packs a punch - its built-in Wi-Fi capability taps into your household Internet router, not only allowing you to stream music directly from your smartphone or tablet, but also to control your receiver using the Yamaha AV Controller App. It can also sort your room acoustics calibration, and boost lower res video to super high definition resolutions. As for the speakers: each one is rated at 130W, plus an earth-shaking subwoofer for rumbling impact. If we were to be picky, we would add that if film soundtracks sound glorious, your favorite records may sound a bit lacking. If you are planning to mainly listen to music, you could do worse than to upgrade to an even better speaker system.
See the Onkyo SKS HT540 Speaker System
See the Yamaha RX-V679 7.2 A/V Receiver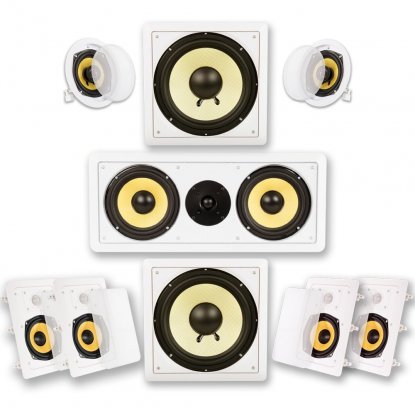 Max Wattage: 1200 Watts
HDMI I/O: No
Wireless Connectivity: No
4K Capability: No
What We Like: Great audio performance
What We Don't: In-wall installation is not easy
Best For: Owners of a 7.2 surround receiver who prefer an in-wall speaker system
This Acoustic Audio system consists of speakers only - all you need is a 7.2 (or larger) A/V Receiver to run it, and pretty much any example from our previous picks can be suitable for the job. Perhaps we should mention that in-wall installation might require considerable DIY effort, particularly when cutting the holes (in ceiling or walls) to get exact measurements so you can match the speaker brackets. Other than that, this is a great way to have a very discreet-looking surround home theater setup and we assure you that the audio quality will certainly impress.
See the Acoustic Audio HD-725

Max Wattage: 168 Watts
HDMI I/O: No
Wireless Connectivity: Bluetooth
4K Capability: No
What We Like: It's loud enough and yes, it does 7.1 surround for cheap
What We Don't: Poor digital connectivity
Best For: First steps in 7.1 territory
While not having the bells and whistle of an elite system, the Pyle PT798 SBA is an inexpensive way to get into 7.1 surround sound. The sound quality is decent enough - you certainly get things nice and loud here, even if the speakers lack in detail and clarity when compared to expensive systems. One major drawback is the lack of digital connectivity - no HDMI or optical connections here. You will have to use those old-fashioned RCA phono cables instead, which is far from cool. But don't despair: the Pyle has a built-in Bluetooth wireless, which makes streaming from your phone, tablet or laptop a breeze. If this is the way you like your home entertainment, then this will do the trick for you, and for $200 it can fill your room with 7.1 surround glory.
See the Pyle PT798 SBA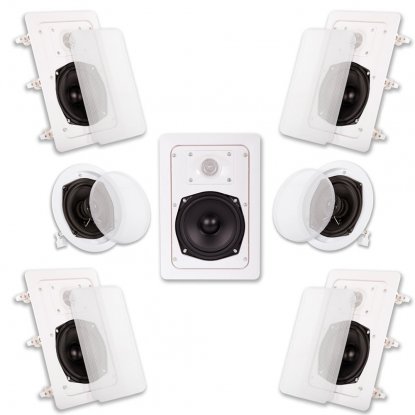 Max Wattage: 700 Watts
HDMI I/O: No
Wireless Connectivity: No
4K Capability: No
What We Like: Clear and consistent sound
What We Don't: Again, installation might be a challenge
Best For: An addition to an existing stereo/surround setup, or for Dolby Atmos/Auro3D installs
Our last pick is another speakers-only system, which doesn't even include a subwoofer - so, technically this is a 7.0 set. Of course, if you have a 7.1 (or a larger format) receiver and a sub, this would complete your system into a 7.1 setup. Something else we recommend this system for: adding to existing stereo, surround or multi-room setups, especially those in need of a Dolby Atmos, DTS X or Auro3D upgrades. We've already said it, but these would require speakers elevated above the 'regular' satellite speakers. When designing such large format systems, it's worth noting that the receiver would need to have all the extra channels necessary, as each speaker needs its own speaker output feed.
See the Acoustic Audio HT-57

Specs Tables:
Usually, we'd just have one table, but in this case, we've got one for speakers and one for receivers. Note that the values for Freq refer to the lowest and highest frequencies all speakers in a system can reach.
Speakers are up first:

And then the receivers. 'Inc' under the Price section means it's included in the speaker package above.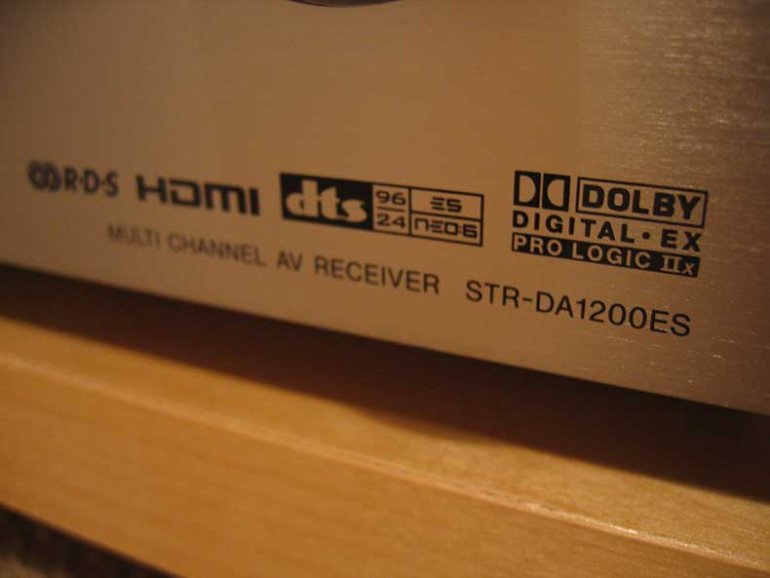 Buying Advice:
What To Do When Things Go Wrong

What Is A 7.1 System?
A 7.1 surround system is a home entertainment package consisting of seven speakers and one subwoofer, connected to an A/V Receiver with the right credentials - namely, enough separate speaker connections and wattage to power everything. The receiver acts as the main hub where all audio and visual sources such as Blu-ray/DVD players, game consoles, computers and wireless streaming are being connected into.
The receiver is linked to your TV screen (or two or three, depending on the receiver's specs) as well as decoding (or translating) audio data into surround sound playback, where sounds can freely 'hover' between the surround speakers. On rarer occasions you may find the same setup but with a separate power amp and receiver.
Oh, and if the picture below makes you break out in hives, don't worry. We've got a full guide to all the connections you'll need to get things up and running. And if you want a guide to the big differences between 5.1 and 7.1, check this out.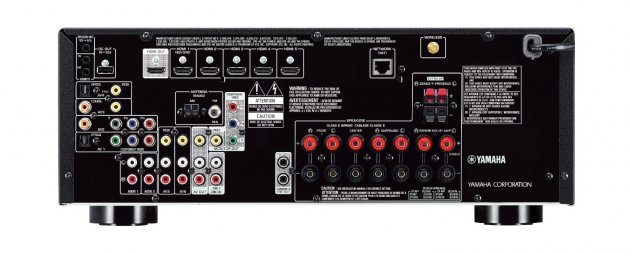 How Much Should I Spend?
As with any other technology, the quality of 7.1 system can vary depending on cost. You can find 7.1 systems from as little as a couple of hundred bucks these days. Cheaper setups will still let you experience surround sound motion, but many have very limited connectivity. And such entry level sound quality is quite comparable to a glorified ghetto blaster, really.
At the mid price range - around $800 or thereabouts - you will find the real mind-blowing deals. Systems in this price range generally punch well above their weight and will seriously rival the top of the crop.
Here you can expect A/V Receivers with good connectivity, such as HDMI and Optical ins and outs and other current-spec wired connections. Wi-Fi and Bluetooth are also present here, and are understandably a must-have. You will also find more surround modes (also called codecs) made by Dolby and DTX among others, which can enhance the surround experience.
Premium range systems will feature all the positives of the mid priced examples, but with added emphasis on sound clarity and intelligibility - lots of detail, sweeter sounding treble, more controlled bass with more punch and no woolliness whatsoever.
And because of such simple (but expensive) truths, such top range 7.1 surround sound systems can really compete with commercial cinema in terms of sound quality and that's the ultimate, right?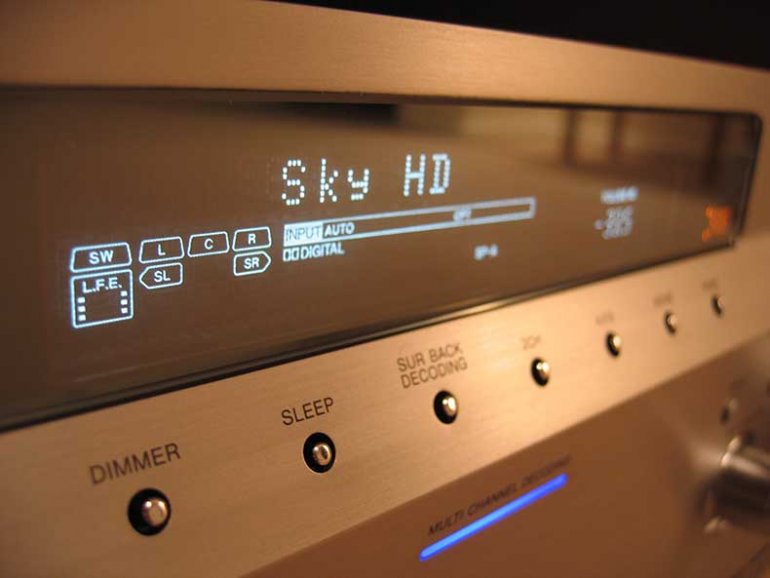 Where Should I Put The Speakers?
Speaker sets for 7.1. surround systems include a center channel speaker, left and right front channel speakers, a subwoofer, left and right surround speakers and left and right rear surround speakers.
The rear surround speakers help to fill larger rooms more completely and add more depth to the experience by spreading the sound across four speakers rather than two (as found in 5.1 surround), resulting in more directed, immersive sound. The idea is to surround your listening position with speakers, putting the center channel, front channel and subwoofer in front of you, the left and right speakers on…well, your left and right, and the rear speakers behind you. Generally, you're supposed to elevate these, but that isn't always possible.
Positioning speakers can be pretty complex. You'll need a good guide.

7.2 vs 9.2 vs 11.2 vs er...7.2.4?
Let's say you've already installed your 7.1 surround system. You can add a second subwoofer if you really want monster bass, making it into a 7.2 system setup (where the number after the 'point' represents the subwoofer). Larger-format surround systems can also be split into zones (different rooms). If you had your little kitchen next to the 'movie room', you could actually kit it out with a pair of stereo speakers and subwoofer (2.1) while leaving the remaining 5 speakers and the second subwoofer to act as a regular 5.1 in your main room - both zones would be powered by the same 7.2 receiver. In that way you can 'keep up' with the movie, while preparing dinner or having a chat on the phone.
Similarly a 9.2 surround capable receiver can take care of different 'zones' - as in running a 7.1 setup in the main room plus a stereo pair and a subwoofer elsewhere. Furthermore, certain new surround tech - such as Dolby Atmos, may require additional elevated (ceiling) speakers. Opting for a 9.2 or even 11.2 or 13.2 receiver for instance, would allow running a regular 7.1 setup, while still leaving additional channels (speaker outlets at the back of the receiver), which would be needed if you decided to upgrade to more exotic surround setups such as Dolby Atmos, DTS:X and Auro-3D.
Speaking of which, Dolby Atmos have their own way of naming their height-elevated systems (if surround sound systems weren't confusing enough already). A 5.1.2 Atmos setup would be like a traditional 5.1 surround system (in other words, five speakers and a subwoofer) but with an added pair of ceiling speakers (or Atmos modules): the '2' in 5.1.2. Similarly, a 7.2.4 Atmos set will be like a 7.2 conventional surround setup (seven satellites and two subs), but with two extra pairs of ceiling speakers or Atmos modules (hence the 4 in 7.2.4).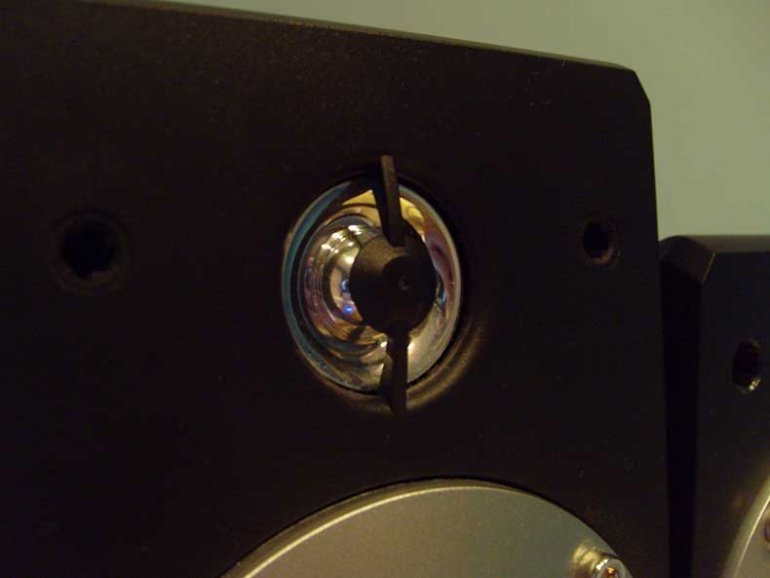 7.1 Surround Formats Explained
More and more films, Blu-Ray releases as well as premium streaming sources are being released for home viewing in 7.1 format, adding to its appeal and making it more and more popular. 7.1 encoded audio soundtracks can come in several formats: for example, you might see 7.1 channel uncompressed PCM, Dolby TrueHD, or DTS-HD Master Audio. It's worth noting that a 5.1 audio will sound fine on a 7.1 system, too!
What's more, even with standard DVDs, if your DVD soundtrack only contains Dolby Digital, DTS 5.1, DTS-ES 6.1 or Dolby Surround EX 6.1 soundtracks, your surround sound experience can be hot-rodded to a 7.1 by the surround mode presets already living within your A/V receiver's brain. These presets can extract a 7.1 channel surround field even from 2 channel source material allowing you to listen to CDs and other stereo sources in a fuller surround sound.

Wattage, And Why It's Important
When purchasing separate receiver and separate speaker system you need to make sure they match each other's power. It's a bit like weight scales - whatever power your speakers require, the amp should be able to deliver, and without struggle: they should be equally matched. It's OK if the amp has a bit more wattage than the speaker, but try to avoid the other way round, which may potentially damage your amp!
Wattage can vary between different price points, and the more you spend the better power amp efficiency you will find. Generally speaking, manufacturers quote wattage figures in peak (or max) power which is roughly double that of continuous power. For instance if a 7.1 speaker system is quoted at 1400 watts total peak power, that would mean that it requires being driven by 700 Watts RMS (continuous power). Since subs are mostly self-powered, we can take them out of the equation, which would make each speaker capable (and requiring) of 100 Watts RMS from the amp. So any receiver or amp putting out between 100 - 150 Watts per channel would be perfect for the aforementioned system.
What To Do When Things Go Wrong
We've got a handy guide, just for that!