You can survive with just a regular set of speakers. You don't, strictly speaking, need a sub. But you cannot believe the difference having one will make. It's not just the inevitable boost to the low end that comes from a good quality sub; it's the overall richness of the sound. In this guide, we've evaluated the top subs for this year, no matter what your budget, or the size of your room. For more background, see our subwoofer comparison table and buying advice below the picks. And to complete your system, see our articles on the best floorstanding speakers and home theater systems.
 
---
Our Subwoofer Picks
---

Best Overall Subwoofer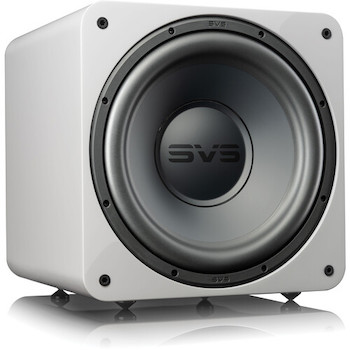 Wattage: 325 (RMS)
Driver Size: 12"
Direction: Front-Firing
What We Like: Gutsy, powerful, clean sound quality that happily beats other models.
What We Don't: Definitely not suitable for larger rooms.
There's a good reason why SVS dominate the world of subwoofers. No other company consistently produces subs that match great bass with great design, and usually at prices that most people can afford. The SVS SB-1000 Pro is, in our opinion, one of the best models they make. Its compact cabinet delivers up to 325 watts of clean and gutsy bass, which we found plays well with speakers from just about any brand. What really stands out is the surprisingly subtle and nuanced audio quality; the SB-1000 Pro certainly doesn't sacrifice clarity for grunt. While there are better options for larger rooms, like the ELAC Debut 2.0 SUB3030 (below), you won't find a better overall subwoofer. We liked the SB-1000 Pro so much that we made it our standard testing subwoofer for evaluating other pieces of audio gear.
The biggest downside to the SB-1000 Pro is that the power is relatively low. Those with larger rooms (as in, anything over 250 square feet) may not find it sufficient. A more powerful option, like SVS's own SB-3000 (below) or the aforementioned ELAC model may be a better choice. For the rest of us, the SB-1000 Pro is the model to go for. Worth noting: SVS also offer a ported model, the PB-1000 Pro, which delivers even more powerful sound. It's good, but we think the SB-1000 Pro is a more complete package...Read our in-depth review
See the SVS SB-1000 Pro
 
 

Best Budget Subwoofer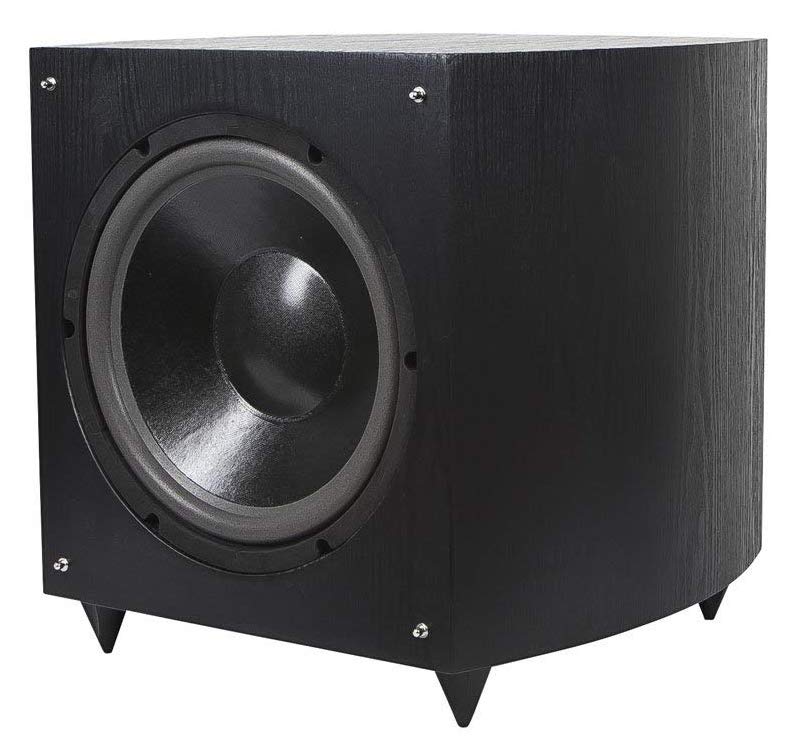 Wattage: 150 (RMS)
Driver Size: 12"
Direction: Front-Firing
What We Like: Excellent sound quality for the price.
What We Don't: Such boring design they didn't even give it a name.
In the world of audio, there is no company that needs to have a corporate getaway more than Monoprice. There is absolutely nothing wrong with them that a few shared joints and some vigorous sex wouldn't cure. This is a company with such a deficit of imagination that they don't even bother to give some of their product names. This one is called the 9723.
But simply because a company has a boring identity doesn't mean they make boring gear. Monoprice have been massively successful, and one listen to this subwoofer will tell you why. It may not have the raw power of the SVS SB-1000 Pro, above, but it's also less than half the priced. By stripping away all the design frivolities, Monoprice are able to offer this gem of a subwoofer for an absolutely knockdown price. The sound quality is clean and controlled, with thumping energy that makes it sound a lot bigger than it is. If you are on a budget, this is the subwoofer you need to buy. For another affordable option (although it is slightly more expensive) check out the RSL Speedwoofer 10S MKII, which we talk about below. The Monoprice sub does a better job at balancing movies and musical output, but the RSL is a good alternative.
See the Monoprice 9723

Best High-End Subwoofer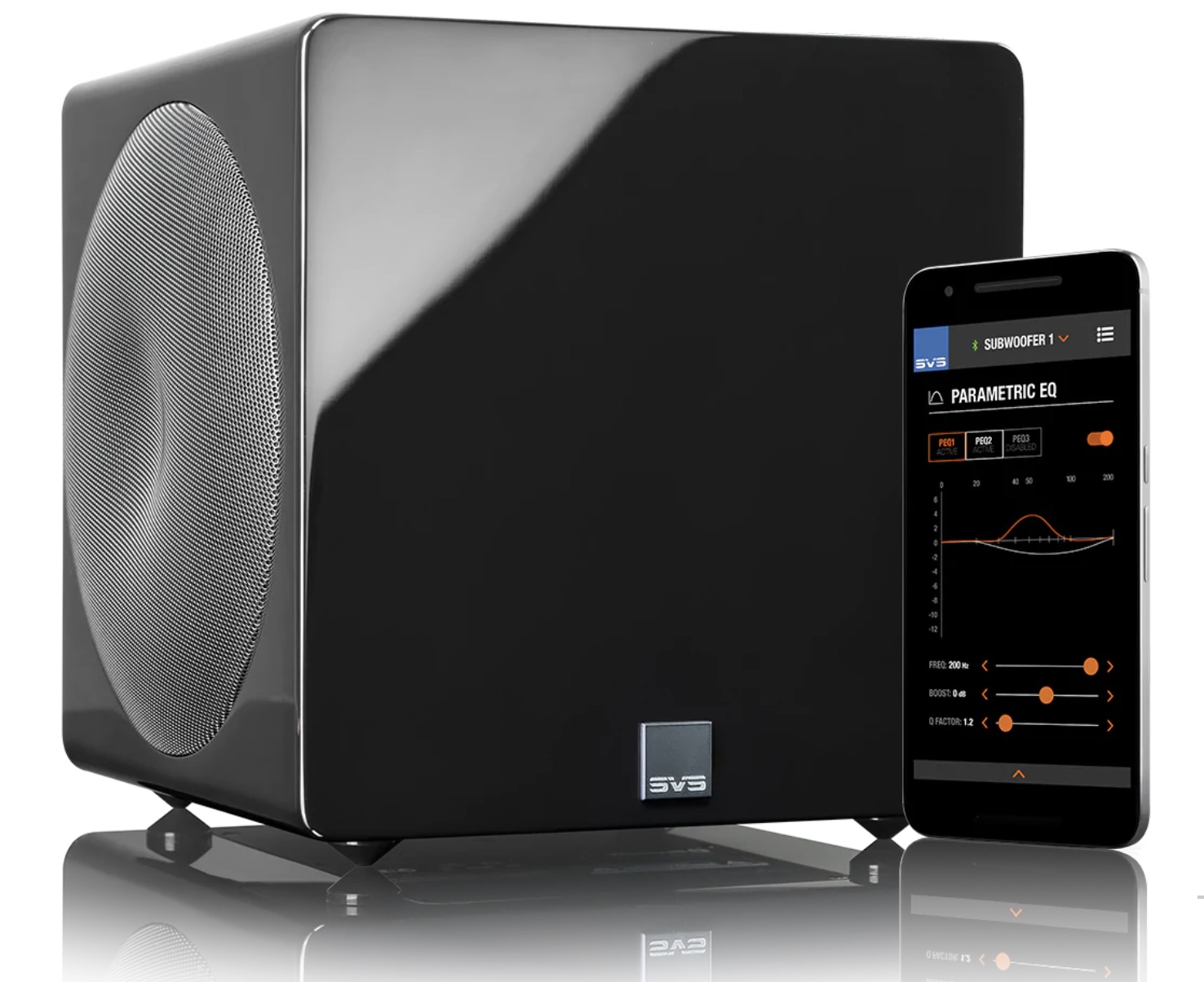 Wattage: 800 (RMS)
Driver Size: 2 x 12"
Direction: Side-Firing
What We Like: We don't understand how something this tiny makes such a loud noise.
What We Don't: Gloss finish picks up fingerprints, app needs some explanation.
There are more expensive subwoofers out there. It's possible to spend four figures or more on a sub…so why have we named the $899 SVS 3000 Micro as our top high-end option? Because only someone who has lost touch with reality would pass up the 3000 Micro. It is, in our opinion, one of the most technologically advanced, brilliantly designed subs available right now. It's staggering just how much you get for the price. The cabinet is tiny, far smaller than just about any other sub here (only the KEF KC62, below, can compete, and it's far more expensive). And the sound is just gigantic. In comparison to the far more expensive Seaton Sound JS12, below, the 3000 Micro actually puts out more power and bigger, rounder sound. We'd find that hard to believe, if we hadn't done thorough testing of this sub ourselves.
The SVS 3000 Micro isn't perfect. SVS' control app leaves a lot to be desired; it works fine, but can be clunky and intimidating if you don't know what you're doing. And while the design of the Micro is good, the gloss finish is a fingerprint magnet. But these are minor quibbles. The SVS SB-1000 Pro is still the best overall subwoofer for most people, combining muscular sound with an affordable price tag. But the 3000 Micro is ideal for those willing to spend a little more, and it handily beats more expensive models—including those from SVS themselves, the SB-3000 Pro and the SB16-Ultra…Read our in-depth review
See the SVS 3000 Micro
 
 

Best Wireless Subwoofer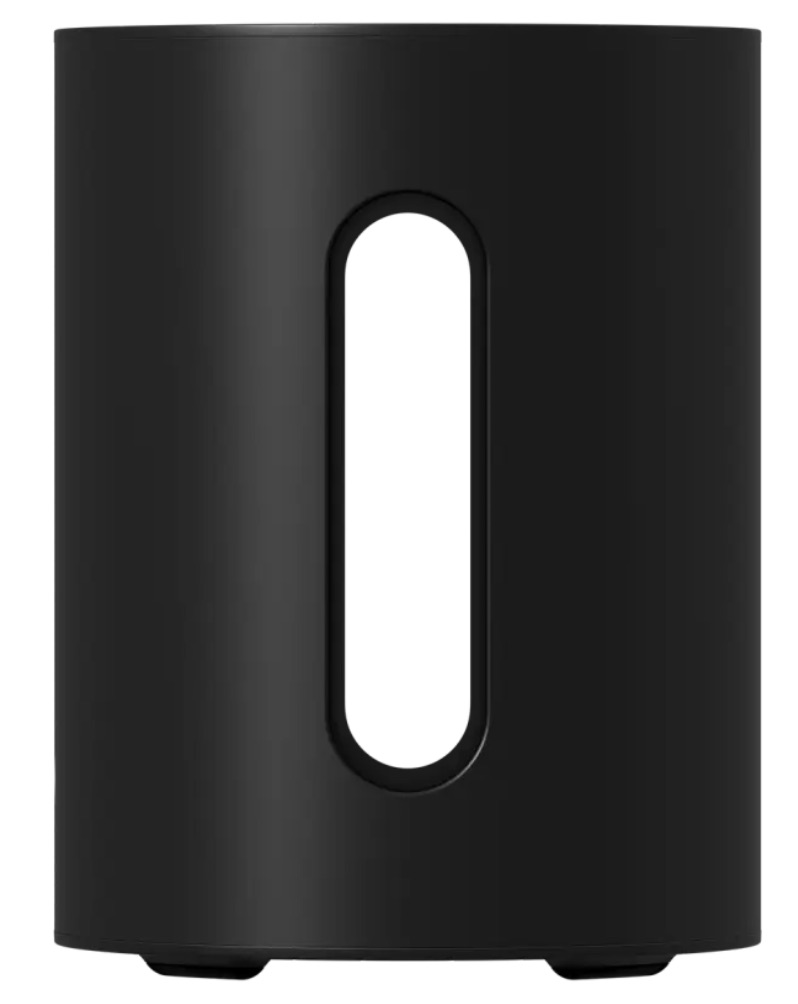 Wattage: Unknown
Driver Size: 2 x 6"
Direction: Inward-Firing
What We Like: Small form, weighty sound.
What We Don't: Issues with build quality, not good for those who don't already use Sonos.
Sonos won't let you use their products with those belonging to other manufacturers. That means you can't use the Sonos Sub Mini with, say, a third-party AV receiver or a stereo amp. If you're not already in the Sonos ecosystem, that could be a deal breaker. But if you are, you'll already know that Sonos offers the best and simplest wired sound quality on the market. The Sub Mini takes the original sub and makes it smaller and more compact (and cheaper). Its unusual inward-firing circular drivers put out some surprisingly muscular sound. It doesn't beat the top-ranked SVS SB-1000, but it's still solid.
Outside of the system-specific use, the one thing we had an issue with on the Sonos Sub Mini was the build quality. Put simply, it didn't feel as solid or as well made as other Sonos products (like our One wireless speakers). The chassis has a significant amount of flex to it, and although you're not going to be moving it around or even touching it—there are no controls on the sub itself—this is still a worry for a comparatively pricey product. But if wireless is what you require, then Sonos should be your first port of call.
See the Sonos Sub Mini

Maximum Bass for Home Theater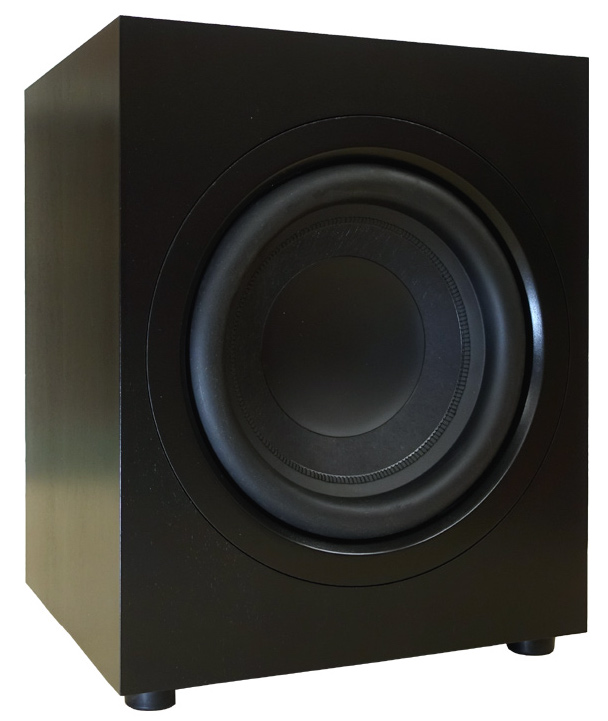 Wattage: 700 (RMS)
Driver Size: 12"
Direction: Front-Firing
What We Like: Deep, rich bass.
What We Don't: Lacks modern features.
Above $1,000 is where you really start seeing subwoofers amp up the boom. The audio has a rich, subsonic presence that will rattle your stomach and shake the walls. It's one hell of a thing to experience. For large rooms (over 250 square feet) this is easily the best option. While other less-expensive subs like the SVS 3000 Micro offer more wattage, the JS12 seems to have more presence and room-filling power. It especially excels in home theater, giving movies and TV shows extra oomph and pizazz. Those with smaller rooms should opt for the less expensive 3000 Micro, but make no mistake: the Seaton Sound sub is still a beast.
However, this is a subwoofer for purists. It offers almost no advanced features – no app control, no room correction. In addition, we think it may be a little bit too expensive for most people. However, if you like raw bass, and want some of the best in the business, then this is an excellent starting point. Seaton are a no-nonsense company from Chicago who've been making subwoofers forever, including the absolutely monstrous F18+, so you're in good hands here.
See the Seaton Sound JS12

Subwoofer with the Deepest Bass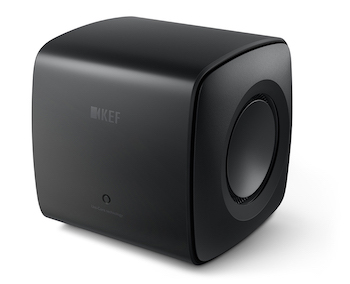 Wattage: 1,000 (RMS)
Driver Size: 2 x 6.5"
Direction: Side-Firing
What We Like: Tiny frame matched with earth-shaking sound quality.
What We Don't: Clunky controls, and the sub needs careful placement.
The KEF KC62 is a wonder. It does two things that, on their own, would each be wild. Together, they make this subwoofer extraordinary. For one thing, it's tiny, less than ten inches across—the only other sub that competes in size is the SVS 3000 Micro, above. For another, it has the deepest bass of any sub on this list: 11Hz, deeper even than the massive and much more expensive Power Sound Audio S3612. That's an unreal trick, and the KC62 has a wealth of technologies that deliver excellent sound quality. If you can afford it, it's absolutely a great option.
We do think there are a couple of issues with the KEF KC62 that keep it out of the top position. As tiny and powerful as it is, it needs careful placement. It has two side firing drivers, which mean that you'll need to spend a little bit of time finding the best spot. In addition, it has no digital control at all. All the controls are on the rear, and while they work fine, they look and feel a little clunky. An app control, such as that found in a less expensive SVS 3000 Micro, would have been a much better option. Its absence is also confusing, because KEF already use an app to control their class-leading wireless speakers. Still, if you want to go deep, this is where you need to be.
See the KEF KC62

A Great Subwoofer for Music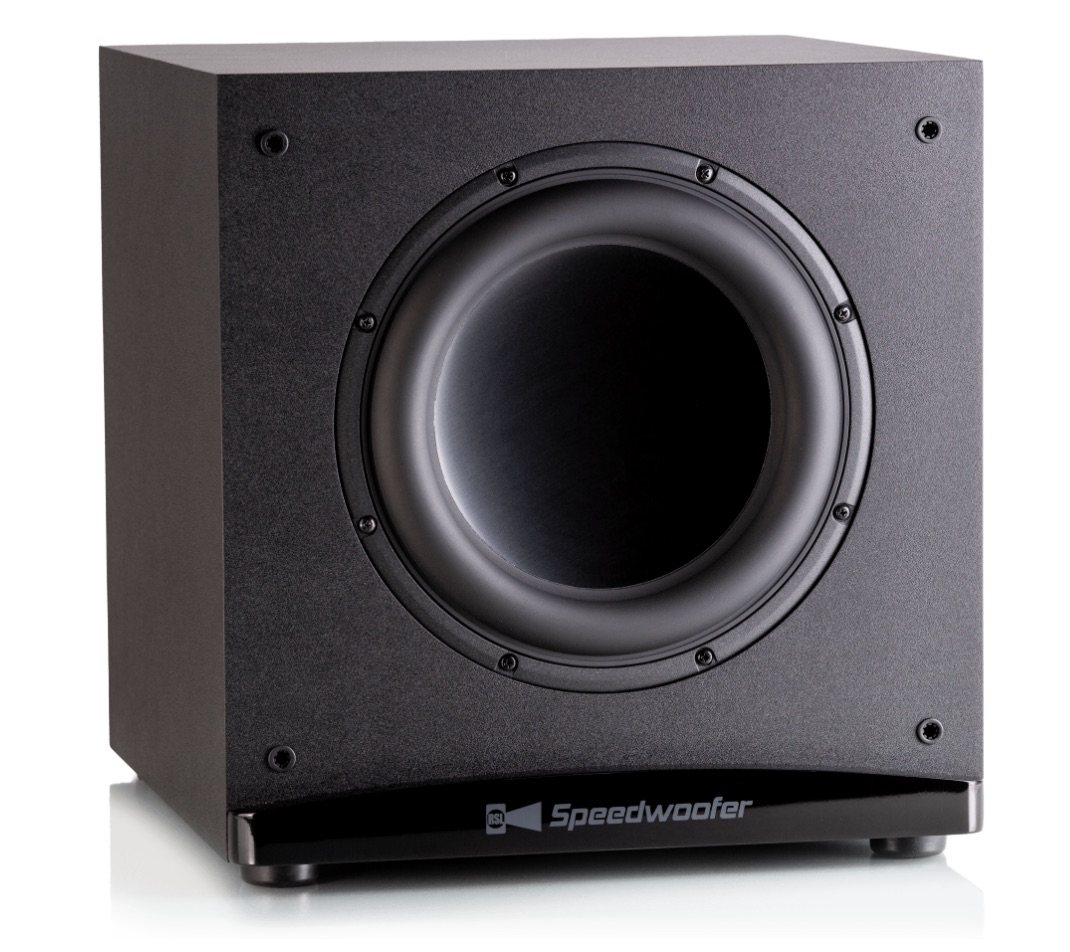 Wattage: 350 (RMS)
Driver Size: 10"
Direction: Front-Firing
What We Like: Feels like it's been specifically tuned for music.
What We Don't: Boring looks from the original version remain.
RSL (short for RogerSoundLab) proudly proclaim that the Speedwoofer 10S MKII is "one sub for movies AND music". We disagree. It does just fine with movies…but oh my, does it excel with music. The new MKII switches to a DSP amp design, and when you play music with some decent bass content, it absolutely shreds. The bass notes are clean and realistic, with tons of detail and precise control. Compare it to models from SVS and Sonos: musically, it's just a better option. And as with the previous model, you can add a wireless adaptor for $50. That makes it a competitor to the Sonos Sub Mini, albeit one that is a little more finicky.
One exasperating thing about the RSL Speedwoofer 10S MKII: the looks. We loathed the boxy, boring shape of the original, and the new one looks exactly the same. We love that RSL have clearly revamped the internals, and done such a great job, but this is a subwoofer you'll want to hide. Shame. That said, if you can deal with the dull-as-ditchwater design, you'll find a subwoofer that is ideal for integrating into a two-channel setup.
See the RSL Speedwoofer 10S MKII
 
Best of the Rest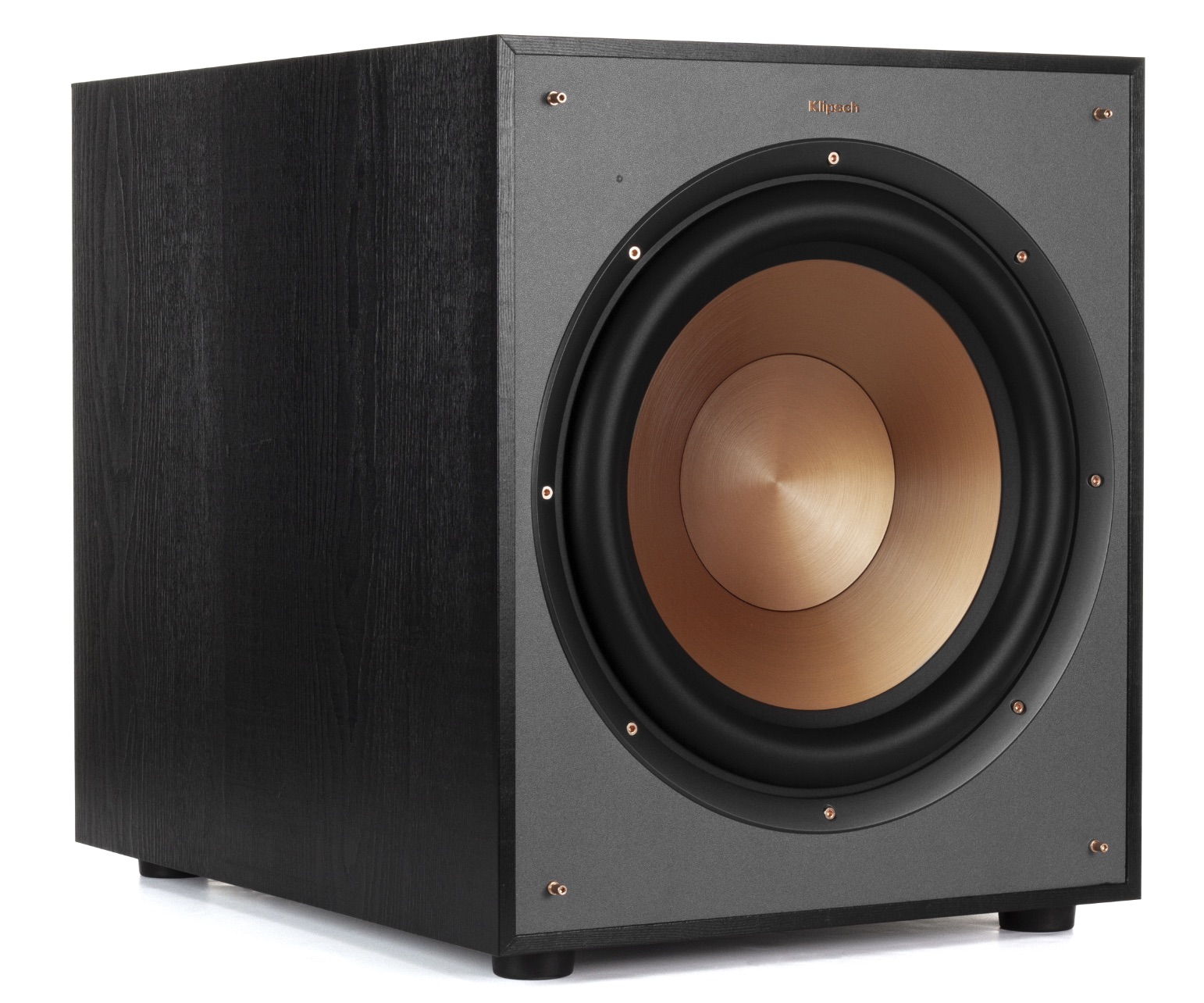 Wattage: 200 (RMS)
Driver Size: 12"
Direction: Front-Firing
What We Like: Very low distortion—even on the toughest material.
What We Don't: Doesn't do quite enough to rise above the competition.
The $500-$600 subwoofer market is a crowded one, and Klipsch want a piece of it with their R-120SW. We like the crisp, hard-edged character it brings to bass notes, which feel like they've been carved out of solid titanium. Even on the most complex bass aspects, like the low-end of heavy metal tracks, there was minimal muddiness and distortion. While the sound quality isn't as exciting or lively as something like the SVS SB-1000 Pro, it's clearly not designed to be, delivering realism in place of dynamism. That's an approach we can respect. We're also big fans of the trademark black and gold color scheme that Klipsch specialize in. They make a range of speakers, too, which makes color-matching your system a real possibility.
Unfortunately, the audio approach is not enough to put the Klipsch R-120SW above the competition. It's a good, but not great, subwoofer. Are we going to choose it over the aforementioned SVS? Or the RSL Speedwoofer 10S MKII (which actually does a better job overall with music)? No way. You need to have something extra to rise up in the crowded subwoofer market, and sadly Klipsch doesn't appear to have it. This is a good alternative, but it doesn't quite go the distance.
See the Klipsch R-120SW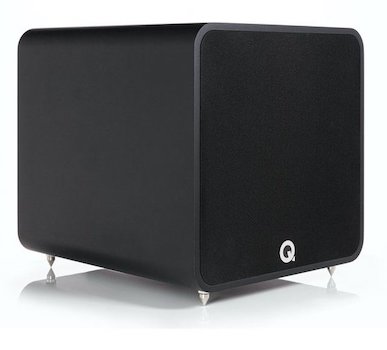 Wattage: 220 (RMS)
Driver Size: 12"
Direction: Front-Firing
What We Like: Clean and powerful bass matched with clever controls.
What We Don't: Lacks the ability to deliver huge, gut-punching bass.
It's hard not to be wowed by the bass that comes out of the Q Acoustics Q B12. This subwoofer offers a polished sound that feels clean and elegant, while still delivering good levels of power. Despite having less than half the wattage of something like the $800 ELAC Debut 2.0 SUB3030, the more affordable Q B12 sub genuinely impressed us with its outstanding and surprisingly subtle audio quality. We also found it a dream to use thanks to the intelligent rear-mounted controls. There's even a magnetic metal plate that allows you to hide any connecting wires, while still letting you use the crossover and volume dials.
There's one note of caution here, and it's the power. 220 watts is nothing to sniff at, but compared to other subwoofers here, like the top-ranked SVS SB-1000 Pro, the Q B12 may come across as being a little underpowered. It delivers smooth, confident bass, but it doesn't have the raw, stomach-pounding energy of other subwoofers. It doesn't hit you in the gut. If that's your jam, then you may want to check out those models, and steer clear of the Q. It's also huge: nearly twenty inches wide, and amazingly heavy at almost fifty pounds.
See the Q Acoustics Q B12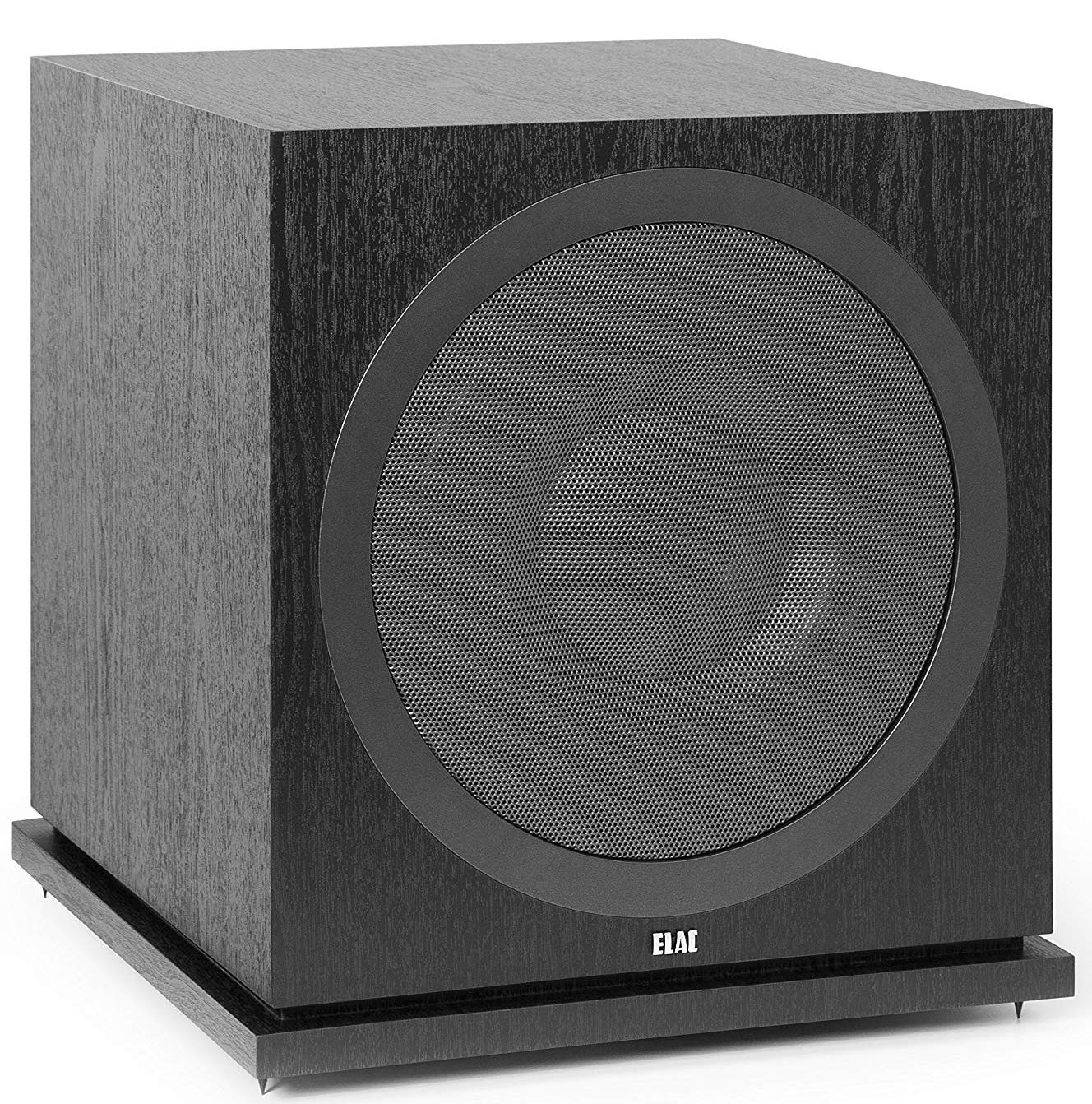 Wattage: 500 (RMS)
Driver Size: 12"
Direction: Front-Firing
What We Like: Value and sound quality are excellent.
What We Don't: Won't satisfy those who like huge volume.
ELAC's super-impressive Debut 2.0 line includes a subwoofer that is easily in our top ten, regardless of room size. At 500 watts RMS and 1,000 peak (full breakdowns of those terms are in our Buying Advice, below), the SUB3030 delivers more than enough grunt, and the bass it puts out is solid and muscular. It satisfies whether you're watching movies, series, or playing games. We don't think it's the best in any particular category—it doesn't quite rise above the likes of SVS, KEF, or Q Acoustics—but it is very much a contender.
There are no physical controls. Instead, an Android and iOS app gives you access to all the functionality you need, including software that lets you fine-tune the sound to your listening environment. The sound isn't quite as deep or powerful as the SVS 3000 Micro, above, but is more than rich and detailed enough for most people. ELAC have produced a genuinely brilliant product here, and at a very affordable price, although we will say that it's been beaten out by subs like the Q Acoustics Q B12.
See the ELAC Debut 2.0 SUB3030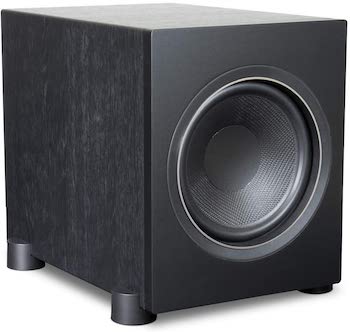 Wattage: 150 (RMS)
Driver Size: 8"
Direction: Front-Firing
What We Like: Revels in detail and realism.
What We Don't: Underpowered, and a little too expensive.
The new PSB Alpha S8 replaces the old Klipsch C-308ASWi on this list. It's not only less expensive, but it offers even better detail and realism. We can think of very few subwoofers in this price range that deliver the kind of pinpoint, scintillating detail found on the Alpha S8, particularly when it comes to complex and nuanced instruments like double bass. It isn't the most powerful subwoofer here, and at only 35 Hz of extension, the bass isn't the deepest. But there's a real sense that the audio has been hand tuned here, with the goal of maximum realism.
Unfortunately, that low-power does become a problem. Compared to similarly priced subwoofers like the Q Acoustics Q B12, the PSB Alpha S8 doesn't quite measure up (220 watts versus 150). Partly this is to do with the unusually small driver; at eight inches, it doesn't really have the grunt to compete with the big boys. We do love the attention to detail, but if you like your subwoofers loud and proud, you may want to look at other options like the aforementioned Q Acoustics model.
See the PSB Alpha S8
 
Wattage: 500 (RMS)
Driver Size: 12"
Direction: Down-Firing
What We Like: Well-built, stylish, excellent bass.
What We Don't: Unusual driver/radiator design requires careful placement.
The Aperion Audio Bravus II 12D is quite an unusual subwoofer. It has a standard driver, positioned in the down-firing position (underneath the sub), coupled with two sideways-facing passive radiators. The result is effortless, clean, deep bass. The Bravus II 12D goes down to 19Hz, bested only by the Power Sound Audio S3611 and the KEF KC62, which cost significantly more. We also love the looks – ours came in a gorgeous red finish that really stood out. If you like your subwoofer to look as good as it sounds, then the Aperion Audio Bravus II 12D is an easy choice.
However, the unusual driver/radiator design means that the Bravus II 12D needs a lot of effort to position properly. Although you should technically be able to position it as you would any other subwoofer, we found the positioning required a lot of fine tuning to get the best sound. The ELAC Debut 2.0 SUB3030, mentioned above, is not only cheaper, but is significantly easier to use. However, we still loved our Aperion Audio Bravus II 12D and believe it earned a spot on this list.
See the Aperion Audio Bravus II 12D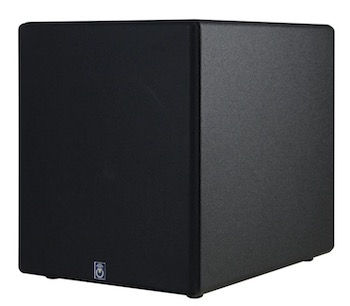 Wattage: 1,920 (RMS)
Driver Size: 2 x 18"
Direction: Front-Firing
What We Like: Huge power, fine-grained control.
What We Don't: Doesn't have the detail of other subwoofers.
With a frequency extension that goes all the way down to 16 Hz, the Power Sound Audio S3612 is second only to the KEF KC62 for anyone looking for the absolute deepest, darkest bass. It's the subwoofer we'd go for if we wanted raw, unrestrained energy, and hang the price tag. You also get an oddly-specific 1,920 watts of RMS power, making the S3612 the single most powerful subwoofer on this entire list. If you have a big room, and a bit of money to spend, you can tear reality apart.
While the Power Sound Audio S3612 does have a comprehensive set of physical controls, including room size selector, you should look at other models from the likes of SVS if you want high levels of digital control and DSP (Digital Signal Path) adjustments. Additionally, for all its power, the S3612 doesn't quite have the finesse of other models, such as the ones mentioned above - particularly the SVS 3000 Micrfo. The Power Sound Audio S3612 is a sub designed for those who demand the absolute lowest bass. Only the Wilson Audio sub goes lower (10 Hz) and since that costs $25,000, we think your money is better spent with PSA.
See the Power Sound Audio S3612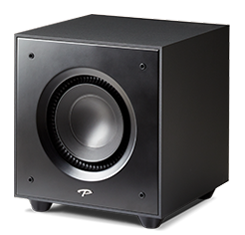 Wattage: 300 (RMS)
Driver Size: 10"
Direction: Front-Firing
What We Like: A leap forward for Paradigm subwoofers.
What We Don't: Perhaps a touch expensive, although there are cheaper options available.
Paradigm's new Defiance range of subwoofers comes in several flavors. The X series deliver raw power, while the V series is all about affordability. They are all good, and offer several advancements on basic subwoofer design, but if we had to pick one, it would be this one. In our opinion, it offers the best combination of sound quality, features, and pricing, and will be the best choice for most people. While we still wouldn't pick it over the ELAC Debut 2.0 SUB3030, which we think offers better value for money, it remains a good alternative.
You also get an excellent range of features, including app control of the subwoofer, included Anthem Room Correction, and the ability to make the subwoofer wireless with the purchase of an additional module. The Defiance range is a forward-thinking series, and the X10 is its finest ambassador. Paradigm, by the way, recently came out with a new line of subs, including one that retails for (gulp) $7,500. We've heard it, and it's superb, but that price tag puts it way out of reach of most people.
See the Paradigm Defiance X10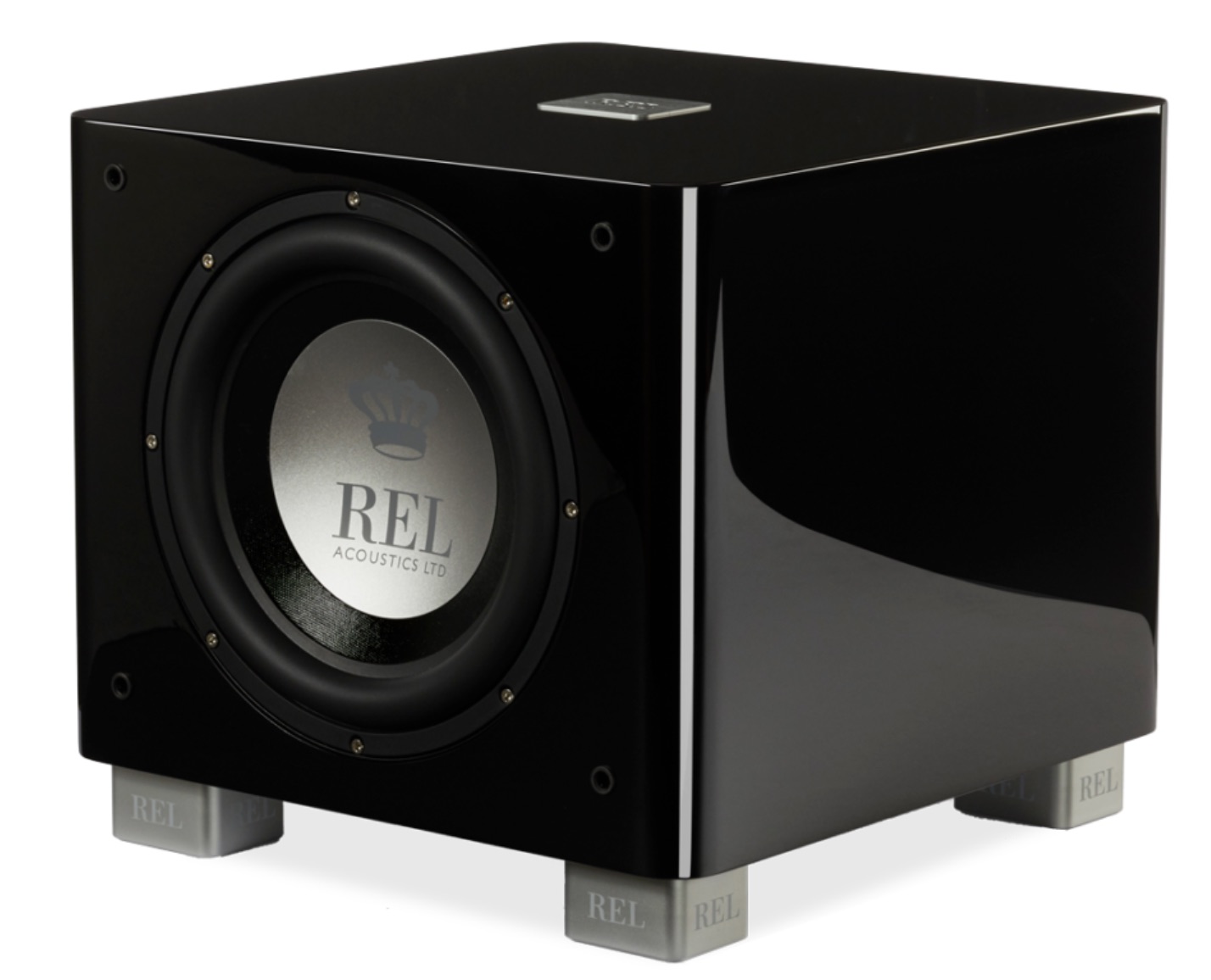 Wattage: 300 (RMS)
Driver Size: 10"
Direction: Front-Firing
What We Like: The audio here is fast, accurate and punchy.
What We Don't: Demands a lot of break in time and tuning.
The REL Acoustics T/9x is not a sub for casual listeners. It's a subwoofer that demands time and attention. It not only allows you to connect to a power amplifier as well as a line level output (and has different methods of connecting said amplifier) but it also requires careful positioning, and a long break-in time. As good as the sound is—more on this below—we think that for most people, it's simply too much. Subwoofer geeks will love it, but we can't recommend it over simpler and more confident subwoofers like the SVS 3000 Micro. No way.
But look: put the time in, and the REL Acoustics T/9x will reward you. The audio quality is supremely speedy, delivering crisp transients that are among the fastest and most accurate we've heard. That's something of a REL trademark. If sound quality were the only factor in play here, then the T/9x would rank a lot higher. As it is, you'll need to put in a good deal of work to get to that sound. The T/9x belongs on this list, but it's far from the best subwoofer available.
See the REL Acoustics T/9x
 
And For When You Win The Lottery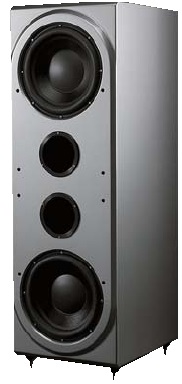 Wattage: N/A
Driver Size: 2 x 15"
Direction: Front-Firing
What We Like: Ridiculous sound quality.
What We Don't: Massive price tag, requires external amp.
When a Utah company, Wilson Audio, decided to create a subwoofer, they didn't mess around. Their Thor's Hammer has at least one thing in common with the actual Thor's Hammer. It might not be able to summon thunder and lightning, and it won't return to the place it was thrown from (mostly because it would take three men and a specialized catapult to actually throw it), but only those who are worthy may hold it. And by worthy, we mean loaded. This unbelievable subwoofer costs $25,000.
Here at The Master Switch, we don't usually like talking about frequency ranges. We firmly believe that, when it comes to buying audio gear, they are nearly useless in helping you decide which pieces of equipment to buy. But when it comes to subwoofers, and especially to subwoofers this powerful, that thought goes out the window. You're dealing with a very specific part of the frequency spectrum. Although human beings can only hear down to around 20Hz, we can actually feel frequencies lower than that. The Thor's Hammer goes all the way down to 10Hz, which is nothing short of remarkable. Its party trick is that it reproduces the lowest note of a pipe organ with perfect fidelity and clarity at full volume. Since that note occurs at 16Hz, below the range of human hearing, that's quite something.
See the Wilson Audio Thor's Hammer
 
Subwoofer Comparison Table
*RMS = RMS Wattage
**Freq. = Frequency Range
***Unav. = Unavailable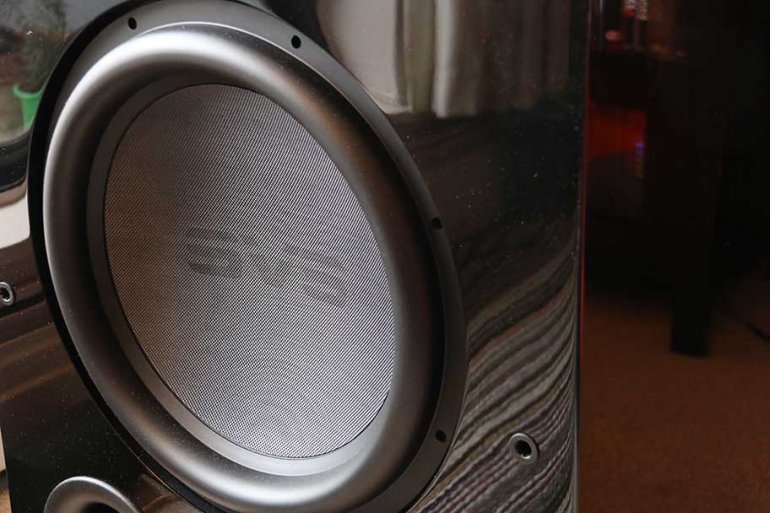 Subwoofer Buying Advice

Passive vs. Powered Subwoofers
There are two types of subwoofers: passive and powered. The difference between them is very simple. Passive subwoofers require an external amplifier to work, while powered subwoofers have an internal amplifier, and just need to be plugged into the mains. That's it. We aren't really going to talk about passive subwoofers here. Firstly, they are far less common than powered subwoofers, especially in the home theater space - although there are some still available, like this Bose PS 28 III. Secondly, going into the process of matching a passive subwoofer with an amplifier is an entire guide by itself. 
Fortunately, we do have such a guide to matching speakers and amps, but in this buying advice, we're going to be talking about powered subwoofers exclusively. The benefit of doing this is that it vastly simplifies the process of connecting your subwoofer to your system: all you have to do is run an RCA cable between them (most receivers have a dedicated subwoofer output), and a power cable from the subwoofer to the wall socket. Boom. Done. Trust us: it's a good thing that the subwoofer is powered. You're going to need a lot of power.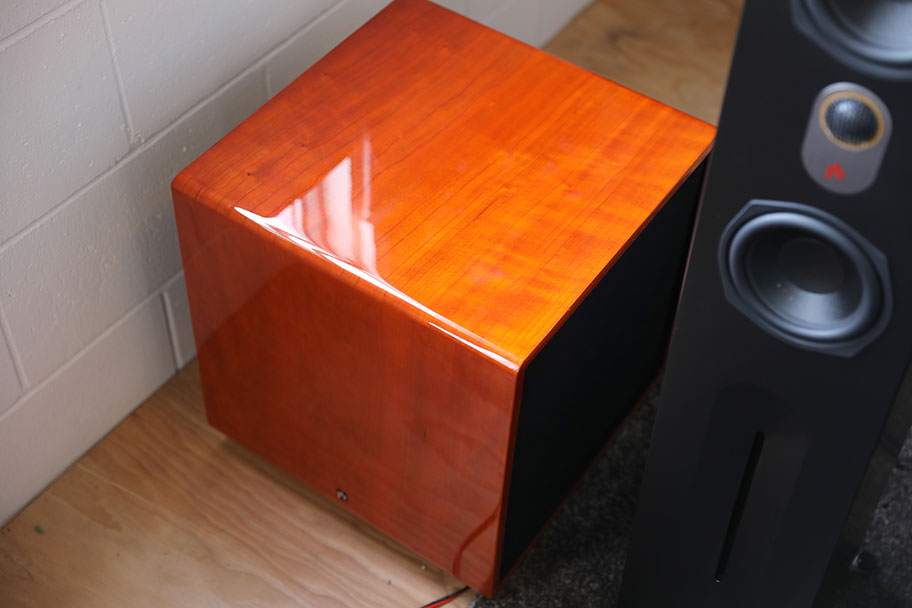 Front-Firing vs. Down-Firing vs. Side-Firing Subwoofers
So: you've decided to buy a subwoofer. Congratulations. You've only got about 10,947,084 models to choose from, and that's just on the first page. Subwoofers are further split into three categories: whether they are front-firing or down-firing. Figuring this out is easy. If the driver (the big, circular element, which is the same in terms of functionality as the ones found on floorstanding speakers) is on the front of the unit, then it's front-firing. Bottom? Down-firing. Sides? Side-firing. There's only one down-firing sub on our list: the Aperion Bravus II 12D. Most other subs are either front-firing, or side-firing.
You might reasonably ask what the differences are between the three. There aren't actually that many – not enough, given the variances between different rooms and different circumstances, to make a major difference. Bass frequencies are nondirectional, which means that it's not going to matter that much which one you pick. 
However: if you're planning on placing your subwoofer close to your main speakers, or underneath your TV (and we go into placement in more detail below), then it may be worth investing in a front-firer. Away from your speakers? At the side or in the corner of the room? Go for down-firing. But again, this isn't a decision which makes a major impact, and in this case, consider what we are saying as general guidelines rather than hard rules.
Side-firing rewrites the rules a bit. Side-firing subs, like the stellar SVS 3000 Micro and the Sonos Sub Mini (which actually has its drivers facing each other on the inside) are among the most technologically advanced subs out there. The maths behind why side-firing is the new wave is a little complex, but for those companies with the budget and R&D departments to explore it, it allows designers to put bigger sounds in smaller spaces. You'll pay a premium for these models though—if you're looking to save money, a front-firing sub will be just fine.
Driver Size Explained 
In the case of subwoofers, size really does matter. To produce bass sounds, you've got to be able to produce a lot of energy. The bigger your speaker driver, the more energy you'll be able to put out (although a lot of it has to do with the amplification powering the driver as well). In general, you should be looking to acquire a subwoofer with a driver above 12" in size - that's 12" across, from end to end. Anything smaller will deliver good sound, but don't expect huge low-end power. The PSB Alpha S8 has a driver of 8". We think it's good for small rooms, but you shouldn't expect it to put out huge energy.
That being said: you don't have to push the boat out if you don't want to. A 15" driver Will be perfectly suitable for most people, and only those who have very, very large rooms or need to produce seriously dramatic bass need to stray into the 18" and up range – For example, the Power Sound Audio S3612 which costs $2,800, and has twin 18" woofers. Always take into account the size of your room before you get busy with the one-click-buy!'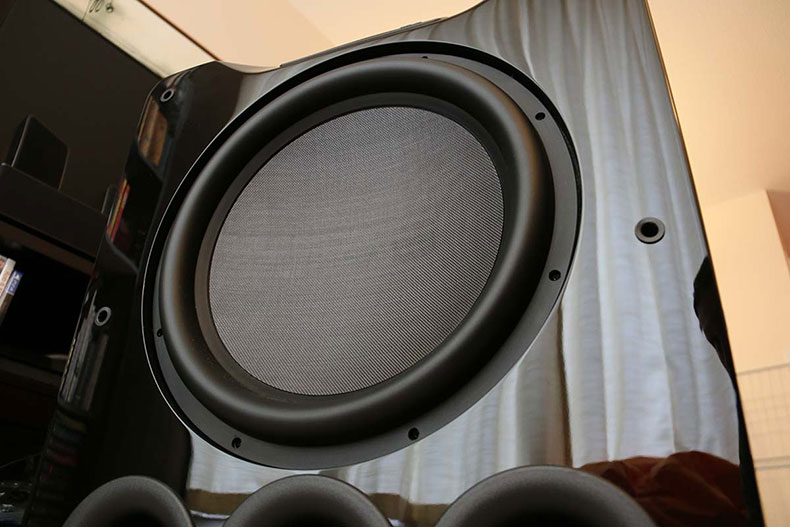 Wattage Explained
Spend any amount of time on this site, and you'll see this term a lot. We're sort of obsessed by it. Broadly speaking, the more watts there are, the louder the sub will go, although it's a bit more complex than that—you can, after all, turn a sub down. Rather, think of wattage as a range in which you push the sub. The higher the range, the louder you can make it without distorting the sound. Watts can be low (60W) or exceedingly high (4,000W), and as you can imagine, you pay more for higher wattage. Note the difference between RMS (sometimes called continuous) and peak (sometimes called  dynamic) wattage. Always, always, always look at RMS, and ignore peak. The former refers to the overall power at a set and usually reasonable volume. The latter refers to the absolute loudest the thing can go. You'll need the first. Don't believe the hype. Anything with up to around 1,000 watts of RMS power should be more than appropriate for most people, although you can go significantly higher if you wish to. For example, the Power Sound Audio S3612 puts out a staggering 1,920 watts, Which is overkill for just about everyone except those with underground bunkers.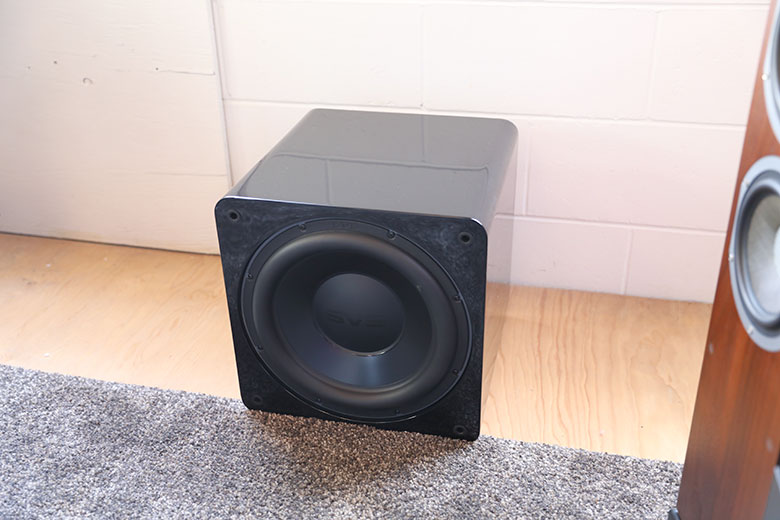 Of course, you might reasonably ask: if you have two subwoofers, one with an RMS and peak of 500 and 1,500 watts, and another with an RMS and peak of 2,000 and 3,000 watts, then what's the difference between them, given that they are both separated by 1,000 watts? The answer is in the nature of bass itself. Unlike higher frequencies, bass needs a lot of energy. The more wattage a subwoofer has, the more it will be able to provide that energy, at any volume. More wattage equals bass that is tighter, clearer, more well-rounded. It means that whether you're rattling the windows or turning things down late at night, you'll be able to get better sound. Once again: you control the volume. What you don't control is the base-level clarity of the sound, and that's where wattage can be a useful metric.
We agonized over this section. It is so, so easy to get lost in mathematical formulas and tables of figures when calculating exactly how wattage relates to decibel levels (read: volume). Ultimately, we decided that we'd keep things simple. If you have one takeaway here, it's this: buy a subwoofer with a nice, wide gap between peak and RMS, and get one with as many watts as you can afford.
 
Ported vs. Sealed Subwoofers
Sealed subwoofers have a cabinet that is entirely enclosed, with no openings into its interior. Ported subwoofers have one or more openings, to allow the free-flowing movement of air. Put very simply: sealed subwoofers sacrifice a little overall volume and presence for a tighter, more controlled sound, while ported ones can pump out huge volume at the expense of a little clarity. Generally speaking, larger and more expensive subs tend to be ported, while smaller, cheaper ones do not.
If you've got a smaller room, and don't need to blow the windows off, then it may be worth looking at a sealed subwoofer. If you aren't going to be pumping things to huge volumes anyway, then it makes sense to invest in a little bit more clarity and depth to the sound, rather than plumping for huge volume. But if you have a bigger space, consider ported models. You may also come across things known as passive radiators. Think of these as unpowered speaker drivers which are there to simply react to the air the main driver is moving. A subwoofer could have one or more of these in addition to the main driver, and they help with the articulation and expression of the sound. Passive radiators are almost always a good idea.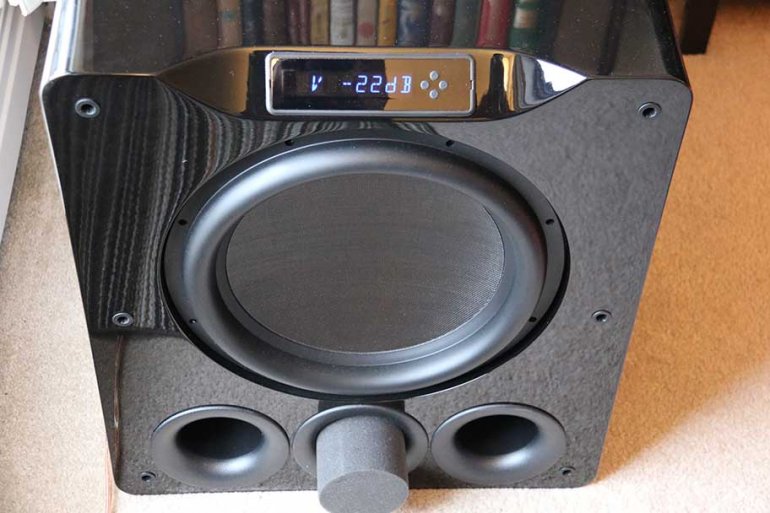 Wireless vs. Wired Subwoofers
There's an easy dichotomy here. Most home theater or hifi subwoofers have wired connections, while many that come with soundbars are entirely wireless. Wireless subwoofers have the advantage of needing absolutely no setup. They will already be slaved to the central unit, and all you need to do, in most cases, is plug them in. The crossover point (see below) is already set, so they take the difficulty out of initial setup, although you will of course need to work out where to put them, and they will need to be plugged into a mains socket. 
The downside is that in almost all cases, they don't sound quite as good as wired subwoofers. This isn't a universal rule, and the private wireless network they run on is certainly capable of transmitting some good low end, but we almost always prefer wired models. This isn't a decision we can make for you. The only thing we can say is that if you intend on having a 5.1 or 7.1 sound system, then we strongly recommend a fully-wired subwoofer - although there are always exceptions, like the excellent Sonos Sub Mini.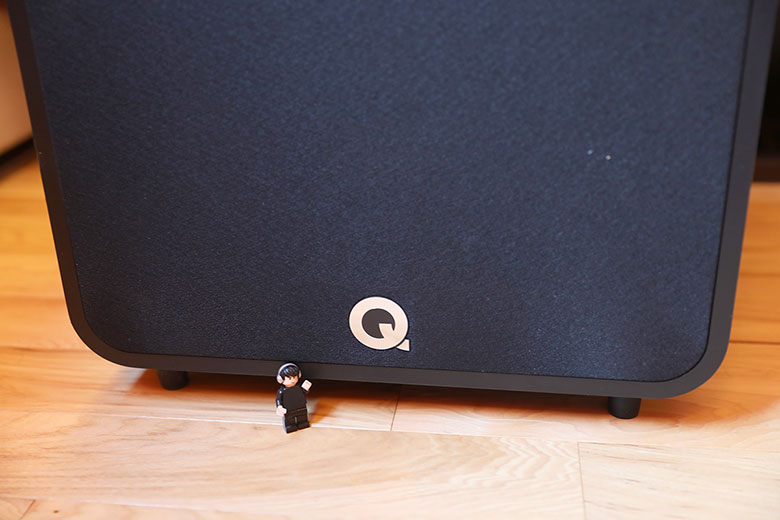 Subwoofer Placement Explained
There are some people who will tell you that it doesn't matter where you put a sub, as long as you're not using it as a table next to the couch. Don't believe these people. They're talking out their backsides. Placement is important, and you need to spend a little bit of time getting it right. This isn't as easy as you might think. Oh sure, you could stick it in the corner of the room, or under your TV set, and you'll get a reasonable amount of bass. What you won't be getting is the timbre of the bass, its characteristics and color. It's like paying a lot for an expensive meal, and tasting nothing but salt.
Subwoofers are tricky in this respect. Bass waves move in all directions, and as soon as they hit a flat surface (like a wall) they reflect all over the place. Fortunately, there's a neat trick you can use to simplify things. Put the unit in the place you would normally sit, then start playing some bass-heavy music through it–something like Skrillex or Diplo would be ideal. Now you need to crawl around on the floor (yes, we know) and find a spot where the bass sounds richest. You may have one or two spots to choose from at the end, but those are the spots where you should conceivably place your sub.
There are also plenty of outlets that offer dedicated online system builders, which will let you plug in the size of your room and help you fine tune placement. SVS has a very good one.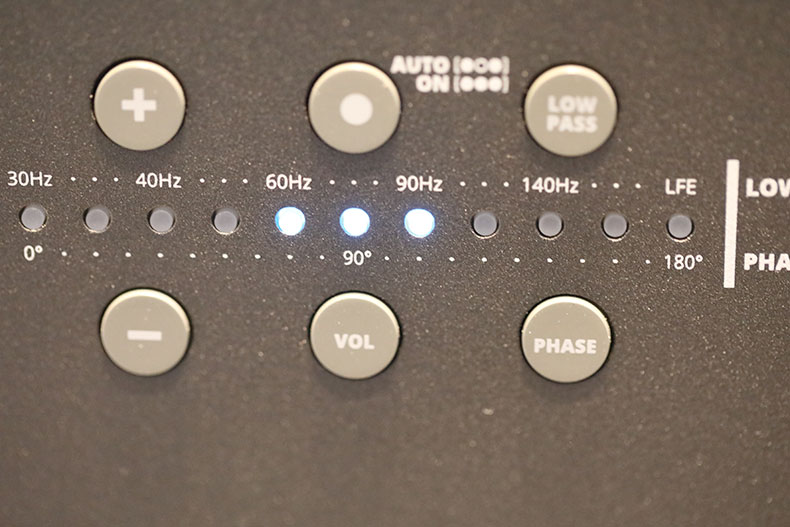 Setting Up Your Subwoofer
Usually subs are simple to set up. Plug an RCA cable (make sure you have one long enough) into the line-in port in the back of the sub, and to the subwoofer out on your AV receiver or amplifier. All that's left to do then is connect the power cable. OK: sometimes it's a little more complicated than that, a factor which largely depends on the rear panel of your subwoofer. The more expensive model is, the more likely it will come with a variety of switches and controls that let you adjust things at source.
Let's tackle a few of these. If you see a volume knob on the back of your subwoofer – something that is rare but not unheard of – set it at about halfway. You can adjust it later, but you'll be calibrating your sub to get the best sound, and the twelve o'clock position is where you want to keep it for now. You might also see a switch or setting labelled phase. The simplest explanation for this particular setting is that multiple speakers sound better together when their drivers are moving "in phase" – as in, in sync with one another. The kicker is that it's often quite difficult to figure out if you've set the phase correctly (phase is almost always available in two settings, 0° or 180°). You need to spend some time sitting in your listening position, listening to something with a lot of bass content, then flipping settings and listening to the same thing. Without putting too fine a point on it, one should sound "right". If you can't hear a difference, or both sound okay, then our advice is: don't stress. Pick one setting, and leave it there. You can always change it back later. You may also have various other ports on the back of your subwoofer, such as speaker outputs. For these, we are going to recommend that you consult your subwoofer's manual. Every sub is different, and we don't want to give specific guidelines here.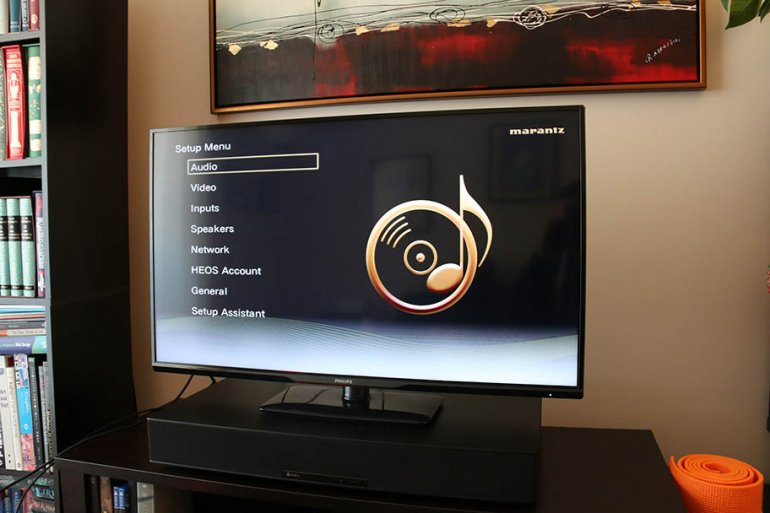 Subwoofer Crossover Explained
Welcome to the single most important thing you can do to make your subwoofer sound better. As you've probably figured out by now, a subwoofer is designed to handle the low frequencies. But as well-designed as your speaker system is, it's not actually sentient. It doesn't know where those low frequencies begin. There's a huge range where they occur, and until you tell it differently, your speaker system may be diverting some of the low-frequency information in your sound to your surround or front speakers - information that would be far better handled by your sub. Adjusting that point - the frequency below which all sound is sent to your sub - is called adjusting the crossover point.
Usually, the crossover is set using the on-screen setup for your AV receiver. It should allow you to pick a particular frequency without too much trouble. To find the best frequency, what you need to do is go and look at the specs for the other speakers in your system. Every speaker has a frequency range it can comfortably reproduce. While they are completely useless when making a buying decision (something we've explained in detail here) they are very helpful for determining the crossover - which is why we've included them in our comparison table, above.
Let's say you've got a set of speakers with a frequency range of 100Hz - 20kHz. That means your crossover point is 100Hz – that's the point at which the speakers will stop being able to produce sound, which is where you need to bring your subwoofer thundering in the fill the gaps. Once you've set the crossover (and run your receiver's room calibration software, if it has any), there's one last thing you need to do. Start playing a song with a lot of bass content, at a reasonable volume, through your system. Lower the subwoofer volume until you can just barely hear the bass. Then, very slowly, start to turn it up until the bass is at a comfortable but not overpowering level. Congratulations, you've effectively matched your subwoofer with your speaker system, and no matter how loud you turn up the overall volume, the bass will not overpower the other speakers. Remember: wall-shaking bass is all well and good, but the key here is synergy. You want an overall sound that is rich, powerful, and deep, without being uncomfortable. Setting the crossover and the volume is the best way to achieve that.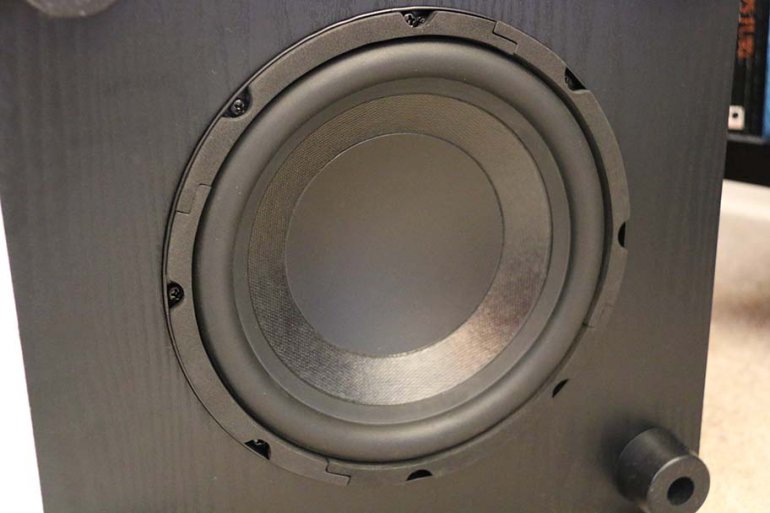 Using More Than One Subwoofer
If you think the bass is good with one unit, then wouldn't it be better with two? Or four? The answer is yes, of course it would, but you also run the risk of distortion, or simply overwhelming the other sounds in the mix. If you do want to try this, and have got the cash to throw around, then a unit in each corner of the room (although not up against the walls, please) will blow your mind. 
But it certainly isn't essential, and if you make the right pick, you'll have something you'll love. Frankly, we'll take that over spending a huge amount of money on multiple variations of the same thing, just to produce endless bass. Unless you really, really want to annoy your neighbours. Or you live in the middle of nowhere.
 
Subwoofer DIY Explained
One of the most common enquiries we get is whether we'll ever feature DIY subwoofers on The Master Switch. The builders of these subs contend – possibly with some merit – that their creations will easily outdo those made by some of the companies on our list. Our response is that it's very difficult for us to review a DIY sub – while it makes a fun read, and we love hearing them, it's not very useful for a reader who then decides to buy it!
However, we do recognize that DIY subwoofers are a huge market, and those who build their own spend a staggering amount of time getting it right. There are thousands of forums, subreddits, and other sites where builders post their work, and you'll often see DIY builders at audio shows. Hell, Dayton Audio even offer a basic starter cabinet, for those just getting into it.
Unlike many other speakers, subwoofer is comparatively easy, and it makes a great project if you're just getting started in the world of DIY audio. The components can be sourced from relatively little outlay, and you don't need a huge amount of electrical knowledge in order to build something you'll be proud of. While we will say that we aren't really the right site to find information on this, there's a wealth of information out there. If you get started, and you're not a giant ass-hat, you'll quickly find yourself making friends in the community.
Back To Our Top Subwoofer Picks  Back To Our Comparison Table
Learn More About Home Theater Speakers