You can survive with just a regular set of speakers. You don't, strictly speaking, need a sub. But you cannot believe the difference having one will make. Squirrelled away out of sight, this big box of wonders will do incredible things to your audio. It's not just the inevitable boost to the low end that comes from a good quality sub; it's the overall richness of the sound. In this guide, we've evaluated the top subs for this year, ranging from easy budget options to four-figure monsters - and at least one bad boy that needs a second mortgage to buy.
 

How We Choose:
This is one of the toughest categories to make choices in. There are hundreds of great subwoofers out there, and dozens of companies creating landmark gear. It would be very easy to populate this list with nothing but world-shattering models from high-end brands like Sunfire, Deep Sea Sound, and JL Audio. They all produce absolute monsters, with price-tags that run into quintuple figures. We can't run the list like that. It not only neglects the amazing budget subwoofer market, but it's hugely intimidating for anybody who just wants to add a little bit of extra bass to their setup.
So, we compromised. We capped the price at $3,000 – that sounds arbitrary, but after that price point, it's all about bigger drivers and louder bass. The major differences happen below the $3K mark. It still gives us a huge range to play with, allowing us to include subs from landmark independent operators, as well as budget models from bigger household names. Value-for-money is key here, as in ease-of-use, feature set, and overall sound quality. Yes, we had to leave out a few big names, and some indies, but we think you'll agree that our list is still banging regardless.
 
Our Subwoofer Picks: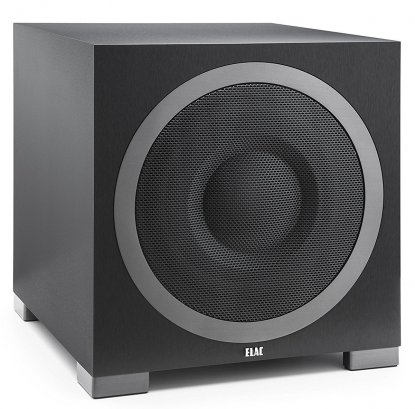 Wattage: 500 (RMS)
Driver Size: 12"
Direction: Front-Firing
What We Like: Value and sound quality are second to none.
What We Don't: Doesn't deliver a ton of power.
For a long time, the SVS PB16-Ultra sat atop this list, and with good reason. It's absolutely brilliant. To beat it, a subwoofer would have to combine genuinely excellent sound quality with incredible value, and coincidentally, ELAC's S12EQ does just that. This is easily everything you'll ever need from a subwoofer, and it's a solid number one pick.
There are no physical controls. Instead, an Android and iOS app gives you access to all the functionality you need, including the RoomEQ software that lets you fine-tune the sound to your listening environment. The sound's not quite as deep as the PB16-Ultra, to be sure, but more than rich and detailed enough to blast its way to the top of this list. ELAC have produced a genuinely brilliant product here, and at a very affordable price. We never expected to get a subwoofer this good for under $1,000, but they more than delivered. If you want to give your home theater a kick up the backside, this is where you should start. And by the way, there are plenty of other options if you'd like something with a little more firepower - just check out the list below.
See the ELAC S12EQ
 
Wattage: 165 (RMS)
Driver Size: 12"
Direction: Front-Firing
What We Like: Unbelievable value, excellent design.
What We Don't: Underpowered, doesn't get quite as low as other models.
Velodyne are legendary. They've made some of the greatest subs of all time – and we think this is one of them. It's not the newest model out there - they've released several others since its debut - but we think that it remains a classic, and still one of the best choices for any subwoofer fan.
For starters, it's light, at barely 35lbs – for a twelve-incher, that's practically featherweight. The design is excellent, but it's the sound that really sets this particular subwoofer apart here, putting it into our top five. It's engaging and fun, even though it doesn't reach quite as deep as the ELAC, at number one (the 'Lac goes down to 25Hz, while the 'Dyne only does 50Hz). It is, however, arguably even more potent in terms of detail and control. For under $500, they're practically giving this thing away. If you want to buy something newer, or more powerful, the company offers several other models that will fit the bill – although, if we were spending the money, this is what we'd spend it on.
See the Velodyne Impact-12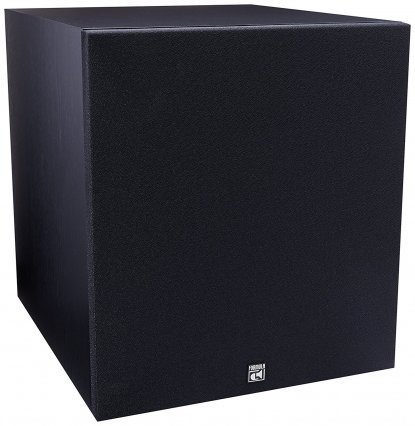 Wattage: 150 (RMS)
Driver Size: 12"
Direction: Front-Firing
What We Like: You get a staggering amount of sub for your money.
What We Don't: Dull looks, inferior to the ELAC and Velodyne.
If this sub looked and sounded a little better, it would probably be at number one or two on this list, challenging the ELAC for top spot. As it is, it loses out to the three models above it in both overall wattage and in sound quality. It has a slight dip in detail, and a lower RMS wattage than even the Velodyne Impact-12.
However, it's still in our top five, which means it must have something going for it. That something is the staggering value-for-money that you get from buying this particular subwoofer. If it was being offered at double the price, we wouldn't be surprised. Just because the sound quality isn't quite as good as the other models, doesn't mean it's bad. It still delivers a deep, extended, powerful bass effect, filling out the gaps in a home theater system nicely. For our money, it's the best subwoofer under $300, and although BIC America have a teeth-grindingly dull corporate identity, they make some good stuff.
See the BIC America F12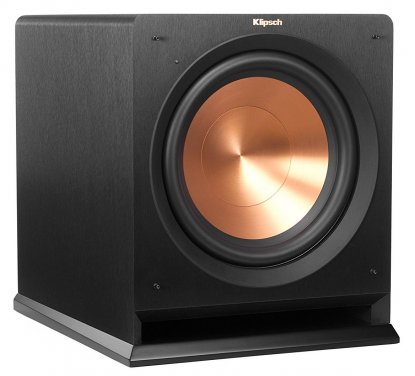 Wattage: 300 (RMS)
Driver Size: 12"
Direction: Front-Firing
What We Like: One of the best wireless-capable subwoofers available.
What We Don't: Demands a lot from your other speakers.
All subwoofers have a frequency range in which they operate – you can see them listed in the Comparison Table below these picks. The frequency range is measured in hertz, and it gives you an idea of just how deep a subwoofer goes: the lower the first number, the lower the bass. We also need to know the second number, which gives you the top of the subwoofer's range, and tells you the point at which you'll need to set the crossover. This (and we're sorry for hitting you with so much jargon) is the point at which the speakers take over from the subwoofer - you want it to be reasonably high. At 125Hz, the R-112SW's crossover point is lower than any of the subwoofers above it, all of which top 200Hz. That means it asks a lot more of your speakers than other subwoofers might.
However, it's easily the best wireless-capable subwoofer available. The addition of a separate wireless kit means you can place the sub anywhere, and it will reward you with excellent, smooth bass. Despite being slightly idiosyncratic, we must admit that we really enjoyed using it, and will be doing a full, in-depth breakdown soon. And of course, by buying it, you get to experience some of that gorgeous black-and-gold Klipsch colorway.
See the Klipsch Reference R-112SW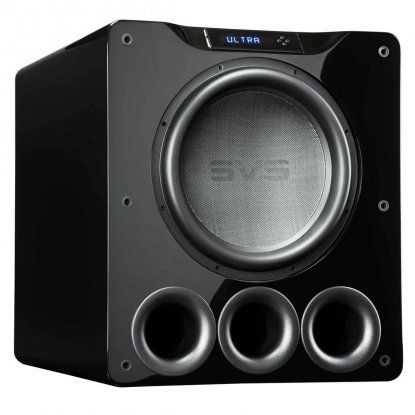 Wattage: 1,500 (RMS)
Driver Size: 16"
Direction: Front-Firing
What We Like: Unbelievable volume and audio quality.
What We Don't: Takes two people to unbox and shift, too expensive for most people.
We've never quite received a piece of audio gear like the PB16-Ultra. For starters, it took two people to move the thing into our living room. At 175lbs, this is not a piece of equipment you stash away unnoticed, and it's the first one we've come across that actually has unboxing instructions!
It absolutely pains us not to put this at number one. It was there for a long time. But the biggest complaint we received was that it was overkill for most people, and after much - much - debate, we decided to drop it. If you can afford it, though, watch out. It's exquisitely-built, with a gorgeous, comprehensive app and clear, simple instructions. And the sound. Dear God, the sound. It's not just that it's loud - although at top volume, it shakes glasses and dislodges picture frames and prompts visits from the landlord. It's that the bass is clear, robust, distinct, with a level of depth and detail that shouldn't be possible in a sub. With 1,500 watts of power (continuous - peak is an ear-shattering 5,000), driven by an absolutely stunning set of internal electronics, this is a subwoofer for the ages. Read our in-depth review...
See the SVS PB16 Ultra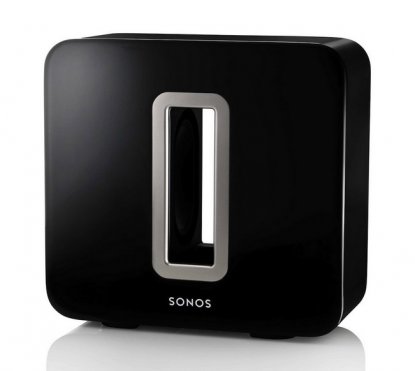 Wattage: Unknown
Driver Size: Unknown
Direction: N/A
What We Like: Terrific sound quality.
What We Don't: Requires that you get locked into the SONOS ecosystem.
The biggest black mark against the SONOS SUB is that you can't use it with equipment from other manufacturers. Got an existing home theater setup? You, my friend, are out of luck. The subwoofer only works with other SONOS equipment, and while the company makes a real effort to ensure that the setup process and ease-of-use works well, you might want to steer clear of this if that lock-in is going to be a problem.
The upside is that, if you're okay with using only SONOS gear, you'll be rewarded with some genuinely good sound quality. While the subwoofer is a little light on stats, it hardly matters: there's no need to set the crossover point when it's automatically tuned to all other speakers, guaranteeing you easy, clear, deep bass at all times (see our Buying Advice section, below, for more info on crossovers and how they work). We also really like the design, which allows you to put the subwoofer in just about any position – a boon for small spaces. It's not the best wireless subwoofer on this list – we're giving that honor to the Klipsch Reference R-112SW, even if it's not wireless directly out of the box – but it's damn good.
See the SONOS SUB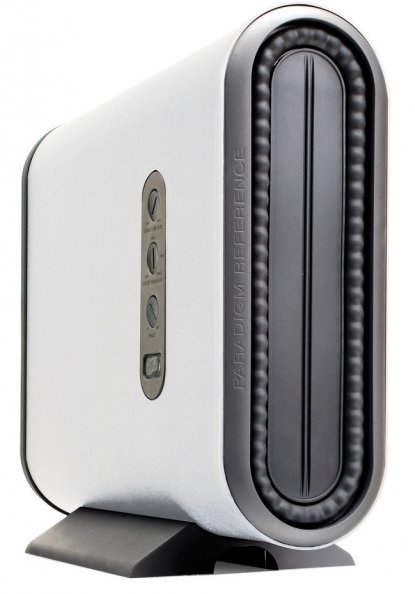 Wattage: 300 (RMS)
Driver Size: 2 x 14"
Direction: N/A
What We Like: Huge soundstage.
What We Don't: Quite old now - and still quite expensive.
You can, if you're so inclined, spend a huge amount of money on Paradigm – how about a Prestige 2000 SW, previously on this list at a staggering $4,000? All in all, we think that's a bit too much to pay for a subwoofer, but we still thought it was worth including Paradigm in this roundup. Their MilleniaSub, while slightly old now, is still a feature in many living rooms. And with good reason.
The shape – similar to the SONOS SUB and the old Focal Air subwoofer – means you get lots of flexibility as to placement, which is always handy. And the twin 14" drivers managed to create a compelling soundstage, with a sweet spot that feels a little bit wider and more refined than many other subwoofers. The bass is thick and powerful, reminiscent of the SVS at number two, with perhaps a little less raw energy and extension. Are you going to choose this over something like the Klipsch Reference R-112SW? Probably not – the Klipsch has similar power, and offers better value. But it's not as versatile, and if you find yourself in an unusual space, this could be the one to go for.
See the Paradigm MilleniaSub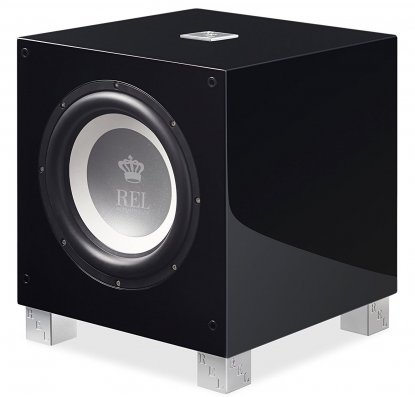 Wattage: 300 (RMS)
Driver Size: 10"
Direction: Front-Firing
What We Like: Lovely design, surprisingly elegant audio quality.
What We Don't: Takes a little fine-tuning to get the most of it.
We really wish REL were more popular than they are. Although beloved by the subwoofer community – as its many fans on Facebook let us know, loudly, when we left it out of the first version of this list – it has yet to get ahead of household names like Yamaha and Polk. That's a real shame, because the company makes some absolute beasts.
If we had to pick one, we'd say that the T/9i is the one to go for. It's one of the newer models, and definitely one of the best the company has ever made. It's surprisingly dainty and elegant – sure, it puts out some thunderous bass, but it also has a skill for the details. In this aspect, it more than competes with models like the Paradigm MilleniaSub. It looks great, too; silver feet give it a bit of a cute element, which is something you almost never see in subwoofers. I don't think we've ever called a subwoofer cute. The T/9i is an unusual, fun, and effective subwoofer. Although the sound quality requires a little bit of careful positioning within a room to get the best effect, it's an easy top ten pick.
See the REL Acoustics T/9i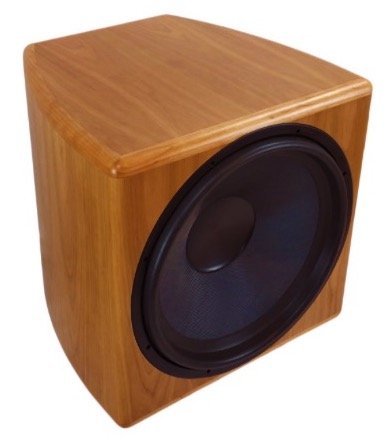 Wattage: 1,000 (RMS)
Driver Size: 18"
Direction: Front-Firing
What We Like: Monstrous, paint-stripping sound.
What We Don't: Way too expensive for most people - even for the most basic one.
In the end, we had to. The subwoofers made by Funk Audio are so good, and so unbelievably powerful, that we would have felt horrible leaving them off – even if their price-tag is as paint-stripping as their sound. The 18.0C is one of their best-value models, and even the basic one, with no add-ons, will set you back at just under three grand (although the price does include shipping within the US). For most people, that's simply too much – although, if you feel the need to spend huge amounts on a subwoofer, you can easily make a case for this to be in the top five.
You would buy this sub, not only for the gorgeous wooden cabinet, but for the unbelievable power. It's like getting hit in the head with a velvet-covered anvil. You won't believe just how rich and powerful one of these sounds until it's thundering away in your living room, rattling your walls, and scaring your neighbours. As we said, this is going to be total overkill for most people, but it's just within our three grand limit, and we think it deserves to be here. We still believe the SVS PB16-Ultra is better, but that doesn't stop this from being fantastic.
See the Funk Audio 18.0C
Wattage: 1,700 (RMS)
Driver Size: 2 x 18"
Direction: Dual (Front and Back)
What We Like: Huge sound, great control system, advanced processor circuitry.
What We Don't: Definitely not for small rooms.
The Power Sound Audio PSA S3601 is a big, bold beauty - nothing on the Funk Audio beast above, but much cheaper, and you still get some fantastic audio. It has a unique driver structure: two opposing 18" drivers (each firing in opposite directions) that are contained in an airtight, sealed cabinet. The control panel also offers a number of user-adjustable parameters. Apart from the usual suspects, such as volume and crossover, there are additional dials, such as Room Size, and Delay. These allow for tweaking of the bass content and response of the sub (if positioned quite far from the listening sweet spot).
Also offered as an optional extra (during the checkout process) is a choice of Power Sound Audio's two Auto Mode audio processors, which are room correction / auto EQ modules. It's great to see this level of customisation available, and even a short listen to this dual 18" monster immediately tells you that you are in serious home theater territory. Even when properly tuned (meaning not overtaking your main speakers) the PSA S3601 still makes you feel the bass rather than just hear it.
See the Power Sound Audio S3601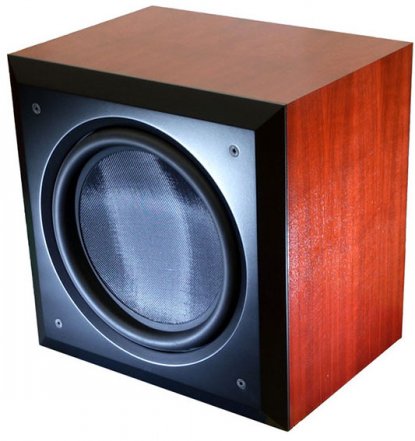 Wattage: 1,400 (RMS)
Driver Size: 18"
Direction: Front-Firing
What We Like: Seaton's superb design and build shines through.
What We Don't: Tough to track down.
We hesitated to put the F18+ on this list – actually getting one can be a bit tricky. The Seaton Sound website is…how shall we put this? Not very well designed. You have to visit a forum for current product information, and while the company's subwoofers are still available, it would be nice to see a more user-friendly portal for actually buying them.
All the same: there's nothing wrong with their subwoofers. The F18+ offers stupendous sound, which you can boost from 1,400 watts up to 4,000 - if you buy an additional slave unit, at a cost of $1,195 each. However, even if you stay with the basic single sub, you'll still have a winner here. It has full DSP, a Class D amplifier that puts out crystal-clear low-end notes, and a comprehensive control section. We don't think it's quite as good as the S3601 from Power Sound Audio, but the differences aren't huge.
See the Seaton Sound F18+
 
Wattage: 700 (RMS)
Driver Size: 18"
Direction: Front-Firing
What We Like: Highly-tuned bass.
What We Don't: Not as loud as the others, slightly awkward size.
Here's another indie brand that you'll almost certainly have to go direct to get – although it's definitely worth it. After leaving JTR off our last list, we got schooled by the legions of bass fans out there, and decided to revisit it. Well, apologies from us – they make some terrific subwoofers. Having heard the Captivator 118HT, we agree that it would be a crime to leave it off this list.
That doesn't mean it's perfect. When we heard it, it didn't feel like it could go quite as loud as some of the others, and its height means that it can be quite prominent in any setup. It's also not quite as clean or dynamic as the REL Acoustics T/9i, above. But these are minor problems, and we have to admit that we adored the bass, which had been tuned to perfection. It was crisp and clear, and we really felt that it articulated the low end exceptionally well. This may not be the subwoofer for everyone, but it deserves its spot on this list. We won't make the mistake of leaving JTR off it again.
See the JTR Captivator 118HT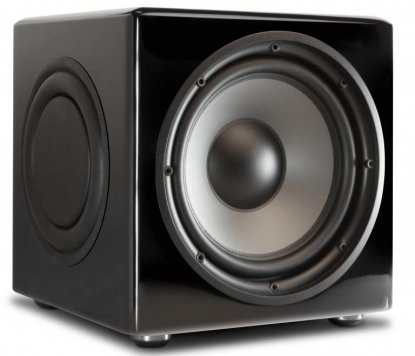 Wattage: 400 (RMS)
Driver Size: 12"
Direction: Front-Firing
What We Like: Deep, deep bass.
What We Don't: Maybe a little expensive?
One word: deep. Actually, we'll add a few words to that: powerful, smooth, earthshaking. Simply awesome. PSB know what they're about when it comes to subs, and, with this big, 400-watt front-firing twelve-incher, they've created a terrific complement to any system.
It's got excellent digital signal processing as well, and its relatively affordable price (compared to the SVS) makes it an excellent alternative. But truthfully, you choose this one for the epic sound quality. Part of it's due to the engineering of the amp inside, which is a Class D module from NAD Electronics. But it's also due to the outer construction, which includes two 10" passive radiators to really get the low end thumping. The advanced crossover makes it easy to cordon off that low-end, and the entire system works incredibly well. It has similar internals and features to the Seaton Sound F18+ - although, obviously, it doesn't offer that sub's level of quality. In addition, right now, it's a tiny bit overpriced. But this may drop in the future. If you can afford it, then go for it!
See the PSB SubSeries 450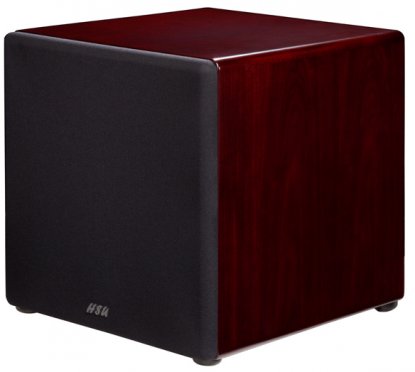 Wattage: 600 (RMS)
Driver Size: 15"
Direction: Front-Firing
What We Like: Deep tones with plenty of clarity, flexible setup options, incredible value for money, seven-year warranty.
What We Don't: No major issues.
HSU Research (pronounced Shoe) is a US company, formed in 1991, with one goal in mind: to make the best subwoofers. Their big breakthrough came with the variable-tuning technology featured in their first VTF range of subs, which are still going strong. The ULS-15 is their new flagship subwoofer, and has seen a recent upgrade to MK2. If you're looking for a similar budget alternative to the ELAC, look no further.
As the name suggests, this powered sub is equipped with a 15" bass driver speaker and its capacity is substantial - 600 watts continuous power, handling peaks of up to 2,000 watts. HSU are so confident in the speaker's performance that the ULS-15 Mk2 comes with a seven-year warranty. We were really impressed with the audio quality of the HSU - it sounds absolutely massive, while displaying tight low-end character. The sub-bass power and clarity make this sub one of the best available right now - and similarly to Funk Audio's subwoofers, the tag also includes factory-direct shipping.
See the HSU Research ULS-15 MK2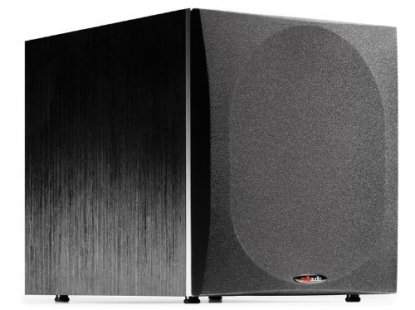 Wattage: 300 (RMS)
Driver Size: 12"
Direction: Front-Firing
What We Like: Offers decent sound at a good price.
What We Don't: Overrated.
There are plenty of websites that have talked up the PSW505 as one of the better subs out there, and we have no idea why. It's not that it isn't good. It's fine - delivering clear sound in a decent package. It's just that it's not nearly as impactful or as impressive as it's made out to be. For example, you could pay less than $20 more for a BIC America F12, and get a much better package, with far better value.
Again, we need to stress that the PSW505 only lacks in comparison. And perhaps, even saying it's lacking is a strong statement. It's just not quite as impressive as other models on this list. You still get a decent sub, with some nifty features (like an adjustable crossover), wrapped up in a moderately attractive housing, for not a large sum of money. If the BIC is a little hard to track down, then this is definitely something you should check out.
See the Polk PSW505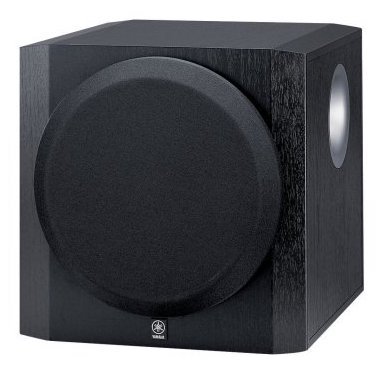 Wattage: 100 (RMS)
Driver Size: 10"
Direction: Front-Firing
What We Like: One of the best small-room subs available.
What We Don't: Suffers with music, slightly boomy audio.
If you live in a small apartment, or have a small room for your TV setup, this could be the ideal subwoofer for you. It's relatively compact in size, and offers a similarly compact sound. The 10" driver pumps out bass that isn't super powerful, but makes up for it by being tight, controlled, and clear. For $130, Yamaha gives you a hell of a lot here.
It definitely has its downsides, however. It may sound okay while handling movies on Netflix, but doesn't have the depth and clarity to take on music. You may want to steer clear if you plan on listening to a lot of tunes through your system. We also noticed that the sound tends to get a little boomy at higher volumes, which can be a bit of a problem. Compared to the Polk PSW505 and BIC America F12, this sub doesn't really compete, but it's an excellent choice for under $150.
See the Yamaha YST-SW216BL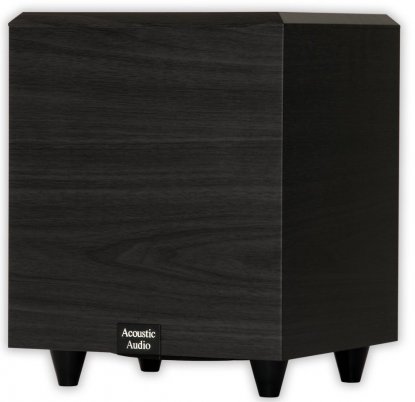 Wattage: Unknown
Driver Size: 10"
Direction: Down-Firing
What We Like: A surprising sub-$100 subwoofer that really performs.
What We Don't: Has nothing on the big boys.
Normally, we'd tell you to steer clear of any subwoofer priced at under $100. They just don't have the juice or the quality to compete. The Acoustic Audio PSW-6 is one of the very few exceptions - a remarkable little number that is genuinely worth your time. You're definitely not going to be pitting it against the SVS and Funk Audios of this world, or even the Yamahas and Polks, but for small spaces, it will do well.
Part of the reason for this is the decent level of technology packed inside. The subwoofer uses what is known as an extended excursion cone, which means the driver is made of treated paper to increase the sensitivity. This results in sound that's quite a bit better than you'd expect, especially at this price. We don't know what the continuous/RMS wattage of the sub is, but we do know that it peaks at 250 watts, which is reasonably solid. And if the 10" model is too small for you, you can quite happily choose a larger version – Acoustic Audio have several to pick from.
See the Acoustic Audio PSW-6

And For When Your Rich Uncle Has Died...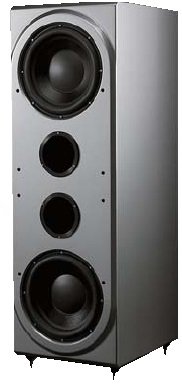 Wattage: Unknown. We're guessing it's a lot.
Driver Size: 2 x 15"
Direction: Down-Firing
What We Like: Pump up the volume!
What We Don't: Millionaires only.
Arguably one of the most powerful subs on the planet: a giant, earth-cracking monster with two down-firing 15" woofers that will make your ears bleed. Wilson Audio are known for extreme stuff, and they've really nailed it here. Of course, if you're worthy - and by worthy, we mean absolutely jammed with cash - you'll probably expect nothing less.
It's not just that the subwoofer is loud - although, of course it is - it's that it has almost zero distortion. That was the acoustic goal Wilson set out to achieve, and they absolutely did. Not only that, but they achieved it in a surprisingly small unit – one that pairs perfectly with other Wilson speakers, like the Alexia Series 2. That's a steal at only $57,200 for the pair. What are you waiting for?
See the Wilson Audio Thor's Hammer

Comparison Table:
| Subwoofer | Price | RMS* | Driver | Direction | Freq.** | Dimensions |
| --- | --- | --- | --- | --- | --- | --- |
| ELAC S12EQ | $700 | 500 | 12" | Front-Firing | 25-150Hz | 17" x 17" x 17" |
| Velodyne Impact-12 | $474 | 165 | 12" | Front-Firing | 50-200Hz | 18.9" x 15.1" x 14.2" |
| BIC America F12 | $215 | 150 | 12" | Front-Firing | 25-200Hz | 17.25" x 17" x 14.75" |
| Klipsch R-112SW | $640 | 300 | 12" | Front-Firing | 24-125Hz | 18.25" x 17.4" x 15.25" |
| SVS PB16-Ultra | $2,500 | 1,500 | 16" | Front-Firing | 13-360Hz | 28.3" x 25" x 21.7" |
| SONOS SUB | $700 | Unknown | Unknown | N/A | Down to 25Hz | 15.8" x 15.3" x 6.2" |
| Paradigm MilleniaSub | $1,280 | 300 | 2 x 14" | Front-Firing | 35-150Hz | 18.4" x 14" x 5.9" |
| REL Acoustics T/9i | $1,400 | 300 | 10" | Front-Firing | Down to 28Hz | 16" x 15.2" x 13" |
| Funk Audio 18.0C | $2,926 | 1,000 | 18" | Front-Firing | 10-500Hz | 20.5" x 20" x 18.5" |
| Power Sound Audio S3601 | $2,000 | 1,700 | 2 x 18" | Dual (Front/Back) | 17-200Hz | 28" x 24" x 20" |
| Seaton Sound F18+ | $2,395 | 1,400 | 18" | Front-Firing | 30-120Hz | 24.25" x 23.5" x 18" |
| JTR Captivator 118HT | $1,599 | 700 | 18 | Front-Firing | 19-190Hz | 30" x 22.5" x 20" |
| PSB SubSeries 450 | $1,500 | 400 | 12" | Front-Firing | 20-150Hz | 16.5" x 16.25" x 15.75" |
| HSU Research ULS-15 MK2 | $779 | 600 | 15" | Front-Firing | 20-200Hz | 19.5" x 19" x 18" |
| Polk PSW505 | $198 | 300 | 12" | Front-Firing | 28-125Hz | 17.5" x 16.5" x 15" |
| Yamaha YST-SW216BL | $130 | 100 | 10" | Front-Firing | 40-140Hz | 15.2" x 13.4" x 13.4" |
| Acoustic Audio PSW-6 | $90 | Unknown | 10" | Down-Firing | 30-250Hz | 11" x 10" x 9.25" |
| W.A. Thor's Hammer | $21,000 | Unknown | 2 x 15" | Down-Firing | 10-300Hz | 59" x 25.5" x 20" |
*RMS = RMS Wattage
**Freq. = Frequency Range
Want Even More Master Switch? Sign Up For Our Weekly Newsletter!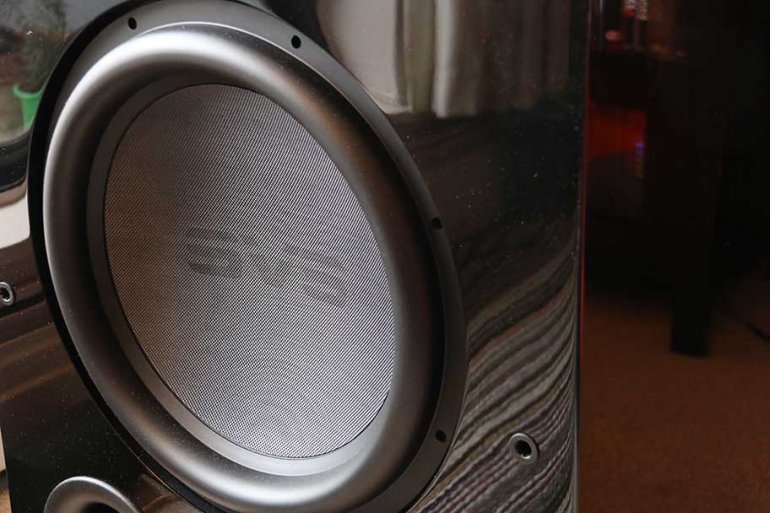 Buying Advice
Passive vs. Powered Subwoofers
There are two types of subwoofers: passive and powered. The difference between them is very simple. Passive subwoofers require an external amplifier to work, while powered subwoofers have an internal amplifier, and just need to be plugged into the mains. That's it.
We aren't really going to talk about passive subwoofers here. Firstly, they are far less common than powered subwoofers, especially in the home theater space - although there are some still available, like this Bose PS 28 III. Secondly, going into the process of matching a passive subwoofer with an amplifier is an entire guide by itself. 
Fortunately, we do have such a guide to matching speakers and amps, but in this buying advice, we're going to be talking about powered subwoofers exclusively. The benefit of doing this is that it vastly simplifies the process of connecting your subwoofer to your system: all you have to do is run an RCA cable between them (most receivers have a dedicated subwoofer output), and a power cable from the subwoofer to the wall socket. Boom. Done.
Trust us: it's a good thing that the subwoofer is powered. You're going to need a lot of power.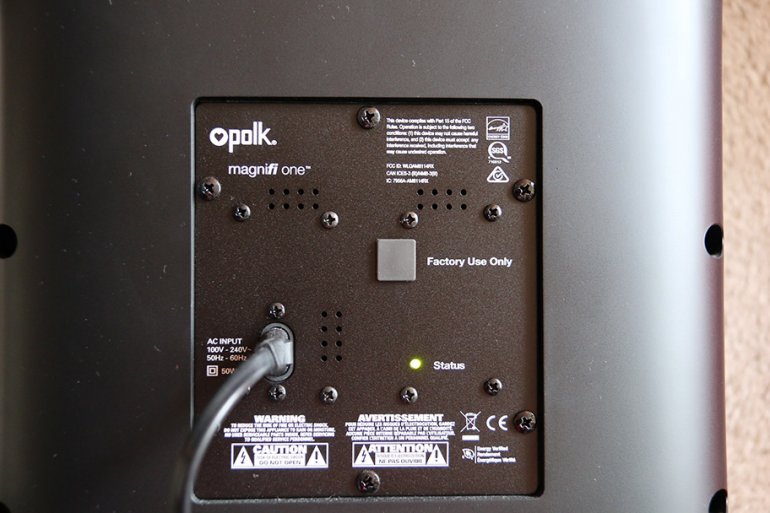 Front-Firing vs. Down-Firing Subwoofers
So: you've decided to buy a subwoofer. Congratulations. You've only got about 10,947,084 models to choose from, and that's just on the first page. Let's narrow things down a little further.
Subwoofers are further split into two categories: whether they are front-firing or down-firing. Figuring this out is easy. If the driver (the big, circular element, which is the same in terms of functionality as the ones found on regular speakers) is on the front of the unit, then it's front-firing. Bottom? Down-firing. The complicate things a little further, some subwoofers, like the Power Sound Audio S3601, actually fire in multiple directions – front and back. Models like this are pretty uncommon, though.
You might reasonably ask what the differences are between the two. There aren't actually that many – not enough, given the variances between different rooms and different circumstances, to make a major difference. Bass frequencies are nondirectional, which means that it's not going to matter that much which one you pick. 
However: if you're planning on placing your subwoofer close to your main speakers, or underneath your TV (and we go into placement in more detail below), then it may be worth investing in a front-firer. Away from your speakers? At the side or in the corner of the room? Go for down-firing. But again, this isn't a decision which makes a major impact, and in this case, consider what we are saying as general guidelines rather than hard rules.
 
Driver Size Explained 
In the case of subwoofers, size really does matter.
To produce bass sounds, you've got to be able to produce a lot of energy. The bigger your speaker driver, the more energy you'll be able to put out (although a lot of it has to do with the amplification powering the driver as well). In general, you should be looking to acquire a subwoofer with a driver above 12" in size - that's 12" across, from end to end. Anything smaller, and you may as well not bother. While you'll still get good sound, it almost certainly won't be as effective at delivering the low end.
We know that a slightly controversial viewpoint for some people, but we stick by it stop. When it comes to bass, bigger is always better
That being said: you don't have to push the boat out if you don't want to. A 15" driver Will be perfectly suitable for most people, and only those who have very, very large rooms or need to produce seriously dramatic bass need to stray into the 18" and up range. Always take into account the size of your room before you get busy with the one-click buy!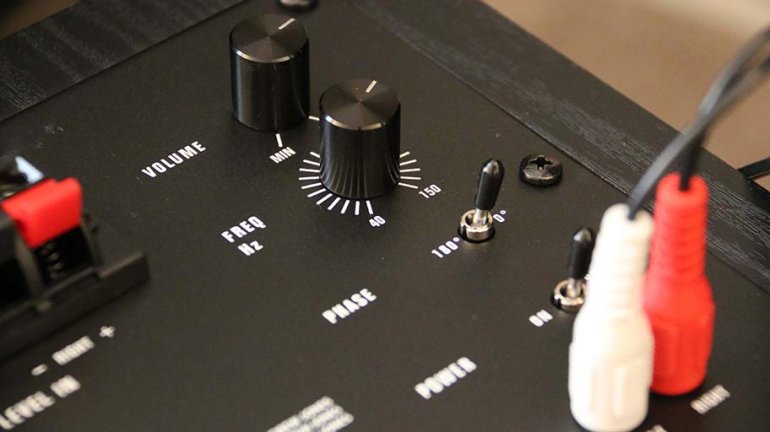 Wattage Explained
Spend any amount of time on this site, and you'll see this term a lot. We're sort of obsessed by it. Broadly speaking, the more watts there are, the louder the sub will go, although it's a bit more complex than that—you can, after all, turn a sub down. 
Rather, think of wattage as a range in which you push the sub. The higher the range, the louder you can make it without distorting the sound. Watts can be low (60W) or exceedingly high (4,000W), and as you can imagine, you pay more for higher wattage.
Note the difference between RMS (sometimes called continuous) and peak (sometimes called  dynamic) wattage. Always, always, always look at RMS, and ignore peak. The former refers to the overall power at a set and usually reasonable volume. The latter refers to the absolute loudest the thing can go. You'll need the first. Don't believe the hype. Anything with up to around 1,000 watts of RMS power should be more than appropriate for most people, although you can go significantly higher if you wish to. For example, the Seaton Sound F18+ puts out a staggering 1,400 watts, Which is overkill for just about everyone except those with underground bunkers.
Of course, you might reasonably ask: if you have two subwoofers, one with an RMS and peak of 500 and 1,500 watts, and another with an RMS and peak of 2,000 and 3,000 watts, then what's the difference between them, given that they are both separated by 1,000 watts?
The answer is in the nature of bass itself. Unlike higher frequencies, bass needs a lot of energy. The more wattage a subwoofer has, the more it will be able to provide that energy, at any volume. More wattage equals bass that is tighter, clearer, more well-rounded. It means that whether you're rattling the windows or turning things down late at night, you'll be able to get better sound. Once again: you control the volume. What you don't control is the base-level clarity of the sound, and that's where wattage can be a useful metric.
We agonised over this section. It is so, so easy to get lost in mathematical formulas and tables of figures when calculating exactly how wattage relates to decibel levels (read: volume). Ultimately, we decided that we'd keep things simple. If you have one takeaway here, it's this: buy a subwoofer with a nice, wide gap between peak and RMS, and get one with as many watts as you can afford.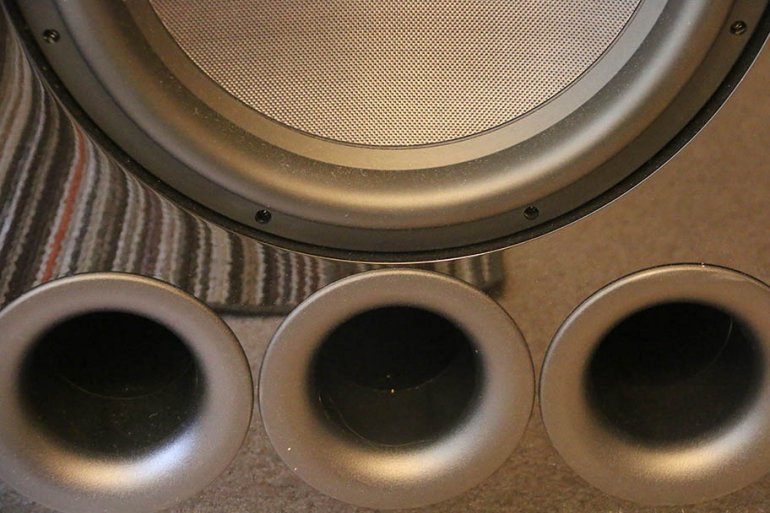 Ported vs. Sealed
Sealed subwoofers have a cabinet that is entirely enclosed, with no openings into its interior. Ported subwoofers have one or more openings, to allow the free-flowing movement of air. Put very simply: sealed subwoofers sacrifice a little overall volume and presence for a tighter, more controlled sound, while ported ones can pump out huge volume at the expense of a little clarity. Generally speaking, larger and more expensive subs tend to be ported, while smaller, cheaper ones do not. A good example of a ported subwoofer: the SVS PB16-Ultra, which has three!
If you've got a smaller room, and don't need to blow the windows off, then it may be worth looking at a sealed subwoofer. If you aren't going to be pumping things to huge volumes anyway, then it makes sense to invest in a little bit more clarity and depth to the sound, rather than plumping for huge volume. But if you have a bigger space, consider ported models.
You may also come across things known as passive radiators. Think of these as unpowered speaker drivers which are there to simply react to the air the main driver is moving. A subwoofer could have one or more of these in addition to the main driver, and they help with the articulation and expression of the sound. Passive radiators are almost always a good idea.
 
Wireless vs. Wired
There's an easy dichotomy here. Most home theater or hifi subwoofers have wired connections, while many that come with soundbars are entirely wireless.
Wireless subwoofers have the advantage of needing absolutely no setup. They will already be slaved to the central unit, and all you need to do, in most cases, is plug them in. The crossover point (see below) is already set, so they take the difficulty out of initial setup, although you will of course need to work out where to put them, and they will need to be plugged into a mains socket. 
The downside is that in almost all cases, they don't sound quite as good as wired subwoofers. This isn't a universal rule, and the private wireless network they run on is certainly capable of transmitting some good low end, but we almost always prefer wired models.
This isn't a decision we can make for you. The only thing we can say is that if you intend on having a 5.1 or 7.1 sound system, then we strongly recommend a fully-wired subwoofer - although there are always exceptions, like the excellent Klipsch Reference R-112SW.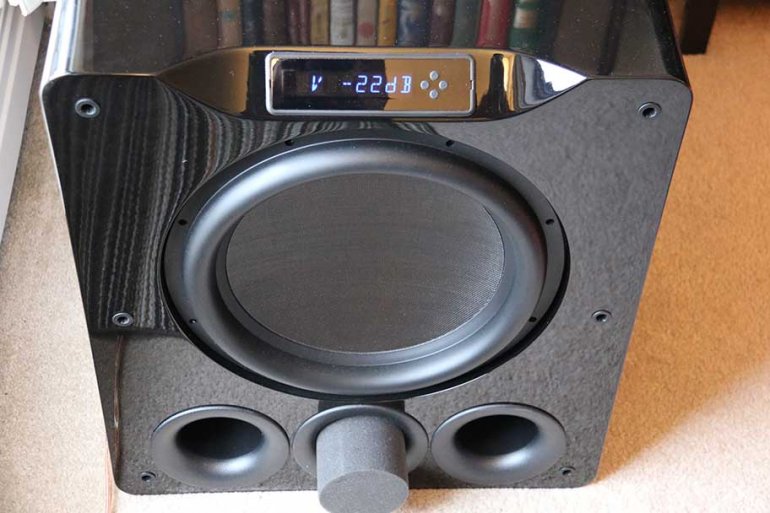 Subwoofer Placement Explained
There are some people who will tell you that it doesn't matter where you put a sub, as long as you're not using it as a table next to the couch. Don't believe these people. They're talking out their backsides. Placement is important, and you need to spend a little bit of time getting it right.
This isn't as easy as you might think. Oh sure, you could stick it in the corner of the room, or under your TV set, and you'll get a reasonable amount of bass. What you won't be getting is the timbre of the bass, its characteristics and color. It's like paying a lot for an expensive meal, and tasting nothing but salt.
Subwoofers are tricky in this respect. Bass waves move in all directions, and as soon as they hit a flat surface (like a wall) they reflect all over the place. Fortunately, there's a neat trick you can use to simplify things. Put the unit in the place you would normally sit, then start playing some bass-heavy music through it–something like Skrillex or Diplo would be ideal. Now you need to crawl around on the floor (yes, we know) and find a spot where the bass sounds richest. You may have one or two spots to choose from at the end, but those are the spots where you should conceivably place your sub.
There are also plenty of outlets that offer dedicated online system builders, which will let you plug in the size of your room and help you fine tune placement. SVS has a very good one.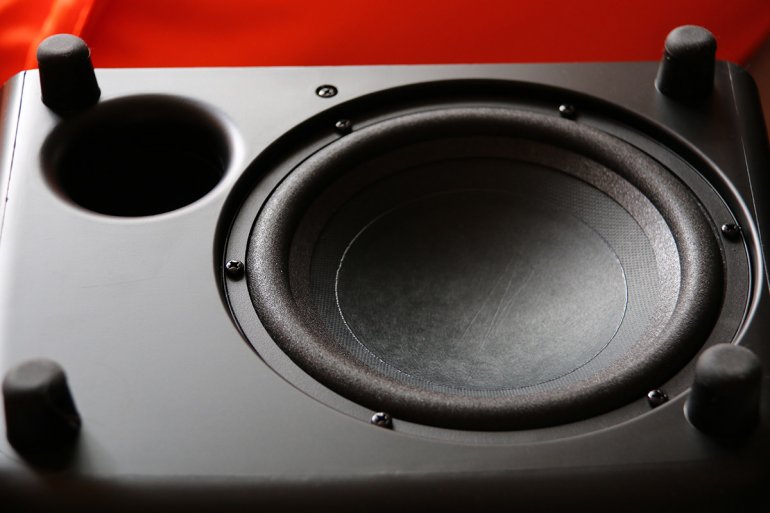 Setting Up Your Subwoofer
Usually subs are simple to set up. Plug an RCA cable (make sure you have one long enough) into the line-in port in the back of the sub, and to the subwoofer out on your receiver or amplifier. All that's left to do then is connect the power cable.
OK: sometimes it's a little more complicated than that, a factor which largely depends on the rear panel of your subwoofer. The more expensive model is, the more likely it will come with a variety of switches and controls that let you adjust things at source.
Let's tackle a few of these. If you see a volume knob on the back of your subwoofer – something that is rare but not unheard of – set it at about halfway. You can adjust it later, but you'll be calibrating your sub to get the best sound, and the twelve o'clock position is where you want to keep it for now.
You might also see a switch or setting labelled phase. The simplest explanation for this particular setting is that multiple speakers sound better together when their drivers are moving "in phase" – as in, in sync with one another. The kicker is that it's often quite difficult to figure out if you've set the phase correctly (phase is almost always available in two settings, 0° or 180°). You need to spend some time sitting in your listening position, listening to something with a lot of bass content, then flipping settings and listening to the same thing. Without putting too fine a point on it, one should sound "right". If you can't hear a difference, or both sound okay, then our advice is: don't stress. Pick one setting, and leave it there. You can always change it back later.
You may also have various other ports on the back of your subwoofer, such as speaker outputs. For these, we are going to recommend that you consult your subwoofer's manual. Every sub is different, and we don't want to give specific guidelines here.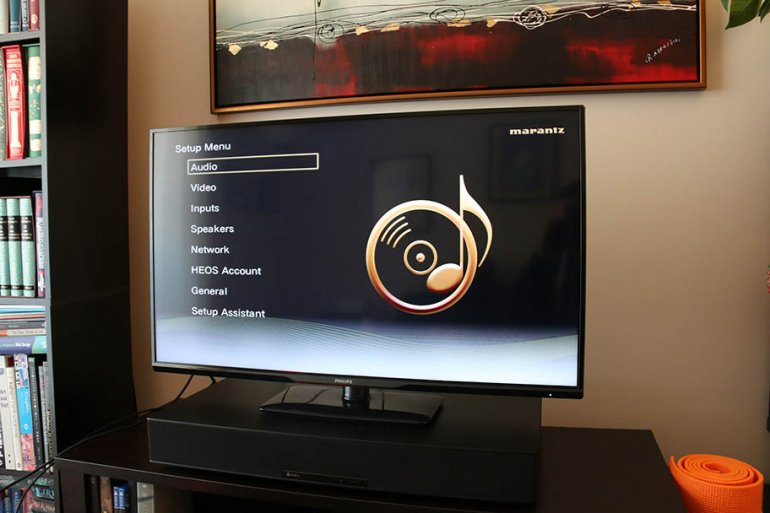 Subwoofer Crossover Explained
Welcome to the single most important thing you can do to make your subwoofer sound better.
As you've probably figured out by now, a subwoofer is designed to handle the low frequencies. But as well-designed as your speaker system is, it's not actually sentient. It doesn't know where those low frequencies begin. There's a huge range where they occur, and until you tell it differently, your speaker system may be diverting some of the low-frequency information in your sound to your surround or front speakers - information that would be far better handled by your sub. Adjusting that point - the frequency below which all sound is sent to your sub - is called adjusting the crossover point.
Usually, the crossover is set using the on-screen setup for your A/V receiver. It should allow you to pick a particular frequency without too much trouble. To find the best frequency, what you need to do is go and look at the specs for the other speakers in your system. Every speaker has a frequency range it can comfortably reproduce. While they are completely useless when making a buying decision (something we've explained in detail here) they are very helpful for determining the crossover - which is why we've included them in our comparison table, above.
Let's say you've got a set of speakers with a frequency range of 100Hz - 20kHz. That means your crossover point is 100Hz – that's the point at which the speakers will stop being able to produce sound, which is where you need to bring your subwoofer thundering in the fill the gaps.
Once you've set the crossover (and run your receiver's room calibration software, if it has any), there's one last thing you need to do. Start playing a song with a lot of bass content, at a reasonable volume, through your system. Lower the subwoofer volume until you can just barely hear the bass. Then, very slowly, start to turn it up until the bass is at a comfortable but not overpowering level. Congratulations, you've effectively matched your subwoofer with your speaker system, and no matter how loud you turn up the overall volume, the bass will not overpower the other speakers. 
Remember: wall-shaking bass is all well and good, but the key here is synergy. You want an overall sound that is rich, powerful, and deep, without being uncomfortable. Setting the crossover and the volume is the best way to achieve that.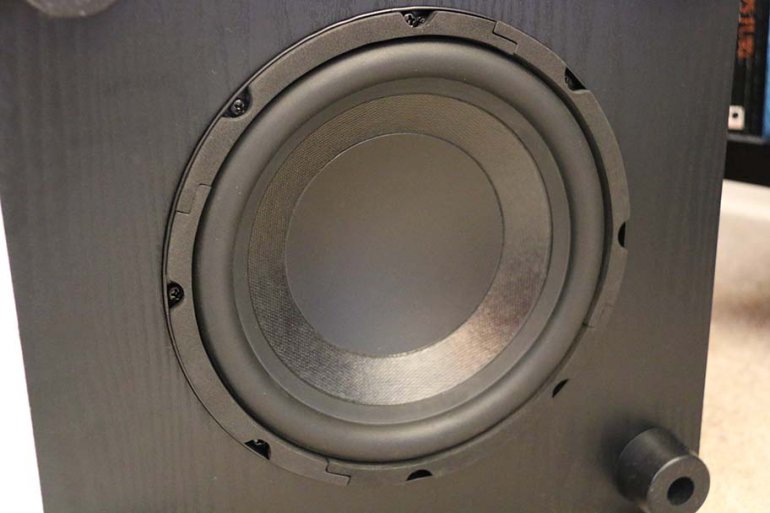 Using More Than One Subwoofer
If you think the bass is good with one unit, then wouldn't it be better with two? Or four? 
The answer is yes, of course it would, but you also run the risk of distortion, or simply overwhelming the other sounds in the mix. If you do want to try this, and have got the cash to throw around, then a unit in each corner of the room (although not up against the walls, please) will blow your mind. 
But it certainly isn't essential, and if you make the right pick, you'll have something you'll love. Frankly, we'll take that over spending a huge amount of money on multiple variations of the same thing, just to produce endless bass. Unless you really, really want to annoy your neighbours. Or you live in the middle of nowhere.
Back To Our Top Subwoofer Picks  Back To Our Comparison Table
Learn More About Home Theater Speakers