Remember the very first chrome-dipped iPod from fifteen years ago? No? Damn, we're old. Anyway, it sold like three hundred and sixty million units. Apart from saving Apple, whose business was kind of struggling back then, it gave its owners a newly found purpose for having a pocket - to carry their complete music library with them. It changed the way we listen to music forever - and today, Apple is no longer the market leader. Dozens of companies have sprung up, offering players that can deliver audio of a much higher quality than any iPod. Here are some of the best available right now.
 
How We Choose:
Today's high-end Digital Audio Players (DAPs), as MP3 players have become known, are killer. There's a healthy demand for high quality models and where there's demand, there's supply - you'll find a ton of great units out there. They feature hundreds of gigabytes of storage, killer digital-to-analog audio conversion hardware, and the ability to play high-res (way-better-than-CD-audio) files as well as ordinary MP3s.
Check out our Buying Advice section below - we outline the cool features and technologies that make a really great player. Our list starts with the very best - right at the expensive end - and although some of the prices may seem shocking for just an audio player (no, you can't make calls with that) they are actually quite justified considering the super high-end audiophile components present inside. We gradually descend through virtually all price tiers - all the way down to the double digits, making sure that at least one or two of the picks might suit your budget.
 
Our DAP Picks: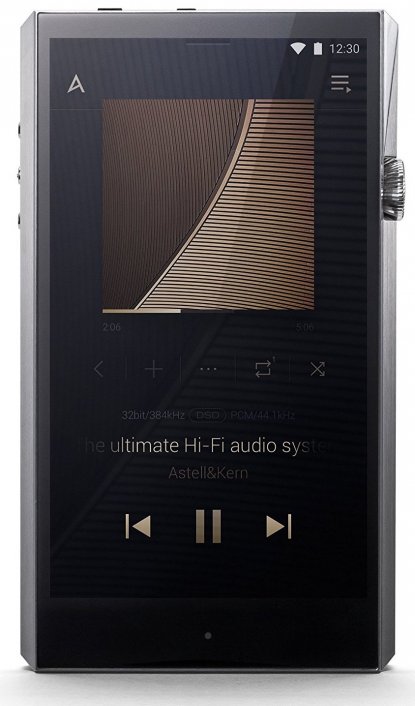 Storage: 256GB (expandable to 512GB)
Max Sampling Rate: 32-bit/384kHz
File Types: DSD, FLAC, WAV, WMA, MP3, OGG APE, (Normal, High, Fast), AAC, ALAC, AIFF, DFF, DSF
What We Like: Fantastic design, file support, resolution and audio quality.
What We Don't: It costs as much as a ticket to the moon. And the name is ridiculous.
Universally recognised as one of the industry standard high-end DAP, the AK380 was recently topped by the company's new flagship SP1000, which is nearly identical in looks and specs, just faster, bolder and more streamlined from a user interface perspective. OK, the $3.5K price tag might cause a large coffee spill, but considering how easily people spend a grand on a smartphone, the cost of the SP1000 might seem far less shocking considering the beyond-studio audio quality technology housed inside. For this money though, we really ought to expect around 2TB of memory, instead of the 256GB (expandable to 512GB). And the name looks like HTML gone wrong. Still, not enough to knock it off the top spot.
Nestling on the inside of the mini-jack connection is one of the main reasons for the SP1000's impressive audio quality - the dual AKM AK4497EQ DACs (Digital to Analog Converters) which are again upgraded from the AK380's chipset. And yes, there are two of them - each one handling one side of the stereo signal. DACs are the hardware chipsets converting digital file data into actual audio. The quality of the hardware is directly linked to audio quality, dynamic range, soundstage and perceived width and depth of the sound. If you can afford the best, the SP1000 is the one.
See the Astell & Kern SP1000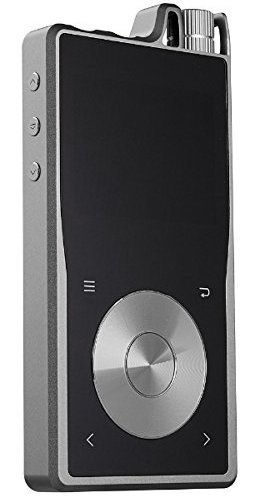 Storage: 256GB (expandable to 512GB)
Max Sampling Rate: 32-bit/384kHz
File Types: DSD, MP3, FLAC, WAV, ALAC, Ogg Vorbis, AAC, AIFF, APE, WMA, DFF, DSF
What We Like: Incredible spec sheet, and it's great alternative to the known top brands.
What We Don't: Doesn't quite have the finesse of the Astell & Kern.
Founded in Shenzhen, China in 2012, Questyle have already amassed quite a few industry awards and conquered the difficult Japanese audio-visual market. The QP2R is the follow up of Questyle's high end QP1R DAP player, and all we can say is: wow. Literally every important aspect of what makes a great DAP has been taken into account: the ability to play any audio file, including 384kHz PCMs and DSD256 natively, heavyweight audio performance courtesy of the AKM AK 4490 conversion chips, and one of the lowest noise floor / distortion figures on this list. We have to admit that Questyle's insistence on comparing the QP2R to a sports car can be a bit annoying, but what the hell: let them be proud with their achievement. It is deserved.  
Interestingly, the QP2R internal operating system is based on RedHat's Linux open platform, arguably offering a more stable and crash-free experience than the Android OS on the Astell & Kern models. What really separates this unit from the on this list, including the A&K SP1000 at number one, is its true Class A operation. QP2R is in fact the world's first portable DAP featuring a true Class A biassing control, using patented technology to optimise the impedance matching of the DAP and any pair of headphones connected - impressive stuff. Perhaps the main reason why this is not at number one is the fact that Questyle still need a bit more mileage to catch up with Astell & Kern - nothing beats experience, but QP2R's bleeding edge tech here certainly has all of our attention.
See the Questyle QP2R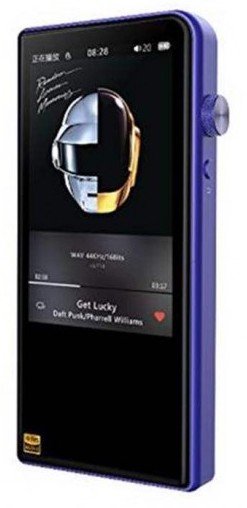 Storage: 8GB (expandable to 256GB)
Max Sampling Rate: 32-bit/384kHz
File Types: DSD, MP3, FLAC, WAV, ALAC, WMA, IOS, DSF
What We Like: Superb value-for-money, great screen.
What We Don't: Can be fatiguing with the wrong headphone pairing.
What a pleasant surprise. A late addition, and one which absolutely stormed its way onto this list, thanks to some excellent features and unbeatable value. For a tenth of the price of the Questyle QP2R, you get a player with great functionality, decent memory and file support, and excellent sound - nothing to beat the Questyle and the A&K to be sure, but certainly nothing to sniff at. The control function, which uses a single wheel for just about everything, is easy and intuitive to use.
However, it does benefit from being paired with a good set of cans, as some pairs can sound a little...off. If your headphones are bright, or overly sensitive (check the sensitivity spec - anything over 110dB could be troublesome here), you may find that listening for long periods of time is tough. However, let's not let that take away from the fact that Shanling scored here. This is a terrific little player with a ton to recommend it.
See the Shanling M3S

Storage: 256GB (Expandable)
Max Sampling Rate: 24-bit/192kHz
File Types: DSD, MP3, FLAC, WAV, ALAC, AAC, AIFF, APE, WMA
What We Like: Great budget option with stunning sound, expandable amp circuitry, balanced out option and S/PDIF.
What We Don't: Playlist creation not straightforward, no artwork display, no wireless.
The HiFiMAN HM901S is less than half the cost of the Astell & Kern but it's still firmly at the top of the current DAP market. Despite not having some of the A&K AK380's ultra high-end resolution playback, this is only a theoretical disadvantage. For starters, not many people have music library sampled higher than 192 kHz (which is the HM901S top bitrate). In reality the audio coming out of the HM901S is every bit as good, courtesy of its dual ES9018 DAC chips, which are, by the way, some of the most expensive chipsets on the market. The HM901S follows in the steps of the original HM901, and HiFiMAN spent a year tweaking the oscillator filters of the said ES9018 DACs, just to get the top end (high frequencies) right. A head-to-head comparison between the two versions gives the HM901S a slight but noticeable sonic advantage: the somewhat more silky-sounding treble registers. The overall audio character is big, warm and generous with lots of depth - all courtesy of the superb DACs on board.
In addition, while we often talk of the headphone amp capabilities of portable players - many of them can struggle with high-impedance audiophile-grade headphones. Not this Hifiman, it's loud and proud, and a very special feature of this unit is also its upgradable amp circuitry. Just like inserting a simcard within a smartphone, you get various 'amp card' options, which may suit the impedance or character of different headphone brands or models. Another interesting addition is the second mini-jack out offering a balanced connection (again check our explainer below). The 1/8" jack also serves for connecting the HM901S to external equipment (say A/V Receiver) via a digital S/PDIF cable, in effect turning it into a high-end headphone DAC. HiFiMAN make a variety of incredible A/V solutions and the last hidden feature of the HM901S is its ability to dock in its dedicated station which turns is into a high-end hifi DAC/component. The modular approach to design makes this audio player a superb investment for any audiophile. Total win.
See the HiFiMAN HM901S 
Storage: 256GB (Expandable)
Max Sampling Rate: 32-bit/192kHz
File Types: DSD, AAC (Non-DRM), AIFF, ALAC, DSD, FLAC, HE-AAC, Linear PCM, MP3, WMA
What We Like: Superb sound, battery life and headphone amp power, WiFi and playlist capable.
What We Don't: File search could be better, no Bluetooth, nly 256GB native memory.
If there ever was a more legendary portable player than the iPod, it would certainly be the one and the only Sony Walkman. The Sony NW-WM1Z is a Walkman alright, though by name only. Features, design and approach are all in line with the current trends - this impressive performer incorporates many of the company's top audio trademark features.
The NW-WM1Z (not the sexiest model name out there - something of a habit with Sony) is housed in a sturdy gold-plated oxygen-free copper chassis, sporting some very tactile side buttons, despite the fact that all functions are accessible through its 4" touch sensitive screen. The unit offers the regular 3.5mm output connection as well as Sony's 4.4mm standard balanced plug output. The digital tech spec is impressive, and most popular audio files are natively recognised and playable, including the highest DSD quad layer files (all will be explained below in our jargon-breaker section). This Walkman features Sony's excellent DSEE (Digital Sound Enhancement Engine) which analyzes and replaces 'missing' ones and zeros from lossy audio files. Although Sony are a but hush-hush about the choice of DACs, the audio quality is nothing but superb with all formats up to 192kHz. The DSEE really works, and there is a noticeable improvement in the perceived soundstage and depth even with lossy files such as MP3 or AAC. And if you did choose to load high-res files only (really easy - drag and drop) the 256GB internal memory should be enough for most people, though you could of course expand the memory with a suitable microSD card. Although we found some of the file search menu options to be a little quirky, the audio clarity is a total winner and of course let's not forget the unit's Bluetooth capabilities and the 30 hours (high resolution audio) playback on a single charge - longer than most.
See the Sony NW-WM1A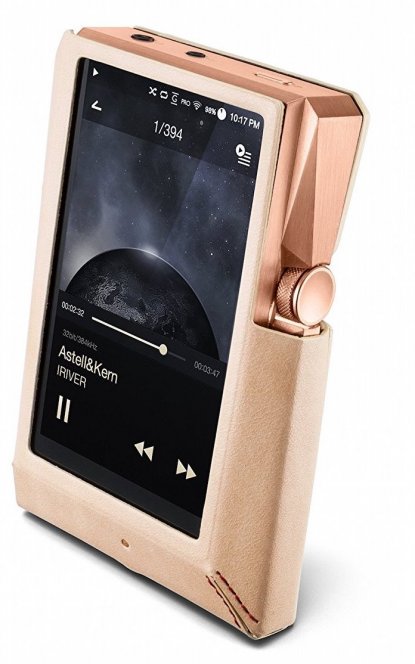 Storage: 256GB (expandable to 512GB)
Max Sampling Rate: 32-bit/384kHz
File Types: DSD, MP3, FLAC, WAV, ALAC, Ogg Vorbis, AAC, AIFF, APE, WMA, DFF, DSF
What We Like: A viable, if now old, alternative.
What We Don't: You'd be better off going for the SP1000, unless the price really drops.
We face a quandary with this list. Namely: how do we do it without having Astell & Kern dominate? There's no easy answer - they make such terrific players that it would be wrong to exclude them. And the AK380, until recently, has been an absolute landmark player, a flagship DAP that has really boosted the brand,
So yeah: it might be a little old - and you'd be far better off spending a touch more for the SP1000, which boasts hugely superior DACs - but it's still a viable alternative, for now, especially since we've seen it go as low as $2,499. You get spectacular sound, a huge range of file support and ins and outs, a high max sampling rate, DSD functionality, and superb (if slightly laggy) Android operating system. Plus, the design is magnificent. You'd go for this is you wanted some A&K goodness, but didn't feel the need for the extra dash of audio quality provided by the SP1000's innards. This is, by any margin, still a worthy contender. Read our in-depth review.
See the Astell & Kern AK380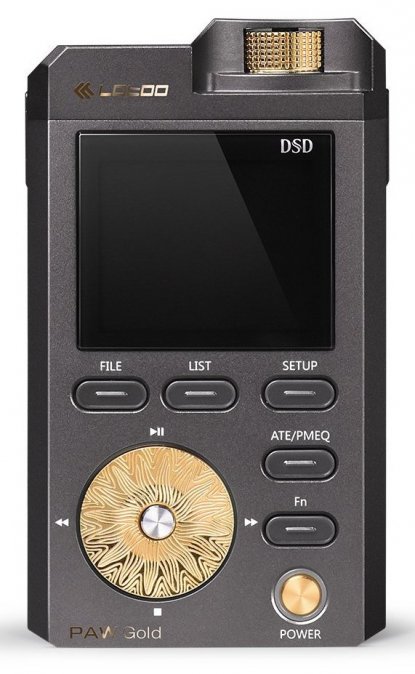 Storage: 2TB
Max Sampling Rate: 32-bit/384kHz
File Types: DSD, FLAC, WAV, AAC, ALAC, MP3, WMA, M4A, CUE, APE, WavePack
What We Like: Tremendous audio performance and specs, massive onboard storage.
What We Don't: No touchscreen control.
Lotoo is another name from China - a branch of the massive Infomedia company specializing in broadcast and audio recording equipment. Lotoo have already made a few splashes in the DAP world and audiophile publications are starting to take notice. Portable DAPs above $2K are a ferociously competitive club; to deal with the pressure, the PAW Gold comes equipped with a PCM1792 DAC chip, LME49600 headphone amplifier and a dedicated Blackfin 514 DSP processor chip, responsible for running the DAP's operating system as well as all other aspects of digital processing. Very solid!
Build quality is what you'd expect for the price: super solid, perfectly sized and made from machined duralumin, with certain buttons and the alpha wheel covered in 24K gold. We really like the choice of sapphire glass (the third toughest natural material) which guarantees scratch-, smash- and worry-free longevity and protection. Whether the choice of sapphire glass is the reason for the lack of touchscreen controls, we don't know, but that is certainly a feature we would have expected from a $2k+ DAP. Other than that, we were very impressed with this unit - the carefully selected components and design result in a sum greater than its parts. The audio performance easily matches that of Astell & Kern AK380, and we encourage you to give this a shot if you can - well worth the asking price.
See the Lotoo PAW Gold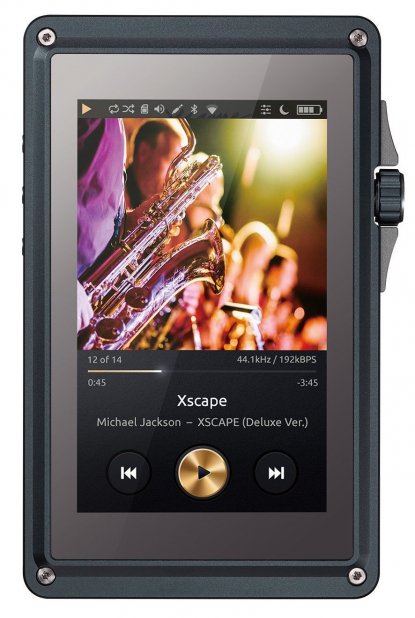 Storage: 128GB (Expandable)
Max Sampling Rate: 32-bit/384kHz
File Types: DSD, MP3, FLAC, WAV, AAC, AIFF, APE, WMA, DFF, DSF
What We Like: Fabulous sound and build.
What We Don't: Would really benefit from bigger storage capacity.
DAP prices can be mind-boggling. But if you care about great audio, this Opus#2 deserves your attention. Its aluminum body houses some serious processing power and the all-important audio spec features a 32-bit/384kHz capable dual Cirrus Logic SABRE32 conversion, native DSD playback, quad-core ARM Cortex CPU chipset, SPDIF out, and last but not least, balanced connections compatible with the Opus' own line of balanced 2.5'' TRRS cables (check our explainer below the picks).
This DAP's audio signature is very open, and in our opinion would easily win in double-blind listening tests over, say, the FiiO player, below. We really liked the controlled, punchy low end, as well as the super detailed mids (especially on vocals and distorted guitars). DAP hard drive storage is important for performance and glitch-free playback; the internal 128GB capacity here is an OK start, though we really expected external storage expansion to be more than the quoted 200GB (to find out why we insist on why storage space is so important, check our Buying Advice below these picks). This DAP might seem expensive, but in our opinion the Opus#2 represents a bit of a bargain.
See the OPUS#2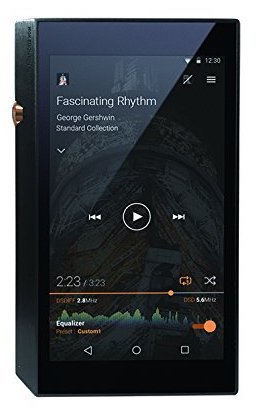 Storage: 64GB (Expandable)
Max Sampling Rate: 24-bit/384kHz
File Types: DSD, MP3, FLAC, WAV, ALAC, AAC, AIFF, APE, WMA
What We Like: Google Play app capable, WiFi/Bluetooth/aptX streaming, killer sound.
What We Don't: Only 64GB native storage?
Pioneer's famed audio knowhow and versatility surely help in jumping that important brand recognition queue. Falling in the mid-to-high price bracket, their XDP-300-B DAP is armed to the teeth with impressively specced hardware and this is hardly a surprise knowing the brand's history. We can't fail to notice a significant resemblance to the Astell & Kern AK380's slightly offset body design. There are differences of course - and what goes under that 4.7" HD screen is mighty impressive indeed. 
For starters, this unit is very much like an Android smartphone, but without the phone function. Google Play is active and you can download and run pretty much any audio app available - streaming services, and so on. The device is primed for high-res lossless streaming services such as Tidal. Memory is not huge (for a high-res library) - only 64GB, but you do have two microSD slots here, each capable of additional 200GB. The XDP-300-B can also stream via WiFi playing music directly from your DLNA server (or from said third party streaming service apps) which is great for high-res files. Bluetooth 4.0 is also present and although this cannot beam ultra-high definition audio, the aptX codec support (we explain the term in our Buyer's Guide) allows up-to CD quality wireless audio streaming. Wired audio quality is sublime, too. In addition to the standard 3.5mm headphone out, the XDP-300-B DAP features a second, pro-standard 2.5mm balanced output connection. 
See the Pioneer XDP-300R-B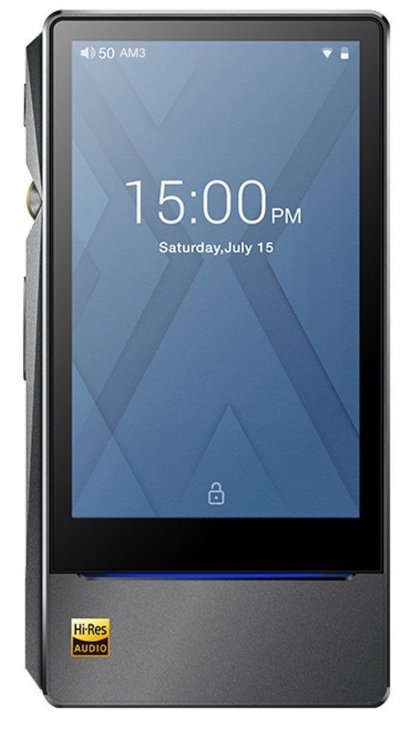 Storage: 64GB (Expandable)
Max Sampling Rate: 32-bit/384kHz
File Types: DSD, MP3, FLAC, WAV, ALAC, AAC, AIFF, APE, WMA
What We Like: Audio conversion, headphone amp module/dock options, WiFi / Bluetooth streaming.
What We Don't: Fairly short battery power, mini-jack input slot could have had a better fit, more memory needed.
FiiO's Mark II recently saw a release - we'll be hearing it soon, and updating this roundup, but for now, the Mark II is king. The X7 Mark II certainly features big enough changes, such as one of the best DAC chips (for the money) in the ESS ES9028PRO. It replaces the Mark I's ESS ES9018S which was no slouch either. The X7 Mark II sounds sublime, especially in the mid frequencies. The Mark I's fairly small storage has also now been bumped up to 64GB (expandable to 576GB) in the Mark II. It's all about the sound though - and this is what seriously grown-up audio should sound like.
Of course, audio results depend on so many other factors and one very interesting part of the X7 (Mark I and Mark II) design is its modular approach to headphone amplification. The unit comes with the AM3A amp, which can then be swapped out, and each module features slightly different impedances, frequency responses and even physical connections. That of course includes the K5 Dock which allows for turning the player into a mighty USB DAC.
See the FiiO X7 Mark II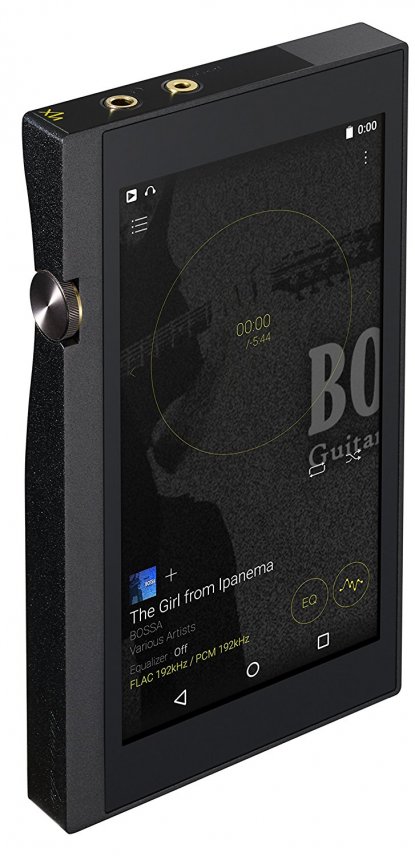 Storage: 64GB (Expandable to 576GB)
Max Sampling Rate: 24-bit/384kHz
File Types: DSD, MP3, FLAC, WAV, ALAC, AAC, AIFF, APE, WMA
What We Like: Great audio, WiFi / Bluetooth, and lots of cool Onkyo smart tech.
What We Don't: X-DAP Link app which syncs your files is clunky. 32GB memory is a joke.
Onkyo joins the ranks with the DP-X1A - a DAP nearly identical looking and specced to Pioneer's XDP-300R-B. It again features a heavy duty shell, same size (4.7") touchscreen and runs Android OS (5.1), granting it the same nearly unlimited Google Play app download privileges. The similarities continue with the choice of audio conversion chips - the same ESS Technology Sabre ES9018K2M DACs and Sabre 9601K amps. 
Onkyo have incorporated their unique up-sampling  tech which converts 'regular' CD audio (16-bit/44.1kHz) to high-res (24-bit/192kHz) and even DSD files (we explain about Direct Stream Digital files in Buyer's Guide). Any material up to 192kHz can be handled natively and although the DP-X1A can handle even higher - up to 384kHz - those are manageable only through the microUSB-B port which doubles as a OTG digital output. Audio quality here is very similar to our previous pick (the Pioneer's XDP-300R-B) on account of the same converters used. WiFi, Bluetooth and aptX (high-res Bluetooth streaming) are all present, but if you happen to own other wireless Onkyo devices, the Onkyo Remote App allows for peer-to-peer streaming and remote control of playback and features. Our only slight complaint would be about the file syncing, which uses Onkyo's X-DAP Link app, which feels quite clunky.  
See the ONKYO DP-X1A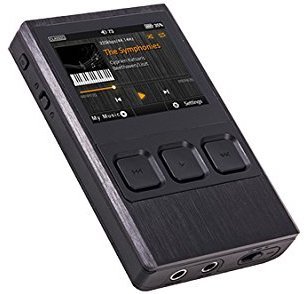 Storage: 8GB (Expandable to 2TB)
Max Sampling Rate: 24-bit/192kHz
File Types: DSD, APE, FLAC, WAV, WMA, AAC, ALAC, AIFF, OGG, MP3
What We Like: Great value for money.
What We Don't: No wireless, only 8GB memory.
Despite its lack of wireless and other fancy features, the iBasso DX90 is probably one of the hardest hitters as far as audio quality vs. price goes and certainly wins by a nose over the Pono (below) and is even not far from the Onkyo at number 11 on this list. If you like this, and want to try an even better (albeit much more expensive) iBasso, give the DX200 a try. The DX90 rocks this price bracket though.
iBasso is a well known brand, and the DX90's popularity is built entirely on its audio performance and fairly affordable price. A testimony to that fact is the army of audiophiles who have chosen the iBasso over other more wallet-busting choices on the market! Again, similarly to the Pono, there are hardly any bells and whistles here, but the overall theme focuses on quality components combined with a bit of a barebones approach. With an internal memory of only 8GB, it's obvious that upgrades will be needed, but at least it's good to know that any sized microSD card will be accepted - up to 2TB in fact. Obviously, limiting storage has helped iBasso to keep the unit within a more affordable price bracket. The rest of the spec is impressive though - the very same dual ESS Sabre ES9018K2M DACs featured in the twice more expensive Pioneer above - appear here, and the headphone amp chipsets are of equal pedigree (Dual Soundplus OPAMP OPA1611 with dual high current output buffer BUF634 (by Texas Instrument). All that, plus the inclusion of dual outputs (the second one featuring a hybrid Line Out/Coaxial Digital port) already make this into a formidable spec and the audio performance doesn't disappoint. Most files up to 192kHz will be played natively - as expected and that includes DSD Audio. It is a bit of pity that when used as a USB DAC, the iBasso limits itself at 16-bit/44.1kHz (this is at the time of writing). Highly recommended.
See the iBasso DX90

Storage: 64GB (Expandable)
Max Sampling Rate: 24-bit/192kHz
File Types: DSD, MP3, FLAC, WAV, ALAC, AAC, AIFF, WMA
What We Like: Quirky design, superb audio quality, twin headphone out.
What We Don't: Playlists/search/sync functions a bit messy, no wireless options, dated screen, runs on the hot side after prolonged use, limited storage.
Pono is the child of a multi-million dollar crowd-funding campaign spearheaded by none other than guitar-wilding legend Neil Young. Pono Music was designed as a complete experience - a great high resolution music player backed up by a huge library of lossless FLAC catalog ( Music Vault). You know, sort of like a less corporate iPod/iTunes experience. It's a great idea with a great patron behind it, but whether it's that novel, that's another story. Stocks are still limited, and until it becomes more widely available, we can't really justify pushing it higher on the list.
Holding the Toblerone-shaped Pono player itself feels great to the touch - it's got quite a tactile feel, and although bulky, it isn't huge so the shape actually gets in the way. The inclusion of two headphone outputs is a neat touch, and the second can be switched to a Line Out mode in case you want to run it into an A/V receiver or an amp. We were impressed with the headphone amp on board, which managed to feed high-impedance cans (up to 300 ohms) with ease. It is a bit of a pity that there is no wireless streaming options, but the design team stress that Pono is all about the audio quality. Which is impressive - it manages to challenge some far more expensive DAPs and all due to the Sabre ES9018S DAC and the custom Ayre-designed headphone amp circuit. We found the process of syncing files from Music Vault a bit clunky but it's fair to say that the whole package is still in a state of flux - as it is evident at Pono Music's website (at the time of writing). Overall, this is a great sounding DAP, but still quite a lot of attention is needed in the finer details - especially from a user experience perspective.  
See the Pono Music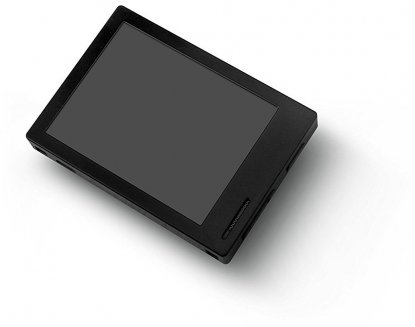 Storage: 32GB
Max Sampling Rate: 16-bit/48kHz
File Types: APE, FLAC, WAV, AVI, WMA, AAC, ALAC, AIFF, OGG, MP3
What We Like: One-stop travel entertainment, ninety hours of playback!
What We Don't: Audio quality is good but hardly audiophile.
Cowon make some stupendously-specced DAPs, like the Plenue PM2 for instance, which would certainly land a place way high on this list. We think the best, and certainly the most versatile and affordable, one on their product roster is this: the M2. 
If we say that this is a pure DAP, we would be lying. This is more of a PMP (portable multimedia player), focusing its attentions on wider range of file recognition and playability (including video, image and even text files) than audiophile quality per se. It still sounds mighty fine, with the ability to play 48kHz FLAC files, CD quality audio (44.1kHz) as well as ordinary MP3s. This is quite a like a smartphone, in fact, but again, without the call/text functions. There are no wireless options, but instead you get a wealth of features, such as voice recorder (yep, there's a built-in mic), FM radio, movie playback, BBE effects (equalizer, reverb, surround and bass processor) with tons of presets and tweakability. And best of all, the M2 lasts up to 90 hours on a single charge - a perfect player for the frequent flyer/traveler.
See the Cowon M2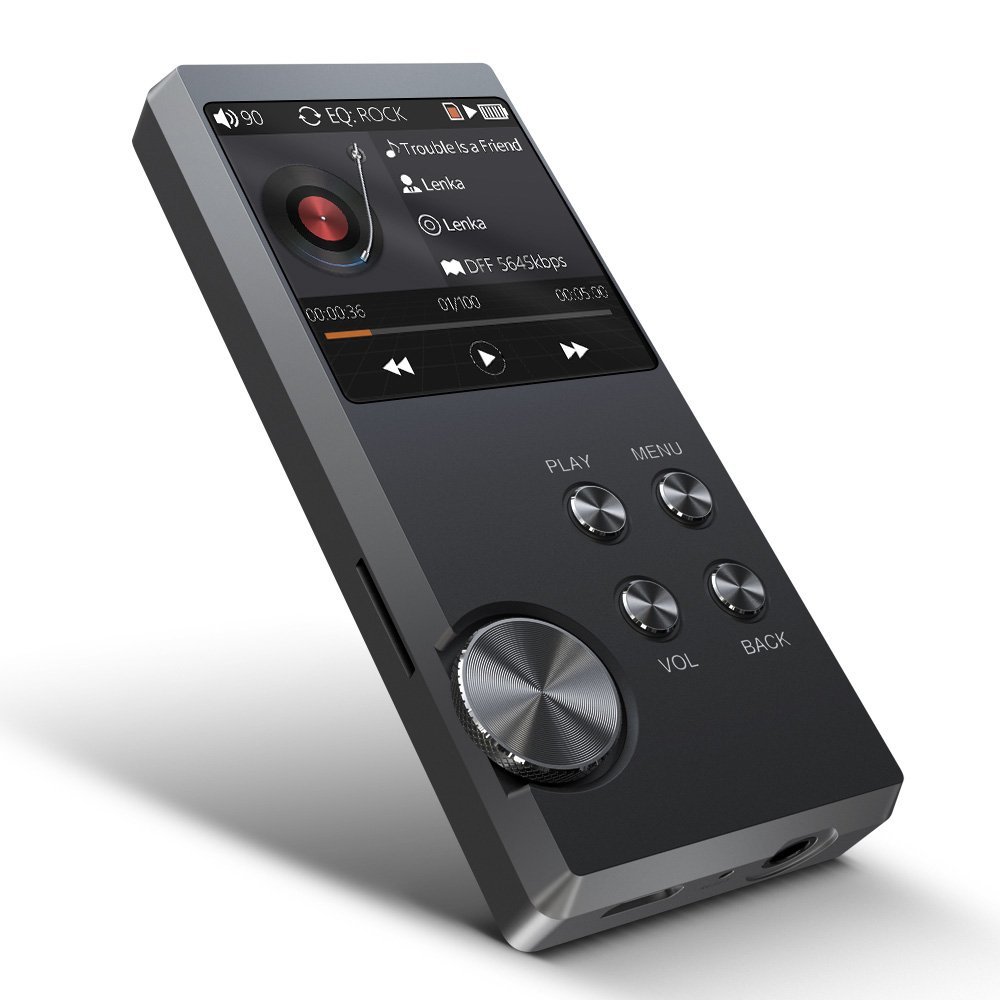 Storage: 16GB 
Max Sampling Rate: 24-bit/192kHz
File Types: DSD, DSF, DFF, MP3, WMA, WAV, APE ,FLAC, AAC, OGG, AIFF
What We Like: Unbelievable spec for the money.
What We Don't: No wireless, tiny memory.
The Bassplay P3000 is impressive. Yeah, we know, it is a budget affair, but with 24 months warranty, who cares? This thing will play any high-res audio file - even up to DSD128. Which is shocking for the $60 price tag. Everything has been thought of here and the unit even manages to look expensive with its sturdy CNC-machined aluminum frame. Its lack of a touch-sensitive screen puts it firmly in old-school territory, but at least the physical controls and buttons are solid and functional. 
The menu interface is simple and easy and we just wish there was more hard drive space - 16GB isn't that much if you are planning to play DSD audio files. It is fair to expect that although the DAC (Actions' ATJ2167) can handle up to 192kHz of audio conversion, it is still a budget chipset - the audio is capable and more than satisfactory, if a little mellow in the detail department. For sports, travelling or just enjoying high definition music with a great pair of cans, the Bassplay is just the business. 
See the Bassplay P3000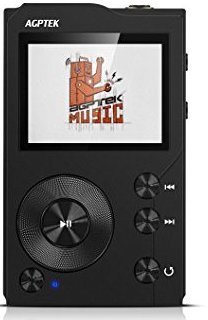 Storage: 32GB
Max Sampling Rate: 32-bit/192Hz
File Types: ALAC, AIFF, WMA, FLAC, MP3, WAVE, DSD 64, DSD 128, DFF, DSF, ISO, APE, OGG, M4A, AAC, CUE
What We Like: Good DAC, audio performance, two-way Bluetooth streaming.
What We Don't: Nothing for the price.
The AGPTEK H3 is another seriously-specced player (for this budget), commanding an impressive digital-to-analog audio conversion (up to 32-bit/192Hz for PCM files as well as DSD128 file playback). This is, of course, due to its high-quality DAC chip (Texas Instruments PCM5102) . Although its internal storage is 32GB, the full capacity goes up to 256GB when upgraded with extra memory - not a huge amount, but acceptable. What saves the day in the storage department is the mini-USB On The Go (OTG) port, which allows the AGPTEK to read and stream data off an external hard drive. The OTG port has other uses too - for instance, allowing the H3 to act as a standalone DAC/headphone amp when connected to a computer.
Featuring fast Bluetooth 4,0 which supports aptX (hi-res audio streaming), the AGPTEK DAP can stream Bluetooth audio in both directions - if you have another (Bluetooth 4.0 capable) device with hi-res audio files, it can beam the audio wirelessly to the H3, taking advantage of its high quality DAC chip - clever stuff! The H3 is built to last, too - the aluminum CNC-machined body really inspires confidence, and both the buttons and the wheel on the front feel sturdy and responsive. The 2.0 inch TFT display screen is not touch sensitive, though it's nice that the OS menu supports album cover and lyrics display. All of that goodness is not wasted by a poor battery - the unit supports up to 24 hours of music playback time via headphones. We simply love the specs, and if you can't afford the really expensive DAPs on this list, you could just grab this now - it won't let you down.
See the AGPTEK H3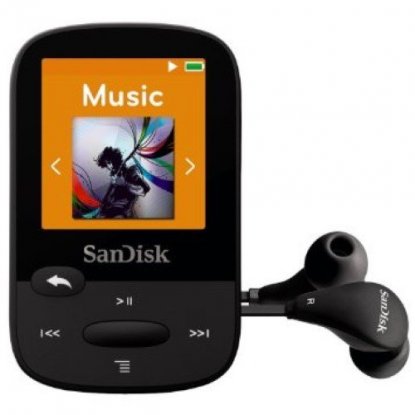 Storage: 8GB (Expandable)
Max Sampling Rate: 16-bit/48kHz
File Types: MP3, WMA (NO DRM), AAC, Ogg Vorbis, WAV, FLAC, and Audible (DRM only)
What We Like: Easy to use, portable, decent-sounding.
What We Don't: Nothing to dislike, as long as you don't expect high-res audio. Only 8GB.
Several years after its release, the SanDisk Sport remains a hugely popular MP3 player. Designed as a jogging audio player, it is probably a bit more than that, as it plays a multitude of lossless files as well - no proper high-resolution here, but at least FLACs and WAVs are managed with ease. Sound quality and battery life are decent - on a par with most legacy iPods, and we should really ignore the somewhat pixelated display and remember the Clip Sport's low cost. 
File transfer is super easy, and the 8gb memory would be enough for several albums of CD or FLAC quality and of course it's all expandable with an (optional) microSD card. Great for audiobooks, the Sport also features FM radio, and the only question here really is about sturdiness and longevity - but that is always the case with low budgets. 
See the SanDisk Clip Sport
 
Comparison Tables:
We have two tables here - the list of file types was two long to include in a single table, so we've separated them for easy comparison.
Firstly, let's compare price, storage, sample rate and wireless connections:
And secondly, file types:
| DAP | File Types: |
| --- | --- |
| Astell & Kern A&Ultima SP1000 | DSD, FLAC, WAV, WMA, MP3, OGG APE, AAC, ALAC, AIFF, DFF, DSF |
| Questyle QP2R | DSD, MP3, FLAC, WAV, ALAC, Ogg Vorbis, AAC, AIFF, APE, WMA, DFF, DSF |
| Shanling M3S | DSD, MP3, FLAC, WAV, ALAC, WMA, IOS, DSF |
| HiFiMAN HM901S | DSD, MP3, FLAC, WAV, ALAC, AAC, AIFF, APE, WMA |
| Sony NW-WM1Z N | DSD, AAC (Non-DRM), AIFF, ALAC, DSD, FLAC, HE-AAC, Linear PCM, MP3, WMA |
| Astell & Kern AK380 | DSD, MP3, FLAC, WAV, ALAC, Ogg Vorbis, AAC, AIFF, APE, WMA, DFF, DSF |
| Lotoo PAW Gold | DSD, FLAC, WAV, AAC, ALAC, MP3, WMA, M4A, CUE, APE, WavePack |
| OPUS#2 | DSD, MP3, FLAC, WAV, AAC, AIFF, APE, WMA, DFF, DSF |
| Pioneer XDP-300R-B | DSD, MP3, FLAC, WAV, ALAC, AAC, AIFF, APE, WMA |
| FiiO X7 Mark II | DSD, MP3, FLAC, WAV, ALAC, AAC, AIFF, APE, WMA |
| ONKYO DP-X1A | DSD, MP3, FLAC, WAV, ALAC, AAC, AIFF, APE, WMA |
| iBasso DX90 | DSD, APE, FLAC, WAV, WMA, AAC, ALAC, AIFF, OGG, MP3 |
| Pono Music | DSD, MP3, FLAC, WAV, ALAC, AAC, AIFF, WMA |
| Cowon M2 | APE, FLAC, WAV, AVI, WMA, AAC, ALAC, AIFF, OGG, MP3 |
| Bassplay P3000 | DSD, MP3, WMA, WAV, APE ,FLAC, AAC, OGG, AIFF, DSF, DFF |
| AGPTEK H3 | ALAC, AIFF, WMA, FLAC, MP3, WAV, DSD 128, DFF, DSF, ISO, APE, OGG, M4A, AAC, CUE |
| SanDisk Clip Sport | MP3, WMA (NO DRM), AAC, Ogg Vorbis, WAV, FLAC, and Audible (DRM only) |
Want Even More Master Switch? Sign Up For Our Weekly Newsletter!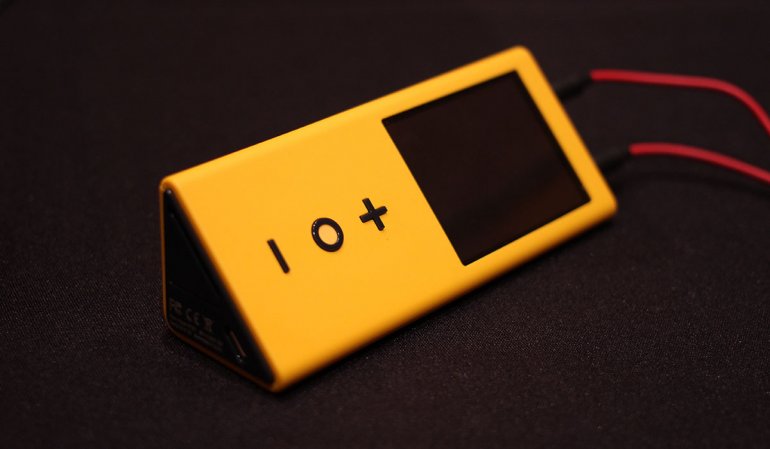 Buying Advice:
What Is A DAP?
Digital Audio Players (or DAPs) are a bit like MP3 players...but to call them just that would be a massive understatement. They certainly can play MP3s (or any other low-res / lossy file format), but their ability to play full resolution digital audio, and we mean way higher than CD quality audio, is their special trick. You'll also see them called high-res (high resolution) audio players, portable media players (PMP), and even multi-media players (MMP), though we need to point that the last one would be incorrect - DAPs don't dabble with video files.
Unlike the plastic build and appearance of cheaper and older units, newer DAPs are housed in space-age chassis, and many come with touc- sensitive screens, recessed volume controls, tactile buttons, balanced outs, and last but not least, WiFi and/or Bluetooth wireless streaming. The circuitry inside easily justifies the often astonishing price tags - they can often cost as much as a complete audiophile home setup, and this is probably how they really should be addressed - as one stop shop high-res audio hubs. Either way, if, like us, you want to call them MP3 players…we won't tell anyone. But if you want to find out what makes DAPs so much more special, read on.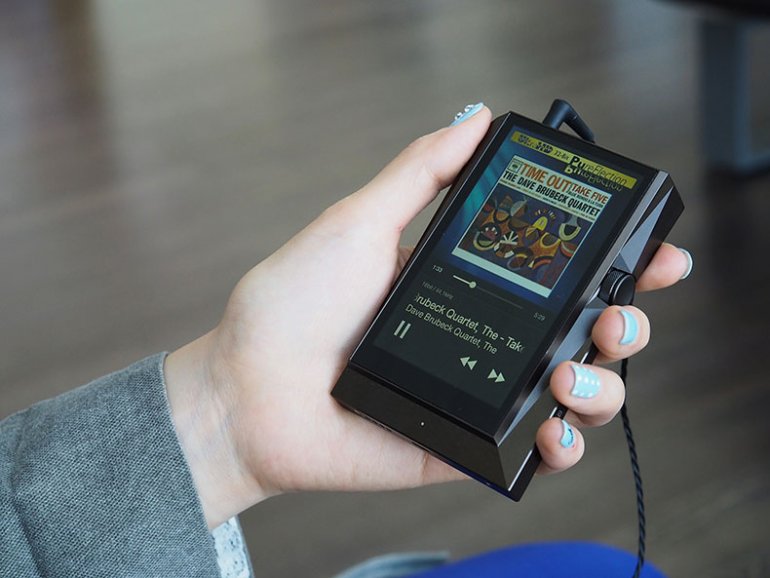 Common DAP Features Explained
The first  thing to note about DAPs is unquestioningly their stupendous audio detail - Audio with a capital A is the name of the game. There's also their ability to recognise and play any lossy, lossless or high-resolution audio file format - we've dedicated a separate explainer on these file formats below, but let us just say that never before in the history of consumer audio have we had it so good. The ability to enjoy digital audio sampled at up to 384kHz in 'standard' PCM wav formats, plus of course, the highest order DSD files, is all present and correct.
This leads to another important DAP feature. High-definition audio files can take huge amounts of hard drive space - tens or even hundreds of times bigger than MP3s. Based on that, DAPs need a massive storage capacity. There's quite a lot about to be said about hard drives, high-res libraries and DAP file transfers, so again, we've dedicated an easy explainer a bit further below.
Since many first-time DAP users comment on the incredible transient detail and increased headroom and soundstage, we need to mention the internal components responsible for those. The main proponents for audio clarity would be the internal DAC (Digital to Analog Converter) chipsets, combined with the noise/distortion-free headphone amplifiers capable of driving even the hungriest cans. In terms of connecting DAPs to line-level equipment such as A/V receivers and amps, the professional-grade balanced analog connections are a must. Even the digital ports play an important role, as they open possibilities for further expansion and sonic improvement.  
 
Audio Conversion Explained
The quality of playback of any digital audio player depends almost entirely on the quality of the DAC (Digital-to-Analogue Conversion) chipset. The quality of these components is proportionate to their price which in turn determines why some DAPs are so much more expensive…
Higher-resolution files do sound better than lower ones (and much better than compressed (lossy) ones), and the processing power of the DAC chip determines how such audio characteristics such as transient clarity, harmonics, depth, stereo width and more, are translated from digital to analog. The difference between, say, a $50 converter and a $500 will be as clear as night and day - even to untrained ears. The great thing about great DA converters is that your amazing speakers and headphones will sound even more amazing.
We recently ran a massive comparison of the best DACs of this year and we explain the importance of digital audio conversion in detail. There is in fact a close relation. DAPs are like standalone DACs, but with added hard drive memory and playback menu - so much so that in many cases, when connected to a computer, DAPs can bypass most of their functions and just stream super high-quality audio, 'replacing' your machine's sound card and effectively becoming...USB DACs. Ta da!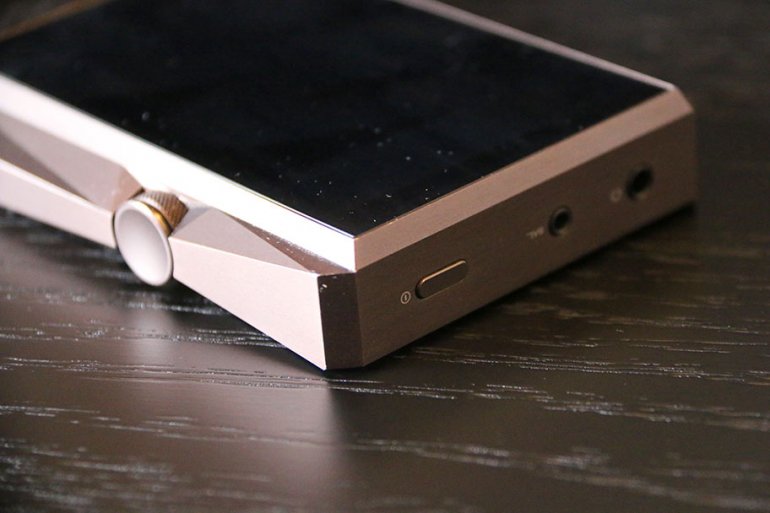 File Types Explained
Digital Audio Players feel at home with pretty much any audio format - MP3, FLAC, WAV, ALAC, Ogg Vorbis, AAC, AIFF, Pirate Ninja, APE, WMA, DFF, DSF. One of those may be made up.
Not only are all of these handled natively (without the need of conversion) but each of them can be encoded at different bitrates. Audio bitrate quality is quite like megapixels in digital cameras - the higher the pixel count in an image, the higher the detail.
The ability of DAPs to play super-high bitrates is also directly linked to the above mentioned DAC chipsets, and we do quote the highest possible values - in some cases those can be as high as 768 kHz, which is seventeen times the density of a CD uncompressed audio (44.1kHz)! Audio encoding keeps evolving and you'll often see the term DSD Audio, which has of recent become the benchmark for high definition sound.
What is DSD Audio? We've got a full explainer on audio file formats here, but if you'd like a brief explanation:
DSD file playability has become a criteria for a DAP (and DAC)'s quality - mainly for audiophiles with extremely high-resolution libraries. It's definitely not something you have to use if you buy a DAP, but it sure is nice to have. DSD stands for Direct Stream Digital, and is an audio protocol also known as 1-bit SACD bitstream - a file associated with Super Audio CDs.
DSD files come in several 'resolution densities' and the highest resolution currently used commercially is the DSD512 (Octa-DSD), which samples audio of rates up to 22.5792 MHz, which is eight times the SACD rate. If this leaves you scratching your head, let's say that the 512 number stands for 512 times the audio quality of a regular CD. Try that and you're in for a wild ride.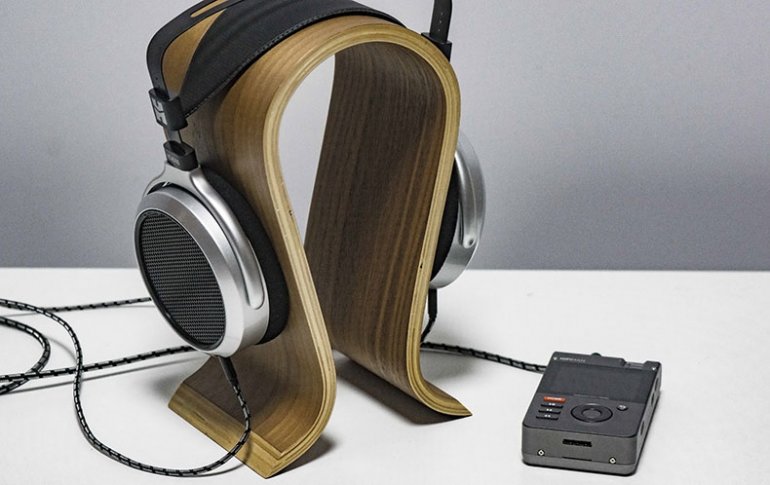 DAP Storage Explained
If you've never uploaded a super-high resolution (say DSD256) audio library into a top notch DAP player, you might be forgiven for thinking that, yeah, everything is pretty much like dumping your favourite iTunes albums into your iPod.
While the same principles apply, you'll see your hard drive space getting filled up fairly quickly. One minute of DSD256 audio, for example, exceeds 160mb of drive space, which means that an average album takes somewhere between 8 and 12GB. The case is very similar with hi-res PCM files - say of 24-bit/192kHz recordings. You may have noticed us ranting about 'not enough hard drive space' in the above picks. Well, that's why.
Good DAPs normally ship with at least 64GB of internal hard drive space, and manufacturers quote the maximum space that one can upgrade to. This varies between half a terabyte and up to two; a great example for the latter is the Lotoo PAW, which has a stunning two terabytes of storage. Other issues that we should make you aware of are things like compatibility with external memory cards; some DAPs support external storage expansions of only particular size and even type (SDHC or SDXC), so do check your manual before purchasing the wrong card.
It goes without saying that due to the large-sized hi-res files, library transfers can often prove time consuming. The majority of digital audio players on the market currently use a micro USB port (2.0) which transfer data at roughly 35mb/s - which means that uploading a few favourite albums might take as long as brewing a pot of coffee and drinking it.
The DAP market has become very competitive though and thankfully many manufacturers have started to address this issue - newly released models are beginning to feature USB 3.0 (up to 640mb/s transfer speed) and even (as in the Astell & Kern A&Ultima SP1000 at number one on this list) the SuperSpeed certified USB-C (3.1) connections, which support up to 10Gbps (1250mb/s) upload speeds. Also, USB 3.2 SuperSpeed+ is already released and effectively further doubling speeds up to 20Gbps - it is not yet implemented on any DAP to our knowledge, but as the saying goes, watch this space.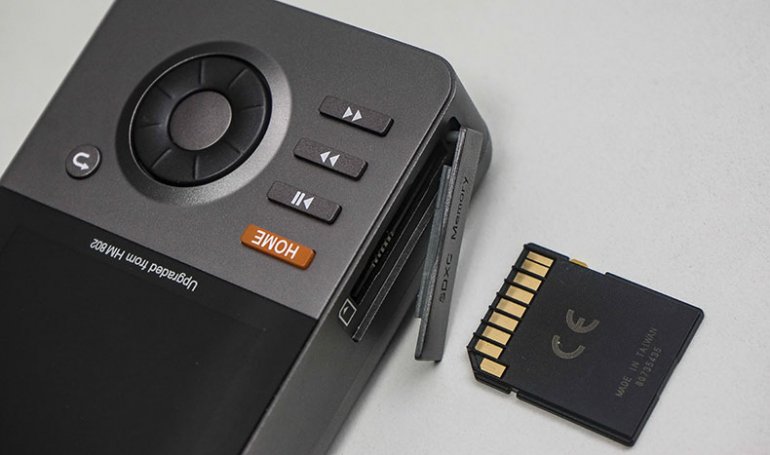 DAP Operating Systems
On a few occasions further up in this roundup, with picks such as the Questyle QP2R, we talk about their operating systems (OS). The reason for that is these are exceptions. Most DAPs employ Android OS as their operating system of choice.
What is an operating system exactly you might ask? It's the software system that lets you interact with your player, allowing you to play songs, skip tracks, connect to Bluetooth and the like, all through a dedicated interface. Everything you're used to seeing in your smart phone. If you are an Android smart device user, you will immediately feel at home with the majority of DAPs.
In regards to the exceptions, we have noticed and flagged some library indexing anomalies with Sony's own OS - stuff like lack of (or awkward) playlist support, and so on. We feel that many future DAP models might embrace Linux, as it is an OS famed for its glitch-free stability. It's just worth keeping your ears perked for reviews mentioning OS bugs when shopping around - they can prove more annoying than one might think.
 
Integrating DAPs In Your Home Setup
If you happen to have an overwhelmingly-large super hi-res audio library and the current maximum storage of your digital audio player is not sufficient, then the streaming capabilities of DAPs may be something worth looking at.
Although standalone installation-grade DAPs exist (and we mean the big A/V receiver sized units), handheld DAPs don't just belong in your pocket. When connected to a computer server, they can also act as standalone DACs, streaming audio from a hard drive into your state-of-the-art amp and speakers. The process is identical to connecting an external DAC to a computer and in most cases, drivers (which are like device recognition apps if you like) are either not necessary or automatically found by the computer's OS.  
This, again, is a good place to mention that data stream transfer speeds are crucial for smooth and uninterrupted server playback - having a USB 3.0 (or later) connection on your DAP really makes streaming a breeze. Additional factors come into play - even if your DAP might recognise every audio file in existence, your computer might not, and you might need a dedicated hi-res audio media player installed on your computer. Even then, certain files might be limited to a certain bitrate.
Lastly, providing all  your digital connections are optimised, you'd need to take good care of how you connect your DAP to your A/V receiver or stereo amp. DAPs give you the utmost in audio quality - all you've got to do is preserve this quality by using good quality cables, and whenever possible, use balanced connections.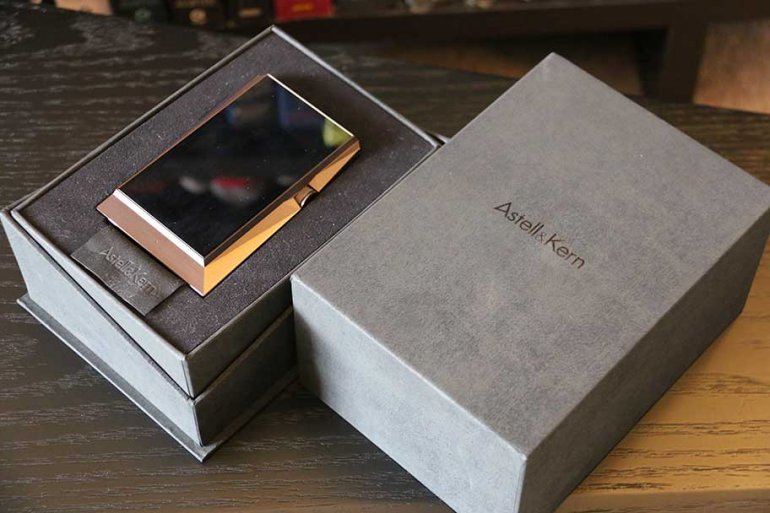 Balanced Output Connections Explained
Let's talk balanced vs unbalanced connections - quite important, actually.
Balanced and unbalanced connections are often referred to as pro and semi-pro respectively. Using a balanced output may have a dramatic (positive) effect on audio performance, and it's important to mention that the balanced circuitry takes place after the point of conversion from digital to analog audio.
In short, the effect of using balanced connections is to provide a better signal-to-noise ratio. The slightly theory-heavy explanation is that balanced outputs offer an impedance-balancing (between the individual wires) effect on the connected cable, resulting in a better transference of the audio signal.
Better than what you might ask? Well, unbalanced outs, naturally. In the real world, spaces with lots of wiring and/or light dimmers (commercial buildings, offices etc) are notorious for affecting unbalanced connections, causing ground loops and hums to audio equipment. This is really when balanced outputs can come handy and act as effective hum-destroyers, as we discussed in our breakdown of the 10 Most Common Home Theater Problems.
Balanced connections found on portable audio equipment require the so called 4-point plugs TRRS jacks (Tip, Ring, Ring, Sleeve). They have the same shape as regular small headphone jacks (3.5mm), but are either slightly smaller (2.5mm) or in very few instances slightly larger (4.4mm).
 
DAP Accessories Explained
When we talk accessories, the first thoughts include protective cases, screen protector kits, and so on, which are a little more than necessary when you are enjoying your music through a few grand worth of a handheld hardware.
The cool part is that many DAPs can be expanded in a modular way to fit a particular setup. A lot of additional kit is offered (by normally high-end manufacturers) - such as balanced-out kits, or specific headphone amps reserved for 'hungry' headphones (we mean high-impedance units of course, an explanation of which can be found here.)
We mentioned FiiO's different amp modules which fit that bill, and Astell & Kern also offer an equivalent. Things can go a lot further than that allowing audio professionals to turn their AK300-series DAP in a fully-equipped ultra high-end field audio recorder by adding A/D (analog to digital) conversion and support for external condenser microphones and recording.
Don't be surprised if the location audio for the next Star Wars flicks is captured on such or similar devices - the audio quality on offer is nothing short of staggering.
 
Common DAP Connections
| Connection | What It Does |
| --- | --- |
| Stereo mini-jack (1/8" / 3.5mm) Headphone out, Analog | The most common mini-jack connection as found on smartphones, laptops etc. |
| Stereo mini-jack 2.5mm (Balanced, with a 4-point, TRRS). Line out, Analog | A jack that is smaller/thinner than regular headphone jack, featuring tip/ring/ring/sleeve ending, or a 4-point connection on its end. On very rare occasions you may see two 2.5mm balanced outs - splitting the stereo feed into two mono feeds: left (L) and right (R). |
| Stereo mini-jack 4.4mm (Balanced, with a 4-point, TRRS). Line out, Analog | Commonly found on Sony products with balanced outputs. A jack slightly larger than regular headphone jack, featuring tip/ring/ring/sleeve ending, or a 4-point connection on its end. |
| Optical (3.5mm), Digital | Same as above but with an ending of the same size as a minijack (3.5mm) but a carrying a stereo digital audio (as found on some Mac computers). |
| USB (micro B, mini, c-type) | USB connections are the most common way of linking an external DAC to a computer. Depending on the size of the interface, different types of USB plugs may be present. |
| USB (micro B) OTG (on-the-go) Digital Protocol | These are regular USB connections which can link a DAP to an external DAC. This would of course be an unit which features even higher resolution DACs!   |
Learn More About Portable Audio