The quality of wireless speakers has exploded over the past few years. What was once a mass-produced, cheap item has become a high-end essential, as audio companies outdo each other to produce the best wireless or Bluetooth speaker. If you're looking to extract the very best audio you can, we've got a full guide for you, featuring the very best premium Bluetooth and wireless speakers of the year. For more background, see our high-end wireless speaker comparison table and buying advice below the picks. And to complete your kit, see our article on the best high-end headphones. 
 
---
Our High-End Wireless Speaker Picks
---

Best Overall High-End Wireless Speaker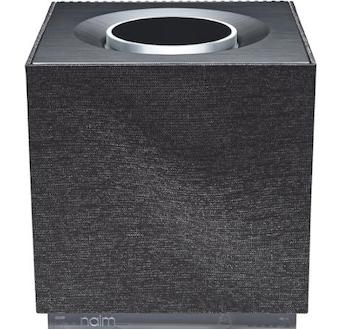 Wi-Fi/Bluetooth: Both (Bluetooth 4.2)
File Handling: Up to 24bit / 384kHz (Streaming), 24bit / 96kHz (Optical)
Roon Ready: Yes
What We Like: Stunning sound meets excellent design in a must-own speaker.
What We Don't: Naim's control app still feels a little clunky.
We could write thousands of words about how good the Naim Mu-so Qb 2nd Generation is, but perhaps all we need to say is this: it ticks every single box we have for a truly great wireless speaker. In our opinion, the sound quality is good enough to challenge any stereo hi-fi system, delivering clean, balanced, detailed audio. There's a huge range of connectivity options—if you can think of a way to stream music wirelessly, you'll find it here. The design is stellar, too. From the subtle curves of the speaker grills to the enormous light-up volume knob on top, the Mu-so Qb is as beautiful as it is effective. In our opinion, it blows other single-box speakers, like the Devialet Phantom II, out of the water. It may not have the earth-shaking bass of the Phantom, but the overall sound is significantly better.
The biggest downside of the Naim Mu-so Qb 2nd Generation is the control app, which you will need to listen to Tidal, as well as music taken from digital inputs and servers. It's a little clunky to use, and we frequently encountered lag and freezes. It's also worth noting that the original Mu-so Qb is significantly cheaper. If you're prepared to deal with less power, slightly less precise sound, and no remote, you can save yourself a couple of hundred dollars. Naim also make a larger, rectangular version, simply called the Mu-so, but it's more expensive (although arguably better-looking; there's even a version with a wood frame, which looks sick). The Mu-so Qb really is that good.
See the Naim Mu-so Qb 2nd Generation
 
Most Affordable High-End Wireless Speaker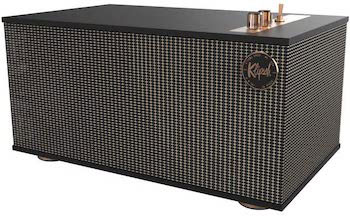 Wi-Fi/Bluetooth: Bluetooth (Version Unavailable)
File Handling: Up to 24bit / 192kHz (Streaming)
Roon Ready: No
What We Like: Confident sound and sleek design at a friendly price.
What We Don't: We really wish it had Wi-Fi functionality.
We can't think of a wireless speaker that performs quite as well at such an affordable pricetag. The Klipsch The Three II may have a clunky name, but it's a genuinely good Bluetooth speaker that offers surprisingly confident and punchy sound for the small size. The design shows off details that are typical to Klipsch: clicky switches and huge knobs matched with a retro-style grille, making The Three II one of the most well-designed wireless speakers here. Its price has increased a little since we last updated this article, which is a bit of a bummer, but it's still a sub-$500 speaker.

There is, however, no Wi-Fi functionality. The Klipsch The Three II is Bluetooth only (there's no optical or USB connectivity), and it maxes out at 24bit / 192kHz. As good as the sound is, those who desire high-end clarity may find it a little rough around the edges. The Sonos Five or SVS Prime Wireless Pro are probably better options for that, although they do cost a little more. All in all, though, The Three II offers remarkable value, and is one of the heaviest hitters in the wireless world right now.
See the Klipsch The Three II
 
Best Wireless Speakers for Home Theater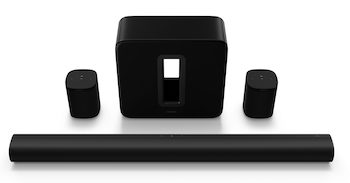 Wi-Fi/Bluetooth: Wi-Fi Only
File Handling: Unavailable
Roon Ready: No
What We Like: Easy to set up and use with effortless sound quality.
What We Don't: Dolby Atmos is still tricky to use on these speakers.
If you're looking to make your home theater wireless, then, in our opinion, Sonos is the only company you should consider. Other manufacturers like Klipsch try their best—see below—but they can't compete with Sonos. High-end wireless home theater is still in its infancy, and this package is the one of only two we feel confident enough to put on this list. This set consists of an Arc soundbar, a Sub, and two surround One SL speakers, and is an absolute dream to set up and use. With no cables save those for powering the speakers, you'll have a full 5.1 wireless home theater setup in minutes. The sound quality is rich and powerful, easily on par with similarly priced wired sets.
There are some limitations to the Sonos 5.1 Surround Set. With only one HDMI eARC port, you'll need a state-of-the-art TV to get full Dolby Atmos sound. That's a real shame, as it does limit the appeal of the Sonos set. It's also frustrating that Sonos don't provide any sort of Bluetooth streaming, which would have been nice to have, especially at this price. However, we stand by our initial assertion: for wireless home theater, the Sonos 5.1 Surround Set are the speakers to beat.
See the Sonos 5.1 Surround Set
 
Great Value for Multi-room Audio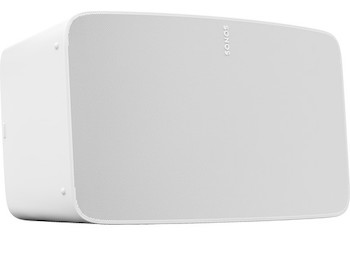 Wi-Fi/Bluetooth: Wi-Fi
File Handling: Unavailable
Roon Ready: No
What We Like: Absolutely the simplest, most effective way to get multi-room audio.
What We Don't: The sound is good, but is beaten by other speakers here.
There are very few absolutes in the audio world, but here's one for free: nobody, but nobody, does multi-room better than Sonos. Their newly updated Five speaker proves it. The SVS Prime Wireless Pro or Kanto TUK speakers, below, may offer better sound quality, and the top-ranked Naim speaker may pull off multi-room too, but Sonos make it beautifully simple to connect multiple speakers across the house. Their app is second to none— for once, we mean this absolutely literally. If you are looking to pepper your house with great speakers and have them all talk to each other, Sonos should be your first and only port of call.
The Sonos Five still has that sound quality issue, however. It's perfectly acceptable, but can come across as a little too bass-heavy at times, even feeling a touch bloated. If pure sound quality is what you are concerned with, then it's worth going for the aforementioned SVS and Naim speakers. If technological wizardry is what you're after, however, then this is the speaker to go for. It's not the best high-end wireless speaker available, but it is the best if you plan to buy more than one. And they work well in stereo pairs, too.
See the Sonos Five
 
Best High-End Wireless Bookshelf Speakers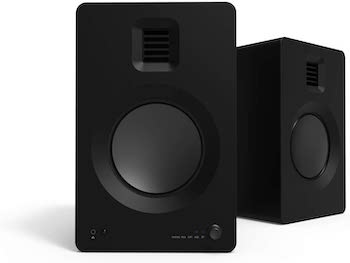 Wi-Fi/Bluetooth: Bluetooth (4.2 with aptX HD)
File Handling: Up to 24bit / 96kHz (Streaming and Optical/USB)
Roon Ready: No
What We Like: Versatile speakers with great stereo sound and solid features.
What We Don't: Clunky volume switch, low-res file handling.
The Kanto TUK (say, tuck) look like a traditional pair of bookshelf speakers, but they have some secret weapons. They have a much wider range of inputs and outputs than single-box speakers like the McIntosh RS250, and even include an optical input so you can use them both for home theater and hi-fi. Despite being Bluetooth only, the TUK speakers offer decent sound quality, particularly in the highs. This is down to their use of Air Motion Transformer tweeters to achieve this, unique among all the speakers here. You'll buy these if you want a traditional two speaker bookshelf setup, but don't want to compromise on wireless audio. In that category, the TUK and the KEF LS50 Wireless II, below, are far and away the best options, although we prefer the TUK's sound and useability to the L50 Wireless II.
One of the issues that Kanto has had with its speakers in the past, and which sadly resurfaces here, is the volume control. Getting precise volume adjustments is almost impossible, which can make using the TUKs frustrating. And despite the good sound quality, the TUKs offer surprisingly low file sizes through Bluetooth: a mere 24bit / 96kHz, significantly less than the 24bit / 384kHz offered by the top-ranked Naim Mu-so Qb 2nd Generation, which is only a little more expensive. None of these issues, however, stop the Kanto TUK from being the best wireless bookshelf option of this year...Read our in-depth review
See the Kanto TUK
 
A Speaker With Incredible Bass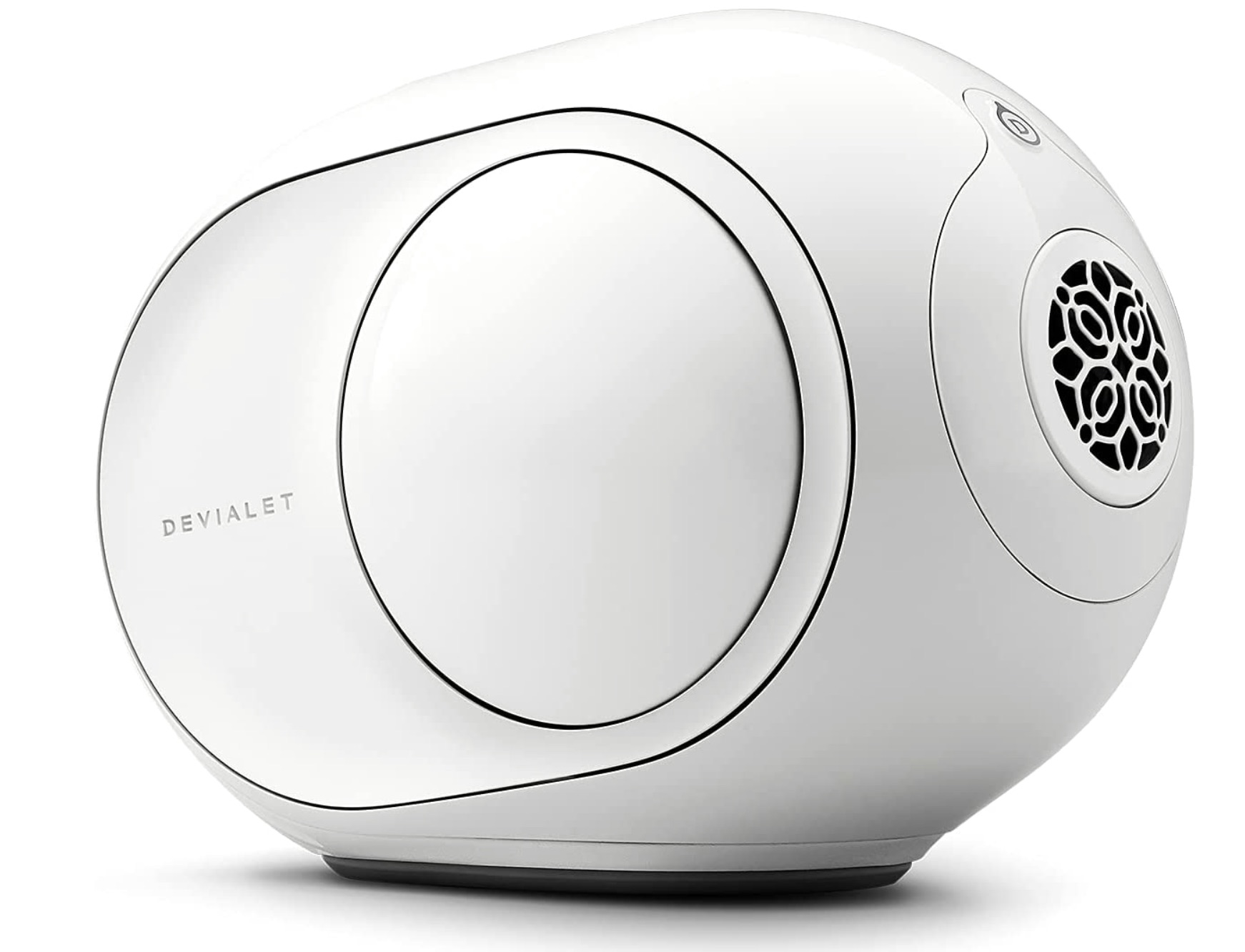 Wi-Fi/Bluetooth: Both (Bluetooth Version Unavailable)
File Handling: Unavailable
Roon Ready: Yes
What We Like: The best bass of any speaker we've ever heard—end of discussion.
What We Don't: Lack of specs is a little frustrating.
The Devialet Phantom II is one of those speakers that utterly redefines what you think about audio. In our opinion, it has the best bass of any full-range speaker we've ever heard—that's any speaker, not just wireless ones. The sound quality is stupendous, and the design, which prioritises spectacle, is nothing short of magnificent. One of these will shake your house. Two of them working as a stereo pair, with those twin bass drivers visibly moving in and out, will destroy it.
The Devialet Phantom II is, quite obviously, the second version of the popular Phantom series, and it adds Apple AirPlay 2 as well as Roon Ready functionality. It comes in two versions of differing loudness: the 95dB (our pick here) and the 98dB. One of the frustrations we had with the speaker was the lack of specs, including any information on file handling. We would love to tell you the file sizes it can take, but we just don't have that info. All the same, in terms of sound quality, it utterly smokes other similarly priced speakers like the McIntosh RS200, below.
See the Devialet Phantom II
 
Best Floorstanding Wireless Speakers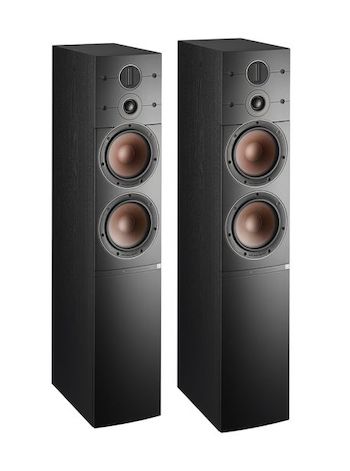 Wi-Fi/Bluetooth: Both (Bluetooth Version Unavailable, aptX HD)
File Handling: Up to 24bit / 96kHz (Streaming/Optical)
Roon Ready: Yes
What We Like: One of the very few floorstanding wireless speaker options available.
What We Don't: Massive pricetag, and the need for the accompanying Soundhub does limit things.
The Dali Callisto 6 C are a rare breed: a pair of floorstanding wireless speakers. They are becoming more common, from the likes of Linn and Dynaudio, but can often cost five figures or more. The Callisto 6 C are one of the few models that remain relatively affordable. If you want something with more depth and power than a single box or bookshelf speaker system, then this is where you need to go. In our opinion, the Callisto 6C deliver exceptional sound quality, as you'd expect for the most expensive system here. The audio quality is richer and deeper than other similarly priced speakers like the Bowers & Wilkins Formation Duo, with a blacker background and superior spatial dynamics. The setup is surprisingly easy, too.
The Callisto 6 C do rely on accompanying Soundhub control device, which handles all data processing. While the audio it puts out is good, we did feel a little bit limited by it. It's quite capable of receiving analogue inputs (from a turntable, say) but this analogue sound will need to be converted back to digital to be sent to the speakers, which can result in artifacts in the audio. Then again, you only go for the Callisto 6 C if you have very specific wireless speaker needs.
See the Dali Callisto 6 C
 
Best of the Rest
Wi-Fi/Bluetooth: Both (Bluetooth Version Unavailable)
File Handling: 24bit / 192kHz (Streaming/Optical)
Roon Ready: No
What We Like: HDMI eARC make these speakers a natural for both TV and hi-fi sound.
What We Don't: Expensive for an upgrade—and are we still using DTS Play-Fi? Seriously?
SVS's upgrade to the original Prime Wireless makes some significant strides. The Prime Wireless Pro speakers have redesigned cabinets and woofers, a better display, and a new remote. Crucially, they also have an HDMI eARC input, meaning these speakers can pull double duty as both hi-fi and home theater end-points. That's pretty rare, and it helps that the Prime Wireless Pro sound (predictably) terrific, with great bass. They'd certainly benefit from being paired with a subwoofer—and SVS are among the greatest sub-makers on earth—but they sound just fine on their own.
The SVS Prime Wireless Pro do have a few frustrating quirks that keep them out of the top five on this list, and see them lose out to the Kanto TUK for the best high-end wireless bookshelf category. They're expensive, for one—$300 more than the original Prime Wireless, which is mad. And somehow, amazingly, SVS are still using the DTS Play-Fi app for wireless streaming control. That's nuts. The Play-Fi app has always been and continues to be atrocious. Its continued presence is irritating, and we resent having to use it. We love these speakers, but they've definitely got a few problems.
See the SVS Prime Wireless Pro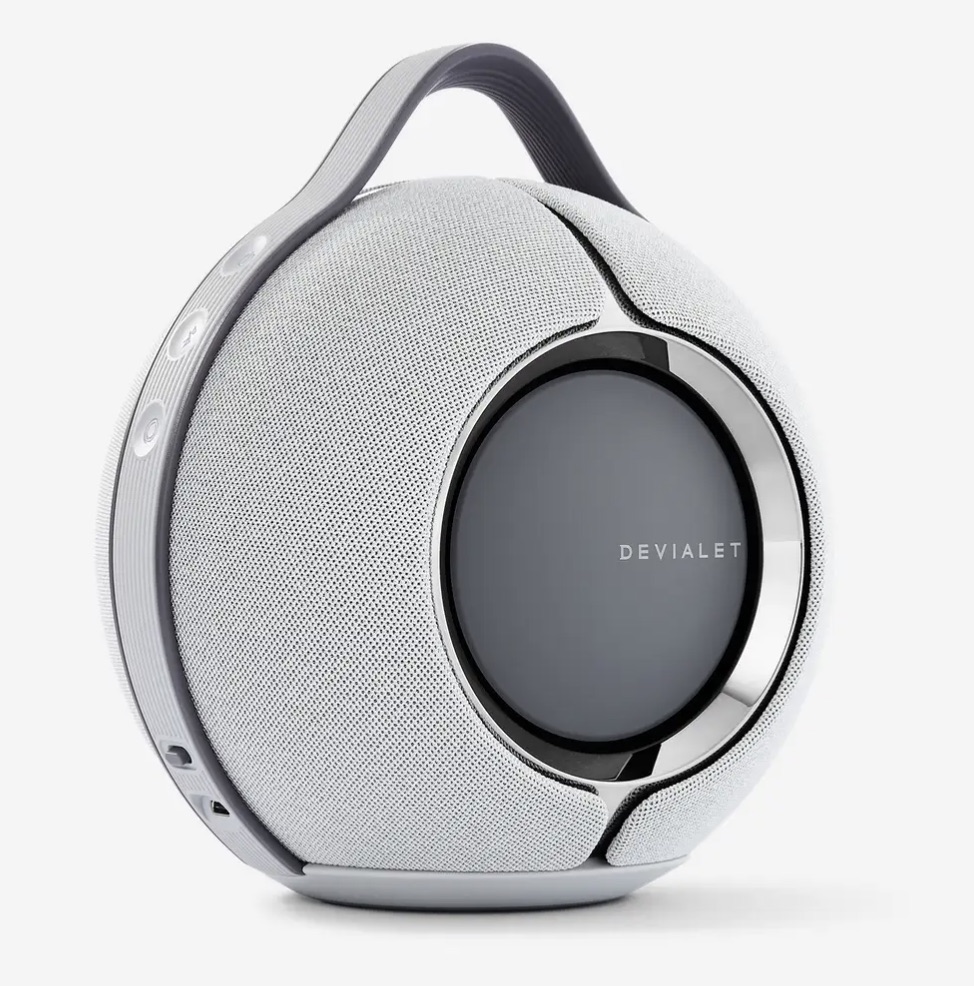 Wi-Fi/Bluetooth: Both (Bluetooth 5.0)
File Handling: Unavailable
Roon Ready: No
What We Like: Impeccable bass and clarity.
What We Don't: Light on specs, and there's Roon, aptX or aptXHD.
It's perfectly possible to get great high-end audio in a portable package, and we think the best way to do that is to pick up a Devialet Mania. We mean that literally—thanks to its useful carry handle, it's easy to tote around. Devialet are best known for making the Phantom and Reactor speakers, which deliver extraordinary bass, and some of that carries into the Mania. The sound is superb. At five pounds, it's relatively light, and its tiny size makes it easy to slot into a backpack. You'll get great, far-reaching sound wherever you are, and thanks to its IPX4 waterproofing, the Mania can withstand the odd splash.
Less amazing is the lack of specs available for the Devialet Mania—a common problem, shared by the bigger Phantom II, below. That's forgivable, but what's not is the lack of aptX or aptX HD Bluetooth support. On a portable speaker this pricey, those should be a given. You get Bluetooth 5.0, but not having those advanced standards is, frankly, a bit pathetic. That said, the Mania is still far and away the best-sounding portable high-end wireless speaker you can currently buy, and it's one we highly recommend.
See the Devialet Mania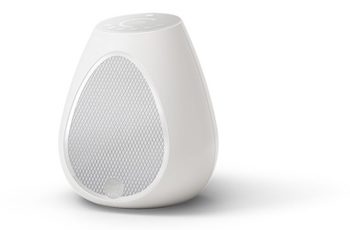 Wi-Fi/Bluetooth: Both (Bluetooth Version Unavailable)
File Handling: Up to 24bit / 192kHz (Streaming/Optical)
Roon Ready: No
What We Like: Great detail and it's suitable for both hi-fi and home theater.
What We Don't: No analogue inputs, MQA support, or Roon readiness.
Scotland's Linn claim that the Series 3 is "The best sounding wireless speaker in the world." Yeah… not quite. That's not to take that much away from the Series 3, which still boasts some of the best audio quality money can buy. While we can't say we prefer it to the charms of the less-expensive Devialet Phantom II, above, it still manages to impress with terrific detail. It's an unusually versatile speaker, too. It has an HDMI input that allows you to connect it to your TV—something the Phantom lacks—and it can operate in both single and stereo setups if you buy an additional speaker. As high-end wireless speakers go, the Linn Series 3 is definitely worth considering, especially if you value detail over powerful bass and volume.
Surprisingly for a speaker with this pricetag, the Linn Series 3 asks you to sacrifice a few things. There are no analogue inputs, which means you won't be able to connect an external turntable or DAC. There's no Roon Ready functionality either. If you do want a speaker that can handle these two sources, you'll need to spend even more. The best option on our list is probably the Dali Callisto 6 C ($4,700) above.
See the Linn Series 3
 

Wi-Fi/Bluetooth: Both (Bluetooth 5.0 with aptX and aptX HD)
File Handling: Unavailable
Roon Ready: No
What We Like: Beautiful design with big, powerful audio.
What We Don't: Overly busy low-end means the RS200 isn't the best option for sound quality.
This is the kind of upgrade we like. The McIntosh RS250 is the new version of the now-discontinued RS200, and it adds new features without increasing the price tag by a single dollar. The exterior is the same, but there's a new bass management system with full user control. There's also a new phono stage, and redesigned analog outputs. Given that the overly busy low end was the RS200's achilles heel, that's a good enough change to move the RS250 up a couple of spots on our list.
The fact the the McIntosh RS250 isn't in the top ten is more of a reflection of how other speakers offer more, for less. As an example, the single-box Devialet Phantom II has better low-end, while the top-ranked Naim Mu-so QB 2nd Generation (also a single box system) both sounds and looks better, as well as being more fun to use. We like the RS250, and we think McIntosh are very much on the right track. But there are better options available right now.
See the McIntosh RS250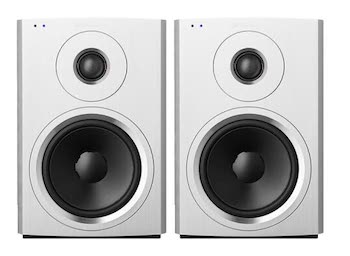 Wi-Fi/Bluetooth: Both (Bluetooth Version Unavailable)
File Handling: Up to 24bit / 96kHz (Streaming/Optical)
Roon Ready: No
What We Like: Some of the best pure Bluetooth sound we've heard yet.
What We Don't: Very dull design makes it hard for the XEO 10 to stand out.
If you find yourself listening to music over Bluetooth more often than not, and you want a premium pair of wireless speakers, then we recommend the Dynaudio XEO 10. There's none of the roughness or harsh quality we've come to expect from Bluetooth audio; instead, the XEO 10 deliver smooth and engaging sound quality, making them a superior choice over speakers like the more expensive KEF LS50 Wireless 2. They aren't an especially remarkable pair of wireless speakers beyond that, but what they do, they do very well indeed.
Our biggest issue with the Dynaudio XEO 10 was the design. It has as much excitement as a wet weekend in Secaucus, with no flair to speak of. Compared to the bright, exciting KEF LSX, or even the sleek Kanto TUK speakers, the XEO 10 falls short. Worth noting: these speakers pack both Bluetooth and Wi-Fi, meaning you aren't limited to either, and they have an RCA analogue input as well.
See the Dynaudio XEO 10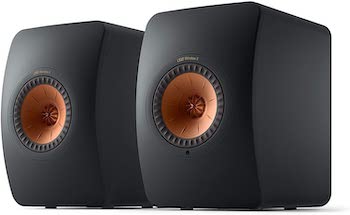 Wi-Fi/Bluetooth: Both (Bluetooth 4.2)
File Handling: Up to 24bit / 384kHz (Streaming), 24bit / 96kHz (Optical)
Roon Ready: No
What We Like: An improvement on a genuine classic, with great sound and features.
What We Don't: Outperformed by less-expensive models.
The second version of KEF's bestselling LS50 Wireless speakers make some significant improvements. The internals have been completely redesigned, and the speakers now use what the company calls Metamaterial Absorption Technology (MAT), which is designed to reduce distortion to almost inaudible levels. The result is superb, and as a bonus, the LS50 Wireless 2 dispenses with the multiple apps that were required to set up it predecessor. Using these wireless bookshelf models now is a breeze, and as a result, we think they are among the best stereo wireless speakers around.
That said, in our opinion the biggest downside here is the cost, which is substantial. It becomes even more of a problem when you consider that the LS50 Wireless 2 are beaten, in terms of sound quality, by less expensive models like the $1,600 Dynaudio Xeo 10s. This is particularly true with Bluetooth, where the Xeo 10s perform much better. We still think that the LS50 Wireless 2s are among the best wireless speakers available, but there are arguably better options.
See the KEF LS50 Wireless 2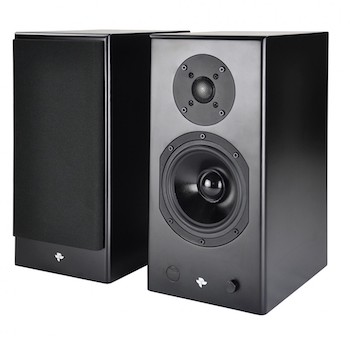 Wi-Fi/Bluetooth: Bluetooth (4.1 with aptX HD)
File Handling: Up to 24bit / 48kHz (Streaming), 24bit / 192kHz (Optical)
Roon Ready: No
What We Like: Realistic soundstage makes it easy to get lost in the music.
What We Don't: Functional design with no sense of fun.
Totem are known for making expensive speakers, so it's great to see them delving into the wireless market with the relatively affordable KIN PLAY. While we think the KEF LS50 Wireless II speakers have more precise sound, and the Kanto TUK better overall value, the KIN PLAY speakers do at least one thing that those speakers don't: soundstage. The KIN PLAY has one of the widest and most forgiving sweet spots we've ever encountered, and it is almost absurdly easy to pick out the spacing of different instruments in a song. That makes them among the more realistic speakers here, and although they don't have the panache or detail of the aforementioned KEF or Kanto speakers, they are an excellent choice for those who demand realism.
The sacrifice you make is largely in the looks. Slice it anyway you want, but the Totem Acoustic KIN PLAY are very dull to look at. They also don't have the Wi-Fi streaming found in the less-expensive SVS Prime Wireless Pro, although at least they have aptX HD, meaning the Bluetooth sound quality will put a smile on your face. Totem do make a smaller model, the tiny KIN Monitor, which we tested quite recently. To be honest, they didn't impress us, and had none of the soundstage or realism of their bigger brother. Stick with these.
See the Totem Acoustic KIN PLAY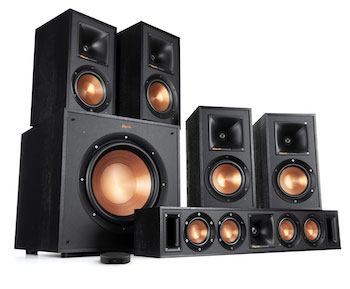 Wi-Fi/Bluetooth: Wi-Fi
File Handling: Unavailable
Roon Ready: No
What We Like: Dynamic and expressive home theater sound.
What We Don't: Occasional WiSA glitches mean that the Sonos system is a better choice.
If you want to make your home theater wireless, you'll find that there are slim pickings available. One of the few home theater systems we recommend comes from Klipsch. Their Reference Wireless 5.1, in our opinion, is one of the top packages available. While it cannot beat the Sonos 5.1 Surround Set for ease-of-use, it certainly beats it on sound. Klipsch make some of the finest hi-fi speakers on the planet, and although they aren't the first choice for wireless audio, they are definitely worth considering.
The Klipsch Reference Wireless 5.1 relies on WiSA, a technology that allows communication between products from different manufacturers via a discrete Wi-Fi network. This allows the Reference Wireless speakers to communicate with home theater receivers—Klipsch specifically mention those from Axiim as the ones to use in this case. The problem is that WiSA results in dropouts and glitches, which is something that almost never happens with the Sonos speakers. The Klipsch Set is worth it for the sound, but if you want convenient wireless home theater audio, Sonos are the ones to stick with.
See the Klipsch Reference Wireless 5.1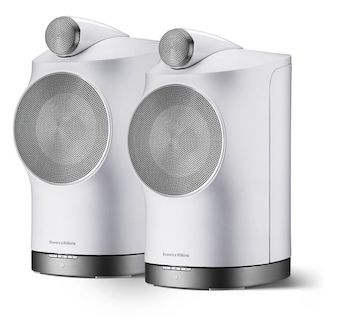 Wi-Fi/Bluetooth: Both (Bluetooth 4.1 with aptX HD)
File Handling: Unavailable
Roon Ready: Yes
What We Like: Impeccable multi-room audio with tight, authoritative sound.
What We Don't: A little more dependent on Roon than we would like.
The Bowers & Wilkins Formation Duo may be among the most expensive wireless speakers on this list, but they truly deliver. And not just in terms of sound quality, which is authoritative and tight. The Formation Duo speakers are also exceptional at dealing with multi-room situations, easily linking up with the rest of the company's Formation range. Only Naim, who make the top-ranked Mu-so Qb 2nd Generation, can really match them in this area, although even the excellent Naim speakers can't really compete with the effortless, confident sound quality of the Formation Duo speakers.
Unlike many of the speakers here (we are looking at you, KEF) the B&W app used to control the Formation Duo works fine. The problem is, it's not designed to stream music. B&W strongly recommend you use the Roon streaming software, which you'll need to purchase separately. We love Roon, but given the extra outlay, it's frustrating to be funneled towards it at the expense of other options. Roon should be an option, not a necessity. And of course, the high pricetag for the Formation Duo puts them out of reach for most people.
See the Bowers & Wilkins Formation Duo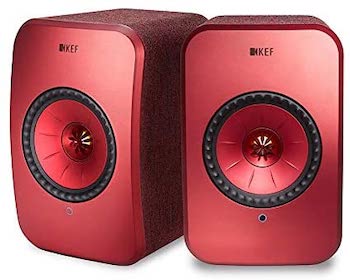 Wi-Fi/Bluetooth: Both (Bluetooth 4.2 with aptX)
File Handling: 24bit / 192kHz (Streaming), 24bit / 96kHz (Optical)
Roon Ready: No
What We Like: The LSX are genuinely beautiful speakers that offer airy, clean sound.
What We Don't: Irritating setup that uses two apps, and they are quite pricey.
The KEF LSX are the only speakers on this list— possibly the only speakers ever made— that require vacuuming, with eye-catching fabric-covered housing and a range of colors. They are a little old now, and have been superseded by models like the LS50 Wireless 2s, which bring new materials and ideas to the table. But we still think they are worthy of checking out, especially if you are looking for a set of wireless speakers in this particular price range. The sleek design is matched by a luxurious sound quality that is bright and airy. We think the TUK speakers, above, sound better, and they are far more affordable than the LSX. But that doesn't mean the KEF speakers should be discounted. For one thing, they have full Wi-Fi streaming, which the Kanto speakers do not.
In what is becoming something of a theme on this list, the app for the KEF LSX speakers is a problem. Perhaps we should say apps, plural. Not one but two apps are required for setup here, which is utterly absurd in our opinion. It's also frustrating that the LSX are not Roon Ready— high-end streaming software will pick them up, but only as an AirPlay device. Less expensive speakers like the Naim Mu-so Qb 2nd Generation pull this off, and we hope that KEF can rectify this in the future... ...Read our in-depth review
See the KEF LSX
 
High-End Wireless Speaker Comparison Table
| Speaker | Price | Wi-Fi | Bluetooth | Streaming | Optical | Roon | Power |
| --- | --- | --- | --- | --- | --- | --- | --- |
| Naim Mu-so Qb 2 | $1,200 | Yes | 4.2 | 24bit / 384kHz | 24bit / 96kHz | Yes | 300 Watts |
| Klipsch The Three II | $270 | No | Yes - VU* | 24bit / 192kHz | N/A | No | 60 Watts |
| Sonos 5.1 Surround | $1,986 | Yes | No | Unavailable | Unavailable | No | Unavailable |
| Sonos Five | $699 | Yes | No | Unavailable | Unavailable | No | Unavailable |
| Kanto TUK | $800 | No | 4.2, aptX HD | 24bit / 96kHz | 24bit / 96kHz | No | 130 Watts |
| Devialet Phantom II | $1,300 | Yes | Yes - VU* | Unavailable | Unavailable | Yes | 600 Watts |
| Dali Callisto 6 C | $4,700 | Yes | VU*, aptX HD | 24bit / 96kHz | 24bit / 96kHz | Yes | 250 Watts |
| SVS Prime Wireless Pro | $900 | Yes | 5.0, aptX | 24bit / 192kHz | 24bit / 192kHz | No | 200 Watts |
| Devialet Mania | $790 | Yes | Yes | Unavailable | Unavailable | Yes | 600 Watts |
| Linn Series 3 | $4,390 | Yes | Yes - VU* | 24bit / 192kHz | 24bit / 192kHz | No | 200 Watts |
| McIntosh RS250 | $3,000 | Yes | 5.0, aptX HD | Unavailable | Unavailable | No | 650 Watts |
| Dynaudio XEO 10 | $1,600 | Yes | Yes - VU* | 24bit / 96kHz | 24bit / 96kHz | No | 130 Watts |
| KEF LS50 Wireless 2 | $2,499 | Yes | 4.2 | 24bit / 384kHz | 24bit / 96kHz | Yes | 380 Watts |
| Totem KIN PLAY | $1,250 | Yes | 4.1, aptX HD | 24bit / 48kHz | 24bit / 192kHz | No | 240 Watts |
| Klipsch RW 5.1 | $2,680 | Yes | No | Unavailable | N/A | No | Unavailable |
| B&W Formation Duo | $3,999 | Yes | 4.1, aptX HD | Unavailable | Unavailable | Yes | 250 Watts |
| KEF LSX | $1,250 | Yes | 4.2, aptX | 24bit / 192kHz | 24bit / 96kHz | No | 100 Watts |
*VU = Bluetooth Version Unavailable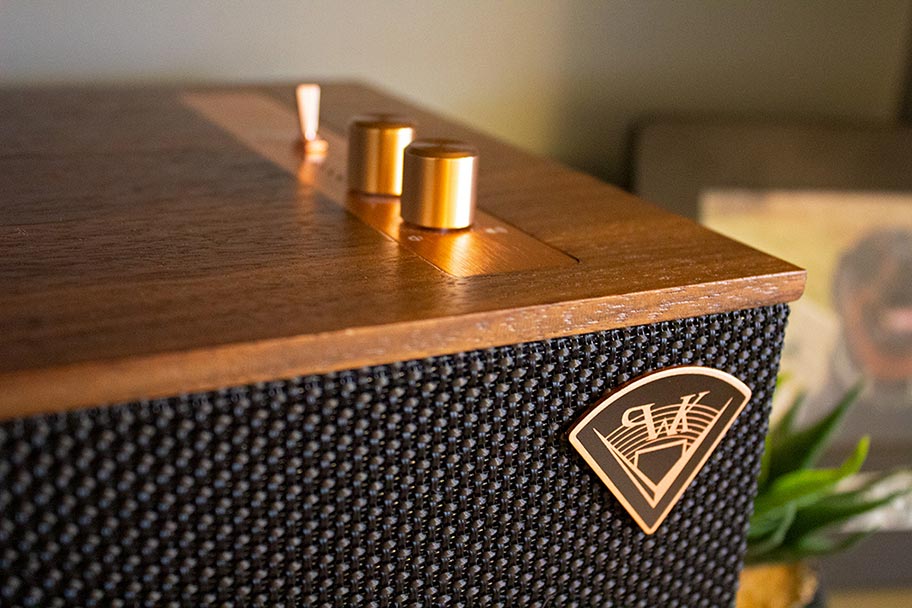 High-End Wireless Speaker Buying Advice

Bluetooth vs. Wireless
On the face of it, the differences between Bluetooth and Wi-Fi streaming are obvious. Bluetooth is all about convenience and portability, at the expense of razor-sharp sound quality. Wi-Fi streaming has better audio, but obviously requires that you be tethered to a network. If you plan to invest in a high-end wireless speaker, however, then you need to look at this slightly differently. For starters, these types of speakers are generally not designed to be portable. That means the convenience of Bluetooth while on the go is largely a nonfactor. Instead, your choice will come down to the differences in sound quality, and the amount of effort you want to go to to set up your speaker.
Let's talk about sound quality first. While Bluetooth has been progressing in leaps and bounds over the years—more on this in the section below—it still doesn't quite have the audio capabilities of a Wi-Fi stream. Even high-resolution codecs like aptX, aptX HD, and LDAC aren't quite there yet. We don't mean to imply they are bad, but in our opinion, Wi-Fi streaming does have the edge. By being able to send more data on a stable network, Wi-Fi audio generally has better detail and clarity. That said, the differences are very minor, and there are other factors to take into consideration. If you were to put the Bluetooth-based $299 Klipsch The Three II against the Wi-Fi-based Sonos Five at $599, you'd find that the Klipsch actually edges the Sonos speaker. Its circuitry is just better.
In that case, it's our second thing that is perhaps more important: setup. Connecting a speaker to a Bluetooth source is so simple a chimpanzee could do it, and it takes less than a minute. Any phone, laptop, or tablet will have the option readily accessible. Connecting to Wi-Fi, however, is a different story. Very often you will have to download a dedicated app, and if there's one thing we discovered while testing speakers for this article, it's that audio companies sometimes struggle creating usable apps. You'll then have to fight to connect your speaker to a particular network, re-inputting your password. We don't want to overstate this, as it is obviously only something you will do once. But you have some clear choices to make when it comes to choosing between Bluetooth and Wi-Fi. The good news: speakers will either have Bluetooth only, or Bluetooth and Wi-Fi.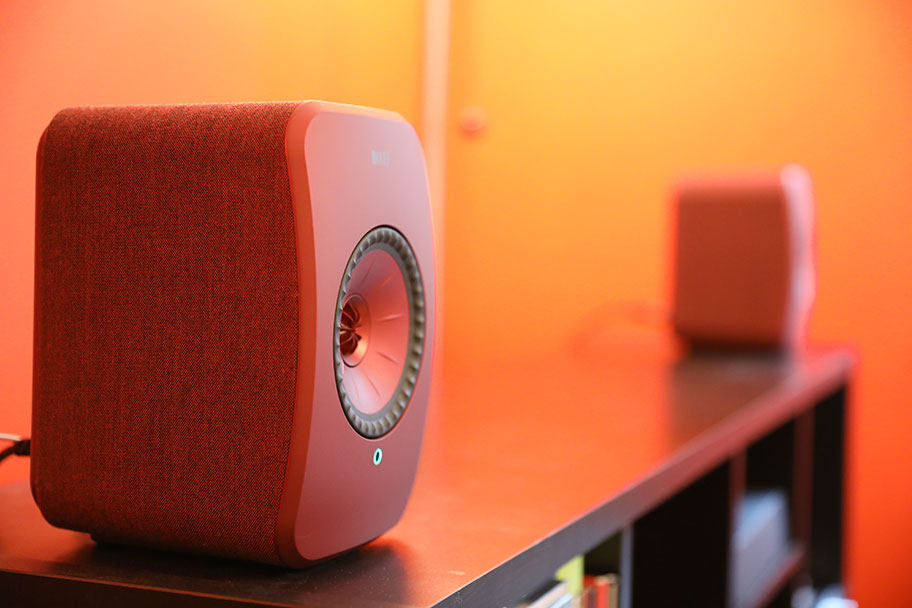 Bluetooth Versions and Codecs Explained
Unlike Wi-Fi streaming, which is fairly standard across various speakers, Bluetooth is a little more complicated. To start with, there are multiple Bluetooth versions, indicated by a number. The higher the number, the more data it is able to send, which means there will be more detail in the audio. Right now, you can look at anything over Bluetooth 4.0 as industry-standard. 4.0 is basic, 4.2 is much better, and 5.0 is the best (so far). The differences between versions are very minor, although Bluetooth 5.0 uses less battery and allows you to connect two devices at once. There is only one speaker on our list with Bluetooth 5.0, which is still relatively uncommon: the pricey McIntosh RS250.
Far more important than the Bluetooth version is the codec, a piece of software that determines the quality of the Bluetooth signal. If you think of a Bluetooth signal like a water pipe, the Bluetooth version is the width of the pipe—the spec that determines how much water can be sent down it at any one time. The Bluetooth codec is the quality of the water in that pipe. If you see a pair of speakers that transmits with a codec like Qualcomm aptX or aptX HD, you are guaranteed significantly better sound quality—as if you were pumping spring water, instead of just tap water. The $800 Kanto TUK (full review here) use the aptX HD codec, which means the audio will be very good, with tons of detail.
Be aware: these codecs only kick in when both your source and your speaker are compatible with the particular codec. If you want to listen to music with aptX HD on Kanto TUK speakers, you need to have aptX HD available and enabled on your source device (such as your smart phone). While aptX and aptX HD Are by far the most common advanced codecs, you will occasionally find others, like SBC and LDAC. The former isn't really worth bothering with (it's been surpassed by aptX) but LDAC is fascinating. It's designed by Sony, and if you can get both your source device and your speaker to use it, you will get some seriously great sound.
As to the question of whether it's worth seeking out speakers with advanced Bluetooth versions and codecs, it's largely up to you. You will obviously pay more for advanced technology, and we will be honest, the differences can sometimes be very minor. If precision sound is what you demand, then go for it—or seek out a speaker with Wi-Fi streaming, which is almost certainly going to provide better audio anyway.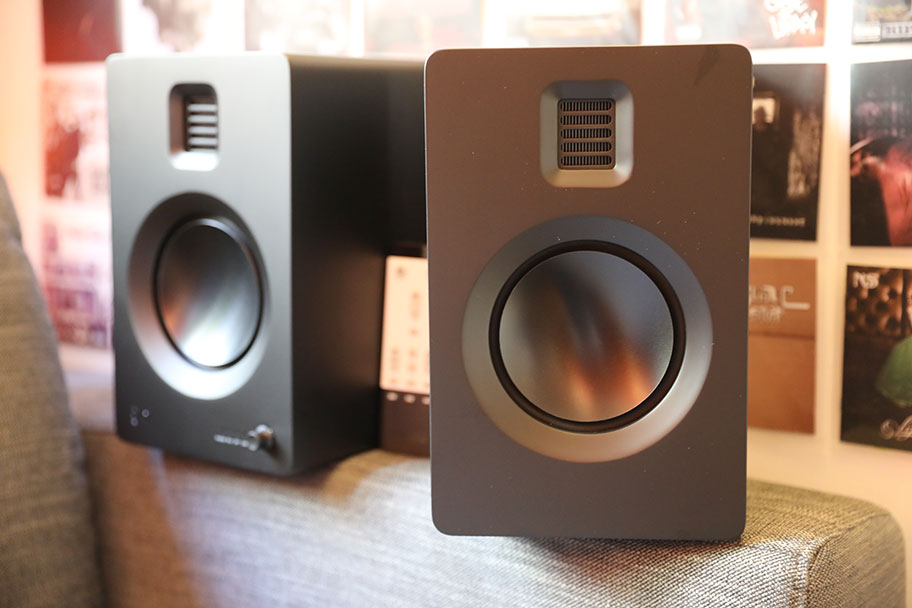 Sample Rate and Bit Depth Explained
Sample rate and bit depth are a method of determining the quality of a particular piece of audio. They tell you how much information is in the recording, and obviously, the more there is, the more detail and clarity you can expect.
Sample rate is arguably the most important. When music is recorded, the recording software doesn't just capture that recording in a single stream. It takes individual snapshots, which it strings together to create the sound, in much the same way that thousands of still images create a movie. A higher sample rate (which is measured in Hertz, or Hz) is always a good thing, and in general, you should never settle for a sample rate less than 44,100 Hz (44.1kHz). Bit depth indicates the amount of information contained in each of those samples. The more information there is, the better the overall detail will be. Depth isn't quite as important as sample rate, but you should still aim for the highest possible. In general, we don't recommend anything under 24 bits. If you want a more detailed explanation of sample rate and bit depth, we have a full explainer article here.
What does this mean when you're buying a high-end Bluetooth or wireless speaker? Obviously, you will be looking for a speaker capable of handling the highest sample rates and bit depths possible, but there are some obstacles in your path that are worth bearing in mind. The first is that many digital streams are capped. For example, the Kanto TUK (full review here) has file handling of 24bit / 96kHz. If you play a file with a larger sample rate than that, it will still play fine, but it will be compressed and you may lose a tiny amount of detail.
It's also worth noting that sometimes sample rates over wireless streaming and sample rates via physical, wired connection can differ. The Naim Mu-so Qb 2nd Generation can take 24bit / 384kHz, but only 24bit / 96kHz over its optical connection. What this means is, you need to think hard about where you commonly get your music from, find out what the maximum sample rate and bit depth it can output is, and choose a speaker accordingly.
One thing we'd say though is that unless you are fiendishly devoted to the apex of audio quality, it's not worth trying to reach the highest sample rate possible. The differences are there, and of course a 96kHz and a 768kHz file will sound dramatically different. But the differences are generally quite small, and are arguably not worth worrying about. Still, if you are trying to achieve the best sound quality possible, then knowing about sample rate and bit depth is important.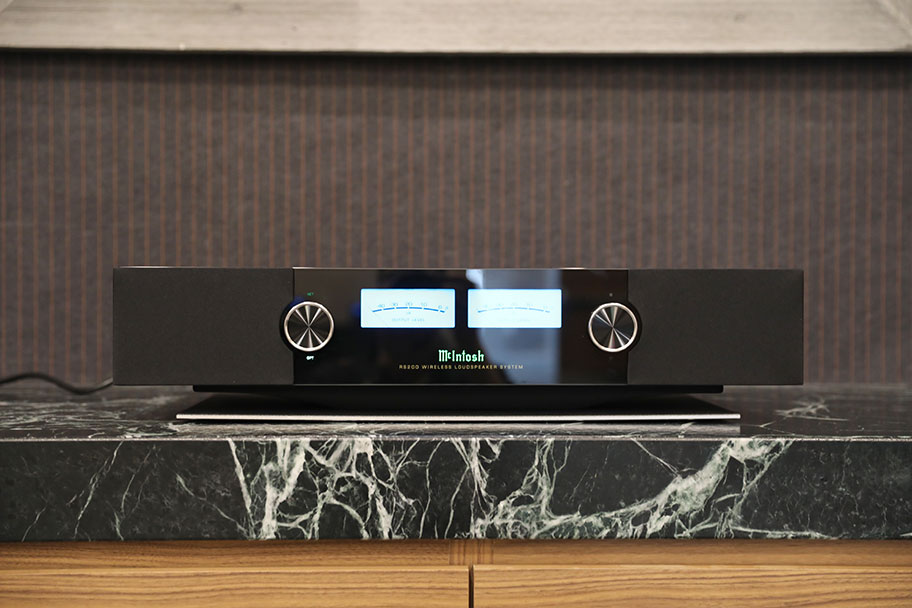 Roon
You cannot wander around in the world of high-end wireless speakers without encountering Roon sooner or later. It's a fascinating piece of music software. Essentially, it combines your streaming services such as Tidal or Qobuz with any music you happen to have on your hard drive, and gives you a single place to access it. This isn't just a rudimentary set of controls, either. Roon is beautifully designed, scraping your metadata to present you with the equivalent of a digital magazine, complete with in-depth bios of artists and albums. We use it here at The Master Switch, and it's magic.
It is, however, expensive. It costs either $120 a year, or $700 for a lifetime pass. Despite the cost, it has become so ubiquitous that many speakers and manufacturers advertise themselves as Roon Ready, which means that the software will automatically detect their presence on Wi-Fi and allow you to route your music directly to them without having to use services like Apple AirPlay 2. While a speaker does not have to be Roon Ready to be used with Roon, it certainly helps, and we've indicated the information we provide for each speaker in our table above whether or not it is Roon Ready.
Our take: if you can afford it, it's one of the best ways to experience your music, and is as essential to your hi-fi system as a good DAC or streaming service. It's not a coincidence that most of the top end speakers on our list use it. Our number one pick, the Naim Mu-so Qb 2nd Generation, certainly does.

Power and Loudness
Every speaker on our list has a power output, measured in watts, and this can be used to get a general idea of how loud each of them can go. However, if you want a loud speaker, it's not quite as simple as just looking at the wattage figures and picking the largest. The relationship between power and loudness is a little more complicated.
Loudness, after all, can be controlled. Just turn down the volume. Even the loudest speaker in the world can be made really quiet. Instead, think of loudness like accelerating in a car. Very obviously, a Ferrari will be able to accelerate faster and go further than, say, a Honda Prius. That's because the Ferrari has more power under the hood. Speakers with large output wattages will be more suitable for larger rooms, and more capable of filling them.
One other thing to note. All the wattage figures in our table above what are known as RMS wattages. RMS stands for Root Mean Square, And without wanting to get involved in the maths, it refers to the amount of power a speaker can put out over a sustained period. Peak wattage, on the other hand, is the maximum amount of wattage a speaker can pump out in a short period of time. You can ignore peak wattage and concentrate on RMS, which will give you a much better idea of speaker power.

Wireless Speakers for Home Theater
There's no reason why you can't use wireless audio in your home theater system. After all, one of the most annoying parts of setting up a surround sound system is dealing with miles of speaker wire, which you will inevitably have to add banana plugs to yourself. And while wireless home theater is still in its infancy, there are several surround sound packages available. We have a couple on our list, and we think the best right now is the Sonos 5.1 Surround Set. At under $2,000, it's surprisingly affordable, given the fact that it contains so many brilliantly designed speakers.
Before you jump in, however, it's worth noting a couple of things. The first is that each of your wireless speakers will need its own mains plug. The speakers may be able to receive wireless audio, but they need power from somewhere. In a traditional setup, that power comes from speaker wire, and that's obviously not a factor here. That's part of the reason we like the Sonos system mentioned above: the front speakers are contained in a single sound bar, which of course only needs a single plug.
The second thing to realise is that almost all wireless systems come with quirks. One of the biggest is that you may be locked into a closed ecosystem. If you purchase the Sonos system above, you will not be able to use any other company's speakers in your setup. If you go for something a little more deleterious, like the Klipsch Reference Wireless 5.1, you might run into a different problem: glitches. The Klipsch uses a wireless protocol called WiSA, which allows different manufacturers to have their products talk to each other, but can be tricky to use, and is frequently the recipient of glitches and dropouts. Bottom line: home theater with wireless speakers is an interesting idea, but it's got a few hangups.

Amp Classes
By definition, a wireless speaker will have an amplifier inside, which it uses to power the speaker driver and shape the sound. One thing that manufacturers do that infuriates us is to claim that their amp delivers "pure Class A power" or is a "hybrid of Class B and B amps" without actually explaining what the hell those mean. Here, very briefly, are what different classes of amp mean. To be clear: this probably shouldn't influence your buying decision a great deal, as the differences are far more important when you're picking a good stereo amp, rather than a self-contained wireless speaker. But they are still worth bearing in mind.
Class A Amplifiers are among the most common, and tend to offer clean sound with very low distortion. The disadvantage is that they can get hot very quickly. Class B In many ways the opposite: they don't run all that hot, but can sometimes be guilty of a little distortion. Realising that perhaps they could do better, manufacturers sometimes offer a hybrid Class A/B amplifier, with the advantages of both.
There's no Class C amplifier (don't ask us why), but there is a Class D amplifier. This type of amplifier is very small and light, and runs quite cool. They are becoming more and more common in the audio world, although they have sometimes been criticised as having slightly harsh sound. In our opinion, this isn't really true. We've heard dozens and dozens of products with Class D amplifiers, and we can't say we've ever had an issue with the type.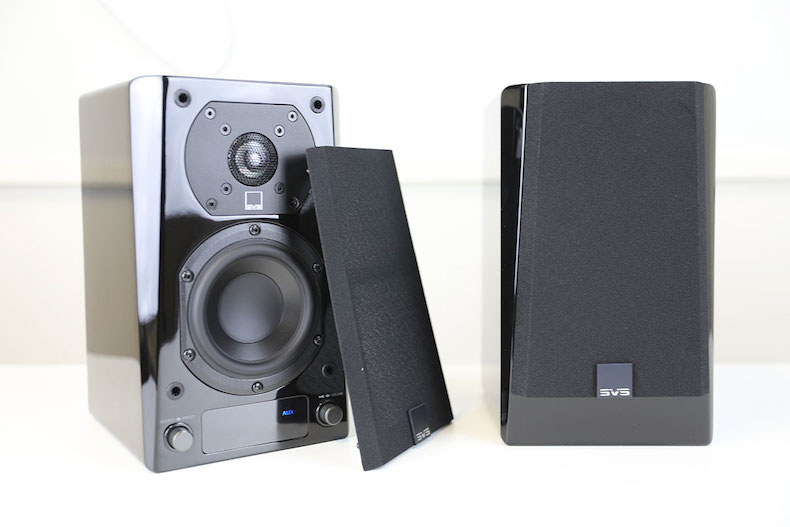 Streaming Services
By streaming services, we mean the method of sending audio from your source to your speaker over Wi-Fi. Unfortunately, it's not just enough to select Wi-Fi and be done with it; you actually have to choose a particular piece of software to get the music to your speaker. Fortunately, they are widely available, and easy to understand
 
Apple AirPlay 2
If you have an iOS or MacOS device, then Apple AirPlay 2 is the easiest way to send audio to an external speaker. Apple's proprietary streaming software is widely available and almost effortless to use. Many of our speakers, including the top-ranked Naim Mu-so Qb 2nd Generation, have Apple AirPlay 2. One of the advantages of that particular speaker is automatic input switching, which means that if it detects you are playing from an iOS or MacOS device, it will select airplay automatically. One thing to be aware of is that AirPlay 2 does tend to drain the batteries of the source device.
 
Chromecast
Think of Chromecast as the open-source alternative to Apple AirPlay 2. It does not require a specific model of source device, and will work with virtually any music service. It's becoming more and more common among wireless speakers, and, unlike Apple AirPlay 2, it will not drain the batteries of the source device. One thing to note is that audio quality is generally indistinguishable between AirPlay and Chromecast, so your choice should be a practical one, rather than one based on sound quality.
 
uPnP
If you have digital music stored on a hard drive, you may be wondering how to get it to communicate with your wireless speaker. Some speakers allow you to connect the drive or server directly via USB, but there's a more elegant method: uPnP (Universal Plug 'N Play). It's a software protocol that allows the communication between drives and speakers, which means that you can easily play your digital files on your speaker. Several speakers on our list have this functionality, including the KEF LSX (full review here). They allow you to access your music servers and drives directly through the app.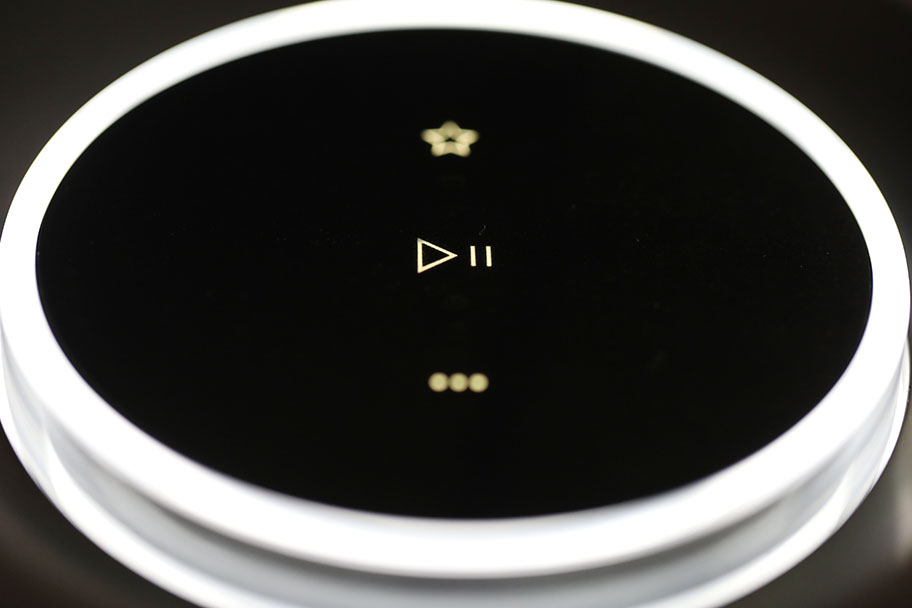 Spotify vs.Tidal vs. Qobuz
If you listen to digital audio, then you're almost certainly using a streaming service like Spotify, Tidal, or Qobuz. These services provide vast catalogues of music to listen to, and if you're intending to buy a good high-end speaker, it's worth considering their pros and cons.
Let's start with Spotify. It is unquestionably the most popular streaming service in the world, with over 30 million tracks and 130 million listeners. It is simple to use, and its Spotify Connect service allows it to instantly identify and stream to compatible speakers. However, it isn't popular among those who love high-end audio. It maxes out at 320 kbps (kilobits per second), which is about as much as you get from an old-school MP3. What we are trying to say is: the quality isn't great, at least right now. You may be able to use Spotify for free (with various restrictions, such as unskippable ads) but generally, we don't recommend it.
Tidal is a much better option. While you do have to pay a monthly fee for it ($20), the quality is significantly better. The service uses FLAC files for most of its catalogue, which have a bit rate of 1411 kbps—over four times that of Spotify. In addition, the service has a feature known as Tidal Masters, which are albums encoded in a special format called MQA (Master Quality Authenticated). The quality of these is off the charts, although you will need a speaker that can actually decode MQA to take advantage of them. That is easier said than done; at the time of writing, not even the most expensive speakers on our list have this feature. If you want to take advantage of it, you're best off relying on an external DAC like the Mytek Brooklyn Bridge.
That being said, in the high-end audio world, Tidal is by far the most common streaming service. The quality is excellent, and it's well worth the monthly price. Despite only having 60 million tracks, versus 130 million for Spotify, it's well worth it. We use it daily.
Qobuz is the dark horse here. It's an expensive service, at $15 per month / $149 a year, but also has the smallest catalogue of around 40 million songs, as well as a couple of million in the high-res tier. The streaming quality varies, but is for the most part very good. The thing is, at the moment Qobuz is just not as good as Tidal, in terms of its high resolution offerings. We reserve the right to change our opinion here, but we think that Tidal is a better and more affordable option… for now. And not just because it's easier to pronounce.
There's also Amazon Music HD. It has 60 million tracks, and the audio quality is decent. It's relatively inexpensive, and is even cheaper if you already subscribe to Amazon Prime. But unfortunately, it has some limitations, like not being able to listen to CD quality streams through the desktop—only through the app. For now, it's the newest and most untested streaming service out there.

Tidal Connect Explained
Up until recently, one of the big advantages up until recently, one of the big advantages that Spotify had over Tidal was a feature called Spotify Connect. This allowed certain speakers and streamers (and there were loads of them, because Spotify is everywhere) to display their names as an output in the Spotify app. There was no need to fight with Bluetooth and System Output, as long as source device and speaker were on the same network.
Tidal hasn't had a feature like that, until very recently when the company debuted Tidal Connect. It functions in exactly the same way that Spotify Connect does, allowing listeners to directly select their speaker or amp from the Tidal app itself. That's obviously hugely useful, and it means that you no longer need to rely on AirPlay 2 or ChromeCast to transmit your music. While it doesn't have huge implications for the quality and file handling, which is still determined by the streaming service and your hardware, it does make things a hell of a lot easier.
The downside is that at the time of writing, there are very few devices that actually support Tidal Connect. The feature does need to be installed via a firmware update on the output device, so right now, it's up to manufacturers to work with Tidal to implement it. So far, only a few have done so, including KEF and Dali. That means that if you buy a pair of $2,499 KEF LS50 Wireless 2 speakers, you should be able to take advantage of it. It will not, however, be appearing on Sonos speakers and the like any time soon. We hope that will change, but for now, consider it as an added bonus.
 
Ethernet Connections
Just about all the speakers on our list, with the exception of smaller models like the $299 Klipsch The Three II, provide not only for a wireless connection, but also a hard wired ethernet connection that allows you to link them up directly to your router. There are several reasons why you might want to do this. Perhaps the Wi-Fi network in your home is congested, or you aren't satisfied with the sound quality. You may be in a situation where, due to space constraints, your speaker needs to be close to the router anyway, and it makes sense to wire it up. Whatever your reason is, it's a useful feature to have, and requires virtually no technological skill whatsoever. Just grab the ethernet cable that came with your router (or buy a spare from Amazon) and connect them up.
One thing that is constantly debated is whether or not direct, hardwired connection will give you better sound quality. Companies like Sonore, who make dedicated music streaming devices, insist that this is the case. We have had heated debates with them at audio shows, and A/B tests left us unconvinced. In this case, you have to make your own mind up. One thing that ethernet does guarantee is that there will be no dropouts, unless there is a problem with the signal at your service provider's end!

HDMI and Optical Connections
Physical connections on wireless speakers are just as important as Wi-Fi and Bluetooth. There are two main ones you'll encounter, and both serve to transfer digital audio to the speaker. The first is HDMI, slim, rectangular, multi-pin connector that will allow you to connect your speaker directly to your TV. This will allow you to use it in a home theatre setting, which will obviously boost the sound of your movies, series, and videogames to new heights. You need to make sure that you have an HDMI ARC or eARC connection on your speaker and TV, which will allow your TV to send audio to it. The $1,856 Sonos 5.1 Surround Set, a delightful multi-speaker package, uses this connection.
The second connection is a little more common: optical. It uses reflected beams of light to transfer information, and can often be a very effective way of getting audio from one place to another. Unlike HDMI, it cannot send high definition sound quality, so it's definitely a second choice. But it's also far more common, and won't add to the cost of the speaker in a way an HDMI port will. If your speaker does have an optical connection, then it will likely come up with a dedicated optical cable which you can use to connect your speaker to a dedicated source, like a DAC.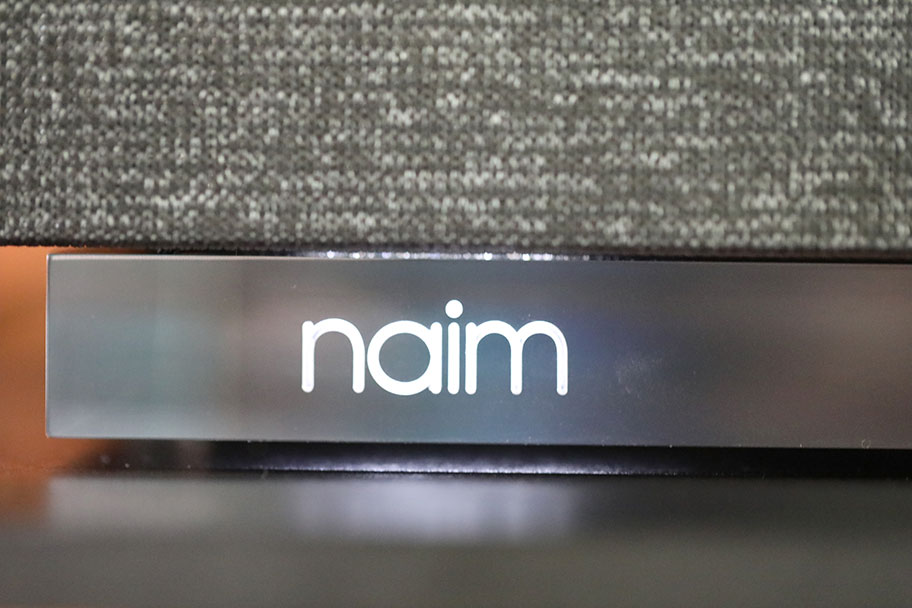 Multiroom Wireless Speakers
Because why stop at one speaker? After all, you don't just have one room in your house. And buying a range of speakers from a single manufacturer to dot throughout your living space can be a joy, especially if it allows you to play different songs in different rooms.
Achieving this is relatively simple, as long as you go for a manufacturer that has taken it into consideration and designed its speakers accordingly. For example, let's say you have the $1,250 KEF LSX (full review here). If you buy multiple pairs, you can have them stream audio together or separately using Apple AirPlay 2, all controlled through the KEF Control app. There are several speakers on the list that can accomplish this, and they all do it in much the same way: using a protocol like AirPlay, and with operation via a bespoke app.
Generally speaking, we would advise against trying to 'hack' this. If the speaker does not have multiroom functionality, there are ways to make this happen via protocols like uPNP. But it's clunky and unreliable, and, frankly, a bit of a pain in the neck to set up. You are best off going for a dedicated multiroom speaker system, where the manufacturer has done the hard work for you.

Stepping Up to a Music Streamer
As good as wireless speakers are, even the best of them can't really compete with the dedicated hi-fi system; one with a set of passive speakers, a dedicated amp, and conversion components. But let's say you want to use a system like this without sacrificing wireless streaming functionality. Sure, you could invest in an amplifier with Bluetooth capability… Or you could invest in a music streamer.
This piece of equipment is, at its core, a device to draw music from an external source (like a wireless music streaming service) and send it somewhere else (like the rest of your hi-fi system). A music streamer can simply do this, or it can have other roles as well. It can convert audio from digital to analogue through an included DAC, and it can even have its own amplifier, meaning you only need a single box solution to power your speakers. Music streamers are a whole separate topic in that of themselves, and we have a full list of the best ones of this year available, along with all the buying advice you'll need.
Back to our High-End Wireless Speaker Picks Back to Our Comparison Table
Learn More About Home Audio