Kanto TUK ($799)
Bluetooth: 4.2
aptX: Yes
Driver Sizes: 1 x 5.25", 1 x 1"
What We Like: Epic sound quality, gorgeous design, versatile inputs and outputs.
What We Don't: Not for beginners, only Bluetooth 4.2.
See the Kanto TUK
We have a soft spot for Kanto, and not just because they come from Coquitlam - a town no more than a few miles away from our offices in Vancouver, BC. We have a soft spot for them because they make genuinely fantastic wireless speakers, and their latest, the TUK, is the most fantastic yet. In this review, we break down the TUK's sound, design, packaging and accessories, specs, and more. To see how they stack up, check out our list of the best bookshelf speakers.
 
Sound
High-End (Treble)
There are plenty of things that make the Kanto TUK special, but there's one we want to talk about more than anything else: the Air Motion Transformer (AMT) tweeters. These are very different from regular tweeters, and after having spent a couple of weeks with the TUK (say, tuck), we are very much in love.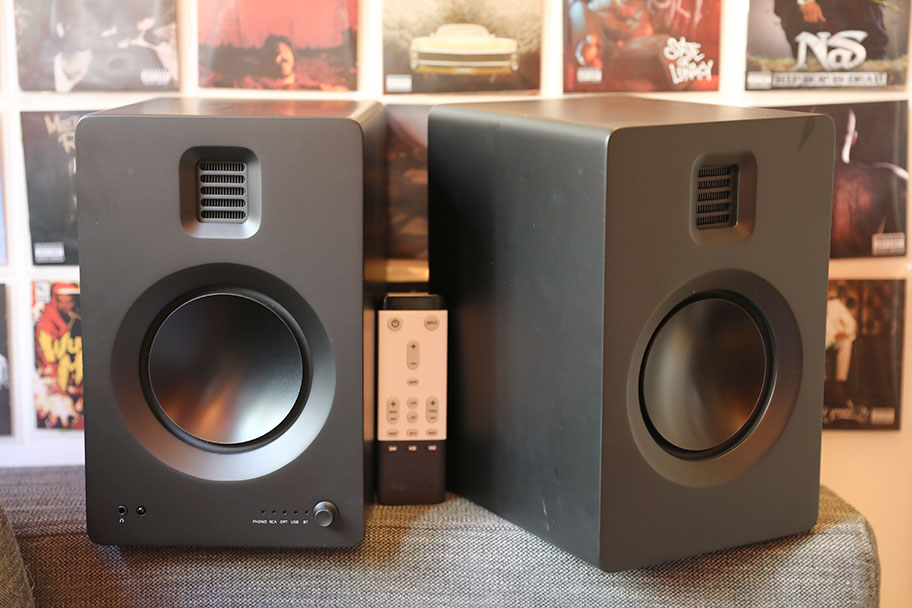 Here's how Air Motion Transformers work. Regular speaker drivers live and die by how fast they can move air. The faster the movement, the more accurate and realistic the sound. The problem is, moving air quickly requires a lot of movement. And the more movement a speaker has, the more distortion and flabbiness creeps into the sound. AMTs change that. Think of an accordion – you'll have to live with imagining the god-awful noise they make – only on a very small scale. Because of its huge surface area, this tiny accordion is able to move air without actually moving very far itself. We haven't tested many speakers with AMTs, short of models like the terrific MartinLogan Motion 35XTi, as well as high-end speakers from ELAC and ESS. Having spent some time with the TUK, perhaps we need to change that. The sound quality is simply fantastic.
We really do mean this. The $799 TUK speakers deliver some of the best, most precise, most detailed high-end audio we've encountered – definitely among the most detailed in this particular price range. They aren't entirely biased towards the high-end, but if you're looking for a pair of speakers to replicate the highs accurately and completely, you really can't go wrong here. Up until now, we held technology like Klipsch's Tractrix Horn - found in speakers like the Klipsch RP-6000F - to be the gold standard, but we think they no longer hold the title. AMTs are where it's at and the TUK speakers do an absolutely superb job with theirs. The audio is bright and lively without being fatiguing, and offer superlative imaging - something we talk about in more detail below. It also helps that the Digital Signal Processing (DSP) contained in the TUK speakers is splendid, extracting the maximum amount of detail.
Put these speakers up against our previous Kanto favorite, the $399 YU6, and it's not even a question - although it wouldn't be, at double the price. The YU6 are an excellent pair of wireless speakers, but they use what is now legacy technology. The TUK have superseded them in every way possible. We love to see companies innovate with new releases, and while it would be wrong to say that AMT tweeters are brand-new technology – they have been around for quite some time – it would also be wrong to say that they are commonplace. That definitely needs to change. We think that the TUK are a significant step in the right direction.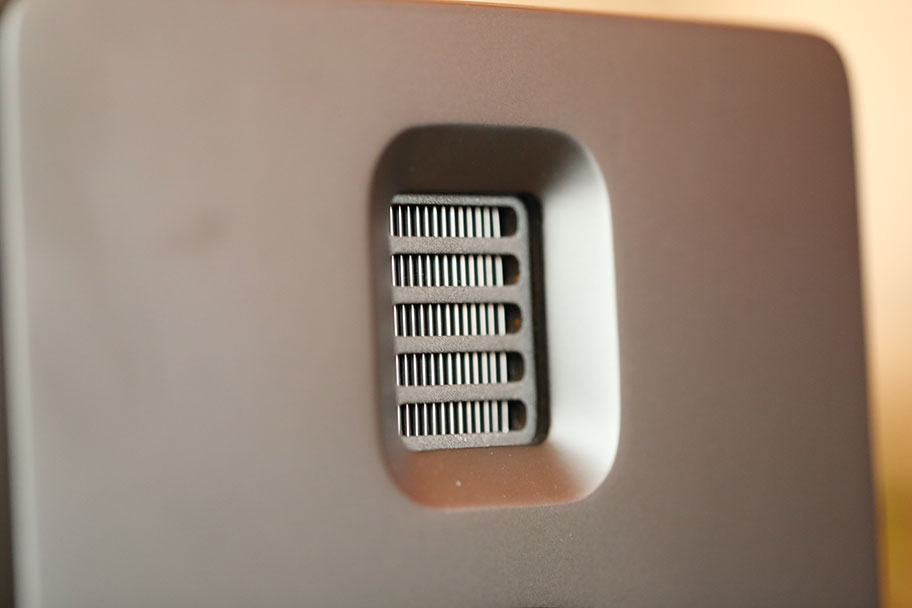 Midrange and Low-End (Bass)
It would have been easy for Kanto to add in a pair of AMT tweeters and call it a day. The high-end is that impressive. But instead, they spent a significant amount of time tuning and reworking the woofers as well. Each speaker has a 5.25" aluminum cone driver to handle the mids and the bass, and they absolutely crush it. They may play background to the superb highs, but they more than know what they're doing.
Vocals felt rich and sumptuous, with real weight behind them. While we did find that slightly deeper male vocals had a little bit more energy than higher female ones, ironically, it was a very minor issue. For the most part, elements like vocals and guitars really shone through, partnering with the highs instead of being shunted to the background. Up until this point, our previous favorite bookshelf speakers have been the $600 Bowers & Wilkins 607, which truly impressed us with their all-round quality and deep, textured audio. There's an argument that they are still better than the TUK, but when it comes down to it, we know which pair we'd rather have.
It also helps that the bass is tremendous. It doesn't have the raw energy and grunt that you'd find a pair of speakers like the more expensive SVS Ultra, but it remains a pleasure to listen to nonetheless. It really feels like it anchors the sound. Although the TUK don't go down that low – 50kHz, which is nothing special in the world of bookshelf speakers – they make the most of what they have with bass that's full of character. It feels welcoming, warm, and engaging, and no matter what genres we played through these speakers, they came correct. There's also a subwoofer output, meaning that you can send any frequencies below 80Hz to a connected subwoofer. This is handled well, thanks to an expertly-engineered active crossover. But honestly, we don't think the TUK need it.
We don't want to overstate our case here. Very obviously, against four-figure monsters, the TUK are going to come up short. But evaluated on their own merits, and compared to other models in their price range, they offer ridiculous value. The sound quality here speaks of real care and attention to detail, and we would be stunned if you were disappointed with these. They are punchy, energetic, accomplished, and just flat-out fun to listen to.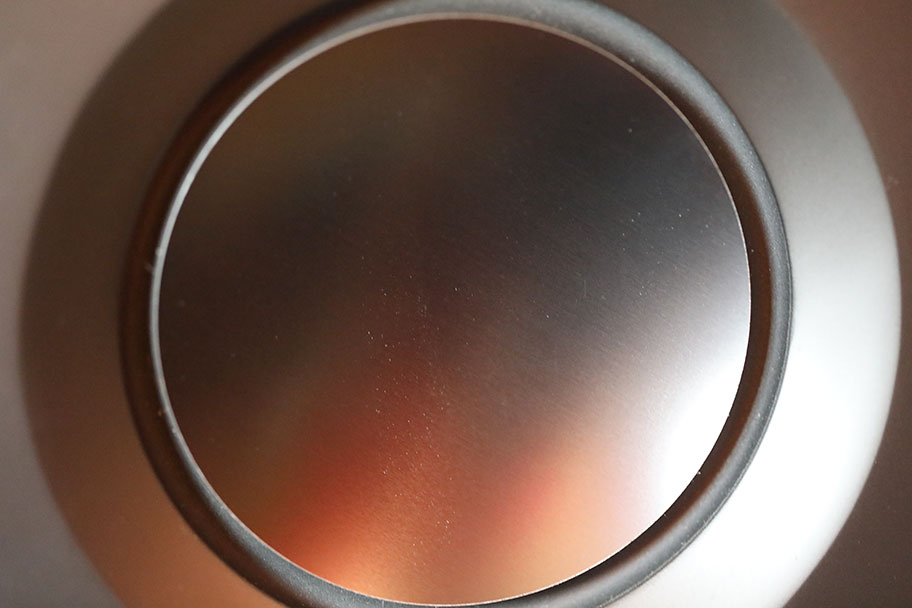 Soundstage
One of the advantages of the AMT tweeters is the increased soundstage, thanks to all that moving air. It means that the sweet spot these speakers provide is wide and forgiving. You don't need to spend hours carefully positioning them to get the sound you want. We tested them in a variety of situations, ranging from a desktop setup to a traditional hi-fi listening room, and we found that we got an excellent sense of space and depth in the music no matter where we were, or where the speakers were. Again, it's the kind of thing that will be bested by ultra high-end speakers - like the $3,000 Dynaudio Special 40, which have a soundstage that defies description - but in this price range, we defy you to find better. It's remarkable how clear and adept the stereo imaging is, and if you like a sense of space in your music, we strongly recommend the TUK.
A note for audiophiles: the amplifier contained in these speakers is a Class D amp. If you're not an audiophile – and good for you, because audiophiles are boring and annoying – here's what that means. Class D Amps have a bad reputation, with listeners claiming that they come off as harsh, and that there are issues matching amps and speakers. Obviously the second point is not a problem here, and as for the first? Get real. The prejudices against Class D amps are ridiculous, and are largely based on issues that the technology had when it was new in the 1980's. We've had plenty of Class D amplifiers that we've loved, like the amazing NAD D3020 V2 (full review here), and we certainly don't consider it a problem with the TUK. To take issue with these speakers because the amplifier is of the wrong class is to be the worst kind of pedant.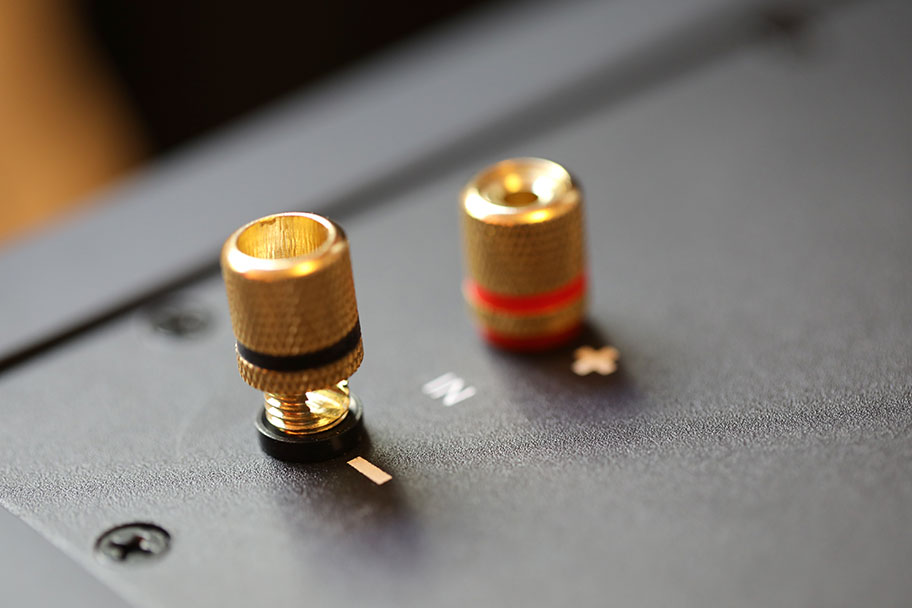 Wired vs. Bluetooth Audio Quality
The Kanto TUK are active speakers, meaning all you need to do is connect to them via Bluetooth or similar digital input. We'll go into various methods of connecting to them below, but right now we want to talk about the differences between wired and wireless sound quality with these speakers. Generally speaking, there's not much to it. At a push, we'd say that wired sound quality is a bit better, and we suspect that's down to the fact that the Bluetooth is only 4.2 - as opposed to the more up-to-date 5.0 (here's an explainer if none of that makes sense). Sure, you get full aptX, aptX HD and AAC, but it's still a little disappointing. It's one of the few negatives we have regarding the sound quality of the TUK speakers.
It's also worth noting that the maximum sample rate and bit depth you'll get out of the digital connections here is 24-bit / 96kHz. That isn't amazing, but then again, it's no different to other, more expensive wireless speakers. The KEF LSX (full review here) are stuck in an identical situation, and they cost $1,100 per pair – a full $300 more than the TUK. However, you can always invest in an external DAC, and connect to the speakers via the included RCA inputs.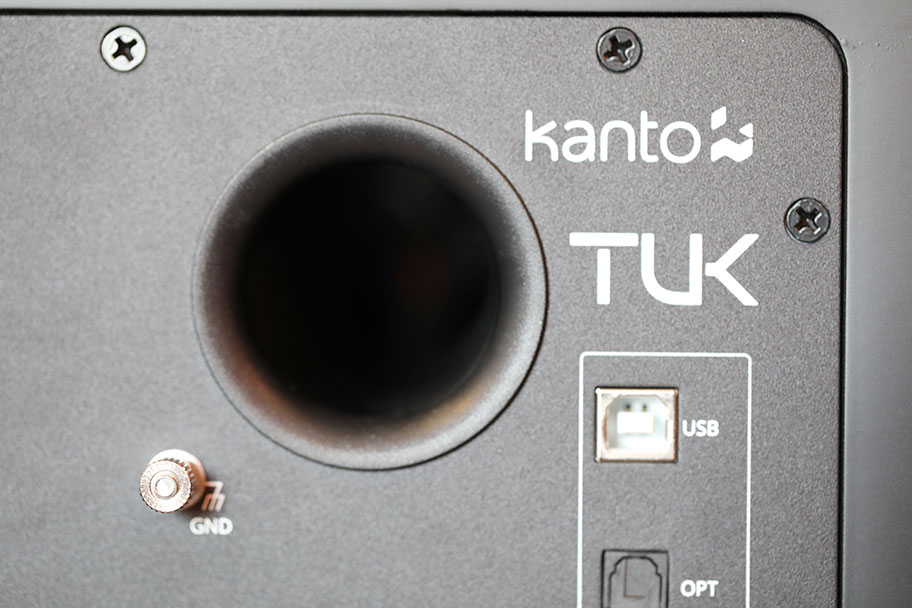 EQ and Volume
As if the excellent sound quality wasn't enough, the TUK speakers come with a rudimentary EQ. You can use the included remote to adjust the bass and treble. As handy as this is, and as much as we love having the option, it brings up an issue that hasn't been fixed from other Kanto speakers, like the SYD (full review here). It feels like it's very hard to get any precision when adjusting the volume or the EQ. Each tap of the volume control results in a leap that's larger than we would have liked; you're going up an entire foot, as opposed to increasing the volume by inches.
There's a fine balance between control that's too granular and control that's too heavy. Unfortunately, the TUK come down on the heavy side. We were really hoping this issue would have been fixed for this update, but sadly, it's still there. Either way, if you do like serious volume, you're not going to feel short changed here. With an RMS wattage of 130, and a peak of 260, the TUK can really crank it out when called upon to do so. If you want to find out what on Earth RMS and peak mean, don't worry: we've got you.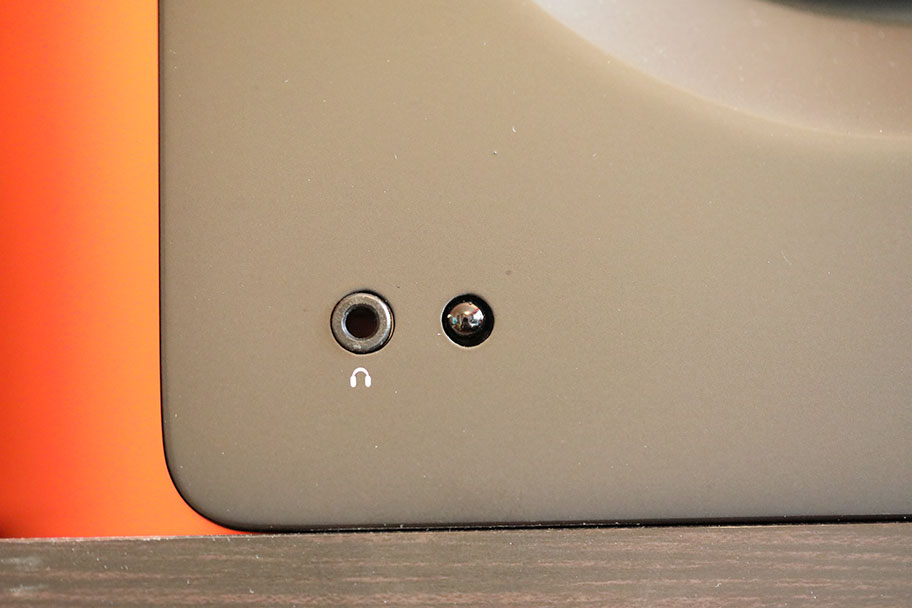 Design
Looks and Build Quality
We apologize for coming back to the AMT tweeters, but here's yet another advantage. They look incredibly cool. We are on the record as despising accordions in general, so it's quite surprising that these tiny versions of the instrument have won our hearts. They are immediately distinctive from regular tweeters, and give the TUK a level of class that we really like.
In fact, the design of the speakers overall is solid. Kanto have moved away from the wood effect of the YU6, and gone for a significantly more modern look. The main drivers are set back from the housing with clean lines, which is an aesthetic that extends to the rest of the design as well. Put these up against something like the Audioengine HD6 and it's clear which speaker wins the design awards. It also helps that the build is excellent, with solid construction. The speakers aren't overly heavy or large - the master speaker is 11lbs and the slave is 9lbs – but they feel well-built.
Controls are mostly handled via the remote, but there's also a simple volume knob and input selector on the front of the master speaker. We didn't use this much, but it worked well.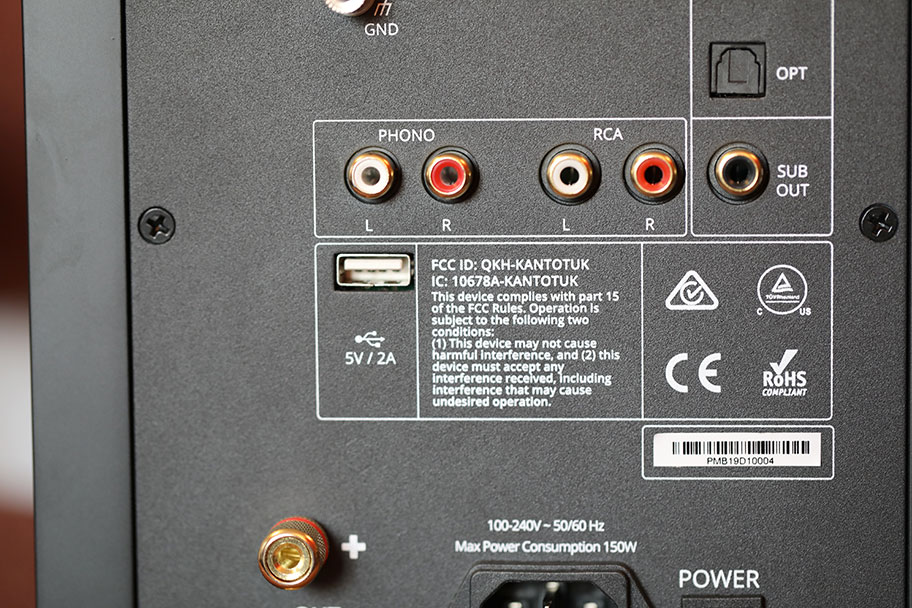 Inputs and Outputs
If you flip the master speaker around, you'll be presented with a good range of inputs and outputs. There's a regular USB connection for a laptop or tablet, as well as optical connection, allowing you to integrate these speakers into a home theater setup. You also get an RCA connection, as well as a phono input for a turntable. All of these work well, and there's nothing we wouldn't have expected to see here. The inclusion of the phono input, as well as options like a subwoofer out, mean that these speakers are incredibly versatile. The master and slave speakers are connected with a cable that also includes pre-attached banana plugs.
It's also worth noting that there's a headphone amp included in these speakers, with a 3.5mm connection on the front. Honestly, it's not a strong point here. A stand-alone headphone amp is a much better option. The included amp sounds fine, but buying these speakers to use the headphone amp is like buying a Ferrari to drop your kids at school.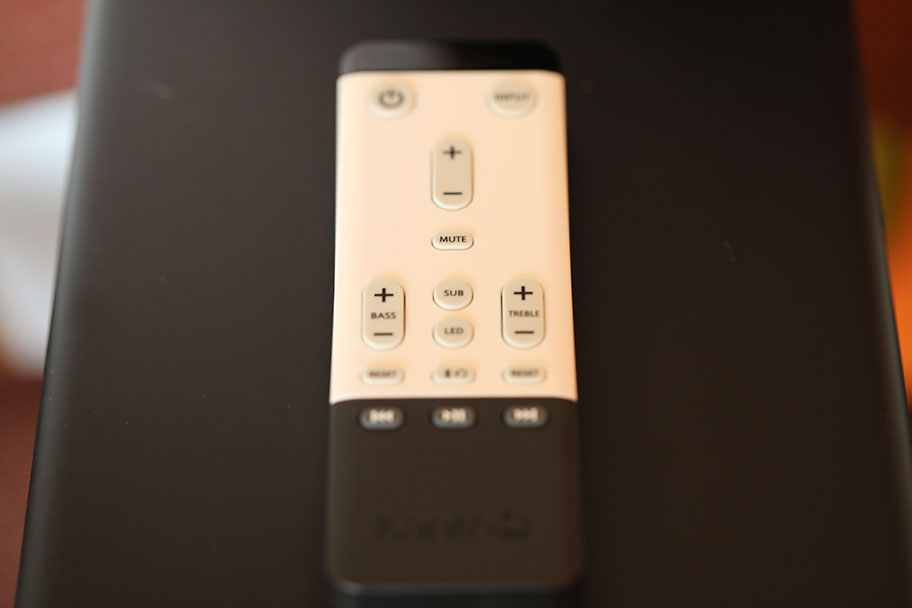 Accessories & Packaging
The main accessory here is the remote. It's an improved version of the remote control that came with the old YU6 speakers and we think it's terrific. It gives you full control over your EQ, inputs, outputs, as well as volume. Although it's made from simple plastic and silicon, we think it gets the job done. It's certainly a significant improvement on remotes that come with more expensive speakers, like the aforementioned KEF LSX.
Beyond that, there's nothing too special in the accessories or packaging. You get a set of cables, including the one required to link the speakers, as well as some rubber feet and a pair of magnetic grilles. You'll only use them for three reasons: you're a psychopath, a boring audiophile, or have children.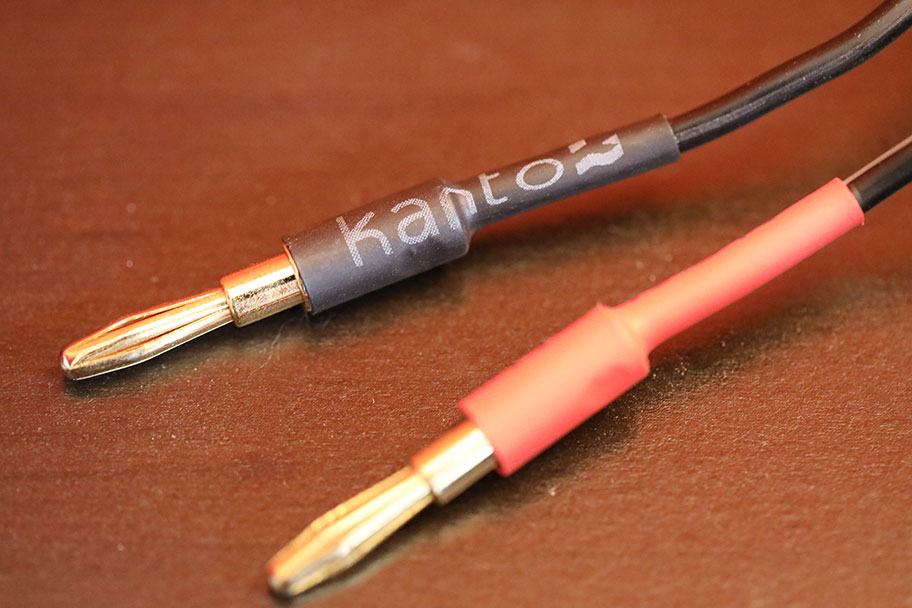 What We Like
The Kanto TUK offer effortless sound quality, thanks to brilliant technology.
The TUK look fantastic, with clean lines and a futuristic aesthetic.
The speakers offer a commendable range of inputs and outputs, and feel versatile.
 
What We Don't
The Kanto TUK offer only Bluetooth 4.2.
The TUK have issues with volume that haven't been fixed from previous speakers.
The TUK may be too expensive for those just getting into wireless speakers.
 
Comparison Table
| Speaker | Price | Bluetooth | aptX | Driver Sizes | Sensitivity | Weight* |
| --- | --- | --- | --- | --- | --- | --- |
| Kanto TUK | $799 | 4.2 | Yes | 1 x 5.25", 1 x 1" | Unknown | 11.1lbs |
| Fluance Ai60 | $300 | Unknown | Yes | 1 x 6.5", 1 x 1" | Unknown | 14.7lbs |
| Audioengine HD6 | $699 | 5.0 | Yes | 1 x 5.5", 1 x 1"  | Unknown | 37.9lbs |
| Martin Logan Motion 35XTi | $1,400 | N/A | N/A | 1 x 6.5", 1" x 1.25 | 92dB | 18.5lbs |
| Kanto YU6 | $399 | 4.0 | Yes | 1 x 5.25", 1 x 1" | Unknown | 9.4lbs |
*Each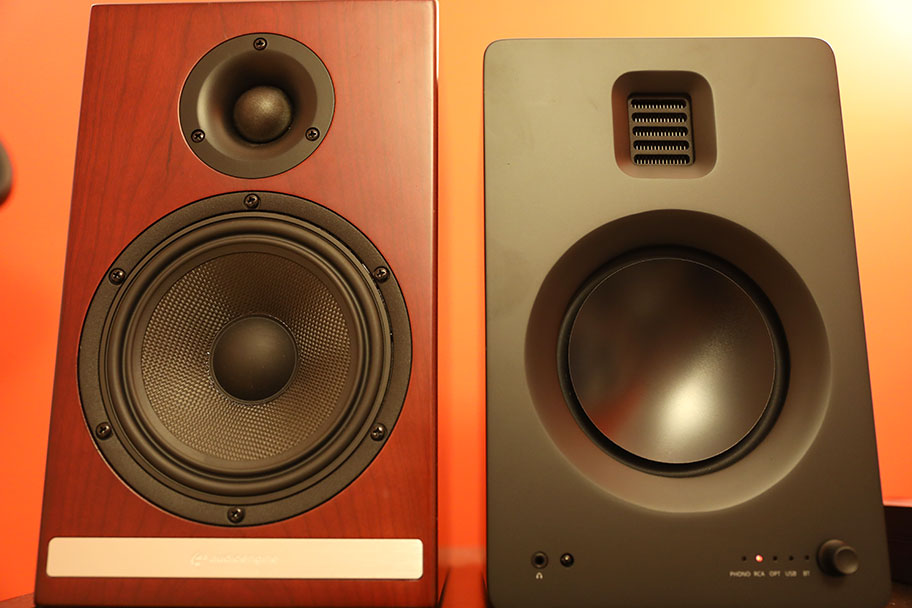 The Competition
There are very few wireless speakers that contain AMT tweeters. If we're being honest, we can't actually think of any off the top of our heads. Please let us know in the comments if we've forgotten any. However, there are plenty of other wireless stereo speakers available, albeit more traditional ones, so let's take a look at some of those. Your first stop should be the Fluance Ai60. They are significantly cheaper, at $300 a pair, than the $799 TUK, but remain an excellent choice. Like the TUK, they come with Class D amplification, and we think the sound is very good. They are less fully-featured – there's no phono preamp, for one thing – but they're a capable and affordable option.
If you want something with a little more grunt, try the Audioengine HD6. They're a bit old now, but remain among the best wireless stereo speakers ever made. The wood effect, especially in deep crimson, is a firm favorite in the office. Unlike the TUK, they offer Bluetooth 5.0. Their audio quality is weighty and clean, with a definite emphasis on the low-end. If you want a pair, they are currently available for $699, a hundred dollars short of the TUK.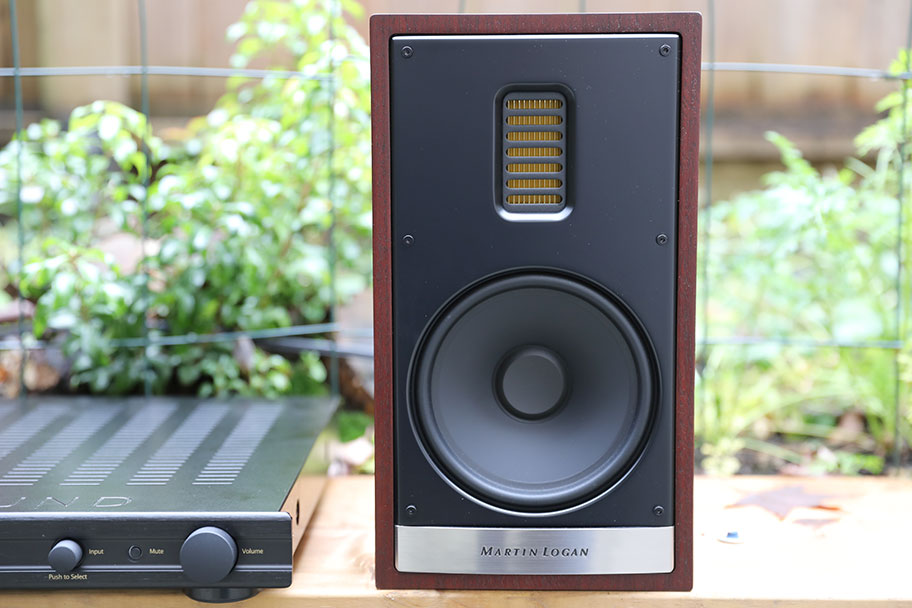 While very few wireless speakers contain Air Motion Transformer tweeters, plenty of wired ones do. We recently tested a pair of Martin Logan Motion 35XTi, a $1,400 pair of speakers that are just out of this world. They are more expensive than the $799 TUK, to be sure, but they boast effortless sound quality, particularly in the high-end. We love the detail, and the realism. They have slightly less emphasis on the low-end than the TUK, but if you want to spend a little more cash on your speakers, the 35XTi are the way to go - especially if you're excited about what AMT tweeters could do for your system. The 35XTi are the next step up from the original 35XTs, and we think the folks at Martin Logan are onto a winner here.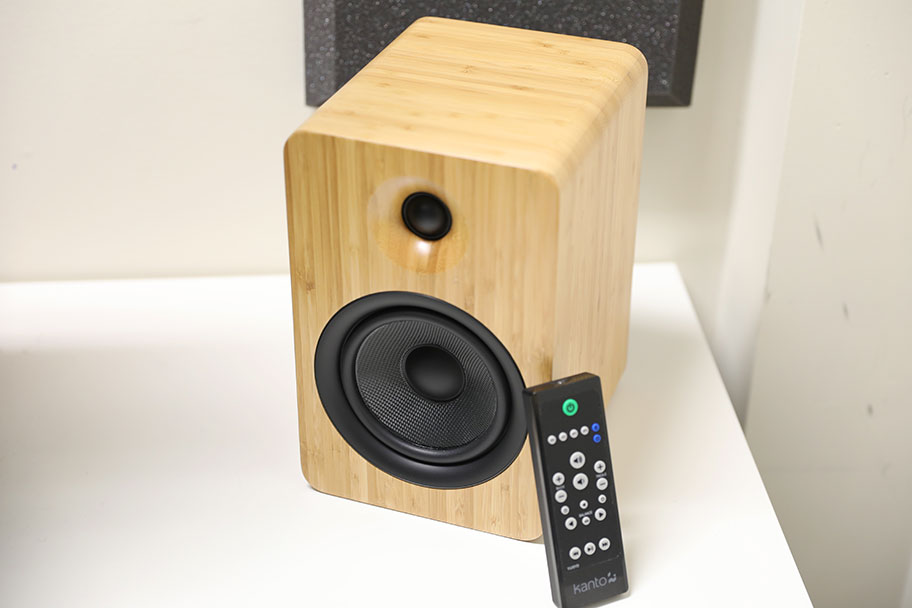 And finally, there's nothing wrong with investing in a slightly older pair of Kanto speakers. As we said at the beginning of this review, they make good stuff. The Kanto YU6 would be our top pick. While we think the sound quality is less dynamic than the Fluance Ai60s, and much less dynamic than the TUK speakers, they remain a solid pick. The wooden cabinets look great and they are a dream to set up and use. They are affordable too, at $399 for a pair.
Learn More About Hi-Fi Audio