Did Brad Pitt's head get really wrinkly or is that just your crown molding? If you have a projector but no projector screen, you're getting subpar picture quality and are wasting a great machine. Even if your wall is a crisp, spotless white, any imperfection will be obvious when the Death Star looks more like a football than a moon. So. yeah, you need a screen, and there are a number of choices you'll need to make: wall-mounted screen or freestanding? Which size and aspect ratio? Manual or motorized? You can expect to spend anywhere from $60 up to $400 or more on a projector screen, with more expensive models using fabrics that produce crisper, superior imagery—particularly when you have a projector to match. Below are the best projector screens of this year, from budget to high-end.

How We Choose:
When it comes to projector screens, we look at everything: size, ease-of-use, portability, the works. It can often be difficult to choose a decent model, especially given how expensive they can be, but we think you'll agree with our picks here. Worth noting: almost all screens come in a variety of sizes and prices. In all cases, we've chosen the one we feel represents the best value-for-money. It's also worth pointing out that you shouldn't be surprised to see brands like Elite Screens dominating - this isn't a very crowded marketplace, and there are definitely a few key winners. And as always, remember - prices were correct at the time of writing, but they can and do fluctuate wildly.

Our Projector Screen Picks: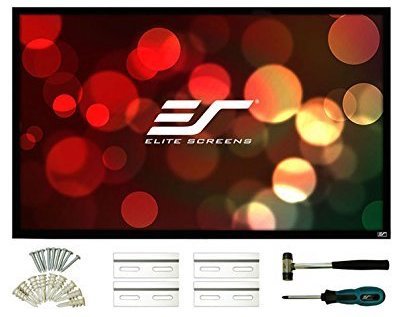 Size: 120"
Useable Area: 104.7" x 58.7"
Aspect Ratio: 16:9
Gain: 1:1
Automated: No
What We Like: Phenomenal price for what you get, easy to assemble.
What We Don't: May not be for everyone, especially those with smaller rooms.
In our opinion, there's no question that this is the best screen money can buy. Not only does it come from Elite Screens, arguably the foremost projector screen maker, but it's incredibly easy to install. We'll talk about that in a sec; for now, rest assured that this projector will do everything you ask of it, including displaying a huge usable viewing area. It's perfectly capable of taking both 3D and 4K projection, and offers phenomenal picture quality, which makes it an easy choice for the best screen of this year (and possibly every other year that comes after it, unless other manufacturers up their game).
Elite have really worked on the construction since the original ezFrame debuted, including improving the material and adding a border edged with rubber. While its static nature and high price means it's probably not suitable for smaller setups, that doesn't stop it being one of the easiest to use. It even ships with a full installation kit, including hammer and nails. Like all the screens on offer here, it comes in multiple sizes, so shop around for the one you prefer.
See the Elite Screens ezFrame 2 Series 120"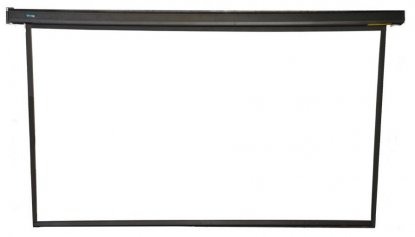 Size: 100"
Useable Area: 96" x 54"
Aspect Ratio: 16:9
Gain: 1:1
Automated: Yes
What We Like: Fully automated.
What We Don't: Quite expensive.
This electric screen is a great example of the features you can get at the high end of the market. The Visual Apex VAPEX 9106SE can be synced to roll up and down in line with your projector's power cycles, provided you have a compatible unit. In other words, when you turn your projector on, the screen automatically will descend, adding a serious touch of class to your home theater setup (it also saves you from having to put the screen back up if you want to use the room for something other than watching Netflix).
Getting this to work with your setup isn't always as straightforward as it could be - you'll need to play with the DC Out function on your receiver, although most modern receivers, like this Marantz SR7011 (full review here) offer it as standard. Outside of that, the screen itself is 106 inches across and has a 16:9 aspect ratio, and installation is straightforward despite the electronics involved. The only real downside here is price, but it comes in multiple sizes, if do you want to spend less, like the 120" version.
See the Visual Apex VAPEX 9110SE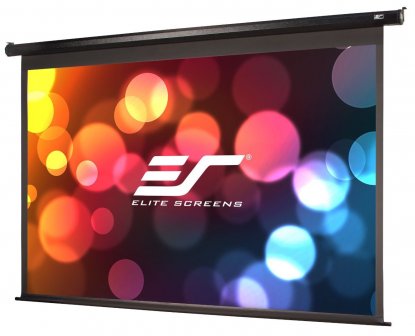 Size: 128"
Useable Area: 108.5" x 67.8"
Aspect Ratio: 16:10
Gain: 1:1
Automated: Yes
What We Like: Elite quality with automation added.
What We Don't: Maybe a touch pricey?
If you'd like to experience owning an Elite Screen model and you a) have a fair amount of money to spend, and b) are in need of automation, then look no further than the VMAX2. We still prefer the ezFrame, but this is a very capable alternative, not to mention a much larger one.
For starters, not only do you get a very sizeable usable area, but you get a slightly increased aspect ratio, at 16:10. There is a full 180 degree viewing angle, and like many models in this range, it comes ready for both 4K and 3D viewing. Installation is dead simple, as it comes shipped fully assembled (so no electronics knowledge required) and you won't have to get up to adjust it, either, as it comes with its own remote. While we do think it's price merits it dropping below the other screens on this list, that doesn't mean it's bad – far from it. This is one of our favourite automated screens, and if that's what you're looking for, you should check it out.
See the Elite Screens VMAX 2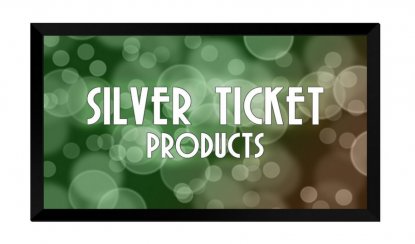 Size: 120"
Useable Area: 105" x 59"
Aspect Ratio: 16:9
Gain: 1:1
Automated: No
What We Like: HD/3D support, huge range of sizes available.
What We Don't: Not a lot!
This is one of the bigger names in home projection not named Elite Screens. Silver Ticket's STR range, which features more than once on this list, is a very respectable alternative to the models above it, and will do any home theater setup proud.
For starters, although we've picked the 120" version here, there are at least a dozen different sizes available, making it ideal for setups ranging from small (115") to enormous (139"). It also has an interesting feature in that the screen is made of woven material that is acoustically neutral, allowing audio to pass through unimpeded. This means you can put speakers behind the screen, which is ideal for center/front speakers on 5.1 or 7.1 setups. Assembly of the tensioned screen is easy, and at this price, there's very little about the STR-169120-WAB that we don't like, beyond the clumsy name.
See the Silver Ticket STR-169120-WAB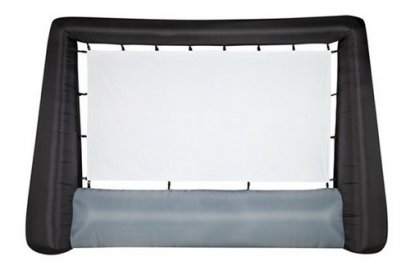 Size: 150"
Useable Area: 123" x 70"
Aspect Ratio: Unknown
Gain: Unknown
Automated: No
What We Like: Innovative approach.
What We Don't: No stats available.
Now here's something a bit different in an outdoor screen: this Giant Gemmy model inflates like a bouncy castle, so you won't need to mess around with pegs and guy ropes. It's 151 inches wide and 85 inches tall, and even though the picture isn't the sharpest on this list, you're still guaranteed lots of fun at the next barbeque.
This screen includes a power adapter and self-inflates—no need to put your lungs to the test—and comes with a large carrying case to help cart it around. The Giant Gemmy is perfect for an outdoor movie night or sporting event with a crowd of people, but keep in mind that picture quality can't be expected to match an indoor screen. We should say from the get go that tracking down stats, like again and aspect ratio, is surprisingly difficult for the screen. As you mentioned, go in prepared to deal with a surface that might not be ideal for your projector. All the same, this fulfils a very particular niche.
See the Giant Gemmy Airblown Inflatable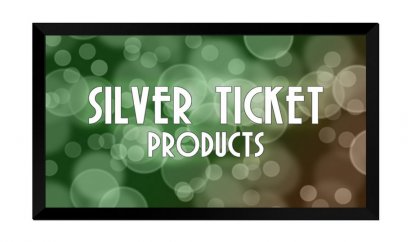 Size: 110"
Useable Area: 96" x 54"
Aspect Ratio: 16:9
Gain: 1:1
Automated: No
What We Like: Tough construction.
What We Don't: Can't roll it up.
Silver Ticket is a big name in this home projector market, and if you don't find the STR-169110 to your tastes, there are plenty of other sizes and specifications to choose from. However, with a 110-inch screen, 16:9 aspect ratio, and high-quality build components, this model is tough to beat. Silver Ticket screens use top-quality materials — this one is mildew and flame resistant and washable with mild soap and water. It's not often that we have to ponder cleaning advice in roundups on TMS, not when applying water to any of our regular products would probably have them explode, but it's nice to know that when the situation calls for it, a little cleaning solution can work wonders.
Outside of dirt matters, the STR-169110 has a heavy-duty beveled aluminum frame wrapped in black velvet to make your projected image the best it can be. That does mean it's a permanent fixture in your room; there's no rolling this one up. But this option if ideal if you don't want to worry about bending or uneven picture. The viewing angles are very impressive too, and the STR-169112 supports Full HD projections and even 3D. With simple setup, excellent image quality, and a good price, this is one of our favorite projector screens.
See the Silver Ticket STR-169110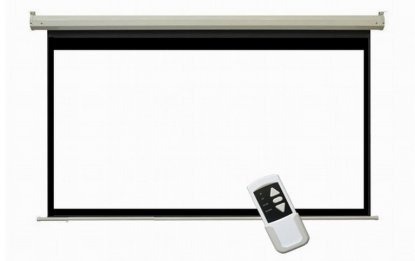 Size: 135"
Useable Area: 118" x 66"
Aspect Ratio: 16:9
Gain: 1:1
Automated: Yes
What We Like: Cheap for a motorized screen.
What We Don't: You need two people to install!
Antra makes motorized projector screens in a variety of sizes, and they are among the cheapest motorized screens on the market. Clicking a button and seeing your screen roll down is much easier than having to drag it into position yourself, and you don't run the risk of tugging too hard and causing tears.
The picture itself is respectable — depending on the quality of your projector and source material, of course — and we'd recommend this (or another Antra model if 135 inch is too big) for anyone who wants a good balance of price and performance for their home theater setup. Installation is straightforward (it's a bit easier if you have someone to help you with the job) and two mounting brackets are included in the bundle. We still vastly prefer the VMAX2 for our automation needs, but if you're keeping an eye on your wallet, then this is a good option. And hey: as with all models on this list, the price fluctuates, and you can always pick up one used. Keep an eye on Amazon for deals.
See the Antra Electric Motorized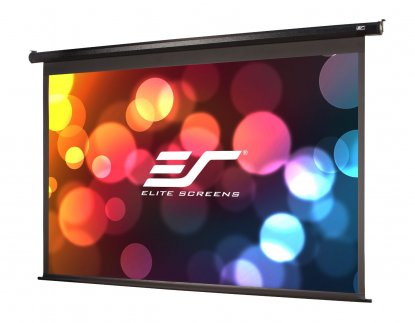 Size: 100"
Useable Area: 87" x 49"
Aspect Ratio: 16:9
Gain: 1:1
Automated: Yes
What We Like: Feature set, warranty.
What We Don't: Not a lot.
We know. You're probably completely stunned to see another Elite Screens model on this list. But the company really does know what they're about when it comes to projection, and if you're looking for a mid range screen with good specs from a quality brand, look no further than this one right here. It is also one of the better motorized options on this list, certainly for this price range.
With the flick of an included remote or inline switch, you get a screen with excellent picture reproduction and a 1.1 gain. A 2-year warranty for home use and a 3-year warranty for government, education, military, and religious use means you'll be covered for any issues that may come up, especially if you convince the Elite Screens folk that you are, in fact, a very religious government minister with a service record. The Spectrum is available in sizes ranging from 100 inches to 180 inches. And if you're setting up a theater room with speakers mounted behind the screen, you can opt for the 1.0 screen gain AcousticPro screen surface, which is acoustically transparent.
See the Elite Screens Spectrum Electric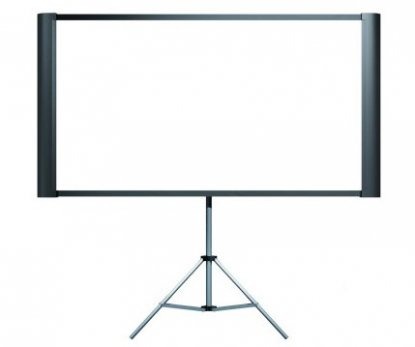 Size: 80"
Useable Area: 65" x 40"
Aspect Ratio: 4:3/16:9
Gain: 1:1
Automated: No
What We Like: Ease of use, multiple aspect ratios.
What We Don't: Small size.
Another big player: Epson. They've got a nice lineup of projectors for the home and office, so you would expect the company to offer numerous screens as well. Surprisingly, there aren't that many, but the Duet ELPSC80 is a popular choice among those who want a reasonably priced projector screen that can be packed up and moved. In this, they offer something that many other screens on this list can't, which is a degree of portability – outside of, you know, the inflatable Giant Gemmy, which is the only screen here that can be packed into a suitcase.
Anyway. The ELPSC80 works well in either the office or with a home theater system, and it has an easy setup process that is much less fiddly than some other screens. The ELPSC80 can expand horizontally and vertically—you can set it to a 4:3 or 16:9 aspect ratio—and the image quality are impressive. As long as you don't mind the business-centric design, you should like the ELPSC80. It comes with a tripod but a handy wall mount for your home is included.
See the Epson Duet ELPSC80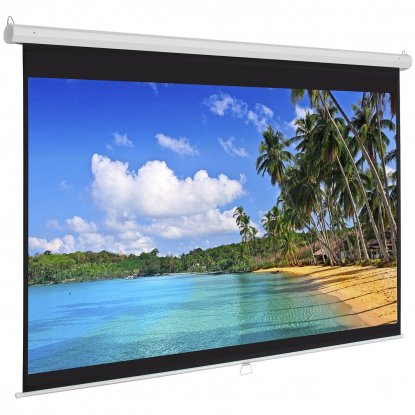 Size: 119"
Useable Area: 84" x 84"
Aspect Ratio: 1:1
Gain: 1:1
Automated: No
What We Like: Square shape.
What We Don't: ...Square shape.
It isn't going to win any awards for best company name, despite actually using the word Best, but when it comes to budget screens, this particular model has won plaudits across the world. In fact, if this list were solely restricted to screens under $100, we would probably make this our number one choice. So perhaps the company name is apt after all!
Occasionally, you have a need for a screen that isn't a rectangle - a rare occurence, but one that still happens. In that case, this screen, with its 1:1 aspect ratio, is the perfect choice. This might sound like a disadvantage, but if you can deal with the shape, you get an awful lot of bang for your buck, including a good-sized useable area and a decent overall size. A simple, functional screen which fulfils a niche. (And before you drop snarky comments at the bottom, we know it doesn't look square in the image. It really is, with that 1:1 aspect ratio and an 84" x 84" size, which translates to a 119" diagonal. Like we said: a niche product, but perfect for squares).
See the Best Choice Products Manual Projector Screen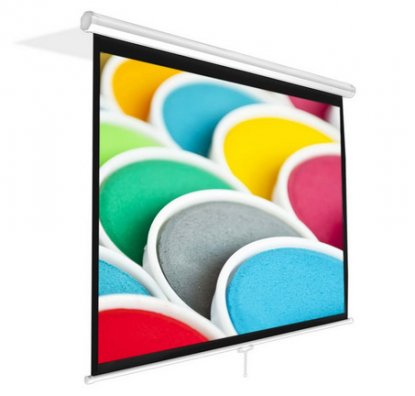 Size: 72"
Useable Area: 59" x 39"
Aspect Ratio: 16:9
Gain: Unknown
Automated: No
What We Like: Cheapest option, simple operation.
What We Don't: At this price? Not a lot!
At this end of the market, price trumps image quality. That's not to say the Pyle PRJSM7206 offers up a bad picture, but you're spending less than $60 for this wall-mounted screen so top-rate image quality may not happen.
You get a matte white projector screen with a black masking border, and once wall mounting is out of the way, operation is simple — pull down the screen and it locks into place. This screen is easy to set up and durable in use, but bear in mind that the overall feel is more schoolroom than home theater. But if price is an important consideration, the PRJSM7206 is a great value. The screen comes in a range of sizes as well as standing and tripod versions, so you should theoretically be able to use it in just about any situation you care to name. This is far from our top choice, but for those on a budget, it's well worth taking a closer look at, especially if you just need a simple screen for a home or office setup.
See the Pyle PRJSM7206

And when money is no object...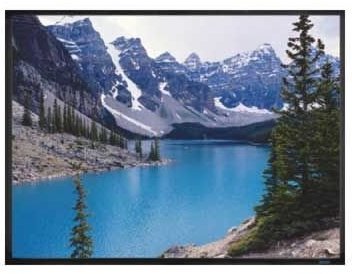 Size: 106"
Useable Area: 90" x 40
Aspect Ratio: Unknown
Gain: Unknown
Automated: Yes
What We Like: Probably the best on the market.
What We Don't: Probably the most expensive.
Occasionally, there is a media room that requires one mother of a screen to go with it. Assuming you're not actually dipping into cinema territory, then this might be the one to go for. The Stewart Studiotek 130 is an absolute beast, with a high-level construction and design that brings out the color and life in whatever you throw at it. It's actually much better suited to digital projectors, which require bigger screens to get the best out of them.
While every one of the picks on our list will get the job done, none will get the job done quite as well as this one. Just remember: you will pay a lot of money for it, and it can often be quite tricky to track down. Hunt around, however, and you might come across a used model that will retail for substantially less - and used is always an option, and often a decent one. Good hunting!
See the Stewart Studiotek 130

Specs Table: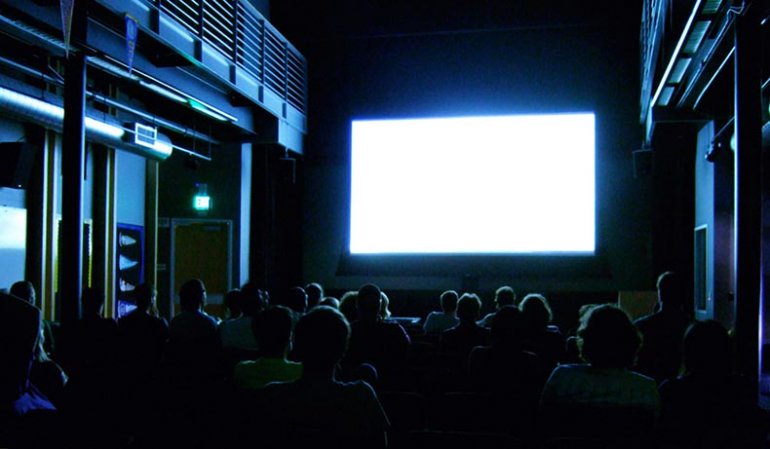 Buying Advice:
Why Should I Buy A Home Projector System?
A TV is all well and good, but it's a little limited by the fact that if you want the really big ones, you'll need to pay for them. A home projector system is a viable alternative, taking the image and throwing it up plus size. It'll still cost you a few bills, but it's often a much better option than shelling out for a 4K wonder.
A screen is what you need to hold that image. A good one will display at in all its crisp, verdant glory, while a bad one will just look terrible. Our options in the list above are the best screens on the market right now.
A warning: home projection is a viable alternative to a big TV, but that doesn't mean the costs can't spiral out of control. You're essentially paying the two pieces of equipment: the projector and screen. Projectors can be quite expensive, so do your research before you buy. Fortunately, we've done some of it for you. You'll find our list of the best projecters available right here.

Which One Should I Buy?
Apologies to those who aren't fans of Godzilla and pornography, but size really does matter.
(Thought that is too important to be left out: Godzilla would be really, really good on a high-end projector. Not sure about pornography, though. Actually, let's not even go there. We're sorry for putting that image in your mind. Let's move on.)
It really is, however, about how much space you can afford to put the screen in. This will dictate everything, from whether you go for manual or motorised, to whether you sacrifice image fidelity for a bigger screen. Think about it like this. If you have a small apartment, then not only are you probably going to have less space to play with, but your landlord isn't going to be too happy with you permanently mounting a screen on the wall – at least, not if she doesn't want to market her apartments as having pre-installed projection screens. In this case, a freestanding, smaller screen like the Epson Duet ELPSC80 may be the way to go.
If you've got a slightly larger space, and a little more control of your surroundings, then it might be worth investigating a motorised option with a bit more size. In this case, something like the Elite Screens VMAX 2 could be the way to go. Not only does it provide superlative image quality, but it neatly zips away when not in use.
It's a bit ironic that people with small living spaces – the ones who most badly need motorised screens that fold away – don't actually have any affordable options, or at least, ones that don't have to be bolted to the wall. If you do want to explore this, check out something like the Elite Screens Spectrum Electric.

How Should I Set It Up?
Each screen will come with full instructions. If not, have a quiet word with the manufacturer, and tell them to stop being ridiculous.
Many screens are free-standing. Some can be inflated, which is often the easiest option. Others will need to be bolted to the wall, which will require the use of a screwdriver and a cable detector. Please, please, please: use that last one. Don't go drilling into walls that may hide an electric shock.
If you're setting up a theater room, you'll have seats spread across a wide area and you'll want to get the same picture everywhere. If you're getting a screen for a theater room, you may want to dip below 1.0 screen gain - gain is explained below). Some grey screens claim a 0.8 measurement, which would help in wider rooms. (All our screens here have a gain of 1:1 - they should all still be useable in most situations).
However, if you're setting up a conference room, or putting a projector in your living room, getting a higher-gain screen means you'll be able to project with some lights on or when the sun is out. In general, a high gain is more helpful in a wider range of environments while a low gain is better at accurate color recreation and producing wide viewing angles.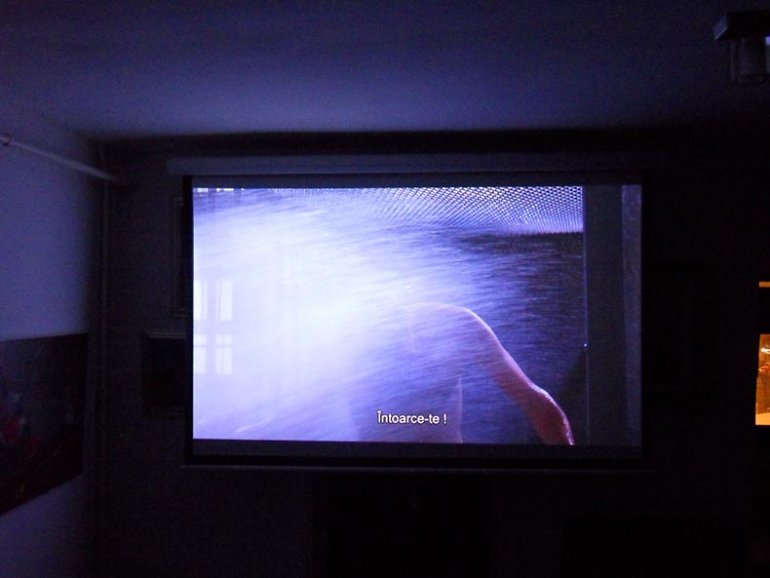 Gain And Aspect Ratio Explained
Gain is a measurement of light reflected off the screen to the optimal viewing angle (the "Zero Degrees Viewing Axis"). A screen gain of 1.0 is equivalent to the light reflected off "a standard white (magnesium oxide) board," according to Projector Central. So a higher screen gain means you'll get a brighter image. But that can come with some downsides. That "Zero Degrees Viewing Axis" is just one point in a room.
Aspect ratio refers to the shape of the projected image, measured in various sizes.16:9 and 4:3 are common, but there are various options. Although 16:9 has stormed standalone TVs, some movie aficionados prefer 2.35:1. However, the HD standard (and the upcoming Blu-ray Ultra High-Definition standard) are for 16:9. If all your media is 16:9, you'll want to get a screen to match to maximize your screen real estate. Also consider that larger screen need more support, with many large screens coming in at 35 pounds or more.

Tension Vs Non-Tension
This is a particular stat that isn't always immediately clear, but if you want to make projection of permanent part of your life, it's super important to bear in mind.
It refers to the ability of the screen to stay flat and even throughout its life. A tensioned screen will have sturdy wires running along the outside to keep the surface pulled taut, whereas a non-tensioned screen will not. A screen without tension will sometimes, over the course of its life, develop these weird little waves in it that can mess with the image. This isn't a guarantee, but it's sometimes prevalent, especially in cheaper screens.
Not to worry, though. Most screens above around $200 will almost certainly have this feature included.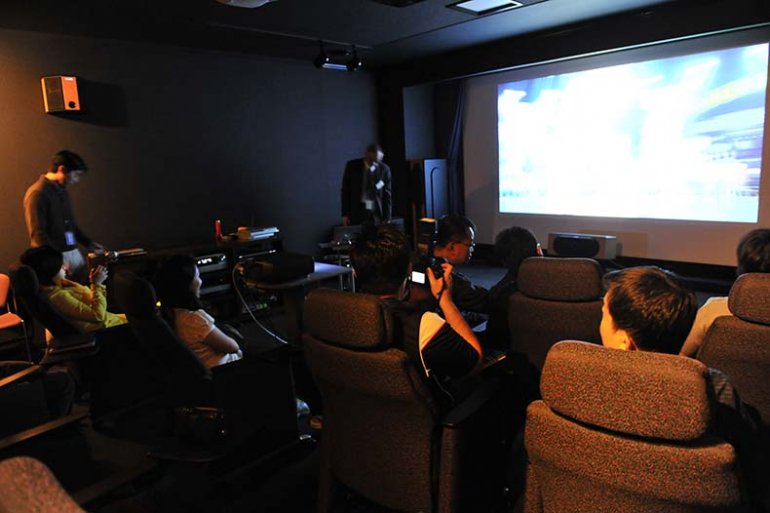 Do I Need A Motorized Option?
You may have bought a projector because it takes up less space than a TV, so you'd want a screen that hides away too. Or you might be decking out a media room and want a more permanent solution. Above we even suggest portable options that can be taken outside for backyard viewings. If you want something that can be hidden away, consider a ceiling-mounted screen. They can even be pulled down at the push of a button if you opt for a motorized version. However, if you're setting up a Hollywood theater, get something a little more permanent—these screens are optimized to be perfectly flat and can be attached directly to your wall, mitigating any concerns about the screens getting damaged via wear-and tear.

Common Mistakes
For the most part, projector screens and their setup instructions/buying advice have progressed to the point where actually purchasing and mounting one of these monsters is relatively straightforward. Unfortunately, this is a product category with a legacy of difficulty when it comes to actually getting the products themselves mounted, so it's worth pointing out a couple of pitfalls that can easily be avoided.
The first, very obviously, is to make sure that your buying the right kind of projector, in terms of whether you want it manual or motorised. It's an easy mistake to make, as you're swallowed alive by aspect ratio and gain stats and viewing area sizes. You will also be wanting to closely measure the area you're going to mount/display it, as it is super annoying to have to return a screen for a different size once you've actually bought it.
Second thing. We haven't covered it here, as it's not too big a problem with modern screens, but you need to make sure that the one you buy has a decent viewing angle. It's not a problem if you just have a single couch, but if you have multiple sitting positions, you'll want to make sure that your guests are going to be craning their heads or nudging their way into your space. Anything from around 90-180 degrees viewing angle should do the trick, and obviously the closer to 180, the better.
Finally: installation accessories. Some screens, like the Elite Screens ezFrame 2 Series 120", come with everything you need to mount them. But this is by no means guaranteed. You may need additional mounting brackets, screws, hammers, glue… Anything, really. Make sure you fully understand what is required to get a screen up and mounted, and if necessary, invest in things like mounting brackets.