Did Brad Pitt's head get really wrinkly or is that just your crown molding? If you have a projector but no projector screen, you're getting subpar picture quality and are wasting a great machine. Even if your wall is a crisp, spotless white, any imperfections will be obvious. But do you get wall-mounted screen or freestanding? Which size and aspect ratio? Manual or motorized? Don't worry - we've got you covered. Below are the best projector screens of this year, no matter your budget. For more background information on home projector screens, see our comparison table and buying advice below the picks.

Best Overall Home Projector Screen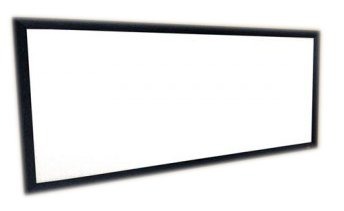 Size: 103"
Aspect Ratio: 16:9
Gain: 1.2
What We Like: Incredible screen technology, stupendous picture.
What We Don't: Might be too expensive for some.
When it comes to picking the screen that represents the best value-for-money combined with the most impressive technology, the weightily-named Seymour Screen Excellence Ambient-Visionaire Black 1.2 takes it. For our money, this is the top projection screen pick of this year.
Although the one we have listed here is a 103" screen, Seymour works with a kind of mix-and-match system, allowing you to choose your frame type and size, and pair it with its Ambient-Visionaire material, giving you a highly customisable package. Regardless, we think the combination of specs that we've got here will be more than enough for most people, and most people will be utterly awed by the picture quality, which is out of this world. Rich, deep blacks and soaring contrast make this a winner. As a bonus, it's incredibly easy to put together. It must be said that although it's not expensive as something like the Stewart Filmscreen Phantom HALR, it's still relatively pricey, and probably not suitable for those just getting started. For some screens that do fulfil that particular category, just check a little further down the list. They're still very good, we promise!
See the Seymour Screen Excellence Ambient-Visionaire Black 1.2

A Close Second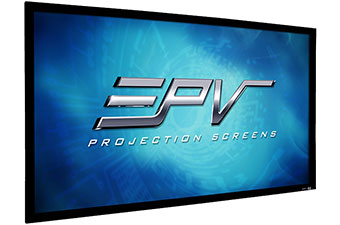 Size: 125"
Aspect Ratio: 2.35:1
Gain: 1.3
What We Like: Backlight, edge-free design.
What We Don't: Far too expensive for most people.
EPV made one of our previous favorite screens, the DarkStar eFinity, and the Polar Star is a significant improvement. It has a unique edge-to-edge design, which means that while there is still a very slightly smaller viewing area than the overall size, it's kept to an absolute minimum. The screen also ships with a backlight, helping to further enhance the already fantastic picture and color. It also helps that it's fully ready for 3D and 4K, and that installation is a cinch.
But is it really going to beat the Seymour Screen Excellence Ambient-Visionaire Black 1.2, which is available for nearly $1,000 less at the time of writing? Our opinion is, it isn't. It's just a little too expensive right now, and we think the Seymour is a better option for most people. This high-end screen is still fantastic, but it should only be bought by those with a little bit of cash to burn. All those who are seduced by that amazing name…
See the EPV Polar Star eFinity

Best Budget Home Projector Screen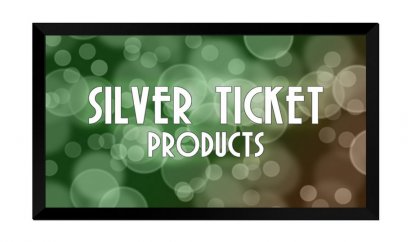 Size: 110"
Aspect Ratio: 16:9
Gain: 1.1
What We Like: Tough construction, great price, decent picture.
What We Don't: You can't roll it up.
Silver Ticket is a big name in this home projector market, and if you don't find the STR-169110 to your tastes, there are plenty of other sizes and specifications to choose from - and of course, there's the superb Silver Ticket 169120 screen, above. However, with a 110-inch screen, 16:9 aspect ratio, and high-quality build components, this model is tough to beat. Silver Ticket screens use top-quality materials — this one is mildew and flame resistant and washable with mild soap and water. It's not often that we have to ponder cleaning advice in roundups on TMS, not when applying water to any of our regular products would probably have them explode, but it's nice to know that when the situation calls for it, a little cleaning solution can work wonders.
Outside of dirt matters, the STR-169110 has a heavy-duty beveled aluminum frame wrapped in black velvet to make your projected image the best it can be. That does mean it's a permanent fixture in your room; there's no rolling this one up. But this option if ideal if you don't want to worry about bending or uneven picture. The viewing angles are very impressive too, and the STR-169110 supports Full HD projections and even 3D. With simple setup, excellent image quality, and a good price, this is one of our favorite projector screens - and our top budget pick.
See the Silver Ticket STR-169110

Best High-End Home Projector Screen
Size: 110"
Aspect Ratio: 16:9
Gain: 1.0
What We Like: Innovative tech, hugely accurate.
What We Don't: Some artifact issues, extremely pricey.
Would you pay over $4,000 for a screen? It seems like a joke, until you read about what Stewart have done to make the Phantom HALR 110" screen among the best on the market. The secret is down to their ambient-light-rejecting technology, which really sets the screen apart. Without getting too technical, it involves the application of multiple layers to the screen body: a highly reflective under-layer, with a light diffusing layer plastered on top. What that means is that any light that isn't directly projected onto it simply won't exist.
Or at least, that's the theory. For while this is an absolutely fantastic screen that delivers some genuinely brilliant picture quality, it does have its issues. Chief among these is its inability to deal with fast pans where the footage is bright – something which leaves behind visible artefacts. It's enough to knock it down the list a little bit, a fact not helped along by that staggering price tag. Ultimately, this is a great screen with a lot of potential, but it isn't quite there yet.
See the Stewart Filmscreen Phantom HALR

Best Outdoor Home Projector Screen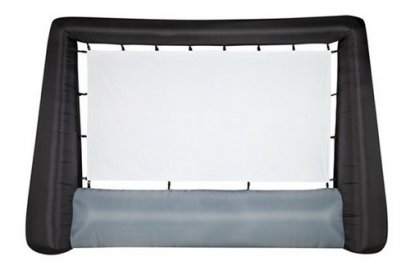 Size: 150"
Aspect Ratio: Unknown
Gain: Unknown
What We Like: Innovative approach.
What We Don't: No stats available.
Now here's something a bit different in an outdoor screen: this Giant Gemmy model inflates like a bouncy castle, so you won't need to mess around with pegs and guy ropes. It's 151 inches wide and 85 inches tall, and even though the picture isn't the sharpest on this list, you're still guaranteed lots of fun at the next barbeque. There's nothing to stop you using it indoors, too - although it won't beat out similarly-priced models from Epson and Elite Screens on this count.
This screen includes a power adapter and self-inflates—no need to put your lungs to the test—and comes with a large carrying case to help cart it around. The Giant Gemmy is perfect for an outdoor movie night or sporting event with a crowd of people, but keep in mind that picture quality can't be expected to match an indoor screen. We should say from the get go that tracking down stats, like again and aspect ratio, is surprisingly difficult for the screen. As we mentioned, go in prepared to deal with a surface that might not be ideal for your projector. All the same, this fulfills a very particular niche.
See the Giant Gemmy Airblown

Best of the Rest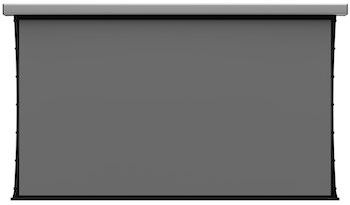 Size: 100"
Aspect Ratio: 16:9
Gain: 1.2
What We Like: Innovative design, great picture.
What We Don't: Only really useful for short-throw projectors.
Screen Innovations previously made our list with their 7 Series Black Diamond, but we think they make an even better screen now: the new Screen Innovations Solo Pro. This screen takes everything that makes the brand phenomenal, including the use of ambient light-rejecting material, and packages it into a clever design. The Solo Pro is a motorized screen designed specifically for mobile use, and for use with Ultra Short Throw projectors. This makes it ideal for high-quality picture on the go, as well as a convenient solution for a small room. The Solo Pro comes with a battery power option for mobile viewing, but can also be plugged into the wall, if you prefer.
The main issue we have with the Solo Pro is the price. Even if you can look past its steep price tag, you may still be turned off by its limitations as an Ultra Short Throw projector screen. Unfortunately, there are situations where it won't be ideal. For larger rooms or fixed setups, we'd recommend either the Seymour Screen EAVB 1.2 or a less-expensive option, like the Stewart Filmscreen Cima 135". The Solo Pro's specific utility and price prevent it from being the best option available, but it definitely deserves a spot on this list for its uniqueness and ingenuity.
See the Screen Innovations Solo Pro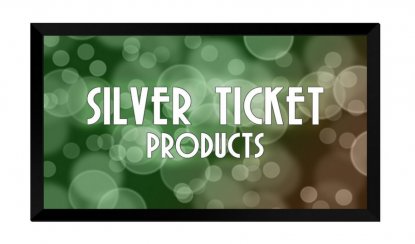 Size: 120"
Aspect Ratio: 16:9
Gain: 1.1
What We Like: HD/3D support, huge range of sizes available.
What We Don't: Not quite as good as its competitors.
Silver Ticket is a big name in this home projector market, and if you don't find the STR-169110 to your tastes, there are plenty of other sizes and specifications to choose from - and of course, there's the next-level Elite Screens VMAX2, above, for only a little more. However, with a 110-inch screen, 16:9 aspect ratio, and high-quality build components, this model is tough to beat. Silver Ticket screens use top-quality materials — this one is mildew and flame resistant and washable with mild soap and water. It's not often that we have to ponder cleaning advice in roundups on TMS, not when applying water to any of our regular products would probably have them explode, but it's nice to know that when the situation calls for it, a little cleaning solution can work wonders.
Outside of dirt matters, the STR-169110 has a heavy-duty beveled aluminum frame wrapped in black velvet to make your projected image the best it can be. That does mean it's a permanent fixture in your room; there's no rolling this one up. But this option if ideal if you don't want to worry about bending or uneven picture. The viewing angles are very impressive too, and the STR-169112 supports Full HD projections and even 3D. With simple setup, excellent image quality, and a good price, this is one of our favorite projector screens.
See the Silver Ticket STR-169120-WAB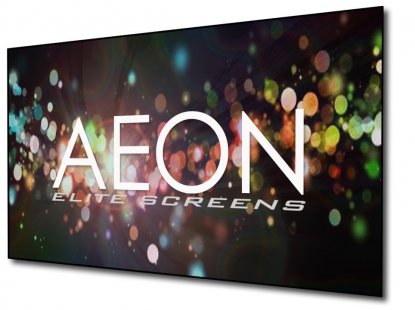 Size: 110"
Aspect Ratio: 16:9
Gain: 1.2
What We Like: Great for use in lighter areas, or without blackout blinds.
What We Don't: Grey color can be offputting!
Not everybody can afford blackout blinds. And it's definitely a challenge for most people to have an underground home theater, as cool as that might be. For those people, the Elite Screens Aeon ALR Cinegrey may be the answer. This screen, which comes in various sizes (we've highlighted the 110" model here, which should be fine for most) doesn't offer the clarity of something like the Seymour Screen EAVB 1.2, but it has one big party trick: the ability to reject ambient light.
Although the grey shade might not look great when it isn't being used, it is able to push back up to 65% off-angle ambient light. That means that you can get away with just closing the curtains, and not having to worry about stray ambience sneaking in. It has a range of great features, too, like an LED backlight and the ability to take any type of picture, from 4K to 3D. It's hardly a surprise to see Elite Screens at multiple points on this list, you can definitely consider this one of the top 10 screens available, and ideal for those without money to spend on a dark room.
See the Elite Screens Aeon ALR Cinegrey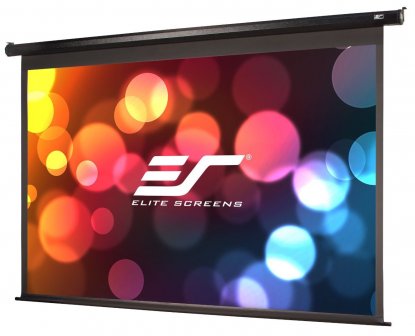 Size: 128"
Aspect Ratio: 16:10
Gain: 1.1
What We Like: Elite quality with automation added.
What We Don't: Maybe a touch pricey?
If you'd like to experience owning an Elite Screen model and you a) have a fair amount of money to spend, and b) are in need of automation, then look no further than the VMAX2. We still prefer the ezFrame, above, but this is a very capable alternative, not to mention a much larger one.
For starters, not only do you get a very sizeable usable area, but you get a slightly increased aspect ratio, at 16:10. There is a full 180 degree viewing angle, and like many models in this range, it comes ready for both 4K and 3D viewing. Installation is dead simple, as it comes shipped fully assembled (so no electronics knowledge required) and you won't have to get up to adjust it, either, as it comes with its own remote. While we do think it's price merits it dropping below the other screens on this list, that doesn't mean it's bad – far from it. This is one of our favourite automated screens, and if that's what you're looking for, you should check it out.
See the Elite Screens VMAX 2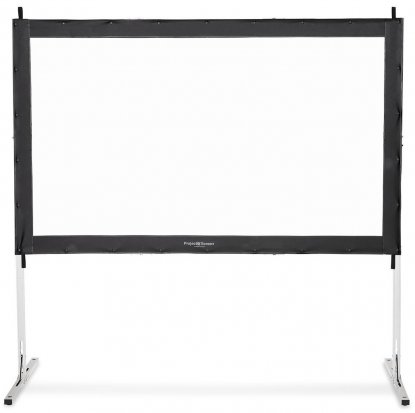 Size: 152"
Aspect Ratio: 16:9
Gain: 1.1
What We Like: Visual Apex's legendary quality.
What We Don't: We preferred the 9110SE.
A previous Visual Apex model, the 9110SE, was previously higher on this list. It's no longer available, sadly - or at least, not widely - and in looking for what to replace it with, we decided to go for the VAPEX ProjectoScreen144HD. It offers a huge size (although there are smaller variants available) at a very reasonable price, and we think it deserves a spot on this list.
Its detachable legs and easy assembly lend the PS144HD usability in a variety of applications, ranging from outdoor use to hanging on the wall in a traditional projector setup. The construction quality is solid, and there's a black backing on the screen, to ensure your picture is as clean as it could be. Outside of that, there are no features that absolutely leap out, but it's a solid entry for Visual Apex, and hopefully they'll reclaim their top five crown soon.
See the Visual Apex VAPEX ProjectoScreen144HD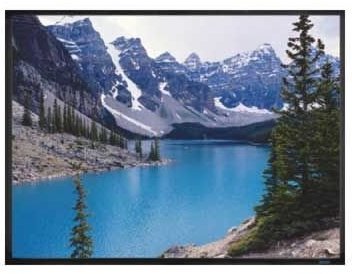 Size: 135"
Aspect Ratio: 16:9
Gain: 0.95
What We Like: Unbelievable picture.
What We Don't: Very expensive for what you get.
Stewart make some of the most expensive screens available, so it's a good thing the image quality matches the price. The Cima 135" isn't quite as mind-blowing as the Phantom HALR, but it's very good, with a big viewing area matched by some excellent picture quality. It's relatively easy to set up and use, and we think that were it not for the eye-melting price tag, it would probably snag a spot on the regular list.
They use their own material, Tiburon G2, which has been tuned and calibrated to provide optimal viewing conditions at almost all angles. It rejects 40% of ambient light, and although it doesn't really handle 3D, the smooth, durable, grey surface provides stunning quality, provided you've got a decent projector to match it. This screen and its variants are definitely not for everyone, but you do get what you pay for, and this is an absolute monster of a product. Check it out, if you have the funds.
See the Stewart Filmscreen Cima 135"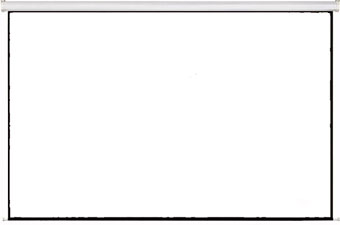 Size: 135"
Aspect Ratio: 16:9
Gain: 1.1
What We Like: Cheap for a motorized screen.
What We Don't: You need two people to install the screen!
Antra makes motorized projector screens in a variety of sizes, and they are among the cheapest motorized screens on the market. Clicking a button and seeing your screen roll down is much easier than having to drag it into position yourself, and you won't run the risk of tugging too hard and causing tears. The picture itself is respectable — depending on the quality of your projector and source material, of course — and we'd recommend this (or another Antra model if the 135-incher is too big) for anyone who wants a good balance of price and performance for their home theater setup. An alternative motorized model would be the Elite Screens Spectrum Electric.
Installation is straightforward (it's a bit easier if you have someone to help you with the job) and two mounting brackets are included in the bundle. We still vastly prefer the VMAX2 for our automation needs, but if you're keeping an eye on your wallet, then this is a good option. And hey: as with all models on this list, the price fluctuates, and you can always pick up one used. Keep an eye on Amazon for deals.
See the Antra Electric Motorized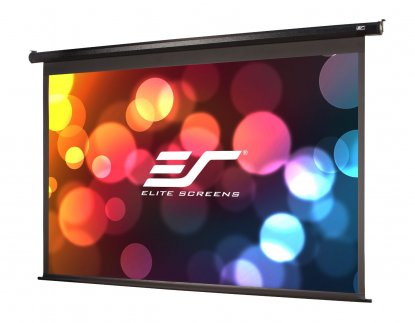 Size: 100"
Aspect Ratio: 16:9
Gain: 1.1
What We Like: Feature set, warranty.
What We Don't: Not a lot.
We know. You're probably completely stunned to see another Elite Screens model on this list. But the company really does know what they're about when it comes to projection, and if you're looking for a midrange screen with good specs from a quality brand, look no further than this one right here. It is also one of the better motorized options on this list, certainly for this price range, although it doesn't beat the Antra, above.
With the flick of an included remote or inline switch, you get a screen with excellent picture reproduction and a 1.1 gain. A 2-year warranty for home use and a 3-year warranty for government, education, military, and religious use means you'll be covered for any issues that may come up, especially if you convince the Elite Screens folk that you are, in fact, a very religious government minister with a service record. The Spectrum is available in sizes ranging from 100 inches to 180 inches. And if you're setting up a theater room with speakers mounted behind the screen, you can opt for the 1.0 screen gain AcousticPro screen surface, which is acoustically transparent.
See the Elite Screens Spectrum Electric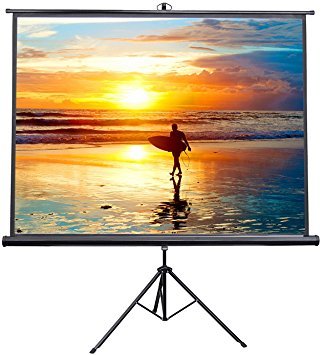 Size: 100"
Aspect Ratio: 1:1
Gain: 0.9
What We Like: Easy to setup and adjust.
What We Don't: Middling picture quality.
Got a small room? Getting started with projection? This is the ideal entry point. Its picture quality can't touch other models – even something like the Epson Duet ELPSC80 has it beaten on that score – but it's the perfect way to get started. We really like how easy it is to not only set up, but to adjust, as well. Some genuine thought has gone into the design – far more than you'd expect for the price.
The multi-layer matte material does an acceptable if unspectacular job of displaying image quality, with some good detail and relatively deep blacks. For this price, what you're getting is a very good deal. Beyond that, there's nothing too exciting about the screen; it certainly manages to earn it spot on the budget end of this list, but if you feel like getting more serious, you should definitely check out other models.
See the Vivo PS-T-100 ($83)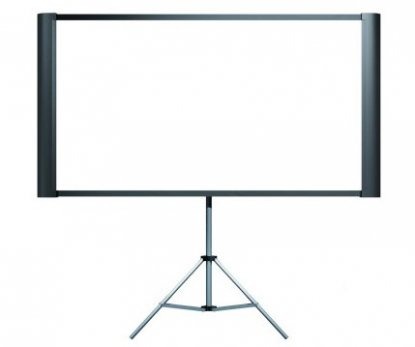 Size: 80"
Aspect Ratio: 4:3/16:9
Gain: 1.1
What We Like: Ease-of-use, multiple aspect ratios.
What We Don't: Small size.
Another big player: Epson. They've got a nice lineup of projectors for the home and office, so you would expect the company to offer numerous screens as well. Surprisingly, there aren't that many, but the Duet ELPSC80 is a popular choice among those who want a reasonably priced projector screen that can be packed up and moved. In this, they offer something that many other screens on this list can't, which is a degree of portability – outside of, you know, the inflatable Giant Gemmy, which is the only screen here that can be packed into a suitcase.
Anyway. The ELPSC80 works well in either the office or with a home theater system, and it has an easy setup process that is much less fiddly than some other screens. The ELPSC80 can expand horizontally and vertically—you can set it to a 4:3 or 16:9 aspect ratio—and the image quality are impressive. As long as you don't mind the business-centric design, you should like the ELPSC80. It comes with a tripod but a handy wall mount for your home is included.
See the Epson Duet ELPSC80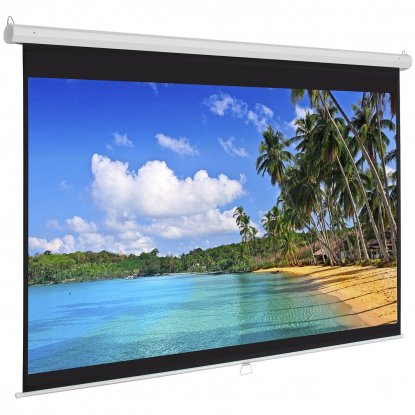 Size: 119"
Aspect Ratio: 16:9
Gain: 1.1
What We Like: Square shape.
What We Don't: ...Square shape.
The Best Choice Manual Screen isn't going to win any awards for best company name, despite actually using the word Best. But when it comes to budget screens, this particular model has won plaudits across the world. In fact, if this list were solely restricted to screens under $100, we would probably make this our number one choice. So perhaps the company name is apt after all!
Occasionally, you have a need for a screen that isn't a rectangle - a rare occurrence, but one that still happens. In that case, this screen, with its 1:1 aspect ratio, is the perfect choice. This might sound like a disadvantage, but if you can deal with the shape, you get an awful lot of bang for your buck, including a good-sized usable area and a decent overall size. A simple, functional screen which fulfills a niche. (And before you drop snarky comments at the bottom, we know it doesn't look square in the image. It really is, with that 1:1 aspect ratio and an 84" x 84" size, which translates to a 119" diagonal. Like we said: a niche product, but perfect for squares).
See the Best Choice Products Manual Projector Screen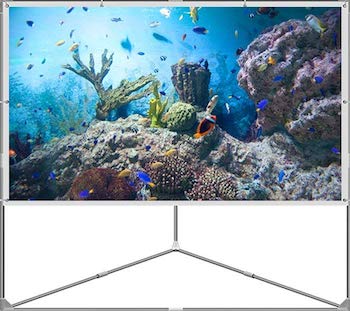 Size: 100"
Aspect Ratio: 16:9
Gain: 1.1
What We Like: Versatile mounting options, decent picture for the price.
What We Don't: Slightly flimsy build.
The JaeilPLM 100-Inch 2-in-1 is a particularly interesting screen that offers something other options on this list don't. It can either be mounted from a single hanging point - using tension bars to maintain screen smoothness - or propped up with a triangular prism of bars. This means it can be used both inside and out, giving it a slight edge over something like the Giant Gemmy Airblown. That screen may be better for outdoor use, but it's nowhere near as versatile as the JaeilPLM.
However, the JaeilPLM's cut in price also means a cut in quality. Picture quality is only acceptable, rather than excellent, compared to many of the options on this list. And while you get flexibility in screen mounting options, you should also expect a little flexibility in the build quality. And even at this price, it's not nearly as good as we'd expect. This makes it a poor option for reliability, especially compared to something like the Epson Duet ELPSC80, which is only slightly more expensive. The JaeilPLM 100-Inch 2-in-1 is an affordable option for those who find themselves needing to host outdoor movies from time to time, but also want to do so indoors without breaking the bank.
See the JaeilPLM 100-Inch 2-in-1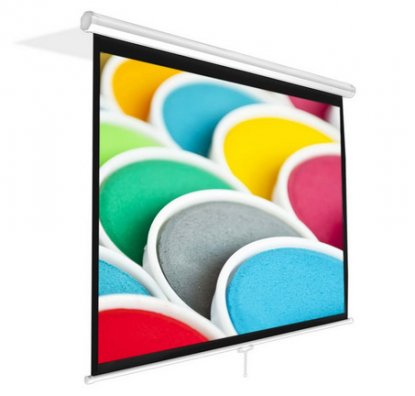 Size: 72"
Aspect Ratio: 4:3
Gain: Unknown
What We Like: Cheapest option, simple operation.
What We Don't: At this price? Not a lot!
At this end of the market, price trumps image quality. That's not to say the Pyle PRJSM7206 offers up a bad picture, but you're spending less than $60 for this wall-mounted screen so top-rate image quality may not happen. 
You get a matte-white projector screen with a black masking border, and once wall mounting is out of the way, operation is simple — pull down the screen and it locks into place. This screen is easy to set up and durable in use, but bear in mind that the overall feel is more schoolroom than home theater. But if price is an important consideration, the PRJSM7206 is a great value pick - albeit one trumped by models from Best Choice and Vivo, which we think do a better overall job. The screen comes in a range of sizes as well as standing and tripod versions, so you should theoretically be able to use it in just about any situation you care to name. This is far from our top choice, but for those on a budget, it's well worth taking a closer look at, especially if you just need a simple screen for a home or office setup.
See the Pyle PRJSM7206
 
New Projector Screens Coming Soon
Currently, the largest trend in screens and projectors is Ultra Short Throw projection, which we'll explain in the buying advice below. It's why we've featured screens like the Screen Innovations Solo Pro on our list, and expect to see other manufacturers stepping into this space with even more gusto. Oddly enough, this also includes Ford - as in, the car manufacturer. They've patented a design for mounting a projector screen in the back of a pickup truck, complete with speakers. If this sounds crazy, just think about the possibilities - especially for your next tailgate party.
And speaking of Screen Innovations, they've just announced the Solo 2. The screen packs some nifty improvements, including an improved cassette, reverse orientation (so you can hang it in front of things like paintings or existing TVs) and even battery power - no mains hookup needed. We'll bring you more info on this upgrade soon.

Projector Screen Comparison Table
*A.Ratio = Aspect Ration
**UA = Usable Area
***Aut. = Automation
****VA = Viewing Angles
Want Even More Master Switch? Sign Up For Our Weekly Newsletter!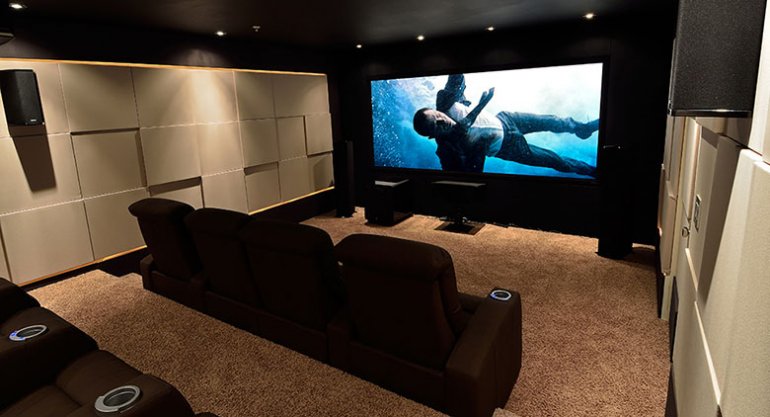 Projector Screen Buying Advice

How We Chose our List of Projector Screens
All the screens we list are available in multiple sizes and configurations. That makes choosing one option tough, but in all cases, we've gone with the one we feel represents the best value-for-money. You can always change it up if you want to spend less. Or more!
When it comes to projector screens, we look at everything: size, ease-of-use, portability, the works. It can often be difficult to choose a decent model, especially given how expensive they can be, but we think you'll agree with our picks here. We've awarded winners in several categories, from best overall to best budget and onwards. And as always, remember - prices were correct at the time of writing, but they can and do fluctuate wildly.
 
Projector Screens vs. Walls
The most common question we get sent regarding projector screens is very simple: why can't I just use the big, white wall that is already in my living room? To answer that question, and explain why it's a really bad idea, you have to understand how light reacts on certain materials. When you project a movie, what your projector is doing is shining light onto the projection surface. No more, no less. For you to be able to get a high quality image, as much of that light as possible needs to be reflected back at you, so it can enter your eyes. So far so good.
The problem is, walls – even ones painted white – aren't built to be reflective. There's a very good reason for that, in that living in an apartment or a house with reflective walls would be pretty unpleasant. More importantly, walls aren't completely smooth: even the best ones have a slight texture, one which is random – if you look close enough – and will do horrible things to light when it's reflected onto it. That's irrespective of how bright white the paint is. Yes, you could still in theory project an image onto it, but it will be nowhere near as good as it would be if you used a dedicated screen. That's not only due to the fact that screen material is designed to accurately reflect the light from your projector back, while rejecting as much ambient light as possible, but also because most if not all projection screens come with a black border. There's a reason for this: it's a psychological trick, separating the image on the screen from the world around it in our mind, and making the image clearer. And no, painting a black square or rectangle on the wall will not give you the same effect. Put that paintbrush down.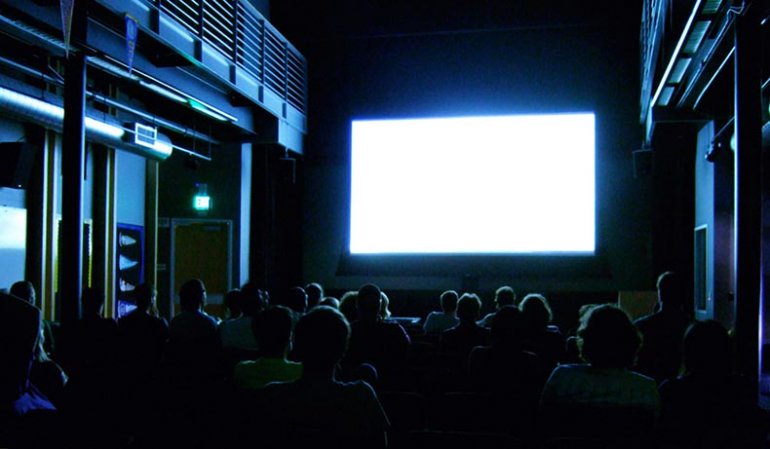 Projector Screen Setup Explained
Each screen will come with full instructions. If not, have a quiet word with the manufacturer, and tell them to stop being ridiculous. Many screens are free-standing. Some can be inflated, which is often the easiest option. Others will need to be bolted to the wall, which will require the use of a screwdriver and a cable detector. Please use a cable detector. Don't go drilling into walls that may hide an electric shock. 
If you're setting up a theater room, you'll have seats spread across a wide area and you'll want to get the same picture everywhere. If you're getting a screen for a theater room, you may want to dip below 1.0 screen gain - gain is explained below). Some grey screens claim a 0.8 measurement, which would help in wider rooms. However, if you're setting up a conference room, or putting a projector in your living room, getting a higher-gain screen means you'll be able to project with some lights on or when the sun is out. In general, a high gain is more helpful in a wider range of environments while a low gain is better at accurate color recreation and producing wide viewing angles. If this is super important to you, and all you want is a screen that is easy to set up, then we strongly recommend the Elite Screens VMAX 2, which balances terrific picture quality with very simple setup.
 
Size vs. Usable Area
Very obviously, when you're working with projector screens, you need to be concerned about size. This is not just a simple as two measurements of height and width. For starters, actually getting those figures involves a (sometimes reasonably deep) dive into manufacturer specifications. This is because manufacturers give the size of the screen in a single measurement, which represents a line from one corner to the other, diagonally. It makes for good marketing copy, but it can be a little bit annoying, as it doesn't actually tell you how much of the screen is going to be taken up with an image.
Fortunately, one of the things many manufacturers do state is what is known as the usable area of the screen – as in, the actual area which can have an image projected onto it, usually contained within a simple border. And because we love you, we've dug this out for you. This will give you a general idea of just how big your movie image is likely to be. Remember: size isn't everything, and you'll get far more out of a slightly smaller screen made out of high quality material then you will out of a larger screen costs a little less.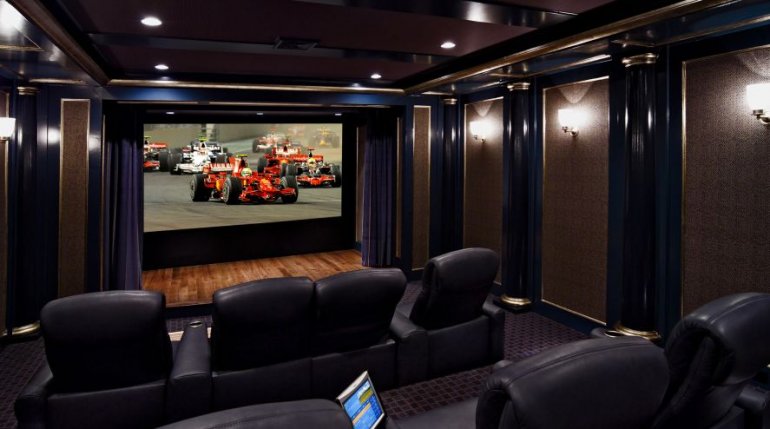 Aspect Ratio vs. Gain
Aspect ratio refers to the shape of the projected image, measured in various sizes.16:9 and 4:3 are common, but there are various options. Although 16:9 has stormed standalone TVs, some movie aficionados prefer 2.35:1. However, the HD standard (and the upcoming Blu-ray Ultra High-Definition standard) are for 16:9. If all your media is 16:9, you'll want to get a screen to match to maximize your screen real estate. Also consider that larger screen need more support, with many large screens coming in at 35 pounds or more.
Gain is a measurement of light reflected off the screen to the optimal viewing angle (the "Zero Degrees Viewing Axis"). A screen gain of 1.0 is equivalent to the light reflected off "a standard white (magnesium oxide) board," according to Projector Central, who presumably know about these things. The easiest way to think about it is as a percentage. A screen with a gain of 1.0 reflects back 100% of the light shone on it. A screen with 0.6 will only reflect 60% back, and a screen with 1.2 gain will shine back light at a 120% brightness. (For reference, the screen on our list with the brightest gain is the Seymour Screen Excellence Ambient-Visionaire Black 1.2 - unsurprisingly, its gain is 1.2).
Now you might think that, taking all that into account, a screen with high gain is what you want to go for, right? Well, it's not that simple. High gain screens have problems. For one thing, the higher screens gain, the lower the viewing angle is – we will talk about this in more detail below, but the upshot is that the higher the gain, the harder it is to see a clear image unless you're sitting directly opposite the screen. If you have a large screening area with lots of seats, especially ones off to the sides, you may want to go for a screen with a slightly lower gain. You'll need to reduce the ambient light, but you should be fine. If you have a small viewing area, or space to put all the seats directly in front of the projector, then by all means go for a high gain screen.
 
Viewing Angle Explained
Imagine yourself sitting in front of a projector screen, watching Mad Max, or Harry Potter, or whatever your favorite movie may be. You are sitting perpendicular to the screen itself, facing it. You are able to see everything. Now, imagine a half-circle, with you at the circle's apex and the screen directly opposite on the diameter. This – as anybody who has done high school math will know – is a shape of 180°.
If the screens viewing angle is 180°, you will be able to see a clear image on it from anywhere in the half-circle. If it's 120°, the image will start to blur and disintegrate as you move to the sides of the circle. The lower the number gets, the more you will need to be seated directly in front of the screen to get a clear picture. Really, that's all there is to it. Viewing angle is a subject that can be filled with tons of jargon, if you delve into it, but all you need to know is that the wider the viewing angle, the better. And as we said in the previous section, high gain screens typically have slightly lower viewing angles, so do take that into account.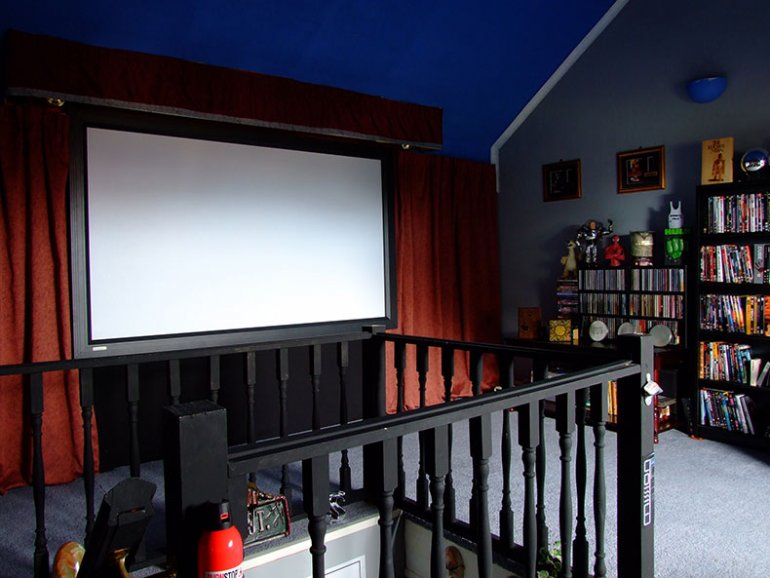 Acoustic Transparency Explained
In a movie theater, the front speakers are nowhere to be seen. That's because they are behind the actual movie screen itself. It's one of those things that makes total sense when you think about it, but you also can't believe you've never thought about it before. This arrangement can work because the material the screen is made out of is acoustically transparent – it doesn't affect sound, allowing the soundwaves to pass through unmolested. We need the same arrangement in our home cinemas as well. This is especially true in small spaces, where you may need to place your floorstanding speakers or center channel speakers behind the actual screen itself. There's nothing wrong with doing this, provided your screen's material is acoustically transparent.
A good example of a screen that accomplishes this is the Silver Ticket STR-169120-WAB. The material is specially woven and tested to make sure that it does not interrupt sound coming from behind it, meaning you can happily place your speakers out of the way. If you want to. Most speakers these days are actually quite beautiful, so you may want to keep them in view. Your call.
 
Automation: Fixed vs. Retractable Projector Screens
 Ah, the beauties of modern technology. You want to get started on projection, but don't want a boring projection screen hanging around your living room all the time? At the touch of a button, it could just roll away – although you will certainly pay for the privilege. Motorized or automated screens, which roll up into their housing, are typically a little more expensive than static screens, which don't. You will also have to deal with potential breakages down the line, although it must be said that these are very frequent – especially not for the manufacturers on our list, most of whom make reliable screens. We think one of the best motorized screens, for reference, is the 135" Antra Electric Motorized, along with the VMAX2 mentioned above.
You may have bought a projector because it takes up less space than a TV, so you'd want a screen that hides away too. Or you might be decking out a media room and want a more permanent solution. Above we even suggest portable options that can be taken outside for backyard viewings. If you want something that can be hidden away, consider a ceiling-mounted screen. They can even be pulled down at the push of a button if you opt for a motorized version. However, if you're setting up a Hollywood theater, get something a little more permanent — these screens are optimized to be perfectly flat and can be attached directly to your wall, mitigating any concerns about the screens getting damaged via wear-and tear.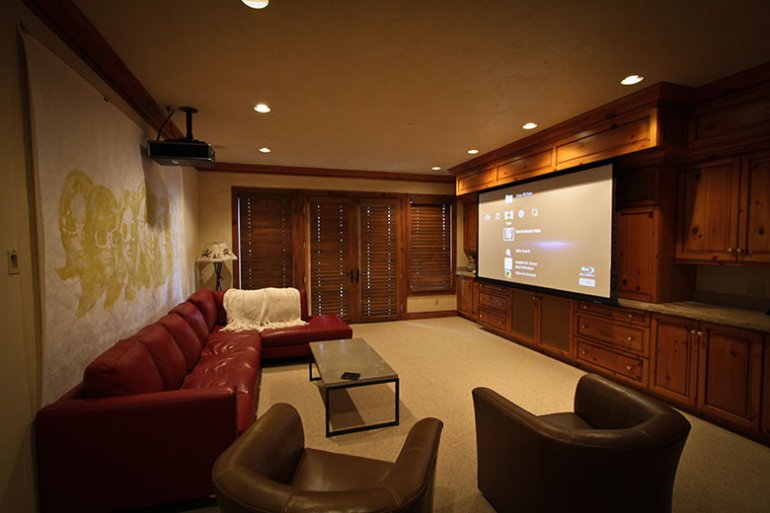 Tension vs. Non Tension
This is a particular stat that isn't always immediately clear, but if you want to make projection of permanent part of your life, it's super important to bear in mind. It refers to the ability of the screen to stay flat and even throughout its life. A tensioned screen will have sturdy wires running along the outside to keep the surface pulled taut, whereas a non-tensioned screen will not. A screen without tension will sometimes, over the course of its life, develop these weird little waves in it that can mess with the image. This isn't a guarantee, but it's sometimes prevalent, especially in cheaper screens. Not to worry, though. Most screens above around $200 will almost certainly have this feature included.
 
Common Projector Screen Mistakes
For the most part, projector screens and their setup instructions/buying advice have progressed to the point where actually purchasing and mounting one of these monsters is relatively straightforward. Unfortunately, this is a product category with a legacy of difficulty when it comes to actually getting the products themselves mounted, so it's worth pointing out a couple of pitfalls that can easily be avoided.
The first, very obviously, is to make sure that your buying the right kind of projector, in terms of whether you want it manual or motorized. It's an easy mistake to make, as you're swallowed alive by aspect ratio and gain stats and viewing area sizes. You will also be wanting to closely measure the area you're going to mount/display it, as it is super annoying to have to return a screen for a different size once you've actually bought it.
Second thing. We haven't covered it here, as it's not too big a problem with modern screens, but you need to make sure that the one you buy has a decent viewing angle. It's not a problem if you just have a single couch, but if you have multiple sitting positions, you'll want to make sure that your guests are going to be craning their heads or nudging their way into your space. Anything from around 90-180 degrees viewing angle should do the trick, and obviously the closer to 180, the better.
Finally: installation accessories. Some screens, like the Silver Ticket STR-169120-WAB, come with everything you need to mount them. But this is by no means guaranteed. You may need additional mounting brackets, screws, hammers, glue… Anything, really. Make sure you fully understand what is required to get a screen up and mounted, and if necessary, invest in things like mounting brackets.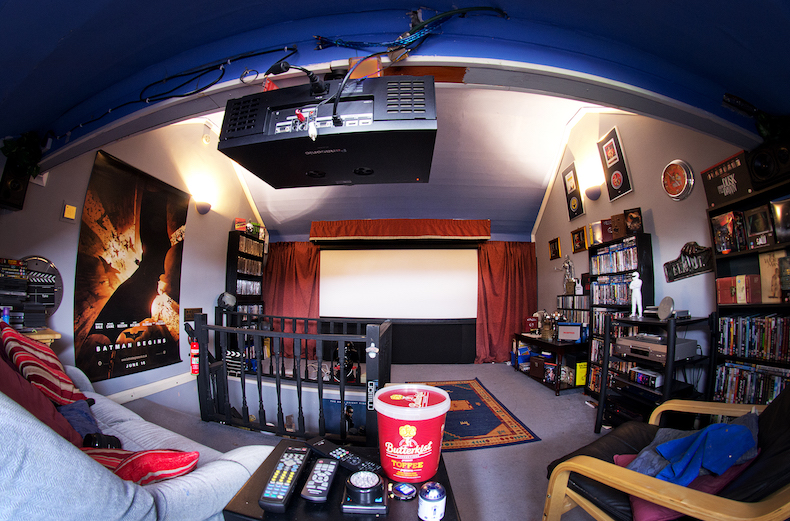 8K Images on Projector Screens
Do you have $18,000 down the back of the couch? Then you could conceivably invest in the new JVC DLA-NX9. It's their flagship projector, and aside from doing just about everything a projector can do, it does something extraordinary. It can take a regular 4K source and upscale it to 8K – in other words, to an image that measures 8,192 x 4,320 pixels - and can project it with a width of up to 25 feet. That is…a lot of picture.
Given this technological leap forward, you might reasonably ask what it means for your screen. Is your $500 Elite Screens VMAX 2 going to be able to cope with that many pixels, or are you going to have to invest five times that amount for one of the monsters from Seymour or EPV? Forget the obvious point that if you can afford that JVC projector, you probably won't have any issue buying an enormous screen. There's the rather concerning question of whether a screen bought today will be able to cope with the images thrown onto it by the projectors of tomorrow. We will admit: we don't actually have an answer to this one yet. Everything we know about projectors and projector screens leads us to say that it won't be a problem. After all, there's nothing to stop you reducing the size of the image to fit your screen, and no matter how many pixels are crammed onto it, you should still get an excellent picture. The question we face is how an 8K image from a projector as tooled-up as that JVC Wood fair on different materials. We haven't had a chance to test 8K projection yet, so we don't actually know how different materials react to it – or, as we strongly suspect, whether there would be any difference at all. Right now, we just don't know enough.
Part of the problem is that there is almost no content produced in 8K. Hell, there's not even enough being produced in 4K right now! Its one thing to buy a 4K Ultra-HD Blu-ray of Game of Thrones, and quite another to track down a version of the series shot in 8K – you can't, it doesn't exist. That will change in the next few years. Not only are more Hollywood studios are starting to shoot in 8K, but the 2020 Tokyo Olympics are going to be broadcast in that format by the Japanese government. It's TVs that will lead the charge here, rather than projector screens. We will update with more information as and when we have it.
Ultra Short Throw Projector Screens Explained
As the name implies, Ultra Short Throw projector screens are designed to take an image from a projector close to the screen. However, it's not as straightforward as you might think. Ultra Short Throw is one of the biggest R&D topics in projector screens right now, and there's a lot you need to consider when buying one.
The biggest issue with Ultra Short Throw (UST) screens has to do with their light rejection, especially with ambient light. These screens tend to spread their light off-axis, thanks to the short distances involved. Unfortunately, this spreads a lot of it out of the viewing sweet spot, making it more difficult to get a good picture. The solution to this problem is to invest in a screen specifically designed for UST projectors - the top one on our list is the Screen Innovations Solo Pro. Of course, you'll pay for the privilege - the Solo Pro goes for $2,820 at the time of writing. However, despite the price, we believe it's worth it for the convenience and the extra sharpness UST projection provides.
Back To Our Projector Screen Picks Back To Our Comparison Table
Learn More About Home Theater