MartinLogan Motion 35XTi ($1,400)
Suggested Amp Range: 20-250 Watts at 8Ω
Driver Size: 1 x 6.5", 1 x 4.5"
Sensitivity: 92dB
What We Like: Stunning dynamics and detail, smooth and elegant build.
What We Don't: Fatiguing sound over long periods, quite expensive.
See the MartinLogan Motion 35XTi
Say the word MartinLogan around audiophiles - yes, it's one word, there's no space between the Martin and the Logan, poor bastards - and you'll get a knowing smile and a wink, as if you've just spoken a secret password. The company has been making high-quality gear since the early 80s, and is known for its rich quality and equally-rich price tag. Although we don't feature their equipment often on our site, we've been swayed in recent years as the company has released some great models at a relatively affordable price. In this case, they've put out a pair of speakers known as the Motion 35XTi. In this review, we break down the 35XTi's sound, design, packaging and accessories, specs, and more. To see how they stack up, check out our list of the best bookshelf speakers.

Sound
Dynamic Range
There's one thing that the MartinLogan Motion 35XTi do really well, and that's dynamic range. In terms of being able to express detail at both very quiet and very loud volumes, and jump between them quickly, they are absolutely extraordinary. Movie soundtracks and orchestral music, in particular, are known for testing the dynamic range of speakers; when you put any of this music through the 35XTi speakers, great things happen. They're agile, confident, and amazingly clean. If you find yourself listening to a lot of movie soundtracks, or you enjoy classical music, then you're absolutely going to love these. They are truly remarkable.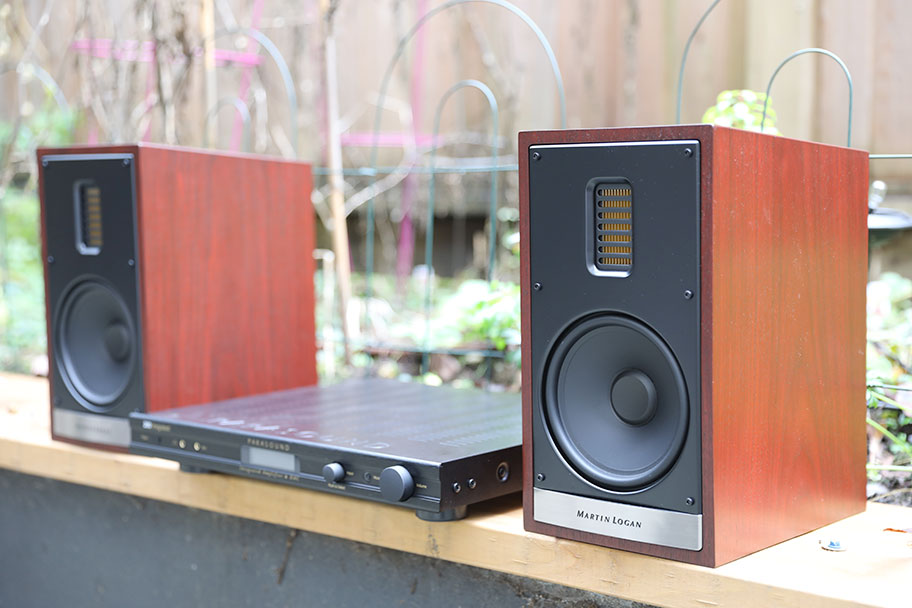 A lot of this is down to the Air Motion Transformer (AMT) tweeters. This is a special kind of driver that we've been seeing more of these days – we recently tested the superb Kanto TUK (full review here), which also featured AMT tweeters. Instead of a standard conical speaker driver, an AMT tweeter is an accordion shape, with dozens of 'pleats'. This gives it a much wider surface area, which means it can move air and create sound without actually moving very far itself. This stiff, relatively rigid shape results in incredibly high detail and clarity, and is the key to the dynamic liveliness we mentioned earlier. It means that, while the Motion 35XTi speakers are terrific with music, they also do superbly well in a home theater setup. We incorporated them into our testing room to watch some movies and they sounded fantastic.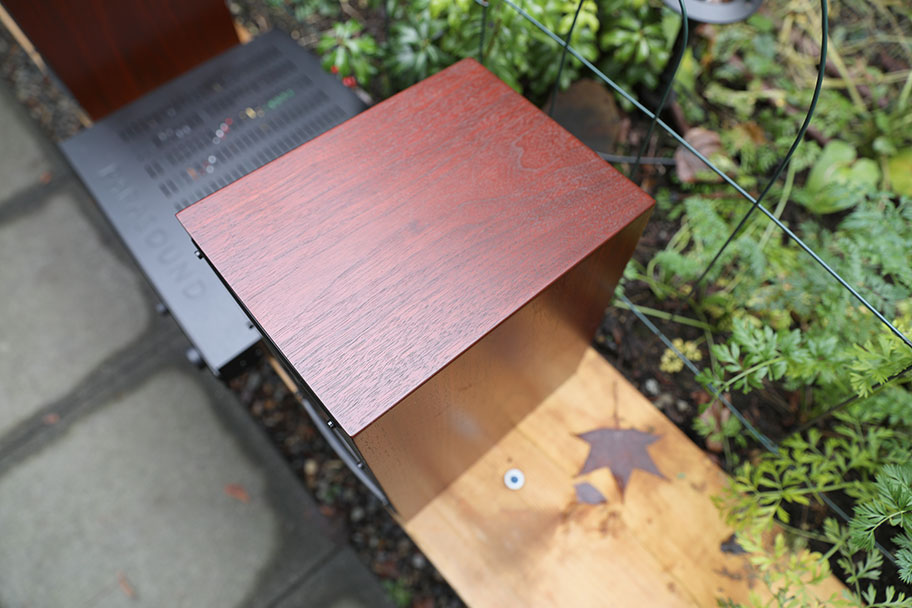 Don't get it twisted - while we said the Motion 35XTi speakers were relatively affordable, the AMT technology does come with a hefty price. They are $1,400 for the pair, which isn't desperately expensive, but still enough to raise an eyebrow or two. These speakers are not a casual buy, but then again, we suspect they were never meant to be. If you demand dynamic precision from your speakers, and you have a particular need for a pair that translates orchestral music well, then the Motion 35XTi are your first choice.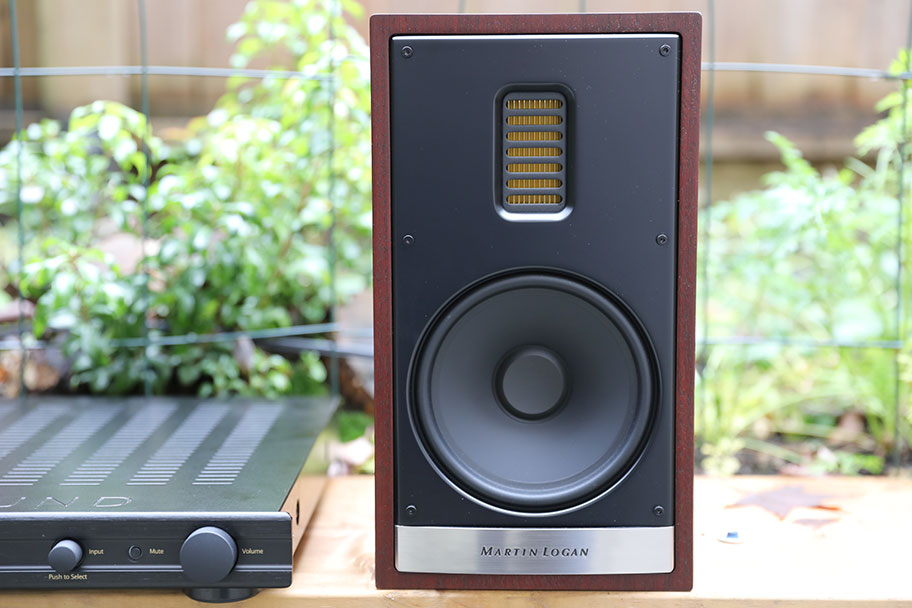 Soundstage
Another area the Motion 35XTi excel in is the soundstage. While it doesn't feel particularly wide or all-encompassing, it does feel precise. It feels like you can pick out just where each instrument in a song is, as if you're standing right in the middle of the orchestra or the band. This was the case no matter how dense or difficult the music was. Even in complicated heavy metal, where each song was packed with an incredible amount of stuff, the Motion 35XTi speakers never lost a step. Up until this point, our pick for excellent soundstage was the Totem Acoustic KIN Play speakers – a $1,250 wireless pair that really knocked it out of the park in terms of positioning. Having heard the Motion 35XTi, we can say that the KIN Play are now firmly in second place. MartinLogan just crushed it. We also found the speakers didn't really require careful positioning to get the best out of them – the sweet spot felt very forgiving, meaning you shouldn't have to spend ages adjusting them.
High-End (Treble)
As you'd expect from such a pair of capable AMT tweeters, the high-end of the Motion 35XTi is generally excellent. While the overall sound does get fatiguing over long periods – more on this below – the level of detail and realism at the highs will satisfy anyone looking to extract the most from their music. Most of the bookshelf speakers in this price range don't have nearly the quality, particularly when it comes to elements like female vocals, violins, and snares, all of which sizzled and crackled with energy.
We did find that a good amp pairing really helped bring the best out of this model. The Motion 35XTi speakers respond well to any amplifier with between 20 and 250 watts of power at 8 ohms which, in our experience, is most of them. But we did find, over hours of testing, that more powerful amplifiers tended to increase the level of detail, as well as ensure solid playback at high volumes. If you're planning on investing in these speakers, we recommend pairing them with a good amplifier. We had some great results with the Parasound NewClassic 200 Integrated, which goes for around $1,200.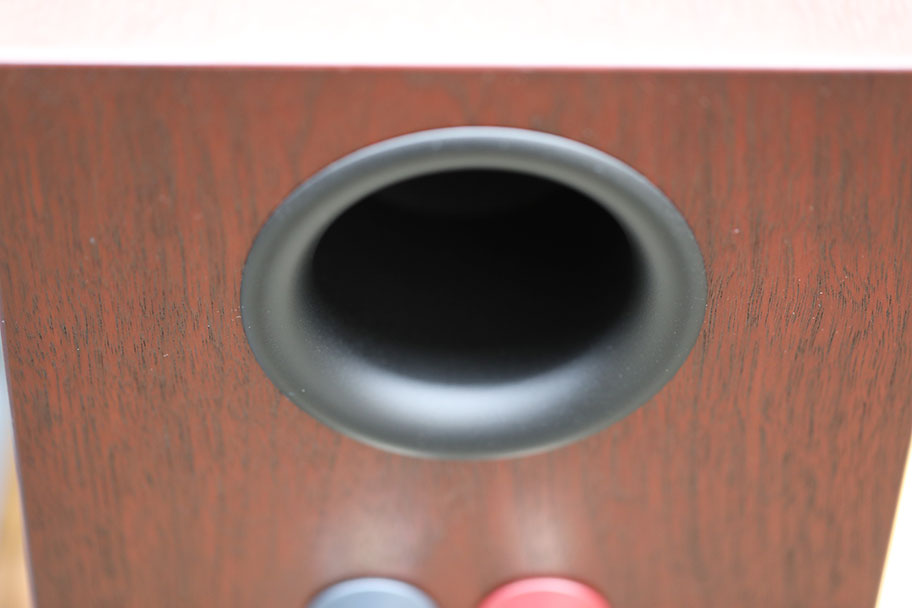 It's also possible to bi-amp and bi-wire these speakers, if you have additional equipment. If you're not familiar, these techniques allow you to provide separate sources of amplification for the bass and the treble - they're fully explained in the manual that comes with the Motion 35XTi speakers. We tested this out with a number of amps and, although the result wasn't a dramatic leap from the base sound, we definitely felt it lift a little, particularly in the highs. We can't claim that it's really worth doing, as it is quite a lot of work for a slight improvement, but it's great that the option is available.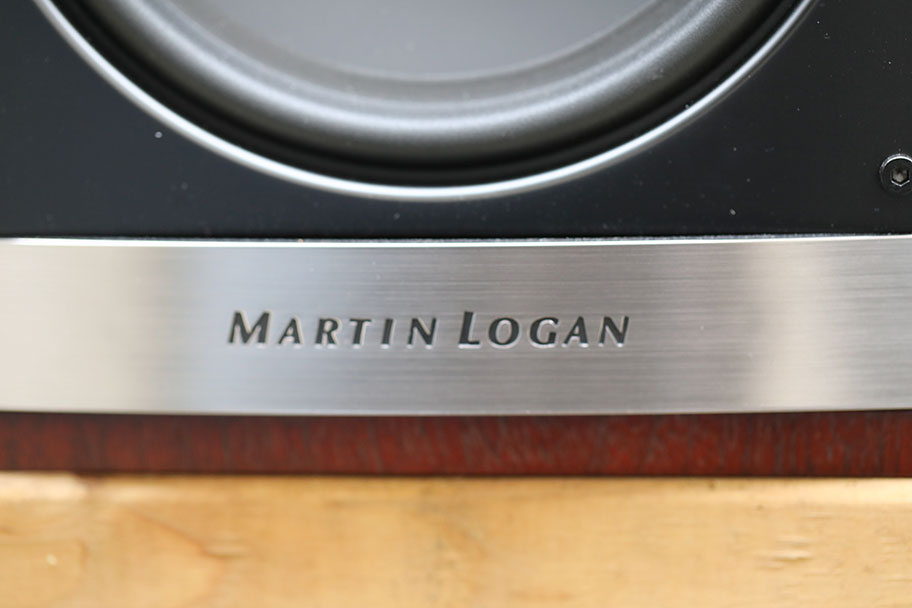 Low-End (Bass) and Mids
There is an element or two of the sound that we didn't like, but one is a much more significant problem. Over time, we found that the sound of the Motion 35XTi speakers tended to be a bit fatiguing. At first, we thought it was the high-end that was causing the problem, but it turned out to be the upper mids – an area where you will find elements like high male vocals and the snap of kick drums. Here, the speakers felt just a touch rough around the edges; good for short periods of listening, but lengthy sessions started to grate on us.
A slightly lesser problem, and perhaps more subjective, was the bass. To be clear, it was absolutely fine – clean, controlled, even delicate at times. It's clear that these speakers are not designed to crank out huge bass, but it still would have been nice to have just a touch more emphasis on the low-end. Every so often, the Motion 35XTi speakers sounded a little weedy and deflated. If you do want a pair of speakers that really emphasize the low-end, we recommend the Polk Legend L200s, which are an absolutely incredible pair of speakers that are only slightly more expensive, at $1,799. They don't quite have the high-end detail of the Logans, but they are a lot of fun. And of course, if you have the Motion 35XTi speakers and want a little more bass lift, adding a subwoofer into the mix will clean up nicely.

Design
Looks and Build Quality
As you'd expect for a pair of speakers in this price range, the Motion 35XTi speakers look terrific. Subtlety is the name of the game here; while these have the same size and style of many other bookshelf speakers, it's the small touches that make a difference. We love the sloped topside, which angles gently away from the front end. The simple, clean lines that appear to be everywhere on the speaker lend it a real sense of class. And for some reason, we absolutely adore the metal nameplate with the MartinLogan logo on the bottom. It's a design that just works. And uniquely, we found that the speakers looked just as good with the detachable grilles on as they did with them off. We genuinely can't remember the last time we tested a speaker we could say that about. You get a choice of three colors – gloss black, matte white, and red walnut (our model). They all look good and ooze refinement. Even though anything refined probably shouldn't ooze.
It also helps that the speakers are built incredibly well. The construction doesn't use exotic materials – we're talking simple MDF here, the wood fiber build that you'll find in just about every other pair of speakers on the market. But the Motion 35XTi speakers feel robust, with a finish that is suitable to their price tag. It's worth noting that these speakers are but one in a range of Motion models, and that some of these models – like the 60XTi and 50XTi – include additional internal bracing to help reduce vibrations. We certainly didn't find that vibration resonance was a problem with our test speakers, and we think that MartinLogan have done an absolutely stellar job with this.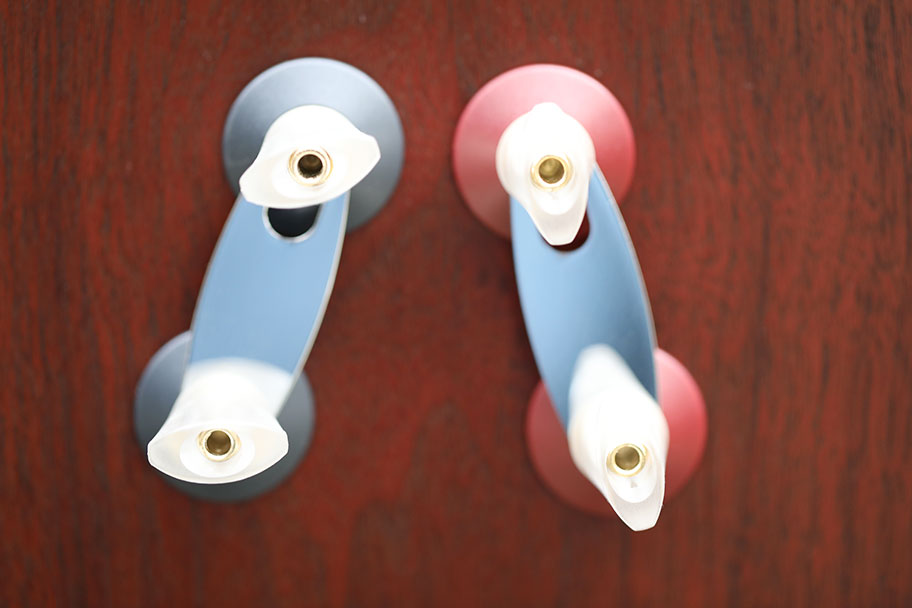 Connections
Around the back of the Motion 35XTi, things get really interesting. We've already mentioned that you can bi-amp and bi-wire these speakers, and this is made possible through a well-built set of binding posts on the back. Each channel has two posts, coupled with a removable metal jumper, and a hefty plastic screw on each that you can use to reveal a separate hole. As mentioned before, we don't necessarily think using multiple amps improve the sound dramatically, but it's great to have the option. If you do use it, the binding posts are an absolute pleasure.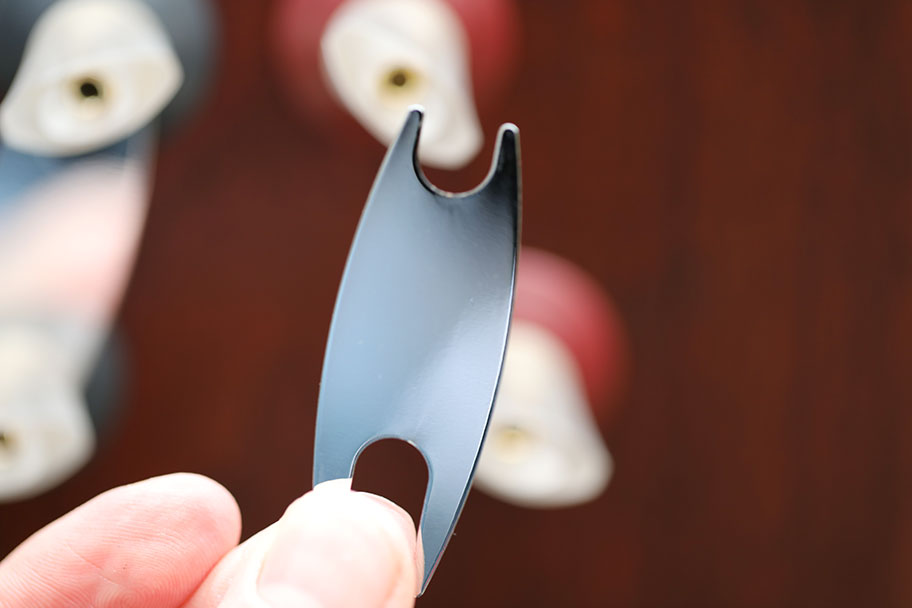 Accessories & Packaging
As with many other bookshelf speakers, the packaging and accessories are simple. You get a set of removable grilles, which we've already mentioned, and a basic set of rubber feet – there are no screws for sound-isolating spikes. The box gets the job done and can be recycled immediately. You also get a manual, and we do want to say that it's one of the better ones we've seen. While these speakers may clearly be geared towards more savvy listeners, with extensive hi-fi experience, MartinLogan make it very easy to get the best out of them – even if you've never played around with hi-fi before.
What We Like
The MartinLogan Motion 35XTi speakers offer tremendous dynamic range, which makes movie soundtracks really sing.
The Motion 35XTi speakers have stunning overall sound quality, particularly in the high-end.
The construction and build quality are top notch.
 
What We Don't
The MartinLogan Motion 35XTi speakers do tend to be fatiguing over long periods, particularly in the upper midrange.
The Motion 35XTi speakers are relatively expensive, at $1,400 per pair.
While you can bi-amp and bi-wire the speakers, it doesn't make a huge difference to the sound.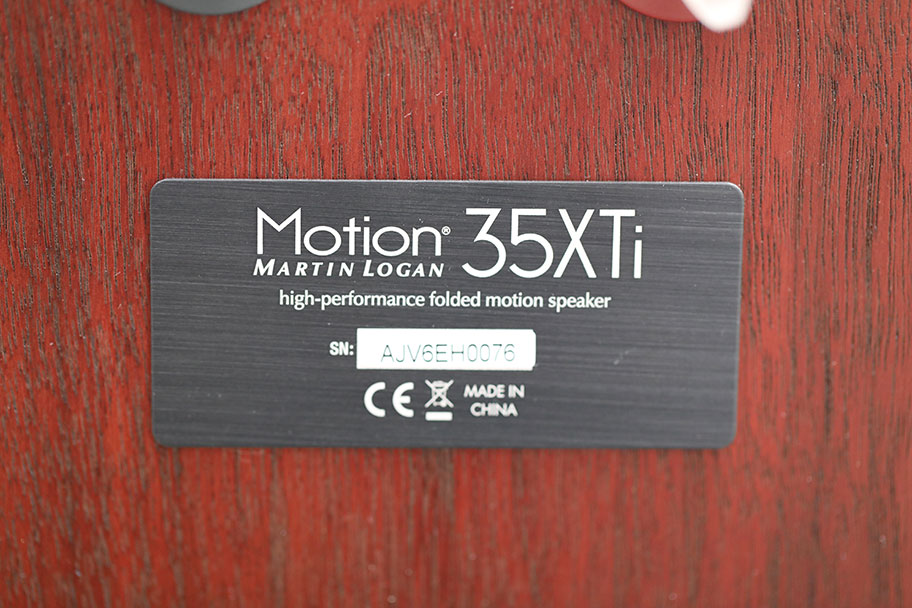 Comparison Table
*SAW = Suggested Amplifier Wattage
**Imp. = Impedance
***Sens. = Sensitivity
***Wt. = Weight (Each)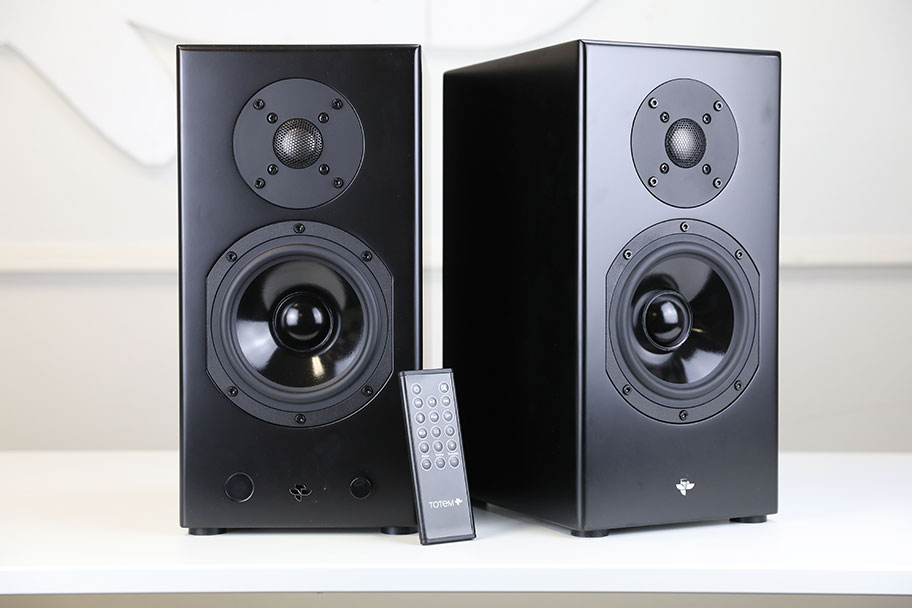 The Competition
As you'd expect, there's a ton of competition in the bookshelf speaker world, and particularly in this price range. One alternative we're particularly excited to recommend are the Totem Acoustic KIN Play wireless speakers. Why? Because they are the yin to the Motion 35XTi's yang. They don't offer the level of detail and dynamic realism, but they make up for it by having a robust, lively, almost bouncy sound that throws out a welcoming arm to anyone listening. The $1,250 KIN Plays are Bluetooth enabled and don't require an external amplifier. There's no point recommending an alternative if it doesn't do something different, and the KIN Play speakers are about as different from the MartinLogans as you can get.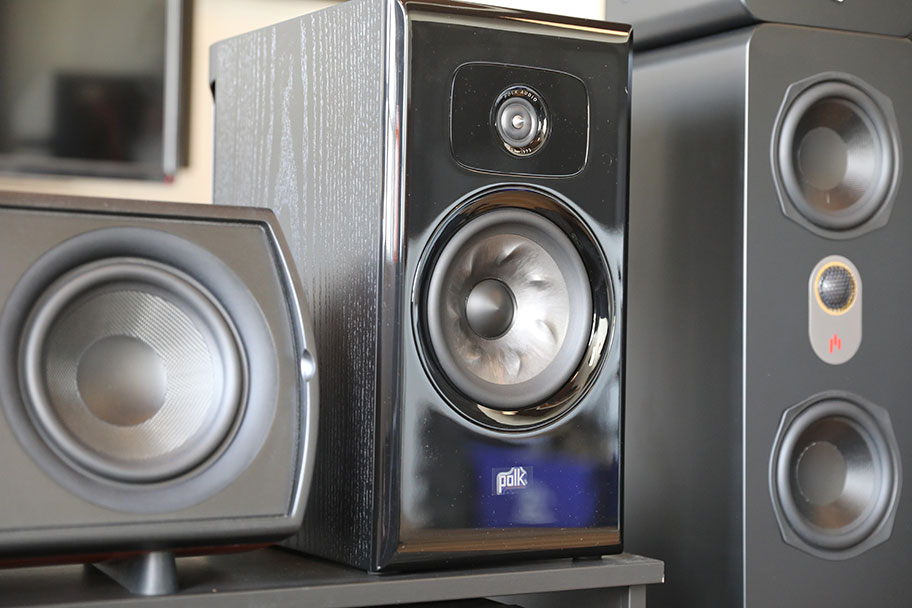 That probably goes double for the Polk Legend L200s; good heavens, we love these speakers. They have been a fixture in our testing room for months now and, although we frequently have to take them down to test other models, we keep coming back to them. The bass is just tremendous, with stunning detail and power. Yes, they are significantly more expensive than the MartinLogans ($1,799 versus $1,400) but if you can afford them, they're easily the better choice. We love ours, and when Polk eventually ask for them back - as is common with all review products we get – we'll be sad to see them go.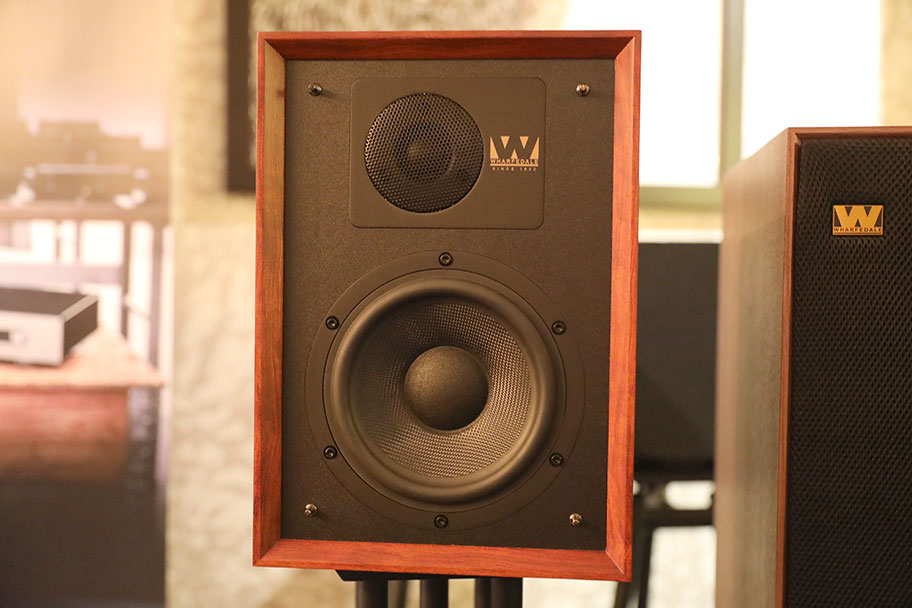 You may also want to look at the Wharfedale Denton 85. These are an especially good option if you have a bit of money to spend, but can't quite stretch to the Motion 35XTi speakers. The Dentons have an old school design that may turn some people off - they're part of Wharfedale's 85th anniversary celebration - but there's no denying that they sound great, with a bright and exciting sound quality. The Logans are better, no question, but the Denton 85s still impressed us. We believe they're a worthy competitor.
We've already mentioned that MartinLogan have a full range of these speakers. If you want to experience this range, but don't want to spend quite the same amount of money as you would for the speakers under review here, then you might want to check out the $850 MartinLogan Motion 15i. The design and finish are identical and, although the sound doesn't quite have the sweeping dynamism of their bigger cousin, the 15i speakers show off what's so great about the range - and at a price that won't break the bank. We much prefer the larger speakers, but these are a great option too.
See the MartinLogan Motion 35XTi See the Best Bookshelf Speakers
Learn More About Hi-Fi Audio