Vinyl records are just cool. They deliver music with an elusive and even romantic warmth that audiophiles continue to love. You may be an owner of a huge vintage record collection, pumped through an all-analog tube hi-fi home system, or you may just choose to enjoy one of those portable briefcase battery-powered record players in the park. Listening to music like this is quite addictive: the handling of the physical product, marvelling at the artwork and admit it, checking out song lyrics and credits in a way you never do even with CDs, and definitely not with streaming. It's a unique experience - and you'll need a turntable to get the best of it. Like these.
 
How We Choose:
Our picks cater for pretty much any scenario. You might recognize some of the brands, but there are also a few small, boutique-type marques that have managed to come up with impressive looks, spec and performance and they most certainly will be as deserving of your attention as the established names.
Virtually all turntables can be integrated within an existing hi-fi system and many can also be used as stand alone music systems, sporting built-in speakers, auxiliary input for external players and even bluetooth streaming. At the time of our latest update, all prices were correct - and if you disagree with us, or think we've missed a pick, feel free to fight us (nicely) in the comments! And before you do, please know that we're aware that turntables can become massively expensive and specialised. We're after gear for normal people here - although we do have at least one extravagant pick at the very end of our list. Just for fun.
 
Our Turntable Picks: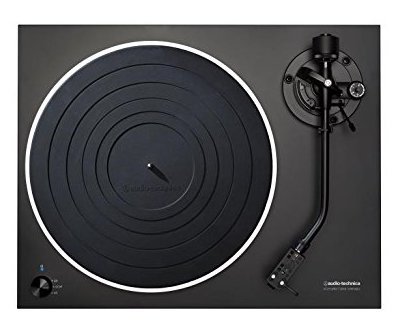 Type: Direct Drive
USB Out: Yes
Speeds: 33⅓, 45 RPM
Includes Cartridge: Yes
What We Like: Solid and reliable, good value for money, excellent sound.
What We Don't: Likely to be replaced soon.
Audio-Technica know what they're about when it comes to vinyl, and the AT-LP5 is arguably their top model (although far from the last one the company has on this list). It's a direct drive, two speed model with rock solid operation and long-term reliability, best for anyone who listens to lots and lots of vinyl on a very regular basis. Before we go on, a quick note: Audio-Technica debuted the AT-LP7 at CES 2018, with improvements on the LP5, and at around $300 more. We'll update as soon as it drops, but it's not available quite yet.
But back on the LP5: if you're wondering why a relatively mid-priced pick rests above more expensive examples, the AT-LP5 is at number one simply because it offers pretty much everything the Clearaudio Concept (at number two) does, but at a better price. It's incredibly well-designed, with a construction that feels like you could use it as a blunt weapon, and a rock solid stability. It comes with the excellent AT95EX cartridge pre-installed, And the signature tonearm, which is shaped like a backwards J, is designed to minimise playback errors. Its phono stage, unusually, can be bypassed, meaning it's quite easy to upgrade your system, too. The sound itself, while nowhere near the Rega or the Clearaudio models below, is very good indeed. you might think that would disqualify it from the top spot, or at the very least knock it down the list, but for most people, this is the ideal turntable.
See the Audio-Technica AT-LP5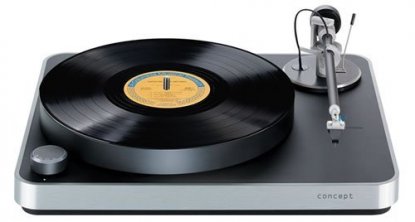 Type: Belt Drive
USB Out: No
Speeds: 33⅓, 45, 78 RPM
Includes Cartridge: Yes
What We Like: Superlative looks and sound, plug and play design.
What We Don't: Quite pricey.
It's not just that the Clearaudio Concept sounds good. Of course it does – that's part of the reason you're paying over $1500. It gets the top spot because it offers an absolutely superb experience, including hassle-free plug-and-play design that means you can slot it into just about any existing system.
The tonearm has a magnetic bearing, and the base is aluminum with a wood core that guarantees minimal vibrations. It's incredibly easy to set up - as we mentioned, this is highly unusual for a turntable in its price range, which most often caters to professionals. The sound is splendid, with rich but not overpowering bass and a level of weight and detail that all but screams for you to dig out the gems from your vinyl collection and get playing. While it may be a little bit expensive for most people, which means that it's probably not going to be top of our list, there's no question that it's among the best out there. We do prefer the AT-LP5, which offers better value, we think, but there's nothing wrong with this one. Essentially: this is one of the finest turntables available today, and if you have the money, you should definitely get it.
See the Clearaudio Concept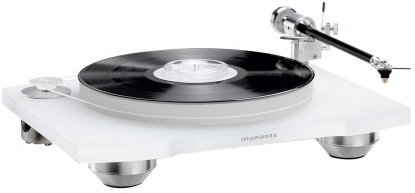 Type: Belt Drive
USB Out: No
Speeds: 33⅓, 45, RPM
Includes Cartridge: Yes
What We Like: High-resolution sound from a solid manufacturer.
What We Don't: Not enough bang for the buck.
At TMS, one of the biggest quandaries we face is where to rank expensive models. Price is - usually - a guarantee of quality, but not always, and sometimes an excellent model still costs too much. That's the case here. The Marantz TT-15S1 is a terrific turntable, but at just under $1,500, we don't feel it does enough to push it over the Clearaudio or the AT-LP5.
Our criticism shouldn't be taken as an indictment of the turntable, though. Marantz's tech specs here are clearly aimed at the audiophile market range. The somewhat fiddly motor switch probably doesn't do quite enough to justify its price tag but we like the clean minimalistic design. It's a fantastic player to showcase the very best of your vinyl collection and the included MM cartridge and stable base make listening a real pleasure. If you see the price get cut to anywhere around the $1,000 range, jump on this one - or hope that Marantz come out with a cheaper version soon!
See the Marantz TT-15S1
Type: Belt Drive
USB Out: No
Speeds: 33⅓, 45 RPM
Includes Cartridge: Optional
What We Like: Boutique design, excellent sound.
What We Don't: Lack of a mat may be a turnoff, and it can be hard to find.
Edwards Audio is not actually a company. It's a line of equipment from a UK manufacturer, Talk Audio. No, we have absolutely no idea why the names are like that, and no, we're not going to call it the Talk Audio Edwards Audio Apprentice TT1 Mk2. That would just be silly. What we can tell you is that while this turntable can be a little hard to find outside the UK, it's absolutely worth your while to do so. The company actually has newer systems, the TT2 and TT3, but for our money this is the one to go for, as it presents the best value for money.
It immediately distinguishes itself by shipping without a mat, and as coders say, it's a feature, not a bug. The company claims it sounds better without a mat getting in the way of things. It certainly sounds superb, with rigorous, detailed audio that can easily match the AT-LP5 and others on this list, and as an added bonus, it looks absolutely tremendous. Again, you're probably going to struggle to track this one down in the US, making it one for enthusiasts only, but if you persevere, you'll get a truly magnificent audio experience.
See the Edwards Audio Apprentice TT1 Mk2
Type: Belt Drive
USB Out: No
Speeds: 33⅓, 45, 78 RPM
Includes Cartridge: No
What We Like: Futuristic construction.
What We Don't: Very little for this price.
It's not just the superlative looks that make the Rega RP3 attractive. It has some of the most futuristic construction available today, including a base with ultra low mass and a double brace on the tonearm, both of which help with reducing vibration. If this may seem like a bit of a geeky thing to comment on, turntable tonearms have a tremendous effect on any turntable's audio quality and we have an explainer on that in our Buyer's Advice section - check it below our picks.
So yes, despite the fact that RP3 is reasonably old (released in 2011), its construction has stood the test of time, and this definitely counts. For our money, it's still the best system Rega has made yet and it can easily compete with the likes of more expensive units such as the Marantz TT-15S1. The sound is phenomenal, even for this price, particularly in the bass, where it really shines. It's worth noting that the support system isn't quite as sturdy as others – while it's far from unstable, its three rubber feet require a pretty solid surface, and you'll get best results if you place this a long way from the speakers. If you do, you'll be rewarded with balanced, authentic audio that gives you fantastic value for money. Rega has been making a name for itself for a long, long time, and they deserve this spot on the list with the RP3.
See the Rega RP3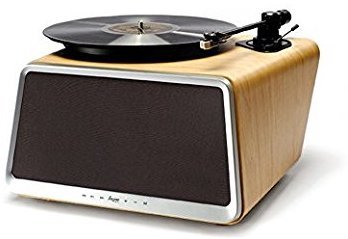 Type: Belt Drive
USB Out: No
Speeds: 33⅓, 45 RPM
Includes Cartridge: Yes
What We Like: Great looks, great specs.
What We Don't: In spite of all the digital features, there's no USB port for digitizing.
The HYM Seed is the contemporary equivalent to those 1980's heyday all-in-one home music systems. It's a well-designed belt-driven turntable with a double pole patented straight arm adorned with a Japanese-made Audio-Technica MM cartridge. What's below that has really tickled our interest - many turntables on this list happen to have built-in speakers, but the HYM features an 80 watt amplifier powering two 4" drivers and two 1" tweeters, which is more robust than you'd expect. Connectivity is impressive - the HYM Seed features an Aux In, Wi-Fi (via a LAN port), USB storage playback, Bluetooth and even Apple Airplay (again via the WiFi), although there's no USB port.
The design team have managed to house all of the above tech in a very attractive looking cabinet and special kudos are reserved for the funky dust cover - it could easily be mistaken for one of Jean-Paul Gaultier's set designs for the The Fifth Element. Having a powerful speaker system directly beneath the platter means that vibrations are inevitable, which would naturally affect the stylus' ability to track the record without skipping. Not here though - the HYM team apparently spent two years on the design of the patented Tri-Point suspension alone, and the Seed is skip-free even at high volumes. Considering that you can also play virtually any other source - wired or wireless, through the system makes the HYM Seed into a special and quite unique product.
See the HYM Seed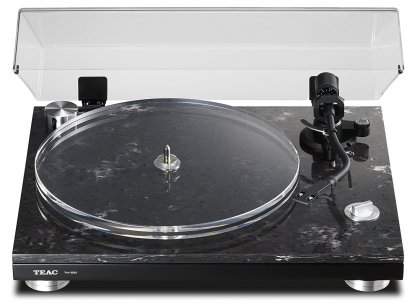 Type: Belt Drive
USB Out: No
Speeds: 33⅓, 45 RPM
Includes Cartridge: Yes
What We Like: Good sound, features and performance.
What We Don't: The marble may not be to everyone's taste.
This Teac TN-550B is one of the company's mid-priced units - there are quite a few TN turntables out there, and they are all really quite good. What we have here is a classic design, featuring a large torque belt drive motor, and Teac are quite proud about its extra-quiet operation. The static-balanced S-shaped tonearm does look a bit like a weapon, giving a real piece of mind with its built quality and the inclusion of an Audio-Technica MM cartridge (we explain what MM stands for in our Buyer's Guide below).
The artificial marble covering the TN-550B may not suit everyone - to us it has a hint of Tony Montana's front room about it. There's also no built-in phono preamp (line output) here, nor USB port, as this really is meant to be used as in the good old days. However, it ticks all the important boxes - capable motor, automatic rotation adjustment mechanism, anti-skating system and complete user adjustment over feet height and tonebar position. This lends itself nicely to further upgrades, and it's a real formidable choice - just run it into a nice all-tube setup, sit back and pour a nice vintage. Although maybe lay off the cocaine.
See the Teac TN-550B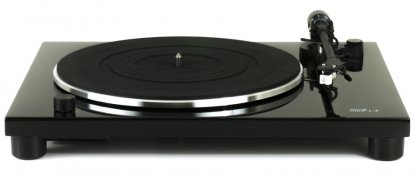 Type: Belt Drive
USB Out: No
Speeds: 33⅓, 45, 78 RPM
Includes Cartridge: Yes
What We Like: Amazing value, excellent Audio-Technica cartridge included.
What We Don't: A little middle-of-the-road.
This player isn't going to compete with the Clearaudios of the world, or even the Edwards Audio Apprentice. It's definitely not high end gear, as much as Music Hall would like us to believe it is. What it actually is is a very good, reliable, decent-sounding turntable that packs in solid sound as well as a ton of value.
We really like the included Audio Technica AT3600L cartridge – a $50 model that performs well, and ensures you don't have to buy any extra equipment for the table itself. It also comes with a built-in phono preamp, making it a complete solution. While the sound isn't going to be as dramatic or exciting as more expensive models, it's the perfect turntable for someone who wants something a little bit more classy for this setup, but who isn't willing to plunk down huge amounts of cash. Those are good things, in our books, and we think this turntable is definitely worth your time.
See the Music Hall MMF 1.3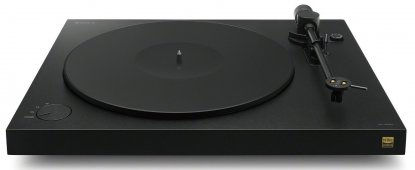 Type: Belt Drive
USB Out: Yes
Speeds: 33⅓, 45 RPM
Includes Cartridge: No
What We Like: A/D conversion, great price.
What We Don't: Doesn't quite touch the above models - and more color options would be nice!
Welcome to a complete system: a turntable that packs in just about everything you could possibly want, including a wealth of connections, and a built-in phono-to-line stage. This means you can easily hook it up to your laptop or PC with USB, and create digital versions of your favourite vinyl cuts. For anybody who wants to create a vinyl based system without any sort of hassle, this is absolutely the turntable you need to go for. It's also incredibly easy to set up, which is a big plus, and dovetails with its easy-to-use aesthetic.
The A/D Converter is worth talking about, in that it delivers one of the cleanest, freshest audio experiences we've ever had when digitizing audio with a turntable. It's very easy to set up with a PC or Mac, and Sony supply all the software so you can edit the digital audio transfers. The sound that comes out of this thing is crystal clear, and as long as it's on a stable surface, it will perform absolutely brilliantly. We think the PSHX500's construction is super stable and it comes very close to, say, Audio Technica's AT-LP5 at number one - for the price, it's simply terrific. Perhaps the only downside is that, like the apocryphal story about Ford Model Ts, it only comes in black.
See the Sony PSHX500
 
Type: Direct Drive
USB Out: Yes
Speeds: 33⅓, 45 RPM
Includes Cartridge: Yes
What We Like: Classic design, features and performance.
What We Don't: Sound could be better.
Most people drop Audio-Technica's name when on the subject of headphones or microphones, and these have indeed been firm favorites of pro DJs and musicians for a long time. Around the turn of the century though, the brand got a steady foot in the vinyl record player market through their replacement record needles, which offered superb audio performance for what was a fraction of the price of established stylus market leaders such as Stanton and Ortofon.
No surprise then that this AT-LP120, the second Audio-Technica model on this list, is beautifully conceived, and represents great value for money. You get the classic Technics 1210 design (which still remains the benchmark for performance), and the AT-LP120 is a winner, with included Line Out and USB options (hence the name) and steady skip-free groove tracking. The sound could be a little better - it's not that it's bad, just a little bland, without the space and depth that we'd expect from models in this price range. It's worth noting that as always, turntable sonics can be upgraded anyway - check our explainer on cartridges in the Buyer's Advice section below. That being said, we don't think you can go wrong with this one, especially if you're just starting out or want to go for an established brand that isn't going to let you down. It's not quite as good as other models mentioned above - the PSH X500, for one, offers better sound - but we still like it.
See the Audio-Technica AT-LP120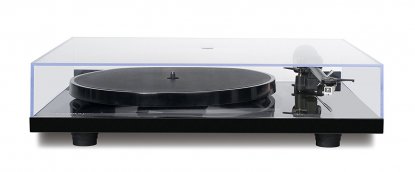 Type: Belt Drive
USB Out: Yes
Speeds: 33⅓, 45 RPM
Includes Cartridge: Yes 
What We Like: SONOS integration with Rega's skills (see below).
What We Don't: Probably not for everyone.
Now this is an interesting one. FLEXSON make accessories for the SONOS speaker line (we reviewed their Play:3 and Play:5 speakers a year or two ago). By accessories, we mean speaker stands and the like – and now, suddenly they make turntables. The company commissioned turntable maker Rega to build them a plug-and-play model that could integrate seamlessly into the otherwise closed SONOS ecosystem. If you're a SONOS user – and you really should consider becoming one, because they rock – then this will be music to your ears, pun fully intended.
The VinylPlay is a phono-stage-equipped unit that ships with a Rega MM cartridge. It's incredibly easy to set up and use, and while the sound won't match the models above it on this list, it should be more than enough for anybody with this type of system. Be warned that in order to change the speed, you actually need to change the platter itself, which can be a bit of a pain. And by the way, it works with other streaming systems – you don't have to own a SONOS speaker to get the most out of it. This can also be used in a regular hifi setup, or you could run its line output into a pair of active speakers - it's a worthy inclusion on this list.
See the FLEXSON VinylPlay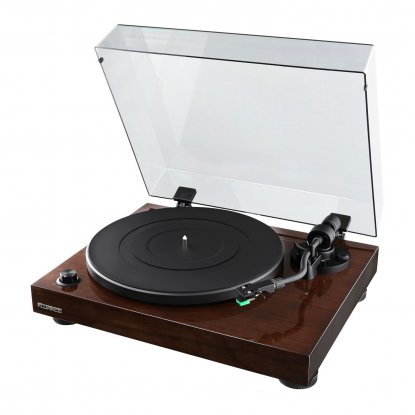 Type: Belt Drive
USB Out: No
Speeds: 33⅓, 45 RPM
Includes Cartridge: Yes 
What We Like: Audiophile attention to details, looks and performance.
What We Don't: Speed issues with the current model have been flagged.
This Fluance model is seriously grown up, and belongs firmly at home, sitting next to a Class-A audiophile system pumped through a monster pair of speakers. From the walnut-tinted MDF wood to the choice of the Audio-Technica diamond-tipped stylus, every little detail here promises and delivers superb audio quality. The Texas Instruments phono preamp also allows for switching the output to a Line Level which makes this even more versatile - and you can turn it off if you have your own. Audio quality is great, particularly in the mids, where it seems like it delivers sound that punches above its weight.
We have to admit that there are few better-looking models on this list, although unless Fluance can fix the speed issues its users have reported, it probably isn't going to climb higher anytime soon regardless of looks. It's a solid alternative to the models above it, despite its lack of a USB port.
See the Fluance RT81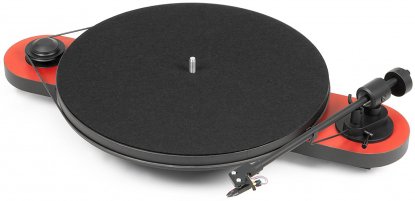 Type: Belt Drive
USB Out: No
Speeds: 33⅓, 45 RPM
Includes Cartridge: No 
What We Like: Iconic design, killer sound for the price.
What We Don't: Stability can be an issue.
Some turntables are classy, finished in wood. Others prefer a sleek, utilitarian edge. And then there's the Pro-Ject Elemental, which is completely bonkers. It's as if they squashed the base, turning it into a single long strut underneath an oversized platter. But the stuck-in-a-black-hole looks have become iconic since this was released, and it's among one of the most eye-catching designs around. Please don't mistake it's low position on this list as a black mark; while it doesn't have the elite quality of other models, it still offers wonderful sound for the amount you pay, and its plug and play design works extremely well.
Of course, the unusual shape and the lack of stabilisers means that record skips can be an issue. This needs to be carefully placed, well away from any external vibration sources, to get the most out of it. It's a minor problem, and if you did vinyl and wanted a truly splendid turntable in your living room, then we'd absolutely recommend this one. We don't think it's going to be bettered, designwise, for a very long time. And on a related note: Pro-Ject recently released a new model, the Primary, based on this model but with a conventional design. We don't think it's enough of an upgrade to warrant switching over - and it doesn't look nearly as cool - but if you want the latest one, check that out.
See the Pro-Ject Elemental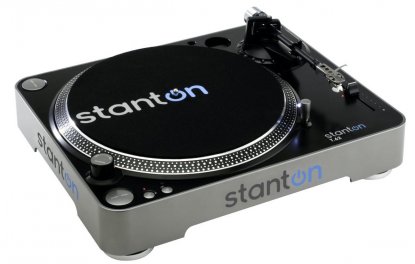 Type: Direct Drive
USB Out: No
Speeds: 33⅓, 45 RPM
Includes Cartridge: No 
What We Like: Good set of features and performance.
What We Don't: No automatic arm.
The phrase 'Stanton Five Hundred', for many vinyl lovers, goes hand in hand with 'Technics 1210'. If the latter refers to the famed tank of a turntable, the former is the name of a classic cartridge, which has become a bit of an urban legend. Famously tipped with a white stylus and blue spot, it's a signature product (now at V3) which has paved the way for Stanton's reputation.
Vinyl junkies and DJs just know that Stanton quality, and the T62 not only sports the aforementioned cartridge but also immediately hints that it is ready for serious action with its straight arm and dual start/stop buttons. If you mix at parties, or are more into the high-performance DJ-ing thing, you will appreciate such features. If playing records at home it'd just mean that you get a skip-free playback and more versatile access to the deck controls. No matter where, this Stan was born to perform and it is quite comparable to the AT-LP120-USB, though it is without a USB port. The sound is solid, if perhaps a tiny bit lacking in detail compared to some other models. There's no automatic arm - understandable, given its DJ rep - but even if you don't mix tunes, you'll have a lot of fun with this one.
See the Stanton T62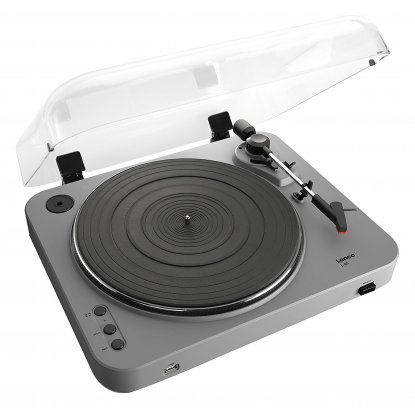 Type: Belt Drive
USB Out: Yes
Speeds: 33⅓, 45 RPM
Includes Cartridge: Yes
What We Like: Dead simple, great USB functionality.
What We Don't: Not for experienced users.
With its ability to encode music directly to a USB stick as MP3 files, the Lenco L-85 services a particular niche in this category. But even if that's not what you're going for, you can use the USB port to connect to an existing system, and it will respond by delivering some good sound. At this price range, you shouldn't expect it to compete with other, pricier models on this list, such as the Flexson VinylPlay, but for the money you're paying, you'll still get quality, and it is ideal if you're just starting out or have a slightly smaller speaker system.
While initially we weren't big fans of the slightly plasticky build and Fisher-Price-like design, it won us over, even if one of the color options is an eyeball-searing neon green. And rarely has a turntable been this easy-to-use. Even the cartridge is equipped with a magnet – and you can forget about setting counterweights, or balancing the tonearm. Although experienced users will quickly move on to bigger things, it's a great system for a beginner vinyl listener who wants a good, versatile turntable. If it turns out that you do need something a little bit more hard-core… Well, what are you doing this far down the list? Scroll up! You'll find plenty of models up there that will suit your needs.
See the Lenco L-85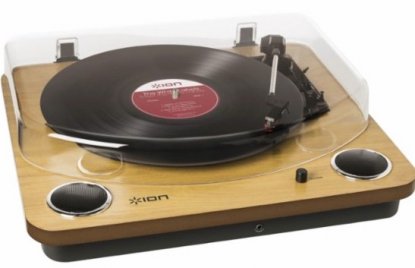 Type: Belt Drive
USB Out: Yes
Speeds: 33⅓, 45, 78 RPM
Includes Cartridge: Yes
What We Like: The natural wood top, included headphone out, USB.
What We Don't: Basic cartridge.
ION Audio is owned by InMusic, the parent company to some premier turntable marques: Alesis, Alto Professional, M-Audio, MixMeister, Numark, and Sonivox. Impressive considering that this is a sub $100 turntable. The Max LP is a belt-driven affair that comes with an ION cartridge (cheap but serviceable), a stylish hinged lid, an auxiliary mini-jack input for your external line source device (a smartphone, tablet or a DAP), built in speakers and a USB port. Of course the latter is reserved for connecting the Max LP to a computer and ION also include a simple but effective audio editing program called EZ Vinyl (for Windows and Mac) which allows basic digital audio editing functions such as trimming beginnings and endings, boosting level, cleaning up low end rumble and top end hiss and so on.
We mentioned the 1/8" input but what's really cool is the inclusion of a headphone output! Nowhere near a given on most turntables, even pricier ones. And in terms of vinyl playback audio quality, the supplied cartridge does a respectable job despite being an entry-level model. We would recommend a nice upgrade - opting for a Stanton or Ortofon cart upgrade would really spice things up. Being able to handle 33⅓, 45, 78 RPM speeds (with a 45 adapter included), this turntable is great for dusting off an old collection, and represents really good value for money.
See the ION Audio Max LP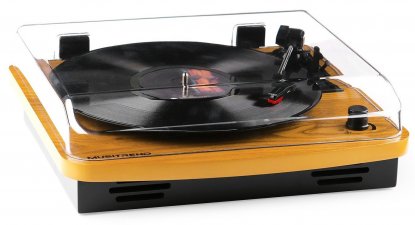 Type: Belt Drive
USB Out: Yes
Speeds: 33⅓, 45, 78 RPM
Includes Cartridge: Yes
What We Like: Packed with features.
What We Don't: Nothing not to like for this price.
Musitrend have been around for a decade now, and like many newer brands, they've done a lot to try to attract attention and wider customer base. The good news is that with this T1107PC turntable, they've tried to do that not with gimmicky looks, but by providing great specs for the price. You also get good looks, with a nice natural wood top that manages to look both vintage and contemporary.
In terms of functionality, the belt-driven motor handles playback in all three speeds: 33 1/3, 45, 78 RPM and the unit even comes with a 45 RPM adaptor included. You can take the Line Out to any speaker system old or new, and can also digitise your grooves through the USB port. You also get an auto-stop system, and 3.5mm aux-in at the back, wait what for? The Musitrend also has built in speakers too, so not only can you enjoy your vinyl on candle light, but you can also mix it up with music from your MP3 player. Essentially, while this doesn't have the quality of other models like the Lenco L-85, it's the perfect option for a single-box system that gives you everything you need.
See the MUSITREND-T1107PC

And For When You Win The Lottery: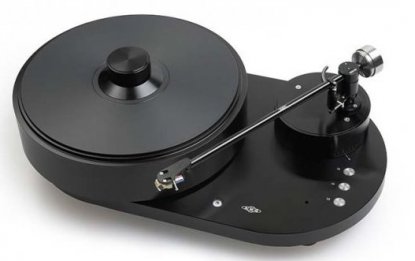 Type: Belt Drive
USB Out: No
Speeds: 33⅓, 45, 78 RPM
Includes Cartridge: No
What We Like: Unbelievable sound.
What We Don't: Nothing. It's the best out there.
Meet total turntable perfection. This enormously heavy, very cool piece of equipment will set you back $17,000, and is guaranteed to produce the kind of sound that makes your brain melt. Its hardwood trim and aluminum platter both work well and look beautiful – actually, 'well' is a relative concept here, as this is about the finest vinyl player on the planet. Yes, you can get more expensive models, but they look like science experiments. We much prefer this one.
We've profiled it once or twice on this site before, and we're always left a little staggered at just how it takes the basic function of playing vinyl, and puts it closed to art. By the way, if you do have cash to spend, this is far from the most expensive turntable available - there's plenty to love in this range, including models from Basis Audio, Transrotor and Clearaudio. Although for our money, the Clearaudio Concept, at No. 2 on this list, is probably more than enough for most people.
See the AMG Viella V12
 
Comparison Table:
| Turntable | Price | Type | USB | Speed (RPM) | Cartridge | Phono* | Weight |
| --- | --- | --- | --- | --- | --- | --- | --- |
| Audio-Technica AT-LP5 | $449 | Direct Drive | Yes | 33⅓, 45 | Yes | Yes | 23.1lbs |
| Clearaudio Concept | $1,599 | Belt Drive | No | 33⅓, 45, 78 | Yes | No | 16.5lbs |
| Marantz TT-15S1 | $1,499 | Belt Drive | No | 33⅓, 45 | Yes | No | 19.6lbs |
| Edwards Audio TT1 Mk2 | $595 | Belt Drive | No | 33⅓, 45 | Optional | No | 15lbs |
| Rega RP3 | $800 | Belt Drive | No | 33⅓, 45, 78 | No | No | 13.2lbs |
| HYM Seed | $769 | Belt Drive | No | 33⅓, 45 | No | No | 8.8lbs |
| Teac TN-550B | $594 | Belt Drive | No | 33⅓, 45 | Yes | No | 19.9lbs |
| Music Hall MMF 1.3 | $299 | Belt Drive | No | 33⅓, 45, 78 | Yes | Yes | 11lbs |
| Sony PSHX500 | $498 | Belt Drive | Yes | 33⅓, 45 | No | No | 8.8lbs |
| Audio-Technica AT-LP120 | $299 | Direct Drive | Yes | 33⅓, 45 | Yes | Yes | 23.5lbs |
| FLEXSON VinylPlay | $487 | Belt Drive | Yes | 33⅓, 45 | Yes | Yes | 10.5lbs |
| Fluance RT81 | $249 | Belt Drive | No | 33⅓, 45 | Yes | Yes | 24lbs |
| Pro-Ject Elemental | $229 | Belt Drive | No | 33⅓, 45 | No | No | 6lbs |
| Stanton T62 | $247 | Direct Drive | No | 33⅓, 45 | No | No | 16.5lbs |
| Lenco L-85 | $150 | Belt Drive | Yes | 33⅓, 45 | Yes | No | 5.5lbs |
| ION Audio Max LP | $76 | Belt Drive | Yes | 33⅓, 45, 78 | Yes | No | 7.7lbs |
| MUSITREND-T1107PC | $80 | Belt Drive | No | 33⅓, 45, 78 | No | No | 6.6lbs |
| AMG Viella V12 | $17K | Belt Drive | No | 33⅓, 45, 78 | No | No | 56.4lbs |
*Phono Preamp Stage included
Want Even More Master Switch? Sign Up For Our Weekly Newsletter!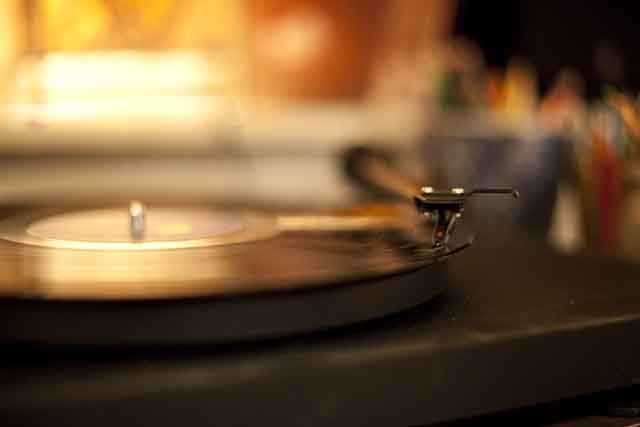 Buying Advice:
When To Buy A Turntable
We get it. Streaming is a much, much easier way to listen to music than any current physical media. Just turn on your phone or tablet, hook up your speakers or headphones, and fire away. But as much as we love high resolution Spotify, it's never going to be quite as good as vinyl. Whatever digital pundits may say.
That being said: there is no denying the playing physical media like vinyl records can be difficult, and is in for a lot of people. But if you really adore music, then you owe it to yourself to try out. It may be a slightly bulky and often times expensive habit, but it's also an amazingly rewarding one. Not just because of the sound quality that a good vinyl pressing gives, but also because there's something really cool about collecting physical records, or digging through the racks and a store in a new city, hunting for bargains. There's a reason people devote their lives to this particular hobby, and even if you don't want to go down the collector path, you'll be surprised at just how much fun it can be to dive into vinyl. And there are loads of other equipment options to explore, including a matching phono preamp for your turntable, to really bring out the best in your sound.
So to answer the question: you should think about buying a turntable when you're getting serious about your music, and when you want to try and maximise your enjoyment of it. However, you might also reasonably ask about the differences between digital and analogue sound. Is there really that much of a gap?
The age-old debate about which one of the two sounds better has no simple answer. Sound waves in nature are analog by definition, and vinyl records have grooves carved into the surface that mirror the original sound's waveform and theoretically no information is lost - waveforms from a vinyl recording can be much more accurately than digital audio, and that can easily be heard in the richness of the sound.
The well known downside is that the grooves pick up specks of dust and can be easily scratched or damaged, resulting in noise, crackle, rumble or static. During quiet sections this noise may be heard over the music.
Digital recordings' huge advantage is that they don't degrade over time, and if they contain silence, it's totally noise-free. Of course, they can also sound clinical and cold. Digital audio takes snapshots of the analog signal, and by definition, is far from capturing the complete sound wave.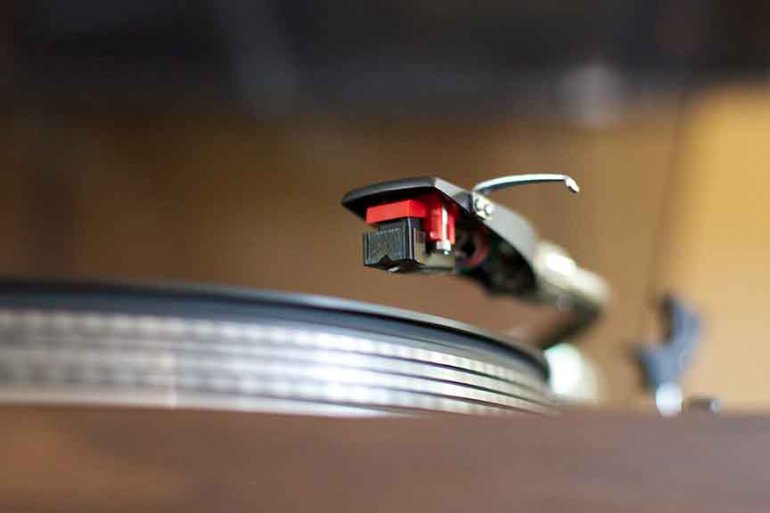 Turntable Types: Direct Drive vs. Belt Drive
Depending on how they use turntable internal motor to spin the platter at a constant speed, they can be classified into two main types.  
In a direct drive model, the rotating platter is attached to and spins directly via the electric motor, resulting in a constant and accurate rotation speed, faster playback startup and stronger torque. Higher torque means the platter is less vulnerable to outside vibrations such as the stylus or your hand for instance. Which reminds us of that famed special effect… Yes, scratching - the backward-forward movement used by DJ's to create rhythmic sound blasts is so easy to do on direct drives. Check out the Invisbl Skratch Piklz if you want to see this done in a truly mind-blowing fashion...
If there are cons with direct drive types, they would relate to possible unwanted vibrations caused by the motor itself, which can affect sound quality. The issue can be addressed with the use of shock absorbers between the platter and the motor.
Belt drive models, on the other hand, spin the platter using an elastic belt that's attached to the motor. The platter sits on a circular bearing which is separate from the motor. The belt (sort of) resembles a bicycle chain, if you can imagine the bike pedals as the motor and the back wheel as the platter. This system actually absorbs shock and prevents vibrations that are generated by the motor from reaching the platter and being transmitted to the tonearm. That is why audiophiles might prefer belt drives - less noise and less interference often means cleaner sound.
Be aware, though - belt drives have much lower torque and can have less accurate playback speed. Plus, the belt can wear down after a few years, and need to be replaced. The good news is that like with pretty much everything these days, spares are easily available online.
Turntable Setup Explained
Let's assume, for argument's sake, that you've fully assembled your turntable, in the sense of slotting the platter into place and making sure that any accessories have been connected, with the exception of wires, which we'll go into below. We are not going to go into cartridge installation here, as that's an entirely different kettle of fish - and has it's own section below. We'll also talk about wiring in another section. For now? You just need to do the following things.
1. Listening surface
First thing to understand about setting up a turntable: it's not about the turntable.
If you think this is just a load of Zen nonsense, think again. Turntables won't work if they are unstable or even fractionally angled, so where you put them is crucial. The surface needs to be as flat and solid as possible – a dedicated stand is ideal, like this Crosley ST75-BK, but if you don't want to spring for that, a solid coffee table will work just fine. Once you've got that, check to see if your turntable has adjustable feet. If it does, then use a spirit level to make sure that the surface of the platter is dead-on flat.
2. Tonearm adjustment
Tonearms are actually incredibly important for audio detail. We did promise that we'd discuss only ordinary vinyl setups in this article, but just so you get a sense why tonearms have 'tone' in their name, vinyl enthusiasts can go to extreme lengths in obtaining the very best sonic detail.
Back to Earth now: let's take a look at your tonearm. As long as you don't have one of those most basic turntables, chances are you'll be able to make some adjustments to its tonearm. This is absolutely crucial to getting the best sound from your vinyl, so it's worth taking a little bit of time on it.
The first thing you want to do is see if your turntable has an anti-skating knob. We'll talk about anti-skating below, but if it does have this knob, set it to zero.
Now: time to adjust the counterweight, which will help the arm balance itself effectively, and sit well in the groove of the record. This is known as the Tracking Weight, and (usually), it's adjusted by turning the big, circular weight on the back of the tonearm itself. As a general rule, you want it set so that when the tonearm floats freely, it more or less balances, and rides flat. Pop it out of its stand, and adjust the weight until you get this.
OK - see the little gauge at the front of the weight? Adjust it until it's zeroed - what is known as zero weight. Now you need to turn the big weight again, and this is where you need to pull out the manual that came with your cartridge – or your turntable if the cartridge came pre-supplied. The manufacturer will have listed a number in grams. Don't stress if it gives a range – just set it so that the weight is roughly in the middle of that range.
Congratulations. You have your tracking weight. Have a drink.
3. Anti-Skating / Bias
Well, maybe not yet. We've still got a few more things to do. One of those is to set the anti-skate knob. This will stop the stylus from being pulled into the centre of the record as it spins. Super important: it's sometimes referred to as bias
Find the knob, then turn it to match the tracking weight. Maybe a quarter-gram less, which is what most experts recommend.
4. Downforce
Not all turntables have this. It's helps keep an even pressure in the groove. If your turntable has it (some Rega models do) then all you need to do is check the manual. The manufacturer should recommend a specific setting.
5. Azimuth
This refers to how perpendicular the stylus is to the actual record​ – obviously, the more, the better. If the azimuth is slightly off, it can mess with the soundstage.
Now we'll be honest: correcting the azimuth is a pain in the neck. It not only requires a level of technical knowledge that can sometimes be a little daunting, but to get exactly right, you need a mono test record as well as an expensive range meter like the Fozgometer, which can hit $300. Based on that, we've decided not to go into it here; for most people, simply getting the above steps right will result in excellent sound, and although adjusting the azimuth will have an impact, it requires an investment of time that we don't think is 100% necessary (audiophiles, please leave curse words out of your comments below, thank you).
If you do want to check out how to do it, there's an excellent guide right here.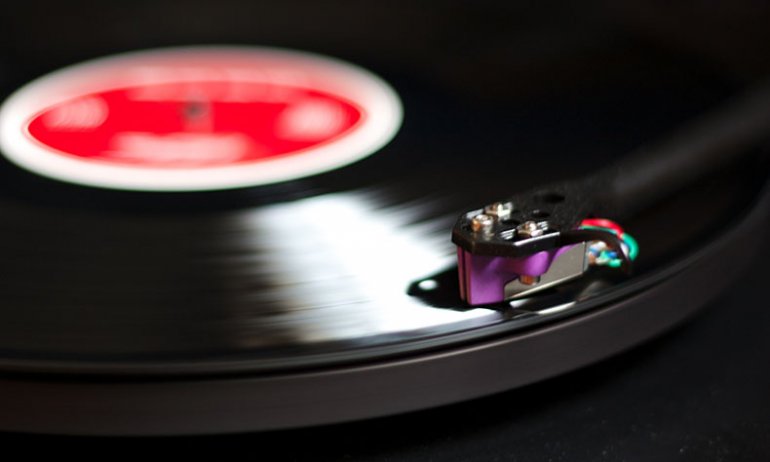 MM Cartridges vs. MC Cartridges
The cartridge is the little piece of plastic-encased electronics at the front of the tonearm. It helps the stylus - the needle - convert the mini-vibrations from tracking the vinyl grooves into sound. The cartridge itself is installed in a headshell - think a tiny, plastic mounting bracket. When we say cartridge, though, we mean the whole package, including the stylus.
Budget cartridges can often be characterised by their somewhat thin and weedy sound, while expensive ones (some of which fetch four-figure prices) can often challenge and even outperform CD audio quality. They are an enigmatic and often difficult type of audio kit.
Similar to headphones and microphones, different makes can have a more gutsy and fuller-sounding audio playback, while better-quality replacements also guarantee a better groove tracking and skip-free performance. This means that vinyl lovers are in luck, since headshells, cartridges and styli are all parts which can be changed, replaced or upgraded.
For the real vinyl enthusiasts, this is a good place to say that there are two main types of vinyl cartridges - MM and MC. Most often than not you will see turntable specs including an MM cartridge, which stands for Moving Magnet. The other type of cartridge you will see is MC, which stands for Moving Coil and both of these names are a reference to the components within the cartridge helping convert the stylus movements into electromagnetic signals.
To simplify things, it is easy to think of MM (Moving Magnet) cartrdiges as the 'regular' type as they are supplied with the majority of commercial production turntables. They are heavier and with a higher output, feature replaceable needles and are well matched with the phono preamps found in hi-fi equipment such as regular A/V receivers.
MC (Moving Coil) cartridges, on the other hand, are generally referred to as the more boutique type, favored by vinyl purists. They predate MM carts historically and are physically lighter, meaning that they can track the record grooves with a much higher precision - their biggest advantage really, resulting in super-accurate frequency representation.
Being lighter also means that they tend to skip easier than MMs, though the main difficulty with MC carts is their extremely low output, which necessitates the use of 'proper' phono preamps especially equipped for receiving and amplifying MC cartridge signals. This combo (MC cartridge and a dedicated phono stage) is arguably the first serious step towards an audiophile-grade vinyl setup.
Since this is firmly into geek territory, we might as well mention the MI cartridge - moving iron, which is a variation of the moving magnet type at present - and one more, HOMC, which stands for high output moving coil. But the big ones for you to remember are MM and MC.
Regardless of its type, installing a cartridge is fairly straightforward, if a bit fiddly. You need an appropriately-sized screwdriver (we trust you know how screws work), and you need to attach the color-coded wires sprouting from the tonearm into the correct spots. Confused? Here's Youtube being put to a good use for you - there are plenty of videos explaining in detail how to attach a cartridge to a headshell
It also really, really helps if you have a cartridge alignment gauge, as even small adjustments can make a real difference. We are not going to lie: setting up and properly calibrating a cartridge can be a giant pain in the backside, and can involve some pretty exacting measurements. It's a little weighty for our purposes, but if you do want to get involved with this – well, more power to you, and you can find a very solid guide to doing it here.
It should be said that there are some great pro-level packages (as in, integrated headshells with a cartridge and a stylus) such as the Numark CC-1, Ortofon Concorde or Stanton Groovemaster which are ready to be popped at the end of your tonearm without any hassle.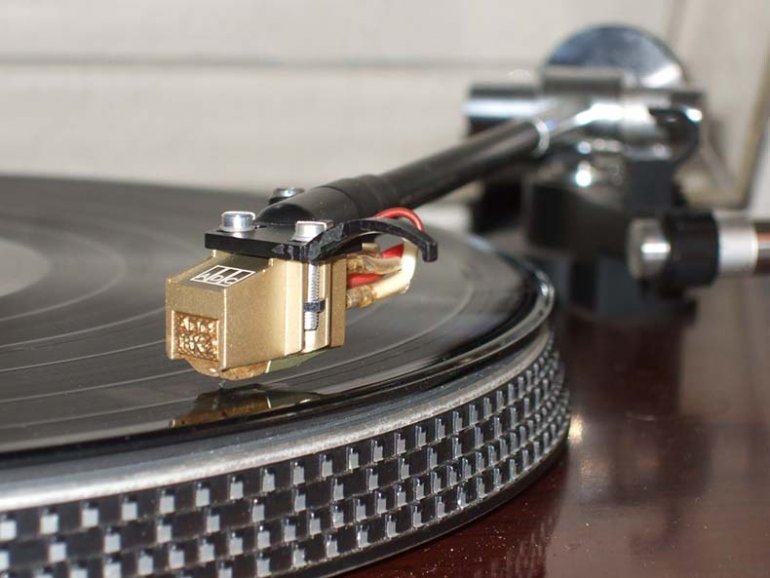 Connecting The Turntable To Your System
To understand how to do this, you need to know about two things: phono signals, and preamps. Don't worry, this isn't complicated.
Essentially, turntables output audio as a phono signal. Believe it or not, they are called phono because they were once connected to phonographs. Before your amplifier and speakers can actually interpret the signal as sound and play it, it needs to be converted into what is known as a line level signal. To do this, you need a phono preamp, or preamplifier, that is specifically designed to handle this job.
Now, the good news. A lot of modern turntables actually come with a preamplifier built in. If that's the case with yours, congratulations! You can skip the rest of this section, and just connect your turntable to your amplifier using a pair of regular RCA cables, which should usually come included in the package.
If one isn't built-in, you will need to purchase one separately. If you are after something to get your system going, cheap ones like this Rolls should do the trick, although phono preamps, just like anything, can be ludicrously expensive, and for a good reason, as they can make an incredible sonic difference.
Connecting them is simple: turntable into preamp, connect the preamp to your amplifier, and you're good to go.
Except: one last thing. Your turntable needs to be grounded if you use an external preamplifier, or any audio it makes will come with a nasty hum. That sounds complicated, but it isn't. If your turntable doesn't have a preamp, then it will have a grounding wire coming out of it, which is usually coiled underneath the body, or attached to it somehow. All you need to do is uncoil it, then connect it to the correct spot on your preamp.
We trust we don't need to tell you to make sure that everything is powered off before you connect the grounding wire.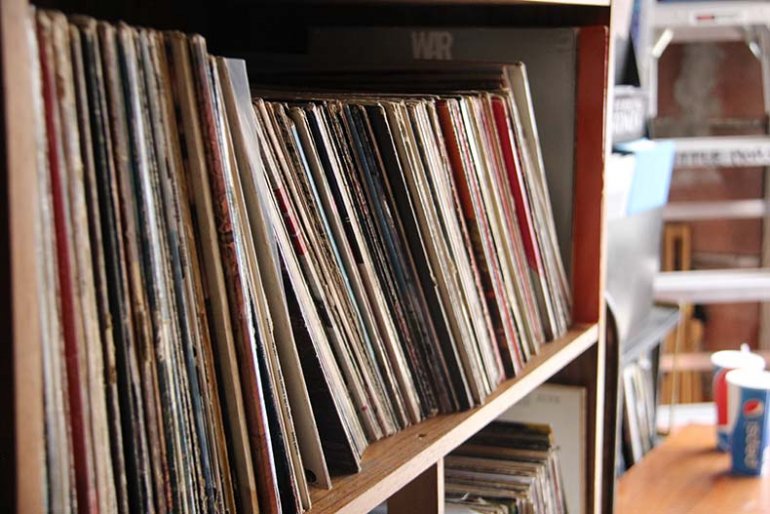 Record Speeds Explained
Vinyl records are manufactured in three commonly universal speed formats: 33⅓, 45 and 78 RPM, which stands for rotation (or revolution)-per-minute. This of course means that faster formats last less and can fit shorter recording durations (subject to the record's physical size as well).
Historically speaking, 78 RPM releases were the first commercial variety, though currently they are fairly rare. What you'll mostly be dealing with is 33⅓ and 45 RPM standards.
RPM speeds really do make a difference. The vinyl record grooves' ability to capture sonic detail is proportionate to the RPM figure. A bit like imagining a pencil drawing - the denser the lines, the more detail, which when applied to the sonic attributes of vinyl records translates into more punch (vinyl talk for transient attack detail) and better capture of the crucial mid frequency bands. This is also the reason why you might find that 45 and 78 releases are often of spoken word, classical music or Frank Sinatra's newest (OK, back in 1946) smash hit single. Things do sound better when spun faster, simply on account of the denser detail captured in those record grooves.  
 
Maintenance Explained
Unlike a lot of electronic equipment, turntables require a little bit of maintenance. The physical interaction between the stylus and the grooves on the record means that a lot of things – from vibrations to dirt and dust – can cause things to go out of whack over time. Think of the turntable like a muscle. If a small injury is ignored, it can often develop into a bigger problem further down the line. It's far easier to spend a little bit of time taking care of that muscle, and stopping small problems from becoming big ones.
Although this is viewed as a little bit of a dark art, it doesn't have to be. There are a couple of simple things you can do to keep your turntable in excellent working order.
The first is to simply make sure that it's free from vibrations. Most turntables take this into account, providing a good level of stability for the platter, but when that's not the case – or when the turntable is in an area with high foot traffic – then you might want to consider investing in a couple of acoustic feet, to shield the platter from vibrations. Also, protip: check things with a spirit level to make sure that the platter is absolutely flat. You will be surprised at how many turntables are not a hundred percent level, even when placed on what appears to be a flat surface.
Second thing? Keep it out of sunlight, and give it a good clean now and then. A stylus brush (Clearaudio make an excellent one) can help keep dirt off the needle.
Thirdly, regularly check back on things like the tonearm weight, height and anti-skate. Setting these correctly at the start, as described above, will nullify almost all maintenance problems with your turntable, and regularly making sure that they are all okay (as well as checking to see if any parts, like the belt, need replacing) will go a long way to keeping things running smooth.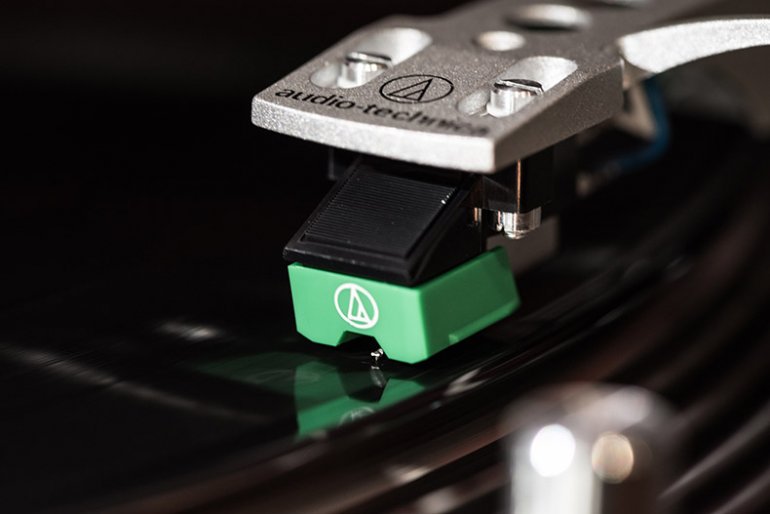 Turntable Weight Explained
Vintage gear was designed to be heavy and steady - from the floor mounted speakers to the proverbial tank-proof Technics 1210s. Turntable weight is an important sonic factor, but the reason for this might be a bit surprising to many.
Gravity affects vinyl playback in multiple ways: the turntable's feet/chassis, the record itself, and the tonearm and stylus. We already stressed the importance of using absolutely flat surfaces and stands - adjusting the feet as to minimise vertical vinyl movement is paramount. Weightier turntables naturally minimise (or get rid of) chassis vibrations, especially when positioned nearby speakers producing deep bass harmonics, so yeah, the heavier the better.
Similarly, the weight of the record itself is very important for that skip-free continuous playback, and 120-140g (yep, weirdly this is in metric grams) vinyl is the standard weight for modern LP releases. With the current vinyl renaissance though, heavier vinyl such as 180g has become associated with audiophile quality - these records are considered less prone to jumps. Some even argue that they have slightly better soundstage and stereo imaging, though this of course depends on many other factors such as mastering, manufacturing and materials.
One potentially very helpful tip would be about using the so called record clamps (check this fine example). These have many benefits, especially when a record or a turntable weight might be an issue (we mean not enough of it). Not only they couple the record firmly to the platter, minimising warping and tilting, but they also free the stylus from unwanted internal resonances, sympathetic vibrations and harmonics. The resulting effect is as if the record is of higher rigidity, thickness and weight.
 
Slipmats: Cork vs. Rubber
Yes, although not all turntables require them. The Edwards Audio Apprentice TT1 Mk2, for example, is best used without the slip mat. But for most people, you're going to need one. They have several distinct advantages, including protecting the record from the actual platter itself. If you're a DJ, they help eliminate friction.
And of course, as with any bit of audio equipment, there is just one to choose from. You can buy cork slipmats, which audiophiles swear by due to their resonant quality, or you can go for a standard rubber mat, which will vastly reduce vibrations – extremely helpful if you got a slightly unstable listening surface, or if you don't trust your turntable's stabilisers.
 
Digitizing Vinyl Records Via USB
This might make a vinyl enthusiast frown, but some people like to digitize their vinyl collections. Nothing wrong with that - vinyl is big and cumbersome, and it's always handy to have a digital backup.
Many current consumer-grade record players may now include a USB port built in and that of course makes things extra easy. There is an element of varying quality to built-in USB audio interfaces, however - more expensive units can offer a much better subjective audio detail. It is all down to the A/D converter chipset (also known as DAC) used by manufacturers, and if this term puzzles you slightly, we more detailed info on DACs here.
Similar to the phono to line preamps available on the market, you can also find a phono to USB boxes: palm-sized devices which will patch your turntable to a computer. The normally included basic audio editing program would allow you to trim beginnings and endings of the digitized recordings and even repair some of the hiss and crackle.
Learn More About Hi-Fi Audio