Vinyl records are just cool. They deliver music with an elusive and even romantic warmth that audiophiles continue to love. You may be an owner of a huge vintage record collection, pumped through an all-analog, tube hi-fi home system, or you may just choose to enjoy one of those portable, battery-powered record players in the park. Listening to music like this is quite addictive: the handling of the physical product, marvelling at the artwork, checking out song lyrics and credits in a way you never do with CDs or streaming. It's a unique experience, and you'll need a turntable to get the best of it. Like the ones we've listed below. For more background information on turntables, see our comparison table and buying advice below the picks.

Best Overall Turntable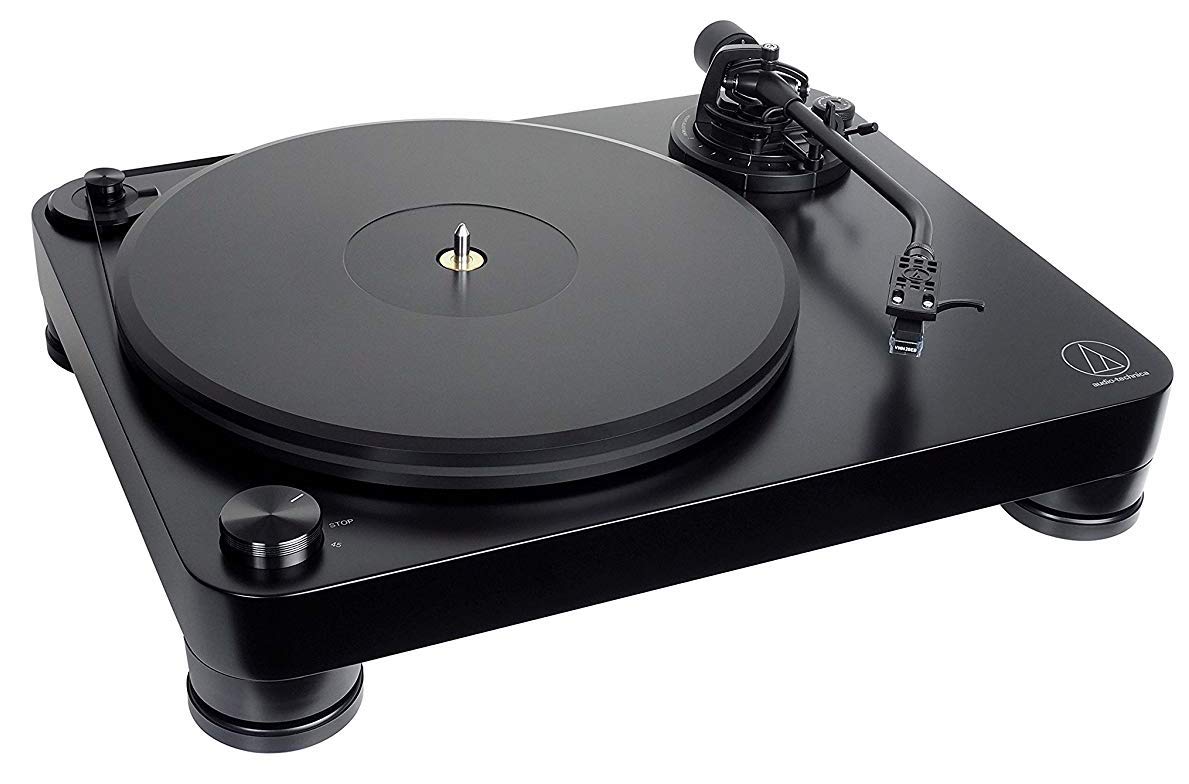 Type: Belt drive
USB Out: No
Speeds: 33⅓, 45 RPM
What We Like: Solid and reliable, great value for money, excellent sound.
What We Don't: The AT-LP7 offers two speeds only.
We often pick affordable products above expensive examples - we're looking for value here - and in this case, the Audio-Technica AT-LP7 gets number one because it offers similar specs to the Cambridge Audio Alva TT, below, but for one-thousand dollars less. It offers some unique features for any price point. For starters, Audio Technica have solved the common belt drive system problem of inconsistent playback speed, by including a highly-accurate speed sensor.
The company's signature J-shaped tonearm features a gimbal suspension and precision bearings that minimizes playback errors. Its built-in phono stage, unusually, has a switch to cater for Moving Magnet and Moving Coil cartridge types as well as a switchable Phono/Line Out option. The AT-LP7 comes with a solid cartridge - the VM520EB - and if it isn't good enough, you still have a wide range of VM stylus models to choose from for upgrades. In short, if shopping for a turntable, the AT-LP7 should firmly be at the top of your list. The Clearaudio and Pro-Ject models, below, still manage to offer a bit more in terms of overall performance, but for most people this is the ultimate choice.
See the Audio-Technica AT-LP7

Best Budget Turntable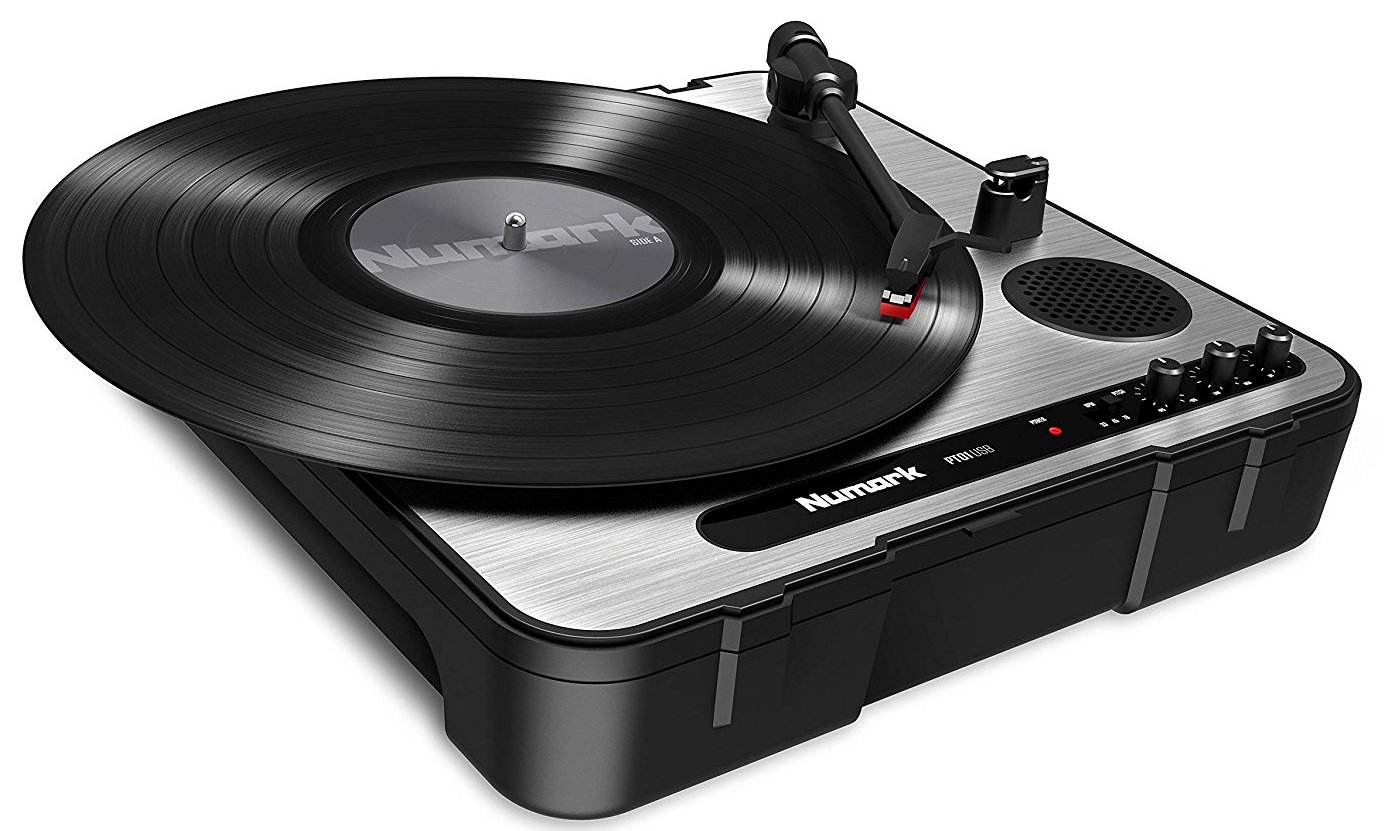 Type: Direct Drive
USB Out: Yes
Speeds: 33⅓, 45, 78 RPM
What We Like: Fantastic set of features.
What We Don't: There is a degree of a flimsiness to the build quality.
Numark are, of course, a well established brand with a range of vinyl playback products that are well accepted. The PT01USB offers huge value, and it's an easy pick for best budget turntable It helps that it's portable; the inclusion of a little speaker, aux-in, and battery operation on the PT01USB explains its popularity.
When used as intended, as a simple turntable, this little Numark delivers more than decent results. The included speaker is decent enough if you don't have a system to connect to, and if do choose to connect external playback, there's a line output to be used with any powered speakers. Numark have included all three rotation speeds - 33⅓, 45, 78 RPM to allow the PT01USB to play 7", 10", and 12" records. The unit is even advertised as an 'archiving' turntable, since its versatility also includes a USB interface for digitising vinyl playback. Although the included Numark cartridge is alright, we do recommend upgrading it if you plan on transferring your records onto a hard drive. And, speaking of digital, the only thing that may slow down the PT01USB's march into the 21st century is its lack of Bluetooth. Now that would be a worthy MKII addition.
See the Numark PT01USB
 
Best High-End Turntable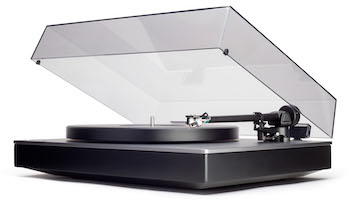 Type: Direct Drive
USB Out: No
Speeds: 33⅓, 45 RPM
What We Like: Top specs, Hi-Resolution Bluetooth, wireless streaming.
What We Don't: Two speeds only, no option of bypassing the internal phono preamp.
The Alva TT by Cambridge Audio is a good indication of what the future of vinylism may hold for us. Take a superbly engineered turntable, add the latest wireless audio streaming tech, and voila - there's your perfect sidekick to the latest Bluetooth speakers. Audio purists and Bluetooth haters relax - there's no audio compromise here, as the Alva supports SBC, aptX, and aptX HD codecs. This means you can digitize the cartridge's analog signal (at up to 24Bit/48kHz) and stream to your Bluetooth speaker instantly. The clarity of wireless audio reproduction is as impressive as the results of the conventional wired setup.
The quality of Alva TT's state-of-the art High Output Moving Coil, as well as its incredibly spec'd phono stage, is the reason why this turntable produces sublime audio results. There's a catch though. Cambridge Audio have not provided the classic, and so-easy-to-implement, option of bypassing the internal phono preamp. That means it's Line Out or Bluetooth only here. That aside, it's very obvious that every effort has been made for this turntable to surpass the best expectations in audio and design engineering. If you like your modern gadgets as much as your vintage vinyl, this might just be the right turntable for you.
See the Cambridge Audio Alva TT
 
Best of the Rest
Type: Direct Drive
USB Out: Yes
Speeds: 33⅓, 45 RPM
What We Like: Classic design, features and performance.
What We Don't: Sound could be better.
Most people drop Audio-Technica's name when on the subject of headphones or microphones, and these have indeed been firm favorites of pro DJs and musicians for a long time. Around the turn of the century though, the brand got a steady foot in the vinyl record player market through their replacement record needles, which offered superb audio performance for what was a fraction of the price of established stylus market leaders such as Stanton and Ortofon.
No surprise then that this AT-LP120, the second Audio-Technica model on this list, is beautifully conceived, and represents great value for money. You get the classic Technics 1210 design (which still remains the benchmark for performance), and the AT-LP120 is a winner, with included Line Out and USB options (hence the name) and steady skip-free groove tracking. The sound could be a little better - it's not that it's bad, just a little bland, without the space and depth that we'd expect from models in this price range. It's worth noting that as always, turntable sonics can be upgraded anyway - check our explainer on cartridges in the Buyer's Advice section below. That being said, we don't think you can go wrong with this one, especially if you're just starting out or want to go for an established brand that isn't going to let you down.
See the Audio-Technica AT-LP120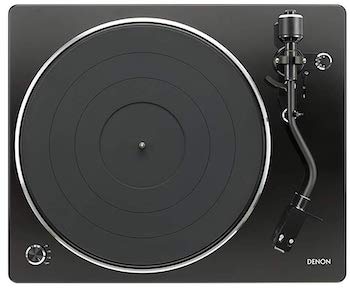 Type: Belt drive
USB Out: Yes
Speeds: 33⅓, 45, 78 RPM
What We Like: Good design, dust cover, phono amp, and USB A port for direct digitizing.
What We Don't: Slightly iffy cartridge.
Everyone knows Denon - their recent DP-400 turntable is already a strong seller thanks to its famous brand and multitude of features. The DP-450USB is pretty much identical to it in every sense, it just adds one more feature. That feature is a USB port at the front of the unit, allowing you to connect any suitably sized USB flash drive in order to digitize your favorite records at the press of a button. You don't need to have a computer to utilize this feature - it's all done on-board. Even though this technology has existed for quite a few years, the DP-450USB works it well and the build quality is fantastic.
You can specify the file type you want to convert your vinyl record to (either MP3 or WAV) - we do prefer the CD quality setting, but MP3s are smaller in size and great for phone or DAP storage. And, if you want to tweak your files a bit, you can import them into the included computer-based audio editing software, called Musicut. Aside from all that digital goodness, the DP-450USB is a solid performer and we like the built in phono preamp too. But, like most turntables we come across, our one complaint is that the cartridge could use an upgrade...Read our in-depth review
See the Denon DP-450USB
 
Type: Belt Drive
USB Out: No
Speeds: 33⅓, 45, 78 RPM
What We Like: Futuristic construction.
What We Don't: Very little for this price.
It's not just the superlative looks that make the Rega RP3 attractive. It has some of the most futuristic construction available today, including a base with ultra low mass and a double brace on the tonearm, both of which help with reducing vibration. If this may seem like a bit of a geeky thing to comment on, turntable tonearms have a tremendous effect on any turntable's audio quality and we have an explainer on that in our Buyer's Advice section - check it below our picks.
So yes, despite the fact that RP3 is reasonably old (released in 2011), its construction has stood the test of time, and this definitely counts. For our money, it's still the best system Rega has made yet and it can easily compete with the likes of more expensive units such as the Pro-Ject The Classic SB. The sound is phenomenal, even for this price, particularly in the bass, where it really shines. It's worth noting that the support system isn't quite as sturdy as others – while it's far from unstable, its three rubber feet require a pretty solid surface, and you'll get best results if you place this a long way from the speakers. If you do, you'll be rewarded with balanced, authentic audio that gives you fantastic value for money. Rega has been making a name for itself for a long, long time, and they deserve this spot on the list with the RP3.
See the Rega RP3
 
Type: Belt Drive
USB Out: No
Speeds: 33⅓, 45 RPM
What We Like: Boutique design, excellent sound.
What We Don't: Lack of a mat may be a turnoff, and it can be hard to find.
Edwards Audio is not actually a company. It's a line of equipment from a UK manufacturer, Talk Audio. No, we have absolutely no idea why the names are like that, and no, we're not going to call it the Talk Audio Edwards Audio Apprentice TT1 Mk2. That would just be silly. What we can tell you is that while this turntable can be a little hard to find outside the UK, it's absolutely worth your while to do so. The company actually has newer systems, the TT2 and TT3, but for our money this is the one to go for, as it presents the best value for money.
It immediately distinguishes itself by shipping without a mat, and as coders say, it's a feature, not a bug. The company claims it sounds better without a mat getting in the way of things. It certainly sounds superb, with rigorous, detailed audio that can easily match the AT-LP5 and others on this list, and as an added bonus, it looks absolutely tremendous. Again, you're probably going to struggle to track this one down in the US, making it one for enthusiasts only, but if you persevere, you'll get a truly magnificent audio experience.
See the Edwards Audio Apprentice TT1 Mk2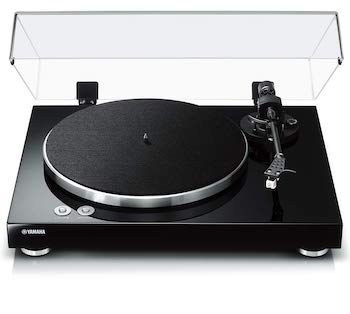 Type: Belt Drive
USB Out: No
Speeds: 33⅓, 45 RPM
What We Like: Great looks and fab specs. First new deck in 30 years for Yamaha!
What We Don't: There's no USB port for digitizing.
When a mammoth of a brand such as Yamaha puts out a product, you can expect it to be on-trend. The TT-S303 is the company's first deck design in thirty years and does just that, with its sleek 'piano black' finish, 8.8" straight tone arm, and built-in phono preamp. As we've said many times, record players are a lot more like musical instruments than just hi-fi components. To make sure the TT-S303 is not just another skin-deep beauty, Yamaha have put a lot of effort in optimising the internal core density of its high-mass cabinet.
This, combined with the aluminum platter, results in low vibration and extra tracking stability. The supplied moving magnet cartridge (please read our explainer on cartridge types in Buying Advice below) delivers more than average quality for the price point and the line-level signal (when the phono preamp is activated) delivers a great deal of clarity. However, what isn't so clear is the way Yamaha have decided to label the phono-to-line preamp switch. The so called 'EQ switch' does indeed activate a subtle classic equalization curve as well as a boost to the phono signal (we have an explainer on EQ curves in our Phono Preamp article) and is therefore a Line-Out switch.
See the Yamaha TT-S303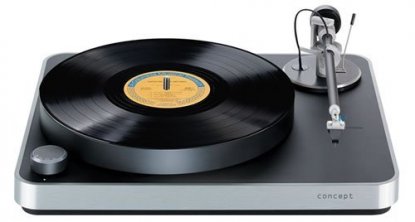 Type: Belt Drive
USB Out: No
Speeds: 33⅓, 45, 78 RPM
What We Like: Superlative looks and sound, plug and play design.
What We Don't: Quite pricey.
It's not just that the Clearaudio Concept sounds good. Of course it does – that's part of the reason you're paying over $1,500. It's that it offers an absolutely superb experience, including hassle-free plug-and-play design that means you can slot it into just about any existing system. The Clearaudio Verify tonearm plays a big part in the overall performance - it has a magnetic bearing, and its base is made of aluminum with a wood core that guarantees minimal vibrations. It's incredibly easy to set up - as we mentioned, this is highly unusual for a turntable in its price range, which most often caters to professionals.
Supplied with a high-grade performance cartridge, the Concept's sound is splendid, with rich but not overpowering bass and a level of detail that screams for you to dig out the gems from your vinyl collection and get playing. While it may be a little bit expensive for most people, which means that it's probably not going to be top of our list, there's no question that this is one of the finest turntables available today, and if you have the money, you should definitely get it.
See the Clearaudio Concept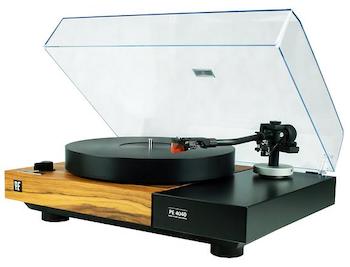 Type: Belt Drive
USB Out: No
Speeds: 33⅓, 45, RPM
What We Like: Incredible engineering and attention to detail.
What We Don't: Internal AC/DC converter.
PE 4040 is Perpetuum Ebner's flagship model, with a design that's a distilled and improved version of the company's PE2020, introduced in 1967. This is a classic belt-driven turntable design, featuring an electronically controlled speed selector and a massive 7lb aluminum platter. Its 3-phase external rotor motor is electronically controlled using pulse-width modulation and the sub-platter drive system features magnet supported internal bearings. The obvious emphasis on stability means that the PE 4040 is one of the most impressive turntables we've seen in terms of platter movement.
This turntable's tracking performance is perfectly complemented by a 9" boutique-grade Thorens tonearm, featuring a hollowed-out aluminum lever and a magnetic anti-skating support. Unfortunately, the PE 4040 is shipped without a cartridge. Due to its superior arm stability, Perpetuum Ebner recommend it as the perfect platform for a Moving Coil cartridge. We love this turntable's two-tone rosewood and black design, which is a bit of a PE trademark. Last but not least, the fact that this model is so heavy (30lbs) fills our gear-loving hearts with joy. The PE4040 might not spin records in the air like the MAG-LEV, below, but we're sure it will leave listeners totally inspired by its over-engineered, traditional beauty. Note that this model is sometimes called the Perpetuum Ebner PE 4040 MkII, although confusingly, it does not appear to be any different from the putative MkI.
See the Perpetuum Ebner PE 4040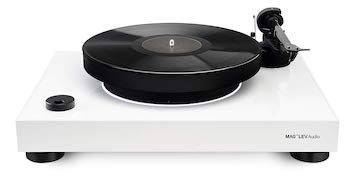 Type: Magnetic Levitation
USB Out: No
Speeds: 33⅓, 45 RPM
What We Like: Platter literally levitates - no motor or moving parts.
What We Don't: The powerful magnets may affect other electronic devices.
The Mag-LEV ML1 turntable deserves its place on this list because it's truly one-of-a-kind. Its model name ML stands for Magnetic Levitation, and the design concept is basically a platter freely spinning in the air, with no motor or moving parts attached. It's a seriously mind-blowing experience staring at the couple of inches of nothing between the turntable chassis and the spinning platter. So what kind of magic is that, and more importantly, is it just another gimmick? The short answer is that MAG-LEV ML1 essentially uses powerful electro-magnets. When placing the record on, the platter is still supported by several contact points below, which sink into the chassis when the magnet system is activated, leaving the platter to suspend and spin in true frictionless motion. Furthermore, the system automatically lowers the tonearm onto the record when the optimal selected speed (33⅓ or 45 RPM) is reached.
At this stage, the only point of contact is the actual stylus touching the record itself. The reverse process takes place when the record stops - the suspending rods below are elevated taking hold of the platter. The concept is definitely a novel one, but the truth is that this innovative design is more than just for show - it's also a totally valid design approach. Vinyl playback is so dependent on platter movement that it makes total sense for MAG-LEV to have pursued a design completely void of motor friction, noise, and so on. The speed control is incredibly consistent, and the only thing to remember is not to tap the platter or touch the record while it's in motion. Sound-wise, the ML1 is incredible, as it comes with a top notch Ortofon OM-10 cartridge. It's also worth mentioning that there's no built-in phono stage. For a turntable of such quality you might want to check our phono preamp recommendations.
See the Mag-LEV ML1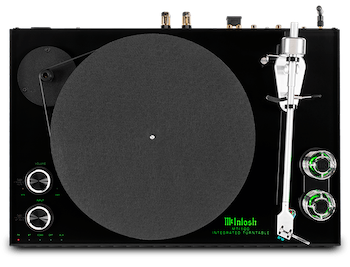 Type: Belt Drive
USB Out: No
Speeds: 33⅓, 45 RPM
Includes Cartridge: Yes
What We Like: Tube preamp, Class D amp, analog and digital inputs, Bluetooth functionality.
What We Don't: Really expensive, the integrated design might not suit everybody.
Who doesn't love a Mac? We certainly do, and have been big fans of McIntosh since...well, forever. This premium audio brand might be best known for their state-of-the-art preamps and power amplifiers, but the MTI100 integrated turntable has been just added to their catalog. It offers an integrated design - all you need to add is a pair of passive speakers and some music, either on vinyl or via Bluetooth. The trademark McIntosh green light emanating from below the pair of 12AX7 tubes create a striking visual statement. The tubes are part of the preamp section feeding a Class D power amplifier rated at 80 Watts per channel.
External audio sources like CD and Blu-ray players are easily accommodated via the analog, coaxial and optical inputs present. We like the fact that there is also an onboard Bluetooth receiver, capable of wireless streaming (with an SBC lossless codec). The turntable itself is built to the highest standards, featuring an aluminum platter rotating on an oil bath PEEK thrust disc and a Thompson Engineering 60 Rockwell case hardened shaft. Vinyl tracking and audio reproduction is courtesy of the Olympia Oyster cartridge. All of this, plus the fact that you get a high quality headphone amp and a remote, means that the MTI100 is a lot more than just a turntable. Yes, it is really expensive, but it sounds immense - if there ever was a one-stop shop of an audiophile vinyl rig, this is it.
See the McIntosh MTI100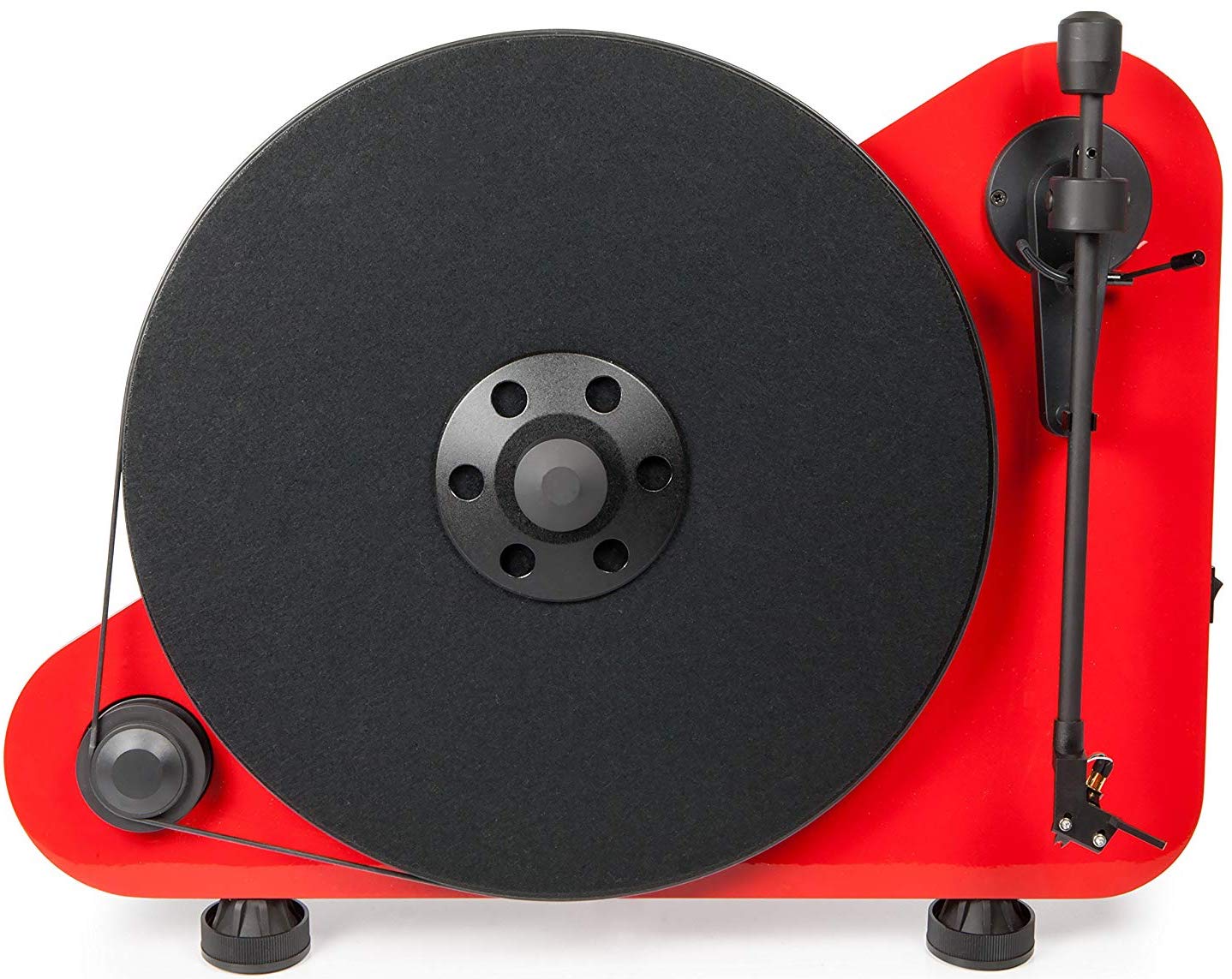 Type: Belt Drive
USB Out: No
Speeds: 33⅓, 45 RPM
What We Like: Cool vertical record spinning, Ortofon cartridge and Bluetooth transmitter.
What We Don't: In spite of its innovative features, this might not appeal to the traditional vinalysts.
Pro-Ject's VT E-BT turntable makes a great first impression with its vertical spinning layout. Far from being the first company to follow this design - they have other vertical spinning turntable models too - Pro-Ject have fine-tuned the concept here. The VT E-BT is available in three colors, and we find it particularly interesting that it can be wall-mounted and is even available in left-handed version. This is essentially a reversed, mirror image control layout. The VT E-BT is ready to play straight out of the box, as Pro-Ject have calibrated the unit prior to boxing it. For anyone new to vinyl and and those who haven't experienced the strenuous process of setting up a turntable, you can take our word for it - this is a very good thing.
The belt-driven motor performance and speed consistency are somewhat aided by the vertical platter layout. This, of course, requires a record clamp - which is supplied with the turntable. Everything else, spec-wise, is top-notch and well put together. The light-weight 8.6" gimbal bearing aluminum tonearm is designed to deliver vibration-free tracking and comes equipped with a Ortofon OM 5E moving magnet cartridge, which is always a great start - especially for audio performance. In traditional terms, the analog vinyl playback of the VT E-BT is nearly immaculate, and the Bluetooth transmitter works very well. We also love the fact that the Bluetooth streaming supports aptX high-quality streaming codec. This clearly makes the Pro-Ject VT E-BT suitable for any home, trendy coffee shop, or bar - what better way of popularising vinyl records to the new generations of wireless-savvy kids?
See the Pro-Ject VT E-BT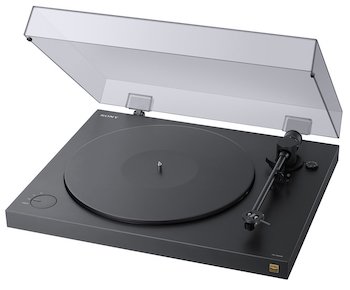 Type: Belt Drive
USB Out: Yes
Speeds: 33⅓, 45 RPM
What We Like: The famed Sony quality evident in every detail.
What We Don't: Two speeds only.
If there were such a thing as a holy trinity of hi-fi brand names, Sony would probably be somewhere in the top two. That Midas touch of engineering is evident in every product of theirs. Less pretentious-looking than many newer brands, the Sony PS-HX500 immediately impresses with its minimal style. And the classy straight arm is designed to improve cartridge traceability of the record groove. The entire design, from its acoustic-grade cabinet to the internal glass epoxy circuit board, aims to eliminate vibrations and improve soundstage.
The analog playback of the Sony PS-HX500 supports both Phono and Line outputs, but it's the inclusion of a high quality ADC chip (analog-to-digital converter) that allows for the additional option of digital archiving via a USB connection. This, of course, is a well known and loved feature amongst vinyl enthusiasts. It's the quality of conversion that deserves a special note here. The supplied Digital Audio Editor (Mac/PC) allows for capturing the vinyl playback at ultra-high definition, even up to PCM 192kHz/24-bit or DSD 5.6MHz quality. If you love your DAPs and hi-res audio, this will surely get you excited. The PS-HX500 should definitely be considered as one of the best vinyl players in terms of value for money.
See the Sony PS-HX500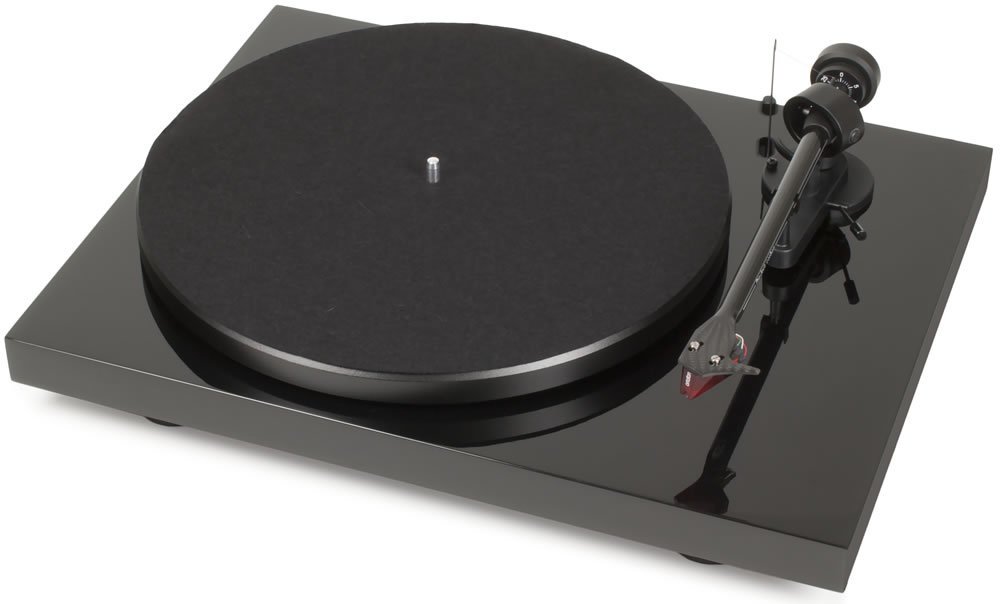 Type: Belt Drive
USB Out: No
Speeds: 33⅓, 45, 78 RPM
What We Like: Looks, performance, tonearm, overall design.
What We Don't: Barebone design which might be initially puzzling  
The ethos behind Pro-Ject's Debut Carbon Premium is a perfect example of how trends in high-end turntable manufacturing happening right now are entering the lower price points. Pro-ject have gone for a very streamlined, one might even say bare-bones, aesthetic, which hint that this piece is made for one thing only - killer vinyl playback. The 'Carbon Premium' bit in the name points at the tonearm of course, which in this instance is made of 8.6CC carbon fibre - an incredibly light, yet super rigid material, capable of delivering superb tracking.
Almost literally speaking, the proverbial cherry on the cake here is the inclusion of the Ortofon Red - a great-sounding cartridge which has become something of a reference for all MM (moving magnet) cartridges available. The belt driven synchronous motor and the sorbothane motor suspension are also impressive additions to be included at this price point. In our opinion, this overall spec of this turntable is perfect for a first attempt at putting together a true audiophile vinyl playback rig. This is why the Pro-Ject Carbon Premium is nesting slightly higher than other more expensive turntables.
See the Pro-Ject Debut Carbon Premium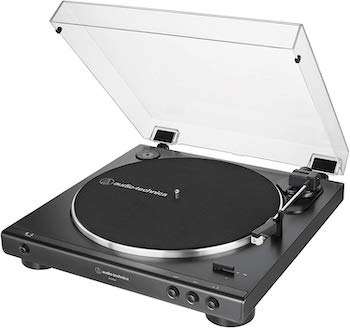 Type: Belt Drive
USB Out: No
Speeds: 33⅓, 45 RPM
What We Like: Great value for money.
What We Don't: No USB, no 78RPM.
In the last decade, Audio-Technica have managed to solidify their reputation as a turntable manufacturer by releasing models aimed at virtually every price bracket. The fact that we are picking an Audio-Technica for both Best Overall and Best Budget picks speaks volumes. Their low-priced AT-LP60X has obviously borrowed much from its high-end siblings, but maintains its status of an inexpensive unit. The AT-LP60X is less substantial in feel and weight than the other Audio-Technica models on this list, featured at number one and 15. Another clue to its price tag would be the front controls, which are slightly basic and cheap-looking. The clearly labeled buttons for start and stop are placed between additional controls dedicated to record speed selection, and because this a fully automatic turntable, there's an additional button for lowering and raising the tonearm.
The plain design is very attractive for a sub-$100 turntable and we are pleased to see a good selection of accessories, not to mention four color options. The supplied Moving Magnet cartridge features a replaceable diamond stylus, which does its job really well. The die-cast aluminum platter is rock-solid and the dust cover is simple but classic in design. The performance and functionality of the AT-LP60X are also far beyond this price tag and the inclusion of a built-in phono-to-line level preamp makes this record player adaptable to any speaker system - with or without a phono input present. The audio quality is very decent, but if you find yourself in need of more connectivity options, you might want to check out the AT-LP60XBT, a Bluetooth version of this turntable that costs $50 more.
See the Audio-Technica AT-LP60X
 
Type: Belt drive
USB Out: No
Speeds: 33⅓, 45 RPM
What We Like: Gorgeous design, weighty sound.
What We Don't: Outside of the sleek looks, this isn't a particularly special turntable.
If we awarded prizes for looks, then the Fluance RT81 would take it every single year. God, this turntable looks magnificent. For a $250 platter, we didn't expect this level of attention to detail, or a design that seems to blend old school charm with a highly robust finish. It has a good range of features, too, with a built-in phono stage and a respectable cartridge. There's no USB out, but it's a minor problem.
A bigger issue is the fact that outside of the looks, the RT81 doesn't do anything that other turntables in the same price range don't do. Take, for example, the Audio-Technica AT-LP120. That turntable is only a little bit more expensive – just under $30 at the time of writing – but it sounds much better, with more dynamic audio. That doesn't mean the RT81 should be overlooked, but it isn't the first choice. If this is your budget, then think carefully about how much looks mean to you.
See the Fluance RT81
 
New Turntables Coming Soon
We are excited to feature some brand new releases in our next updates. Rega have announced the new Planar-10, which is a more affordable version of their amazing Naiad design. This is expected to retail for $4,000. Additionally, Pro-ject have announced that their 25th Anniversary The Classic model and The Classic SB SuperPack have been merged into The Classic Evo, which is expected to cost $1,700. And from one of our favorite manufacturers, the Schiit Sol has also just hit the market, retailing at $799.
 
Turntable Comparison Table
| Turntable | Price | Type | USB | Speed (RPM) | Cartridge | Phono* | Weight |
| --- | --- | --- | --- | --- | --- | --- | --- |
| Audio-Technica AT-LP7 | $799 | Belt Drive | No | 33⅓, 45 | Yes | Yes | 18.3lbs |
| Numark PT01USB | $119 | Direct Drive | Yes | 33⅓, 45, 78 | Yes | Yes | 5.7lbs |
| Camb. Audio Alva TT | $1,699 | Direct Drive | No | 33⅓, 45 | Yes | Yes | 24.25lbs |
| Audio-Tech. AT-LP120 | $229 | Direct Drive | Yes | 33⅓, 45 | Yes | Yes | 23.5lbs |
| Denon DP-450USB | $549 | Belt Drive | Yes | 33⅓, 45, 78 | Yes | Yes | 12.8lbs |
| Rega RP3 | $800 | Belt Drive | No | 33⅓, 45, 78 | No | No | 13.2lbs |
| Edwards Audio TT1 Mk2 | $595 | Belt Drive | No | 33⅓, 45 | Optional | No | 15lbs |
| Yamaha TT-S303 | $450 | Belt Drive | No | 33⅓, 45 | No | No | 10.6lbs |
| Clearaudio Concept | $1,800 | Belt Drive | No | 33⅓, 45, 78 | Yes | No | 16.5lbs |
| PE 4040 | $2,500 | Belt Drive | No | 33⅓, 45 | No | No | 33lbs |
| MAG-LEV ML1 | $3,899 | Mag. Lev. | No | 33⅓, 45 | Yes | No | 21.6lbs |
| McIntosh MTI100 | $6,500 | Belt Drive | No | 33⅓, 45 | Yes | No | 33.5lbs |
| Pro-Ject VT E-BT | $400 | Belt Drive | No | 33⅓, 45 | Yes | No | 6.2lbs |
| Sony PS-HX500 | $498 | Belt Drive | Yes | 33⅓, 45 | No | Yes | 11.9lbs |
| Pro-Ject Debut Carbon | $399 | Belt Drive | No | 33⅓, 45, 78 | Yes | No | 12.4lbs |
| Audio-Tech. AT-LP60X | $99 | Belt Drive | No | 33⅓, 45 | Yes | No | 4.3lbs |
| Fluance RT81 | $250 | Belt Drive | No | 33⅓, 45 | Yes | Yes | 1.41lbs |
*Phono preamp stage included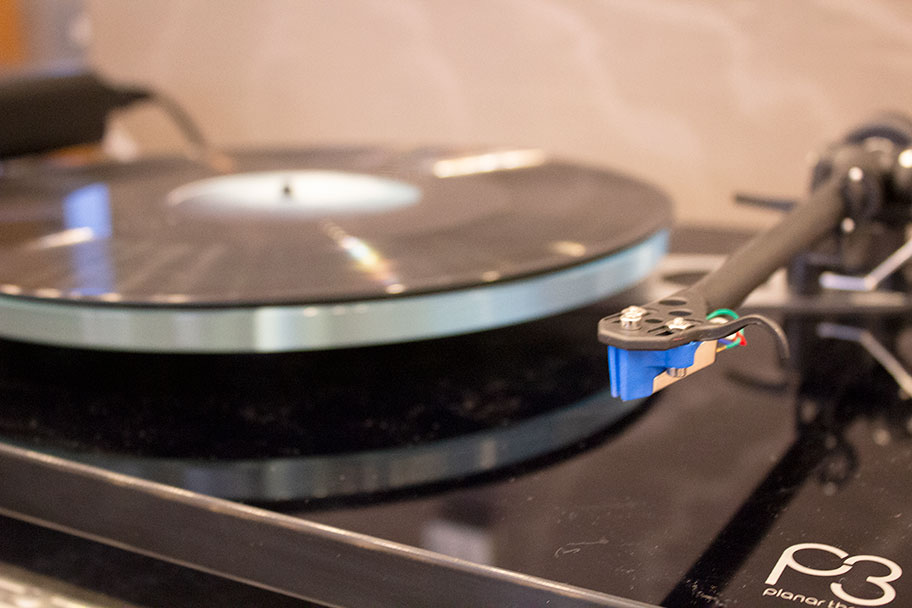 Turntable Buying Advice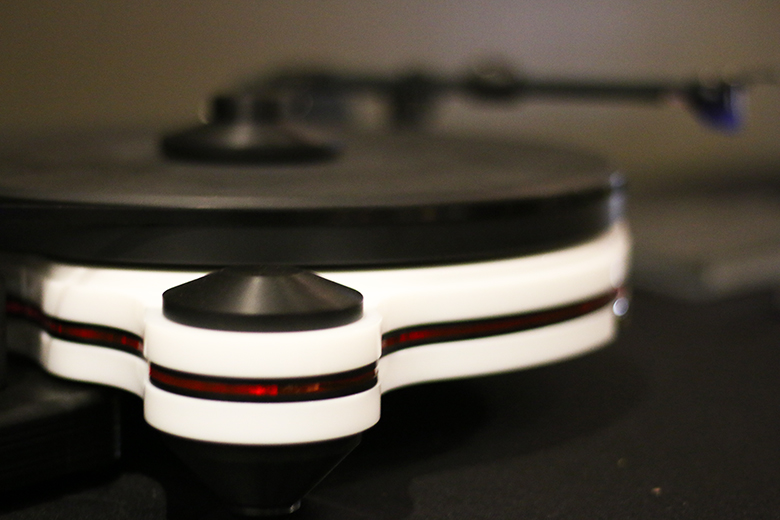 Turntable Types: Direct Drive vs. Belt Drive
Depending on how they use turntable internal motor to spin the platter at a constant speed, they can be classified into two main types. In a direct drive model, the rotating platter is attached to and spins directly via the electric motor, resulting in a constant and accurate rotation speed, faster playback startup and stronger torque. Higher torque means the platter is less vulnerable to outside vibrations such as the stylus or your hand for instance. Which reminds us of that famed special effect… Yes, scratching - the backward-forward movement used by DJ's to create rhythmic sound blasts is so easy to do on direct drives. Check out the Invisbl Skratch Piklz if you want to see this done in a truly mind-blowing fashion... If there are cons with direct drive types, they would relate to possible unwanted vibrations caused by the motor itself, which can affect sound quality. The issue can be addressed with the use of shock absorbers between the platter and the motor.
Belt drive models, on the other hand, spin the platter using an elastic belt that's attached to the motor. The platter sits on a circular bearing which is separate from the motor. The belt (sort of) resembles a bicycle chain, if you can imagine the bike pedals as the motor and the back wheel as the platter. This system actually absorbs shock and prevents vibrations that are generated by the motor from reaching the platter and being transmitted to the tonearm. That is why audiophiles might prefer belt drives - less noise and less interference often means cleaner sound. Be aware, though - belt drives have much lower torque and can have less accurate playback speed. Plus, the belt can wear down after a few years, and need to be replaced. The good news is that like with pretty much everything these days, spares are easily available online.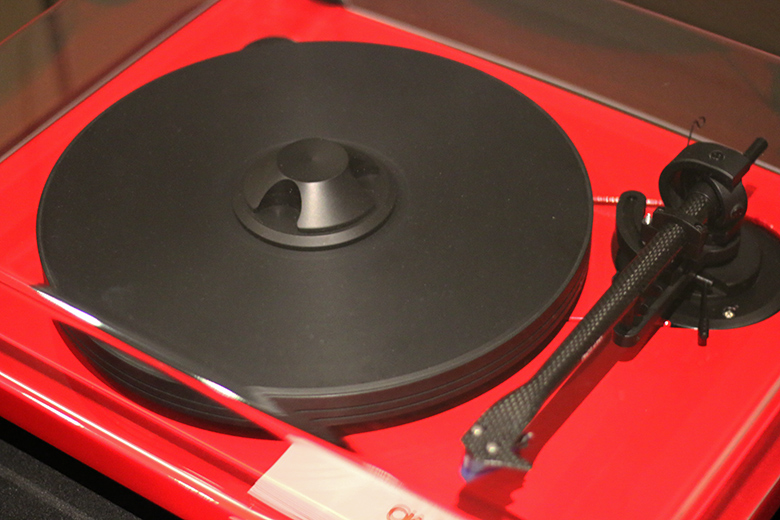 Turntable Setup Explained
Let's assume, for argument's sake, that you've fully assembled your turntable, in the sense of slotting the platter into place and making sure that any accessories have been connected, with the exception of wires, which we'll go into below. We are not going to go into cartridge installation here, as that's an entirely different kettle of fish - and has it's own section below. We'll also talk about wiring in another section. For now? You just need to do the following things.
1. Listening surface
First thing to understand about setting up a turntable: it's not about the turntable. If you think this is just a load of Zen nonsense, think again. Turntables won't work if they are unstable or even fractionally angled, so where you put them is crucial. The surface needs to be as flat and solid as possible – a dedicated stand is ideal, like this Crosley ST75-BK, but if you don't want to spring for that, a solid coffee table will work just fine. Once you've got that, check to see if your turntable has adjustable feet. If it does, then use a spirit level to make sure that the surface of the platter is dead-on flat.
2. Tonearm adjustment
Tonearms are actually incredibly important for audio detail. We did promise that we'd discuss only ordinary vinyl setups in this article, but just so you get a sense why tonearms have 'tone' in their name, vinyl enthusiasts can go to extreme lengths in obtaining the very best sonic detail.
Back to Earth now: let's take a look at your tonearm. As long as you don't have one of those most basic turntables, chances are you'll be able to make some adjustments to its tonearm. This is absolutely crucial to getting the best sound from your vinyl, so it's worth taking a little bit of time on it. The first thing you want to do is see if your turntable has an anti-skating knob. We'll talk about anti-skating below, but if it does have this knob, set it to zero.
Now: time to adjust the counterweight, which will help the arm balance itself effectively, and sit well in the groove of the record. This is known as the Tracking Weight, and (usually), it's adjusted by turning the big, circular weight on the back of the tonearm itself. As a general rule, you want it set so that when the tonearm floats freely, it more or less balances, and rides flat. Pop it out of its stand, and adjust the weight until you get this. OK - see the little gauge at the front of the weight? Adjust it until it's zeroed - what is known as zero weight. Now you need to turn the big weight again, and this is where you need to pull out the manual that came with your cartridge – or your turntable if the cartridge came pre-supplied. The manufacturer will have listed a number in grams. Don't stress if it gives a range – just set it so that the weight is roughly in the middle of that range.
Congratulations. You have your tracking weight. Have a drink.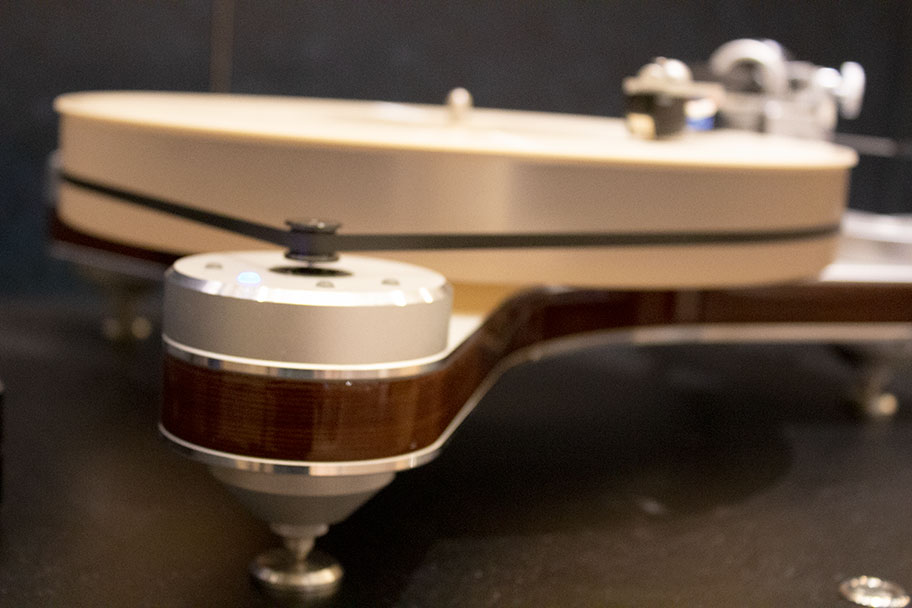 3. Anti-Skating / Bias
Well, maybe not yet. We've still got a few more things to do. One of those is to set the anti-skate knob. This will stop the stylus from being pulled into the centre of the record as it spins. Super important: it's sometimes referred to as bias. Find the knob, then turn it to match the tracking weight. Maybe a quarter-gram less, which is what most experts recommend.
4. Downforce
Not all turntables have this. It's helps keep an even pressure in the groove. If your turntable has it (some Rega models do) then all you need to do is check the manual. The manufacturer should recommend a specific setting.
5. Azimuth
This refers to how perpendicular the stylus is to the actual record​ – obviously, the more, the better. If the azimuth is slightly off, it can mess with the soundstage. Now we'll be honest: correcting the azimuth is a pain in the neck. It not only requires a level of technical knowledge that can sometimes be a little daunting, but to get exactly right, you need a mono test record as well as an expensive range meter like the Fozgometer, which can hit $300. Based on that, we've decided not to go into it here; for most people, simply getting the above steps right will result in excellent sound, and although adjusting the azimuth will have an impact, it requires an investment of time that we don't think is 100% necessary (audiophiles, please leave curse words out of your comments below, thank you).
If you do want to check out how to do it, there's an excellent guide right here.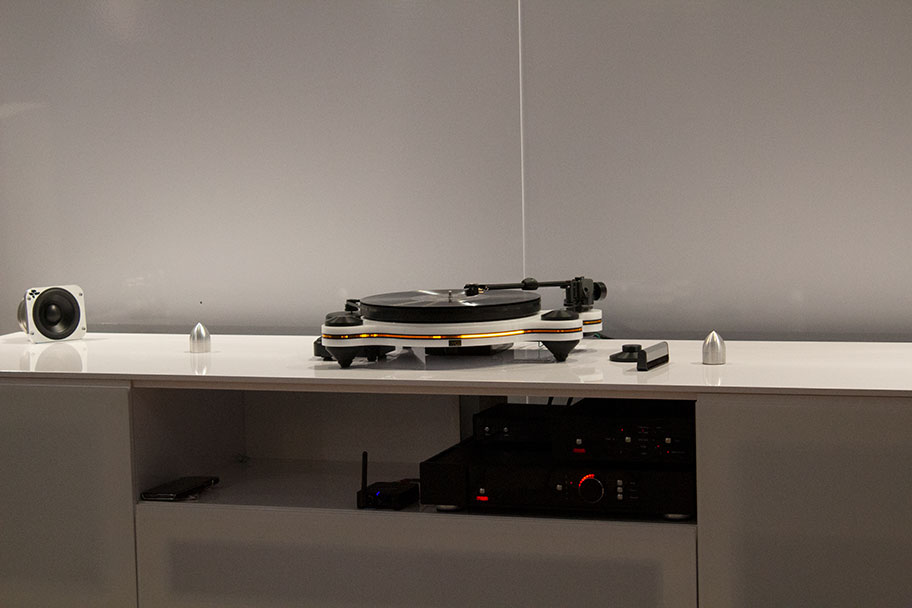 MM Cartridges vs. MC Cartridges
The cartridge is the little piece of plastic-encased electronics at the front of the tonearm. It helps the stylus - the needle - convert the mini-vibrations from tracking the vinyl grooves into sound. The cartridge itself is installed in a headshell - think a tiny, plastic mounting bracket. When we say cartridge, though, we mean the whole package, including the stylus.
Budget cartridges can often be characterized by their somewhat thin and weedy sound, while expensive ones (some of which fetch four-figure prices) can often challenge and even outperform CD audio quality. They are an enigmatic and often difficult type of audio kit. Similar to headphones and microphones, different makes can have a more gutsy and fuller-sounding audio playback, while better-quality replacements also guarantee a better groove tracking and skip-free performance. This means that vinyl lovers are in luck, since headshells, cartridges and styli are all parts which can be changed, replaced or upgraded.
For the real vinyl enthusiasts, this is a good place to say that there are two main types of vinyl cartridges - MM and MC. Most often than not you will see turntable specs including an MM cartridge, which stands for Moving Magnet. The other type of cartridge you will see is MC, which stands for Moving Coil and both of these names are a reference to the components within the cartridge helping convert the stylus movements into electromagnetic signals.To simplify things, it is easy to think of MM (Moving Magnet) cartridges as the 'regular' type as they are supplied with the majority of commercial production turntables. They are heavier and with a higher output, feature replaceable needles and are well matched with the phono preamps found in hi-fi equipment such as regular A/V receivers.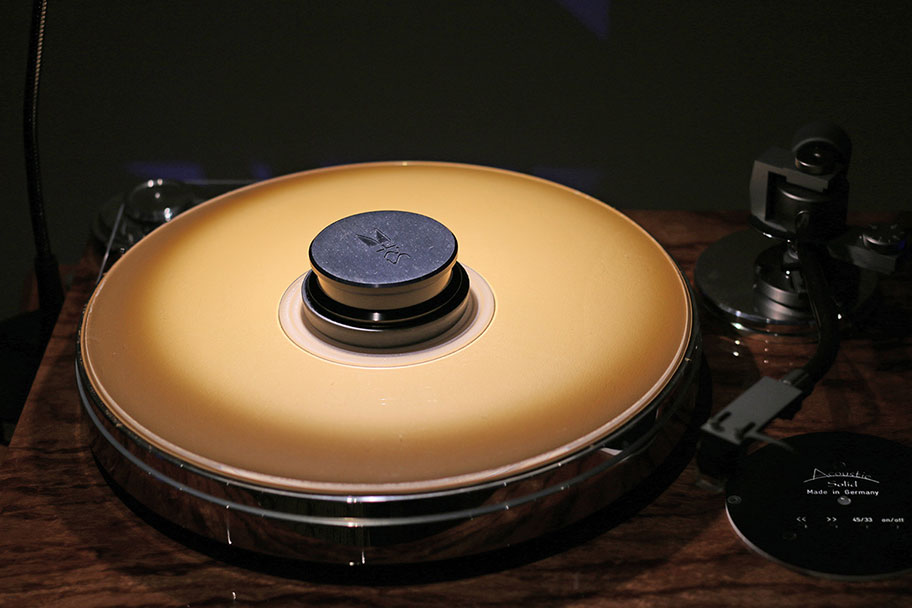 MC (Moving Coil) cartridges, on the other hand, are generally referred to as the more boutique type, favored by vinyl purists. They predate MM carts historically and are physically lighter, meaning that they can track the record grooves with a much higher precision - their biggest advantage really, resulting in super-accurate frequency representation. Being lighter also means that they tend to skip easier than MMs, though the main difficulty with MC carts is their extremely low output, which necessitates the use of 'proper' phono preamps especially equipped for receiving and amplifying MC cartridge signals. This combo (MC cartridge and a dedicated phono stage) is arguably the first serious step towards an audiophile-grade vinyl setup.
Since this is firmly into geek territory, we might as well mention the MI cartridge - moving iron, which is a variation of the moving magnet type at present - and one more, HOMC, which stands for high output moving coil. But the big ones for you to remember are MM and MC.
Regardless of its type, installing a cartridge is fairly straightforward, if a bit fiddly. You need an appropriately-sized screwdriver (we trust you know how screws work), and you need to attach the color-coded wires sprouting from the tonearm into the correct spots. Confused? Here's Youtube being put to a good use for you - there are plenty of videos explaining in detail how to attach a cartridge to a headshell.
It also really, really helps if you have a cartridge alignment gauge, as even small adjustments can make a real difference. We are not going to lie: setting up and properly calibrating a cartridge can be a giant pain in the backside, and can involve some pretty exacting measurements. It's a little weighty for our purposes, but if you do want to get involved with this – well, more power to you, and you can find a very solid guide to doing it here. It should be said that there are some great pro-level packages (as in, integrated headshells with a cartridge and a stylus) such as the Numark CC-1, Ortofon Concorde or Stanton Groovemaster which are ready to be popped at the end of your tonearm without any hassle.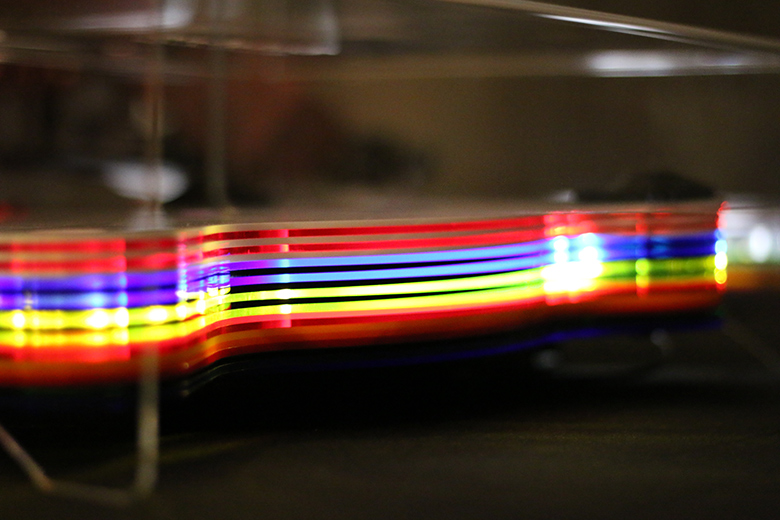 Connecting the Turntable To your System
To understand how to do this, you need to know about two things: phono signals, and preamps. Don't worry, this isn't complicated. Essentially, turntables output audio as a phono signal. Believe it or not, they are called phono because they were once connected to phonographs. Before your amplifier and speakers can actually interpret the signal as sound and play it, it needs to be converted into what is known as a line level signal. To do this, you need a phono preamp, or preamplifier, that is specifically designed to handle this job.
Now, the good news. A lot of modern turntables actually come with a preamplifier built in. If that's the case with yours, congratulations! You can skip the rest of this section, and just connect your turntable to your amplifier using a pair of regular RCA cables, which should usually come included in the package. If one isn't built-in, you will need to purchase one separately. If you are after something to get your system going, cheap ones like this Rolls should do the trick, although phono preamps, just like anything, can be ludicrously expensive, and for a good reason, as they can make an incredible sonic difference.
Connecting them is simple: turntable into preamp, connect the preamp to your amplifier, and you're good to go. Except: one last thing. Your turntable needs to be grounded if you use an external preamplifier, or any audio it makes will come with a nasty hum. That sounds complicated, but it isn't. If your turntable doesn't have a preamp, then it will have a grounding wire coming out of it, which is usually coiled underneath the body, or attached to it somehow. All you need to do is uncoil it, then connect it to the correct spot on your preamp.
We trust we don't need to tell you to make sure that everything is powered off before you connect the grounding wire.
 
Record Speeds Explained
Vinyl records are manufactured in three commonly universal speed formats: 33⅓, 45 and 78 RPM, which stands for rotation (or revolution)-per-minute. This of course means that faster formats last less and can fit shorter recording durations (subject to the record's physical size as well). Historically speaking, 78 RPM releases were the first commercial variety, though currently they are fairly rare. What you'll mostly be dealing with is 33⅓ and 45 RPM standards.
RPM speeds really do make a difference. The vinyl record grooves' ability to capture sonic detail is proportionate to the RPM figure. A bit like imagining a pencil drawing - the denser the lines, the more detail, which when applied to the sonic attributes of vinyl records translates into more punch (vinyl talk for transient attack detail) and better capture of the crucial mid frequency bands. This is also the reason why you might find that 45 and 78 releases are often of spoken word, classical music or Frank Sinatra's newest (OK, back in 1946) smash hit single. Things do sound better when spun faster, simply on account of the denser detail captured in those record grooves.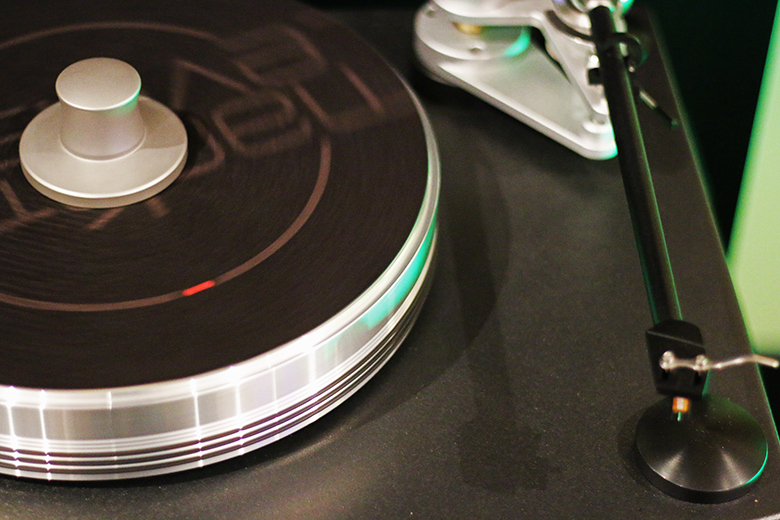 Maintenance Explained
Unlike a lot of electronic equipment, turntables require a little bit of maintenance. The physical interaction between the stylus and the grooves on the record means that a lot of things – from vibrations to dirt and dust – can cause things to go out of whack over time. Think of the turntable like a muscle. If a small injury is ignored, it can often develop into a bigger problem further down the line. It's far easier to spend a little bit of time taking care of that muscle, and stopping small problems from becoming big ones. Although this is viewed as a little bit of a dark art, it doesn't have to be. There are a couple of simple things you can do to keep your turntable in excellent working order.
The first is to simply make sure that it's free from vibrations. Most turntables take this into account, providing a good level of stability for the platter, but when that's not the case – or when the turntable is in an area with high foot traffic – then you might want to consider investing in a couple of acoustic feet, to shield the platter from vibrations. Also, protip: check things with a spirit level to make sure that the platter is absolutely flat. You will be surprised at how many turntables are not a hundred percent level, even when placed on what appears to be a flat surface.
Second thing? Keep it out of sunlight, and give it a good clean now and then. A stylus brush (Clearaudio make an excellent one) can help keep dirt off the needle.
Thirdly, regularly check back on things like the tonearm weight, height and anti-skate. Setting these correctly at the start, as described above, will nullify almost all maintenance problems with your turntable, and regularly making sure that they are all okay (as well as checking to see if any parts, like the belt, need replacing) will go a long way to keeping things running smooth.
 
Turntable Weight Explained
Vintage gear was designed to be heavy and steady - from the floor mounted speakers to the proverbial tank-proof Technics 1210s. Turntable weight is an important sonic factor, but the reason for this might be a bit surprising to many. Gravity affects vinyl playback in multiple ways: the turntable's feet/chassis, the record itself, and the tonearm and stylus. We already stressed the importance of using absolutely flat surfaces and stands - adjusting the feet as to minimise vertical vinyl movement is paramount. Weightier turntables naturally minimise (or get rid of) chassis vibrations, especially when positioned nearby speakers producing deep bass harmonics, so yeah, the heavier the better.
Similarly, the weight of the record itself is very important for that skip-free continuous playback, and 120-140g (yep, weirdly this is in metric grams) vinyl is the standard weight for modern LP releases. With the current vinyl renaissance though, heavier vinyl such as 180g has become associated with audiophile quality - these records are considered less prone to jumps. Some even argue that they have slightly better soundstage and stereo imaging, though this of course depends on many other factors such as mastering, manufacturing and materials.
One potentially very helpful tip would be about using the so called record clamps (check this fine example). These have many benefits, especially when a record or a turntable weight might be an issue (we mean not enough of it). Not only they couple the record firmly to the platter, minimising warping and tilting, but they also free the stylus from unwanted internal resonances, sympathetic vibrations and harmonics. The resulting effect is as if the record is of higher rigidity, thickness and weight.
 
Slipmats: Cork vs. Rubber
Yes, although not all turntables require them. The Edwards Audio Apprentice TT1 Mk2, for example, is best used without the slip mat. But for most people, you're going to need one. They have several distinct advantages, including protecting the record from the actual platter itself. If you're a DJ, they help eliminate friction. And of course, as with any bit of audio equipment, there is just one to choose from. You can buy cork slipmats, which audiophiles swear by due to their resonant quality, or you can go for a standard rubber mat, which will vastly reduce vibrations – extremely helpful if you got a slightly unstable listening surface, or if you don't trust your turntable's stabilisers.
 
Digitizing Vinyl Records via USB
This might make a vinyl enthusiast frown, but some people like to digitize their vinyl collections. Nothing wrong with that - vinyl is big and cumbersome, and it's always handy to have a digital backup. Many current consumer-grade record players may now include a USB port built in and that of course makes things extra easy. There is an element of varying quality to built-in USB audio interfaces, however - more expensive units can offer a much better subjective audio detail. It is all down to the A/D converter chipset (also known as DAC) used by manufacturers, and if this term puzzles you slightly, we have more detailed info on DACs here.
Similar to the phono to line preamps available on the market, you can also find a phono to USB boxes: palm-sized devices which will patch your turntable to a computer. The normally included basic audio editing program would allow you to trim beginnings and endings of the digitized recordings and even repair some of the hiss and crackle.
Learn More About Hi-Fi Audio