Can you hear that? No? Can't say we're surprised. Unless you've experienced a great gaming headset first hand, you won't even realize what you're missing out on. But just like the HD revolution a few years ago, once you sample it for yourself, you'll wonder how you ever gamed without it. If you thought looks were everything, you must have heard it wrong. Whether you're a gaming audiophile with money to burn, or a gamer who's already burnt all their money, we've got you (and your ears) covered, in our list of the best gaming headsets of this year.

How We Choose:
It goes without saying that when choosing a gaming headset, sound quality is king. Why else upgrade if not for better quality audio? Value for money is also important: we're sure hearing Adele singing live in our living room would sound better than on CD, but we very much doubt we could justify singing to the note of her six figure fee (plus we only really know that one song…and just the chorus).
Build quality also plays a part in our choices. If we're going to invest our hard earned dollars into something, we expect a return. A big one. It has to be comfortable too. Gaming for hours on end in the comfort of our own homes, means it's only right that we're, err, well, comfortable. Finally, any additional features the headset provides. This could be Bluetooth connectivity, so you can choose to ignore calls mid game, charging wireless headsets whilst in use or customizable EQ options. Our Buying Advice guide below will help you tell your Dolby 7.1 from your DTS:X, so be sure to check that out for the full scoop.

Our Gaming Headset Picks: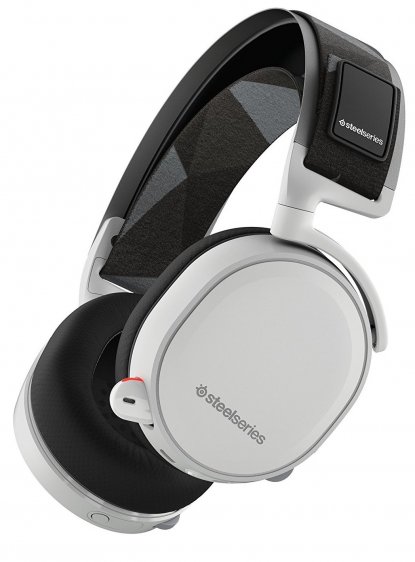 Weight: 9.9oz
Wireless: Yes
Sensitivity: 98dB
What We Like: Great sound, awesome comfort, versatile, brilliant value.
What We Don't: Creating sound profiles for music is time consuming.
The Arctis 7 is the poster boy of our list. With amazing audio out the box and complete EQ customization available through the SteelSeries Engine 3 software, you can tell from the first utterance of noise that you're on to a good thing. The surround sound packs an immersive, directional punch, and while music sounds impressive, setting up some EQ profiles really unlocks the unit's potential. Stick to stereo though, as the DTS surround made directional noise harder to pinpoint. No competition for the Astro A50's Dolby 7.1 solution.
The Arctis is also extremely comfortable thanks to its lightweight alloy frame and Airweave fabric ear cups. Its adjustable elastic ski goggle strap means finding the perfect fit is dead simple. And the design is slick. So slick we wish we could wear them outside and make real people jealous. With its combination of USB and 3.5mm inputs the headset has more platform versatility than a gymnast and its retractable microphone really compliments the stellar build quality. For a wireless headset, the mic's sound quality is top tier, and the wireless transmitter features the ability to play your audio through your desktop speakers as well. Oh, and did we mention the price? At $150, the Arctis 7 is in a league of its own.
See the Steelseries Arctis 7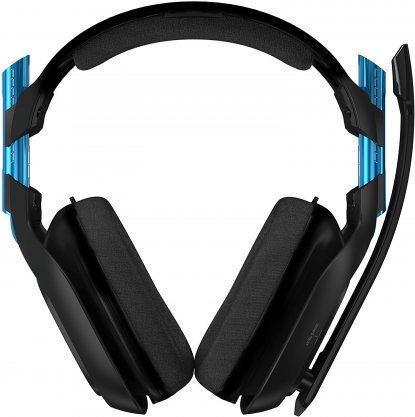 Weight: 13.4oz
Wireless: Yes
Sensitivity: 118dB
What We Like: Amazing sound quality, comfortable, top build quality, smart shutoff.
What We Don't: High price point, complicated software, muddy mic.
With a frequency range more impressive than Tiger Woods' love affairs, three EQ modes and Dolby's virtual 7.1 surround sound, Astro have got it covered. On its default setting, the A50s produced one of the most immersive audio gaming experiences we encountered. The 'studio' setting gives a flatter EQ, allowing movies and music to be heard as intended, whilst the 'pro' setting reduced bass, allowing footsteps and other slight noises to be more distinguishable.
Although made from plastic, the A50's don't feel cheap, thanks to innovative design and great build quality. The new dock/wireless transmitter doubles as a wireless charger (very nice) and Astro have added an accelerometer in the headset which tells the battery when you are/aren't using it. This enables the headset to sleep when not in use, which, when combined with the 15 hour battery life, alleviates the main gripe with wireless headsets. No not the price (have you seen the Arctis 7?), but the battery life. The ear cups are open-backed and made from a soft fabric, which really adds to the comfort. Their modular magnetic design means you can swap them (and the headband) out for others available via the MOD kit. Astro's shortcomings, and we mean short, start with the slightly over compressed mic. We definitely preferred the mic on the Arctis 7 and even the Cloud Alpha. Our other gripe was that although the Command Centre software is useful, it was far too complicated for the casual user. It's a high price, but those who can invest will not be disappointed. This is next-gen stuff.
See the Astro A50 Wireless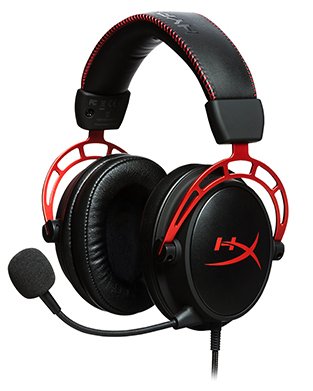 Weight: 12oz
Wireless: No
Sensitivity: 98dB
What We Like: Build quality, sound quality, value-for-money.
What We Don't: No software.
You can tell HyperX mean business with this one. The headset is premium, with its high-quality, lightweight aluminium frame, fixed firmly to the closed back, memory foam lined cans. The headband creates enough tension for you to know where your money's gone, but not so much that a certain scene from Total Recall is likely to be re-created. No, not the one with the three boobs…
Design wise, the Alpha isn't testing convention, incorporating the signature red and black colorway we've all come to expect from any gamer product released, ever. That said, the headbands high quality contrast stitching and embossed HyperX logo do well to compliment the minimalist design, resulting in something that might not match the Arctis range in terms of style, but could certainly teach the Sennheiser PC 373D how to feel young again. And sound wise, the Alphas deliver. The closed back design does well at isolating external noise, while the 50mm drivers take care of the rest. On par with the Arctis 5 and 7, no other mid-range set creates the same clarity amongst the higher frequencies as the Cloud Alphas. Slight bass and mid boosts coupled with a lack of software again hints at the Alphas bias towards gaming, but music and movies still sounded superb. The detachable mic is a nice touch and pulls its weight in terms of sound quality, avoiding being too gainy, or conversely, too compressed.
See the HyperX Cloud Alpha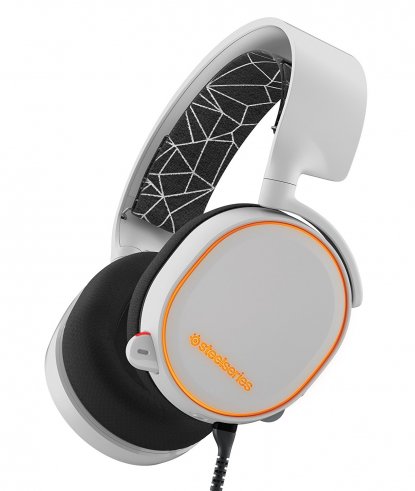 Weight: 9.9oz
Wireless: No
Sensitivity: 98dB
What We Like: Retractable mic, comfortable, sleek design, great price, use anywhere.
What We Don't: Surround sound lacking.
As an older, wiser member of the Arctis family, it will come as no surprise that the Arctis 5 is comfortable from the off. The retractable mic is great to see and thanks to its wired connectivity, the cans sound better than their wireless counterpart, the Arctis 7 - especially for under $100.
Your custom EQ needs are handled by Engine 3, and while te surround sound from DTS lacked the directional qualities of other headsets we've tried, such as the ManO'War from Razer, but when combined with the 'immersion' preset, still blew our socks off during action sequences in single player games. Thanks to its slick design, retractable mic and wired connectivity you really can use this headset everywhere, from your office at home to the train on your commute. The Arctis 5 features RGB lighting on the cups, and although we think it's pointless (as only others can see it) it hasn't come at the cost of functionality or price, so we'll let it slide. If you want the slick design, awesome mic and sound quality of the Arctis 7 on the move, but aren't fussed about wireless tech, slightly better build quality and an updated design, then this is the headset for you.
See the SteelSeries Arctis 5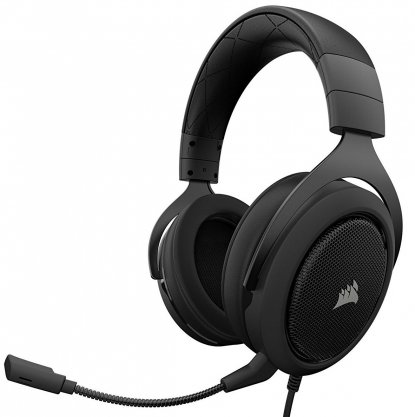 Weight: 10.6oz
Wireless: Yes
Sensitivity: 106dB
What We Like: Amazing value for the price.
What We Don't: No USB connection.
What a relief! A gamer-focused, sub $50 dollar headset, without colors bright enough to blind us. Not only does the HS50 appease the gods of visual subtlety, its audio quality is pretty heavenly, too. While it doesn't quite transcend to Siberia 840 levels, games sound full, bright, and balanced. Music and movies sound natural, avoiding the typical low end boost of gaming headsets, but clearly lack definition across the upper mids and highs. Fear not, as any discomfort caused from the harsh highs will soon be alleviated - thanks to the super plush, faux-leather cups that are so plush that glasses-wearers won't even realise they've got their specs on. Just remember to double check you're still wearing them before leaving the house.
Our only issue with the sound quality is the fact you are restricted to a 3.5mm analogue connection, which can cause sketchy feedback hums. You won't notice it too much while playing, but content creators using a single audio channel in OBS/Shadowplay will definitely be affected. So, be aware. Although it's not expected for the price point, we're glad Corsair haven't thrown a bolt-on virtual 7.1 feature in to the mix. That, coupled with the lack of RGB or clichéd gamer styling, tells us Corsair are trying to sell this headset based on its utility in an already overcrowded space. The HS50 is incredible value for money. It sounds awesome, is a pleasure to wear, and avoids all the gimmicks that usually turn us off. A digital connection would have been nice, and sure, a DAC would remedy this, but that extra cost negates the most attractive thing about the HS50. Want bang for buck? Look no further.
See the Corsair HS50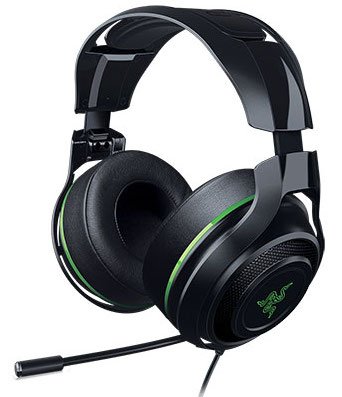 Weight: 11.7oz
Wireless: Yes
Sensitivity: 118dB
What We Like: Quality mic, comfortable, strong wireless signal, user friendly software.
What We Don't: A lot of flex.
With a decent mic, one of the strongest wireless signals in its price range, and a very rich-sounding default audio, the ManO'War 7.1 from Razer really curb-stomps most of the competition. You get virtual 7.1 surround sound, custom EQ options, and a retractable mic, which doesn't sound as good as the HyperX Cloud Alpha, but is still solid - and easy to position. Instantly, the headset is noticeably comfortable, thanks to its huge leatherette ear cups. More cushion, however, inevitably leads to more pushing in terms of size and weight, and after extended periods the plush leatherette cups became hot and sweaty. This is definitely in-part due to the round shape of the cans, something the Logitech G430 avoids for considerably less cash.
The Razer Synapse software felt intuitive with familiar presets making it clear how to achieve the sound you want and the ability to individually control the type of sound and volume in each program was a nice touch. With a $110 Amazon price at the time of writing, the ManO'War isn't pulling any punches. But it's swings and roundabouts when looking at the ManO'War's build quality. It feel's surprisingly light for its chunky design, which although not necessarily a bad thing on its own, started to concern us when we realised how much flex there was in the frame. It lacks the solid feel that companies like Sennheiser are able to deliver on the PC 373D and GSP 350. We wish Razer had swapped the RGB lighting out for a 3.5mm jack or a more slim line design. Still, for the price - and if you don't mind the chunkier design and lack of a hardwire option- the ManO'War could be the one to lead you to victory.
See the Razer ManO'War 7.1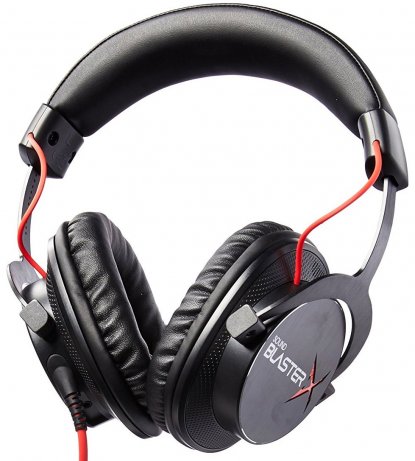 Weight: 11.3oz
Wireless: No
Sensitivity: 118dB
What We Like: Fantastic comfort, brilliant software, great value.
What We Don't: Conflicting design, Windows 10 issue.
The H7 Tournament Edition is Creative's flagship gaming headset, and although the high contrast colorway might steer some off course, it's what's going on below deck that's leaving competitors with a sinking feeling. With its upgraded 50mm FullSpectrum drivers, the H7 sounds amazing. Delivering a rich and full tone across games, movies and music, it truly is one of the better sounding sets in our list. It might not handle mids and highs quite as well as the Sennheiser PC 373D, but cutting half the price makes that an easy compromise to live with. The microphone is also decent, and, while it doesn't hit the heights of a dedicated USB condenser, it's up there with the slightly more expensive Arctis 7.
Looks-wise, the black, brushed metal cup plates really compliment the gun metal arms. However, although we're fans of the high contrast red cables, we do wish Creative had reduced the aggressive styling of their X logo, which, in our opinion is far too prominent, and detracts from the slickness of the brushed metal frame. Oh, and it lights up - yay? That being said, the headset is super comfy, lightweight, and built in such a way that allows it to bend, flex and twist without ever feeling like it's about to break. So, top marks for design. The BlasterX software provides presets for your favorite games (CS:GO, DOTA 2 etc.) as well as the ability to tweak custom profiles. Some of the pre-sets worked better than others, but, as the ability to completely customize your EQ settings is available, we can't really ask for more. In true gamer-centric fashion, there's even a Scout mode, that lets you hear footsteps easier in stereo. The virtual surround will appease some but, while it does add a layer of immersion for casual gaming, serious gamers will notice its poor, rear directional sound representation. The only real issue we've seen are complaints of poor Windows 10 drivers causing the left and right channels to switch intermittently, although we never ran into this issue ourselves.
See the Creative Sound BlasterX H7 Tournament Edition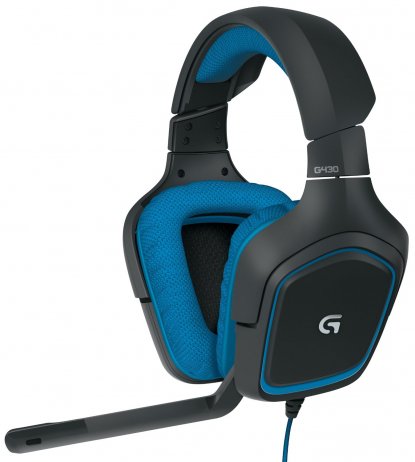 Weight: 8.9oz
Wireless: No
Sensitivity: 90dB
What We Like: Amazing value, perfect for gaming, comfortable.
What We Don't: Surround sound lacking, music doesn't sound the best.
First things first, this headset is comfortable. Surprisingly so for its low price point. Thanks to an adjustable headband, plush ear cups and lightweight build, the G430s felt nicer to wear than both Razer's ManO'War and HyperX's Stinger headsets. That said, the G433's lacked the noise cancelling properties of both, which may put some off, but in our opinion, that's a small price to pay for this level of comfort
The sound quality is unbeatable at this price point. Directional noises are easy to pinpoint and bullets and explosions carry a certain amount of weight, however, the surround sound was less impressive and seemed thrown in. Custom EQing is available thanks to the Logitech Gaming Software, and although you can't save individual profiles, it's nice to see this feature included. HyperX Cloud Alpha take note. Music didn't sound bad, but it wasn't great. This could be fixed via EQ adjustment, and the lack of pre-set functionality makes it a chore. The mic quality is again unbeatable in this bracket, but with no noise cancellation those of you in noisy environments may lose steam friends quicker than you drop frames in Arma 3. That said, if you want a supremely comfortable, great sounding headset and mic for gaming at an unbeatable price, the G430 is a must buy.
See the Logitech G430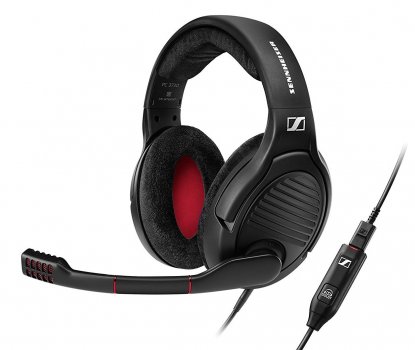 Weight: 12.5oz
Wireless: No
Sensitivity: 116dB
What We Like: Understated design, amazing audio and build quality, brilliant surround sound, clear mic.
What We Don't: Expensive considering the lack of versatility.
Let us start by saying this headset is one of the best-sounding on the list. Its build quality is next to none. Its mic although very compressed, sounds clear and solid in the mix. The surround sound might not be on the level of the Asus ROG Centurion, but it's head and shoulders above Razer's ManO'War 7.1, delivering one of the better virtual surround experiences we encountered. We like the aversion from stereotypical gamer designs found on headsets such as Logitech's G633 and it is right up there on the comfort scale. In fact we love this headset. It's fantastic.
So why is it number nine? And below the Razer? Well, it just doesn't go above and beyond in any area aside from its cost. We know the A50's from Astro cost an extra $100 more, but they are pushing boundaries with their tech. The 373s just do everything you'd expect from a well-established audio company selling wired headsets at high price points. On top of that, they are USB only, which pretty much limits them to PC use. So although a brilliant headset, we can't give the 373s a place in our top five because they're priced too high. Also, we're all for understated design, but we can't help but feel the 373s are teetering on the wrong side of dull. That said, if you want one of the best sounding, well built and most comfortable headsets available just to use on your PC...and money is no object…this is the one we'd go for.
See the Sennheiser PC 373D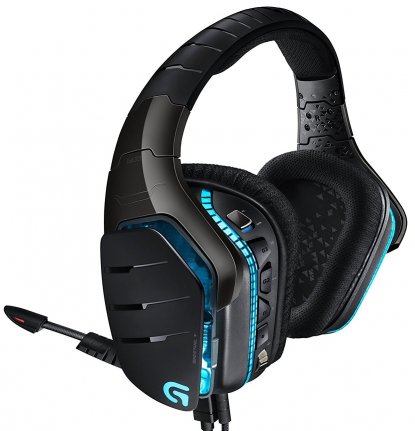 Weight: 13.2oz
Wireless: No
Sensitivity: 107dB
What We Like: Comfortable, great value, great sound for music and games, versatile.
What We Don't: Build quality not the greatest for the price.
We have to be honest, we were umming and ahhing between the G933s or the G930s for this spot. Weighing up the pros and cons of old versus new, with the older 930s being very similar in terms of quality, yet lacking the versatility, battery life and finesse of the new 933s. However, we then noticed the G633s, which offer all the features and sound quality of the G933s but for half the price! The payoff? A single wire. And let's be honest, there's enough wireless tech already in this list to excite the most obsessively compulsive amongst us.
The sound quality is great for games and comes with 'FPS', 'Moba' and 'Cinematic Gaming' presets. Music also shines and Logitech's Gaming Software allows all presets to be adjusted and custom ones to be created, something we wish HyperX would employ on their Cloud Alpha headset. Buttons on the ear cups allow quick swapping between profiles and the mic quality was adequate for standard use. The headset although slightly heavier than some, is very comfortable, especially around the ear cups. It feels solid too - something the more expensive ManO'War failed to be - for considerably less money. It has USB and 3.5mm connectivity allowing use across multiple devices, which some higher priced models can't claim. Aside from the custom preset features, the G633 comes with RGB lighting (of course), and Dolby 7.1 or DTS X Surround. If you want a high-end headset without the High-end price tag and don't mind wired connectivity, this is the one for you.
See the Logitech G633 Artemis Spectrum
Weight: 15.9oz
Wireless: No
Sensitivity: Unknown
What We Like: Unrivalled surround sound.
What We Don't: Big, bulky, expensive.
This headset creates the most immersive audio playback on this list. Period. It has five pairs of drivers inside the ear cups, which inject ear popping audio directly into your cerebrum, while the noise cancelling tech reduces up to 90% of environmental sound. Which is probably more beneficial to everyone else in your house, to be honest. The provided amp is required to power these monsters, but they also deliver something that the Arctis 7 and Astro A50's can't - true surround output. This allows you to hook your PC up to any other surround sound systems in your possession and get this party started.
The headset's design is…interesting, and like the G633 wouldn't look out of place on the holodeck of your favorite star cruiser. But these aren't meant to be pretty. They're meant to be devastating, machines of inner ear destruction. The high price tag means you'll also be destroying any chance you had of getting a mortgage, but owning a pair of these means being homeless never sounded so good. They are heavy too. Without the chunky cable connecting them to the amp, they weigh in at a whopping sixteen ounces. So not the comfiest. But when was being cool ever comfy? The provided software and amp affords massive customization and more presets than all the headsets on this list combined. So if you want the most immersive audio gaming experience available and don't care about anything else, then these are for you.
See the Asus ROG Centurion 7.1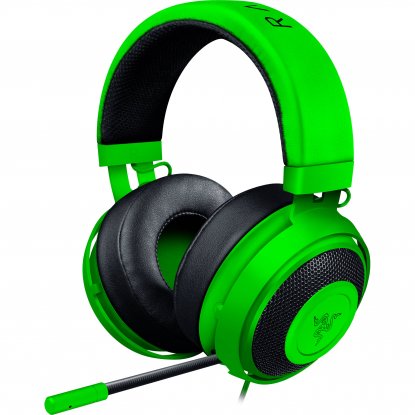 Weight: 11.4oz
Wireless: No
Sensitivity: 118dB
What We Like: Lightweight, sturdy design, strong sound for price.
What We Don't: Oval ear cups aren't standard.
This no frills headset from Razer has been built to provide gamers with a headset that sounds good, feels comfortable and costs less. To be fair to them, they came pretty close. The aluminium frame is both lightweight and flexible. The retractable mic feels robust. The headband doesn't clamp too hard on your head and the sound-isolating ear cushions feel plush.
But here's the first problem. Just like on the ManO'War, the ear cups are round which, if you have big ears will be a comfort issue. Fear not though, loyal Razerians, oval-shaped ear cups are available…for a price. In terms of sound, the overall impression is good, edging out the previous champ in this bracket – the Corsair Void RGB. Definitely punching for its price, the Kraken's 50mm drivers and design of ear cup do well at creating and delivering the lows. The mids and highs carry a certain level of clarity but start to muddy throughout the higher volumes. Everything is customizable inside of Razer's Synapse suite though, meaning you can tweak 'til your heart's content. Although the V2 Pro isn't the flagship Kraken (that would be the 7.1 V2), the lack of RGB lights and artificial surround sound means Razer can deliver a real blow to the low/mid-range market. With great build quality, impressive sound and no gimmicks, it's hard not to recommend paying the extra $20 and upgrading from the Logitech G430…Until we think about those round ear cups.
See the Razer Kraken Pro V2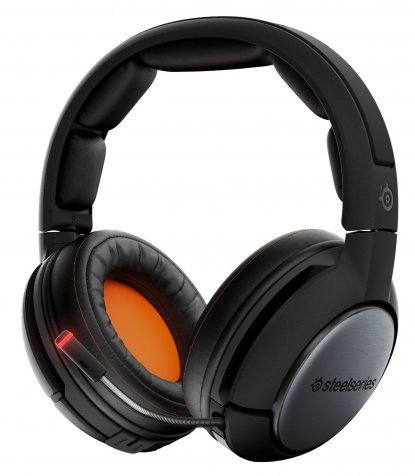 Weight: 11oz
Wireless: Yes
Sensitivity: 100dB
What We Like: Connectivity, replaceable batteries, twenty-hour battery life.
What We Don't: Expensive, not a huge upgrade from the 800, mic audio quality.
The first (and last) headset in our list that provides Bluetooth connectivity, which when coupled with its USB and optical outputs allows usage with pretty much everything that emits an audio signal. The transmitter has an OLED screen on it which is very handy for quick preset adjustments. Its memory foam ear cups and relatively low weight provide optimum comfort, and the minimal design and lack of RGB lighting pleased us in the office immensely. Build quality rivals that of the 373D from Sennheiser, whilst the design equals the Arctis 5 and Arctis 7 for best in class.
Another awesome feature on the 840s is the ability to swap the battery packs out, with one spare coming in the box. As batteries lose their ability to hold full charge over time, this really helps eek out the 840s value-for-money and is something to bear in mind when considering the value of other wireless purchases such as the Astro A50 and Razer ManO'War 7.1. And believe us, it needs all the help it can get. The sound quality is awesome across games, music and movies, with the only notable complaint coming in the form of mic audio quality, which came across quite thin in the mix. The 7.1 surround only worked moderately well, which was a disappointment at this price point. The 840's have supreme stereo sound quality, comfort, design and battery life. The Bluetooth connectivity is a handy feature for people who game and use their phone in equal measure and the versatility is second to none. However, an average microphone, underwhelming surround sound and overwhelming price tag mean some users will be giving the Siberia 840s a cold shoulder.
See the SteelSeries Siberia 840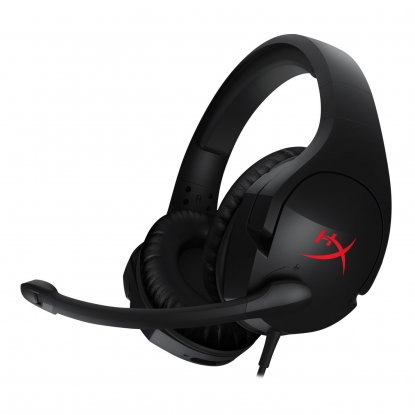 Weight: 9.7oz
Wireless: No
Sensitivity: 102dB
What We Like: Great value.
What We Don't: Build quality issues.
Another cost effective entry, for those looking for a no frills, gaming headset that gets the job done. The audio quality is remarkable for the price, on-par with the more expensive Corsair Void, however during streaming and gameplay recording, feedback could be heard from the mic's 3.5mm connection, although this wasn't audible to us during gameplay. So content creators beware. The audio is punchy enough to perform well in games, but balanced enough so music sounds equally as nice.
On TeamSpeak and Skype the microphone sounded good and the noise cancelling feature worked well. The headset looks nice too, with a subtle design and a black/red colorway, you wouldn't be surprised seeing this on stage at your favorite e-sport tournament. From a distance. On closer inspection however you can tell this headset isn't a high-end model. Although it doesn't feel flimsy, the build quality isn't quite there, with the headband having significant rotational flex. That said, the foam ear cups felt comfortable and the leatherette material never made our heads too hot or sweaty. This headset is almost as good as the Logitech G430, maybe even outperforming it on music playback, back, but not so on build quality or price. So, If you're looking for a no-frills headset that provides fairly good quality audio with a decent mic at an affordable price and nothing else, this is probably the ticket.
See the HyperX Cloud Stinger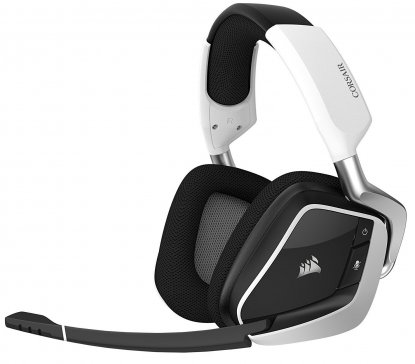 Weight: 13.7oz
Wireless: Yes
Sensitivity: 106dB
What We Like: Decent sound quality in games.
What We Don't: Limited EQ options.
The Corsair Void Wireless's design is an acquired taste, to say the least, and we still can't tell if we like it or not. Inside the Void's plastic casing, you will find the metallic subframe, and the main reason for the Void's undeniable durability. On the other hand, the external plastic of the Void feels pretty cheap, and, when coupled with the unconventionally-shaped (but extremely comfortable) earcups, there's a lot of horizontal movement when the Void is on your head.
Given its price point in comparison to the other wireless headsets we've reviewed, we can forgive a slightly cheaper feel - so long as the audio is on point. Which it is. The sound produced is excellent for games and alright for movies and music. Our only gripe would be that the soundstage on the latter two can feel very narrow at times, and it doesn't help that the EQ options in the software suite are pretty limited. However, they do include custom presets for movies and games, as well as a single custom EQ profile for your meddling. Inside Corsairs Utility Engine (CUE) you also have access to the virtual 7.1 surround settings, which, although they work well, can cause sound to become muddled, hampering directional awareness. In our opinion, stereo is where it's at for the Void. If you have multiple Corsair RGB products, you can also have them operate in unison, like some psychedelically infused lighthouse - or you can just have them pulse white. Either way, your battery life is the main victim here. Reduced to a useable sixteen hours, just don't forget to charge them after every use. Or buy the Astro A50's. Your choice.
See the Corsair Void Wireless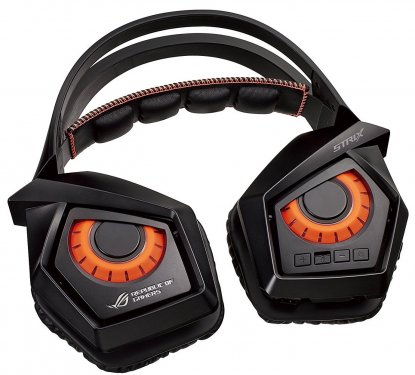 Weight: 12.3oz
Wireless: Yes
Sensitivity: 98dB
What We Like: Decent bass response, 7.1 surround is impressive.
What We Don't: Low battery life, lots of competition.
The design is pretty out-there on this one. Two giant owl eyes emanate from each ear cup, on some Pan's Labyrinth vibe. Combine that with the amazing bass response these kick out, and things going bump in the night could well have your neighbors calling the police. Asus claim the dual antenna feature provides a faster response time than Bluetooth, and although we can neither confirm nor deny this statement, we can confirm that the signal never dropped.
The plush ear cups and double strap headband provide a lot of comfort, however the 10 hour battery life was disappointing especially considering the Astro A50s have a lot more tech to power and last 33% longer. Considering the lack of RGB, we can only assume it relates to the dual antenna tech. The audio quality is decent and fully-customizable via Asus' Sonic Studio software, and we enjoyed using the headset in-game as much as we did whilst listening to music. The surround sound was impressive at this price point and although it wasn't as well-executed as the Asus' Centurion, it's definitely in contention for best value surround on the list due to costing less than half the price. The only real negative aside from battery life is the sheer volume of competition at this price point. If you're looking for a wireless headset that won't drop out when you need it most and want a beefy bass response with awesome 7.1 surround sound, this could be for you.
See the Asus ROG Strix Wireless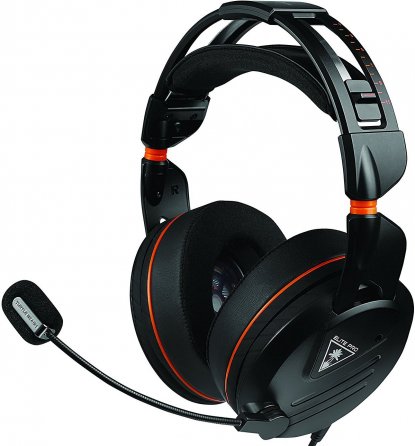 Weight: 13.1oz
Wireless: No
Sensitivity: Unknown
What We Like: Great audio quality, considerate design, comfortable.
What We Don't: Doesn't do enough to justify its price point - especially when it comes to extras.
Turtle Beach's professional gamer grade headset is comfortable. Beating out the Astro A50s for most comfortable in the list. This is thanks to their ComforTec fit system which allows adjustment of headband tension as well as ear cup position. Aerofit ear cups, comprised of spandex fabric and gel-infused foam also contribute to the cause. Turtle beach have thought outside the box and created a 'glasses relief system' that allows you to create a small channel in the ear cups for your glasses' frames to sit in. Genius. And it really works. So 10/10 for comfort. But what about the sound? Well that's top notch too. Similarly to the Arctis 7s, the sound is full and rich, but punchy and crisp enough to pick out individual footsteps and gunfire in the heat of battle. Music sounded decent, although, unlike the Arctis 7s, without a flat EQ profile available, it was slightly muddied by the bass.
Where this headset falls short is with its requirement for the Tactical Audio Controller (sold separately) to get to the EQ presets. It costs an extra $150, which in our opinion is ludicrous. On top of that the microphone is average at best. A real shame as the headset is amazing as standard, and if it afforded the EQ preset options and a better mic, it could easily be in our top 5. As it is, we'll include it, but it needs some serious rethinking.
See the Turtle Beach Elite Pro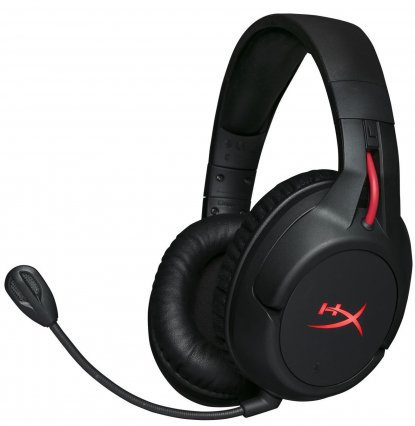 Weight: 10.6oz
Wireless: Yes
Sensitivity: 106dB
What We Like: Great battery life, comfortable.
What We Don't: Wireless is limited.
From the company that brought you the Cloud, the Cloud Silver, the Cloud...you get the point. It's HyperX, with their new premium wireless headset – the Cloud Flight. It's wireless, but most importantly, it's comfortable. Weighing in at a mere 10.6oz, and cushioned by the super plush, closed-back ear cups, the lightweight, all plastic design of the Flight is an absolute dream to wear. And as for battery life: provided you forego the questionable design choice of flashing LED lights (on an ear cup only the stationary in your room will see) you can expect up to thirty hours of audible pleasure. Choose not to forego the aforementioned, and your Flight will have to make an emergency landing after just thirteen. Splosh.
Speaking of audible pleasure, the sound produced by the Flight is very good indeed. Delivering a satisfying blend of lows and mids that really add a sense of weight to your gaming endeavours. The highs, although a little harsh the louder you push them, stay bright and detailed for the most part. We really enjoy the simple look of the Flight, and, while we are so over black and red, it works well here. So, we'll let it slide. However, the rotating ear cups - while cool and practical - feel delicate when they pivot. It's also worth noting that wireless functionality doesn't work for Xbox One consoles. You'll need to connect using the 3.5mm jack, at which point your mic stops working. Yikes. At least that protects other players from some of the nerd rage.
See the HyperX Cloud Fight

Comparison Table:
Want Even More Master Switch? Sign Up For Our Weekly Newsletter!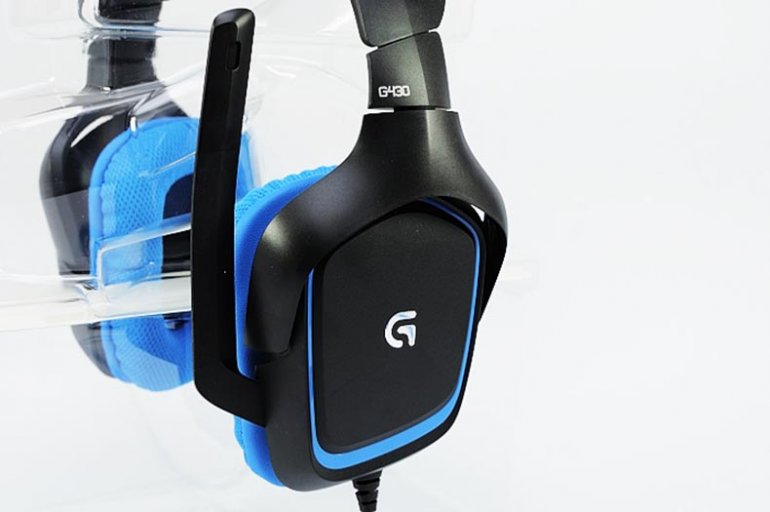 Buying Advice:

What Should I Look For When Buying A Gaming Headset?
Finding a gaming headset that really suits your needs can be tricky. There's a thin line between spending slightly more on a good-sounding headset with a feature you like the idea of, and paying over the odds for one with features you'll never use. Sometimes the jargon and marketing terms can be pretty overwhelming, with the necessary easily becoming entangled with the unnecessary.
So how can we simplify this? Well, it's pretty easy. The three most important factors to consider are sound quality, comfort and price. If a headset doesn't sound good, then spending a single cent on it is a waste of money. But what is 'good' sound? Well, that depends entirely on your taste. Some people like bass heavy sound that reverberates through everything in a ten-mile radius, others prefer a natural more balanced sound, and a few have been known to prefer a bit of both. Therefore, if you're dead set on a specific sound it's probably wise to choose a headset that comes with EQ software, which enables you to manipulate the sound to your taste.
Surround sound is another consideration, but we'll cover that a bit later.
We can't stress how important the comfort of the headset is. You're going to spend a lot time with this little guy. Crossing vast wastelands, encountering strange and intriguing alien species and er, listening to Spotify. So it's important your headset doesn't weigh you down or become irritating. The most important areas are the ear cups, headband and weight. Fortunately 99% of gaming headsets are reasonably comfortable these days regardless of price. The more premium offerings simply increase that comfort by using patented fabric tech and made up science names. Comfy, but definitely unnecessary.
Finally the price. This should be thought of in three distinctions. Firstly, what is your budget? Second, what are other companies offering for roughly the same price? And finally, what reputation does the company have, especially surrounding warranties and customer service?

Stereo vs. Surround Sound
The speakers in your headset, or the drivers as they are called, represent sound in different ways.
Stereo simply means two channels, a left and a right, and is created with a pair of drivers. One in each ear cup. Surround sound, which in gaming headsets is almost definitely 7.1, refers to 7 drivers and a subwoofer. Now packing all those drivers into a headset isn't always possible, so a lot of companies use their pair of stereo drivers mixed with some digital wizardry and recreate the impression of that sound. This is referred to as virtual 7.1 and is the case for 99% of the headsets in our list excluding the Asus Centurion. Most either use Dolby virtual 7.1 surround sound or DTS Headphone:X surround sound.
Another issue for surround sound, aside from space for the actual drivers, is space within the ear cup to allow that sound to disperse proportionately and create the intended sound. Now this is where you need to be careful, because some headsets do it much better than others. More often than not this is dictated by price.
If we're being frank, surround sound is kind of gimmicky in headsets. Although enjoyable for single player games or movies, for any online or competitive play you will want to use stereo, as it creates a much easier sound to distinguish in a space as confined as ear cups. That said we've highlighted the surround sound achievers in our list, so if you're unsure be sure to check that out.
And if you want a more music-focused headphone, check out our list of the best high-end headphones of this year.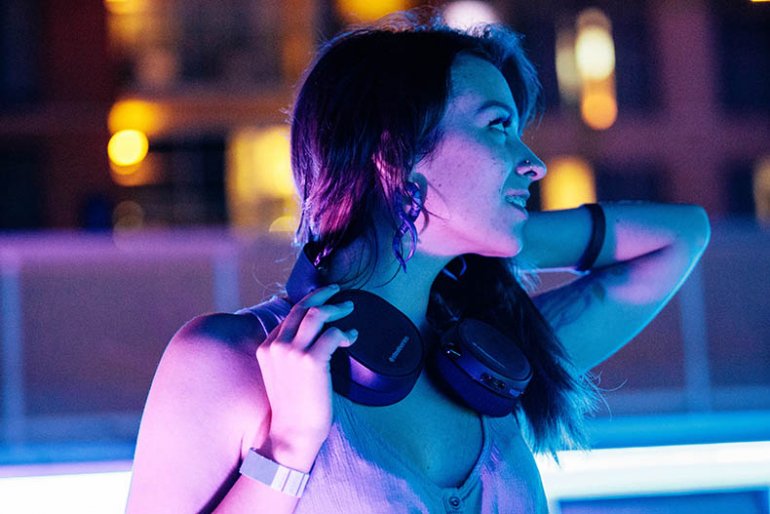 Drivers Explained
As we've already mentioned, the speakers inside your headset are called drivers. The most common distinction between a driver (and one you'll find plastered over the box of your latest purchase) is its size in millimeters. The most common in gaming headsets being 40mm. Some use 50mm, some 30mm and true surround sound headsets even use 20mm as rear left/right additions. It is important to note that a larger driver does not mean a louder or higher quality sound. There are many more factors at play including the mass of the driver, the material the driver is made from, how the driver has been tuned and the size of the enclosure (ear cup) that the driver is placed in.
Larger drivers have been known to produce lower bass frequencies, however, the quality of the driver and its enclosure is more important than its size. Now this information is not always available, but companies such as SteelSeries often use the same drivers across multiple headsets, so a quick google will often tell you how good a certain driver is. A good example would be the SteelSeries Arctis 7, which uses S1 speaker drivers which are also found in their $300 headsets. Not bad for a $150 purchase.

Sensitivity Explained
Another term you'll see accompanied by a smattering of numbers is sensitivity or SPL (sound pressure level). Essentially, this is a measurement of how loud a headset will produce sound at a particular power level. Now, it's worth taking this stat with a pinch of salt as due to variance in power sources (amps, interfaces etc.) the measurement of sensitivity is not always a true representation of how loud the headset will sound for you. Also as sensitivity is measured in decibels per milliwatt and power from your PC (and every other electrical device on the planet) is delivered in volts, the methods used by companies to arrive at their value of sensitivity can be inconsistent, which doesn't really help anyone in deciding whether or not a particular headset is right for them.
At this point we'd like to give you the best piece of advice out there surrounding headsets. Get your hands on them and try them out. Order some online and if you're not happy with them, swap them for another set. That said though, every headset in our round-up bangs. Guaranteed. So if you're not sure, have another read through our list, make your pick and sleep easy tonight.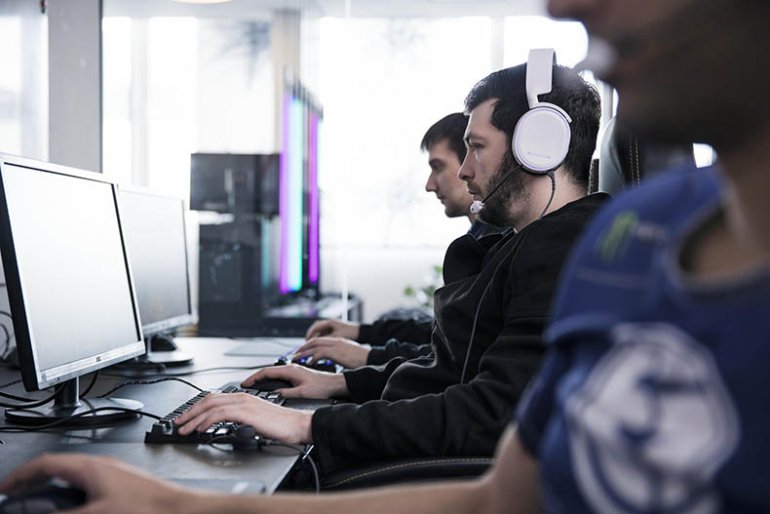 EQ Explained
The software that comes in tandem with your latest and greatest headset has many options for changing the type of sound it delivers, often in the form of presets. As an example the most common preset would be bass boost. Now bass boosting would involve increasing the levels (in decibels) within the 60 – 250 Hz frequency range. Sounds simple in theory, but how do we do that? The answer: equalization, or EQ.
Well most software packages from headset companies include an EQ option alongside their presets. Presets are just EQ customizations done at the manufacturer's end and saved as a handy option for users to switch on/off as required. However, as we discussed earlier people like different types of sound, so a bass boost preset for one person may be too much or too little of an increase in bass for another.
Using the EQ option in the software package allows you to manually adjust specific frequency ranges to achieve different types of sound. Now this can sound and even look daunting the first time you see an EQ graph, however if you remember there's only three main areas; Bass, Mid and Treble, with only an increase or decrease available in each area it can be as simple or complicated as you want it to be.
Now go forth and get that headset sounding crisp, ya heard? And if you need more gear, you could check out our list of the best gaming mice, too.

Connections Explained
The most common types of connection for gaming headsets are 3.5mm and USB. You'll also sometimes see optical connections. Let's break them down.
3.5mm connections are the round ports found on not only PCs but also on phones, tablets, T.Vs, car stereos and pretty much anything else that emits sound. Except iPhones, because Apple suck. Anyway: the obvious benefit of having a 3.5mm headset is that you can use it on any of these devices. The Logitech G430, for example, is an average-sounding headset at an entry level price, but can be used on more devices than you can shake a stick at. The potential negatives are that because it's an analogue connection, if the build quality isn't up to scratch on either A) the headset or B) the device, it can affect the quality of the sound being sent by your mic or received by your cans. Another benefit of the 3.5mm connection being used on PC's is that ONLY audio devices use 3.5mm connections, so you should always have room to connect. Not something that can always be said for the USB ports.
USB connections are the rectangular-shaped ports found on your computer. A benefit to using these is that they are completely digital, so failing a nuclear fallout (or accidental spillage on your machine/device) the signal should be perfect. Conversely to 3.5mm ports, your PC uses USB to connect everything from mice, keyboards and webcams to flash drives, audio interfaces and printers. This means you might not always have space to have everything connected at once. Bummer. The other downer to USB headsets is the fact that not every device has a USB port or if it does, it might not support audio output. For example, there's no USB port on your phone or tablet and the ones on your TV don't support audio output. This seriously limits the potential value of headsets such as the Sennheiser PC 373D, which although an amazing headset can ONLY be used at your computer.
Optical connections, like USB, are digital connections and come with similar benefits. However, unlike USB they are designed for audio use only meaning if you have one on a device, chances are it will be free to use. That said, unless you have an expensive motherboard or an upgraded soundcard, it's unlikely you will have one. The most likely place to find them is on any modern TVs or games consoles. This is due to the popularity of TV surround sound systems and gaming headsets on consoles. This is why the Astro A50 is such a versatile choice. Although expensive, it has USB and Optical connectivity meaning it can be used on 99% of devices around the home.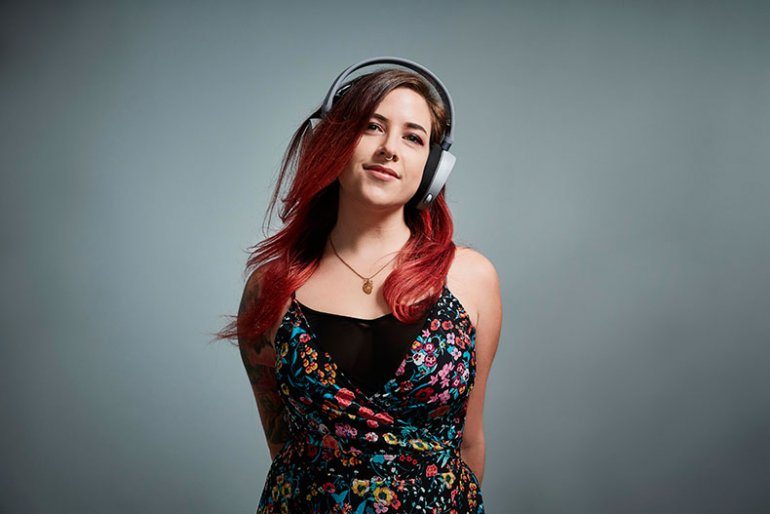 Open- vs. Closed-Back Gaming Headsets
Ah, the age old question. Open or closed? This refers to whether the headset design keeps sound isolated within the cans, or allows it to interact with the air.
Closed-back headphones restrict external noise entering and internal noise leaving your cans. The main benefit of this for gamers is that you are unlikely to hear any noises happening around you which could distract you from the actions. Another benefit for any late night gamers out there, is that you won't be disturbing anyone in your house with Duke Nukem's lude "Shake it, baby." At 4am.
A couple of potential cons with the closed-back design are comfort and sound quality. Due to the lack of airflow in and out of the cans, closed back (especially leather coated) headsets can get your head pretty sweaty, which after a while can become pretty uncomfortable. Secondly, because noise is trapped inside the cans it can sometimes create an unnatural sounding, or bottled up audio. This is entirely subjective so definitely worth checking out yourself.

Open-back headsets come with the opposite pros and cons. You'll be able to hear any noises going on around you and if you have the volume cranked too loud, anyone in the house will hear whatever it is your cranking. Open-back headsets are generally more comfortable as they get less hot due to the ventilation and sound tends to comes across more naturally. Personally we prefer open-back due to comfort and sound quality, however it's completely subjective, with pros and cons varying significantly across different models.

Gaming Headset Mics Explained
Not all the mics found on gaming headsets are created equal (shock, horror). But how can you tell your Michael Jacksons from your 'Taking the Mickeys"? Let's find out.
The majority of gaming headset mics are unidirectional, meaning the pickup pattern only accepts sound from a single direction, usually in-front. This is kind of a good thing, as your friends on the other end of the Internet probably don't want to hear any other noises from your house. But is unidirectional the best way to convey your voice?
In short no. No it's not. Believe it or not, bi-directional mics (which pick up noise from the front and back) actually works better. Working in a figure eight, the pick-up has a very tight front and back pattern rejecting noise from the sides and anything further than eight inches away. This creates something called the proximity effect, a natural frequency boost across the bottom end, resulting in a richness that unidirectional tech lacks. It also helps with the noise cancelling effect, as only acoustic sources very close to the mic (your mouth) receive the Proximity Effect, essentially boosts your voice above everything else.
Any gaming headset that says its noise-canceling, usually means bi-directional. True noise-canceling microphones, or active noise-canceling microphones, are actually referring to technology that requires additional power, circuitry, processing, mics and considerably higher price tags than anything in our list.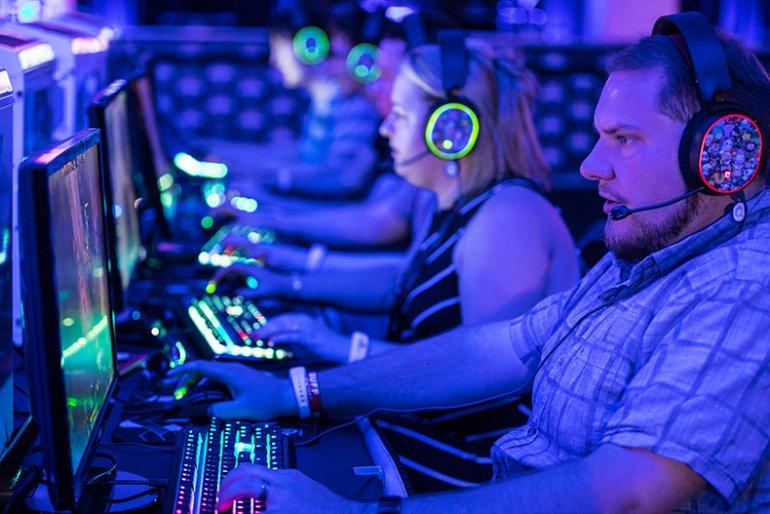 Impedance Explained
Another term you may find whilst browsing the extensive catalogue of gaming headsets is impedance. Measured in ohms (Ω) this refers to how much power your headset will need to operate.
Ordinarily it's hugely important when buying headphones, but not so much for gaming headsets. Most come with digital connections (USB, Optical) which have fairly standardized power outputs. Those that don't, come with their own in-line or standalone amp/wireless transmitters. The all-in-one convenience of gaming headsets is half their charm (and half their limitation), something which is definitely highlighted in their plug and play functionality. We're not saying people haven't plugged their 3.5mm HyperX Cloud Stingers into a 1/8"converter and blown them on some monster amp - we're sure they have – but part of the premium price tag you pay when purchasing one of these products goes towards maximizing accessibility while minimizing technical know-how.

So, in the words of Cypher from The Matrix: "Ignorance is bliss". Yes? Well no, not always. It will come as no surprise that some of the best sounding in our list also have the highest impedance. The HyperX Cloud Alpha comes in at 65Ω, Sennheiser 373D at 50Ω amd Astro A50's at 45Ω. Of course impedance isn't the only thing that affects sound quality, but it's an interesting spec to take note of in a space that doesn't require it, especially when making informed decisions.
Back To Our Gaming Headset Picks Back To Our Comparison Table