Headsets are good for gaming, but sometimes it's nice to just fill your room with sound whilst blasting your way through the levels to the final boss, or when you're locked-in for an intense Battlegrounds session. And if you're working for long periods at a computer, speakers are definitely the way to go. But where do you start? Do you need speakers with a 3.5mm, RCA or USB connection? Do you want a set of 2.0 or 2.1 speakers? And do you really need every feature under the sun, or do you just want something that gets the job done? Thankfully, we've got it covered. Whether you're looking for a stylish set of speakers with audiophile arousing sound quality, a more humble, low-maintenance set, or the most flamboyant pair of feature laden computer speakers in existence, we can help.


How We Choose:
Sound quality is pretty vital in our decision making process and as well as the power of the speakers, this includes the size of their drivers. It's important to realize that the audio fidelity of computer speakers is never going to be as good as, say, bookshelf or monitor speakers, but this is par for the course, and reflected in computer speakers' pricing. With that pricing comes value - another important consideration. Just because something costs a lot doesn't make it the best. It may cost more because it has an abundance of features and functionalities, or is from a popular brand. Is this cost justifiable for the majority of users? Conversely just because something is cheap and lacks features or a familiar brand name doesn't necessarily mean it's a bad product. There's a fine balance between cost and capacity, and we've got it locked. Other considerations include the design of the speakers – we like innovative and creative, but not obtuse and garish. The desktop footprint of the speakers is also important; if the size is justified by the audio quality or functionality, then sure, but we don't want huge/tiny speakers just for the sake of it.

Our Computer Speaker Picks: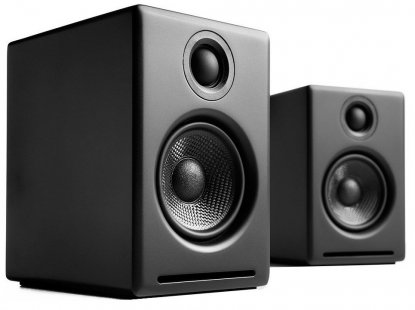 Power (RMS): 60 Watts
Size: 6" x 5.25" x 4"
Connection: 3.5mm, RCA, USB
Sensitivity: 95dB
What We Like: Amazing audio and build quality, perfect size for desks.
What We Don't: No Bluetooth.
No question about our number one here. Treading the line between computer and bookshelf speakers, the A2+ from Audioengine delivers on all fronts, easily making them the top pick for most people. The speakers provide extremely full, crisp sound, whether it be from your favorite playlist on Spotify, or your current game of choice. And although they don't pack the same punch as larger speakers, such as the A5+, we feel the A2+ hit that sweet spot for computer speakers, striking the perfect balance between size, price and audio quality.
They are small enough to sit comfortably on even the most modest desks, but still able to fill medium sized rooms with surprisingly big sound - and they're stylish, too. Mimicking the company's more iconic monitor speaker mentioned above, the A2+ look as good as they sound, with a variety of color options that mean they'll fit right in amongst the majority of set-ups. With an assortment of input and output options including 3.5mm, RCA and USB, the connectivity of these speakers is impressive, and although a Bluetooth option would have been nice for the price point, it isn't essential, as most people's music is shared across their platforms. The RCA output allows for a subwoofer to be added later down the line, but don't expect it to come cheap. Either way, there's no contest for our top pick here - for a combination of value, audio quality, build, design and size, this is the unquestioned leader.
See the Audioengine A2+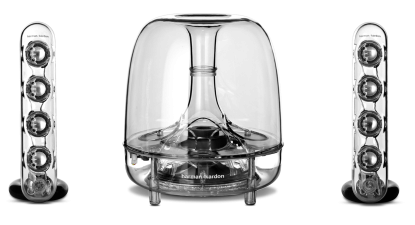 Power (RMS): 55 Watts
Size: Various (System is a 2.1, with included subwoofer)
Connection: 3.5mm
Sensitivity: Unknown
What We Like: Design, sound quality.
What We Don't: Hardwired cabling.
Definitely the most unique-looking set of computer speakers on our list, the SoundSticks III trio (from the legendary Harman Kardon) makes a notable first impression. The transparent casing is complimented by black rubberized bases and a white light that radiates from the sub when in use. Jazzy! The braided cables also look the part, however - disappointingly - they are hardwired to the unit, so any issues with them and you have to send the entire product back for repairs. Not so jazzy.
But how does it sound? In short: superb. Mids and highs are handled brilliantly by the two satellite speakers, whilst the lows are dealt with by the adjustable subwoofer. We still prefer the brightness of AudioEngine's A2+ speakers, but if you're looking for a more bass-heavy solution and are a fan of the exuberant design, an argument could be made for the Soundsticks to take the top spot. This 2.1 set-up - yes, there's an included sub - provides near flawless versatility across movies games and music. You can't really ask for much more.
See the Harman Kardon SoundSticks III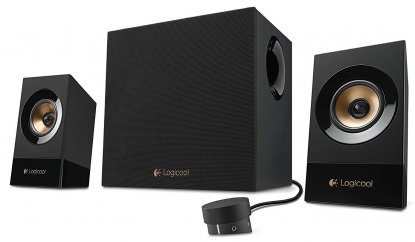 Power (RMS): 60 Watts
Size: Various (System is a 2.1, with included subwoofer)
Connection: 3.5mm, RCA
Sensitivity: 80dB
What We Like: Big sound, affordable 2.1 setup.
What We Don't: Lots of wires to deal with.
We were stunned by Logitech's 2.1 offering at this price point - the Soundsticks, above, is almost double. Beating out 2.0 entries from Creative and Edifier in terms of sound quality is no joke, and the Z533 really stamps its mark into the midrange category.
Things aren't all perfect. Although the Z533 sounded clear and natural, it lacked the detail of the Soundsticks III from Harmon Kardon, even though it still sounded amazing. The sub dealt with the lows well enough, allowing the satellites to handle the mids and highs, which helped avoid any muddying. Movies felt vibrant and lively during loud sequences, but also tight and succinct during the quieter moments. Games were equally as impressive, although again, we felt the SoundSticks gave a fuller, more detailed experience across the medias. Design wise, again, we preferred the SoundSticks III, although we love the Z533's exposed drivers in all their black and gold gloss glory. And one area the Z533 wins hands down over the SoundSticks is in price: coming in at $60 cheaper, it happily undercuts the Soundsticks. That being said, they're not a superior option: if you can afford the extra bucks then Harmon Kardon's your guy. Or girl. Or cyborg. We haven't checked.
See the Logitech Z533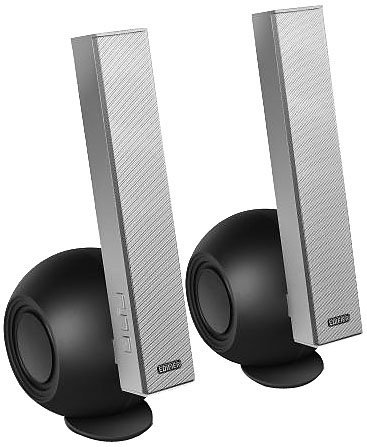 Power (RMS): 36 Watts
Size: 12" x 7.1" x 4"
Connection: 3.5mm
Sensitivity: 85dB
What We Like: Amazing value, visually- and audibly-pleasing design.
What We Don't: Lack individual bass, mid and treble controls.
Let's be straight, at this price point these 2.0 speakers are pretty much untouchable, although the T40s from Creative come close. Delivering crystal clear mids and highs the e10s from Edifier do little but impress. The lows, although not as prominent, still kick hard, and would suit users looking for more subtle bass solutions. They only begin to struggle when faced with really bass-heavy tracks.
We love the design of the Edifiers, too. Not only do they look stylish and contemporary, but the angled design aids the sound by directing it upwards towards your ears - something smaller speakers often fail address. The only real negative we found with the e10's is the lack of individual bass, mid and treble controls on the unit itself. Sure, there are plenty of software solutions, but as it's limited by its 3.5mm connectivity, it means you'll need multiple solutions if you play music off your phone or tablet. Still, although not the cheapest affordable solution in our list, the e10's payoff between audio quality and price makes it a top contender.
See the Edifier Exclaim e10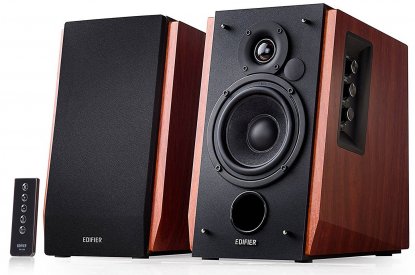 Power (RMS): 66 Watts
Size: 9.7"x 6" x 8"
Connection: RCA, Bluetooth
Sensitivity: 85dB
What We Like: Warm smooth sound, Bluetooth functionality.
What We Don't: Wood finish isn't as good as we'd like, bass sticks out.
Edifier are at it again with another entry high up in our list, this time in the form of the R1700BT speakers. The BT, if you were wondering, stands for Bluetooth (clever, that). The sound quality is awesome, with mids and highs sounding natural and detailed. Our only real gripe is with the prevalence of the bass. It's too much sometimes. Connectivity is a dream, and although limited to RCA inputs, Edifier have included a nice 3.5mm to RCA splitter for the dinosaurs, whilst the new kids on the block (please, no) are granted Bluetooth functionality, provided you have a phone/tablet/Bluetooth adapter.
We're not overly keen on the wood finish for a computer set-up; it may suit others tastes, but it's not really ticking our boxes. We wouldn't be surprised to find them in a log cabin during some surrealist nightmare scene in a Twin Peaks-esque movie, one where you wake up and time has accelerated you into a weird dystopian future void of everything you remember, and...look, we're not really sure where we we were going with this. The wood didn't do it for us, but they're built really solid, and feel robust enough to use as a lethal weapon, should the need arrive. Let's just leave it at that.
See the Edifier R1700BT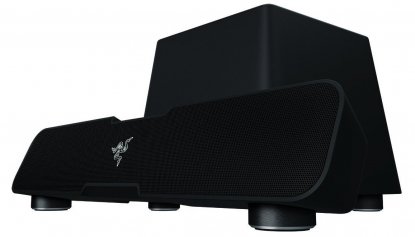 Power (RMS): 60 Watts
Size: Various (Bar and sub)
Connection: 3.5mm, Optical, Bluetooth
Sensitivity: Unknown
What We Like: Bluetooth, surround sound.
What We Don't: Overly-dominant bass.
For most of us, having a 5.1 setup for our computers is just way too complicated. You need a suitable-sized room, then you need to find suitable places for the speakers, then there's cable management, oh and now it's past 10pm and you're disturbing the neighbors. Nightmare. Step on up, then, the Leviathan gaming sound bar from Razer.
Using multiple drivers and Dolby's Pro Logic II wizardry, Razer have delivered a one-stop solution for those looking for something above and beyond the standard 2.0 or 2.1 options out there. Looks wise, the soundbar and sub are fairly discreet; aside from the company's logo and black finish, there's not much to report. The bar is designed to sit underneath your monitor, while the sub assumes the under desk/foot stool position. And it sound great: the virtual surround sound is never going to replace true 5.1, but it definitely gives you something more than a 2.0 or 2.1 solution. Movies and games become more immersive and music sounds larger than life. The only issue is the overwhelming amount of bass. It's cinematic and immersive on movies and games, but bring music into the fray and it could definitely cause fatigue over long periods. That said for the majority of gamers this could be a great alternative to a gaming headset. Just not on a Sunday night, yeah?
See the Razer Leviathan Gaming Sound bar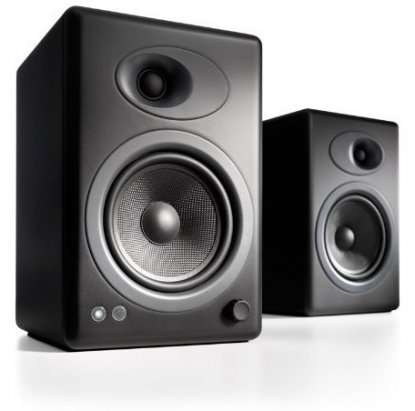 Power (RMS): 75 Watts
Size: 10.8" x 7" x 9"
Connection: 3.5mm, RCA, USB
Sensitivity: 95dB
What We Like: Best sound quality.
What We Don't: Sizeable price, needs a spacious desk.
Without a doubt the A5+ is the best-sounding set of speakers in our list. No prizes for guessing, then, that it's also the most expensive. Everything sounds good through these speakers, and the lows, mids and highs are all delivered precisely in a crisp clear display with zero muddiness throughout the frequencies. That said, if you're looking for bass, then perhaps a 2.1 option would be a better fit. That's not to say the A5+ lacks bass response - far from it - however, the bass acts as an accompaniment rather than the main attraction.
Moolah isn't the only thing you're going to need a lot of if you want to make these babies yours. You're going to need desk space. Lot of desk space. This is to be expected for those used to dealing with studio monitor speakers, which is kind of who these are aimed at, but for those of you more accustomed to traditional PC speakers, be warned. That being said, these speakers really are a pleasure to use, and although the price will put some users off, and keep them from the upper reaches of the list, if you can afford the A5s, you won't regret the purchase.
See the Audioengine A5+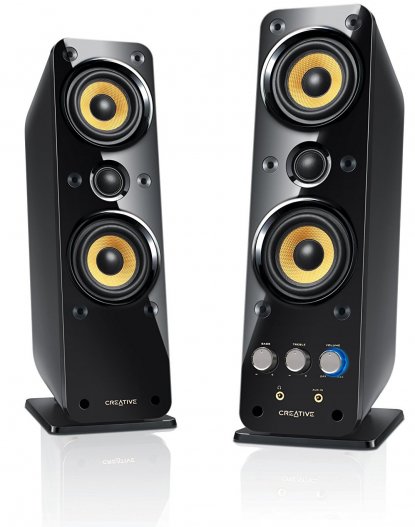 Power (RMS): 32 Watts
Size: 12.6" x 5.9" x 4.6"
Connection: 3.5mm
Sensitivity: 80dB
What We Like: Good sound, solid looks.
What We Don't: Slightly overpriced for what you get.
Creative are an iconic company within the PC world thanks to the rise of their legendary Soundblaster sound cards throughout the 90's and beyond. So it comes as no surprise that for a 2.0 solution, the T40s perform admirably. Mids and highs were crisp and clear, accentuating footsteps in games and providing clarity of the soundstage throughout various genres of music. However, the lack of a subwoofer is felt, especially when considering the T40 sits in the same price range as Harmon Kardon's SoundSticks III.
That said, we loved the accessibility of the individual bass and treble controls on the front of the left speaker, as well as the headphone out and auxiliary in connections. We also love the understated design of the T-40s, although we prefer its look when the grills are removed and its drivers exposed. We feel these speakers wouldn't look out of place in the majority of set-ups, and the slightly angled design is a nice touch that allows the sound to be directed up towards the user. If you don't have the space to accommodate a subwoofer, or they're just not your thing and you want slightly better sound than the Edifiers at a cheaper price than the A2+, then the Creative Gigaworks T40 series II can't be overlooked.
See the Creative Gigaworks T40 Series II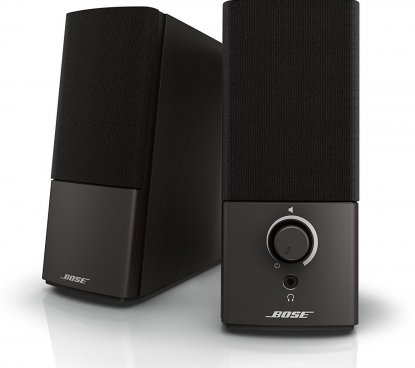 Power (RMS): Unknown
Size: 7.5"x 5.9" x 3.1"
Connection: 3.5mm
Sensitivity: Unknown
What We Like: Clear, detailed sound, understated design.
What We Don't: Overpriced.
We like the design choices Bose have made. Understated looks, upward-angled positioning and a front facing aux-in for tablet and phone connectivity. We were slightly dubious when we felt how light the units were, but it didn't turn out to be a major problem. And for a 2.0 system, the Companion 2s deliver an unexpectedly-wide and -detailed soundstage. The bass, although lacking any gut punching ferocity, still kicked and it was only at 80%-plud volume that we really noticed the lack of a sub, as the frequencies became muddied and started to distort at the lower end.
If we compare the set to Edifiers e10s, it lacks the ability to sustain its clarity and detail through the volume range, but does provide a wider feeling soundstage. However the e10s also have the Companions beaten on bass response, delivering a punchier, fuller sounding bass, whilst avoiding the muddiness for the most part.In our opinion, the e10s are the smarter option for the same money, but if you'd prefer a wider sound over a tighter bass response you could argue in the companions favor
See the Bose Companion 2 Series III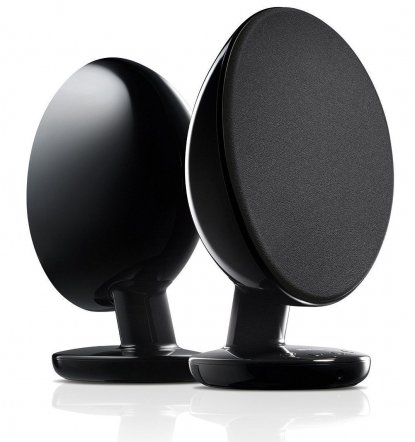 Power (RMS): 50 Watts
Size: 10.8" x 6.8" x 5.4"
Connection: 3.5mm, Optical, USB, Bluetooth
Sensitivity: 95dB
What We Like: Iconic design, balanced sound, connectivity.
What We Don't: Expensive - and can be a little dull.
Although we've had some contentious opinions about the EGG in the past, it belongs on this list - if nothing else, for its suitability as a pair of computer speakers. If you can afford it, it's a one stop solution for all your audio requirements. Just remember, it's EGG - all caps, singular, not plural. Don't ask us why.
The curved, minimalist design and matte finish color options exude quality, and allow the unit to integrate into any system seamlessly. The left speaker has four buttons on its base. Power, volume up, volume down and source each feels solid and gives a satisfying click when pressed. Each EGG feels extremely solid and robust, sitting firm on its stands and weighty to the touch. All testament to KEF's build quality. It has 3.5mm to allow the addition of a subwoofer, a 3.5mm aux connection, an optical input for supporting soundcards and T.Vs and a micro USB connection to accommodate supporting PC/laptops…Oh and it's primary connection is Bluetooth! Phew. The sound has a level of detail and warmth that the A2+ and A5+ miss out on due to their preference towards a flatter response, and there's an extended sweetspot thanks to some clever design, which sits the tweeter in the middle of the driver. The higher the volume, the more noticeable the missing subwoofer becomes, but that's a minor gripe. For less money, you could get an equally-good-sounding 2.1 set-up, but you'd be foregoing the style, connectivity and build quality that KEF are able to deliver here.
See the KEF EGG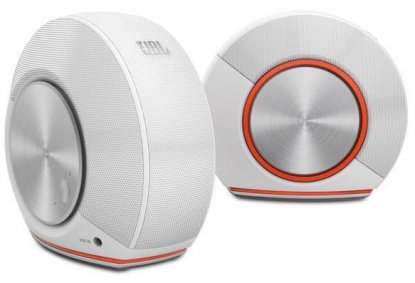 Power (RMS): Unknown
Size: 5.2" x 5.9" x 3.1"
Connection: 3.5mm, USB
Sensitivity: 89dB
What We Like: Small speakers, big sound, portable.
What We Don't: Very expensive for what you get.
The Pebbles from JBL aren't just powered by USB, they receive sound from the source through USB. We like that. Minimal cables, minimal fuss, and that seems to be the driving ethos behind these speakers. Smart, clean and simple. Of course there is a 3.5mm input if you need it, but otherwise it's USB and done.
We dig the design of these speakers, and although they look more like headphone cups than pebbles, we can see what JBL were going for here, and we definitely approve. The minimalist style is aided by a clever design decision whereby the USB and 3.5mm jack cables are wrapped around and inserted into the base of each speaker, creating a unique cable management solution and increasing the portability factor at the same time. Touché.
So do they sound smooth as pebbles or like a bag of old rocks? The audio quality is pretty decent, not as good as the SoundSticks (2.1) but definitely on par with the T40s from creative, although with slightly worse bass response. At a similar price point we can't really grumble. If you're looking for a decent sounding 2.0 speaker set up, hate clutter and plan on taking them places then we highly recommend the Pebbles. If you're looking for a more permanent feature then go with the T40's.
See the JBL Pebbles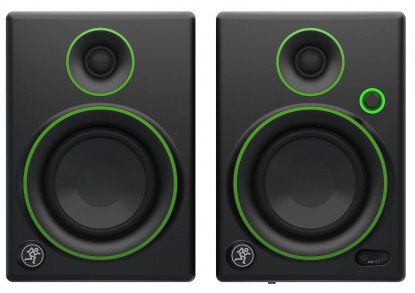 Power (RMS): 56 Watts
Size: 8.8" x 7.2" x 6.1"
Connection: RCA, 6.3mm
Sensitivity: 100dB
What We Like: Compromise between studio monitors and PC speakers.
What We Don't: Design may polarize.
Let's start with the design. Although it looks fairly minimalist, the green accents on the black base of each speaker are actually fairly restrictive if you don't have a set-up with a similar colorway, which is a shame, because these speakers are remarkable for the price point. Aside from the front-mount auxiliary input, connections are limited to RCA and 6.3mm jack, but Mackie are kind enough to include a 3.5mm to RCA connector, allowing users unfamiliar with monitor speakers to simply plug and play. Kudos.
Although they have a flatter response than the T40s, and definitely the Harman SoundSticks, the CR4's deliver a rich detailed sound more akin to that of the Edifier R1700s. Unlike the Edifiers, the CR4s deliver a more subtle and pleasing bass tone, with just enough weight in the mix to allow everything from movies to games to be an enjoyable experience. However in our opinion, the Edifiers delivered more natural sounding mids and highs, which when coupled with the more complete connectivity options (Bluetooth) make the R1700's the smarter choice. If you can live with that design, of course.
See the Mackie CR4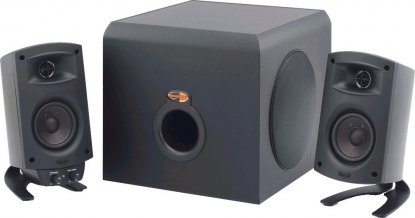 Power (RMS): 70 Watts
Size: Various (System is a 2.1, with included subwoofer)
Connection: 3.5mm
Sensitivity: 106dB
What We Like: Warm smooth sound, Bluetooth functionality.
What We Don't: Dongle dropout, bass is overcooked.
The second set of speakers to incorporate potentially wireless connectivity with its source is the ProMedia 2.1 from Klipsch. These speakers bang. Like, making mortal enemies of your neighbors bang. If you've read these reviews, and thought our selection has sounded too mature and refined thus far, then thank us later. This one's for you.
On their own, the speakers are so, so. Fairly weak across the lows/low mids, however when the sub is brought into play the ProMedia 2.1 will knock down doors like the police with a warrant. As long as you are able to find the balance between sub and satellite volume you will get a brilliant response; we did experience some dongle dropouts, however this happened infrequently and may have been limited to our unit. Both speakers are angled upwards, as is getting to be the standard within this list, and although the left speaker has a volume control, it lacks a power button. In fact the only power button on the unit is on the sub. Not ideal, but not the worst news in the world. A quick remedy to this would be the inclusion of a remote control, but alas there is none. All in all, this is a raw and rugged beast that will distort if pushed too hard, and will be too bass-heavy if left unbalanced, but it's definitely a strong contender.
See the Klipsch ProMedia 2.1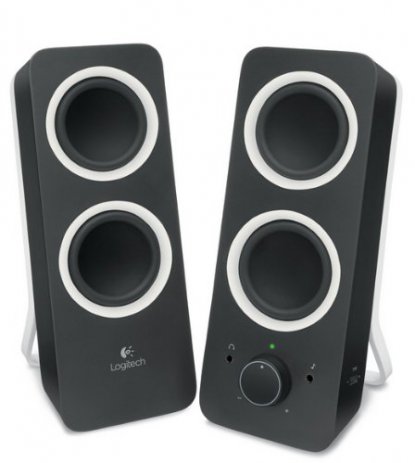 Power (RMS): 5 watts
Size: 9.5" x 4.9" x 3.5"
Connection: 3.5mm
Sensitivity: Unknown
What We Like: No-nonsense value.
What We Don't: Casual users only.
We thought at this stage we should cater for users just looking for an entry level sound solution on a budget. The Z200s from Logitech are far from the best sounding speakers on the list, but with acceptable sound quality, stylish design and an unbeatable price point ,they are a worthy addition for those who just want a slight upgrade over on-board solutions found in some monitors/tablets. At low to medium volumes they sound fine: a little thin, a little muddy but a definite upgrade from the on-board solution of monitors and phones. Be warned: turn the volume too high, and expect some serious distortion.
We'll put it out there: these look better than some of the $100+ options (ahem, Edifier). The matte finish with white accents give the speakers a contemporary, almost high-end sheen, which is bolstered by an equal level of build quality. The volume dial, for example, feels tight and solid - surprising for the price. The headphone output and auxiliary input connections on the front are a welcomed design choice and really cater for the needs of those who aren't necessarily looking for the best-sounding speakers, but just a pair that delivers on day to day functionalities of the casual user.
See the Logitech Z200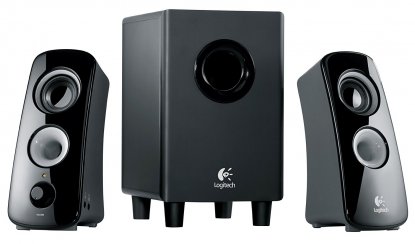 Power (RMS): 25 Watts
Size: Various (System is a 2.1, with included subwoofer)
Connection: 3.5mm, RCA
Sensitivity: Unknown
What We Like: Average audio at below average price.
What We Don't: Distortion at higher volumes.
This 2.1 system from Logitech is catering for those looking for a bit more oomph in their arsenal without breaking the bank. We weren't expecting a great deal from this budget option, but we were moderately surprised. At low/medium volumes the unit works well in most applications. Delivering a fairly warm, although quite narrow sound, whilst any bass frequencies emit a fairly solid rumble from the subwoofer. Casual users looking for something to enhance the odd movie or game will find great value in Logitech's offering.
However, when we up the ante (or the volume in this case) things start to fall apart. Any bass heavy music at higher volumes creates a very distorted bass response from the sub. This goes for any in-game explosions or gunshots as well. The speakers also start to struggle with the mids and highs after about 75% volume, which we kind of expected at this price point. But: if you're after a budget 2.1 solution and don't intend on throwing any block parties, then this could be the one for you. If you like a bit more junk in your trunk and can spare the extra cash, maybe check out the SoundSticks III
See the Logitech Z313

Specs Table:
| Speaker | Price | Size | RMS | Connection | Sensitivity |
| --- | --- | --- | --- | --- | --- |
| Audioengine A2+ | $249 | 6" x 5.25" x 4" | 60 Watts | 3.5mm, RCA, USB | 95dB |
| Harman Kardon S'Sticks III | $170 | Various (2.1) | 55 Watts | 3.5mm | Unknown |
| Logitech Z533 | $99 | Various (2.1) | 60 Watts | 3.5mm, RCA | 80dB |
| Edifier Exclaim e10 | $98 | 12"x 7.1" x 4" | 36 Watts | 3.5mm | 85dB |
| Edifier R1700BT | $150 | 9.7"x 6" x 8" | 66 Watts | RCA, Bluetooth | 85dB |
| Razer Leviathan | $190 | Various (Bar/Sub) | 60 Watts | 3.5mm, Opt., B'tooth | Unknown |
| Audioengine A5+ | $399 | 10.8" x 7" x 9" | 75 Watts | 3.5mm, RCA, USB | 95dB |
| Creative G'works T40 S. II | $153 | 12.6" x 5.9" x 4.6" | 32 Watts | 3.5mm | 80dB |
| Bose Companion 2 S. III | $99 | 7.5"x 5.9" x 3.1" | Unknown | 3.5mm | Unknown |
| KEF EGG | $500 | 10.8" x 6.8" x 5.4" | 50 Watts | 3.5mm, Opt., B'tooth, USB | 95dB |
| JBL Pebbles | $169 | 5.2" x 5.9" x 3.1" | Unknown | 3.5mm, USB | 89dB |
| Mackie CR4 | $150 | 8.8" x 7.2" x 6.1" | 56 Watts | RCA, 6.3mm | 100dB |
| Klipsch ProMedia 2.1 | $150 | Various (2.1) | 70 Watts | 3.5mm | 106dB |
| Logitech Z200 | $19 | 9.5" x 4.9" x 3.5" | 5 Watts | 3.5mm | Unknown |
| Logitech Z313 | $34 | Various (2.1) | 25 Watts | 3.5mm, RCA | Unknown |

Buying Advice:
What Do I Look For When Buying Computer Speakers?
That entirely depends on what you plan on using your speakers for, where you plan on using them, how much desk space you have, how big your budget is, what color scheme (if any) you need to adhere to...a lot of things. Sorry: we'd love to give you an easier answer!
It also depends on your preferences towards sound. Do you like a lot of bass? Then maybe the Logitech Z533 are the ones for you. If you prefer flatter more natural, detailed sounds, then check out the Audioengine A5+.
In order to determine what you need to look for when buying computer speakers, you need to know what computer speakers offer and how this aligns with your expectations. But don't worry, if you need help distinguishing your RCAs from your Opticals or your 2.0's from your 2.1's, we've got you covered. Just keep reading.

How Much Should I Spend?
Like most things audio-related, you usually get what you pay for. If you buy cheap, you're normally sacrificing sound and build quality, however, if you spend too exuberantly you can end up paying for features, functionalities and connectivity you don't need and won't use. What we'd suggest is establish your budget and see what you can afford.
We've included entry level, mid-range and high-end speakers in our list and ordered them accordingly.
The bottom line is: spend within your means, but definitely be smart and read up on the products comparatively and see what suits you best.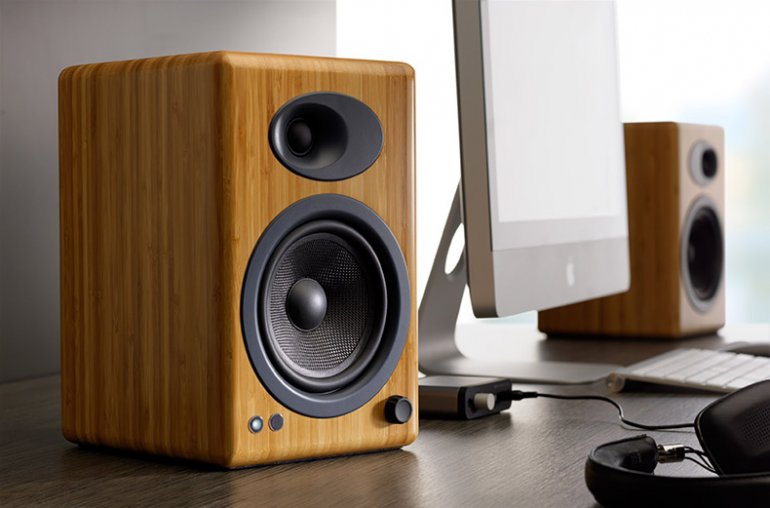 Can I Just Buy A Pair Of Bookshelf Speakers?
Technically, yes. There's absolutely nothing stopping you. But the reason we've got a separate roundup of the best bookshelf speakers of this year is because they are not really suited to direct pairing with a PC or laptop.
This is for one simple reason. Most bookshelf speakers are passive, in that they require external power to actually make noise. That means that they require an amplifier – usually a stereo amplifier. That not only increases the cost (obviously) but also increases the amount of equipment you have to deal with, and the number of wires dangling around your desk.
Every one of the speakers on this list is an active speaker – each one of them contains its own amplifier, meaning you don't need any external power requirements beyond plugging them into the mains (or, in some cases, your computer's USB port). That's a real advantage when all you want to do is boost your laptop sound, for example, and it can really save some space on your desk.
Of course, there's absolutely nothing to stop you from going the bookshelf-speaker-and-amplifier route. Many amplifiers incorporate a USB connection now, meaning you can plug them straight into your computer, and get yourself some very fine-grained control over the sound. If you're going to go this route, we also recommend investing a little bit of money in a separate DAC (Digital-to-Analogue Converter). These have dedicated chips but do a much better job of converting digital 1s and 0s to noise you can actually hear – which, after all, is the whole point.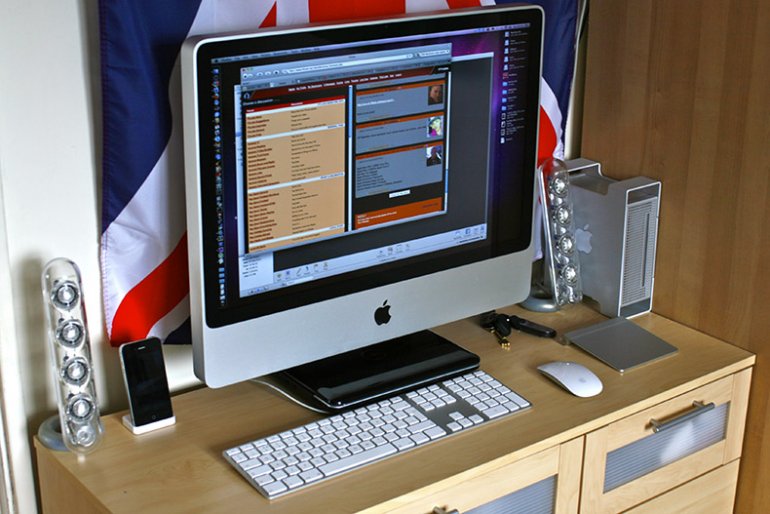 2.0 Vs 2.1 Speakers
Ok, so 2.0 or 2.1? What's the difference?
2.0 refers to the left and right (stereo) channels, while 2.1 refers to the left and right channels with the addition of a subwoofer. Now, what a subwoofer does – apart from cause public disturbances – is offload the heavy bass frequencies away from the small drivers (speakers) inside your left and right satellites and diverts them to its own dedicated driver in a separate unit.
One thing to bear in mind with a subwoofer, is that it usually goes on the floor under your desk, so if you live with parents or in an apartment block a thundering, floor -ased subwoofer may not always be ideal. The benefits of a sub are that you get a much fuller and deeper bass response, as your satellites only have to focus on delivering the mid and high frequencies, which results in them delivering a much clearer sound while avoid muddiness and distortion.
So do you need one? Well, that depends. A subwoofer can create a much more immersive and cinematic experience, but if all you do is listen to podcasts it's probably not for you and a 2.0 system will be fine. However, if you want big explosions during games and movies and like to listen to blaring music at high volumes, then it's almost essential you get a sub. There are 2.0 options which provide great bass response without it becoming as overwhelming as some 2.1 set ups , but you will have to pay for that level of quality – and it doesn't come cheap.
The best 2.1 solution in our opinion in terms of audio quality, build quality, design and value is the Harman Kardon SoundSticks III, while the best 2.0 solution would be the A2+ from Audioengine.

Speaker Connections Explained
Connectivity is an important consideration when purchasing computer speakers. The standard input is a 3.5mm jack and is present on every speaker in our list. This is same connector you use to plug headphones into your phones or tablets. You'ill find this port on every computer ever made over the last twenty-plus years as well as phones, tablets, television and hifi systems.
This is great, as it means you can connect your speakers to a variety of sources. However as it's an analogue connection it is open to feedback and background distortion in the form of white noise if that connection isn't tight.
Apple may have been trying to phase out the humble 3.5mm jack, with their new iPhones, but trust us - it's going to be around for some time yet
Another connection input, again found on every computer everywhere, is USB. USB is a true plug and play connection, as your computer digitally recognizes the device and (usually) sets it up automatically on your system - although Windows users may need to download additional drivers, because Microsoft. As a digital connection, USB avoids the potential for distortion through the physical contacts of jacks and ports.
A more niche connection is the Optical connection. Found on the Razer Leviathan, this digital connection is great, as it allows you to use your speakers on most modern TVs and games consoles, but be wary as you won't find it as standard on computers. It usually requires a special soundcard or audio interface to get it working on your PC.
RCA connections are again slightly more niche however, every entry in our list with an RCA connection, provides a 3.5mm to RCA connector allowing you to get to it straight out of the box.
A couple of our speakers such as the R1700BT and Razer Leviathan even have Bluetooth connectivity, allowing wireless connections to any device that supports it.
More connectivity is never a bad thing, as it allows you to use your product across multiple platforms which in-turn increases the value of that product. Speakers with limited connections aren't necessarily worse; just make sure you have the input to match the connection.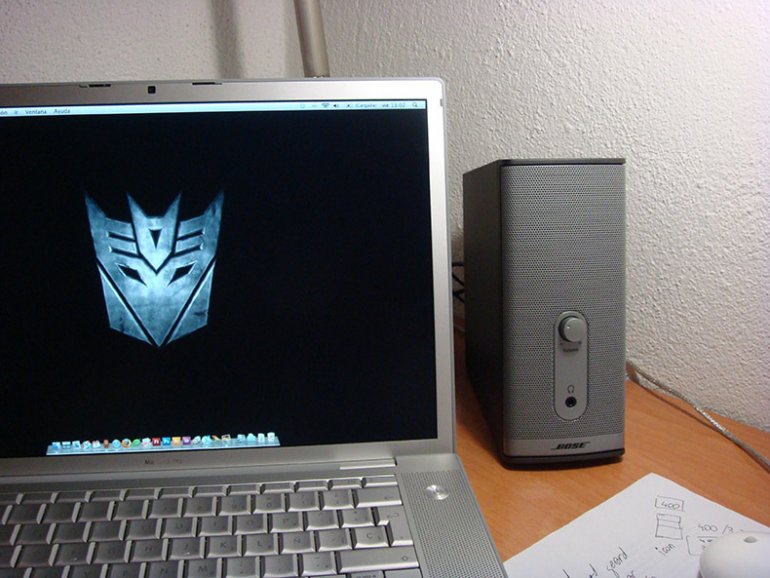 RMS Wattage Explained
One of the stats that often causes confusion when it comes to speakers is RMS wattage. If you're not familiar with the audio world, this particular bit of jargon can be puzzling.
Wattage is a measure of power. Although it's not an exact analogue, you can generally take it to be a measure of loudness as well. The more wattage, the more volume you're likely to get out of a pair of speakers.
Now, it's not just enough for manufacturers to list the maximum volume – most speakers can go pretty loud, but they can't do it for very long without burning out both their own drivers and the ears of anybody listening. Telling us that your speakers can put out a thousand watts of power is excellent, but for everyday use, it's pointless.
Instead, we need to look at what is known as continuous wattage, or RMS. The acronym, by the way, stands for Random Mean Square, and all it is is a complicated bit of mathematics that gives you an average rating of something. In this case, it's a power level when driven over a long period of time, and at a volume unlikely to blow your eardrums apart.
In the case of computer speakers – actually, in the case of almost all speakers – when we talk about the RMS wattage, we are referring to the total wattage produced per channel. To complicate things, manufacturers don't usually include things like subwoofers in this, making it tricky to gauge the RMS wattage of certain 2.1 setups. That being said, it's still a useful thing to know, and essential if you're trying to gauge which speakers to buy. There's no point, for example, in paying for the 75 watts of the Audioengine A5+ (because make no mistake, you do pay for extra power) when 25 watts of the Logitech Z313 will do just fine. Look at your space, and make an educated guess about how much power you need. Don't worry – it doesn't matter if you're not exact, and any of the speakers on our list will do just fine.