A quality floorstanding speaker can instantly supercharge your sound system. Not only do they look good, drawing focus to a sound system and making it stand out rather than blend in, but they're known for sounding spectacular. They're designed to slot in next to bookcases and TV cabinets, taking advantage of vertical space and resulting in a smaller footprint. Most of them, especially the pricier ones, will quite happily fill even a large room and create theater-quality sound. Here are some of the best. For more background information on floorstanding speakers, see our comparison table and buying advice below the picks.
 
Best Overall Floorstanding Speakers
Recommended Amp Power: 20-300W/8Ω
Sensitivity: 88dB
Drivers: 2 x 8" Woofer, 2 x 6.5" Mid-range, 1" Tweeter
What We Like: Earth-shattering sound.
What We Don't: Awkward shape - you'll need a little space to play with.
This pair is torn straight from Batman's sound system. No, seriously, they look like something out of the Batcave. And you just cannot understand how powerful they are, and how much punch and depth they have, until you actually have a pair in your living room. The twin mid-range drivers and single tweeter do a very able job, but it's the bass that really sets these apart. Their twin 8" woofers, set low down on either side of the housing, are absolutely thunderous. SVS probably won't like us saying this, but you could quite happily get away with using these without a subwoofer. The bass is that good.
For all their audio goodness, there's no denying that their shape makes them an awkward proposition. The flared bottom end and woofer placement means that you can't just tuck these away, as they'll need to have a bit of space to get the full effect. As such, while they are absolutely fantastic, most people may find them overkill. But if you have the space, and the back strength and muscle them into position, you're in for one hell of a ride. They easily match up with more expensive monsters on this list from Dynaudio and PMC...Read our in-depth review
See the SVS Ultra Towers
 
A Close Second (And $1,200 Less)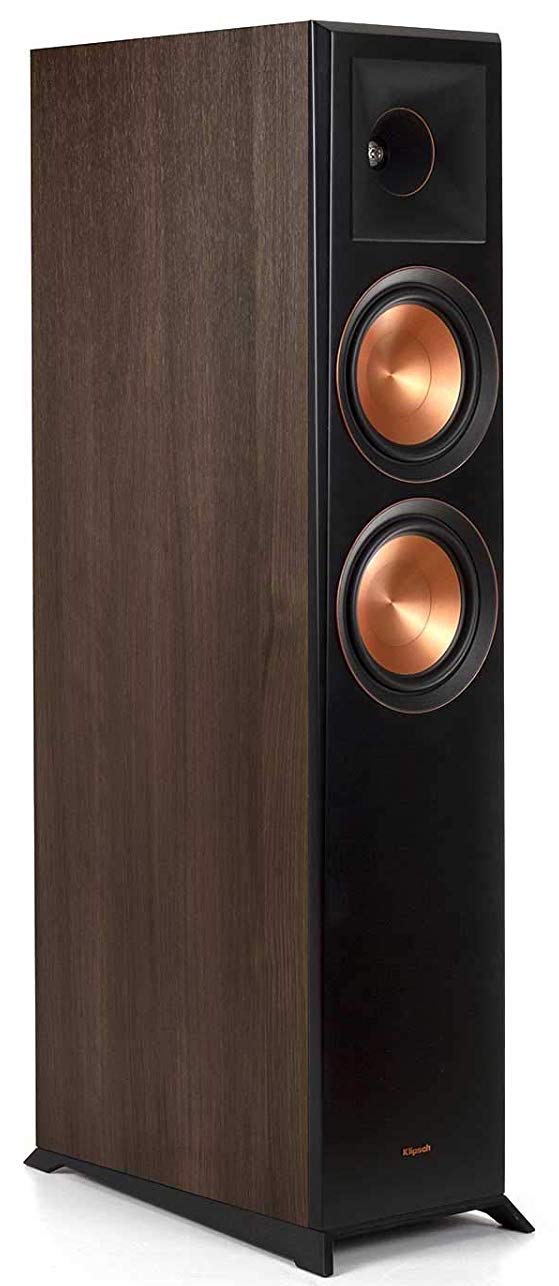 Recommended Amp Power: 125-500W/8Ω
Sensitivity: 97dB
Drivers: 2 x 6.5" Woofer, 1" Tweeter
What We Like: One of the best Klipsch speakers made in years.
What We Don't: Large footprint that requires more space than other speakers.
Klipsch have always been best at the budget level. Below $1,000, you're unlikely to find a better option – and if you can't go for the $2,000 SVS Ultra Towers, these should be your first port of call. They are part of the company's brand-new Reference Premiere Series, and although they don't innovate as much as we would have liked, they still deliver stunning value. With rich, complex sound quality, they demand a good source – make sure you have a decent amplifier to hook up to these. The famed Tractrix Horn is now in a specially-built cabinet, which further increases the detail in the sound.
It's worth noting that they are significantly deeper than other speakers – compare their 17" depth to the 11.55" of the ELAC Debut 2.0 speakers, below. Ironically, that's a problem they share with the SVS, which also have quite an awkward footprint. So yes: you'll need a little bit of space for these, but they will reward you with some truly magnificent sound.
See the Klipsch RP-6000F

Best Budget Floorstanding Speakers

Recommended Amp Power: 20-300W/4Ω
Sensitivity: 89dB
Drivers: 2 x 8" Woofer, 5" Mid-range, 1" Tweeter
What We Like: Solid sound and build, huge bass.
What We Don't: Can distort at high volumes.
Fluance makes some superb speakers, and we'd say the Signature Series is a very good look to invest in if your budget for this price range (sub-$1,000). It'll last you forever, and as budget speakers go, it's easily one of the most impressive we've heard.
The chief draw is not just the glossy design and the signature yellow drivers, but also the sound. With twin 8" woofers, these do a very good passing impression of a subwoofer, with rich and mellow bass that will fit right into any surround sound setup, whether you have a sub or not. They also come with fantastic (albeit hard to install) speaker spikes for the base, which help isolate the speakers from vibrations. Be warned: these are both big and heavy, not the kind of speaker you slot into a corner somewhere and hope no one will notice. They are authoritative both in looks and sound. But as budget floorstanding speakers go, these are a very, very good choice, and are absolutely ideal for bass heads.
See the Fluance Signature Series

Best High-End Floorstanding Speakers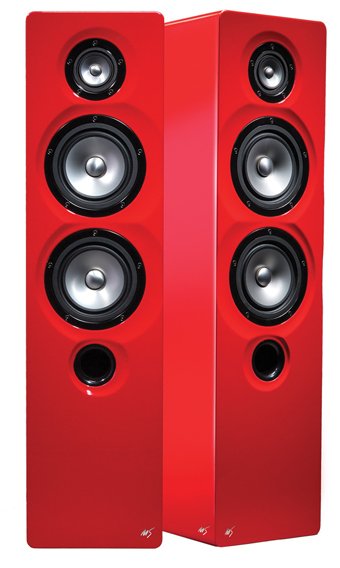 Recommended Amp Power: 50-100W/6Ω
Sensitivity: 87dB
Drivers: 2 x 4.4" Woofer, 2" Tweeter
What We Like: Terrific design, splendid sound quality, relatively affordable price.
What We Don't: We'd like a little more detail.
What a pleasant surprise. We'll admit: we had never heard of MarkAudio-SOTA before their press agency contacted us, asking us if we'd review a pair of their Cesti T floorstanding speakers. They are sitting in our testing room as we write this, and we keep finding our gaze drawn back to them. Perhaps it's the design, which has enough subtle touches and carefully placed elements to really stand out. Or the color: candy-apple red, if you please (the speakers are available in black or white, as well, if that doesn't appeal). Either way: we really, really like them.
They aren't the most expensive speakers on this list - that would be the $4,000-plus GoldenEar Triton One. But the best high-end speakers have to juggle a number of balls, including relative value, and these crush it. While we do think the sound isn't quite as pinpoint precise as we'd like for $3,495, it's still solid, and we've spent many happy hours listening to these...Read our in-depth review
See the MarkAudio-SOTA Cesti T
 
Best Floorstanding Speakers for Small Spaces

Recommended Amp Power: Up to 140W/6Ω
Sensitivity: 87dB
Drivers: 3 x 6.5" Woofer, 1" Tweeter
What We Like: Huge bang for the buck.
What We Don't: Merciless at exposing low-quality audio.
If you've got a slightly smaller room, and want to maximize the audio quality while not filling the space with awkward design, we've got the perfect speaker for you. ELAC's brand new Debut 2.0 F6.2 may have one hell of a clunky name, but the design and power lend themselves to small spaces. You get not one, not two, but three woofers, which maximize the bass energy. While it does result in slightly less detail than we would have liked, the simple design and effective audio quality mean that these will happily slot into a small hi-fi or home theater system.
You better make sure your source is good though. Put low quality files like MP3s or basic Spotify streaming through these, and you'll be the recipient of some pretty harsh audio. This unforgiving nature makes the ELACs a little harder to love than other speakers, but they still end up as a top choice. This entire line, actually, is terrific – we recently bigged-up their bookshelf speakers in our "Best Of" roundup for this year.
See the ELAC Debut 2.0 F6.2

Best of the Rest

Recommended Amp Power: 30-100W/8Ω
Sensitivity: 88.5dB
Drivers: 2 x 6.5" Woofer, 6.0" Mid-range, 1" Tweeter
What We Like: Excellent for home theater audio.
What We Don't: A bit overpriced.
Bowers & Wilkins know how to make quality speakers speakers, and their 603s feel like the culmination of everything they've learned in a single package. The 603 floorstanding speakers offer excellent sound quality that's easily on-par with more expensive three-way models, like the MarkAudio-SOTA Cesti Ts. We found that the 603s work better for home theater audio than they do for music - although they performs well in both arenas. The smooth detail and natural response is expressed well, and with a good amplifier or receiver - think Peachtree Audio or Denon - the 603s can truly sing.
Our main complaint is the price. For $1,800, you're paying quite a bit of money here. Yes, they're more affordable than the absurd GoldenEar Triton One.R, which cost a shade under $6,000, but we think speakers like the Klipsch RP-6000F represent much better value. The sound isn't quite as luxurious, but it's a minor difference, and at a much more respectable price point. As gorgeous as the looks and sound of the 603s are, we'd like to see a price drop before we invest our interest.
See the Bowers & Wilkins 603
 

Recommended Amp Power: 20-200W/6Ω
Sensitivity: 92dB
Drivers: 2 x 6.5" Woofer, 2 x 5.25" Woofer, 1" Tweeter
What We Like: Unbelievable value, energetic sound.
What We Don't: Lacks the detail and nuance of cheaper models on this list.
Aperion Audio consistently innovate, and make it a point to regularly release new updates of their speakers. The Verus II Grand Towers don't do much to change the design - these closely resemble the housing of the old Intimus 5T, previously on this list, as well as the Verus II. What they have done is completely redesign the internals. These speakers boast a refined crossover, and two more woofers than the old Verus II. The result? Hard-hitting, muscular sound that is surprisingly musical.
We still prefer the cheaper B&W speakers, above, which pull off a similar sound signature with a touch more detail. That's really the biggest issue with the Verus IIIs: they are good, and deliver exciting sound, but the high frequencies feel just a touch too recessed for our liking. That being said, these absolutely belong in our top ten, and we have no issues recommending them. If you want an alternative to the B&W, or a less expensive alternative to the KEF R7, these should be your first port of call.
See the Aperion Audio Verus III Grand Tower
 
Recommended Amp Power: 15-250W/8Ω
Sensitivity: 110dB
Drivers: 2 x 6.5" Woofer, 5" Mid-range, 1" Tweeter
What We Like: A truly magnificent update to a classic line.
What We Don't: Needs excellent equipment to really get the best out of it.
Boy. We agonized over this one. KEF make such excellent gear, and have been doing it for so long, that it was hard to pick which of their excellent floorstanders to include. In the end, we had a choice: either make this entire list a rundown of the best KEF speakers around, or pick the one we thought would suit most people. For us, that's the new R7 - a midrange pick in a line that includes the R11 and the R5. This is right between those, and it's superb.
It's reasonably-priced - compare it to some of the monsters lower down - and you get an awful lot of bang for your buck. The sound is effortlessly clear and clean, with superlative dynamics. The design is clever, too, with neat plinth feet that help isolate your sonics. But: you shouldn't go for these unless you've got a really solid amp and DAC combo - maybe even a dedicated pre and power amp. While they're very good, they work best when the other bits of the signal chain are of similar quality. Still, these are excellent - and as we mentioned, KEF make plenty of other delectable speakers, including that smaller R5, which costs $2,800 per pair. Do check those out if these aren't doing it for you.
See the KEF R7
 

Recommended Amp Power: N/A
Sensitivity: Unknown
Drivers: 2 x 5.5" Woofer, 1" Tweeter
What We Like: A high-end wireless speaker? We love it.
What We Don't: Doesn't quite match the other high-end models on this list.
Dynaudio are one of those companies that could easily occupy this entire list, so good are their products. But we can't really justify putting something like the $85,000 Platinum Evidence here, and the Xeo 30 is the one speaker from the company that truly impressed us. They are wireless speakers, which are almost unheard of at this price range - you won't need an amp to drive them. While you will need an additional control box, and the sound quality isn't quite up there with Goldenear and MarkAudio-SOTA, they're still a beast of a set of speakers. That being said: they are an upgrade to the old Xeo 6, with an upgraded DSP and new tuning, so it's not like the sound quality is poor.
The setup and functionality makes us think of far more expensive speakers, like the Kii Audio Three - not on this list, as it costs around $10,000. Getting that functionality into speakers the cost under $4,000 is quite a trick, and these definitely deserve a place on this list.
See the Dynaudio Xeo 30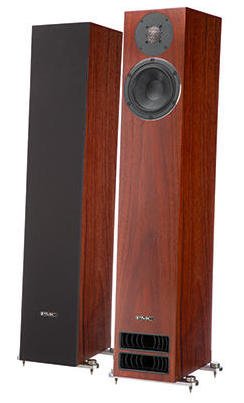 Recommended Amp Power: Unknown
Sensitivity: 86.5dB
Drivers: 5.5" Mid-range, 1" Tweeter
What We Like: Incredible sound.
What We Don't: Tough to find unless you go direct.
The British company PMC swing more towards the ultra-high-end side of things, and we think that their speakers are arguably a little bit too much for most people. That being said: their Twenty5 series is legendary, and although you have to be prepared to part with a startling amount of cash – yes, audiophiles in the back, we know you can pay ten times as much for a good set of speakers – what you will get some of the best speakers available.
Although they only offer two drivers each, and aren't all that sensitive compared to models like the B&W 603, they offer absolutely superlative sound quality. The slim build and slightly tilted design make them an eye-catching addition to any hi-fi or home theater setup. It must be said that you aren't going to find these on Amazon, and you will almost certainly need to go direct, or via your local audio shop. But trust us: these are worth the wait, and the extra effort. And if you're prepared to spend a little more, you will find an embarrassment of riches on the company's site.
See the PMC Twenty5.23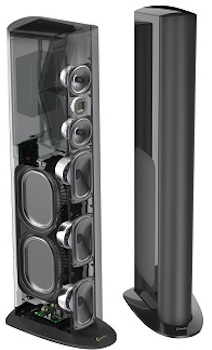 Recommended Amp Power: 20-650W/8Ω
Sensitivity: 92dB
Drivers: 3 x 9" Woofer, Various Mid-range, 1" Tweeter
What We Like: Genuine evolution from the original, elegant design.
What We Don't: Very expensive.
We adored the original Triton Ones from GoldenEar, and the Triton One.R is a genuine evolution. It takes the huge complement of drivers and built-in subwoofer that made the original great, and supercharges them with new components that accentuate the audio quality. And as for volume, these are more efficient and perfect for filling big rooms. Additionally, the subwoofer inclusion means there's no need to buy a separate one. We also adore the redesigned cabinet, which puts the Triton One.R in a much sleeker housing.
If you want big, powerful speakers, then the Triton One.R are unquestionably the ones to go for - arguably, even more so than the equally-monstrous SVS Prime Ultras. But that power comes at a cost. They are expensive. At a little under $6,000 for the pair, you need seriously deep pockets to play. While they aren't as pricey as speakers from high-end manufacturers like Wilson Audio, we think you'll find a better 'bang for your buck' on this list. There's also a significant amount of competition in this price range from the likes of Dynaudio and PMC. As good as the Triton One.Rs are, they don't quite do enough to distinguish themselves from their competitors.
See the GoldenEar Triton One.R
 

Recommended Amp Power: Unknown
Sensitivity: 93dB
Drivers: 10" Woofer, 2 x 5.25" Mid-range, 1" Tweeter
What We Like: Crisp, detailed sound, distinctive design, built-in sub.
What We Don't: Definitely not for everyone.
Everybody stay calm. We know Def Tech has its fans, and we'd very much appreciate it if they didn't eat us alive. But in our opinion, the spectacularly named Mythos ST-L SuperTower (seriously, it's like they're trying to name something that Thanos would use to destroy the Marvel universe), doesn't do quite enough to differentiate itself from the competition. We can't see a reason why you would pick this speaker over, say, the Triton One.R. It's also got a couple of puzzling design choices, like recessed binding posts that make wire attachment tricky.
That being said: this is by far from a bad speaker. Quite the opposite. It offers an excellent combination of both crisp, clear sound with some of the best speaker design we've come across yet. If you can stomach the price, and aren't too worried about the design quirks, then this offers some excellent sound and design that will fit right at home in any room, and in any setup. It must be said we prefer the MarkAudio-SOTA model, despite it being a little tougher to track down, but these are still excellent.
See the Definitive Technology Mythos ST-L SuperTower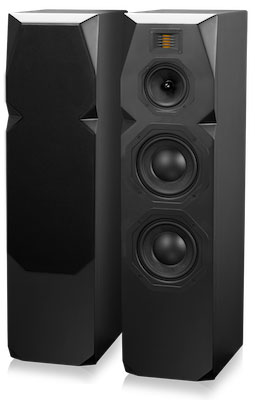 Recommended Amp Power: 100-500W/4Ω
Sensitivity: 91dB
Drivers: 2 x 8" Woofer, 1 x 5.25" Mid-range, 1" Tweeter
What We Like: Ultra-detailed low-end.
What We Don't: Way too much energy for smaller rooms, limited color options.
If you're a basshead, the Emotiva AirMotiv T2s could be the ideal speakers for you. We didn't have much experience of these speakers - we know, we know - but we recently heard a pair, and they just crushed it. What struck us more than anything else was how far back the bass seemed to extend, and the incredible detail it offered. The two 8" woofers felt like they were working overtime to make us happy, and the T2s put a serious smile on our face. Compared to similarly-priced speakers, like the ELAC Debut 2.0 F6.2, they more than hold their own. The ELACs, by the way, have three 6.5" drivers, meaning they have a somewhat different low-end character.
The downside? Those with smaller rooms are going to want to steer clear of these. The bass will collect in corners if not given enough space to roam, muddying things up in nasty ways. Far better to go for the aforementioned ELACs, or the JBL Stage A180s, below. Those won't offer as much bass, but will be better-suited to smaller spaces. We'd also love to see these beasts in a color other than black at some point...
See the Emotiva AirMotiv T2
 

Recommended Amp Power: 15-250W/8Ω
Sensitivity: 92dB
Drivers: 2 x 6.5" Woofer, 1 x 6.5" Mid-range, 1" Tweeter
What We Like: Punchy, powerful sound quality.
What We Don't: Only an incremental update.
In truth, it doesn't feel like the Paradigm Premier 800F,a new speaker from the Canadian manufacturer, is a giant leap forward. It's an excellent speaker in its own right – as just about every speaker from this company is – but for the price, it doesn't feel like the company is pushing the envelope or making many meaningful upgrades. While that does place the speaker slightly below where it should be, in our view, it still remains one of the best speakers available. It wouldn't be on this list otherwise, would it?
It's a full three-way speaker, with terrific driver design and two 6.5" woofers to really push out the base. The sound is punchy and powerful, with terrific dynamics and speed. Paradigm's Active Ridge Technology reduces distortion to almost nothing, even at high volumes. Compared to a similarly priced model, the SVS Ultra Towers, the 800F isn't quite there yet – it doesn't feel as exciting. But if you can't find those, the 800F speakers are still a very viable alternative.
See the Paradigm Premier 800F
 

Recommended Amp Power: 25-100W/6Ω
Sensitivity: 91dB
Drivers: 2 x 6.5" Woofer, 1" Tweeter
What We Like: Superb in a surround sound setup.
What We Don't: Weak bass, not great for music.
The 3050i from Q Acoustics is packed with technology. It has the company's Helmholtz Pressure Equalizer - a dampening tube inside the cabinet, designed to tackle resonance. The cabinet itself is specially braced, to help with clarity. These are excellent innovations, but we just can't help but feel that the result over the original 3050 – still available at $100 less – isn't quite enough to justify the extra cash. Compared to other speakers in this range, like the Emotiva AirMotiv T2s, we just don't feel there's enough being done here. The deficiencies in the bass are exposed when listening to music - although when paired with a subwoofer and surround speakers for home theater, they crush it. They're an ideal supporting player.
Ultimately, the 3050i only suffer in comparison to the speakers above them. They're still an excellent set of floorstanders, with very solid sound quality. While we do wish Q Acoustics had brought a little more to the table here, there's still plenty of good sound quality, design, and technology to make a meal out of...Read our in-depth review
See the Q Acoustics 3050i
 

Recommended Amp Power: 20-225W/6Ω
Sensitivity: 90dB
Drivers: 2 x 6.5" Mid-range, 1" Tweeter
What We Like: Terrific high-end, excellent isolation feet (outriggers) as standard.
What We Don't: Dated design.
JBL's new Stage A180 don't quite go far enough to compete with speakers from the likes of Fluance - sometimes it feels like the company are focusing too much on portable and smart speakers to pay attention to the floorstanding crowd. Nevertheless, there's plenty to recommend the A180s, starting with the high-end detail. The 1" tweeter delivers crisp reproduction, with lovely texture. We also appreciated the inclusion of outriggers as standard. If you aren't familiar, outriggers are those little extended feet on the underside of the speaker, which help with isolation, and are better at it than standard feet. You don't often see outriggers on speakers in this price range, so it's a good look.
We don't love the design though. In an era where almost every speaker manufacturer opts for magnetic grilles, JBL go for the old pop-and-lock. And overall, the looks just feel very 1990s, the tweeters reminding us of early Klipsch designs. Get past the design issue, though, and you'll find a steady, reliable speaker that is great for hi-fi setups. For something more home theater-focused, try the Fluance Signature Series, above.
See the JBL Stage A180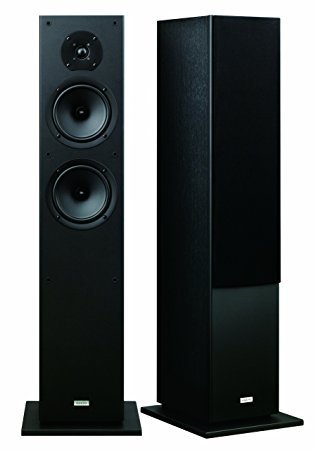 Recommended Amp Power: 130W/8Ω (Peak)
Sensitivity: 86dB
Drivers: 2 x 6.25" Woofer, 1" Tweeter
What We Like: The value on these is just nuts.
What We Don't: Not as loud as the others, boring looks.
Wait, what? A pair of $300 speakers up against some of the monsters on this list? You've gotta be kidding. But we aren't – and if hear the SKF-4800, you'll probably agree with us. For while these aren't super loud (at 86dB sensitivity, they are dwarfed by models like the Definitive Technology Mythos ST-L) and look dull as ditch water, they offer a huge amount for the money.
The sound quality for the price is excellent, and these strip out just about all the extraneous features, giving you a simple pair of speakers that ideal for those who don't want to smash the piggy bank when building a home theater system, or pairing speakers with a stereo amp. It's true that large woofers don't always equal massive bass, but that's definitely not the case here: it might not be the most subtle of effects, but these speakers kick like a mule down low. The best on this list? No way. But they definitely deserve to be here.
See the Onkyo SKF-4800

Recommended Amp Power: 20-100W/6Ω 
Sensitivity: 90dB
Drivers: 2 x 6.5" Bass Radiators, 6.5" Mid-range, 1" Tweeter
What We Like: Extended throw driver (Read: powerful sound).
What We Don't: Distortion at high volumes.
We'll end the main list with a budget pick – one we feel still competes with the big boys. One of the more recent entries into this particular area is Polk Audio's T-50, from their T-series line. It's become an instant favorite - and with technology drawn from Polk's Monitor series, it isn't hard to see why. It's rare for us to recommend speakers in the sub-$150 price range, but we'd be crazy not to include both this and the Pioneer above. For small rooms and slim budgets, they are absolutely worth your time.
While it's not as heavy-duty as, say, the ELAC or Q Acoustic models above, it's got a lot to recommend it. Chiefly, an extended-throw driver that really pushes the sound out, as well as Polk's very good Dynamic Balance tech. The latter really improves the sound, making these a fantastic choice if you're looking for great audio at a low budget. Be aware that if you want clarity at high volumes, you may want to look at a mid-range speaker (as in, price, not frequency).
See the Polk Audio T-50
 
New Floorstanding Speakers Coming Soon
The majority of new floorstanding speaker announcements tend to happen around the holidays, but there's at least one launch we're truly excited for. The Piega Premium 501, which retail for around $4,840, are due to be released soon, and we're intrigued by the technology they offer. The speakers come in a C-shaped cabinet, which we hear is designed to minimise reflections inside. There's also a new type of mid-range driver and ribbon tweeter. We think the Piegas are going to challenge the big boys on this list with ease. They aren't an especially well-known brand, but the Swiss company could make a big splash with the 501s.
 
Floorstanding Speaker Comparison Table
| Speaker | Price | RAP* | Sens** | Drivers | LF*** | HF**** |
| --- | --- | --- | --- | --- | --- | --- |
| SVS Ultra Towers | $1,998 | 20-300W/8Ω | 88dB | 2 x 8", 2 x 6.5", 1 x 1"  | 28Hz | 32kHz |
| Klipsch RP-6000F | $798 | 125-500W/8Ω | 87dB | 2 x 6.5", 1 x 1" | 35Hz | 25kHz |
| Fluance Signature Series | $700 | 20-300W/4Ω | 89dB | 2 x 8", 1 x 5", 1 x 1" | 35Hz | 20kHz |
| MarkAudio-SOTA Cesti T | $2,995 | 50-100W/6Ω | 87dB | 2 x 4.4", 1 x 2" | 40Hz | 25kHz |
| ELAC Debut 2.0 F6.2 | $556 | Up to 140W/6Ω | 87dB | 3 x 6.5", 1 x 1" | 29Hz | 35kHz |
| Bowers & Wilkins 603 | $1,800 | 30-100W/8Ω | 88.5dB | 2 x 6.5", 1 x 6", 1 x 1"  | 48Hz | 28kHz |
| Aperion Audio Verus III | $2,122 | 20-200/6Ω | 92dB | 2 x 6.5", 2 x 5.25", 1 x 1"  | 45Hz | 30kHz |
| KEF R7 | $3,800 | 15-250W/8Ω | 110dB | 2 x 6.5", 1 x 5", 1 x 1" | 48Hz | 28kHz |
| Dynaudio Xeo 30 | $3,599 | N/A | Unknown | 2 x 5.5", 1 x 1" | 26Hz | 21kHz |
| PMC Twenty5.23 | $4,000 | Unknown | 86.5dB | 2 x 8", 1 x 8", 1 x 1" | 28Hz | 25kHz |
| GoldenEar Triton One.R | $5,998 | 20-650W/8Ω | 92dB | 3 x 9", Various, 1 x 1" | 13Hz | 35kHz |
| Def. Tech. Mythos ST-L | $2,698 | Unknown | 93dB | 1 x 10", 2 x 5.25", 1 x 1" | 14Hz | 30kHz |
| Emotiva AirMotiv T2 | $999 | 100-500/4Ω | 91dB | 2 x 8", 1 x 5.25", 1 x 1" | 35Hz | 28kHz |
| Paradigm Premier 800F | $1,895 | 15-250W/8Ω | 92dB | 2 x 6.5", 1 x 6.5", 1 x 1" | 50Hz | 22kHz |
| Q Acoustics 3050i | $800 | 25-100W/6Ω | 91dB | 2 x 6.5", 1 x 1" | 44Hz | 30kHz |
| JBL Stage A180 | $438 | 20-225/6Ω | 90dB | 2 x 6.5", 1 x 1" | 40Hz | 40kHz |
| Onkyo SKF-4800 | $350 | 130W/8Ω | 86dB | 2 x 6.25", 1 x 1" | 55Hz | 35kHz |
| Polk Audio T-50 | $178 | 20-100W/6Ω  | 90dB | 2 x 6.5",1 x  6.5", 1 x 1" | 38Hz | 24kHz |
*RAP = Recommended Amp Power
**Sens = Sensitivity
***LF = Lowest Frequency
****HF = Highest Frequency
Want Even More Master Switch? Sign Up For Our Weekly Newsletter!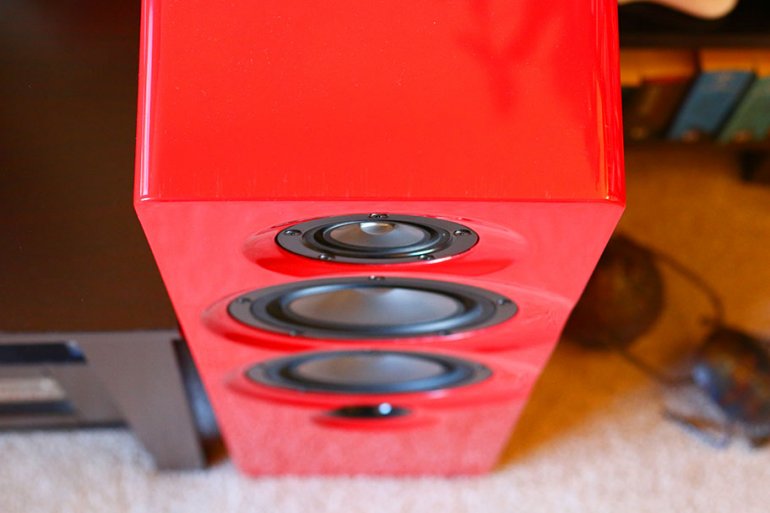 Floorstanding Speaker Buying Advice
How We Chose our List of Floorstanding Speakers
First things first: we are more than aware that there are floorstanding speakers that cost five or even six figures. Although we do include one those little further down, as a bonus, you're not going to find them on this list. Why? Because we think that, for most people, they are total overkill. A list of the best floorstanding speakers has to take into account things like value for money, and we stand by our picks. We compare speakers from dozens of different manufacturers, taking into account a wide range of variables from wattage to price and beyond, to construct a list with several categories. If you agree with our selections, or disagree, be sure to let us know in the comments. All prices are for a pair of speakers, although some purchase links list the price for one - just click Buy twice!
 
Floorstanding vs. Bookshelf Speakers
The differences between these two product types should be immediately obvious. Speakers are tall and thin. Bookshelf speakers are short and fat. Capiche? OK– we've simplified it a little. But there are definitely situations in which you could use both floorstanding and bookshelf speakers. The most obvious of these is in home hi-fi use, with a stereo amp, for playing music. Floorstanding speakers are fantastic for this, in that they deliver a much more powerful and wider sound than bookshelf speakers do. While we do love bookshelf models, they often don't have the raw power that bigger floorstanders can put out.
That being said: this isn't always the case – we've come across some bookshelf speakers that can leave their bigger brothers in the dust – in the smaller speakers do have some advantages, such as their size and weight. You'd have to be pretty daring to put a pair of tower speakers on a bookshelf! As always, we recommend evaluating the amount of space you have, as well as what you're likely to be using the speakers for, before you choose between bookshelf and floorstanding speakers. If you're more interested in home theater use, then we'd argue that you should go for floorstanding, and we explore this in a little more detail in a section below. If you do decide to go for bookshelf speakers, we have a list of the best available right here.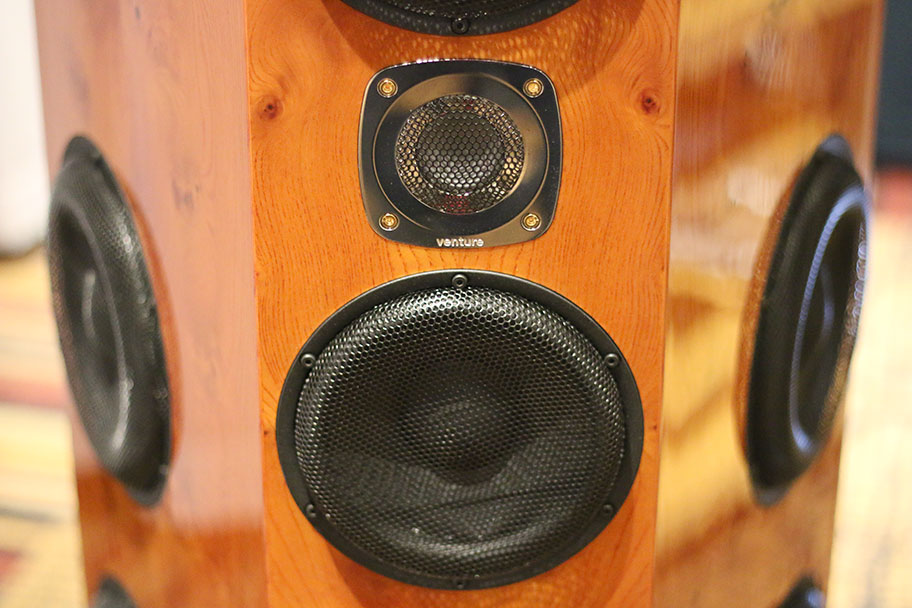 Floorstanding Speaker Placement Explained
The placement of your floorstanding speaker is less important than something like, for example, a subwoofer. Generally, you should avoid putting them in corners, which could decrease the detail of the bass you get. The most common place to put them is the sides of your TV or stereo system with some room behind, although it depends on the size of your room and the furniture placement. Most importantly, be prepared to experiment, moves things around, and sit in different locations around the room to make sure you're getting optimal sound. Also, be aware that the stuff in your room can have a massive effect on how things sound. Got a lot of bookshelves, soft couches, a few cushions? You'll probably be OK. Bare walls, glass coffee tables and lots of right angles? You may need to be a little more careful.
A rookie error is to stick them right against the wall in the corners of the room - makes sense, you'd think, right? Nope. Putting them against the wall destroys the bass energy, turning a mighty oomph into a tiny, muddy squeak. They need to be at least six inches from all walls, and preferably further than that. Obviously this is something that you may have to compromise on, depending on the sound and shape of your room, but as we said, make sure you play around with positioning. You also need to be aware of the position of the various speaker drivers. The last thing you want as to actually block any of them, or to put something in their path that could interfere with the sound. This can get particularly tricky when speakers have an awkward shape, like the SVS Ultra Towers, which have twin bass drivers on either side at the very bottom (they cost $2,000 per pair if you're interested). You'll need to be quite careful not to obstruct things like these, which can be a little bit difficult if you have limited space. The good news is, floorstanding speakers are rarely nailed down. Although they may be heavy, you shouldn't find moving them all that difficult. In addition, many of them come with screw-on feet that isolate the cabinet from the floor, eliminating vibrations and helping smooth out the sound, which is always welcome.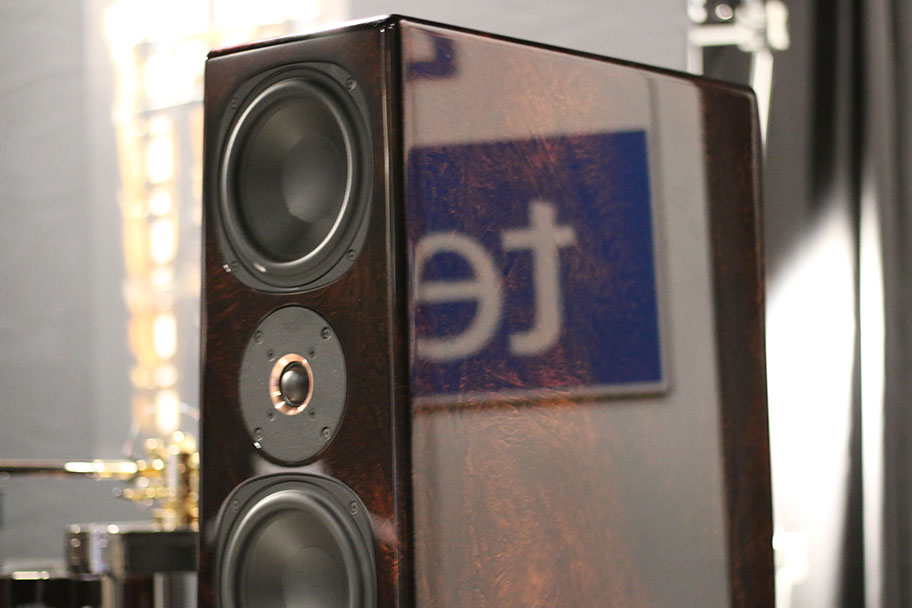 Drivers Explained
The individual engines that produce sound. They combine the electronic components needed to convert the audio signal into something you can actually hear. Drivers can only be so powerful individually, so the more a manufacturer packs into a floorstanding speaker, the richer and more detailed the sound likely will be. As a rough guideline, you should never see less than three drivers in a single unit – anything less, and you're not going to get the sound you deserve. At the top ranges, you can see up to six and sometimes even seven individual drivers in a unit. Drivers are split into tweeters (high sounds, like violins), mid-range (human voice) and woofers (low sounds, like basslines). 
The tweeters are a good indication of where a speaker falls on the budget scale. Cheaper speakers will use cone tweeters - yes, it's in a cone shape. This doesn't spread sound as well as other shapes, and in addition, the materials don't often measure up (paper is most common - effective, to be sure, but not exactly high-grade). Better models will use dome tweeters, which treat the sound more effectively and spread it more evenly. Perfect example: the $4,000 PMC Twenty5 23, which not only use dome tweeters but which cool them with ferrofluid, a liquid that can become magnetized, and which (obviously) has excellent cooling properties. Super-expensive speakers actually use something known as a ribbon tweeter, which is a super-light, super-strong, super-efficient tweeter that can do some really amazing things to the sound. You won't see these very often, but they're great. By the way, drivers also include woofers – the oversized ones which produce bass frequencies. We think these are worthy of a little bit more explanation, and we've included them in their own section below.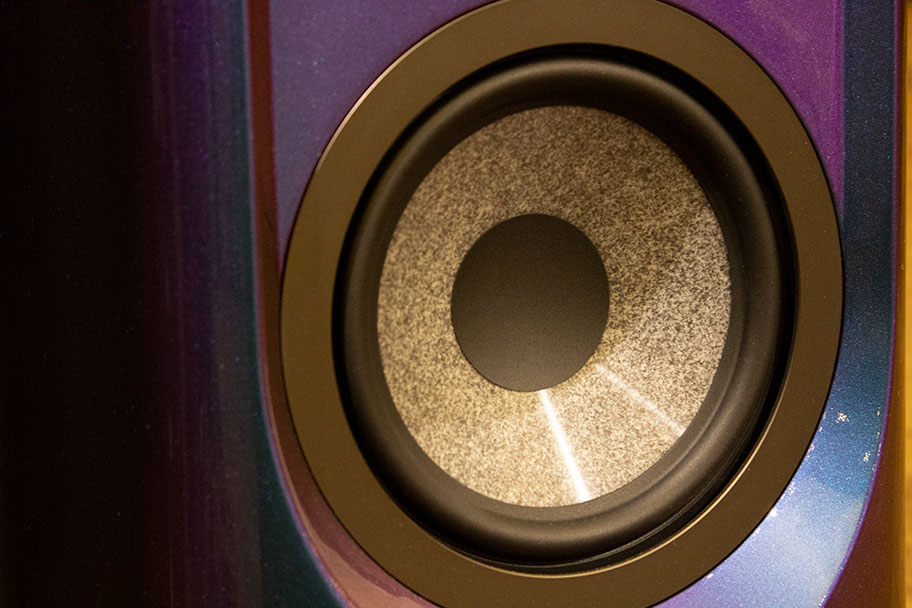 Wattage Explained
Wattage refers to the power that can be pushed through each speaker. You should look at watts per channel in particular, as this is a broad measure of how much oomph each driver will have. Wattage is further divided into Peak and Continuous. Peak wattage is how much power the speaker can handle at absolute maximum capacity. Unless you're planning to live on the edge, you can ignore. Continuous is the average wattage the speaker puts out on any given Sunday – in other words, what it will put out when played at what most people would consider an average volume. You'll notice that in the list of specs for each speaker, we give a recommended amplifier power. This is because any amplifier will need to not only be able to provide sufficient power to the speaker to satisfy its continuous wattage needs – the last thing you want is a speaker that isn't getting quite enough power – but also because you'll need to know where the breaking point is. In other words, what's the absolute peak power your speaker can take? Not just because you want to drive at maximum volume, but because music has loud parts and soft parts, and you need to know that both your amplifiers and speakers can handle them.
Let's say you've got a set of speakers, like the Aperion Audio Verus III Grand Tower, with a recommended amp power of 20-200 watts. That means that any amp that generates continuous and peak power within that range is a good match. Something like the Rega Brio, which has continuous power of 50 watts, would be ideal. You'll also need to take into account impedance. This refers to the electrical resistance a speaker has, and it's ability to… We lost you already, didn't we?
Not to worry. The good news is that impedance, and how it relates to wattage, is relatively easy to explain, although it does take a little more space and time than we have here. For short reference: the output power of your amplifier and the recommended range of your speakers should, in theory, be at the same impedance. Amp impedance can be lower than speaker impedance, but speaker impedance should never be lower than amp impedance. If you're curious about what the Ω symbol is in our stats table, and how it can help you get the absolute best out of your setup, then you should check out our full guide to matching speakers and amps, which will clue you in.
 
Sensitivity Explained
This one is easy. For sensitivity, read: loudness. Sometimes called efficiency, this as a measure of how loud a set of speakers will go when a certain amount of power (usually one miliwatt) is put through them. All things being equal, you should be able to line up a set of speakers in a row, put exactly the same amount of power through them, and get a general idea of how loud they all are at the same power level, by measuring the decibels (dB).
In practice, it's a little less simple than that. Manufacturers don't have an independent testing standard, so you have to take sensitivity ratings with a grain of salt. Regardless, they are generally accepted way of determining how much sound speaker will put out. If you have a smaller space, you can quite happily go for speakers with a sensitivity below, say, 88dB. A larger space will require a higher sensitivity rating. For reference, the loudest speakers on our list are the KEF R7 at 110dB.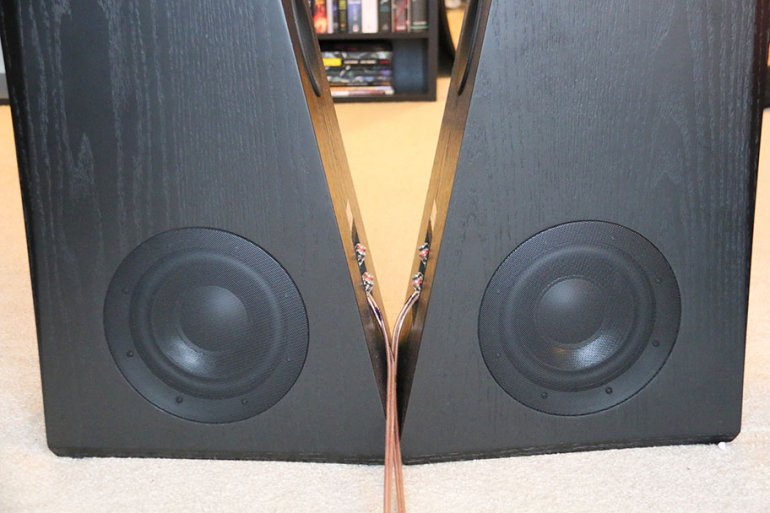 Frequencies Explained 
On the surface, this is simple. Frequencies measure how low and how high sounds are. It's measured in Hertz - or, if we're talking about really high sounds, kiloHertz (literally, thousands of Hertz.) Speakers that have the widest frequency range would, in theory, be able to present more detailed sound - even if, in practice, humans can only hear up to around 17,000 Hertz (17 kiloHertz/kHz). When it comes to floorstanding speakers, the bass is worth spending a little time on. Work with us here.
Woofers are specialised drivers that are used to create bass frequencies. Almost all floorstanding speakers contain at least one – some of them may even have a lone woofer and a single tweeter – and they often produce very good low-end. They are likely to be oversized, and gobble up the bulk of the power that is fed into the speaker. But here's an interesting question: are they enough? What we mean is this. To get truly impactful bass, you need to reach really low in the frequency spectrum – down to the place where we are no longer able to hear sound, but only to feel it. To get these frequencies pumping, you need absolutely tremendous power – often more than a floorstanding speaker can generate, even the really big ones. While you're certainly able to get away with relying on the woofers in your floorstanding speakers – especially in the case of models like the GoldenEar Triton One, which have three huge 9" woofers (!) – we would always recommend buying an additional subwoofer. It will do the job that even the best floorstanding speakers can't.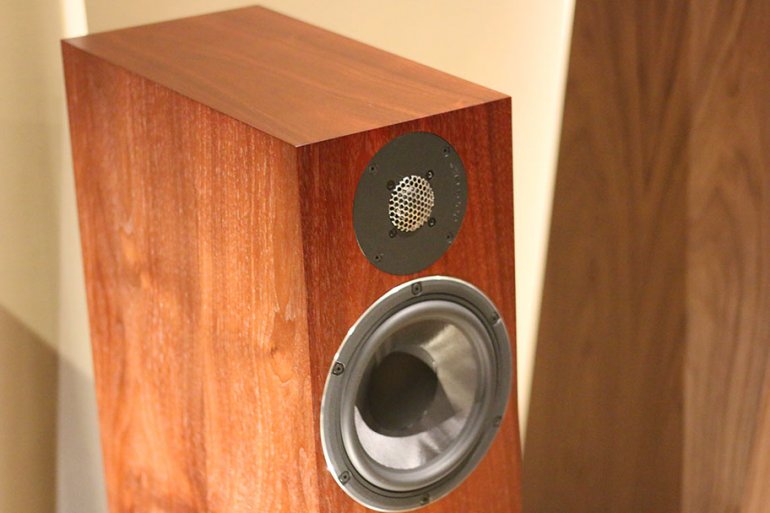 Passive vs. Powered Floorstanding Speakers
This bit's actually quite simple. A passive speaker doesn't have a built-in amplifier. It needs external amplification, which is why you usually plug your speakers into a separate amp or receiver. Powered (or Active) speakers contain their own amplifier. Usually? You don't have to worry about this very much. Almost all home theater speakers are passive. It is worth checking, however, as if you plug an active speaker into an amplifier using anything but a dedicated cable known as a line-level cable, there can sometimes be a bang. Again: you're unlikely to run into this, but do try and keep an eye out. You will also probably be needing a home theater system to hook these up to. Don't worry, we've got you covered.
 
Hi-Fi vs. Home Theater
Here's a question for you. What is more appropriate: to use a pair of floorstanding speakers as part of a home theater system, or to simply use them for playing music through a stereo amp? The traditional response is to go with the former. Floorstanding speakers, if you believe the vast body of knowledge on the subject, are best when used for home theater applications. The way they've been tuned and designed has been to slot into an existing system with other speakers. The orthodoxy says that bookshelf speakers are the ones to go for if you're building a simple hi-fi music system.
We are here to say that's nonsense. There's absolutely nothing wrong with using floorstanding speakers in a hi-fi setup. While it might be overkill for some people, particularly if space is an issue, as long as you're pairing them with a suitable amp, they can do wonders for your music – particularly something like the Aperion Audio Verus III Grand Tower, which are known for being very musical.
They also have the added advantage in that they may, in some cases, negate the need for additional subwoofer. We realize this is controversial – and, if we're being honest, will always advocate getting a traditional subwoofer to handle the low frequencies. But if you're pressed for space, and want to have a simple two-speaker setup that doesn't compromise on the bass, then you'll get far more bang for your buck with a pair of floorstanding speakers than you will with a pair of bookshelf speakers. Ultimately, you should let your budget and your space needs be your guide. It may also be perfectly possible to simply play music through your home theater system, making it more of an all in one solution. In other words: don't let accepted orthodoxy tell you what to do with your speakers. Floorstanders are often far more versatile than they are given credit for.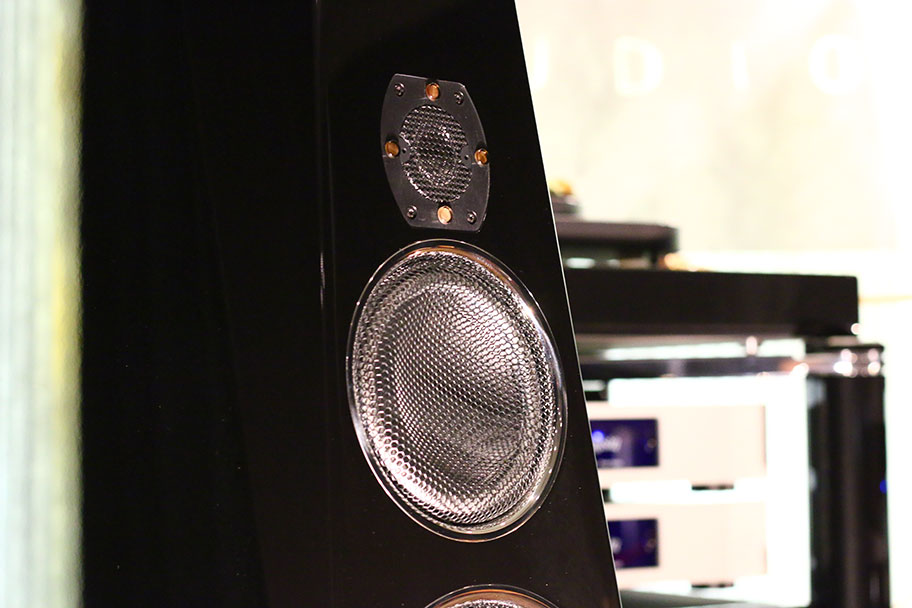 Toe-In And Sweet Spot Explained
Like all speakers, the sound that floorstanding models generate isn't equal wherever you're able to hear it. There will be certain positions in relation to the speaker where things sound 'right': whether bass is more full, the highs more detailed, the mids deeper. This, ladies and gentlemen and other, is known as the sweet spot, and it's a goddamn miracle. Get in the sweet spot, and every cent you spend on your new speakers will be worth it. However, this can take a little bit of work to achieve. Ultimately, you need to set up your speakers in your preferred position, and quite literally move around until you found the listening spot you like. We love to suggest a more scientific way of finding this, but so much is dependent on the environment you place your speakers in, and what's inside it, that it would be a fool's errand to try.
However, there is a particular trick that you can use to help narrow down the sweet spot: toe-in. Imagine you are sitting in front of your speakers, parallel to the direction of the drivers. Now, imagine angling those drivers in between 10° and 15°. Obviously, you do this by turning the speakers themselves, and you don't have to worry too much about accurately measuring the angle. Even a little bit of a turn can work wonders. Not every set of speakers needs to be toed-in, and different manufacturers will provide different advice. The $3,495 MarkAudio-SOTA Cesti T speakers, for example, are known to have a little bit of a boost in the high frequencies when toed-in, while being a little bit more flat and neutral when faced dead on. Again: you need to play around to find the configuration you like.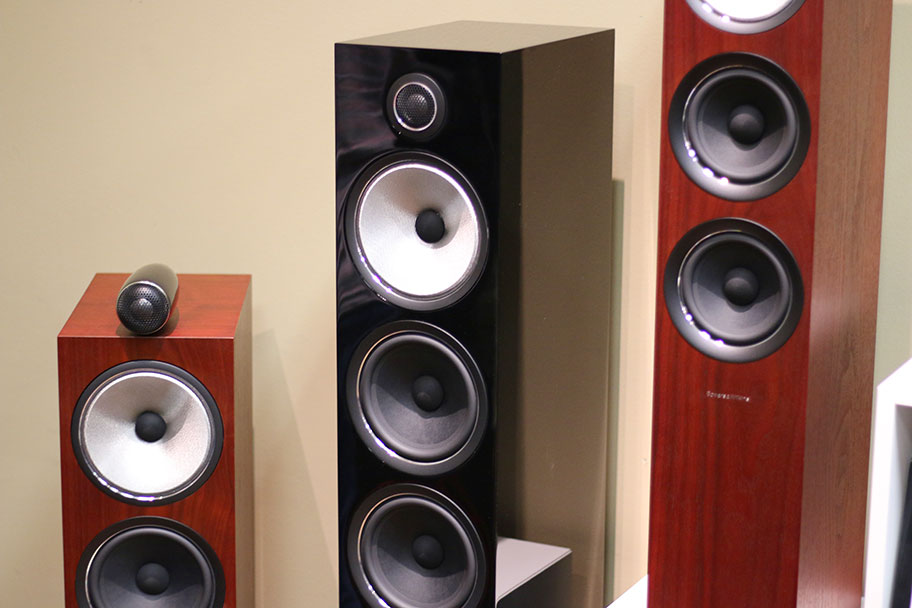 Burn-In Explained
No subject has caused more ruin friendships, more personal vendettas, than speaker burn-in. Even now, we are a little bit hesitant to write about it. The idea is this: brand-new speakers (and headphones), fresh from the factory, will have drivers that are stiff. Stiff drivers mean sound that isn't going to be quite its best, and – the devotees say – the best way to remedy this is to spend up to a hundred hours playing audio through them, which will help give some flexibility back to the material. Only then can the speakers be truly evaluated.
The counterargument? Simply that any burn-in effect that may have been witnessed by testers in the past is simply the result of our ears getting used to the sound of a particular set of speakers or headphones. While it's true that driver structure does change over time, the changes are absolutely tiny – far too small to make a real difference in the auditory quality. Our take? At the risk of pissing off just about everybody, we don't think burn-in makes a huge difference. Or at least, we've certainly never noticed it in any dramatic fashion. Ultimately, you should buy your speakers, then simply enjoy them. At the worst, the sound won't change at all, and at the best, it will improve!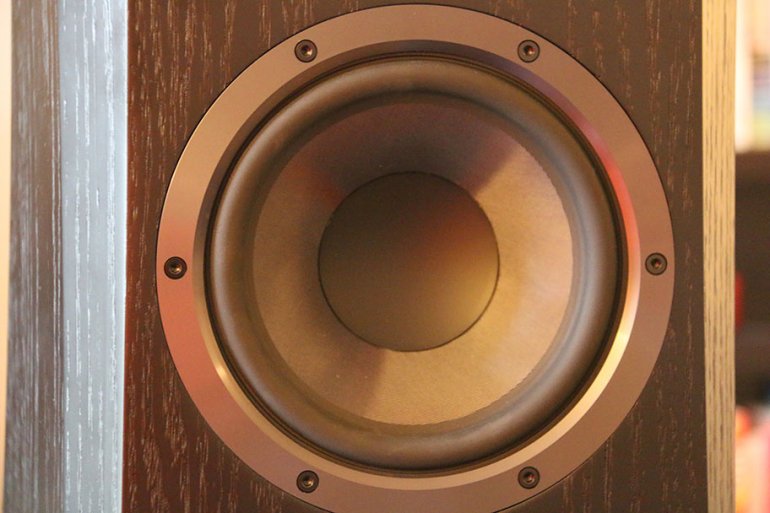 Three-Way vs. Two-Way Floorstanding Speakers
You'll often see these terms thrown around on product pages. They are a needlessly-complicated way of saying something very simple. Two-way speakers separate the frequencies they produce into lows and highs. To do this, they have two different types of drivers: woofers (for the lows) and tweeters (for the highs). The Klipsch RP-6000F are two-ways. They cost $798 per pair, so are super-affordable.
Three-way speakers - you guessed it - separate the frequencies into three: mids, lows, highs. That means they need midrange drivers as well. Traditionally, three-ways are better than two-ways, producing more detailed sound. BUT: this isn't always the case, and a good two-way can often beat a three-way, especially on vocals. The Klipsch, for example, easily beats the three-way Polk Audio T-50.
Back To Our Floorstanding Speaker Picks Back To Our Comparison Table
Learn More About Home Theater