Simgot EK3 ($359)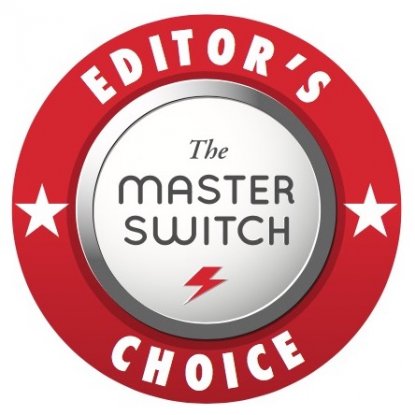 Impedance: 14-18Ω
Sensitivity: 115dB
Drivers: Balanced Armature
What We Like: Rich sound quality, eye-catching design, excellent filters.
What We Don't: May be too expensive for new listeners.
See the Simgot EK3
If you want the best in-ear headphones on the market, you have to look to China. Nowhere else matches stunning audio quality with excellent build standards like Chinese audio designers do, and Simgot are a perfect example of expert craftsmanship. They've been one of the best kept secrets for years, and after testing the EK3 in-ears, we think it's a secret that deserves to be shared. In this review, we break down the sound, design, comfort and fit, packaging and accessories, specs, and more of the Simgot EK3. To see how they stack up, check out our list of the best earbuds.

Sound
High-End (Treble)
We like to think we're fairly cynical about audio gear. We test literally hundreds of models each year, and it's becoming increasingly rare for a piece of equipment to fully catch our attention. After all, how exciting can the umpteenth black-box amplifier be, or yet another digital audio player that resembles every other digital audio player we've ever tested? And don't get us started on A/V receivers - they may as well be clones of each other. This is also true of in-ear headphones. Do you know how many models are out there? Thousands - maybe even a whole galaxy. For a pair of in-ears to stand out in the crowd is almost impossible, but the Simgot EK3 manage to pull it off. They are, no joke, among the best in-ears we've ever tested.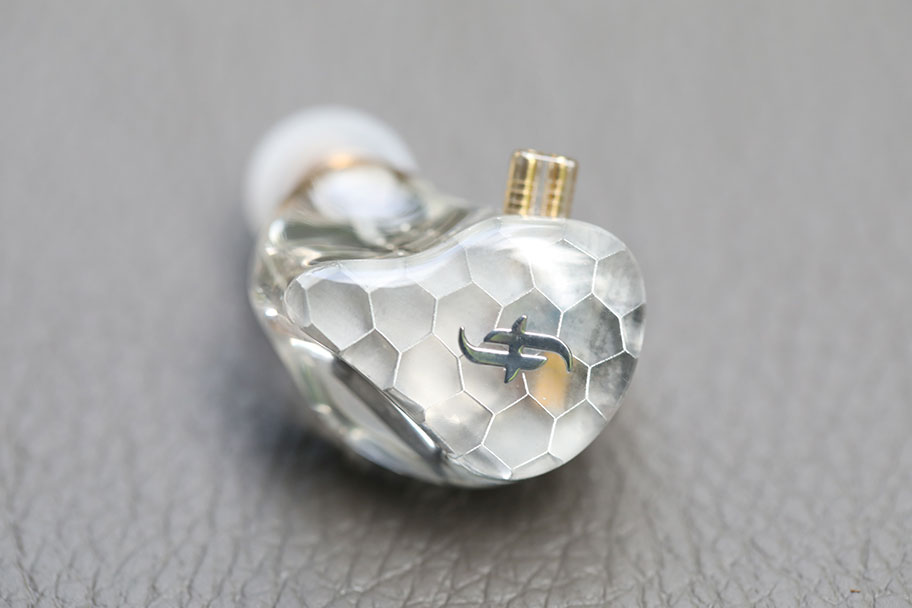 (We are aware that these should technically be referred to as IEMs - In-Ear Monitors. We dislike this term and consider it jargon. We will continue to refer to the EK3s as earbuds or in-ear headphones throughout this review.)
The main aspect of the sound that impresses us compared to other in-ears we've tested - certainly in this price range - is the high-end. The level of detail is just extraordinary. At times, we were worried that the sound would be too sibilant and harsh, but this never happened. The crisp, sharp detail from the three balanced armature drivers in each bud never became fatiguing, only revealing. It infused the tracks with such life and dynamism that we could hardly believe what we were hearing. The biggest compliment to a piece of equipment is when we start searching our favorite tracks to listen to, in the hopes of picking up more detail than we did before. That definitely happened here. The EK3s remain among the most detailed earbuds we've ever heard, and we've heard quite a few.
They are significantly better than something like the BGVP DM7, another Chinese product which cost $300 to the EK's $350. The BGVPs are superb earbuds, but the Simgot model delivers far more nuance and engaging detail in the highs. Yes, you'll spend a little more, but the audio difference is significant enough to warrant some splurging.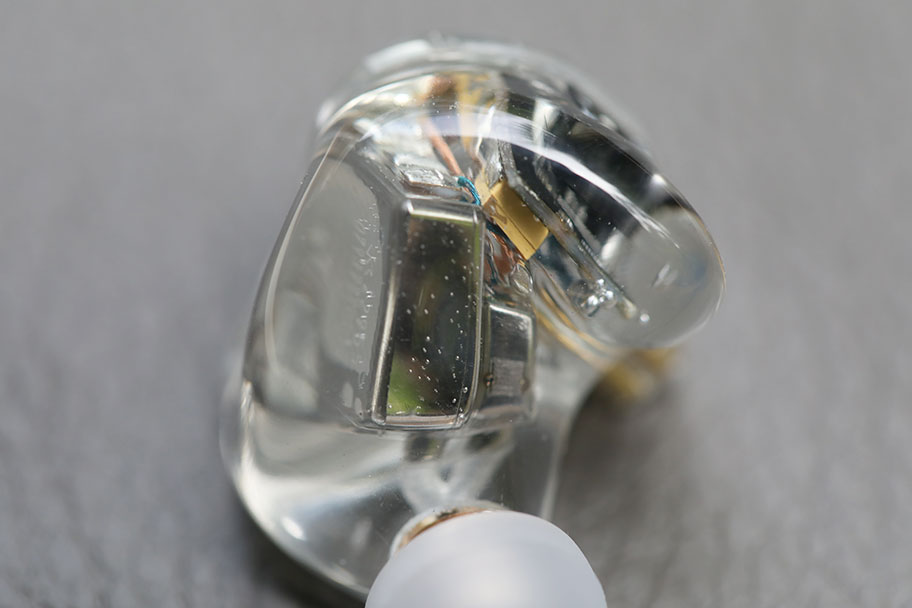 Mids and Low-End (Bass)
As we already mentioned, it's not just the high-end that the EK3s do well. The other areas of the frequency spectrum, such as the bass and mids, were just as impressive. It was a real pleasure to hear the detail in the highs matched by a welcoming warmth in the mids. This was especially true of elements like vocals, which came through beautifully. The danger with this, of course, is in the bass. When the highs and mids have been given emphasis - and make no mistake, they definitely have here - bass can sometimes suffer. This wasn't a problem for the EK3s. No matter what genre we played, the bass felt clean and assured, with a confidence that genuinely made us smile. Kicks were powerful and punchy without overstaying their welcome, and baselines felt sharp and defined.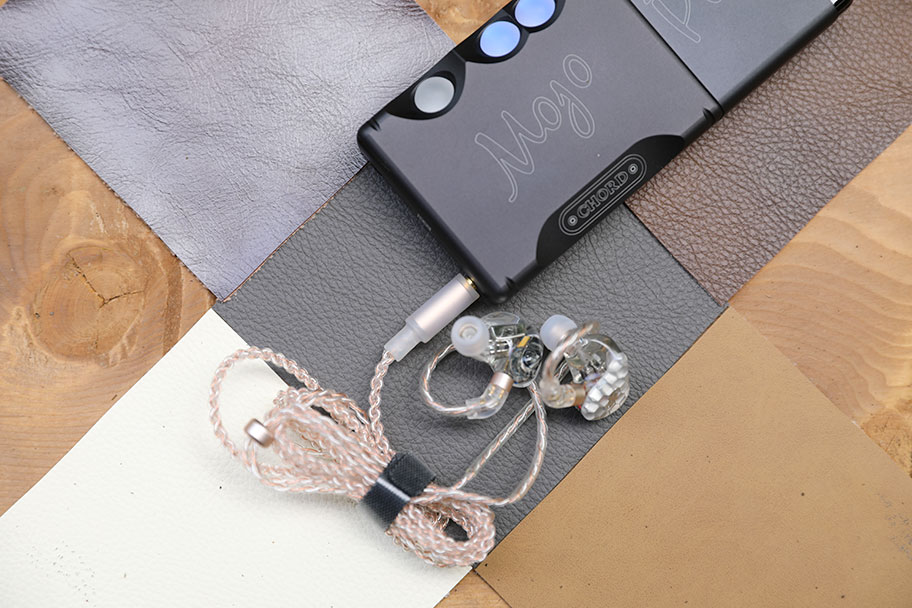 We tested the Simgot EK3s on a variety of playback devices. Chief among these was a Chord Mojo (full review here) with a Poly streaming attachment. The Mojo is one of our favorite portable headphone amps, but we were worried that it was flattering the EK3 a little too much. So, we ran a few listening tests on other devices, including digital audio players from FiiO and Shanling, a headphone amp from Mytek, and a smartphone. While the EK3s certainly benefit from having a good source, you will lose nothing by listening to them from a smartphone. They have a low impedance, ranging from 14 to 18 ohms, and forgiving (for in-ears) sensitivity of 115dB. If all that is gobbledygook, we have a full explainer here. But the key takeaway is that these earbuds perform beautifully no matter what you are playing them from.
Soundstage
Despite our high praise, there's only a single part of the sound spectrum where the Simgot EK3 go wrong. If we had to nitpick, we would say that the soundstage isn't quite as wide as we'd like. Compared to models like the Campfire Audio Atlas, the EK3s can sometimes feel closed in. Again, not dramatically so, but enough that we did occasionally wish for more space. This was especially true in music with a high dynamic range, like movie soundtracks. But for the most part, the soundstage on these earbuds will be more than satisfactory for your everyday listening.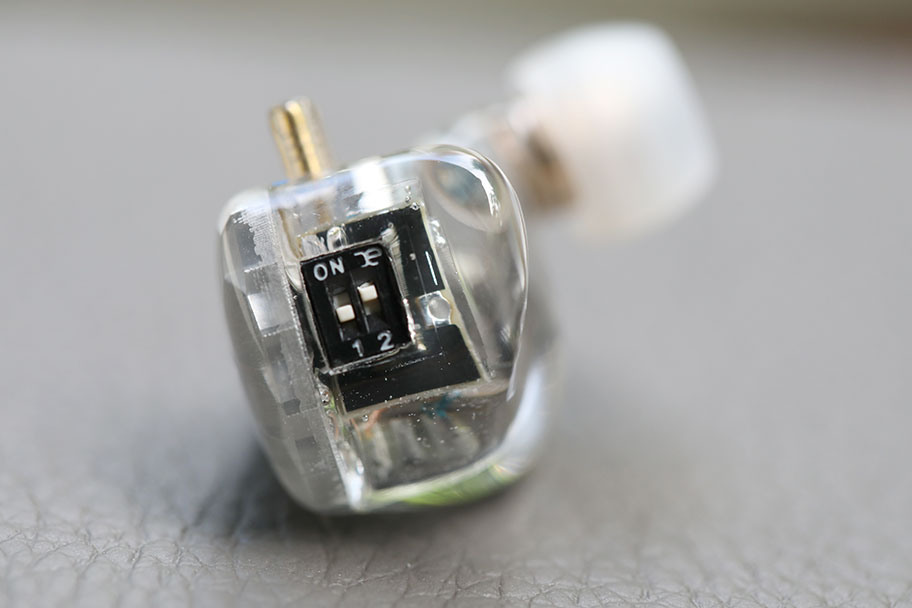 Filters
The EK3s have a particular trick that makes them unique among earbuds. This feature is a range of selectable filters. On each earbud, you'll find two small switches, which you can control by using an included tool that ships with the buds. These switches let you control the sound of the music, giving you more or less bass, or more or less treble as desired. There are four different combinations based on your preference. We aren't down with the labelling of the filters, necessarily – Strong Bass and Bright Vocal are self-explanatory, but calling the other two filters Exquisite Tone and Refined Tuning just confuses matters. What we are down for, however, is the effect. It's not just noticeable, but very pleasing. No matter which one we selected – and we advise you try them all – we got something positive out of the experience. It's a nifty and unique system, despite the clunky labelling, and it won't take long for you to find your preferred setting. For the record, most of our testing was done with Refined Tuning, which as the name suggests, gave us a good balance between thumping bass and crisp highs.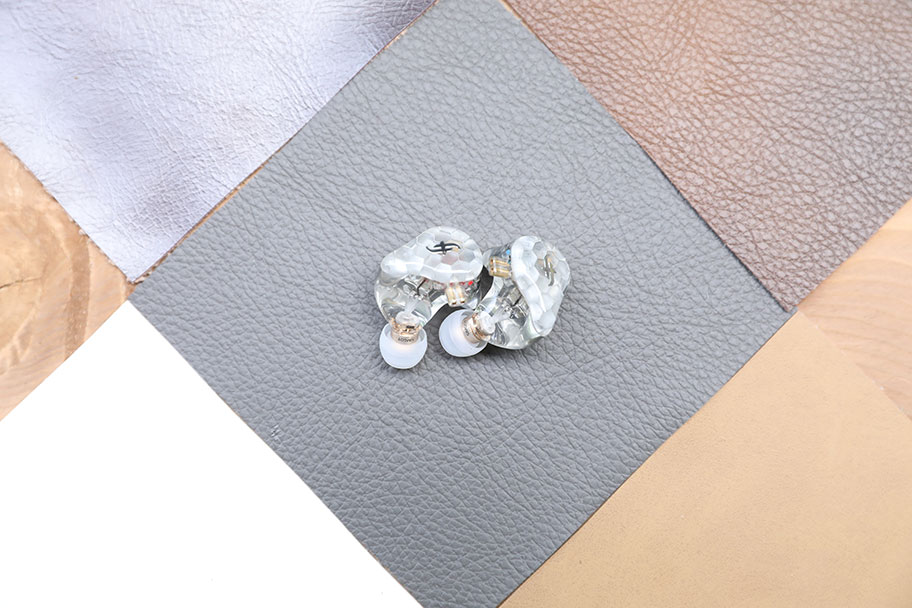 This is a feature we've seen before, albeit in a slightly clumsier way. The Scottish headphone manufacturer RHA has experimented with this – their T20 in-ears allowed you to insert additional filters to control the sound signature. But that meant carrying around additional filters, whereas the EK3s' system is entirely self-contained. The switches are well-designed enough that it's easy to manipulate them, and we think the system is a genuine leap forward. This is partly why we fell in love with the EK3s. Just when we thought they couldn't impress us any more, they went the extra mile.
Design
Looks and Build Quality
Most audio gear sounds great, but looks terrible. Audio engineers aren't noted for their sense of visual design. At TMS, this is something we aren't especially keen on. We believe that, if you're spending a reasonable amount of money on a piece of equipment, you should expect an appealing design to match the product. This should be true no matter what the price is. For example, we've tested the $100 1More Triple Driver In-Ears (full review here), which came in truly beautiful packaging and had a stellar product design. It's entirely possible to both look good and sound good. So let's get this out of the way right now: the Simgot EK3s don't look good. They look spectacular.
The 3D printed housing of each bud is semi-transparent, allowing you to see the internal pieces of the earbuds. The outside edge boasts an attractive hexagonal pattern, available in both black and white, with a silver Simgot logo in the center. The buds have been designed with a focus on ear shape, and as you'll see when we discuss the fit below, this makes them easy to insert. It's a trend we really like, and which is appearing on more new models. Admittedly, those models tend to be fairly expensive, like the new FiiO FH7 earbuds ($449). Given that the EK3s are a full $100 cheaper, that's quite something. Incidentally, the FH7 buds also allow you to customise the sound, but they do it in a similar way to the RHA T-20s with interchangeable filters.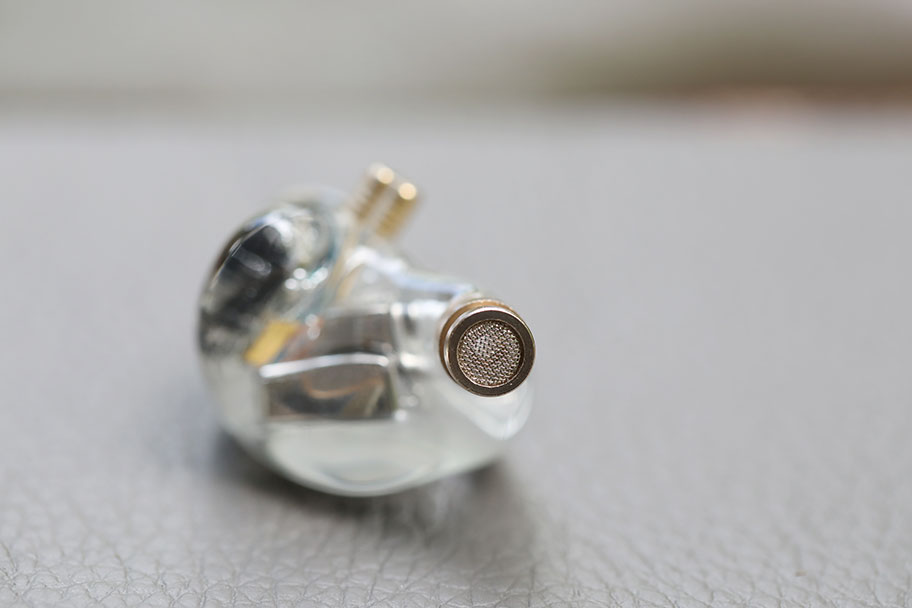 More importantly, the EK3s feel solid. While we didn't subject them to an overly heavy amount of abuse, it's quite easy to see the robust buds standing up to it. We also appreciated how the filter switches were very slightly recessed, meaning it was almost impossible to toggle them by accident, or to damage them.
The design of the EK3s is a step forward for Simgot, and a departure from their signature design. Their previous models, including one we happen to have on hand – the Simgot EN700 Pro – have a distinctive grille on the outer housing of each bud, with a prominent logo. The grille design is gone here, which is fine by us. We liked the grille. We love the hexagons.

Comfort & Fit
We can't put it more simply than this: we got a perfect fit with the Simgot EK3s straight out of the box. We didn't have to change a thing. The earbuds come with three different tip sizes as well as a pair of Comply memory foam tips. The small size was attached to the earbuds when we opened the box, and the moment we slip them in, we knew we were onto a winner. Not only was the isolation superb, blocking out the world around us, but the comfort level was terrific. We wore the EK3s for hours without any issue whatsoever.
It also helps that the included cable – which we'll talk more about below – ends in two flexible ear hooks. These are thin and light enough not to bother the delicate skin around the back of the ear, even after long periods of use. These earbuds stayed where we put them, and stayed there for hours without causing any issue. Once again, the EK3s nailed it.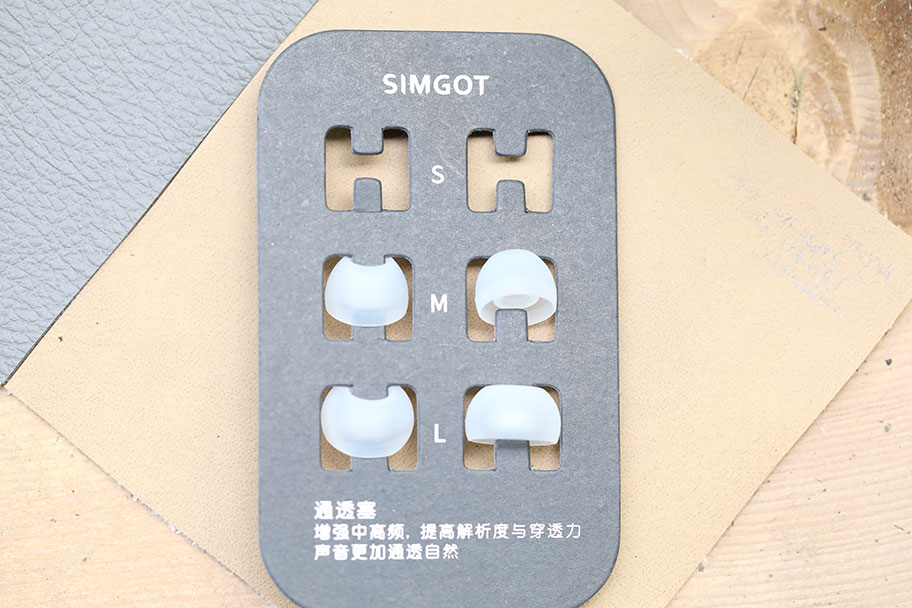 Accessories & Packaging
As you'd expect for a pair of $350 buds, their accessory and packaging game is off the charts. The EK3s come in a sleek black box, which slides off to reveal the buds (separated from the cable) and the case. It's the case we want to draw your attention to first. Simgot make these amazing cases out of buttery brown leather – there was a similar one included with the EN700 Pro they shipped us. While the sizeable fliptop case is unlikely to slide into a pocket, unless you have especially capacious pockets, it's still a fantastic carrier for the buds. It feels wonderful in the hands, and a handy pouch on the inside cover will store all your accessories.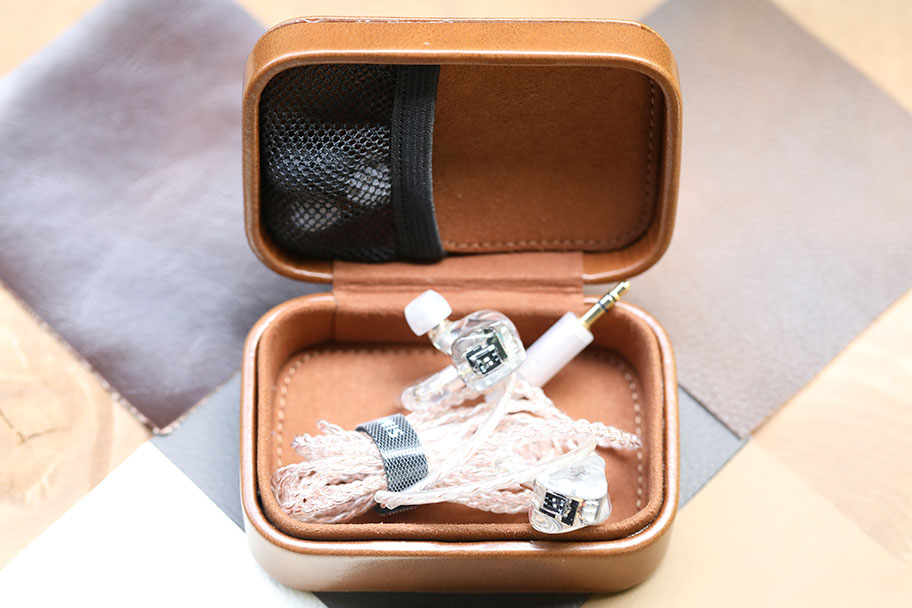 Of course, you also get a satisfying range of accessories. The cable is braided, free from tangles, and with a handy strap to tie it. It uses two-pin connectors, and is silver-plated, with a helpful bracket that you can raise and lower to adjust how tightly the buds fit around your neck. It's an excellent cable - although be warned, there are no in-line controls on it, and no microphone. You won't be using these earbuds for taking calls!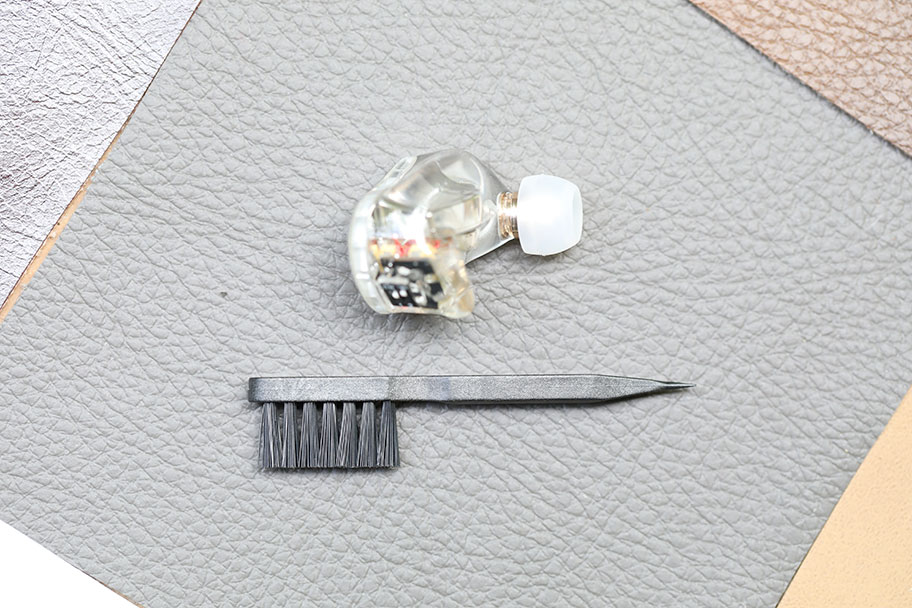 And alongside the various tips sizes, you also get a small brush to clear any earwax and assorted gunk out of your buds. This brush may look like a toothbrush, but it also has a dual function: the tapered backend is designed to flick the filter switches on the EK3s. Again, there's so much to love here, so many small touches and thoughtful design elements. The best audio gear should make you feel smart for buying it – it should make you feel like your money has been well spent. Some companies do it better than others, and right now, Simgot are among the best in the business.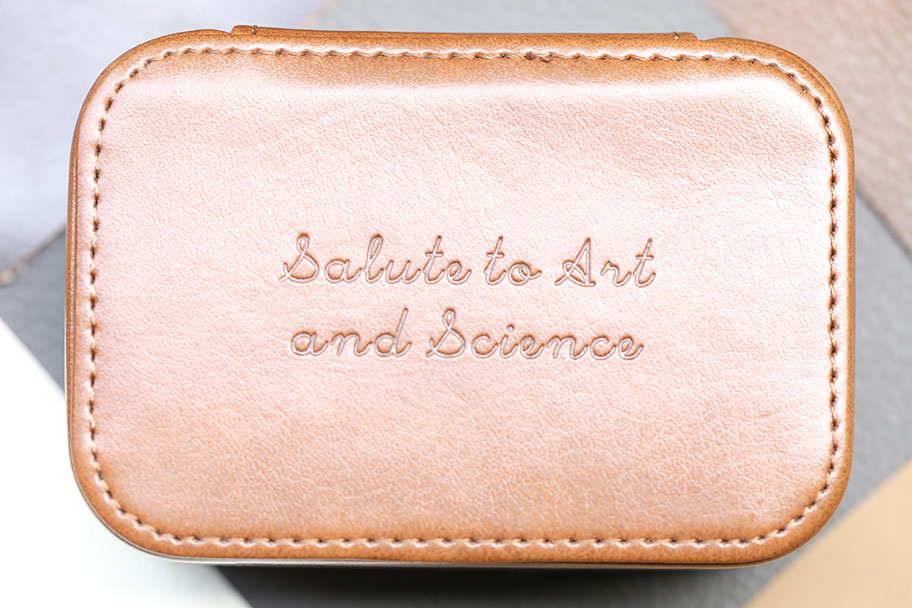 What We Like
The Simgot EK3s have stupendous sound quality, with detailed highs and assured, confident lows.
The EK3s' design is exemplary, and the comfort and fit is as good as you can get.
The accessory game is off the charts.
 
What We Don't
The Simgot EK3s may be too expensive for casual listeners.
If pushed, we would say that the soundstage for the Simgot EK3s could be better.
There's no in-line microphone or control option for the cable, which may be a problem if you plan on taking these earbuds on the go.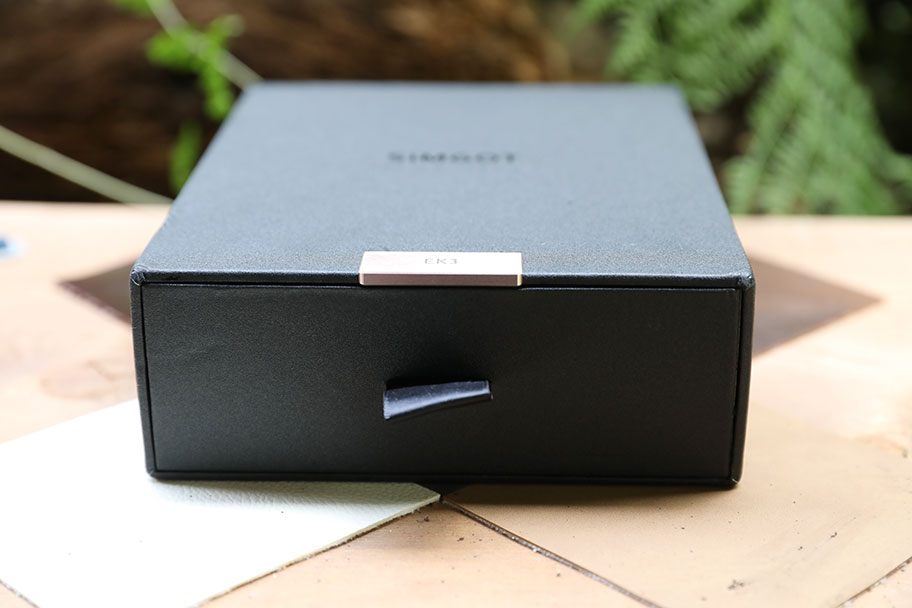 Comparison Table
| Earbuds | Price | Impedance | Sensitivity | Drivers | Cable | Connector |
| --- | --- | --- | --- | --- | --- | --- |
| Simgot EK3 | $359 | 14-18Ω | 115dB | Balanced Armature | 2-Pin | 3.5mm |
| BGVP DM7 | $299 | 13.5Ω | 115dB | Balanced Armature | 1-Pin (MMCX) | 3.5mm |
| TIN Audio TinHiFi P1 | $169 | 20Ω | 96dB | Planar Magnetic | 1-Pin (MMCX) | 3.5mm |
| FiiO FH7 | $450 | 16Ω | 111dB | Balanced Armature | 2-Pin | 3.5mm |
| Simgot EN700 Pro | $146 | 16Ω | 101dB | Polymer Composite | 2-Pin | 3.5mm |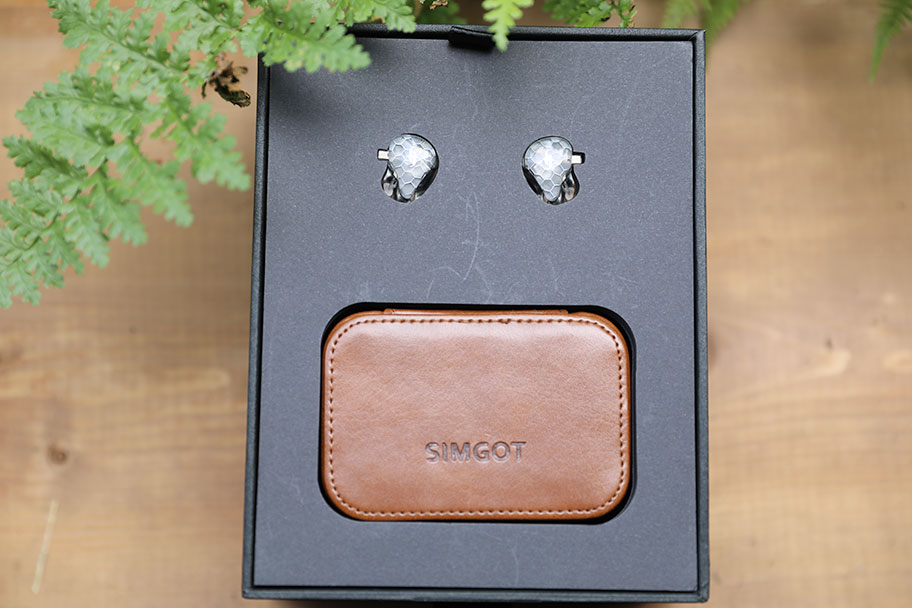 The Competition
As you may have guessed, there's significant competition for the EK3s. Let's start with another pair of earbuds that impressed us recently: the BGVP DM7. They are a slightly less expensive alternative to the $350 EK3s, and their $300 price tag may prove a little more attractive if you're on a budget. They offer six balanced armature drivers to the three on the EK3s - although we believe the latter sound better, with a touch more detail and nuance in the highs. Beyond that, the differences are very minor. Both earbuds are 3D printed, and both come with similar accessories, like the cleaning brush. Although very obviously, there are no filters on the BGVP DM7. In our opinion, this feature alone are worth shelling out the extra $50 for the EK3s.
The BGVP DM7s are made under the banner of their parent company, Linsoul. The company has another audio brand called TIN Audio, and despite the name, the sound quality of their products is generally superb. We particularly like the TIN Audio TinHiFi P1. Unlike the Simgot and BGVP models, the drivers are planar magnetic, which creates an incredible soundstage and openness. Despite this technology, they're exceptionally affordable, at $170. Ultimately, we don't think these are necessarily better or worse than the EK3s – just different. They're a fantastic option if you want to save some money and still come away with brilliant sound quality, although they are far less sensitive than the Simgots.
If you're prepared to spend a little more, then why not check out the FiiO FH7? FiiO are known for their digital audio players, but what most people don't know is that they have just as much experience with in-ears. The FH7s, their new flagship, are a stunning – and stunningly beautiful – pair of earbuds. The sound is even more refined and classy than the EK3s and comes with interchangeable filters. You will definitely pay for the privilege – these cost $450 – but we think they're worth it if you can afford them.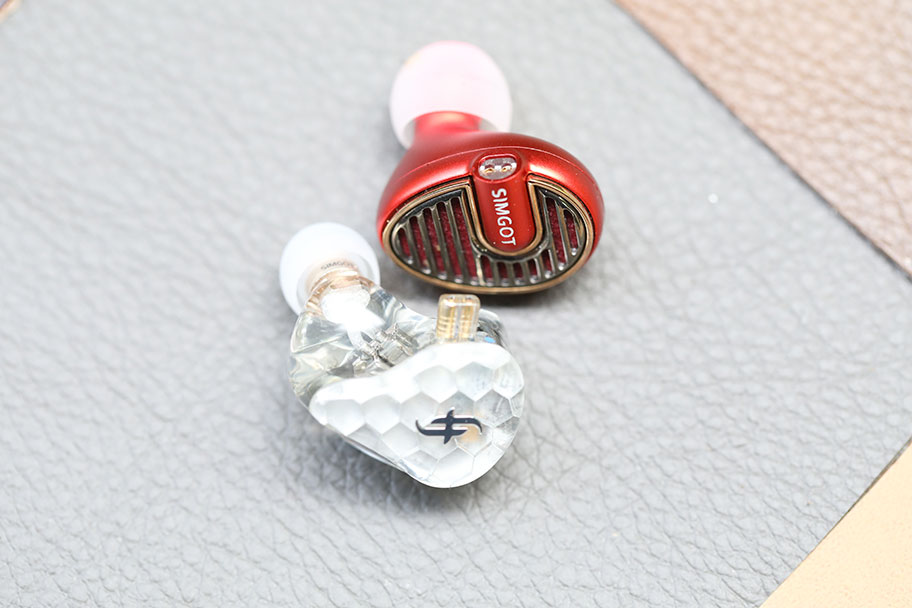 If you're into unusual design, it's also worth checking out some of Simgot's previous models. As you can see in the photo above, the Simgot EN700 Pro has a seriously distinctive look. It's very different from the EK3s, and definitely more old school. But if you're happy with the design, then you'll be rewarded with a pair of earbuds that are simply excellent. The EN700 Pro are affordable, too, at $150 - an even $200 less than the EK3s. For that price, you get equally excellent accessories, including the braided cable. This makes them an ideal choice if you want to experience what the company has to offer without shelling out for their flagship model.
We give out the Editor's Choice award here very rarely – perhaps no more than once or twice a year. It's a very exclusive club. So exclusive, in fact, that no in-ear headphones have made it in…until now. The Simgot EK3s just astounded us, and we can't think of a better audio product we tested this year. We have no hesitation in making them the first in-ears to enter the Editor's Choice club, and we hope they sell by the truckload. They certainly deserve to in our books.
Learn More About Headphone Audio