Wireless and Bluetooth speakers are the bomb. Whether you're using a portable Bluetooth speaker at the beach, or listening to music in the kitchen, you're virtually guaranteed solid sound quality and a great experience. We've put together a list of the best available for this year - whether you're looking for a room-filling monster, a smart speaker, or a quirky little boombox for a camping trip, we've got you covered. For more background information on wireless and Bluetooth speakers, see our comparison table and buying advice below the picks.
 
Best Overall Wireless Speaker

Battery Life: 15 Hours
Bluetooth: Yes
Wi-Fi: Yes
Smart Assistant: Amazon Alexa
What We Like: Superb sound quality even at top volume, stunning value-for-money.
What We Don't: Occasional issues with music services when using Alexa, charging dock costs extra.
The MEGABLAST, from Ultimate Ears, ticks every box we have. It works exceptionally well in just about every situation, from the living room to the beach – and thanks to its waterproofing, you never need to worry about knocking it into the pool. It's loud as hell, and even at maximum volume, there's only the merest hint of distortion. We can't think of another wireless speaker that offers quite as much for under $200. The nearest competitor (in this particular price range) is the Sonos One, and that doesn't offer anywhere close to the functionality or sound quality. Even slightly more expensive speakers, like the $299 Bose Soundlink Revolve+, can't best the MEGABLAST.
It also happens to be a smart speaker, packing the Amazon Alexa virtual assistant inside. This means you can control things with your voice as well as standard buttons, or the app. During our testing, we did notice occasional issues with controlling music services when using Alexa, so if that's the kind of thing you enjoy doing, then watch out. We also find it a bit cheeky that a separate charging dock will cost you $30 - although, you can charge the speaker as normal using the bundled cord. Regardless, Ultimate Ears offer great value with the MEGABLAST and it's surprising how useful the speaker is. It's a clear pick for best overall wireless speaker...Read our in-depth review
See the Ultimate Ears MEGABLAST

A Close Second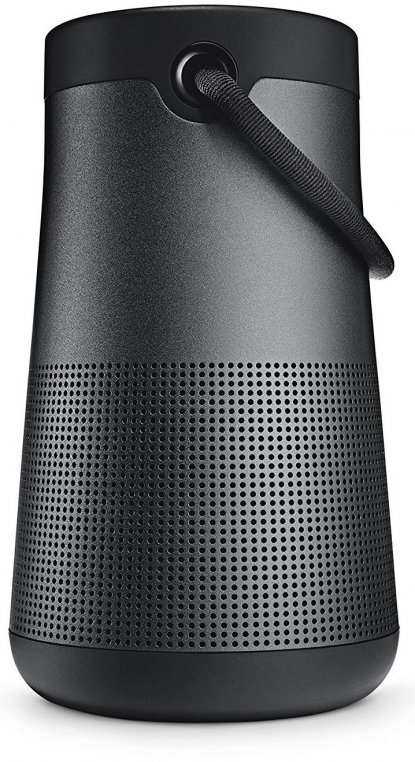 Battery Life: 15 Hours
Bluetooth: Yes
Wi-Fi: No
Smart Assistant: None
What We Like: Excellent sound, fantastic handle makes speaker easily portable.
What We Don't: Quite pricey for a speaker with no Wi-Fi, lacks aptX.
The UE MEGABLAST, above, is clearly superior to the Bose Soundlink Revolve+. It not only costs less, but offers full Wi-Fi capability, and a smart assistant. However, that's not to say that the Soundlink Revolve+ is a poor speaker – quite the opposite, in fact. It's an excellent second choice, and while it can't compete with the MEGABLAST, there's plenty to recommend it. Chief among these is sound quality, which is terrific; Bose know how to ring stupendous sound out of a small speaker, and they definitely manage that here. It's comparable in loudness to the MEGABLAST, and is splash-resistant. As long as you're happy just using Bluetooth, it makes for an excellent alternative. We also adore the handle, which makes transporting the speaker a breeze. We do wish it had aptX capability - read more on this in our buying advice, below - but it's a minor point.
We recommend buying this one over the original Soundlink Revolve. That speaker loses the handle, has lower battery life, and isn't nearly as powerful. Bose also recently released a full smart speaker, the Home Speaker 500. It's a perfectly capable speaker, but we think it's too pricey right now. For the time being, this is better.
See the Bose Soundlink Revolve+
 
Best Portable Wireless Speaker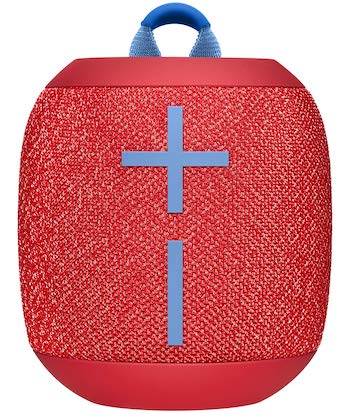 Battery Life: 13 Hours
Bluetooth: Yes
Wi-Fi: No
Smart Assistant: None
What We Like: Bigger battery life, punchy and engaging sound.
What We Don't: Can't take calls, micro-USB charging only.
The second version of the bestselling Ultimate Ears WONDERBOOM speaker makes some significant changes. Foremost among these is the battery life, increased from 10 hours to 13. It comes with an Outdoor Boost feature, designed to pour more power into the bass so that the speaker can be heard in crowded environments like barbecues and pool parties. Speaking of pool parties, the WONDERBOOM 2 is now IP67 rated and is quite happy taking a quick dunk in the pool.
This is, in our opinion, is the speaker to take with you on the go. It's hefty battery life and fun, exciting sound quality makes it the perfect companion for hanging out with friends. While we do wish that UE had included USB-C charging instead of the current micro-USB (an old standard, and far less efficient) it's a minor black mark. What may be trickier is the speaker's inability to take phone calls, although that depends on how much you value feature. Regardless, the WONDERBOOM 2 remains one of the best speakers that UE has ever produced, and a worthy successor to the original.
See the Ultimate Ears WONDERBOOM 2
 
Best Smart Wireless Speaker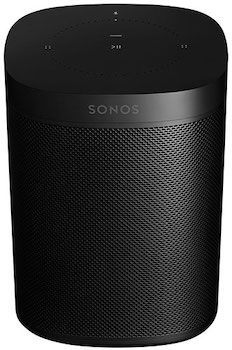 Battery Life: N/A
Bluetooth: No
Wi-Fi: Yes
Smart Assistant: Amazon Alexa, Google Assistant
What We Like: Great setup, reasonable price tag.
What We Don't: Sound quality could be better.
Sonos have always made brilliant wireless speakers, but The One is their take on a true smart speaker. While we had misgivings at first listen, the One has completely taken over our lives, and we love it. It's easily our pick for the best smart wireless speaker, besting the Apple HomePod without breaking a sweat. It has plenty to recommend it. We appreciate the easy setup, which Sonos do better than anyone. We also adore the app, and the smart speaker functionality. Sonos has even updated The One to be compatible with Google Assistant. It's also cheaper than the $349 HomePod, and doesn't care if your an Android or iPhone user.
The only problem is the sound quality. The One is based on the old PLAY:1, which was never the best-sounding speaker in the Sonos range. This model is essentially a PLAY:1 with smart speaker functionality tacked on, and there have been zero improvements to the sound. It's perfectly adequate, but doesn't touch the HomePod – or indeed, the more lively Ultimate Ears MEGABLAST. That speaker is cheaper, too, and portable. The One is still a great option, however, and a top pick if you want voice assistant functionality...Read our in-depth review
See the Sonos One (Gen 2)
 
Best Budget Wireless Speaker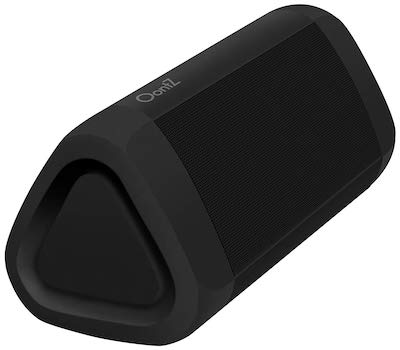 Battery Life: 27 Hours
Bluetooth: Yes
Wi-Fi: No
Smart Assistant: None
What We Like: You get a staggering amount for the price.
What We Don't: Doesn't get very loud, middling sound quality.
We never thought we'd find a keeper of a Bluetooth speaker for under $50. We did. The Cambridge Soundworks Oontz Angle 3 Plus may have a cringe-worthy name, but it does some seriously cool things – things you'd expect from a speaker at three times the price. For one thing, it is unquestionably the longest-lasting speaker on this entire list, with a whopping 27 hours of playback at a moderate volume. The 13oz frame is lighter than the 15oz Ultimate Ears WONDERBOOM, which is also more expensive, at $68. Dropping this into a bag is simple, and there's a very good reason why it has so many fans – us included.
The downside is the sound quality, and the volume. At 10 watts, it doesn't get very loud, and there's a definite budget quality to the audio. Mids feel a little recessed, and you can forget about any detail or bass power. However, for this price, it's hard to hold that against the Oontz. It remains a remarkable little speaker, and one that seriously surprised us.
See the Cambridge Soundworks Oontz Angle 3 Plus
 
Best High-End Wireless Speaker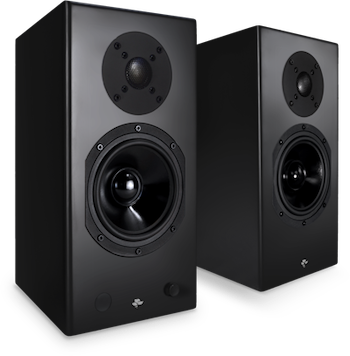 Battery Life: N/A
Bluetooth: Yes
Wi-Fi: No
Smart Assistant: None
What We Like: Truly unbelievable sound quality, incredibly realistic soundstage.
What We Don't: Dull, overly functional design.
For a wireless speaker to take the Best High-End title, it has to sound absolutely fantastic. The Totem Acoustic KIN Play tick all the boxes. They may have a slightly clunky name, but you'll forget all about it once you hear just how amazing this stereo speaker pair sounds. It delivers incredible realism, particularly in the stereo image. You'll believe that the sound is coming from all around you, not just in front of you, and the level of detail is ridiculous. The audio is tuned to perfection, and you get full access to aptX Bluetooth, too.
We aren't wild about the design, which is a little dull for our tastes. Compared to the Devialet Gold Phantom, the Totem Acoustic KIN Play can look underdressed. Despite the boring design, the speakers offer incredible sound for the price, and we think that in terms of value, this is the high-end speaker we'd go for. Totem, a company from Montreal, aren't well known outside the world of high-end audio, but perhaps it's time for that to change. The KIN Play are truly special.
See the Totem Acoustic KIN Play
 
Best of the Rest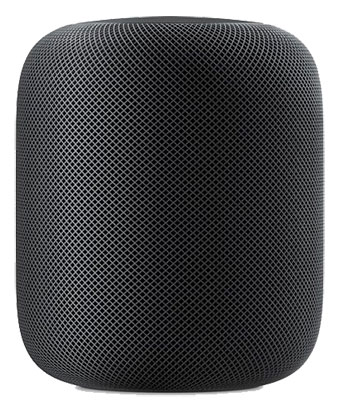 Battery Life: N/A
Bluetooth: Yes
Wi-Fi: Yes
Smart Assistant: Siri
What We Like: Stunning sound quality and looks, intuitive and simple to use.
What We Don't: Impossible to use without an iPhone.
We had such high hopes for the Apple HomePod. And for a long time, we were wowed by its exquisite sound quality. It delivered much better audio than we would have expected, competing with more expensive speakers like the Harman Kardon Citation 500. But the fact that you need an iPhone to use it – seriously, you can't set it up without one – and its refusal to use any other virtual assistant other than Apple's Siri, make it a hard sell. While it may be perfect for iPhone users, the rest of the market is left in the dark. The HomePod has undergone a price drop recently, but we don't think it's quite enough to make up for the lack of versatility.
Don't get us wrong: the HomePod deserves to be here. It's still a solid wireless speaker, and we like the fact that it looks extremely cool, with its orb-like shape and digital touch controls. Although it isn't portable, like the $299 Bose Soundlink Revolve+, it more than makes up for it with its other qualities. And compared to other smart speakers like the $50 Amazon Echo Dot (3rd Gen), it performs exceptionally well. But ultimately, its shortcomings place it lower on our list. If you want something more affordable and a little more versatile, try the Sonos One...Read our in-depth review
See the Apple HomePod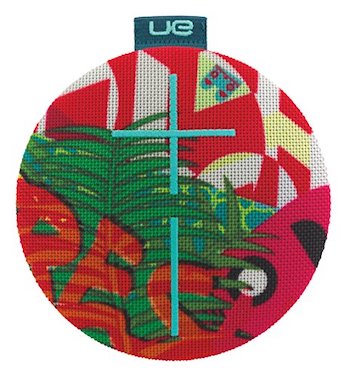 Battery Life: 8 Hours
Bluetooth: Yes
Wi-Fi: No
Smart Assistant: None
What We Like: Highly portable, crisp sound quality.
What We Don't: Way too expensive for what you get.
There's a reason why Ultimate Ears dominate this list of wireless speakers. They really are great at making portable speakers. The latest version of the ROLL 2 speaker is arguably one of the most portable wireless speakers ever made, with eight hours of battery life and a slim profile that means you can comfortably slip it into a backpack. Even if you have a big enough jacket, it might even fit in your pocket. Its tiny size belies its small sound, which is surprisingly crisp. You even get a complimentary inflatable stand, which will let you float the waterproof ROLL 2 in the pool.
Our problem is with the price. It's completely loopy that the ROLL 2 costs nearly $50 more than its bigger brother, the WONDERBOOM 2. That model might not have as compact of a size as the ROLL 2, but it offers much better sound and around five hours more battery. This is still an excellent speaker, and far more portable than the WONDERBOOM 2, but we can't believe it costs as much as it does. It definitely deserves to be on this list, and it's a worthy alternative if you can't find the WONDERBOOM 2. But come on, UE: get real.
See the Ultimate Ears ROLL 2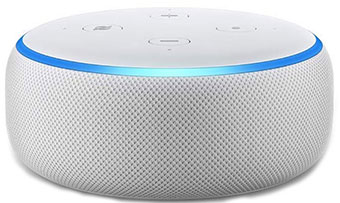 Battery Life: N/A
Bluetooth: Yes
Wi-Fi: Yes
Smart Assistant: Amazon Alexa
What We Like: A significant improvement on an already decent product.
What We Don't: Needs another speaker to get the best out of it.
The biggest improvement in the newest version of Amazon's Echo Dot is the volume and sound quality. This little hockey puck is significantly louder than its predecessor, with a revamped driver array, and we also think it sounds much better. The Echo Dot was already a fantastic smart speaker, and it really feels like Amazon has upped the ante here.
The big criticism is that it still sounds best when used as the smart brain of a bigger wireless speaker. You could, for example, connect it to a JBL Flip 4, below, which would not only increase your sound quality but allow you to direct things with your voice. If you plan on using this as a stand-alone speaker, we'd strongly recommend you buy two. That way, you get the benefit of a stereo spread. All the same, this is a superb little smart speaker, and a really good wireless speaker overall...Read our in-depth review
See the Amazon Echo Dot (3rd Gen)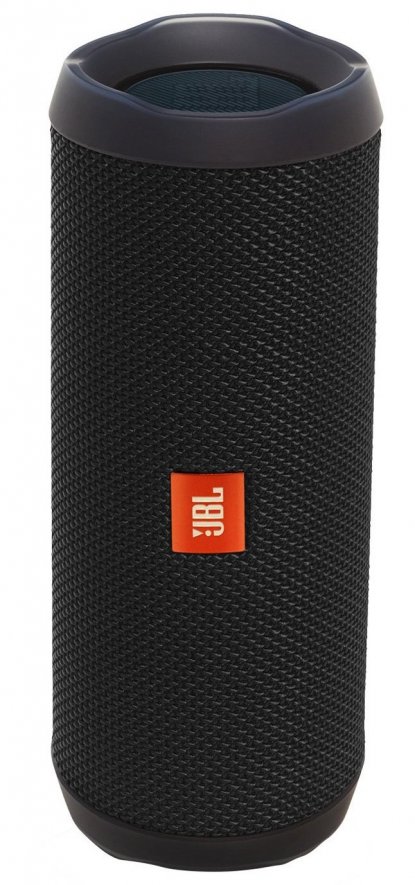 Battery Life: 10 Hours
Bluetooth: Yes
Wi-Fi: No
Smart Assistant: Siri, Google
What We Like: Portable, waterproof, great party speaker.
What We Don't: Dubious sound quality, battery time seriously varies.
The JBL Flip 4 is a portable, handheld, Bluetooth speaker - much like the Flip 3, the Flip 2, and the inevitable Flip 5 (or V, if they follow Apple's new naming trend). It's compact, lightweight, and designed to take a beating. Our favorite feature, which certainly comes in handy if you're planning on taking this camping, is the IPX7 waterproof casing, which lets you bring this speaker virtually anywhere - even underwater. It matches up well with the more expensive UE MEGABLAST, which is IP67 (the 6 in place of the X means the MEGABLAST is protected against dust, too, where the Flip 4 is not).
The battery is rated to last 12 hours of playtime, but we got four and ten hours at max volume. Not bad for a handheld, but a little concerning, considering it takes three-and-a-half hours to fully charge. However, the connectivity is decent, and we had no issues there - a solid plus for portables. Though we'd like to believe that incredible sound can follow us wherever we go, fitting in the palm of our hand, we weren't surprised when the Flip 4 was less than impressive. There's an improved bass response from the previous model, and the volume level is decent for a speaker of this size, but that's about all the Flip 4 has going for it. The vocals and high-mid range can sound abrasive - not a word you want to use, hence its lower position on the list. We'd recommend this as an outdoor, adventure time speaker, but not for everyday listening…Read our in-depth review
See the JBL Flip 4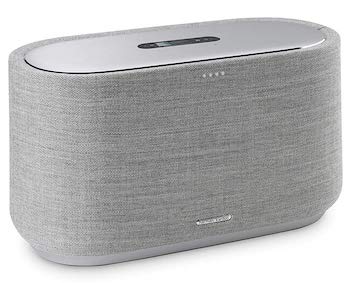 Battery Life: 18 Hours
Bluetooth: Yes
Wi-Fi: Yes
Smart Assistant: Google Assistant
What We Like: Attractive design, great sound.
What We Don't: No EQ options yet.
Harman Kardon have a wide variety of wireless models in their new Citation range. The Citation 500 is the most powerful singular option - its whopping 200 watts of RMS power would be enough to fill even a large room. Although size and power are important, they aren't necessarily the only way to choose a speaker for your room or even dictate the way you listen to music. Judged purely on audio quality, the 500 sounds big and bold - although, at times it strikes us as slightly untamed or even quite boomy. A solid EQ feature (which lets you adjust the sound) would make a great addition to this speaker, and it's a shame that the Citation 500 doesn't offer it at the moment. Another annoyance is that any third party apps, like Spotify Connect, would need to be linked to the Google Home app in order to work.
Regardless of these issues, the integration within your broadband home network is easy and running the Citation 500 in Wi-Fi mode opens up the possibility of a wide range of hi-res audio formats. Bluetooth streaming is reliable and sounds good too, although there's no mention of aptX. However, if you are after a simple, flexible, and loud wireless speaker, the Citation 500 is the one for you. Worth noting: larger spaces do benefit from having two or more strategically placed speakers and in such cases it would be worth checking out the smaller Citation speakers combined with a wireless subwoofer.
See the Harman Kardon Citation 500
 
Battery Life: N/A
Bluetooth: Yes
Wi-Fi: Yes
Smart Assistant: None
What We Like: Bass and volume that can destroy walls.
What We Don't: Only for seriously rich people, no AirPlay 2.0 yet.
If sound quality is the only criteria for best Bluetooth and wireless speaker, then the Devialet Gold Phantom would win. Hands down. We have never – and we mean never – heard anything like it. It's not just that the sound quality is incredible; it's that it reaches volumes that leave us breathless, even now, long after we reviewed it. The energy and punchiness of the bass is utterly mind-boggling.
The price-tag definitely marks it out as a high-end product, and for most people, it will simply be out of reach. It also doesn't have support for AirPlay 2 at the time writing - just AirPlay 1.0. That functionality is coming in a future update. We've highlighted the 4,500-watt Gold version here, but Devialet make multiple versions, including slightly cheaper ones. It doesn't have any smart functionality, and it certainly isn't portable, but you absolutely do not buy this speaker for those qualities. You buy to redefine what you think of as music...Read our in-depth review
See the Devialet Gold Phantom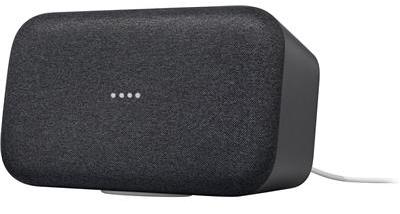 Battery Life: N/A
Bluetooth: Yes
Wi-Fi: Yes
Smart Assistant: Google Assistant
What We Like: Big volume and sound.
What We Don't: Big price tag.
This is one of the more expensive wireless speakers available, and definitely one of the most expensive smart speakers. You do get a hell of a lot for your money, however, including phenomenal sound quality and volume, as well as access to the super-brainy Google Assistant. It's not as user-friendly as models like the cheaper Sonos One ($199) but it definitely has its pluses.
In comparison with its most direct competitor, the amazing Apple HomePod, the Home Max does suffer a little bit. It is louder, but the sound quality isn't quite as precise, and we think the HomePod offers a better overall experience. The one big advantage the Home Max has is that it is compatible with both iPhones and Android phones – unlike the HomePod, you won't need an iPhone to set it up. If you're prepared to pay for the privilege, this is an excellent speaker to have. And, if you want to experience what Google can do with the smart speaker for a slightly cheaper price, check out the Home and Home Mini.
See the Google Home Max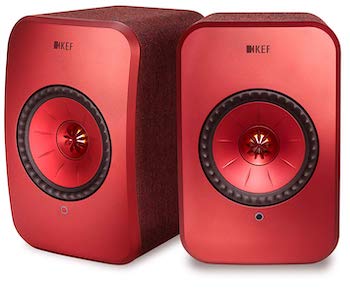 Battery Life: N/A
Bluetooth: Yes
Wi-Fi: Yes
Smart Assistant: None
What We Like: A superb update to a classic speaker.
What We Don't: Requires two apps to run, which is absurd. Also very expensive for most people.
The KEF LSX are a sweet update to a classic pair of wireless speakers: the LS50 Wireless. They knock almost $1,000 off the price, while retaining the original's looks and charm, not to mention sound quality. The audio these speakers put out is phenomenal, with rich stereo detail that other wireless speakers just can't match. At the time of writing, you can stream via Wi-Fi, Bluetooth, Spotify Connect, Tidal or DLNA, which is a wireless streaming protocol. But KEF have said that in the coming months, they will be adding Apple AirPlay 2. For the time being, these will arguably be the top pick for stereo wireless speakers.
If they do have downsides, it's in their app control and price. You need two apps to run the LSX speakers, one to control the streaming, and one to actually control the speakers themselves. That's a bit ridiculous, and it seems bizarre that KEF couldn't combine the two. All the same, we think this update is spectacular, and will open up KEF to even more listeners...Read our in-depth review
See the KEF LSX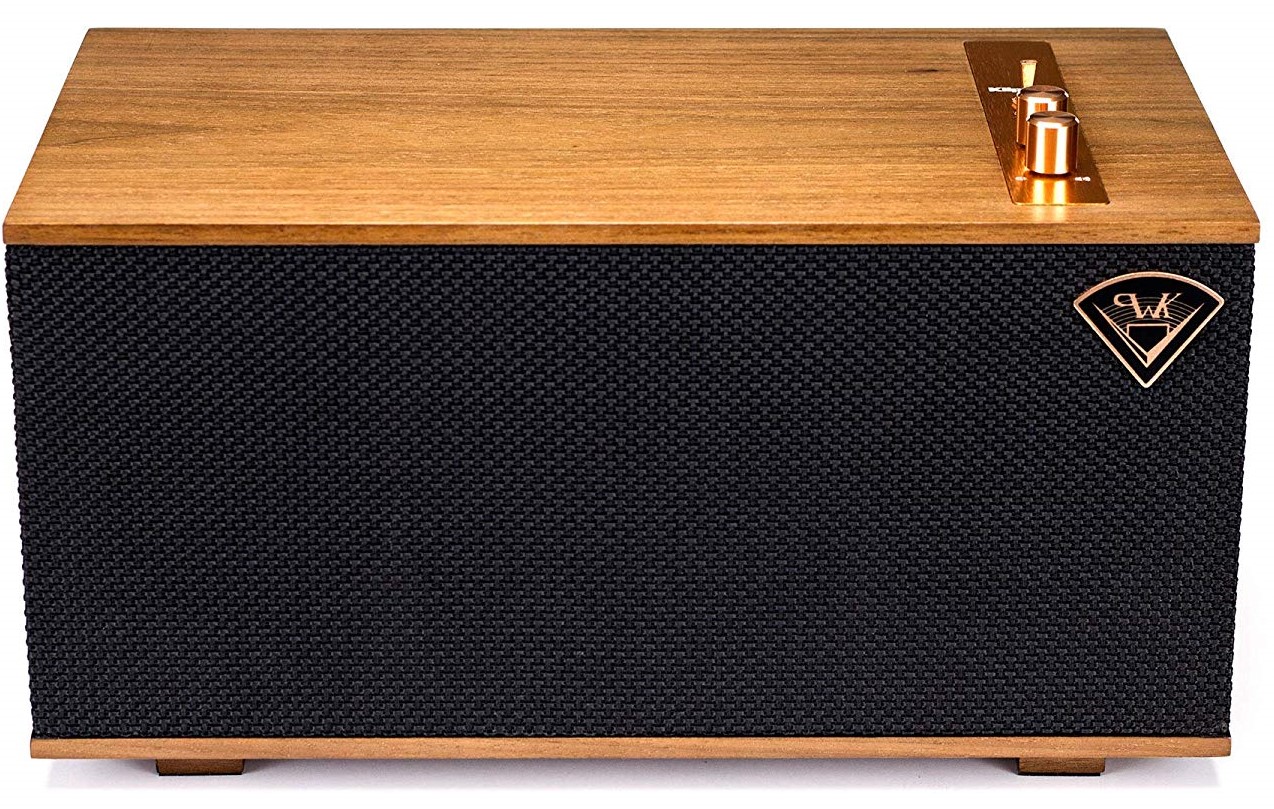 Battery Life: N/A
Bluetooth: Yes
Wi-Fi: Yes
Smart Assistant: None 
What We Like: Stellar sound, classy design, multiple connection options.
What We Don't: Not much we don't like. Added Chromecast or smart assistant would have been nice.
Possibly our favorite wireless speaker on this list, we have The Three from Klipsch's new Heritage collection. With only two things knocking this below the top ten - those being the price point and lack of a smart assistant - The Three has become our dedicated home speaker, and one we'd recommend to any person who would listen. The Three not only sounds phenomenal, but it looks sexy as hell. And that's not a phrase we use often! We've even centered our entire home decor around this one speaker - that's how much we love it.
Klipsch is notorious for making great audio gear - their floorstanding and bookshelf speakers often grace our "best of" lists. And we can say, with no shadow of a doubt, that The Three is one of their greatest concepts yet. The Three offers Bluetooth and Wi-Fi connectivity, with multiple analog and digital connections as well. Weighing in at only 10.32lbs, this speaker is lightweight for its larger frame, and can easily accommodate even the most modest of setups. We find it much more forgiving in that sense than the Naim Mu-So QB, below - not to mention at $200 less. If you're looking for an outstanding wireless speaker to add to your living room, but don't need the functionality of a smart assistant, this is the pick for you. Alternatively, if you want this in a pint-sized version, check out The One...Read our in-depth review
See the Klipsch Heritage The Three
 
Battery Life: N/A
Bluetooth: Yes
Wi-Fi: Yes
Smart Assistant: None
What We Like: Stellar sound quality, a genuine upgrade on the original.
What We Don't: Significant upgrade in price.
For the second generation of their bestselling Mu-So wireless speaker, Naim completely redesigned the internals. While it might look the same on the outside, the Mu-So 2nd Generation has some significant upgrades. Naim ripped out the guts of the original, and completely redesigned it to be faster, sleeker, and deliver better sound. We can confirm that the audio quality is among the best we've heard. While we think the Totem Acoustics KIN Play gives you more for your money, there's no question that the Mu-So 2nd Generation is a landmark speaker.
You'll have to pay significantly more, however. Given how good the original Mu-So was, this price is a significant jump. It may be worth it to have the extra speed and audio quality, as well as elements like the redesigned control dial, but you'll still get significant mileage out of the original. The Mu-So 2nd Generation definitely deserves to be on the list, but it needs a price drop before we can boost it any higher.
See the Naim Mu-So 2nd Generation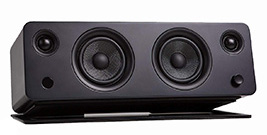 Battery Life: N/A
Bluetooth: Yes
Wi-Fi: No
Smart Assistant: None
What We Like: Solid sound, great design, additional connections
What We Don't: Volume issues, high-end needs more detail.
The Syd is quite an unusual wireless speaker. It's larger than most of the models on this list, and sets it reputation by its simple design, and ease-of-use. Although it's Bluetooth-only, with no Wi-Fi or smart assistance, it makes up for this by delivering solid stereo sound combined with excellent features. You get a subwoofer output, a phono connection for a turntable, and an optical connection, meaning this speaker does just as well as a standard hi-fi speaker as it does while working wirelessly.
We did have some issues with the volume - not only is the speaker not super-loud, but it also feels quite hard to precisely adjust the sound level. That made using it sometimes a little frustrating - it's definitely not as clean an experience as something like the Apple HomePod (which is only $19 more) or even the $199 Sonos One. But there's still a place for simple, effective Bluetooth speakers, and although the Kanto SYD isn't the most advanced, it deserves attention...Read our in-depth review
See the Kanto SYD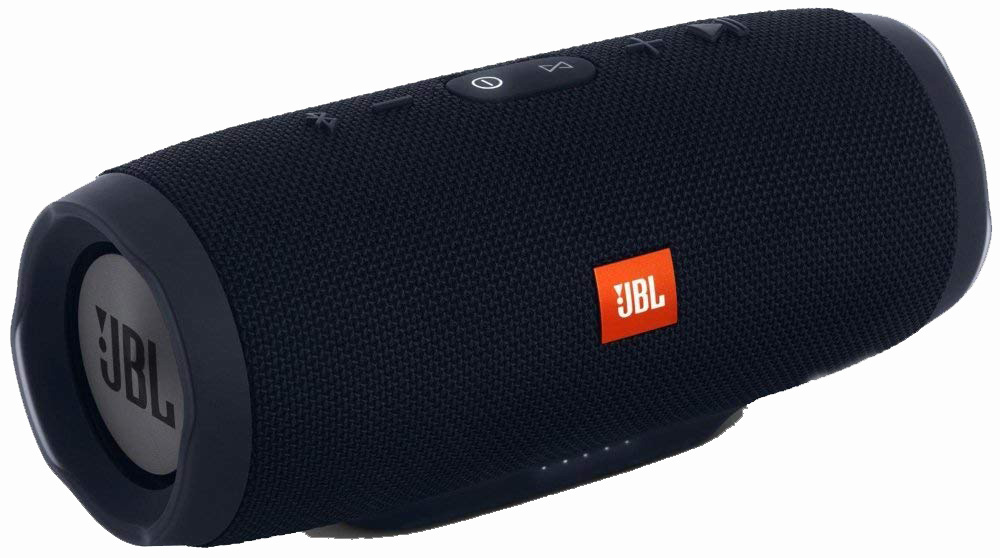 Battery Life: 20 Hours
Bluetooth: Yes
Wi-Fi: No
Smart Assistant: None
What We Like: Fantastic battery life, can charge your other devices.
What We Don't: Sound isn't great for the price.
JBL offer a staggering number of wireless speakers. In our opinion, the Flip 4, above, and the smaller Charge 3 seen here are the best of the lot. While the Flip 4 is better value, giving you a huge amount for the price tag, the Charge 3 is an excellent second banana. For one thing, it has an interesting feature where you can use it as a battery pack to charge other devices – something you won't find on the Flip 4. It also has double that speaker's battery life, at around 20 hours.
So why is it so low on the list, and underneath its sibling? As good as the charging capabilities and battery life are, we don't think it performs significantly better than the cheaper Flip 4. It's also not nearly as useful as other speakers on this list, like the Ultimate Ears MEGABOOM. The sound quality is passable, but only just, and the MEGABOOM is much better on that score. Consider this a good alternative to the other speakers on this list, and it's definitely much better than many other Bluetooth speakers out there...Read our in-depth review
See the JBL Charge 3
 
New Wireless Speakers Coming Soon
They haven't been officially released yet, so we can't really justify putting them on the list at the moment, but we want to talk about the Kanto TUK (say, Tuck). They are absolutely stunning pair of wireless stereo speakers. We had them in our office for a few weeks to prep for review, and we couldn't believe just how good they sounded or how cool they looked. Our full review will be up soon, and you can expect these to crash onto the list shortly.
A set of speakers we haven't heard yet is the Bowers & Wilkins Formation Suite. This is the company's big flagship wireless launch this year, and it's a range that consists of multiple speakers. The range includes a wireless stereo pair, a subwoofer, and even a sound bar, as well as a stand-alone wireless speaker called the Wedge. It's only just been released at the time of writing, so we will bring a full report in our next update.
 
Older Wireless Speakers Still Worth Buying
The wireless speaker market is in constant flux, with models continuously being replaced. What this means is that plenty of older models still work perfectly well and can help you save significant cash.
You'll notice that several models on the list above are listed as V2, or 2nd Generation. Very obviously, that means the original is mostly likely still available. There are two in particular we think you should take a look at. If you're looking for something portable, try the Ultimate Ears WONDERBOOM, which only costs $60. The sound isn't quite as good as the new model, and it has less battery life, but it's still decent for the price. If you want something high-end, then consider the original Naim Mu-So. Yes, you'll miss out on all the new features of the 2nd Generation model, but you also save $500. Don't say we never gave you anything.
 
Wireless Speaker Comparison Table
Want Even More Master Switch? Sign Up For Our Weekly Newsletter!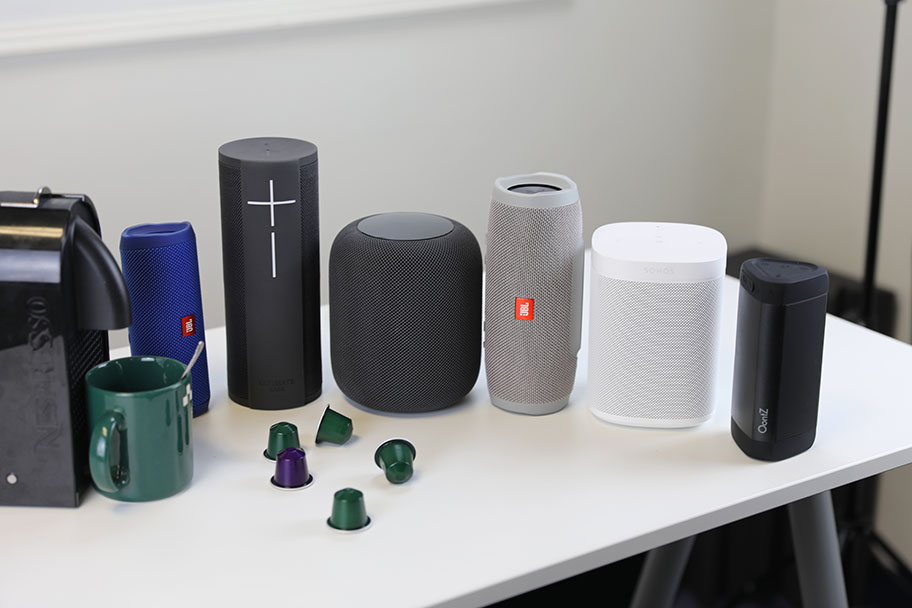 Wireless Speaker Buying Advice
How We Chose our List of Wireless Speakers
You don't need us to tell you that there are hundreds of wireless speakers available. Our experience with them runs deep, and we always have several rotating in and out of our testing space. We spent many hours evaluating the models on our list, and several others that didn't make the list, to find out which speakers were the best overall. Because different speakers serve different purposes, we've awarded winners in categories like Best Portable Wireless Speaker, Best Smart Wireless Speaker, and others. In all cases, we looked at sound quality, usability, and value-for-money. Some speakers are portable, others need to be connected to a dedicated power source.
A word on smart speakers: while every manufacturer is falling over themselves to include Amazon Alexa, Google, or Siri in their speakers, there are plenty of models available that don't have any sort of virtual assistant – and don't need one. While there are plenty of smart speakers on our list, we also made sure to highlight speakers that just play audio. If you want a breakdown of speakers with virtual assistants, check out our list of this years best smart speakers.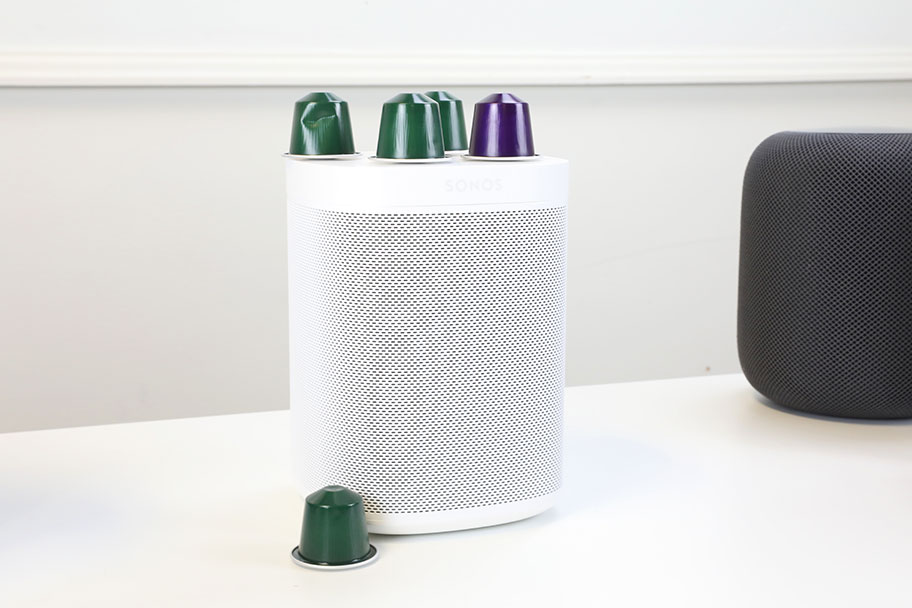 Sound Quality: Wired vs. Wireless Speakers
There's a very simple way of looking at this: wired speakers are less convenient but offer better sound, and wireless speakers are more convenient, but have sound that isn't quite as good. Of course, that's a very broad statement. The lines are getting awfully blurry these days, and it's a little hard to say which one of these types of speaker is definitively 'better'. Objectively, wires are better at transmitting sound than Wi-Fi, and a million times better than Bluetooth. But the quality of the speakers on our list has gotten so good that there's absolutely no reason why you should shy away from them. Frankly, we'd put something like the Devialet Gold Phantom (full review here) up against just about any wired speaker under around $5,000. It is perhaps worth noting that it's very rare to find a wireless speaker over $5,000 – even the 4,500-watt Devialet doesn't get there – so perhaps we can say that wired speakers are still winning the sound battle. But there's no question that they can't beat wireless audio for convenience, and for price - $100 for the Ultimate Ears WONDERBOOM 2, anyone? After all, wireless speakers have only one connection - a power cord - and portable ones don't even need that. You plug them in, and with a little light fiddling, they will not only talk to each other but to your smartphone as well. You can play one piece of audio throughout the house, or different tunes in different places. Your call.
Ultimately, it comes down to convenience. Audiophiles will always go for wires over wireless, but for the majority of people, wireless models are not just acceptable, but highly preferable. By the way, if you want to examine this topic in more detail before making your choice, you should check out our full wired vs. wireless speakers explainer article.
 
Smart Speakers Explained
Now here's a tricky one. When we first created this roundup a few years ago, the term 'smart speakers' didn't even exist. Now, it's everywhere. You can't go five feet without tripping over companies trumpeting Amazon Alexa or Google Assistant integration. These assistants let you control your music with your voice - not just playing and pausing it, but also searching for playlists and specific artists.
The topic of smart speakers is so deep that we've given its own huge list, where we not only pick the best smart speakers of this year, but also break down the differences between the three main assistants: Google Assistant, Amazon Alexa, and Siri. We could spend a very long time breaking it down here, but you'll find everything you need on that link above.
We can give some basic advice, though. If you're looking to pick between a smart speaker and a regular speaker, there are a few things to bear in mind. Typically, smart speakers don't sound nearly as good as regular wireless or Bluetooth speakers. This is because their main purpose is to serve as an intelligent hub for your house - not wow you with bass. That's changing - models like the $349 Apple Homepod (full review here) make a big deal out of sound quality - but it'll be a while. So if you want sound over everything, this is the place you need to be. End of discussion.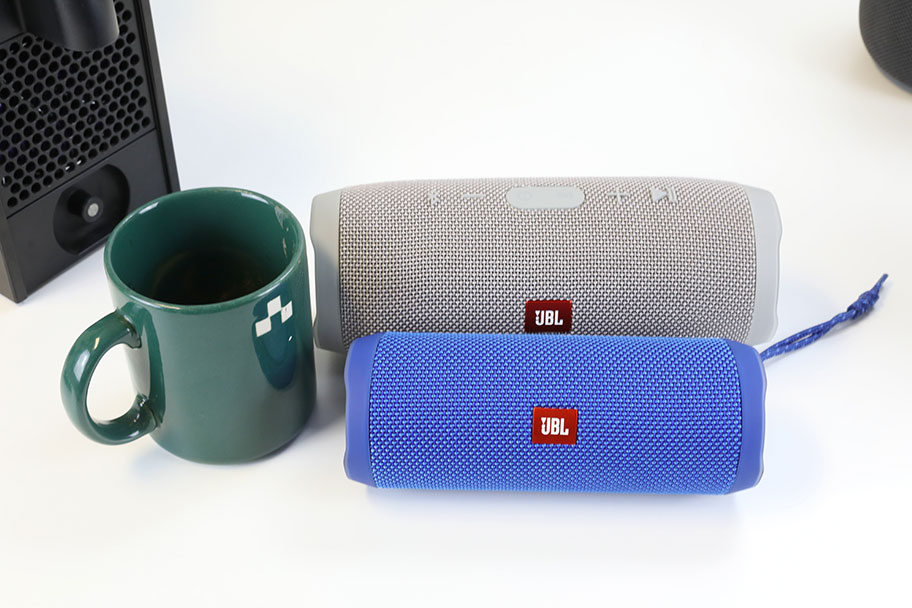 Wi-Fi vs. Bluetooth Speakers
Here's a question we can really sink our teeth into. Ideally, you want to have both, and there are several speakers on this list that give you the option of doing just that. But which is better for audio quality?
We've always been of the opinion that W-iFi is better. This is because, simply put, you can send more data over a wireless signal then you can over a Bluetooth one. More data equals more detail, which equals better sound. We've encountered this with several speakers, most notably the top-ranked Ultimate Ears MEGABLAST. This speaker has both Bluetooth and Wi-Fi, and the latter is a little more crisp. The downside with wireless audio is that it has to, by definition, jump onto an existing network unless you use something like a bridge, which is a device that connects speakers. If you have a lot of devices on your home network, adding in one or more wireless speakers can bring things to a crushing, grinding halt. It doesn't matter how data-rich the audio stream is; if it's having to share space with Netflix and web browsing and FaceTime, then it's going to slow down.
Bluetooth doesn't have that problem. A Bluetooth connection is directly between devices – it doesn't use already-existing networks. The biggest problem with Bluetooth, up until recently, is that the codecs – the software protocols used to encode and transmit information – have been good but not brilliant. They've been able to encode audio well, but nowhere near the standard of wired or wireless connections. That is changing – and fast. Bluetooth audio is rapidly becoming the equal of Wi-Fi. Software solutions like aptX, which allow the transmission of higher amounts of data over a much more robust signal, are fast closing the gap, and new standards like Bluetooth 5.0 are doing the same. The best Bluetooth only speaker, in our opinion, is the Bose SoundLink Revolve+. While it does lack advanced Bluetooth standards like aptX, it sounds good enough for it not to matter.
If we had to pick – and we're going to, because we don't want to leave you hanging – we'd still go for Wi-Fi. To our mind, it's more stable, and we still think it sounds better. For now, the difference is small enough that you can make the decision based on your needs rather than audio quality. If you have a home network already stacked with wireless devices, Bluetooth may be the way to go. But if you live in a small home, and only have a couple of devices on your network, then you could quite comfortably add a speaker.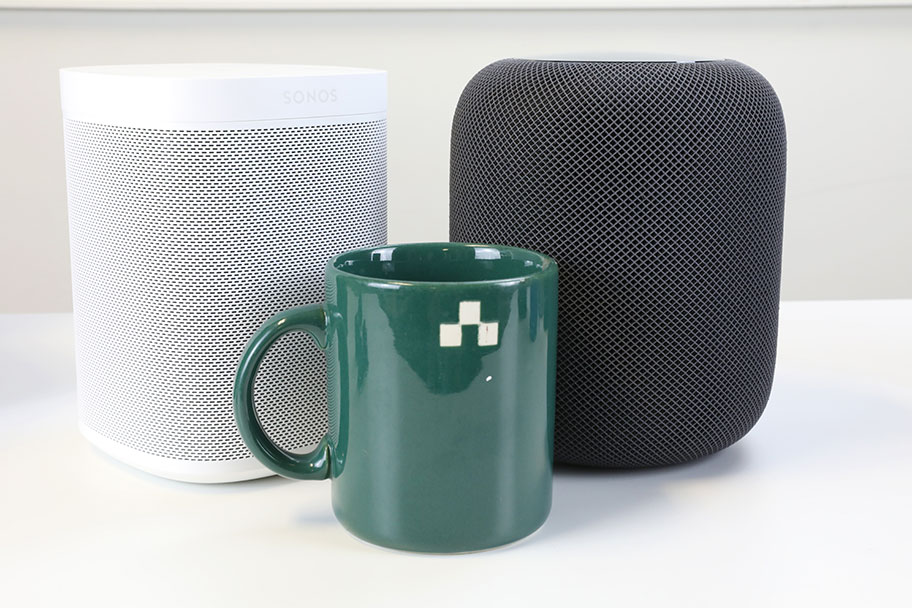 Apple AirPlay 2 vs Sonos vs Chromecast
Transmitting audio between a source (like your phone) and a playback device (like a wireless speaker) is actually quite a complicated process. Either the source and the device need to be linked over Bluetooth, or they need to be on the same Wi-Fi network. Even when that happens, you'll still need to tell your source to discover the device and transmit to it, and this can sometimes be a little bit frustrating. That's why there exist several different pieces of software that come bundled with wireless speakers, and are designed to make the act of getting audio to them as simple as possible. There are three main ones you'll encounter: Apple AirPlay 2, Sonos, and Chromecast. In practice the differences between them are actually quite minimal, but you're almost certainly encounter one or more of them when you buy a wireless speaker, so it's worth breaking down what they are.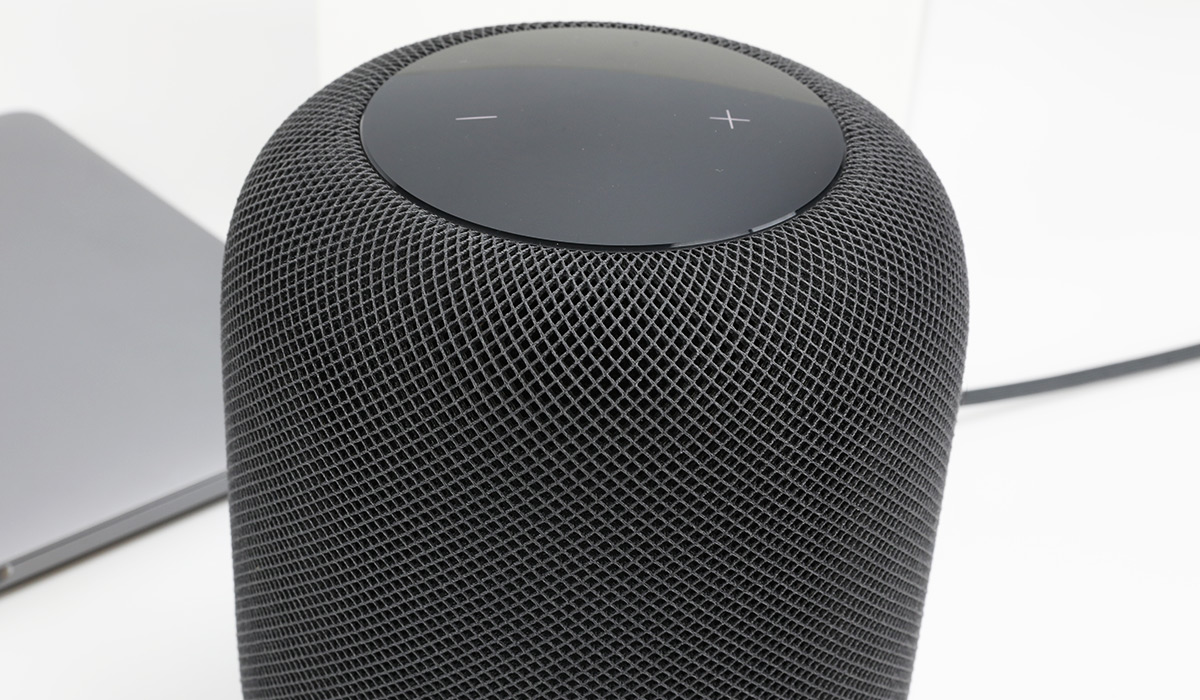 Apple AirPlay 2
As you might expect, AirPlay 2 is the way Apple devices send audio and video to each other. It's automatically enabled on every iPhone or iPad, and is how you get sound from those devices over to the Apple HomePod (full review here) speaker – currently, the only speaker the company produces. The process relies on a Wi-Fi network, and allows you to send audio to more than one device, meaning you can potentially play music throughout your entire house.
Unlike so much that Apple produces, the company allows other speaker manufacturers to use AirPlay 2. That means that you could conceivably use it to play music on speakers like the Naim Mu-So 2nd Generation. Essentially AirPlay 2 as the first choice for anybody who owns an iPhone, as it is the simplest way to play music wirelessly. If you use Apple Music, the same applies.
 
Sonos
This is the software you'll encounter if you buy the $198 Sonos One (Gen 2), or any other Sonos speakers. It uses a dedicated app, available on both Android and iOS devices, to connect to your Sonos speakers. You can send music to one or all of them, get them to play different tunes, and even calibrate themselves so they are tuned to your room. In this way, it's very similar to Apple AirPlay 2. The big draw here is the fantastic Sonos app, which lets you access services like Spotify directly. The design is brilliant, and very easy-to-use. While it doesn't apply if you're using speakers that aren't made by Sonos, it remains one of the best options available for streaming music wirelessly.
But this is where things get a little weird. AirPlay 2 allows you to stream to a huge number of speakers from varying manufacturers - including Sonos, who made it available on the One speaker a few months ago. But you can only do so if you have an iPhone or iPad. The Sonos app, meanwhile, works on any type of mobile device...but only allows you to stream to Sonos speakers. Yes, we wish it was less confusing, too.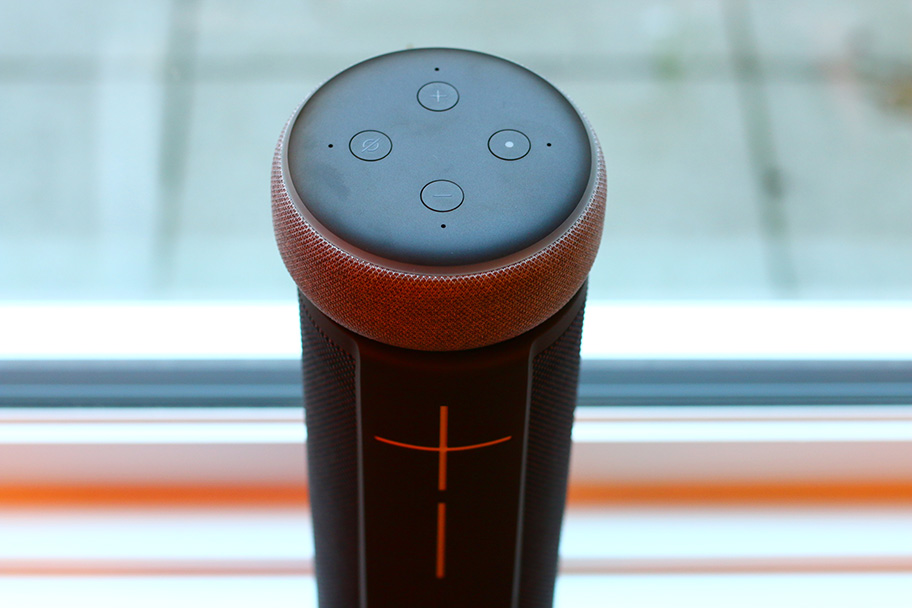 Chromecast
This is Google's answer to AirPlay 2 and Sonos. It doesn't have a bespoke app, and of the three pieces of software, it's arguably the least restrictive. It lets you send audio or video from any device, no matter what manufacturer, to a Chromecast-enabled speaker, like the $399 Google Home Max.
In fairness, this is more used to sending audio from a browser than a music app. In the world of wireless music, it's actually quite rare to see it. However, it's very convenient to have if you want to watch a video on your phone while listening to the audio on a wireless speaker. It also has one significant advantage over AirPlay 2 and Sonos, in that any speaker can be equipped with it if you buy a separate dongle, the Google Chromecast Audio. This plugs into any 3.5mm input, and lets you play audio directly over a speaker using Chromecast.
The sound differences between these three software programs are minimal, and the one you choose largely has to do with the type of phone or tablet you have, and the type of speaker. What complicates things slightly, for all three of these methods, is that it's perfectly possible to get by without them. If you have, for example, a JBL Charge 3 that is connected to your phone via Bluetooth, and you happen to be listening on Spotify, you can select it directly from the Spotify app as an output device. That way, it's just Spotify streaming music to the speaker, without the intervention of Google, Apple, or Sonos.
There's a further complication. Most phones and wireless speakers can be linked up over Bluetooth - as long as your speaker has Bluetooth, you'll be able to play music. But when playing over Wi-Fi, some speakers may not support some services. The Ultimate Ears MEGABLAST , for example, will need to be connected to Bluetooth for you to listen over Spotify - but if you listen to Amazon Music, it's directly accessible over Wi-Fi, using the app.
Below, you'll find a table listing the Wi-Fi enabled speakers we mentioned in our list. We'll indicate whether a speaker has AirPlay 2, Sonos, or Chromecast, and which streaming services it's set up to work with over Wi-Fi. As we said before, if a speaker has Bluetooth, it will be able to play any service as long the source device has Bluetooth too - if your phone has Bluetooth, as it almost certainly will, you can play any music service you're signed up to. By the way: please let us know if we've missed any! We try to test our review models with as many services as possible, but there are a huge number of them, and manufacturers are often a little sloppy listing which ones work, and which ones don't.
| Speaker | Price | Streaming Protocol | Services Available |
| --- | --- | --- | --- |
| Ultimate Ears MEGABLAST | $125 | None | Amazon Music, iHeart Radio, Sirius XM, Pandora, Tune-In Radio |
| Apple HomePod | $349 | AirPlay 2 | Apple Music, Google Play Music, Pandora, Spotify, Tidal |
| Devialet Gold Phantom | $2,990 | AirPlay 1 | Deezer, Spotify, Qobuz, Tidal |
| Sonos One (Gen 2) | $199 | Sonos | Tune-In Radio, iHeart Radio, Amazon Music, Spotify, Audible, Deezer, Google Play Music, Tidal |
| Amazon Echo Dot (3rd Gen) | $50 | None | Audible, Pandora, SiriusXM, Spotify |
| Google Home Max | $399 | Chromecast | Spotify, YouTube Music, Pandora, Google Play Music, Tune-In Radio, iHeart Radio, Deezer |
| Klipsch Heritage The Three | $498 | None | Spotify, Pandora, Tidal, SiriusXM, Amazon Music, iHeart Radio, napster |
| Naim Mu-So 2nd Generation | $1,599 | AirPlay 2 | Spotify, Tidal |
| KEF LSX | $1,100 | None | Roon, Spotify, Tidal |

Spotify vs. Apple Music vs. Tidal
We were very tempted to write a huge amount on this topic. We love music, love streaming services, and we know a ton about the differences between them. As we would, using them every day. But the thing is, we actually don't need to write paragraphs and paragraphs to get the point across. The three biggest streaming services – Spotify, Apple Music, and Tidal – have easily-definable differences that make it simple to choose the one that is right for you. Let's break down. (Note: We've left out Google Play Music here, as we don't think it's as good as the three below. We also haven't gone into services like Deezer and Qobuz, which aren't as widespread in the US.)
Spotify is best if you just want to listen to music without paying for it. While the service does have paid tiers, it also offers a completely free service. You will have to put up with some ads, which can be removed if you upgrade, but you can start listening right now, for free. The quality of the sound isn't as good as that which you'll find on Apple Music or Tidal, but it's perfectly passable.
Tidal has the best sound quality. It has two paid membership tiers, and the highest one allows you to access ultra-high-quality recordings, like those in the MQA format. It also makes a point of paying the artists in its catalog more for their streams, something which Spotify is not very good at. While Tidal doesn't have the range of user-generated music and podcasts found on Spotify, it still has plenty going for it. It's the service we use the most at TMS.
Apple Music has the most songs - over 50 million of them. If what you want is sheer volume, and you're the kind of person who plows through thousands of tunes every day, then Apple Music is the way to go. Like Tidal, you'll have to pay for the service, but you'll be rewarded with a huge catalog, and excellent sound quality. We'll admit: we prefer Spotify and Tidal, which we think are a little bit more user-friendly. But it's very easy to understand why some people go for Apple Music, as it has a lot to recommend it.
Wireless Speaker Battery Life Explained
Several of the speakers on our list of fully portable – they run off a battery, and don't require you to connect them to a power outlet. Very obviously, this is super convenient, and allows you to get great sound just about any situation. But because these run off a battery, you need to think carefully about how much power you need.
You should also never – and we mean never – trust what the manufacturer tells you about battery life. The louder you play a speaker, the more power it uses, which drains the battery faster. Manufacturers obviously want to present the best possible numbers for their speakers, and so they don't usually reveal the volume levels at which their stated battery hours were achieved. While we certainly aren't accusing any specific manufacturer of cheating, we also want you to approach battery numbers with a healthy dose of skepticism. Let's take our top budget wireless speaker, the $35 Cambridge Soundworks Oontz Angle 3 Plus. The company website clearly states that you'll get "up to" 30 hours of battery life, and they further state in a footnote that this figure was achieved by playing at two-thirds volume. All well and good, but when we tested it, we found that we only got to 27 hours of battery. Does this mean that Cambridge was lying? Certainly not – we may have inadvertently played it at a slightly higher volume than they did, or the battery in our test model had degraded slightly, or any number of things. But wherever possible, we tried to give real world numbers for battery life, and in fairness to speaker companies, most of them are pretty good. 27 hours of battery is solid!
 
Wireless Speaker Power Explained
We're not talking battery power here. Power is, quite literally, a measure of how much electrical power a pair of speakers can deliver, in the form of soundwaves. It's a loose analogue for how loud a speaker can get, and although it doesn't have any real relation to volume – which you can always turn up and down – it's a good way of estimating loudness. You'll see from our table above that it's measured in watts, and is referred to as wattage. The ratings for each of the speakers here probably aren't as accurate as they should be – the wattage figures but manufacturers give are often subject to wildly varying testing standards – but they work as a guideline. If you were to apply the same amount of power to the Devialet Gold Phantom, the former would put out 70 watts, and the latter 4,500 watts – so the Devialet is definitely the louder, more powerful speaker! Given that it costs nearly $3,000, that's hardly surprising...
Normally, in our speaker roundups, we talk about how to match speakers and amps. You don't have to do that here; all of these speakers include their own internal amplifiers, which will be perfectly matched to the speaker drivers. If you do want to fiddle with things – say, by adding in a separate preamp – several of these speakers have the relevant inputs that you can use to do this, without risking but you'll set your speakers on fire. Good to know.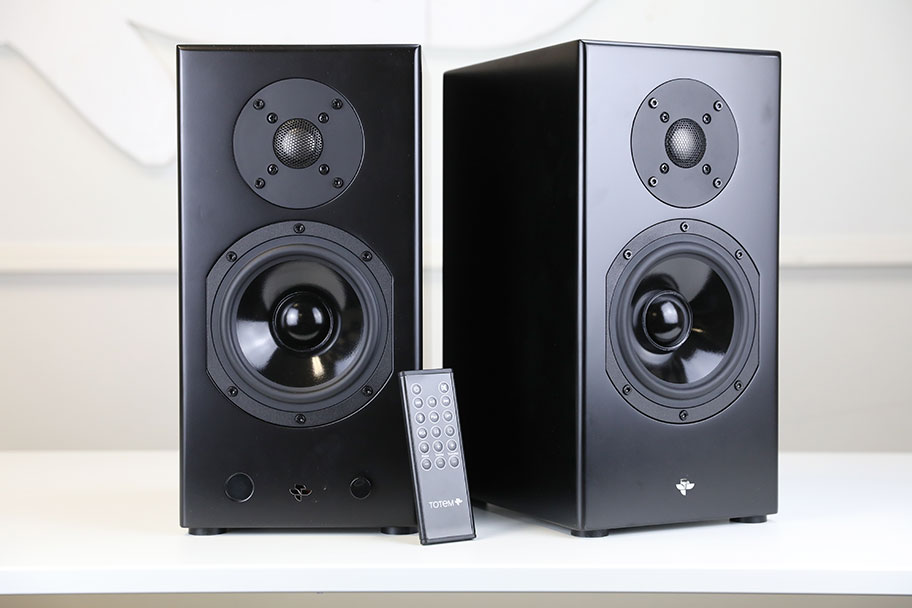 Wireless Speaker Placement
Unlike home theater speakers, which need careful positioning in fixed locations, the expectation with wireless speakers is that you can put them just about anywhere. While this might be true when taking a Bluetooth speaker to the park, it's not quite accurate with speakers that are designed to be used in the home. The positioning doesn't need to be as careful or as precise as, say, a pair of floorstanding speakers, but you still need to think about it a little bit.
As a general rule, try avoid placing your speaker directly next to a wall. That doesn't mean it has to sit in the center of the room, but it does mean that you should leave a bit of space – a foot or so should be just fine. You should also be thinking about how many drivers your speaker has, and where they are positioned. With each entry on our list, we've highlighted the number and types of drivers, so we've got you halfway there. If your speaker is cylindrical, like the $299 Bose SoundLink Revolve+ you could quite happily place it further into the center of the room to get the benefit of the 360° sound. If it's cube or rectangular, a bookshelf may be ideal (although we suggest placing it on the top).
It may be worth looking at buying multiple speakers, which will really help fill up a room with sound, and increase the stereo effect. This doesn't have to be expensive, either: you can spend $100 to buy two Amazon Echo Dots, and get this effect. To help things along, make sure your room is equipped to handle sound, by which we mean it is full of objects like bookshelves and couches that absorb sound. The less reflections you have, the better, which means minimizing flat surfaces as much as you can and moving erratically objects like lamps away from the speaker. The good news: you shouldn't have to stress too much about this. The wonderful advantage with wireless speakers is that if they don't sound good, you can pick them up and move somewhere else without too much trouble. Hooray!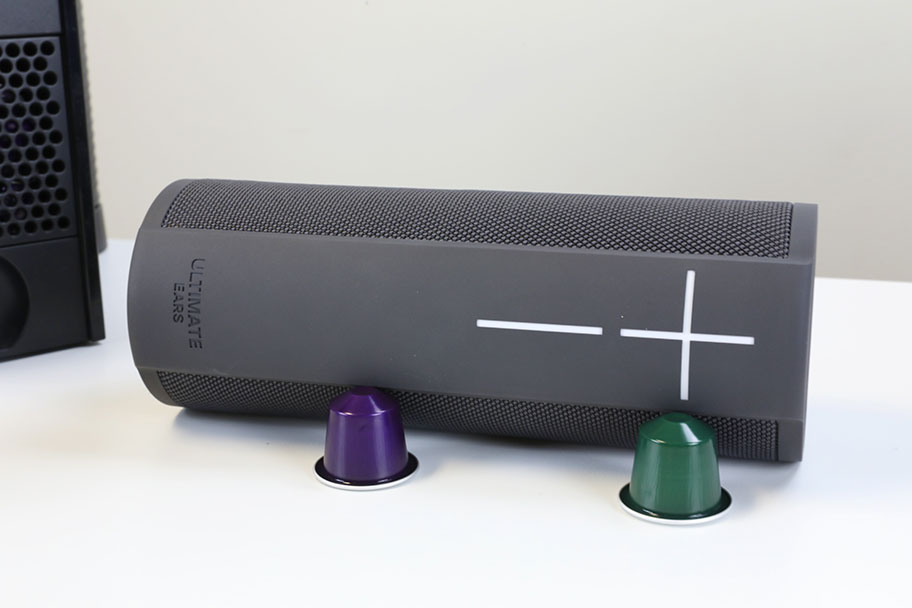 Wireless Speaker Apps Explained
Many of the manufacturers on our list, including JBL, Sonos, Apple, and Ultimate Ears, use a dedicated app to control their speakers. These apps have various functions, from letting you play directly from a music service like Spotify, to boosting the bass and treble, to activating virtual assistants. Generally speaking, the quality is pretty good. If we had to pick the best app around, we'd choose the Sonos app, used in the Sonos One (Gen 2) speaker. It's brilliant in its simplicity.
The important thing to understand about wireless speaker apps is that you don't actually need to use them. You may need to jump on for initial setup, but depending on your circumstances, and how you listen, you may never need to open them up again. Once your speaker and your playback device are linked, you should be able to play music as you would normally – services like Spotify will actually allow you to select certain speakers as an output device directly, right in the app. As a consequence, we haven't given much weight to apps in our selection of the best speakers. The table above indicates whether or not a speaker has an app, but you shouldn't base your decision on it.
 
Using Wireless Speakers In Home Theater
Here's a question for you. Assuming you have an existing home theater system, what's to stop you dispensing with all those horrible speaker wires, and simply integrating wireless speakers into a 5.1 or 7.1 setup? As surround/satellite speakers, for example? The answer is, nothing – as long as you can get the speakers to talk to your A/V receiver. That's easier said than done, mostly because different manufacturers often don't like talking to each other. That's changing - several receivers now have Apple AirPlay, for example, and several come with smart assistants like Amazon Alexa. But it's much easier to invest in dedicated wireless home theater speakers from the manufacturers themselves – from people like Klipsch, axiim and Enclave. You'll find some good selections in our pick of the best home theater systems.
It's totally possible to pull this off, using protocols like Play-Fi or WiSA - more on this below. Play-Fi is a software protocol that lets speakers from different manufacturers work together (AllPlay is another one, although Play-Fi is dominant). From a single, simple app, units from different manufacturers can all work together seamlessly. Of course, not all products actually accept this. We're looking at you Sonos.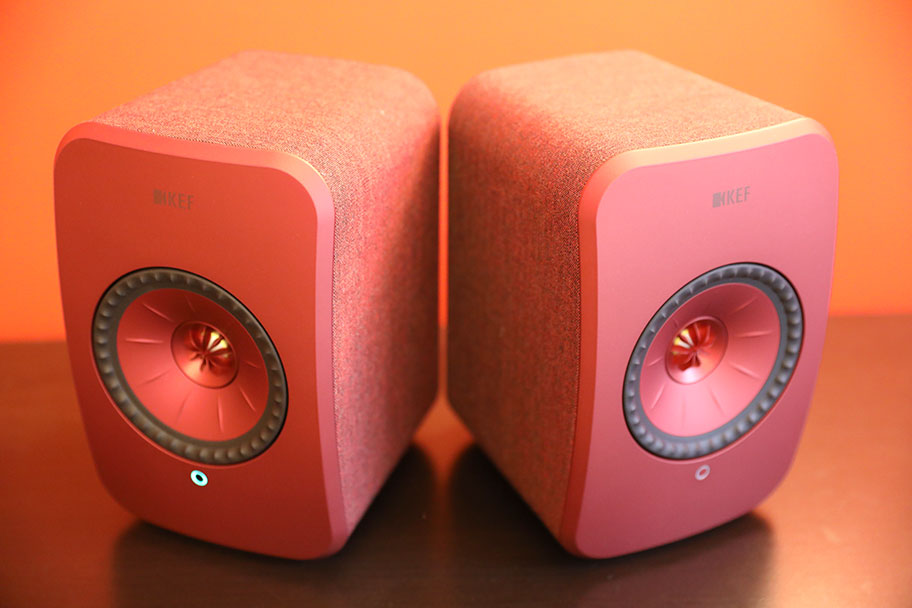 WiSA Explained
WiSA is a product of the Wireless Speaker and Audio Association, and it works a little differently. It's primarily used in home theater, to get different systems from different manufacturers talking to each other. Unlike Play-Fi, however, it doesn't rely on existing wireless networks, using a separate part of the frequency spectrum to create its own. Until recently manufacturers have largely steered clear of these protocols.
As of January this year, there seems to be a change in regards to WiSA. Its global adoption by some of the leading audio-visual manufacturers, such as LG, Microsoft, Klipsch, Harman, and Golden Ear, has rapidly accelerated. Up to 60 million WiSA-ready audio-visual product platforms are expecting their release in 2019 alone. What's most impressive is the fact that the wider support is already further helping innovation - not only is the WiSA technology capable of up to eight channels of uncompressed 24-bit audio, it also supports such industry-leading surround sound codecs as Dolby ATMOS and DTS:X. The significance of this technology is evident in its transmission figures: current figures show an incredibly low 5.2ms of latency, roughly 20 times better than Bluetooth and Wi-Fi. Compatible products like A/V receivers, streaming servers, and digital audio players will soon bear the WiSA-ready logo, just as we are used to seeing the Wi-Fi or Bluetooth symbols. Adding a WiSA USB transmitter would allow for any such device to pair with WiSA-capable speakers. The development of this protocol promises a nearly latency-free wireless performance of 24/96kHz surround audio, HD movies or gaming. However, iif you don't want to commit to a full home theater setup for your wireless rig, you might want to consider a soundbar. There are several models that come with wireless surround sound speakers and subwoofers, all of which connect directly to the bar without too much trouble.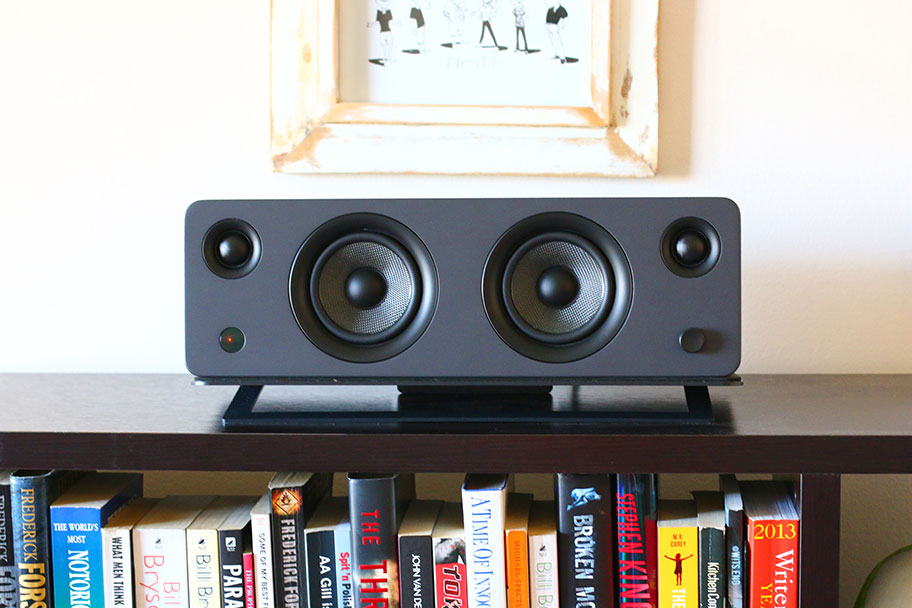 NFC and Proximity Pairing Explained
The most annoying thing about wireless speakers? Getting them to pair with your phone. It's easy enough over Wi-Fi, but sometimes, no matter how hard you try, the Bluetooth just won't work. That's where Near Field Communication (NFC) comes in. It's a way for two devices to exchange data when held at close range – typically less than two inches. If you've ever used your debit card to pay for something by tapping it on a machine, you've used what's known as passive NFC – your card can send details, telling the machine who's buying the six-pack of beer, but it can't receive details back. Things like smartphones have active NFC, meaning they can both send and receive data, and this is where things get interesting.
NFC has become far more common in wireless speakers, making connecting to a playback device very simple. The Apple HomePod, for example, only requires you to hold an iPhone close to it, and the two will magically pair. We classify this kind of thing as a nice-to-have, rather than as an essential – quite obviously, you'll only need to pair with the device once, unless you plan on using multiple phones or tablets to control the speaker.
Back To Our Wireless Speaker Picks Back To Our Comparison Table
Learn More About Speakers