When Apple announced they were releasing a smart speaker, we were skeptical. This is not a company known for amazing sound quality. But while we wanted to hate the HomePod, it won us over - and we think it will win you over, too. In this review, we'll talk about the HomePod's sound, design, packaging and accessories, specs, and more. If you want to see how it stacks up, stay tuned for our best smart speakers roundup, coming soon.

Sound
High-End (Treble)
We wanted to dislike the Apple HomePod; especially after experiencing Apple's Beats by Dre lineup. The company owns the brand, and it is not exactly a watchword for quality. But the HomePod genuinely surprised us. We've had the pleasure of enjoying it for quite a few months now, and it has since become our designated office smart speaker. Well, at least for some of us - non-Apple users are seriously missing out, but we'll talk more about that later.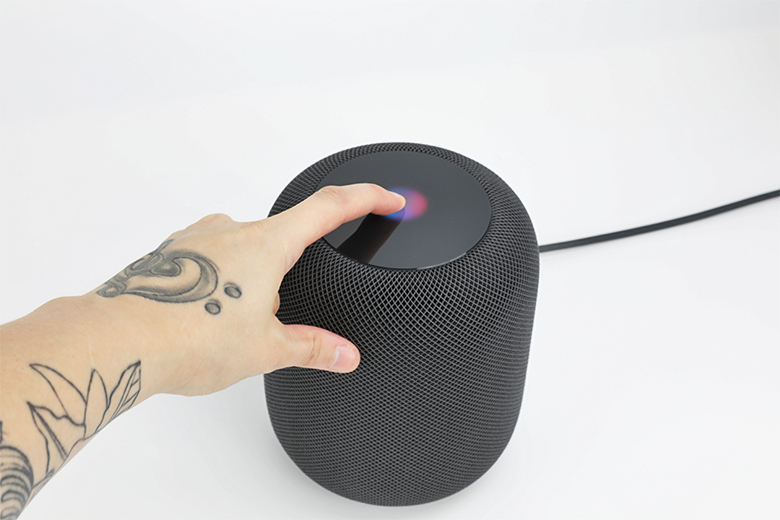 In terms of sound quality, the HomePod blows all other smart speakers away. Yes, all of them. It's just that good. Crisp, clear highs cut through like a freshly-sharpened katana blade, and don't become overbearing at higher volumes, which is something a lot of speakers can't achieve. In some smart speakers - like the Harman Kardon Invoke, which costs $129 - the highs are even jarring at lower volumes. We were so impressed with the high-end in the HomePod, that we put it to the test with every genre we could think of. The best overall: acoustic, hands-down. The HomePod does such justice to acoustic and singer/songwriter music that we just couldn't stop listening to it. Top job, Apple.
 
Low-End (Bass) and Mids
Another area where the HomePod holds its own is the bass. The low-end on this smart speaker is truly surprising. The amount of bass the HomePod can output might not be enough to break your windows, but it'll rattle your cupboards when pushed to the limit. We're proud to say we've been asked to "turn down the bass" on more than one occasion by our office mates. (Sorry, guys!) Its bass might not stack up against the Google Home Max - which has a bit more power and weight behind it - but it's impressive for a smart speaker this size. We're usually lucky to get any low-end out of these.
The mid-range is clear and defined, but this might be the one slight defect we've found in the HomePod's sound. Vocals are present, separated from the rest of the mix, but we did find that some mid-heavy songs lagged a bit. If Apple releases a second version of the HomePod, we'd like to see them rectify this issue with some higher-quality drivers - but who knows how much that'll boost the price tag of the already-steep $349. However, the overall sound quality of the HomePod is super-solid, especially in comparison to what's available - we even think it's better than the SONOS One (full review coming soon) and we're usually pretty die-hard SONOS fans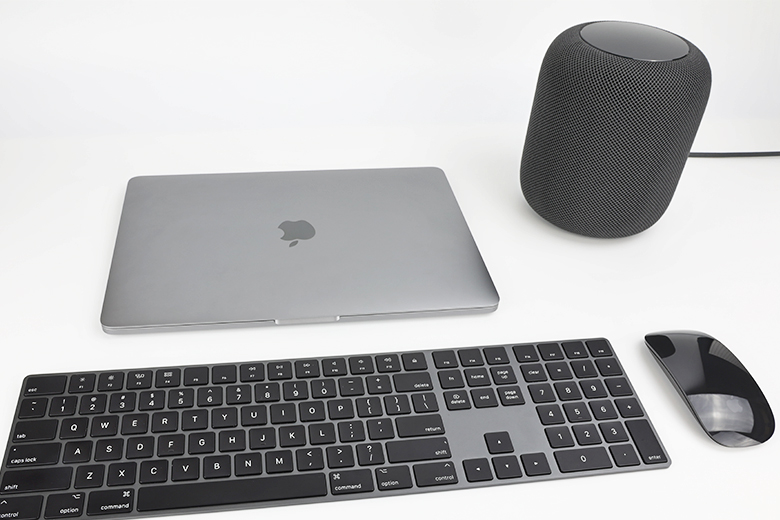 Power and Volume
Apple is pretty secretive with their specs, which makes our jobs a little more difficult - especially when we're just trying to figure out how loud a piece of gear can get. We might not have exact SPL ratings - read as Sound Pressure Level, which allows us to gauge how loud a speaker can get in decibels - but what we can say is the the HomePod has a solid amount of power. If you're looking for an office speaker, or something to light up your one-bedroom apartment, this is the speaker for you. It won't get quite as loud as the 200 watt RIVA WAND Festival (full review here), but with the sheer difference in size, we weren't expecting it to. However, we can say that it satisfied our volume cravings, and we don't have any complaints here. If you want a little more power out of your HomePod, you can actually buy two and connect them through AirPlay. We'll talk more about this in the design section, below, but rest assured that you can easily fill your entire home
 
Drivers and 360 Soundstage
The HomePod contains one 4" woofer and seven horn-loaded tweeters, each with their own amplifier. The 4" woofer handles the grunt work, while the tweeters give us that gorgeous high-end we've grown so fond of. Although the HomePod might not have multiple large drivers - like the portable UE MEGABLAST (full review coming soon) - it still delivers a level of power and sound quality we'd expect from a much larger speaker. And, by the way, it blasts the $200 MEGABLAST on sound quality - we'd recommend going for the HomePod if you don't need portability.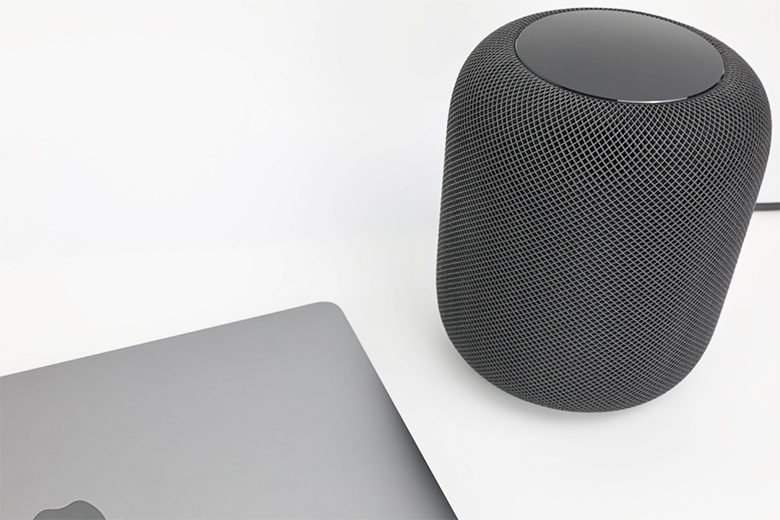 The HomePod also features 360-degree sound - a common trend among speakers these days, and one we appreciate. This means that you can place the HomePod in any position, and still experience the sound. It's loaded with a six-microphone array, that allows the HomePod to adjust its output to suit the space - a technological advantage it has over many other smart speakers, like the $100 Amazon Echo. This gives it a wide soundstage, and creates a three-dimensional listening space that feels inviting and immersive
 
AirPlay 2 and Bluetooth Connection
The HomePod connects using both Apple's AirPlay 2 and Bluetooth 5.0. It's not equipped with aptX Bluetooth, but 5.0 is pretty good. If you want to know more about the different versions of Bluetooth, read this. Unfortunately, even though it has Bluetooth capabilities, the HomePod can't connect to non-Apple devices. We don't foresee Apple changing this in the future - sorry, Android users.
We haven't experienced connectivity issues with our HomePod in any of our testing spaces, and are quite pleased to say that its connection is much higher than that of most wireless speakers. One strange note that we do want to mention, however, is that there is a slight lag between pressing the controls on your iPhone and the reaction on the HomePod. We found this mostly when using apps like Spotify, where pausing/playing, and skipping tracks had a slight delay in response. This wasn't a total disaster, but it did cause some issues when needing to pause the music to take a phone call. Something to keep in mind when you're using the HomePod - let us know if you have the same problem!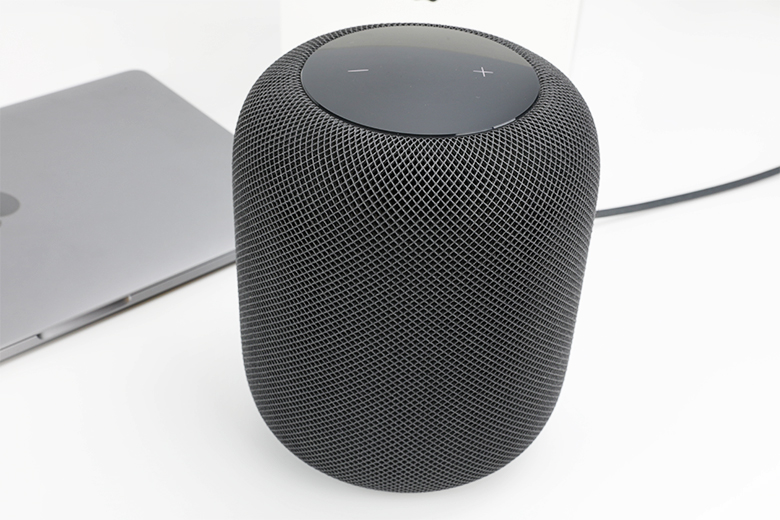 Design
Build Quality and Design
The HomePod is available in either white or space grey. We went for space grey. It's certainly an improvement from the standard black box design - something we've poked fun at in the past, with the Solis SO-7000 (full review here) - but we wouldn't say the design aesthetic leaves much to the imagination. Its one saving grace is that the blobbiness is offset by a soft-to-the-touch mesh grille that covers the entire midsection of the speaker. The top is monopolized by an oversized touchpad, where you'll find the main controls for the speaker - we'll get into this in a moment - and the bottom is a soft, rubberized pad that prevents the HomePod from sliding around. The power cable is fixed to the rear of the speaker, down at the bottom and coils nicely. It might not be the most exciting design, but it falls in line with Apple's aesthetic, and will fit nicely into your bookshelf or on your desk.
Despite being made of a soft fabric-covered rubber, the HomePod feels sturdy, and has a decent weight to it. You aren't going to want to kick it around like a soccer ball - despite its inviting shape - but you don't have to worry about breaking it with a light bump. It certainly has a level of robustness that makes you trust its structural integrity - like a boulder, or a 1965 Mustang.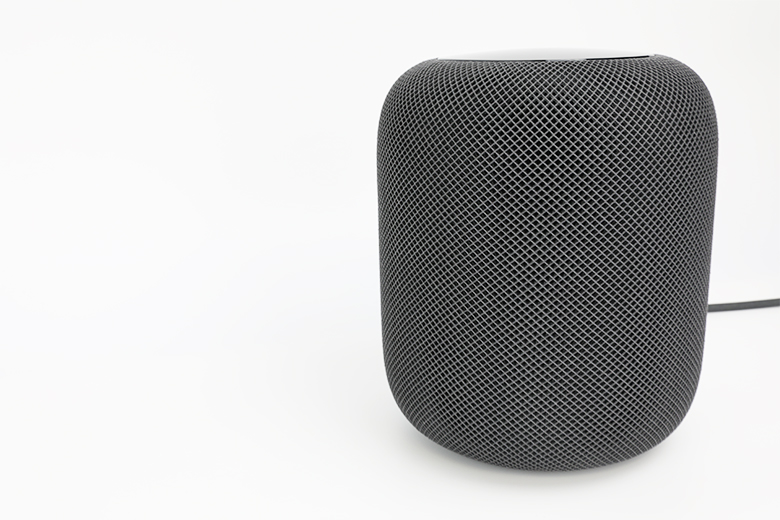 Touchpad, Controls, and Voice Commands
The touchpad we mentioned previously acts as the physical control for the HomePod. Here, you'll find a sleek, digital display that mimics the standard Siri aesthetic, with swirling lines of blue, green, and purple reacting to your touch. Holding your finger on the pad starts up the HomePod, and if connected to a source, plus and minus symbols will appear. This is where you control the volume, skip tracks, and pause/play. If you want to pause or play your music, simply tap the touchpad - it's that easy.
Pressing and holding a finger on the pad will activate Siri, and allow you to use voice commands. Just like the standard iPhone or Mac Siri, you will have to experience the same level of sass and incompetence. She's not as bad as Amazon Alexa, but she's no Google Assistant - you can read more about our love for Google Assistant in our review of the Google Home. The Google Home can be had for half the price of the HomePod, at $179. The one major design flaw of the HomePod is that Siri can only help you with your musical needs, and only for Apple-friendly apps. That's right: you can't actually make phone calls, send texts, or search anything using the HomePod's Siri. You can't even ask her to play directly from Spotify… But she will randomly spout ominous phrases to remind you she's listening to your every word. She even decided to join our conversation by saying "in my realm, anyone can be anything," completely unprompted and without explanation. Same Siri, Different Day.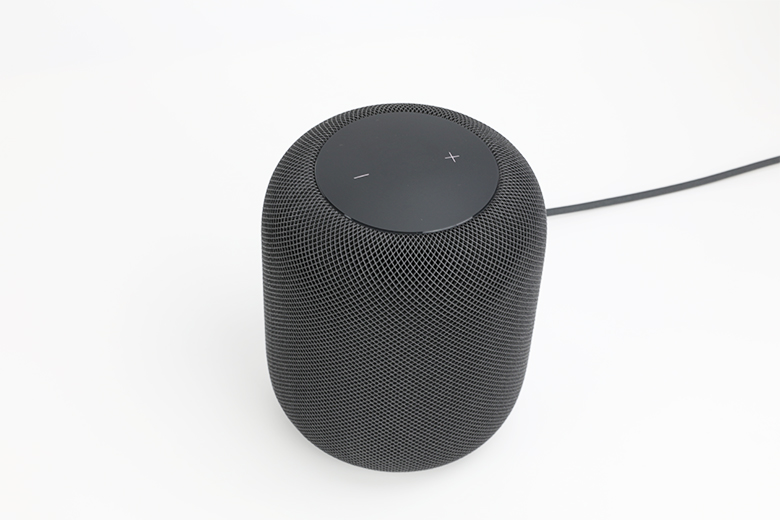 If you want to use non-Apple apps, like Spotify, you will have to select the HomePod in the music app as the playback device - what a trivial, first-world problem to have. According to their site, Apple is currently working on a software update to allow the HomePod to initiate phone calls, texts, and search, but we're not holding our breath. What's shocking is that this wasn't an option in the first place. We're not disappointed that they focussed on the sound for once, but the HomePod has a lot of improvements to make if it wants to be rated the most functional smart speaker. We'll let Google take the win for functionality.
Other than the touchpad and voice controls, you can use the Home app to run your HomePod, as well as any audio controls from music apps, like Spotify. And, of course, your iPhone volume controls will work just fine - an improvement from our struggles with the Google Home, which required a workaround for volume control through apps.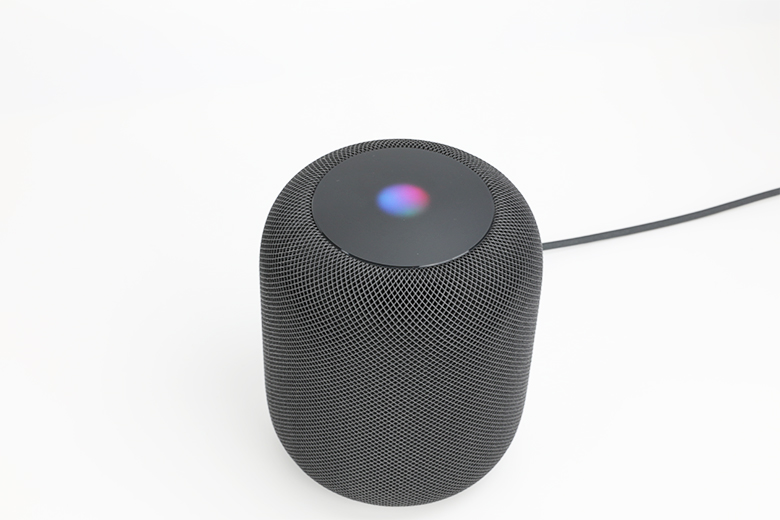 Multi-Room Audio and Stereo-Pairing
Speaking of software updates, Apple has now made their HomePod compatible with AirPlay 2, which means you can pair multiple HomePods together. This is a huge advantage for the HomePod, as many people wanted the ability to hear their music all around their home - something companies like SONOS have been offering for years. Apple took it one step further, and created a stereo-pairing feature, that allows you to connect two HomePods together to create a true stereo image. Some manufacturers, like JBL, were already on the stereo-pairing train, but couldn't offer the sound quality of the HomePod.If you love the HomePod's sound - and don't mind dropping near $700 plus taxes - pick up a second one to complete your ultimate Apple listening space.
 
Setup and Home App
Setting up the HomePod is possibly one of the easiest things we've ever done. Compared to spending hours stripping speaker wire, connecting banana plugs, and calibrating a 7.1 system, connecting to the HomePod is a total breeze. Thanks to Apple's out-of-this-world, futuristic proximity pairing, all you have to do is hold your iPhone near the HomePod to get started. Download the Home App to rename your speaker and give it a profile, and you're good to go. This is also where you can utilize the stereo-pairing and multi-room functionality, by connecting multiple HomePods. Yes, that is quite literally it. If you have other Apple products, like the AirPods (full review here), you'll know exactly what we mean when we say proximity pairing is one of our favorite technological advances. If you don't have an Apple device, unfortunately, you're out of luck. The HomePod only works with devices compatible with iOS 11 and newer.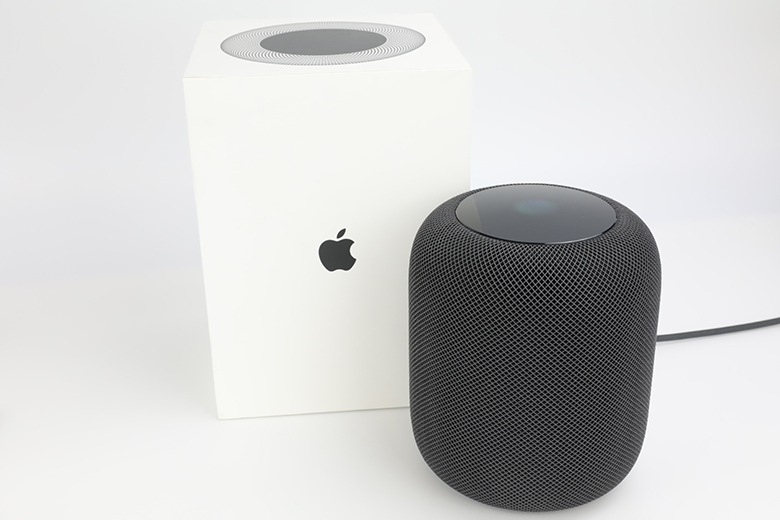 Accessories & Packaging
This section of the review almost doesn't need to exist. Because, well, Apple doesn't believe in accessories. The HomePod package comes with a HomePod, a manual, and the standard Apple logo sticker. Can you even call the sticker an accessory? We're not too sure.
The packaging is a simple, minimalist cardboard box, complete with a photo of the HomePod and Apple's branding. It lifts off to reveal the HomePod nestled like a little egg in the middle, with the power cable coiled neatly in the bottom atop the manual. And that's pretty much it. Apple likes to keep it consistent, and we aren't ones to argue. That being said, we really do like opening fun packages like the UE BOOM 2 (full review coming soon), which features psychedelic colors and bright accessories.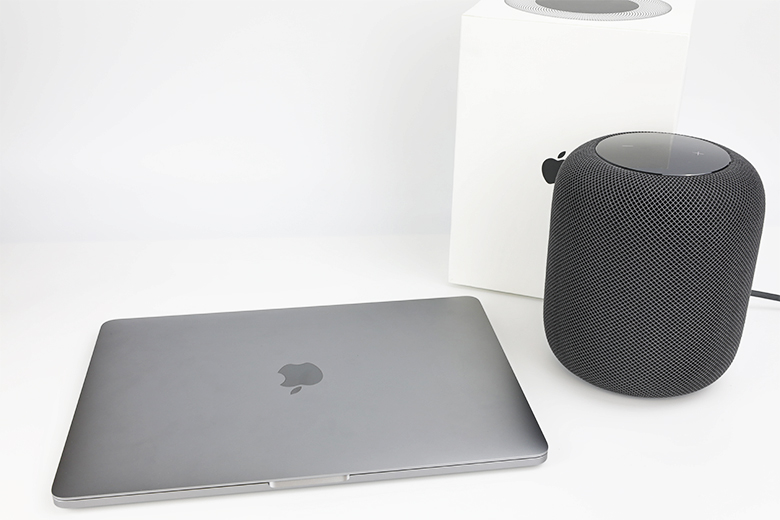 What We Like
The Apple HomePod has unrivaled sound quality for a smart speaker.

The connectivity is pretty spot-on, with minimal dropouts.

The design is subtle and easy to match with any home.

Proximity pairing! We're in love with proximity pairing, if you couldn't tell.


 
What We Don't
The HomePod's smart function has limited use - defeating the purpose of a smart speaker.

The HomePod has to be manually paired to non-Apple apps.

The HomePod is not portable, and needs a direct power source.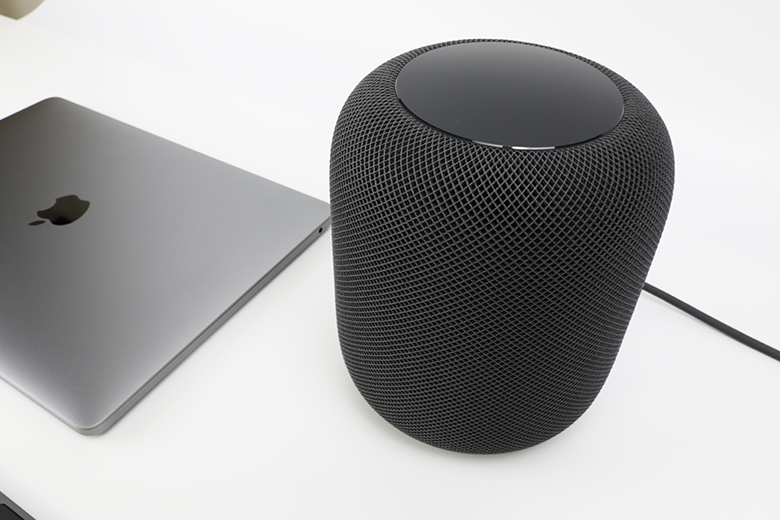 Comparison Table
| Smart Speaker | Price | Connections | App | Drivers | Assistant |
| --- | --- | --- | --- | --- | --- |
| Apple HomePod | $349 | Wi-Fi, Bluetooth | Yes | 1 x woofer, 7 x tweeter | Apple Siri |
| Google Home | $179 | Wi-Fi, Bluetooth | Yes | 1 x driver | Google Assistant |
| SONOS One | $199 | Wi-Fi | Yes | 1 x woofer, 1 x tweeter | Amazon Alexa |
| UE MEGABLAST | $200 | Wi-Fi, Bluetooth | Yes | 2 x driver, 2 x tweeter | Amazon Alexa |
| Amazon Echo (2nd Gen) | $100 | Wi-Fi, Bluetooth | Yes | 1 x woofer, 1 x tweeter | Amazon Alexa |
Want Even More Master Switch? Sign Up For Our Weekly Newsletter!
 
The Competition
Even though the HomePod is considered a "smart speaker," its functionality is so limited, that it would be better labelled as a "voice-controlled speaker." However, the sound quality is what gives the HomePod an infinite advantage. If functionality is what you're looking for, we've got some options for you.
Our first comparison is to a smart speaker we've reviewed in the past: the Google Home. It's wireless, has seemingly endless smart features, and the sound quality isn't half bad - at least, we said that until we got our hands on the HomePod. It's not quite fair to compare the two - the Google Home has one single two-inch driver, while the HomePod has eight - but they each have their pros and cons. The Google Home is one of the most useful smart speakers we've ever encountered, allowing you to schedule your calendar, make phone calls, search the internet, check the weather, and much more, while the HomePod's sound is absolutely unbeatable. We'd say the decision comes down to personal needs. Are you looking for functionality or sound quality? At $179, it's almost half the price of the $349 HomePod, but you're also getting less than half the power.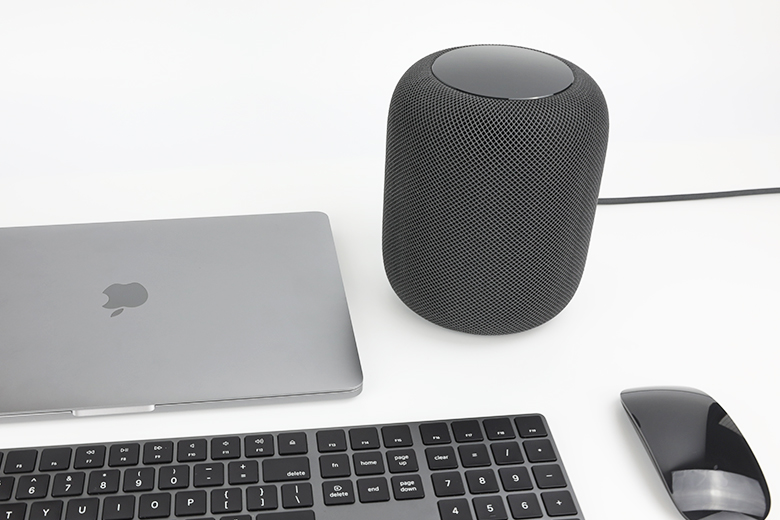 The next smart speaker that comes to mind is the SONOS One. Released late last year, the One was supposed to be a smash hit. It fell in line with SONOS's well-known sound quality, paired with the functionality, and we were excited to get our hands on it. But, when we tested the speaker, we honestly weren't that impressed. The One is so similar to other SONOS speakers, that it felt like we had opened another PLAY:1 with a couple new features, for $199. The One isn't a bad speaker, by any means, but it wasn't exciting enough to catch our eye or make us want to recommend it to our friends. They did get one thing right, though: the smart speaker functionality is on-point - compatible with Amazon Alexa, Google Assistant, and AirPlay 2. You'd choose this speaker for function over sound quality, as well as compatibility with your pre-existing SONOS ecosystem. Stay tuned for our in-depth review.
Another smart speaker we'd like to mention is the UE MEGABLAST. This speaker brings some new cards to the table, in the fact that it's 100% portable and waterproof. We'll be writing a full review soon, but we can already tell this speaker is going to see a lot of outdoor use. Like the SONOS One, the MEGABLAST is compatible with Amazon Alexa, and is also Bluetooth equipped - which means it's friendly to all Bluetooth devices, and has a leg up on the HomePod. The sound quality is certainly nothing compared to the HomePod, or even the SONOS, but it's not half bad for a portable, waterproof speaker. We've reviewed the MEGABLAST's little cousin, the MEGABOOM, and weren't necessarily impressed with the sound. We'd like to say that the sound quality has improved a bit here, and compels us to believe that you can have decent sound in a portable, durable package. We wouldn't consider it on the same level as the HomePod, but for $200, it makes a great camping speaker.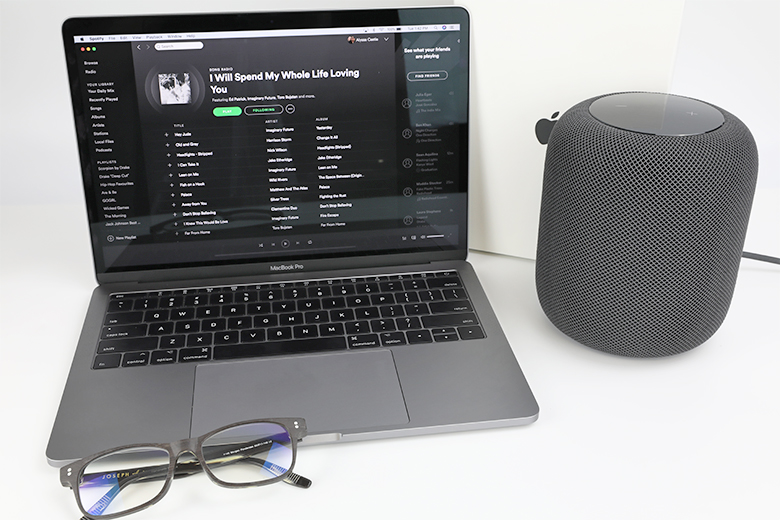 Apple doesn't have another speaker in their lineup, so we're going to compare the HomePod to the Amazon Echo. The Amazon Echo has been designed and redesigned more than any smart speaker we can think of, yet they still haven't managed to nail the sound. This is something the HomePod has them beaten on, hands down. And even though the Amazon Echo is equipped with Alexa, it's still not that useful of a smart speaker. We can't count the amount of times our Alexa-equipped speaker has misunderstood our commands - be prepared to read about them in our upcoming reviews. The one benefit the Echo has over the HomePod is in the design: instead of white or space grey, the Echo offers six different shell colors. But don't be fooled, we're in this for the music. The Amazon Echo can be had for $100 in comparison to $349 for the HomePod, but you're missing out on some serious tunage.
Learn More About Wireless Speakers