Sometimes, you just need to go big. Sometimes, you need to cash in the retirement savings, throw your neighbours' concerns to the wind, and invest in a sound system that is going to blow your windows off. Step forward, then, the Marantz SR7011, an absolute beast of a receiver that is designed to be the giant, hulking quarterback of your home theater setup. Spending a month with this big, black, 9.2-channel bruiser was a bit like living with a roommate who works as a bouncer at the dodgiest club in town: you're not quite sure what he's capable of, and you're a little scared to find out, but you're awfully glad to have him around.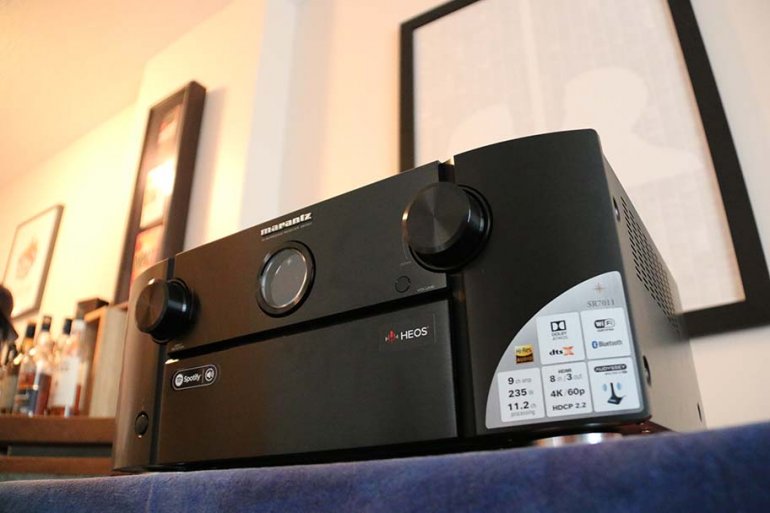 Design
Most home theater receivers look similar – so much so that one could be forgiven for thinking they all come from the same parts factory, and are just assembled to order. While the Marantz SR7011 probably slots into this bracket too, it's got enough clever features and sleek design to set it apart from the pack.
It's virtually identical to its predecessor, which you may be completely shocked to hear was called the SR7010 (and we'll talk about that model more in a minute). While it does share the same black box design is almost all receivers these days, it still looks good. The front is dominated by a central, circular LCD display that shows the input, and which glows a reassuring blue when you turn the receiver on using the power button on the bottom left, which happens with a satisfying clunk.
Two large knobs are on each side of the central display. The left-hand one controls the input, and the right-hand one controls the volume. You probably won't use these very much, as all adjustments will almost certainly be made with the remote control, but they work well.
At first glance, it appears that that's it for the front-end – until you flip down the lid to reveal a hidden section, housing the most commonly-used controls. These include, among other things, an extended LCD display which shows more information than the central one, twin headphone jacks (3.5mm and 6.3mm), a USB port and an HDMI-in port. Again, you probably won't end up using this front end, and it makes total sense to us that it's hidden away until needed. As a matter of fact, we give the front end of this machine top marks. It's sleek and elegant, giving you only what you need at a given time, and hiding the rest away.
Flipping around to the back, there is a bewildering array of ports to get to grips with (although we have a full guide to the various connections on your A/V receiver – which coincidentally, uses this exact model to illustrate it!). If there's a way to connect something related to audio or video to this receiver, Marantz have included it. You can plug HDMI cords into the seven inputs (eight, if you count the front) and three outputs. You can screw in two antennas to connect to your home Wi-Fi network or via Bluetooth, and stream music. You have an entire preamp section, and enough connections to allow you to expand the system to a full 11.2 setup, or even such esoteric configurations as 5.1.4 or 7.1.4. You can, if you're so inclined, get the receiver to control the raising and lowering of a projector screen, add an external controller like a PC mouse, or even add an additional remote hub.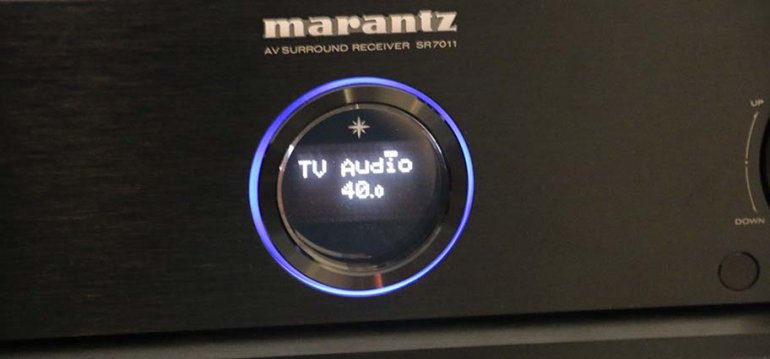 Look, we could go all day, but it comes down to this: this is one of the most complete home theater receivers we've ever tested. There wasn't a single situation where it couldn't cope, and there was nothing we threw at it that it didn't knock right back into our faces with a sardonic smile. None of this would work if the design wasn't pinpoint, and it is. It works beautifully.
We'll talk a little bit more about the things this receiver can do when we get into how it sounds, but before we move on, one last point. Technically, this is something that we should feature in the accessories section, but we liked it too much to not mention up top. Marantz have thoughtfully included a list of colored, labelled stickers that you can affix to your speaker cords, allowing you to line them up with the right terminals on the backend. It was such a pleasure to be able to banish the chaotic nest of wires under our TV, and it's a mark of just how much thought Marantz have put into this. Never has a system made life this easy.
However, there is a downside – and it has nothing to do with the functionality of the receiver itself. The SR 7011 is, as we've said, the upgrade of the SR7010… And it's not much of an upgrade. The predecessor was just as brilliant, just as well-designed, and sounded just as good. So why are Marantz asking you to pay more than $500 more for the upgrade? The features they've added to the new model include that HEOS functionality, support for ultra-high resolution DSD digital audio, and support for Crestron Connect, which handles home automation. These are all great features…but we question whether they were worth an extra $500.
The problem is, the SR7010 was like the iPhone. It was so well-designed that any upgrade was only ever going to offer incremental tweaks. Ultimately – and we'll go into this more a little further down – whether you want to buy this one depends on whether you need its new features.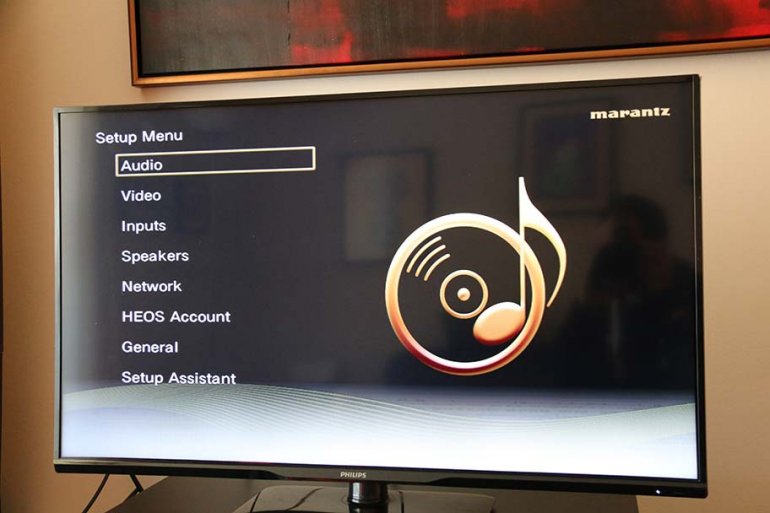 Setup
This is where it really gets fun.
Once you've got this monster plugged in correctly and turned on (something that is surprisingly easy, thanks to Marantz's excellent online manuals and paper quick-start guide), you get to play with the included calibration mic. This requires that you assemble a dinky little cardboard stand – actually, we found that a bit annoying – and place the mic on top, then put the whole thing in your listening position. This proved a bit of a challenge, as the mic wobbled when positioned on our couch cushions, but it got there in the end.
Marantz includes the MultEQ XT32 from Audyssey in its built-in software package, and it works like a dream. It was almost uncanny just how easy it was to navigate through the on-screen menus and calibrate the system for the room. Instructions were clear and simple, with zero room for ambiguity, and helpful hints when we did get stuck (such as, for example, a rogue speaker that we'd wired incorrectly).
We'll go into the results of the calibration in the section below. But simply put: the thing we were worried most about – that this leviathan would prove impossible for beginners – proved unfounded. Setting it up was a total breeze; the hardest thing was actually winding the speaker wire around the back of our bookshelves. Even once we got going, navigating through the simple menus and calibrating the system to our liking was dead easy. Even if you can't tell a 9.2 from a 7.1.4, Marantz will sort you out.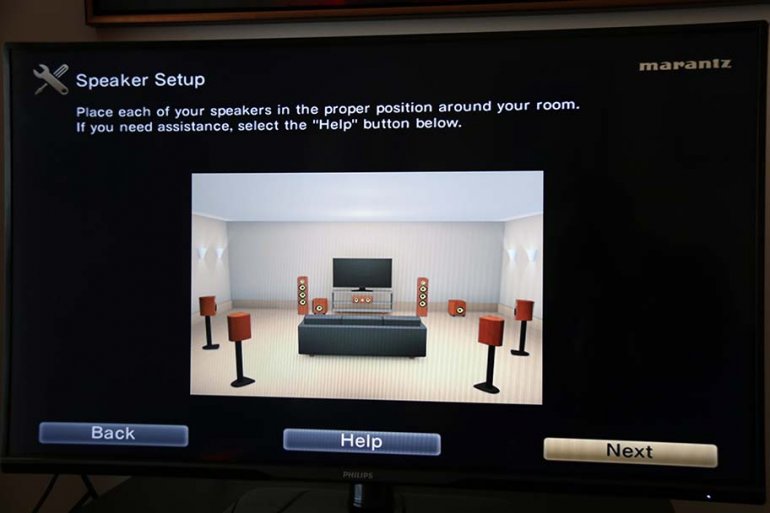 It even allows you to customise different zones and different listening rooms, although this does take a little bit of work. Still, if you have multiple areas in your house that require sound, then the option is very much there.
We did wonder whether such simplicity would feel a little bit condescending to the intended audience for this receiver, who no doubt do know a 9.2 from 7.1.4, and can probably educate you on the finer points of custom home theater installs. But you know what? We could never, ever take marks off for something being easy-to-use. So in terms of setup, the SR7011 again scores high.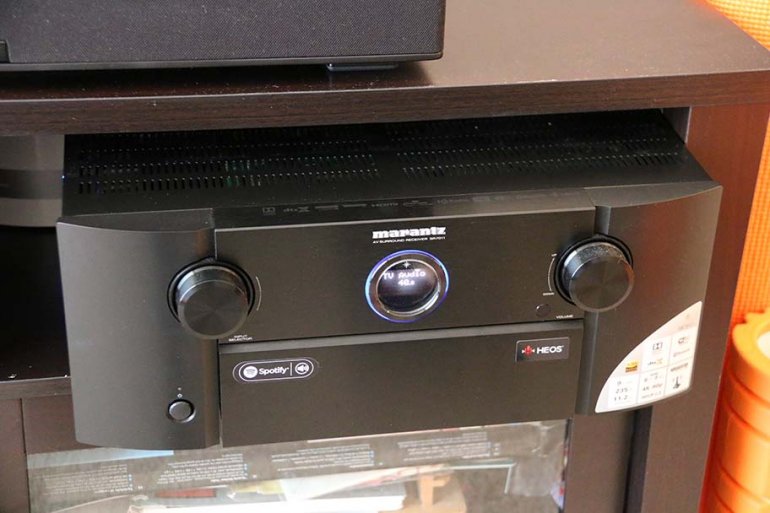 Sound
The SR7011 is quite happy handling 4K Ultra HD video, and if you got the requisite Blu-ray player, you're in for a good time. But really, receivers are about the sound, and that's what we focused on here
OK. Deep breath. The SR7011 can handle Dolby Atmos, DTS:X, and Auro3D (with a paid upgrade). It's got Bluetooth streaming, WiFi streaming, Spotify and Apple Airplay. If you have any Denon HEOS wireless speakers, it can slot right into your existing system. It plays high-res audio, HD radio, and is quite happy reading files offer USB stick. In short, if you can think of a way to transmit sound, the SR7011 can probably handle it. And if we were to go into an exhaustive list of absolutely everything it could do, you'd mistake this review for a spec sheet.
So let's just say this. We tested the SR7011 extensively. We put it through just about every scenario we could think of. Our workhorse system was a customised Pioneer SP-PK22BS Andrew Jones 5.1 (full review here) that we modified with a couple of additional satellite speakers, including a pair of SVS Prime Elevations (full review here) to serve as height units. While we didn't get to a full 9.2 system – we had to stick to 9.1, or we'd get thrown out our building – the volume and quality of sound that came out of our set up convinced us that we didn't need to.
In all circumstances, the sound was rich, full, and powerful. In the multiple movies and series and video games we watched and played, it never felt forced. Explosions, kicks and punches had heft and weight, without being overpowering. More importantly, effect placement throughout our speaker system was never less than excellent, and although we listened hard, we couldn't fault it. It didn't put a foot wrong. It's got a continuous, average power output of 125 watts per channel at 8 ohms, and can safely drive any speaker down to 4 ohms. In terms of power output, then, it's extremely healthy.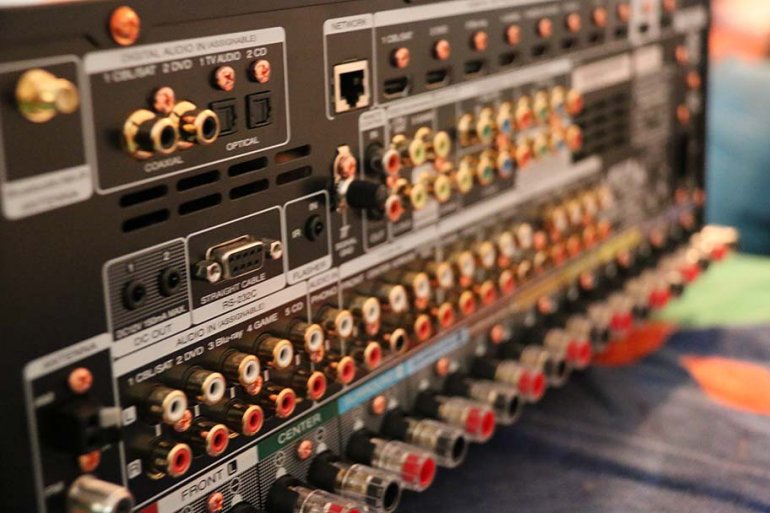 The calibration for our room worked brilliantly, and the Dynamic EQ ran in the background to normalise the sound, making sure that things were at a nice even level throughout. Although it is possible to control the levels of the individual speakers, we found we didn't have to. The software had worked out exactly what we needed, and done its job faultlessly.
We stuck mostly to Dolby Atmos settings, and we were particularly dazzled by the height effects. Admittedly, our Prime Elevations are generally pretty good at this, but even so, it was a real pleasure to be immersed in such dynamic surround sound. We were a little bit worried that this unit might not distinguish itself from other receivers, in terms of sound, but again, we needn't have.
It's possible to nitpick. After extended listening, we found ourselves wanting a little bit more detail in the highs, and very occasionally, we lost a little bit of dialogue in the middle of intense action scenes. But really, these are minor points, and we can easily imagine them vanishing on a different system or room shape. When sound is this good, this crystal clear, and this effortless to achieve, it's hard to be churlish.
Again, we should note that we did not test this at its upper levels (11.2), because we really don't feel like losing our security deposit. We also didn't have the necessary height speakers to test its Auro3D capabilities. That being said, we don't consider these big deficiencies. Given how well the receiver performed, we can't imagine there being any serious issues with either of these. Overall, the performance was just phenomenal.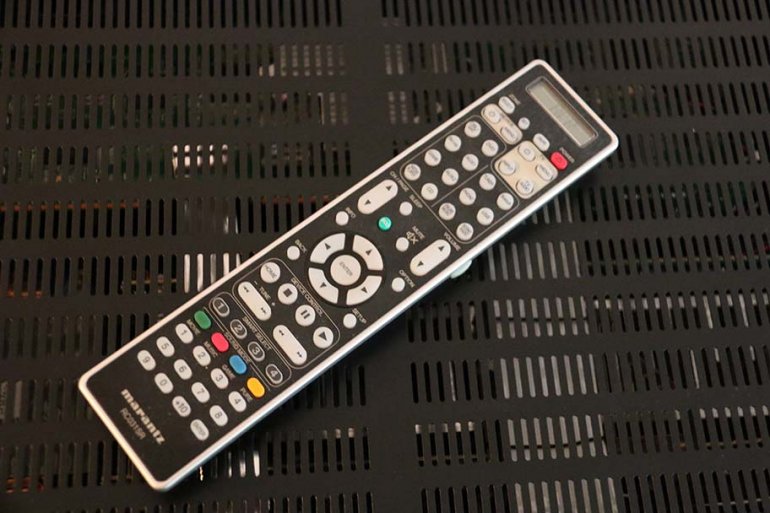 Accessories
Minimal, but effective.
The mic used for the room calibration is small and simple, rising to a tapering point and slotting easily into the constructible cardboard tripod. Its cord is long enough to allow you to position it in just about any listening position, which is a big plus. Although the bulk of the heavy lifting is being done by the software, the microphone gets the job done.
We are less enthusiastic about the remote. Oh, it works fine; it allows you to access all the functions you might need, and it comes with a handy digital display at the top. But the thing is, for a system that seems so well-designed, it's hard not to look at the remote and cringe a little. Marantz have packed so much on there, so many zillions of buttons, that even familiarity with the remote will leave you pausing for a few seconds while you find the right button. We are not saying all this stuff doesn't have to be on there, but there must be a better way.
As if they'd thought about this after they'd already OK'd the final design, Marantz have an excellent AVR remote app (iOS and Android) that allows you to fully control your system from your phone. We much prefer the app to the remote – it works brilliantly.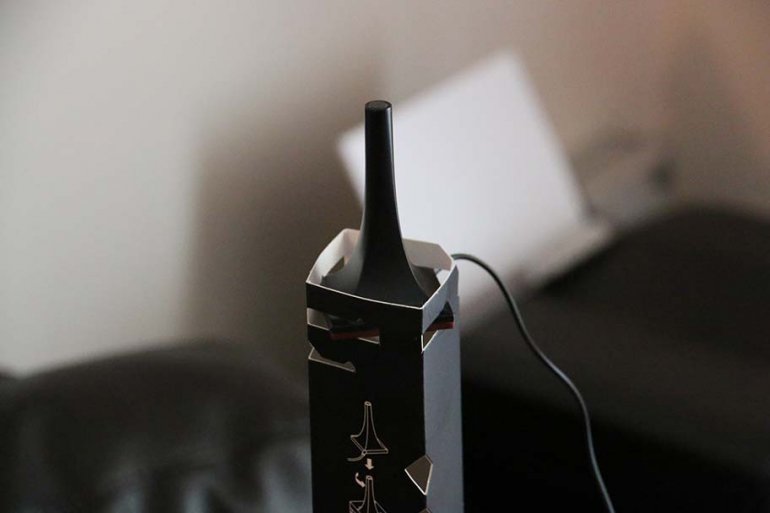 Packaging
Yeesh. This is where it gets ugly.
While we understand the system this big and feature packed needs to be protected, which means we are okay with the vast amounts of polystyrene and the huge cardboard box, we are less okay with the dozens of separate plastic packets containing various notices, instruction manuals, advertising cards and, for all we know, organ donor forms. It's a central irony that while Marantz includes an intelligent ECO power saving mode on the receiver itself, they're probably using enough plastic in each box to keep a garbage picker busy for years.
This kind of thing might have flown in the 90s or early 00s. It's not cool now. Not only is it environmentally unfriendly, but it's deeply annoying to have to dispose of.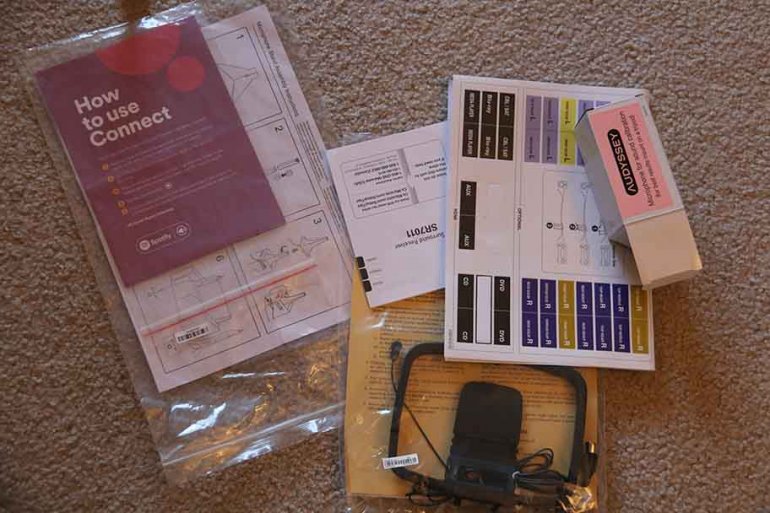 Verdict
Now it's time to return to that tricky question of whether or not it's worth going for the newly upgraded SR7011 under consideration here, or the far cheaper but still excellent SR7010.
It largely depends on you. And it largely depends on your room. If you have a HEOS system, or you really want to experiment with room calibration, then you should absolutely go for the new model. Considering it, we decided that it does offer enough functionality and enough advanced features to warrant the extra cost. But that comes with a big asterisk next to it: if you can live without a few advanced features, you can score yourself a receiver that looks and sounds just as good for over $500 less on Amazon, at the time of writing.
This is a flagship receiver. It's one of the best on the market, if not one of the best ever. If you want the newest model, you should absolutely buy it, because it's almost faultless. Just remember that there is a much cheaper, almost as good option available. Here's hoping that for the 7012, Marantz kicks things into the stratosphere. We have no idea how they're going to do that, but we wish them well.
Good:
Easy to set up
Great room correction software
Gorgeous design
Incredibly versatile
Epic sound
Auro3D upgradeable
Bad
Not a massive upgrade on the SR7010
Iffy remote
Way too much packaging
See the Marantz SR7011 on Amazon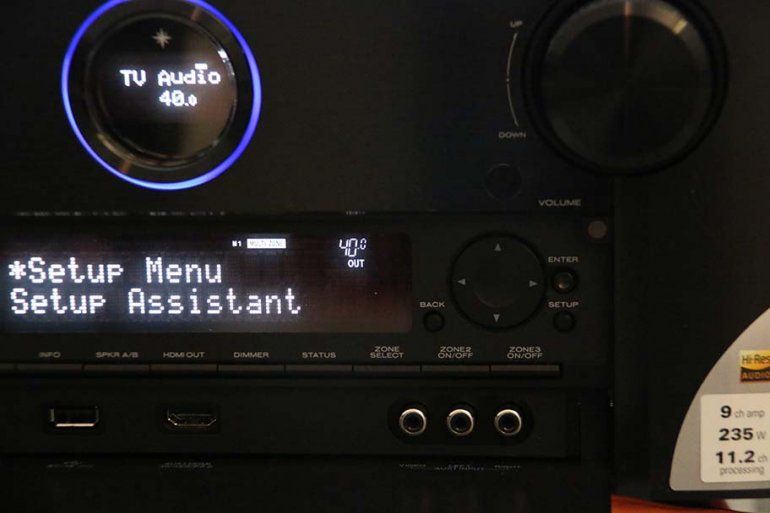 Alternatives
Well, we could hardly not put this one in, now, could we? As we said in the main review, it has almost identical functionality, features and sound quality to its bigger brother, with the exception of the room calibration and the HEOS linking.
It offers virtually identical wattage, too, and will fit happily into almost all existing home theatre systems, no matter how many speakers they pack in. If you're looking for a cheaper alternative, but still want that Marantz goodness, then this should be your first port of call.
If there's one model likely to beat out the Marantz on sound, it's this one. The noise this thing makes – the sheer power and depth and richness that comes thundering out of its circuitry, has to be heard to be believed. If you care about audio quality, then this one should be your first port of call.
That being said: it does lack certain advanced features, like Bluetooth, as well as Dolby Atmos and DTS:X support. For some, that might be a deal breaker. But for others, the attractive price and epic audio quality may seal the deal.
Along with Klipsch and Marantz, Yamaha is the final point in the holy trinity of home theater. This, one of their flagships, is a big challenger to the SR 7011.
While you don't get the option to upgrade to Auro3D, you do get full Dolby and DTS:X functionality, as well as room calibration software that very possibly rivals Marantz's Audyssey set up. The differences between the two probably come down to minor points, but if you want to spend slightly less (and, in our opinion, get sound that isn't quite as refined) then the Yamaha is a good option.

Specs Table
*Watts Per Channel, Continuous (RMS)
(Update and correction: In the original review, we incorrectly stated that the Audyssey EQ was a new feature. It is available on the 6010 and 7010 models too. We are happy to correct this error).