There is one slightly strange thing that sets the Sony STR-DN1060 receiver apart from its competitors. It's not the sound, which is meaty and satisfying, or the interface, which is easy to use. Both of these things are worth recommending it for, but they are not the receiver's killer feature.
The reason to buy this thing is something a little more ephemeral: it's discreet. Like all receivers, it's a big, black, decidedly unlovely box, heavy enough to put your back out when you lift it. But once you've got it installed, once it's actually sitting below your TV, it looks…good. Not just good. It looks right. It looks like it's supposed to be there. At a time when so much home theater equipment is ugly as sin, this receiver's sleek style and shiny looks are a welcome break.
It's also a terrific piece of equipment in its own right, but we'll get to that.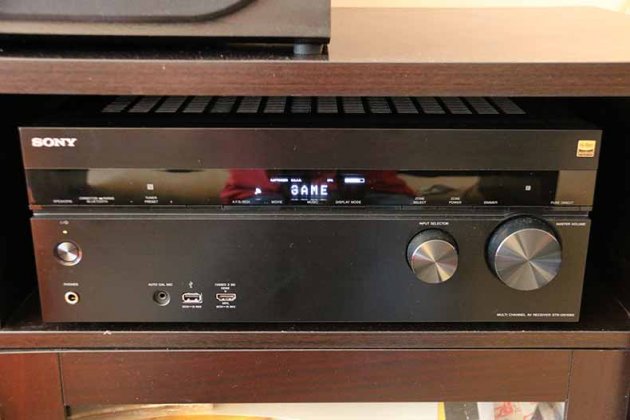 Making A Statement
Let's start with the basics. The STR-DN1060 is a 7.2-channel receiver, available on Amazon at just under $400. You get six HDMI inputs (five rear, one front) and two HDMI outs, a USB port, ethernet and optical connections. The receiver is fully setup for Bluetooth and Wi-Fi, and works with Dolby and DTS surround sound - although it lacks support for more advanced tech, like Dolby Atmos. You've got Airplay, Google Cast and Spotify Connect, and you can even set it up to play speakers in different rooms, with different controls for each.
It supports full 4K and HDR viewing, making it a stellar budget option for anyone with a 4K TV (although this is certainly not a requirement for its use). There is also support for high resolution audio files like DSD – not a major selling point, as these are relatively uncommon, but still nice to have.
There's an FM radio, app control, and…look, if you expect a feature to be there, chances are it probably is. For the price, this receiver packs a truly staggering number of of gizmos and doodads into it, making it spectacular value for money.
The front panel is, as we mentioned, beautifully made. The brushed metal panels and single long LCD display look fantastic, and even when you're not using the well-designed remote, operation is a breeze. The receiver turns on with a satisfying clunk when you hit the power button, and most functions can be accessed from the line of buttons under the display. There are two knobs: a big volume knob, and a slightly smaller input selector, both of which work well. We almost preferred using the volume knob to changing it with the remote.
Setup is easy. Once you've connected it to your speakers and your TV (and your console - we use a Playstation 4 for our media playback), you can hit the big Home button on the remote to access the main menu. Just like the front-end of the receiver itself, the design is fantastic. Everything is where you expect it to be, nothing is hidden away, and it's all displayed in a big, easy-to-read font. Setting up the sound and selecting a speaker formation, which we'll talk about in more detail below, was simplicity itself.
If we were purely to judge this receiver on design, it would be almost perfect. It blends effortlessly into your existing setup, and can be operated by just about anyone. It's not quite a hundred percent (we weren't convinced by Sony's SoundPal app, which we found ourselves ignoring more often than not, and Bluetooth reception sometimes took a little coaxing to work) but it's very close.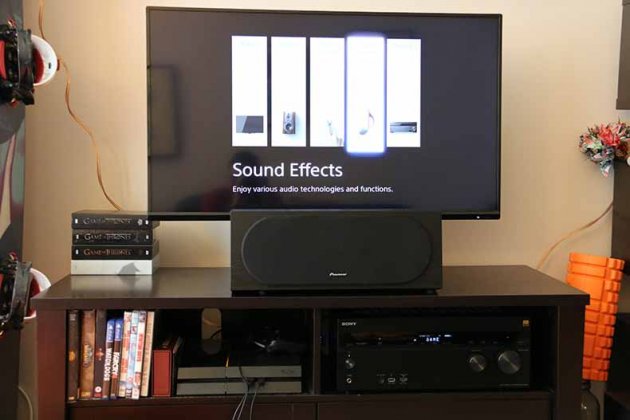 Sound Choice
This aesthetic is carried onto the audio itself. Everything is designed to be as simple as humanly possible.
To test the sound, we used the Pioneer SP-PK22BS Andrew Jones 5.1 Speaker Package, a reasonably basic workhorse of a surround sound system, with a subwoofer, four bookshelf speakers, and a center channel. We're familiar with the noise it makes, so we were confident of being able to analyse the sound of the receiver.
Many surround systems demand extensive time calibrating them, or an audiophile's knowledge of speaker placement and composition. Not the DN1060. The system includes a microphone at the end of a very long, very thin cable. You place it in your listening position (we found stacking it on a few cushions on the couch helped a bit), select your speaker setup using an easy on-screen graphic, and tell it to calibrate. Less than a minute of strange noises later, and the sound will be optimised for your room.
We tested the system before and after calibration, and there was a real difference. Beforehand, our bass was muffled, and the mids felt worryingly harsh. Afterwards? It was like putting on a pair of glasses and having the view snap into focus. Dialogue in the movies and games and series we tested was crisp and clear. Explosions and punches had real weight. More importantly, the system communicates a genuine sense of dimension and space, doing it far more effectively than we'd expect for a receiver in this price range. Dynamics were excellent, too. Most models these days will produce at least competent surround sound, but the DN1060 genuinely impressed us.
That's not saying it could use some improvement. We had to calibrate the volume and frequency crossover (i.e. How low the bass goes) of our subwoofer after setup, as we found the low-end was still getting a little bit lost. Once we fixed it, it was direct enough, but seemed to lack a little bit of power. We also weren't wild about the various presets included in the system, none of which seemed to be an improvement on the basic calibration. Why even bother having presets if they're never going to be used? Still, these are minor black marks on what is an almost faultless performance.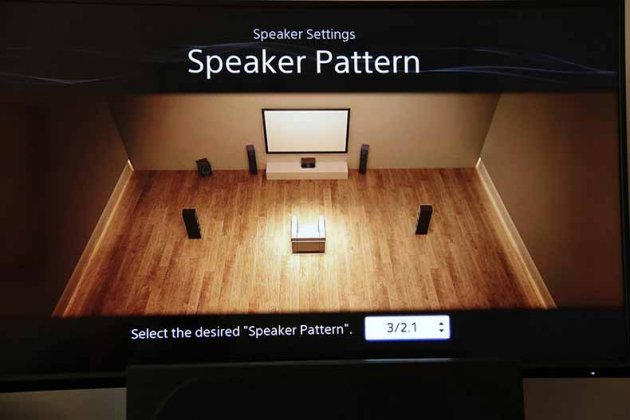 Bottom Line
Home theater obsessives will probably demand a little bit more from their systems. They may balk at the lack of Dolby Atmos, and scoff at the excellent but still non-audiophile sound quality. Nuts to them. For 90% of us, this is a killer receiver. It does absolutely everything it says it can do, and does it extremely well. It looks great, sounds great, and is dead simple to operate. A few minor quibbles aside, we've got no hesitation recommending this one. It's genuinely special.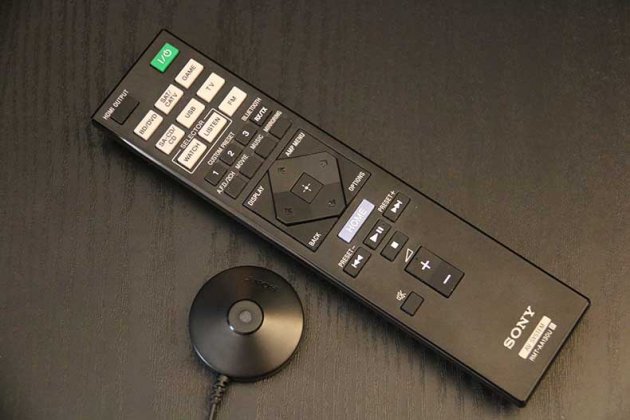 Alternatives
Ideal for those who want to spend a little bit more, or who require Dolby Atmos. The SR5010 is a 7.2 powerhouse with some real firepower inside it – and yes, before you ask, it has full 4K compatibility.
If you don't need 7.2, and can handle sound with slightly less oomph, the RX-V379 is a highly acceptable budget option. Be warned though: compared to the Sony, the front end is fuuuugly.

Breaking Down The Specs:
| Receiver | Price | Dimensions | Channels | HDMI I/O | WPC* | Connectivity |
| --- | --- | --- | --- | --- | --- | --- |
| Sony STR-DN1060 | $399 | 19.5" x 15." x 9.3" | 7.2 | 6/2 | 100 / 6Ω | Bluetooth, WiFi |
| Marantz SR5010 | $899 | 17.3" x 13.6" x 6.3" | 7.2 | 8/2 | 100 / 8Ω | Bluetooth, WiFi |
| Yamaha RX-V379 | $195 | 21.4" x 15.6" x 8.9" | 5.1 | 4/1 | 100 / 8Ω | Bluetooth |
*WPC = Watts Per Channel at a stated impedance. Confused? Read this!