Beats by Dre Powerbeats Pro ($250)
Battery: 24 Hours
Smart Assistant: Siri
Controls: On-Bud
What We Like: Clear sound, excellent design, superb battery life.
What We Don't: Volume issues, huge charging case.
See the Beats by Dre Powerbeats Pro
Beats by Dre don't have a great reputation in the audio world. Despite their purchase by Apple, the headphones they've released have been almost universally terrible. So, we were nervous when a package containing the Powerbeats Pro true wireless earbuds came through our office door. But here's the thing: we can honestly say that no pair of earbuds has surprised us more than these. In this review, we break down the Powerbeat Pro's sound, design, packaging and accessories, specs and more. To see how it stacks up, check out our list of the best earbuds.
 
Sound
Low-End (Bass)
We had to steel ourselves to listen to the Powerbeats Pro. We adore headphones and earbuds here at TMS, and we love listening to new review gear, but we'd be lying if we said that we had high hopes for these. Think more along the lines of existential dread. So, of course we were shocked to find that the Powerbeats Pro are actually… quite...good?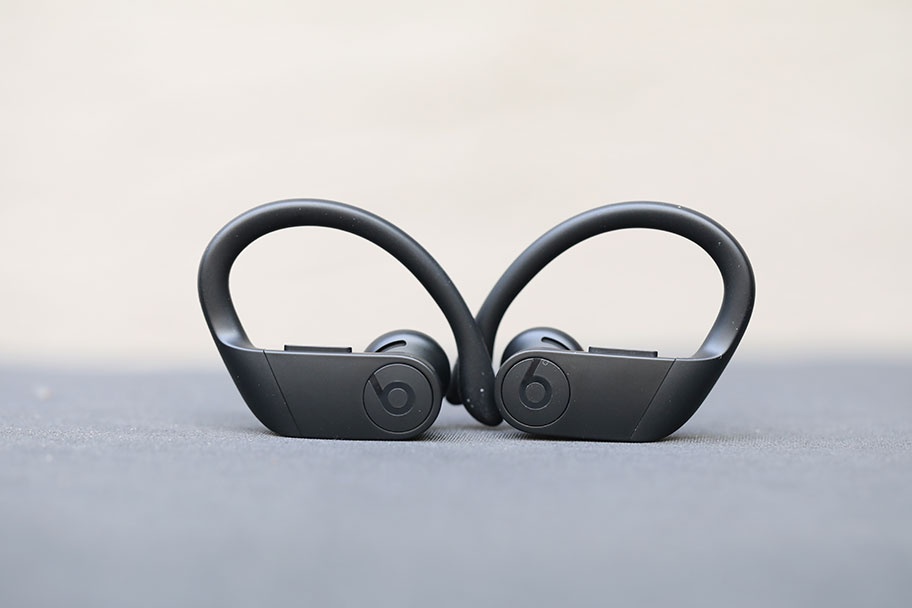 In terms of sound quality, they are easily the best product that Beats by Dre has ever released. This is something we can say confidently, as we think we've tested every single one. Our results have been appalling, culminating with our test of the Beats by Dre Studio3 Wireless (full review here). Those headphones sounded so bad that our writer, Alyssa, actually took the trouble of tracking down a second pair, in case the first one was broken. They weren't – the sound quality was a feature, not a bug. The bass was muddy and weak, and there was virtually no coherent detail. We had them hanging in our office for a month, and there are still radiation burns on the walls.
To our pleasant surprise, the Powerbeats Pro earbuds right all those wrongs. It starts with the bass. Beats by Dre are known for being bass-heavy, yet the low-end here has a surprising amount of control to it. It doesn't overwhelm the music, just underscores it, with bass that is crisp and punchy. It never felt like we were losing track of what was going on, and it certainly never felt like other elements were being masked. Say what you like about Apple: they have clearly listened to the criticisms, and have put some work into the tuning of this model. In terms of bass – and in fact, in terms of sound quality overall – the Powerbeats Pro are much, much better than the company's own Apple AirPods (2nd Generation). Yes, they are more expensive, to the tune of $250 versus $199 for the AirPods, but you can see where the money went.
It's exceedingly rare for larger audio manufacturers – especially those the size of Apple – to deviate from a winning formula. And as terrible as the Beats by Dre sound has been, it has been a winning formula for the company, selling millions over the years and racking up nearly $3 billion in revenue. For the company to adjust it now is heartening - daring, even. The Powerbeats Pro definitely aren't perfect – more on this below – but they can proudly stand in the ranks of true wireless earbuds. Credit where credit is due: they got this one right.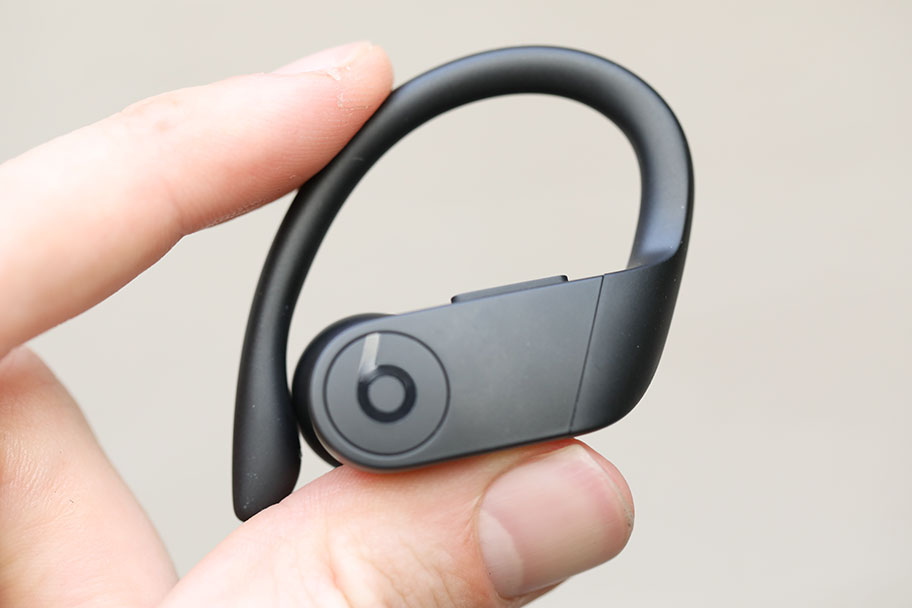 Midrange and High-End (Treble)
Beats didn't sacrifice the rest of the sound spectrum, either. There was a reassuring sense of clarity in the whole affair, with surprisingly crisp and detailed highs. It was reassuring to have elements in this range, like snares and violins, sound like…well, snares and violins. There was a realism that we wouldn't have expected from Beats by Dre. It certainly helps that the Powerbeats Pro have good isolation – more on this below – but even taking that into account, there's a lot to love about the sound.
We argue that these are slightly mid forward earbuds – in other words, rather than dominating on the bass front, the midrange is the first thing you notice. Vocals sound full, with a real presence and weight, and elements like acoustic guitars have surprising agility. The mids feel muscular and powerful – and not in the steroid-abusing way previous models might have adopted. Instead, music becomes a genuine pleasure to listen to. We definitely prefer these earbuds to something like the Samsung Galaxy Buds. Those are decent true wireless earbuds in their own right, but the Powerbeats Pro easily knock them aside on sound quality. That's never a sentence that we thought we'd write. Of course, the Galaxy Buds cost just over half what the Powerbeats Pro cost, at $128, but before listening to the latter, we would have confidently predicted that the Samsungs would come out on top.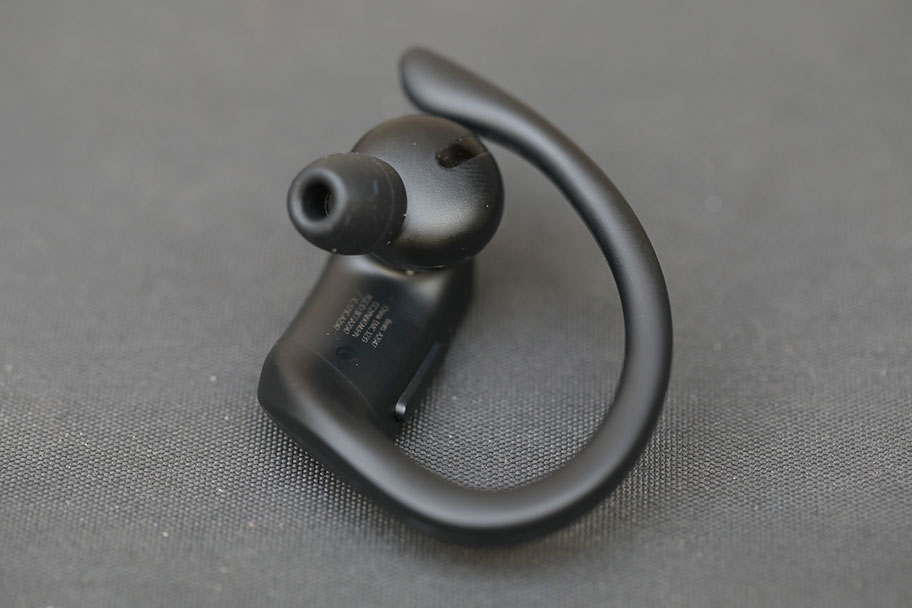 Soundstage
Unfortunately, the Powerbeats Pro suffer from a quality known in audio circles as 'boxed in'. It means that the sound always feels like it's coming from the middle of your head, rather than from outside it. A good pair of true wireless earbuds will widen the sound, giving the illusion that the audio is coming from everywhere around you. The Powerbeats Pro don't pull this off. Instead, it feels like you're listening to a single source that just happens to emanate from the center of your brain. And we know you: you're a degenerate. Anything that comes from the center of your brain should be avoided. (We kid, we kid).
While Apple and Beats may have done some serious work on improving the overall sound quality of these earbuds, the narrow soundstage is an unfortunate legacy that they haven't quite managed to shake off. The Beats by Dre Powerbeats 3 had the same problem. However, we have high hopes. If Beats can make this large of a leap in overall sound quality, then they can definitely iron out the kinks for the next version.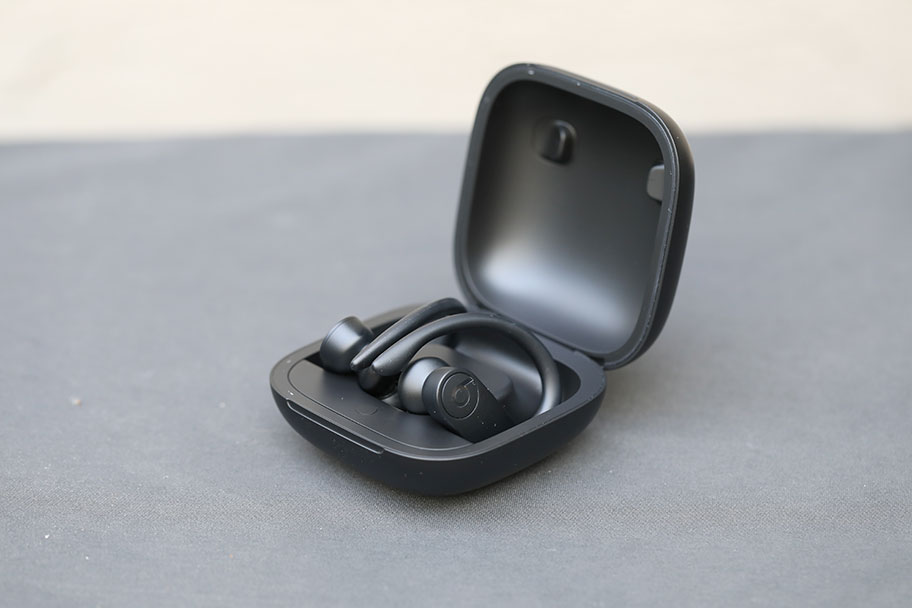 Bluetooth and iPhone Pairing
If you're an iPhone user, then you have an additional reason to buy the Powerbeats Pro. They come installed with the H1 chip uses Proximity Pairing, which means that all you need to do to pair them with your phone is hold them next to each other. The connection is nearly instantaneous. The H1 chip also gives you access to hands-free Siri, which is great if you rely on the virtual assistant.
Even if you don't own an iPhone, Bluetooth pairing is simple and straightforward. Unlike other true wireless earbuds, you actually leave the Powerbeats Pro inside the case to pair (and there's a handy button on the case to activate pairing if, for whatever reason, this doesn't work). In all our time using the Powerbeats Pro, which included multiple gym sessions and an international flight, we never had an issue with pairing speed or dropouts. They functioned flawlessly. That's not something we can say for even some of the most expensive true wireless earbuds. The Sennheiser Momentum True Wireless may deliver fabulous sound quality (as well they should, at $300), but they had real issues with Bluetooth pairing and dropouts when we tested them. The Powerbeats Pro use Bluetooth 5.0, although like all Apple products, they are not set up for hi-resolution aptX streaming.
It is worth noting, however, that we did have some issues with volume. The buds have built-in volume controls, and we had multiple instances where the output volume of our smart phone and the volume of the buds did not agree. Usually, this made things very quiet, but on occasion, it also boosted things to maximum volume. This was, as you can imagine, pretty unpleasant. No matter what we did, we couldn't fix the issue. Sadly, this was also a feature, not a bug. It's an unfortunate one, and it does mean you need to keep a close eye on the volume. Make sure your phone volume is turned down before playing music, in order to protect your hearing.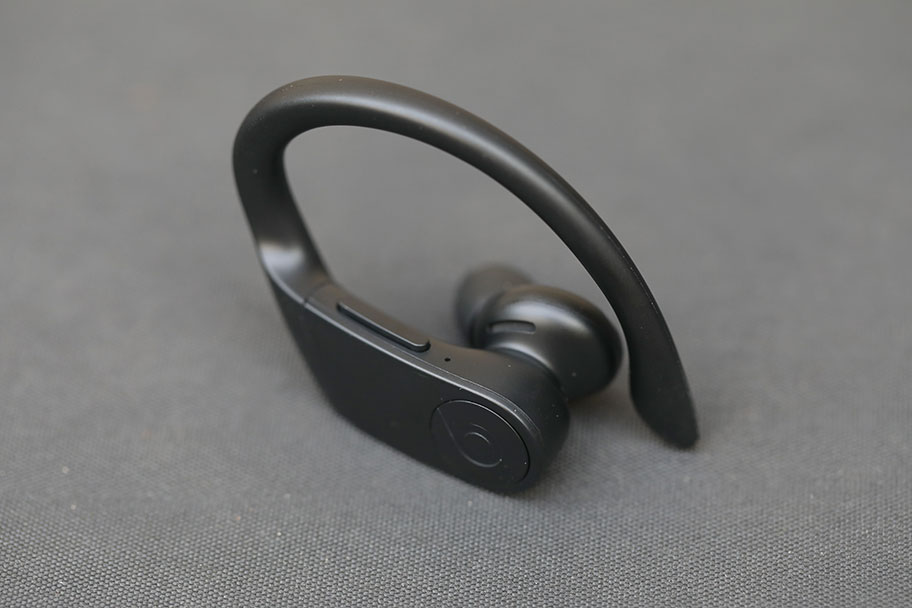 Call Quality
The reigning champ of call quality is the Apple AirPods (2nd Generation). Those earbuds are not unseated by the Powerbeats Pro, but the Beats buds still manage to give a good performance. We had no problem picking up what was being said to us on calls, and those on the other end had no problem hearing us. There was a bit of distortion present in the low-end, making calls a touch grainy, but it was a minor problem. Even in crowded environments like a gym, the Powerbeats Pro performed well.
 
Design
Looks and Build Quality
Most true wireless earbuds, including our current top pick, the Jabra Elite Active 65t (full review here) opt for a design that vanishes almost entirely inside the ear. That's the aim, anyway. In practice, even the slimmest of true wireless earbuds stick out a little. However, in a move that's quite effective, the Powerbeats Pro don't even try to hide themselves away. The housing is sizeable, jutting out of the ear quite significantly. They go further, adding in a massive ear hook on each bud. The size and the ear hooks have significant benefits, as you'll see when we talk about the comfort and fit. And we were surprised to find that we didn't mind the size at all.
Because, honestly, these looked good enough that we didn't actually care about how big they were. While they may be made of plastic, they felt suitably robust, and we can confirm that they could survive a couple of drops. The angled exterior housing with its surprisingly subtle curves actually looks pretty sweet. There's a limited choice of colors – black, white, navy, and moss green – but in this case, we don't count that as a negative. For a company known for its ridiculous style and over-the-top audio, Beats by Dre have created something surprisingly subtle here. And we love how they look curled around the ear.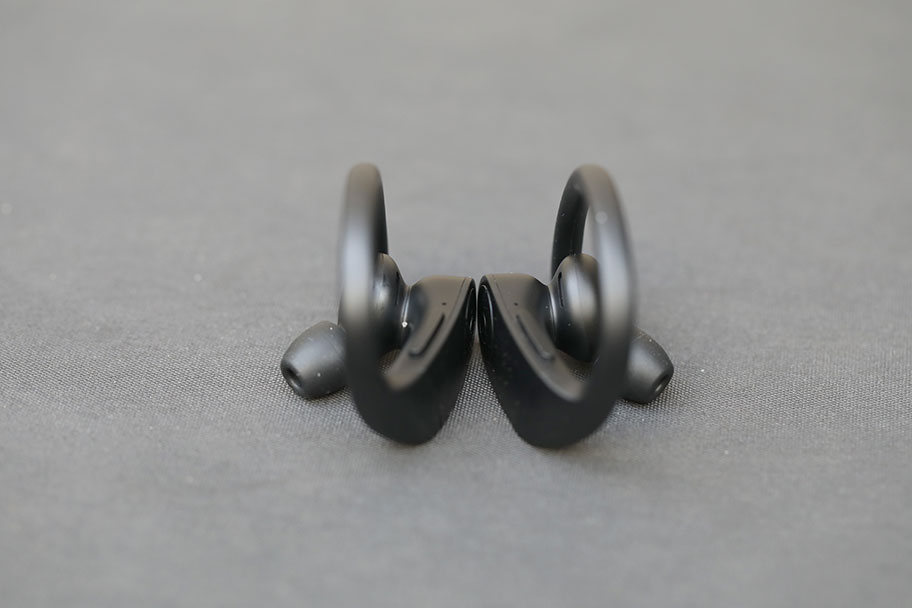 Workout Performance
The Powerbeats Pro have a waterproof rating of IPX4 which means it can handle the odd splash of water (here's a little more on IP ratings). While that's a far cry from the IP56 of the aforementioned Jabras, which are resistant to both water and dust, it means that they hold up exceptionally well in the gym. We tested them on the treadmill, stationary bike, and during multiple heavy weightlifting sessions. They performed superbly. The ear hooks ensured that they never fell out, no matter what we were doing. They had absolutely no problem with copious amounts of sweat. We still think the Jabra earbuds are best for the gym, as they combine superb sound quality and isolation with a highly affordable price. But there's no question that the Powerbeats Pro earbuds are competitors.
The earbuds exist in a slightly strange position. Beats are clearly intent on marketing them as a pair of workout buds over anything else. But they work so well in a myriad of situations that we have no hesitation in recommending them for almost anything.
 
Controls
Most true wireless earbuds make the same error. They try to reinvent the controls. Either they get carried away with the possibilities of technology and make horrible touch controls, like those found on the Sennheiser Momentum True Wireless, or they put separate buttons on each bud and give them individual functions. Which means you are forever pressing the wrong one and struggling to remember which bud pauses the music and which one activates your annoying digital assistant.
With the Powerbeats Pro, however, that isn't a problem. Each bud has a set of physical controls – none of this touch control nonsense. You get a volume rocker and a single button on each one and they mirror each other. The buttons do the same thing, no matter what side you activate them on. A single press pauses the music, no matter which side you push the button. We really can't stress how effective this is. It means you can never go wrong with the controls, and always do exactly what you intend to. Again, we would never have picked Beats by Dre as the folk to solve the control problems, but they did. Bravo.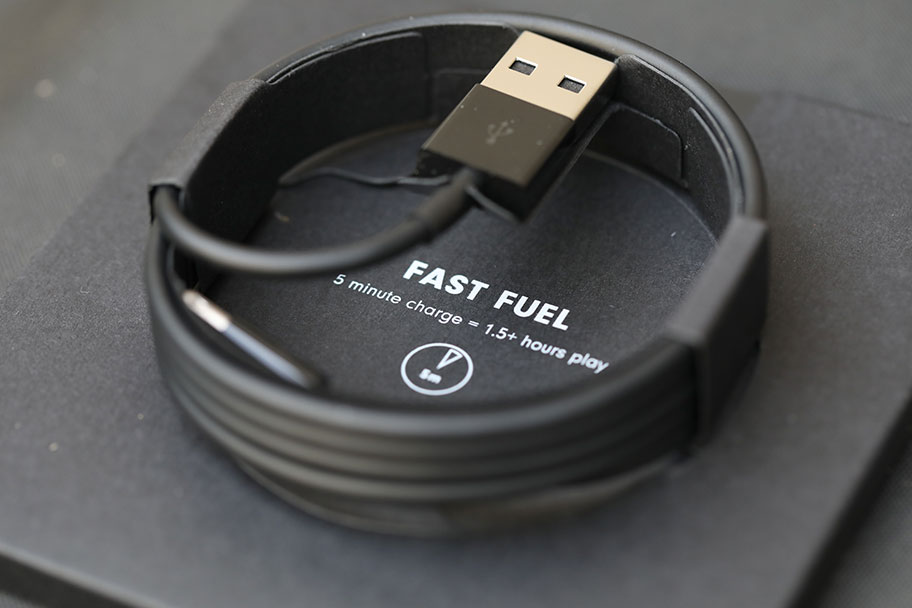 Battery Life
Apple's AirPods already have stellar battery life, so it's hardly surprising that their Powerbeats Pro cousins do too. Beats by Dre claim that the buds will play for nine hours between charges, with an additional two charges contained in the case. We got close to that estimate. At around 70% volume, we found that the buds ran for eight hours before needing a recharge, and we got roughly 24 hours total listening time. Compared to other true wireless earbuds, that's fantastic – most don't even get close to that. It means that the Powerbeats Pro will easily last for a full transatlantic trip, with enough juice left to get you to your hotel gym for a quick workout. They're also able to perform what Apple call Fast Charge, with five minutes of charging yielding around one and a half hours of juice. It works brilliantly.

Comfort & Fit
We've already talked about the unusually large size of these earbuds. The good news is that the Powerbeats Pro justify that size by being exceptionally comfortable. We were worried about how the rigid plastic ear hooks would feel after a few hours, but they have just enough flex in them to remain comfortable even over long periods. Included with the earbuds, you get a small number of ear tip sizes, all made of silicon. While this could have been a problem, we never had an issue getting a good fit. In a matter of moments, we had the Powerbeats Pro fitting snugly in our ear canal, and even after several hours of listening, we didn't feel fatigued. Getting a good fit with true wireless earbuds is trickier than it looks – just ask 1More. Their recent Stylish (full review here) botched this badly, despite being a generally excellent pair of buds.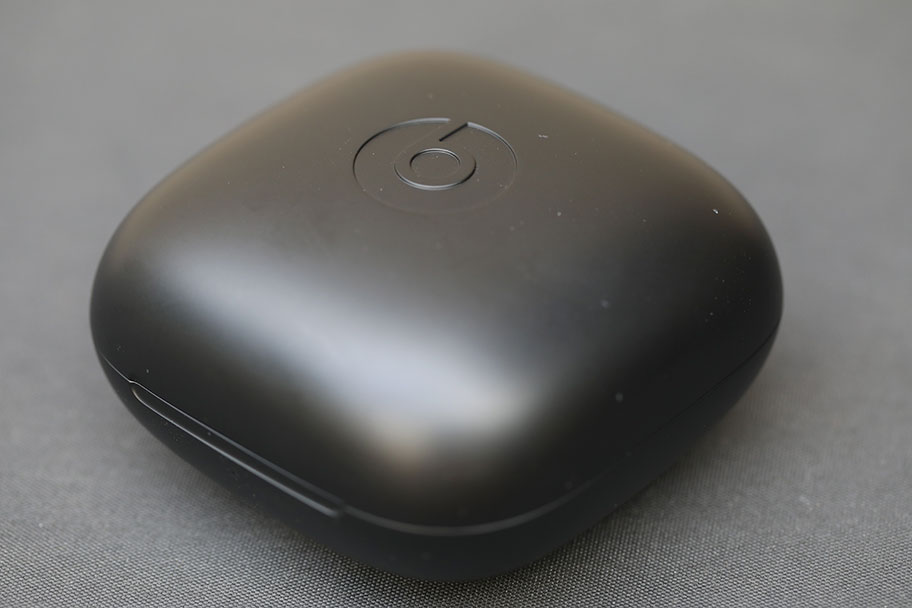 Accessories & Packaging
Most true wireless earbud makers boast about how their charging cases are small enough to slip into your pocket. Let's set this straight: you are never, ever going to get the Powerbeats Pro case into a pocket. Not comfortably, anyway. If you're a woman, or prefer women's clothing, with its lack of good-sized pockets, then you can forget it. The case – especially when compared to other true wireless earbuds – is just massive. It's a big black square, and while it looks cool with its rounded corners and subtle branding, it's enormous.
And yet, we don't necessarily count this as a negative. The Powerbeats Pro have embraced their large size, rather than trying to fight against it, and that means that they didn't have to worry about making a particularly small case. That left them free to make one that's actually good. The buds snap in magnetically, the case is robust enough to survive a couple of drops, and the charging indicators actually makes sense. Then again, Beats by Dre are surprisingly good at designing cases. Even when they were still making regular wired earbuds, like the urBeats3 (full review here), they managed to ship them with simple silicon sheaths that worked extraordinarily well. As long as you have a bag to slip the Powerbeats Pro case into, or a locker at the gym, you'll be fine.
Additionally, you get a Lightning charging cable – no USB-C here, unfortunately – and a set of ear tips. It must be said that we like the packaging, too, which is simple enough to be unboxed in moments and is almost all recyclable.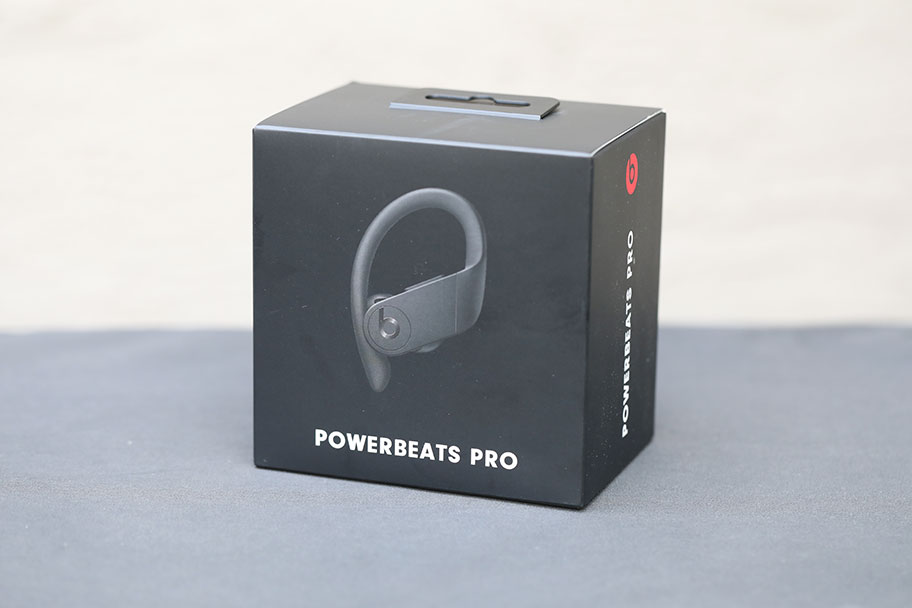 What We Like
The Beats by Dre Powerbeats Pro deliver clear and detailed sound quality - a high point for the brand.
The Powerbeats Pro may be large, but they boast excellent design, fit, and controls.
The battery life is superb, significantly more than other leading wireless earbuds.
 
What We Don't
We had issues with the volume on the Powerbeats Pro – it frequently was either far too loud, or far too soft.
The soundstage on the Powerbeats Pro isn't ideal, giving the music a 'boxed-in' quality.
The large charging case prevents you from slipping these earbuds into a pocket.
 
Comparison Table
*Batt. = Battery Life
**Imp. = Impedance
***Sens. = Sensitivity
 
The Competition
We don't want to overemphasise how good the Powerbeats Pro are – they aren't the second coming of audiophile Jesus, or anything. But they are a superb pair of true wireless earbuds, and we wholeheartedly recommend them. That being said, the marketplace is crowded, and there are several competitors that you should be taking a close look at if you're hoping to buy.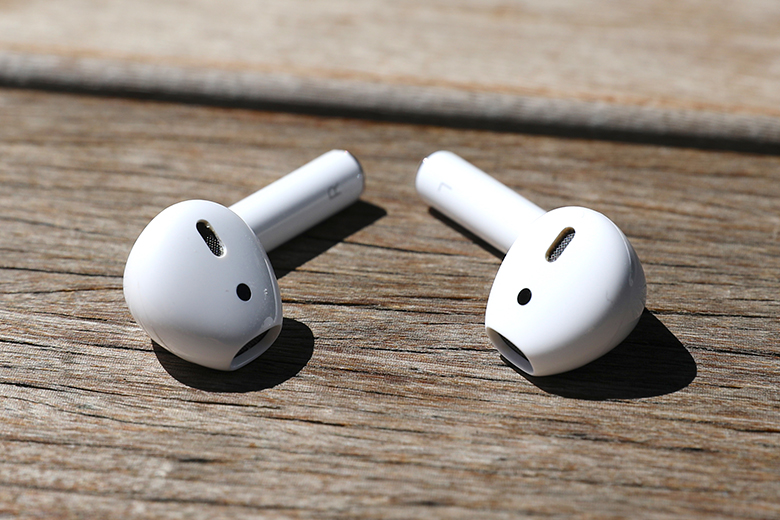 The most obvious of these are the Apple AirPods (2nd Generation). Unsurprisingly for a product from the parent company of Beats by Dre, they share a lot of the same technology. This includes the H1 wireless chip, which makes it easy to pair with iPhones and access hands-free Siri. Beyond that, there are quite a few significant differences. The Powerbeats Pro sound far better – a sentence we never thought we'd write – with more engaging and exacting audio quality. They are also far more suited to workouts than the fiddly AirPods. That being said, the AirPods beat them on price – they are $50 less expensive, at $199. They also boast far better call quality. Ultimately, we don't think that one model is necessarily better or worse than the other – they just present different pros and cons.
Something the Powerbeats Pro are significantly better than: the Samsung Galaxy Buds. We saw an interesting teardown recently where it was revealed that the Powerbeats Pro and the Galaxy buds share the same lithium ion battery, although there's no question about which pair makes better use of it. You get 24-hours of battery life with the Powerbeats Pro, and only 13 with the Galaxy Buds. Sound quality also takes a significant dip with the Galaxy Buds, although you do save quite a lot on price. The Galaxy Buds are $128 versus $250 for the Beats. They are a solid pair of budget earbuds, but we know which ones we prefer here.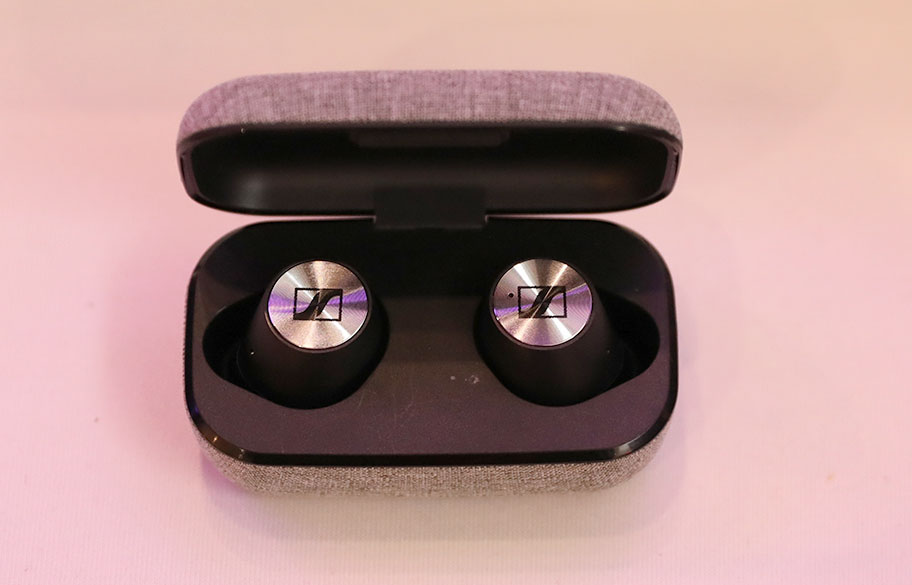 If sound quality is what you're after, then we strongly recommend the Sennheiser Momentum True Wireless. They cost $300 and deliver absolutely stellar audio. You need to know what you're getting into, however. In terms of controls, battery life, and functionality, the True Wireless are absolutely smoked by the Powerbeats Pro. Sennheiser's True wireless buds have some serious issues, including disastrous touch controls. If you plan on buying earbuds purely for sound quality, and are desperate to avoid wires, then we'd recommend these. But if you plan on taking your music out and about, and want something that is actually easy-to-use, then go for the Powerbeats Pro. This marks the first time in the history of the site – possibly the first time in history, period – that a Beats by Dre product is recommended over a Sennheiser one. We will now light ourselves on fire. Good night.
Before we do that, however, we have one last recommendation. You can view the Beats by Dre Powerbeats 3 as a prototype for the Powerbeats Pro. They are more traditional wireless earbuds, with the left and right buds linked by a short cable. The sound quality, fit, and comfort take a significant knock, and the battery life is less than half that of the Powerbeats Pro. However, they're also significantly cheaper at $100 for a pair. That means that, if you do want to experience Beats by Dre on a budget, there's an option for you.
Learn More About Headphone Audio