1More Stylish True Wireless ($100)
Battery Life: 20 Hours
Assistants: Google, Alexa, Siri
Controls: Physical
What We Like: Terrific bass, enjoyable looks, good battery life.
What We Don't: Comfort issues, misbehaving controls.
See the 1More Stylish True Wireless
True wireless earbuds are amazing technology, but can be tricky to get right. Details like pairing and controls can often defeat the best companies, even if they haven't stumbled before. Which is why we were so excited to test the 1More Stylish True Wireless earbuds. 1More have a reputation for quality and reliability, and if anybody could create the perfect true wireless earbuds, it would be them. In this review, we break down the sound, design, comfort and fit, packaging and accessories, specs and more of the Stylish True Wireless. To see how they stack up, check out our list of the best earbuds.

Sound
Low-End (Bass)
At $100, the 1More Stylish True Wireless earbuds are among the cheapest models available – certainly among the cheapest we've tested. Despite this, we aren't surprised at just how good the sound quality is. 1More have a reputation of creating magic out of inexpensive components; their $100 Triple Driver In-Ears (full review here) were just outstanding, among the best in their class. So we expected great things from the quality of the Stylish, and we weren't disappointed.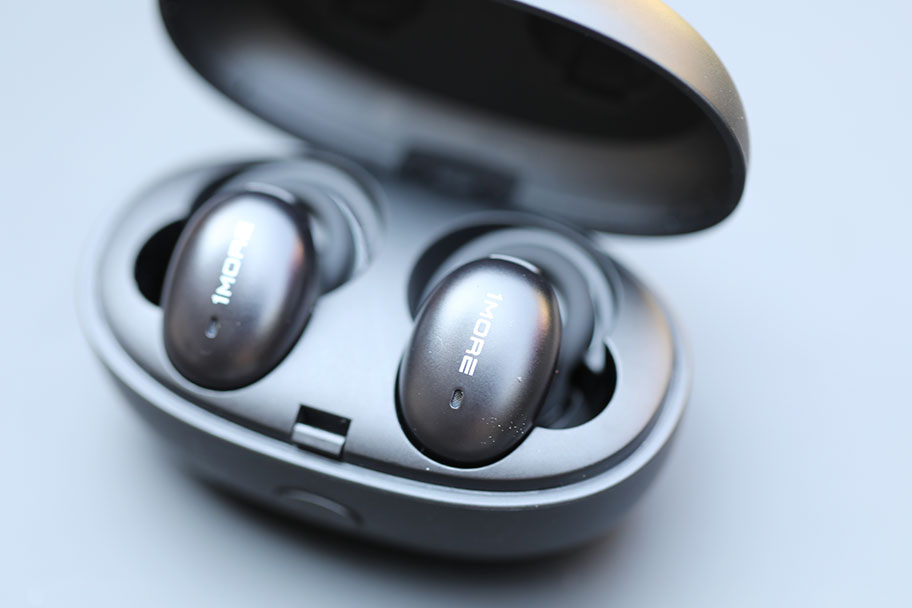 This is particularly true in the bass. If you can get a good fit – much more on this below – you'll find yourself experiencing some of the finest bass we've ever heard in a pair of true wireless earbuds. They are the total opposite of something like the bass–heavy Powerbeats Pro; while the Powerbeats attack the low-end with a sledgehammer, the Stylish go in with a scalpel. The bass is powerful and robust, but always controlled. It never felt overbearing, or overly processed. Even with pounding hip-hop and EDM tracks, things down low always felt clear.
The Stylish buds offer far better audio quality than the Apple AirPods (2nd Gen.), which are double the price. In fact, we'd go so far as to say that the Stylish offer the best bass of any true wireless earbuds under about $200. There are definitely issues with fit, which we will discuss in a lot more detail in the Comfort & Fit section, but the audio quality you get is superb.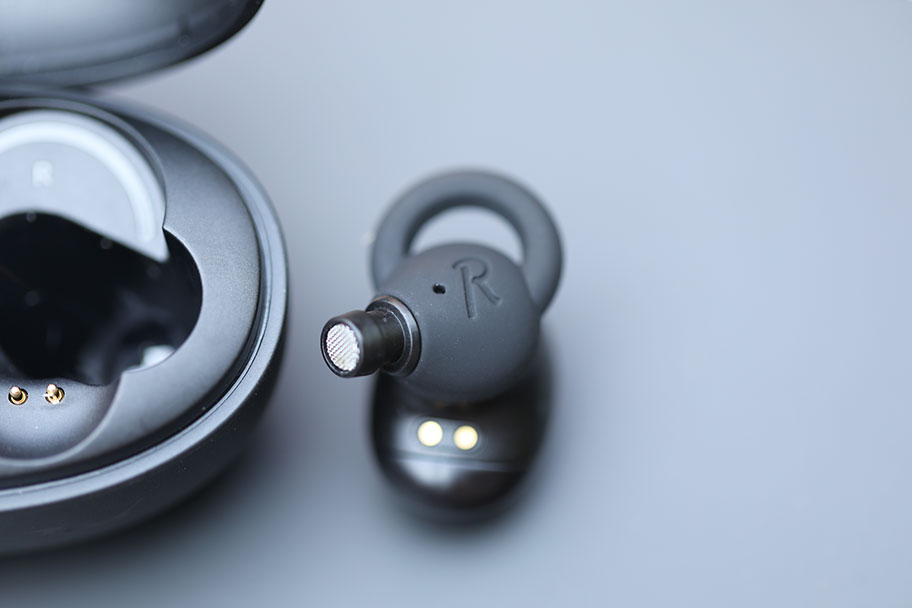 Midrange and High-End (Treble)
This exacting audio quality extends through the rest of the frequency spectrum. We have very little to complain about regarding the highs and the mids. While they didn't especially blow us away with their detail and clarity, they still managed to give a good account of themselves. Vocals came across as direct and intense, while elements like guitars impressed with their richness. Other true wireless earbuds can occasionally come across as a little lifeless, due to their tiny drivers. A good example of this would be the Bose SoundSport Free - $199 true wireless earbuds that offer great sound quality overall but occasionally suffer when elements in the track get crowded. That's not a problem here.
There's a lot that goes into extracting this quality sound. The Stylish have a Qualcomm aptX chip, which allows for faster and cleaner Bluetooth transmission. They are capable of Bluetooth 5.0, as well as AAC (if none of that makes any sense, here's our explainer). There's also been a lot of attention paid to the drivers, which are 7mm titanium composite diaphragms. Bottom line, they sound great. It's quite staggering that they manage to sound this good and cost so little.
We'll go further. We recently tested the Pioneer C8 (full review here). We had high hopes for them – they are, after all, made by Pioneer, a legacy audio company. Unfortunately, they were quite pathetic. They felt clunky and boring, with no life or excitement whatsoever. The Stylish True Wireless absolutely smoke them. Blow them out of the water. If you have any doubt as to which pair of earbuds you should buy, you can throw that doubt out the window. Get the 1Mores.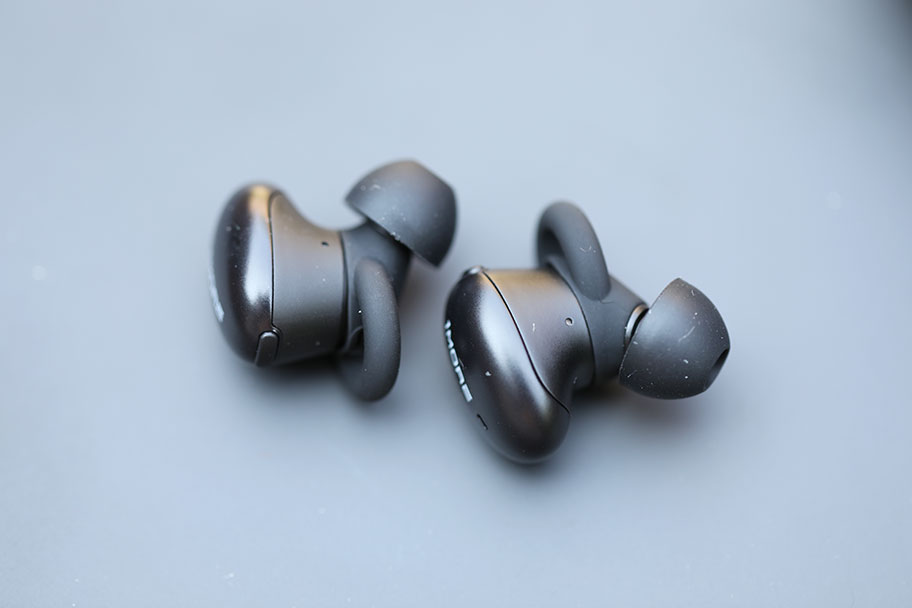 Soundstage
We were also highly impressed by just how capable the soundstage was. When it comes to earbuds, multiple drivers tend to win the day here. The more dynamic and/or balanced armature drivers you can squeeze into the housing, the more impactful and deep the sound will be. So, it's pleasantly surprising to see that the 1More Stylish kick some serious ass here, despite only having one driver in each bud.
 
Call Quality
If the excellent sound quality wasn't enough to win the day, the call quality surely would. The 1More Stylish don't provide noise-canceling while listening to music, but they do incorporate small microphones, and offer what is known as Environmental Noise-Canceling (ENC). That means they do an outstanding job at not only making you heard on calls, but making sure you can hear whoever you're talking to. We tested the Stylish's call quality in multiple situations, including a noisy gym, a commute, and an airport. In all cases, they performed brilliantly. The call quality not quite as good as the Apple Airpods (2nd Gen.), which still hold the record for the best call quality around, but the difference is very minor. And given the fact that the 1More Stylish cost roughly $100 less than the Airpods, there is very little to complain about.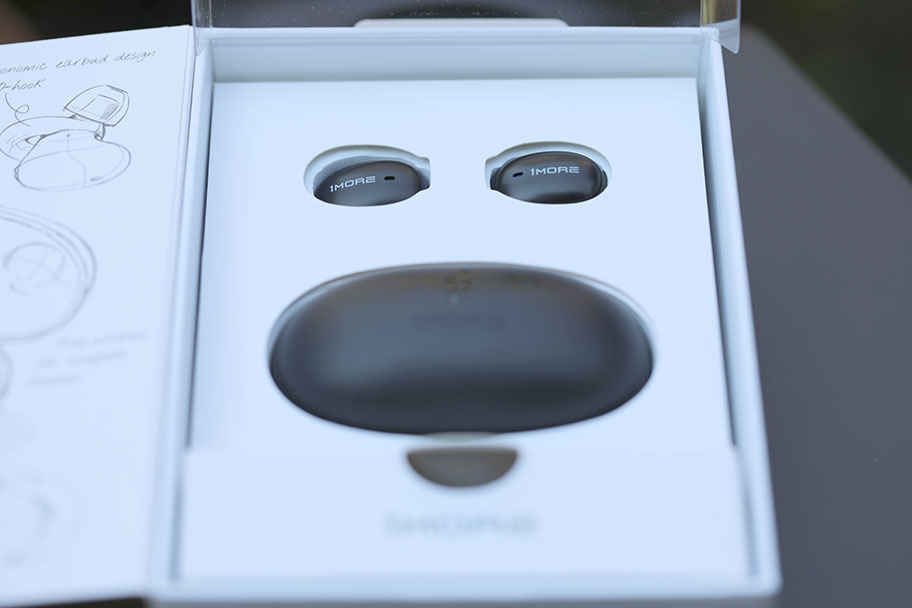 Design
Looks and Build Quality
Despite our praise in the section above, when it comes to the construction of the Stylish, there's quite a bit to complain about…
Good stuff first. We love how the 1More Stylish look. While slotted into their case, their angle housing makes them look like little sci-fi robot beetles – a look we heartily approve of. This is helped along by the charging light on the front of each bud, which turns red while charging in the case, resembling tiny, malevolent eyes. It's probably not what the company was going for, but it's a really cool look.
The housing of each bud is oval, branded with the company logo, and the aesthetics are just terrific. They might be made of plastic – this is a $100 product, after all – but they still feel suitably premium. It also helps that they come in a variety of colors. Ours were basic black, but you can have gold, pink, or green as you prefer. They definitely aren't the most beautiful true wireless earbuds we've ever come across – those would be the incredible Master & Dynamic MW07 (full review here) – but we adore their design. They feel suitably robust, too, and look as if they could take significant pounding.
However, can we just state for the record that we hate the name? Really and truly hate it. You have some of the most brilliant audio engineers around, and all you can come up with for your flagship true wireless earbuds is...the Stylish? Then again, the use of adjectives in product names is a worrying trend in audio world. We not only have the Stylish, we also have the Burson Fun. There may come a day when we bring you reviews of the Sennheiser Enjoyable, the Focal Splendid, and the Beats by Dre Rather Nice. On that day, you'll find us wandering into traffic.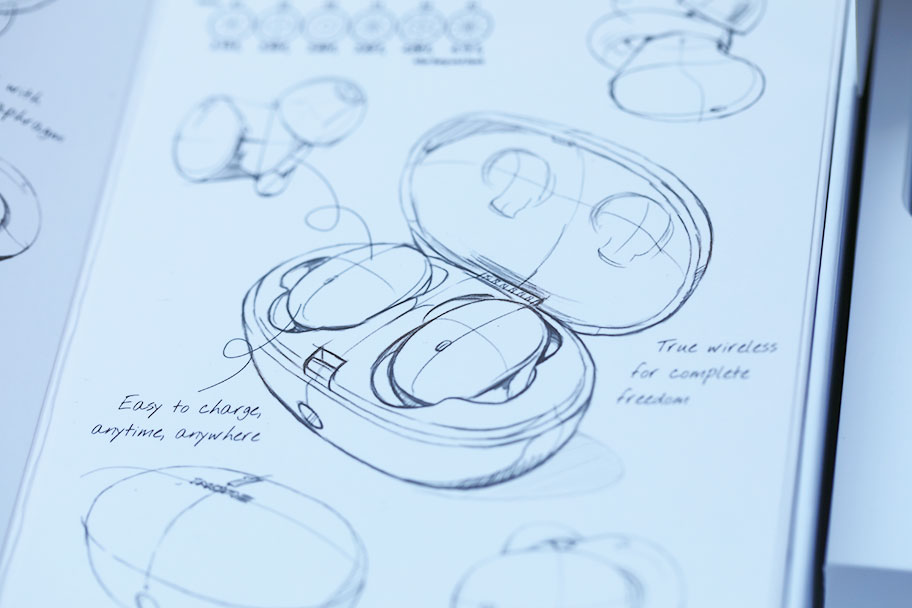 Controls
As good as the design is, the Stylish start to show their dark side with the controls. When we first saw them, we were impressed. Many companies, like Sennheiser, try to go the touch control route, and fail miserably - the $300 Sennheiser Momentum True Wireless have the worst controls of any product we've ever tested. 1More, somewhat wisely, decided to stick with physical controls, and placed a button on each bud. The buttons are easy to find and press; the left one handles call answering and voice assistant activation, while the right handles playback controls. There is no attempt to shoehorn a volume control into the mix – all volume is handled from your phone.
So far, so good. The problem is, sometimes the controls on our review model simply stopped working. We'd be walking along, happily skipping tracks on Tidal, and then suddenly the buttons would stop working. The music kept playing, but we had no control over it. As you can imagine, this was significantly frustrating. We conducted a straw poll among other reviewers, and thankfully, nobody else had the same problem - although some did note that other problems cropped up, like pairing difficulties and dropouts. For now, it sounds like this may have been an issue with our review model, rather than a production glitch.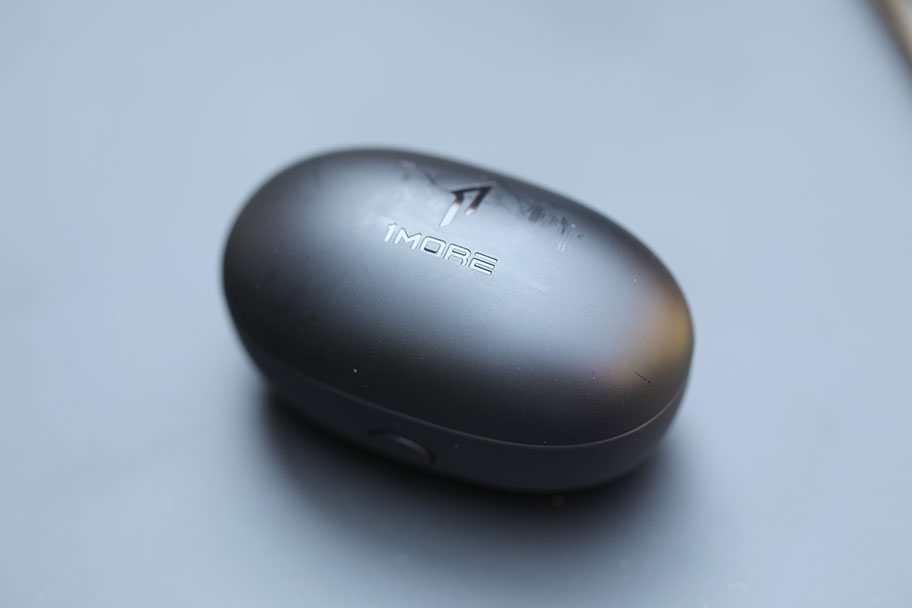 Battery Life
1More are, refreshingly, honest about their battery life figures. The ones they give on their internal specs page indicate that measurements were taken at 50% volume. This volume will give you around six and a half hours of listening per charge, with a total of 24 hours before the case needs to be charged. We can confirm that those numbers are mostly accurate. The problem is, 50% volume is probably too quiet for most people – especially given the isolation issues the Stylish suffer, which we will get to momentarily. We found our sweet spot was at roughly 60% volume. At that listening level, we got around six hours of listening per charge, with about 20 hours total.
These figures aren't necessarily bad, by any means. Compare them to the far more expensive Bang & Olufsen Beoplay E8 2.0 (full review here), which cost $350 and only offer around 16 hours of battery. For $100, you get more than enough battery life to satisfy your needs, and the Stylish will easily last you a transatlantic flight. It also helps that 15 minutes of charging will give you three hours of listening, if you're in a hurry. We are even willing to forgive the microUSB charging, although we'd implore 1More to consider making the inevitable Stylish 2 USB-C-compatible.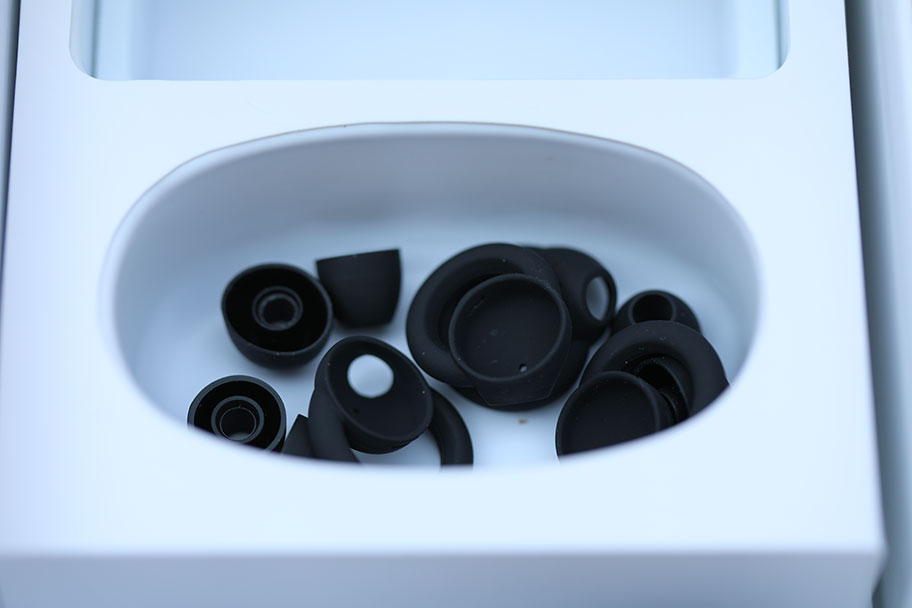 Comfort & Fit
The biggest problem with the 1More Stylish True Wireless - the one that really let us down - was the fit. We were excited to try the earbuds out when we saw them, as they incorporate quite an unusual tip system. Between the regular silicon tip and the housing, there's what 1More call an O-Hook. This is a circular little piece of silicon that helps lock the bud into your ear. And while it does its job, we still had huge problems with the fit and the comfort level.
We aren't entirely sure why this is. There are multiple tip sizes available and multiple sizes of O-Hook. We haven't historically had an issue with true wireless earbud fit when testing other models. But no matter which combination of tips and hooks we tried - and we tested them all - we couldn't get the buds to isolate properly. This had a serious effect on the bass, and let in a significant amount of outside noise. In short, it was a huge letdown. We grant that it's entirely possible that we have strangely shaped ears – individual fit is very personal, after all. But other earbuds, like the amazing Jabra Elite Active 65t (full review here), fit perfectly. Because of this, those earbuds are far more suitable for the gym than the Stylish.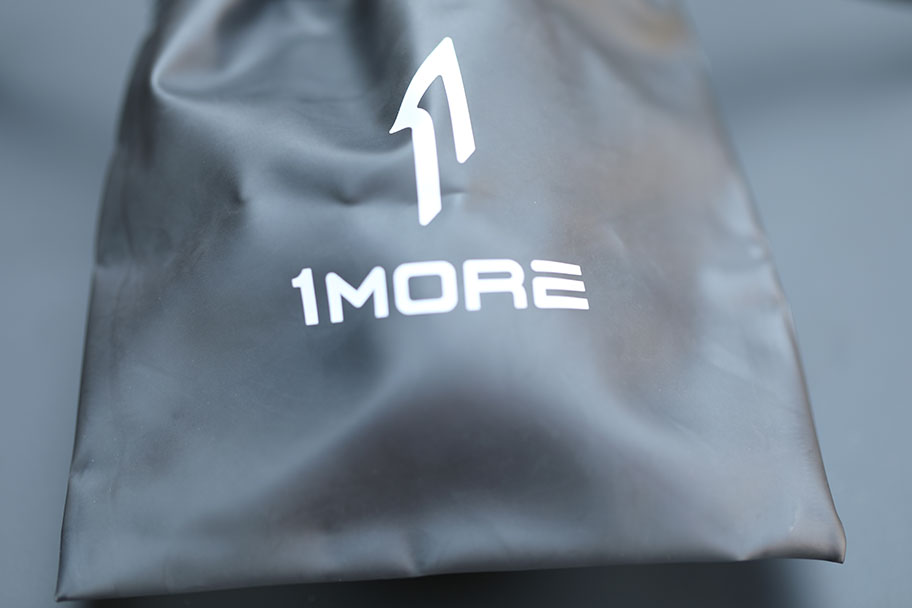 Accessories & Packaging
Regardless of the fit and isolation issues, 1More managed to get this portion of the design right, which is an accomplishment for audio manufacturers. We adore the case that the Stylish buds come in. Like all the best cases, it's magnetised, meaning you can slot the buds in without worrying that they'll fall out. It's easy to remove the buds based on their position, and we really like how the ovular case echoes the shape of the beetle-like design. A single charging light gives you an idea of how much battery is left. It's rare to find a pair of earbuds with a bad charging case – all the ones on our current Best Of list are excellent - but the case for the Stylish buds is particularly good.
Along with the charging case and buds, you get a micro-USB charging cable, a collection of various tip sizes and hook sizes, and a nifty silicon carrying case. It's all housed in one of the better earbud packages we've seen. The fliptop lid of the box has these really funky line drawings of the headphones, like an architect's blueprint. It's a sweet touch, and it makes you feel smart for having bought a 1More product.
 
What We Like
The 1More Stylish True Wireless earbuds boast terrific bass, which is clean, clear, and defined.
The Stylish look fantastic, and have an excellent charging case.
The battery life is solid, performing well against other leading models.
 
What We Don't
There are real issues with the comfort and fit of the 1More Stylish True Wireless earbuds.
The controls of the Stylish buds frequently misbehaved.
It would be nice to see a touch more detail in the high-end.
 
Comparison Table
*Batt. = Battery Life
**Imp. = Impedance
***Sens. = Sensitivity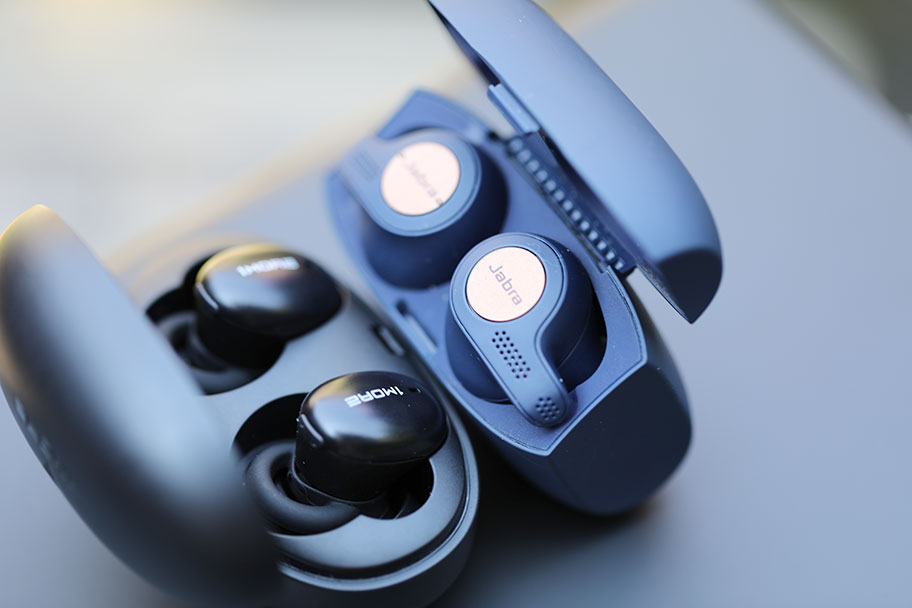 The Competition
Remaining unchallenged as the best true wireless earbuds around, we recommend the Jabra Elite Active 65t. Sure, they cost nearly double what the Stylish cost, at $190, but they perform exquisitely well. They sound terrific, have near perfect fit and comfort, and have excellent design. The only downsides are that the controls can be a bit strange, and there's no magnetic latch in the case, meaning the buds can tumble out. If it weren't for the issues with comfort and fit, the Stylish might have challenged the 65t. But as it is, Jabra's flagship buds should be your first choice.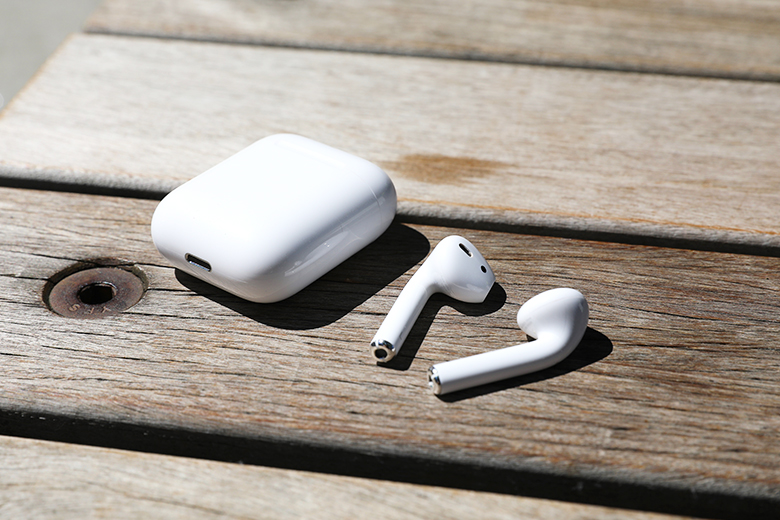 Another excellent alternative are the Apple AirPods (2nd Gen.). They are even more expensive than the Jabras, at $199. However, if you own an iPhone, these are the most convenient earbuds available. They will pair with your device instantly, and provide extraordinary battery life, at over 24 hours (depending on how many calls you make). While we aren't sure that the latest update is enough to justify increasing the price from the previous generation, the AirPods remain an excellent alternative.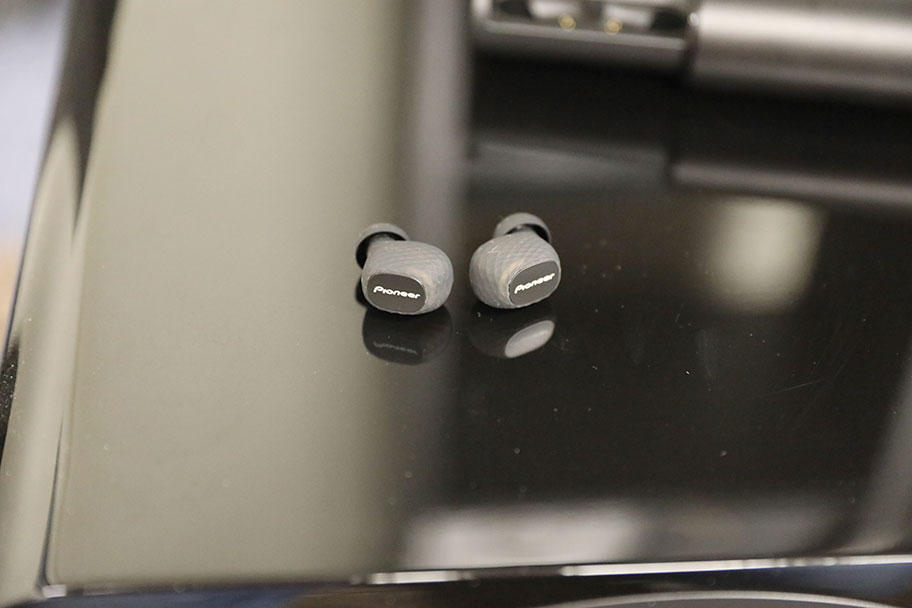 One you can avoid: the Pioneer C8. Bluntly: these suck. Despite costing exactly the same as the Stylish buds, they have a case that is about three times the size, boast utterly pathetic battery life, and have audio quality that is muddled and ungainly. There is absolutely no reason to choose these over the Stylish. Pioneer may be one of the greatest audio companies in history, but they whiffed badly with these – we had a difficult time using them, and we can't recommend them at all
At the time of writing, the Stylish are the only true wireless earbuds that 1More make, so there's no in-house product to compare them to. Instead, we'll compare them to the Jaybird Run XT. These are built for workouts, and if you're concerned with fit and comfort, then these are the ones you need to go for. They crush the competition, including the Stylish, delivering effortless fit. For the record, we think the Stylish sound better, and have much better battery life, but the XT certainly hold their own in the audio department - a little bassier, perhaps, but it's the kind of thing that will get you pumped on long runs. If you want a pair of earbuds for working out, the Run XT are the ones to get.
Learn More About Headphone Audio