We are professional audio journalists, and even we struggle to keep up with the sheer deluge of true wireless earbuds. Several hit the market every week. The latest company to try their luck is Pioneer, with their low-cost C8 earbuds. But how do these affordable buds stack up against iconic brands like Apple and Jabra? In this review, we break down the C8's sound, design, comfort and fit, packaging and accessories, specs and more. To see how they compare, check out our list of the best earbuds.
 
Sound
Low-End (Bass)
At $119, the Pioneer C8 earbuds are significantly cheaper than most other true wireless earbuds currently available, with only a few options under $100. Compare them to the popular Jabra Elite Active 65t (full review here), which retail for $190. Obviously, a lower cost with such advanced technology means that certain sacrifices have to be made. Unfortunately, we think Pioneer made them in all the wrong places.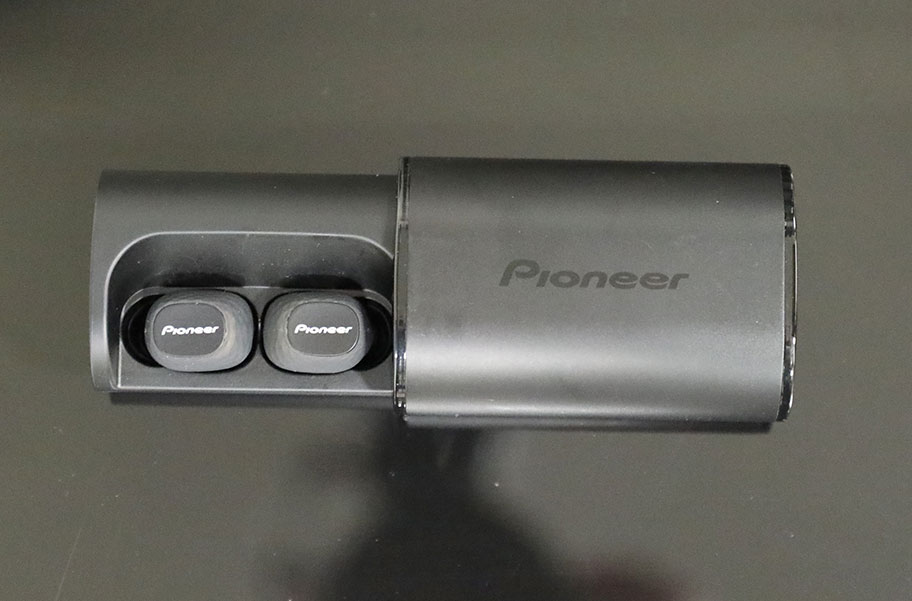 The most obvious quality dip is in the bass. It's not that it's bad – it just feels like it never really goes anywhere. There's no excitement, no punch, nothing that made us stop and take note of the music we were listening to. If you're a bass-head, or interested in EDM or hip-hop, you'll want to steer clear of these. The woolly, unfocused nature of the low-end makes them a poor buy. Which, we'll be honest, is kind of frustrating. We've seen plenty of earbuds that cost far less offer far more engaging sound – the Optoma NuForce BE Sport4, for example, cost $79 and deliver fun, dynamic bass. They might not be true wireless, but the simple act of removing the cable connecting the earbuds shouldn't have such a dramatic effect on the sound.
It's truly unfortunate that the audio quality in the low-end doesn't quite deliver. It feels as if Pioneer didn't really take the time to do any tuning here, or to really think about the sound signature they wanted. Put it this way: any option on our list of the best earbuds of this year will easily beat the C8s for sound quality.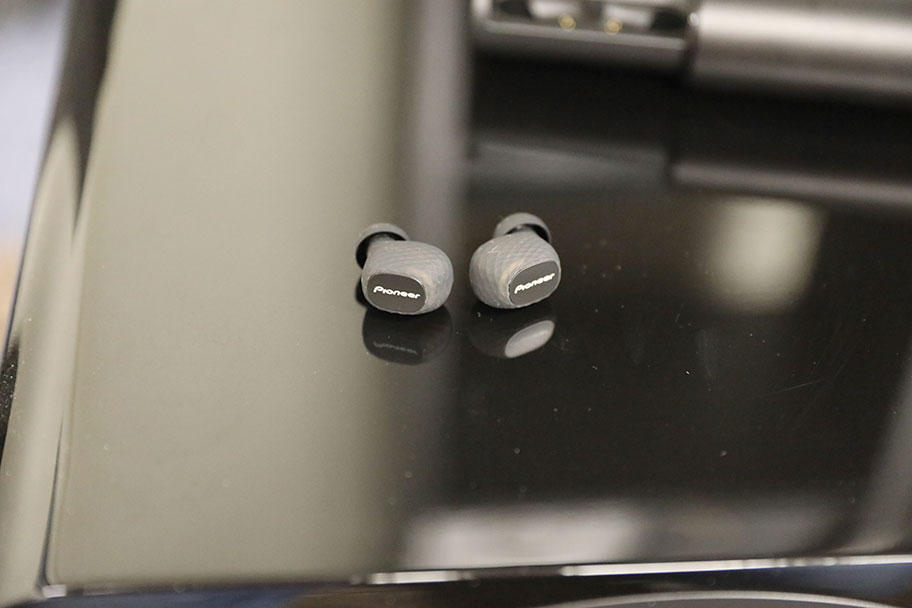 High-End (Treble) and Mids
We'd love to say that the rest of the sound manages to make up for the deficiencies in the low-end. Sadly, that's not the case. While the highs and mids are perfectly acceptable, there's no excitement to them. They don't deliver the warmth or detail you'll be looking for, even in this price range. While we would occasionally pick out a nice detail or element in the highs, these incidences were few and far between. They just felt dull. Uninspired.
This lack of detail is truly surprising, even at such a low price point. Pioneer may have a corporate identity with all the liveliness of a wet weekend in New Jersey, but they put out some good stuff. Their A/V receivers remain some of our favorites. So, what on earth happened here? We put these earbuds up against the Apple AirPods (full review here), and for perhaps the first time ever, we found that we preferred the AirPods. Admittedly, they are more expensive than the C8s, to the tune of $159. But when you're a company with the history and legacy of Pioneer, and you're being beaten in the audio department by Apple, it may be worth rethinking your design.
We don't want to lay this on too thickly. For $119, these earbuds offer both true wireless technology and acceptable sound. But we wanted sound that was more than acceptable. Earbuds like the Anker Soundcore Liberty Air are cheaper - $79, to be precise - but don't offer dramatically worse sound than the C8s. While the latter certainly aren't expensive, it doesn't feel like you're getting an awful lot more for your money. It's hard not to raise a questioning eyebrow in Pioneer's direction, and wonder what on earth they were thinking.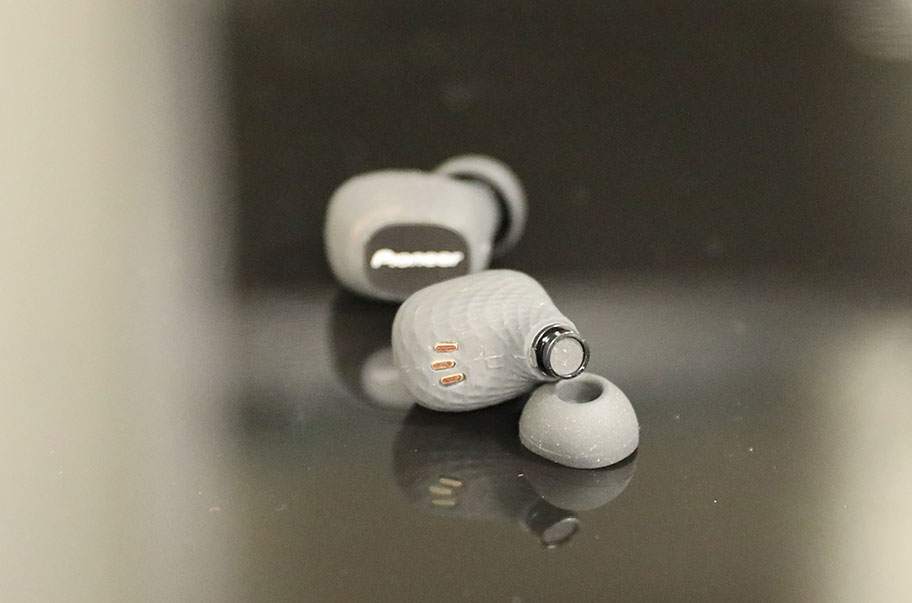 Soundstage and Volume
One thing the C8s do get right is the soundstage. There was none of the boxed-in quality you'd find with the AirPods, or the $50 Monoprice MP true wireless earbuds. Instead, we were pleasantly surprised to find that there was a decent amount of depth and space to the sound, and while the individual frequencies might not have been particularly impressive, we could certainly hear the individual instruments just fine.
One of the things we'd heard about these earbuds before we got them was that there were volume issues – in essence, that they weren't loud enough. We are pleased to report that this isn't the case. We never found it an issue to get a decent volume, although we did have to turn them up quite high in public places. They definitely don't offer the isolation of the $190 Jabra Elite Active 65t, but we weren't disappointed with the overall volume levels here.
 
Bluetooth Sound and Call Quality
It's quickly becoming standard to see wireless earbuds and headphones offer aptX or AAC – types of Bluetooth transmission that delivers faster speeds and fewer dropouts. Unfortunately, the C8s fumble the ball a little here. They do offer AAC, but only when used with iOS devices. Android users will have to settle for the SBC (Subband Codec). It's not a deal breaker, necessarily – we never experienced any real dropouts or streaming issues here - but it's a frustrating limitation. If you happen to own an Android device, you may want to look elsewhere.
Vocal quality in our tested calls was just fine, although we did pick up quite a few issues with wind noise and external ambience. These are definitely not as clean or as clear as the Bose Soundsport Free ($199), which offer some of the best call quality around. If you make or take a lot of calls, it may be worth spending the extra cash.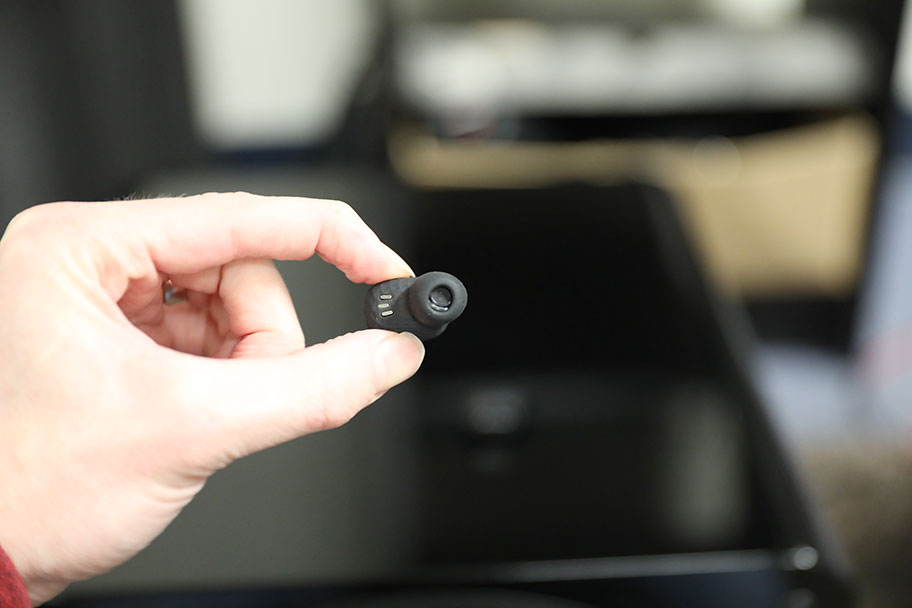 Design
Looks and Build Quality
There is a reassuring chunkiness to the C8s. Yes, they are a little larger than many other true wireless earbuds – and definitely stick out from the ear visibly when worn. We really enjoy how they've been built. Each earbud is sheathed in a textured, rubber-like material that feels fun and makes handling the C8s a pleasure. The company logo is displayed prominently on each earbud, and while the overall design isn't particularly special, they look unique to the vast majority of true wireless earbuds on the market.
Here's an odd thing we noticed: We found that we didn't misplace these earbuds as much as others. True wireless earbuds have a tendency to get separated, and of course, if you lose one, you may as well forget about them entirely. Whenever we have a pair of true wireless buds in our offices, we inevitably end up misplacing either the left or right side. But thanks to their slightly larger size and grippy rubber material, the C8s managed to avoid this issue entirely. A strange surprise, but a welcome one.
It's worth noting that these earbuds are not designed specifically for use at the gym. They are not resistant to sweat or water, and the warranty for the earbuds doesn't cover sweat damage. If you do want a pair of Pioneer earbuds for the gym, the company is planning to release the E8 true wireless earbuds in the months following this review. It may be worth waiting for those if you want something a bit more robust.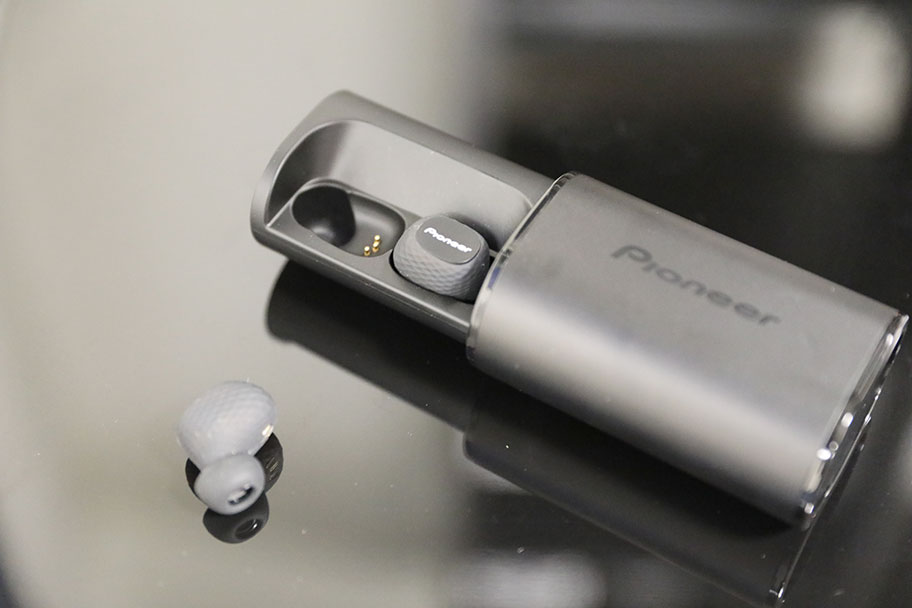 Controls and Pairing
Unlike other wireless earbuds we've tested, the C8s don't pair with each other automatically. Each bud has a single, easily-depressible button on the side, and you have to manually turn both earbuds on every time you use them. This is a bit of a pain, to be honest, but at least there's a handy voice that tells you when the buds are being connected. The simplicity of the controls reminded us of the Master & Dynamic MW07 (full review here). Given that those earbuds cost $300, the resemblance is a good thing. While the C8s don't have a physical volume control like the MW07s (relying on your phone's volume) it's not a huge problem.
Skipping tracks, however? That's a pain. The accepted orthodoxy in the headphone world is that two taps skips a track forward, and three taps skips it back. When we tried to do this with the C8s, we found that two taps on the left bud skip forward… And two taps on the right skipped back. Try to do that in reverse order, and the earbuds throw a wobbly, requiring multiple presses to get music going again. This is silly, annoying, and we cannot for the life of us figure out why Pioneer would design the buds this way. Like the sound, it shows a lack of thought, and a real divide between the company and the listener.
There were times where we inserted the earbuds back into the case, and they didn't turn off. The music kept playing. This only happened occasionally and made us wonder if it was a glitch of some kind. Either way, it was puzzling and something Pioneer should look into.
 
Battery Life
If you plan on long listening sessions, you should steer clear of the C8s. The stated specs boast three hours per charge, with an additional two charges contained in the case. Poppycock. We barely scraped two hours at moderate volume. Lowering the volume helped, but only a little, and we never got near the stated three hours. If you plan on using your earbuds for anything other than a short commute, you can forget about these. Compare them to the $99 Rowkin Ascent Micro, which offer around 12 hours of total playtime. It's not even close.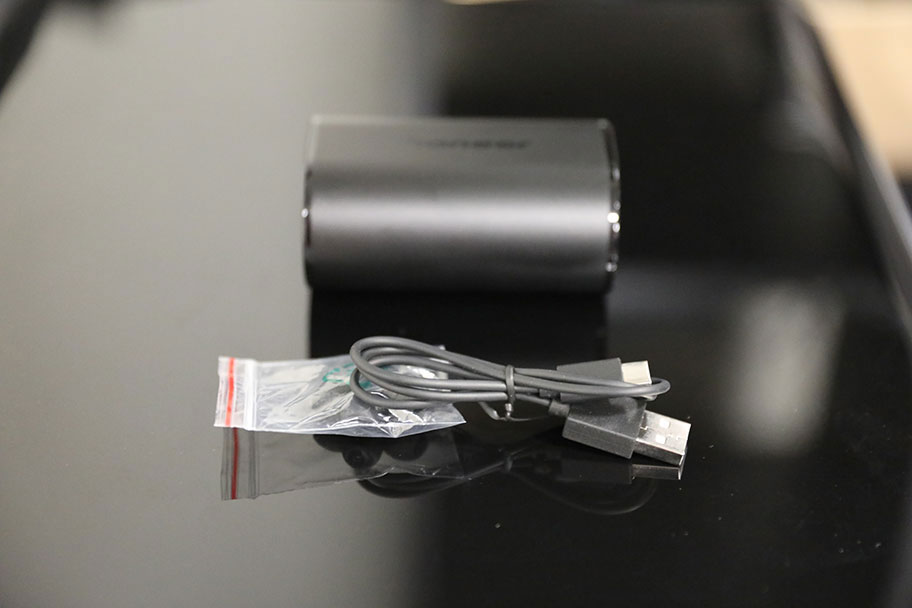 Comfort & Fit
Generally speaking, we didn't have an issue with the fit of the Pioneer C8s. Like the aforementioned Jabra earbuds, the C8s slot into the ear with a screw-like motion, and we rarely had any trouble getting a good fit. Despite their slightly larger size, we found that they were comfortable to wear for a couple of hours – they certainly don't need to be comfy for longer periods, given their pathetic battery life. There's also a small selection of tips to help you get a better fit, if need be.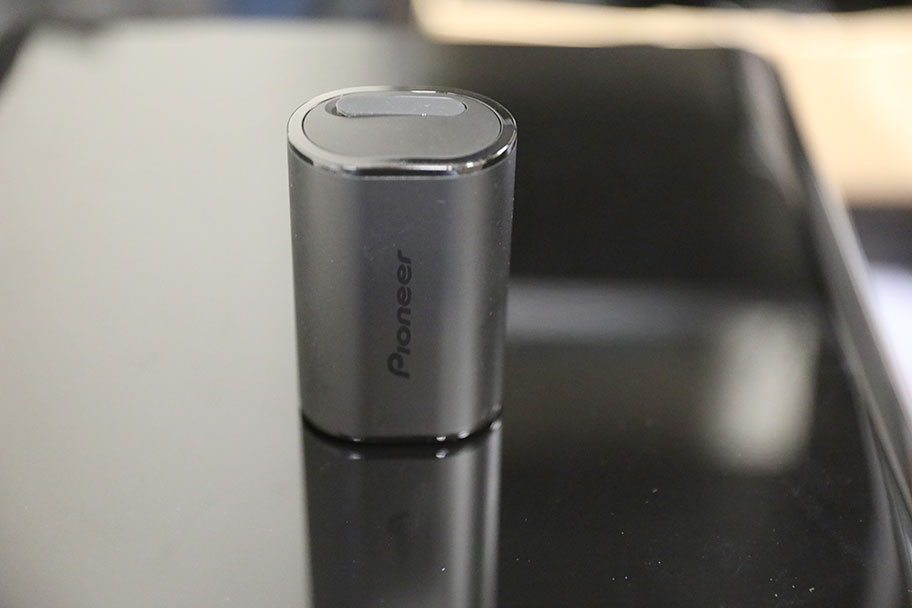 Accessories & Packaging
As with all true wireless earbuds, the main accessory is the case, and it plays a major part in the overall experience. The first thing you'll notice about the C8s is that the case is much larger than any earbud charging case we've seen – especially when compared to the recently released Sennheiser Momentum True Wireless. Those earbuds have one of the larger cases on offer, but they still don't compete with the monster that houses the C8s. The size is passable to fit in a bag or purse, but not even male listeners are going to be able to fit this into their jeans pocket. The size is truly puzzling, given the low battery life of these earbuds. If you want us to carry around something big enough to murder people with, then we expect some advantages in the power department.
All joking aside, it must be said that we do like the case, which feels robust and solid. To open it, you pop out a sliding drawer, which holds the earbuds using a magnetic clasp. We really like this feature – unlike many other earbuds, including the amazing Master & Dynamic MW07, there's no danger of having the buds fall out of the case. If you can forgive the size, you'll find that the case is excellent. Its charging point is USB-C, too, meaning that you don't need to worry about losing the charging cable that comes with the C8s. The charging cable and a small selection of ear tips are the only other accessories.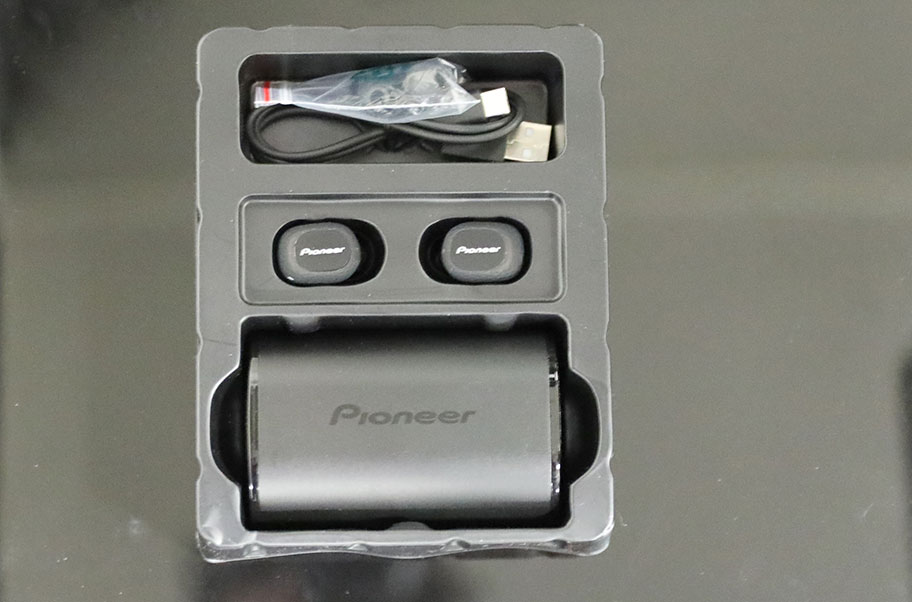 What We Like
The Pioneer C8s are affordable, and deliver true wireless tech for a good price point.
The soundstage of the C8s is better than it should be, with good depth and imaging.
The charging case shows off some solid design features, with handy magnetic clasps for the buds themselves.
 
What We Don't
The overall sound quality of the Pioneer C8s is poor, with muddled bass and midrange.
The battery life is pathetic, far less than we'd expect even for $120.
The case for the C8s might be fun to use, but the size is inconvenient.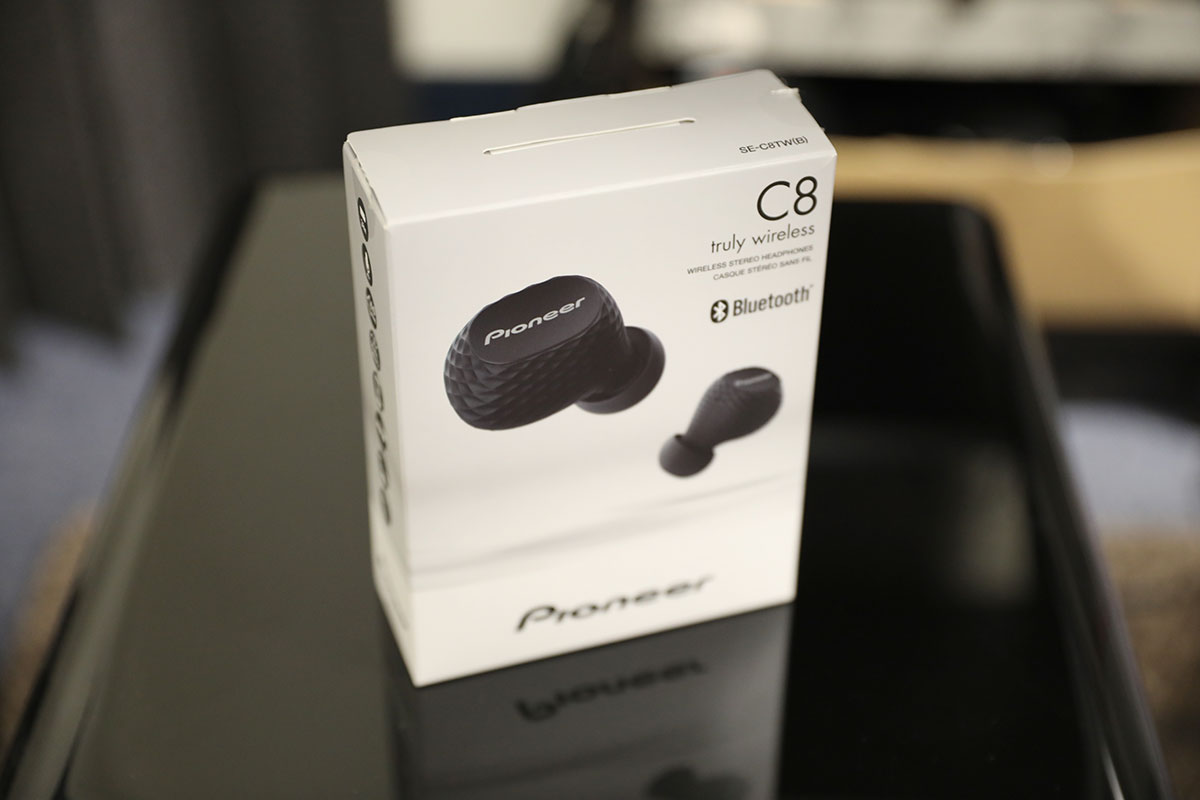 Comparison Table
*Batt. = Battery Life
**Imp. = Impedance
***Sens. = Sensitivity
Want Even More Master Switch? Sign Up For Our Weekly Newsletter!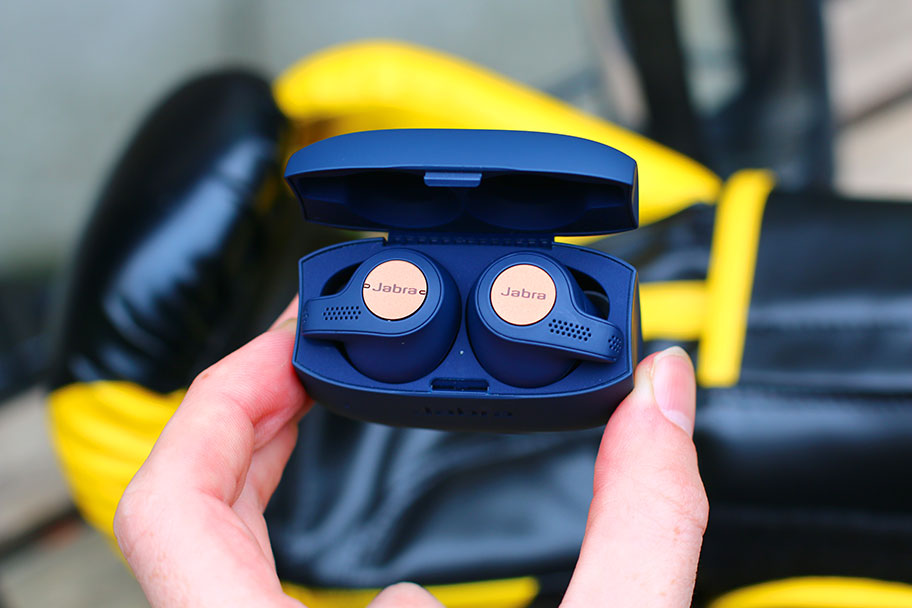 The Competition
Given the C8s' issues, there are certainly some serious competitors, and several excellent alternatives that are worth considering. The first among these is what we consider to be the best pair of true wireless earbuds currently available: the Jabra Elite Active 65t. They offer fantastic sound quality and battery life, and are just as happy being used in the gym as they are on the commute. Given that the only disadvantage they have is the lack of magnetic snaps to keep them in the case – something the C8s do have – it should be an easy pick. However, they are significantly more expensive than the C8s, at $190 versus $120. We think the extra money is more than worth it, but it may be out of range for some people.
A more affordable alternative: the Monoprice MP. At $50, these are among the cheapest true wireless earbuds available, and it definitely shows - their simple, frill-free aesthetic means you're getting only what is absolutely essential. The sound quality is acceptable, easily matching up with the far more expensive C8s. The design and functionality, while basic, get the job done. They certainly lack excitement in the branding and looks department, and don't have the advanced features of other true wireless earbuds, but they remain a good option if you are on a budget.
If you want something in between the two, what about the Rowkin Ascent Micro? Their sound isn't anything to write home about – if anything, it's even less distinguished than the C8s - but what the Ascent Micros offer is an excellent battery life for the price. At roughly 12 hours, they more than double the expectancy of the C8s, and even offer a well-designed app and some genuinely fun design. If we're being honest, we do prefer the Monoprice, above, which tick all the boxes without costing the earth. But the Ascent Micros are a good second option, and a viable alternative.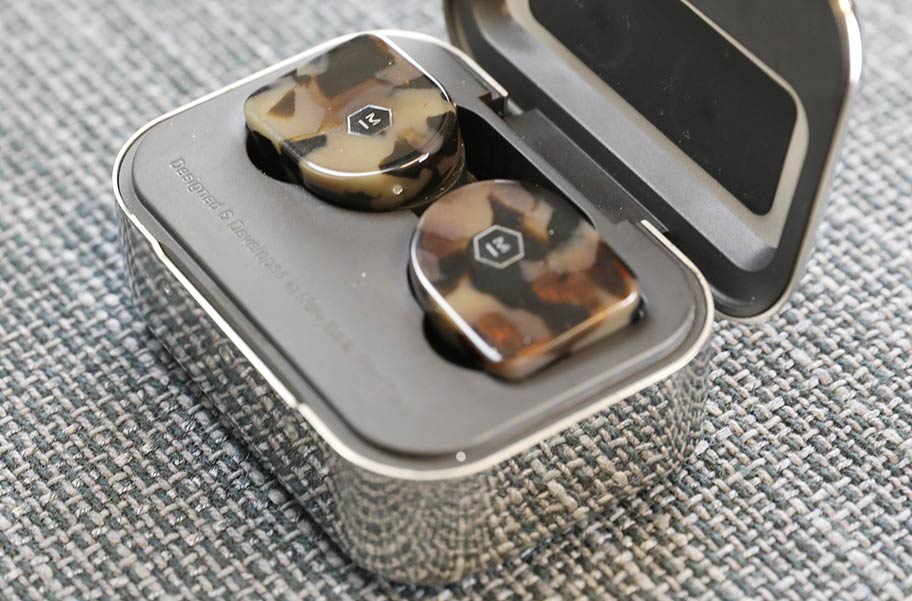 At the time of writing, Pioneer's second pair of true wireless earbuds – the E8s – have only just been announced. In their place, we'll highlight one of our favorite pairs of true wireless earbuds in recent memory, the Master & Dynamic MW07. Their $300 pricetag is no picnic, but in return, you get some of the best earbud sound we've ever heard, as well as good battery life and absolutely stellar design. They are definitely not for the casual listener, but if you can afford them, you'll be in for one of the best audio experiences around.
Learn More About Headphones