We're big fans of New York's Master & Dynamic. They've got a knack for creating headphones with a distinctive look and feel, which also happen to sound fantastic. But true wireless earbuds present a whole new challenge that Master & Dynamic hope to meet with their MW07s. In this review, we break down the sound, design, comfort and fit, packaging and accessories, specs and more of the MW07s. To see how they stack up, check out our list of the best earbuds.
 
Sound
Clarity and Soundstage
Master & Dynamic spend a ton of time tweaking the sound of their headphones before release - it's why they've managed to compete with the likes of Sennheiser, despite being an indie company. With the MW07 true wireless earbuds, the first thing you'll notice is the absolutely breathtaking clarity and detail.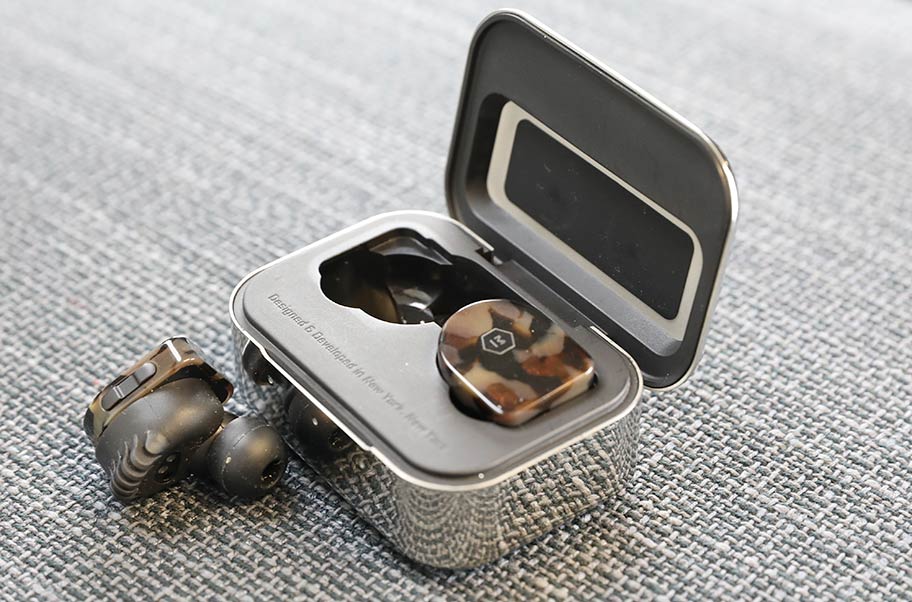 The MW07s cost $300, which is relatively expensive for true wireless earbuds. Only the newly-released Sennheiser Momentum True Wireless are more expensive, at $380. But the MW07s more than justify their price tag - in sound terms, anyway. What struck us more than anything while listening to these, was just how rich and warm the sound was. Many headphones that prize detail and clarity tend be a little cold - just take a listen to anything from Beyerdynamic. These? They presented the elements of a song in perfect, pristine detail. The music came off as subtly-enhanced, as if every part of the song was being given a little boost - like they'd been lifted off the ground on a cushion of air, just an inch or two.
And the soundstage: good heavens. So many earbuds tend to have a slightly boxed-in feel. Even our current true wireless favorites, the Jabra Elite Active 65t (full review here), are guilty of this, albeit only a little. The $190 Jabras sound excellent, but they simply cannot compete with the expansive, soaring width of the MW07s.
We don't want to overstress this. It's not as if the MW07s aim to compete with open-back planar headphones, which are known for their monstrous soundstage. But they aren't meant to. They're meant to compete with other true wireless earbuds, and in terms of sound quality, they absolutely thrash the competition. We simply couldn't believe just how much we got into the music here - and we couldn't believe that a pair of true wireless buds was the source. They are absolutely magical.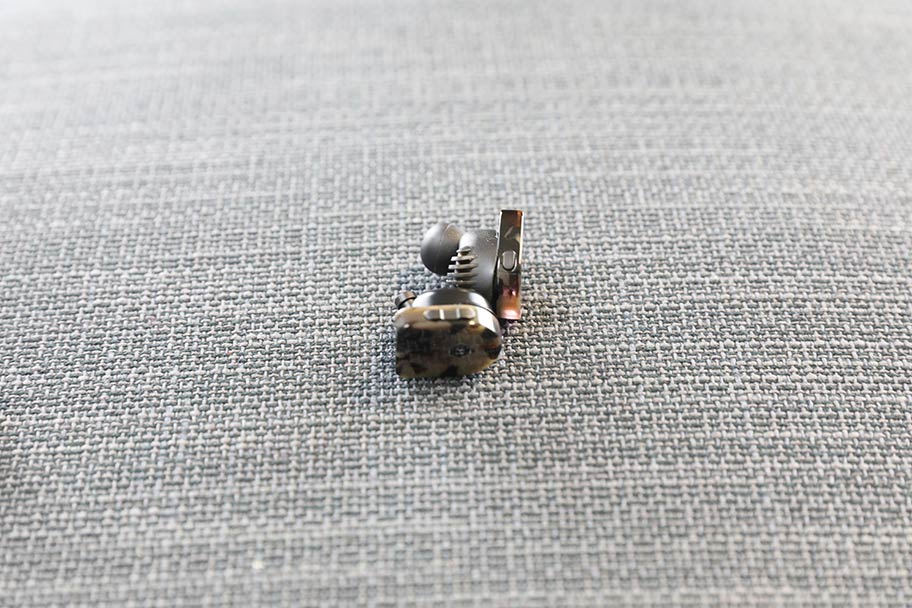 Low-End (Bass)
The bass of the MW07s is solid and powerful. The drivers in the earbuds are made from beryllium, a material you'll find in ultra-high-end headphones like the $3,000-plus Focal Utopia (full review here). Beryllium is known for being light and stiff, resulting in less movement, and increased detail. You'll definitely hear that in the low-end here. These aren't necessarily the earbuds to buy if you're a total basshead - if that's the case, you'd be better off with a good pair of over-ear headphones. But you'll definitely be satisfied with what's here. We certainly were: no matter what genre we put through them, the MW07s remained clear in the low-end. Even particularly busy music, like heavy metal, never once threatened to get muddy or un-focussed.
Compare that to the Audio-Technica ATH-CKR7TW. These are a pair of high-end earbuds with a similar price of $249. They perform well, with excellent overall sound quality, but they are nowhere near as exciting as the MW07s, and definitely don't have the same thumping, addictive bass quality.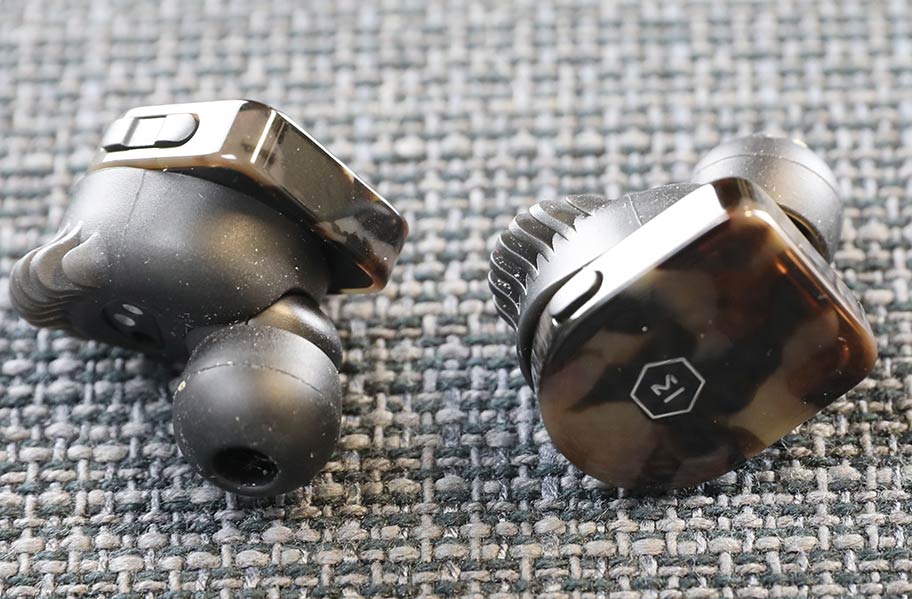 High-End (Treble) and Mids
In keeping with their adherence to excellent detail, the high-end of the MW07s manages to impress, too. They don't deliver the best treble we've ever heard. For true wireless buds, we'd say the Bose SoundSport Free ($195, versus the MW07s' $300) manage to give more of a lift to the high-end, with a little more extension and crispness. But that's just in comparison, and we'd be crazy to say that the top of the MW07s' sound isn't satisfying. It's damn satisfying.
Here's the thing about the MW07s: We've now spent a month with them, and we can't think of a single thing we'd improve about their audio quality. It's not that they're perfect - they don't have the top-end extension of the Bose, or arguably the pinpoint precision of the Audio-Technicas. They will certainly never compete with over-ears, or ultra-high-end in-ear headphones. But in terms of earbuds - true wireless earbuds in particular - they are among the elite. There's much to love here. So much more than we were expecting. If you want the best-sounding true wireless earbuds ever made, get these. They do have failings - which we'll get to shortly - but they are damn good in almost every way.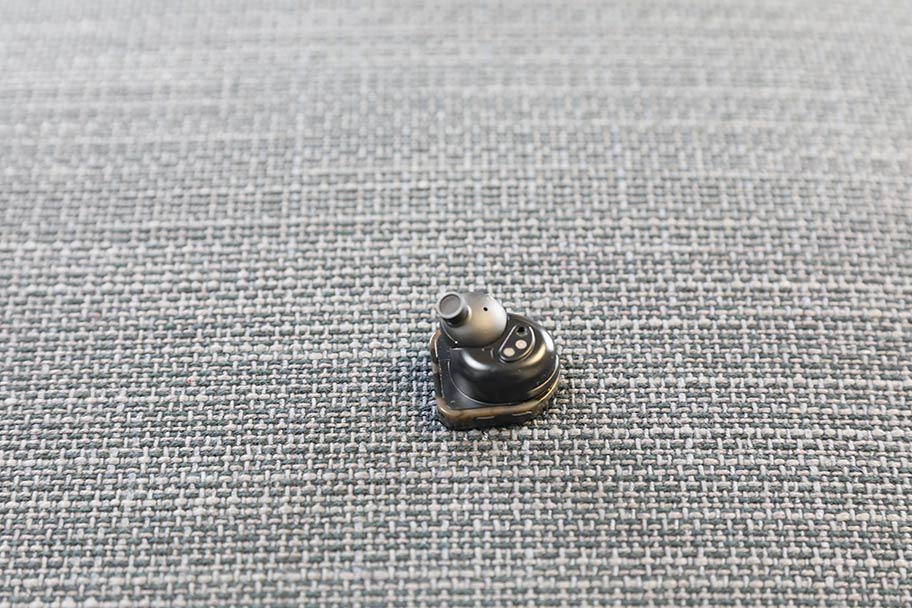 Call Quality and Voice Assistant
The aforementioned Jabra Elite Active 65t (full review here) have the MW07s beaten in this category. Their microphone stalks pick up voice beautifully, and they are our top pick for call clarity. The MW07s are no slouch, however; they manage to deliver crisp, understandable audio, and our callers never had an issue hearing us. We used the MW07s in the course of several TMS weekly conference calls, and never had any issue whatsoever.
Holding down the button on the right bud will activate whichever virtual assistant you have set up. We tested this with Google Assistant and Amazon Alexa - we didn't get a chance to test with Siri - and it worked just fine. The assistants had no more difficulty picking up our voice than they would if they were included in a smart speaker.
 
Bluetooth Connectivity
Pairing is as simple as holding down the right earbud button, and waiting for a recessed light to start flashing. The MW07s automatically enter pairing mode when you remove them from the case the first time, and we never had an issue with getting them connected to both phone and laptop. The MW07s have Bluetooth 4.2 and aptX, which you can read more about on our list of the best wireless headphones. The audio quality with these connections are excellent, as we've already stated. There may be no way to connect these with a cable - once you're out of battery, you're out of luck - but we never found it to be a problem.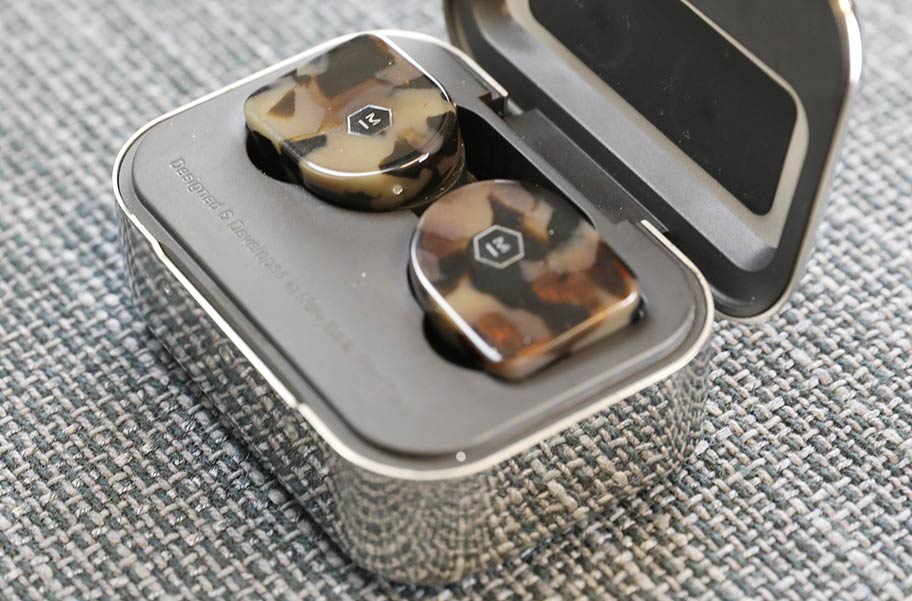 Design
Looks and Build Quality
There's no question that MW07s look like a pair of $300 earbuds. The outer housing is made of acetate, with a gorgeous pattern. Technically our pair was of the 'grey terrazo' variety (don't ask us what that means). Other options include tortoiseshell, steel blue, and matt black. It makes a nice change from the usual colors offered by other manufacturers - Bose, we're looking at you right now, and we're doing it side-eye. The MW07s, though? Stunning. There are even sections of the housing which are transparent, letting you see the internal circuitry. The effect is that of multiple layers, making these as pleasing to look at as they are to listen to.
Initially, the MW07s seemed particularly large. The acetate housing is relatively bulky, and we were worried it would stick out of the ear a little too much. We needn't have worried. In terms of size, the MW07s are no larger than the aforementioned Jabra Elite Active 65t earbuds. Another pair we had in at the same time, the $120 Pioneer C8, seemed smaller but stuck out of the ear far more prominently. Bottom line: these are no larger or more ungainly than any other pair of wireless buds, and are arguably the most beautiful. Oh, and if you order direct from Master & Dynamic, you can monogram your case. Because of course you can.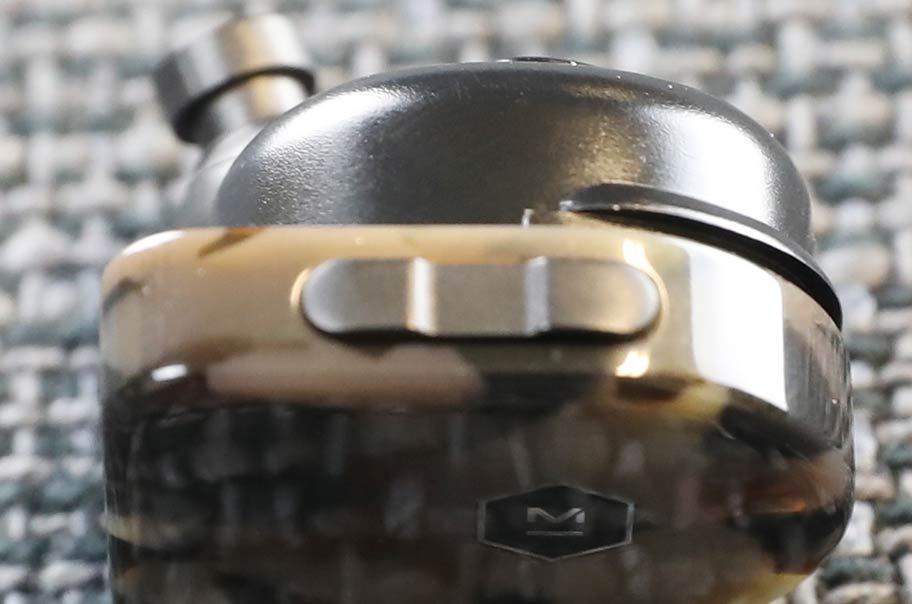 Controls
And now we come to the biggest problem with the MW07s. It isn't in the controls themselves - they work fine. A volume rocker switch along the top of the left earbud, and a multi-function button on the right. They are responsive, and simple. Too simple.
Here's what we mean. True wireless earbuds feel like the future. They feel like brand new tech - they are brand new tech. Earbud makers have leaned right into this, happily shifting most of their functions over to app control. They've used this playground to give you multiple options for your earbuds, letting you customize the audio, mix in ambient sound, and generally make you feel awesome. The Jabra Sound+ app, used for the 65t earbuds and other models in their line, is one of the best we've tested. We are entirely in favor of companies doing this. A good app can really take a pair of headphones to the next level, which is why we love the Jabras so much.
The MW07s don't have an app. They have no way to customize the sound. Admittedly, it's good enough that we didn't want to, but it still felt like something was missing. Master & Dynamic aren't an app company - they probably decided, quite rightly, that they were better off making a kick-ass pair of earbuds, rather than trying to build an app to go with it. There's absolutely nothing wrong with that. The problem is, these are true wireless earbuds, and Master & Dynamic are far from the first to release a pair. There are certain expectations which have been established in this particular product category, and the MW07s don't meet them.
Is that a bad thing? Maybe not. These earbuds still rock. We still love them. But they are decidedly old-school, in a landscape that is advancing very quickly. If sound is all that matters to you, then these are the obvious choice. But if you want something with an eye on the future, then the MW07s will be an expensive toy - a fun diversion, but nothing more. You're best off investing in a good pair of wireless headphones.
 
Battery Life
Master & Dynamic advertise three and a half hours of listening time for these earbuds. With the additional charges contained in the case, the total comes up to 14 hours. We got very close to that - our earbuds lasted around three hours and fifteen minutes, at moderate volume, and we estimate we got 13 hours total out of the charging case. This is highly acceptable, and compares well to other, similar models. The Bose SoundSport Free, for example, manage around 15 hours total. The MW07s can't compete with the Apple AirPods (full review here), which offer nearly a full day of battery, but they definitely hold their own. The case takes around 40 minutes to fully charge, while the buds themselves need roughly an hour and a half to get to full power - although you can start listening long before that if you need to.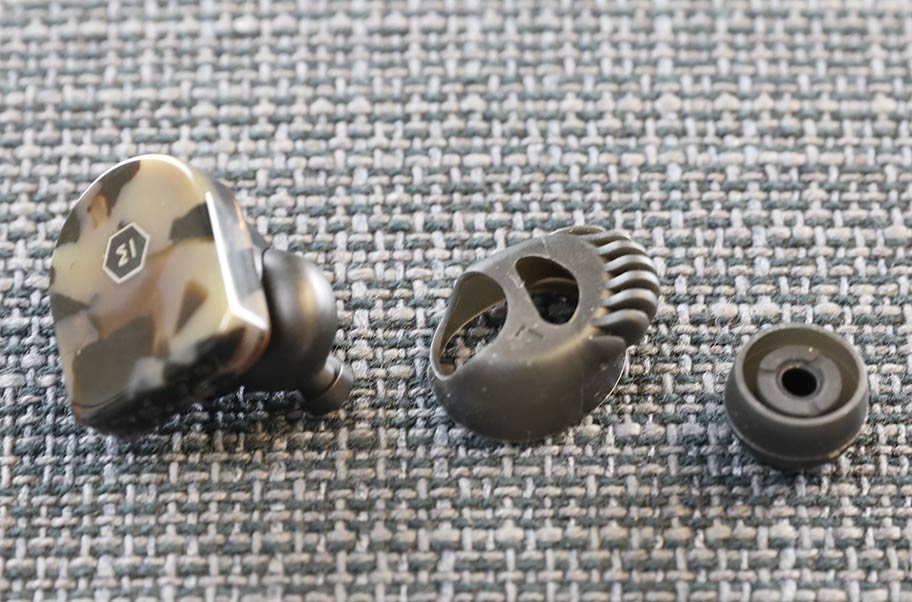 Comfort & Fit
The MW07s offer a rather unique little feature: a kind of stocky, rubber fin, sticking out the back of the bud. This is alongside the more standard tip. It looks odd, but it ensures an almost perfect fit. Seriously: we got these to sit properly and comfortably right out of the case. They felt extremely comfortable, and we had no issues wearing them for two or three hours at a time. Although, we did encounter a tiny bit of soreness after that. Inserting them is simple - just put them in, and twist. If you need additional tips, there is a small selection of extra ones in different sizes inside the box.
We wouldn't recommend wearing them at the gym - they are IPX4-rated, which means they are splash-proof, but we're not sure sweat is all that good for them. If you do want a great pair of gym headphones, we'd suggest steering clear of true wireless buds, and picking up a pair of Jaybird X4 Sport ($130).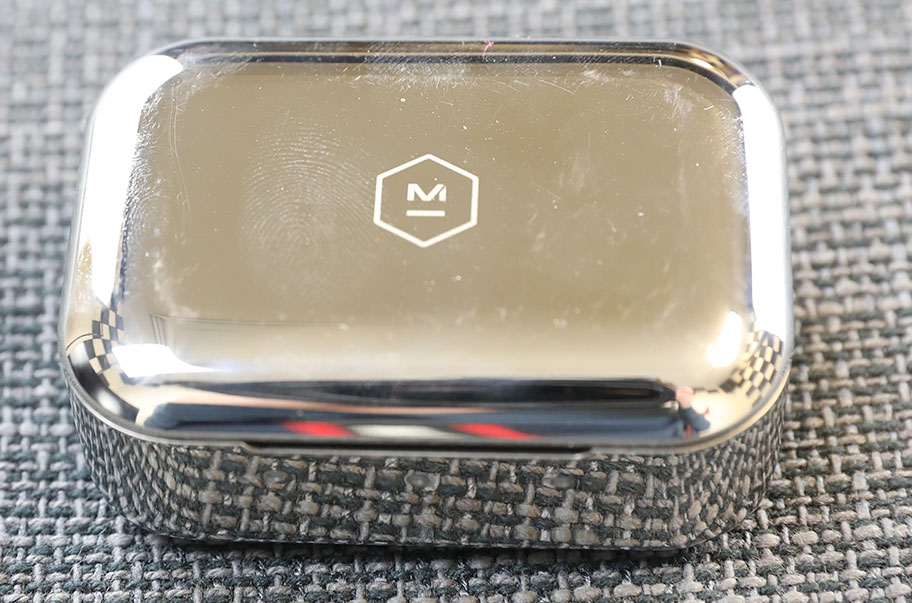 Accessories & Packaging
Charging Case
True wireless earbuds live and die by their charging case. Not just in how many extra charges it offers - the MW07's case can carry three full charges, for around 13 hours of power - but in how it looks and feels. This is where things for the MW07 go interestingly wrong, and where form starts to trump function.
The case for the MW07s looks amazing. It's a smooth, metal box that looks like it holds a diamond necklace, the Master & Dynamic logo subtly displayed on top. Three lights on the front cleverly display the battery status of both the case, and of each earbud. But the moment you pick it up, you'll discover that the beautiful metal was a really bad idea. It's fingerprint city. Also scratch city. We try very hard to look after the review gear sent to us, but we couldn't keep this thing pristine, no matter how hard we tried. There's another issue, too: just like the case that holds the Jabra Elite Active 65t earbuds, there's no magnet or clip to keep the MW07s in place. Upend the case, and it's goodbye $300 buds.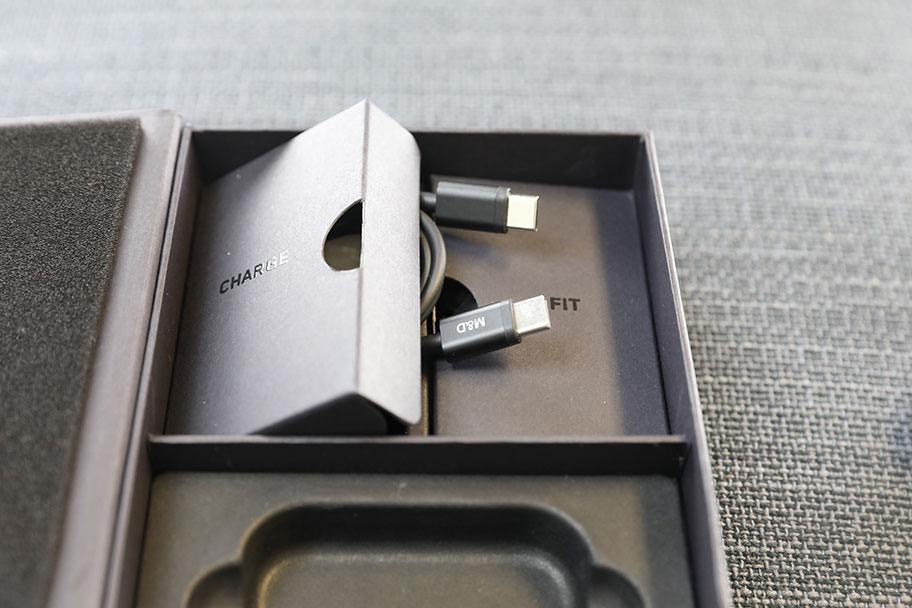 Accessories and Box
Master & Dynamic always nail packaging. They just do. The box the MW07s come in is sleek and effective, and opening it is a joy. Everything - from the buds to the USB-C charging cable to the extra tips - is stashed in its own compartment, conveniently-labelled. Our favorite accessory is the canvas carry pouch: a slim, black snap-top affair that feels very snazzy. It's similar to the larger ones M&D offered with its headphones, like its MW50 (full review here). We loved it then, and we love it now.
 
What We Like
The Master & Dynamic MW07 true wireless earbuds offer glorious detail and soundstage, with stellar overall sound quality.
The design, comfort, and fit of the MW07s are all top-notch.
The earbuds are genuinely beautiful, with real visual appeal.
 
What We Don't
The MW07s are decidedly old-school, making them something of an anachronism.
The metal case looks cool, but is a magnet for fingerprints and scratches.
They may be too expensive for some, despite their amazing sound.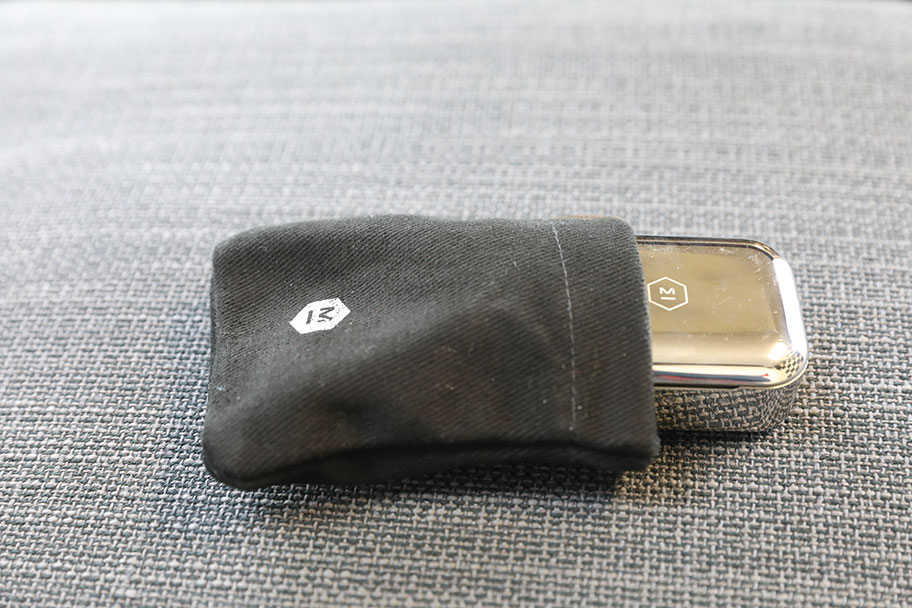 Comparison Table
*Batt. = Battery Life
**Imp. = Impedance
***Sens. = Sensitivity
Want Even More Master Switch? Sign Up For Our Weekly Newsletter!
The Competition
There are surprisingly-few high-end true wireless earbuds available. The nearest competitor for the MW07s are the Sennheiser Momentum True Wireless. Full disclosure: we haven't had a chance to hear these yet, but it would feel remiss of us not to mention them as an alternative. Somehow, we doubt that a company like Sennheiser is going to whiff here. The Momentums are more expensive than the MW07s, to the tune of $80, but they offer some genuine improvements - ones we don't need to have spent time with them to tell you about. They deliver Bluetooth 5.0, versus 4.2 for the MW07s, and they come with their own companion app. The app allows you to adjust the sound, and generally do all the things that true wireless buds should do. We'll report back with an update when we've heard these.
Moving onto models we can compare the MW07s with. First up, the Jabra Elite Active 65t. These are absolutely our favorite true wireless earbuds. For $190 - a good $110 cheaper than the MW07s - they deliver superb sound, great fit, and the best functionality around. They are equally comfortable at the gym, or on the commute, and the companion app gives you all the functions you need to customise your sound. They do have their downsides, including fiddly physical controls, and a case that - like the MW07s - doesn't lock the buds in place. But they remain king of the hill...for now.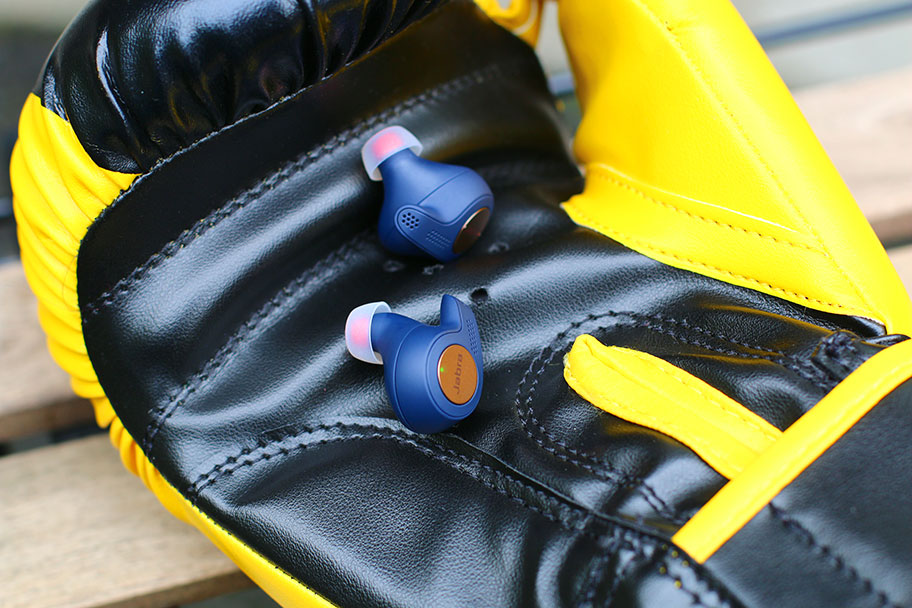 The Bose SoundSport Free are around the same price of the Jabras, and not nearly as good. But what they do offer is some serious top-end detail, better than even the MW07s can muster. That being said: they look and feel seriously dull, with a corporate aesthetic and a ho-hum charging case that doesn't get the pulse racing. They work well, and sound good, but we'd honestly go for the cheaper Jabras. And if sound is what you're after, you'd go for these only if you're desperate for high-end clarity. Suck up the cost, and buy the MW07s.
Finally, let's talk about the Audio-Technica ATH-CKR7TW. At $249, they are slightly cheaper than the $300 MW07s. They're also nowhere near as beautiful, with a singularly Borg-like design and a name that has as much imagination as a memo from human resources. But they are good true wireless earbuds, with AT's distinctive pure sound quality and balance. They also offer surprisingly efficient touch controls. We'd suggest going for these if you aren't particularly interested in having great-looking earbuds, and are willing to save some money to focus on functionality.
Our conclusion is that the MW07s are among the most amazing and frustrating pieces of equipment we've ever tested. We love them passionately. They do so many things that we adore. The sound is...nuts. They look exceptionally pretty. But in the current true wireless market, having good sound and aesthetics isn't enough. If it's all a race, then the MW07s are a classic 1950s sports car. They go fast, they look incredible, they make jaws drop, but they're racing against modern-day Formula 1 cars, with more technological wizardry than the Apollo moon missions. It's just not going to happen. We adore these headphones, and want them to succeed...but we don't think they will. If M&D can create a solid app with some additional options, then that might change.
Learn More About Headphones