The world of on-ear Bluetooth headphones isn't exactly known being a luxury market. You're far more likely to find cheap plastic and tinny drivers then you are to experience supple leather and high end sound. One manufacturer looking to buck that particular trend is New York's Master & Dynamic, a boutique headphone maker that want you to invest – as in, really invest – in your wireless audio.  Their line of headphones are about as far from the Bluetooth bargain bin as you can get, and with their flagship on-ear model, the MW50, they're hoping to cement their status as the ultimate in luxury headphone audio - or, at least, as luxury as you can get without dipping into the +$500 range. If you want to seriously upgrade your music without sacrificing portability, these may be the cans for you.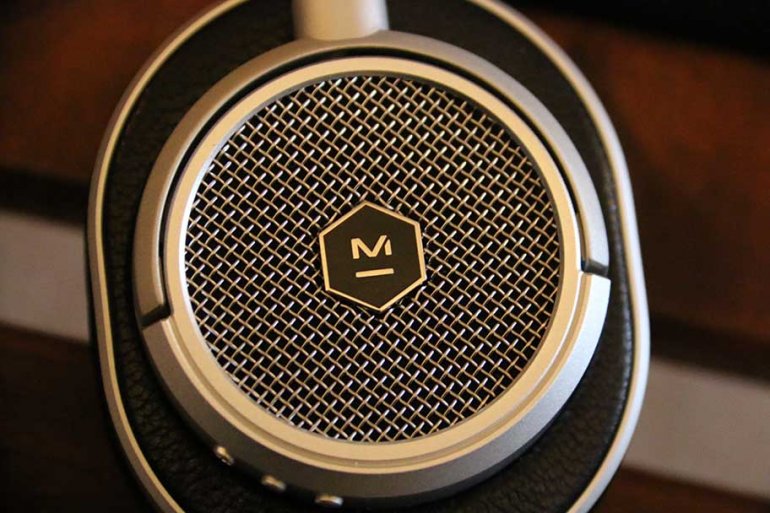 Design:
The first thing we need to say is: no, these are not open-back headphones.
Yes, the Master & Dynamic MW50s may have prominent grilles on the earcups, and yes, the sound signature is reminiscent of high-end open-backs (of which much more anon), but they are not, in fact, open-back. The grilles are aesthetic only. We confirmed this with Master & Dynamic after a month of listening to them - we were almost certain they were open-backs, thanks to the sound quality, and had in fact taken it for granted thanks to the grille. But a quick look at the marketing copy didn't show the term anywhere, and a check with M&D confirmed it.
We're…not sure how we feel about this. On the one hand, these certainly have a phenomenal sound signature, and there's very little to complain about on that score. And it's not as if M&D is misleading anybody. But on the other, grilles like these are such an accepted feature of open-back designs that it was slightly disconcerting to find that they were just there to look pretty.
We would read more into this were it not for the fact that the grilles slide right into the overall aesthetic. Say what you like about the price - this is a pair of wireless cans where you get what you pay for, and despite our misgivings over the misleading grilles, they really do work with the design. Everything is leather and lambskin and metal, with the distinctive M&D circular/oval cup designs capped with a discrete company logo on each side. These almost feel like something tailored: there's the same attention to detail, the same adherence to luxury design. They feel good in the hand, and it's a weird pleasure to squash the lambskin cups, and feel them spring back. They're removable, slipping on and off with a muted magnetic click.
The headband is leather, too: black and supple. And yet, unlike so many of their competitors, the MW50s don't feel ostentatious. They don't feel like you're making a statement to the world. They just feel, and look, really damn good. They have a confidence in their design that other headphone models don't. 
The closest comparison is the Bowers & Wilkins P5, and while we have immense respect for the B&W design style (we raved about the P7 Wireless - check out our full review here), it's just not as cool as the M&Ds. The P5 is an executive in a flawless tailored suit; the MW50 is a rockstar on vacation in St Tropez, propped up at a beach bar and looking very, very cool indeed.
The cups swivel 90° at a touch, and the controls are sensibly laid-out and easily-accessible. There is a Bluetooth/power switch on the left cup, and a simple set of volume and play/pause controls on the right. There's a 3.5mm headphone jack, and a microUSB charging port, as well as clear left and right markers. Battery life was a comfortable fifteen hours, and Bluetooth connection was the work of moments. M&D also offer a two-year warranty on workmanship and materials.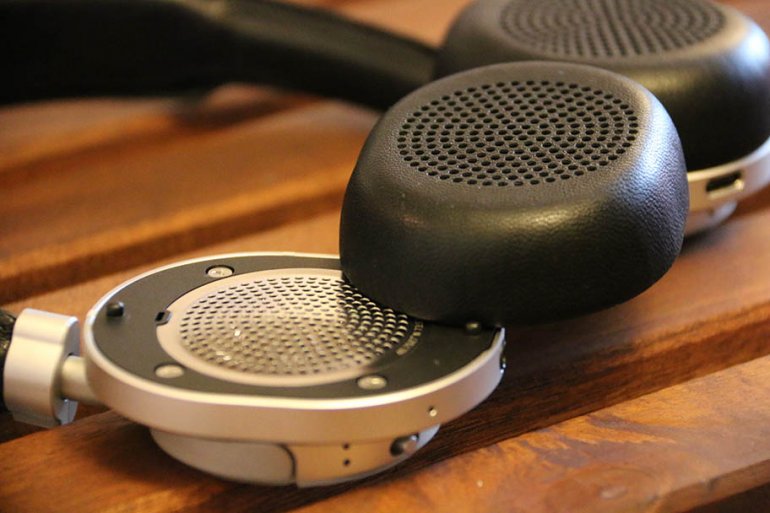 Comfort & Fit:
It's all in the cups, you see.
They are mostly air. Save for a band of foam around the edges of the housing, there's absolutely nothing to push against your ears. This makes them ridiculously, almost obscenely comfortable to wear. For the second time, we're forced to revert back to that idea of tailoring – it genuinely feels as if these are made for your ears specifically, as if a skilled craftsman has spent hours taking exact measurements. While we've tried some slightly more comfortable over-ears in the past, these are, by some margin, the most comfortable on-ear headphones we've ever worn.
It helps that they are light, at a little under nine ounces, and that the headband clamping pressure doesn't feel like it's squeezing your head in a vice, as so many of its cousins do. Wearing these for long periods isn't just easy; it's a genuine pleasure, even when the outside temperature is a little bit warm. They fit easily around the neck as well.
Strange grilles aside, then, the MW50s are hitting all the right notes. But how do they stack up when you actually start playing music through them?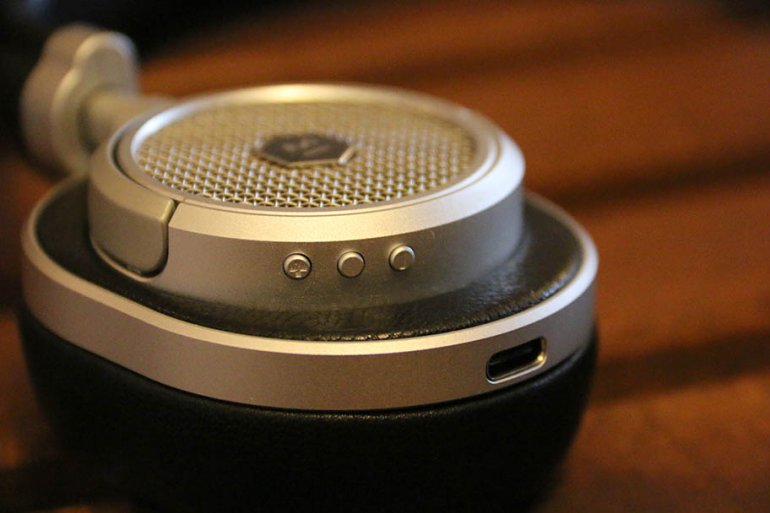 Sound:
It's no wonder we thought these were genuine open-backs. They certainly sound like them.
We were absolutely blown away by just how well they treated vocals, for one thing. It was the very first aspect of the sound we noticed: like the cups, the performers' voices felt buoyed on a pocket of air, right at the front of the mix without dominating, clear and confident. This was the case no matter which genre of music we chose. Rappers sounded confident and aggressive. Folk singers, clear and delicate. Even screamy heavy-metal vocals sounded good, like a chainsaw delivered in a velvet-lined box. 
If you're the kind of person who enjoys music dominated by vocalists, then this is an absolute no-brainer. You have to experience these. Obviously, they're not going to compete with a genuine, planar-magnetic open-back, but we certainly didn't expect this level of quality out of a pair of Bluetooth on-ears. 
Concentrate on the rest of the sound, and what you're presented with is an even, balanced mix, with no one element dominating. Bass is present, but not overcooked, while the highs have a pleasing level of detail to them. The soundstage, too, is excellent, with a good depth and breadth, and some pinpoint-precise instrument placement. While these aren't quite reference-grade - you wouldn't use them to actually mix a song, or anything -  it was quite uncanny just how balanced and accurate the sound was. You can't even blame us for thinking these were genuine open-backs; the sound was reminiscent of the excellent Hifiman Edition S (full review here) in its open mode, with a similar level of clarity and mid-range detail.
If we have one slight criticism, it's that anybody accustomed to slightly bass-heavier sounds may find these somewhat unexciting. They are delicate and detailed and nuanced, but you have to be open to hearing what they can do. If you're expecting thundering basslines or slamming kick drums, then these may not be the headphones for you. The 40mm beryllium drivers don't deliver huge low-end, which is fine, but it's worth bearing in mind if you're looking to buy these. 
Isolation was solid, with only a little bleed at high volumes. We never felt like the outside world was intruding too much, which is something we look for in on-ear cans.
Like the P7s mentioned above, these redefine what Bluetooth sound can do. They use Bluetooth 4.1 with aptX, and the quality and veracity they deliver is superb. In the entire time we used them, we experienced zero dropouts, and instantaneous connection every time. There's an included cable, for when you want to save battery, and we didn't notice a significant difference in the sound when this was plugged in. Call quality was superb, thanks to the twin built-in microphones on the cups.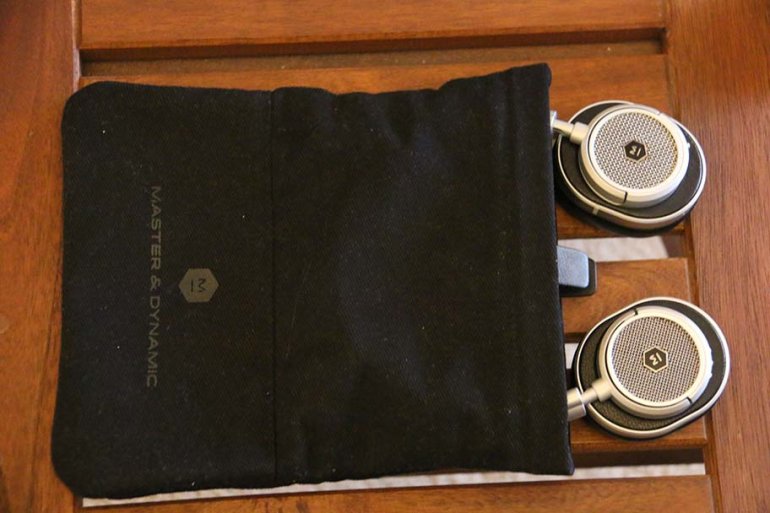 Accessories:
The MW50s don't fold up, making them unusual among wireless headphones, which are designed to be portable. Not that it matters. We were looking for any excuse to slide them into the carry bag, which is by some margin the best of its kind we've ever encountered in the world of audio. 
Seriously. No hyperbole. It's terrific. It looks like something that should be holding a bushel of diamonds: thick, black canvas, with a magnetic snap clasp and handy tabs to pull it open. There's even a cute little pouch inside to hold your wires. Where some headphone manufacturers view the carry case as an afterthought, or completely fail to include one (we're looking at you, Audeze), Master & Dynamic clearly wanted to walk a different path. Once again, these are a pair of headphones where you get what you pay for.
It goes further. Not only do you get a 4'1" regular headphone cable and a USB charging cable - each made of toughened fabric, and each looking like they could be run over by a tank and still work - but you also get a separate leather carry case to hold them in. It looks like a little snuff tin or jewellery box, almost Victorian, and we loved it. We've never really had any feelings about tiny receptacles used to hold wires, but having it around is genuinely cool.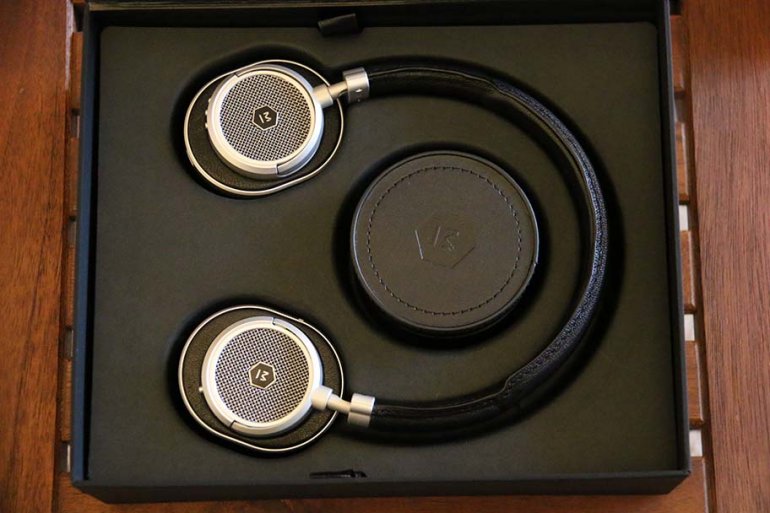 Packaging:
By now, you'll probably be flabbergasted to hear that the packaging for the MW50s is very, very good.
Slide the outer sleeve off, and what you have is a logo-less black box, which flips open like a briefcase. The headphones are nestled around the cable case, couched in moulded cardboard. Pull that up, and you'll find two boxes, set flush against another layer of cardboard: one containing the manual, the other containing the pouch. Rarely is it a pleasure to actually extract a manual from its position in a case, but the embossed black cover of the MW50's did it, even if you can skim through it in about five seconds flat.
You might think it's a little bit strange for us to rhapsodise about things like the carry case and the manual. But when there's this much attention to detail, this much care taken over the whole experience of using these headphones from the very moment you open the box, it's hard not to be impressed.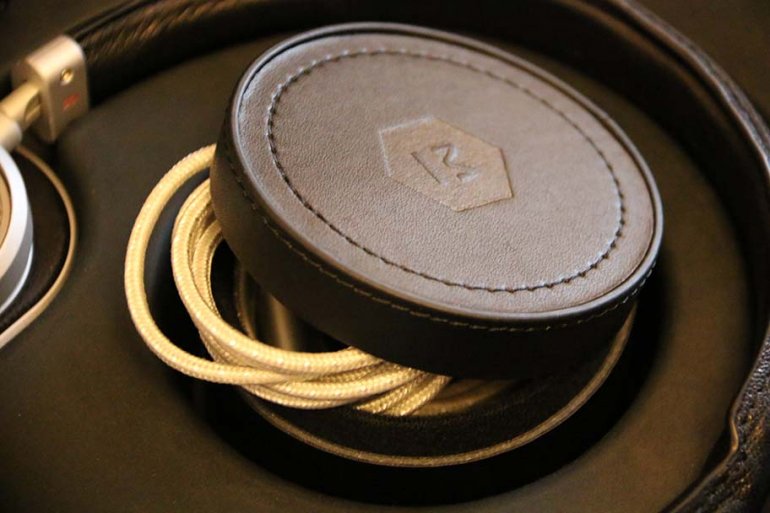 Verdict:
Now comes the big question. Is all this - the cloth bag, the cute cable box, the lambskin, the leather - worth paying $449 for?
Yes. Absolutely, unreservedly, yes. 
If the sound had failed to stand up, then things would be different, but it's exemplary. Short of the odd grilles and the confusion of whether these were open-back or not, the MW50s hardly put a foot wrong in all the time we used them. Plenty of headphone companies overcharge for what you get, and plenty of others offer luxury in plain or boring packaging, but these are one of the few pairs of headphones where we think the price is absolutely spot-on. Master & Dynamic clearly know who their target market is, and clearly understand that if you're going to make people pay decent money for your product, you should match their expectations. These are at the very top end of Bluetooth on-ears, and they both look and sound like they belong there. 
Good:
Great sound, especially on the vocals.
Terrific accessories and packaging.
Luxurious design, gorgeous finish.
Sensible controls.
You get exactly what you pay for.
Bad:
Slight lack of bass may deter some people.
They look like open-backs, but aren't.
See the Master & Dynamic MW50s on Amazon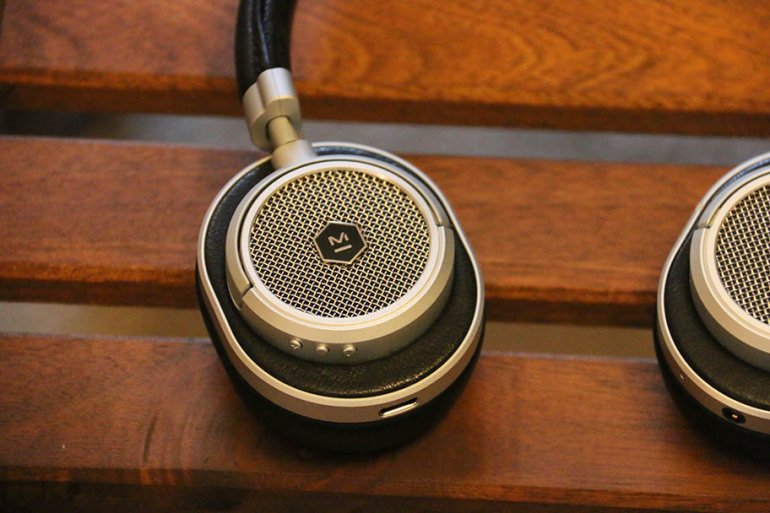 Alternatives: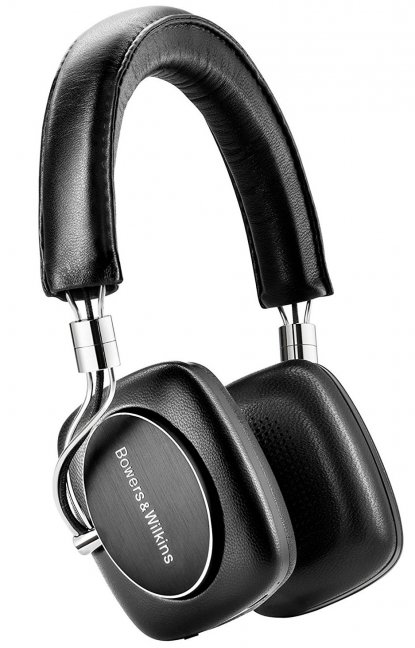 The most obvious comparison, although the P5s are significantly cheaper. They have the same level of luxury design, and are targeting the same market, but for our money, we'll take the MW50s any day.
This isn't because the P5s are bad. Quite the contrary. But they just can't match the sound quality of the MW50s, especially when it comes to presenting the vocals. We much prefer the clarity and detail of the latter, and we think they are slightly more comfortable to wear, too.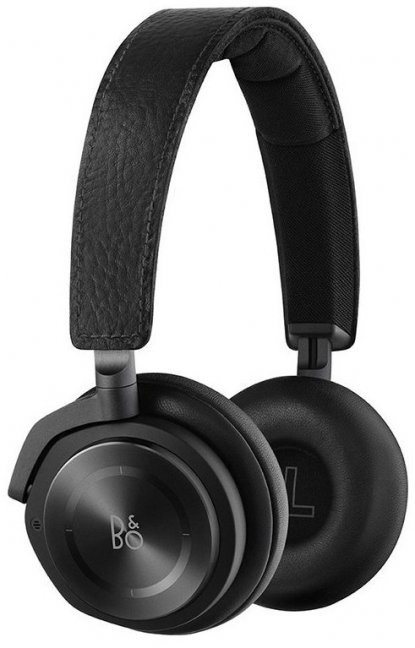 These are probably the most direct competitors to the MW50s, with a similar price range and functionality. Bang & Olufsen's Beoplay range positions itself as a boutique, funky brand for fashion-conscious listeners, and the design of the H8s fits right in there: all smooth lines and soft textures.
The sound is excellent, although somewhat different to the MW50s. Ultimately, we'd still pick the latter, but you could quite easily go for these if they aren't quite floating your boat. And they offer touch control, in contrast to the buttons on the MW50. Oh, and noise cancelling, which we here is a thing these days.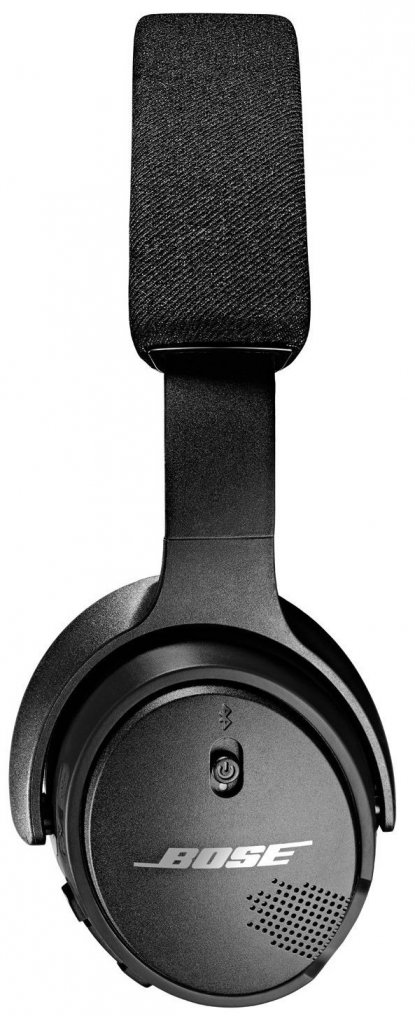 Ah, Bose. Most audiophiles have a love-hate relationship with this brand - they respect its excellent noise-cancelling tech and usability, but lament the lack of decent sound quality. There's no question that the Soundlink wireless on-ears are a viable alternative to the MW50s, but don't mistake them for equals.
The Soundlinks don't have the luxury qualities or attention-to-detail of Master & Dynamic cans, and the sound quality isn't there either. But: that doesn't make them a bad set of cans, just a slightly less accomplished one. If you want to spend less, and still get a paid of quality wireless on-ears, go for these or the P5s.
 
Specs Table:

Video Review:
Learn More About Headphones