Given how ubiquitous the iPhone 7 has become, it actually takes a minute to remember the kerfuffle Apple caused when it announced that it would no longer include headphone jack. Audio companies and headphone manufacturers across the world were thrown into disarray, and understandably so. After all, if you've been operating for years under the assumption that the standard 3.5mm headphone jack is going to be around forever, mostly because there was no reason it shouldn't be, then the biggest phone maker on the planet ditching it is going to cause heart palpitations. But there were plenty of manufacturers ready to capitalise on the new standard, and Audeze, predictably, were one of them. The EL-8 Titanium is their attempt to create a pair of planar magnetic cans that can operate off an iPhone 7, although to their credit, they work well in many other situations, as well. Let's break it down.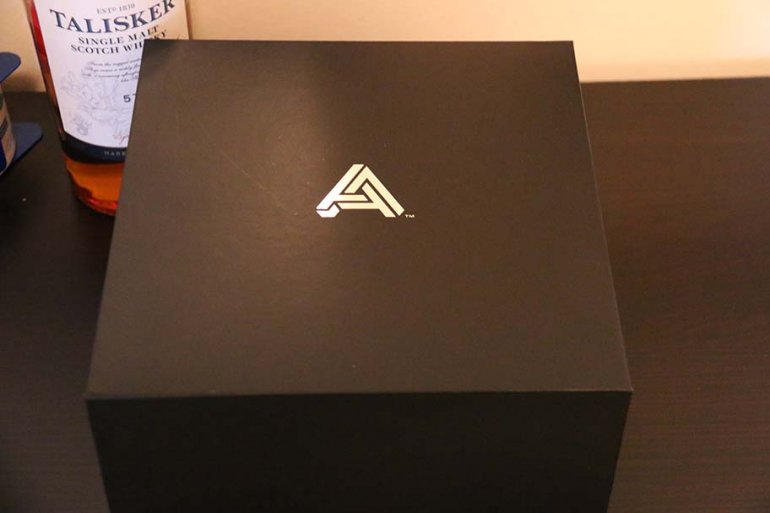 Design
We don't mean to start this off on a critical note, we swear we don't, but it's kind of hysterical that these are marketed as portable. The Audeze EL-8 Titaniums are massive – Not exactly a surprise, given that all planar magnetic headphones tend to be bulky, but given their size and weight, it is a surprise that their primary use is as an iPhone companion, presumably for on-the-go listening. (This explanation of the difference between dynamic driver, planar magnetic and electrostatic headphones is worth reading. The terminology can get confusing, so hopefully that little breakdown will help.)
The cups themselves are giant ovals, 5" high, 4" wide and a good 2.5" deep, each housing an oversized 100mm driver. At just over a pound, they're heavy, too. And when the cup hinges rotate (which they do - a full 180°), it quickly becomes apparent that wearing them around your neck is awkward – to the point where it feels like they're strangling you. Even the thought of taking these things on a commute is enough to give us the screaming heebie-jeebies.
However: simply because they aren't suited to portable use doesn't mean that the design isn't good - and given that it was masterminded by the BMW company DesignWorksUSA, it should be. Listen to them in a static position, seated at a desk, for example, and it all makes sense. For one thing, the construction is absolutely superb. These headphones don't have the name Titanium for nothing, and the all-metal cup housing looks and feels fantastic. The inner cups are soft, flexible leather, and they feel great. The hinges are plastic, but they feel solid, and work extremely well. The top part of the headband has a leather spacer, which helps increase comfort while you're wearing them. Each cup has a separate headphone cord connector.
Branding and markings are clear as well, with clear left and right indicators, and simple text branding on either hinge. Regardless of their size, this is a very well-designed pair of headphones, that looks and feels premium. They're a very good bridge between higher end models like the LCD-3 and LCD-4, and entry-level on-ears like the Audeze Sine. It's also worth noting that the EL-8s have non-Lightning-equipped closed-back and open-back versions, at around $100 cheaper.
And herein lies the biggest problem for these cans: as well-designed as they are, we don't quite see where they fit into the headphone ecosystem. If you really do want a pair of portable planar magnetics, then the Sines would be your first port of call. They don't quite have the gravitas or the audio capabilities of the EL-8 Titaniums, but if you're looking for a good pair of Lightning-ready headphones that are also easy to tote around, then they are option No. 1. And if you aren't particularly interested in Lightning, or don't own an iPhone, then the cheaper EL-8 versions would be the ones to go for - they do the same job, without expecting you to lug them around. It's a real problem.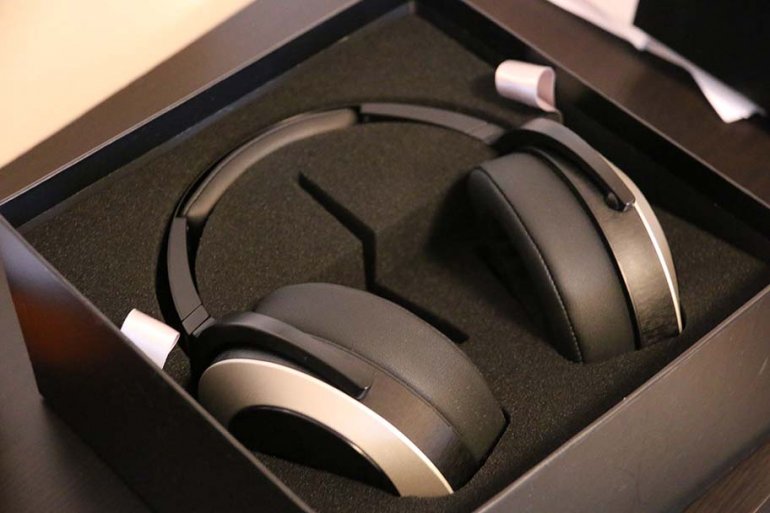 Comfort/Fit
One of the first things you notice when you don these cans is that they are snug. There's a pleasing tension to the headband, and while they are certainly heavy, they don't feel obtrusive or obnoxious on top of your head. If anything, we were surprised at just how slim they felt, even though one look in the mirror confirmed that we resembled Princess Leia in her younger days (our friends later confirmed this, to endless hilarity).
The clamping pressure could have been a real problem, but it is offset by the genuinely fantastic cups. The squashy leather feels magnificent, and the shape feels well-designed, not pinching the ear or getting in the way. Even after lengthy listening sessions, we never had an issue with comfort. Extending the headphone cups wasn't a problem, either, despite the headband extenders feeling a tiny bit stiff, and the leather spacer at the top of the band made a real difference. Had it not been there, this might have been a much more negative review.
In a strange way, these reminded us a little of the Sennheiser HD800s, which had a similar fit and feel – although for the record, we much prefer the design of the El-8s. The Sennheisers sound fantastic, but look like something out of X-Men.
These certainly aren't going to be for everyone, especially those not used to such large headphones, but there's no question that they do a stellar job when it comes to comfort and fit. Given how big and bulky most of Audeze's cans are, it's good to know that they put such a premium on those two things. No problems here.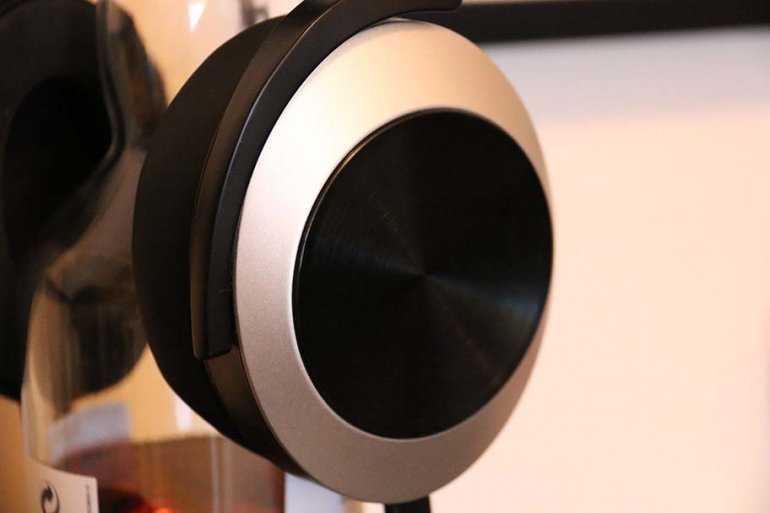 Sound
This is where things get really interesting. There are two aspects to consider here: how the El-8s sound when using the supplied Lightning connector, and how they sound with the regular cable.
Let's do the regular one first. As Android owners (and owners of some seriously nice headphone amps) this is how we did the bulk of our listening. Several sites have criticised the EL-8s for having what they call flat, unexciting and un-distinctive sound; we think that's a little unfair. While they don't have the breadth or detail of more powerful open-back headphones, these are still put together by one of the premier manufacturers on the market, and it really shows.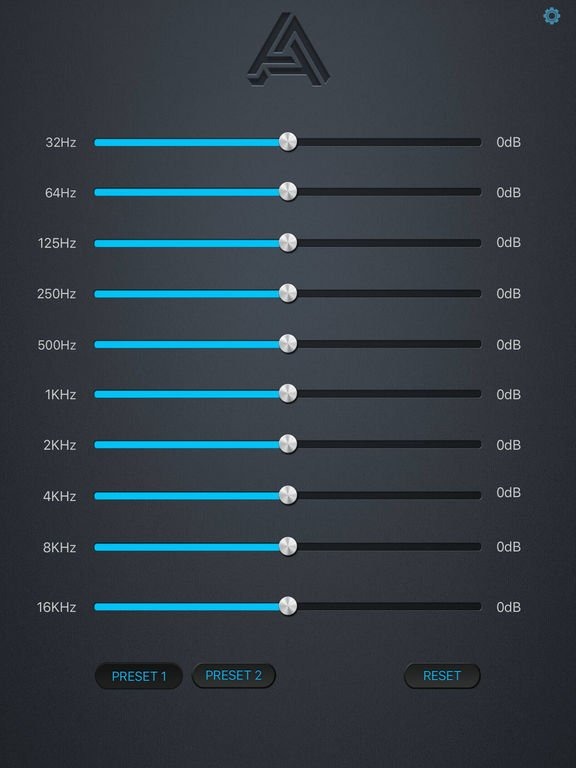 The main takeaway we got from these was of a controlled, balanced audio landscape, with articulation that took our breath away. The sound felt like it had real weight to it, and even when we weren't driving it through our preferred amp-DAC stack, it was a genuine pleasure to listen to. We particularly liked the level of crisp detail in the highs: the vocals were so good that on softer songs, we could hear every single breath, every tiny movement of the singer's mouth. The soundstage and placing was excellent, too, giving a real sense of depth to the proceedings.
One area which surprised us a little, and not in a good way, was that the bass wasn't as powerful as it should be. As a rule, larger drivers tend to provide deeper bass (although this is by no means hard and fast). The 100mm drivers should, in theory, have provided much more exciting bass than that that was on offer. It wasn't bad, by any means – it had the same detail and complexity as other parts of the frequency spectrum. But we expected a little bit more, especially for the amount of money these cost.
One thing these headphones couldn't do was get themselves to a satisfactory level on a smartphone. Not without pumping the volume way up. At 30 ohms, they are moderately difficult to drive, and our OnePlus 2 Android smartphone sometimes struggled with them. This honestly wasn't a problem when we were driving them through an amp stack (when, for the record, they absolutely sung) but those using Android phones need to beware.
This is obviously not a problem for anybody using an iPhone 7. That's because Audeze include a second cable with a Lightning connector and a hefty in-line control unit, designed for use with Apple products - or as Audeze call it, the CIPHER cable. The control unit isn't for show, either: it contains an amp and an onboard DAC for better signal processing, designed to bypass Apple's stingy internal audio circuitry, and deliver a better experience.
We got a chance to test out the CIPHER cable extensively, and it was clear from the start that there was no problem getting a generously loud signal. The amp and DAC on the cable combined to give a sharp, quick response, enhancing the character of the headphones. While we still prefer running these off separate amplifier, we had absolutely no complaints about their performance with the iPhone 7. If you do own that phone, these are far and away the best compatible headphones available. No question.
Things also helped along with the excellent Audeze iOS app, which help you customise the sound even more thanks to a versatile and helpful equaliser. You can save presets, as well, which is tremendously handy.
Call quality was just fine, with voices clear and sharp, although we expected nothing less with this level of technology.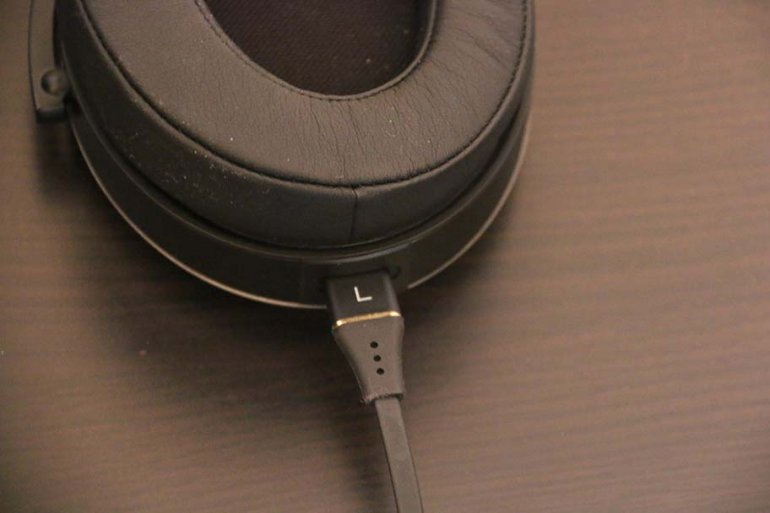 Accessories
Given that these are high-end cans, the accessories are surprisingly spartan.
You get two cables - a 6'6" one without an in-line mic, and with a standard 3.5mm connector, and the Lightning-equipped CIPHER cable, which is a couple of feet shorter at 4'1". As with most headphones in this price range, you get a regular 3.5mm-to-6.3mm connector, which is helpful when you're attaching it to an external amp.
Beyond that? Nothing to write home about. It's a shame that Audeze didn't include a case for these, or even a cloth carry bag. For the amount of money they cost, we expected to have some means of toting them around. Given how they are, after all, designed to be portable, the lack of a travel case is a serious oversight.
You do, however, get a certificate of authenticity, which is a nice touch. Not enough to make up for the lack of a case, but still.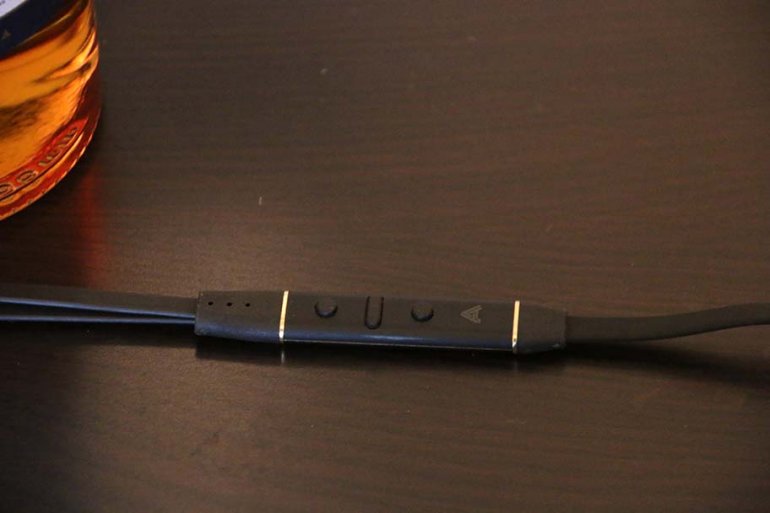 Packaging
Slide the headphone container out of its outer packaging, and what you have is a sleek, chic box with the Audeze logo on the top. While it's surprisingly difficult to open this up, as you have to shake it a couple of times to get the bottom half of the box to slide out, it's immediately clear that the headphones are nicely presented. They're couched in a foam insert with clever handles on each side, allowing you to lift it right up. Underneath is a separate box containing the manuals and cables. It ticks all the boxes (pun definitely intended) for presentation of premium headphones, although it's nothing to write home about.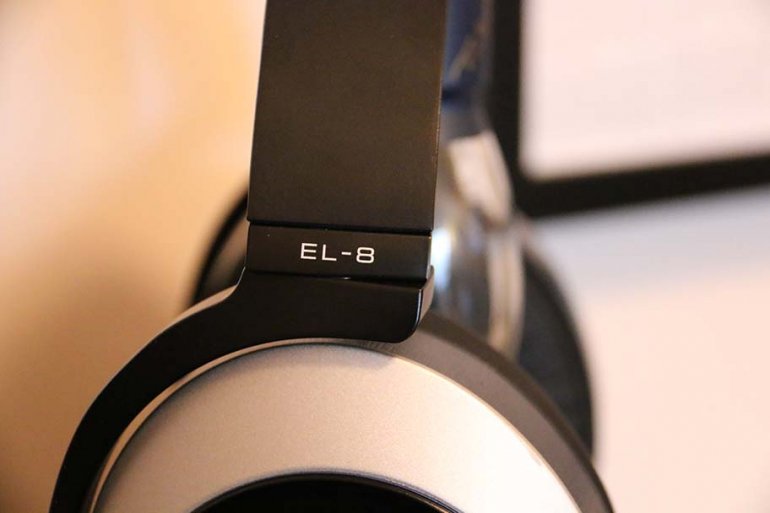 Verdict
We really, really wanted to recommend these headphones.
The design is phenomenal. The comfort is second to none, and we had no problem listening to these for hours on end. Outside of a few minor niggles, the sound is excellent, and feels genuinely premium. On the surface, these have everything you'd like in a pair of high-end headphones… And yet we can't ask you to buy them.
There's simply no reason to. While we absolutely recommend getting a pair of Audeze cans, because Audeze are a terrific company that does genuinely groundbreaking things with personal audio, these are not the headphones you should pick up. If you want to experience the EL-8 range, save yourself a hundred bucks and get the closed-back and open-back version, both of which offer superb sound with the same design, just minus the CIPHER cable. If you want planar magnetic sound for your iPhone, then get the Sine headphones, which are not only cheaper but are much lighter as well.
It's a genuine shame. These are well built, great-sounding headphones…that just can't justify their existence.
Good:
Excellent design
Comfortable
Good and occasionally gorgeous sound
Terrific app
Bad:
No clear purpose, especially given the presence of cheaper models that do the same thing
Underpowered bass
No travel case?
Quite pricey
See the Audeze EL-8 Titanium on Amazon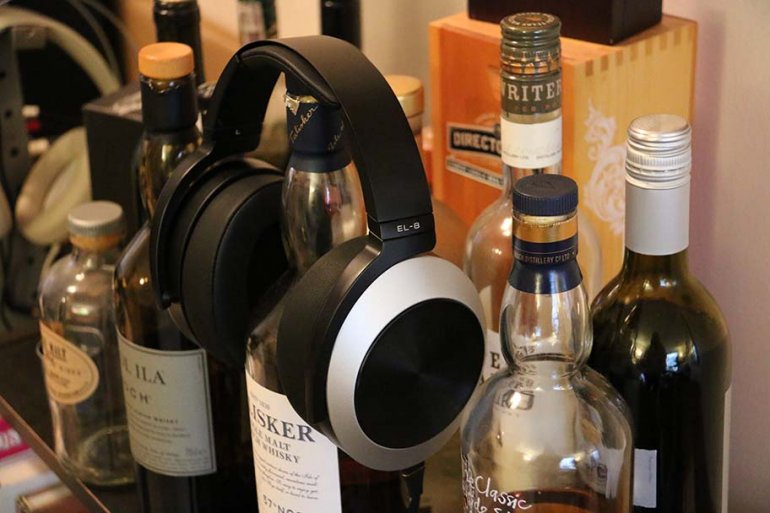 Alternatives
We've talked a lot about the alternatives from Audeze itself, so let's use this particular section to highlight three options from other manufacturers.
If you can do without the detail and character that planar magnetic drivers bring, these are absolutely one of the finest pairs of headphones around today. We are currently testing a pair, and will have a full review soon.
Here's what you need to know right now. They are wireless, making them ideal for mobile operation without needing to worry about cable. The sound is out of this world, with a sonic character bends over backwards to please. They are svelte, light, sturdy, and beautifully designed. We are having a huge amount of fun with them, and they are a genuine alternative to the EL-8s - and if you can afford to spend some more money, there's a premium version, the P9, geared specifically to the iPhone.
Looking for a similarly high-end pair of cans? Like the idea of clean, capable sound? Feel like having a go at open backs? Then you need the OPPO PM-2s.
These headphones, from the manufacturer better known for their Blu-ray players, do a great job of conveying the premium quality and luxurious nature of decent cans. The sound is, as we mentioned, beautifully clear and straightforward, and while these aren't super exciting, they do the job incredibly well. You can read our full review here.
You don't need to spend huge amounts of money to get a Lightning-ready pair of headphones. Philips was among the first of the big names to rush out a compatible pair; well, rush out is perhaps a bit pejorative. The Fidelio M2L are solid.
They come with their own integrated DAC and amp, and although the exclusivity of the connector means they're not appropriate for anybody without an iPhone 7, they do an excellent job in terms of both audio and comfort. Weirdly, they have no internal microphone, making calls a challenge. Still, a viable alternative.

Specs Table

Video Review