Most home theater systems aren't designed for the surroundings that most of us live in. If you stay in an apartment, especially one with a small lounge, then a surround sound system is going to give you iffy results and annoy your neighbours. You may want to go for something a little more self-contained: a soundbar. Essentially, these units pack all the sound equipment you could possibly need into one convenient container. The best part about soundbars is that they are modular, meaning you can freely add other components, like a subwoofer or floorstanding speakers, as your needs grow. And if you've recently bought a super-skinny flatscreen TV, you're definitely missing out on the sound that picture deserves. The soundbar has been the answer for those looking for big sound in a sleek package, and below we've covered the best soundbars in the market for this year.

How We Choose
As soundbars have exploded in popularity, so too have the numbers of models available. The ten here represent the absolute best available, and any will be an excellent addition to a home setup. We made our picks based not only on price, but on overall quality and unique features, too. Whatever your budget, you'll find something to love here.

Our Soundbar Picks
Weight: 45.7lbs
Dimensions: 45" x 24.4" x 12.1"
Wattage: 380
Channels: 7.1
HDMI: 3
Bluetooth: Yes
Subwoofer: Yes
What We Like: Superlative sound.
What We Don't: Iffy app, overpriced
Ideal for: Audio purists
Sony has teamed up with Dolby, another powerhouse in audio, to bring you the Sony HTST5. This 7.1 system has a nice, wide stereo field, and you can rely on Sony to deliver you detailed frequencies no matter what you push through it. Not only that, but with 380 watts of power, it's got some major volume capabilities - it's easily one of the loudest soundbars on this list, and one that is an absolute joy to listen to. There are multiple HDMI ports, as well as Bluetooth and NFC compatibility, which is a nice touch (sorry Apple-lovers, there's no AirPlay). It even has a bespoke app, SongPlay, to make things easier - although in our opinion, the app could do with a little bit of a redesign. This might be a little overpriced at the moment, but Sony and Dolby fans won't be let down.
See the Sony HTST5

Weight: 33.1lbs
Dimensions: 47.5" x 22.3" x 16.7"
Wattage: 380
Channels: 3.1
HDMI: 0
​Bluetooth: No
Subwoofer: Yes
What We Like: Great WiFi connectivity
What We Don't: Sound could be a little better
Ideal for: Wireless audio fans
The Omni SB1 is part of Polk's push to get into the space that SONOS currently occupies, and judging by how it performs, they've got a very good shot. This is an excellent, remarkably self-contained unit that has plenty recommending it. It's a 3.1 system with a particularly well-defined low end, thanks to the included subwoofer. There's no Bluetooth compatibility (which can be frustrating), but the soundbar works quite well over your wireless network, and comes ready to stream songs from services like Pandora and Songza. The only downside is those services require the Polk app, which is poorly made. Ultimately, this is a somewhat specialized soundbar, and it really delivers the goods we expect from Polk.
See the Polk Omni SB1

Weight: 11.9lbs
Dimensions: 35.4" x 3.3" x 5.5"
Wattage: Unknown
Channels: 3
HDMI: 0
​Bluetooth: No
Subwoofer: No
What We Like: Ease of use, killer sound, great setup
What We Don't: Not a huge amount!
Ideal for: Existing SONOS customers
You know, it's not often that we describe soundbars as sexy, but the Sonos Playbar is dead sexy. With its curved edges, end grills and metallic highlights, this is a model you'll want to show off. And there's a lot to recommend inside the casing, too. There are nine speakers in here – six midrange and three tweeters – as well as nine Class D amplifiers. Although you really do need to add a sub to get the full cinema experience, this model will charm you straightaway, not only with its silky sound and exterior but it's dead easy setup, which relies on two cables. The entire SONOS ecosystem works fantastically well, especially as you can pair speakers, making this system ideal to hook up with something like the SONOS PLAY:5
See the SONOS Playbar

Weight: 3.6lbs
Dimensions: 14.3" x 10.9" x 7.1"
Wattage: Unknown
Channels: 2.1
HDMI: 3
​Bluetooth: Yes
Subwoofer: Yes
What We Like: Amazing sound
What We Don't: Very little
Ideal for: Anyone who loves great audio
A relatively new model is the Cambridge Audio TVB2, and it's a doozy. In terms of pure tightness of sound, and how accurately audio is reproduced, this is probably the top bar on the list. While it doesn't have the biggest punch in terms of loudness, it sounds incredible. Cambridge Audio almost universally make good stuff, so it's no surprise that this soundbar is the way it is. Plus, you get Bluetooth streaming, an included subwoofer, and the ability to control it with your existing remote. It has the ability to actively disperse sound to approximate, if not quite replicate, a stereo field, and the tech behind this feature is called the Balanced Mode Radiator Driver. We say it's worth the price of admission: if you care about audio clarity, get this one.
See the Cambridge Audio TVB2


Weight: 25.6lbs
Dimensions: 40" x 7" x 7 "
Wattage: 160
Channels: 5.1
HDMI: 3
Bluetooth: No
Subwoofer: No
What We Like: Huge sound
What We Don't: No Bluetooth, very heavy
Ideal For: Big rooms
Small wonder this is in our top five. Not only does it deliver superlatives sounding all frequency ranges, despite the lack of a subwoofer, but it's also a genuine pleasure to use. We usually don't like to see models without Bluetooth, but this more than makes up for it with its Airplay compatibility. With its power and heft, not to mention intimidating size, it's best for big rooms.
See the Monitor Audio ASB-2


Weight: 12lbs
Dimensions: 45.25" x 4.5" x 4.5"
Wattage: 450
Channels: 5.1
HDMI: 2
Bluetooth: Yes
Subwoofer: Yes (Integrated)
What We Like: Excellent surround sound
What We Don't: Still quite expensive
Ideal For: 5.1 imitations
An under-the radar-pick that, despite being massively overpriced when it first came out, has dropped to a far more budget friendly sub-$1000. The Focal Dimension delivers an excellent imitation of 5.1, and even manages to get the bass right with its built-in subwoofers (although you can add in one of their external models). The aluminum chassis and set of five speakers do a stellar job with the audio, particularly excelling in delivering surround sound. If you have money to burn, and you don't want to upgrade to a full surround system just yet, take a look at the Focal Dimension.
See the Focal Dimension
Weight: 1.5lbs
Dimensions: 12" x 3.25" x 2.75"
Wattage: Unknown
Channels: 2.1
HDMI: 0
​Bluetooth: No
Subwoofer: Yes
What We Like: Great low-end
What We Don't: Piddly EQ options
Ideal for: Bass lovers
It's tempting to call the Bose CineMate 15 a subwoofer with an included soundbar, given the size of what Bose calls the Acoustimass module. And the low end is certainly impressive: warm, rich and detailed. The good news is that the soundbar itself is great, too. The four drivers combine with Bose's proprietary Truespace technology to deliver some fantastic detail and space - far more than you'd expect from a model of this size. Be warned: there are no options to adjust mids and treble, and bass adjustment can only be done on the subwoofer itself. That's certainly not a deal-breaker, by any means, as this is still an excellent model. For an alternative look and feel in the same price range, we'd recommend the Harman Kardon SB 30 5.1.
See the Bose Cinemate 15
Weight: 7.9lbs
Dimensions: 54.5" x 2.9" x 2.7"
Wattage: 310
Channels: 2.1
HDMI: 2
​Bluetooth: Yes
Subwoofer: Yes
What We Like: Great sound and design
What We Don't: Very long
Ideal for: Big TVs
Most high-definition TVs of any serious clout tend to look odd placed above soundbars, which often aren't as wide. Not a problem with this Sharp - at 54", it's comfortable under most flat-screens. You'll like the sound, too: with movies, the 2.1 drivers provide a very respectable depth of field and detail. It's also got Bluetooth connectivity, allowing streaming. While we'd say that this unit is more suited to movies than music, thanks to its power in the mids and highs, it's still an excellent investment no matter what you play through it. It's also really long, at more than 60", so make sure you take some careful measurements of the space your TV is in before going for it. Nothing worse than buying the thing only to find it hangs off the ends of your cabinet. Well, there are plenty of worse things, but you get the idea.
See the Sharp HT-SB602 2.1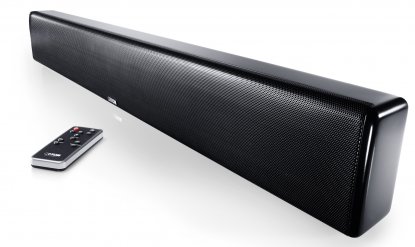 Weight: 10.6lbs
Dimensions: 35'' x 4.7'' x 2.8'
Wattage: 200
Channels: 2.1
HDMI: 0
Bluetooth: Yes
Subwoofer: Yes (Integrated)
What We Like: Great audio quality
What We Don't: Tricky to find
Ideal For: When you're short on space
The problem with many systems is having to make room for the included subwoofer, in order to get the best bass. Not an issue with the Canton DM-9. The bar includes a subwoofer inside the main housing, and although it isn't quite as good as having a separate unit, it's still a boon for those who don't want to take up valuable floor space. We should point out that while the DM-9 is an excellent model, it's often quite difficult to find, really appearing on mainstream sites like Amazon. Still, worth tracking down.
See the Canton DM-9

Weight: 13.2lbs
Dimensions: 36" x 4.7" x 4"
Wattage: 218
Channels: 2.1
HDMI: 0
​Bluetooth:
Subwoofer: Yes
What We Like: Cracking sound for a budget bar
What We Don't: Big, clunky, crap remote
Ideal for: When you want great sound at a budget price
This soundbar is interesting in that it was designed by Andrew Jones, who we are contractually obliged to call 'legendary'. And he really is. He's one of the best speaker designers in the world, so it's interesting to hear how his skill translates to a sound bar. As you'd expect, the sound is just epic, despite only especially given the miniature nature of the included subwoofer. It's particularly good with movies that have orchestral scores, we find, giving them a richness and depth that you can't get in other models. If you can live with the large size, iffy looks and crappy remote, it should be top of your list.
See the Pioneer SP-SB23W

Weight: 24.3lbs
Dimensions: 34.9" x 4.8" x 3.6"
Wattage: 200
Channels: 7.1
HDMI: 0
​Bluetooth: Yes
Subwoofer: Yes
What We Like: A budget 7.1 soundbar? Sure!
What We Don't: Expensive for what you get
Ideal for: Surround sound lovers who don't want to shell out for a full system
The Yamaha YAS-203 may lack features like HDMI inputs, but it's still a superb piece of kit. It uses pseudo-surround components to project a reasonably convincing image of surround sound, and the actual audio quality is great, with real depth and punch to it. It also includes Yamaha's Clear Voice tech, which boosts dialogue, and we think it really does an excellent job of this. It's not the most showy or feature-heavy soundbar around, and if we're honest, the price tag is a little bit too large for what you're getting (which is why it isn't at out number one spot) but it's still good. Oh, and it comes with its own included subwoofer like the Sony model. This is a great all-rounder, and as long as you're not looking for HDMI goodness, and don't mind the extra outlay, you're going to love it.
See the Yamaha YAS-203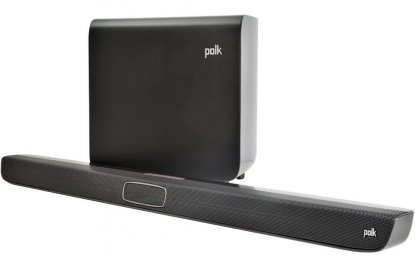 Weight: 4.75lbs
Dimensions: 38" x 3" x 2"
Wattage: 300
Channels: 2.1
HDMI: 0
Bluetooth: Yes
Subwoofer: Yes
What We Like: Superlative sound, great design, excellent value for the price
What We Don't: Lacks subtlety
Ideal For: An easy upgrade to an existing system
It's big, it's loud, it has a fantastic remote, and it's one of our favourite systems. Although it's far from the most subtle bar on the market, in terms of sound, it's still one of the most pleasing to use, and certainly among the easiest. Polk really knocked it out the park with this one, and switching to it from your TV speakers is an immediate upgrade to your sound. In our opinion, this is one of the best mid-range soundbars around. The included sub is excellent, too.
See the Polk Magni-Fi

Weight: 20lbs
Dimensions: 39.8" x 17.9" x 12.8"
Wattage: 300
Channels: 2.1
HDMI: 3
​Bluetooth: Yes
Subwoofer: Yes
What We Like: Stunning looks, decent sound
What We Don't: Virtual Surround Sound technology - not what it's cracked up to be
Ideal for: Interior designers
Let's start with the most gorgeous soundbar in this price range. With its hexagonal shape, brushed metal sides and muted front panel, the Sony HT-CT370 has an eye-catching design. This unit is made specifically for TVs 40 inches or larger, and as such you'll get the best sound if you pair it with one. But even if you don't, you can still expect very good audio. Just don't buy into the nonsense about Sony's Virtual Surround Sound technology, because it isn't really all that. Still, with Bluetooth and HDMI connectivity, and a solid included subwoofer, there's nothing to complain about.
See the Sony HT-CT370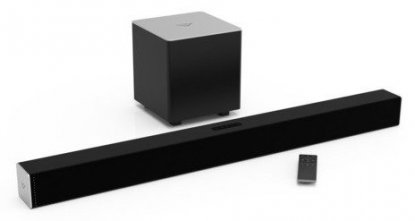 Weight: 5.8lbs
Dimensions: 38" x 3" x 3"
Wattage: Unknown
Channels: 2.1
HDMI: 0
Bluetooth: Yes
Subwoofer: Yes
What We Like: Very affordable
What We Don't: Not particularly powerful
Ideal For: Starters
If you're just dipping your toes into these particular waters, then VIZIO's model could be the one for you. It's not nearly as powerful as the others, but it makes up for it with ease of use and value for money that are just about unbeatable. The included sub is excellent, and setup is a total breeze. VIZIO Is a company that has been making waves in the world of TVs, so it's inevitable that they'd branch out into home theater sooner or later. Here's hoping they put out a more powerful model at some point! Be warned: there are no HDMI connections on this one.
See the VIZIO SB3821-C6 2.1

And For When You've Had Your End-Of-Year Bonus: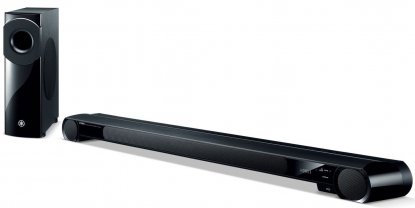 Weight: 15.2lbs
Dimensions: 43" x 6" x 3"
Wattage: 324
Channels: 7.1
HDMI: 4
Bluetooth: No
Subwoofer: Yes
What We Like: Massive sound
What We Don't: No Bluetooth?
Ideal For: Money no object
Normally, this is the part of the roundup where we'd include something massively expensive and out of reach for most people. But weirdly, hugely expensive soundbars don't seem to exist. One of the priciest (and, it must be said, one of the best) examples available is the Yamaha YSP-4300. Yamaha don't call this a soundbar: it's a Digital Sound Projector, with 7.1 capability and 22(!) speakers built into it, not including the wireless subwoofer. At this point, you're probably best off upgrading to a decent home theater system, but if you love your sandbars, then this could be the one you're looking for.
See the Yamaha YSP-4300

Breaking Down The Specs:
(All measurements are for the soundbar, not the accompanying sub)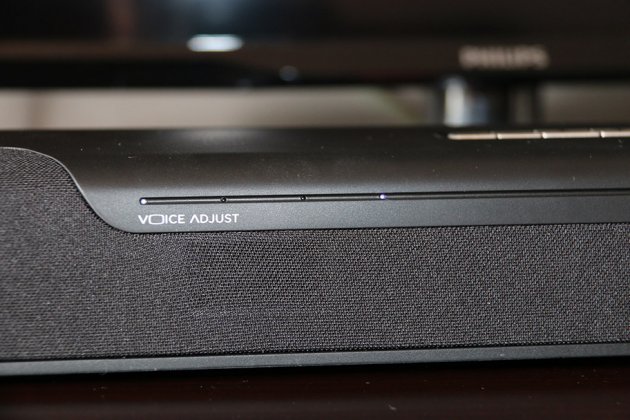 Soundbar Buying Advice

How many speakers does a soundbar have?
At the bare minimum, soundbars will include two sets of speakers: mid range ones, and high range ones (known as tweeters). There can be as few as three and as many as eight, and the more and larger speakers included, the more powerful sound will be. The more expensive a model is, the more speakers the manufacturer is likely to have shoehorned into the housing.
The speaker setup inside a soundbar is often expressed using terms like 2.1 or 5.1. The 5 or 2 or whatever refers to the number of mid range and high range speakers in the unit, and the number after the point (usually 1) indicates that there is a subwoofer packaged along with it. Do not mistake these numbers for surround sound - they're not.

Can I use it with an existing system?
Yes, absolutely. While we can't really recommend switching to a soundbar if you already have a full surround system, you can certainly use it with any existing speakers you might have.
We'd love to give you precise instructions as to how to do this, but there are so many different soundbar/speaker combinations available that it's impossible. Any soundbar worth a place under your TV will come with instructions on how to do this. Generally speaking, a good setup to start with is a pair of small bookshelf or surround speakers, a subwoofer, and the soundbar itself in the center.
Be warned: soundbars are great - we wouldn't feature them here if they weren't - but they're not home theater systems. They produce killer sound, but if you're expecting to blow your walls to pieces, you might want to look elsewhere. Essentially, soundbars were invented for convenience, and if you have a situation where home theater isn't appropriate, then you should get one. Like, right now.
A further thought on buying soundbars. There's a school of thought that it makes sense to buy a sound bar from the same people who made your TV, the logic being that the two products will be matched in some way. You could, for example, pair a Sony HTST5 with a Sony TV. We'd say this is a little exaggerated, as the audio and visual departments in the same company can often be quite separate. That being said, it's certainly not a bad idea, and although we haven't seen any concrete evidence but it makes a noticeable difference, it still perfectly legitimate buying strategy.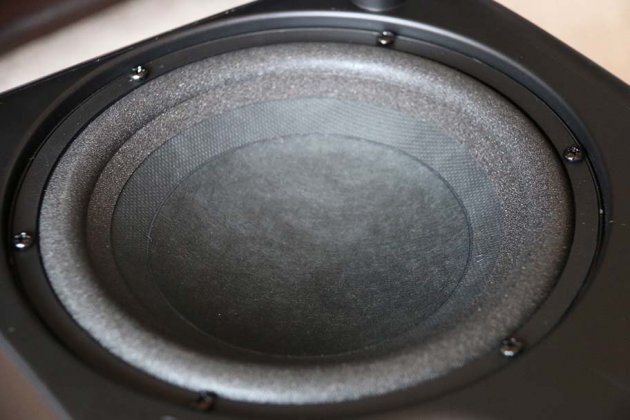 What about the subwoofer?
It's not uncommon to see soundbars being packaged with an included subwoofer. This is because a soundbar's enclosure isn't always ideal for handling the low notes, which subwoofers are built to do. So when you see one packaged with your soundbar, don't freak out about paying for equipment you don't need. Well, technically speaking, you don't need a subwoofer, but it's very handy to have one. Your bass-loving friends will thank you.
You may also want to consider replacing the subwoofer that comes included with your soundbar. Don't misunderstand us, the included model will still be workable, it just won't be the best. That would be these right here.

HDMI Explained
HDMI stands for High Definition Multimedia Interface. It's a way of getting uncompressed video and audio data from one device (like a TV) to another device (like a soundbar). All you need to know is, if your soundbar has a flat little plug in the back with multiple prongs, then you're in line for some genuinely great sound.
You don't need HDMI ports on a soundbar for it to work properly. You can quite happily contact it to your TV using a regular optical cable, and forget about it. But if you watch a lot of Blu-rays, especially ones that boast of lossless sound codecs (like Dolby or True:HD, then you'll need these ports to get the best sound out of them.
Again: these are nice to have, but not essential. Check our table above if you don't need them - there are plenty of soundbars without any HDMI ports at all.
Soundbars vs Soundbases
Don't get confused. They are very different things. We actually have a full explanation of the difference here.
TL;DR: Instead of being long and thin, like soundbars, soundbases are flat blocks, designed to fit under a TV. The sound quality and design varies, as it does with soundbars, and the main difference is that soundbases don't usually come with included subwoofers. They've got enough heft and power to handle the low frequencies.
Some sites like to lump soundbases in with soundbars - not us. We think soundbases are their own category entirely, and we've got a roundup of the best right here. You may also want to consider alternative to soundbars: a full home theater system.

Are they wireless?
Sometimes! Typically with Bluetooth capability. This is great for when you want to stream some music through them, as a soundbar and included sub will be more than up to the challenge of handling some tunes.
It's usually the case for the subwoofer itself to be wireless, connecting either over Wi-Fi or Bluetooth. This can be a double-edged sword. On one hand: hooray! Fewer wires to take care of! On the other hand, sound quality can sometimes suffer over Bluetooth. This isn't too big a deal, as the subwoofer only has to deal with a small range of frequencies, but it's still worth bearing in mind.

Measurements!
It's kind of annoying to buy a soundbar ends up being too short or too long for your TV. It's even worse if your TV is in an actual TV cabinet. So before you buy, here's a tip that we really don't need to elaborate on: measure the space you've got, then by accordingly. If you need help, we've got full dimensions of each soundbar in our table above.